Looking for a little dash of Iceland in California?
There are many wonderful, relaxing hot springs in California — though many of them come with a steep resort fee.
This post focuses instead on the best non-commercial public hot springs in California: ones you don't have to pay a fee to use (although you may have to pay a parking fee or park access fee in some cases).
These hot springs are all naturally fed, though some may have manmade elements such as tubs or pools. However, none are built-up or commercial.
Note that the road to many of these hot springs are not maintained at all in winter, meaning that if there's been a big snowstorm (common in winter in the Eastern Sierras where many of these California hot springs are located), you may not be able to get through safely.
Use caution and speak to local ranger stations and BLM (Bureau of Land Management) offices before attempting to make it out to the hot springs if there's been a recent snow.
Travertine Hot Springs
Note: This post contains affiliate links, which earn me a small commission at no extra cost to you if you make a purchase using one of these links. Thank you for supporting this free content!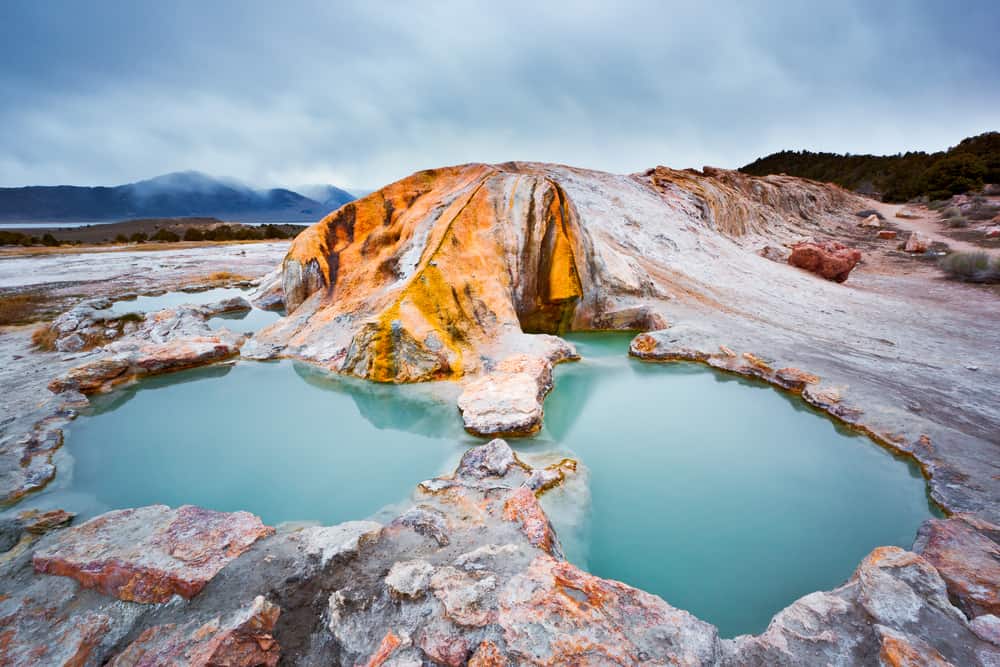 GPS Coordinates: 38.2458651, -119.2054099
This hot spring near Bridgeport, California is one of the state's most beautiful and recognizable hot springs.
It offers a stunning view of the surrounding Eastern Sierras in a gorgeous, otherworldly landscape marked by travertines, calcium deposits from mineral-rich water.
Technically a clothing optional hot spring, you may see a bit more than you anticipate of your fellow bathers! However, most bathers soak in swimswuits, so you can really go however you are most comfortable — just don't be afraid of a little nudity!
The pools are a comfy 103 degrees — a perfect hot bath temperature — year round, making them a perfect place to visit in the Eastern Sierras in winter when the weather is cold and the surrounding landscape is snowy. But it's delightful any time of year, though you may want to skip the hottest summer days.
Hot Creek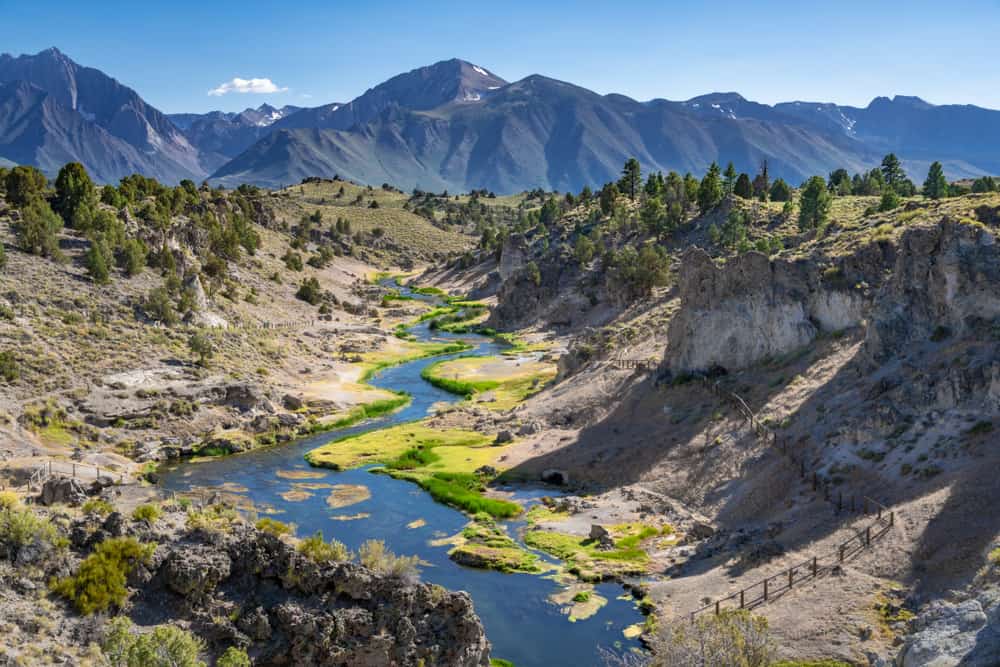 GPS Coordinates: 37.6175, -119.0047.
Unfortunately, you can't swim or soak in Hot Creek, as earthquakes may create new springs and geyers, which can escalate the temperatures quickly and unsafely.
So even though you can't swim in this California hot spring located in the Inyo National Forest…. it's so beautiful that I had to include it on the list, too!
This California hot spring is a geothermal water-fed creek, where the water bubbles up from the layer of magma three miles below the surface, a journey which takes 1,000 years. It's a pretty cool way to see California's volcanic nature in real life, with your own eyes!
Rock Tub Hot Springs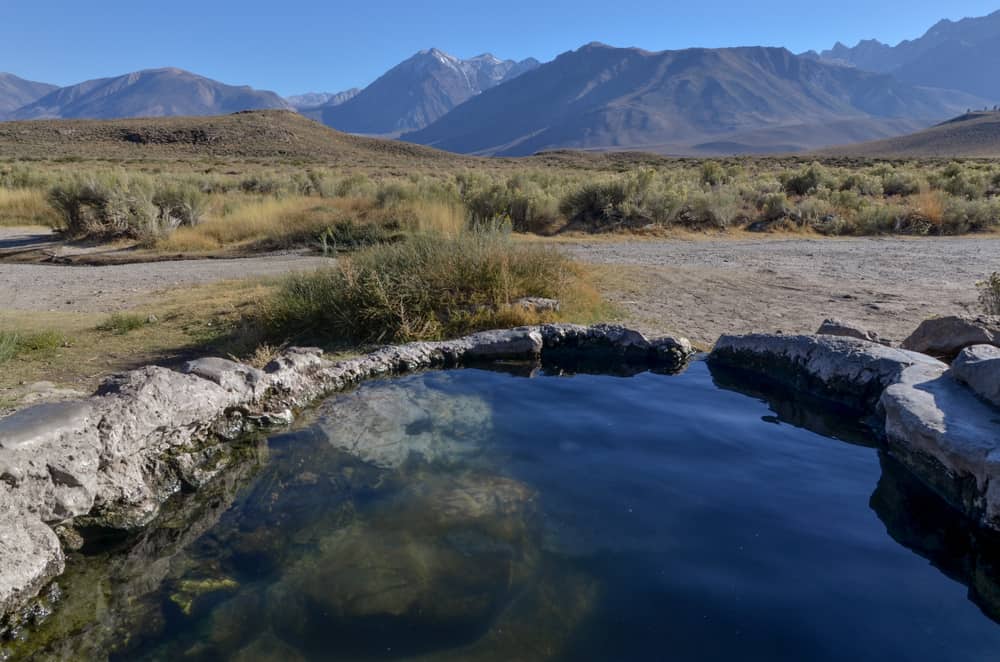 GPS Coordinates: 37.6476, -118.8080
Located in the Long Valley Caldera, the Rock Tub Hot Springs is a single hot tub in Mono County near Mammoth Lakes.
Only 6-8 people can fit in this hot spring at a time, so you may have to wait until a party leaves if you're visiting this hot spring during a busy time like a weekend or weekday afternoon.
The water temperature is around 100 degrees — great for a soak on a cold winter day.
Gaviota Hot Springs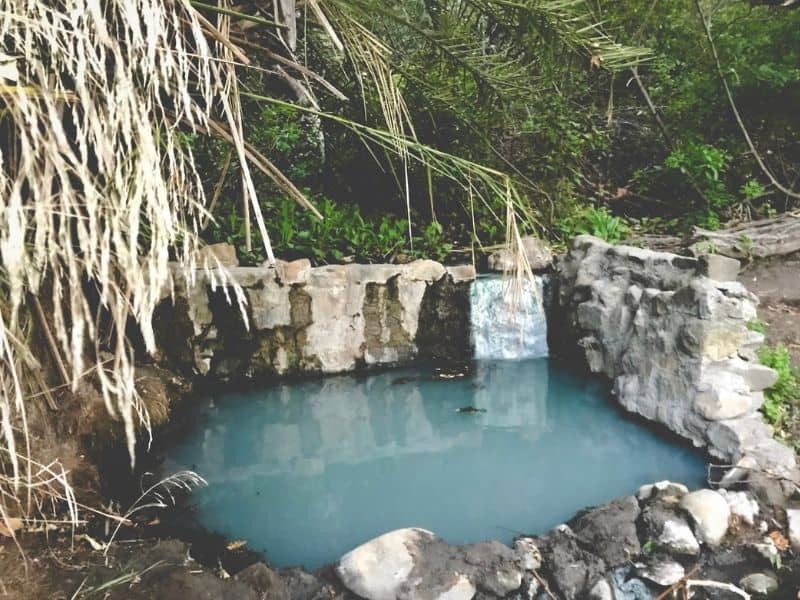 GPS Coordinates: 34.504598, -120.2259
This gorgeous hot spring in California is located near to Santa Barbara in the lovely Las Padres National Forest and is accessible via a one-mile hike, which should take no more than 30 minutes each way.
The hike, while short, seems to deter enough people from coming, meaning this is one of the more often secluded hot springs in Southern California.
First, find parking in Gaviota State Park's parking area — there will be a small fee for this. You'll follow these directions to get to Gaviota Hot Springs (also sometimes called Las Cruces Hot Springs).
There are two springs — one larger and one small, which can fit about 8 people between them. Temperatures vary depending on weather and rainfall, but are generally around 95-100 degrees: warm, but not super hot. Bathing suits are recommended.
Deep Creek Hot Springs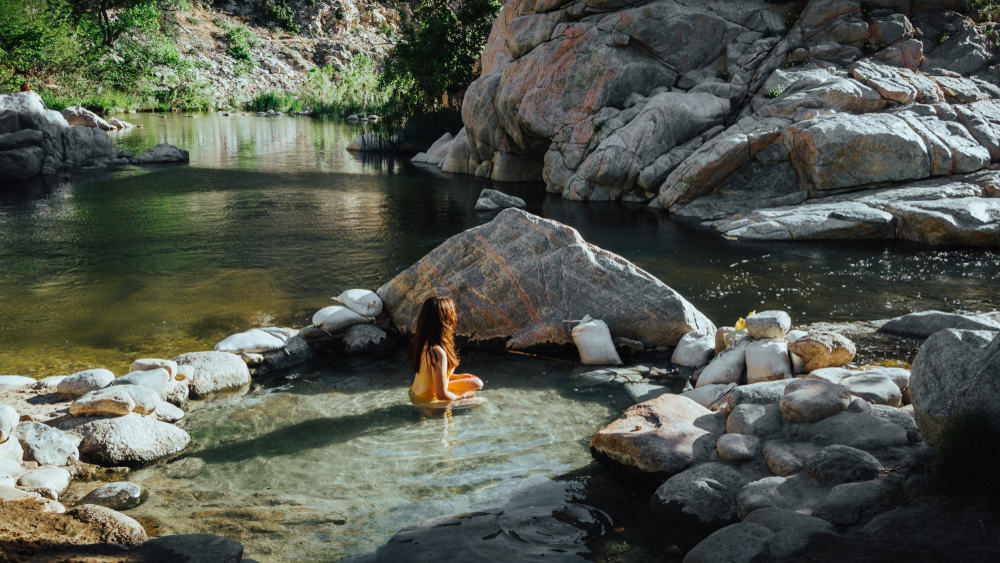 GPS Coordinates: 34.339393, -117.176963
These hot springs in California are one of the state's best because they are rather remote, requiring a decent hike in to be able to enjoy!
Located in the San Bernardino National Forest, after a hike of about 2.5 one-way you'll arrive at Deep Creek, with about 6-7 geothermal pools (depending on water level and time of year).
The uppermost pool is hottest, so be careful! The rest are around 100-105 degrees, like a warm bath! There's a hot shower located nearby so you can shower before entering the springs.
There are two main routes to get here, one via Bowen Ranch Trail and another via Bradford Ridge Trail (suggested). The Bradford Ridge Trail actually follows a portion of California's beloved Pacific Crest Trail, so you may spot a PCT thru-hiker or two! For more information on the hikes, read here.
Due to its seclusion, this is a popular nudist hot spring, though of course, you can wear whatever you feel comfortable bathing in — just be sure you'll be comfortable around others.
Wild Willy's Hot Springs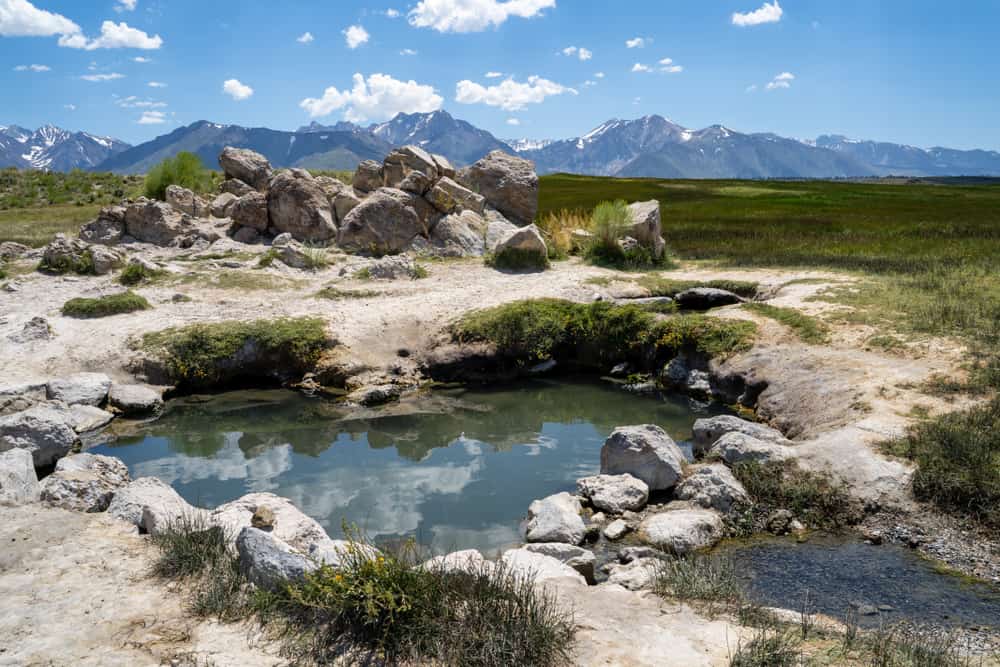 GPS Coordinates: 37.6610, -118.7678
Located in Mono County, this heart-shaped hot spring is beloved by California hot spring enthusiasts!
There are two hot pools, one which can fit about 10 people and one which can fit about 3. The larger pool is usually around 95-100 degrees, whereas the smaller pool is around 100-105 degrees — so pick wisely.
This is one of the most popular hot springs in California, visited by many who are staying in Mammoth Lakes or those taking an Eastern Sierra road trip, so note that it may be crowded. You'll have better luck going early in the morning or on a weekend.
Whitmore Hot Springs
GPS Coordinates: 37.6324331, -118.8123521
This small natural hot spring in California's Mammoth Lakes vicinity is beautiful, though you may have to have a bit of luck to have it to yourself as it can only fit 4 to 6 people at a time. You'll have better luck if you can visit on a weekday.
Even in winter, the temperatures are above 100 degrees Fahrenheit, making it a delightful place to visit when you want a break from skiing in Mammoth.
Tecopa Hot Springs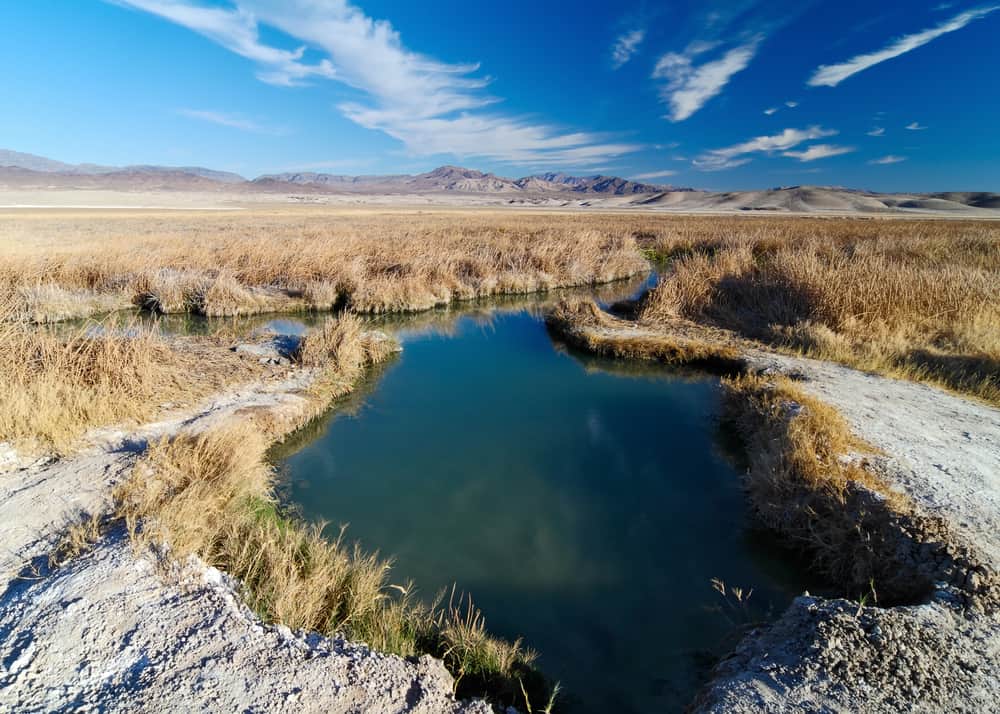 GPS Coordinates: 35.8733885, -116.2288572
There are two hot springs in Tecopa: the natural clothing optional one (recommended) and the 'resort' in town, which costs $9 for day use, which doesn't have too much in the way of amenities but is still a nice place to soak.
The 'resort' has seperate soaking areas for men and women and it is strictly nude, no clothing allowed.
The natural hot spring is whatever you choose, but note that it's, well, natural, so you'll have to deal with some mud and sand and possibly insects!
Remington Hot Springs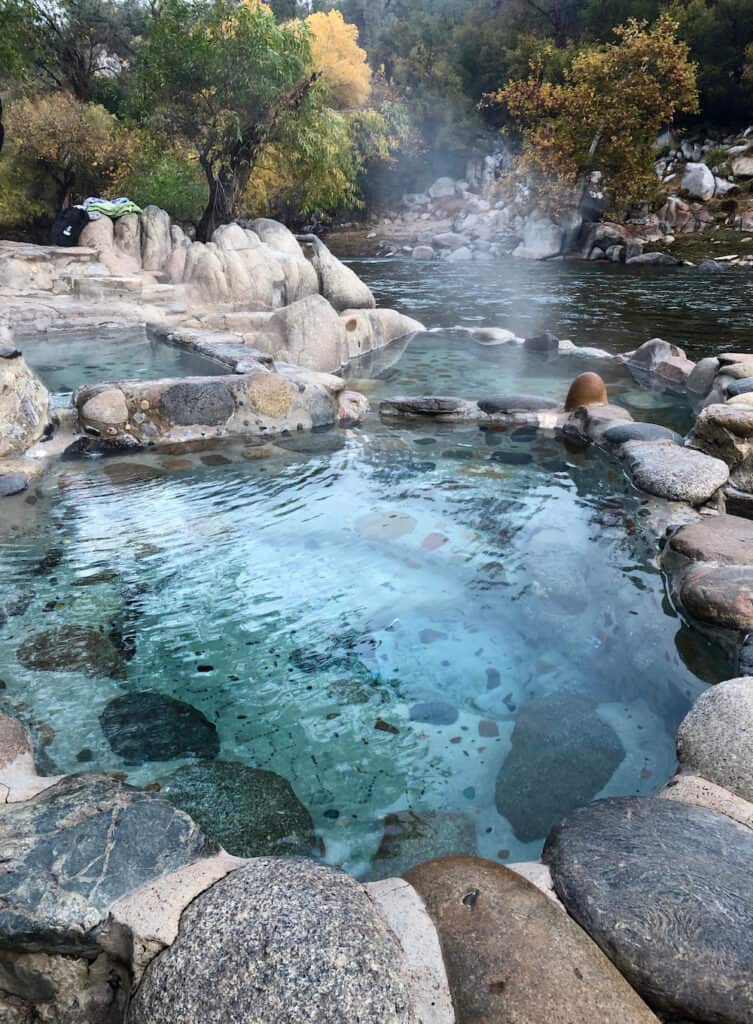 GPS Coordinates: 35.5767, -118.5529
The Remington Hot Springs are three manmade tubs (though naturally fed with thermal water) alongside the Kern River, near to Lake Isabella.
Expect a short, quarter-mile hike between the parking area and springs. That short hike means that you'll rarely be bathing alone, as this is a quite popular spot amongst locals.
However, given that its location between Bakersfield and Ridgecrest, neither of which are big tourism hubs the way Mammoth Lakes is, you likely won't find it as crowded as hot springs in Mono County.
Bathing suits are recommended, though some bathers opt to go nude. Check here for directions.
Other Noteworthy Hot Springs in California
Pin This California Hot Spring Guide!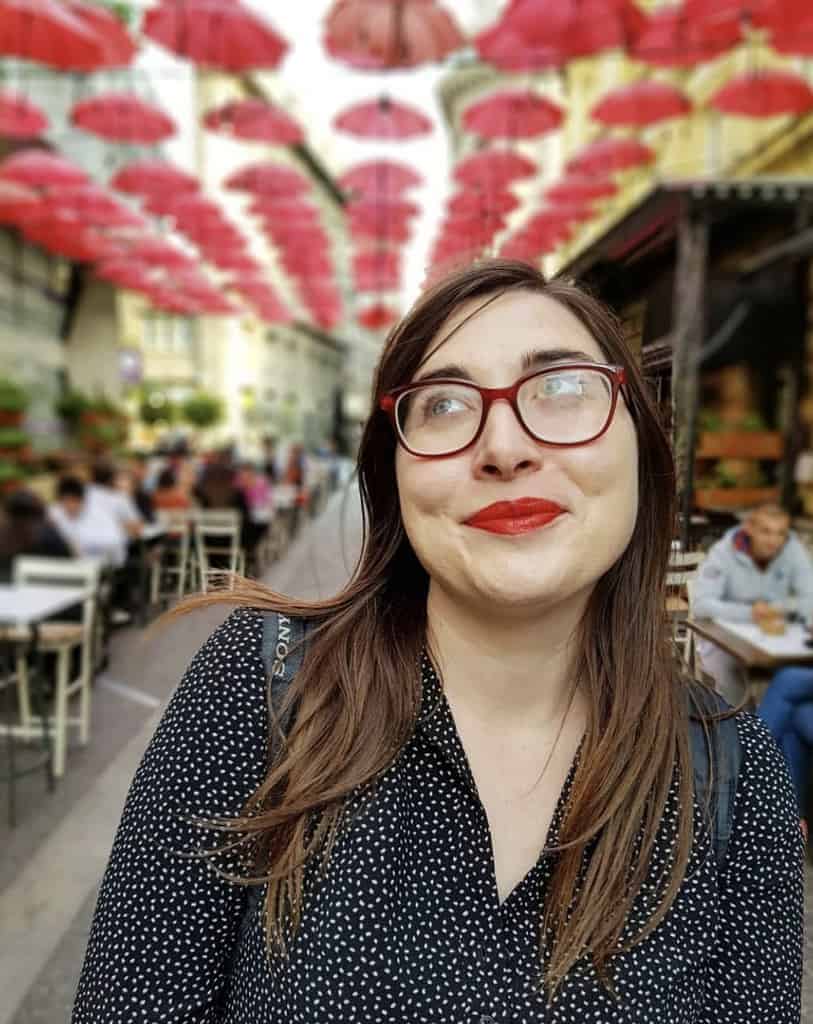 Allison Green is a travel blogger, writer, and podcaster who grew up in the Bay Area of California. She has spent time living in New York, Prague, and Sofia, but has returned to live in the East Bay. She has traveled to 60 countries before the age of 30 while running several digital travel businesses. Her writing and podcast have been featured in Forbes, CBC Canada, National Geographic, the Huffington Post, and CNN Arabic, amongst others. She's obsessed with dogs, wine, and anywhere she can see the ocean.