Travelers come from miles around to see the rocks in Pinnacles National Park. And these rocks are worth the trip!
The reddish-brown rock spires (for which the park is named) were created in a volcano millions of years ago and now stand tall throughout the park, creating a unique swath of land in Central California that begs to be explored.
While many people visit Pinnacles National Park for rock climbing, the area also has many miles of trails and lots of unusual wildlife seen in very few other places.
When hiking in Pinnacles, keep your eyes peeled for California condors, which were once extinct in the wild but have been reintroduced in Pinnacles.
If you're lucky, you'll also get to explore the seasonally open caves in the park that house 13 species of bats. The park has many talus caves, which form when boulders fall into gorges, forming a semi-enclosed cave underneath the boulder.
Pinnacles National Park is located about 2 hours from the Bay Area and San Jose, making it a great place to do a day trip!
Most of the trails in the park connect, so it will be easy to extend any of these hikes into longer loops. You can also make reservations at their campground for a longer Pinnacles experience!
(Note: Pinnacles National Park gets quite hot in the summer, so it is recommended you visit in the spring, winter, or fall.)
Best Hikes in Pinnacles National Park
Prewett Point Trail
Note: This post contains affiliate links, which earn me a small commission at no extra cost to you if you make a purchase using one of these links. Thank you for supporting this free content!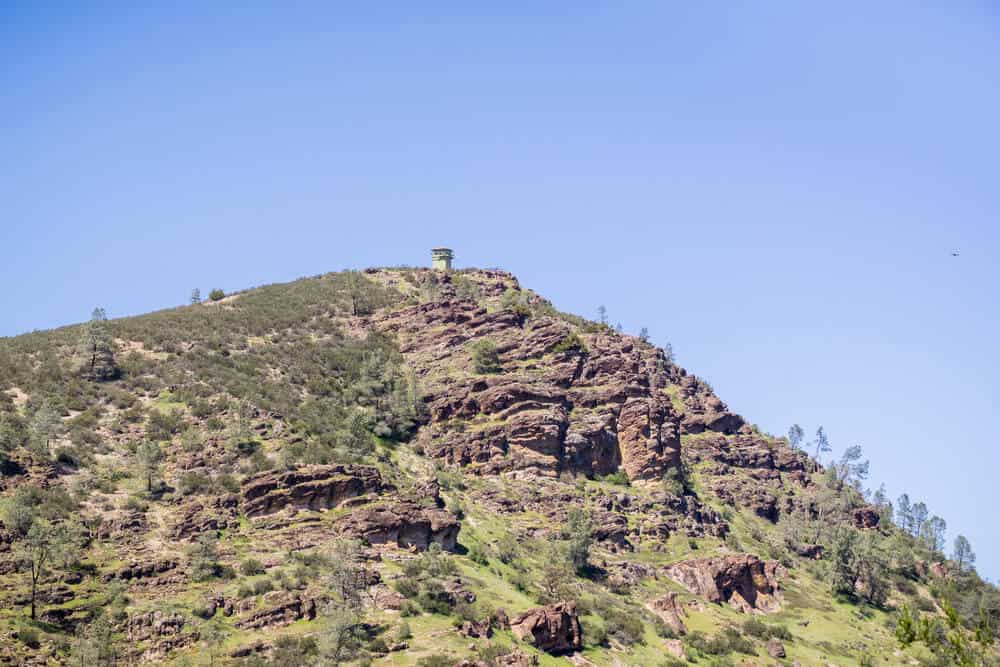 Distance: 0.9 miles round trip
Total Elevation Gain: 70 feet
The Prewett Point Trail in West Pinnacles is a nice and easy stroll to a large overlook of the Hain Wilderness. The trail has been packed down so that it is accessible and suitable for people using wheelchairs, walkers, strollers, etc.
Starting at the West Pinnacles Visitor Contact Station, walk out on a wide trail through fields of grass, and wildflowers in the spring.
In one tenth of a mile, you'll reach a sign talking about the Lyons family homestead that was in the area. Soon you will hit a junction with a narrower trail. Take that, or continue on the wider trail to the right (the trail will loop).
After about 0.4 miles on the wide trail, you will get to an overlook. From there, you'll have a great view of Pinnacles National Park's Balconies Cliffs and High Peaks, including the fire tower atop North Chalone Peak.
Enjoy the views on several of the benches placed along the trail, and look out for wildlife sightings in the fields below.
Jawbone Trail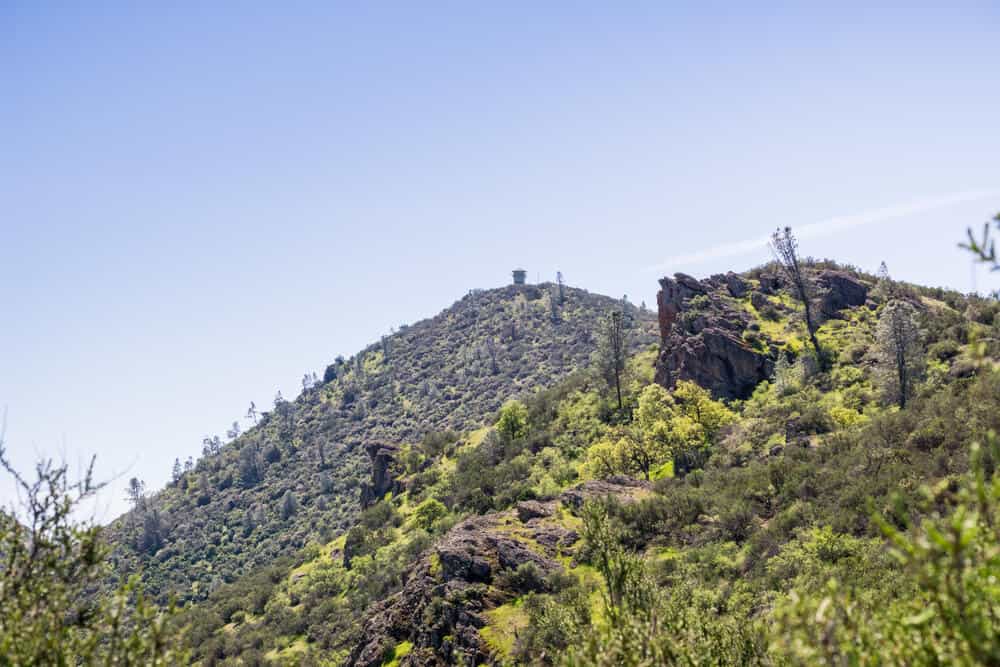 Distance: 2.4 miles round trip
Total Elevation Gain: 553 feet
If you're looking to make your Prewett Point hike a little longer, consider taking the Jawbone Trail down to the Chaparral Parking Area. After about a third of a mile on the Prewett Point Trail, you'll see a small dirt trail heading down the side of the hill.
The trail is quite narrow, and while not particularly strenuous, the trail is much more difficult than the Prewett Point hike.
You'll descend steeply about 500 feet through scrubby lichen-covered trees until you reach a wooden footbridge over the West Fork of the Chalone Creek.
You will reach the parking area in the Chaparral area after a little over 1 mile.
There are plenty of hikes in Pinnacles you can take from there, such as the Balconies Trail or the unmaintained North Wilderness Trail, but the only way to get back to your car at the West Pinnacles Visitor Contact Center is to hike back up the Jawbone Trail. The hike up is strenuous!
Moses Spring to Rim Trail Loop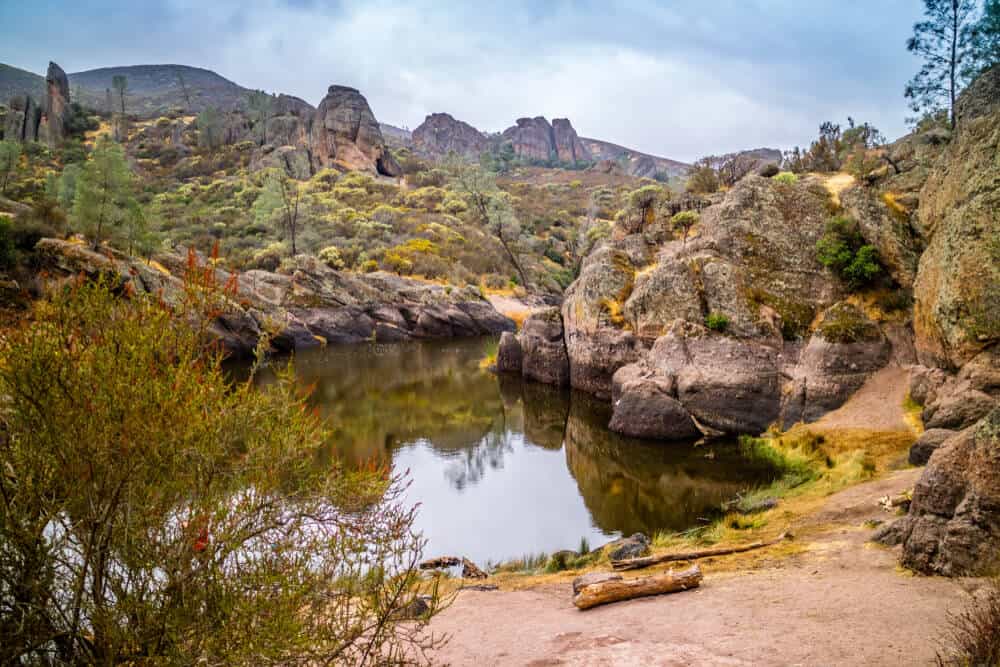 Distance: 2.5 miles round trip
Total Elevation Gain: 524 feet
The Moses Spring and Rim Trail Loop is a great hike to do to get the best of Pinnacles in a single, moderately difficult hike. You'll get caves, you'll get a lake, and you'll even get a waterfall! This is the perfect Pinnacles hike to do with kids who are up for a challenge.
From the Bear Gulch Day Use Area, you'll follow the Bear Gulch Stream towards Bear Gulch Cave and Lower Bear Gulch Cave.
There are also several other talus caves you can explore along the way. Look out for bats hanging on the ceilings above! Make sure to bring a flashlight, since parts of the cave can get pretty dark.
(Note: Most caves close seasonally for ecological protection of the bats. Please follow all restrictions when visiting).
At the midpoint of your hike, you'll come to sparkling blue Bear Gulch Reservoir that is surrounded by tall rock formations. This is a great place to stop for a picnic or snack before continuing to hike the second half of the loop back to your car.
At the reservoir, you may even get to see the California Red-Legged Frog, a species that disappeared in the 1980s and was reintroduced in the reservoir.
If you see one, make sure to keep your distance, since these frogs are still listed as a Threatened Species.
Condor Gulch Trail and High Peaks Loop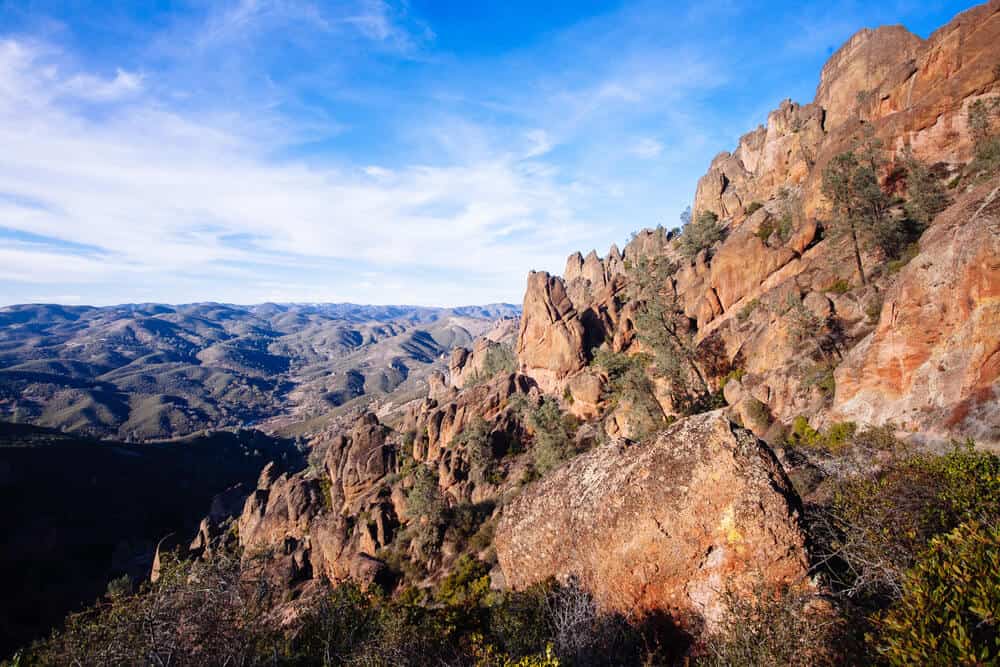 Distance: 1 mile to the Overlook, 5 miles round trip
Total Elevation Gain: 1,100 feet
The Condor Gulch Trail is known for its views, whether it's a rare sighting of a California condor or of the High Peaks beyond.
Begin at the Bear Gulch Day Use Area before climbing gradually up Condor Gulch Trail to Condor Gulch Overlook, a mere mile up the trail.
Keep an eye out for condors, whose massive 10-foot wingspans are hard to miss! You'll also have great views of surrounding mountains and of Pinnacles' strange volcanic rock formations.
Turn around at the Overlook, or continue on for a more strenuous, roughly 5-mile hike.
When you leave the Condor Gulch Trail and hit the High Peaks Trail, take a left to continue and turn your hike into a loop. At around 2.5 miles, you'll start to descend back to the parking lot through forests of sycamore, buckeye and oak trees.
Old Pinnacles Trail to Balconies Cave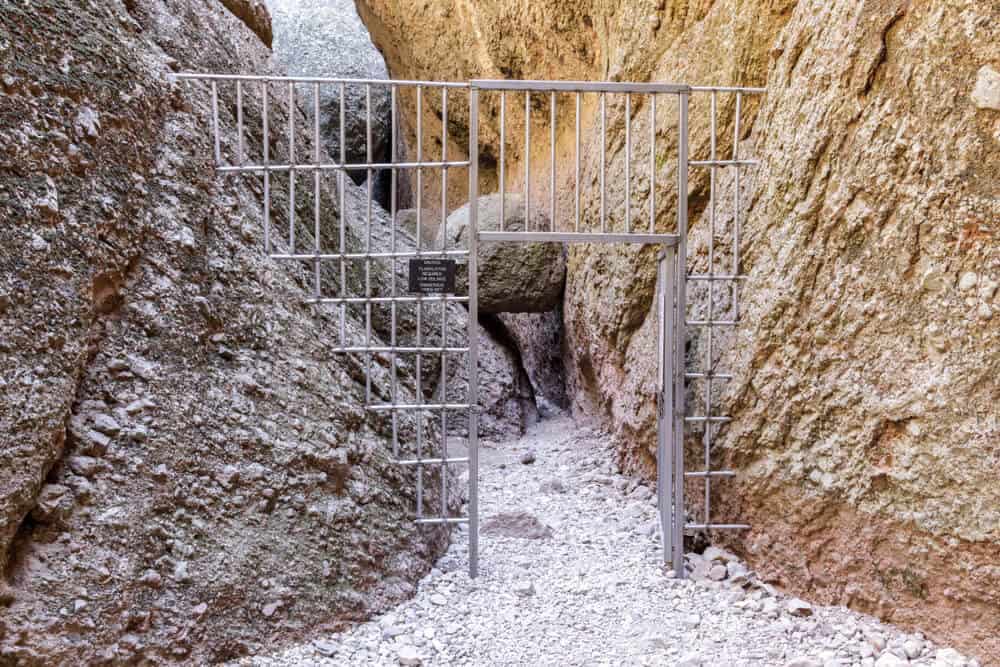 Distance: 5.3 miles round trip
Total Elevation Gain: 495 feet
This trail in Pinnacles National Park offers cave exploration as well as views of two massive rock formations, Machete Ridge and Balconies Cliff. This hike is considered moderate, but it definitely has some steady elevation gain.
Starting at Old Pinnacles Trailhead, hike the first flat and shaded 2 miles before you start climbing into the cliffs. Take in the views from the cliffs and then head down to Talus Rocks.
If the Balconies Caves are open, you'll get to hike through it! Flashlights are required when you enter Balconies Cave.
Balconies Cave is quite the destination, so many trails in the park pass by it. The most direct route to Balconies Cave is on the Balconies Trail from Chaparral Trailhead. Make sure the caves are open before taking this route.
If you're looking to extend your hike, the hike from Pinnacles Visitor Center to Balconies Cave is one of the longest hikes in the park, at 9.4 miles round trip.
Start your hike at the Pinnacles Visitor Center and take the flat and easy Bench Trail for 2.3 miles, where it will link up with the Old Pinnacles Trail. From this junction, it is about 2 miles to Balconies Cave.
Juniper Canyon Trail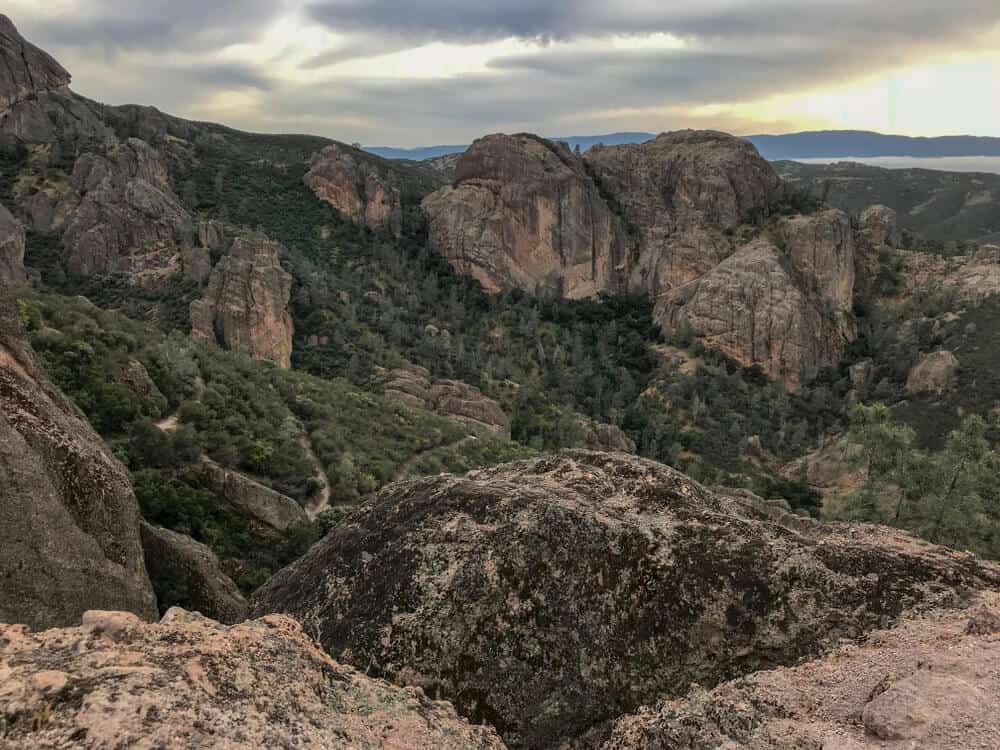 Distance: 3.6 miles round trip
Total Elevation Gain: 1,100 feet
The Juniper Canyon Trail is the only way into the High Peaks from the West side of the park. This trail is not for the faint of heart, as there are several sections of steep switchbacks. The views of rock formations such as Trafalgar Tower and the Pyramid Pinnacle will make the strenuous hike worth it.
Starting at the Chaparral Picnic Area, take the Balconies Trail up Juniper Canyon. You'll follow the trail through the chaparral area with great views of Pinnacle Park's famous rock formations, like Goat Rock, along the way.
After hiking up some switchbacks, pass by the Tunnel Trail Junction and continue on the Juniper Canyon Trail. Eventually, you will hit a junction with the High Peaks Trail, where you can choose to turn around, make a loop with the High Peaks Trail back to the Tunnel Trail, or ascend the 2,605 foot Scout Peak.
Whichever route you choose, you're sure to have spectacular views of the rocks that make Pinnacles National Parks famous!
Pin This Pinnacles National Park Hiking Guide!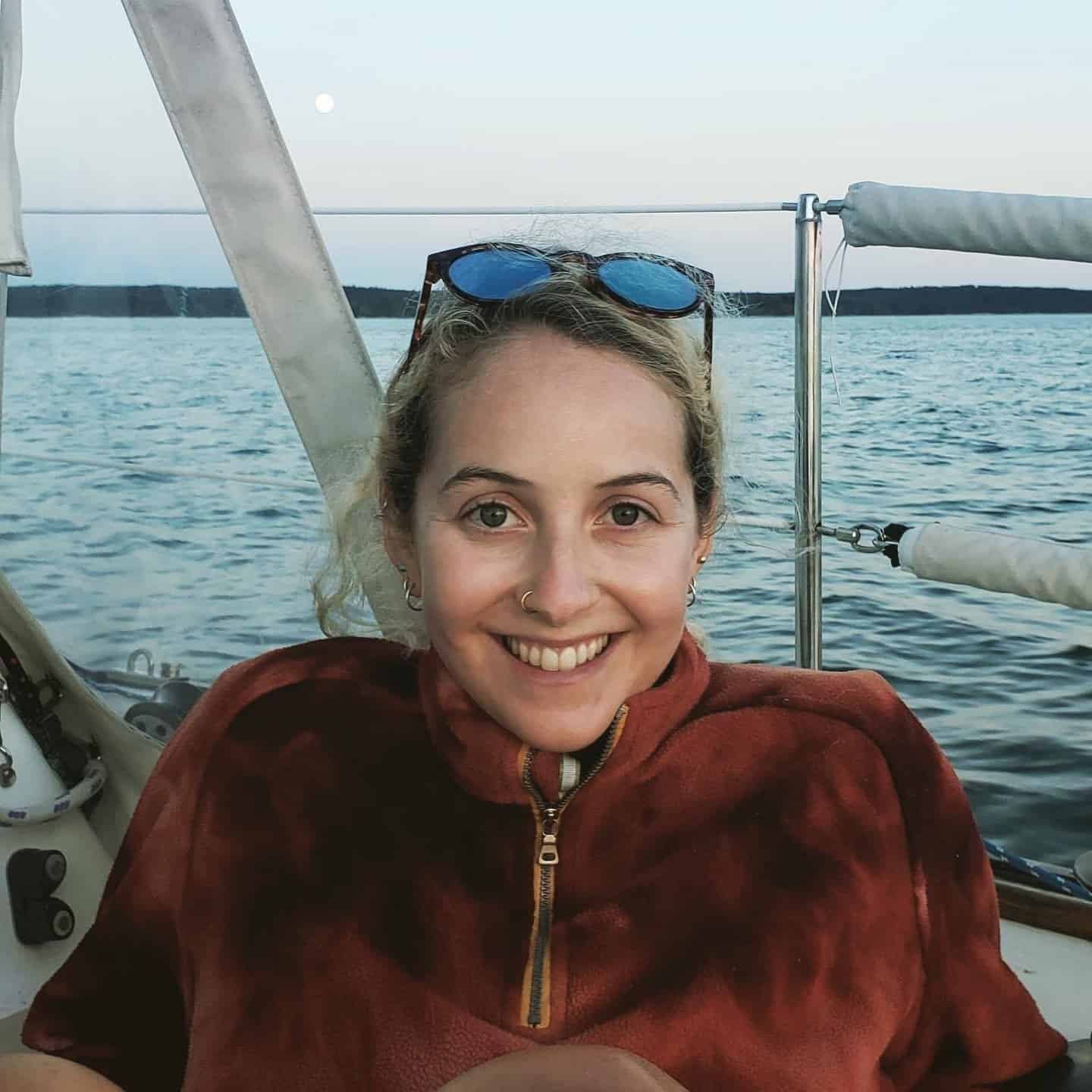 Lena is an outdoor recreation enthusiast born and raised in the San Francisco Bay Area. After going on her first camping trip at 3 months old, she hasn't stopped since. While her backpacking adventures have taken her to wilderness destination across the country, California's mountains and deserts will always be her favorite.