Encinitas is a happy little beach community north of San Diego, full of friendly, active people!
The sunshine and warmth coax you outdoors on most days and, with all the great things to do in Encinitas, you will never be bored!
Encinitas is easily accessible from San Diego or Los Angeles by car and train, and there are many accommodations from which to choose, depending on your needs.
Bring your sunscreen, you will need it!
Where to Stay in Encinitas
Note: This post contains affiliate links, which earn me a small commission at no extra cost to you if you make a purchase using one of these links. Thank you for supporting this free content!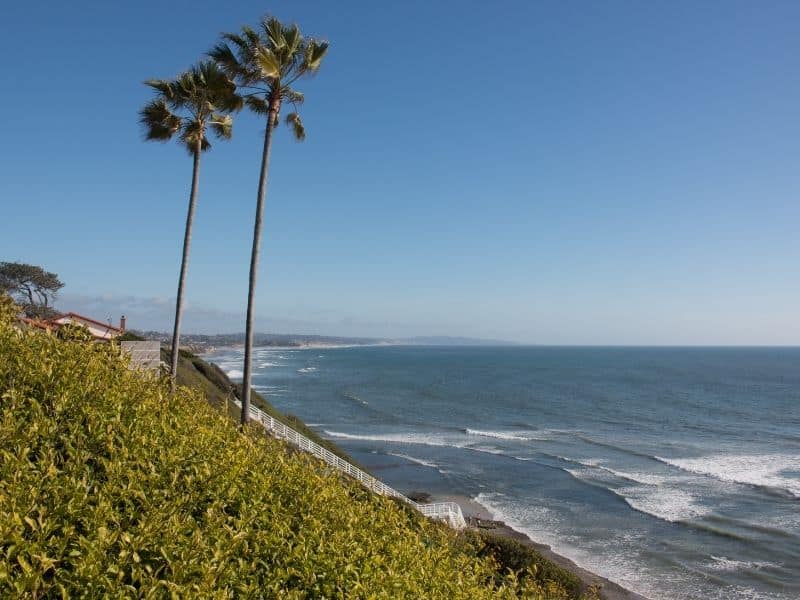 LUXURY | For a luxe resort stay, the Alila Marea Beach Resort is an incredible option. The rooms are spacious with sweeping views of the Pacific, located right on a bluff overlooking the beach. It's got all the 4-star amenities you can dream of: a heated infinity pool, a spa center, a fitness center, a restaurant, etc.
MID-RANGE | For a more budget-friendly option, the charming Cardiff by the Sea Lodge offers a more relaxed B&B style stay. The rooms each have their own style, and there is a rooftop garden with beautiful views of the ocean. 
Things to Do in Encinitas, CA
Surf (or watch!) at Swami's Legendary Reef Break.
There are plenty of surf shops along the coast where you can rent any and all equipment, hire a surf instructor, and hit the waves all before breakfast, aka "dawn patrol".
It is the most popular time to surf, and a beautiful way to watch the sunrise. Even if you don't want to get in the water yourself, watching these surfers head out to the waves at daybreak is a great thing to do in Encinitas.
Swami's surf spot is legendary and as a bonus, the view from the parking lot above, looking out towards the ocean, is one of the best sunset views in all of Southern California.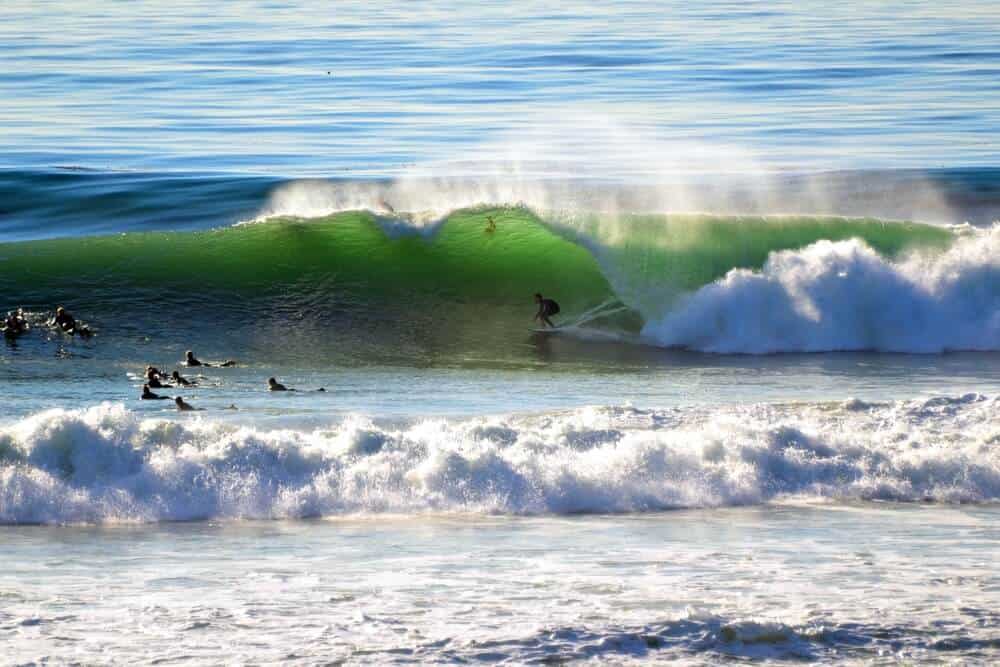 Enjoy the local skate scene.
If you like to ride a skateboard or just watch others do tricks, skateparks have become plentiful and are dispersed throughout this community.
Skating is an important part of Southern Californian culture, and skateparks are a big part of these. They come in different sizes and can include ramps, bowls, rails, and skate paths for cruiser boards.
If you are a first-timer, wear pads and always wear a helmet — or just sit it out and watch others catch some air!
Live life in the bike lane.
Encinitas respects bikers, so biking around Encinitas is a great way to see the city from a different speed and perspective.
The coast roads are marked where they are to be shared between cars and bikes, and in general, there are no problems with sharing the road.
There are many shops where you can rent a cruiser bike for the day and enjoy wheeling around town. Riding along the coast is a beautiful way to check out what downtown Encinitas has to offer!
Just look at the view.
Ready to snap some beautiful photos of your day trip to Encinitas? Viewpoints are placed around Encinitas in the most ideal spots! All you have to do is point your phone and shoot.
Whether you are looking for the expansive blue ocean or an orange sunset as your backdrop, there is an abundance of colorful options from which you can choose. Odds are your pic will look professional!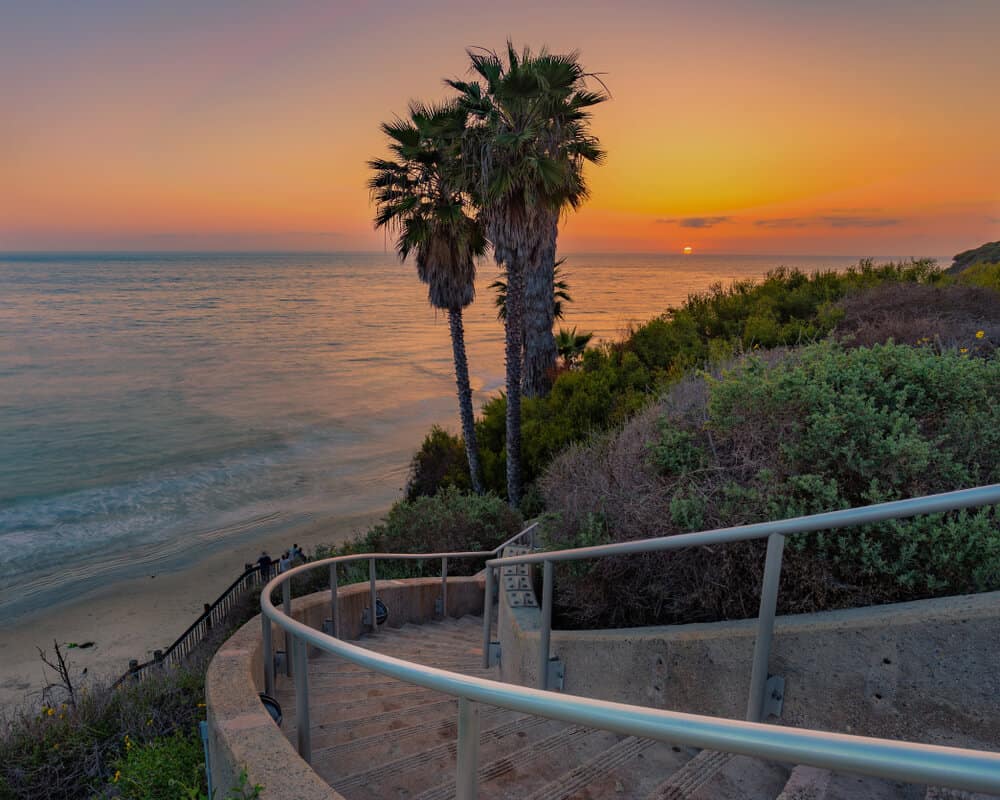 Let out your inner artist.
With all the beauty of Encinitas' plant life and widespread views of the Pacific Ocean, there is enough inspiration for all!
Choose a spot that influences your creativity. Get out a sketchbook or canvas and capture your personal point of view.
Play a round at the Ranch.
If you're the kind of person for whom it's not a vacation without a round of golf, you will love Encinitas Ranch!
The Ranch a well-kept course sprawled next to idyllic neighborhoods. While it is a couple of miles from the beach, the view from the top will remind you that the ocean is never too far away!
18 holes in the morning is a great warm-up for an afternoon surf session… or vice versa!
Spend a day at the beach.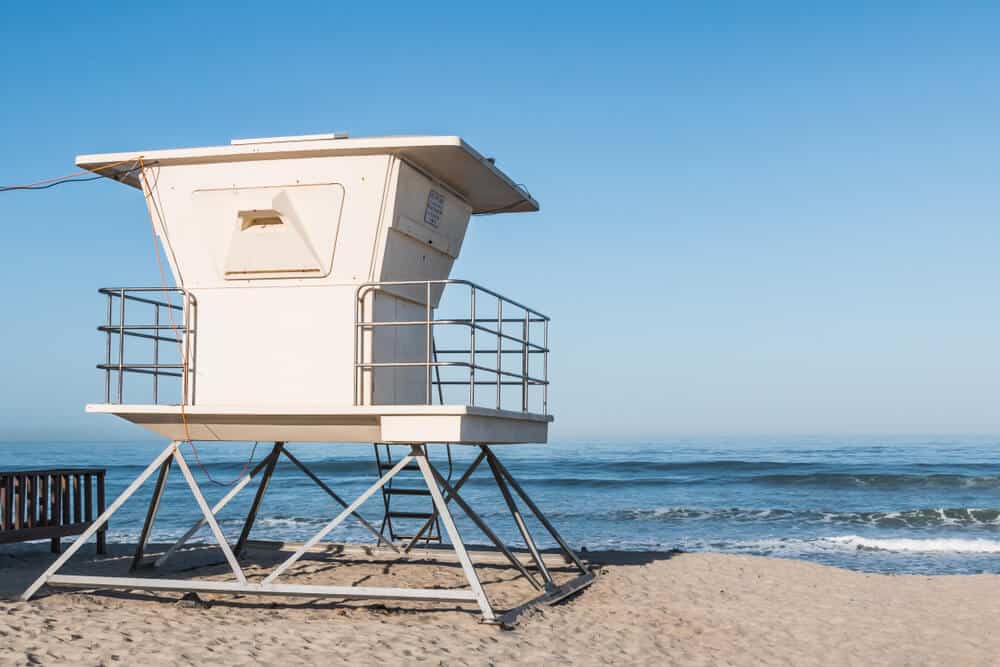 Pick a beach, any beach! Encinitas boasts 6 miles of coastline north of San Diego. It is, by all accounts, a beach community!
Do some research before you visit — some beaches are a good fit for families, sandcastles, and picnics. Other areas are more suitable for surfers and bodyboarders, due to the reef breaks.
A word of caution: stay away from the cliffs. It may seem like a nice shaded spot where you can settle in for the day, but they are known to give way without notice and can be deadly!
Learn about local history.
The San Dieguito Heritage Museum is a small museum that educates visitors on the history of the San Dieguito River Area.
From Native Americans to the diverse inhabitants that populate the region today, the history of Encinitas is shown in photographs and artifacts.
The museum also hosts special events and craft times, so be sure to check their schedule.
Take a stroll through the garden.
Want to refresh yourself in nature? Take a walk through the grounds of the San Diego Botanic Garden. It is a controlled environment where you interact with nature and marvel at the beauty of our native plants.
There are hiking trails, a children's garden, and a treehouse. Check the events schedule as there are activities year-round. There is a price of admission.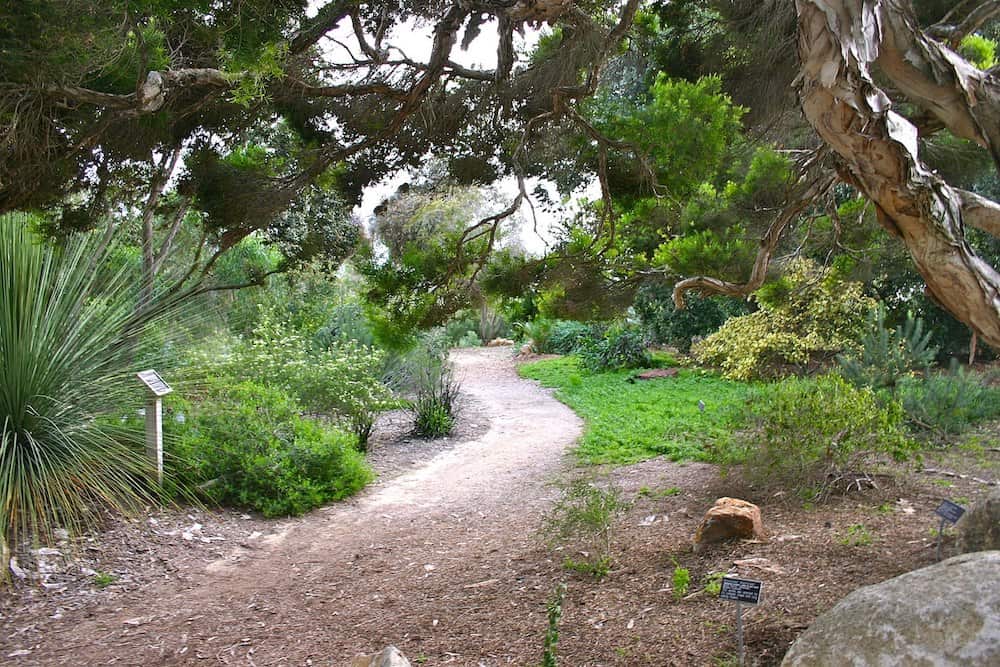 Enjoy the silence at the Encinitas Library.
While a library may not be on the adventurer's bucket list, the Encinitas Library is worth a stop and deserve its spot on this list of things to do in Encinitas!
This building sits on some beautiful prime real estate, so visiting is worth it for the location alone!
They host a number of fun community events you may enjoy, but it is the view from the balcony that is breathtaking. It may be the most relaxing spot in Encinitas to take a break from it all and just breathe.
Take a lap around the lagoon.
San Elijo Lagoon Ecological Reserve and Nature Center is a 979-acre reserve, a shallow-water estuary, and one of San Diego's largest wetlands!
There are 7 miles of easy-to-moderate trails for your choosing, and when you visit, you'll see why it made our list for having one of our favorite hikes near San Diego.
Whatever trail you choose, you'll see wildlife, native plants, and a beautiful view of the Pacific Ocean.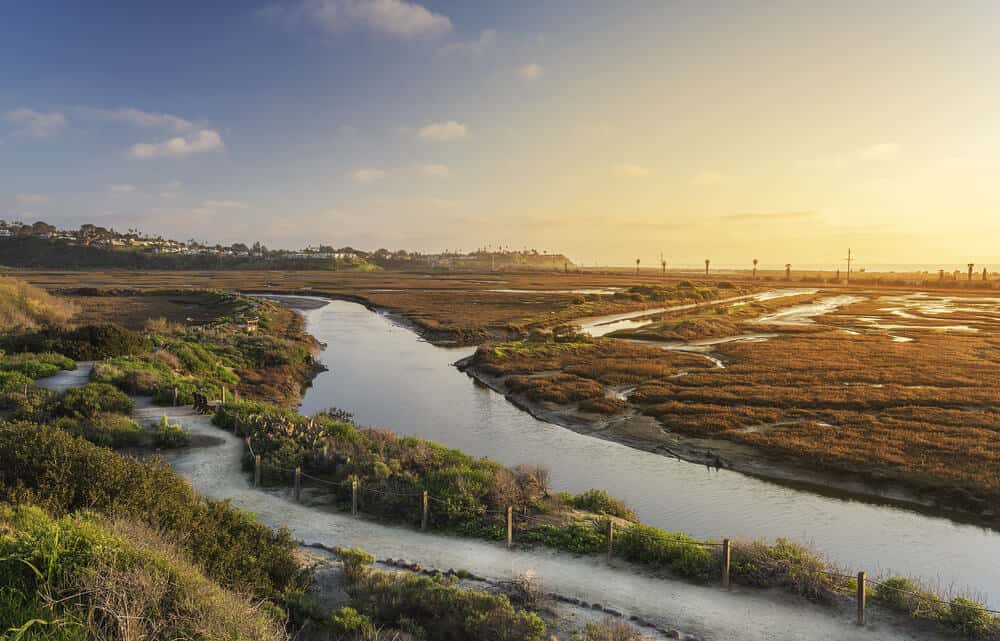 Taste a taco or burrito.
You can't leave Encinitas without eating Mexican food. Local taquerias and restaurants are on every block. It is all authentic and all good.
Breakfast burritos are a popular choice after an early morning surf session. Don't forget to pile on the salsas!
Pitch a tent or park your RV.
At San Elijo State Beach Campground, you can set up a tent or park your RV near hookups, sit back and watch the waves. The oceanfront sites are situated on the cliff above the beach!
The campground has bathrooms, showers, and a camp store. There are stairs leading to the beach for you to carry down your coolers, surfboards, and beach toys.
Be sure to make a reservation, these spots go fast — it is one of the best campgrounds near San Diego, after all!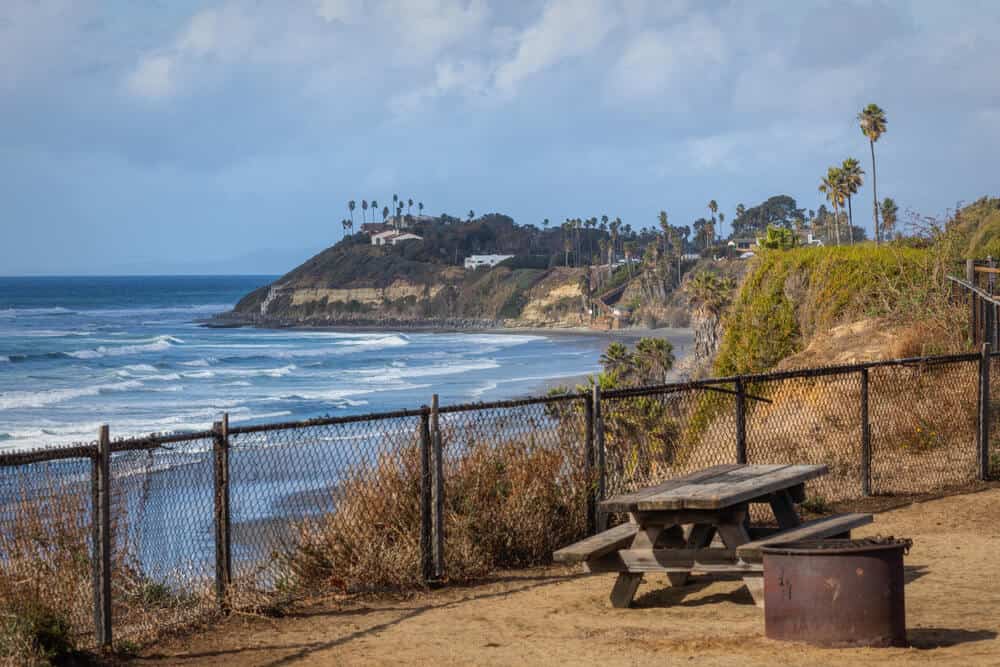 Stop and stare at the Cardiff Kook.
Originally a statue to honor those just learning to surf, it has become somewhat of a local laughingstock!
For birthdays, holidays, anniversaries, etc., almost daily this sculpture is decorated and dressed for a variety of reasons that give locals a good chuckle.
There are even calendars for sale exhibiting the most elaborate and creative of these costumes.
Pay your respects to the Surfing Madonna.
Stop at the corner of Encinitas Blvd. and Highway 101 to pay your respects to a beautiful art installation known as the Surfing Madonna.
The 10 x 10 foot mosaic was initially installed illegally under the train tracks and depicts the Virgen de Guadalupe on a surfboard.
When the artist was fined for 'graffiti', locals complained and the project was reinstalled at its current location.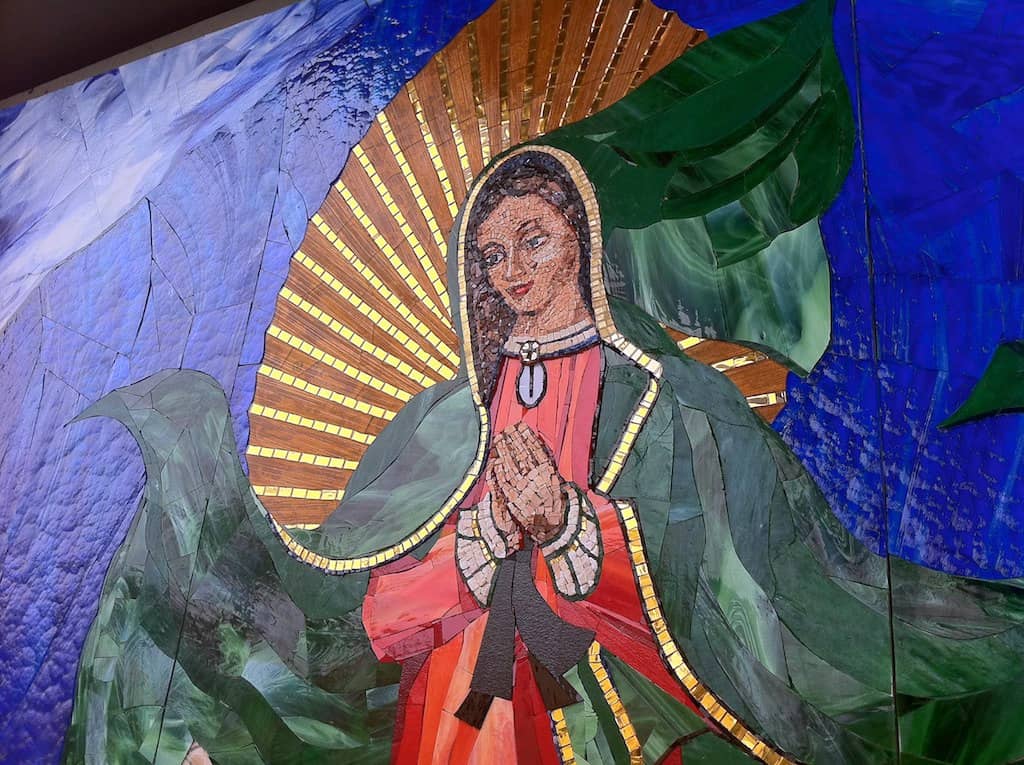 Dress like a local.
If you are looking for an iconic souvenir, then stop by Encinitas Surfboards and pick up a t-shirt, sweatshirt, or hat.
They've been around since 1975, run by locals, and have everything you could need for a day on the water.
You will see their logo on clothing worn by locals and tourists alike, so you'll fit right in!
Bond with butterflies.
Butterfly Farms' main goal is to educate, conserve, and conduct research for the future of our native pollinators.
They boast a 3,000 square foot Vivarium, the largest native butterfly free-house in Southern California.
Take a walk through the enclosed area, interact with Monarchs, and learn how vital they are to our ecosystem.
Get your 'om' on.
There's a reason why Encinitas will have you saying "'om' my goodness, it's beautiful here!".
The Meditation Gardens of Encinitas is one of the most idyllic spots on Earth. Filled with koi ponds, native plants, and flowers, these grounds are meticulously kept as a peaceful place to meditate and reflect.
There are hidden spots tucked away for your meditative practices, but if you make your way to the top, you will see views of the coastline and ocean that are unparalleled.
Take some time in this peaceful oasis to reconnect with yourself.
Head to the movies.
Check out what's playing at historic La Paloma Theater, originally a silent movie theater built in 1927.
They show a mix of new and old films, as well as movie premieres and live performances.
It is a beautiful old building that has been maintained over the years and provides a unique viewing experience that is true to its roots.
Check out the downtown.
Downtown Encinitas is home to a number of eclectic shops, cafes, and restaurants.
This stretch of Highway 101 is a popular place to walk around and shop or take a seat and people watch.
When you are ready to cool off, the ocean is just a few blocks west — go for a dip whenever you feel like it!
Get a tan (the right way).
Southern California is know for sun and sand, and it's no surprise that the people are known for beautiful sun-kissed skin!
Encinitas is sunny and warm most of the year and, therefore, a prime place to get a tan. However, don't go out and cook yourself. Sunscreen is important and will only help your color deepen with less damage.
A day in the sun — protected by sunscreen and a sunhat to protect your face — will leave you feeling healthier than exposure to the harmful UV rays of a tanning bed. Be sure to stay hydrated!
Have a drink at the bar.
Downtown Encinitas, sleepy by day, becomes a little more spirited at night!
Many bars and restaurants host live music and drink specials. Most establishments are within walking distance of each other, which makes it easy to barhop safely.
While Encinitas is generally a laid-back, casual town, many of its younger residents will dress up to go bar hopping.
Be sure to select a designated driver or opt for Uber for the night.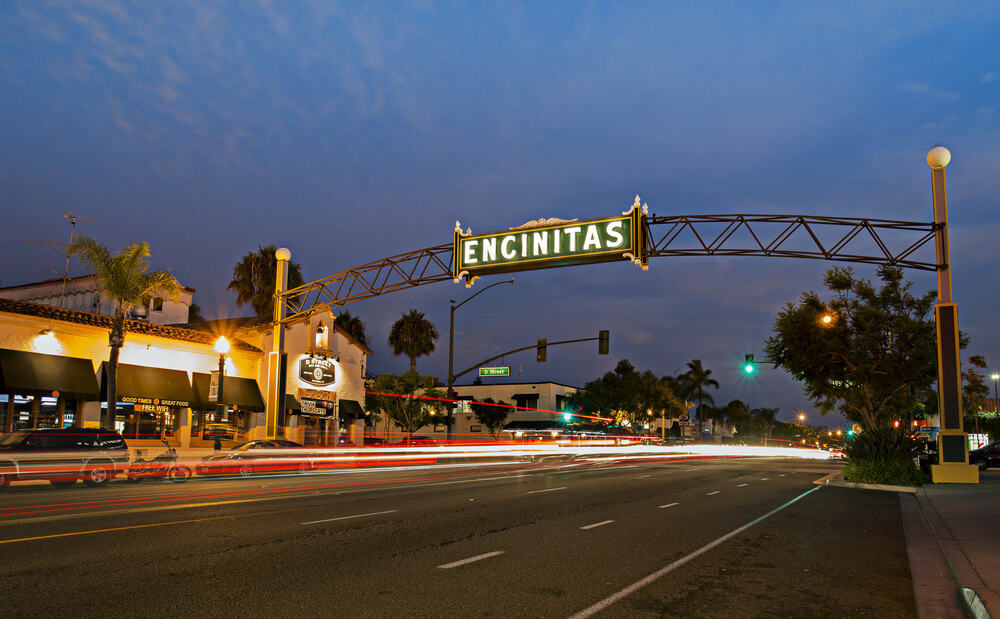 Contributing Writer: C. Tavassoli
Pin This Guide to Things to Do in Encinitas