When you think about vacationing in Southern California you might first think of heading to LA, Malibu, or Disneyland. But there is a super cool area that is nearby and has a ton of things to do on and off the water… Long Beach, California!
Long Beach is located inside the Los Angeles metropolitan area about 20 miles south of downtown LA.
With a population of almost half a million people, Long Beach is also home to the second busiest container port in the United States, the Port of Long Beach. You can see ships lined up on the shores carrying all of your packages from overseas.
If you want to explore Long Beach you want to be armed with the best information to make the most of your time here. There is something for everyone in Long Beach.
Here are some of the best things to do in Long Beach, California!
Check out the Aquarium of the Pacific.
Note: This post contains affiliate links, which earn me a small commission at no extra cost to you if you make a purchase using one of these links. Thank you for supporting this free content!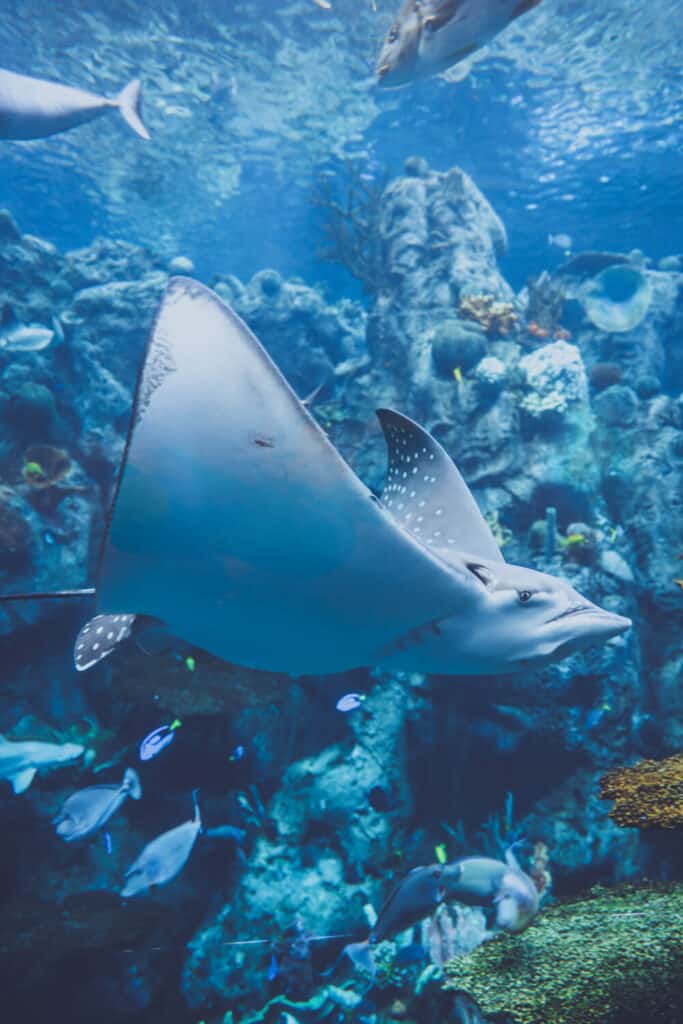 The Aquarium of the Pacific is one of the best things to do in Long Beach. It is a public aquarium on five acres across the water from the Long Beach convention center, Shoreline Village, and Queen Mary Hotel.
With over 11,000 exhibits you could spend the whole day exploring. Check out the sea otters, Shark Lagoon, and penguin habitat, or book a whale watching tour to get out on the water.
Admission is $36.95 for adults and $26.95 for kids. Parking for the day will run you $8.00
They are open Monday thru Friday 9 AM through 6 PM and on weekends they are open until 8 PM.
Board the Queen Mary.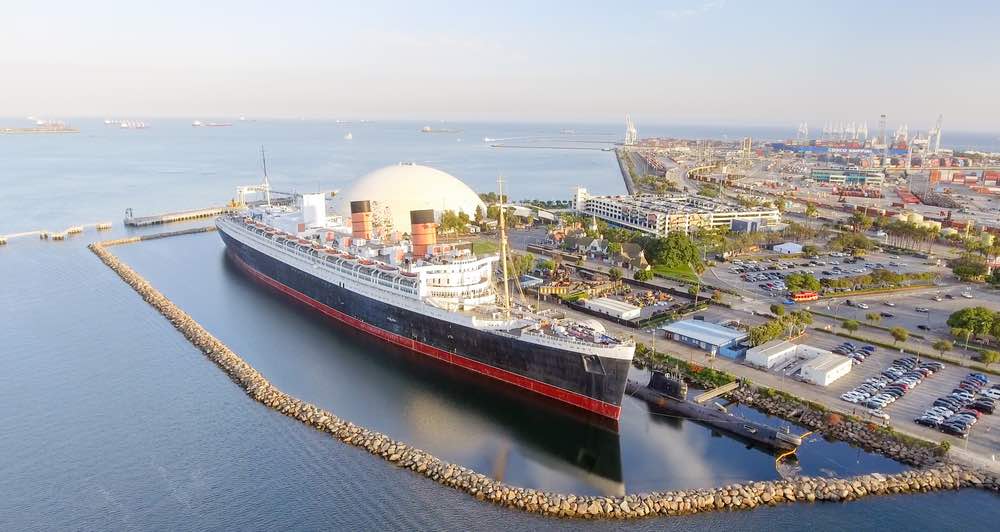 If you are out exploring near the Aquarium, you will not miss the giant ship docked nearby, that is the Queen Mary.
The Queen Mary was built in 1936 and is on the National Register of Historic Places.
It serves primarily as a boutique hotel, dining experience, and event center. One of the coolest things to do around Halloween time is to take one of their Haunted Encounters or Paranormal Tours for some spooky fun — it's supposedly one of the most haunted places in California.
There are self-guided exhibits through the engine room, propeller box, and bridge area as well as guided tours.
They even have a "Dining with the Spirits" dinner and tour package available to those that want to experience the eerie ship at night!
Be prepared to pay $20 for parking at the Queen Mary.
Grab a bite at the Shoreline Village.
After a long day of sight-seeing at the Aquarium or Queen Mary, your next stop should be the Shoreline Village.
It is a touristy spot, but it's got some great shopping and water-front dining at places like Yardhouse, Tugboat Pete's, Tequila Jack's, and the Funnel House.
This place is fun for the entire family and offers some unique experiences like parasailing, bike rentals, sailing and boat rentals, arcades, and having your picture taken with exotic birds.
The new Swan Boat rentals at Rainbow Lagoon Park are one of the coolest things to do in Downtown Long Beach. Soak up some sunshine as you pedal your way through this tourist hot spot.
TRAVEL TIP: Be sure to check out the Passport, a free shuttle bus service that connects Shoreline Village to downtown. Buses run every 12 minutes between Shoreline Village, the Aquarium of the Pacific, The Queen Mary, and many of the major hotels in the area.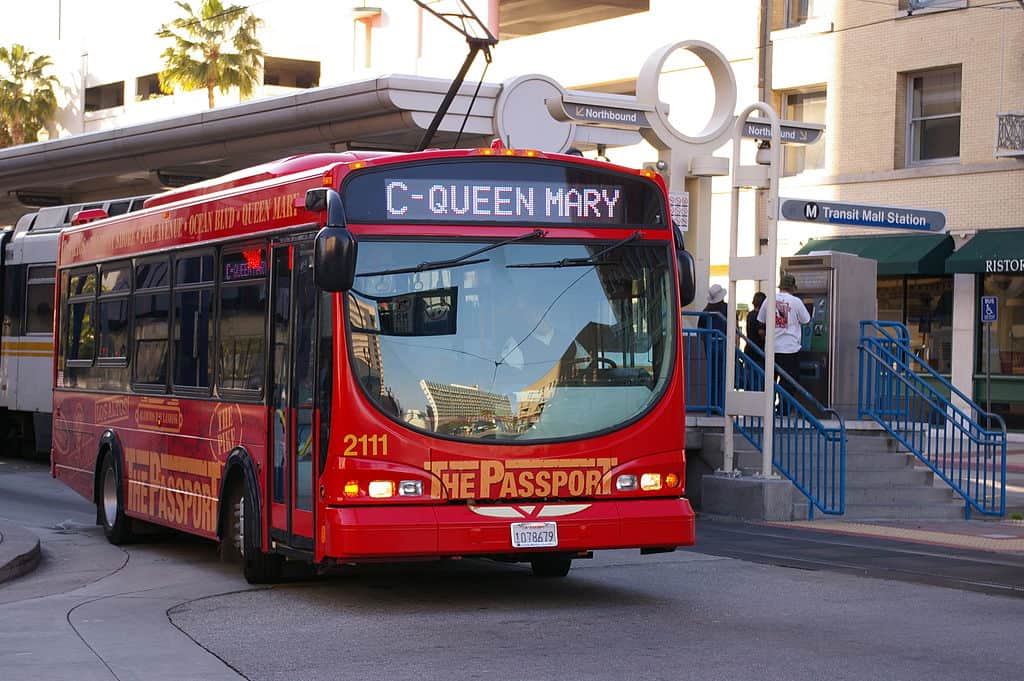 Shop with locals on Retro Row.
If you are looking for a less touristy Long Beach experience, step away from Shoreline Village and head to Retro Row. It is a cool hipster kind of area on 4th Street that is full of a ton of small businesses, kitschy shops, tasty cafes, and a fun Southern California vibe.
One of the best places to eat brunch in Long Beach is the Wide Eyes Open Palms Café on Retro Row. They are locally owned and buy all of their produce from the local farmer's market for some true farm-to-table eating. They are only open Friday through Sunday from 8 AM to 1 PM.
TRAVEL TIP: Be sure to check out the best farmer's markets in Long Beach on Sunday at the Marina and Saturday and Mondays at Bluff Park, from 9 AM – 1 PM.
Another fun place to visit on Retro Row is The Hangout. It is owned by several different vendors that each have their own spot in this cool urban space. They sell books, plants, home goods, and apparel. You will truly feel that liberal California vibe in this store.
Another great shopping and restaurant zone is 2nd Street. It is packed with local shops and restaurants… not a chain restaurant in sight!
They even have a brand new shopping center right at the south end of 2nd Street right on the PCH, appropriately named 2nd & PCH. Enjoy the outdoor mall, Whole Foods, and Peloton store — yup, this area is fancy!
Do yoga in the park.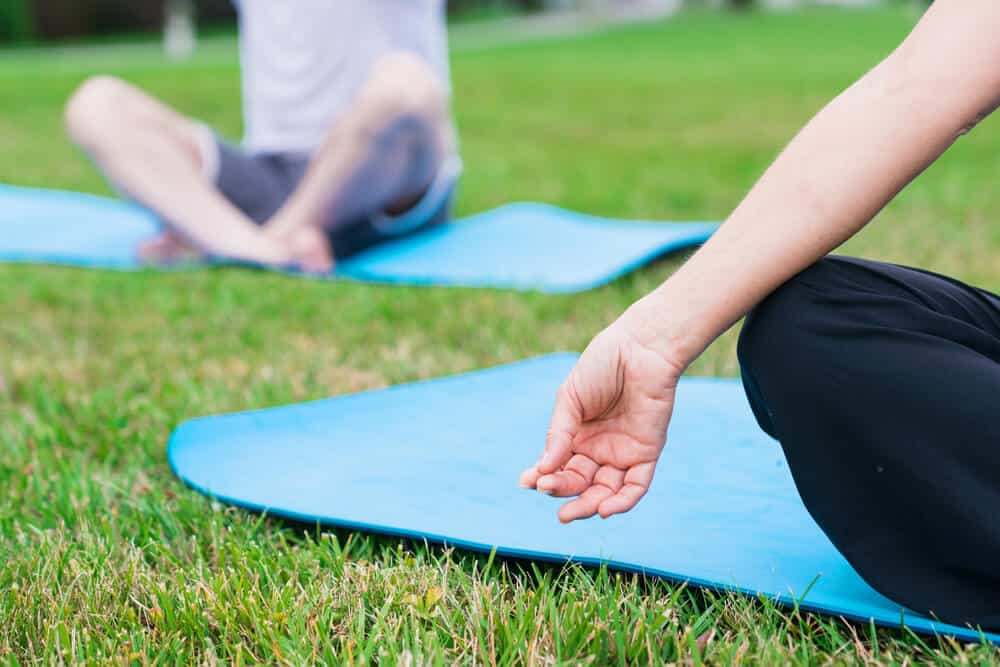 If you have ever dreamed of striking your downward dog pose while the sea breeze blows through your hair, I've got a place for you… Yoga on the Bluff!
Every day of the week at 11 AM (plus 6 PM after April 1st), people gather on the corner of Ocean and Junipero on the grassy bluff overlooking the Pacific Ocean for Yoga on the Bluff.
Be sure to bring your yoga mat or towel. The best thing about this experience is that it is completely FREE!
TIP: The yogis donate their time to give this class to those that may not be able to afford it. If you are able, please make a donation to help support this great effort to make yoga more accessible!
Now that you've done some touring around town, it is time to chill out and there is no better place to do that than in nature. Get ready to explore some of the gorgeous natural places in Long Beach.
Take a trip to Naples Island.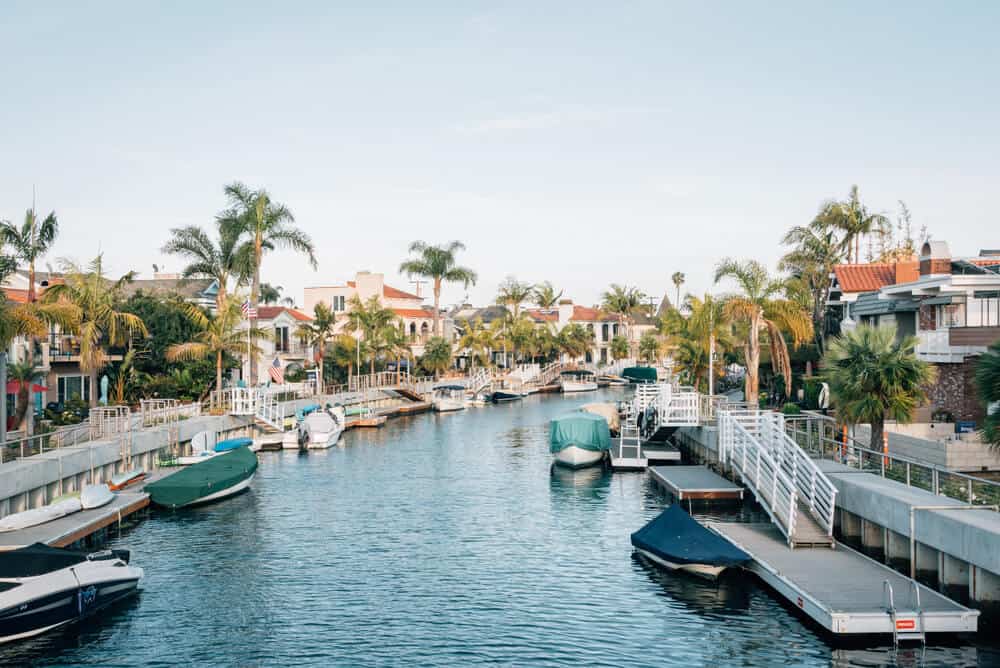 When you think of Naples, you might first think of the gorgeous country of Italy. If you cannot make it overseas, Naples Island in Long Beach is the next best thing!
Naples is an upscale neighborhood in Long Beach that is built on three islands located in Alamitos Bay. The islands are divided by canals that end up opening into the bay.
To give it even more of an Italian vibe, most of the streets have Italian names and there is even a large water fountain in the center of town!
This is a great place to stroll down the canals and check out all of the stunning homes.
If you are looking for a unique thing to do in Long Beach, book yourself a Gondola Cruise down the canals of Naples. It can be a romantic escape or something that the kids would think is super cool.
They have small cruises for about $100 for 2 including singing gondolier or a larger cruise for 7 to 10 guests that will cost you $350.
Bring your own alcohol, snacks, and bundle up depending on what time of year you visit! They will provide an ice bucket, cups, and blankets.
TRAVEL TIP: Visit Naples around the holidays to see the festive Holiday Boat Parade. All of the locals max out their holiday decorations, decorate their boats, and pull out their Uggs (a California winter staple!). You can walk through the canals sipping hot chocolate and enjoying some of the local carolers.
Head to Mother's Beach.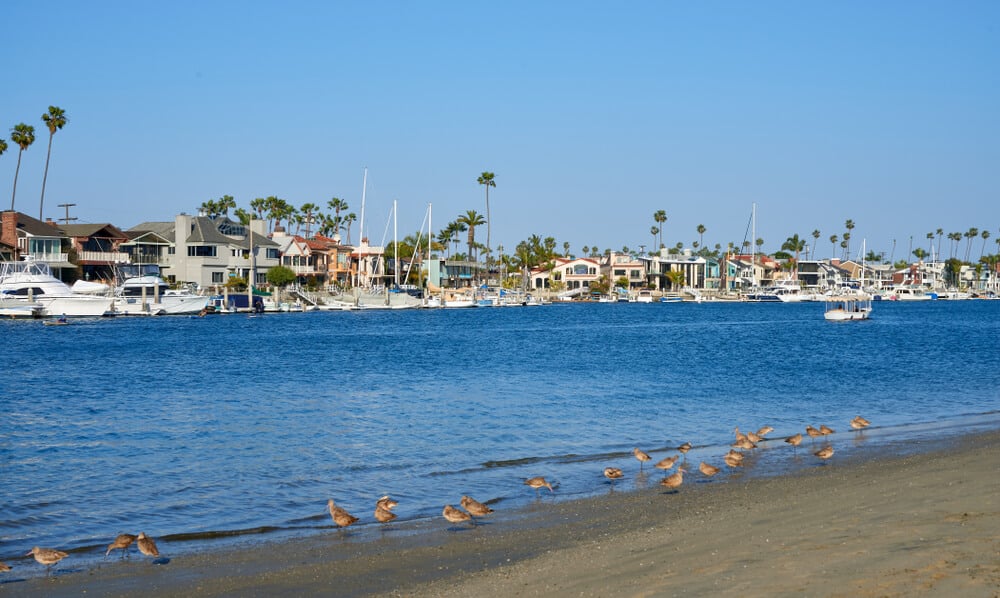 Mother's Beach is a family-friendly beach located directly inside Naples in the middle of Alamitos Bay. This is a very popular spot for local families to enjoy the beach in a safe controlled environment.
There is a protected swimming area with no waves which makes this a great place to bring your kids to swim or to try your hand at stand up paddleboarding without interference from waves!
This family zone also allows fishing and kayaking. It also has picnic facilities and a playground area for the little ones. The parking lot (on East Appian Way and Attica Drive) will fill up very quickly, so get here early.
This is the best spot in Long Beach for some family beach time!
Bring your pup to Rosie's Dog Beach.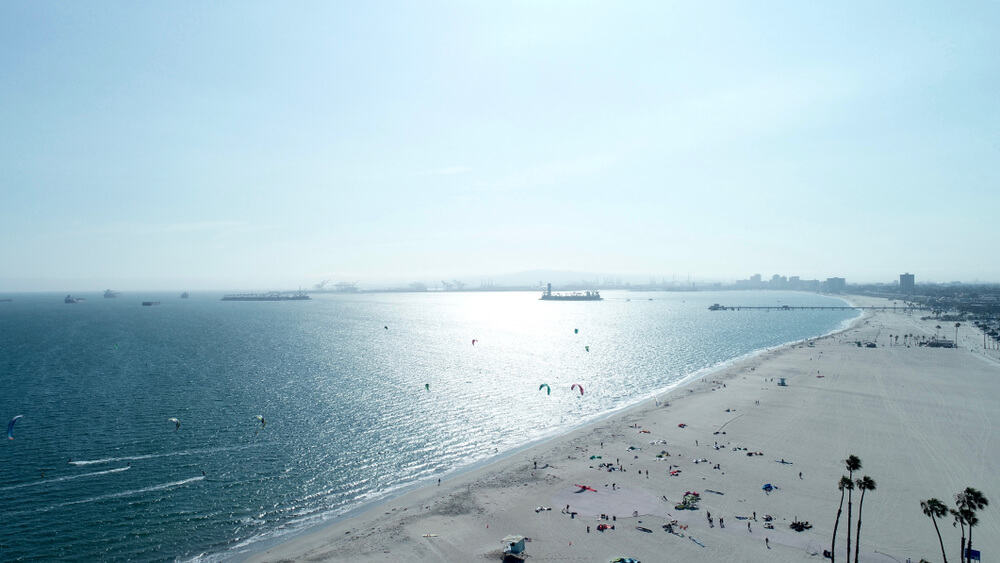 Your puppy will be jumping for joy when he realizes that Long Beach has its very own public dog beach devoted to our furry friends!
Rosie's Dog Beach is located on Ocean Boulevard, just between Granada Ave. and Roycroft Ave and is open from 6 AM to 8 PM every day.
This beach allows your pups to be completely off-leash to enjoy the ocean, sand, and playing fetch on the beach. Be sure to clean up after your pup — they even provide poop bag stations to help you out.
Be mindful of bringing food onto the beach, as there will be a ton of dogs there looking for their next snack! Also, be mindful of bringing young children there if they are afraid of large dogs.
Fido will be in heaven but make sure you bring a towel to clean them off before getting back in your car — their fur will likely be full of sea and sand!
The biking and running trails are right on the beach if you are looking for a place to get some exercise and soak in the dog-filled views!
TIP: The beaches in Long Beach are gorgeous but they do have a lot of machinery, oil rig islands, and ships lining up in the Port of Long Beach. If the scenery is super important to you, you might want to head a little farther South to hit Sunset Beach or the Bolsa Chica State Beach.
Other Cool Things to Do in Long Beach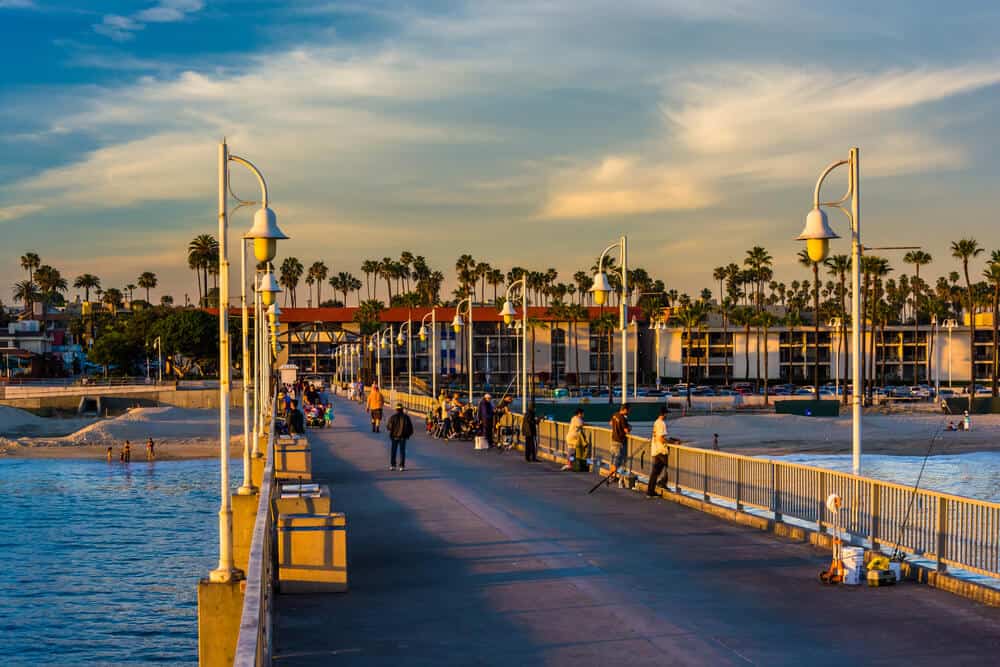 There is no way to mention every cool place to visit in Long Beach because there are so many, but here are some other honorable mentions for you to explore:
Pin This Guide to Things to Do in Long Beach, CA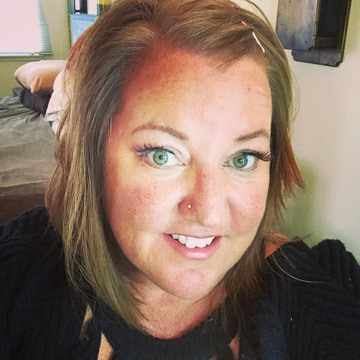 Rosie Queen is a travel blogger and creative writer who grew up on the South Side of Chicago. She has spent time living in Indianapolis, Dayton, New York City, London, Orlando, Boston, and most recently, Huntington Beach, CA. Rosie has been blessed to travel most of her life while being deeply involved in the performing/pageantry arts. She has enjoyed adventures in 48 U.S. states, Japan, Thailand, Mexico, Paris, London, Canada, and the Caribbean. Rosie is obsessed with her dogs, color guard/marching band, national parks, and traveling.