If you're looking for some haunted places in California, you're in for a treat!
For being a land associated with sunshine and surfers, California hides a sinister history underneath its surface.
From religious missions supposedly haunted by the ghosts of murdered Natives to haunted ships and bizarre labyrinthine houses built by eccentric and paranoid billionaires, there are plenty of strange and spooky places in California that just may be haunted.
While there's certainly more to this list than just this, here are the top 5 most haunted places in California.
Alcatraz Island, San Francisco
Note: This post contains affiliate links, which earn me a small commission at no extra cost to you if you make a purchase using one of these links. Thank you for supporting this free content!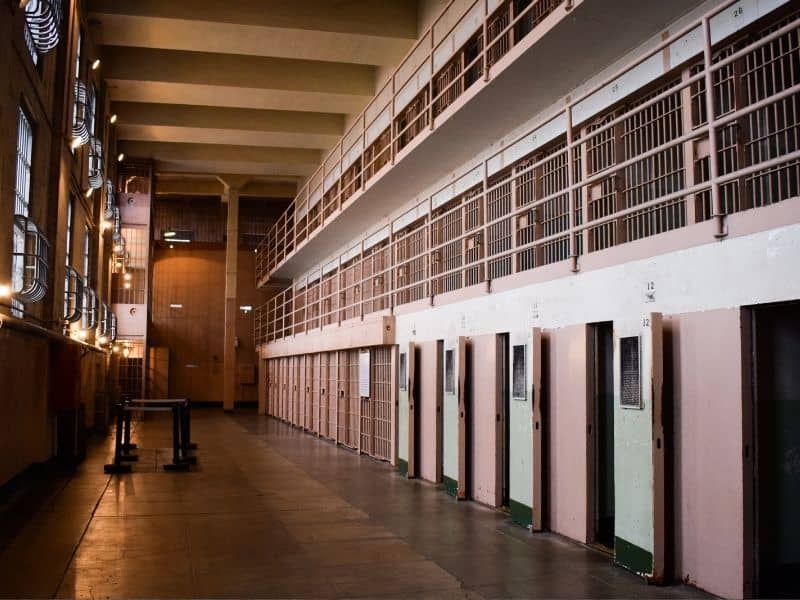 Alcatraz is one of the most notorious former prisons in the world, home to several of California's most infamous criminals, some of whom nicknamed it "Hellcatraz" for the way in which it tended to break even the strongest minds.
Several prisoners committed suicide while there, and others deformed themselves by purposely chopping off their fingers with an axe.
Al Capone, George "Machine Gun" Kelly, and Arthur "Doc" Barker were just some of the notorious criminals and gangsters who served time on Alcatraz Island's prison. Doc Barker was later killed by being shot to death during an escape attempt.
Alcatraz's most dangerous prisoner was Robert Stroud, nicknamed "The Birdman of Alcatraz." He spent 17 years at Alcatraz and killed a guard and injured many of his fellow inmates during his stay. Some say
Henri Young was another infamous resident, who murdered Rufus McCain, another inmate, who claimed to have killed his fellow inmate due to the "cruel and unusual punishment" of Alcatraz guards.
With all these killings and suicides, it's no wonder that Alcatraz Island and the prison on it is considered one of the most haunted places in California.
There are a few particular places in Alcatraz where paranormal activity is said to be higher. One is in Cell 14D, and the story behind it is particularly spooky. An inmate supposedly died there after he started screaming that a creature was going to kill him — so perhaps it did? Many people feel cold when entering the cell and feel an eerie presence to this day.
The A, B, and C cell blocks are also supposedly haunted by the tortured, trapped souls of some of the prisoners who died here. The most feared is "the Butcher," a man who was assassinated in Alcatraz back in the 1940s.
Fact? Fiction? Whichever way it goes, you can't deny that Alcatraz is the spookiest place in San Francisco.
Tickets to Alcatraz often sell out weeks in advance, so book yours online (in combination with a hop-on, hop-off bus) from an authorized ticket seller here.
Winchester Mystery House, San Jose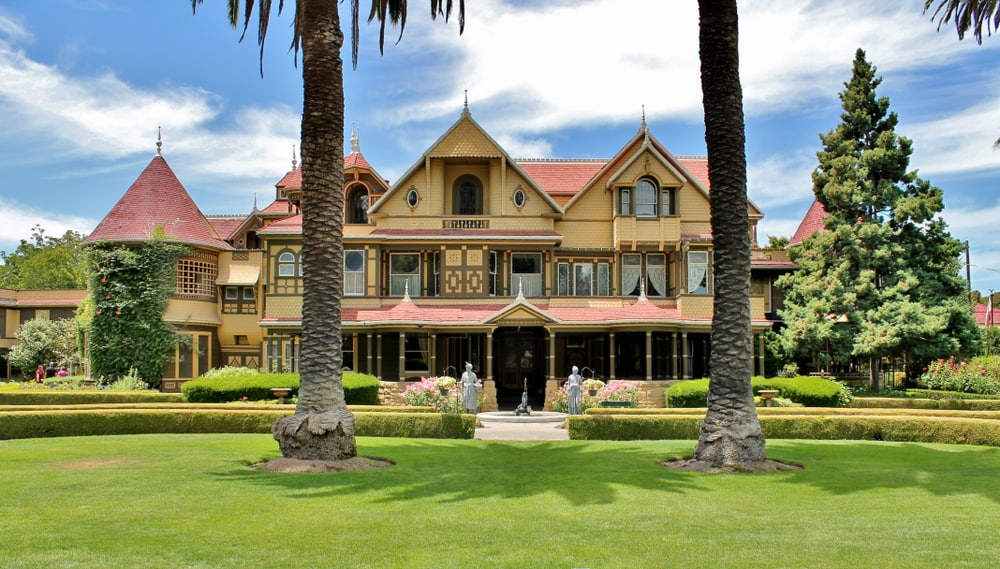 While the exterior of the Winchester Mystery House may look pleasant — perhaps even beautiful — inside is a far more puzzling story.
The Winchester Mystery House was built by the eccentric (and likely mentally ill) Sarah Pardee Winchester (who was the heiress to the Winchester rifles estate). The mansion took 38 years to build and contains 160 rooms in a scattershot, labyrinthine fashion.
The story goes as follows: when Sarah Winchester's husband died in 1881 from tuberculosis, Sarah looked for a psychic to speak with the dead. This medium warned that ghosts who were murdered by Winchester rifles were haunting the family, which resulted in the death of her husband and their six-week-old child — the only child she could ever bear.
Supposedly, the only way she could avoid the ghosts' revenge was to build a massive house for herself and the spirits who were killed by this weapon, and the only way she could keep the spirits from claiming her life too was to continue building this house until her dying day. And so that she did: construction never stopped until her dying day, and she had a constant crew of carpenters who worked literally 24/7 all year round, splitting 12-hour shifts so the house would never not be worked upon.
And the oddities don't stop there: the house was built with very odd specifications, from trapdoors to secret passages to staircases leading to nowhere and doors opening to dead-end walls. Some believe this was her trying to build 'traps' for the ghosts to confuse them and keep them away from her, though no one really knows what was going through Sarah Winchester's mind while she was building for nearly four decades.
You can book your tickets online here.
Whaley House, San Diego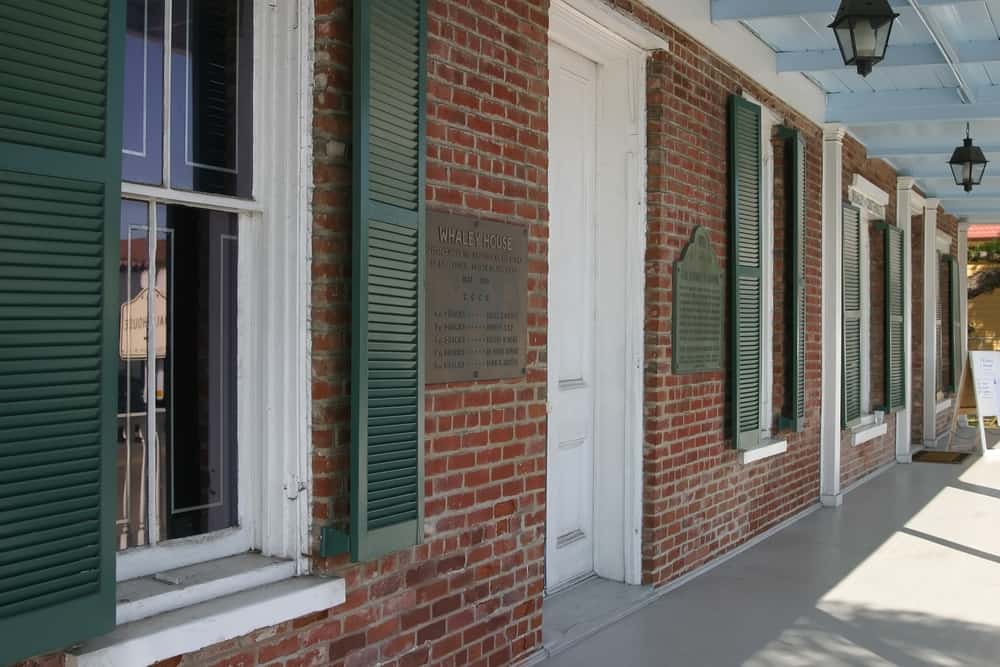 Considered by Life magazine to be the "most haunted house in America," the Whaley House does indeed have a haunting backstory — one that perhaps explains why it is often named one of the most haunted places in California.
It was constructed in 1857 on the location where public gallows (execution apparatuses from which convicted criminals were hanged). For some odd reason, the Whaley House was built atop that… and ever since, there's been a tragic string of events following the Whaley House and its residents, Thomas and Anna Whaley and their family.
All manner of horrible things have happened there: their young child died at only 18 months from scarlet fever, a fire destroyed their home, Anna Whaley was held at gunpoint and robbed at the home, and one of their daughters shot herself to death after her marriage (which had taken place inside the residence) fell apart, also on the Whaley House premises.
But before the Whaley's string of bad luck, another ghost seems to have been haunting the house: Yankee Jim Robinson, a criminal who had been executed at the gallows upon which Whaley House was built.
Many workers on the house have noticed strange occurrences that seem to point to haunting. Loud, unexplained noises and footsteps (supposedly belonging to Yankee Jim Robinson) were commonplace. The soft sounds of a baby crying and giggling, thought to be the baby who died of scarlet fever, were also heard. The daughter who committed suicide is said to haunt the second floor, and visitors have reported sightings of her and felt a cold presence. Some even say they have been able to smell the wife's signature perfume, even decades after she passed on.
The house is open to visitors on guided San Diego ghost tours, and some visitors report sightings and strange sounds to this day.
RMS Queen Mary, Long Beach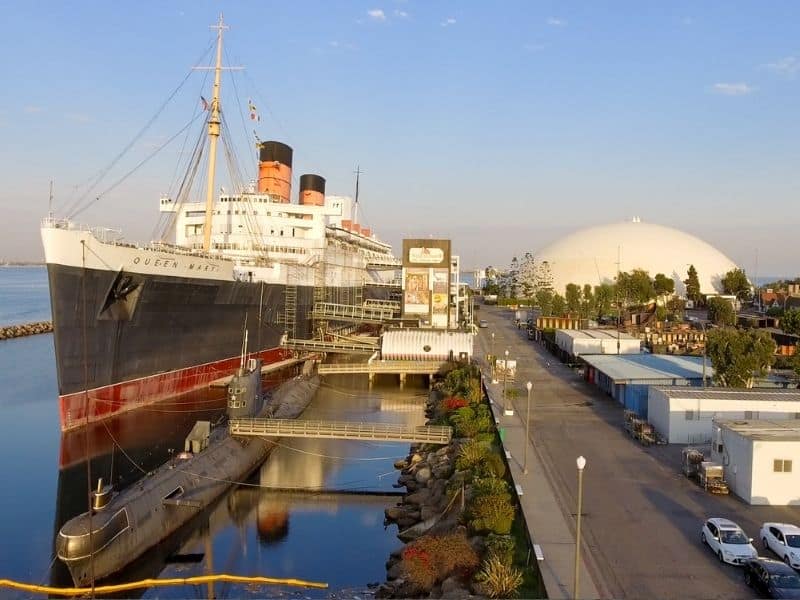 The RMS Queen Mary, a retired British ocean liner, now calls Long Beach, California its permanent home. It was painted gray after its retirement, earning it the name "The Grey Ghost."
But while the ship may have found its place of rest, the spirits who haunt the ship cannot say the same.
It's been named by Time Magazine as one of the top 10 most haunted places in the United States for the variety of hauntings which supposedly continuously take place on this now-docked ship.
The most frightening apparition on this ghastly ship is the "lady in white", who haunts the first-class lounge dressed in a white evening gown. Supposedly, the woman checked in but never checked out, but no details of her death are known.
Other supposed ghosts who haunt the ship include an engineer, who died after being crushed by a door during a fire drill, and several children who haunt the ship in several locations but are particularly fond of haunting the pool, where a child named "Little Jackie" drowned.
Another frightening spirit is nicknamed "Grumpy", who supposedly 'growls' at visitors, usually near the first-class swimming pool.
But perhaps the most tragic ghost on the RMS Queen Mary is Dana, who along iwth her family was supposedly killed in Room B 474. Supposedly, her sister and mother were strangled and Dana was shot to death. Dana is said to sometimes lurk around the pools alongside the other children, or join "Grumpy" and the dead engineer and haunt alongside them.
You can tour the RMS Queen Mary, or for the especially brave-hearted, you can actually stay overnight, as the ship is now a hotel with nearly 350 rooms. Book a room to stay the night if you want to try to see if it is as haunted a place in California as they say it is!
La Purisima Mission, Lompoc
The final haunted place in California in this list is located in Lompoc — a small city about 40 minutes away from Santa Barbara, and coincidentally a place where I spent a lot of time as a child as my dad's family lived there.
California has a number of religious missions throughout it which are generally some of the oldest buildings in the state. There are 21 buildings in the state, all built between 1769 and 1833, which were built by Catholic priests from the Spanish Empire, who were trying to evangelize the Native Americans in California and convert them to Catholicism.
La Purisima (which ironically means 'the purest' in Spanish!) is said to be haunted by the spirits of soldiers and Native Americans of the Chumash tribe, who had a particularly bloody battle in 1824.
Several volunteers and docents have reported strange sightings, feelings, and sensations while working at the mission. Sensations of extreme coldness, the feeling of being watched, and "hot spots" which appear on infrared cameras are just a handful of the paranormal reportings from this mission.
To me, one of the spookiest stories is the ghost who supposedly tucks herself into the same bed each night — which is made every day, brand new — behind a completely locked door.
True or not, this is widely considered by paranormal researchers to be one of the most haunted places in California.
You can easily visit the Mission on a free guided tour (fees apply for parking).
Want to read about more haunted places in California?
Pin these haunted places in California!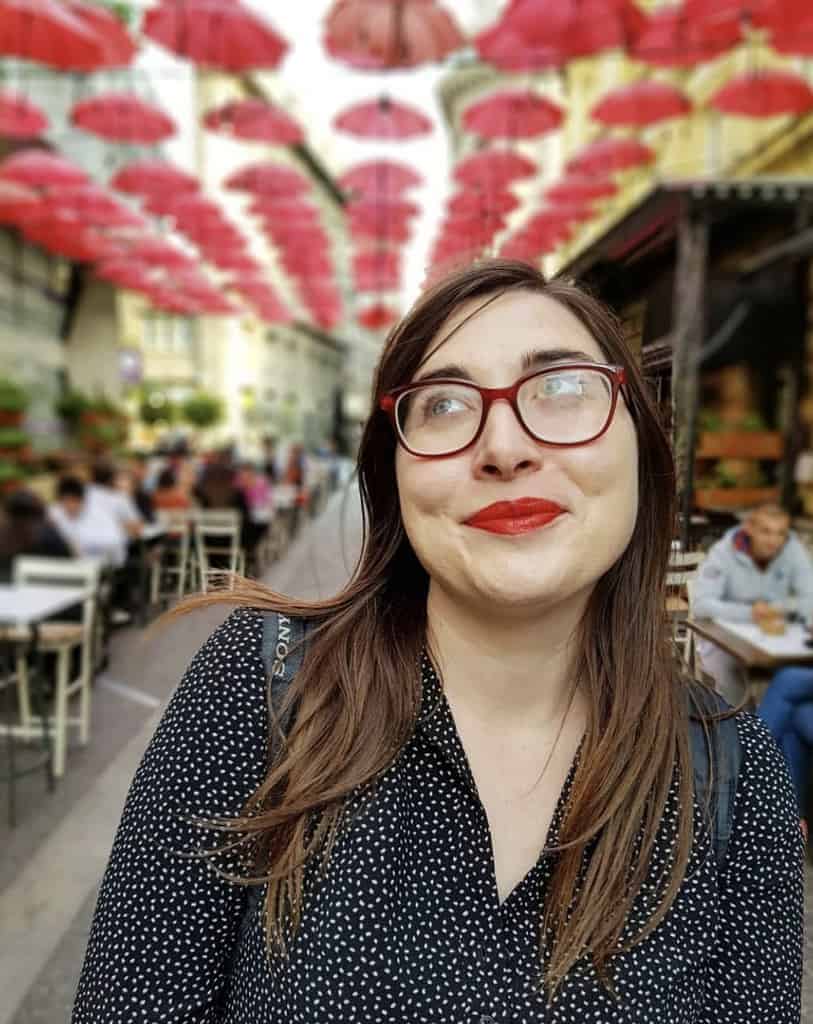 Allison Green is a travel blogger, writer, and podcaster who grew up in the Bay Area of California. She has spent time living in New York, Prague, and Sofia, but has returned to live in the East Bay. She has traveled to 60 countries before the age of 30 while running several digital travel publications. Her writing and podcast have been featured in Forbes, CBC Canada, National Geographic, the Huffington Post, and CNN Arabic, amongst others. She's obsessed with bouldering, houseplants, other people's pets, and anywhere she can see the ocean.