Whether you enjoy camping lakeside, within the redwood grove, above volcanically active areas, or with just a magnificent view, camping in Northern California offers tons of attractive campgrounds with plentiful amenities.
Those looking to camp along the rugged Northern California coastline have a lot of sites to choose from, but Russian Gulch State Park has some of the most scenic spots.
For an epic Northern California. campground with a lake or water view, Trinity Lake, Shasta Lake, and Kirby Cove offer that breathtaking scenery with plentiful camping spots.
To plan your next Northern California camping adventure, we've done all the research for you. We hope you enjoy browsing this list of nine terrific Northern California campgrounds, along with useful information to help you plan your Norcal camping escape, such as the number of sites and amenities they each have.
Antlers Campgrounds (Shasta-Trinity National Forest)
Note: This post contains affiliate links, which earn me a small commission at no extra cost to you if you make a purchase using one of these links. Thank you for supporting this free content!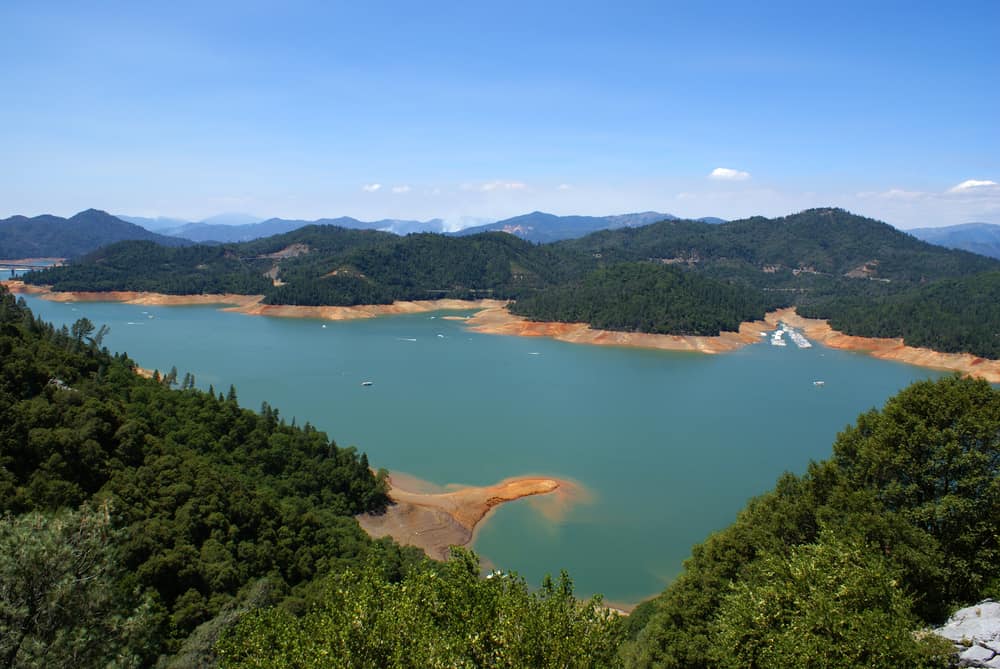 On a bluff overlooking the Sacramento Arm of Shasta Lake (one of the prettiest lakes in California), the Antlers Campgrounds offers both tent and RV camping sites with amazing views of the lake.
The level campground is nicely shaded, with mighty oaks and pines, giving you a restful place to relax during the day in between adventures around Shasta. No wonder this is one of the best Northern California campsites!
Type and Number of Sites
RV – 112 sites
Pull-Through RV – 4 sites
Tent – 96 sites
Site Amenities
Fire ring
Bear boxes
Paved parking area
Picnic tables
RV sites have full hook-ups
Campground Amenities
Communal pool
Hot showers
Playground
Laundry facilities
Convenience store
Basketball, Ping Pong, Horseshoes
WiFi Hotspot on the deck
Beal's Point Campgrounds (Folsom Lake State Recreation Area)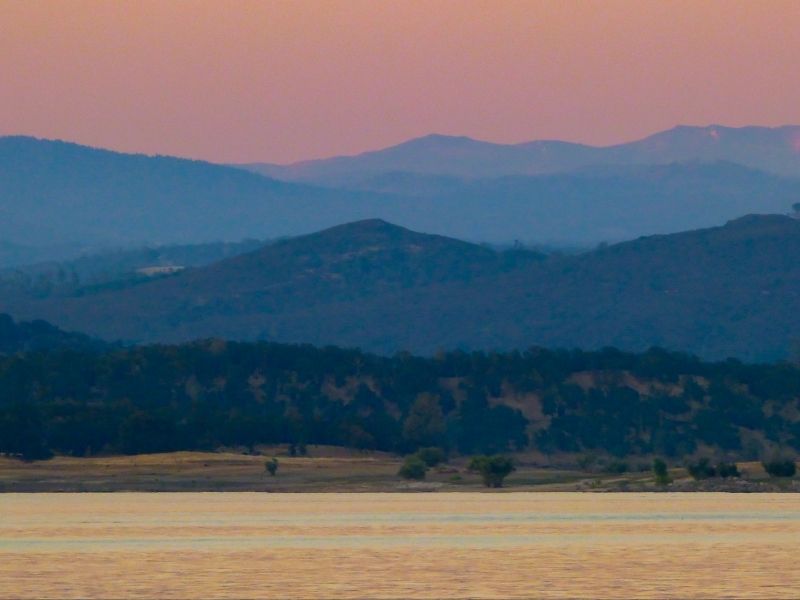 Just a short drive west of Sacramento, this scenic area along Folsom Lake's western shore offers year-round tent and RV camping in Northern California near the water and beach.
When not at your scenic campsite, enjoy waterskiing or swimming in the lake, soaking in the sun on the beach, walk the Oaks Nature Trails, or bike on over to the American River Hike and Bike Trail.
Type and Number of Sites
RV – 17 sites (note the max. length of 31 feet)
Tents only – 19 sites
RV or Tents – 28 sites
Site Amenities
Some sites have full hook-ups
Fire ring with grill
Picnic table
Campground Amenities
Hot showers
Flush toilets
Potable water
Swimming beach
Beach equipment rentals
Snack bar
Pets are welcome as long as they are on a leash and always attended.
Sempervirens Campground (Big Basin Redwood State Park)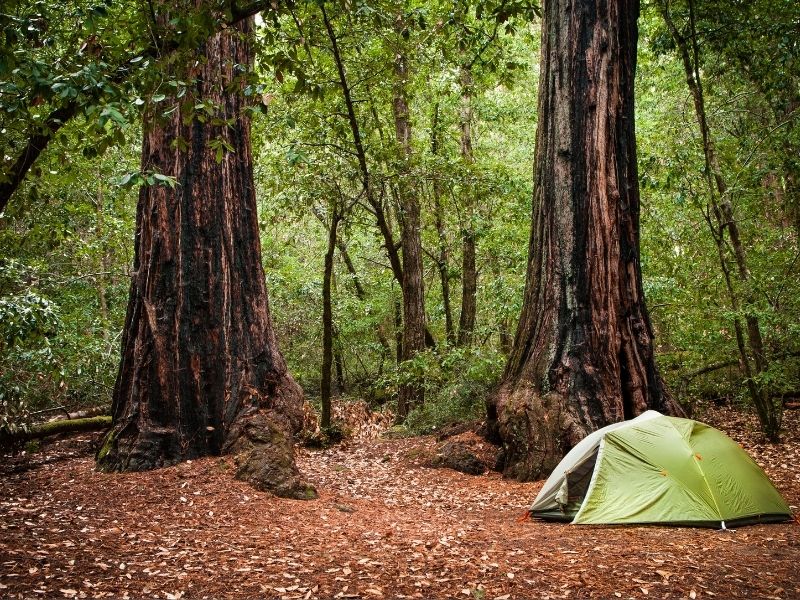 Location: Boulder Creek
Reservations: Go on ReserveCalifornia and search for Big Basin.
Important Note: At present, Big Basin Redwood State Park and all its campgrounds are still closed after devastating fires; however, keep updated of the reopening on the park website.
Just north of Santa Cruz, enjoy Northern California camping amongst the old-growth redwood trees near San Francisco that offer cool shade and a beautiful atmosphere straight out of a fairytale.
With many of the Santa Cruz campsites backing up to the creeks, you can fall asleep to the gurgling of the Blooms Creek and Sempervirens Creeks flowing close by.
The area is the perfect location to make your Northern California camping headquarters as you explore the wilderness of the Big Basin area, which is one of the best places for hiking in Santa Cruz.
With a wide variety of activities, families will have plenty to do. Enjoy taking a guided nature walk, attend campfire talks, visit the park waterfalls (Berry Creek Falls is a stunner!) or stroll through the redwood groves.
The kids will want to explore the Visitor Center and Nature Museum and take part in the Jr. Ranger (ages 7 – 12) and Big Basin Nature Club (ages 3 – 6) programs.
Important note: The campground is closed November through late March. From late March through mid-May and Labor Day through October, it is only open Friday and Saturday nights.
Type and Number of Sites
Total of 31 sites for RVs, trailers, and tents
RVs up to 27 feet, trailers up to 24 feet
Best sites:

Site 163 sits along the creek!

Site 176 is large and offers a lot of privacy.
Site Amenities
Fire pit with grate
Bear boxes
Picnic tables
Note that there are no hook-ups!
Campground Amenities
Flush toilets and showers
Tap water
Pets are permitted if always attended to and leashed.
Burlington Campground (Humboldt Redwoods State Park)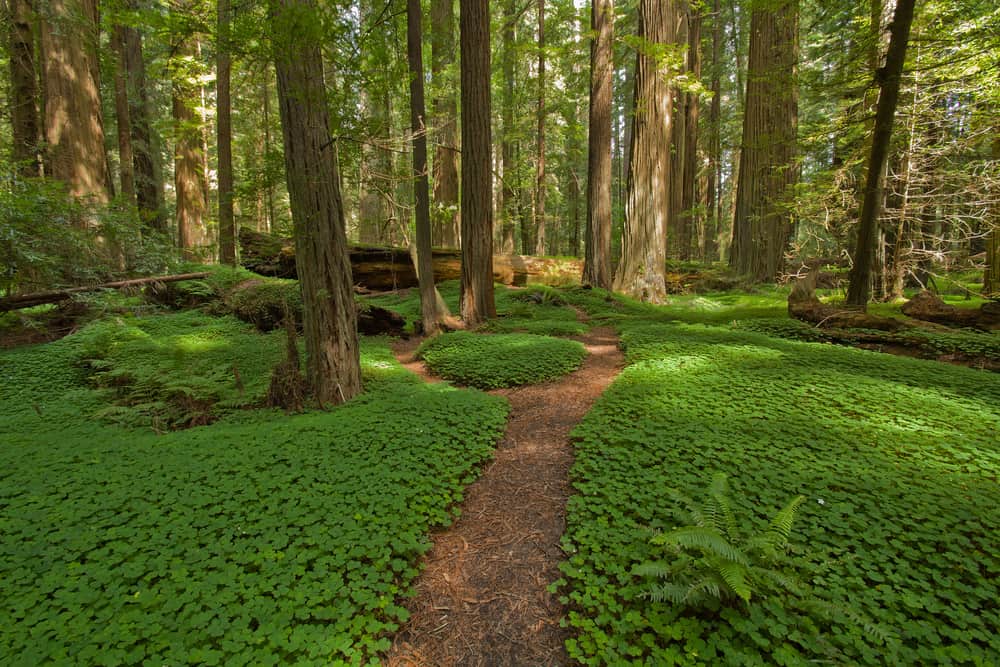 Location: Avenue of the Giants, Weott
Reservations: Book through ReserveCalifornia; search for Humboldt Redwoods
Burlington Campground is conveniently located next to Highway 101 and in the middle of the Avenue of the Giants, a must on your California bucket list.
Its location near the Visitor Center is open year-round, which makes it easily accessible for guided hikes in the redwood forest and great activities for the kids to explore.
These Northern California campsites are absolutely stunning due to their location amongst towering second-growth redwoods and timbered redwood tree stumps that make an excellent playground for children!
Type and Number of Sites
55 sites in total

23 sites are tents only

3 are designated hike-and-bike sites

22 sites are for tents, RVs, or trailers

Accommodates RVs up to 33 feet and trailers up to 24 feet.
Site Amenities
Picnic table
Food locker
Fire grill
No RV hook-ups
Campground Amenities
Pets are welcome if leashed and always attended to
Flush toilets
Coin-operated hot showers
Campfire center
Tap water
Camp Edison (Shaver Lake)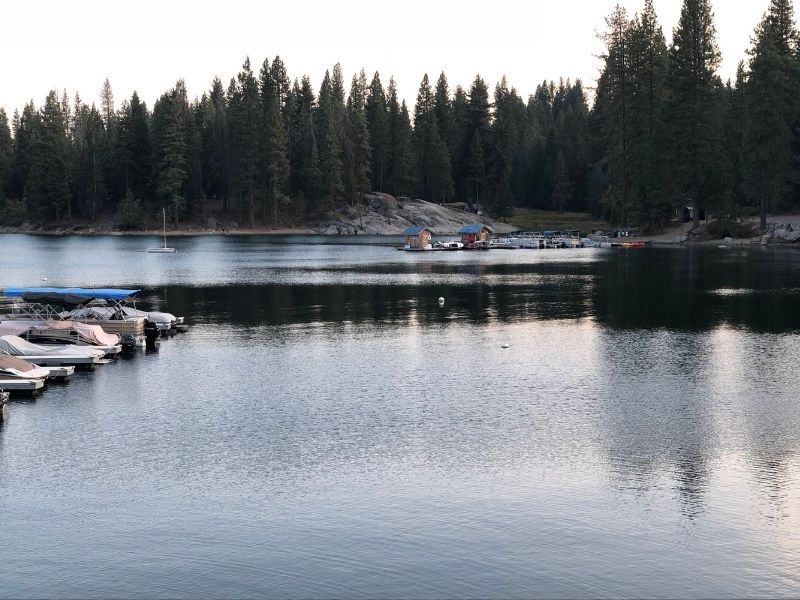 Burrowed in the majestic Sierra Mountains to the Northeast of Fresno, Camp Edison is situated along the western banks of Shaver Lake.
Since 1963, campers have been enjoying year-round camping at Camp Edison's scenic campsites. Not only do they offer fabulous access to the lake, but also beautiful mountain views.
Type and Number of Sites
252 campsites
Maximum length is 50+ feet.
Sites with the best view are supposedly 119 and 121, so book those if you can!
Site Amenities
All sites have cable and electricity
43 sites have a full hook-up
Half the sites have WiFi access.
Fire ring with BBQ
Picnic table
Food box
Campground Amenities
Clean bathrooms and showers
Two laundromats
Group picnic area
Educational activities during the summer
Tent and trailer rentals are available
35 miles of hiking trails nearby
Leashed and attended to pets are welcome
Amphitheater
Castle Crags State Park Campground (Castle Crags State Park)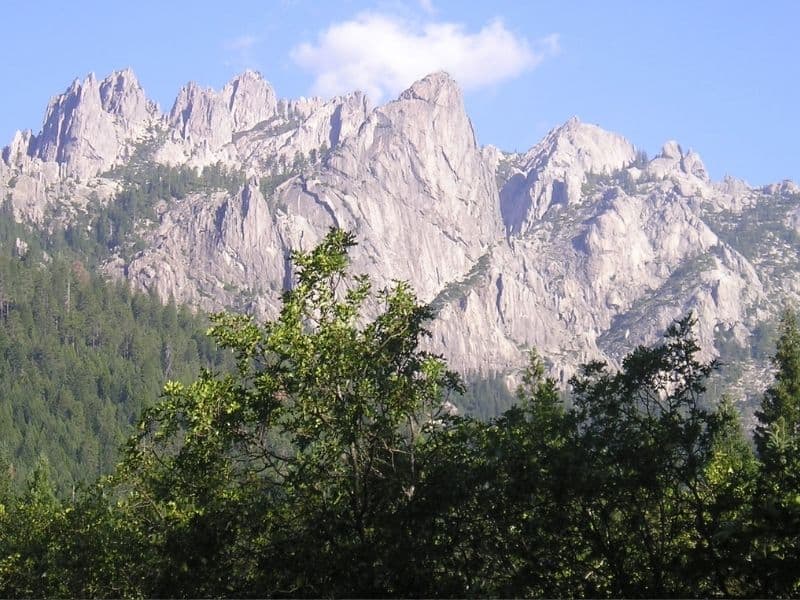 Location: 20022 Castle Creek Road, Castella, California
Reservations: Book through ReserveCalifornia.com
Within the Shasta-Trinity National Forest, Castle Crags State Park offers campers two stunning Northern California campgrounds with cozy sites along the Sacramento River and in wooded areas below the towering pines.
This is the perfect place to say when one day is not enough to explore the park's 28 miles of trails or to enjoy fishing in the Sacramento River.
For those wishing to camp along the river, enjoy staying at the Riverside campground. The Main Campground sites 1-19 on the lower loop are along a stream, great for listening to softly babbling water as you fall asleep.
Type and Number of Sites
76 sites for tents, trailers, and RVs.

The Main Campground has 64 sites

The Riverside Campground has 12 sites

RVs up to 27 feet long are permitted

Reservations are only able to be made during the peak summer season; at all other times, it is first-come-first-serve
Site Amenities
Old stone oven
Campfire pit with metal ring
Food storage containers
Picnic table
Campground Amenities
Bathrooms with flush toilets and coin-operated showers
Water throughout campgrounds (note: these may be turned off during winter to avoid frozen pipes)
Leashed pets are permitted
D.L. Bliss State Park Campground (South Lake Tahoe)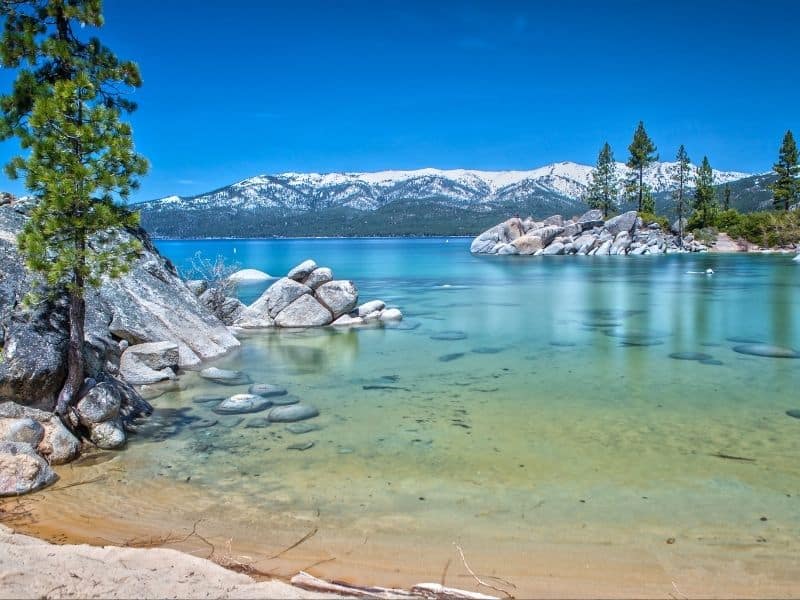 Location: Lester Beach Road, Tahoma, California
Reservations: Make online at reserveamerica.com
Along the stunning banks of Lake Tahoe's southwestern shore, this popular lakeside campground in Northern California's prettiest alpine setting is an awesome place to enjoy hiking, fishing, and swimming.
D. L. Bliss State Park Campground is known as one of South Lake Tahoe's best campgrounds, so advanced planning is necessary if you want one of their Beach Camp premier lakeside sites!
Along the South Lake Tahoe's Lester Beach, campers enjoy paddleboarding, kayaking, swimming, or just relaxing in the sand.
There are many great hikes nearby, but some of the more popular ones are along the Lighthouse Trail to the Rubicon Point Lighthouse, which is the highest elevated lighthouse in the US, Rubicon Trail, and Balancing Rock Trail. Not sure what else to do in Tahoe in summer? I have a complete guide here!
Note: Due to cold temperatures and massive amounts of snow in Tahoe in the winter months, the campground is only open from May through September.
Type and Number of Sites
165 sites

The maximum RV length is 18 feet; max. trailer length is 15 feet

There are also designated hike and bike sites and group sites
Site Amenities
Picnic tables
Food lockers
Fire ring
There are no RV hook-ups
Campground Amenities
Leashed dogs are permitted
Restrooms with flush toilets and coin-operated showers
Tap water
Amphitheater
Indian Well Campground (Lava Beds National Monument)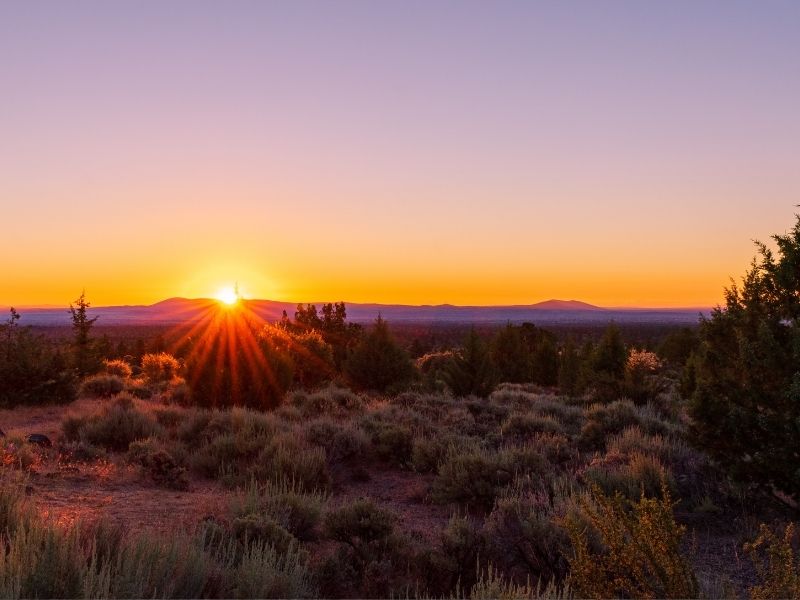 Just minutes away from the Lava Beds National Monument in California's northeast corner is a great place to pitch your tent or park your RV in a quaint NorCal campground before exploring the cinder cones, craters, lava tubes, and over 700 caves.
The kids will love discovering the lava tubes on Cave Loop Road and then enjoying a starry sky at night in one of the most scenic campgrounds in Northern California
Type and Number of Sites
43 sites: most are first-come, first-serve
Some sites accommodate RVs up to 30 feet
Site Amenities
Picnic table
Fire ring with cooking grill
Campground Amenities
Firewood is available for purchase during the summer
Restrooms with running water, sinks, and flush toilets
No showers
No hookups
No dump stations
Access Senior Pass holders get a 50% discount.
Leashed pets are permitted, but leashes should not be longer than 6 feet.
Kirby Cove Campground (Golden Gate National Recreation Area)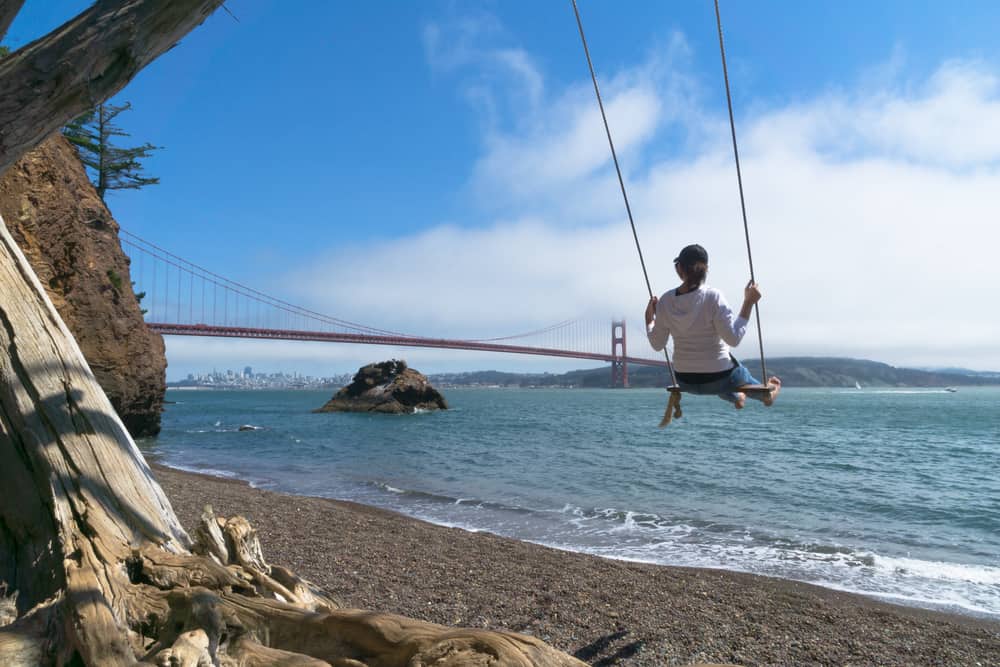 Location: 948 Fort Barry, Sausalito
Reservations: Book online here
Just a 20-minute drive from San Francisco, tiny Kirby Cove in Marin Headlands is a scenic retreat with stunning views of the Golden Gate Bridge.
It's also home to a cute beachfront swing in front of the famous red bridge — a popular San Francisco Instagram spot)
The sites tend to fill up quickly, so you need to plan this stay well in advance.
Once you get to the parking lot above Battery Spencer, grab a wheelbarrow and load it with your supplies and walk-in. It is a 1-mile steep trail to the cove, so it's a better choice for those with good physical fitness and mobility.
Those with mobility limitations will have their needs better served by one of the other drive-in Northern California campgrounds on this list!
While here, enjoy exploring historic Battery Kirby, take in the breathtaking views of San Francisco along with the rugged Pacific coastline.
However, keep in mind that San Francisco Bay is quite foggy and a working, busy harbor. On a foggy morning, temperatures will be quite cold, and foghorns may be loud!
Type and Number of Sites
5 sites, but each of the five sites are large enough for ten people
Campsite 1 is the preferred site, as it is secluded from the other sites. There is a tent pad with a view of the Golden Gate Bridge!
Site Amenities
Picnic tables
Tent pads
Bear box
Fire pit
Campground Amenities
Great views
Unspoiled coarse-sand beach
Wheelbarrows for transporting goods
Day-use picnic area
Pit toilets
No water, so bring your own
What to Pack for Staying at Campgrounds in Northern California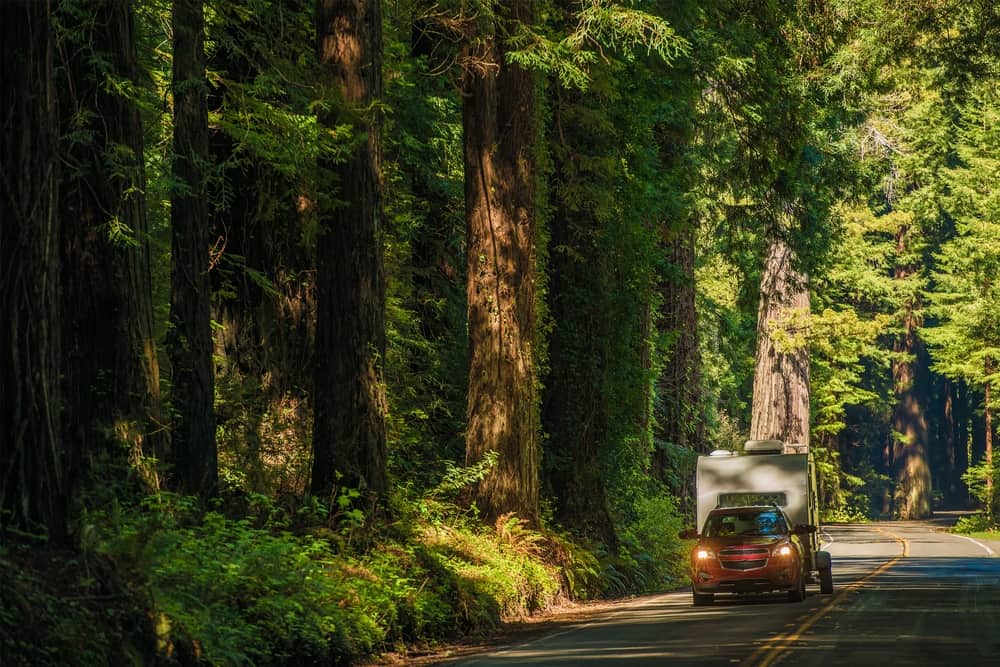 Lightweight tent: This lightweight North Face Stormbreak 2-person tent weighs only 5 pounds 5 ounces, which is a nice low weight given the cost. It's a good 3-season tent with loads of headroom, easy pitching design for fuss-free set-up, and there's plenty of room for two people to share.
Sleeping bag (30 degree or colder): While you maybe camping in California, that doesn't mean it doesn't get cold at night — especially on the Northern California coast! You can spend a fortune on a sleeping bag, but you don't have to. For a comfortable sleeping bag that won't break the budget, I recommend the REI Trailbreak 30 (men's version) and (women's version). You can go more high-tech, but then you're looking around the $300 range. Great if you camp a lot, but for beginners, you may want to start with a more affordable version until you decide you really are a camping person.
Sleeping pad: This is what takes you from cold, uncomfortable nights on rocky ground to tent comfort! You can buy a cheaper version like the REI Trailbreak Self-Inflating Pad, but I'd recommend going with the Flash Thermal if hiking the trail in spring or fall, when the nights can get really cold!
Note: Some Northern California campgrounds do have tent pads you can use, so this may not be necessary — check the site amenities above for each potential campground.
First aid kit: You'll want to pack a small kit with the things you need — but in my opinion, it's better to buy a pre-made first aid kit as it'll likely cover things you might forget. I recommend this HART Weekend First Aid kit, which has all you need for 2 people for 2-3 days of camping.
Water Filter: There are a wide variety of water filtration systems and treatments, but I have two preferred brands: LifeStraw and GRAYL. The LifeStraw set-up I recommend is this one: LifeStraw Flex. It has a 2-stage filter that removes over 99.999% of bacteria, parasites, and microplastics.

It can be used as a personal straw (its original iteration), but it also can attach to a gravity bag (included), a water bottle, or a typical hydration bladder. Each filter can be used for filtering up to 1,000 L of water. If you just want a water filter/water bottle set-up, I recommend the GRAYL Geopress. It's compact and easy to use!
I recommend the LifeStraw Flex if your water sources are fewer and far between, and the GRAYL Geopress if you have an easy water source and just need to filter it between refills.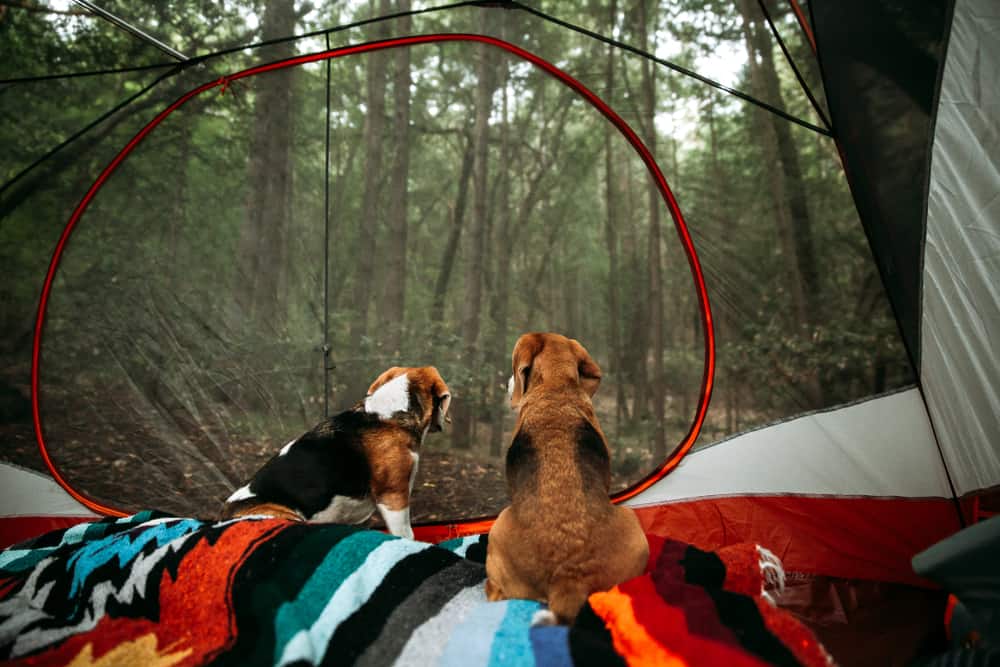 Cup: For water at the campsite if you don't want to use your water bottle — or for a celebratory glass of wine if you're the kind of person brings a bottle of California red on your camping adventures to celebrate the end of a long day's camp! I like this Hydroflask cup.
Mug: You'll want a mug for morning coffee or tea! Bonus points if it has a cute design for morning campsite snaps, too.
Spork or similar utensil: You can't forget a spork while you're backpacking!
Bear canister: Keep your food away from bears with this bear-resistant canister! Yes, it's heavy, yes, it's bulky, and yes, it's absolutely necessary.
Note: Some campgrounds in Northern California come with bear boxes, so this may not be necessary
Day pack: An easy to zip-away day pack is helpful to have when camping so you can easily put small things that you want more accessible and handy when you leave your campsite to do some nearby adventures.
Food: I recommend freeze-dried meals! AlpineAire is a favorite of many campers and has tons of choices: this black bean and beef chili is a fan favorite. Patagonia also has a great selection including lots of vegan options: vegans love this spicy red bean chili. For breakfast, grab some granola with blueberries and milk packets and some tasty Kuju instant coffee!

Of course, you could also bring a cooler and some meat, sausages, and vegan goodies if you want to grill things up or have a BBQ.
Clothing: It can get chilly at night so plan accordingly. You'll want at least 2 shirts (synthetic or wool, long and/or short sleeve depending on the season), 2 pairs of leggings or long underwear, 1 fleece or wool outer layer, a waterproof jacket, waterproof pants, beanie, gloves, and 3 pairs of socks.
Optional Gear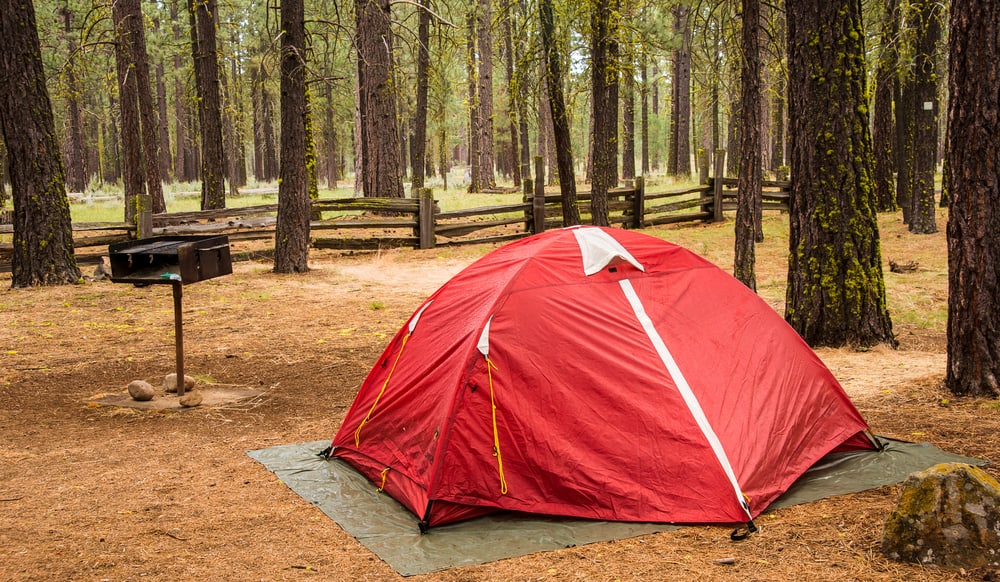 Backpacking stove: This will depend a bit on your set-up and whether or not your campsite has grills or fire pits (and if you're allowed to use those fire pits!). No matter what, be sure to get your California campfire permit before embarking to any of these Northern California campgrounds.
If you don't want to deal with starting a fire, and you're planning on eating only freeze-dried meals, oatmeal, ramen, and other "just-add-boiling-water" dinners, you can get by with a lightweight Jetboil, which weighs in at less than a pound (fuel included) and is also great for making coffee in the morning!
If you want a more "cooking-friendly" set-up including pots and pans, check out this surprisingly lightweight Optimus camp stove that comes with a frying pan and cooking pot at under a pound of weight (not including fuel).
Note that during peak fire season, even things like the Jetboil may not be allowed — please check with your local rangers regarding any fire restrictions.
Fuel: If bringing your own cooking gear, make sure you have plenty of fuel for whatever your backpacking stove set up is! And if you're doing a fire pit (during a time without campfire restrictions), research if you need to BYO firewood and kindling.
Camera: I use and love my Sony A6000! It's mirrorless, so it's lightweight and perfect for a high-quality camera that won't weigh your daypack down while out and about on your daily adventures.
Journal and pen: For noting down all your camping thoughts!
Board games: For campsite fun — my favorites are Scattergories and Cranium!
Sandals: To change into once you reach your campsite! Tevas are a favorite, and they're a nice break from the sneakers or hiking boots you'll likely be wearing most of the day out.
Sunglasses: To give your eyes a break from the sun during your daily activities
Sunhat: To keep sun off your face – I recommend a packable hat like this one which has a strap so it won't blow off in guests of wind and you can easily wear it on your back when you don't feel like wearing it on your head while hiking, boating, and enjoying Northern California's beautiful scenery!
Pin This Guide to Campgrounds in Northern California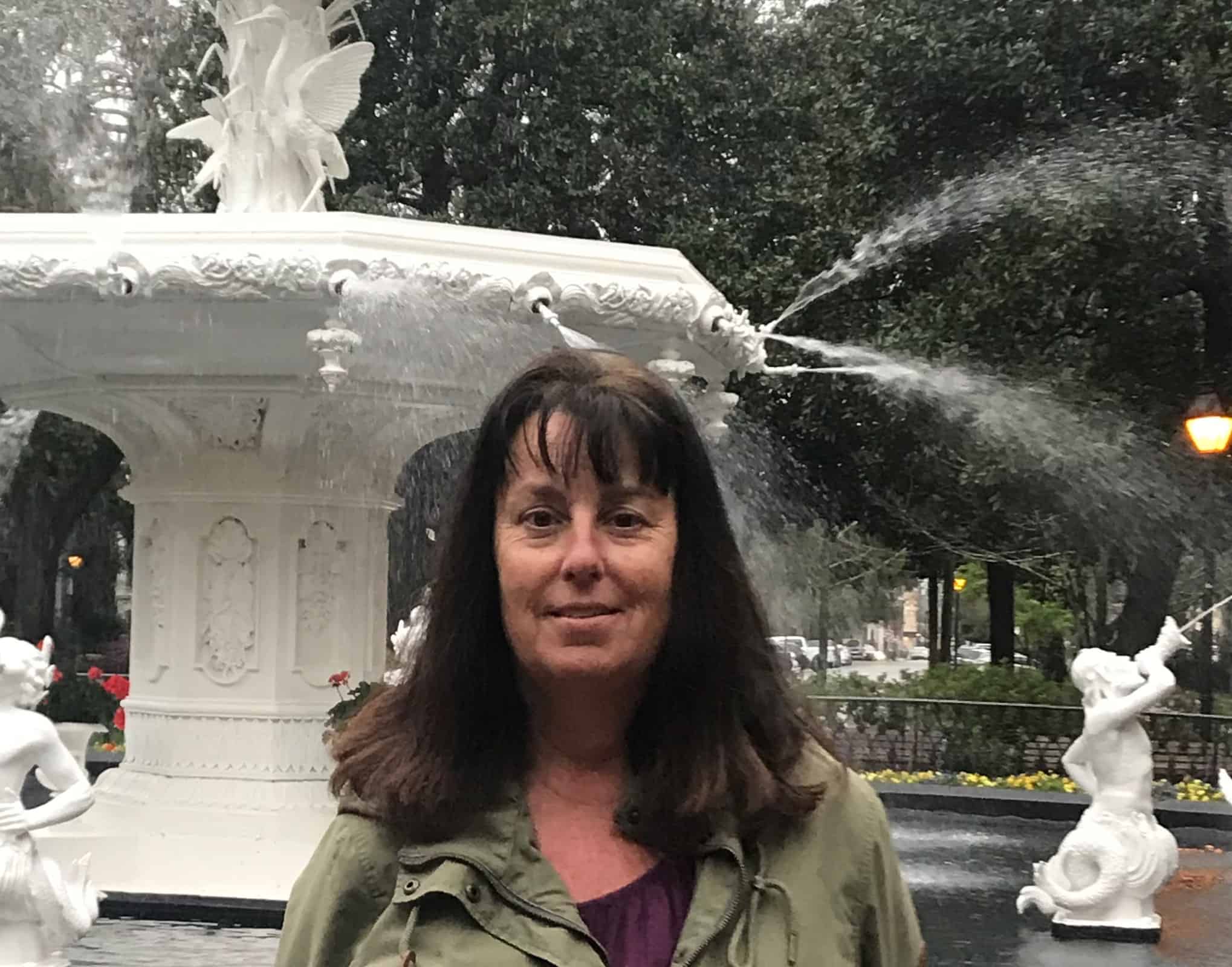 Laura Gray is a freelance writer and retired elementary teacher based in Norfolk, VA.  She spends her summers enjoying the shores of the Chesapeake Bay, traveling the world, and exploring the beautiful United States. Her favorite places to visit are National Parks, waterfalls, and lighthouses.