The Golden Gate Bridge is the icon of San Francisco and one of the most inspiring architectural wonders in the world.
There's something so visually pleasing about the way the vermillion-red suspension bridge hovers delicately over the brilliant turquoise water below — often with a veil of fog — that makes photographing the Golden Gate Bridge a bucket list must for San Franciscans and visitors alike.
Having spent much of my childhood and early adulthood exploring and working in San Francisco, I've discovered a handful of incredible views of the Golden Gate Bridge!
Some are very well known; others are a bit more under-the-radar, local view points for the Golden Gate Bridge that not every tourist knows about.
I'm going to break this guide into finding the best views of the Golden Gate Bridge into two sections, as there are two primary places you can get great Golden Gate views.
The first section will be from San Francisco city proper, as this is the easiest way for most people to snap photos of the Golden Gate Bridge — especially if they don't have access to a car.
The next sections will be spots in the Marin Headlands directly across the bridge, as well as spots in Sausalito, just a tad up the peninsula from the Marin Headlands but still with some epic views.
So, here we go: the best Instagram spots of the Golden Gate Bridge views!
A Note on Golden Gate Bridge Viewpoints
Note: This post contains affiliate links, which earn me a small commission at no extra cost to you if you make a purchase using one of these links. Thank you for supporting this free content!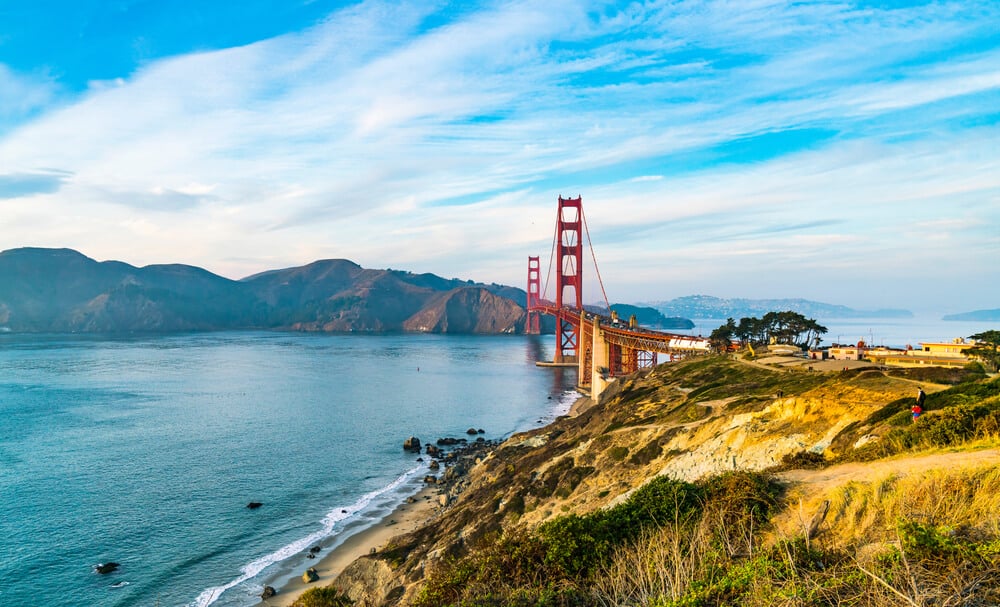 Checking out the Golden Gate Bridge is a must-do on virtually every San Francisco itinerary… but with that popularity come with some drawbacks!
Specifically, I'm talking about car break-ins, which are rife at many popular parking lots for viewpoints of the Golden Gate Bridge.
Many of the nearest viewpoints to the Golden Gate Bridge (Battery East, for example) have frequent break-ins in which a window is smashed and items are stolen from the car.
If you're going to San Francisco by car and are looking to park and walk to different viewpoints, I'd suggest you pick a busier parking lot, like one of the beach parking lots (Crissy Beach, Baker Beach, etc.) — these are typically a little safer since there is more foot traffic coming in and out.
That said, nothing is a guarantee, and you may be able to park your car and walk around the bridge and be fine, but I've heard enough horror stories to not chance it!
Where to Get the Best Views of the Golden Gate Bridge in San Francisco City
There are a number of fantastic Golden Gate Bridge photo spots scattered around the coast of the city.
Pretty much any coastal area between North Beach and Land's End will offer sick views of the Golden Gate.
But that's a massive area, so I've gathered my absolute top favorite Golden Gate bridge phot spots!
Crissy Field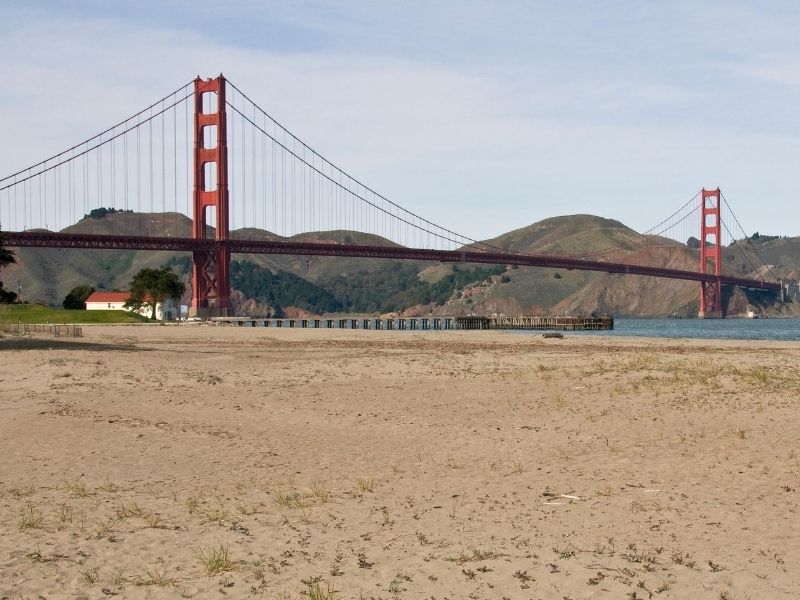 There so many places to photograph the Golden Gate Bridge, but Crissy Field is one of the most accessible to downtown San Francisco.
Crissy Field is a large area with several spots you could pick as Golden Gate Bridge viewpoints, but my two favorites are Crissy Field West Bluffs for greenery and bridge views and on the sand along Crissy Field East Beach.
Baker Beach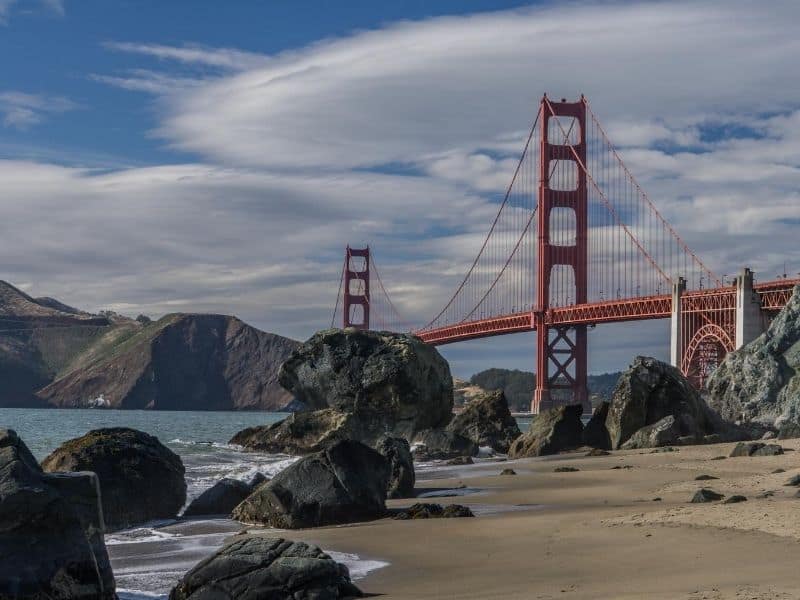 This is one of my personal favorite views of the Golden Gate Bridge. Rugged rocks, the view of the Marin Headlands on the other side of the bay: Baker Beach is a dream.
For photographers, Baker Beach is a special spot since it has a lot of cool foreground elements that you can play with to create unique compositions of the Golden Gate Bridge, so you're not just taking your average shot.
Note: Parts of Baker Beach (more on the North end) are clothing optional, which is just kind of part of San Francisco life, but if you're traveling with your kids, exercise discretion based on how comfortable you are with that! Growing up near San Francisco, I saw a lot of, er, not-so-dressed individuals and it didn't do me (too much) harm. 😉
Fort Point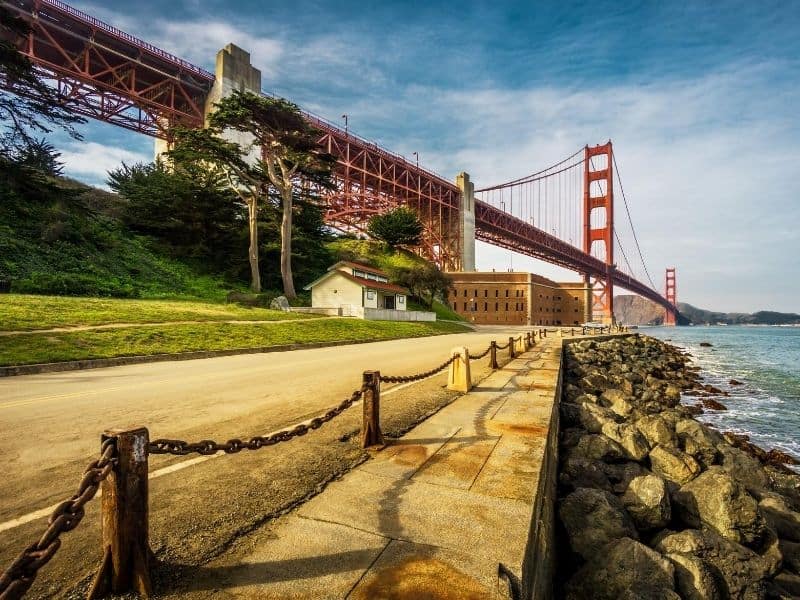 Looking for another great view of the Golden Gate Bridge, this time playing a bit with perspective?
I love the boardwalk around the edge of Fort Point, which has great views of the Golden Gate and plenty of fun foreground elements like chain link fences and fortifications.
The area of the building where it intersects with the architecture of the bridge from below is really cool.
It's great for more abstract views of the Golden Gate Bridge!
Marshall's Beach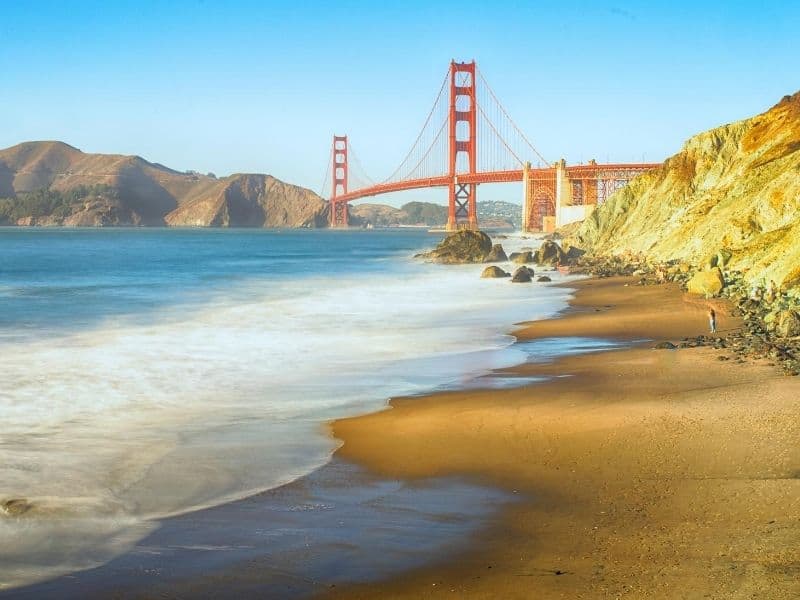 North a bit from Baker Beach is the quieter Marshall's Beach. Expect fewer crowds and more locals here soaking up some of the best views of the Golden Gate Bridge!
It's got a bit of that rugged NorCal beach charm, but it also has a beautiful angle of the suspension bridge and the Marin Highlands that makes for amazing framing.
Tip: don't expect it to be warm here! All the beaches in San Francisco are pretty chilly, but those on the west side of the bridge are definitely even colder.
China Beach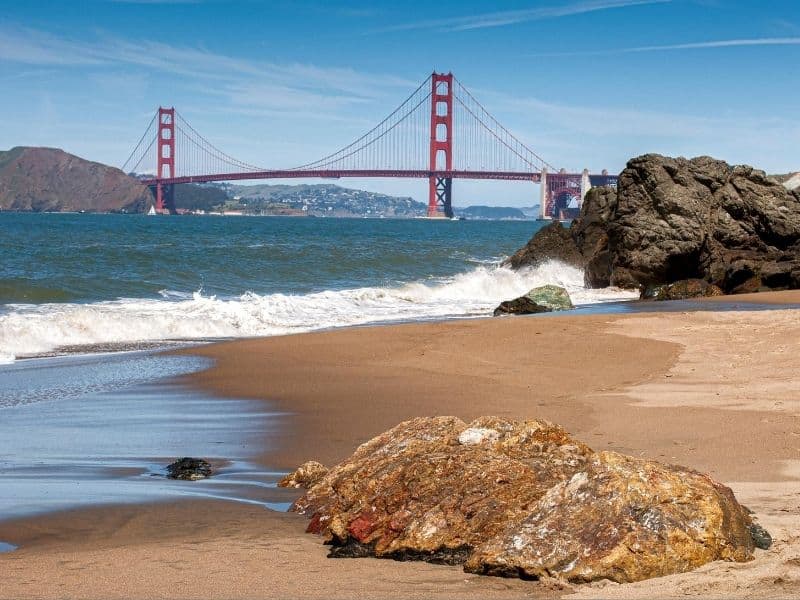 This hidden gem beach is a great spot for crowd-free views of the Golden Gate Bridge.
It's definitely further away from the bridge than Baker & Marshalls Beach, so you'll want to bring a decent zoom lens, but the lack of people there will make it worth it.
This is probably one of my favorite beaches in San Francisco for that exact reason!
The Presidio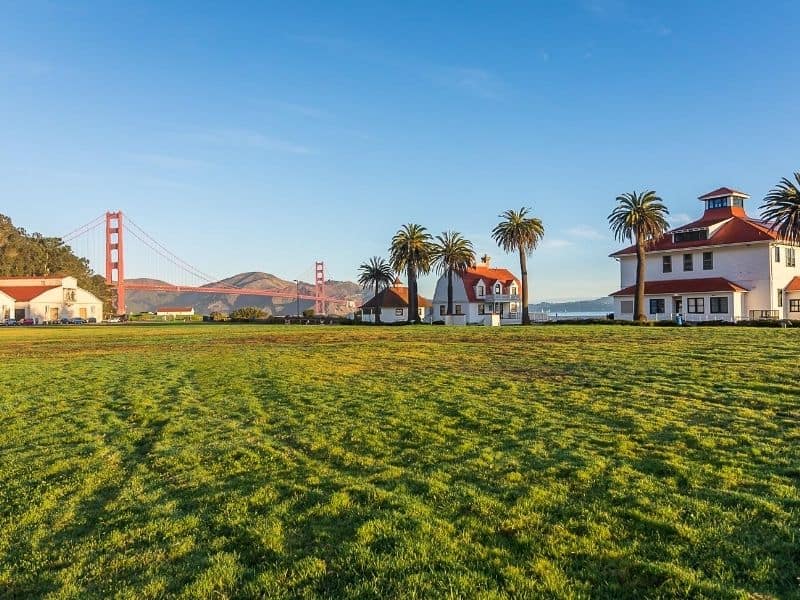 So far, many of the best views of the Golden Gate Bridge have involved beaches — but there are other cool framing shots of the Golden Gate Bridge if you want to mix it up a bit.
You'll find a number of cool things in the Presidio: from patches of redwood groves to art pieces, palm trees and former fortification buildings, and most importantly for photographers: great views of the Golden Gate Bridge!
Battery East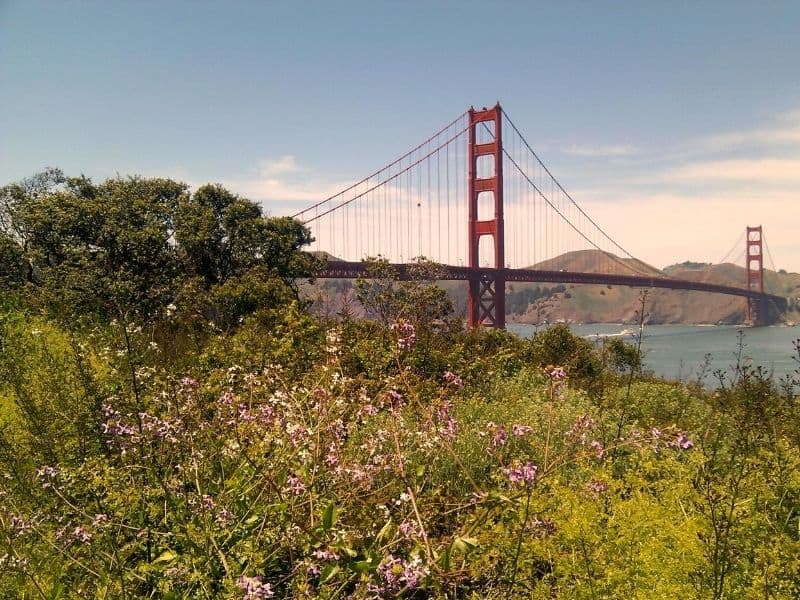 There are a handful of stunner views of the Golden Gate Bridge in the Presidio, but my personal favorite is at Battery East.
There's often a lot of lush plant life overgrowth, which combines the beauty of the bridge with the wildness of nature and creates a uniquely framed shot not everyone else will have.
Walking or Cycling the Bridge Itself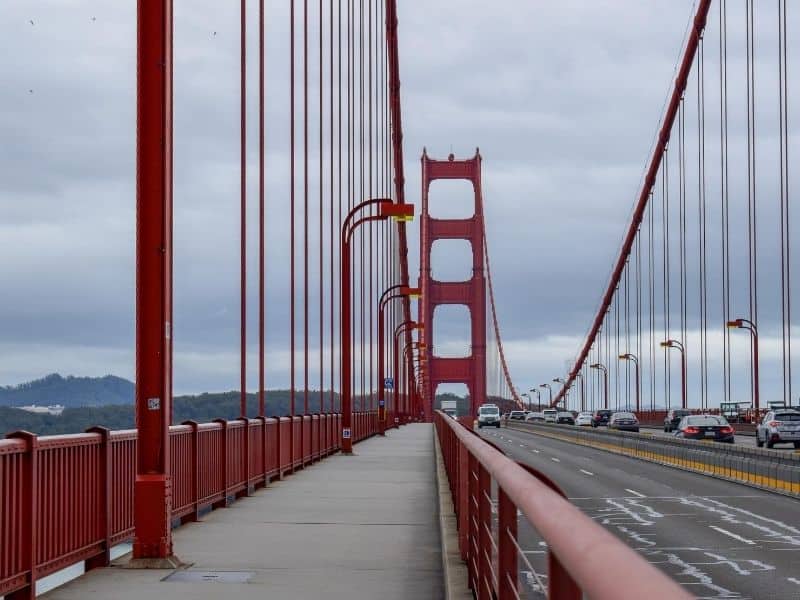 Of course, you can see viewpoints of the Golden Gate all you want… but nothing beats actually walking or biking over it with your own two feet.
Driving a car across it is cool, but it goes too fast: so I really recommend trying to walk or bike it, even if you have access to a car.
Slowing down to walk across it will give you plenty of time to stop and contemplate cool angles of the bridge to bring home an incredible memory of your time in San Francisco.
Land's End Labyrinth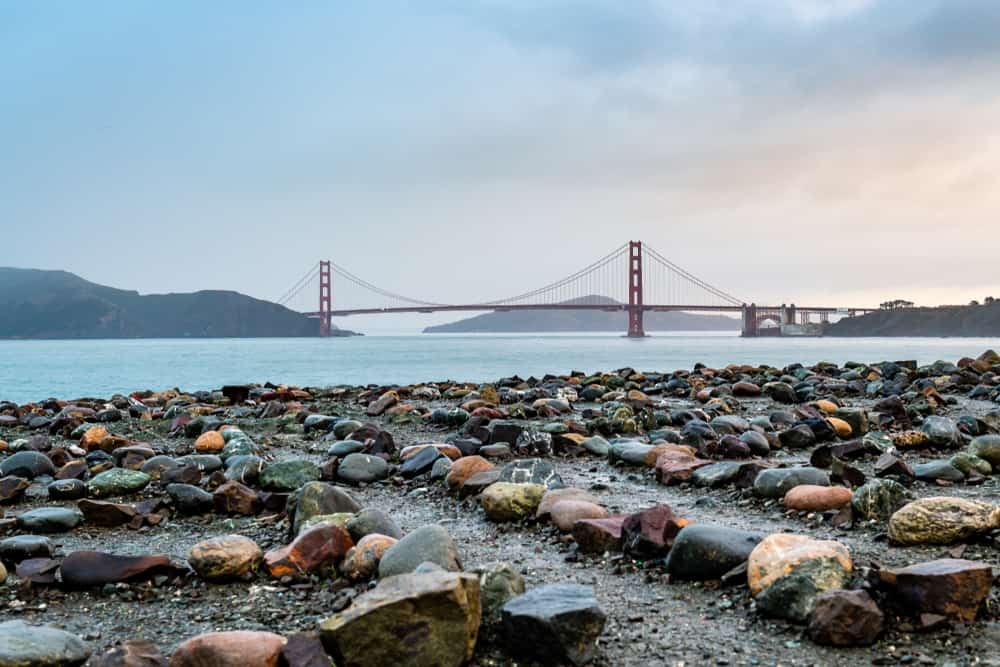 One of the most unique places to great a great view of the Golden Gate Bridge is at the Labyrinth in Land's End.
This art piece was created by the artist Eduardo Aguilera in 2004, and it lines up perfectly with views of the Golden Gate.
It requires a bit of a hike and can be a tad bit hard to find, so here are some directions.
Update: The labyrinth unfortunately keeps getting destroyed and vandalized, so be aware that it may not be there when you go to visit. The bridge, however, surely will, so there's no potential for disappointment there!
Land's End Trail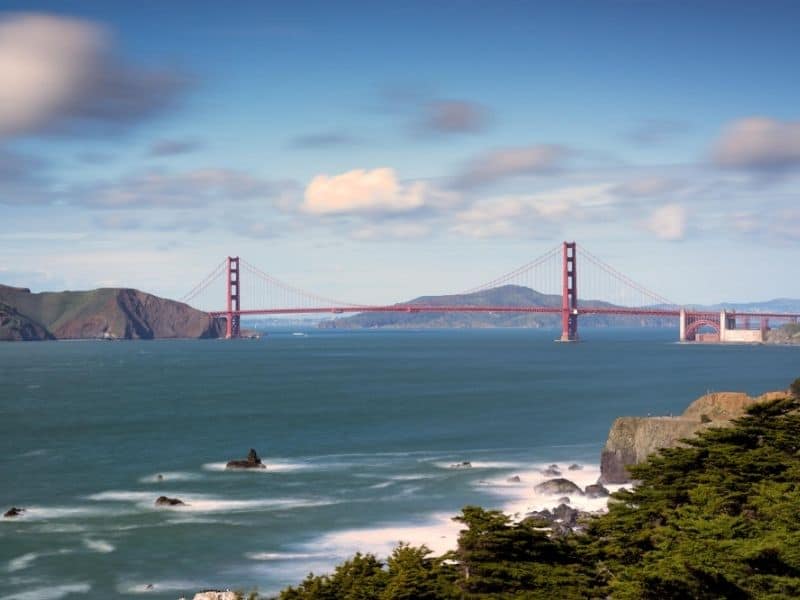 But you don't need to head all the way down to Lands' End Labyrinth for gorgeous views of the Golden Gate Bridge.
You can get great views just walking the trail in the less tree-obscured parts of the trail, such as the Eastern Coastal Trail Overlook and Lands End Trail Eagles Point.
From the Water on a Bay Cruise!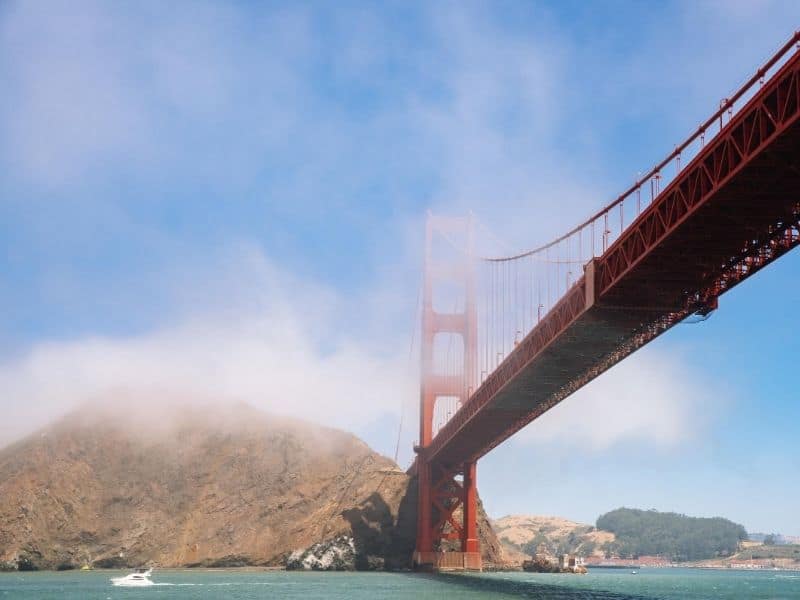 Running around from Golden Gate photo spot to photo spot can get tiring… so why not let the Bridge come to you for a change?
One of the coolest perspectives and views of the Golden Gate Bridge can be seen from the bay itself! Jump on a small group boat cruise and coast under the bridge, snapping photos of the Golden Gate from an angle few others capture.
From a Seaplane or Helicopter!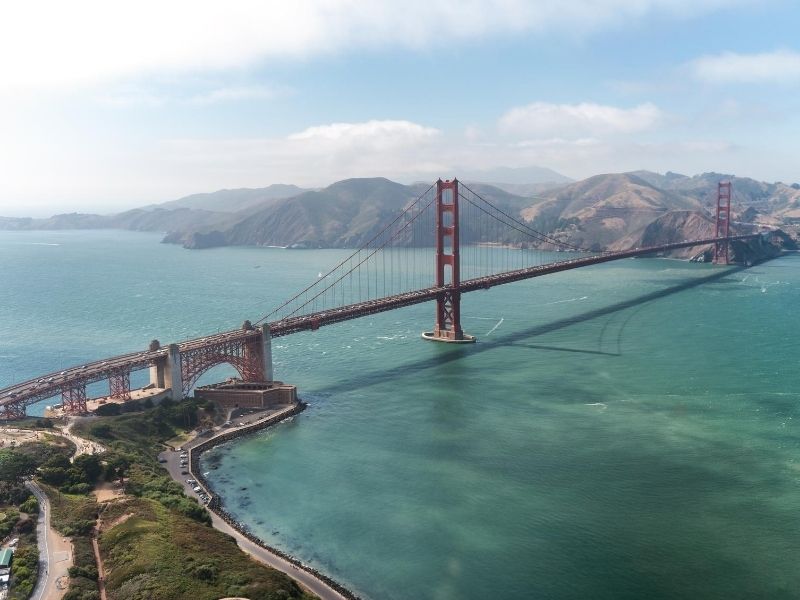 Is a bay cruise too mainstream? Snap some of the best photos of the Golden Gate Bridge from way up in the air.
First, let me be clear that flying drones is strictly illegal in San Francisco, especially by the Golden Gate. Read about it here. So if you want epic, legal aerial shots of the Golden Gate Bridge, you're going to have to become the drone!
Luckily, seaplane and helicopter flights over San Francisco aren't nearly as expensive as you might think.
Check prices for seaplane excursions and helicopter tours here!
Where to Get the Best Views of the Golden Gate Bridge from Marin & Sausalito
Of course, the San Francisco side of the bridge isn't the only place to get epic, sweeping views of the Golden Gate Bridge.
The area around the Marin Headlands and Sausalito has a number of phenomenal views of the Golden Gate Bridge, including some of the most popular shots you've likely seen before on Instagram or on advertisements for the city.
Battery Spencer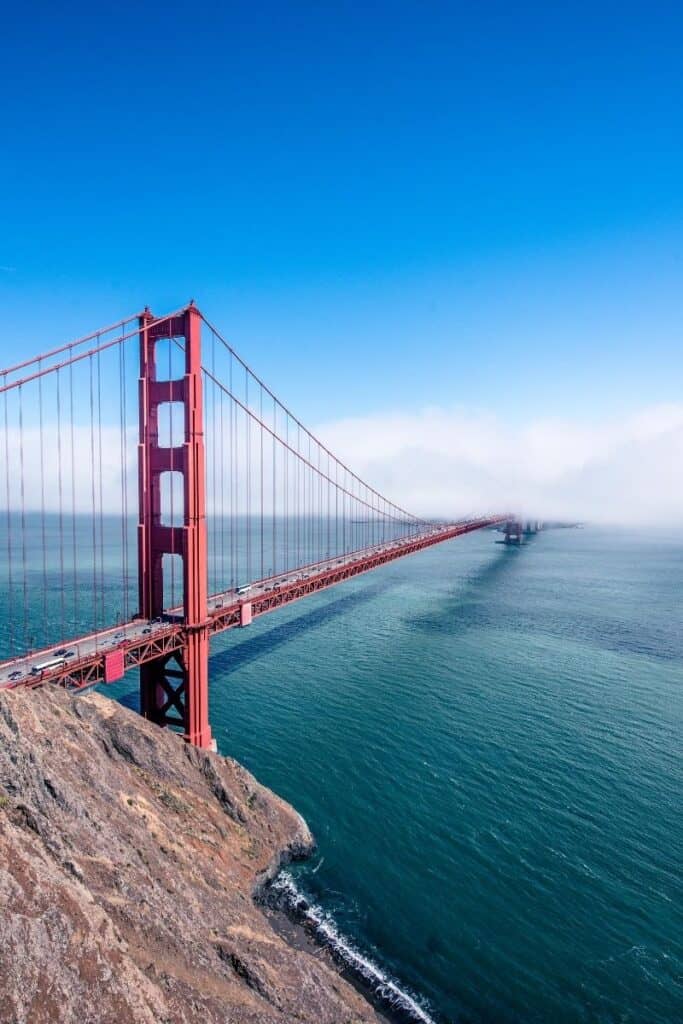 This is perhaps the quintessential Golden Gate Bridge viewpoint. I'd reckon this is probably the most common shot of the bridge that most photographers yearn after.
To get to this Golden Gate view, first make your way to Fort Baker, a concrete fortification dating back to the 19th century.
Head to Battery Spencer on your phone GPS — this is where you'll snap those amazing shots of the Golden Gate Bridge with San Francisco in the background… that is, if Karl the Fog doesn't have other ideas!
Kirby Cove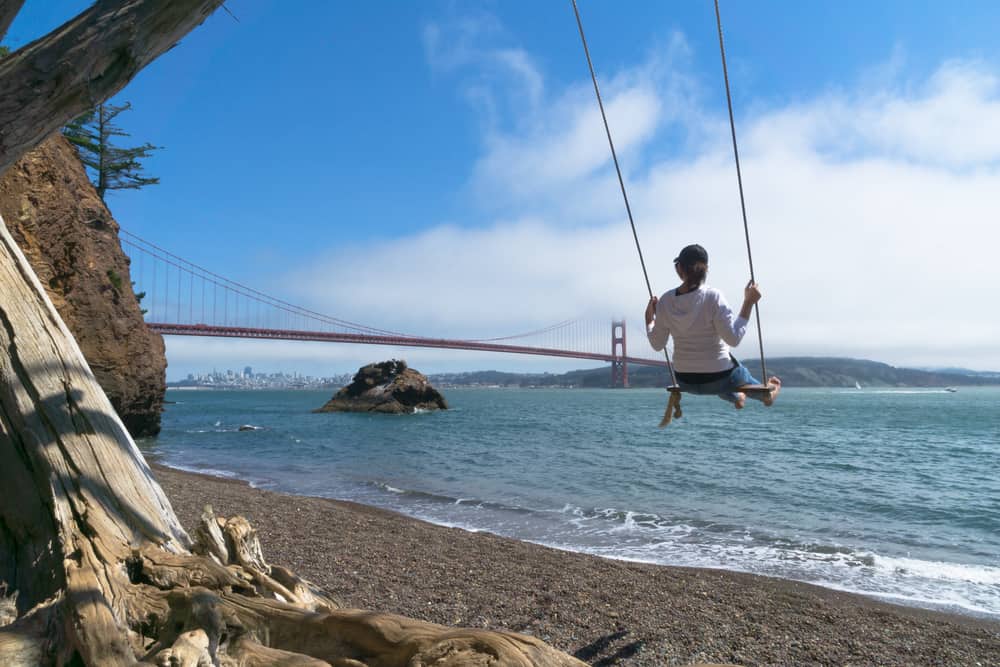 Photographers and Instagrammers are dying to know where to get that photo of a swing on the beach with a view of the Golden Gate Bridge in the background.
Well, the answer is Kirby Cove…. sometimes (I'll explain in a minute). To get here, start at Battery Spenser, the previous Golden Gate viewpoint on this list.
From there, it's about a 1-mile, 30-minute downhill walk down to the beach. However, unfortunately, sometimes the swing gets cut down or temporarily goes missing!
At the time of writing, it should be up, but it changes frequently. This guide is great for finding the swing, and it is updated frequently.
Hawk Hill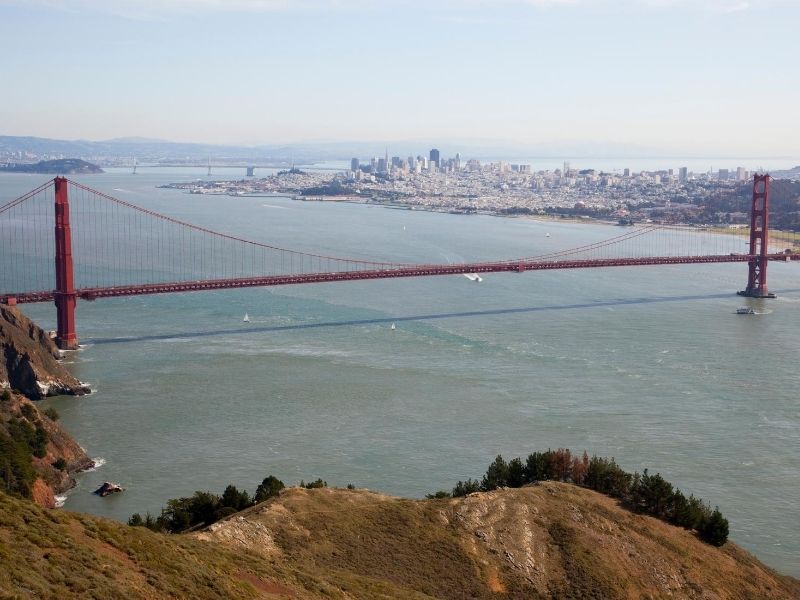 For this next epic Golden Gate view, you'll likely need a car — or at the very least, an e-bike with plenty of juice, since you'll be going a bit far and climbing quite a hill.
If you're heading from within San Francisco, take the 101 over the Golden Gate Bridge and take exit 442 to merge onto Alexander Ave, which then turns into Bunker Road, followed by Conzelman Rd. If you put "Hawk Hill" in your GPS, it'll lead you right here.
When you see a bunch of cars, you're likely at the spot, so park wherever you can and climb up to see some of the best views of the Golden Gate Bridge and a panorama of San Francisco's downtown from the Marin Headlands.
Golden Gate Bridge View Vista Point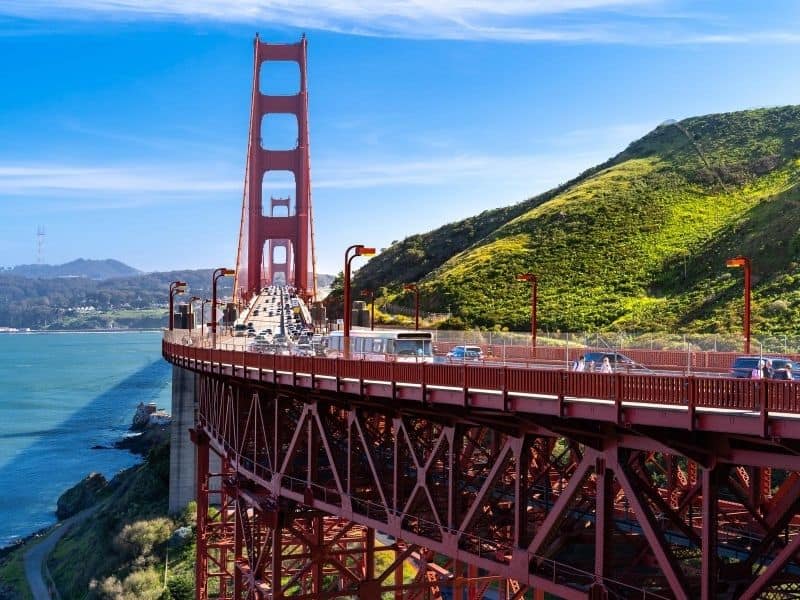 If you're heading back by car from your Marin Headlands Golden Gate Bridge sightseeing, you'll want to stop at the Golden Gate Bridge View Vista Point parking lot on the way back for another angle of the bridge.
It can be quite crowded here, so you may need to have patience waiting for another car to leave.
This vantage point in Marin gives you a unique view of the Golden Gate Bridge, as most of the photos of the bridge are taken from the side angle, and this one is head on.
You get a nice view of the suspension bridge architecture which keeps up the bridge, as well as the two twin towers of the bridge, and the city in the distance.
Fort Baker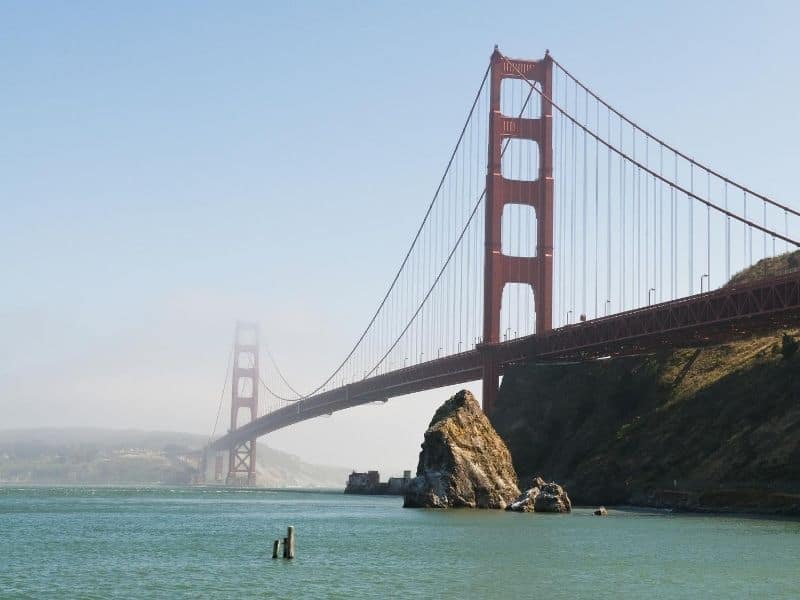 Fort Baker is yet another historic key defensive structure in San Francisco that is now better known for its epic Golden Gate views!
However, the site itself is really large and cool and definitely worth a visit beyond just its beautiful bridge views.
While you can get great views from Fort Baker itself, walk down to Moore Rd Pier or Battery Yates for even better photos of the Golden Gate.
What to Pack for San Francisco Photo Scouting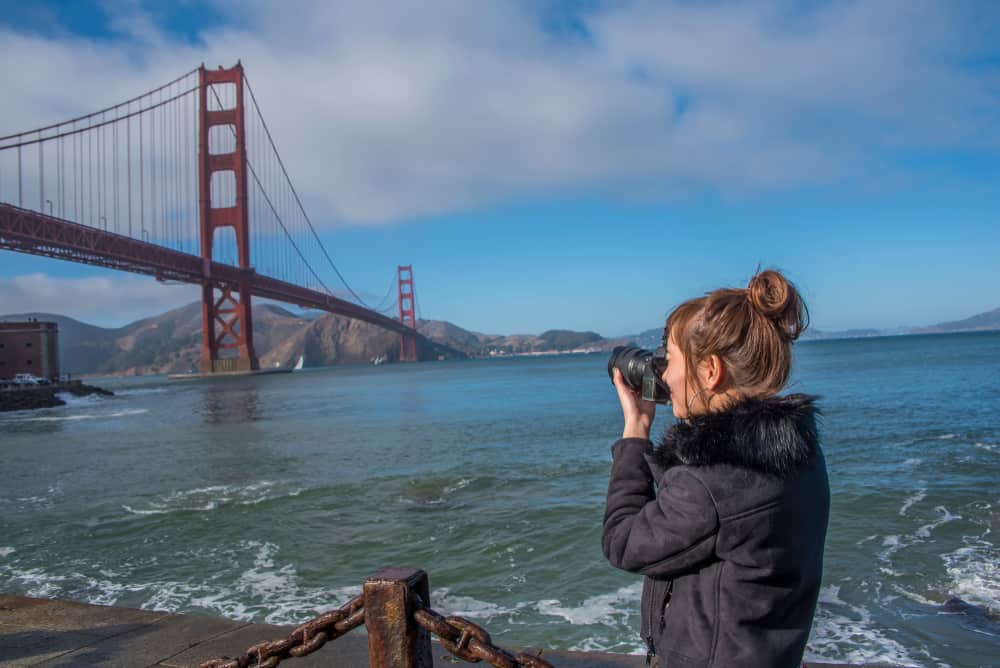 A compact camera: I love my Sony A6000 mirrorless camera. It's insanely lightweight and compact, making it inconspicuous compared to DSLRs, which scream "I'm expensive, grab me!" to would-be thieves.
The Sony A6000 is a great mid-range camera if you don't need professional, sale-quality shots. I used it for my travel blogs since 2017 and it still works great. Sony A6000s are harder to find now since they're an older edition, so something like a Sony A6400 may be better.
A good wide-angle and a good zoom lens: If you want the full range of capabilities while shooting San Francisco, two lenses will do the trick.
I recommend an inexpensive zoom lens (this is one I have and love) and a lens that can go from wide to middle range — this one goes from 16mm-55mm, so the combination of the two lenses together covers everything from ultra-wide to mega-zoomed!
If you're confused about which are the best Sony A6400 lenses, here's a post comparing them all!
A waterproof, windproof jacket: The weather in San Francisco is, in a word, mercurial. There are different microclimates all over the city, and you'll often find a temperature range of 20 degrees Fahrenheit… at the exact same time in the exact same city, just depending on neighborhoods.
The foggy air can be really humid and cold, so a waterproof jacket will serve you well, even if it's not actively raining! I love my Marmot rain jacket because it's breathable (hello underarm zips!), cozy, and goes with everything.
A scarf. Basically every San Franciscan wears one as an armor from the constantly changing weather! I like these Speakeasy Travel Scarves which have a hidden pocket in them that no thief will suspect!
Pickpocketing is rife in San Francisco, unfortuantely, so this is good protection for holding your cash, passport/ID, cards, and other important necessities close to your heart — literally!
A secure purse or backpack. Like I said, unfortunately, theft and pickpocketing in San Francisco can be a big issue. Almost everyone I know who lives in the city has been stolen from once… or twice.
I'm obsessed with this chic, sleek Pacsafe Citysafe CX Backpack, which fits a laptop, several cameras and lenses, and way, way more than you'd think… seriously, it's like a Mary Poppins bag!
I've traveled with it from Morocco to Central America to the Caucasus and never once had an issue. The interlocking zippers confound thieves and scare them off to look for another easier target. Plus, it's cute AF!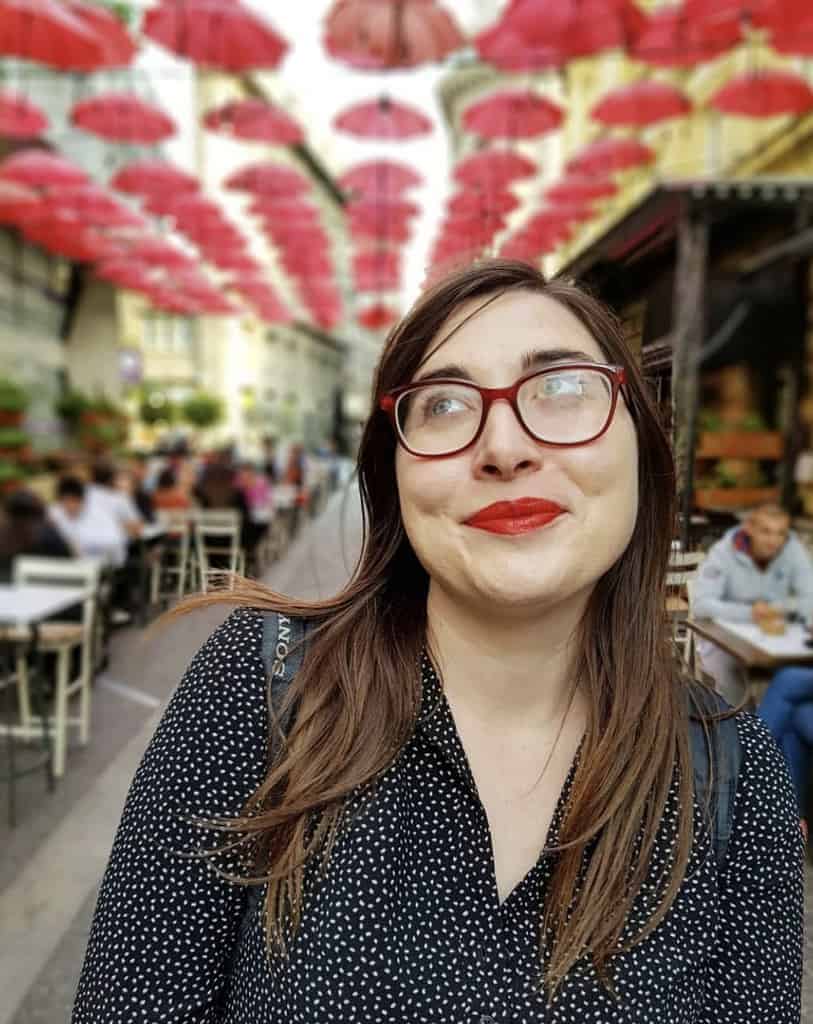 Allison Green is a travel blogger, writer, and podcaster who grew up in the Bay Area of California. She has spent time living in New York, Prague, and Sofia, but has returned to live in the East Bay. She has traveled to 60 countries before the age of 30 while running several digital travel publications. Her writing and podcast have been featured in Forbes, CBC Canada, National Geographic, the Huffington Post, and CNN Arabic, amongst others. She's obsessed with bouldering, houseplants, other people's pets, and anywhere she can see the ocean.