Whether you're a born-and-raised Californian or visiting Northern California for vacation, you can't help but feel awe every time you're in the presence of a mighty redwood.
Redwoods are some of the tallest trees in the world, and some can live to two or three thousand years old.
While you can indeed find a few redwoods in San Francisco proper, you really do need to get outside of the city to truly be immersed in the redwoods.
You can find a handful of trees in the Transamerica Redwood Park and in the Presidio, but I strongly recommend grabbing your car (or renting one!) to get out and see some of California's best redwood forests.
But quickly, let's get into the types of redwoods near San Francisco you're most likely to find and where.
Note: At the time of writing, several redwood forests are closed temporarily after experiencing fire damage in 2020, including Big Basin State Park.

Stay safe while hiking: practice social distancing and bring a mask with you in case the hiking trails are crowded!


Types of Redwoods in California
Note: This post contains affiliate links, which earn me a small commission at no extra cost to you if you make a purchase using one of these links. Thank you for supporting this free content!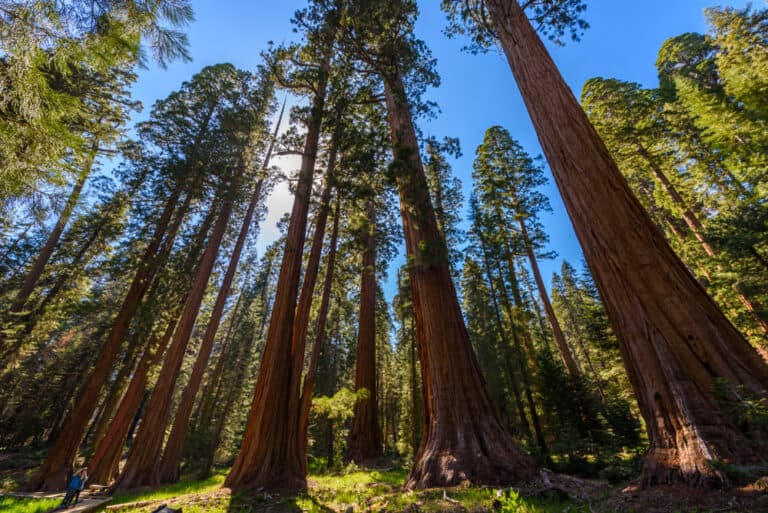 There are three types of redwoods that can be found: coast redwoods (Sequoia sempervirens), giant sequoias (Sequoiadendron giganteum), and dawn redwoods (Metasequoia glyptostrobides).
However, only the first two can be found in California. Dawn redwoods were long thought to be extinct, but they have since been discovered in the Sichuan province of China.
You'll find giant sequoias on the Sierra Nevada mountains along the western slopes in the heart of California, such as in Yosemite National Park, Sequoia National Park, and Kings Canyon National Park.
Meanwhile, coast redwoods are found up and down the Pacific Coast, ranging from Central California (such as Big Sur) to Southern Oregon.
As a result, you'll mostly be seeing coast redwoods if you're looking for redwood forests near San Francisco!
If you want to see giant sequoias, you'll have to drive about 4 hours at a minimum to reach the parks that have giant sequoias in them. So keep this in mind while planning your California redwoods trip!
However, just because coast redwoods don't have the word 'giant' in their name doesn't mean they're any less impressive!
In fact, the world's tallest tree is a coast redwood, Hyperion, which stands at 380 feet tall, whereas the giant sequoias are shorter but more voluminous.
Coast Redwoods Vs. Giant Sequoias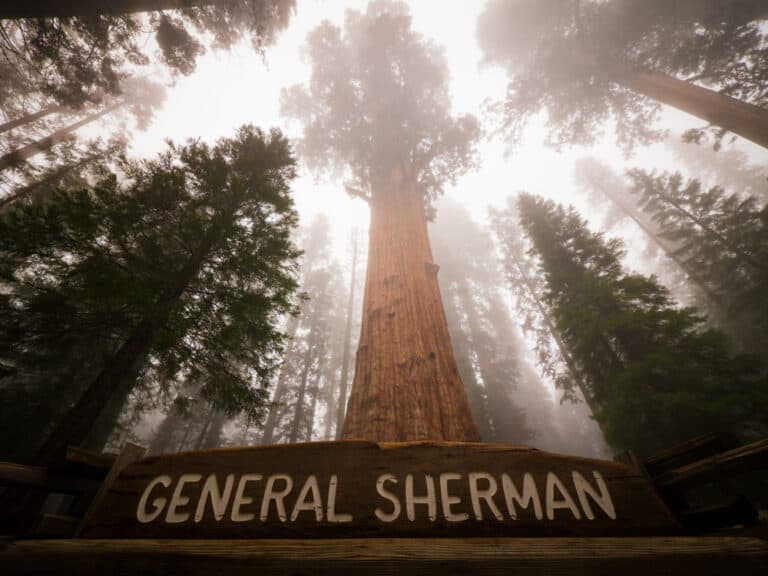 The main difference between coast redwoods and giant sequoias is their shape and weight distribution.
Coast redwoods tend to be taller and skinnier, soaring up into the sky with smaller trunks, whereas giant sequoias have enough trunks and a more rounded overall shape.
Illustrating this point is General Sherman, the largest living tree by volume, in Sequoia National Park!
Its total volume is 52,500 cubic feet, but it's only 275 feet high — roughly 25% shorter than Hyperion!
If you have no idea of how big a volume that is, because I sure didn't, that's more half the volume of an Olympic-size swimming pool (source). So yea, it's pretty big!
Best Redwoods Near San Francisco Within An Hour's Drive
Muir Woods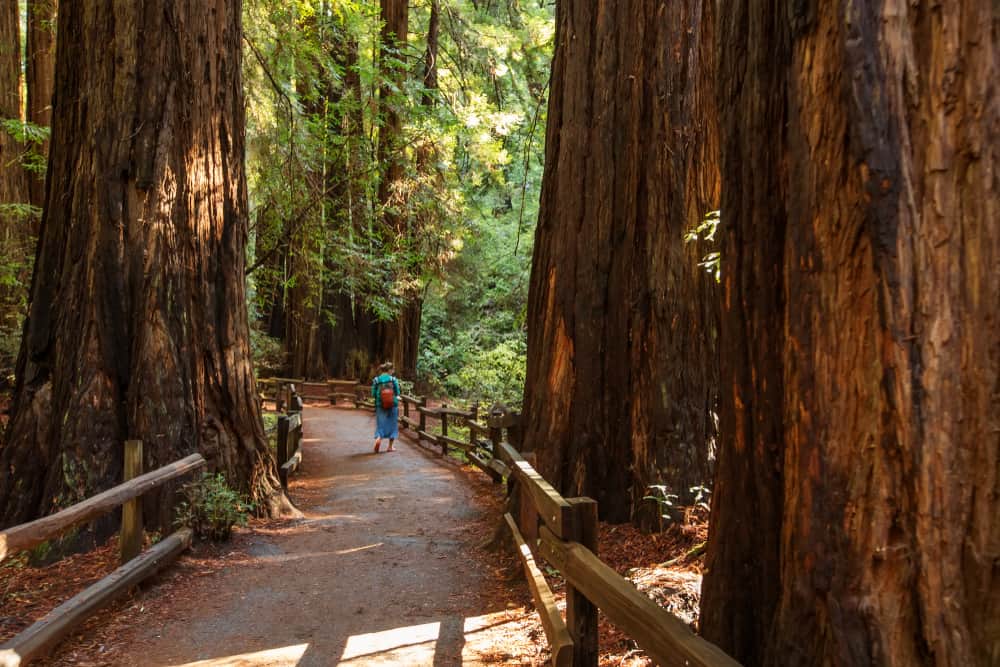 Driving distance: 17 miles
Estimated driving time: 40 minutes
One of the most popular places to spot redwoods near San Francisco, Muir Woods often on many people's San Francisco bucket lists.
Ferry and shuttle combinations, as well as guided tours, easily sweep San Francisco day trippers into the redwood forest.
Ample parking (which must be reserved prior to coming due to crowd volumes) make this one of the most accessible redwood forests near San Francisco — that is, if you plan ahead and snag a booking.
Trying to visit from SF? Read my guide to getting to Muir Woods from San Francisco, including tips on reservations (and how to visit without a reservation).
There are a number of great trails in Muir Woods for all levels of hikers. For beginner hikers, take on the Muir Woods trail, which is only 1.3 miles long and takes about 30 minutes to leisurely walk its course. You can branch off to other trails to make it a bit longer.
For advanced hikers, I recommend the Dipsea Trail, 9.7 miles out-and-back (so nearly 20 miles total!) It's an all-day schlep, so pack plenty of water and snacks, but it's worth it for incredible views of the redwoods and Stinson Beach!
If you didn't plan your trip in advance and you want to visit Muir Woods but you can't snag a parking reservation, don't worry — there are plenty of guided tours which can bring you there, skirting the parking requirements.
Book this guided walking tour of Muir Woods, or opt for a redwoods + wine country full day tour!
Reinhardt Redwood Regional Park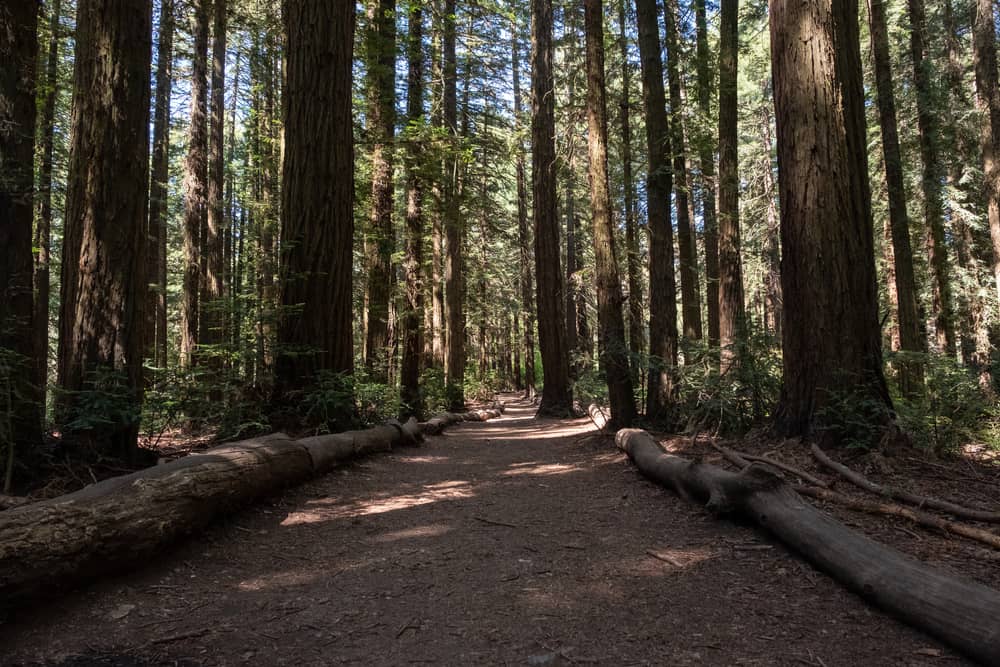 Driving distance: 18 miles
Estimated driving time: 25 minutes
Who would think that there'd be a beautiful redwood grove right in the heart of a city of nearly half a million people?
Well, that's the case with Oakland.
Reinhardt Redwood Regional Park is a special place in the heart of Oakland — I'd often go dog-walking with my aunt in this special park and feel whisked away from the city streets in just an instant.
There are literally dozens of trails within this park (see them all here) which you can mix and match to create the perfect hike for you.
Many of the trails are quite busy here (I mean, it is in the heart of a metropolis!) but the Tres Sendas Trail is beautiful and usually much quieter than other trails, and it's about a 3.2-mile return hike.
Purisima Creek Redwoods Preserve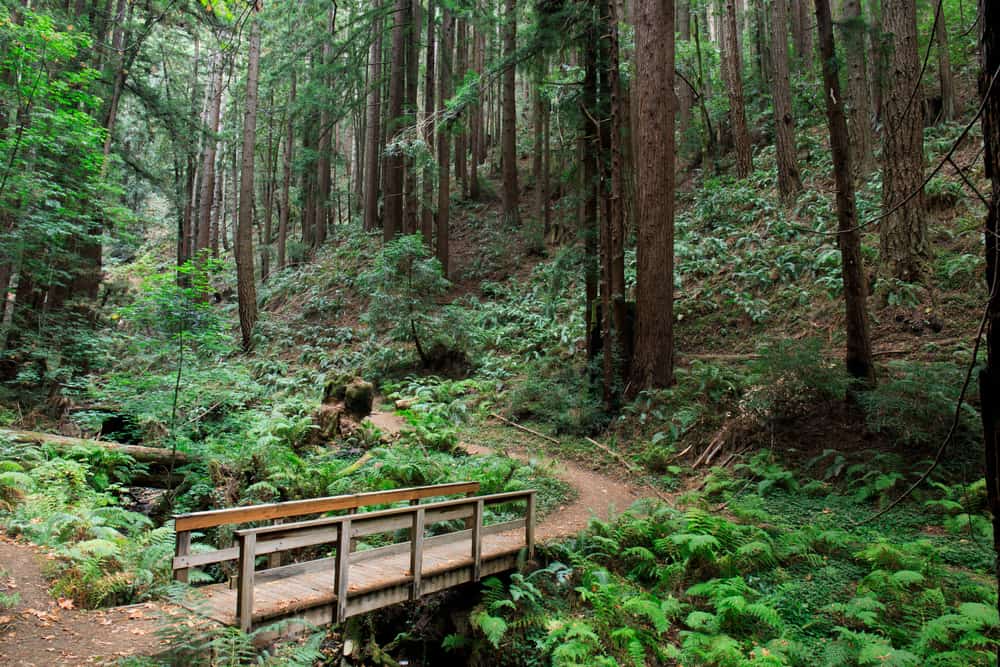 Driving distance: 30 miles
Estimated driving time: 40 minutes
Purisima Creek Redwood Preserve is located between Redwood City and Half Moon Bay, and it's an easy-to-access redwood hike near Silicon Valley.
It's full of trails, but these are longer hikes better suited for serious hikers — less skilled hikers may just want to tackle a portion of a trail rather than completing it.
For a tough hike, tackle the North Ridge Trail which is 4.4 miles each way and gains a staggering 1,400 feet.
Best Redwoods Near San Francisco Within a 2 Hour Drive
Samuel P. Taylor State Park
Driving distance: 31 miles
Estimated driving time: 54 minutes
Located just adjacent to the Point Reyes National Seashore protected area, Samuel P. Taylor State Park is a great add-on to any hike in Point Reyes or as a side trip from Mount Tam.
It's a fairytale-like forest with tons of picnic tables and great trails for day-trippers.
The easiest and busiest trail is the Pioneer Tree Trail. It takes about an hour to hike the 2.1 mile loop.
For a longer hike, take the Cross Marin Trail to Kent Lake, which is pretty much an all-day affair.
It's a 9.5-mile hike each way and has 1,300 feet of elevation gain, so bring loads of water and be prepared for a long hike! However, do note that you can't swim in the lake. It's a popular trail with mountain bikers so keep an eye out and share the trail.
Insider Tip: After hiking in Samuel P. Taylor State Park, take a detour to Inverness for the Cypress Tree Tunnel and drive down to Point Reyes Lighthouse for an epic day trip from San Francisco!
Butano State Park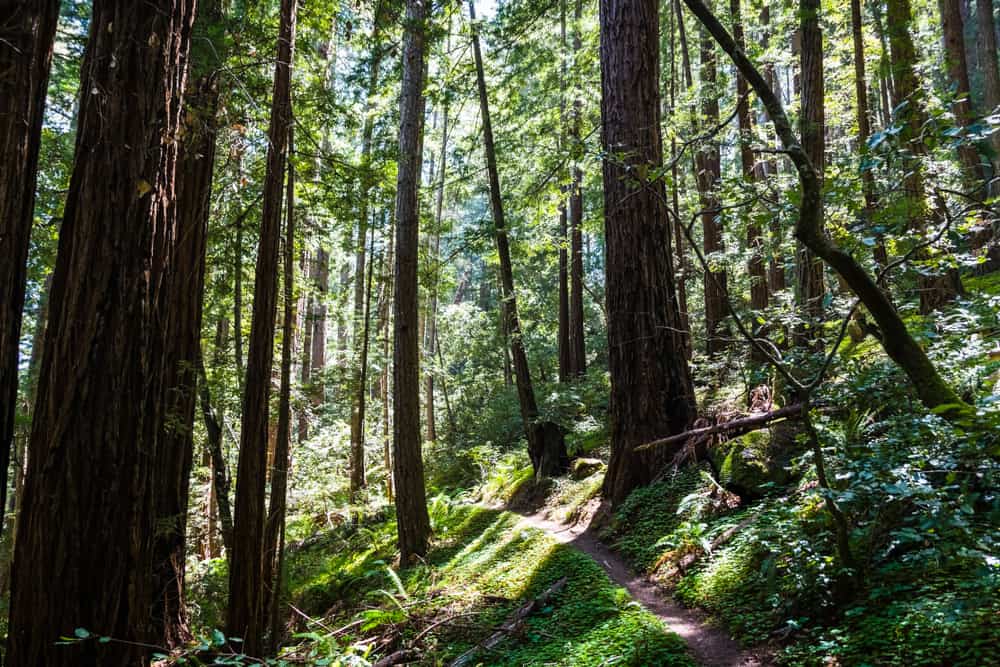 Driving distance: 50 miles
Estimated driving time: 1 hour 5 minutes
Located near Pescadero, California, this charming redwood forest near San Francisco was designated a protected site in 1957 to protect it from people who wanted to use the forest for logging.
Good thing, as this redwood grove near San Francisco is a beloved spot for hikers in the South Bay Area who are looking for a hike in the vicinity of San Jose and Silicon Valley.
For an easy hike, the Butano Creek Trail is just 2.1 miles long and goes in a loop, making it an easy hourlong hike with plenty of redwood tree views.
If you're lucky, you'll see tons upon tons of banana slugs (make sure you don't step on them, as they're often leisurely making their way across the trail!).
For a tougher hike, take on the 10-mile Six Bridges Trail to Canyon Trail Loop. While it's long, it's mostly shaded by redwoods the whole way, so it's not as strenuous as other long hikes.
Portola Redwoods State Park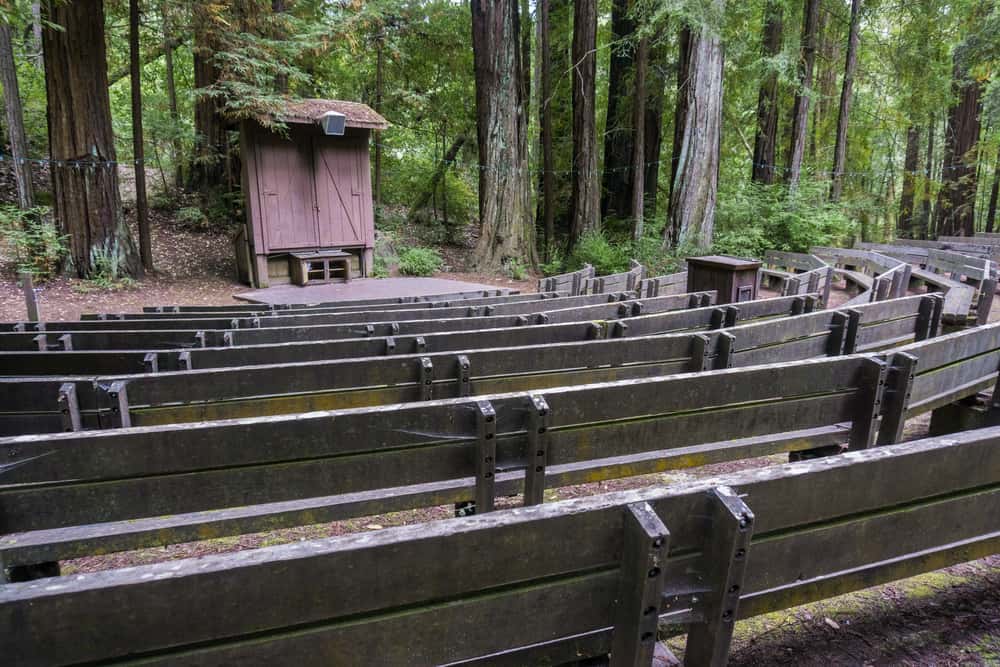 Driving distance: 50 miles
Estimated driving time: 1 hour 15 minutes
Just two miles north of the famed (but currently closed) Big Basin State Park, Portola Redwoods State Park is often overlooked by its more famous cousins.
This is great for would-be redwoods hikers looking for solitude, as it's a bit easier to find it here.
Yes, the trees are a little less tall and grand: but even a not-so-grand redwood is a mighty being!
There are three large redwood groves here, the main grove near the entrance, Peters Creek (which requires a long hike, but well worth it for old-growth redwoods), and Slate Creek (easier to get to, but more logging has been done here so it's not quite as impressive.)
Henry Cowell Redwoods State Park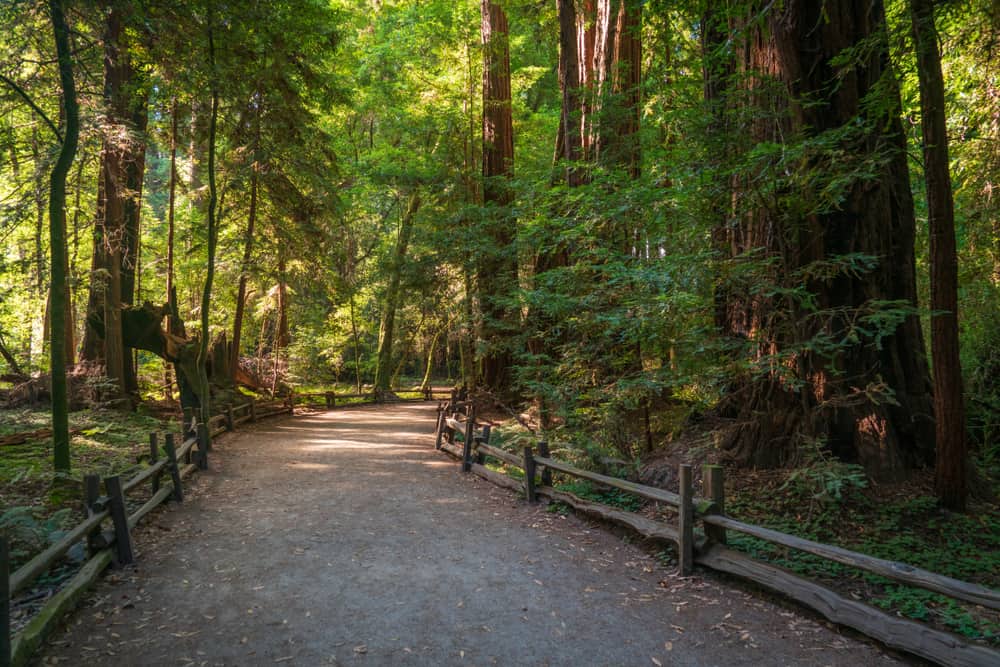 Driving distance: 71 miles
Estimated driving time: 1 hour 15 minutes
This is the closest redwood forest to Santa Cruz, so you'll find it rather popular amongst Santa Cruz hiking fans as well as students from UCSC.
For a short walk, try the Redwood Grove Loop Trail, which is just 0.8 miles long and can be done in about 20-30 minutes. It's a great trail for families or beginner hikers looking for a relaxed walk rather than a hike.
If you want to challenge yourself, though, Henry Cowell certainly has its share of tougher trails.
Fall Creek and Lost Empire Trail Loop is one of the more popular strenuous trails, which makes a nearly 10-mile loop hike. It's well-shaded, so it's a good choice for a hot day.
Armstrong Redwoods State Natural Reserve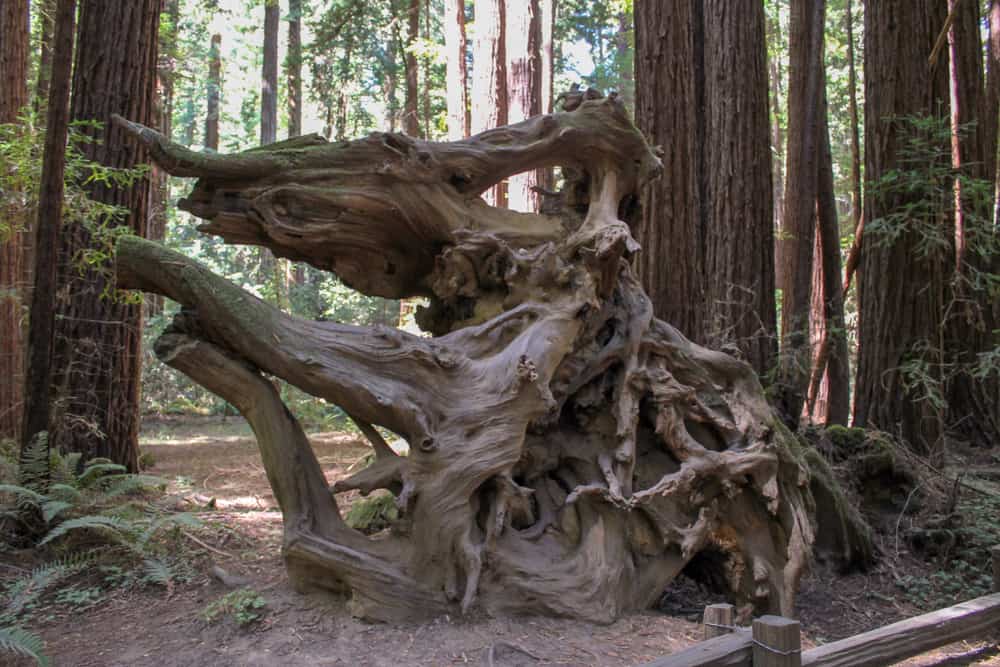 Driving distance: 77 miles
Estimated driving time: 1 hour 30 minutes
Note: As of Oct 29, 2021, Armstrong Redwoods SNR is reopen except for two trails: the East Ridge Trail and Pool Ridge Trail 
My personal favorite redwood forest on this list, Armstrong Woods is located near Guerneville in the Russian River Valley area of Sonoma County.
The Pioneer Nature Trail is an easy hike of just a 2-mile loop, where you'll see redwoods and all sorts of wildflowers and forest fauna.
It's often combined with the Armstrong Grove Loop trail, another easy hike that's a bit under 2 miles to complete.
You'll see more redwoods along this trail, and you can take the trail to Colonel Armstrong, the largest and oldest tree in this beautiful Sonoma redwood forest!
For those looking for a more challenging hike, East Ridge and Pool Ridge are two moderately tough hikes with steep elevation gain that take you to lookout points over the redwood grove.
Big Basin State Park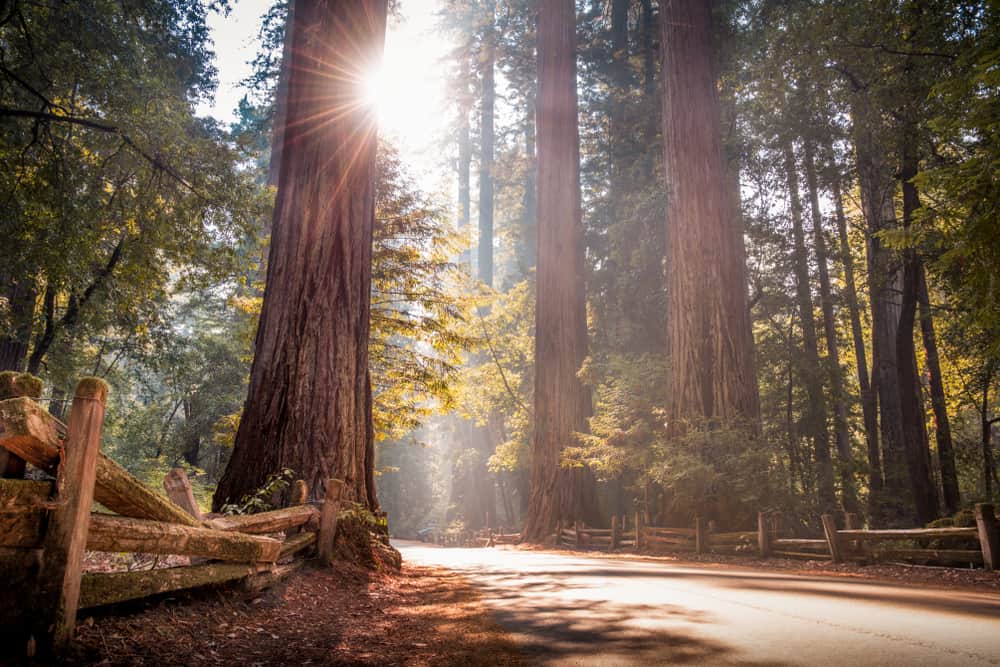 Driving distance: 70 miles
Estimated driving time: 1 hour 40 minutes
Note: Big Basin State Park was terribly damaged during the CZU Lightning Complex fire in August of 2020 and is still not yet reopened — it likely will not be for several more years. Learn about the project to renew it here.
One of the largest and most popular redwood forests in the South Bay, Big Basin is a beloved redwood forest amongst Californians. It's a popular hiking destination for people coming from San Francisco, San Jose, and Santa Cruz.
There are a number of phenomenal redwoods hikes in Big Basin — search for trail information here.
The most popular hike is the Sequoia Trail, a 4.2-mile loop trail which you can also connect with a waterfall trail for a longer and more scenic hike.
There's a bit of an incline in the midway point of the hike, but overall, it's on the easy side and has some incredible views in the park. Expect to spend 2-3 hours tackling this trail depending on skill level and speed.
A longer hike — typically done as a 3 day, 2 night thru-hike — is the Skyline-to-the-Sea hike. It's a challenging hike, 27 miles point-to-point (typically people don't hike back but arrange a pickup or transfer to their starting point).
It starts at Castle Rock State Park, goes through Big Basin, and ends at beautiful Waddell Beach. You'll need to pack and prepare properly for this hike, so read up on it before deciding to tackle it.
Redwoods (& Sequoias) in California Within 4 Hours of San Francisco
I wouldn't call these redwoods near San Francisco per se, as they involve up to 4 hours of driving and thus don't make a good day trip.
However, if you have time to do an overnight trip to the redwoods from San Francisco, these are some great destinations, and it gives you a chance to see some giant sequoias as well as coastal redwoods.
This is because you can only find coastal redwoods near San Francisco and need to drive further afield to the Western Sierras to be able to see the coastal redwood's giant cousin!
Mariposa Grove (Yosemite National Park)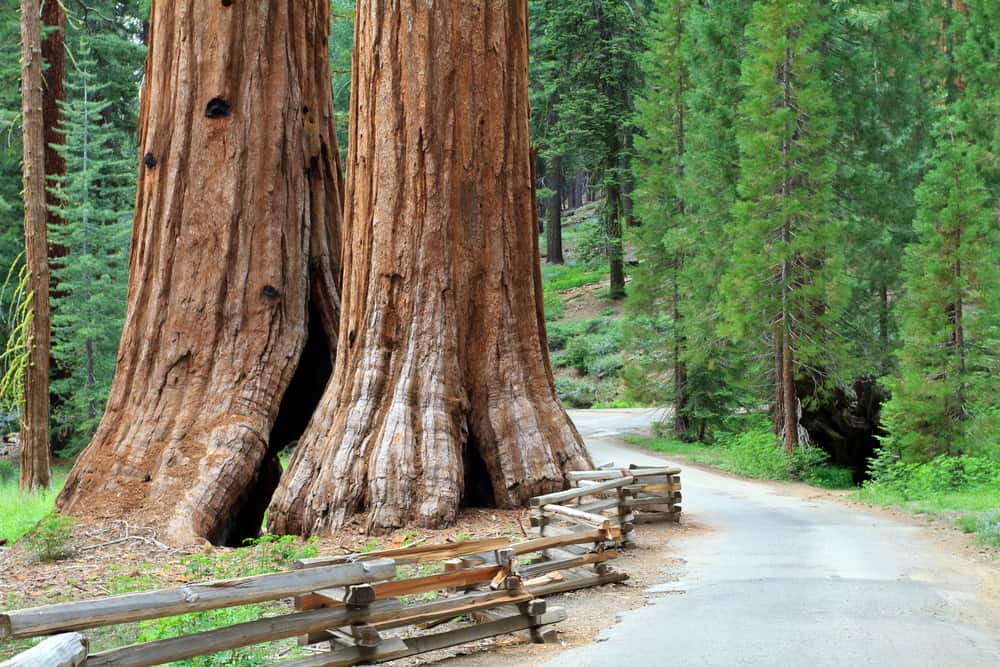 Driving distance: 211 miles
Driving time: 3 hours 45 minutes
Note: Due to crowding and increased interest in visiting Yosemite, there is now a reservations system in place. If you want to visit Yosemite but can't snag a permit, book a guided group tour from San Francisco, which is not affected by the restriction.
Located in southern Yosemite, Mariposa Grove is the largest sequoia forest in Yosemite with over 500 giant sequoias.
There are a range of hikes you can do in Mariposa Grove for people of all levels and abilities.
The Big Trees Loop Trail is an easy, wheelchair-accessible hike that's only 0.3 miles in length and forms a loop. It can easily be done in about 30 minutes and will give you a great encounter with giant sequoias.
For more of a strenuous hike, the Mariposa Grove Trail will definitely challenge you!
It's a 7-mile roundtrip hike that leads up to Wawona Point, and it takes anywhere from 4-6 hours to complete based on your skill level and speed.
You'll gain 1,200 feet on the way up to Wawona Point, and you'll get to see many of the most famous sequoias in the grove: The Bachelor, the Faithful Couple, and the Three Graces, among others.
Don't want to make the drive? Book a guided tour of Yosemite that includes a giant sequoia hike. Transit to and from San Francisco is included!
Humboldt Redwoods State Park (Avenue of the Giants)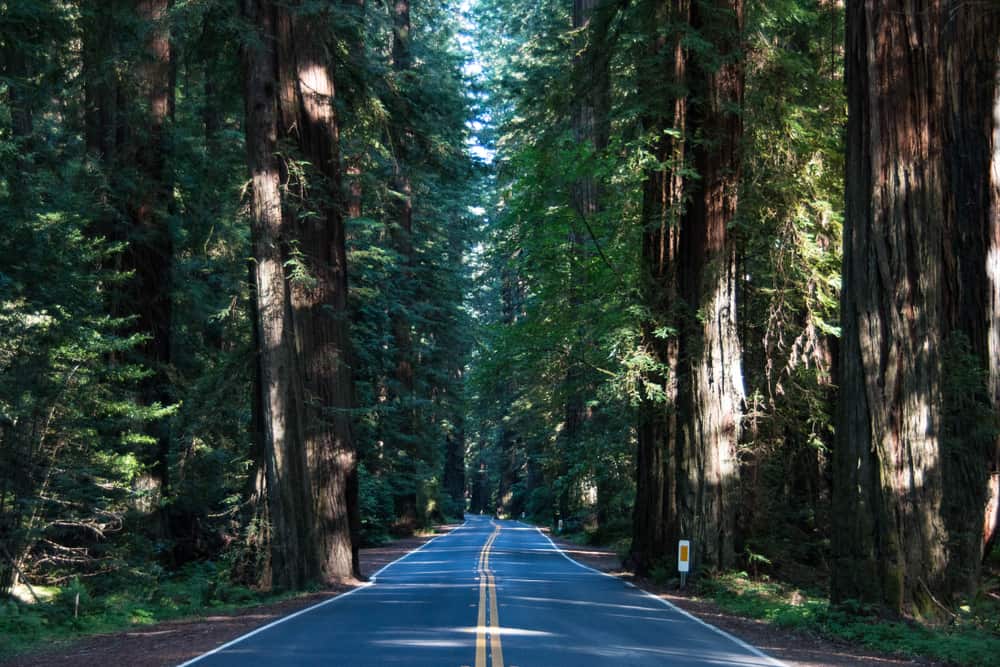 Driving distance: 225 miles
Driving time: 4 hours
One of the most famous places in California is the Avenue of the Giants, located in Humboldt Redwoods State Park.
This is quite a deal north of San Francisco but well worth it for one of the most iconic redwood forests in California. It's probably the most famous scenic drive in all of Northern California!
Of course, most people come here to drive the Avenue of the Giants and go through the Shine Drive Through Tree, but there's more to these redwoods than just that!
For an easy walk through the redwoods, Founders Grove is a short, accessible trail that goes just half a mile. Bull Creek Loop is another short trail that can be finished in about 15 miles.
Stop by the pretty Eel River which runs along the redwoods, which is a great reward to dip into after finishing a redwood hike
What to Pack for a California Redwood Hike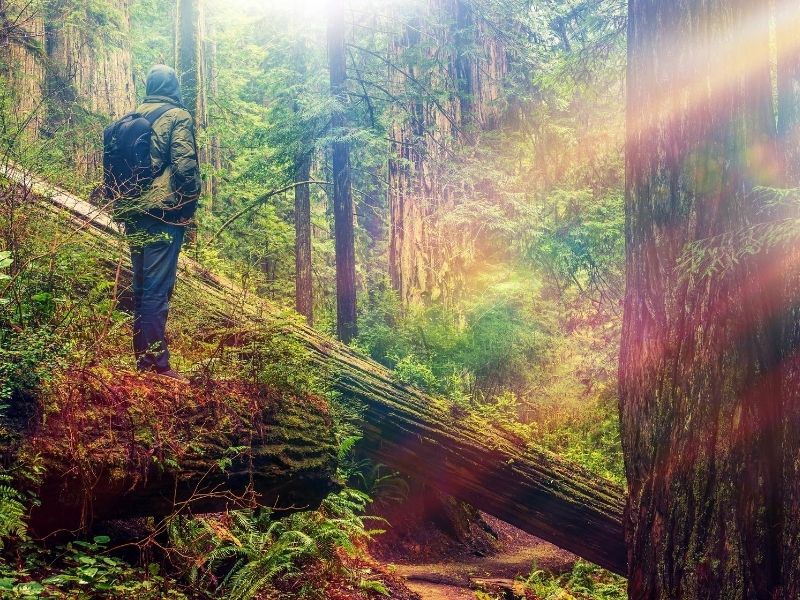 Breathable layers like fleece. Whether you're hiking the coastal redwood forests or are at altitude hiking amongst giant sequoias, be prepared for surprisingly cool weather — and also be prepared to peel off those layers if you emerge into a sunny patch of trail or push through a particularly steep patch of trail! Californians love fleece layers for hiking, and you'll see nearly every Californian has a North Face fleece dedicated for days out hiking!
A waterproof jacket. If you're hiking in the late fall, winter, or spring, there's a decent chance of rain in Northern California. You'll want a comfortable waterproof jacket in case there's any rain in the forecast. I love my Marmot rain jacket because it's breathable (hello underarm zips!), cozy, and goes with everything – and there are tons of colors to choose from.
A day pack. You'll want a backpack that's lightweight and breathable that you can throw snacks, your camera, your first aid kit, odds & ends, and unwanted layers in. Get something with a mesh, breathable back or you'll end up unpleasantly sweaty. I suggest this Osprey day pack.
A beanie. On a cool day, you can lose a lot of heat through your ears, so keep them snuggly-warm with a tight-knit beanie that you can take off if you start to get too hot while hiking. I like this affordable and cozy North Face beanie.
Hiking boots. Unless you only plan to tackle a particularly easy patch of trail, you'll definitely want hiking boots if you're doing anything with an incline. These boots stabilize your ankles, making it less likely you'll fall and hurt yourself if you misstep or stumble. I own these Ahnu by Teva Sugarpine hiking boots and adore them — they're fantastic women's hiking boots. For men, I've heard great things about these KEEN boots.
Plenty of water and a water filter bottle like the GRAYL. If you're doing a short hike, you can usually just bring a standard reusable water bottle with you that you can fill with tap water before leaving. But if you're taking on a longer hike, you'll want to bring plenty of water with you or look into the water situation before embarking on a hike. Many times, there will be a water source on your hike, but it won't be fit for human consumption without water treatment. I love the GRAYL because it allows you to drink from virtually any fresh water source while filtering out viruses, bacteria, heavy metals, dirt, microplastics — basically everything nasty you don't want!
Snacks, snacks, snacks. You don't want to be a hangry hiker! I love these coffee-infused Clif Bars for a tasty pick-me-up. Nuts, trail mix, pre-made sandwiches, and protein bars are other great hiking snacks.
Camera. I love my Sony A6000 mirrorless camera. It's insanely lightweight and compact, making it a great choice for hikers who don't want to be weighed down! The Sony A6000 is a great mid-range camera if you don't need professional, sale-quality shots. I used it for my travel blogs since 2017 and it still works great.
Camera lenses: If you want the full range of capabilities while shooting the redwood forests, two lenses will do the trick. I recommend an inexpensive zoom lens (this is one I have and love) which can help capture the size of the redwoods by using compression (basically, a long focal length and an element — using a human element) to signify size. I also recommend a lens that can go from wide to middle range — this one goes from 16mm-55mm, so you can capture wide-angle views of entire redwood forests or vistas from the top of epic ridges and peaks!
Mini first aid kit. Invest just a few bucks into a first aid kit that you can keep in your hiking bag at all times. You'll hopefully never need to use it for anything more than a blister, but if you do ever need it, you'll be so glad to have it.
Blister bandages. If you're doing a more strenuous hike, especially one with lots of uphill and downhill stretches where it's more easy for your boots to rub against your feet, I recommend carrying some specialty blister bandages, which work way better than bandaids. They're hydrocolloid bandages, which are water-resistant and keep the blister moist to speed up healing.
Pin This Guide to California Redwoods Hikes Near San Francisco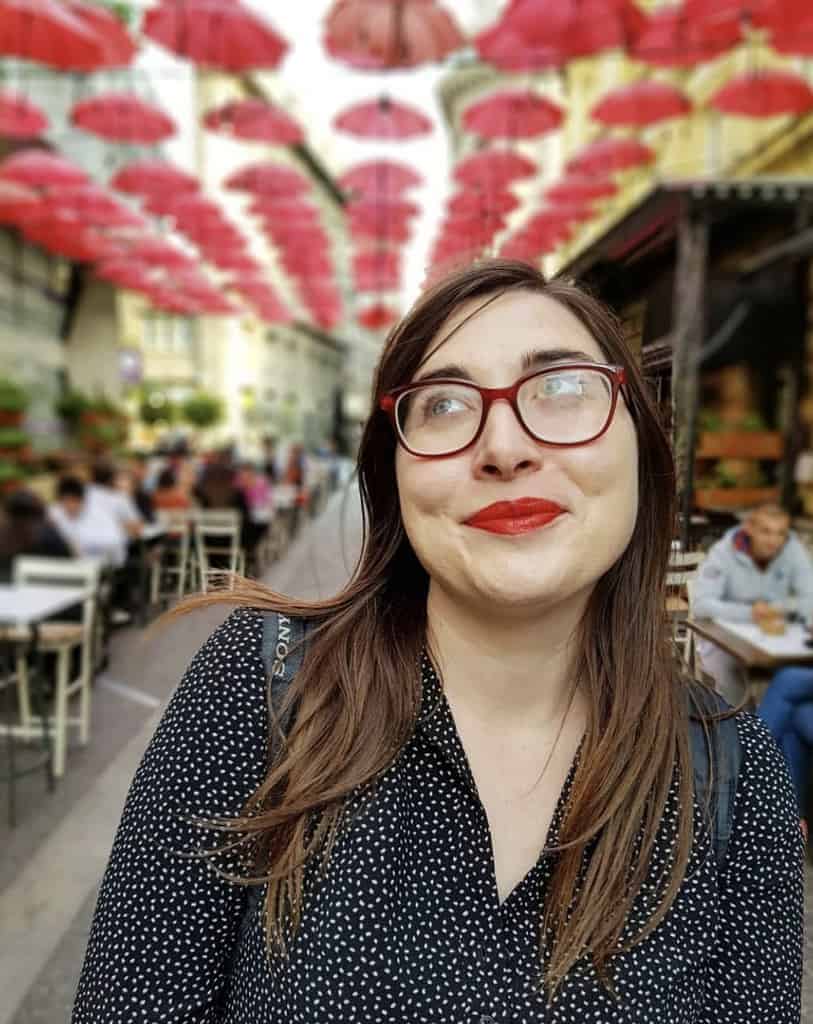 Allison Green is a travel blogger, writer, and podcaster who grew up in the Bay Area of California. She has spent time living in New York, Prague, and Sofia, but has returned to live in the East Bay. She has traveled to 60 countries before the age of 30 while running several digital travel publications. Her writing and podcast have been featured in Forbes, CBC Canada, National Geographic, the Huffington Post, and CNN Arabic, amongst others. She's obsessed with bouldering, houseplants, other people's pets, and anywhere she can see the ocean.