Looking for a charming oceanside destination on the Northern California coast?
Charming Pescadero, California gets its name from the Spanish word for "fishmonger" and it's quite fitting — this is a tiny farming and ranching community tucked away on the beaches south of the SF Bay Area, perfect for a day trip from San Francisco.
With only 219 residents, Pescadero checks the boxes of "quaint", "coastal", and "best-kept secret".
If you think a visit to Pescadero needs to be on your weekend itinerary, read on — we'll let you know all the best things to do in Pescadero on your next trip.
An hour south of San Francisco and an hour north of Santa Cruz, Pescadero is located just off the Pacific Coast Highway, providing easy access for a visit anywhere the road might take you.
Pescadero is also a good stop if you're making a road trip between San Francisco and Big Sur via the San Francisco peninsula, along Highway 1.
Equal parts ocean and farmland, Pescadero's whale watching, crashing surf, and rolling hills are sure to delight you and provide an idyllic retreat from the hustle and bustle of city life!
I've split your must-sees in between "Farm" and "Sea", representing both the coastal and the inland parts of Pescadero, so you can guarantee that you'll enjoy all of the coolest things to do in Pescadero that this charming NorCal small town has to offer!
Best Inland Things to Do in Pescadero
Snuggle baby goats as you tour Harley Farms.
Note: This post contains affiliate links, which earn me a small commission at no extra cost to you if you make a purchase using one of these links. Thank you for supporting this free content!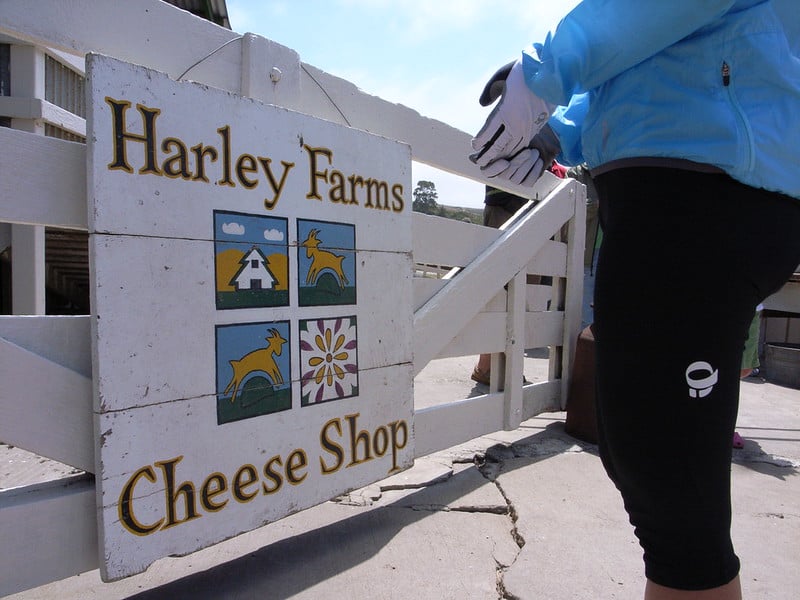 If you find yourself headed to Pescadero, visiting Harley Farms Goat Dairy is a must-do on your Pescadero day trip itinerary!
This property boasts edible gardens, verdant pastures, barns, and even a milking room, but arguably the most exciting activity they offer is meeting baby goats. 
Baby goat season lasts from February to May in any given year, and if you schedule a tour in advance, you will be able to play with the kids, snuggle them, and even hold them in your arms!
There's no rush no matter how long you take to indulge in the cuteness, so take your time to enjoy this springtime activity. 
End your tour with a cheese tasting in the Harley Farms hayloft – their Honey Lavender Chevre and Monet Chevre are two of their most popular, and they're deliciously tasty!
You can visit the farm store to purchase more cheese, farm-fresh dairy products, local honeys, jellies, chocolates, and more.
Feeling adventurous? Give their goat milk cheesecake a taste! 
Address: 205 North St, Pescadero, CA 94060
Hours: 11 AM to 4 PM daily
Indulge in a wine flight at the local winery.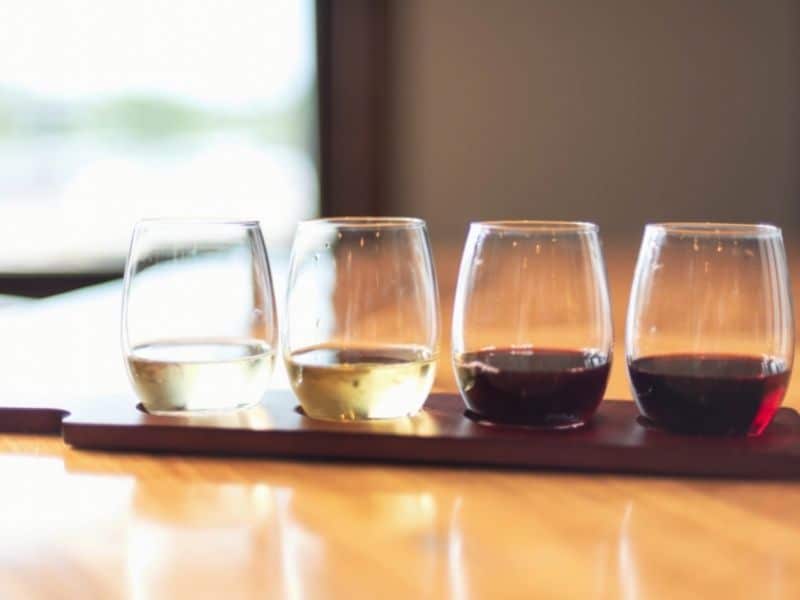 Napa Valley, California is known for being the wine capital of the west coast, but don't discount Pescadero as a haven for award winning Pinots, sourced from the Sante Arcangeli Winery. 
Best of all, their six flight wine tasting is paired with the Harley Farm's goat cheese and takes place in one of their rustic barns!
The winemaker and owner of Sante Arcangeli has a particular passion for drinkable, delicious pinots, and the goat cheese pairings are designed to enhance the flavors. 
And if you're traveling with your canine companion, you're in luck, because these wine tastings are also dog friendly!
Address: 79 North St, Pescadero, CA 94060
Hours: 11 AM to 5 PM Friday through Sunday
Indulge in baked goods at Pie Ranch Farm Stand.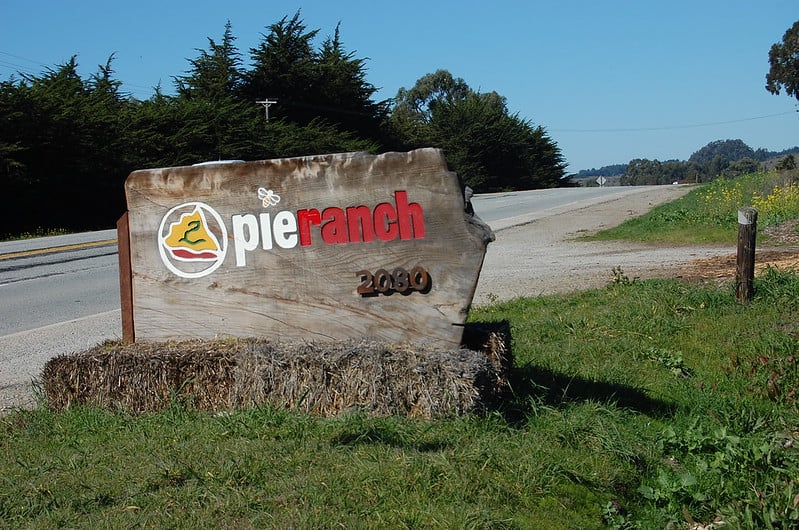 Keep an eye for a "slow down for pie" sign and swing by the Pie Ranch Farm Stand!
This precious farm stand is open six days a week (every day but Tuesday) until 5 PM and has an ever-changing offering of freshly baked pies. 
You can choose from whole pies or "cutie" pies (an adorable way to describe miniature pies) with flavors like peach, lemon buttermilk, strawberry rhubarb, apple, and summer berry.
You can feel good as you indulge in these baked goods, since Pie Ranch participates in programs that help tackle a number of social issues through their education, training, and partnerships. That's sweet!
Address: 2080 CA-1, Pescadero, CA 94060
Hours: 12 PM to 5 PM weekdays except Tuesday when it is closed; 10 AM to 5 PM on Saturdays and Sundays
Pick berries at the Swanton Berry Farm.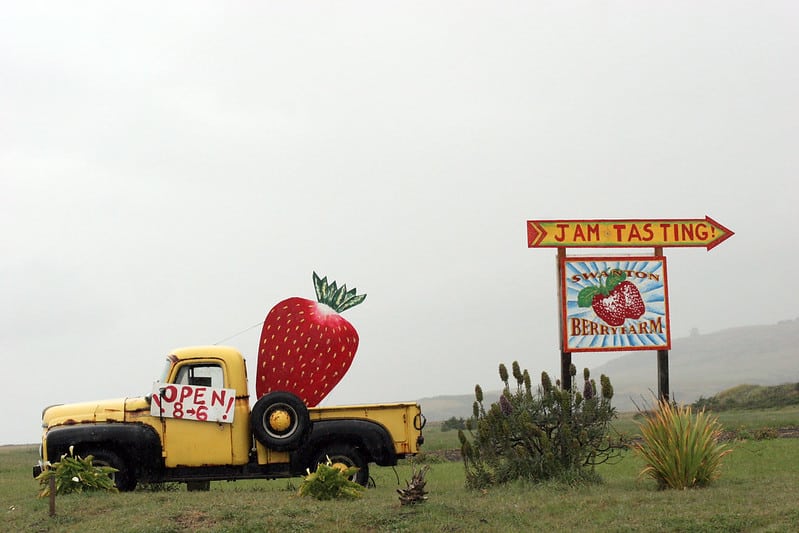 Feeling summery during your visit to Pescadero? Pick your own strawberries at the Swanton Berry Farm and pick up some of their fresh local jams!
This beautiful property has been in the family since the 1860s and was the first unionized organic farm in California.
The farm even operates on an honor payment system where you weigh-and-pay for your own berries.
This makes it a great activity for families with children, since they can enjoy the fresh air, sunshine, and connection with their food while also appreciating virtues like honesty and integrity.
Looking for other treats aside from the berries you just picked?
There's even an adorable coffee house that has strawberry-related goods like chocolate covered berries and a delectable selection of pies (since you can never have too much).
Address: 25 Swanton Rd, Davenport, CA 95017
Hours: 8 AM to 7 PM daily
Grab some lunch from the Arcangeli Grocery Co.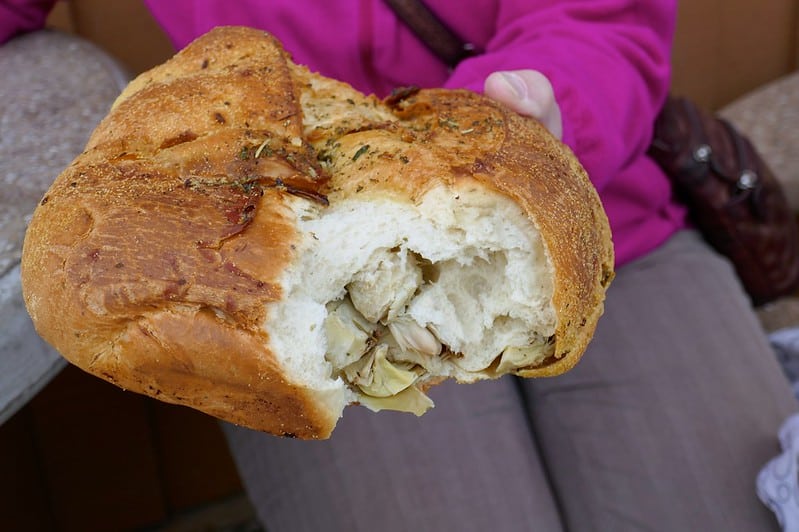 While dining at a grocery store might seem strange to some, the food served at the Arcangeli Grocery Co. is absolutely delicious. 
Founded in 1929, this grocery store hasn't changed much in the past 90-something years, and continues to attract locals and tourists alike with their sandwiches, freshly baked bread, and other deli goods. 
Try their Artichoke Garlic herb breads (they're famous in the Bay for this!) or Godfather sandwich, served fresh right from the deli counter.
If you're more of a snacker, their cheese, local wines, and desserts will be sure to satisfy your cravings. 
Address: 287 Stage Rd, Pescadero, CA 94060
Hours: 11 AM to 5 PM daily except Tuesday
Best Coastal Things to Do in Pescadero 
Connect with Pescadero's history at Pigeon Point Lighthouse.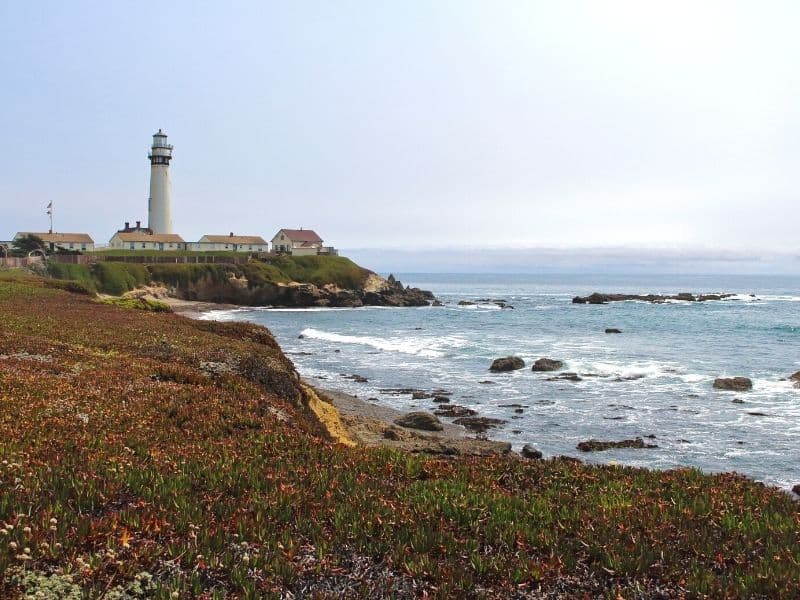 Anyone who visits Pescadero knows and loves its iconic landmark, the Pigeon Point Lighthouse.
Its iconic silhouette is visible on the cliffs from both the north and the south, which makes sense since it is 115 feet tall, making it the tallest lighthouse in California — and the tallest on the West Coast!
The Pigeon Point Lighthouse was built in 1872 to guide ships along the rocky coast of San Mateo County and remains an active Coast Guard aid to navigation.
Bring a pair of binoculars with you and make the most of the watch deck to search for gray whales and humpback whales, who are frequent visitors of the local waters, especially during their migration season.
Inside the adjacent store, you can learn about the history of Pigeon Point and see the original lens that helped to direct ships safely through the area. 
Address: 210 Pigeon Point Rd, Pescadero, CA 94060
Hours: 10 AM to 4 PM daily between Thursday and Monday (closed Tuesday/Wednesday)
Visit the elephant seals at Año Nuevo State Park.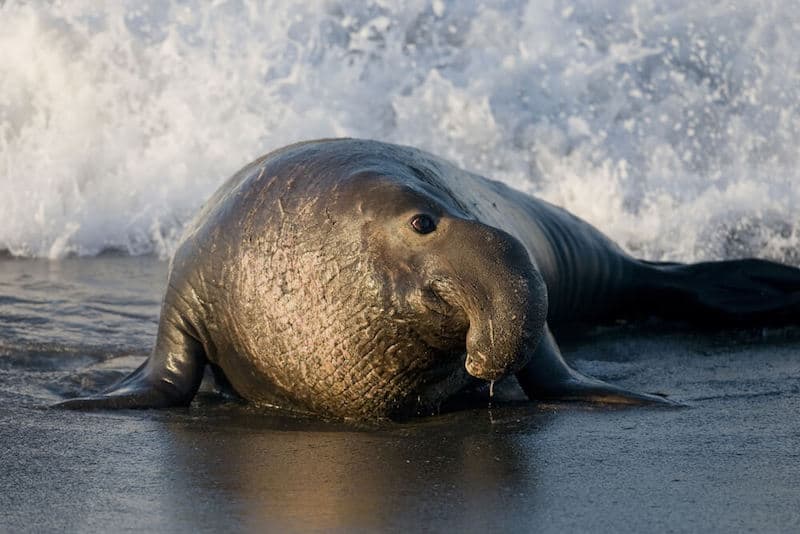 Home to the largest mainland seal colony in the world for the northern elephant seal, Año Nuevo State Park is a haven for these gentle creatures. Every year, over 10,000 elephant seals return to the site to breed, give birth, and even molt. 
The landscape is characterized by ocean bluffs, coastal prairie, and wetland marshes – a nature-lover's dream. With a keen eye, you'll see Año Nuevo Island, the remains of a 19th century lighthouse, and even the historic keeper's house that is now home to birds and sea lions.
A 3-4 mile hike is necessary to see the seals, so put on your hiking shoes and grab your visitor's pass, available from April to November. 
Address: 1 New Years Creek Rd, Pescadero, CA 94060
Hours: Daily from 8 AM to 7 PM
Let your worries wash away at Pescadero's many beaches.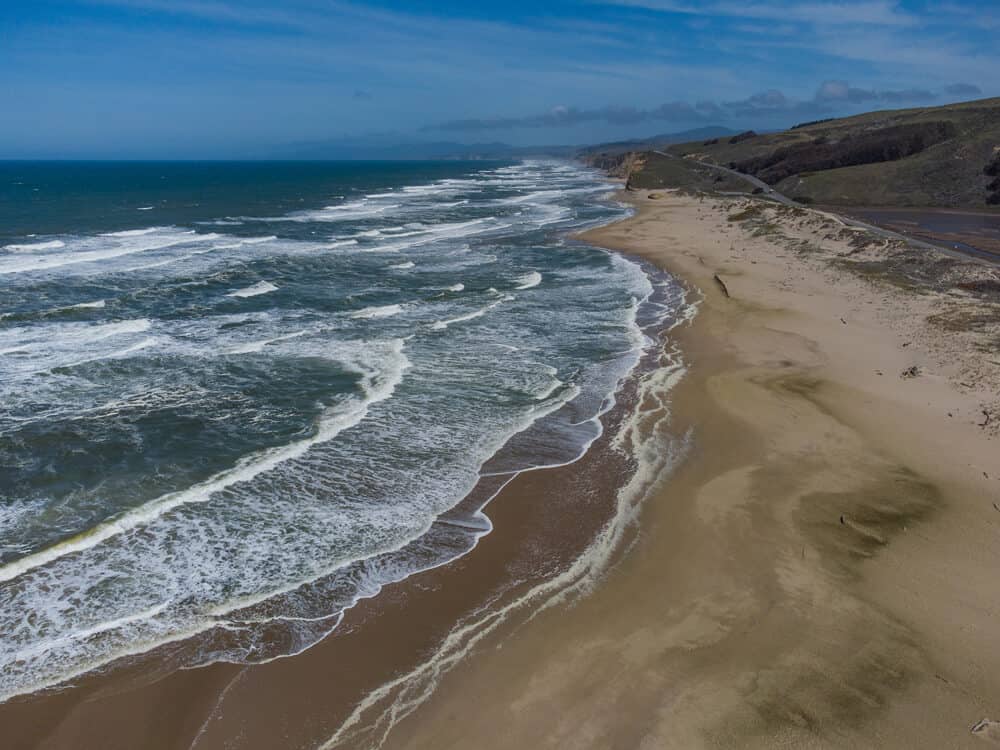 Pescadero's rugged coastline is a beautiful place to relax, unwind, and let the stresses of your day-to-day life wash away.
Pescadero's two beaches, Bean Hollow State Beach and Pescadero State Beach, are the most popular and for good reason. They're accessible, walkable, and incredibly beautiful. 
The Bean Hollow State Beach is actually composed of two stretches: the northern beach, known as Pebble Beach, is a cove covered with – you guessed it – pebbles, which is unusual compared to the area's swaths of white sand.
At low tide, search in the tide pools for sea anemones, starfish, hermit crabs, and sea urchins. 
The southern beach at Bean Hollow, accessible from Pebble Beach via a one mile trail, is called Arroyo De Los Frijoles Beach.
Unlike Pebble Beach, it has rust-brown sand. It's secluded and bordered by large rocks for a bit of privacy, and you can get a bird's eye view by taking a short path up to the bluffs. 
Both stretches of the Bean Hollow State Beach are dog friendly, so pack up your pooch and take a walk along the water when you visit!
The Pescadero State Beach is a bit more expansive than Bean Hollow, and also more popular.
If unique coastal formations like rocky coves and a rock arch are your thing, or if you enjoy dunes, wetlands, and marsh alongside your sand, you're sure to love this beach. 
The southern and central parking lots at Pescadero State Beach are free, while the northern parking lot has a fee of $8.00. You're sure to love any one of the three sections, so you can't go wrong. 
Bean Hollow Address: New Years Creek Rd, Pescadero, CA 94060
Bean Hollow Hours: 8 AM to 6 PM daily
Pescadero Beach Address: Along Cabrillo Hwy, Pescadero, CA 94060
Pescadero Beach Hours: 8 AM to 6 PM daily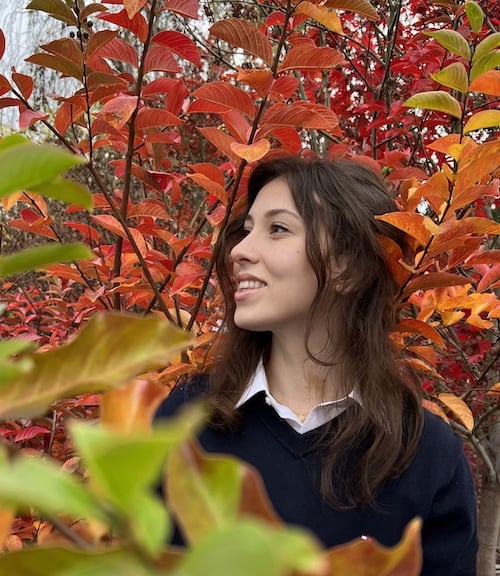 Hannah McKelson is a content writer and California-based adventurer hiking and camping her way across the West Coast. She loves tracking down the best-kept secrets of the beaches, forests, and mountains in her home state while sharing her adventures through her writing. You can follow her travels on social media @hannahmckelson and on her website at hannahmckelson.com.