The Pacific Coast Highway is up there with the most beautiful drives in the world.
Snaking all the way up the U.S.'s west coast, the Pacific Coast Highway stretches 1,675 miles from California to Washington, starting in San Diego, CA and ending in Olympia, WA (or vice versa).
The most commonly driven part of the Pacific Coast Highway (PCH) is California Highway 1, which covers just due south of Los Angeles to quite a bit north of San Francisco.
Growing up, we made the drive from San Francisco to Santa Barbara several times a year to visit my grandmother who lived in Solvang (which is a fun side trip, though not on the PCH).
I've driven on Highway 1 dozens of times and know the best California Pacific Coast Highway stops like the back of my hand.
But that's only one stretch of the Pacific Coast Highway — there's so much more than just that.
With nearly two thousand miles of road to cover, I've narrowed it down to 50 essential Pacific Coast Highway stops in California, Oregon, and Washington. And while 50 stops along the PCH may sound like a lot — believe it or not, I narrowed it down quite a bit!
This post will go from South to North because most people tend to start their trips somewhere in California, as it generally has the best airfares.
So you can still visit Carmel-by-the-Sea, the town of Big Sur, McWay Falls, Bixby Creek Bridge, and all the other PCH classics, with the exception of San Simeon and Lucia and Limekiln State Park.
Renting a Car for the PCH
Note: This post contains affiliate links, which earn me a small commission at no extra cost to you if you make a purchase using one of these links. Thank you for supporting this free content!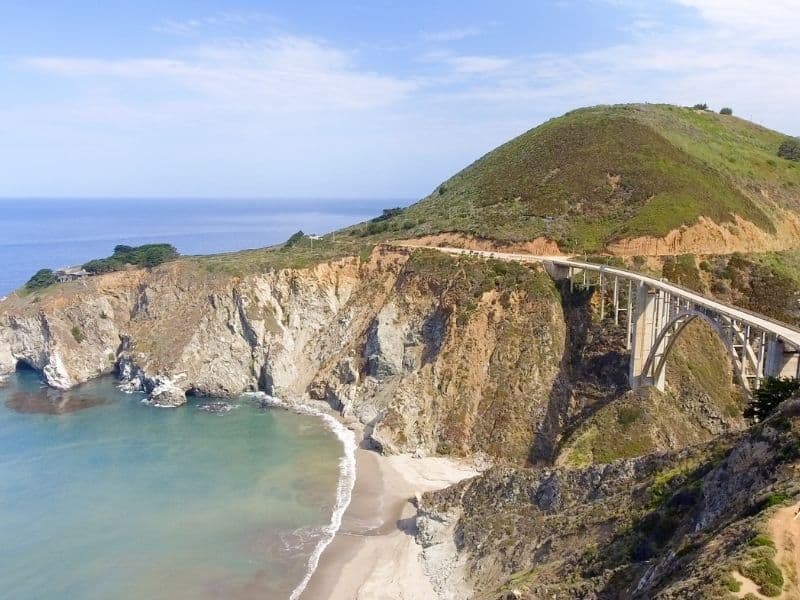 Many people who drive the PCH are coming from a nearby state or California itself and are planning to travel by personal car.
If you're flying into California and renting a car, I recommend picking up in either San Diego, Los Angeles, or San Francisco, depending on what your route is.
You may find it more convenient to pick up and return in a different location, such as San Diego to San Francisco, San Diego to Seattle, Los Angeles to Portland, Los Angeles to San Francisco, etc. There's no shortage of opportunities here.
Keep in mind, of course, that one-way fees can be hefty. However, so can the time and expense of paying for all that extra gas to return the rental car! Factor the price of gas and the time involved in in returning a car to the same spot, and you may find that it's actually a better idea just to
Not sure where to get the best deal on your rental? I've rented cars dozens of times through various search engines and have settled on Discover Cars as the best car rental search engine – it searches over 500 trusted rental companies to find the cheapest price for your rental!

Compare prices for car rental from Los Angeles here

Compare prices for car rental from San Diego here
Best Pacific Coast Highway Stops
San Diego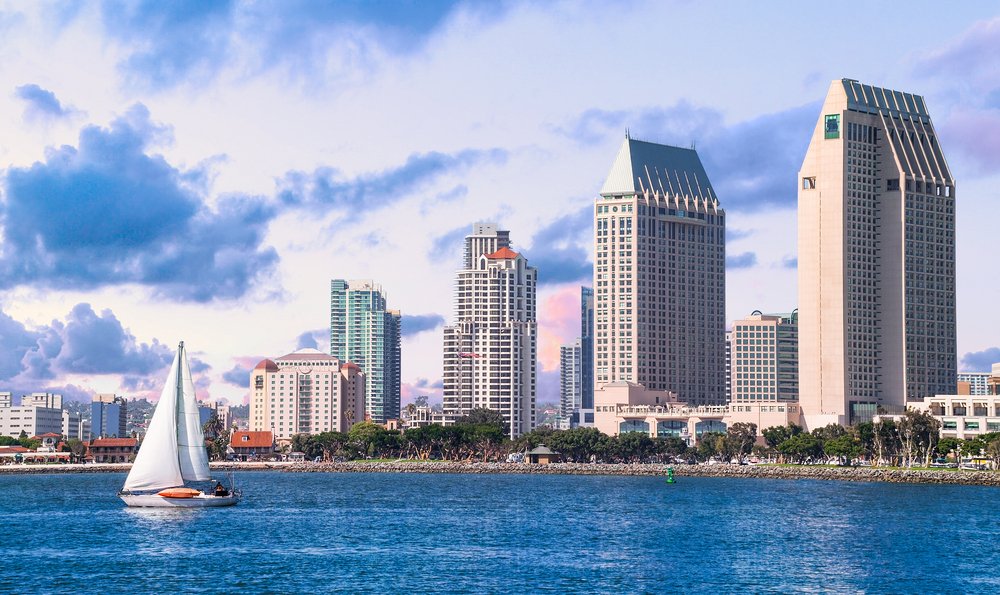 San Diego is one of my favorite cities in California, and if I didn't live in the Bay Area, I think there's a really good chance I'd end up in San Diego.
It's right by beautiful beaches, you can find some of the best Mexican food in California (considering that it's literally 15 miles from the U.S.-Mexico border), and the weather in San Diego is nothing short of spectacular.
If you're starting or ending your trip in San Diego, you're in for a treat. And even if you start or end your trip in Los Angeles, since there generally are better flight deals there (assuming you're flying in to drive the PCH), it's definitely worth doing a 2 hour detour down south before starting officially in San Diego.
Here are some of the best things you can do in San Diego and its charming neighbor, La Jolla.
Wander around the massively impressive Balboa Park. This is the #1 site in San Diego for good reason! The park is home to 16 museums and 16 gardens, all done with gorgeous architecture. It's one of the most Instagrammable spots in the city, so if you're planning to snap some great photos in San Diego, this is your spot.
Inside Balboa Park, the Japanese Friendship Garden is also worth a stop — it's absolutely beautiful and so serene.
Go on a whale and dolphin watching cruise! From December through April, gray whales migrate within miles of the city — and in the spring, you can even expect to see mama whales with their calves! Dolphins also frolic during these winter and spring months. Due to the limited time window and lowered capacity for distancing reasons, you'll want to pre-book your whale watching cruise well in advance.
Traveling between May and November? Opt for a harbor cruise where you're practically guaranteed to see some rowdy but adorable sea lions. Book your harbor cruise here.
Eat your heart out with plenty of tacos. My favorite spots are Carnitas Las Michoacanas (The Mexican state of Michoacán is famous for its carnitas, so you know it's gonna be good with a name like that!) and La Fachada for its delicious birria (Jalisco-style braised goat) tacos.
Slurp up delicious oysters at TJ Oyster Bar. And if oysters aren't your jam, don't worry — they have plenty of other delicious seafood that makes this worth a visit. Mmm smoked tuna tacos.
Go sea cave kayaking! I've heard of kayaking, and I've heard of sea kayaking, but I've never heard of sea cave kayaking before! It's on my list for the next time I'm in San Diego. It departs from La Jolla not far from downtown San Diego, and it's a 90-minute open ocean kayaking adventure. Prebook tickets as space is limited.
Where to Stay: The beautiful Pantai Inn in La Jolla offers unique, Balinese-inspired rooms with sweeping views of the Pacific Ocean. Each room comes equipped with a kitchenette and spacious seating area. Best of all, it's just a 5-minute walk to La Jolla Cove!

Another option is the Hilton La Jolla Torrey Pines, located right in the heart of one of the prettiest patches of San Diego coastline. It's got all the 4-star amenities you'd expect from the Hilton name, like an outdoor pool, hot tub, restaurant, etc.
Torrey Pines State Natural Reserve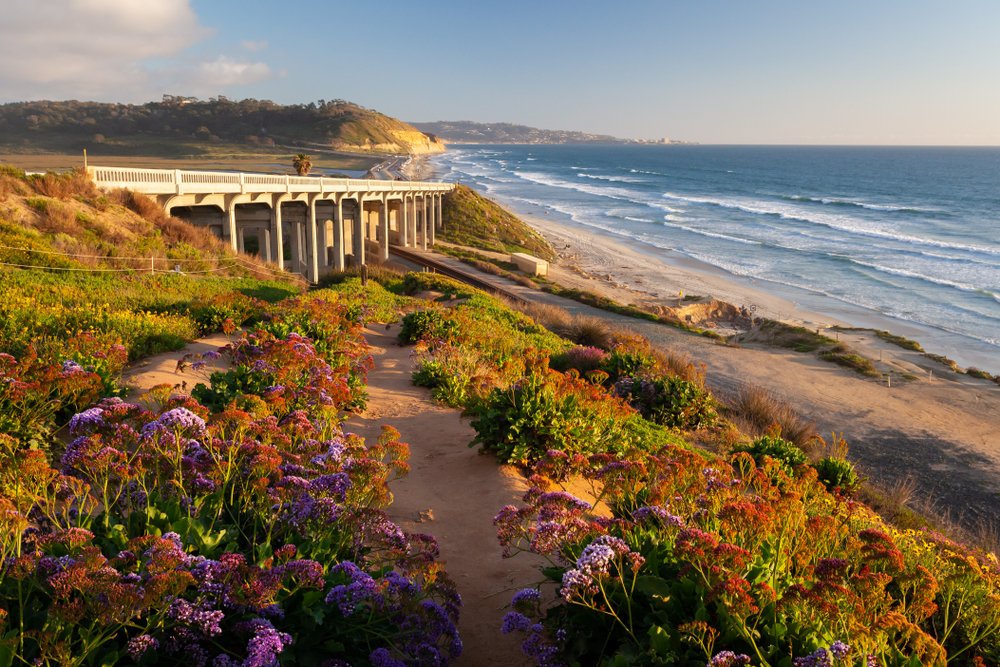 You'll barely be out of San Diego by the time you hit the beautiful Torrey Pines State Nature Reserve. 18 miles outside San Diego center, this nature reserve is located in La Jolla, a small town that's part of the San Diego metro area.
The reserve encompasses 2,000 acres of incredible coastal landscape where wildflowers abound. While much of Southern California beaches are rather built up, this is one of the few wild beaches you'll be able to find in the stretch between San Diego and Los Angeles.
Note that if you park within the gates there is a $20 fee to access the nature reserve, though parking down the street is free (and the lot is often full, especially on weekends).
The best things to do in Torrey Pines State Nature Reserve:
Watch the surfers hit the waves off in the distance — even in the cold, they'll be out there!
Hike the pretty Torrey Pines Beach Trail Loop, a 2.3-mile hike that should take a leisurely hour to complete.
Try to spot whales spouting off in the distance during whale season (December through April). Be sure to bring some binoculars (they'll come in handy in other parts of this PCH road trip, trust me!). I love this affordable pair of travel binoculars.
Hike the Guy Fleming Trail for incredible views over the beach and ocean from its panoramic point. It's a short trail, only 0.8 miles each way, so it's easily done in about 20 minutes each way.
Carlsbad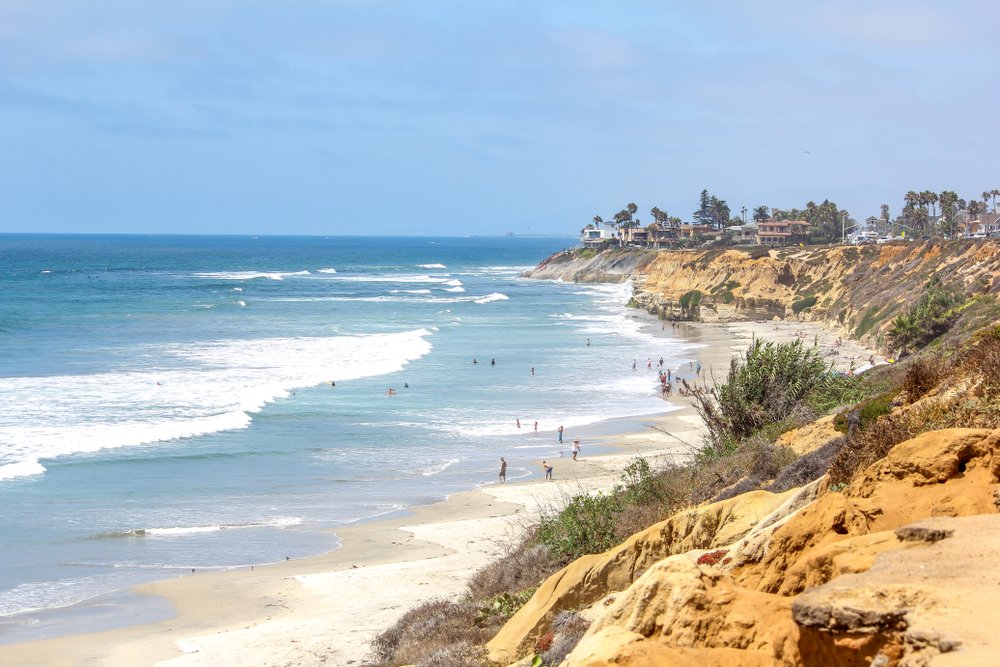 Stunning Carlsbad, California is a must-visit stop between San Diego and LA. It's most famous for its mineral springs, which quickly turned Carlsbad into a spa resort town, but it also has one of the most charming stretches of coastline in Southern California.
Here are the best things to do in Carlsbad:
Traveling with kids? You'll certainly want to stop by Carlsbad's most famous attraction, LEGOLAND. It's truly every kid's dream, and I remember going as a kid and absolutely adoring it.
More the Instagram type of traveler? If you're driving the PCH in March through May, be sure to visit the incredible Flower Fields not far from LEGOLAND, where you can find 50 acres of stunning ranunculus flowers in an array of reds, pinks, oranges, and yellows. Take a vintage tractor ride or wander through the park at leisure. Read here for details and to find exact blooming dates as they do vary a bit by year.
Want to eat some traditional diner food surrounded by fun and nostalgic decor? Grab lunch at the Village Kitchen & Pie Shoppe. The seasonal fruit pies are incredible!
Laguna Beach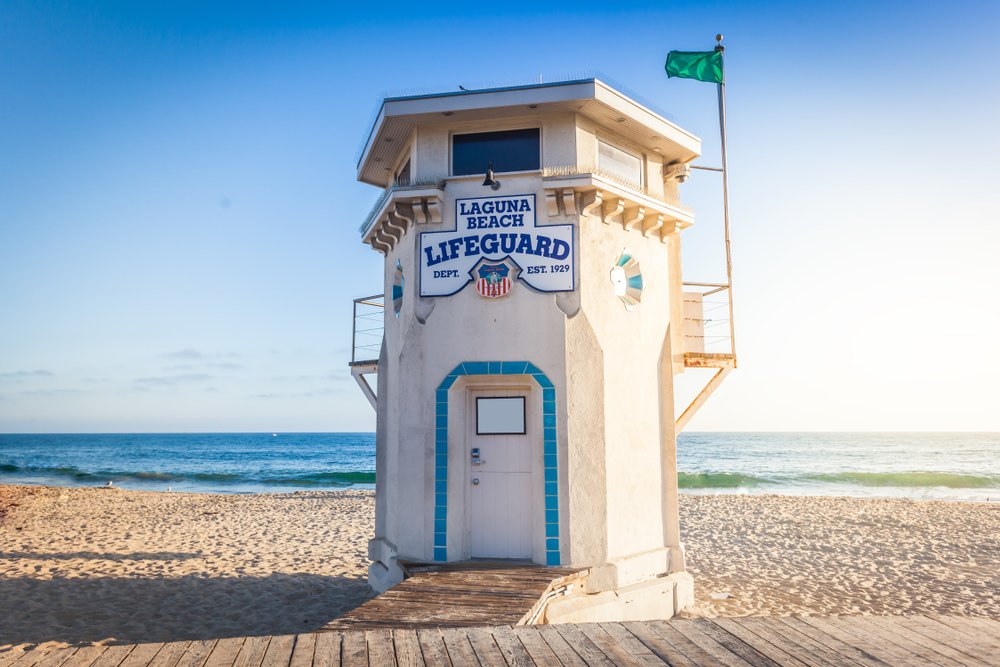 Oh, Laguna Beach. To me, you'll always be a reality TV show home to the dramas of Kristin and LC, but you're more than that, if I let myself admit it.
Laguna Beach is one of the prettiest stretches of beach in Orange County, and it's well worth a stop if you're a beach bum or you're just a bit curious to see the place where some of reality TV's most notorious Californians were filmed.
Here are a few great things to do in Laguna Beach:
Walk along the turquoise blue waters of Main Beach and search for tidepools and all the critters who call them home.
Follow the boardwalk along Main Beach to the beautiful Heisler Park. On Friday evenings in May and September, it's home to free concerts, the Sunset Serenades, at the Rockpile Amphitheater in the park.
Get cultured at one of Laguna Beach's 70+ independent art galleries — even if you can't afford the art, it's awfully fun to window shop, and unlike museums, it's totally free!
Check out the free Pacific Marine Mammal Center, which rescues animals who are unable to care for themselves and rehabilitates them back to health. You can find sea lions and seals and all sorts of other marine mammals rescued here.
Bring your snorkel gear and go for a dip! Just north of Main Beach, you'll find the lovely Diver's Cove, which has calm waters that's home to plenty of undersea life. BYO snorkel (I recommend this affordable set with carrying case) or rent from a nearby dive shop.
Huntington Beach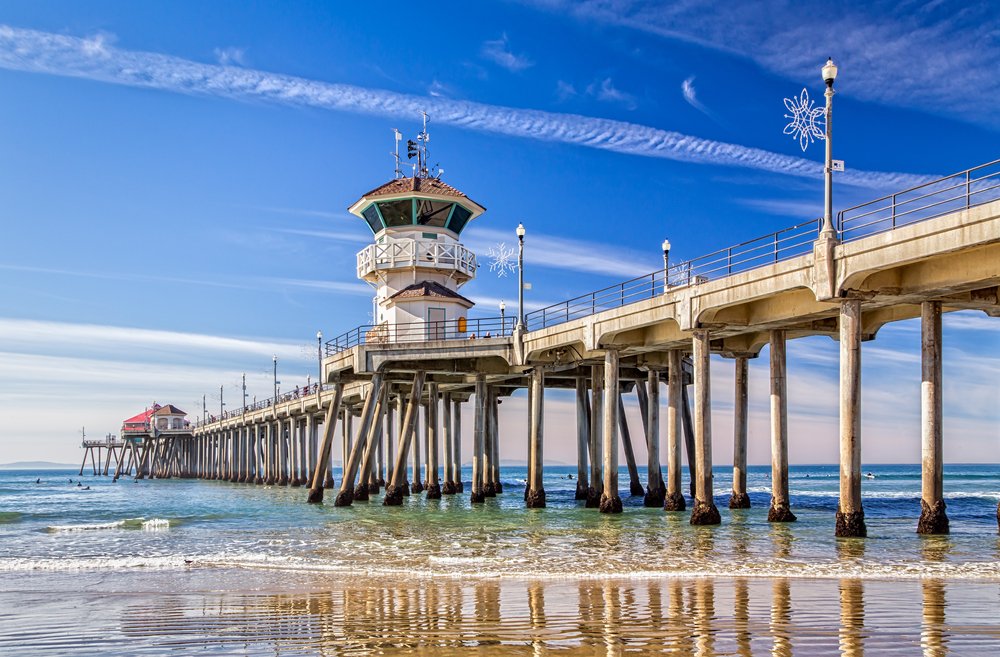 Huntington Beach is home to one of the famous famous piers in the world! At a massive length of 1,850 feet (nearly half a mile), it's one of the longest piers on the entire West Coast.
Aside from that, Huntington Beach is a fun surf town that has really laid-back vibes. I mean, its nickname is literally Surf City USA!
Here are the best things to do on a stop in and around Huntington Beach.
Stroll the pier in its entirety and stop for food at Ruby's at the end of the pier. Get a Hickory Burger and a chocolate milkshake and thank me later.
Want more piers? Why not stop off at Balboa Pier and/or Newport Beach Pier as well, just a bit due south of Huntingon Beach.
Relax on Bolsa Chica State Beach just a bit north of the city — it's a great sunset spot.
Birdwatch in the Bolsa Chica Ecological Reserve, a beautiful coastal wetland, where you can find over 300 types of birdlife plus all sorts of other fish and mammals. Do be cautious here as several types of snakes, including rattlesnakes, also call this place home so don't veer off the path and watch your step! This is another spot where travel binoculars come in handy.
Los Angeles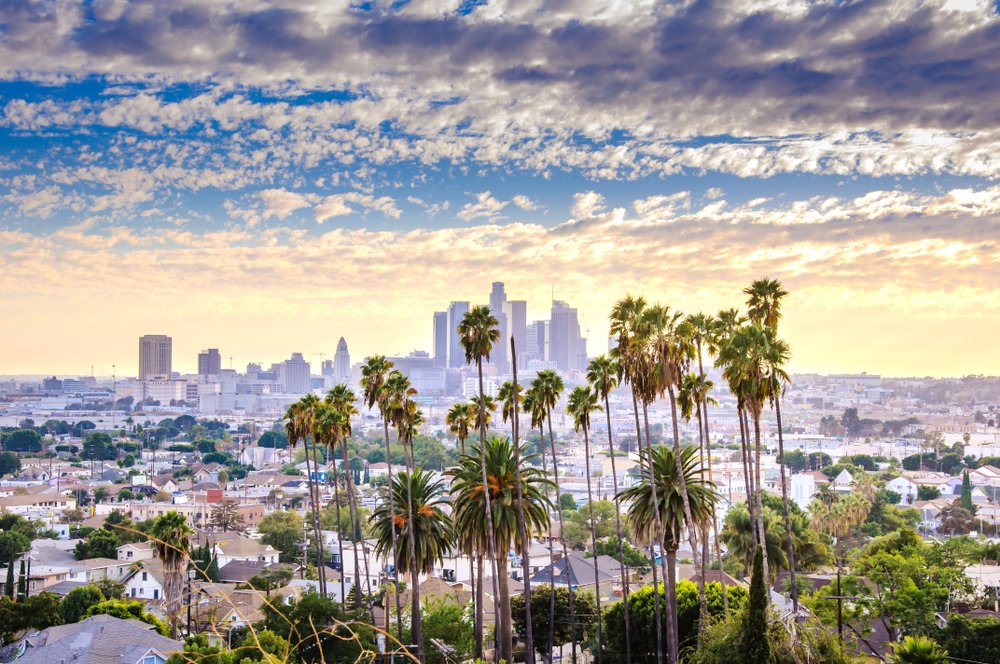 Oh, Los Angeles! A massive, difficult-to-summarize city that warrants at least 3 full days on any road trip… but I know most people don't have that kind of time.
Soon, I'll have a complete Los Angeles itinerary for first-time visitors, but since I don't want to get into that too much in this post, here is a quick list of a few LA must-do's.
Hike up to the Hollywood Sign in Griffith Park. There are several trails to get here. The easiest is the Hollyridge Trail, which is only 3.5 miles round trip including 750 feet of elevation change. The longest but most rewarding hike is via the Brush Canyon Trail, which is 6.4 miles roundtrip and includes over 1,000 feet of elevation change. Prefer some company when you hike? Join a sunset group hike!
Not a hiker but you still want to see the Hollywood sign? Join a 1-hour small plane flight over the Hollywood Hills and see LA from an unforgettable vantage point. The price includes two passengers and one of you even gets the chance to be a co-pilot! Book here.
Go kayaking in Marina del Ray or any of the other best kayaking spots in Los Angeles
Check out a real Hollywood studio! Go to the famous Warner Bros. Studios where you can see the set of shows like the Big Bang Theory and Friends (and even sit on the famous Central Perk couch!). Book tickets in advance so you don't miss it.
Walk the Venice Beach Boardwalk and admire all the crazy buskers — rent a bike for even more fun!
Stroll the famous Hollywood Walk of Fame and take photos of your favorite celebrity stars!
Spend a day going crazy on movie-themed rides at Universal Studios! This beloved Hollywood theme park is a must-visit for amusement park enthusiasts. And Harry Potter fans, rejoice — this is home to California's very own Wizarding World of Harry Potter! Book tickets from an authorized seller here.
Foodwise… get delicious Korean-Mexican fusion fare from Cha Cha Chili or Kogi BBQ Truck (trust me, it works better than it sounds!), have exquisite Thai food at Lum-Ka-Naad, go Mediterranean at Mizlala, eat authentic Oaxacan food (tlayudas! mole!) at Gish Bac, or have LA's best pizza at Pizzana.
Santa Monica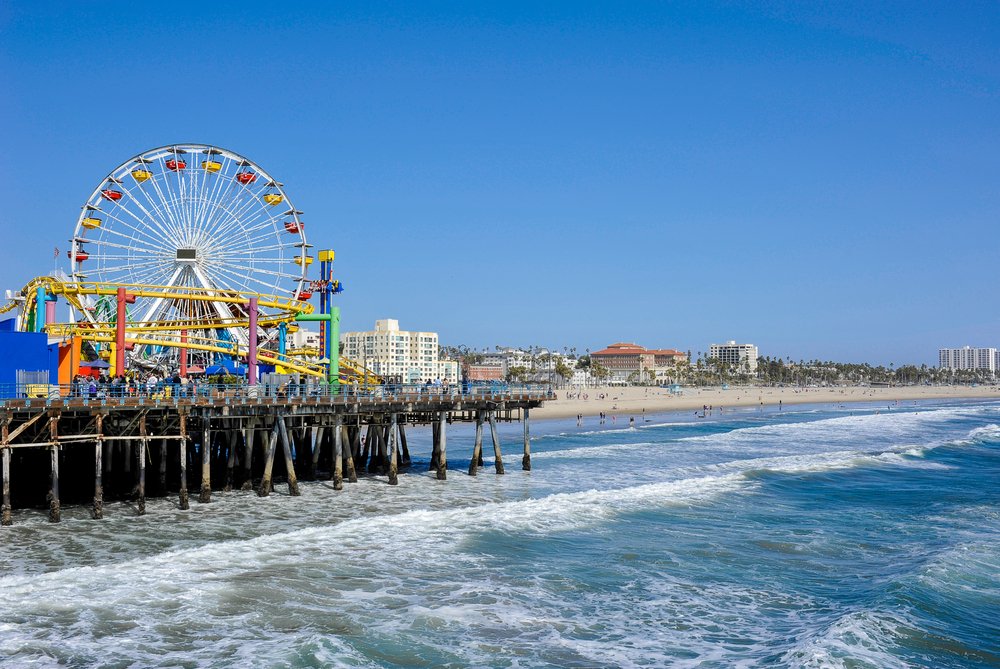 While part of LA, Santa Monica deserves a special little shout-out on this list of best Pacific Coast Highway stops — I didn't want you to skip over it.
The Santa Monica boardwalk is a great place to stroll and people watch, and the amusement park on the pier is a fun way to while away some time and makes for fantastic photos!
Here are a few things to do in Santa Monica.
Stroll the boardwalk and pier, and maybe ride the iconic Ferris Wheel.-
Stop for oysters or other delicious seafood at the casual but delicious Santa Monica Seafood Market & Café.
Chill in Palisades Park.
Malibu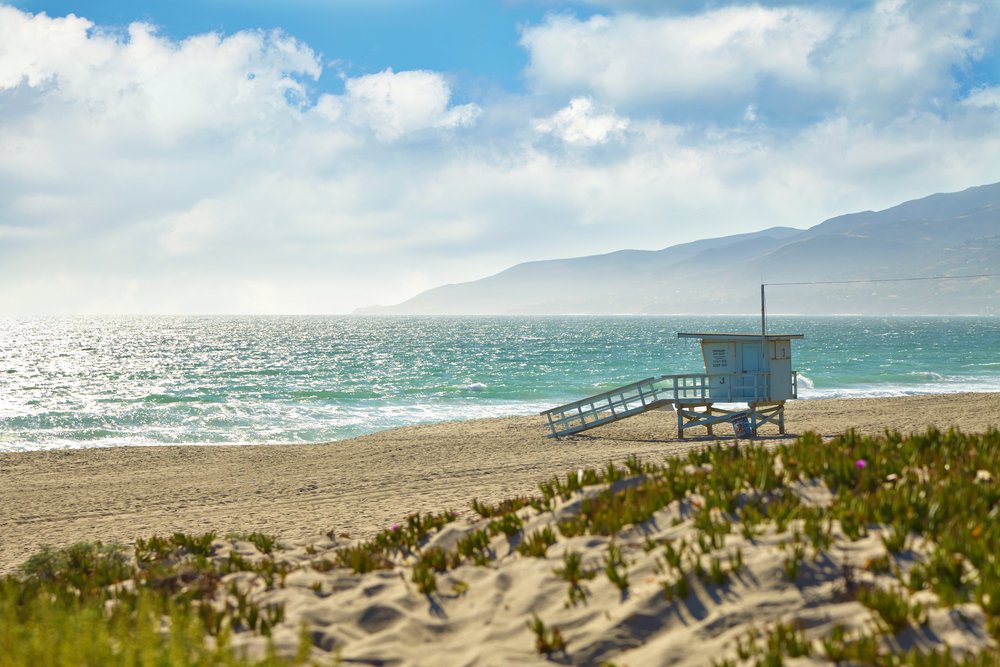 Just as you're leaving Los Angeles, you'll encounter Malibu, known for its ritzy celebrity homes and stunning stretch of beach with its cute lifeguard towers.
While Malibu doesn't require too long of a stop, I do recommend stretching your legs here and seeing how the rich and famous live in Malibu!
Here are a few cool things to do while in Malibu
Walk down beautiful Zuma Beach. Note the $8 entry fee, but at least there's ample parking!
Do a brief hike up to Point Dume (park nearby Malibu Surf Coach), a vantage point with beautiful views all the way out to Catalina island. You can often see sea lions here! Point Dume State Beach is also lovely and less crowded than Zuma Beach.
Want to get really high while in Malibu? No, I'm not referring to our uh, legalized greenery, but rather going tandem paragliding over the stunning beaches of Malibu! Book your paragliding trip here.
Where to Stay: A stay in Malibu will not be cheap, but it will be amazing! One of the most luxurious places to stay is the Calamigos Guest Ranch & Beach Club. Located in the mountains on a 200-acre property, it also has its own private beach club for the best of both worlds. With several pools and a spa, it'll be hard to tear yourself away!

For a more affordable stay, the M Malibu is an option. Honestly, it's nothing special — and the price is still on the high side — but it's the best option for the price.
Santa Barbara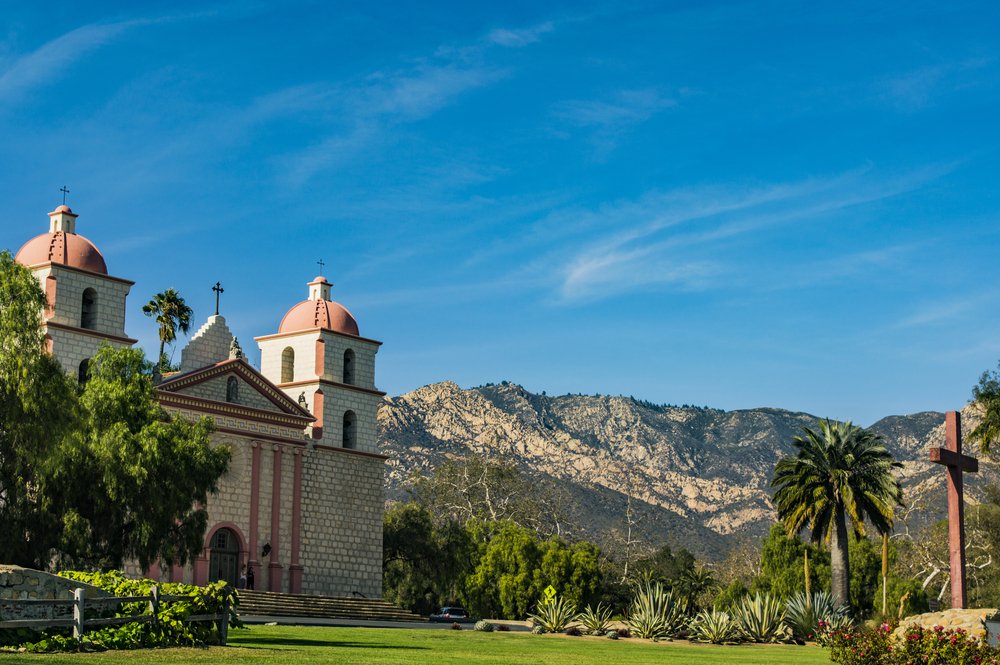 I adore Santa Barbara! Besides San Francisco, it's the city in California that I've spend the most time in, since my dad's side of the family is from here and we'd visit Santa Barbara at least twice a year for many, many years.
Santa Barbara is relaxed, with tons of great day trips nearby, whether it's Solvang (below) or epic wine trails in the Santa Ynez valley. But there's plenty to do in Santa Barbara proper as well!
Here are my favorite things to do there:
Check out the cool Funk Zone neighborhood — here, you'll find all sorts of hip places, from boutique wine tasting rooms to third wave coffee shops to trendy art galleries. It's basically the Brooklyn of Santa Barbara and I'm here for it.
Walk and drink your way along the Urban Wine Trail — assuming you're staying in Santa Barbara overnight and aren't planning to drive afterward, of course. This is a really cool self-guided walk that includes over 20 different tasting rooms from wines all around the county. (Alternately, if you prefer to see the actual wineries, book a wine tasting tour in Santa Ynez valley departing from Solvang (more info in the section below).
Walk the beautiful Stearns Wharf pier and window-shop the fun stores along the way.
Visit the historic Mission Santa Barbara for which the city gets it name, which dates back to the 18th century and is an important part of California history.
Check out the marvelous botanical garden Lotusland, named one of the 10 best gardens in the world, in nearby Monticello. Note that it's only available to the public by pre-booking a guided tour, which you can find more information about on their website.
There are so many tasty spots to eat at in Santa Barbara! Bibi Ji has fantastic Indian food inspired by Indian street snacks, Brophy Bros. is your classic waterfront seafood joint, and Mexican food lovers shouldn't miss La Super-Rica Taqueria, a taqueria so lovely that Julia Child was obsessed with it.
Where to Stay: Accommodations in Santa Barbara are not cheap, but the Eagle Inn in West Beach (a 10-minute walk from central Santa Barbara) offers some of the best value just a short walk from the ocean!

For a little more luxury, the Santa Barbara Inn is a beautiful, chic boutique hotel with beachfront access and its own pool, also located in West Beach.
Solvang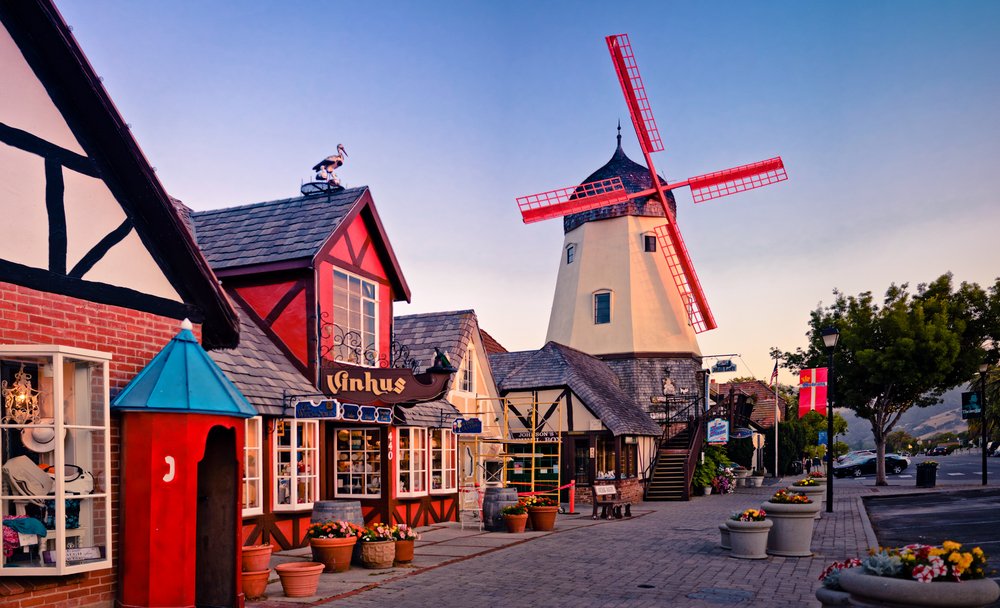 OK, admittedly, Solvang is not on the Pacific Coast Highway but it's only a 20-minute detour once you hit Lompoc, and it's one of my favorite places in all of California, so I'm going to exert my editorial control here!
It's funny: I visited Solvang several times a year for a decade because my grandmother lived here, and it was always a bit of a sleepy spot with almost a cheesy vibe with its over-the-top Danishness. But then the movie Sideways came out and all of a sudden Solvang was… hip?
Nowadays, Solvang is a hip weekend getaway from LA, with tons of wine bars, cool restaurants, and galleries catering to glitzy weekend trippers. So definitely make the side trip there, it's worth your time!
Go to an authentic Danish restaurant or bakery and try æbleskiver — my favorite is at the simply named Solvang Restaurant.
Visit the charming Elverhøj Museum of History & Art — its period architecture and decor are so quaint and lovely!
Visit the Santa Inés Mission, which dates back to 1804.
Embark on an all-day wine tasting adventure where you don't have to worry about picking a designated driver! This Grapeline tour covers 4 wineries and includes a tasty picnic lunch and transportation from Solvang and Buellton area hotels. Book it here.
Where to Stay: Solvang is all about that Scandinavian vibe, so why not stay somewhere with modern Danish design? The utterly charming Atterdag Inn offers that dreamy Nordic interior design at a price that you won't blink twice at.

For a more traditional (as opposed to modern) Danish-style place to stay, the Mirabelle Inn offers upscale, characterful rooms in what looks like a literal chateau in downtown Solvang!
Pismo Beach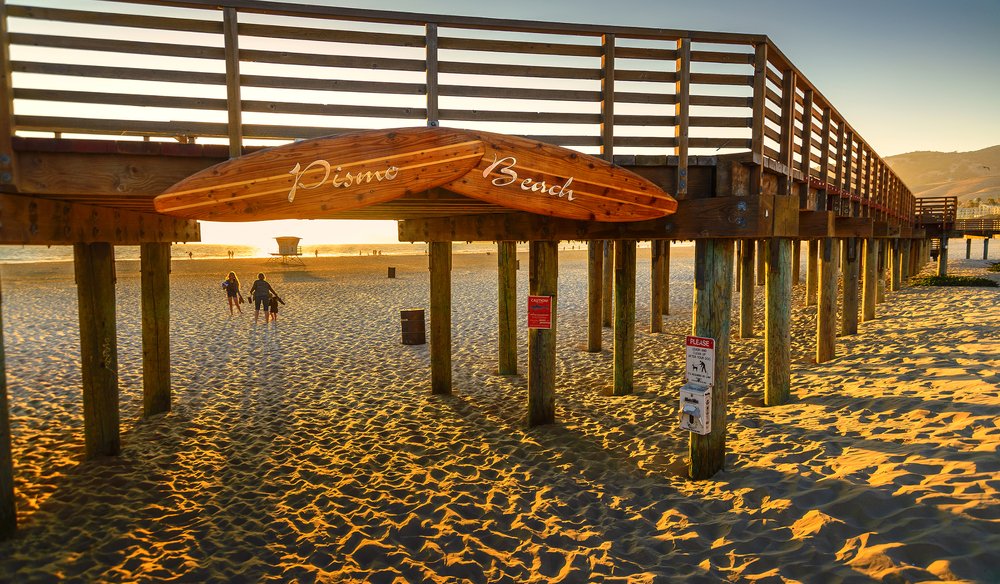 Continuing up the coast, the next stop on on the Pacific Coast Highway worth making is the town of Pismo Beach and its stunning 17-mile stretch of protected coastline, Pismo State Beach.
This town is a famous surf spot on California's laidback Central Coast, and besides its great stretch of sand, there's also plenty to do in Pismo Beach.
Check out the Monarch Butterfly Grove where migrating butterflies take shelter in the town's eucalyptus trees between October and February, to shelter from the freezing temperatures in other parts of the state.
Relax in the 11-acre Dinosaur Caves Park, complete with walking trails along the coast, a playground for little ones, a great lawn area for picnics, and stunning ocean views.
Visit the wetlands of Chumash Park, a 38-acre natural park with great walking trails (which are dog-friendly!) and have plenty of interesting wildlife to keep an eye out for.
Watch the surfers catching morning or sunset waves on Pismo State Beach
Head to Oceano Dunes Natural Preserve in Arroyo Grande and play in the dunes or even rent a dune buggy or ATV to wheel around in!
Where to Stay: The charming Cottage Inn on the Sea offers stunning views over Pismo Beach from a bluff above it, with a fire pit and chairs to watch dreamy views of the sunset. Score! It also has beautiful rooms (some with fireplaces and ocean views) as well as a pool and hot tub.

For a brand new, luxury hotel experience, Vespera Resort on the beach offers spacious and beautifully designed rooms on a gorgeous property with 4-star amenities (fitness center, giant pool, etc.).
San Luis Obispo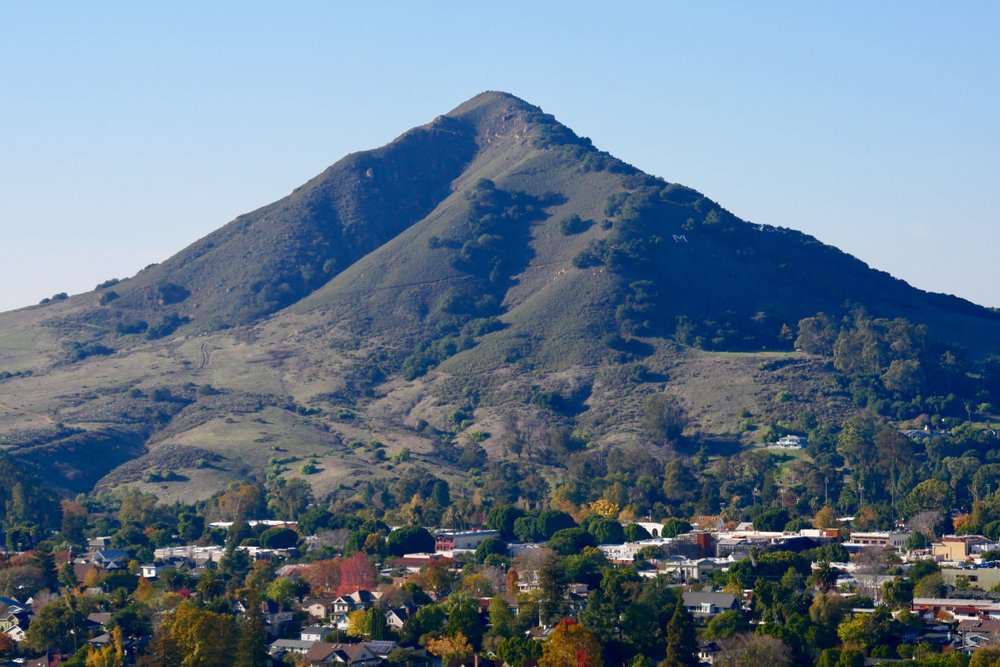 Just a 15 minute drive from Pismo Beach is San Luis Obispo, the next stop on the Pacific Coast Highway. As a kid, driving down the PCH, we'd always stop here for a lunch and bathroom break at the fabulously quirky Madonna Inn.
The Madonna Inn is well worth an overnight stay if you have the budget, with 110 kitschy-cool rooms packed full of personality and character. And when I say unique, I mean it: no two rooms are alike. Some have rock waterfall showers, rainbow ceilings, cave-esque decor, Western wagon themes… each their own and entirely unique, though many are admittedly a bit over the top, it's all good fun.
The facilities are really cool as well — I mean, there's literally a bubblegum pink tennis court and an all-pink steakhouse, plus tons of trails where you can go for a horseback ride out in the SLO hills — so it's definitely worth a stop, even if you can't afford an overnight stay.
There's a lot to do in San Luis Obispo, including:
Choose a quirky and fun room to stay in at the Madonna Inn for an unforgettable night's sleep at a classic PCH road trip stop! The coolest rooms book up weeks or even months in advance, so browse and book your room early.
Explore the wineries of nearby Paso Robles, one of California's hidden gem wine countries. There are tours departing from Paso Robles, or you can do a self-guided tour if you have a designated driver. My favorite wineries in the area are Tobin James and Vina Robles.
Take a hike up Bishop Peak, a 3.4-mile roundtrip hike to one of the best views in all of California's Central Coast. Bring lots of water and good shoes — it's a pretty steep hike!
Where to Stay: The forever-classic Madonna Inn offers an impossible variety of quirky rooms, each with their own personalized theme and decor. Don't miss visiting the hot pink steakhouse or walking around their gorgeous grounds! Each room has its own style, so be sure to check your room's photos before you book — that's all the fun!

I don't know why you'd want to stay anywhere else, but if you can't get a room at the Madonna Inn for some reason, I'd suggest the beautiful yet minimalist San Luis Creek Lodge for great design in a wonderful location.
Morro Bay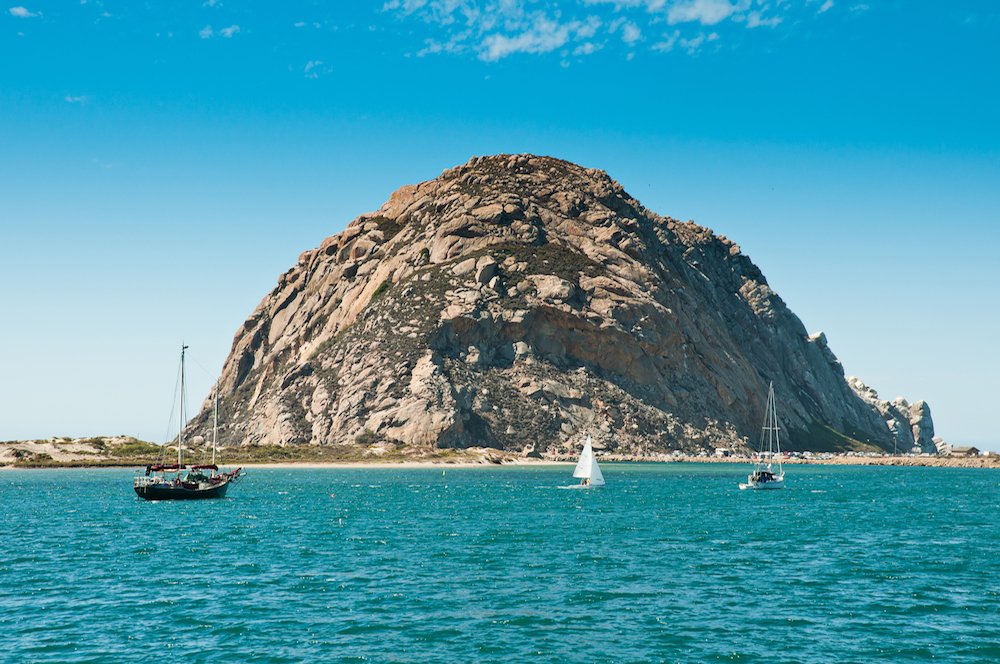 Not far from San Luis Obispo, Morro Bay is an cute town along the Central Coast best known for its impressive Morro Rock, an ancient rounded volcanic formation called 'The Gibraltar of the Pacific', which boasts a staggering nearly 600 foot height.
There are several things worth doing while in Morro Bay: here are just a few of my favorites!
Check out the adorable otters! They tend to hang out at the T Pier — check it out on Google Maps here.
Chill out in the adorably named Elfin Forest, 90 acres of stunning flora, sand dunes, and nature. There's a boardwalk path with great views of Morro Rock and the bay.
Stroll the Marina Peninsula Trail Head up to the vista point — it's a short and wheelchair-accessible walk via a boardwalk with great views!
Rent a kayak from Rock Kayak on the Embarcadero and go for a paddle out in the beautiful bay — you may even spot some sea lions out there!
Where to Stay: The stunning Inn at Rose's Landing has the best views in town! It's right on the Embarcadero, with a front-and-center view of Morro Rock. The rooms are spacious with a modern flair, and the terrace has great views of the bay and the famous rock!

For a more budget-friendly option, the cheap and cheerful Pleasant Inn has that renovated vintage motel vibe with updated rooms, great prices, and a solid location.
Elephant Seal Cove, San Simeon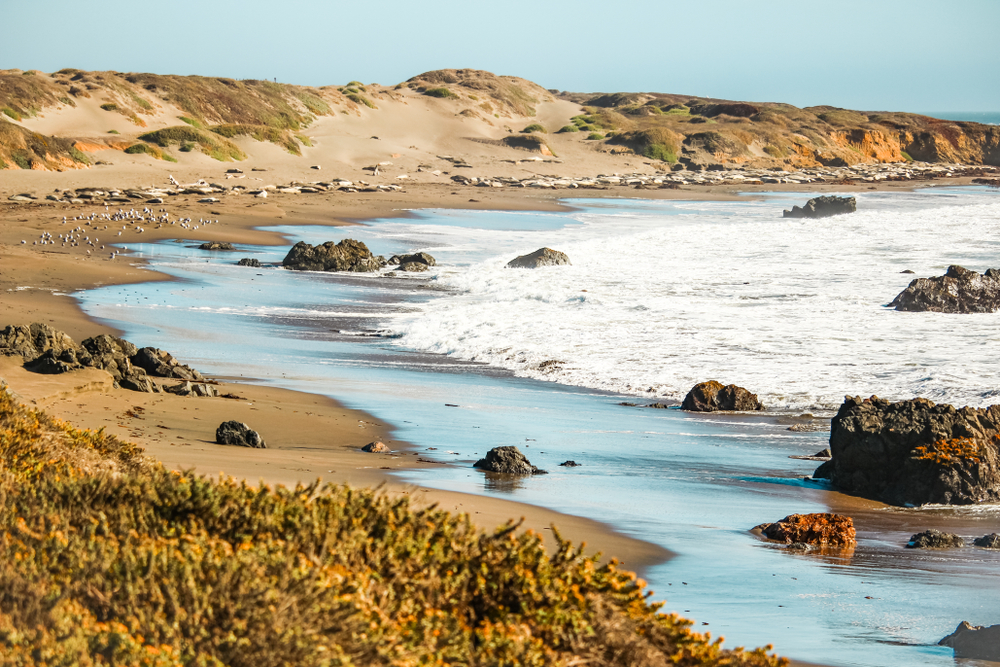 Next up, you'll be entering the area of Big Sur.
I have a whole post which dives into more detail on the best places to visit in Big Sur, so I'll be brief here and refer you to that post if you want more information… after all, Big Sur makes up just one small stretch of the stunning PCH highway and all its epic stops.
First stop is the Friends Of The Elephant Seal Visitor Center where you can get information on Big Sur's famous elephant seals and where to find them (just a bit up the coast)! It's always easy to spot them, as they pretty much just chill out and cuddle all day on a beautiful stretch of beach. Not a bad life, huh?
Where to Stay: For a scenic stay at the south end of Big Sur, the beautiful Cavalier Oceanfront Resort offers stunning views for an affordable price given the quality and the prime location.

Another option is the charming Ragged Point Inn, located in one of the lesser-known parts of Big Sur. It's two miles from downtown San Simeon along the PCH, but it has beautiful coastal walks and absolutely breathtaking grounds.
Hearst Castle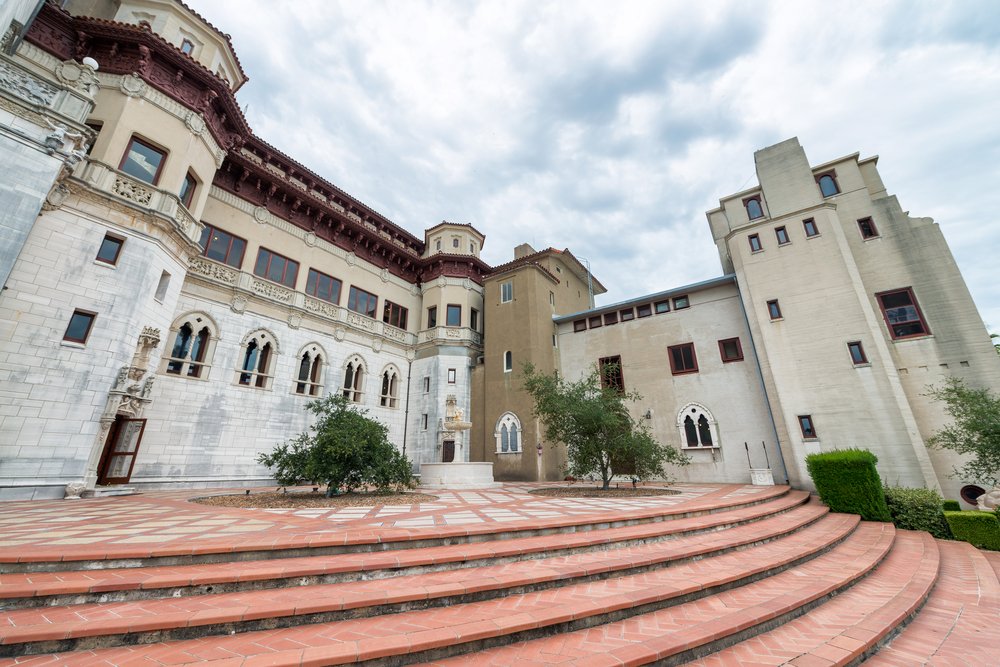 Inland of San Simeon, you'll find the incredible Hearst Castle up in the hills. This insanely large mansion, once the residence of the publishing magnate William Hearst, is now a National Historic Landmark.
Described by the playwright and satirist George Bernard Shaw as "what God would have built if he had had the money," Hearst Castle is only able to be visited with a guided tour.
I recommend the Grand Rooms Tour for first-time visitors, so you can really get a sense of the opulence of the space! It's $25 per adult, and you can book tours online.
Mcway Falls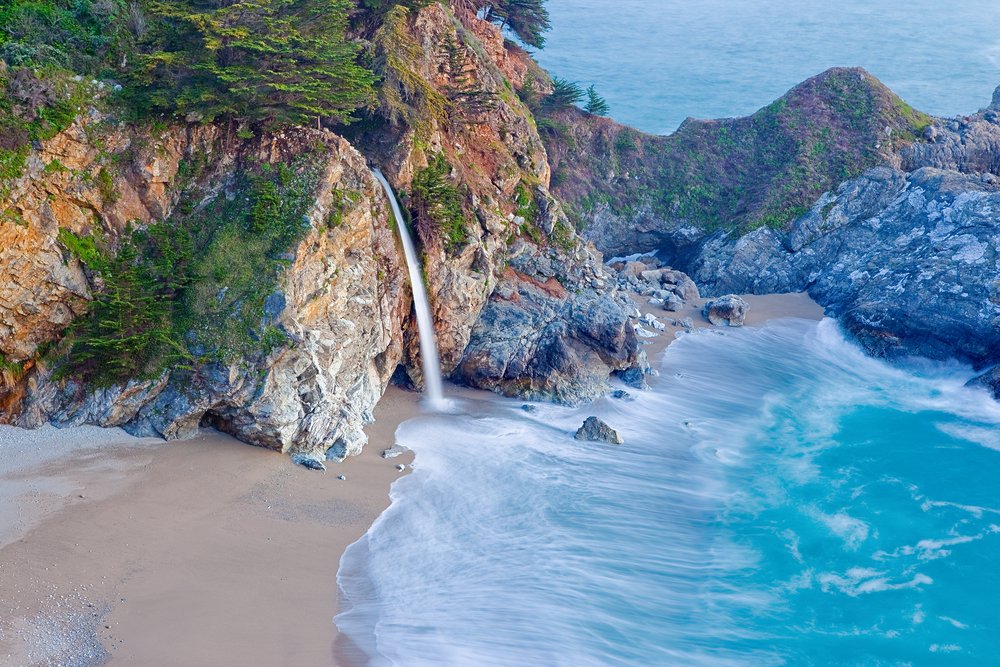 Located in Julia Pfeiffer Burns State Park, this iconic viewpoint of Big Sur is quite an easy hike. It's a paved trail that's just a half-mile in length. Parking is available in the state park parking lot for a small fee.
Due to its ease and the popularity of the waterfall, it's often a crowded trail, so do keep that in mind. But it doesn't take away, in my opinion at least, from the magic of getting to watch Mcway Falls tumble over the rocks, falling 80 feet directly into the electric-blue Pacific Ocean It's one of the most iconic images of California and a must-see stop on the Pacific Coast Highway.
Pfeiffer Beach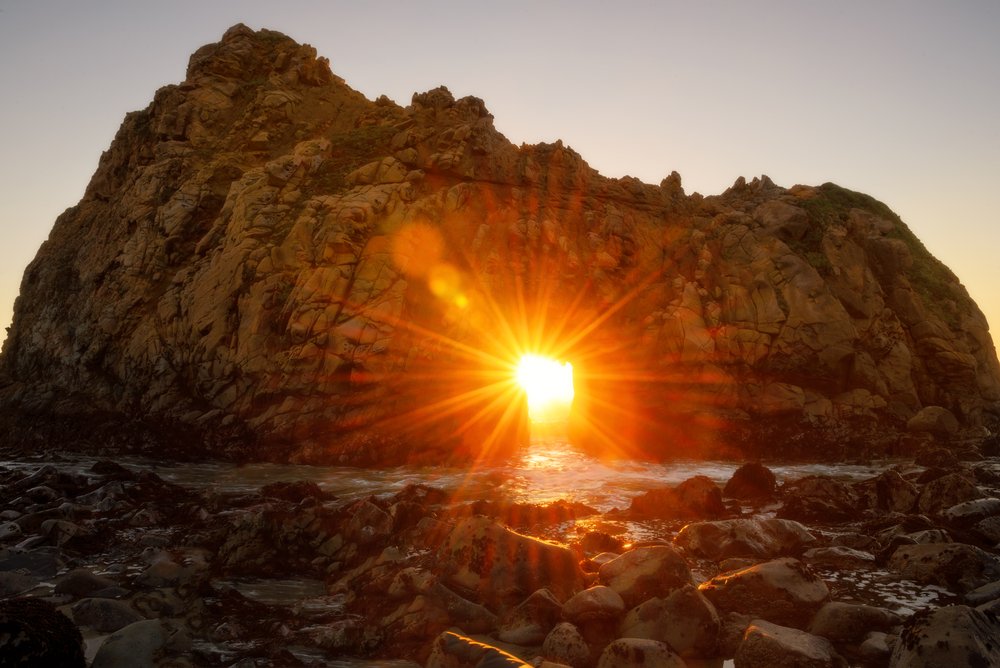 Heading up the coast, Pfeiffer Beach is your next stop along the PCH.
If it's possible, try to time your visit for a stunning sunset which you can view near Keyhole Arch, a stunning rock formation that, during the shortest days of the year, lights up the arch beautifully (learn more about this phenomenon here)
While that special magic may only happen a few days a year with special conditions, a sunset on Pfeiffer Beach is never, ever wasted.
Bixby Creek Bridge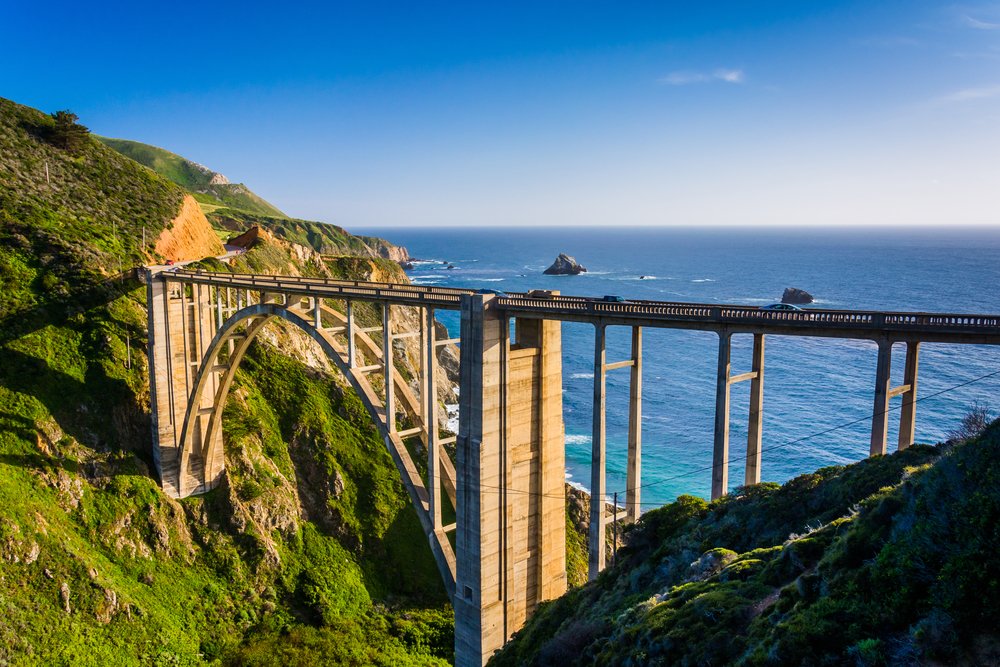 The other iconic image of Big Sur is the stunning Bixby Creek Bridge arch, a wonderful example of when architecture and nature come together and synthesize to make something even more beautiful than existed before.
The best views are if you park on the north side of the bridge — you'll be better able to capture the combination of bridge and ocean that is so iconically Big Sur. Parking can be crowded here at times, and fog can also foil your pictures, so go with a sense of serendipity and hope for the best.
Garrapata State Park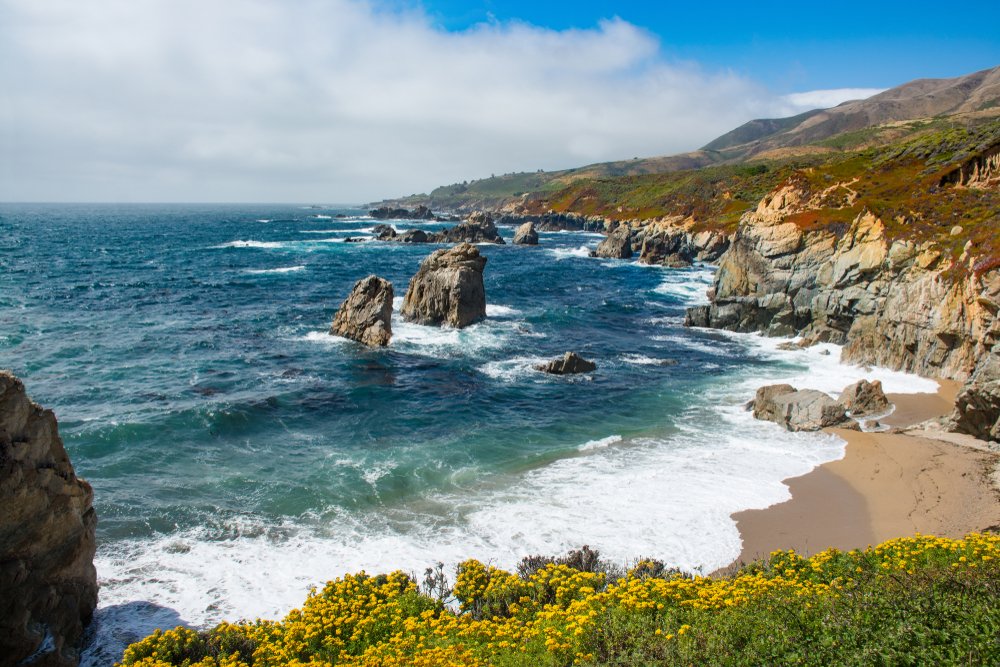 The next stop on the PCH in Big Sur is Garrapata State Park and State Beach, with its beautiful sea stacks that make for a great photo stop.
Do be careful if you go to the beach, though, as it can have occasional "sneaker" waves that can pull you out to sea. Never put your back to the ocean anywhere that seems within even potential striking distance of the waves, even for a quick photo!
There are also a few great hikes in Garrapata State Park should you choose to stretch your legs for a bit and go for a hike. Here are some favorites.
The hike out to Soberanes Point and Whale Peak has great views and isn't too difficult. It's a loop that's just under 2 miles and takes about an hour to hike, with not too much elevation gain. There are usually tons of wildflowers and you can spot marine wildlife like otters, sea lions, and even whales from the hike if you have a keen eye and are there at the right time (late winter/early spring is generally best). Keep an eye out for poison oak and stay on the trail.
For a more rigorous hike, tackle the Soberanes Canyon Trail, a 5.5-mile loop. It's rather difficult, so it's better for experienced hikers. You'll see really diverse terrain, from cacti to redwoods to wildflowers. Be aware of the risks: ticks, snakes, poison ivy, and loose rock in sections. The trail is not always all the way open due to mudslides and changing conditions, so be prepared to end your hike early if required.
Point Lobos State Park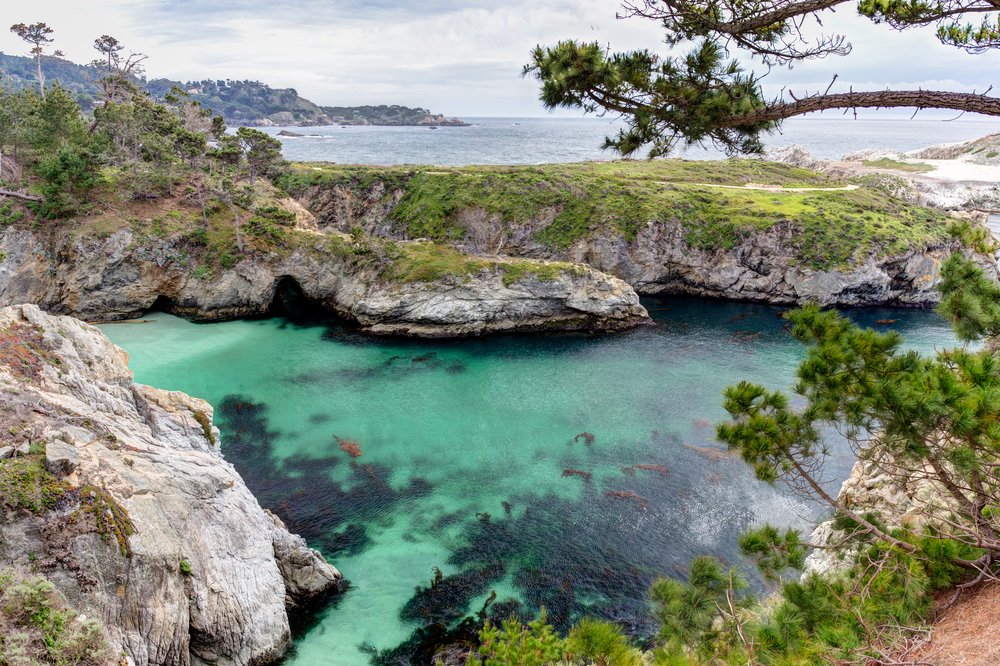 Just up the road a bit more is your next PCH road trip stop, Point Lobos State Park. This is one of my favorite parts of. Big Sur and has some of the best hikes in all of California, about a dozen different trails well worth the hike.
Here are a few of my favorites! Note that there is limited parking in the area, as it's a quite popular hiking spot with locals, and there is $10 day pass fee for maintaining the park.
The most popular hike is the Point Lobos Loop Trail, which clocks in at 6.5 miles. On the trail, you'll see tons of wildflowers, and potentially even seals and sea lions out enjoying the coastline. Like the above trails in Garrapata State Park (and many hikes in California), there's often poison oak, so be cautious — as the adage that every California kid learns goes, "leaves of three, let them be!"
There are a handful of great viewpoints: Sea Lion Point, China Cove, Hidden Beach, Whaler's Cove, all of which are worth seeing if you have the time. Depending on how long you're planning to take to drive the PCH, you may want to only pick one or two, but all of the above are lovely. If I had to pick, though, I think China Cove is one of the most beautiful places in all of Big Sur.
Finally, one word of warning: Monastery Beach just a tad north of Point Lobos should be treated with extreme caution and avoided by families with kids. The water is unsafe for swimming, as giant sneaker waves, a steep drop-off, and heavy undertows all contribute to make this one of the most dangerous beaches in California.
It's morbidly nicknamed "Mortuary Beach" by locals for all the deaths that have occurred here. So plan to stay very far away from the waves, or better yet, just find another beach to enjoy — there are so many beautiful ones in this part of California, so why risk it?
Carmel-by-the-Sea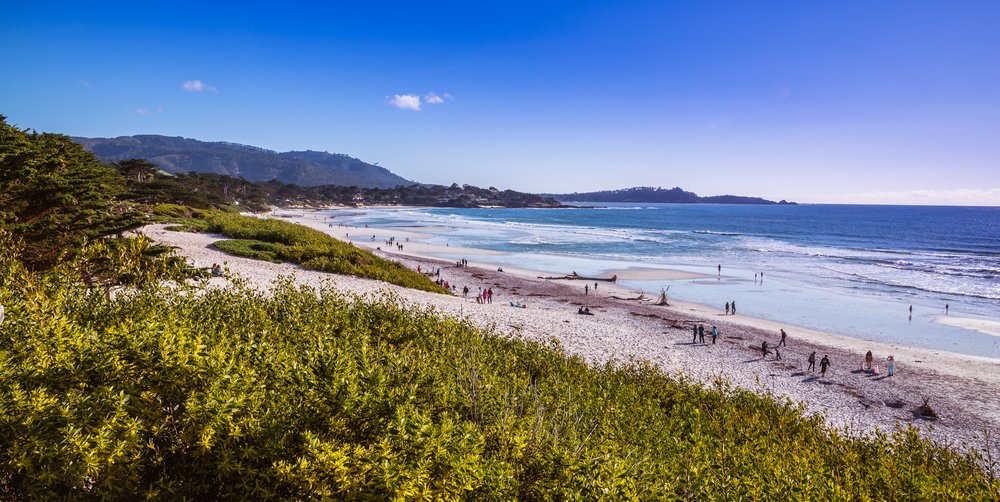 Carmel-by-the-Sea is one of my favorite places in California. We'd go at least once a year on vacation, and I've always loved it there. It's a wonderful place to base yourself for a day or two if you need a break while driving the PCH, as it has such a great selection of accommodations, dining, and shopping.
Here are a few of the best things to do in Carmel!
There's yet another California mission in Carmel, so if you're not Mission-ed out at this point, visit the Carmel Mission Basilica Museum.
Relaxing on the stunning Carmel Beach is one of the best beaches in this part of California — sandy, wild, rugged, yet so central and easy to access. It can often be chilly on this beach, though, so bring some layers!
Visit the art galleries of Carmel — there are almost 100 of them, and they're free to browse.
Enjoy the delicious dining scene. My favorite is Cultura Comida y Bebida, serving up Oaxacan food and tons of different mezcals (tequila's smoky, grown up brother).
Set your eyes on the stunning Clinton Walker House in Pebble Beach, built by Frank Lloyd Wright. It's a private residence, so you can't visit the interior, but it's still well worth checking out the exterior from a respectful distance.
Another cool house that you can actually tour is the Tor House, where the poet Robinson Jeffers resided. Tours can be booked online here.
17 Mile Drive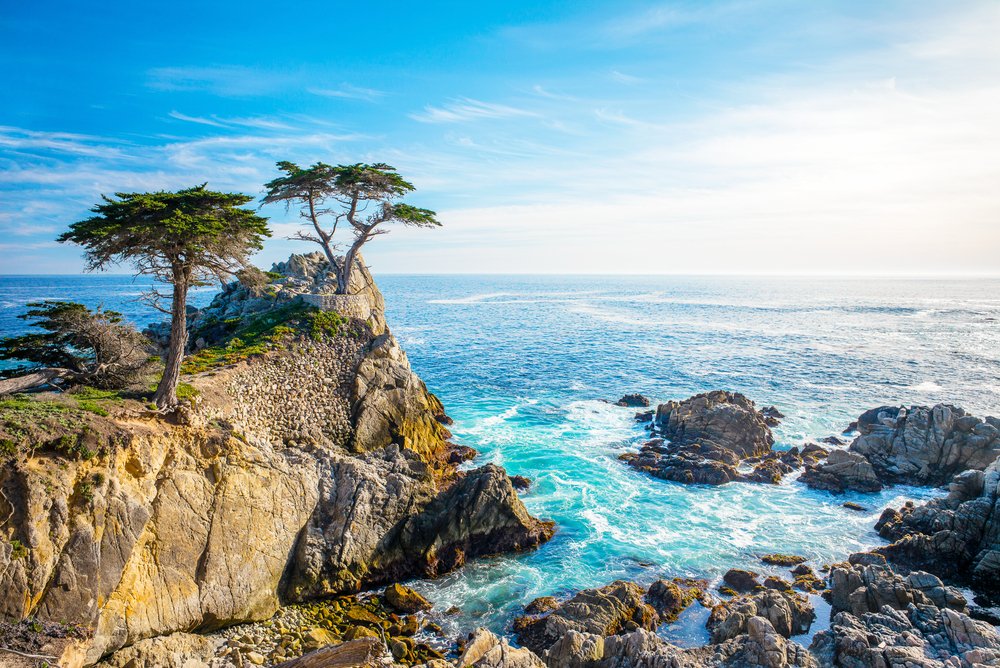 Take a brief detour from Highway 1 between Carmel and Monterey to drive the 17 Mile Drive, a stunning private road with some of the best views of the coastline through Pebble Beach. Admission is $10.50 per car, but it's refundable if you spend more than $35 at one of the restaurants at Pebble Beach Resort, should you choose.
A few of the points of interest along this drive are the famous Lone Cypress tree (above), Fanshell Beach, Pescadero Point, Sunset Point, Seal Rock Beach, and Spanish Bay — among many others along just this short stretch of road. It's well worth the fee and detour!
Monterey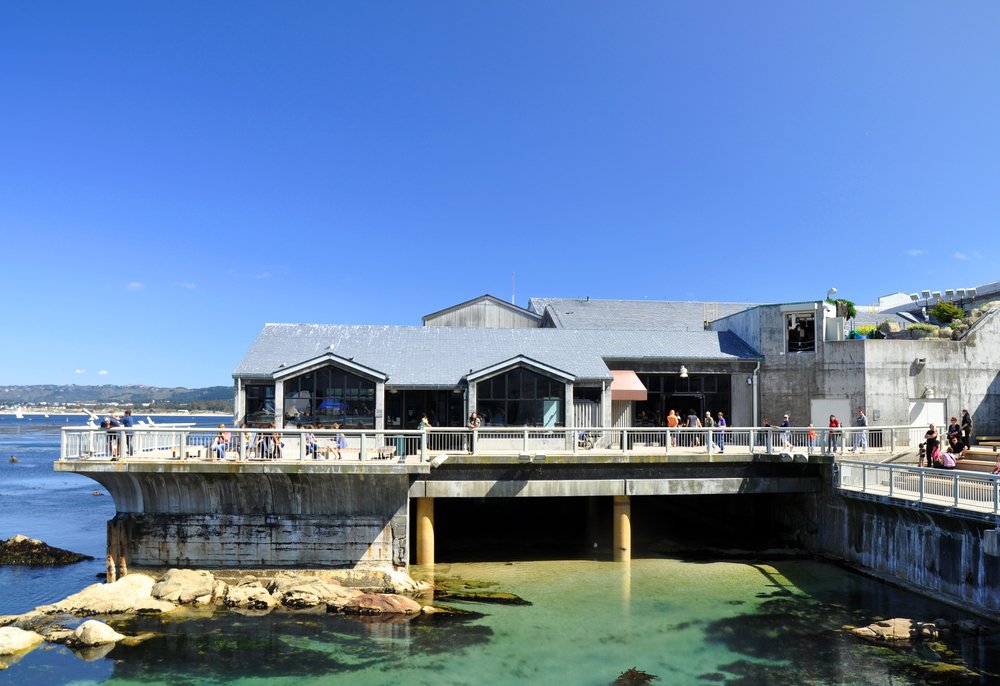 Monterey is a must-visit Pacific Coast Highway stop! Its famous aquarium alone would. be worth a stop, but there's also much more to Monterey than just that.
Delicious seafood restaurants, rich history, stunning ocean viewpoints: there's so much more to Monterey than meets the eye.
Here are my top picks for what to do in a quick stop in Monterey as you drive the PCH!
Visit the historic Cannery Row, the inspiration for one of John Steinbeck's most famous novels, which he vividly described in the opening line: "a poem, a stink, a grating noise, a quality of light, a tone, a habit, a nostalgia, a dream." This waterfront street was home to several sardine factories during the early 20th century, now, it's converted into a cute touristic area. You can rent kayaks, browse the Thomas Kinkade gallery, indulge your inner child at the Monterey Mirror Maze, or enjoy a wine tasting at the Bargetto Winery tasting room.
Check out the Monterey Bay Aquarium, with its kelp forest, sea otters (what it's best-loved for), gorgeous jellyfish exhibit, and African penguins. They do a ton of work on conservation and sustainability and are leaders in marine education and conservation, and it's been ranked as among the best aquariums in the world consistently.
For a cute photo stop, check out the Old Fisherman's Wharf with its cute pier and old-timey seafront shacks. It's a bit touristy, but it's delightful.
Capitola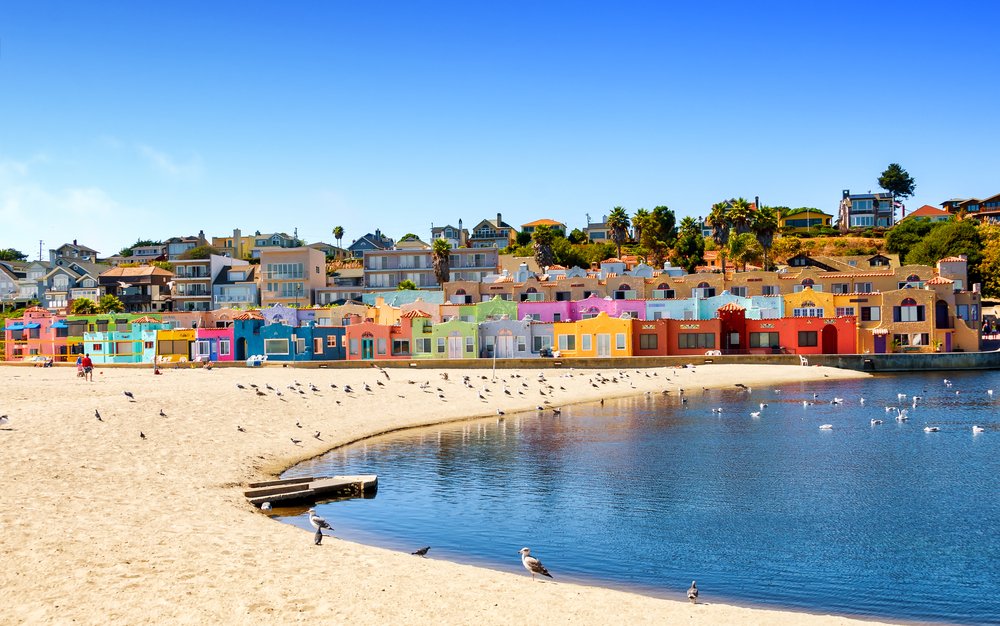 Next up is the cute and colorful Capitola, a beachfront town seemingly made for Instagram!
This is a small town that's worth of a quick stop and stroll along the beachfront, snapping photos of the Venetians, the colorful condo complex that's also on the historic landmarks register.
Also worth a visit is the North Pier for its nice views on a sunny day!
Santa Cruz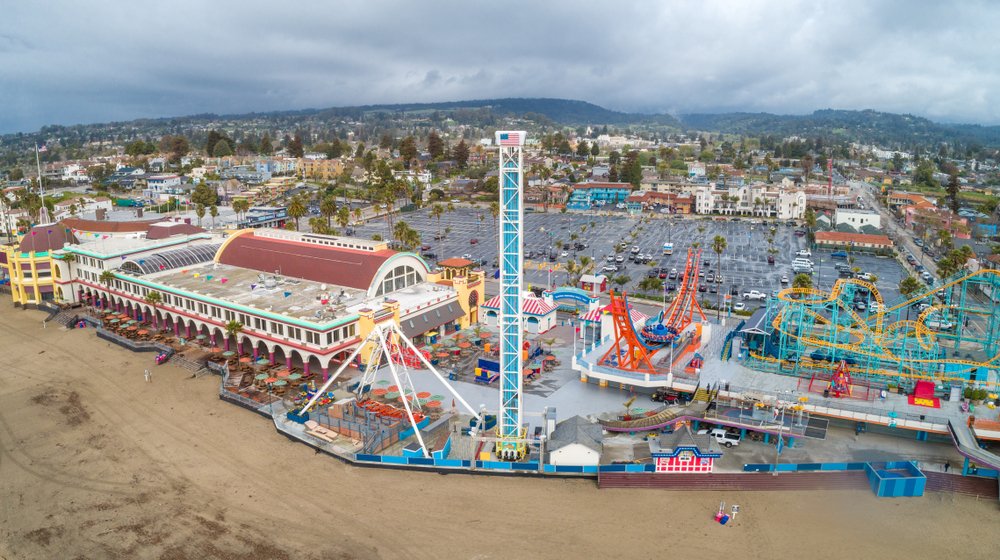 Santa Cruz is one of the best places to visit along the Pacific Coast Highway. There's so much to do in Santa Cruz that frankly, you could allocate 3 days here, but I'm going to assume most people only have time for a day trip or overnight.
Here are some of the absolute best things to do in Santa Cruz!
Obviously, a visit to the Santa Cruz Beach Boardwalk is a must. It has a huge place in my heart as it was a place I visited many times as a kid… even just typing it, I hear the jingle from the summertime commercials get stuck in my head! It's free to enter, you just pay for rides, food, and games, so it's a great plave to stroll even if you don't plan on enjoying the rides… but if you pick a ride, definitely make it the Great Dipper!
Unwind at the Natural Bridges State Beach, a quiet stretch of beach away from the madness of the boardwalk. Check out its tidepools where you can see sea anemones, hermit crabs, starfish, and all other sorts of marine life.
If you're visiting in winter, make a visit to the Natural Bridges Monarch Trail, where thousands upon thousands of migrating Monarch butterflies take shelter in the eucalyptus trees in the area.
Go for a hike in Henry Cowell Redwoods State Park, about a 10-minute drive from downtown Santa Cruz. You instantly get immersed in a redwood forest and feel swept away out of the city and beach life. There are some beautiful trails where you can walk amongst the redwoods, but keep an eye out for banana slugs in your path!
Take a tour of Santa Cruz's vibrant craft beer scene on a tour with Brew Cruz — only if you're planning on spending the night, of course, since you won't be fit to drive afterward.
Half Moon Bay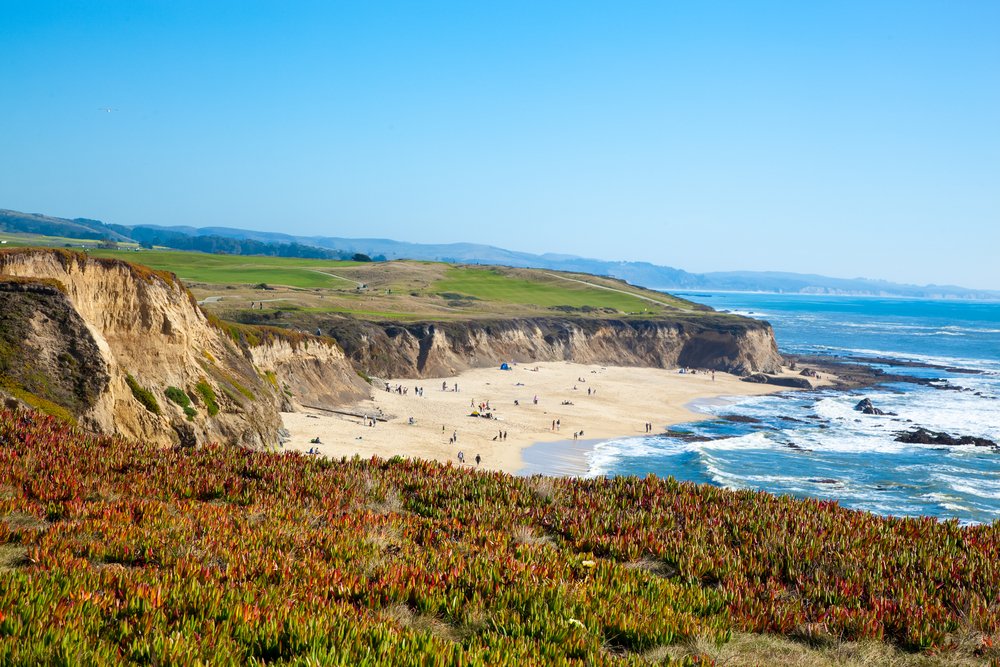 Heading up the coast towards San Francisco, you'll be tempted to stop at nearly every cute town along Highway 1 in this part of the Pacific Coast Highway!
While nearly every town is worth a visit, one of my favorite stops on the PCH is Half Moon Bay, which is a common weekend getaway from San Francisco.
Here are some of the best things to do on a quick stop in Half Moon Bay.
Walk along a stretch of the California Coastal Trail, starting at the lovely Poplar Beach.
Check out the lovely Fitzgerald Marine Reserve nearby in Moss Beach to keep an eye out for playful seals and tidepools full of tiny marine life!
Grab a local beer at the Half Moon Bay Brewing Company, a local favorite, or take a 6-pack to go!
Watch the surfers at Mavericks, which hosts surfing contests where waves can get up to 50 feet high at times! It likely won't be that high when you're there, but spotting surfers — and seals — is likely at most times of year!
San Francisco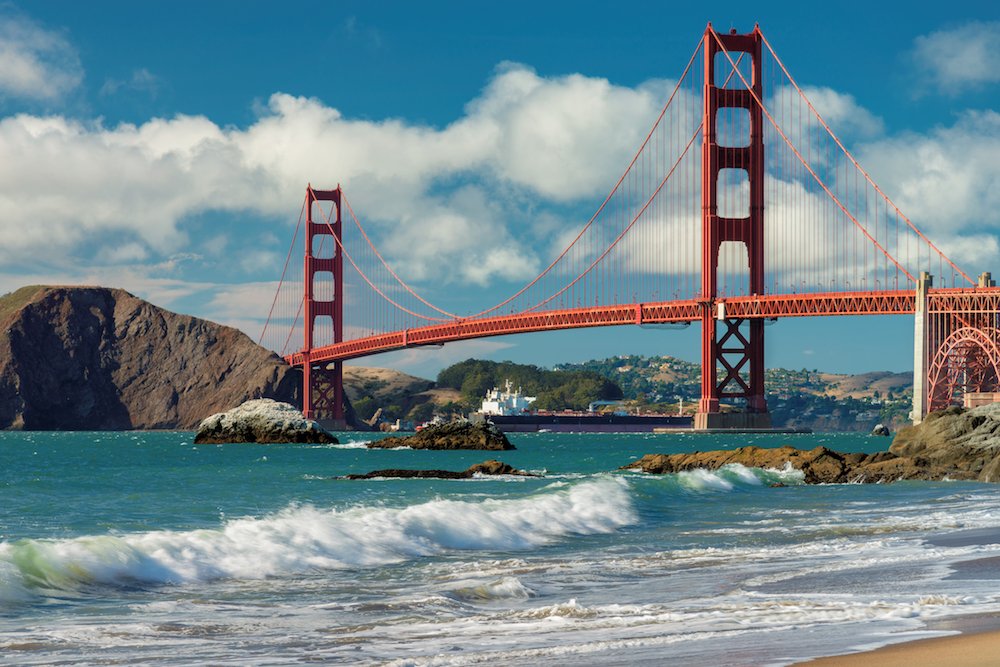 My beloved San Francisco — I was born just across the Bay in Oakland, California, and I visited San Francisco dozens of times a year until I left California.
There is way, way more to San Francisco than I can fit into this post without totally hijacking it and turning it into a San Francisco post, so let me instead point you towards a few of my San Francisco resources and give you a few quick musts.
If you've never been to San Francisco before, don't just treat this as any other stop on the Pacific Coast Highway — it deserves at least an overnight stay, and better yet, two nights if your schedule allows.
Parking in San Francisco is also horrific and expensive, so allowing yourself more time in San Francisco reduces headache — just be sure to book a hotel with parking or you'll rue it 'til the end of days!
It's so hard to narrow it down to just a few places… but here are my absolute favorite things to do in San Francisco.
Short on time? Follow this San Francisco layover guide to get the best of the City by the Bay in just a day, with tips from a local.
Wander around the colorful Mission District, one of the coolest neighborhoods in San Francisco. Visit Dolores Park to soak up some sunshine, grab an ice cream at Bi-Rite Creamery, eat a world-famous Mission burrito at El Castillito, shop the thrift and vintage stores in the area, and don't miss the street art in Clarion Alley.
Check out the Ferry Building Marketplace on the Embarcadero. The interior is open daily, but on Tuesday, Thursday, and Saturday (the biggest day!) the surrounding plaza becomes the city's most bustling farmer's market. Street food is also available on Thursdays and Saturdays.
Walk along the Embarcadero until Pier 39, a kitschy tourist trap that is still incredibly charming — and a must-see if you want to see the noisy, smelly, yet endearing sea lions who have called it home since the 1989 earthquake! For an offbeat side to Pier 39, pop into the Musee Mechanique, full of still operational vintage arcade games. If you're hungry, grab a burger at the nearby In-N-Out — a California must!
Eat your way through San Francisco's delicious Chinatown! My favorite spot is the amazing Yank Sing for dim sum, which admittedly is a bit pricy but worth every penny.
Muir Woods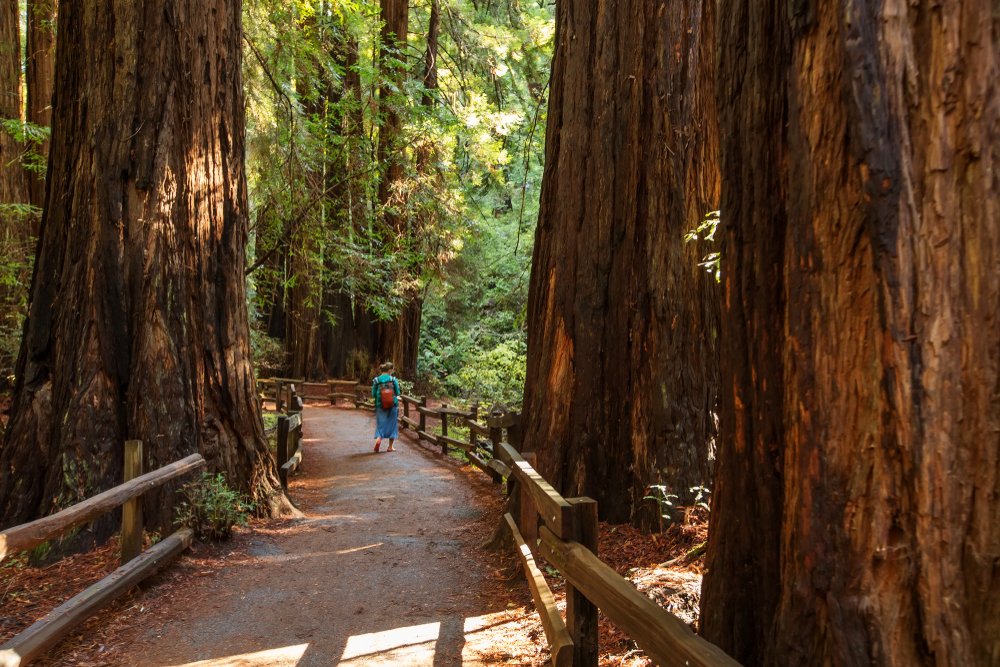 As you leave San Francisco, you may hear the the sad tones of Tony Bennett's "I Left My Heart In San Francisco" warbling in your heart…
… But don't fear, there are so many more incredible stops on the Pacific Coast Highway to explore, and the next stop, Muir Woods, is a mere 17-mile drive away!
One of the best places to see the redwoods in California, I can always find comfort amongst the tall redwood trees of Muir Woods. Be sure to book your parking pass in advance or you risk not having a spot (read my full guide on visiting Muir Woods here)
You can't go wrong with any trail in Muir Woods, but my personal favorites are the Bridge 3 Loop and the Dipsea Trail with its views of Mount Tam and the Pacific.
Cypress Tunnel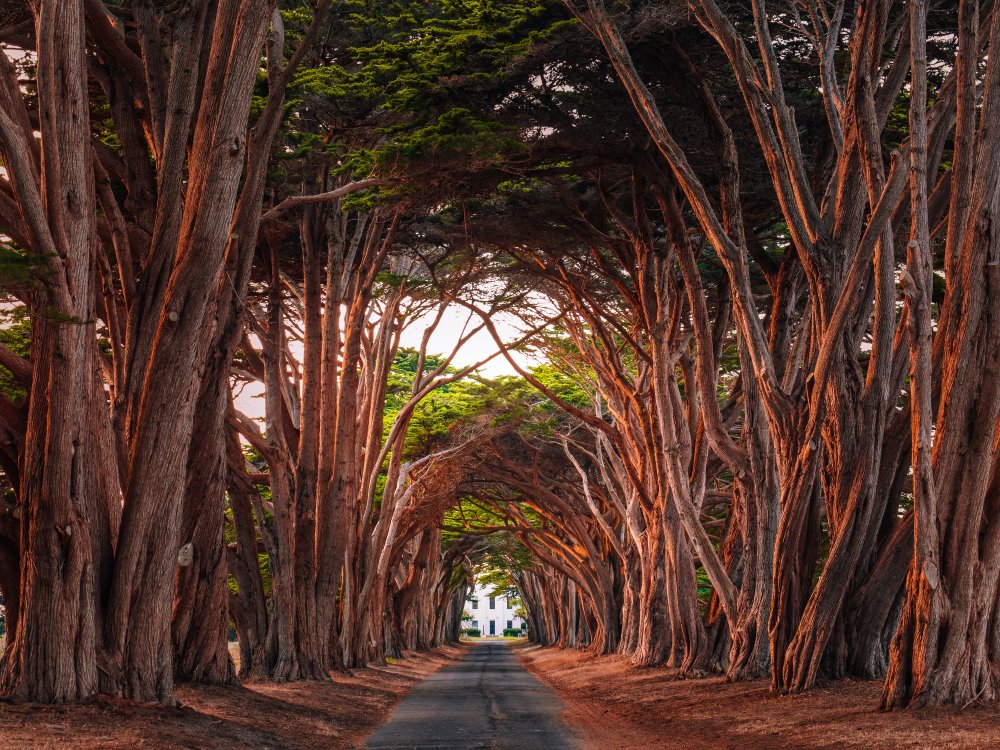 So, you've been surrounded by impossibly tall redwoods — next up, why not be surrounded by stunning cypress trees, which form a tree tunnel the likes of which will have you thinking of Game of Thrones King's Road (though that was actually filmed in Northern Ireland's Dark Hedges).
This cypress tunnel involves a wee bit of a detour off the PCH proper, but trust me, it's worth it! You'll find it in Inverness, CA, as you drive down Sir Francis Drake Boulevard.
Just punch "Cypress Tree Tunnel" into your GPS and it'll bring you straight there. The tree tunnel is pedestrian-only (no dodging cars!) and leads to the KPH radio station, the last radio station in the US to use Morse code! You can visit on Saturdays if it's open.
Point Reyes Lighthouse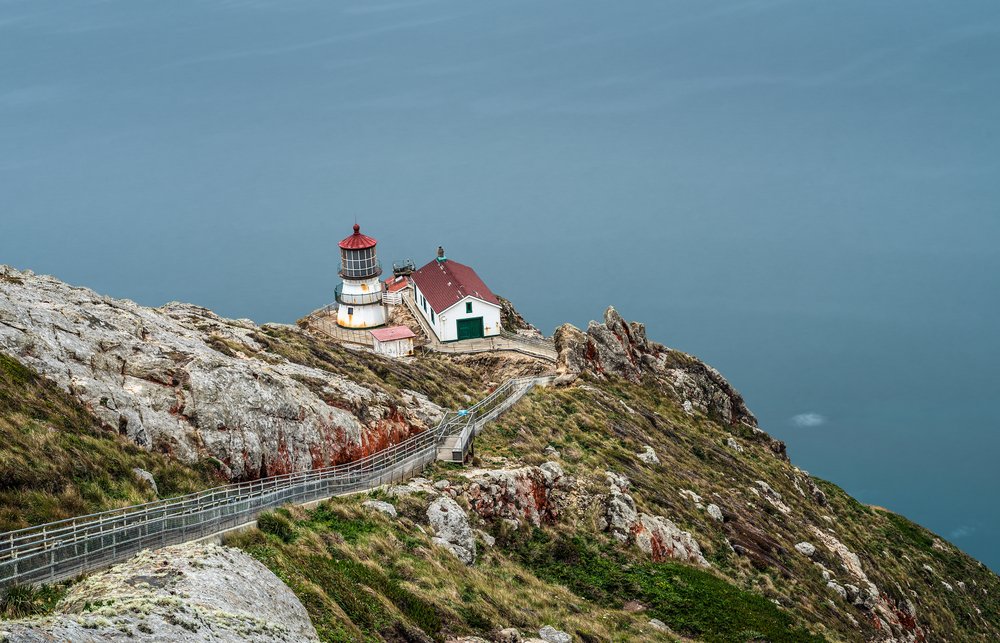 Since we detoured to the Cypress Tree Tunnel… might as well detour all the way to Point Reyes and its famous lighthouse, which you'll get to if you just follow Sir Francis Drake Boulevard all the way to the sea.
You'll also find the famous Leaning Tree, Sea Lion Overlook, and South Beach Overlook which are all great photo stops on the PCH.
If you're an avid hiker, you may want to hike to Alamere Falls, a tidefall (aka a waterfall that empties out onto a beach!) but keep in mind this is a 13-mile round trip hike and is rather strenuous, so it's only recommended for skilled hikers. It's recommended to go via the Palomarin Trail near Bolinas (directions here).
Jenner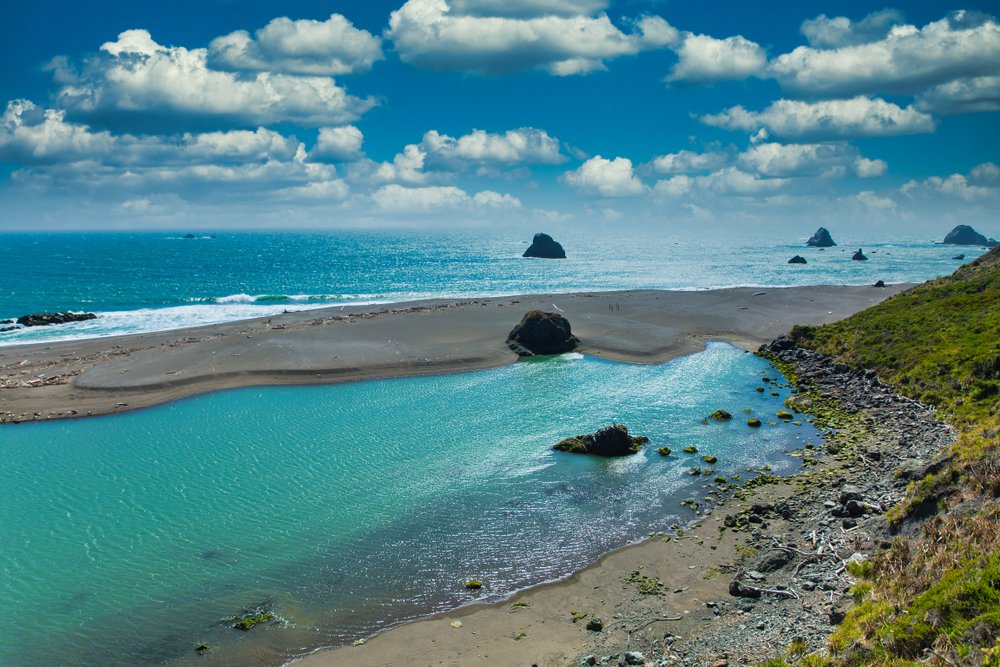 Returning to the Pacific Coast Highway, head up north to Jenner — a stunning small coastal city that hikes one of California's best hidden gems, where the Russian River meets the Pacific Ocean on a wild stretch of beach.
Jenner is a quirky little seaside town on the Sonoma Coast with a handful of things to do.
Wander around the driftwood-strewn Jenner Beach, one of the most beautiful wild beaches in California, with tons of sea stacks and a roaring sea.
A little to the south of Jenner Beach is the adorably-named Goat Rock State Beach, which has some beautiful sea arches and often you'll also find seals relaxing on the beach (they know what's up!)
Enjoy an epic meal with a view at the River's End Restaurant, a beautiful fine dining restaurant (it's also an inn!) with incredible food and even better views.
For a quirky meal experience, you can't miss the Russian House #1, which is a favorite of my family (my aunt lives in nearby Cazadero, so we visit Jenner frequently). It's set up like a buffet, you take as much as you want, and you pay what you think the meal was worth in a donation box! It's also a cool place to chill – there's an area to relax and there are games you can play, and it's a bit of a spiritual center as well, with books on self-development and meditation. Basically, it's California in a nutshell.
Sea Ranch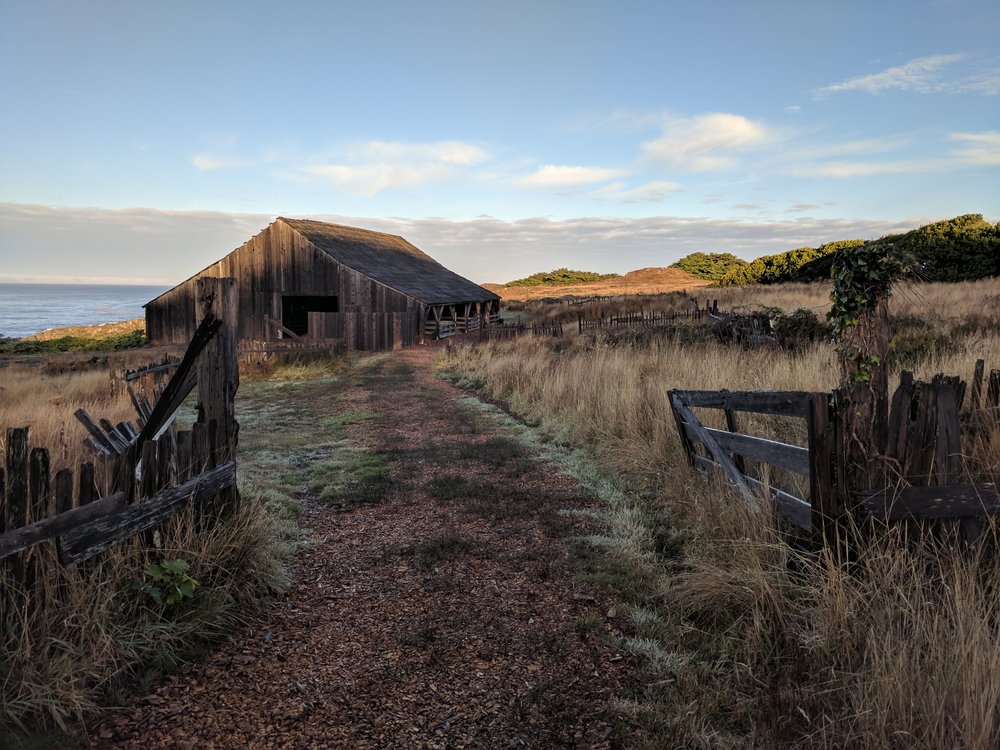 Sea Ranch is a special place that's hard to describe unless you've been there. More than just a town on the Pacific Coast Highway, the Sea Ranch is a planned community that's privately owned along 10 gorgeous miles of coastline.
The houses are privately owned by a community of homeowners who agree to follow certain architectural principals: namely, paying attention to the natural landscape and blending into the surroundings rather than standing out.
The Sea Ranch style was considered the "California architectural monument of the 1960s," according to the design historian David Gebhard. Some of its properties, such as Condominium One, which was built in 1964, were added to the National Register of Historic Places.
I visited Sea Ranch a few times as the family of a friend of mine from high school owned a house up there, and each time, I found Sea Ranch to be the most magical place, a place that can truly revive your spirit like no other place can.
Sea Ranch is a quiet place that's best for an overnight stay in one of the many home-turned-vacation rentals, but here are a few things to do if you're visiting Sea Ranch
Check out the historic Condominium One, where the Sea Ranch movement began.
Wander along the trails to the Black Point Barn, the oldest building in Sea Ranch and the only vestige of the previous sheep ranch that the town of Sea Ranch was built around.
Visit the Sea Ranch Lodge once it finishes its renovations (said to be in 2020, but given the current climate, not sure when it'll reeopen) for a delicious meal.
Mendocino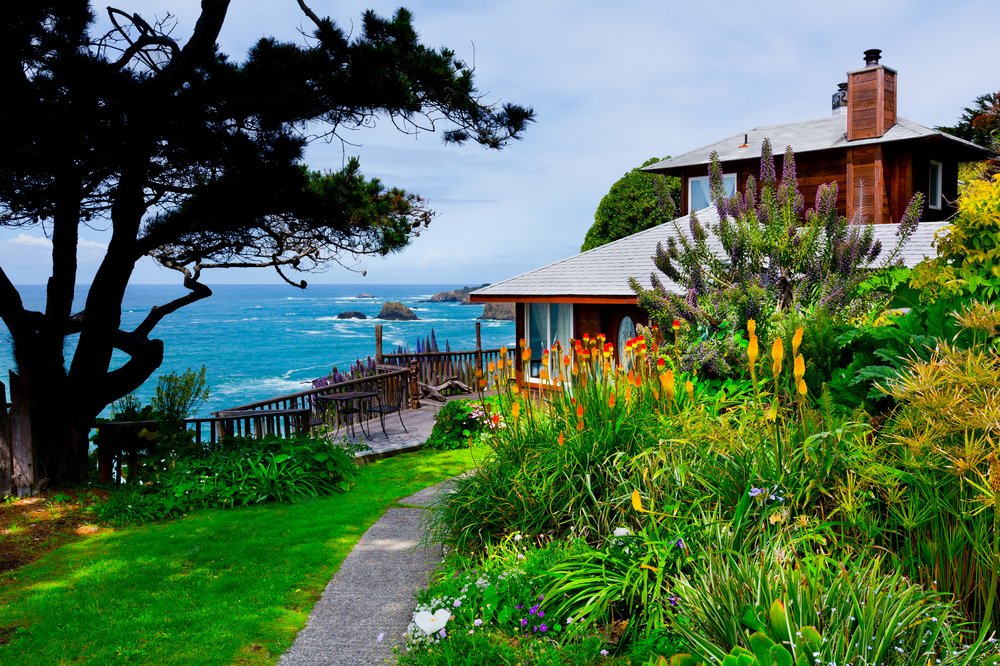 The Mendocino Coast is a magical place — I spent many long weekends here growing up in California and it's still a place that captures my heart time and again when I think about trips home.
Here are a few of my favorite things to do in Mendocino:
Drive up to the Wes Anderson-esque 1909-era lighthouse, Point Cabrillo Light Station, for stunning photos.
Enjoy the stunning coastline of Russian Gulch State Park. You can take a short hike to the Devil's Punchbowl, or visit the waterfall along the Fern Canyon Trail.The Russian Gulch Creek is also a great place to relax if you want a bit of sun (assuming, y'know, there is sun — which isn't always a given in foggy coastal NorCal!)
Go hiking in the Mendocino Headlands State Park — there's a beautiful 4-mile trail called the Mendocino Headlands Trail that will lead you through the best parts of the park.
Go wine tasting! Mendocino wines are beloved by in-the-know Californians, but little-known outside the state — meaning good deals abound, unlike in Napa and Sonoma! My favorite winery in Mendocino is Navarro Vineyards & Winery.
Fort Bragg (Glass Beach)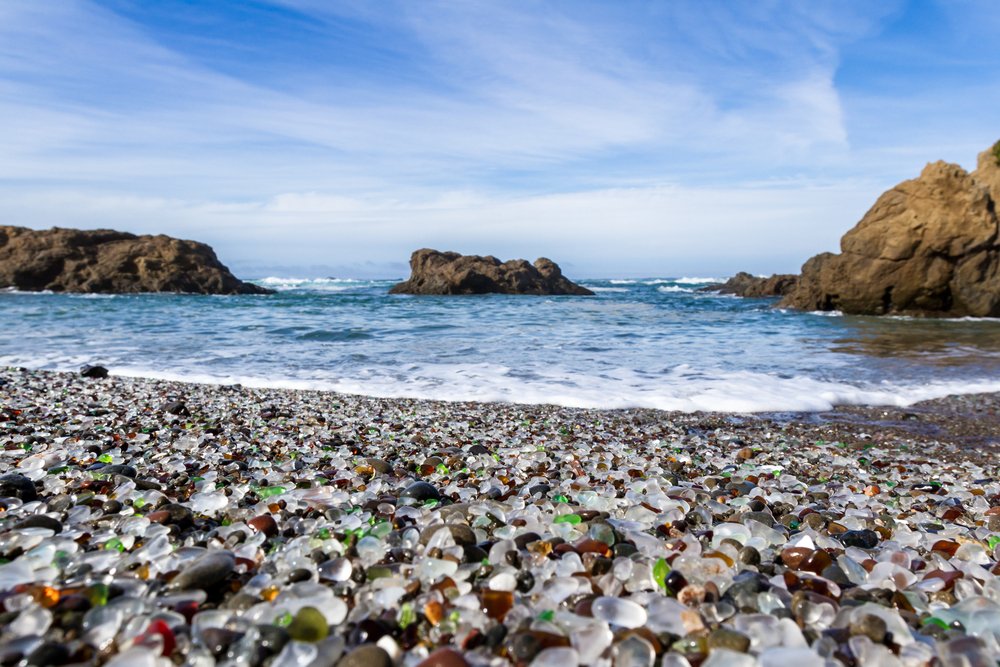 Not far from Mendocino is a place you've likely seen on social media but had no idea where the photos were taken… Glass Beach, part of MacKerricher State Park in Fort Bragg.
This place was magical in my childhood, but I've since heard from friends living in California that people have been stealing the prettier, larger pieces of glass, thus taking away a bit of its beauty by only leaving behind the smaller pieces… which is really a shame.
Do not take any glass if you visit: it's not only illegal, it ruins it for future visitors. The glass will never be replaced as it was originally there when leftover glass from the city dump washed up onto shore, smoothed by the tides: but since the dump closed in 1960, no new glass is added, it's only taken away except for a few pieces of sea glass that wash up on shore, same as you'd find anywhere in the world…
Don't let my words of saudade deter you, though, Glass Beach is still well worth a stop on the Pacific Coast Highway.
Redwood National Park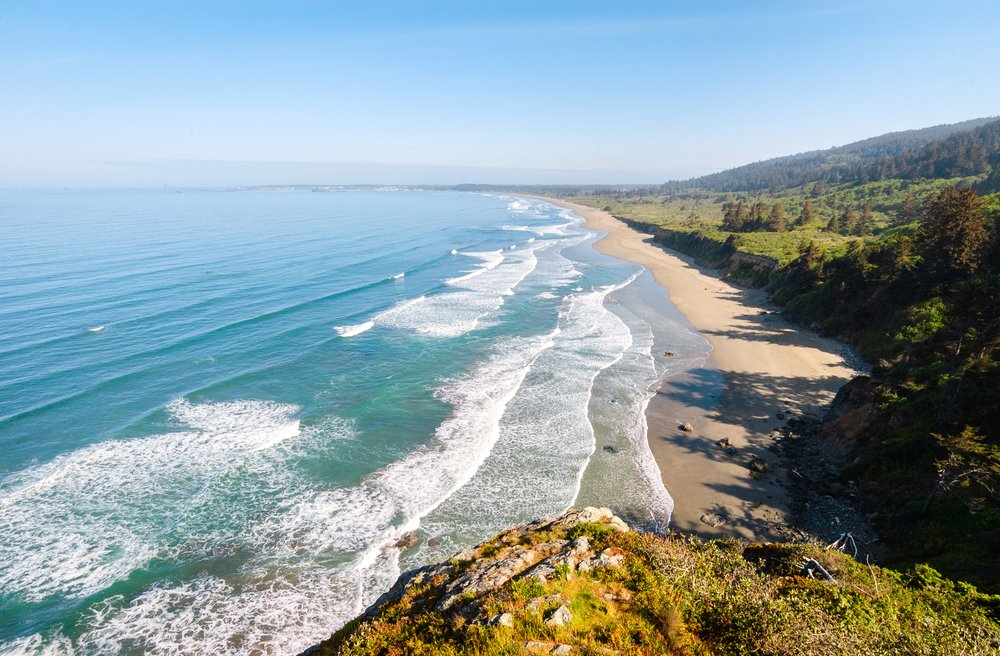 Not to be confused with Sequoia National Park further south, Redwood National & State Parks are a series of protected lands which can be found in the far north of California not far from the border with Oregon.
While it covers many redwood forests and is home to Hyperion, the tallest redwood tree on the planet (whose location is kept secret to avoid damage), Redwood National Park also is home to miles and miles of beautiful rugged California coastline.
Here are a few things to do within this massive parks system!
Hike the Fern Canyon Loop Trail, a short 0.7-mile hike featuring Land Before Time-esque ferns. You can find this in the Prairie Creek Redwoods State Park part of the parks.
Another fantastic hike is Lady Bird Johnson Grove Trail, a 1.4-mile trail in the redwoods with beautiful ferns and redwoods in a stunning part of Redwood National Park.
Want to see the largest redwood forest in all of California? That would be Rockefeller Forest, a massive 10,000 acres. You can take the ADA-accessible, wheelchair and stroller friendly Rockefeller Loop Trail, just 0.6 miles, for an easy hike, or for a more strenuous hike you can tackle the Bull Creek Loop Trail. This is part of the Humboldt Redwoods State Park.
Crescent City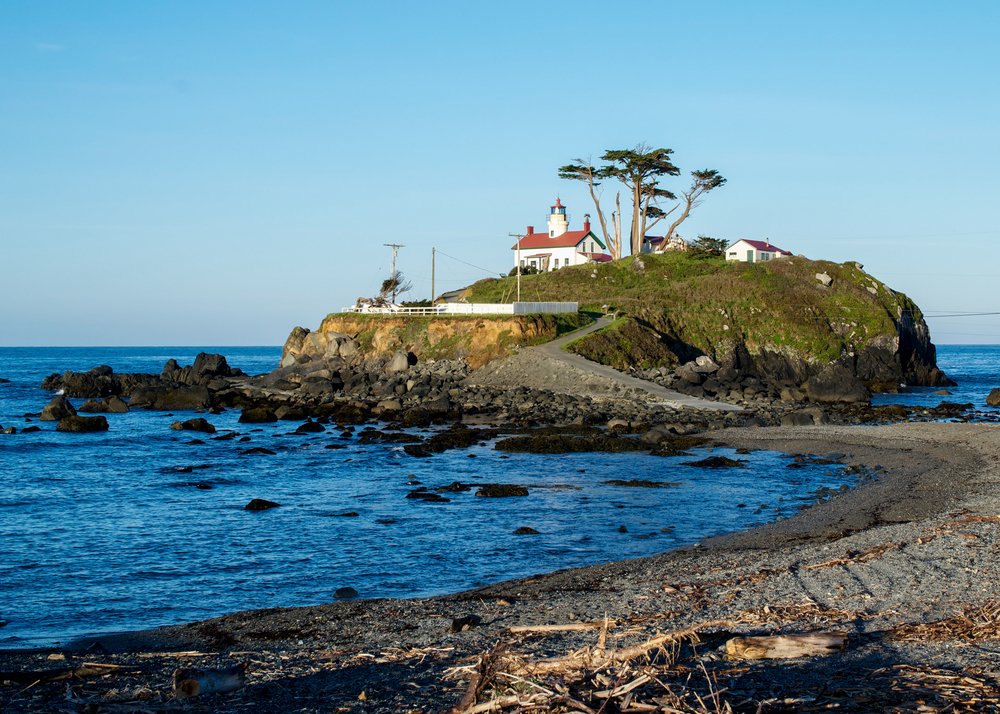 This is the last stop on the Pacific Coast Highway before we leave California! If you're sticking to California, this is where you may want to return your journey.
If you do decide to turn around here, I suggest going inland on your way back, visiting Burney Falls, Shasta National Forest, and Lassen Volcanic National Park before joining Interstate 5 to head to whatever point south you're aiming for. (You may want to detour to Lake Tahoe as well!)
But if you're planning to forge on up the PCH, plan to keep going!
Whatever you decide, Crescent City is well worth a stop on the PCH. Here are a few things to do while there!
Visit the 19th century Battery Point Lighthouse, now a museum, which was one of the first lighthouses in all of California. You can visit only during low tide (during high tide, it's inaccessible) during opening hours. In summer, it's open 10AM-4PM daily; off season (October to March), it's only open on weekends.
Walk out to sea along the B Street Pier, where you may see some gregarious sea lions (yes, sea lions are basically everywhere on the California coast, and no, it never gets old, even for California natives like myself!)
For a quiet beach, check out Pebble Beach — it's wild, rugged, and beautiful, with tidepools that are cool to look at!
Brookings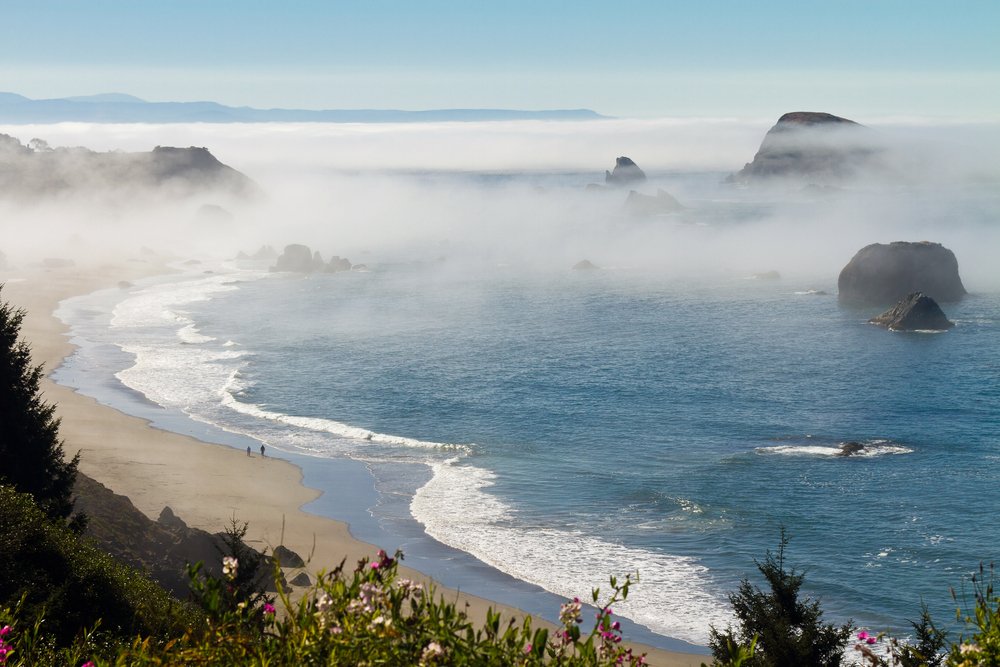 Welcome to Oregon! Brookings is only 26 miles from our previous Pacific Coast Highway stop in Crescent City, but now you've crossed your first state line of the trip (yeah… California is freaking huge).
Brookings is a quiet city with a stunning stretch of beach and a few great hikes in the area. Here's what you can do with a stop in Brookings.
Check out the stunning beaches in Harris Beach State Park, with driftwood, tide pools at low tide, sea stacks… basically, all the stuff of magic. You can even camp here and rent a yurt!
Snap photos of the twee Pelican Bay Lighthouse. OK, sorry, I have a thing for lighthouses!
Visit the unique and photogenic Capella by the Sea, an A-frame style non-denominational chapel used for ceremonies, and it's located by the seaside in Azalea Park. It's privately owned and often rented out for weddings or ceremonies, but sometimes volunteers who are working there will let you check it out.
Samuel H. Boardman State Scenic Corridor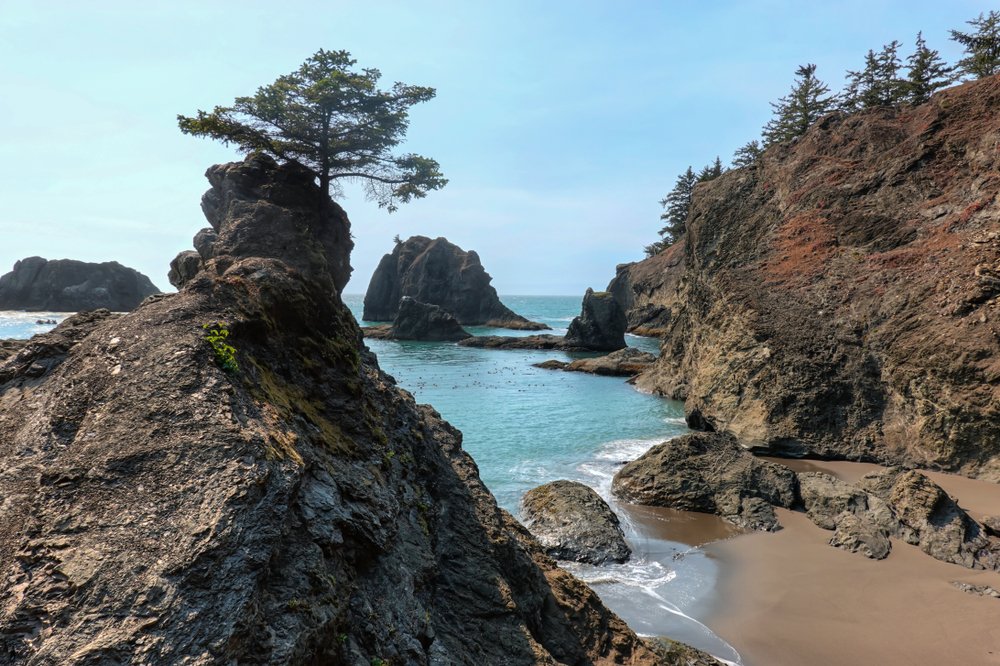 Just a bit north of Brookings is your next stop, the Samuel H. Boardman State Scenic Corridor, which is one of the most magical places along the Oregon coast.
It's absolutely one of the best photography spots in Oregon!
Here are just a few highlights out of the many to choose from!
The Natural Bridges Viewpoint is a must-see stop in Samuel H. Boardman, and it's an easy walk from the parking lot to the viewing platform! You can continue the hike out further to get to the bridges themselves.. but exercise extreme cautious, as the trails here are often wet! Take the North Trail for the best views and easiest hike.
The lovely Secret Beach is named so because there's no markers, but it's well-known enough amongst locals. Find directions here and be cautious on the hike!
For a beautiful view that's less crowded that the Natural Bridges, stop at the Whaleshead viewpoint. You can hike down to the beach in about 5 minutes.
Heceta Head Lighthouse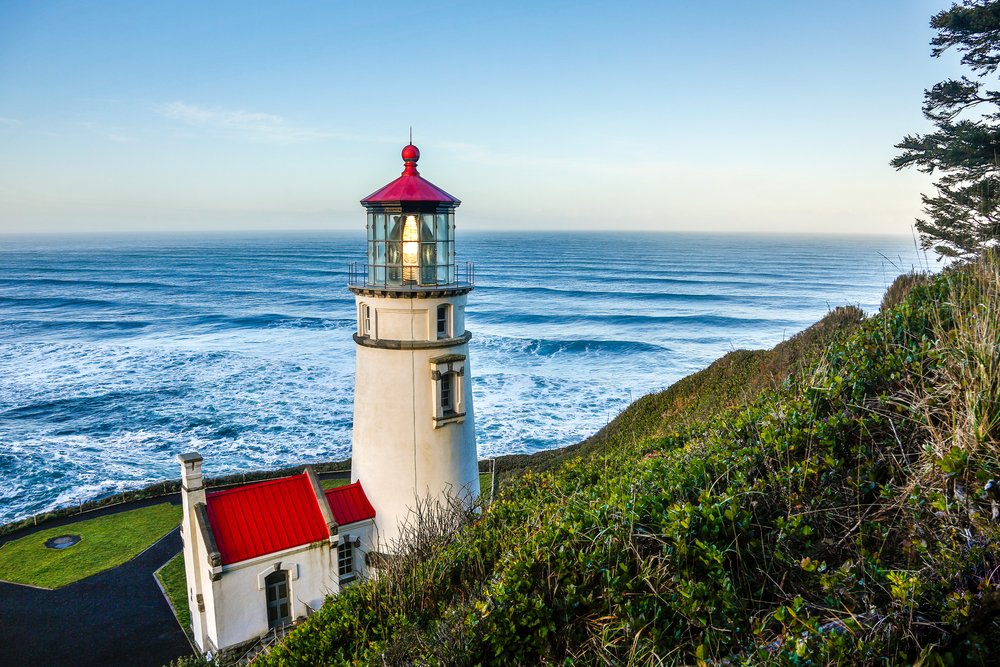 Continuing up the Oregon Coast, stop at one of the West Coast's most beautiful lighthouses — Heceda Head near Florence, OR.
You can also hike here via the Hobbit Trail Trailhead which leads to the lighthouse and beach!
Depoe Bay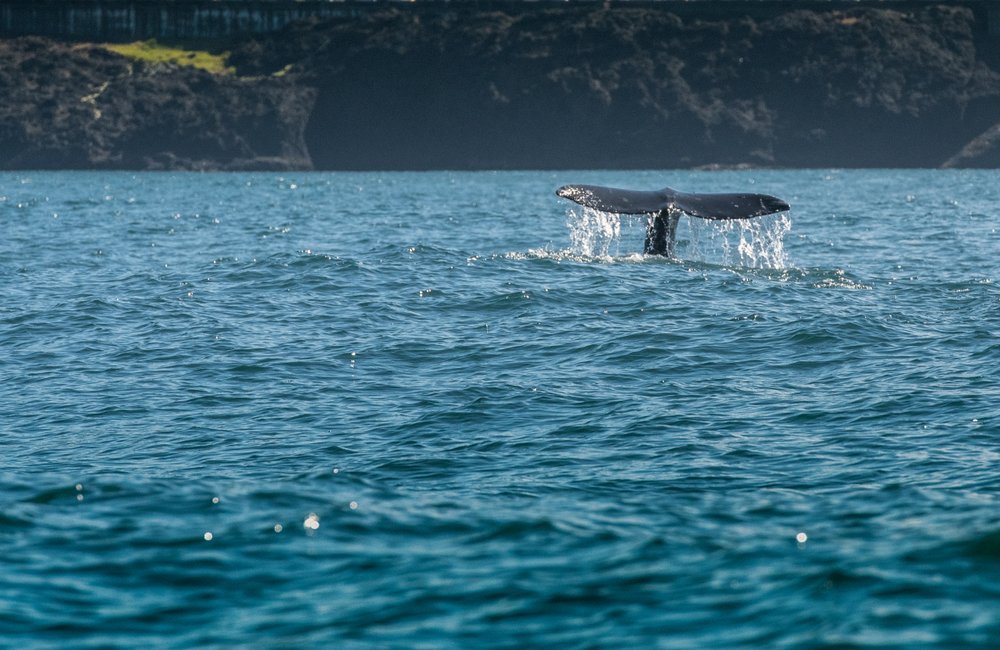 There are many places in Oregon where you can easily go whale watching, but Depoe Bay is the best known and is considered to be the whale-watching capital of Oregon.
One of the best times of year is from March to May, where you'll be able to see gray whiles en route to Alaska, leaving Mexico.
This is when moms are traveling with their calves, and they tend to stay just a few miles out from shore — making it very easy to spot them! However, the season does change. a bit year by year depending on weather.
May through the end of summer also sees plenty of whales, but these are the resident whales who tend to stick around for a bit rather than the migrating gray whales. Fall and winter also see some whales, but they tend to be further out in rougher waters, and they can be tougher to spot.
While most of the whales are gray whales, you may also see orcas, minkes, humpbacks, sperm whales,, and blue whales!
Cape Kiwanda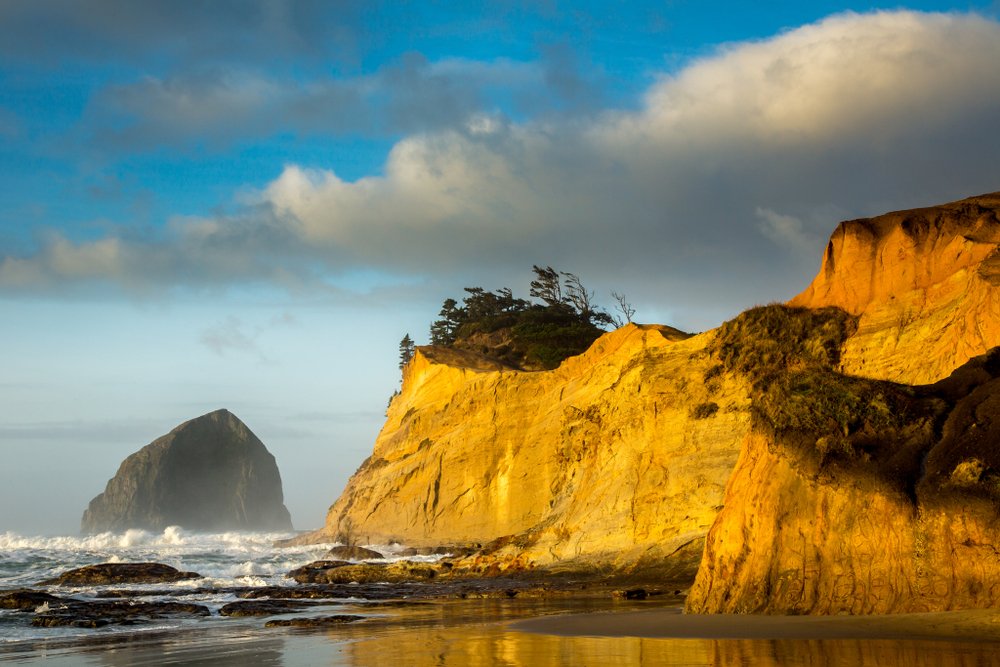 This magical part of the Oregon Coast almost looks like it belongs to a whole different part of the world, perhaps Ireland or Iceland, but nope — it's right here just off the Pacific Coast Highway!
The cliffs of Cape Kiwanda are made of sandstone, giving it those brilliant colors, and paired with sea stacks and hiking trails, it's a magical place.
Don't miss the hike up Cape Kiwanda via the Pacific Avenue Trailhead, which ends up atop the Great Dune, offering stunning views of Haystack Rock.
Garibaldi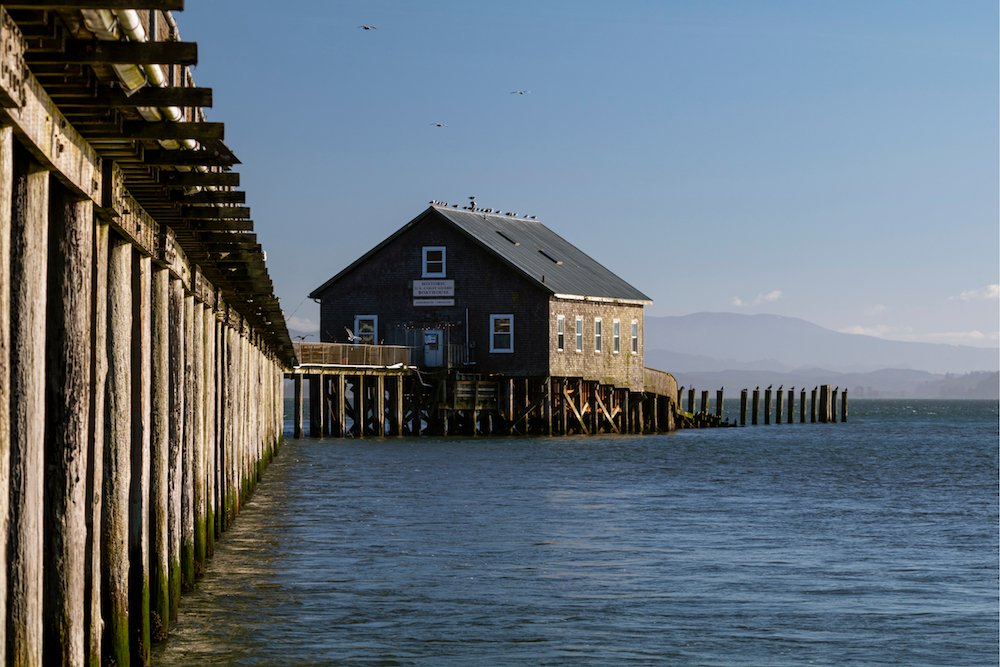 The picturesque city of Garibaldi in Tillamook County (yes — that Tillamook!) is well worth a stop on the Pacific Coast Highway.
It overlooks Tillamook Bay, a stunning calm inlet which is a welcome respite from the often rough and rugged Oregon coastline. Garibaldi harbor is quaint and cute, with great shops and places to shop for seafood (and restaurants to eat at as well!).
Here's what to do in Garibaldi:
Stop at the Tillamook Creamery on the way up — it's 10 minutes before you reach Garibaldi on Highway 101 if heading north. They have a diner where you can order all sorts of cheesy American classics!
Hop on board the Oregon Coast Scenic Railroad, which goes between Garibaldi and Rockaway Beach.
Check out the Garibaldi Historic US Coast Guard Boathouse, now converted into a museum along a recently renovated pier. You'll also see a lot of people crabbing here off the dock!
Buy some fresh seafood at the Garibaldi Cannery — Dungeness crab, oysters, clams, you name it!
Portland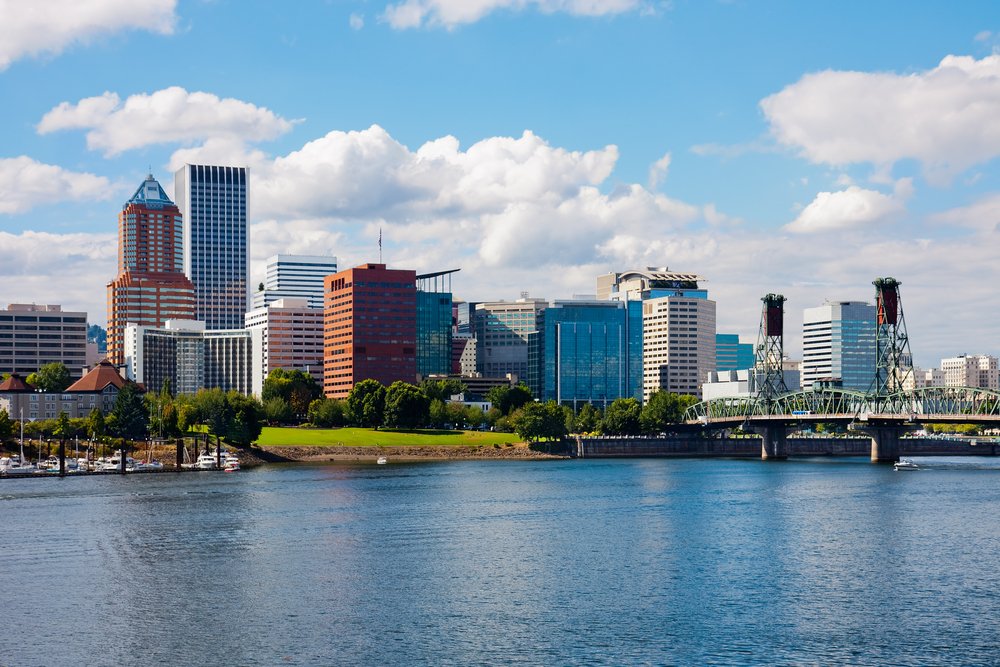 Note: Portland is quite a bit a ways off the Pacific Coast Highway, so it's not really a stop unless you want it to be!
However, it's the biggest city in Oregon, and it's a really cool and lovable place, so in my mind, it's well worth the hourlong detour off the Pacific Coast Highway!
It's also a natural spot to stop if you're ending your PCH trip in Oregon, as there's a major airport here. But if you're trying to stick along the coastline, feel free to skip Portland.
If you do add a few days in Portland to your PCH trip — here's where I recommend going!
You can also continue on inland and add a few stops on the Columbia River Gorge Drive if you want to continue your Oregon road tripping!
For an utterly relaxing day in Portland, hit up the gorgeously impressive Portland Japanese Garden, which is widely considered to be the best Japanese garden outside of, well, Japan.
For some more greenery scenery, check out the International Rose Test Garden, at its peak between April through October (but at its best in June!). It has over 650 varieties of roses.
Browse books at the always-awesome Powell's Bookstore, the largest indie bookstore in the world that's home to nearly a million books!
Book a day tour of the Willamette Valley wineries for the best damn wines in Oregon… and some of the best Pinot Noir on the planet — sorry Burgundy! This wine tour covers 3 vineyards and includes wine + cheese tastings at each stop. Book this fabulous wine tour online here!
Take a tasty food tour of Portland's incredible street food scene! This food tour covers 5-7 different food carts across off the beaten path neighborhoods in Portland — as well as a brewery stop! Book online here.
Cannon Beach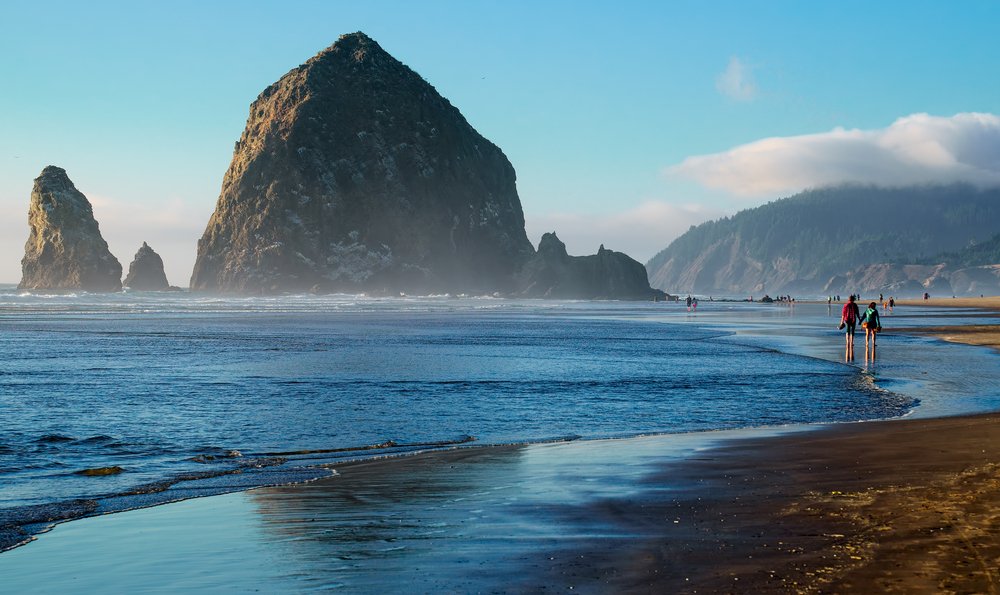 The last stop in Oregon before heading into Washington is Cannon Beach — a worthy stop on the Pacific Coast Highway that is sure to impress you.
Famous for the large Haystack Rock, the most iconic landmark of Cannon Beach, there is more to the idyllic Cannon Beach than meets the eye. Here are a few things to do in the area:
Go for a hike in Ecola State Park with sweeping views of the Pacific Ocean — there's also a lighthouse here!
Geek out over the tidepools and walk along the rugged beach at Arcadia Beach.
Check out the sea caves at Hug Point, and if the season is right (there needs to have been plenty of rain recently), you'll find yet another tidefall here — the third of this trip!
Grab fish 'n chips and a craft beer at Public Coast Brewing Company
Cape Disappointment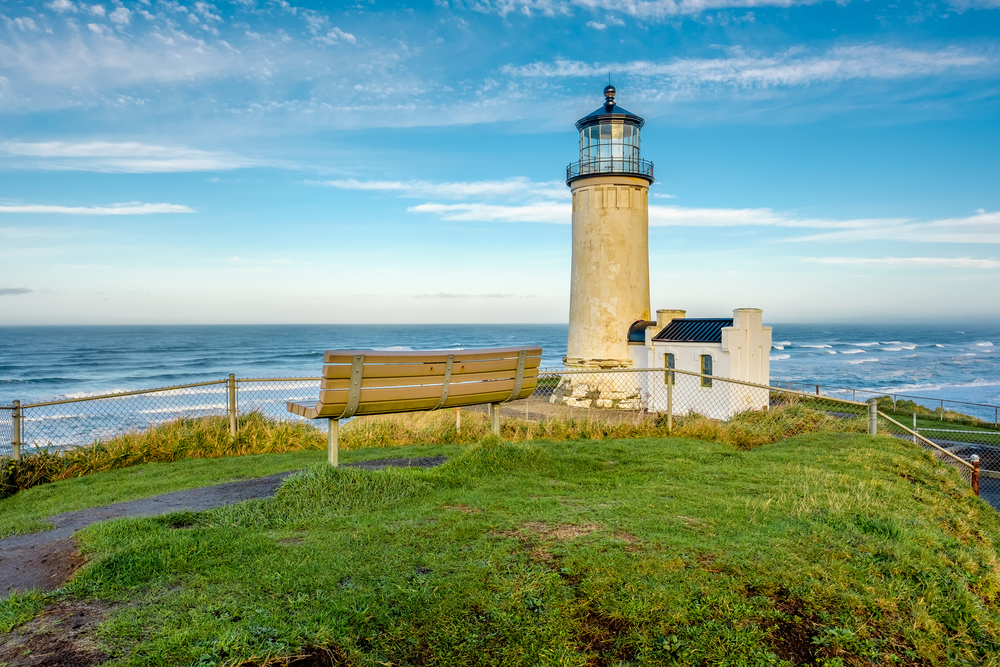 Your first PCH stop in Washington, and I promise you — the name is a major misnomer, as this place won't disappoint you!
Like quaint Jenner earlier on this PCH trip, Cape Disappointment State Park is where the mighty Columbia River meets the Pacific Ocean.
The state park has a lot to offer, including 8 miles of hiking trails, the North Head Lighthouse, clam-diggging at Benson Beach, and boating around Baker Bay.
Ruby Beach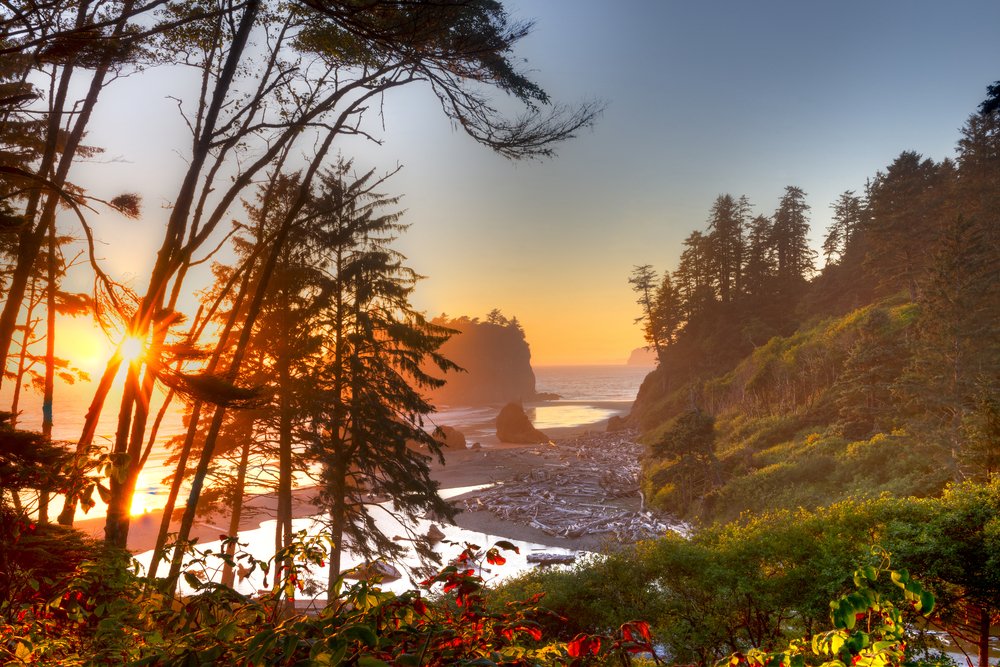 The final beach on your PCH road trip stops is Ruby Beach, located in Olympic National Park, is a stunner. It's rather popular, so try to get here early or visit at sunset for unforgettable Pacific views.
You'll find all the makings of a rugged PNW beach: driftwood, sea stacks, tide pools, sand bars, and epic Pacific sunsets.
Hoh Rainforest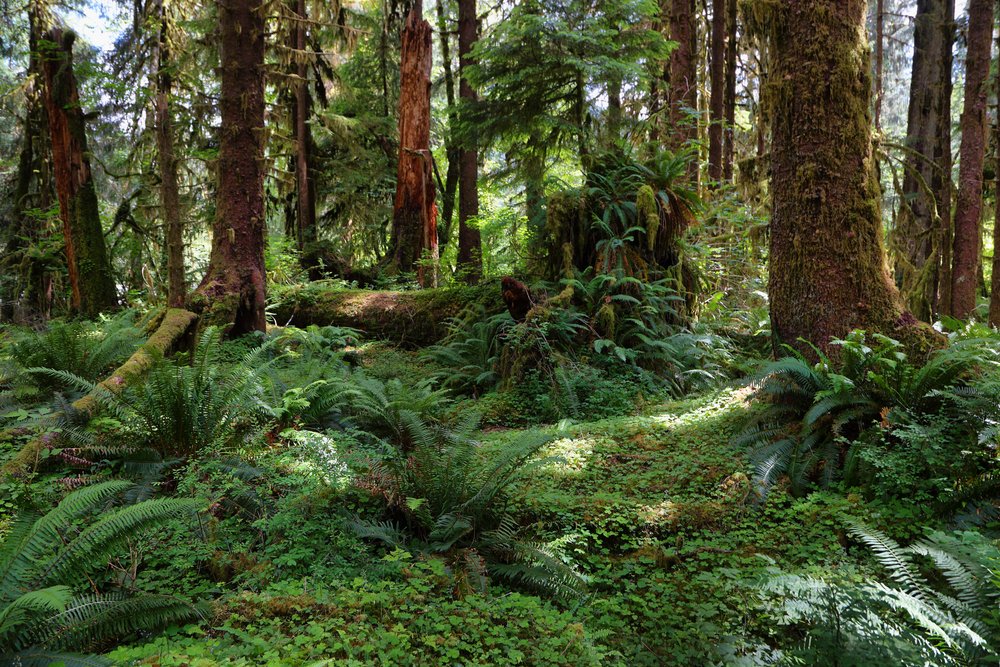 The next stop in Olympic National Park is Hoh Rainforest — and yes, this is an actual rainforest, in fact, one of the few temperate rainforests in the contiguous United States!
It rains 12 to 14 feet here per year — which is why this is one of the greenest places you can imagine, and if it weren't for the chilly weather, you might swear you were in the tropics. We're talking ferns, moss, tree canopies: basically a fairytale came to life.
Olympic National Park & Forest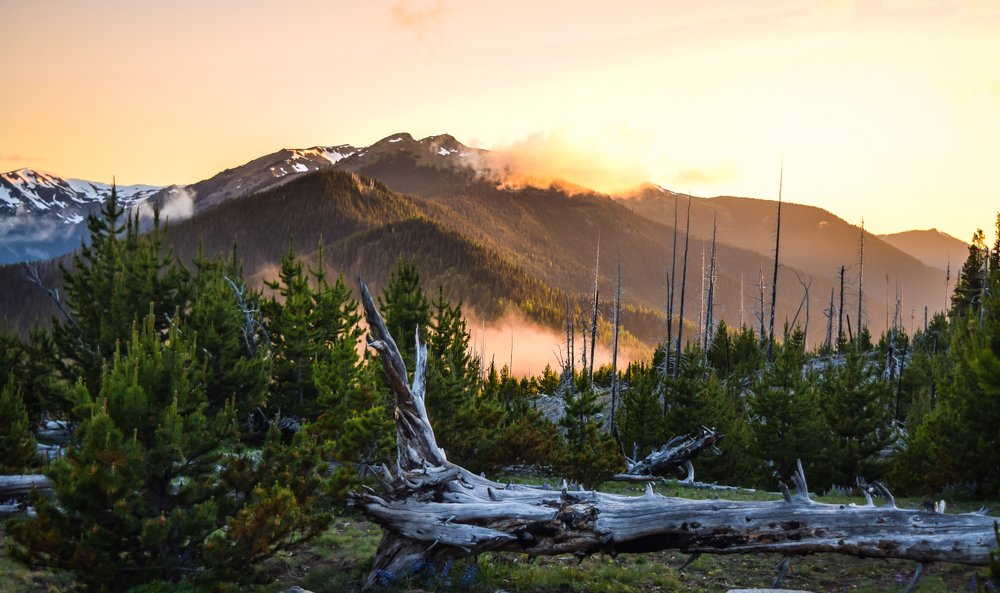 We've been stopping around Olympic National Park already, and I've highlighted two key stops on the PCH you should make, but there's still a. bit more!
Here are a few more choice things to do in Olympic National Park.
Hike up to Hurricane Hill via Hurricane Ridge (info here), a 3-mile hike up a newly paved path that's rather easy — and rather crowded — but that offers stunning mountain views!
Relax shoreside at Lake Crescent, whose southern shore is right off the 101. You can tackle the Marymere Falls Trail for some beautiful waterfalls or rent a kayak from Fairholm General Store to enjoy a day out on the lake.
Experienced hikers looking to really put a cherry on the cake of their PCH trip may want to tackle hiking Mount Olympus! It's not an easy hike… like at all… since most of it is a glacier. Be sure to go with a guide or a very experienced hiking partner who has knowledge and gear for this type of terrain.
Olympia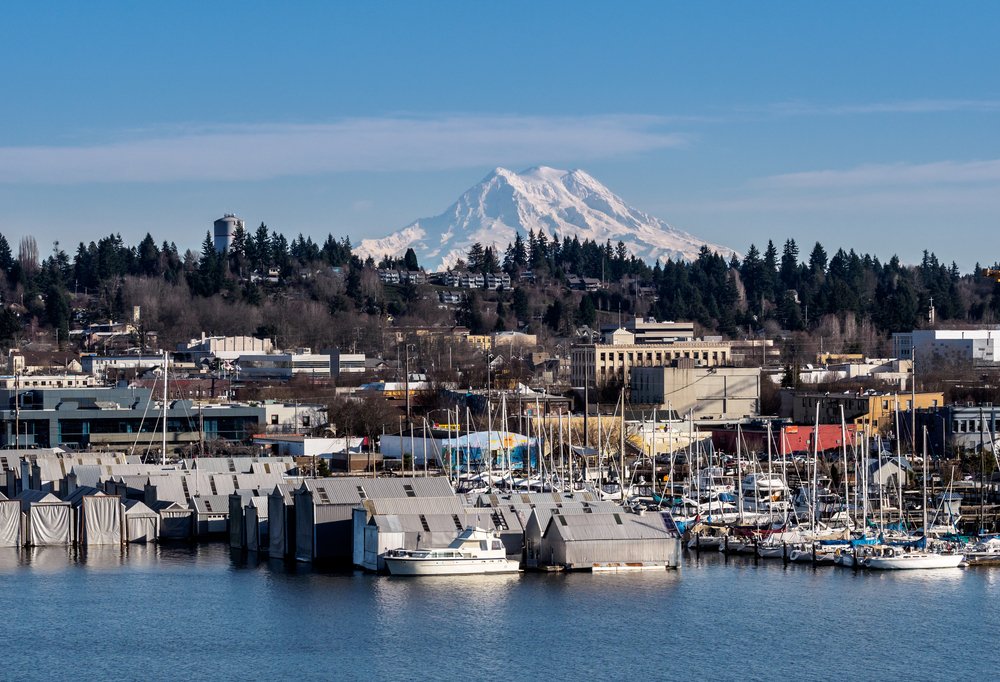 Technically, this is the final stop on the Pacific Coast Highway! This post continues onward just a tad to Seattle, in case that's your departure point, but you'll be leaving the PCH if you head to Seattle.
Visiting Olympia is all about celebrating the end of your PCH journey! Check out the Capitol Building (as Olympia, not Seattle, is the capital of Washington!), visit Tumwater Falls, stroll along the harbor, and celebrate with an epic seafood feast at the waterfront Anthony's Homeport!
Seattle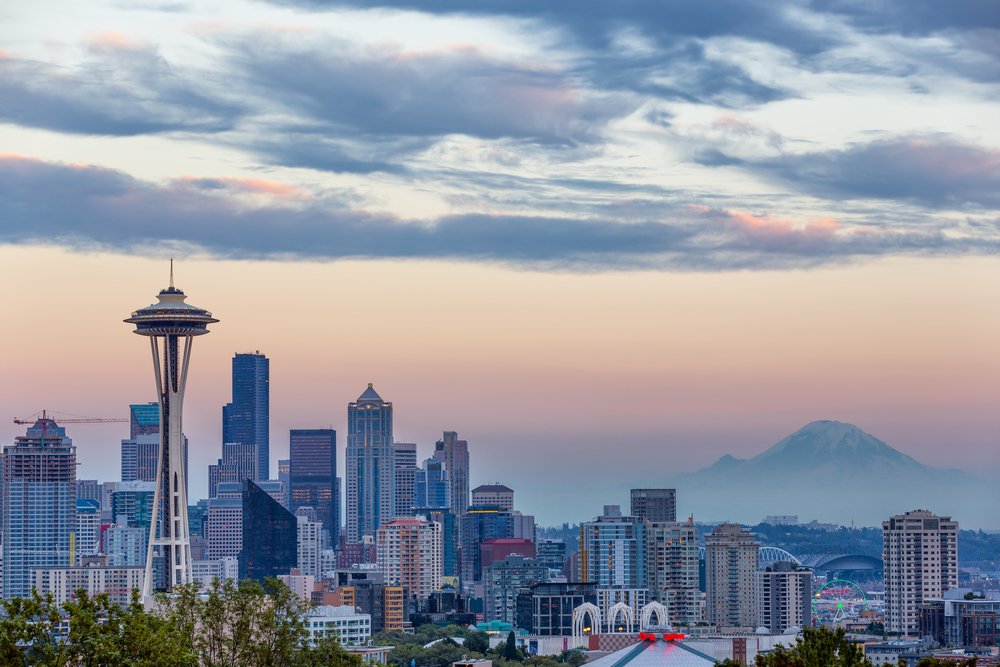 Finally, we'll end this massive Pacific Coast Highway stops blog with Seattle! While not technically part of the PCH, many people plan to drive from San Diego to Seattle, or different start and end points, so I'm including it regardless, though you may not decide to visit!
Here are a few things not to miss in Seattle
Obviously, a trip up the iconic Space Needle is a Seattle itinerary must-do!
Visiting the Chihuly Garden and Glass, featuring works from the greatest living glass artist Dale Chihuly, is simply a must-do. It is like another planet there! It's included on the Seattle CityPASS (the Space Needle, harbor tours, and the Seattle Aquarium all are too!)
Stroll through the frenetic Pike Place Market — touristy, yes, delicious and delightful, also yes! This is home to the ridiculous but hilarious fishmongers who throw salmon and other fish around, causing quite the spectacle. However, Pike Place Market is still loved by locals, though it can be hard to sort through the tourist traps. Take a guided food tour led by a chef to cut through the noise and discover the best spots in Pike Place Market — book online here.
Seattle is home to Boeing, and it's also home to the Museum of Flight — an aviation geek's dream, and still delightfully fun for the rest of us!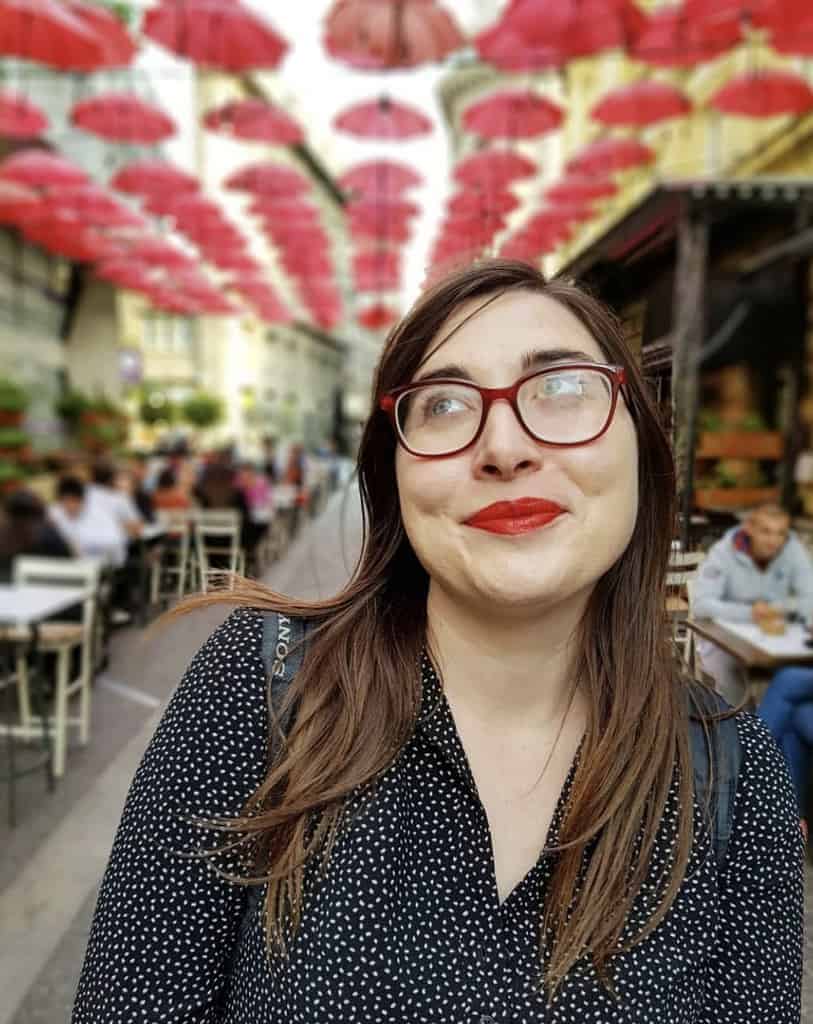 Allison Green is a travel blogger, writer, and podcaster who grew up in the Bay Area of California. She has spent time living in New York, Prague, and Sofia, but has returned to live in the East Bay. She has traveled to 60 countries before the age of 30 while running several digital travel publications. Her writing and podcast have been featured in Forbes, CBC Canada, National Geographic, the Huffington Post, and CNN Arabic, amongst others. She's obsessed with bouldering, houseplants, other people's pets, and anywhere she can see the ocean.