Whale watching, world-class wines, windswept lighthouses, and winding rivers: is it any wonder that Mendocino is one of our top choices for a weekend getaway from San Francisco?
Located 4 hours north of San Francisco on the beautiful Pacific Coast Highway, Mendocino is an obvious stop for road trippers heading north along the PCH as well as those looking for a little respite from the ordinary for a quick weekend trip.
My family and I did getaways to Mendocino a handful of times during my youth, and I always left feeling like it's a magical place. Part of the charm of Mendocino is its small-town atmosphere. You won't find any big chain hotels here, not by a long shot.
Mendocino is all about quaint cottages, seafront homes, and cabins tucked away from the coast embraced by redwood trees. And the best way to experience Mendocino the way it's meant to be experienced is by booking a charming Mendocino Airbnb for the weekend.
Here is my curated list of the best Airbnbs in Mendocino for all kinds of travelers and budgets.
Mendocino Airbnbs: Where to Stay in Mendocino for Every Type of Traveler
Headlands Cove Cottage
Note: This post contains affiliate links, which earn me a small commission at no extra cost to you if you make a purchase using one of these links. Thank you for supporting this free content!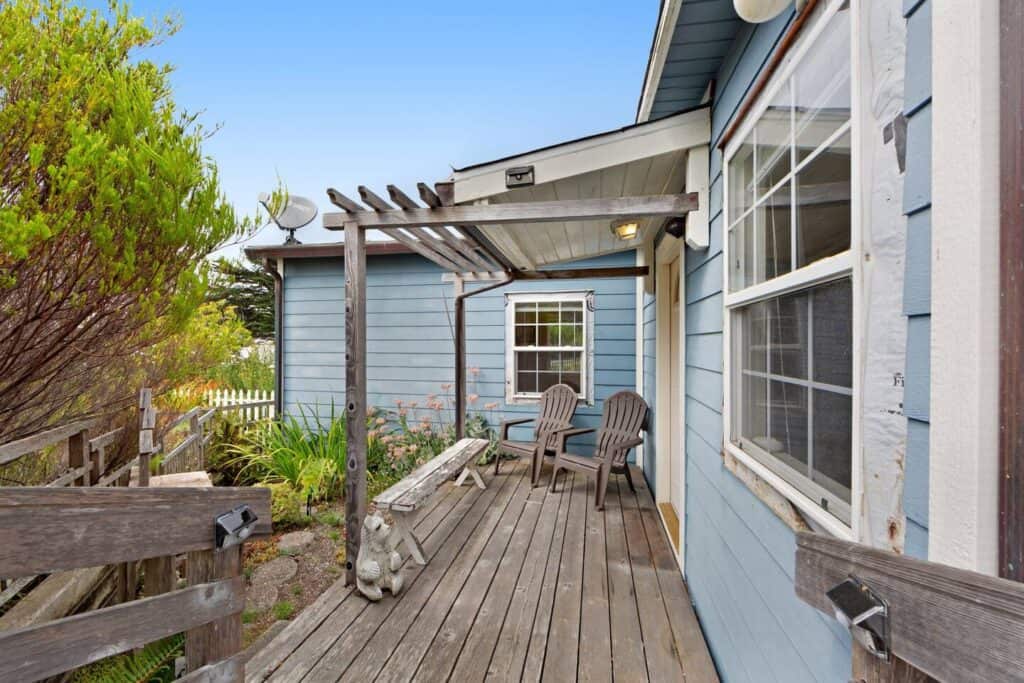 Headlands Cove Cottage is a beautiful resort for two that'll leave you breathless. The homely, inviting interior has been decorated with plenty of care and attention, and it's very spacious to boot.
The real selling point of the cottage, however, is the beautiful nature surrounding it – stepping out onto the patio, you can look in virtually any direction and find something worthy of a picture.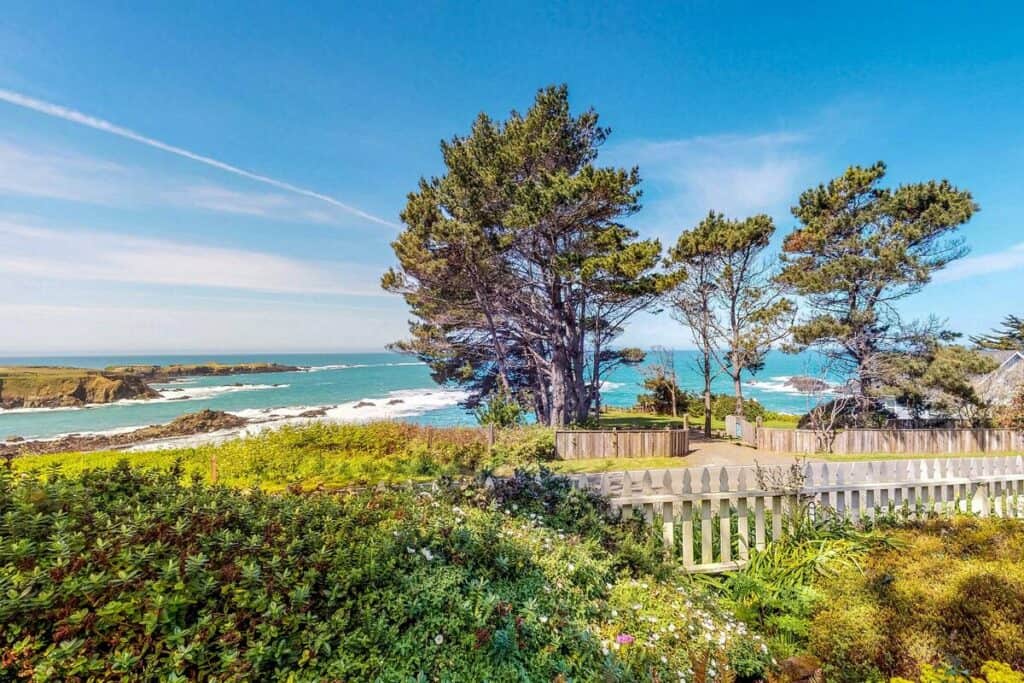 The property boasts incredible views of the ocean and nearby cliffs, and it's surrounded by beautiful oceanside flora, including Matilija poppies and rhododendrons.
Everything you could hope to see and experience in the area is within walking distance – between Mendocino Headlands State Park, Fort Bragg, Jug Handle Beach, and the ridges with spectacular views, guests of the Headlands Cove Cottage won't be running out of things to do anytime soon.
On top of that, the town center is mere minutes away, making this rental's location both scenic and convenient.
Redwood Rest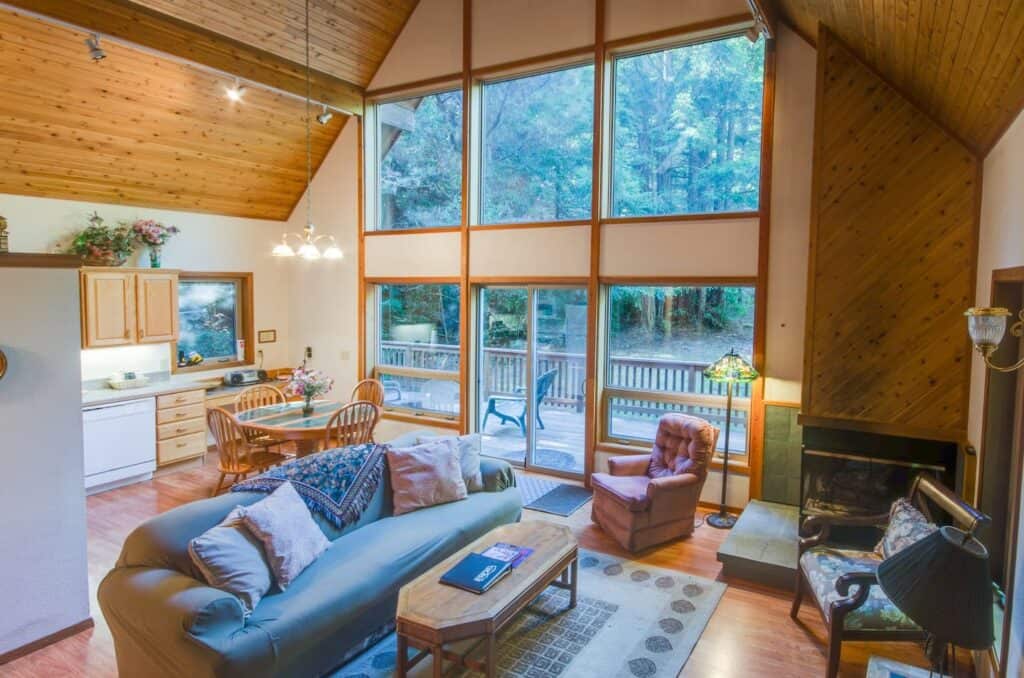 This resort is a beautiful little traveler's hub located in the Mendocino Redwoods.
The house is incredibly stylish and luxurious – on top of the furniture being modern, the colorful décor and incredible window views leave you with plenty to admire both inside and outside.
The interior is quite spacious and is a great place for friends to congregate, and the deck wraps around the entire house, giving you letting you admire the redwoods from every conceivable angle.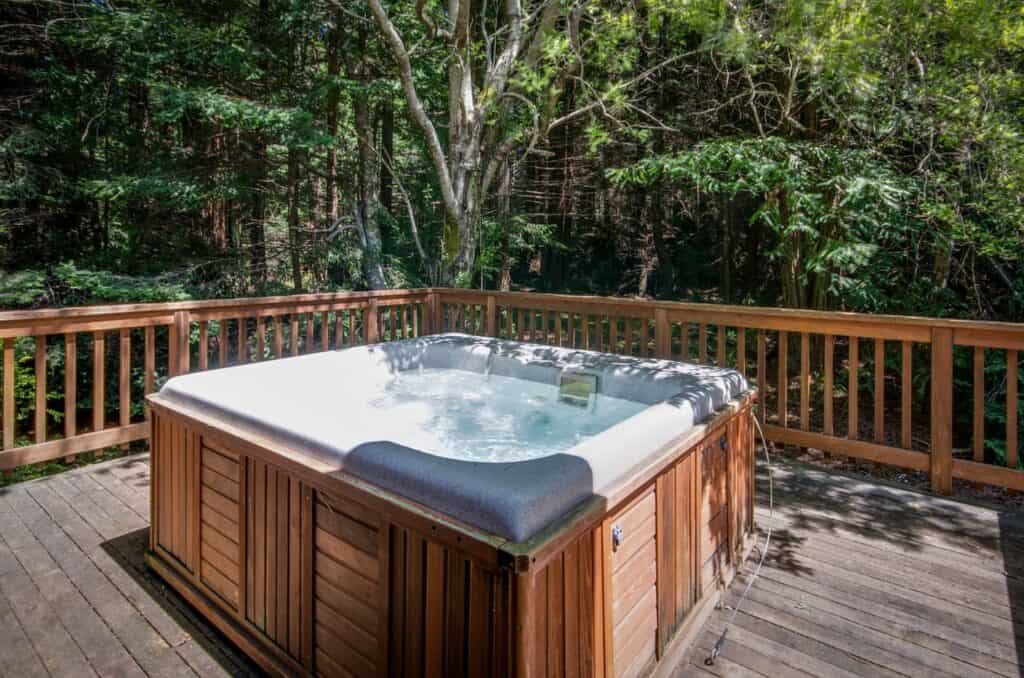 You can spend your days hiking and exploring, and then relax in the evening in the outdoor hot tub underneath constellations of stars.
Needless to say, the redwood forests will be the main and most convenient attraction during your stay, thanks to the property's convenient proximity to parks such as Mendocino Headlands, Jug Handle State Reserve, and Russian Gulch.
There's plenty more to explore in the area, though – Big River State Beach is just over a mile away, and you can easily walk to downtown Mendocino and truly immerse yourself in California's incredible beach ambient and culture.
Seaside Studio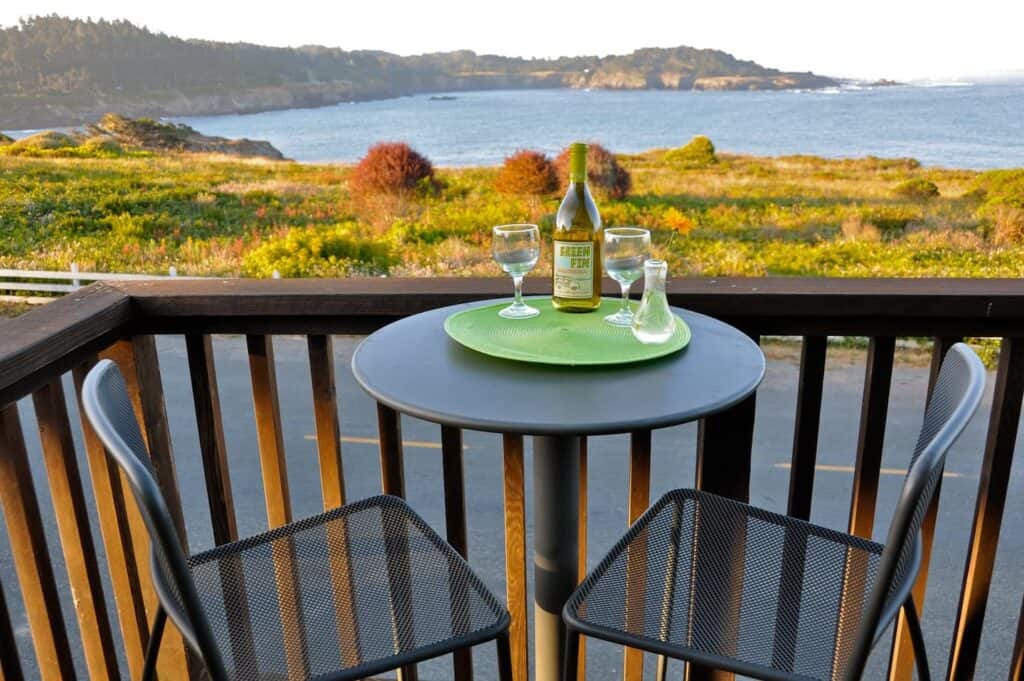 Few locations in the area will let you soak in the beauty of Mendocino like Seaside Studio.
This incredibly romantic apartment is very well illuminated and equipped with all the essentials, along with several miscellaneous amenities – you'll have access to yoga mats and basic workout equipment, and if you're musically inclined, you can set the mood by playing the piano for your significant other.
With that said, the apartment's most striking feature would have to be its incredible balcony, which has a panoramic view of the Pacific Ocean, as well as a barbecue grill and seating to enjoy the sunrise and sunset. If that wasn't enough, you can enjoy the beautiful starry sky thanks to the skylight.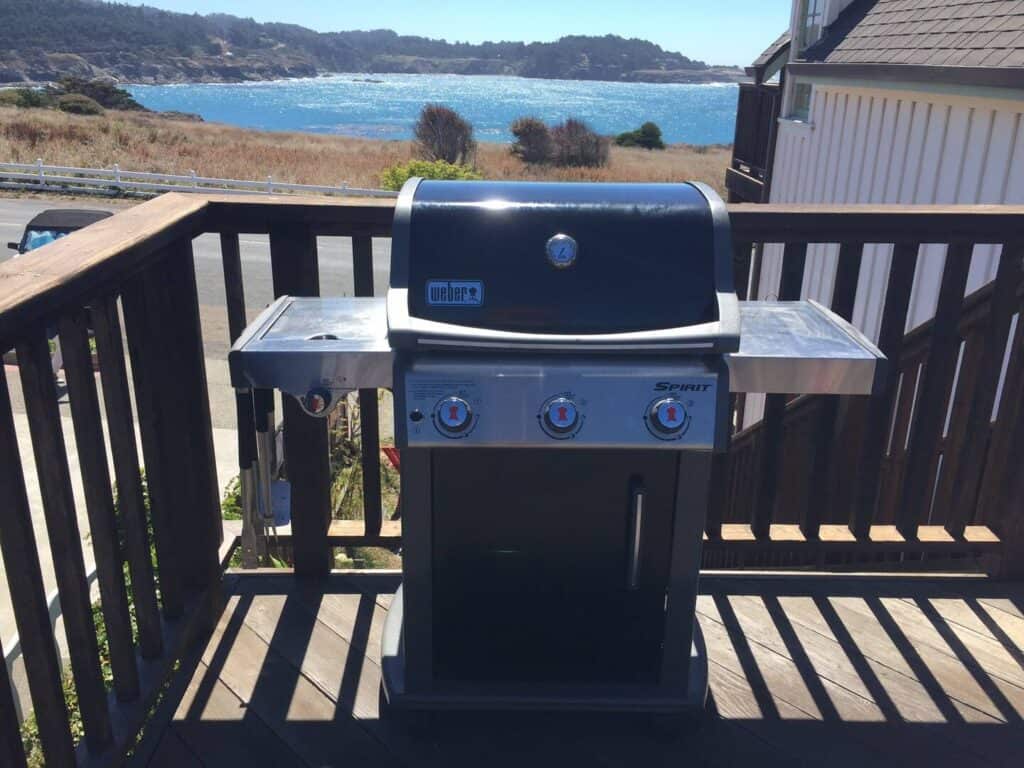 The setting of the house manages to be incredibly scenic without leaving you isolated – it's located on Main Street, meaning you'll have quick and easy access to every notable beach, locale, and hiking spot in the Mendocino area.
In addition, a walk down the street will get you to Mendocino Headlands State Park in no time at all. There's plenty to see in Mendocino, and the floor below the apartment is the owner's boutique, so they'll be available for questions throughout most of the day.
Ocean View Water Tower Cottage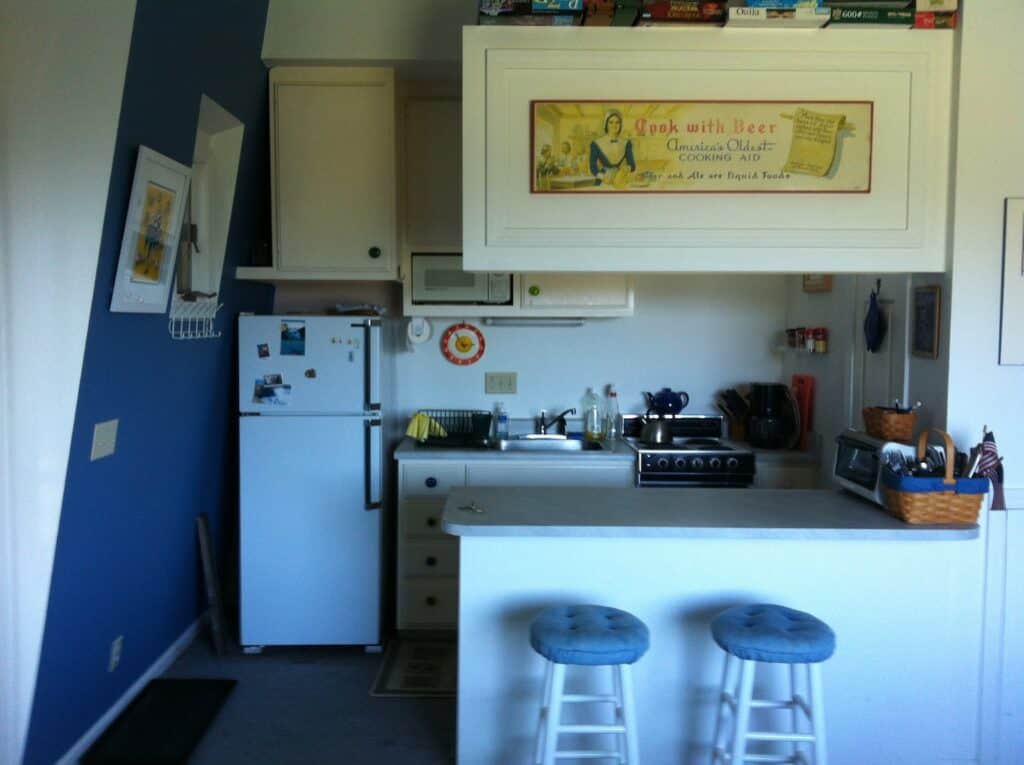 The best word to describe this particular rental would be unique – built it one of Mendocino's once-popular water towers, this cottage is rather minimalist yet covers all the essentials!
The bathroom and kitchen are both in the downstairs area, which has some great views of the ocean, as does the upstairs sleeping area.
Despite the relatively small size, the inclusion of bedding on the first floor makes this a perfectly viable rental for a small family or group of friends. Guests are welcome to use the deck of the main house, the barbecue grill, and the bocce ball court.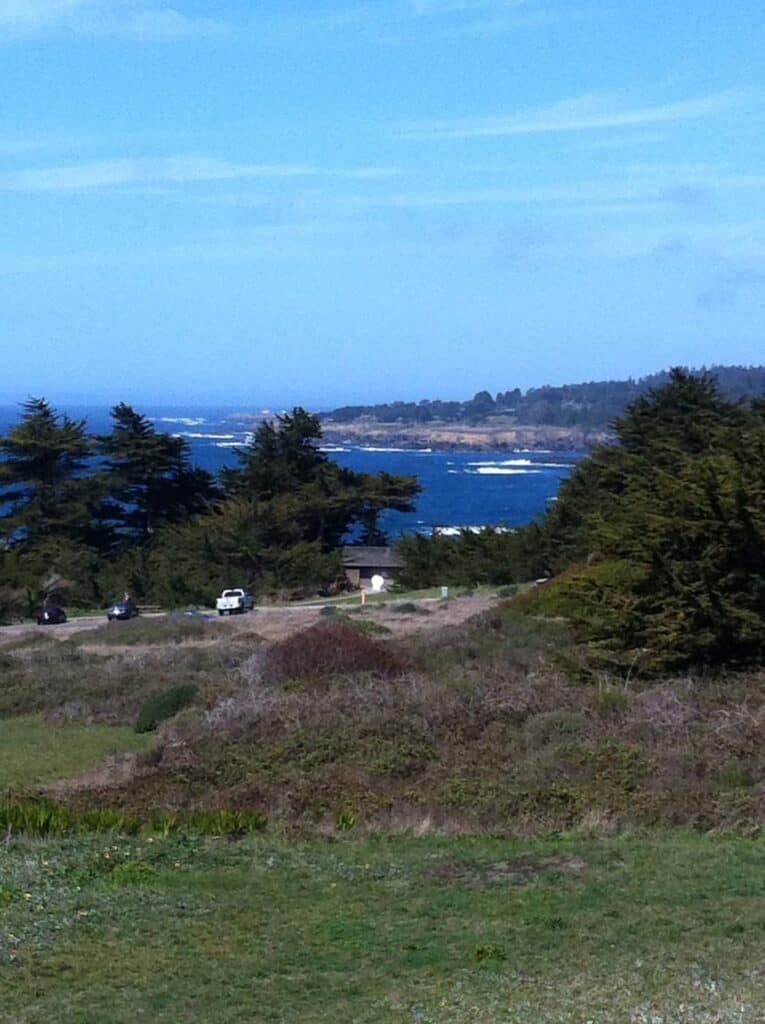 Thanks to being located on a dead-end road, you can expect your stay at this cottage to be relatively peaceful and quiet.
The great thing about Mendocino is that you can get anywhere on foot no matter where you are, and this property is no exception.
Also, nature lovers will appreciate how close the tower cottage is to the redwood forests, Russian Gulch, and the bluff trails that lead into Mendocino Headlands State Park.
Sears Tower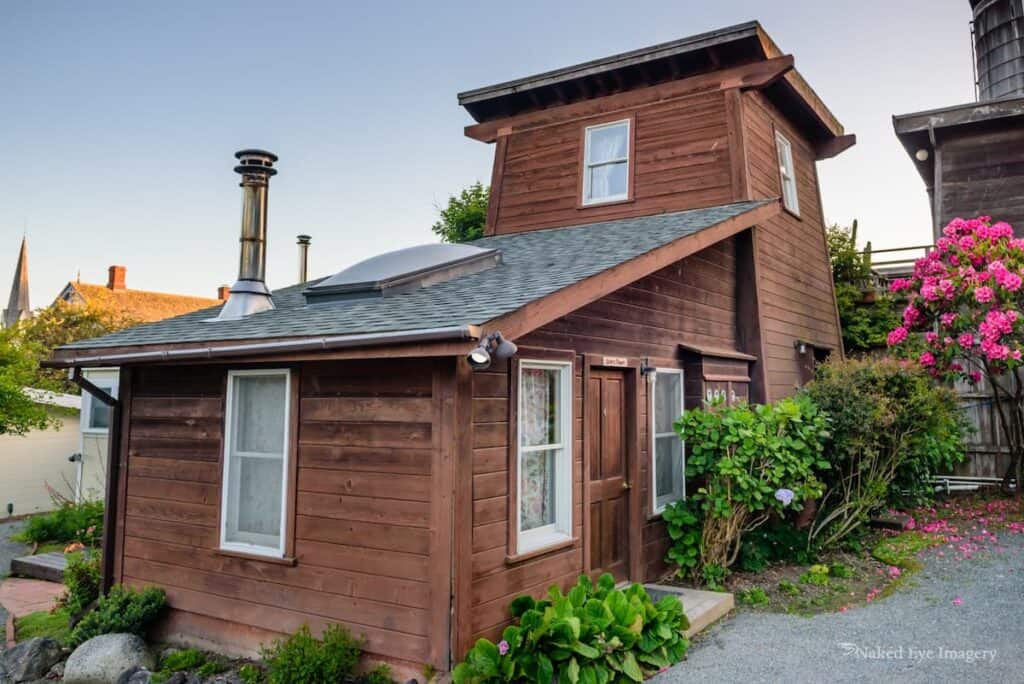 This beautifully furnished water tower is one of the properties belonging to Sweetwater Inn & Spa. It's a great family retreat that also welcomes dogs!
The downstairs area makes economic use of its space, managing to fit a large bed, a kitchenette, and a cozy living room with a wood-burning stove and plenty of natural light.
A spiral staircase leads to the upstairs area, which has a bedroom and overlooks the village of Mendocino. What's more, guests will have free access to the communal Sweetwater Eco Spa, which features a hot tub and sauna!
Despite there being several other rentals on the property, you can expect your stay to be very quiet and private outside of the aforementioned spa area.
On top of being close to Mendocino's best locales (with the nearest bar practically right next door), the water tower is also near Russian Gulch State Park and Mendocino Coast Botanical Gardens.
Mid-Century Bungalow in the Woods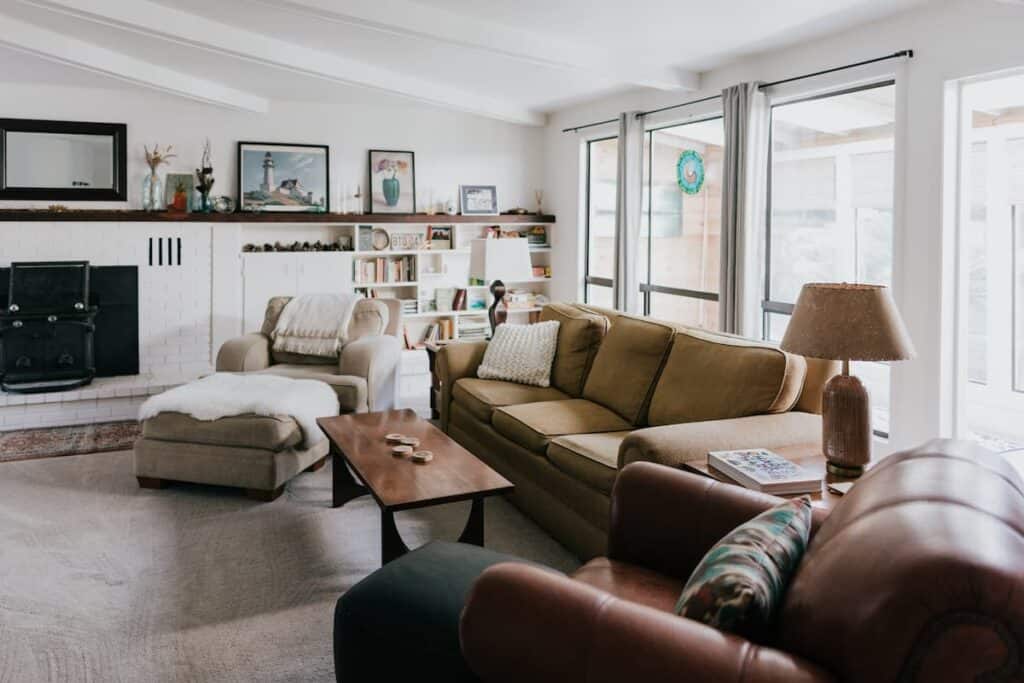 Staying at this beautiful forest bungalow is an experience you won't soon forget. This nature retreat spans about 1.5 acres and is surrounded by lovely redwoods.
The inside of the house is much more luxurious than you might expect from a bungalow in the woods – virtually every wall and bookshelf is packed with colorful decorations, and the furniture itself is very sleek and modern.
Among other things, the living room area has countless books and a wood fireplace, and there's even a sunroom that's ideal for yoga or just general relaxation.
Stepping outside, you can enjoy a great view from the deck which boasts an outdoor shower and hot tub. Also, there's a barbecue grill and a lovely apple tree in the garden.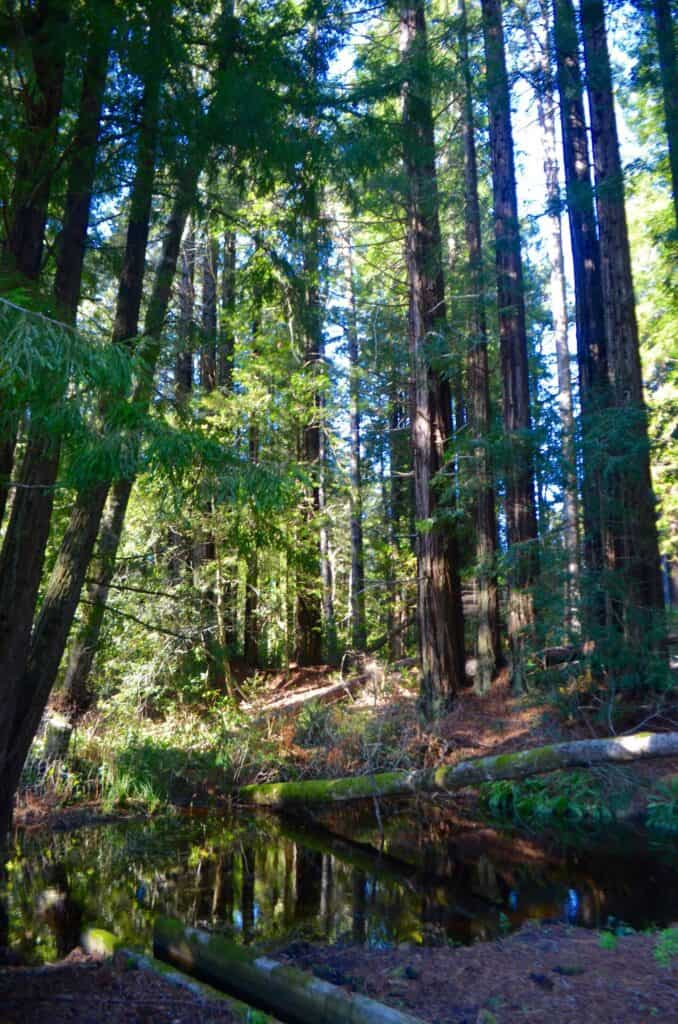 Most other properties in the area include large private plots, so you'll have the entire premises to yourself with little to no noise.
This is a great place to come with kids – on top of the beautiful nature in the area, there's a playground just down the road.
The property is within walking distance of Mendocino and is quite close to a few parks in the area, so you won't be needing a car to get around.
Headlands Cove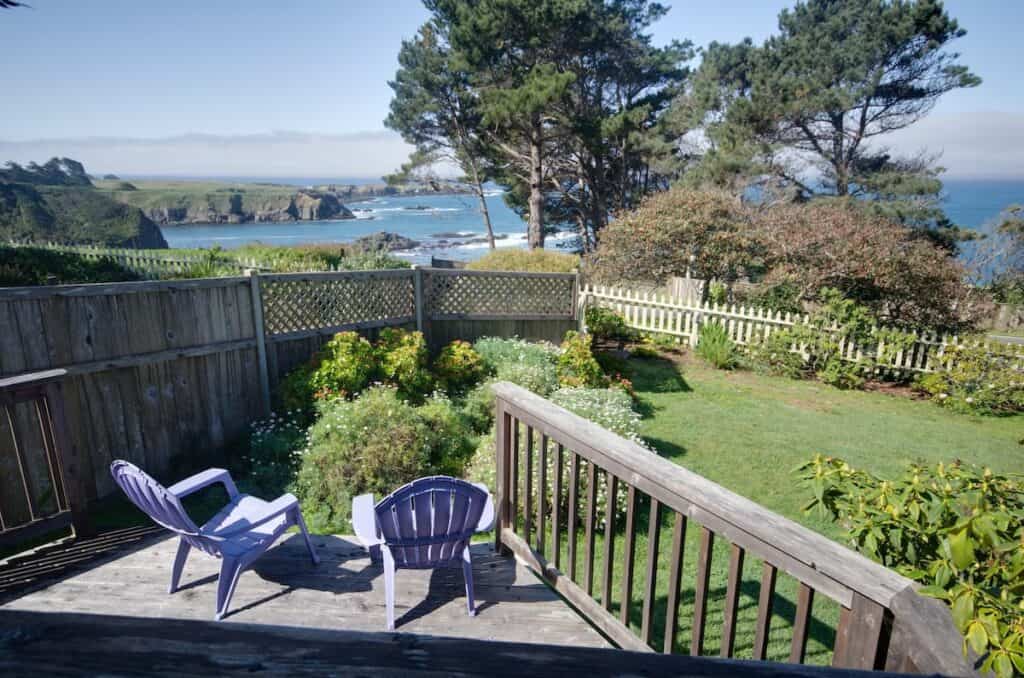 Headlands Cove is exactly the type of place you imagine when you think about vacationing in Mendocino.
The interior of the house couldn't be more charming – the combination of the furniture's warm colors and the incredible ocean views from the windows makes the Cove incredibly easy on the eyes.
The living area is very cozy and makes for a great place to enjoy a movie by the fireplace. You'll have access to multiple decks, so you'll have plenty of space for an outdoor cookout or just for sitting around and admiring the scenery.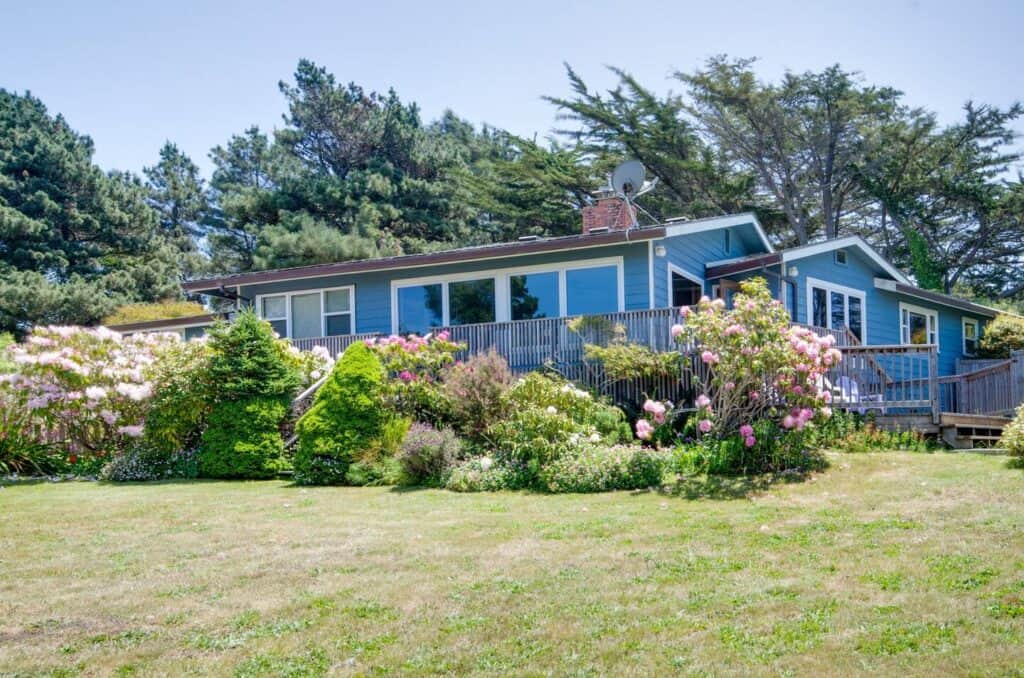 The property offers incredible views of the State Park and Agate Cove and is surrounded by beautiful flowers and greenery.
The house is located less than a mile from Mendocino's center, and there are plenty of great hiking spots in the immediate area. Other nearby attractions include the lively city of Fort Bragg and Jug Handle Beach.
Thanks to its scenic surroundings and convenient location, you'd be hard-pressed to find a better rental for a summer vacation on the California coastline.
Redwood Cottage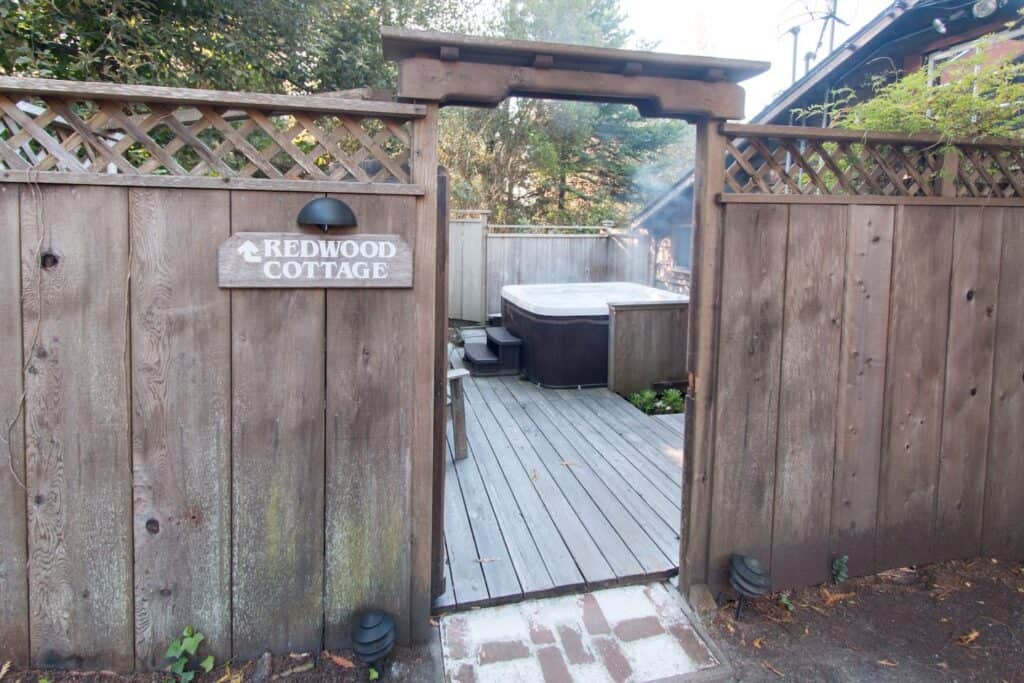 The Redwood Cottage offers you a chance to connect with nature while still having access to all the comforts of home — including bringing your pup!
The house is encircled by redwood trees, keeping it shady and cool, and between its two floors, the interior is very compact yet equipped with everything you need. The living area is a great place to relax in the evening, and the upstairs bedroom is incredibly cozy.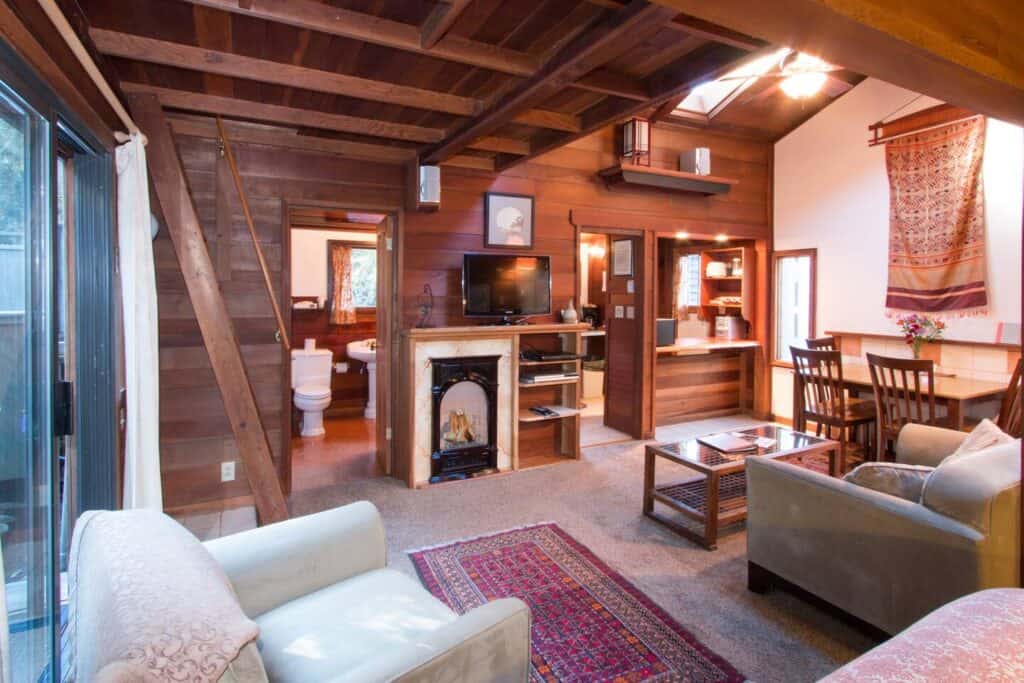 Outside, you'll be able to take in the beauty of the woods as you relax in your own private hot tub or the provided lawn chairs. Dogs are also permitted on the property, and the surrounding nature is perfect for them to explore and frolic in.
The cottage is part of Sweetwater Inn & Spa, but it is very well-enclosed, so you can expect complete privacy even in the hot tub. Also, thanks to the convenient location, you can get to a number of great Mendocino spots on foot.
Mendocino Beach House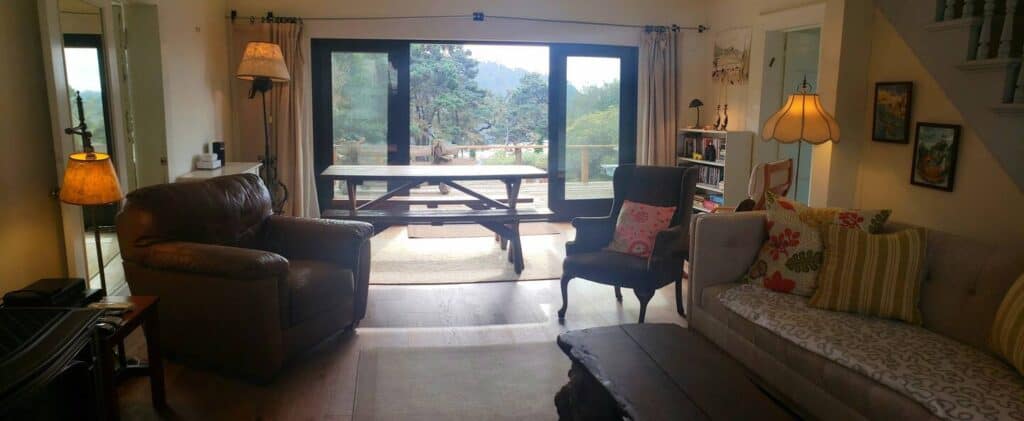 The most inviting houses aren't always necessarily the most luxurious ones, but rather ones that actually feel like homes, and this house is certainly one of these.
One of the oldest houses in all of Mendocino, the house's rustic interior has been maintained with attention and care.
Between its 3 bedrooms, cozy living area with a fireplace, and large yard area, this house is an ideal pick for families looking to stay in Mendocino long-term.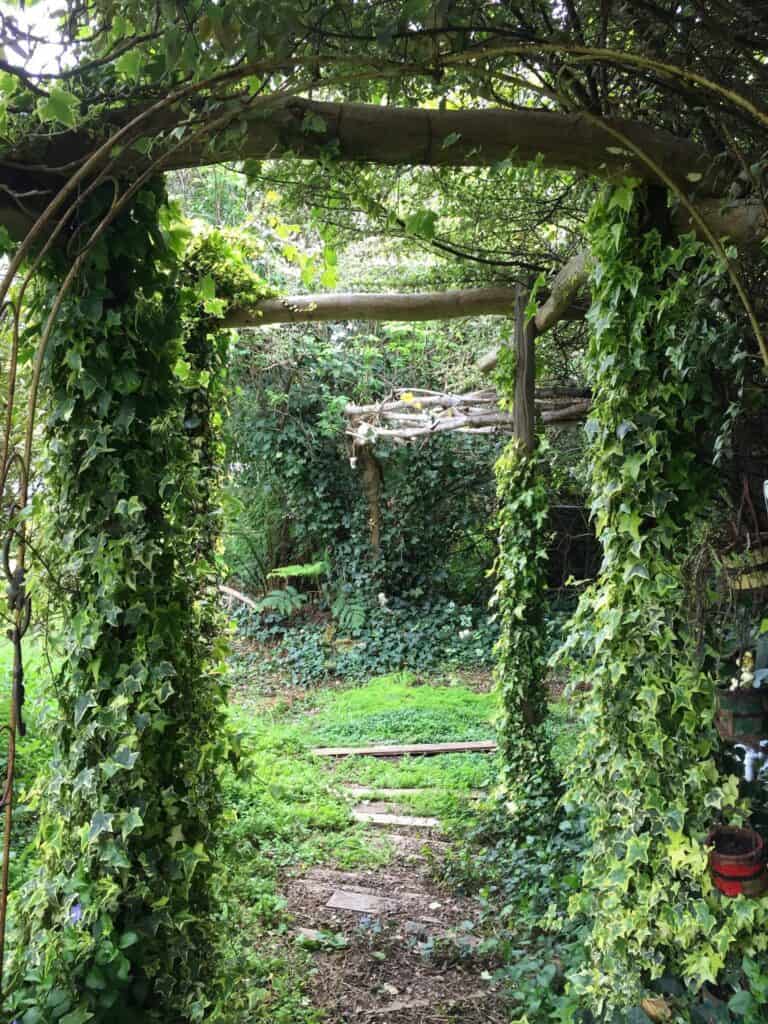 Whether you're looking from the upstairs bedroom or the large deck, you'll have no shortage of great views of the ocean and greenery.
A major draw of this particular rental is its location – not only is there a path connecting it directly to the beach, but you can also walk to practically any store and restaurant in Mendocino from here.
If you want a place to unwind, you can hit the massage spa and hot tub right across the street from the house.
Woodsy Cozy Cottage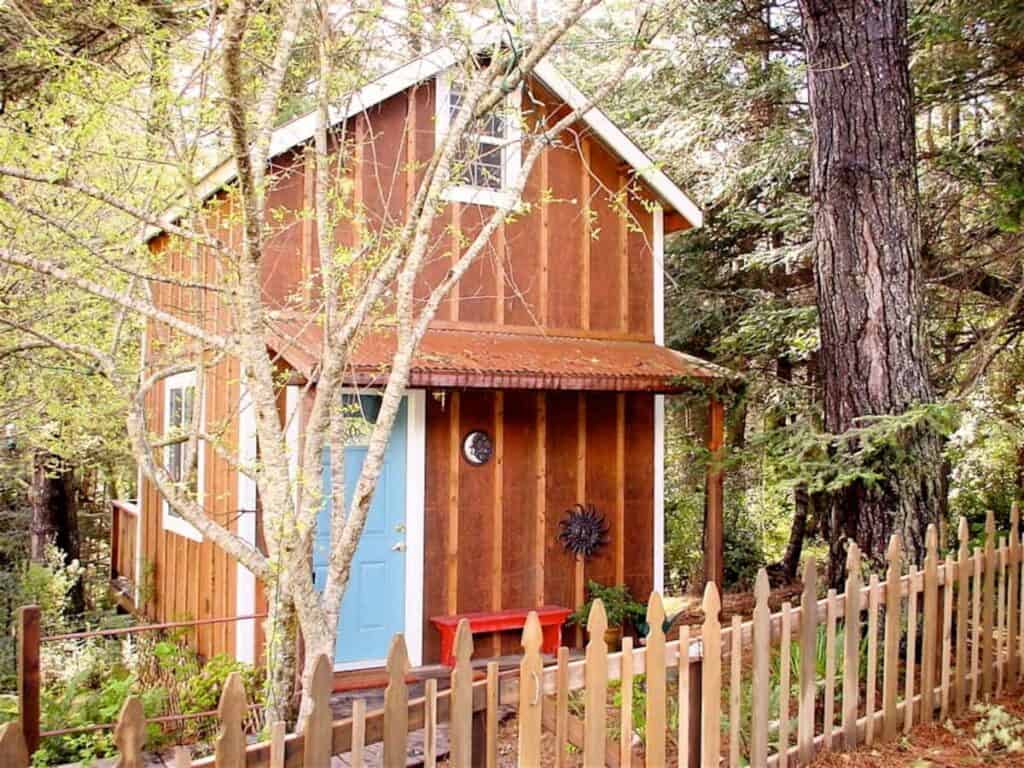 This forest getaway is great for a couple or a solo traveler looking to unwind in nature.
The house manages to get around its small size by having a detached bathroom right by it, and the main house has a relaxing sitting/living area, a cozy bedroom, and a small deck with a barbecue grill and a great view of the forest.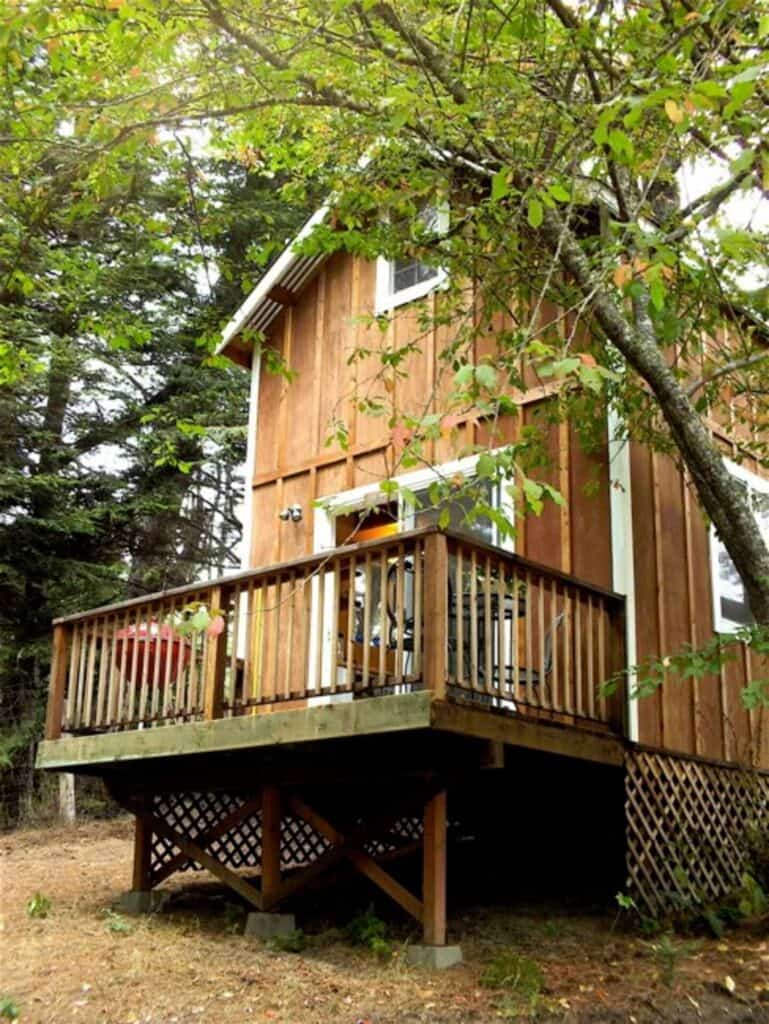 Away from the main road, the cottage is ideal if you want your stay to be as quiet as possible.
A great thing about this guesthouse is that you get complete privacy and a quintessential forest experience while actually having really good connectivity – not only is the beach within walking distance, but you'll also be very close to the village center and all the main happenings in Mendocino.
Fort Bragg and Russian Gulch aren't far off either, so you'll have plenty to explore in the area if you book this rental.
Pin This Mendocino Airbnb Guide!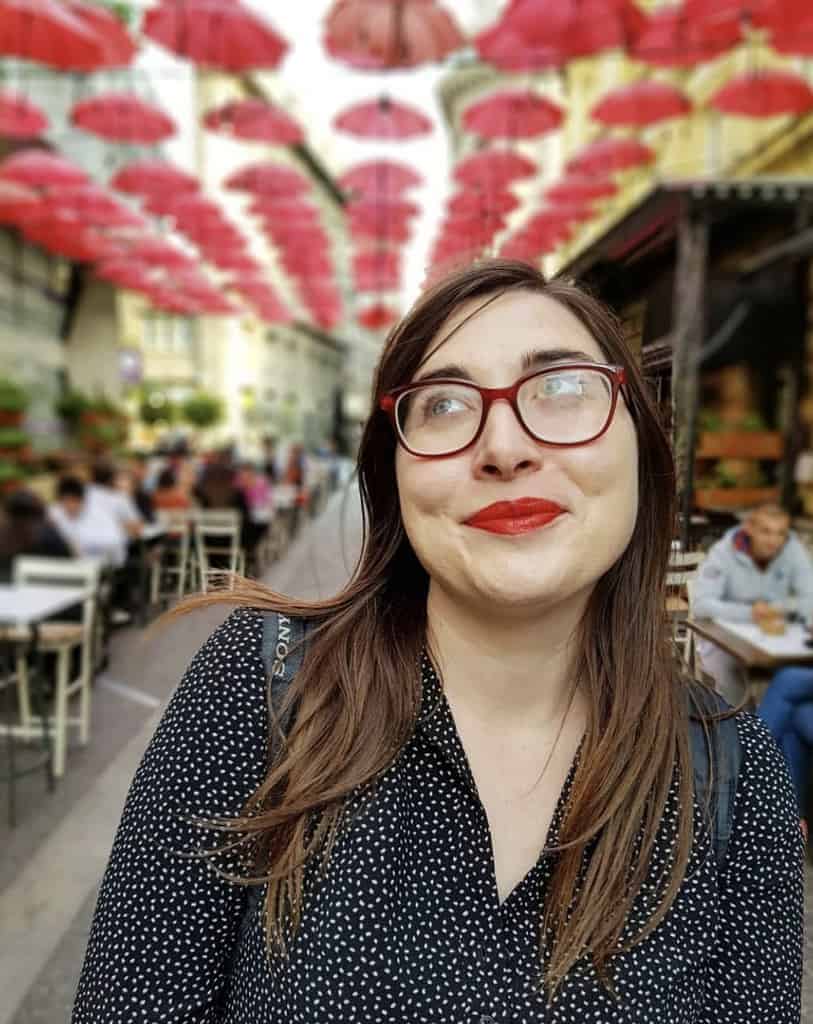 Allison Green is a travel blogger, writer, and podcaster who grew up in the Bay Area of California. She has spent time living in New York, Prague, and Sofia, but has returned to live in the East Bay. She has traveled to 60 countries before the age of 30 while running several digital travel publications. Her writing and podcast have been featured in Forbes, CBC Canada, National Geographic, the Huffington Post, and CNN Arabic, amongst others. She's obsessed with bouldering, houseplants, other people's pets, and anywhere she can see the ocean.