Paso Robles is famous for its wineries, breweries, and wealth of outdoor activities to enjoy.
Close to San Luis Obispo and not a far detour from the beloved Pacific Coast Highway, Paso Robles is an easy getaway from Los Angeles or Santa Barbara, and frankly, it's a destination worth traveling to from anywhere in California if you're interested in discovering one of California's lesser-known wine regions.
While Sonoma and Napa get a lot of the credit, Paso Robles wines are delicious with unique terroir — influenced by a variety of geological formations, from volcanic to sandstone to granite. Plus, its diurnal shift from scorchingly hot daytime temperatures to cool, crisp nights create excellently acidic, exceedingly tasty wines you'll love.
But enough blabbering about the Paso Robles wine scene — more on that in a future post!
You're likely wondering where to stay in Paso Robles on your next getaway, and I'm here to help you out with this curated list of the best places to stay in Paso Robles, Airbnb edition!
Best Places to Stay in Paso Robles: Airbnb Options for All Budgets
Best Paso Robles Home for Med Vibes: Country French Cottage
Note: This post contains affiliate links, which earn me a small commission at no extra cost to you if you make a purchase using one of these links. Thank you for supporting this free content!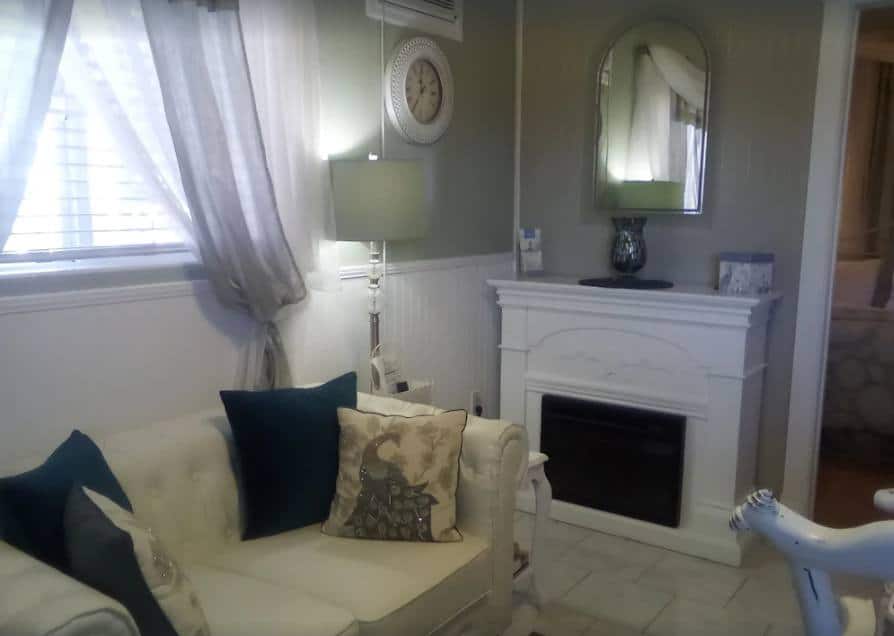 Featuring a tastefully decorated interior and multiple windows with stunning views, this house spares no expense in assuring a comfortable stay for its guests.
Nothing can compare to the feeling of strolling down the 5-acre grounds surrounding the property, admiring the gorgeous Mediterranean-inspired vines that decorate the exterior feels grandiose and epic.
The cottage suite is perfectly located in the countryside of Paso Robles and only a couple of minutes to downtown Paso Robles. The suite is also close to many of the sought out wineries.
In this place, you can take advantage of the hot tub, a cozy fireplace, a fully stocked kitchenette, a large bathroom, and a bedroom with a queen-size bed.
Enjoy the sunset or gaze at stars from your private patio. Take advantage of the Neptune swimming pool, as well as the pond, the gardens and paths, and the views of the rolling hills. The area is also great for biking and walking.
Wine, food, and adventure await you over the region's beautiful hills, and you'll become well-acquainted with some of the West Coast's most beautiful hiking trails.
Not to mention, with a location this great, a quick road trip to San Luis Obispo or the incredible Morro Bay isn't out of the question either!
Best Paso Robles Home for a Rustic Getaway: Cabin Retreat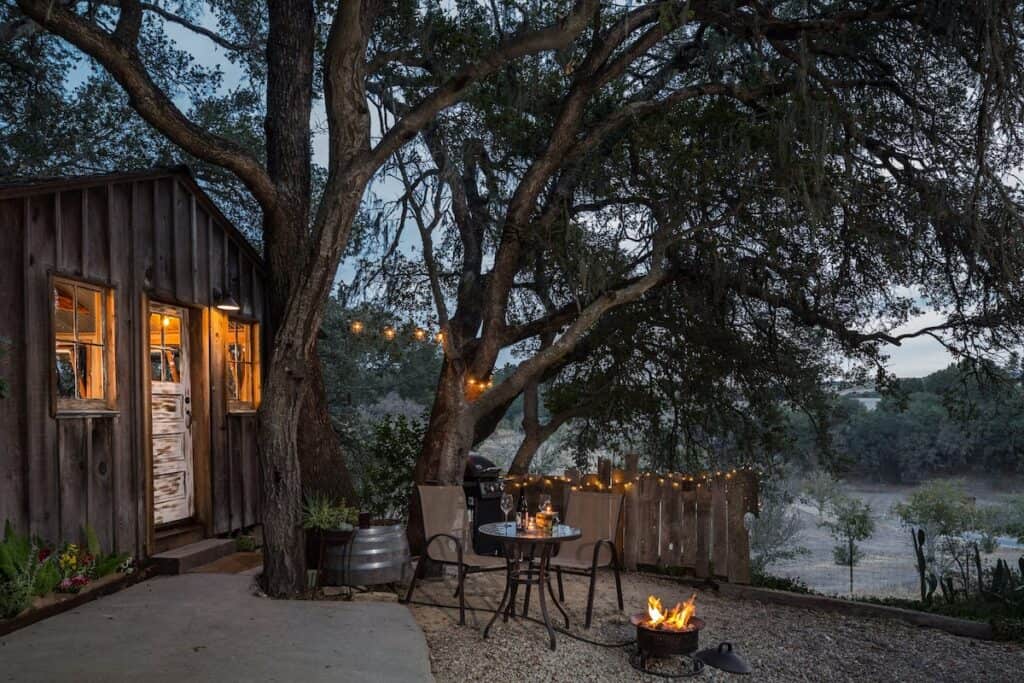 There are a staggering amount of beautiful rentals for two in Paso Robles, but bringing your partner to this incredible cabin is sure to score you some serious partner points.
Even something as mundane as washing dishes is made interesting by the incredible window views!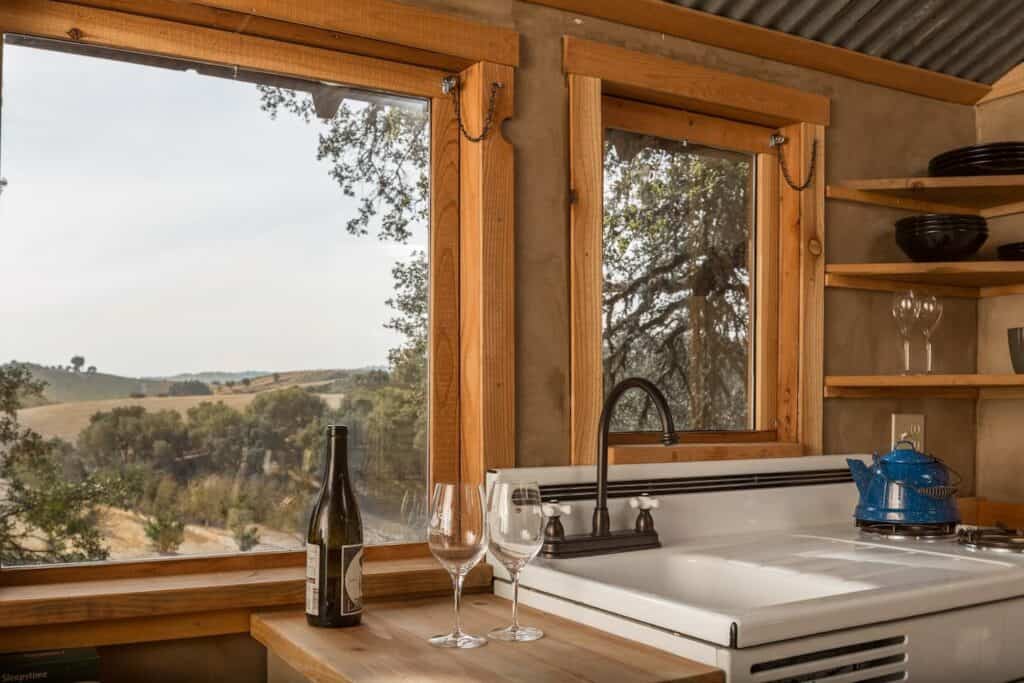 Somehow managing to look both minimalist and luxurious, the interior is a modern take on the classic fairytale home, and it's backed by an incredible outdoor sitting area with a fire pit for those particularly chilly nights.
On top of that, the property views of the nearby valley are awe-inspiring, to say the least, doubly so if there happen to be grazing horses!
Located right by the highway, the house is connected to everything you could want to see in Paso Robles and the Central Coast's wine country.
Surrounded by beautiful wineries from virtually every direction, this house can (and should!) be the romantic getaway you'll remember for life.
Best Paso Robles Tiny House on VRBO: Cocavin Carriage House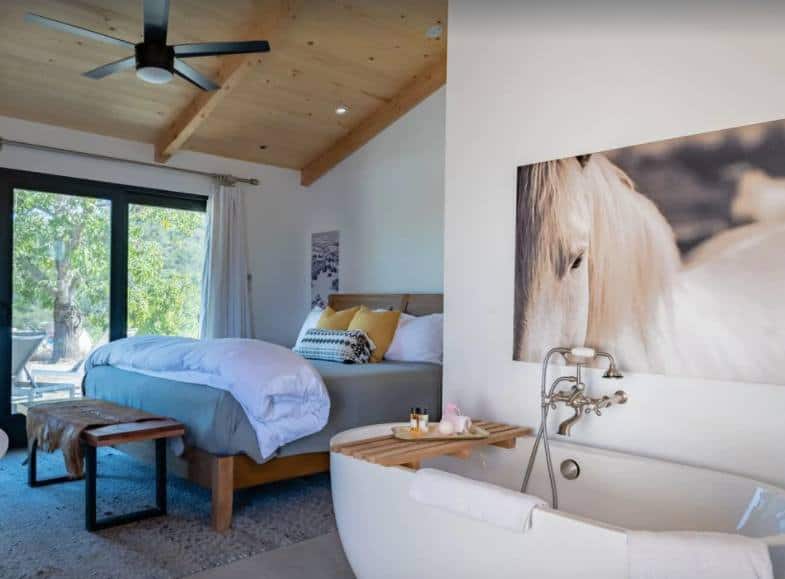 There's more to picking a vacation home than trying to find the biggest, fanciest house in a given region – sometimes, beautiful little tiny house retreats like this one are just what you need, especially if you're looking to unplug and connect one on one.
Although this is a place for two, it can also make for an amazing place for a solo traveler to lay his head in a unique and inspiring space.
The living quarters manage to fit everything you'll need for a comfortable vacation, and they top it off with some charming decorations and a boatload of personality.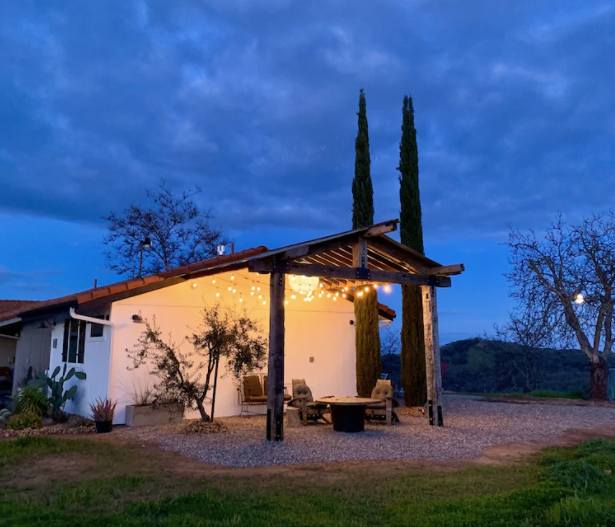 Offering a minimalist sanctuary in the heart of Paso Robles Wine Country, the Cocavin Carriage House delivers on quiet, modern, rustic-luxe style and is surrounded by vineyards and oak-covered hills at 1900' elevation with beautiful views.
Outside you'll enjoy your own covered patio with a gas fire pit table, BBQ, and spectacular sunset views over the vineyard and hillsides the impressive hawks and vultures soaring above.
Best Paso Robles Home for Groups or Families: Historic Vine Street Location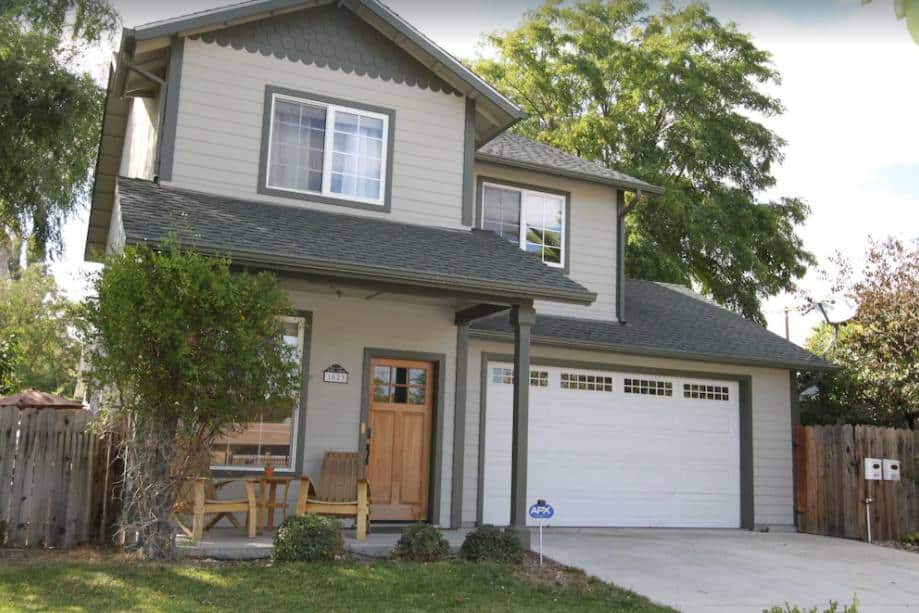 If you're looking to explore Paso Robles with a big group of friends or family, this would have to be one of your best options. Plus, who doesn't want the unique chance to stay just blocks from Historic downtown Paso Robles?
Although there's plenty of open space for everyone to get around, the house is far from empty – from the abundant seating options to the well-stocked kitchen, there's not much you could add that would make this cozy place any better!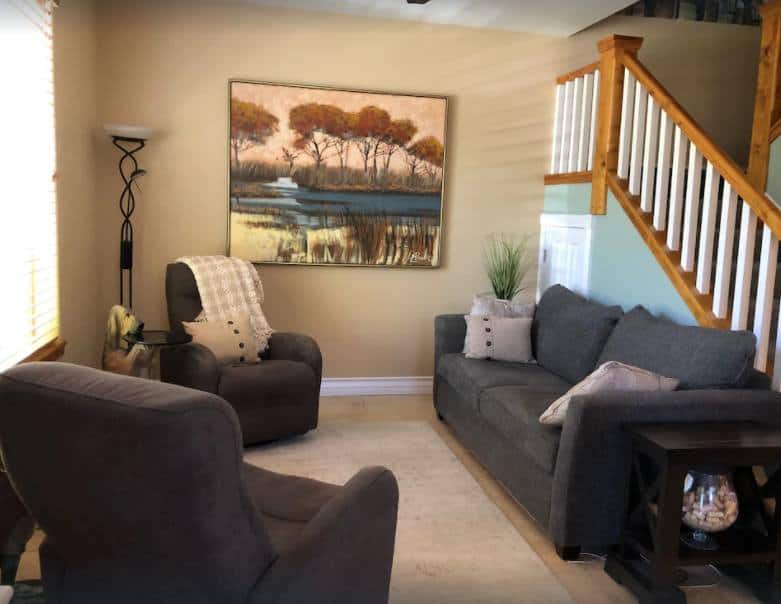 The patio is a great place for your friends or family to get together and fire up the barbecue grill after a long day out in Paso Robles, wine tasting, hiking, or road tripping!
Just outside town, a scenic drive takes you to over 300 wineries. At home, relax while enjoying the adjoining dining and entertainment areas. Upstairs, two bedrooms are furnished with king-size beds and the other two have queen-size beds.
During the mild Paso Robles evenings, move the festivities outside where you can BBQ dinner, sip wine on the patio, and ignite some friendly competition with a game of corn hole (bean bag toss).
The house is the perfect place to enjoy a bottle of California's finest wines!
Best Paso Robles Airbnb for Wine Geeks: Farmer's Fury Winery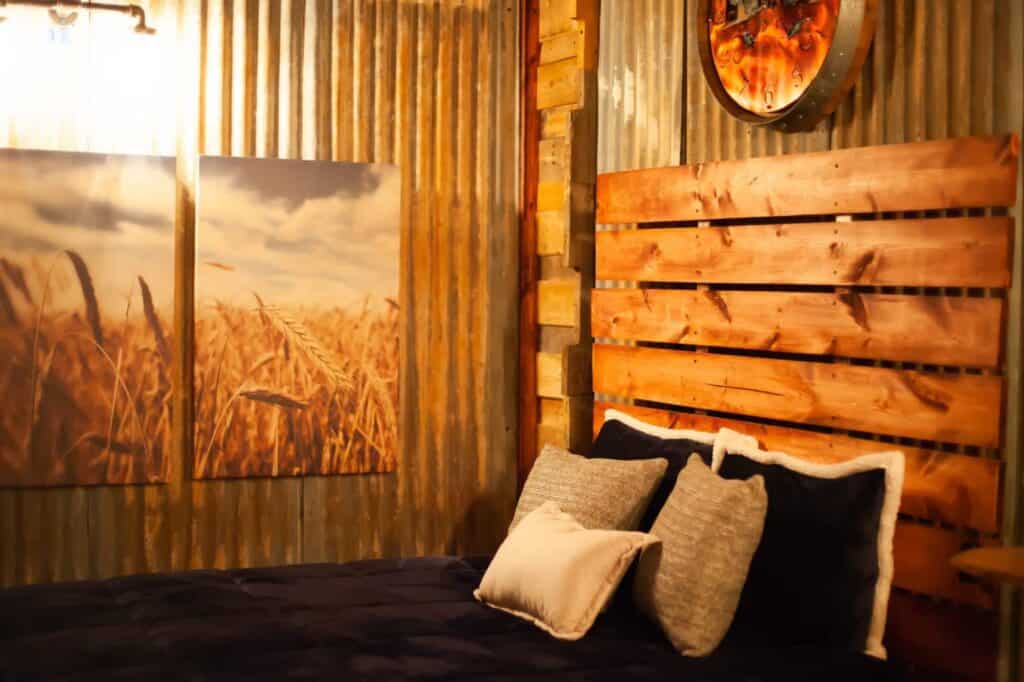 If there's one thing you know about Paso Robles, it's likely the amazing wineries.
So it follows that for the ultimate Paso Robles experience, staying in an actual wine tasting room overnight at the Farmer's Fury Winery is a perfect way to end the night.
Even if you're not big on wine-drinking, the bright, hardwood-accented interior will leave you feeling giddy.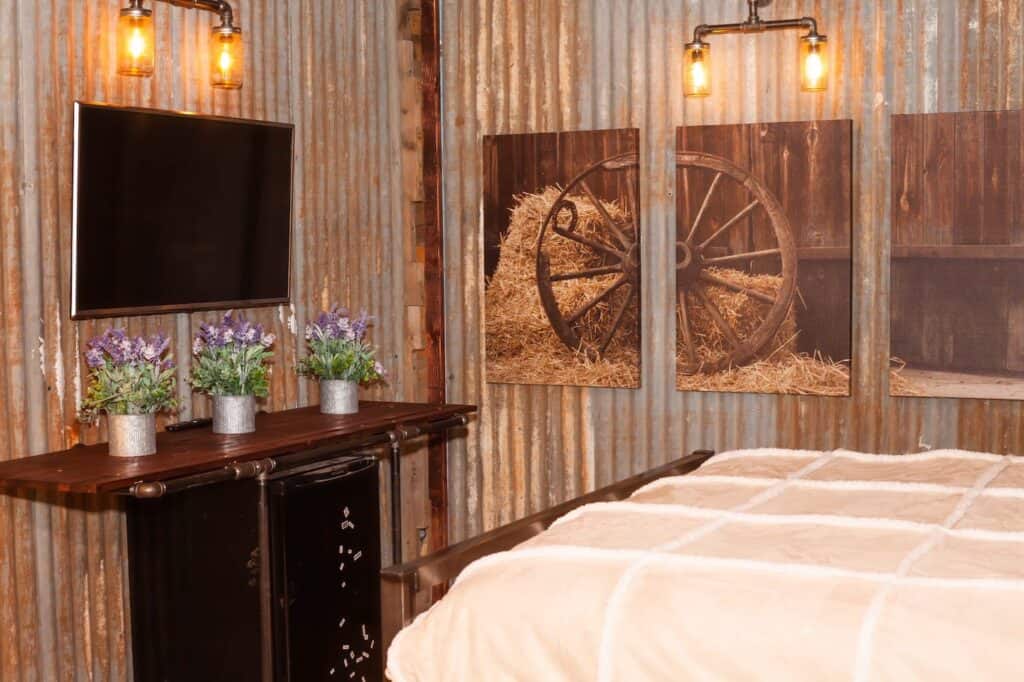 You'll be able to explore the entire property, and chances are you'll learn a thing or two about the wine-making process from the ever-so-helpful host.
With everything from golf courses and fitness centers to museums and heaps of competing wineries, the rental's immediate surroundings couldn't get much better.
If you're visiting with children, chances are they're not as interested in wine as you might be – thankfully, The Ravine Waterpark is also nearby, and it's a great place to enjoy a fun-filled family afternoon. Be sure to stop by Joe's One-Niner Diner before making your way home to enjoy the sunset with a glass of tasty California wine.
Best Paso Robles Home for a Special Occasion: Cowboy Cabin in the Vines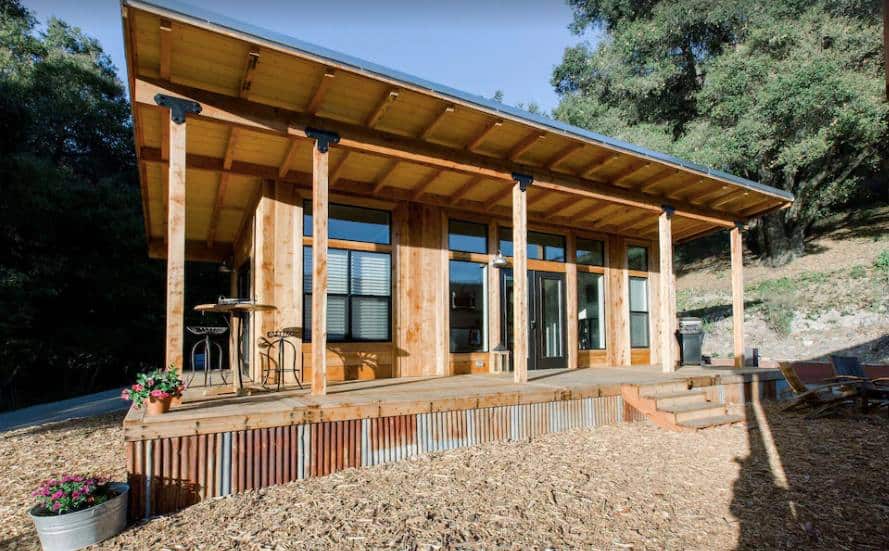 It's impossible to put into words just how gorgeous this modern cowboy accommodation is – luckily, the pictures do plenty of talking!
If you want to treat your significant other to an unforgettable California vacation, this Paso Robles home should be near the top of your list.
The incredibly sleek interior is like something out of a movie, and the abundance of natural light and unique decorations complement the wooden furniture and appliances perfectly.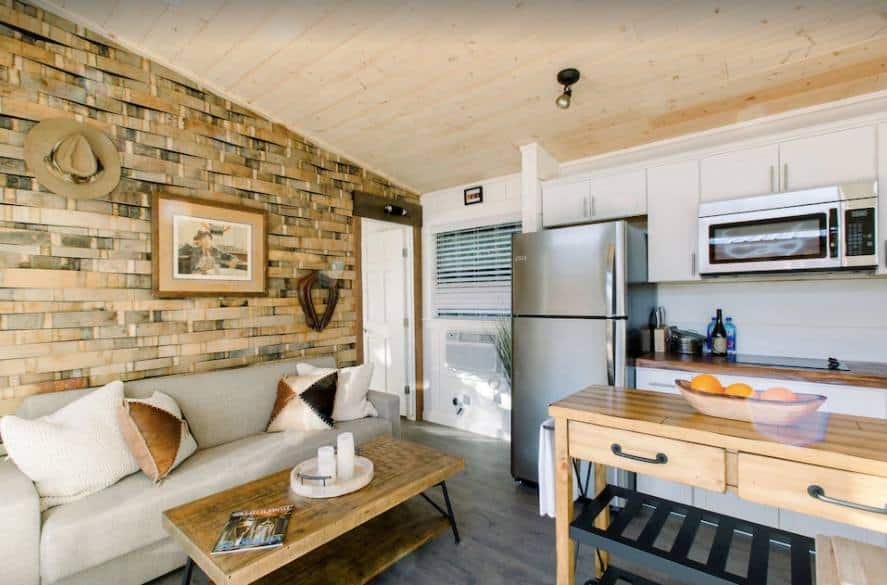 For something truly unforgettable, step out onto the patio and enjoy a view the likes of which you've probably never seen – keep your eyes peeled for squirrels and other adorable animals in the area!
Location-wise, this rental pulls off something very few others can – it lets you vacation in the countryside, all while being close to downtown and all those amazing wineries you've probably heard so much about.
This cabin was designed using creative imagination and re-purposing our old wine barrels, used old industrial parts in innovative clever ways, and creating furniture from old trees from the property.
Best Paso Robles Airbnb for Couples on a Budget: Private Suite in Paso Wine Country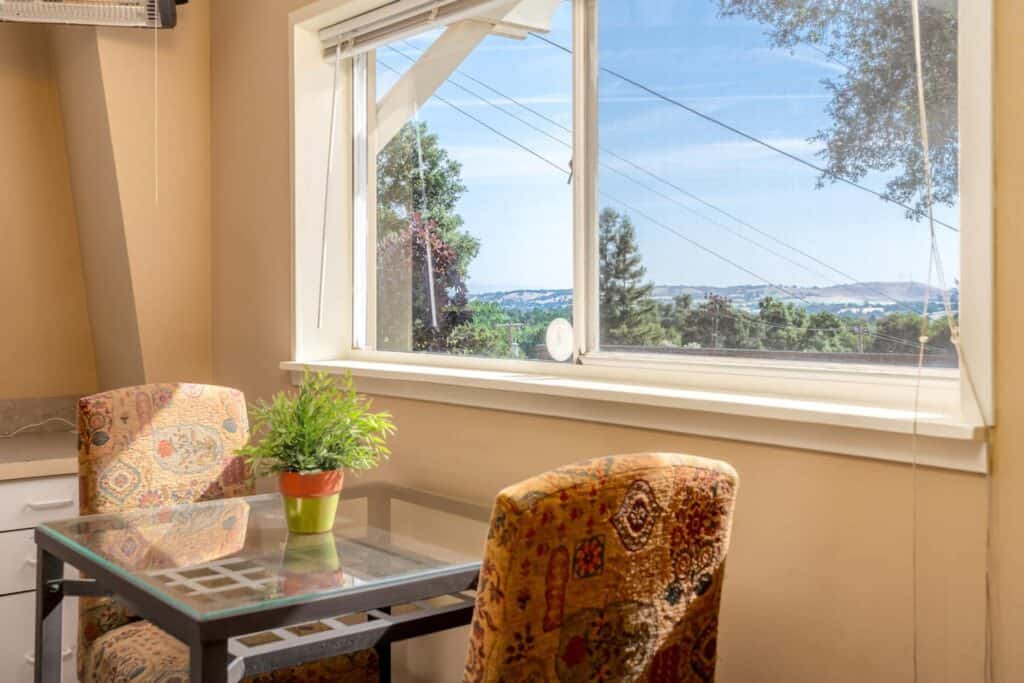 If you're looking for the ideal location for wine and food tasting in Paso Wine County for a couple's trip, but you're sticking to a budget, this suite will not disappoint you!
This single-floor apartment is the definition of clean, and it's hard to decide which of the rooms offers the more impressive view of the sunrise!
The spacious interior allows you to spread out and relax, and the color palette is incredibly vibrant and colorful without ever wandering into kitschy territory.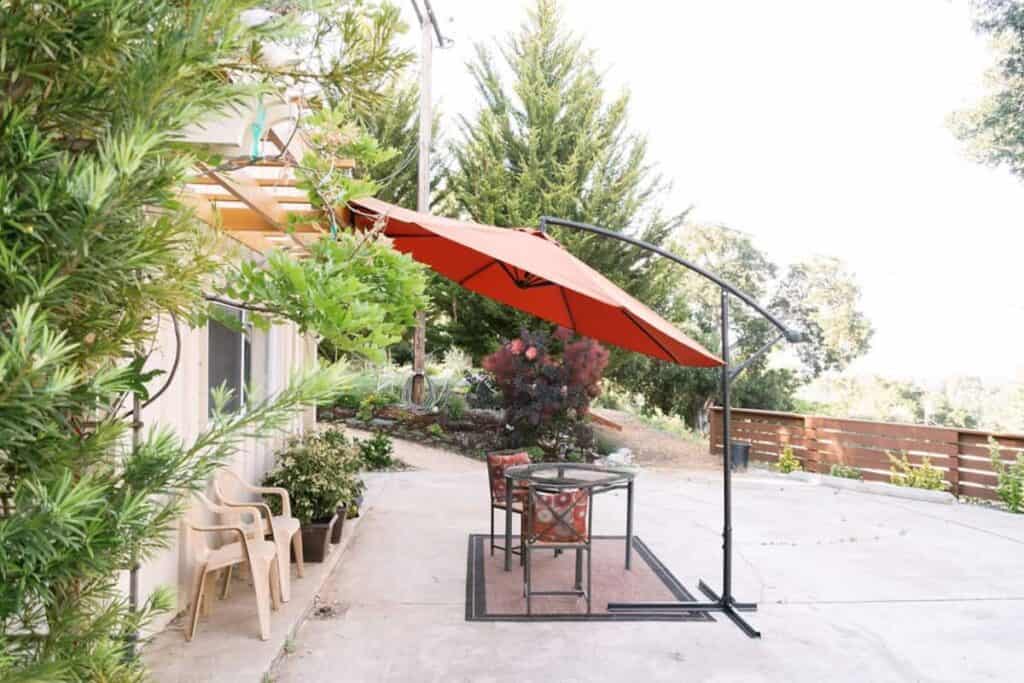 The location just couldn't any better. To start with, the suite is located in historic Templeton, perfect for sightseeing, and it's within walking distance of a park, as well as various cafes, wineries, and restaurants.
You can expediently get to Paso Robles in 5 minutes by car, and San Luis Obispo, Morro Bay, and Cambria are only half an hour away.
Lastly, the easy access to Highway 101 means you can cruise along the countryside and park your car at the sight of something truly spectacular… which, given the surroundings, will be basically anywhere!
Best Pet-Friendly Paso Robles Airbnb for Couples: Cowgirl on Vine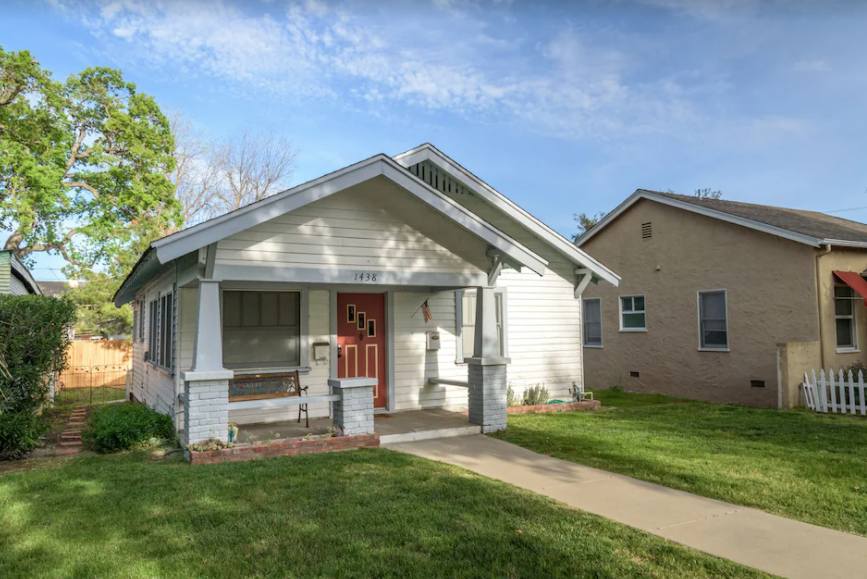 This cozy and bright house is bound to make you feel at home with its charming decorations and wholesome aesthetic.
Vacation homes in Paso Robles don't get much cuter or tidier than this, and the cozy furniture will make it hard to get out of the house.
Special mention goes to the deck, which offers amazing views of Mother Nature!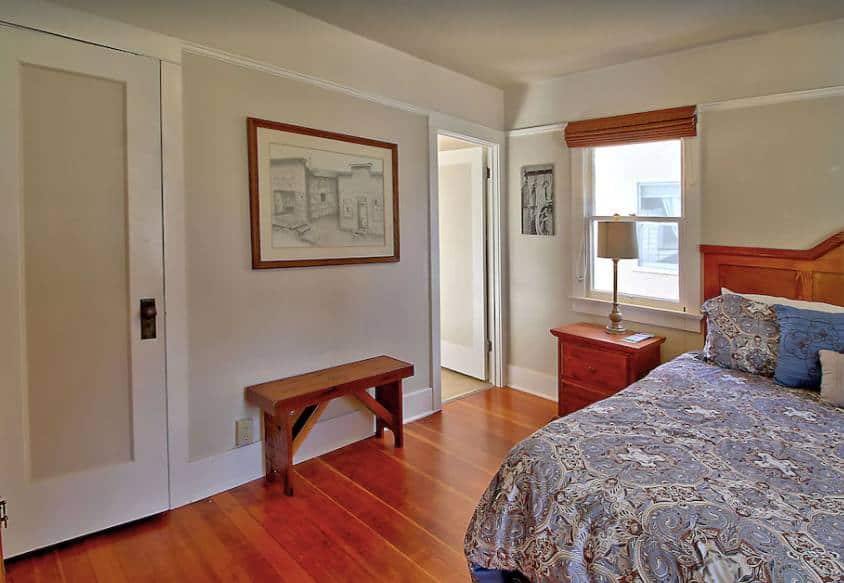 Dog and cat parents, rest easily — you can bring your pup along with you!
The house features a jack-and-jill bathroom shared with direct access from both bedrooms. King size beds in both rooms so you can stretch out after a full day of exploring the nearby wineries, distillery trails, farmers markets, art studios, neighboring beaches and more.
The basic kitchen features period cabinetry and original wood wall paneling for a cozy, authentic effect. Sit on the craftsman-style front porch with a bench to end your wine-tasting day enjoy your favorite, local finds.       
Best Paso Robles Home For Friends Getaways on a Budget: The Wine Barrel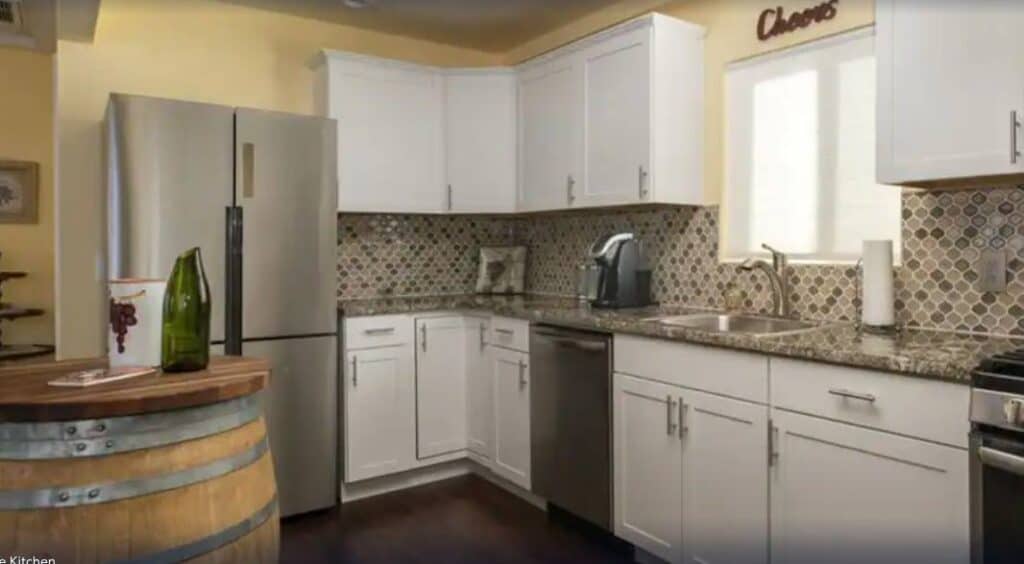 Few houses are as easy on the eyes as this incredible, vintage-feeling cottage!
Although the place can easily sleep 4, a couple looking to book a homey rental may enjoy this as well.
The combination of ample sunlight and the house's earth tones is guaranteed to put you in a good mood, and you'll have access to a spacious backyard with patio seating and a barbecue grill.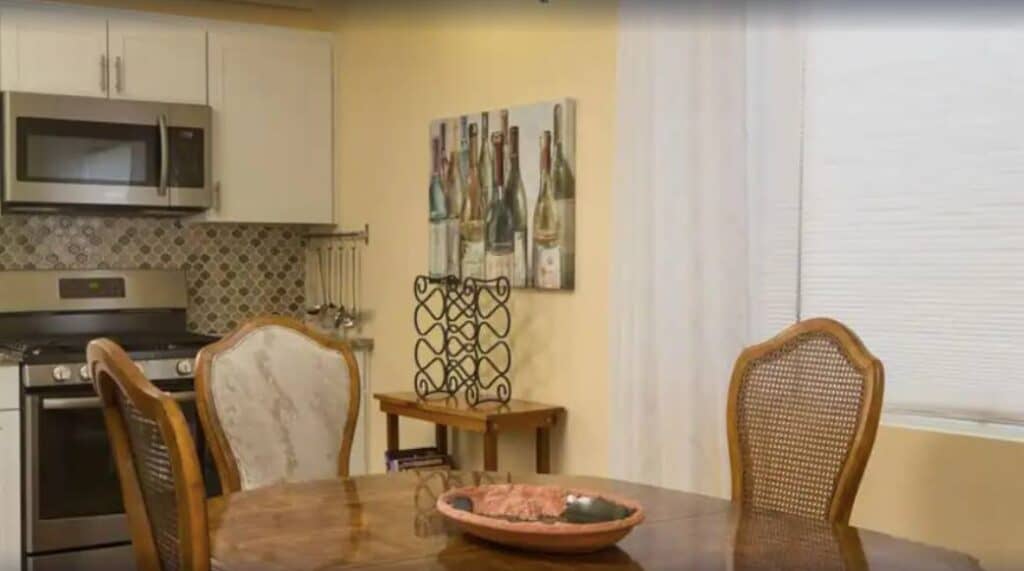 Wineries are so abundant in the region that you can throw a stone in a random direction and follow it right to one!
If you're looking to have an exciting night out, you can get to Cambria, San Simeon, and San Luis Obispo by car in no time at all.
Best Paso Robles Home near Downtown: Awesome Downtown Cottage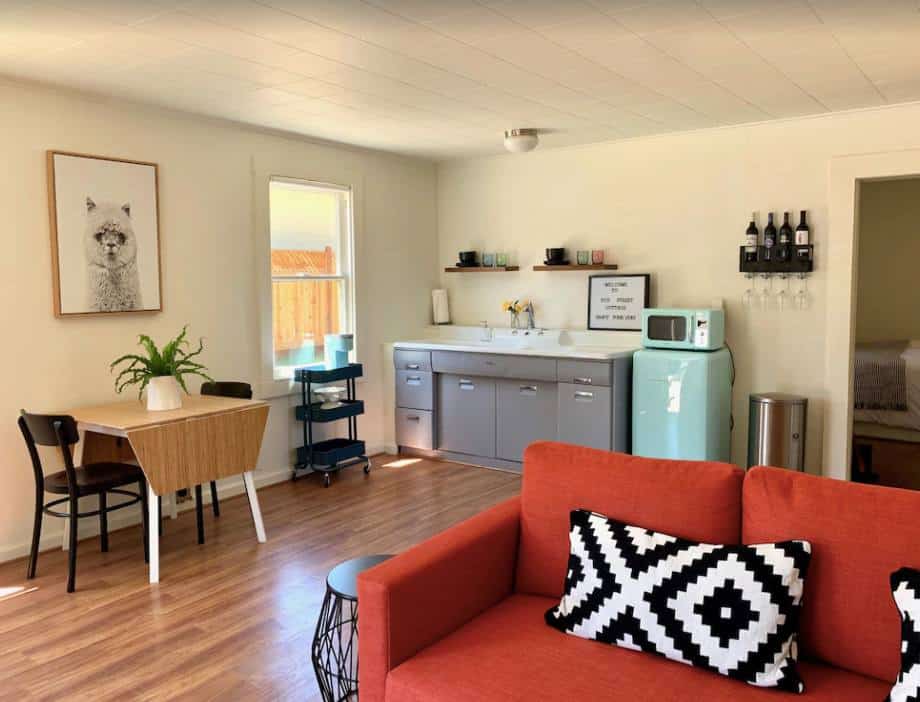 This adorable cottage has a cute look and easy access to the best spots in the area, all at a budget price.
The interior of the place is as eye-catching as it is comfortable, and the private yard, complete with a barbecue grill and incredible views, only makes the experience better.
This is the ideal place to whip out a bottle of wine (and you'll have no shortage of places to get it!) and catch a truly divine sunset.
You just can't beat this stylish and cozy cottage, right in the middle of it all, ideal enjoy everything Paso Robles has to offer!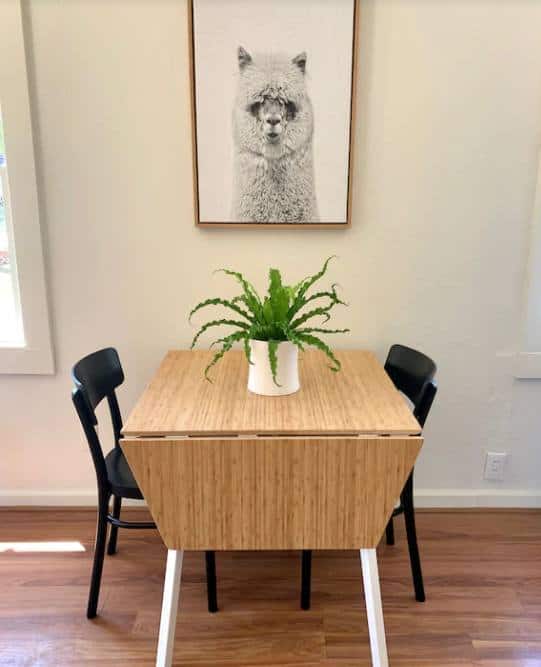 There's more, however – located mere minutes from Paso Downtown, the place is a great vantage point for exploring the countless wineries the area has to offer.
San Simeon, Cayucos, and Cambria are all less than an hour away too, so be sure to bring a great road trip playlist for cruising around the Central Coast if you decide to stay at this fabulous getaway!
Pin This Guide to Paso Robles Airbnbs!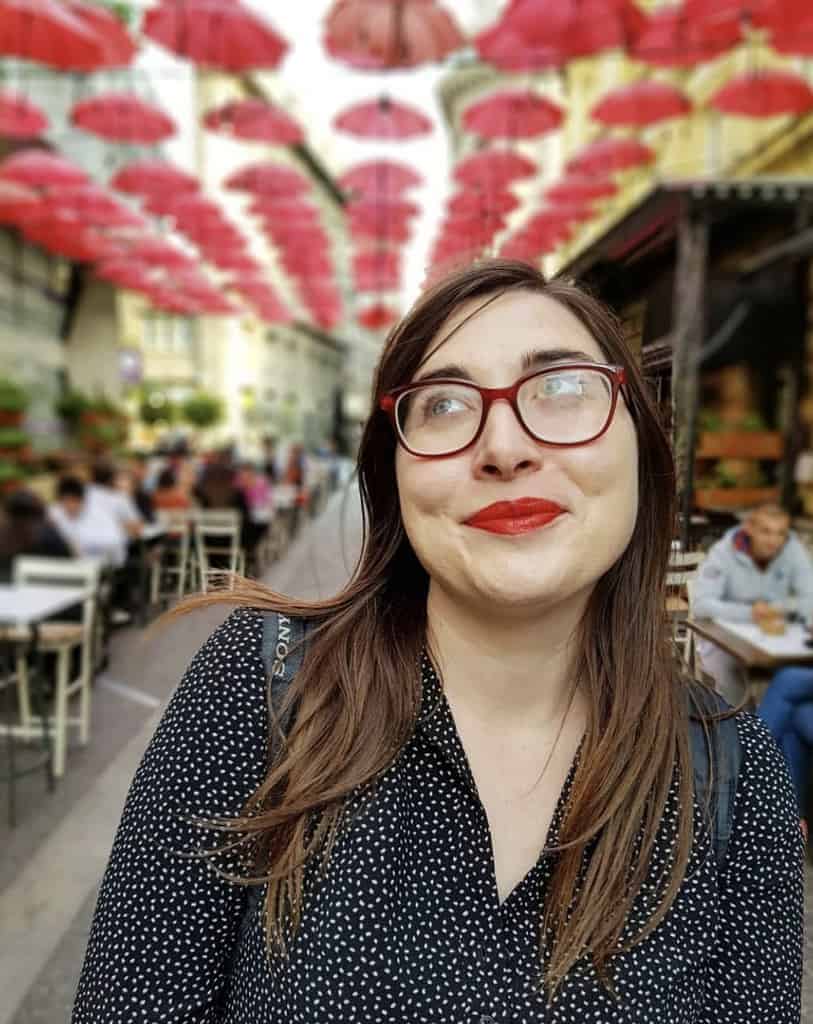 Allison Green is a travel blogger, writer, and podcaster who grew up in the Bay Area of California. She has spent time living in New York, Prague, and Sofia, but has returned to live in the East Bay. She has traveled to 60 countries before the age of 30 while running several digital travel publications. Her writing and podcast have been featured in Forbes, CBC Canada, National Geographic, the Huffington Post, and CNN Arabic, amongst others. She's obsessed with bouldering, houseplants, other people's pets, and anywhere she can see the ocean.