If you're planning a Northern California wine country escape, the question likely comes down to should I visit Napa or Sonoma?
I would love to tell you to visit both: each offer something unique and despite their proximity, their wines are leagues apart.
By all means, you can visit both Napa and Sonoma in a single trip, as the two wine regions are really close together.
So close together, in fact, that you can even visit them both on a single day trip from San Francisco!
However, if you're on this page, it's likely because you want to dive deep into one or the either: either Napa or Sonoma.
Having wine-tasted in Napa about a dozen times and Sonoma at least 30 times, I feel pretty well-qualified to tell you what the pros and cons of each are.
Though as the numbers suggest, I do have a pretty heavy bias towards Sonoma!
Pick Napa vs Sonoma if…
… Chardonnay is the name of the game.
Note: This post contains affiliate links, which earn me a small commission at no extra cost to you if you make a purchase using one of these links. Thank you for supporting this free content!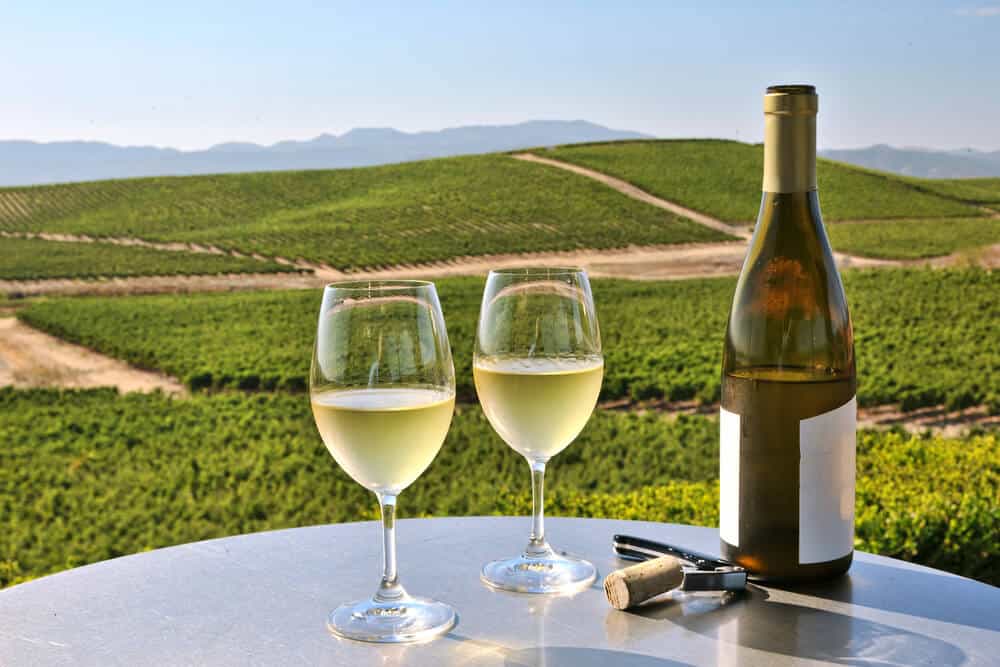 Napa is so famous for its Chardonnay that it made the news across the world in 1976 during the now-epic Judgement of Paris.
This wine competition, which put Napa wine firmly on the map, was revelatory for Calfornia wine when Chateau Montelena's scrappy Chardonnay beat out all the famous white burgundies from the Grand Crus of Bourgogne!
If you're a wine geek like me, you can read this article about that fateful competition!
That said, Napa chardonnay hasn't stopped being an absolute powerhouse in world wine, and it's the undisputed white wine of California.
That said, not everyone loves Chardonnay *raises hand timidly*. There is a group of people who nickname themselves "ABC" — anything but chardonnay — for a reason!
In particular, the California vinification style of Chardonnay, which is derisively nicknamed 'butter bombs' for their prolific use of new French oak, is not universally beloved.
But for some — including hoity-toity wine judges in Paris, who know their s***– California Chardonnay is the epitome of fine white wine.
I'm all about loving what you love and not shaming anyone for their wine choices. Unless it happens to be Carlo Rossi.
If you're a Chardonnay fanatic, you absolutely can't miss choosing Napa vs. Sonoma when it comes time to pick.
I'll make one quick caveat though: Sonoma does make great Chardonnay, but it is done typically with a lighter touch and less oak (often with at least partial stainless steel aging).
I'd compare it to more in the Chablis style, as opposed to the typical New World, bright and bold Chardonnay style.
To each their own!
… You're all about that Cabernet Sauvignon.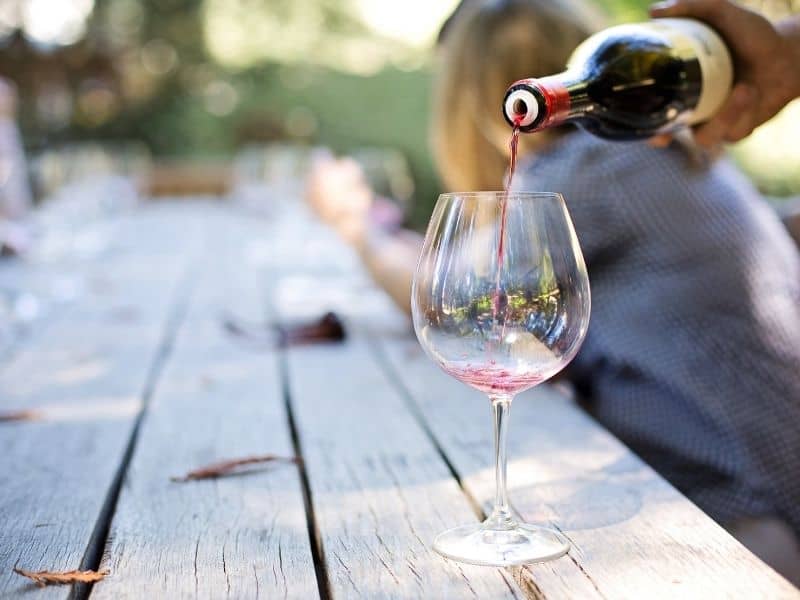 While big and expressive chardonnays are the undeniable mainstay of the Napa Valley white wine scene, really what Napa is known for is its red wines, particularly its Cabernet Sauvignon.
These cabs are so intricate that they, too, wrested top honors from Burgundy winemakers during the Judgment of Paris, when Stag's Leap won the gold (and who still makes some of the best cabs in the area.)
Cabernet Sauvignon is a gorgeous wine, but it often requires quite a bit of age and cellaring in order for it to be as transcendent as it is capable of.
And if you're a broke-a** millennial like myself for whom having a wine cellar is literally laughable, Cab may not be your best bet as it often requires an additional 5+ years in the bottle to even be approaching its best life.
On the other hand, wines in Sonoma are 'aged' faster, since Pinot needs less time in the bottle to be approachable and delicate, although they also have aging potential. Both are great wines, but it's a matter of how long you want to wait to drink it!
However, if you are the type of person who can cellar a bottle of gorgeous Cabernet for some years to come for a special occasion, then that's an undeniable point in favor of Napa vs. Sonoma.
… You want to live your best and bougiest life.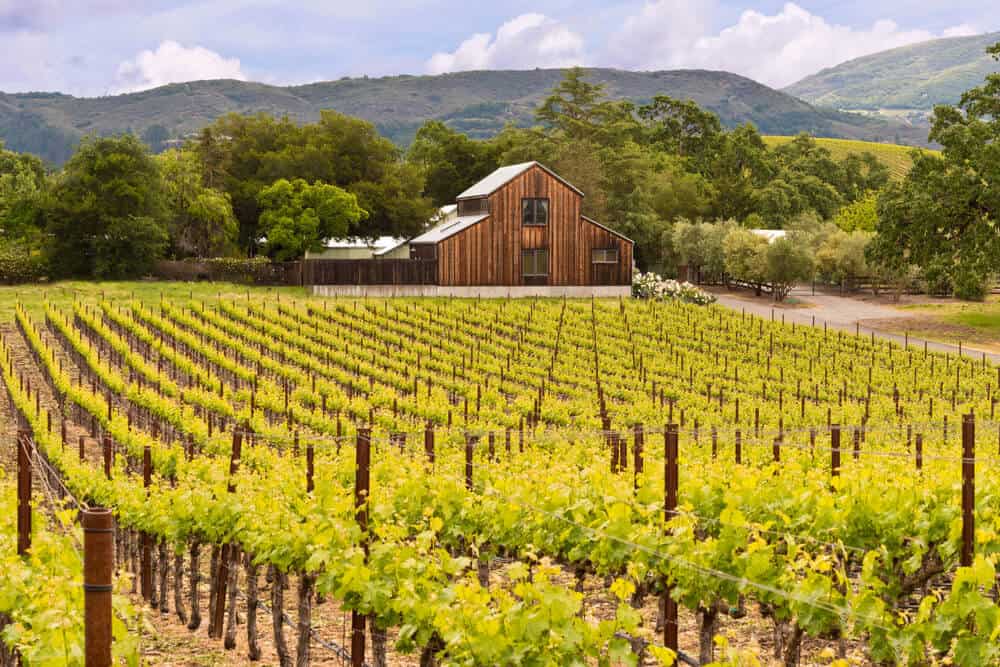 So, I've just laid all my wine geek cards on the table (sorry, not sorry) and have extolled the pros and cons of wineries in Napa Valley.
That said, there are many other reasons why people may choose a winery besides just what varietals are on offer there.
If you're looking for a really luxurious stay, Napa undoubtedly has far more options for living a luxe life, both in the city of Napa as well as in Yountville and St. Helena. The town of Calistoga is also lovely, but it's a little more rustic.
We're talking The French Laundry, one of the most upscale restaurants in the country. We're talking Auberge du Soleil, one of Napa's best restaurants. And we're talking wineries that look copy-pasted straight out of Tuscany, including a literal wine castle.
So if you're looking for a romantic getaway where the wines feature heavily but are not the only draw, Napa Valley definitely edges out Sonoma for that.
… You want bucket list experiences like hot air balloons and wine trains.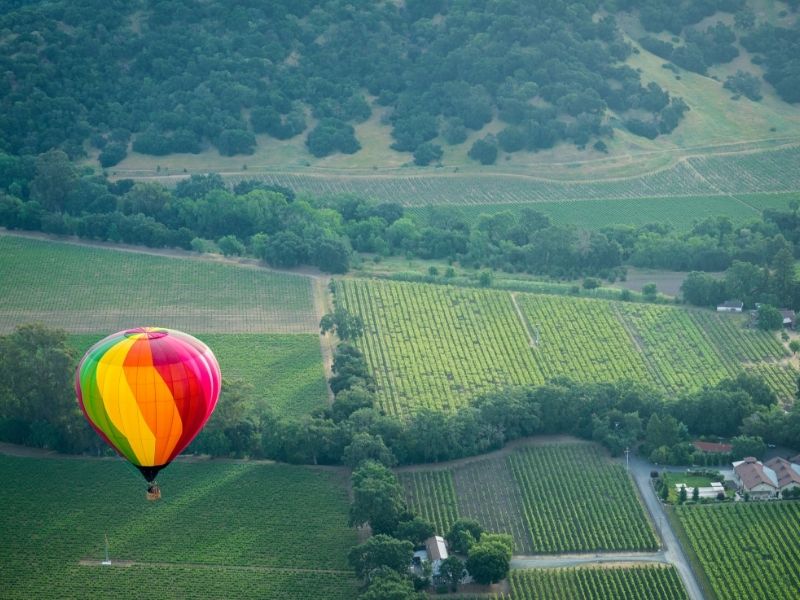 In some ways, this is an extension of the above point, but Napa is also home to a lot more bucket-list-worthy experiences because of its prestige and ongoing it factor.
On the other hand, Sonoma is a lot more low-key, with a lot less flashy experiences on offer. It's more rural and down-to-earth, with a focus on wine and natural scenery.
Meanwhile, Napa offers some really amazing experiences such as soaring above vineyards in a hot air balloon, taking the wine train from St. Helena on a rollicking ride through the vineyards of Napa Valley while admiring the vineyard views, and all sorts of Michelin star rated dining.
… The sky is the limit when it comes to spending.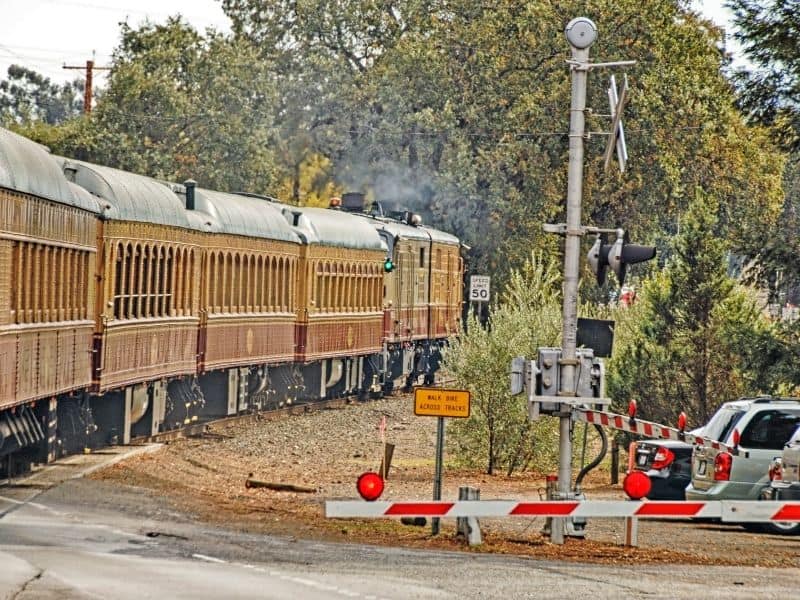 There's no doubting that Napa is more expensive than Sonoma.
Napa is a smaller region where the accommodation is largely centralized in a few towns in Napa Valley.
With fewer accommodation choices, all in prime locations, inevitably the baseline price ends up being more costly.
Napa Valley wine tasting fees are also more expensive than Sonoma tasting fees. Tastings in Napa are typically $20-40 per person, which can be waived with the purchase of 1-3 bottles, depending on the winery.
Napa wineries are also a lot fancier, which can be seen in their higher prices for their tasting experiences.
On the other hand, tastings in Sonoma are often closer to $15-30, which are often waived after 1-2 bottle purchases.
However, there are exceptions to every rule! Vincent Arroyo Winery in Napa charges a meager $20 for an excellent wine tasting, whereas MacRostie Winery in Sonoma charges $35 and Hanzell (a personal favorite) charges $45!
Tip: The wineries along the Silverado Trail tend to be a little less pricy and less crowded than wineries along Highway 29
Pick Sonoma County if…
… Sauvignon Blanc is your white wine of choice.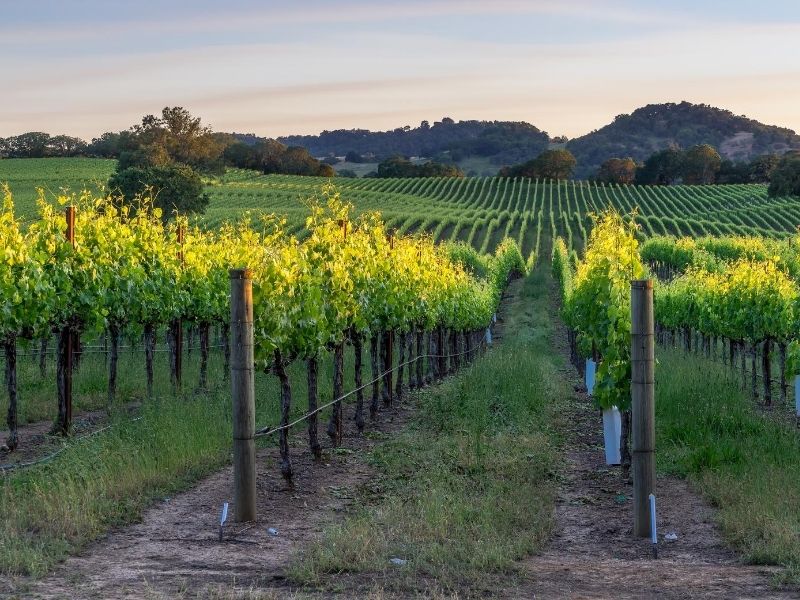 While chardonnay is the name of the game in Napa, Sonoma County is all about aromatic, lightweight, yet structured wines.
Primarily, that's Sauvignon Blanc, but Sonoma winemakers have been getting more creative in recent years and have been exploring lots of other varietals.
These varietals that Sonoma does beautifully include my personal favorite, Gewürtztraminer, Riesling, and Viognier, all of which adapt beautifully to Sonoma's more coastal, cool climate.
If you like variety in your white wines, Sonoma is where it's at!
… Pinot Noir is your favorite red.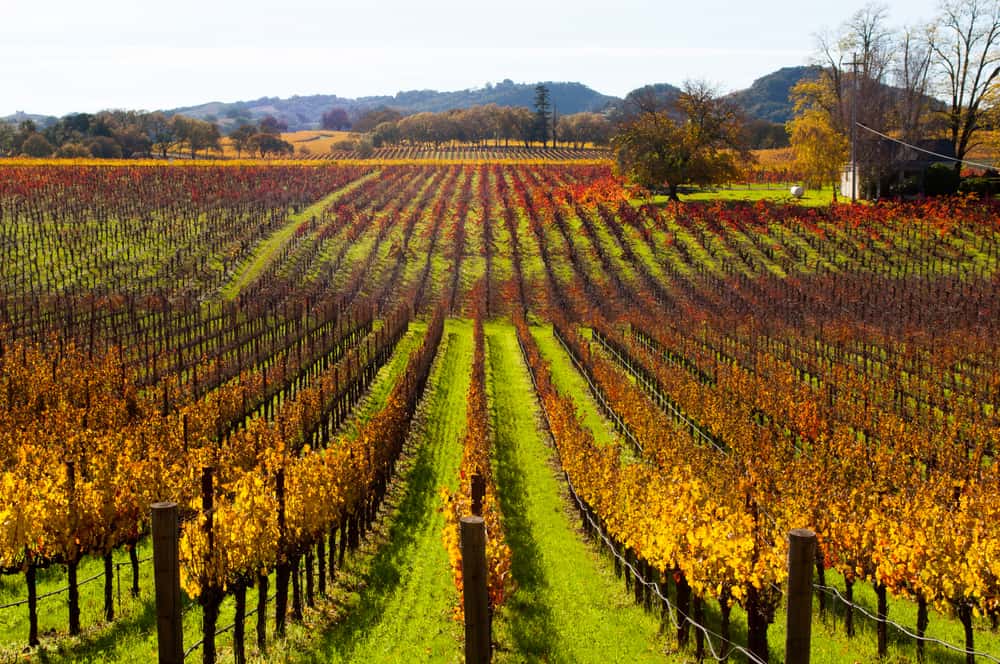 Cabernet is to Napa as Pinot is to Sonoma, and in particular, the Russian River Valley AVA in Sonoma County makes some of the most exquisite Pinots you could ever imagine.
Russian River Pinot is so delicate, floral, and expressive that it's almost hard to define without using pretentious language like "sublime" and "ethereal", but I'm just going to go with it.
Having polished off at least 50+ bottles of Russian River Pinot in my life, I'm still at a loss for words for how transcendentally delicious it is!
Russian River pinots are a lot more fruit-forward and soft-edged than, say, Bordeaux pinots, which are a little more earthy, tannic, and rustic. However, I'm a sucker for Sonoma pinots, and I'll say that even to a Frenchman's face!
If you're not crazy about Pinot, don't worry: Sonoma excels at a variety of red wines. The Dry Creek Valley area is known for its old vine Zinfandels, and the Alexander Valley area is known for Cabernet and Merlot– no, Napa does not have a monopoly on that!
… You want a laidback atmosphere.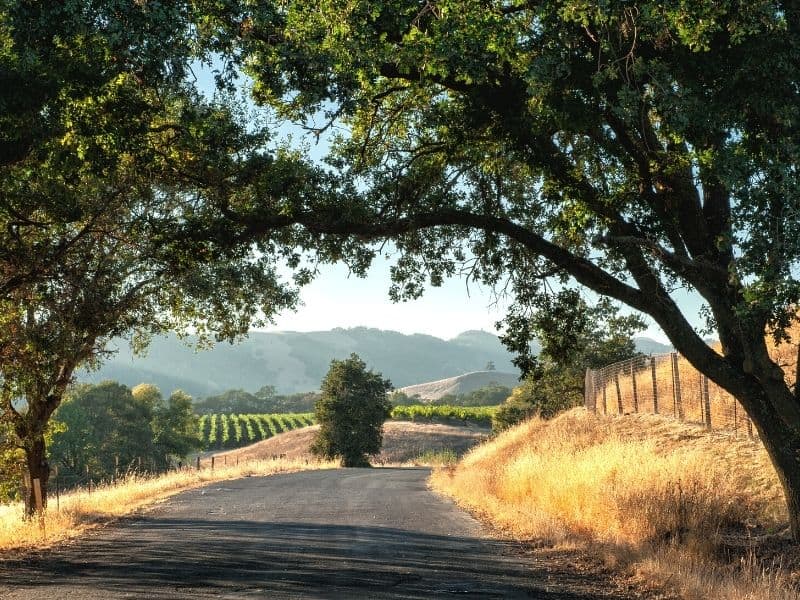 As I suggested above, Sonoma is a lot more rustic and rural than Napa. It's also a whole hell of a lot larger, so you have plenty of choices for how fancy you want your stay to be.
If you want a bit of luxury to your stay, opt for the city of Sonoma or better yet, Healdsburg (which recently had its restaurant SingleThread chosen as one of the top 50 restaurants in the world!).
Both Sonoma and Healdsburg have tons of tasting rooms downtown if you want walkable access instead of driving to the different vineyards.
But if you want something more laid-back, opt for Sebastopol, Guerneville, or places along the Sonoma Coast like Bodega Bay and Jenner.
Personally, my two favorite areas for wine tasting in Sonoma are the area around Sebastopol and Highway 116 and the area around Healdsburg and Westside Road! They are quite different but equally wonderful.
… You want to relax by the Russian River or the ocean.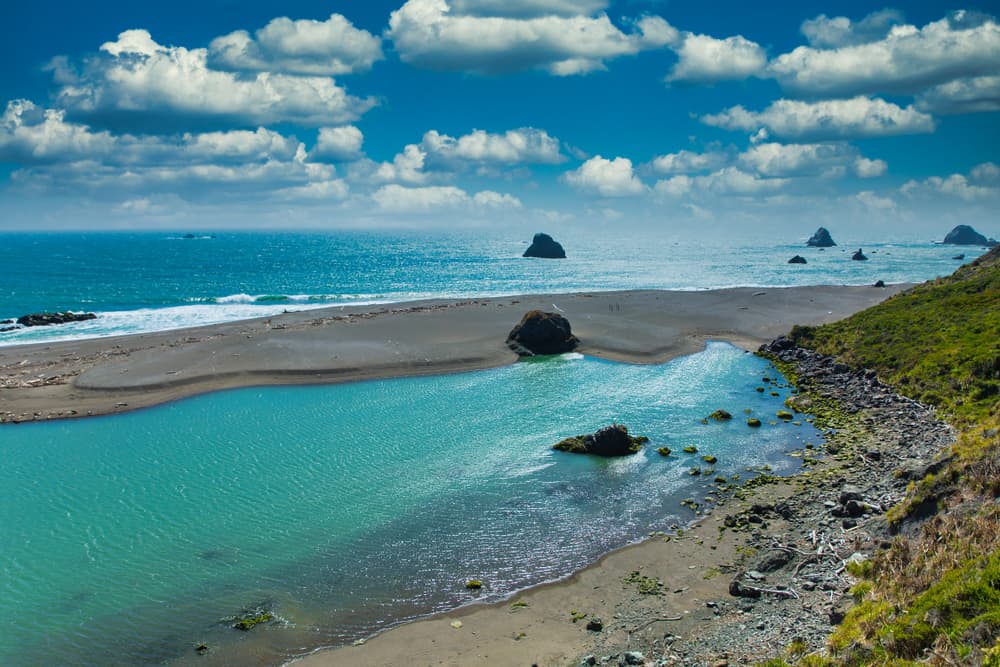 Napa County is wonderful, don't get me wrong, but it's far smaller than Sonoma County.
Sonoma stretches all the way from the western edge of the mountains that separate Napa and Sonoma all the way to the Pacific coastline.
It has dozens of small Northern California towns within its limits whereas Napa has about 5 towns.
Sonoma also has a beautiful stretch of the Pacific coastline as well as the Russian River, which is one of my favorite summer hang-out spots.
The Sonoma Coast is home to places like Jenner and Bodega Bay, two of the most pristine California beach towns I know, plus coastal hiking trails and swoon-worthy state parks.
What if I Don't Want to Choose?
The beauty is that you don't have to!
You can do a Sonoma and Napa wine country day trip (that includes a hiking break in Muir Woods!) from San Francisco that will give you a taste of each… literally!
This tour includes pick-up, drop-off, transportation, three wineries with tasting fees included, and a professional wine-loving guide.
It does not include the $15 entrance fee to Muir Woods or lunch, which you will have the opportunity to get on your own during your stop in Sonoma Square.
Prefer to travel in privacy?
You can book a guided private wine tasting tour that includes both Napa and Sonoma wineries for a rather reasonable price, especially if you have a larger group.
Sonoma vs. Napa FAQ
Which is better, Sonoma or Napa?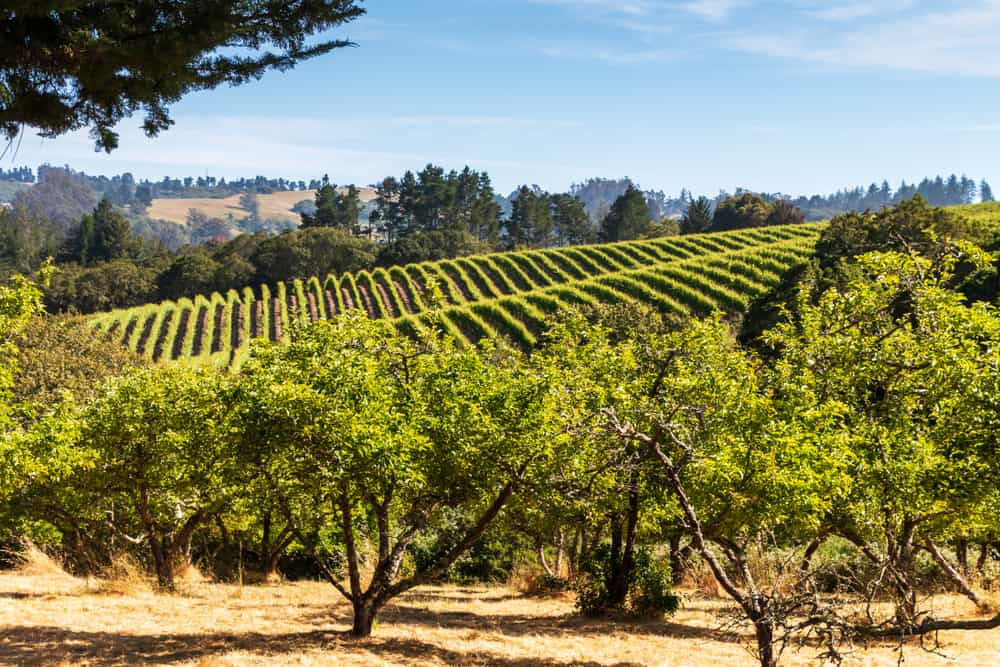 Ultimately, I hope this article helped answer this for you! In my personal preference, the honors go to Sonoma.
That said, let me freely admit my biases. I have a family connection to Sonoma and have spent more time there, and I prefer the more restrained style of vinification when it comes to Sonoma wines.
It really depends on your travel style, wine preferences, budget, and what else you want to do in between wine tasting!
Is it better to stay in Napa Valley or Sonoma?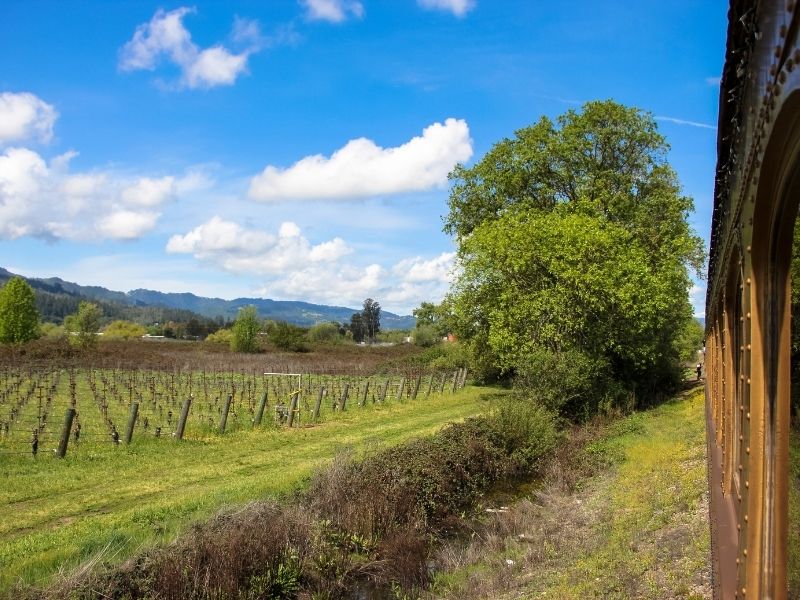 This depends on whether you're wine tasting in Sonoma or Napa!
Generally, Napa will be more expensive, but it is smaller so your travel times between wineries will be shorter.
Sonoma will be cheaper, but it is more spread out, so you may find yourself spending more time getting between wineries.
Is Sonoma bigger than Napa?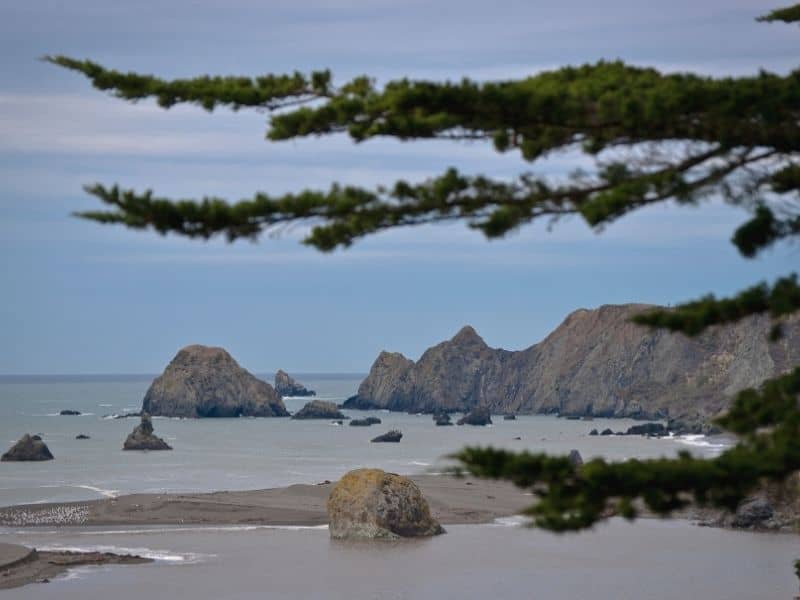 Yes, by a good margin! Napa Valley measures 789 square miles, whereas Sonoma County measures 1,768 square miles — more than double its size.
Plus, the terrain in Sonoma is more diverse, including everything from rolling hills to rugged coastline to redwood forests and everything in between.
How far apart are Napa and Sonoma?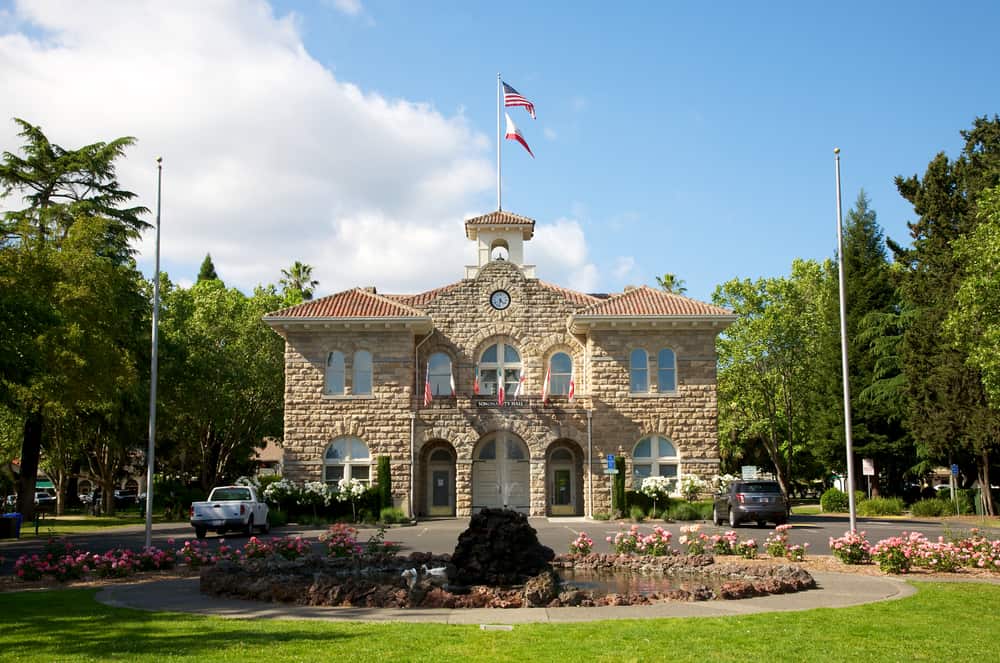 If you are simply measuring the distance between the cities of Napa and Sonoma, not too far. They are 14 miles apart and about 30 minutes by car once you account for traffic.
That said, when someone says they are wine tasting in Napa, they could very well be all the way north in Calistoga, and when someone says they are wine tasting in Sonoma, they could be all the way out in Bodega Bay!
In that case, the distance would be closer to 42 miles or an hour and 15 minutes.
Is Napa more famous than Sonoma?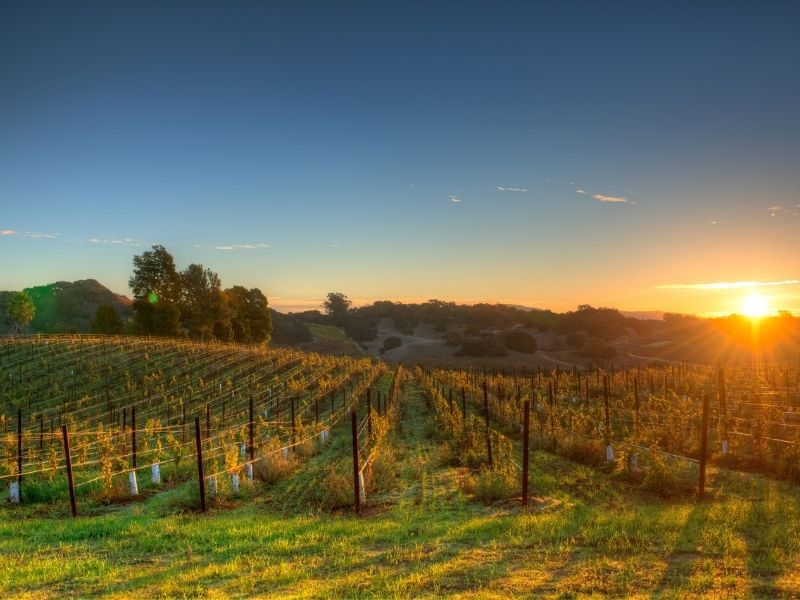 Definitely!
But Sonoma Valley is increasing in popularity and notoriety, so I expect them to be on equal footing over time.
What are the best wineries in Napa Valley?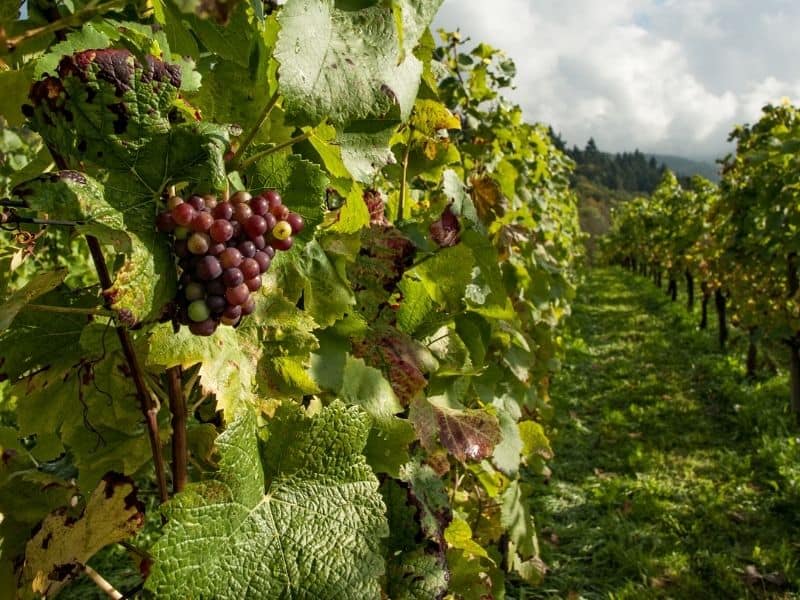 I hope you know this is a very subjective question, but here are my personal favorites.
– Vincent Arroyo Winery
– Otra Vez Winery
– Stag's Leap
– Chateau Montelena
– Domaine Carneros
– Robert Mondavi
– Far Niente
What are the best wineries in Sonoma County?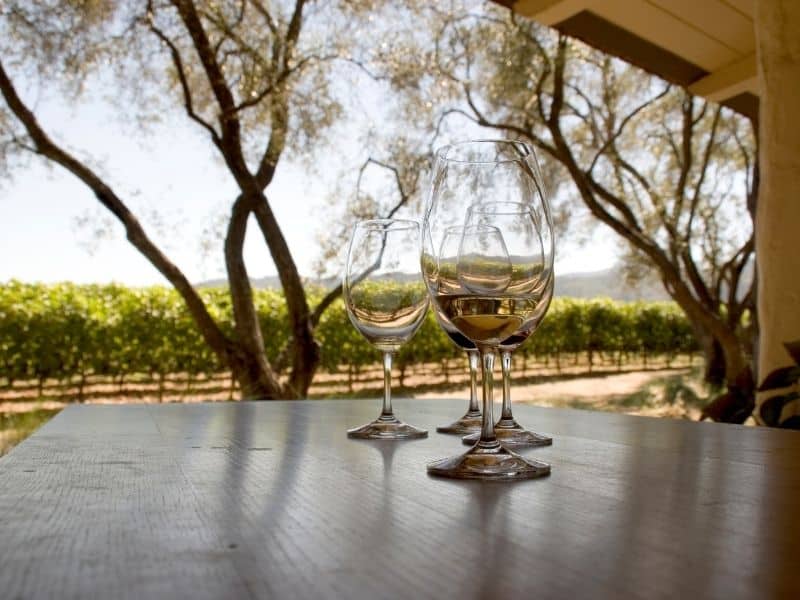 Again, very subjective but here is my begrudging list of favorites!
– Flowers Vineyards & Winery
– Halleck Vineyards
– Scherrer Winery
– Merry Edwards Vineyards
– J. Rochioli Vineyards & Winery
– Gracianna Winery
– Hanzell Vineyards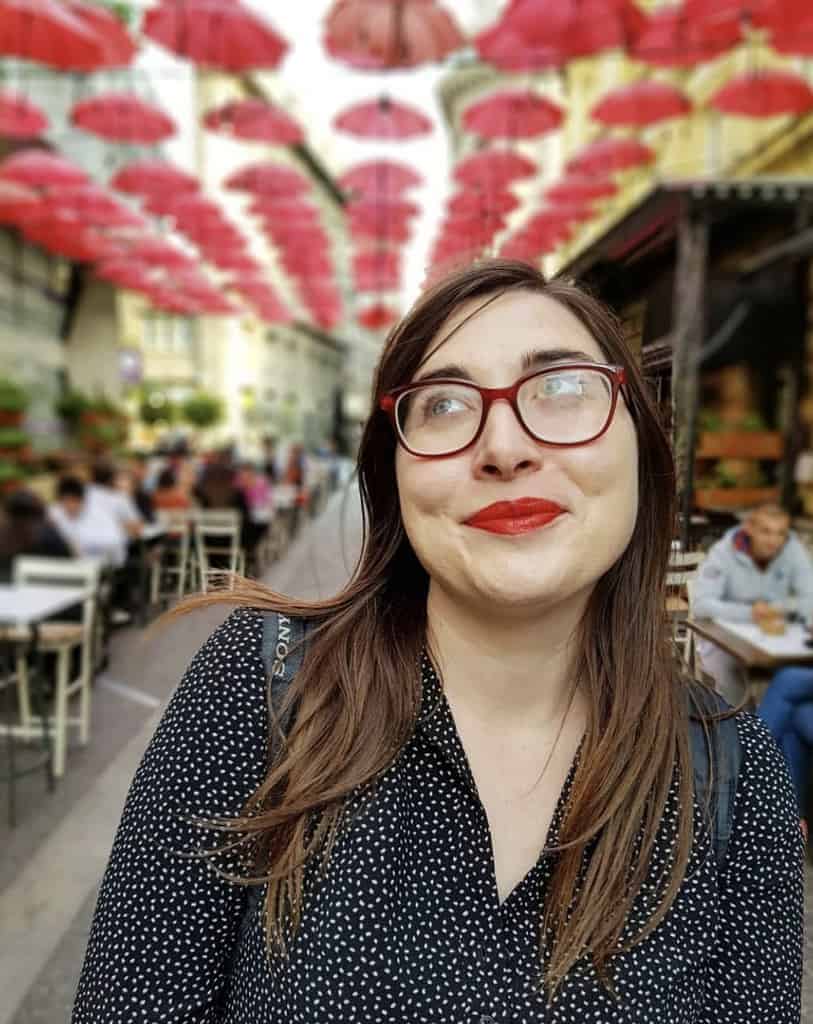 Allison Green is a travel blogger, writer, and podcaster who grew up in the Bay Area of California. She has spent time living in New York, Prague, and Sofia, but has returned to live in the East Bay. She has traveled to 60 countries before the age of 30 while running several digital travel publications. Her writing and podcast have been featured in Forbes, CBC Canada, National Geographic, the Huffington Post, and CNN Arabic, amongst others. She's obsessed with bouldering, houseplants, other people's pets, and anywhere she can see the ocean.