If you're planning a wine country vacation near Santa Barbara, rest easy: we've gathered the best Airbnbs in the Santa Ynez Valley, perfect for your wine tasting getaways!
The heart of Santa Barbara Wine Country is called the Santa Ynez Valley. The wineries are centered around Solvang and Los Olivos.
In this post on where to stay in Santa Barbara wine country, you'll find plenty of Solvang Airbnbs as well as Ballard Airbnbs, Santa Ynez Airbnbs, Buellton Airbnbs, and Los Olivos Airbnbs to choose from!
Here goes: our favorite Airbnbs in Santa Barbara wine country!
Best Santa Barbara Wine Country Airbnbs: Solvang Airbnbs
Nogmo Farm Studio (Solvang, CA)
Note: This post contains affiliate links, which earn me a small commission at no extra cost to you if you make a purchase using one of these links. Thank you for supporting this free content!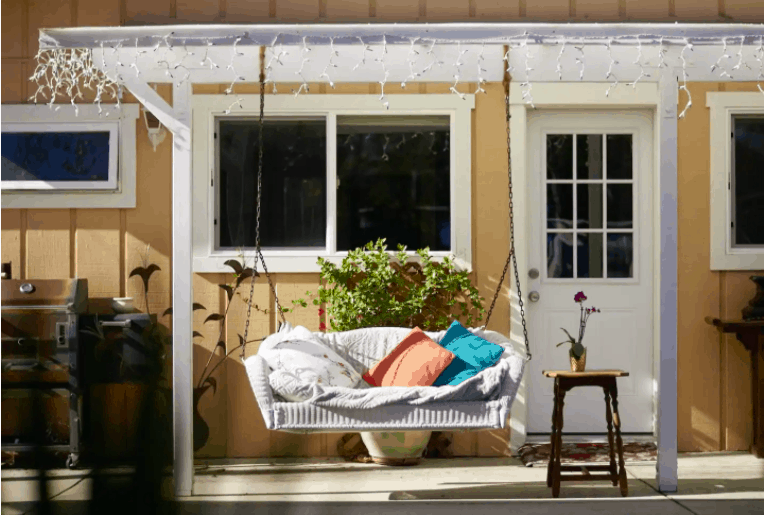 The best way to describe this Nogmo Farm Studio would be "cute", as it boasts an eye-catching interior, ideal for couples, adventurers, and business travelers alike.
The moment you step in, you'll be treated by a serene color palette that's sure to brighten up your day.
Outside, you can relax on the gorgeous patio, and there is even an outdoor kitchen that lets you enjoy the fresh farmland air as you whip up your favorite meal.
What's more, a stroll around the property and through the vegetable garden will put you in the best possible mood – you even get to play with the adorable animals, including loving pygmy goats!
Nogmo Farm is very close to Solvang Village and Los Olivos, and it's within walking distance of a grocery store. The plentiful wineries in the vicinity make this place a great home base for wine tasters, and there's plenty more where that came from as you make your way into town!
Past guests say:
"It was honestly such a great experience! It was beautiful! Her dogs were just the cutest things. Like it says, it is not too far from the main part of Solvang so it was an easy drive back and forth. It was such a pretty area and she offered many amenities! It was just all so thoughtful and well put together."
"This is such an incredible place to stay! It's clean, bright and cozy. The bed is awesome! So comfortable. The amenities are wonderful! There was a Keurig with coffee and creamer included. There was even a bottle of wine! And, the host has the sweetest dogs there as well! Truly the best AirBnB I've stayed at to date!"
Escape the Ordinary, Experience the Extraordinary (Solvang, CA)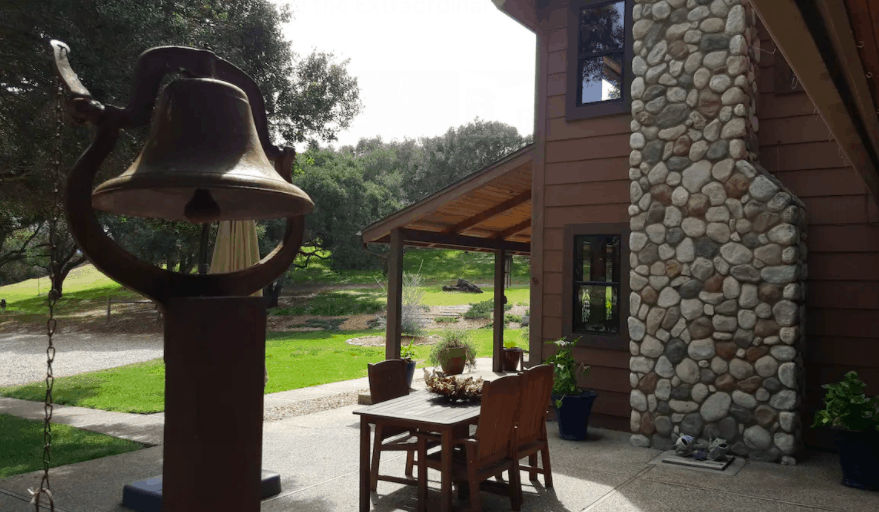 Perfect for a large family or group of friends, this property is truly one of Solvang's best Airbnbs!
The interior is charmingly decorated, and the rustic fireplace in the living room makes the place feel extremely classy. The extra bathroom is always a welcome addition, especially so for properties like this that can house up to 6 guests.
Beyond the front porch lies a 20-acre ranch, and it's yours to explore – with lively farm life in the heart of Santa Barbara and stunning views of rolling hillsides and vineyards, you won't want to go back home.
You can also find some extremely friendly dogs around the ranch – they like playing in the beautiful tree groves on the property and will surely warm your heart!
The region is home to innumerable bike lanes and hiking trails, and you can visit first-class wineries and restaurants downtown, as well as admire the beautiful architecture of the Danish Village of Solvang.
Past guests say:
"This place is absolute heaven! My husband, one year old and I had a magical weekend. The home is big and comfortable, has everything you need. Our baby loved exploring the grounds and seeing the animals, especially Rubie the cow. Rebecca was a wonderful host. We would love to come back here, we we're planning our next trip on the way home!"
"This is a lovely horse property right in the heart of the best wine tasting area. Also right in the middle of the best bicycle riding. The house is rustic, as billed, but very clean and comfortable. With a goat, cow and some chickens, it's a real country house experience. Renee, the owner, and his assistant, were helpful, responsive and very cordial. It was a great experience and I would be happy to return."
Santa Barbara Wine Country Vintage Trailer (Solvang, CA)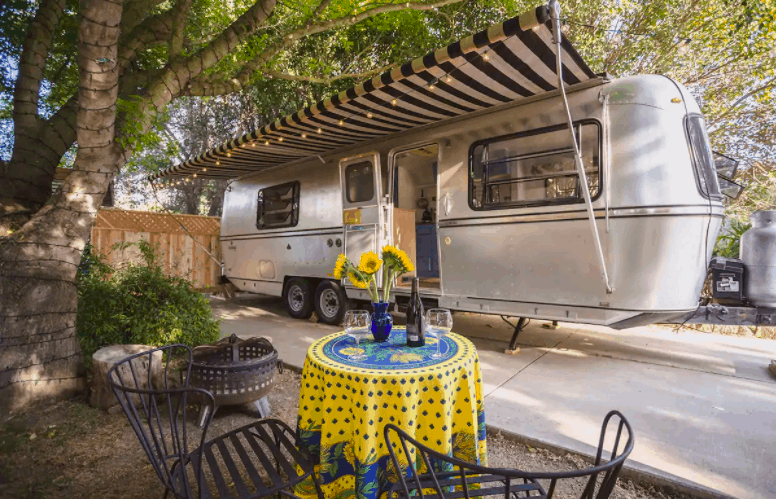 Are you in the market for a quiet vacation in a charming rental? If so, the Vintage Silver Bullet trailer is your dream come true!
Between the cozy interior, pleasant patio area, and crackling fire pit, the rental offers more than any other trailer you're likely to find.
Topping things off is the view of the quaint neighborhood and beautiful farmland. There's nothing quite like waking up to the soothing sounds of nature and falling asleep under the light of the stars!
Being in the heart of Santa Barbara, the property gives you easy access to local attractions, most notably the region's iconic wineries.
There are also many bike lanes as well as beautiful hiking trails nearby, with swaying trees and plentiful animals to see. If you're truly up for something special, the proximity to Los Olivos and its breathtaking architecture is definitely something you'll want to take advantage of.
Past guests say:
"Great location between Solvang and Los Olivos. Biked to several Wineries and walked to great bakery right around corner. Christie and Jason very detailed on use of airstream! They were very friendly and responsive when had questions!"
"A lovely spot with thoughtful hosts. We arrived late but there was a pile of wood and kindling waiting for us in the event we wanted a fire. The location can't be beat (walking distance to vineyards and tasting rooms and just a short drive to Solvang). Highly recommend this stay!!!"
Couples Cottage l Steps to Downtown (Solvang, CA)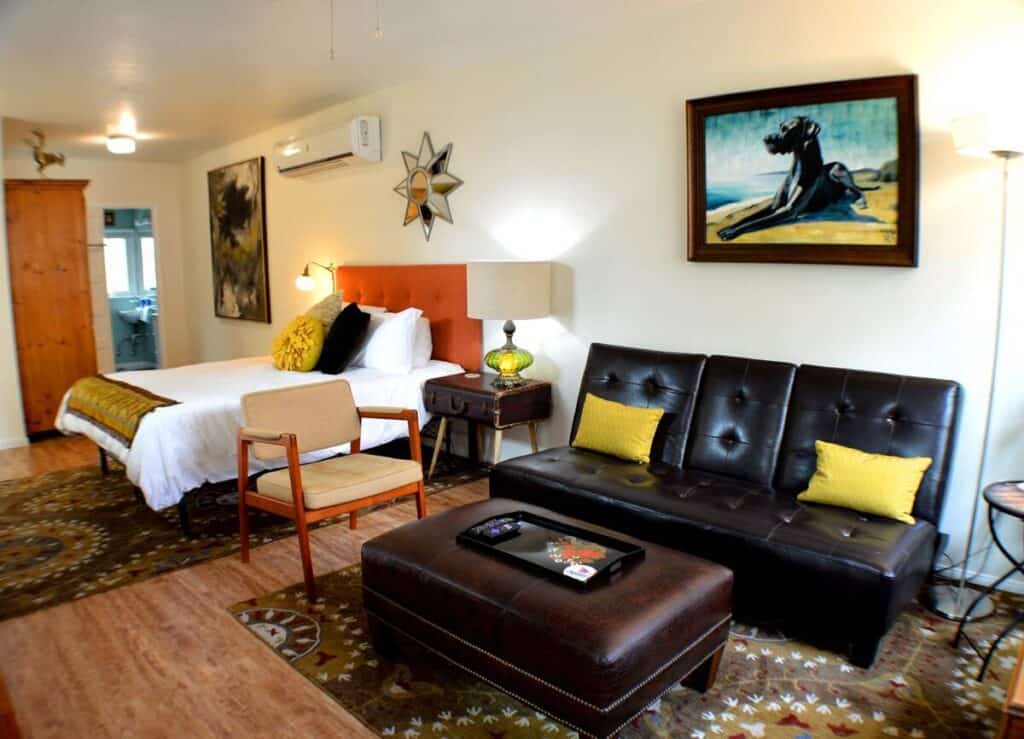 Couples Cottage is an incredibly stylish rental, perfect for experiencing the charm of a Solvang Airbnb.
You can expect plenty of space to stretch out, as well as beautiful vintage furniture and all the amenities you could possibly need.
This place comes with two patios, one in the back, secluded from prying eyes, and another in the courtyard, where you can find a persimmon tree that's (literally) ripe for the picking – take note of the great view of the petite pond!
Unwind in the courtyard as you're waiting for your delicious barbecue and enjoy looking down the main street of Solvang.
This place is in a very convenient location, close to many bike lanes and the Santa Ynez riverbed. Take your dog out for a walk or cycle the stunning Ballard Canyon – you're in for a treat either way.
The area's wineries and restaurants can't go unmentioned, and the bustling farmer has all the provisions you'll need for a memorable cookout.
Solvang's Horse Trolley and other historical structures are worth considering, provided you can even find the time to explore everything this paradise has to offer!
Past guests say:
"This was one of the best Airbnb's we have ever stayed at! Joy and Amy have thought of everything: having coffee, condiments, fluffy towels and some yummy smelling lavender soaps were accommodations we had not expected but loved! Their booklet with recommendations for Solvang made our trip better than we could have ever expected. We also loved their game shelf. The cottage and garden were so cute and peaceful, an amazing place to stay- we will be back again soon!"
"Joy and Amy have the perfect spot in Solvang! Not only was their home walking distance to literally everything, but they made sure to really make you feel like you were at home. All of the little touches, the board games, the kitchen supplies, the and extra towels go a long way! They were even accommodating to our puppers! We will 100% visit them again in the future. 10/10!!"
Solvang Wine Country Getaway (Solvang, CA)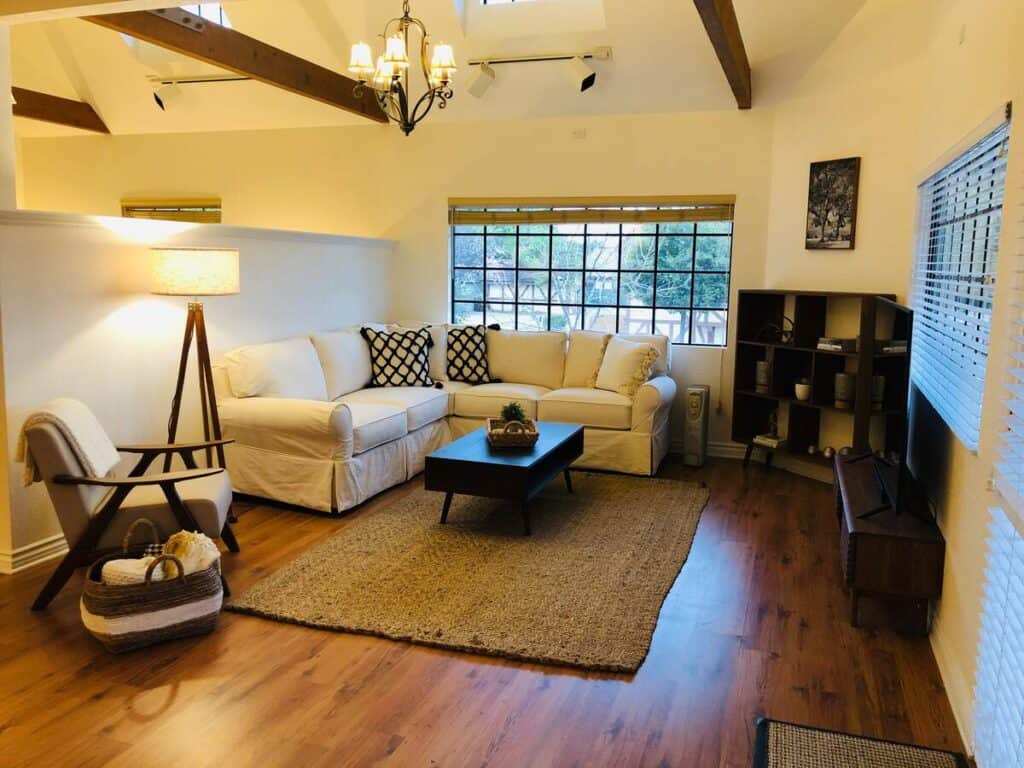 When you think Solvang rental, this is likely what springs to mind – peaceful, charming, and surrounded by incredible wineries.
The flat is very organized and relaxing – even kicking back and watching TV will feel like a new experience altogether. In addition, there's plenty of open space here, making it ideal for mid-to-large-scale gatherings.
Located only one block off Copenhagen Street, this place is the perfect base of operations for sightseers and explorers.
Countless famous wineries and restaurants, as well as historically significant structures, are within walking distance, but the fun doesn't stop there – visit a nearby boutique and shop until you drop, then drop by the famous Chumas Casino if you feel so inclined.
Then there's the amazing hiking trails and biking lanes near Ballard Canyon, where you can truly immerse yourself in your rural surroundings. From Monday through Friday, you can even catch the Solvang Horse Trolley!
Past guests say:
"Overall this was a great location and worth every penny. I don't think you could ask for a better location. Conveniently located to the Downtown area and less than 10 mins from the waterfall"
"Such an amazing spot! It's right next to Copenhagen St, so we just walked everywhere which was super convenient. I would definitely stay here again."
Experience Life At Its Best In Wine Country (Solvang, CA)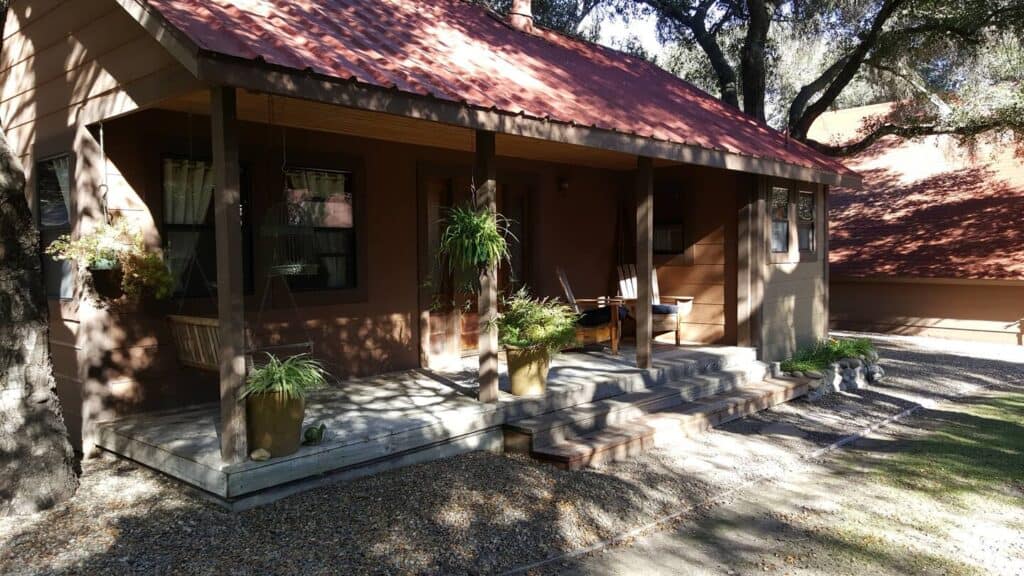 Rene's Cabin is a charming, rustic property with very comfortable beds and too many amenities to count. T
he name of the game here is peace and tranquility – you'll have access to the entire property, and you can chill in the breeze on the private front porch.
Strolling through the property is highly encouraged, as the views of the Santa Ynez Valley are truly one-of-a-kind.
The place is filled with critters, (farm animals, the cute kind!) and features great spots for birdwatching amid picturesque oak groves. Depending on when you visit, you could also enjoy nutritious fruits from the orchard, as well as fresh, organic veggies.
Los Olivos and Downtown Solvang are just 5 miles away, but it has to be mentioned that the property is right next to one of the best wineries in Santa Barbara County.
Also in the area are four golf courses, and even a casino for the brave of heart – for a more conventional way to entertain yourself, you can walk around the county and admire the beautiful historic architecture.
Past guests say:
"Absolutely exceeded all my expectations. Much more roomier than I thought. Beautiful location and very quiet and peaceful. Will be staying here again when I come to visit."
"Loved staying here it was very peaceful and a beautiful location, not too far from local places to eat or hike . Loved seeing some animals around the farm and was able to walk around the property. Loved it here and highly recommend if trying to get away from the city and relax . Will definitely be back."
Best Santa Barbara Wine Country Airbnbs: Ballard Airbnbs
Rustic Retreat (Ballard, CA)
Visit this rustic cottage for a blissful, private retreat that ticks all the boxes for a Santa Barbara wine country Airbnb!
The interior is very charmingly designed, and the decorations make the place feel like a genuine home.
Sitting on the picnic tables in the courtyard is a great way to spend a day – you can find a beautiful fountain, as well as a fire pit and string lights here too.
For an additional fee, the friendly hosts can provide you with a scrumptious charcuterie board with a bottle of red or white wine for that extra romantic touch.
This cottage is centrally located in Ballard (within the Santa Ynez Valley), with Los Olivos and Solvang being just around the corner.
In addition, a plethora of wineries are within walking or biking distance for your wine-tasting adventure!
If you'd prefer not to put the pedal to the metal, no need to worry, as the nearest bus stop is a hop and a skip away!
Past guests say:
"Loved staying here! The cabin itself is so cute and cozy with everything you need. The heaters definitely kept us warm and the bed was so comfortable. The outdoor space was really relaxing with the twinkle lights. We also loved how close the location was to a coffee shop and restaurant right around the corner, and walking distance to a few wineries. Anne was super responsive and helpful before and during our visit. We loved the friendly kitties roaming around too! We can't wait to visit again!"
"We loved the fireplace and the hanging lights outside. The rooms were stylish and had the amenities that made it a comfortable stay. Thank you!"
Cottonwood Cottage in Santa Ynez Valley (Ballard, CA)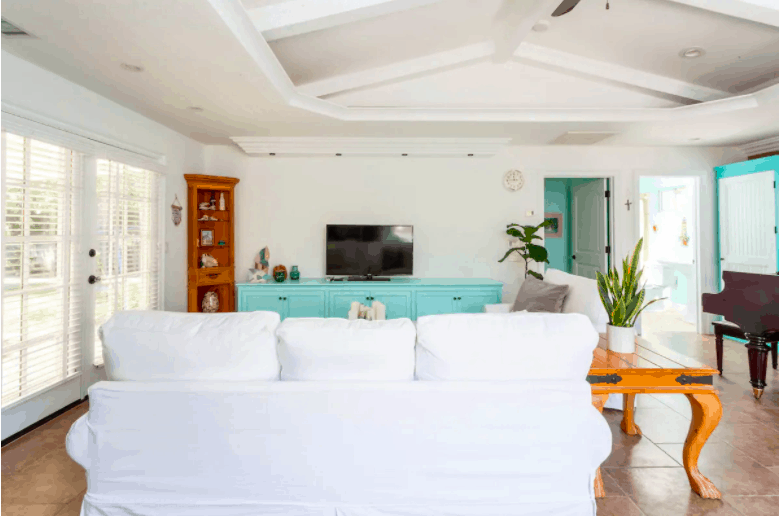 Situated in the heart of Santa Ynez Valley, in the village of Ballard between Solvang and Los Olivos, this cottage is the perfect respite from the bustling city.
The modern and organized interior is sure to grab you the moment you walk in – the highlight would have to be the fireplace, ideal for late-night relaxation. But the colors are relaxing and soothing and the decor is all excellent as well.
The place is spacious and well-lit, with a beautiful courtyard and private back area, where you sit down can enjoy your morning coffee.
The Historic Ballard School is in the immediate area, as are the award-winning Ballard Inn Gathering Table and Bob's Well Bread.
Smack dab in the middle between Solvang and Los Olivos, the house is literally minutes from the best wining and dining options you're likely to encounter.
Add to that the amazing hiking and biking trails, offering some truly breathtaking vistas and photo ops, and you've got an Airbnb near Solvang that'll keep you coming back for more year after year!
Past guests say:
"Breanna's place is a wonderful gem. A peaceful space and is sparking clean. I especially loved the fresh flowers and complimentary bottle of wine. Location was perfect…just steps away from the Ballard Inn-Gathering Table restaurant and Bobs Well Bread Bakery- both delicious!"
"A very comfortable cottage with a large bedroom and living area. Decorated really nicely, and immaculately clean. It also has a lovely backyard garden, perfect for a quiet reading place, or a nice outdoor lunch. It's about a 3 mile drive to Solvang. The cottage is in a quaint, quiet neighborhood, in a tiny village (don't blink, or you could drive passed it). The host, Breanna, was nearby and available for any questions. The area is just beautiful with many vineyards. A short drive away is Nojoqui Falls Park which is a beautiful park with a short hike to a beautiful waterfall. I would definitely recommend this Air B-N-B"
Relaxing Getaway Cabin (Ballard, CA)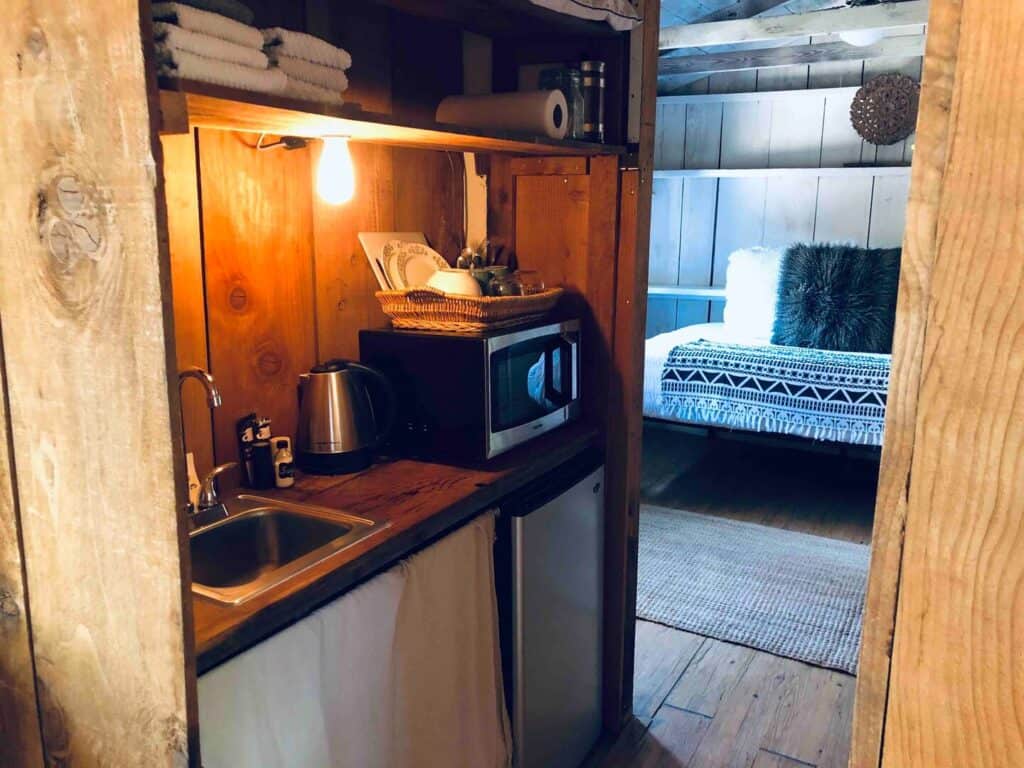 This rustic getaway cabin is one you won't want to miss out on. The decoration is quite homely, the bedding is as cozy as cozy gets, and the heating is superb, allowing for a comfortable visit no matter the season.
What's more, you can even bring your pets along, provided they're well-trained and under your supervision. The lovely courtyard features a fire pit – you can sit down as you enjoy your beverage of choice and feel the stress melt away.
Situated in the heart of Ballard, this cabin is just minutes away from many great locations, such as Los Olivos, Solvang, and Santa Ynez.
As an added bonus, you can enjoy various amazing restaurants and wineries in the region. The entire area is well-connected with bicycle lanes, making it ideal for cyclists looking to go on a scenic bike ride.
Enjoy the incredible view of the sunset after a long day of trekking through this little paradise!
Past guests say:
"Awesome cabin located just 3 miles from downtown Solvang! Anne was very communicative and easy to work with. The cabin is extremely cozy, stylishly designed, and spotless! Check in was completely self-service and easy! Would definitely recommend!"
"We spent 2 nights at Anne's place and loved it. It's very rustic and charming. It is quite small but plenty of space for 2 people. Some of the reviews mentioned it was cold but that was not our experience. The heater keeps the whole place super cozy. It's very close to Los Olivos so you can pop down there for food and wine tasting. There aren't a lot of eating choices because of the pandemic but we managed to find some places that we would pick up from. There is a tiny kitchen but it isn't possible to cook food in there. Just a microwave and a small fridge. Plenty of places to sit if you bring food home though. We would not hesitate to book again!"
Best Santa Barbara Wine Country Airbnbs: Santa Ynez Airbnbs
Small Town Vibe, World Class Wineries, and Food (Santa Ynez, CA)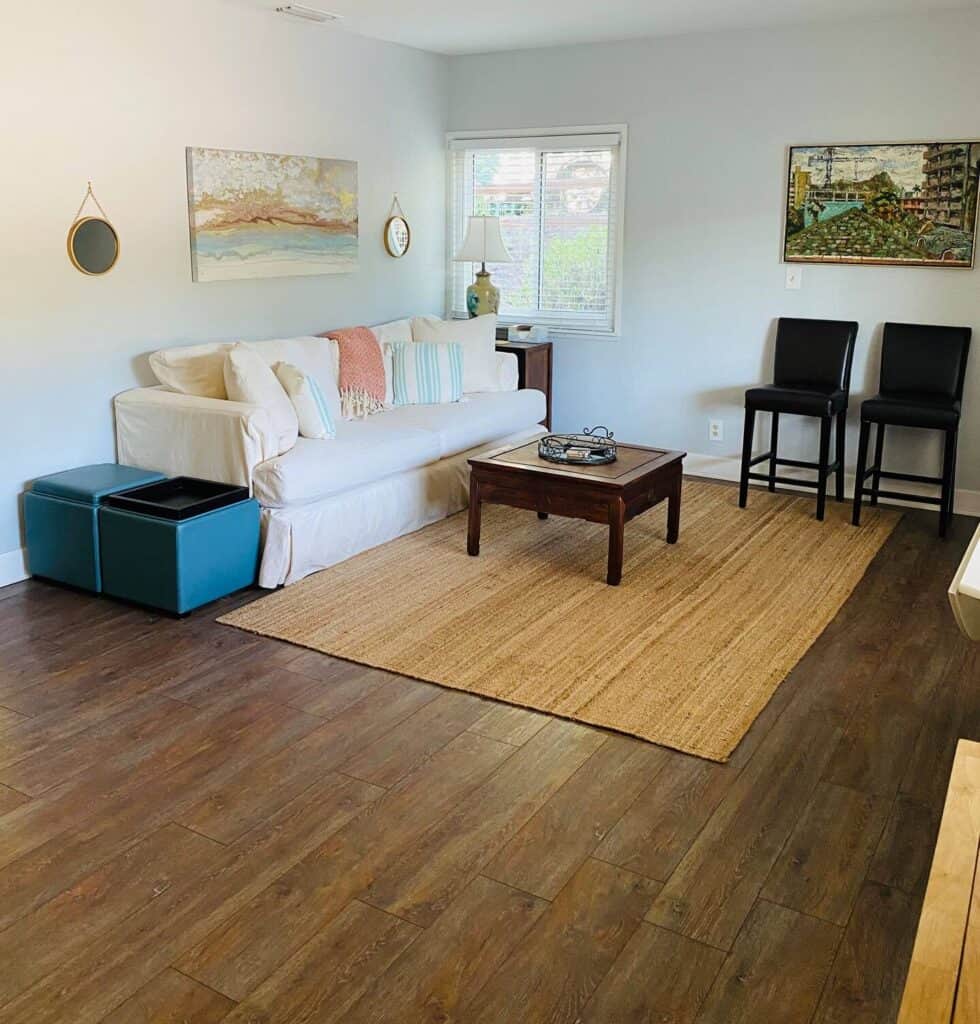 This adorable ranch house is situated on the edge of the Santa Ynez township. The property features charming decorations, not to mention nice views from both the inside and outside.
You will have access to plenty of condiments and cleaning products, so not having to bring your own really makes the trip prepping process easier.
You can sit outside and bask in the sunlight on the deck, and there's even a spacious backyard you'll wish you could call your own!
Besides the restaurants and wineries which are par for the course in this area, you'll also be near the Chumash Casino and many historic buildings.
Also, consider checking out the bakery, famous in the area for its distinctive pastries!
If all that wasn't enough for you, a 5-minute car ride is all that separates you from Los Olivos and Solvang, where you can find over 70 local wineries, each more amazing than the last.
Past guests say:
"Clean, contemporary & centrally located in Santa Ynez on a quiet residential street, yet walking distance to several amenities, including top restaurants in the area. Dean and Janet were great hosts— they even gave us a bottle of delicious wine! Would love to stay here again-"
"This place was so wonderful! Went for a couple's "weekend" trip with our dogs and it was one of the only places that seemed to be truly pet friendly (most other places were still restrictive pretty restrictive. Dean & Janet were very welcoming to the our fury beasts). It smelled good, was clean, had a very comfy bed (which after a long day of hiking was much appreciated). We were surprised with a wonderful bottle of wine and a friendly smile. The place is connected to their house, but it you still felt like you had your own private place. (the back patio area was just the perfect size and included a hammock which was great for lounging). It was quiet and amazing location (we did hiking in Santa Ynez, ate in Solvang and only 30mins to Santa Barbara for some beach time). I hope to stay here again and hands down recommend you do too!!"
Charming Santa Ynez Farmhouse (Santa Ynez, CA)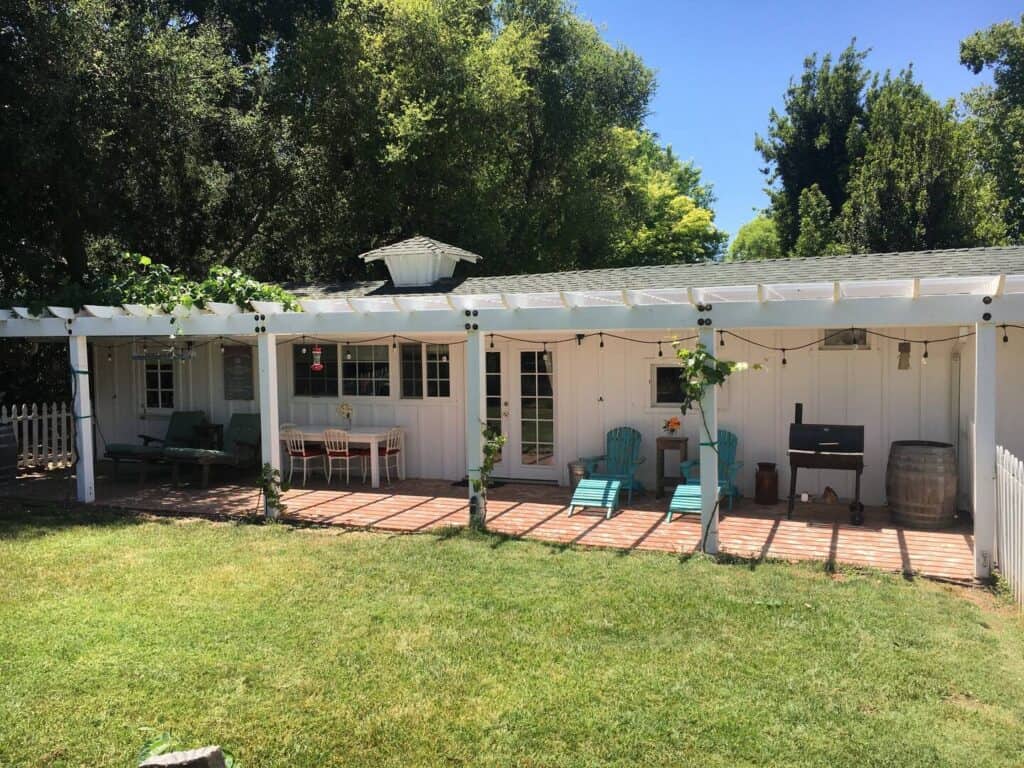 The interior of this rustic farmhouse is filled with homely decorations that really accentuate the rental's character.
The beds are extremely comfortable, and you have access to plenty of amenities, including a private brick patio, where you can unwind as you fire up the barbecue grill.
The hosts are very friendly and will provide you with fresh organic eggs, oatmeal, coffee, tea, and milk, all made on the farm!
If you think you've seen some great sunsets, just wait until you've seen one from the vegetable garden – on that note, the garden is rife with adorable domestic animals, all yours for the petting!
The farm is conveniently close to Los Olivos and downtown Santa Ynez, making it ideal for admiring the region's unique architecture. Visitors should also consider traveling to Santa Barbara and Lake Cachuma, as well as the Danish Village of Solvang. Overall, this place provides great access to famous restaurants and quality wineries, such as Roblar, Beckman, and Bridlewood, to name a few.
Past guests say:
"We loved our stay here at the farm! The turkeys greeted us each time we came and went and we had visits on the back patio from the mini horses. Kristine is a dedicated host and the thoughtful touches in the farmhouse show that. We arrived to a loaf of bread fresh out of the oven and homemade jellies. We had everything we needed to cook simple meals in the kitchen. The bathroom is well stocked with supplies. The location is excellent for exploring the Santa Ynez Valley and the cute little towns. Everything was only a few minutes drive away."
"I spent 3 nights at the farmhouse, and I had a wonderfully relaxed visit. Kris gave me a very warm welcome when I got there. I needed a weekend away to recharge, and this was the perfect place to do it! Highlights were the cozy accommodations, seeing the animals, and the delicious bread! The location was perfect to go into Los Olivos and Solvang. I can't wait to come back for another break!!"
Private 1 Bedroom on 20 Acre Olive Farm (Santa Ynez, CA)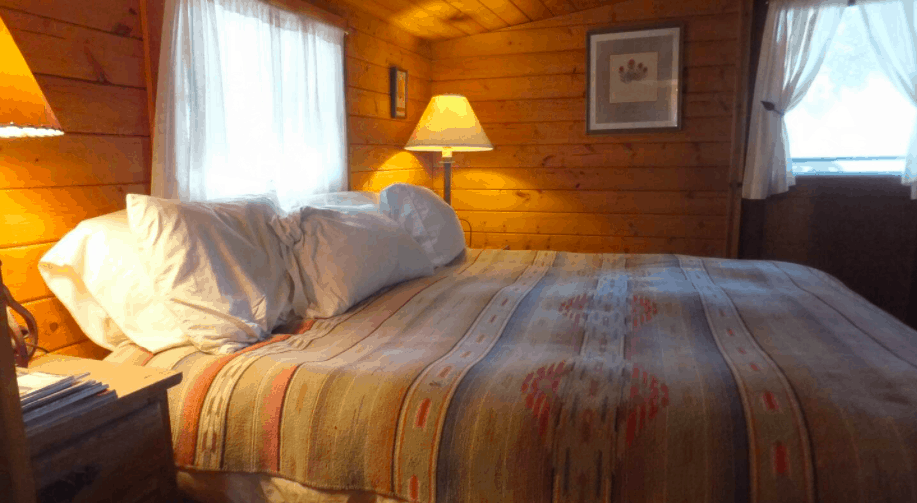 Situated in the beautiful Santa Ynez Valley on a 20-acre olive farm, this charming wood-framed cottage is incredibly well-stocked and cozy.
You can relax outdoors on the front or back patio with your daily fix of caffeine – the coffee & Italian food service will help you start off the day on a great note.
Strolling around the olive farm is highly encouraged, and the lively animals (just look at those dogs and cats!) will keep you company as you soak in the beauty that is this property.
You will find that the sunsets and sunrises here are beautiful, as is just about everything else – turn in any direction and you'll find something worth photographing.
Just across the street is a great winery, and there are heaps more to find as you keep exploring!
Past guests say:
"Ideally located in a beautiful, working olive oil ranch. The gorgeous scenery of Los Olivos is truly remarkable. A great place to hang out, close to great food, and downtown. Along with great hosts, and awesome olive oil!!"
"This will be my home away from in Santa Ynez valley…… Shannon shares the farm with guest as a welcome home. Will be a repeat guest anytime driving from LA to SF Thx Shannon and family and the pets"
New Studio Apartment on Luxurious 5 Acre Ranch (Santa Ynez, CA)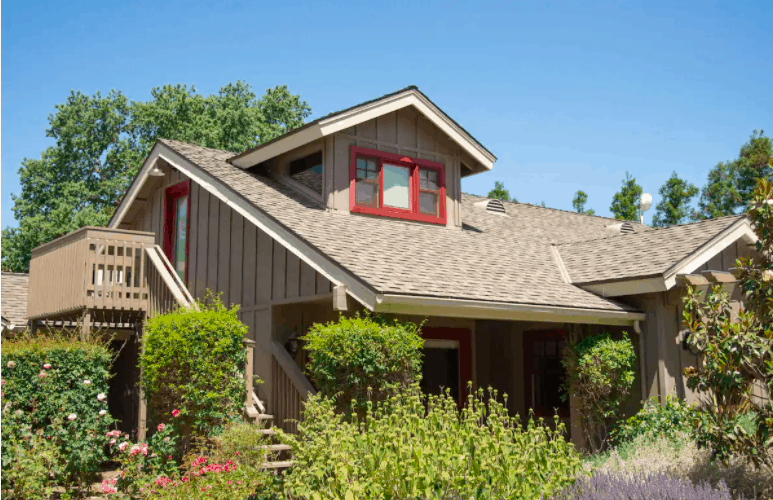 Clean, elegant, and featuring plenty of open space, this newly renovated studio apartment is one of the region's definitive romantic getaways.
The exterior features a swimming pool and hot tub, as well as a fire pit by the sitting area to dry off afterward, and a grill where you can whip up some delicious barbecue.
If you're in need of recreation, you'd be wise to take a yoga class, or explore the orchards and vineyards that define many of the region's properties. The cherry on top is, you can let your dog play with the other furry bundles of joy on the property.
The location is ideal for sightseeing and tasting the fruits of Santa Ynez Valley. The wineries and restaurants in the area are sure to leave an impression, and you can take a short drive to visit Santa Ynez, Los Olivos, and Solvang.
Plenty of outdoor activities are available if you're the adventurous sort, there are plenty of activities you could do to keep you occupied, such as horseback riding, cycling, hiking, and much more!
Past guests say:
"Great quaint, cozy spot in a beautiful valley. The hosts were very accommodating and welcoming. 10/10 would recommend."
"We had a great stay for our anniversary and the property exceeded our expectations. The farm and surroundings were very relaxing and peaceful, really enjoyed the Jacuzzi and Pool. Anyone that enjoys yoga will also benefit from on property classes."
Best Santa Ynez Wine Country Airbnbs in Buellton & Los Olivos
Charming Wine Country Cottage with WiFi (Buellton, CA)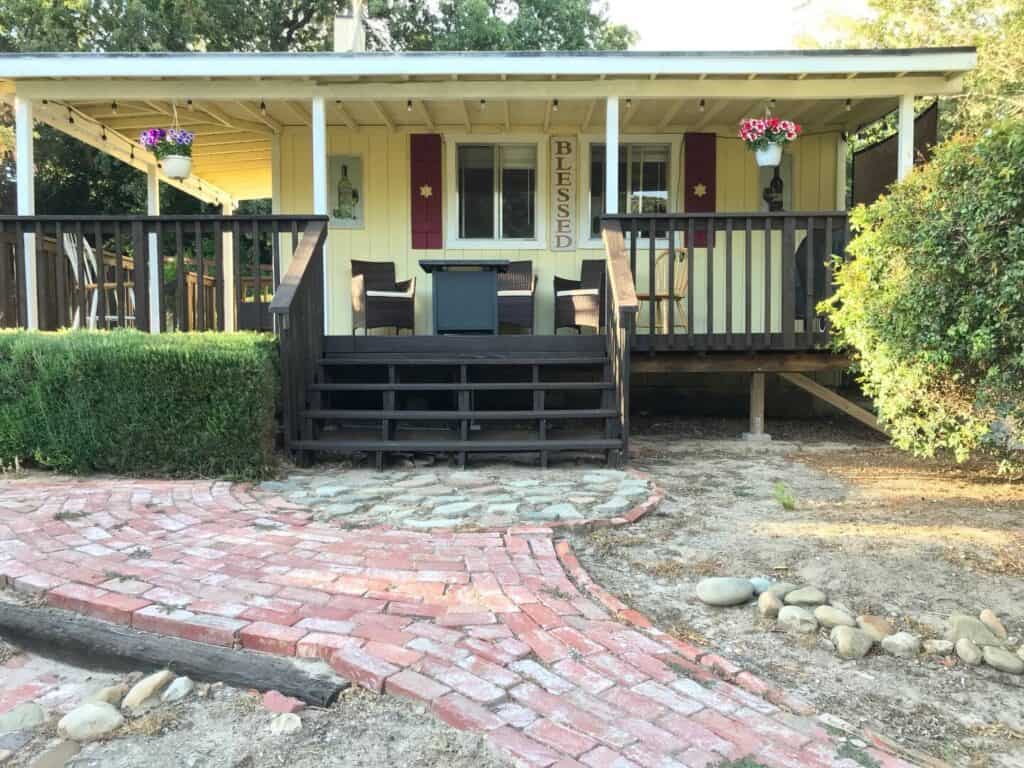 Nestled on a serene hill, this cottage is the perfect choice if you're looking for a nature retreat.
The interior is clean and cozy, and you'll have a hard time getting out of the comfortable beds!
The deck provides you with a picturesque view of the surrounding hills, made all the more beautiful by the occasional deer and cattle. Cracking open a bottle of your favorite wine and soaking in the beautiful views is bound to give you a newfound appreciation for life.
In the evenings, you can turn on the outdoor fairy lights and light the crackling fire pit for a romantic, rural atmosphere.
As you leave through your private driveway, you'll find that this place is very close to a lot of wineries and breweries, not to mention only a stone's throw from Buellton: home to Sideways filming locations and Ostrich Land!
Other historical areas worth visiting are Solvang, Santa Ynez, Los Olivos, and Los Alamos – all iconic notches in your wine-tasting belt.
Once you're done exploring, you can go to the Gaviota State Beach, which is only a 15-minute drive away, or take a slightly longer trip to Santa Barbara.
Past guests say:
"Erin was very accommodating and flexible with us. Her place was lovely! The fire place really made our trip (but don't forget to step out from under the porch to look at the stars)."
"This space is even dreamier than the pictures show. The porch space is perfect for some wine and charcuterie with a relaxing view. Our pup was right at home from the get go. A perfectly located spot for great access to all the places you'll want to visit."
Ballard Hill Ranch – Los Olivos Wine Country with Horses (Los Olivos, CA)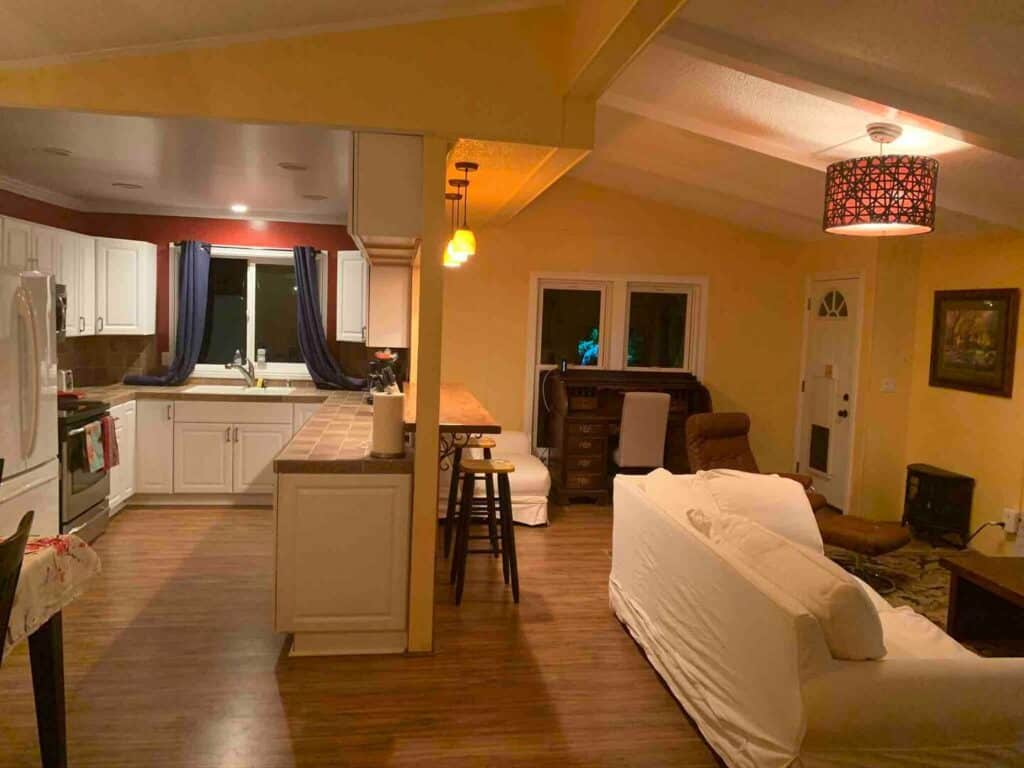 Animal lovers will truly get a kick out of this incredible ranch house! The house is situated on a small hill overlooking the entire ranch, as well as the surrounding mountains and nature.
Enjoy this stunning view as you wait for your BBQ on your deck, or get a tour of the ranch from the much-helpful host.
The horses on the ranch are tame and friendly – they're guaranteed to enjoy your company and turn even the biggest frown upside down. There are also a number of horse-themed activities you can try here – if you've ever wanted to ride a horse, this is the place to do it!
The location is very close to dozens of wineries and restaurants, as well as a number of interesting towns.
Catch fish at the scenic Lake Cachuma, sunbathe on the beach, visit the historic Los Olivos and Solvang, or even get in a hot air balloon – the options are endless, and you'd be hard-pressed to find a better place for an unforgettable vacation!
Pin This Guide to Solvang + Santa Ynez Valley Airbnbs!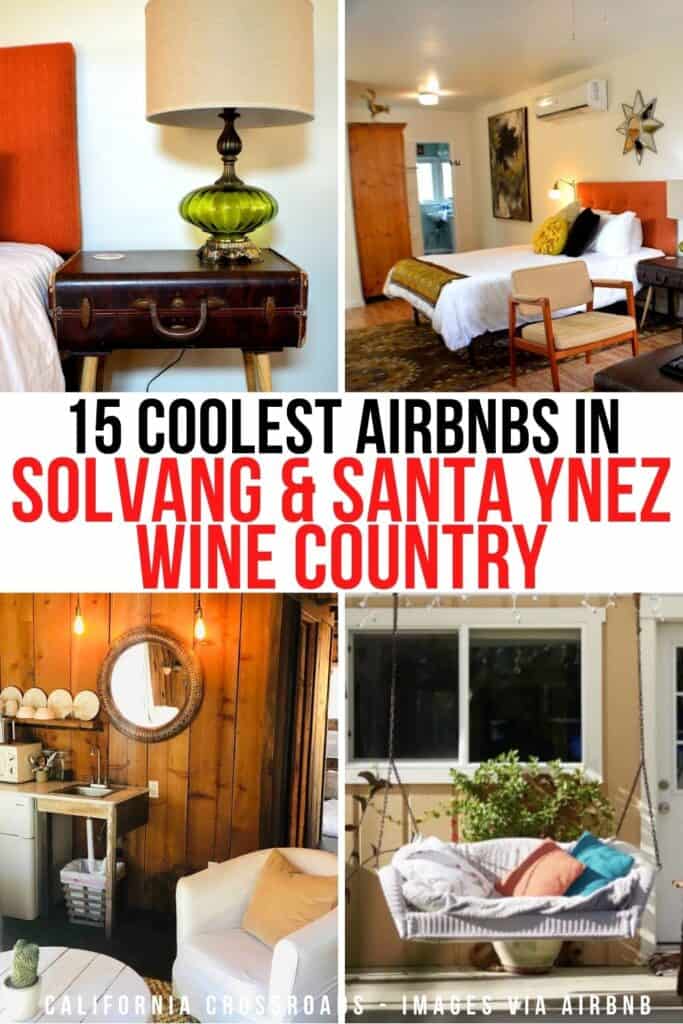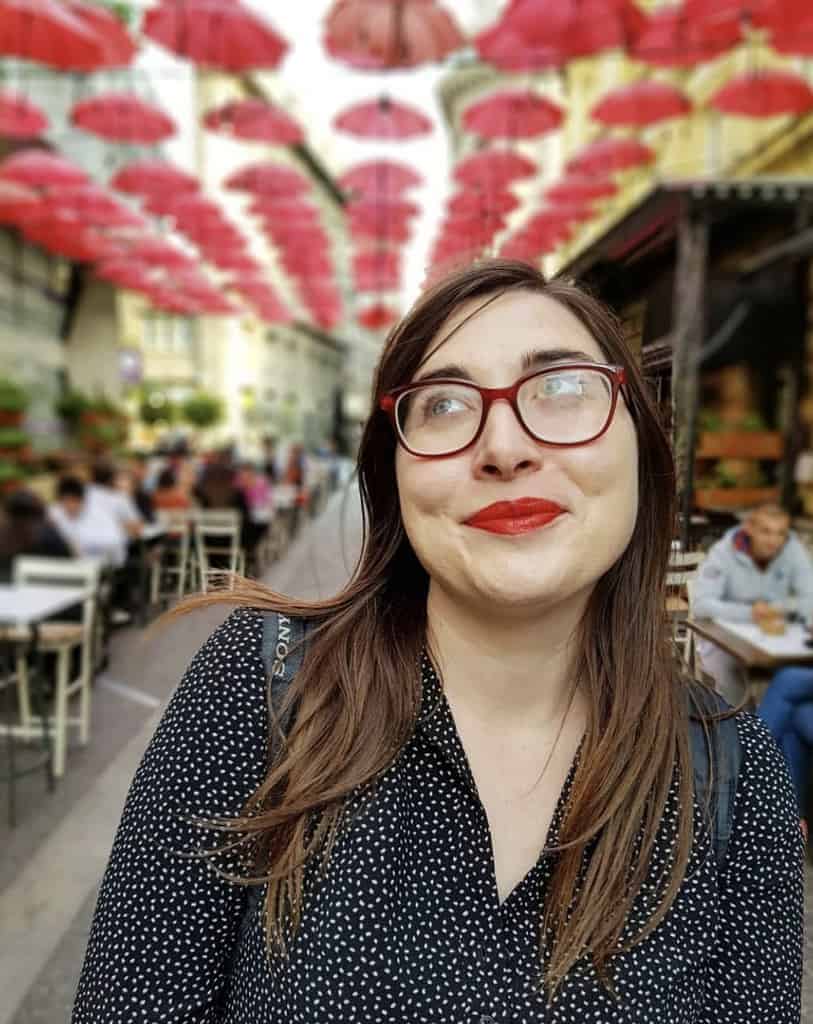 Allison Green is a travel blogger, writer, and podcaster who grew up in the Bay Area of California. She has spent time living in New York, Prague, and Sofia, but has returned to live in the East Bay. She has traveled to 60 countries before the age of 30 while running several digital travel publications. Her writing and podcast have been featured in Forbes, CBC Canada, National Geographic, the Huffington Post, and CNN Arabic, amongst others. She's obsessed with bouldering, houseplants, other people's pets, and anywhere she can see the ocean.