Vineyards stretched along rolling hills, foggy and mysterious coastlines, winding rivers hugged by redwoods: Sonoma County has it all.
I've spent so much time exploring Sonoma County and its many small towns, from Sebastopol to Guerneville to Monte Rio to Jenner to Healdsburg to Occidental and perhaps another half-dozen towns in between.
It's my favorite place in California and it's always my #1 pick for a weekend getaway from San Francisco!
So if you're looking for a relaxing Sonoma getaway — whether its wine tasting, relaxing on the Russian River, or chilling by the coast, here are my favorite Sonoma County Airbnbs.
I also have a separate post with all my favorite Sea Ranch Airbnbs, in case you are looking for a stay further up the Sonoma Coast in a quiet, beautiful sea town home to some of the most intriguing architecture in the state.
Best Airbnbs in Sonoma
Private Glen Ellen Retreat (Glen Ellen, CA)
Note: This post contains affiliate links, which earn me a small commission at no extra cost to you if you make a purchase using one of these links. Thank you for supporting this free content!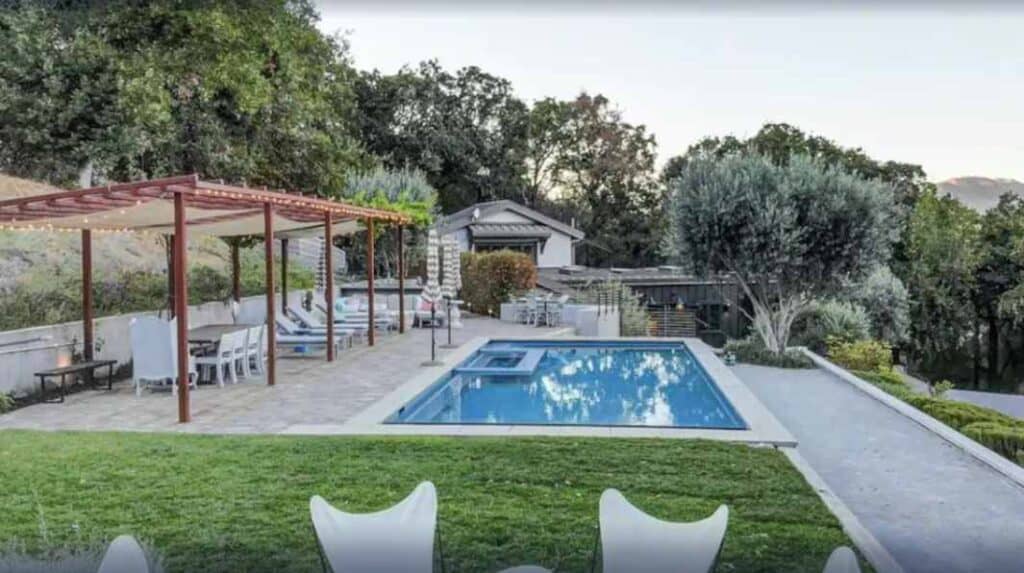 Boasting one of the most inviting outdoor areas in all of Sonoma County, this home is the perfect wine country getaway of your dreams. This hilltop estate with a private, gated driveway features cottage-style windows, a refined chef's kitchen, and an elegant master suite.
Picturesque views await in the backyard, as well as a sparkling pool and the the hot tub. Travelers also enjoy the fire pit and outdoor kitchen that complete this stunning outdoor social space.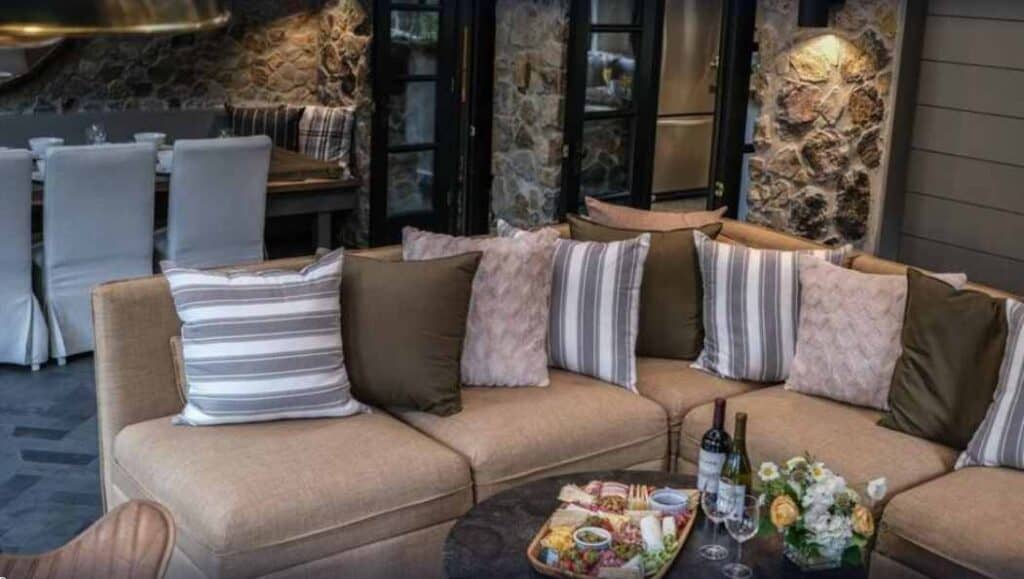 The open-concept living space features exposed wood beams with a modern style for you to settle in for movie night on the 55 TV.
In winter time, a gas fireplace adds warm ambience to the whole atmosphere.
If you're here to spend some time channeling your inner chef, then the kitchen will enchant you. It is outfitted with stainless steel appliances and plenty of counter space. A side-by-side refrigerator and gas range make meal preparation a breeze.
Your secluded backyard oasis beckons with beautiful landscaping and a luxurious hot tub as well as a gas fire pit to sip a glass of local wine while preparing your own barbecue!
Past guests say:
"What an amazing property! There was a sense of peace and tranquility the minute you walked through the door. The indoor and outdoor living spaces were so beautiful, we never wanted to leave. The host was wonderful and the town of Glen Ellen was delightful. We could not have had a better vacation and we look forward to a return trip!"
"The property is truly beautiful inside and out. The pool is lovely. Highly recommend to anyone looking for a relaxing getaway."
Wine Country Cottage (Penngrove, CA)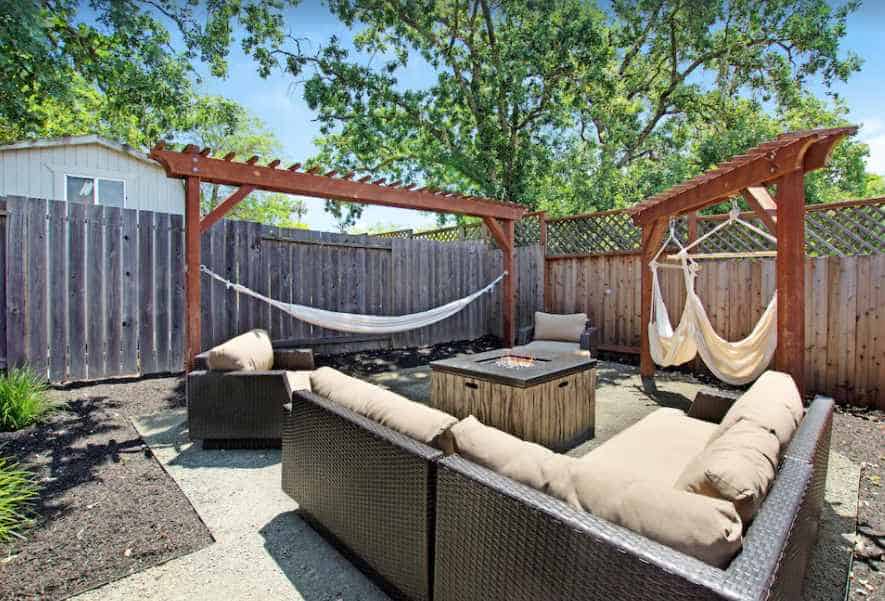 This spectacular Sonoma vacation rental stands out thanks to its incredibly tasteful interior!
The unique blend of modern and bohemian is sure to inspire you. Recently renovated with a beautiful backyard, this 1 bed, 1 bath cottage can accommodate up to 4 guests in a very comfortable setting.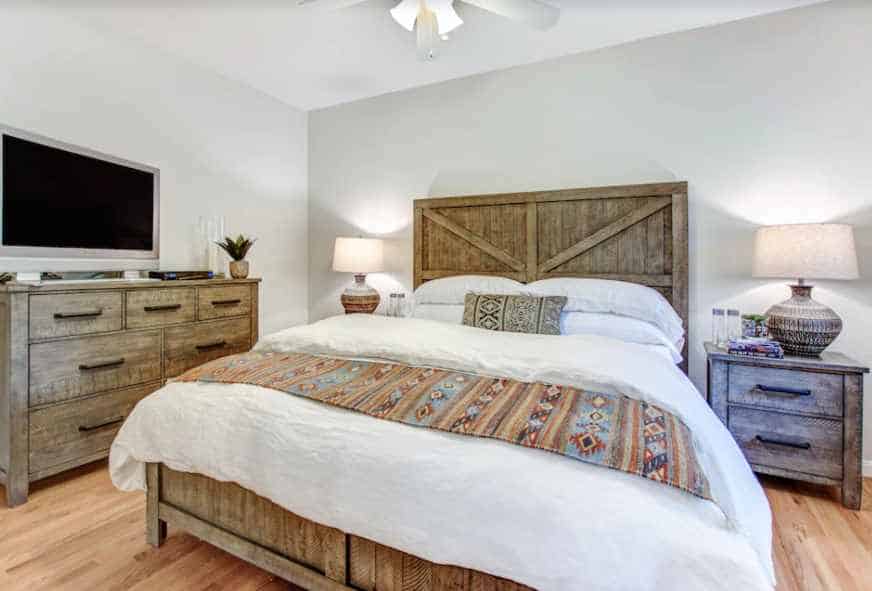 Although there are a number of ranches and farms in the neighborhood, you can expect your stay to be quiet and peaceful.
Highlights include a private hot tub, outdoor dining area, and a beautiful fire pit with comfortable seating and hammocks around. The interior of the home is very clean and comfortable. The perfect property for a romantic weekend away in Wine Country!
It's located near Kenwood, Sonoma and Calistoga, so it will be a breeze to find wineries, breweries, and wonderful restaurants nearby!
If you'd like to spice up your holiday, take a drive to Crane Creek Regional Park or one of the countless attractions in Wine Country, or grab a bicycle (if you're experienced enough!) and pedal across Lichau Road for your daily workout while staying at this lovely Sonoma home.
Past guests say:
"Just what we were looking for in a little mini vacation get away out of the Bay. Perfect space for bbqing, lounging on the patio, cooking at home, or ordering in. Also, great hot tub and the bed is very comfortable!"
Redwood Cabin (Sebastopol/Graton, CA)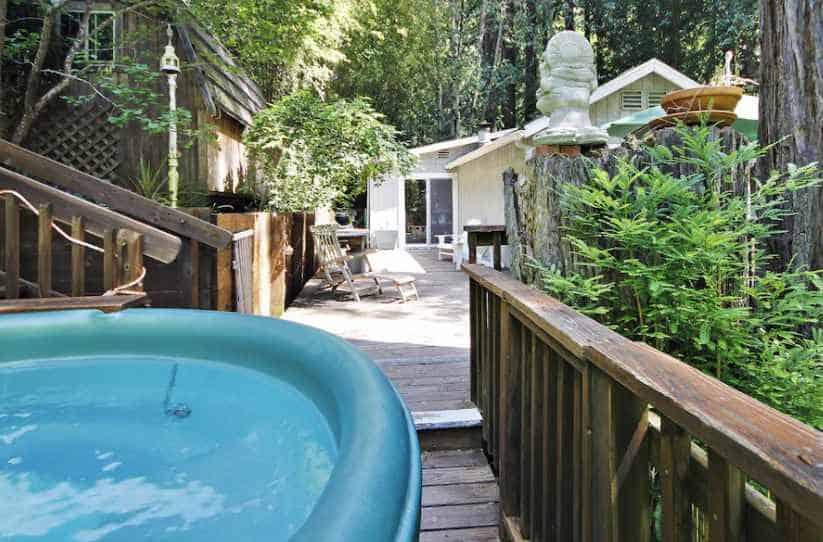 This cabin is nestled in a lovely forest enclave, also featuring quick access to Guerneville.
In the area, you can enjoy beautiful redwoods, a seven-minute walk to Vacation Beach, and a short 2.5-mile drive into downtown.
The house has been decorated in an eclectic style. The cabin is stocked with both the basics and it also includes a beautiful hot tub.
Here, the beautiful Russian River is central to daily life, and visitors can enjoy their pick of beaches, river activities. There are many hiking options, and the sea is just 7 miles away!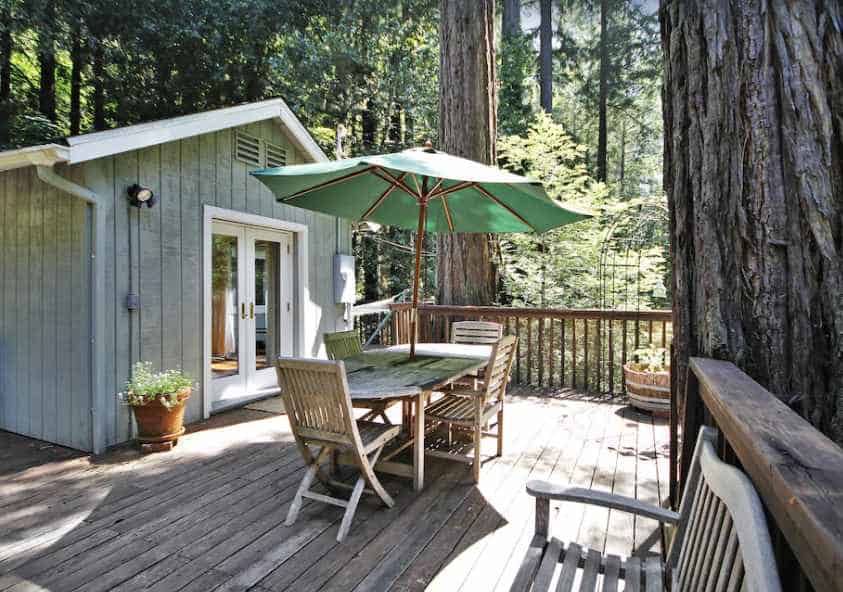 The cabin is a one-bedroom house with a Queen bed and has a couch bed in the living room.
There is also a kitchen equipped with a coffee maker, microwave, stove, oven, pans, and full set of dishes. There are spacious furnished decks to enjoy outdoor and indoor living, and the property is fenced.
As low-key as the area is, you won't have to worry about getting around as there is ample public transportation available. In addition, the town of Graton is only a short walk away, meaning you'll have quick access to Underwood Restaurant and a variety of tasting rooms.
"What an amazing find this was. The place was great, scenery beautiful and the hosts were super friendly and accommodating. We'll definitely be going back!!
Detached Wine Country Tiny House (Santa Rosa, CA)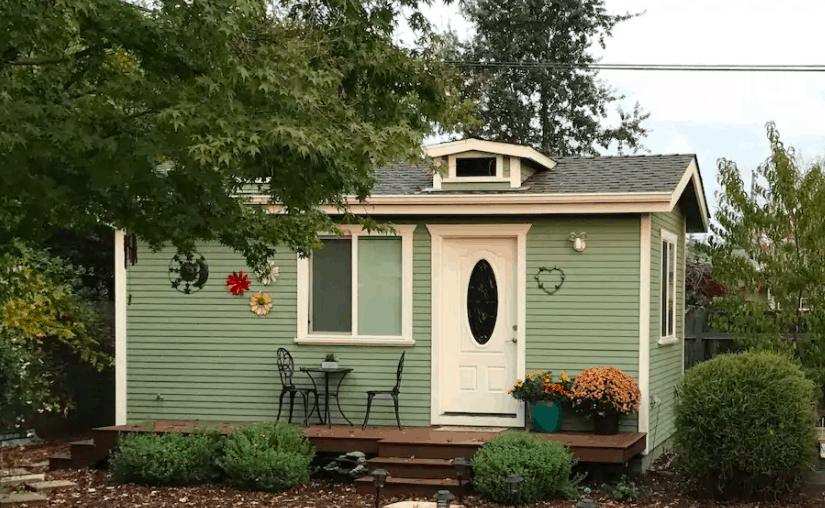 This tiny house is a brand new property spanning 200 square feet, but it packs so much into a tiny footprint! Plus, it's so cozy: the comfortable queen size bed will have you falling asleep in minutes flat.
The house is incredibly peaceful and gives you a sense of privacy that few other rentals can – the only thing that can throw a wrench in your serene stay is if you're a light sleeper, easily woken up by the song of roosters!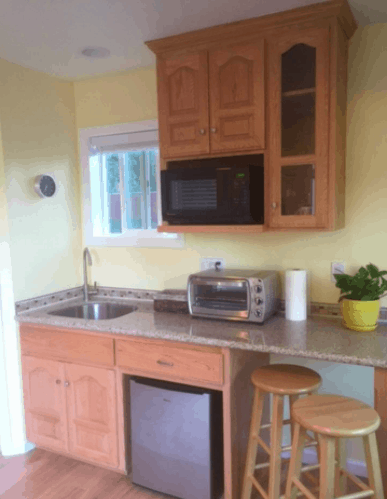 Outdoors, you'll have access to a small deck, the ideal place to unwind and play with the owner's beloved dogs. For something a little bit different, take a look at the docile bees out back!
The location is near downtown Santa Rosa, the largest city in Sonoma County, yet it's only a 30-minute drive from the nearest beautiful beach.
You can find many lovely boutiques, tasty restaurants to sample the local cuisine, and theaters and parks for relaxation and entertainment all in the downtown area.
This property offers great value to everyone who wishes to experience Wine Country in its full splendor!
Past guests say:
"Perfect house to explore wine country. Close to everything and located in a safe and quiet Santa Rosa neighborhood. The house is adorable and has so many nice touches. The backyard is so relaxing as well! Loved staying here!"
"If you are thinking about this tiny home just do yourself a favor and book it! The tiny home is such a unique space. My husband and I spent 6 nights there and loved every minute. Inez was quick to respond and the tiny home was full of thoughtful touches. The house was also very clean. It is centrally located and a good home base for the coast and also the wine country. Actually, one day we just stayed in and relaxed. It was a much needed break in such a tranquil spot. Before I booked I was wondering if I could hear the chickens. I didn't hear a sound."
Walk to Russian River – Casa Del Rio (Forestville, CA)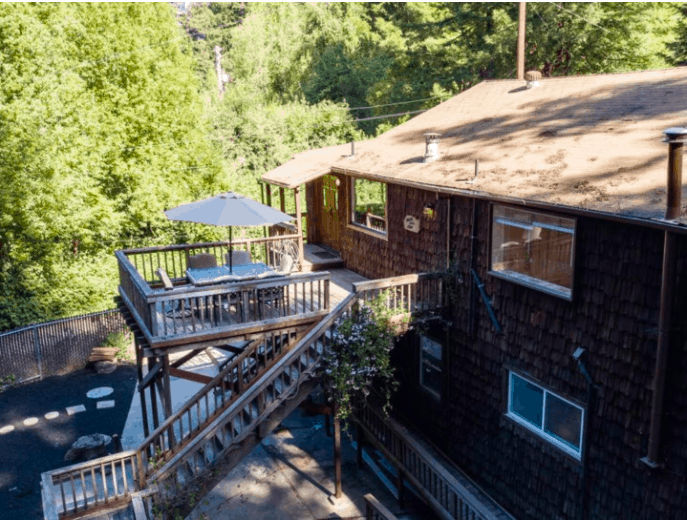 If you're looking for a clean and modern house for your stay in Wine Country, look no further!
Allowing for up to 6 guests, Casa Del Rio is the ideal vacation home for families or a group of friends looking to try something a little different – be sure to bring your beloved pet too (though note that a $50 pet fee is applied).
This upper-level unit comes with 3 beds, as well as 2 baths, with one ensuite bath and a clawfoot tub, plus a large spacious room to relax in and watch TV in around the fireplace.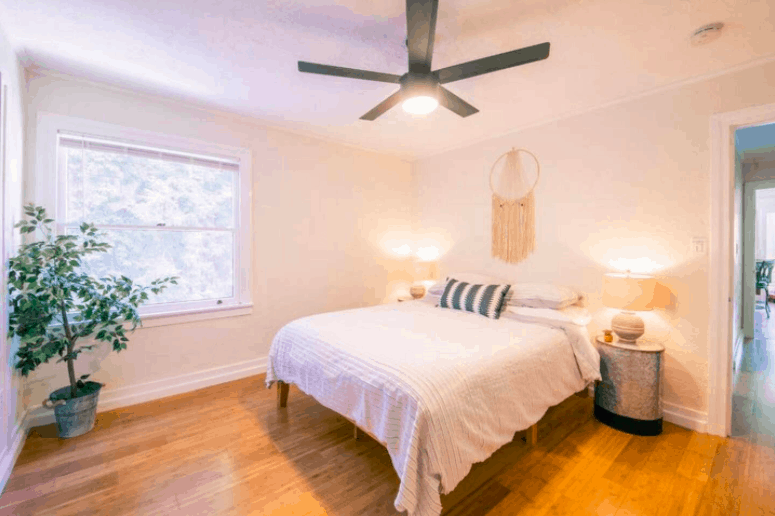 Outside, there is a spacious private deck with a patio, perfect for enjoying the breeze as you dine among the trees.
The neighborhood is quiet and serene, so take a stroll along the riverbank of the Rusian River, which is located right by the rental.
There is a myriad of award-winning wineries within walking distance, and if you want some beach time or to go whale-watching, you can get to Bodega Bay in only 30 minutes!
Past guests say:
"Place was great! Big space that is good for groups close to the river and conveniences. If you're looking for a house by Russian River, can't beat it."
"GREAT value (for 4 ppl for 5 nights, we paid $43 per person per night). Apartment is spacious, clean, kitchen is well-stocked, door code worked, nice furniture, soft linens and comfortable beds, etc. Not the newest/fanciest interior, but for the price it was well worth it. Nice and secluded but also a 15 min drive to many wineries."
Dog-Friendly Wine Country Cottage (Sonoma, CA)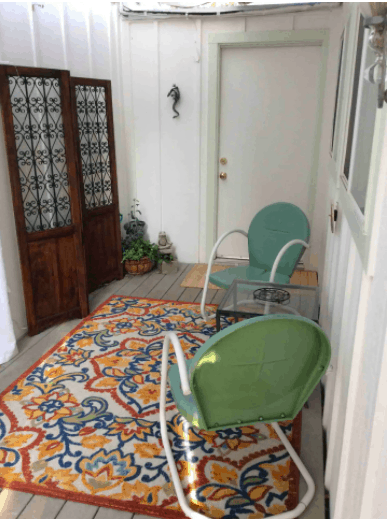 A bright, clean, and cozy cottage like this shouldn't fly under your radar if you're visiting the city of Sonoma.
The house is a great place for a couple looking to get away from it all, save for your pets who are more than welcome here!
The stone path to the cottage is charming, but that's only the beginning – every inch of this house oozes charm and character, from the comfortable living area to the patio, ideal for starting off the day.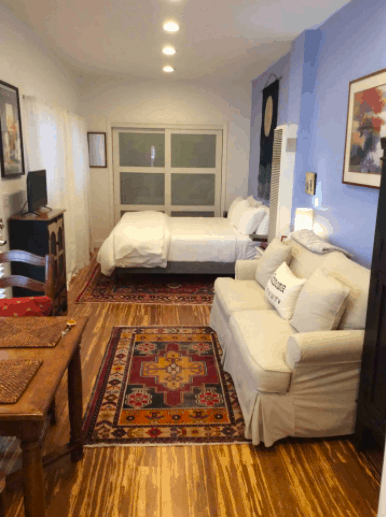 The various restaurants in the area will ensure you won't be going hungry, and you'd be doing yourself a disservice if you didn't check out the amazing hot springs nearby.
From superb wineries and cafes to well-supplied shopping malls, everything you could possibly need is only a short car ride away.
If you'd prefer not to drive, you can always grab a bicycle and check out Verano Avenue, Maxwell Park, and other attractions along the 3-mile biking path.
Past guests say:
"Best airbnb experience we have had to date. We will be trying to book Michelle's place for any future trips to sonoma. Highly recommend!"
"Michelle's cottage had everything we needed for our getaway. The bed was comfy and warm to go with a wide selection of streaming services while winding down. Michelle was extremely prompt when responding to questions and helped us out whenever we needed it."
Redwood River House (Healdsburg, CA)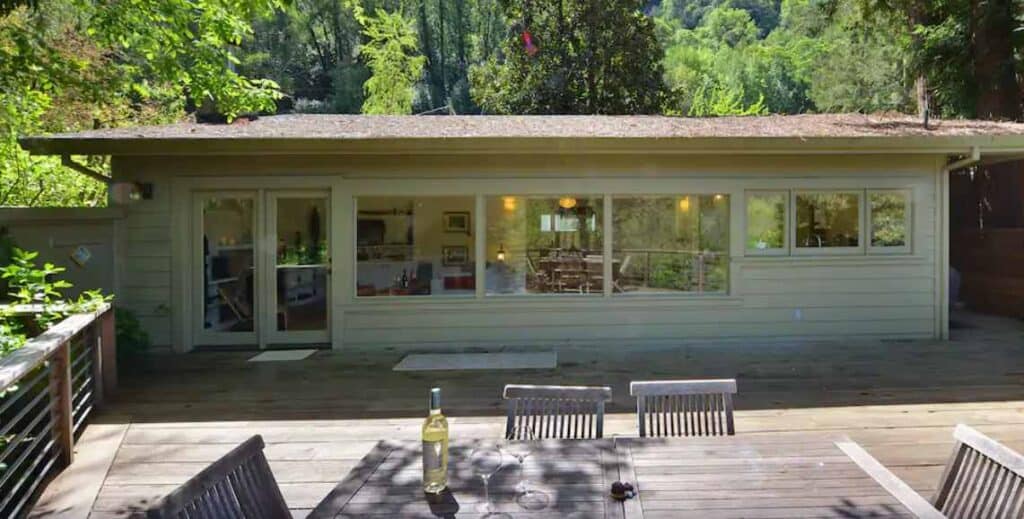 Located in Healdsburg, this vacation home is right on the waterfront. The area's natural beauty can be seen at Russian River and Healdsburg Ridge Open Space Preserve, while Healdsburg Museum and Raven Performing Arts Theater are cultural highlights in the area.
Redwood River House is a 2-bedroom Riverfront Cottage, ideal for a getaway and to explore Healdsburg and Wine Country.
The house features an open floor plan, upscale furnishings and décor, and a large deck to relax and unwind with family or friends. Just a mile and a half outside of downtown Healdsburg, it is minutes away from all of the best shopping, dining and wine excursion experiences awaiting you.
The home has wood floors, large picture windows filling the house with natural light. There's private riverfront access, a kayak, and a barbecue grill.
Recreational amenities at the vacation home include a spa tub.
Past guests say:
"Easy walk down to the riverbank from the back deck. And 1/4 mile stroll down to the dead-end of the quiet street & onto the footpath to river beach. I fished every day! House was equipped well enough for our week's stay. Quick drive over the hill into town when needed. We loved it and hope to stay again!"
"All just as advertised. The cabin has a great, remote feeling and river access, despite being so close to the conveniences of Healdsburg city center. thanks for a great stay."
Luxury, modern, totally renovated Sonoma getaway (Sonoma, CA)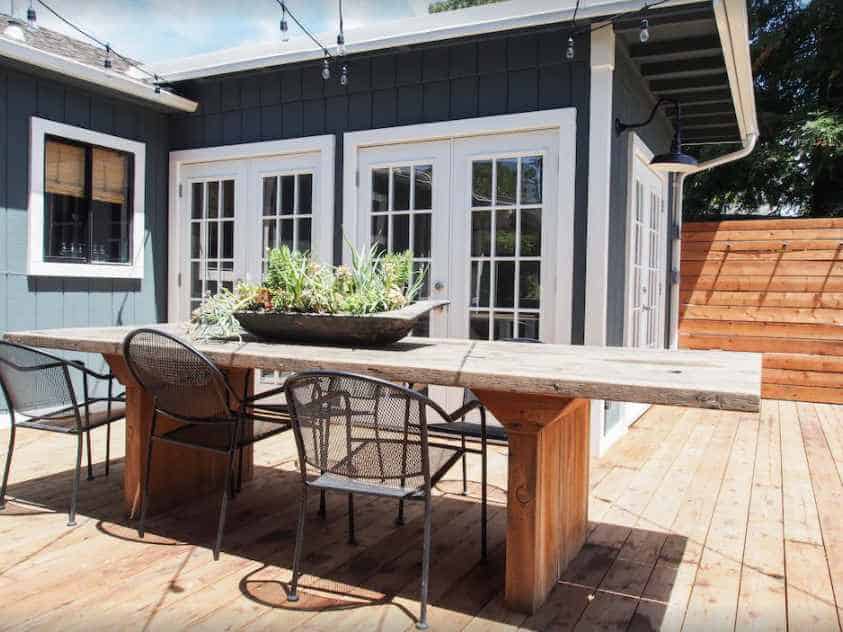 This gorgeous home elegantly blends the charm of country living and modern sophistication inside an old 1940's cottage completely renovated to create the most relaxing, comfortable retreat you can imagine.
This modern Sonoma cottage features high-end finishes. Whether you want to bike ride around the gorgeous countryside (bikes provided and many wineries within biking distance), walk to Sonoma Plaza for shopping, or lounge by the pool all day and dine al fresco, this cottage is for you.
There is a gorgeous pool (with automatic cover that holds the weight of a truck, so no safety issues), custom, modern wooden play set, kids biking gear, toys and portable crib for babies. The cottage also includes built in bunk beds for 2 kids age 12 and under.
Outside, our cottage is perfect for a Sonoma get-together, with a heated, ultra-modern UV filtered pool and sleek new poolside furniture for daytime relaxation, an oversized deck with grill, and a large outdoor table.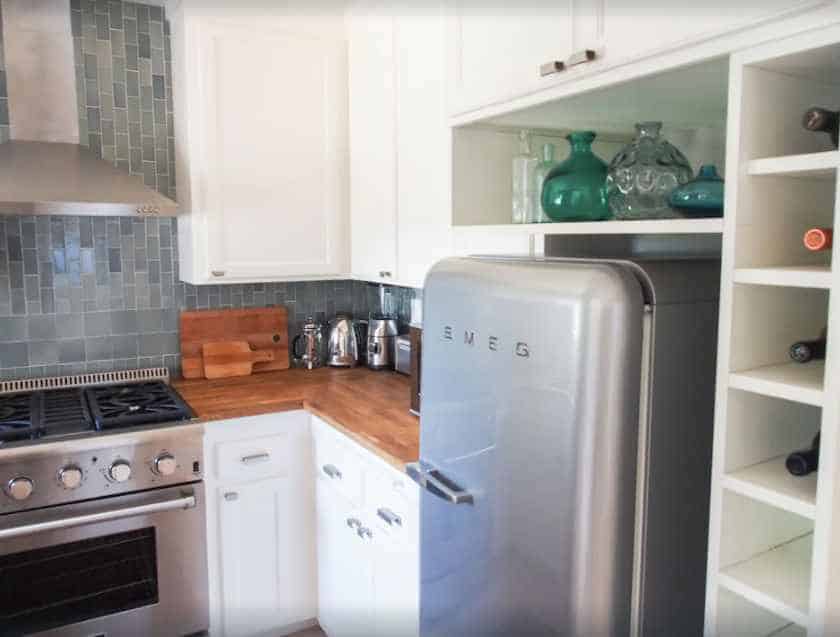 Inside, the cottage boasts a brand new custom kitchen with new stainless appliances and a sun-soaked indoor dining area.
For those who want to stay connected, the cottage has fast Wi-Fi and a 4K smart TV.
When you're done trying out the food and wine Sonoma is known for, you can go shopping in one of the area's bountiful malls, or explore the wondrous hiking trails of Sonoma and Napa Valley – the options truly are endless!
Past guests say:
"It's rare I stay at a rental that matches the description so perfectly. This home was exactly as beautiful and charming as the photos show. The place was immaculate. The kitchen was well stocked (but being so close to so many restaurants we hardly cooked in it.) The beds were comfy and all the amenities (pool, bikes, fire pit,) worked perfectly. The hosts were quick to reply and the check-in and check-out procedures are quick and easy. My husband and I came with our 18 months old and it was the perfect fit. There are children's books, toys, and accouterments but also we got to enjoy the YouTube tv and fire pit after she went to bed. The place is close to downtown and the list of recommendations the hosts give is thorough. We are already planning our next trip out!"
Riverfront Gem with Private Dock (Guerneville, CA)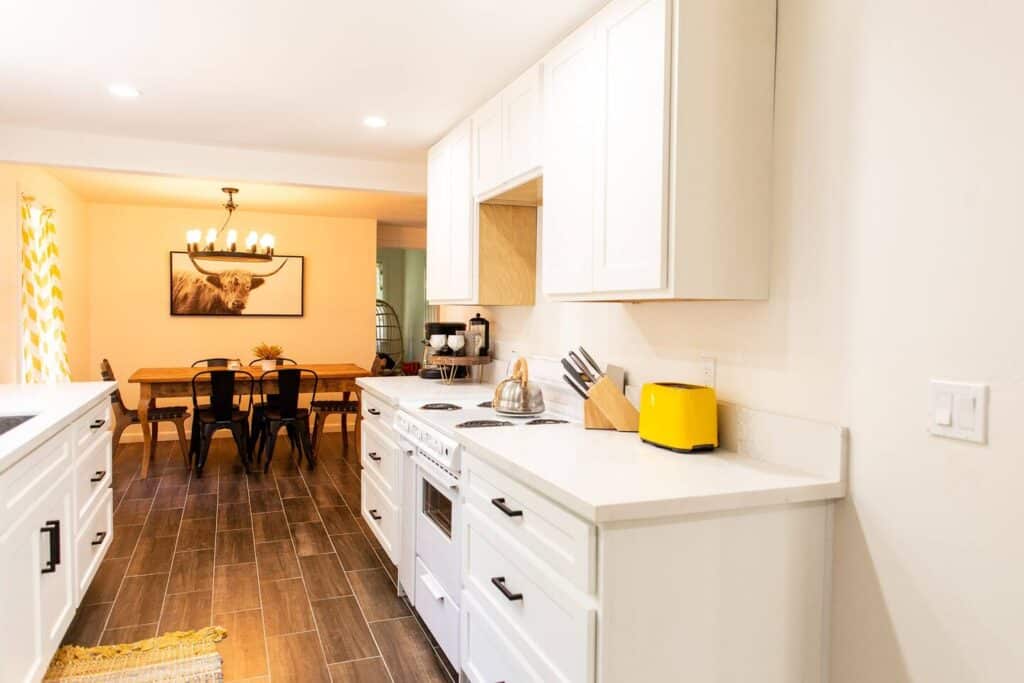 The Rivers Edge is will be your home away from home if you're looking for a tranquil getaway in the Sonoma area.
As you enter, the decorative flair and designer touches are sure to win you over in seconds flat!
You can sit on the small deck outside that overlooks the adorable orchard and the gorgeous river, and the 2.5-acre property is yours to explore – there are even plenty of picnic tables spread out for your convenience.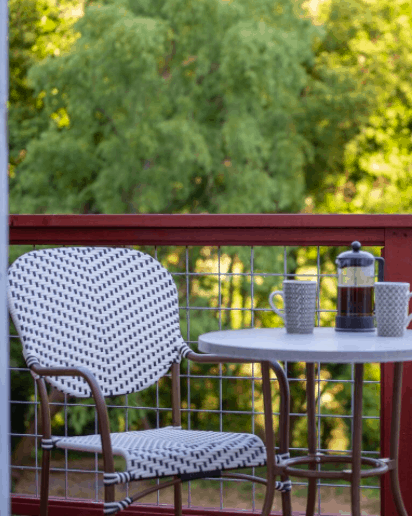 Finally, there's the shared dock, where even tossing pebbles into the Russian River feels serene.
This place is also very close to copious amounts of restaurants for all the food lovers looking to enjoy the local cuisine, after which they can taste fine wine at one of the countless nearby wineries.
It should go without saying that being this close to downtown puts you in the eye of the storm – hundreds of amazing attractions will be calling your name!
No reviews yet! Let us know how it is.
Boutique Apartment in Downtown Santa Rosa (Santa Rosa, CA)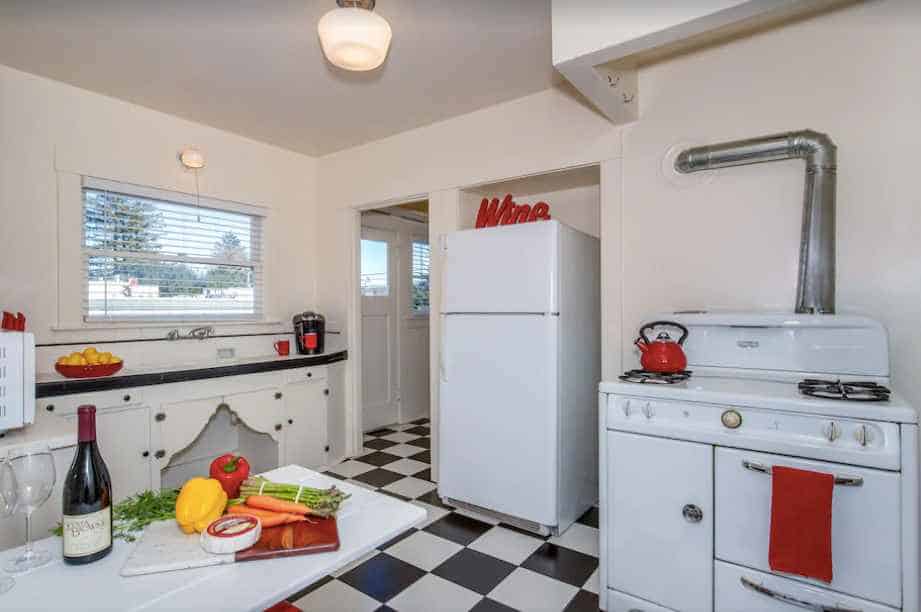 This charming 1930's boutique apartment is located in Downtown Santa Rosa just one block to Russian River Brewing Company. The spacious suite boasts a King size bed in the bedroom, a Queen sized sofa bed in the living room, and newly remodeled bathroom. The space features tons of natural light too.
On top of the property being spotless, it comes equipped with plenty of amenities and modern appliances to make your stay as swanky as possible.
Shop at the local farmers market and whip up a fresh dinner on the gas range in the eat-in kitchen. Zipline through the Redwoods or visit one of the many parks and lakes open for hiking and exploring in the area.
The boutique apartment is just minutes from amazing restaurants, world-renowned wineries & breweries, the SMART Train (Santa Rosa-Marin-Area-Rail-Transit), shopping, regional parks and more.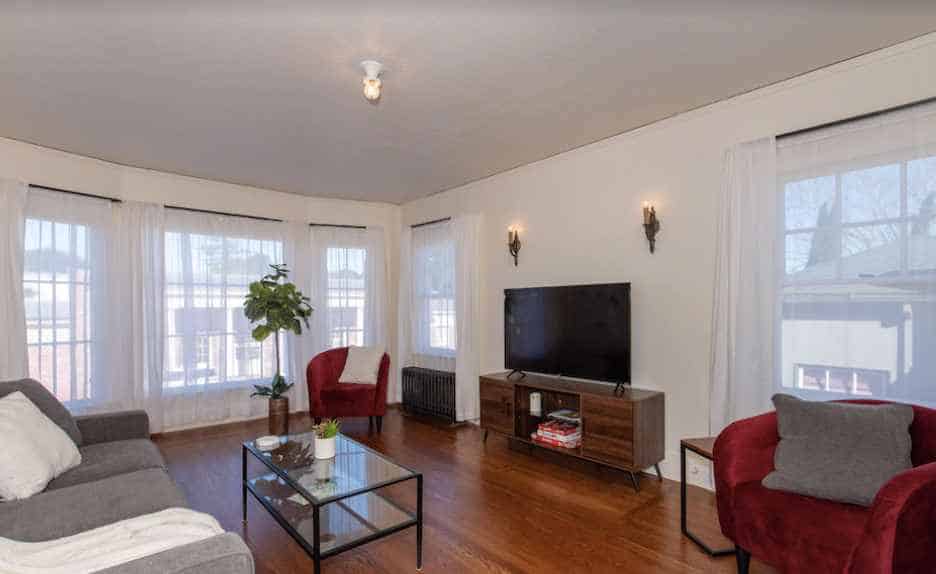 Head to the ocean and get a taste of the salt air and the gorgeous, rugged Sonoma coast, or visit a true African Safari complete with giraffes and rhinos at Safari West just 10 miles away.
Kids (and kids at heart) will adore a visit to the home of Snoopy, Charlie Brown, and friends at the Charles M. Schulz Museum. Don't forget to keep watch for over 70 Peanuts statues throughout the area celebrating these iconic characters!!
Past guests say:
"This was really stepping back in time. Reminded me of the apartment I had in the late 70's on last block of Fillmore St in the Marina. I love the little nook that was where the telephone would have been, the doors between DR and LR, hardwood floor, beadboard in the mudroom, the glass doorknobs, clever use of the old ironing board/iron cabinet, and the upgrades (bathroom) are very sympathetic. It was a very relaxing place to stay – I really didn't want to go anywhere! Although I did love the Tudor Rose Tea Room and Barnes & Noble nearby. Perfect place for me and I will stay there again I hope."
Riverfront Cottage in Sonoma Wine Country (Monte Rio, CA)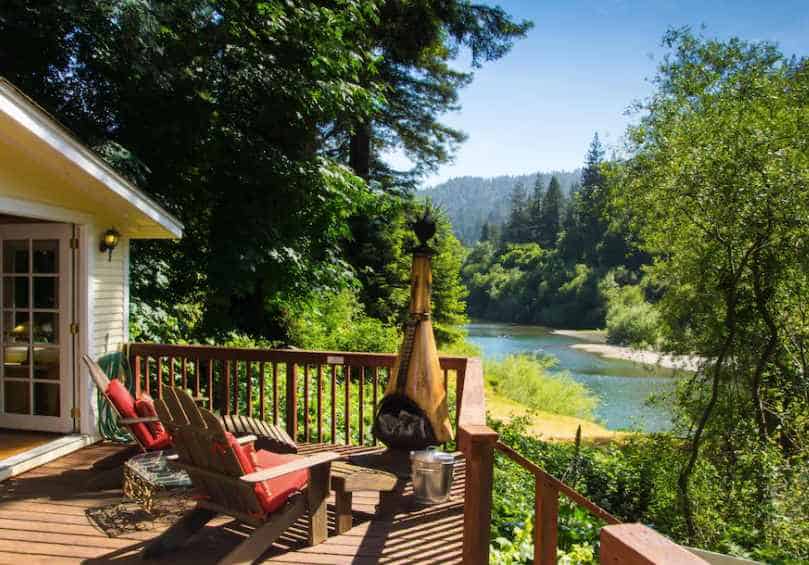 Stylish, light and airy one-bedroom cottage for two people only, which has been thoughtfully remodeled. This updated vintage cottage is on the banks of the Russian River with beach and river access right from the yard.
After parking in your dedicated off street parking space, you enter the property through a private garden and head down the right side of the house to the sunny riverfront deck. Here, there's an outdoor seating area and wood-burning chiminea fireplace, gas grill, hot tub deck, lawn and river access with two kayaks.
There are no houses across the water from you, so it's just the river and redwoods. Sip cocktails on the deck, soak in the hot tub, go swimming or kayaking in the river, or just enjoy the sun and scenery.
Read a book, watch a movie on the large flat screen television or just relax in the living room in front of the wood burning fireplace, in the leather lounge chair or in the vintage rocking chair.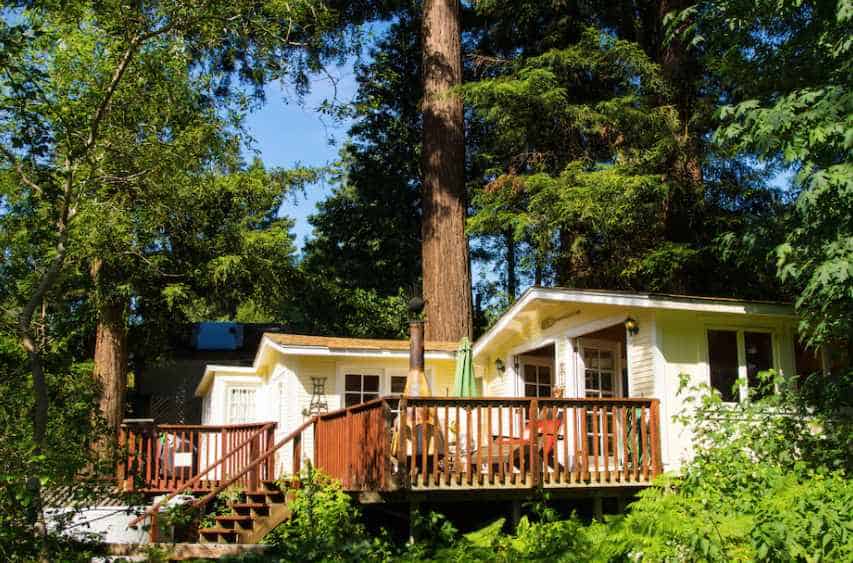 The open kitchen is well-equipped for your stay, ready for morning coffee and a toast on the deck or a gourmet meal for two.
The sun sets over the river and redwoods you see from the comfy, cozy bedroom. There's plenty of storage, extra blankets and pillows, and another flat screen television.
Pin this Guide to Airbnbs in Sonoma County!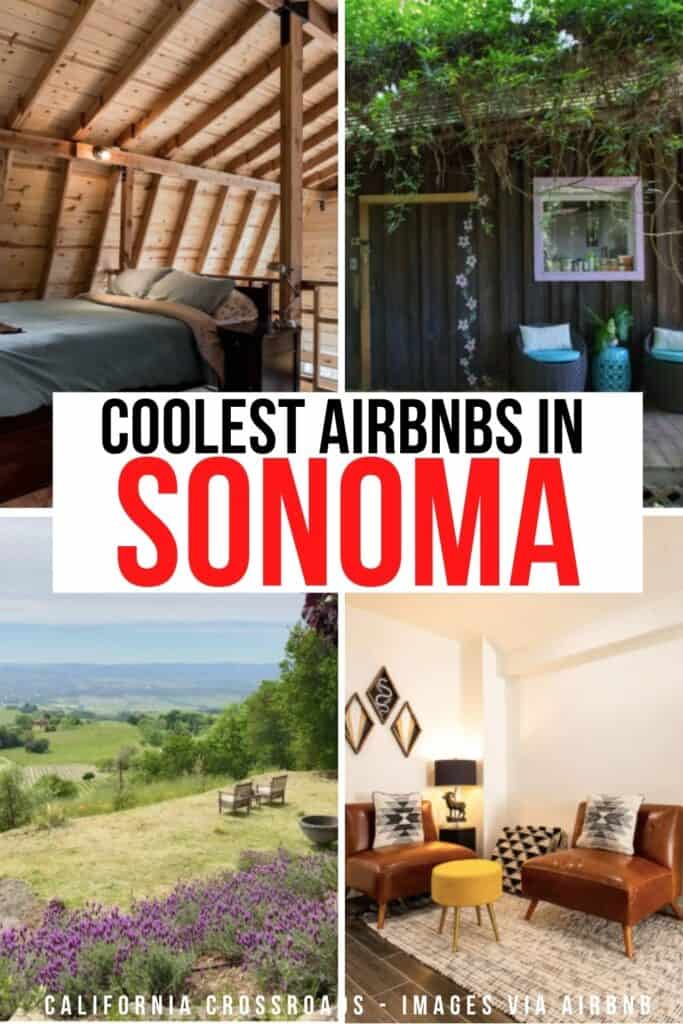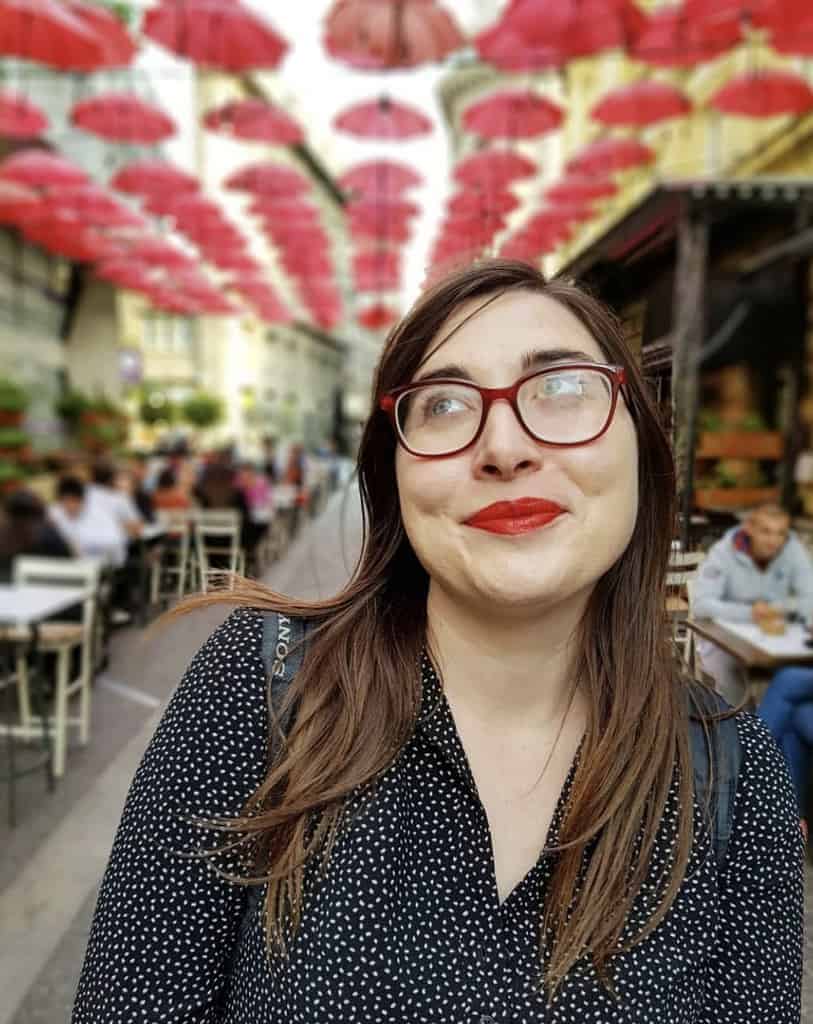 Allison Green is a travel blogger, writer, and podcaster who grew up in the Bay Area of California. She has spent time living in New York, Prague, and Sofia, but has returned to live in the East Bay. She has traveled to 60 countries before the age of 30 while running several digital travel publications. Her writing and podcast have been featured in Forbes, CBC Canada, National Geographic, the Huffington Post, and CNN Arabic, amongst others. She's obsessed with bouldering, houseplants, other people's pets, and anywhere she can see the ocean.