Vineyards stretched along rolling hills, foggy and mysterious coastlines, winding rivers hugged by redwoods: Sonoma County has it all.
I've spent so much time exploring Sonoma County and its many small towns, from Sebastopol to Guerneville to Monte Rio to Jenner to Healdsburg to Occidental and perhaps another half-dozen towns in between.
It's my favorite place in California and it's always my #1 pick for a weekend getaway from San Francisco!
So if you're looking for a relaxing Sonoma getaway — whether its wine tasting, relaxing on the Russian River, or chilling by the coast, here are my favorite Sonoma County Airbnbs.
I also have a separate post with all my favorite Sea Ranch Airbnbs, in case you are looking for a stay further up the Sonoma Coast in a quiet, beautiful sea town home to some of the most intriguing architecture in the state.
Best Airbnbs in Sonoma
Casa Relaxo (Glen Ellen, CA)
Note: This post contains affiliate links, which earn me a small commission at no extra cost to you if you make a purchase using one of these links. Thank you for supporting this free content!
Boasting one of the most inviting interiors in all of Sonoma County, Casa Relaxo truly lives up to its name!
This Sonoma Airbnb is perfect for couples and small groups of friends, sleeping up to 4 guests comfortably.
Between the stylish living area (complete with a fireplace), cozy loft bedroom, and 1000-square-foot deck with incredible mountain views, you'll find no shortage of places to relax. Also, you can pick apples, pears, and nectarines to your heart's content from the back deck!
If you're worried about noisy neighbors, now's the time to breathe a sigh of relief – the only company you and your fellow guests will have within a several-mile radius is each other.
Add to that the slew of scenic hiking trails, the incredible panoramic views from atop Mt. Veeder, as well as the beautiful pond you'll be driving by to reach the property, and you're left with one of the most tranquil Airbnbs in Sonoma you can hope to find in the region.
Past guests say:
"Doug's place was awesome! He includes a map with local hiking spots and a super neat surprise at the end. Make sure to stop and get any food you'll need during your stay, the drive up the mountain is a hefty one. There's a hot plate, little oven, microwave everything you need. Super easy check in and check out"
"Wonderful location. Excellent host. Doug was super helpful and offered great local spots as recommendations. The cabin was well heated and offered great views. 10/10 would stay again!"
Sonoma Mountain Artist's Retreat (Penngrove, CA)
This spectacular Sonoma vacation rental stands out thanks to its incredibly tasteful interior, and it's sure to inspire the artist in you to write, paint, and create like never before!
The unique blend of modern and bohemian is sure to inspire you, and if you want to take things to the next level, look through any of the house's windows or step out into the olive grove and marvel at your serene surroundings.
The redwood deck is among the property's highlights, as it wraps around the house and gives you unprecedented nature views from all sides.
Although there are a number of ranches and farms in the neighborhood, you can expect your stay to be quiet and peaceful.
If you'd like to spice up your holiday, take a drive to Crane Creek Regional Park or one of the countless attractions in Wine Country, or grab a bicycle (if you're experienced enough!) and pedal across Lichau Road for your daily workout while staying at this lovely Sonoma Airbnb.
Past guests say:
"Michelle's place is extraordinary, with sweeping views of the local hills and a beautiful, light-filled, well appointed space. It is perfect for a personal retreat or couples/family getaway with time to just relax on the deck or chairs overlooking the olive grove and the unbeatable view. It's also easy to get to amazing local hiking, wine tasting or out to the coast. Michelle and her family (including two awesome dogs) are friendly and considerate hosts. A gem of a spot!"
"Michelle's hilltop oasis is incredible day and night. We had such a relaxing stay and Michelle was very communicative throughout. We felt very taken care of and were lucky to call it home for a few nights. Highly recommend for a central location in wine country and beyond!"
Fully Furnished Granny Unit in Wine Country (Sebastopol/Graton, CA)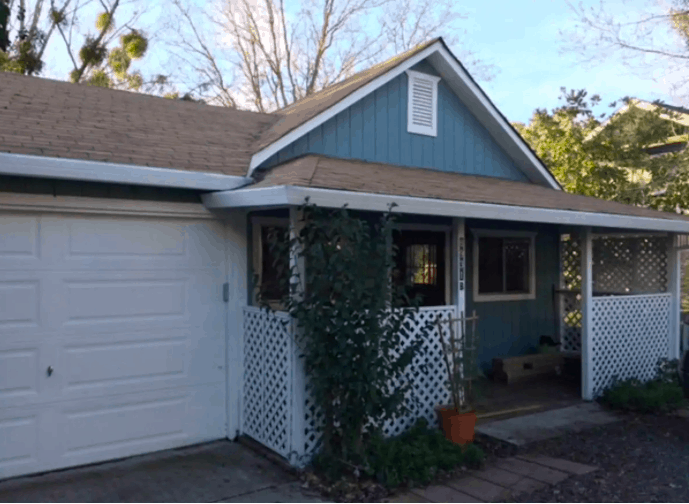 A granny unit is a separate, self-contained mini-home on the site of another house, typically meant for multi-generational households who want to maintain privacy and independence amongst different generations in the house.
However, this charming Sebastopol rental is bound to evoke feelings of your grandparents' house beyond just its name, with its rustic design and simple, yet well-equipped interior.
The property comes equipped with a charming patio connected to the bedroom, as well as a communal outdoor sitting area where you can interact with fellow guests if you choose and relax beneath the shady trees that surround the property, or you can keep to yourself if you prefer privacy.
Provided you can guarantee it won't rip the place up, you can even bring your dog here with you – your little companion will get to run around one of the quietest and safest neighborhoods in the region without a care in the world.
As low-key as the area is, you won't have to worry about getting around as there is ample public transportation available. In addition, the town of Graton is only a short walk away, meaning you'll have quick access to Underwood Restaurant and a variety of tasting rooms.
No reviews yet! Let us know how your stay is.
Detached Wine Country Tiny House (Santa Rosa, CA)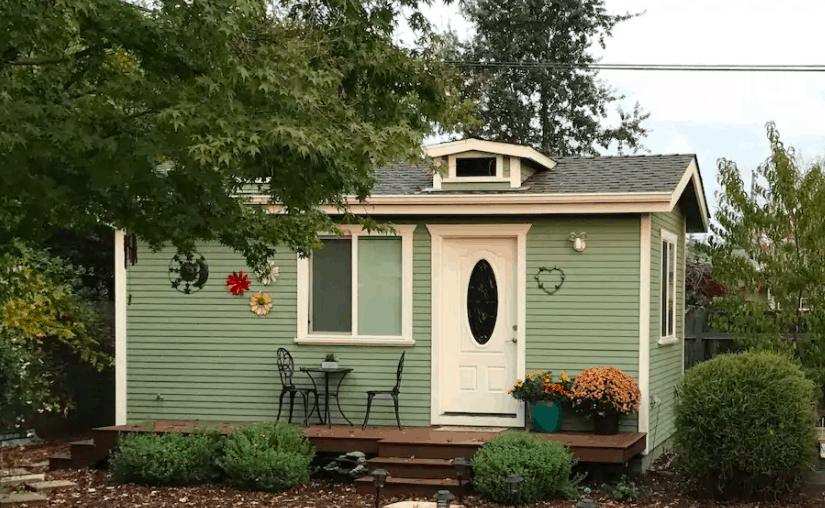 This tiny house is a brand new property spanning 200 square feet, but it packs so much into a tiny footprint! Plus, it's so cozy: the comfortable queen size bed will have you falling asleep in minutes flat.
The house is incredibly peaceful and gives you a sense of privacy that few other rentals can – the only thing that can throw a wrench in your serene stay is if you're a light sleeper, easily woken up by the song of roosters!
Outdoors, you'll have access to a small deck, the ideal place to unwind and play with the owner's beloved dogs. For something a little bit different, take a look at the docile bees out back!
The location is near downtown Santa Rosa, the largest city in Sonoma County, yet it's only a 30-minute drive from the nearest beautiful beach.
You can find many lovely boutiques, tasty restaurants to sample the local cuisine, and theaters and parks for relaxation and entertainment all in the downtown area.
This property offers great value to everyone who wishes to experience Wine Country in its full splendor!
Past guests say:
"Perfect house to explore wine country. Close to everything and located in a safe and quiet Santa Rosa neighborhood. The house is adorable and has so many nice touches. The backyard is so relaxing as well! Loved staying here!"
"If you are thinking about this tiny home just do yourself a favor and book it! The tiny home is such a unique space. My husband and I spent 6 nights there and loved every minute. Inez was quick to respond and the tiny home was full of thoughtful touches. The house was also very clean. It is centrally located and a good home base for the coast and also the wine country. Actually, one day we just stayed in and relaxed. It was a much needed break in such a tranquil spot. Before I booked I was wondering if I could hear the chickens. I didn't hear a sound."
Walk to Russian River – Casa Del Rio (Forestville, CA)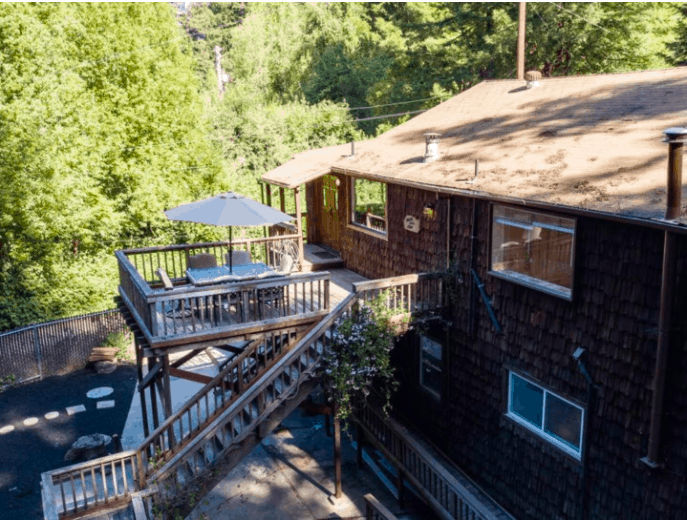 If you're looking for a clean and modern house for your stay in Wine Country, look no further!
Allowing for up to 6 guests, Casa Del Rio is the ideal vacation home for families or a group of friends looking to try something a little different – be sure to bring your beloved pet too (though note that a $50 pet fee is applied).
This upper-level unit comes with 3 beds, as well as 2 baths, with one ensuite bath and a clawfoot tub, plus a large spacious room to relax in and watch TV in around the fireplace.
Outside, there is a spacious private deck with a patio, perfect for enjoying the breeze as you dine among the trees.
The neighborhood is quiet and serene, so take a stroll along the riverbank of the Rusian River, which is located right by the rental.
There is a myriad of award-winning wineries within walking distance, and if you want some beach time or to go whale-watching, you can get to Bodega Bay in only 30 minutes!
Past guests say:
"Place was great! Big space that is good for groups close to the river and conveniences. If you're looking for a house by Russian River, can't beat it."
"GREAT value (for 4 ppl for 5 nights, we paid $43 per person per night). Apartment is spacious, clean, kitchen is well-stocked, door code worked, nice furniture, soft linens and comfortable beds, etc. Not the newest/fanciest interior, but for the price it was well worth it. Nice and secluded but also a 15 min drive to many wineries."
Dog-Friendly Wine Country Cottage (Sonoma, CA)
A bright, clean, and cozy cottage like this shouldn't fly under your radar if you're visiting the city of Sonoma.
The house is a great place for a couple looking to get away from it all, save for your pets who are more than welcome here!
The stone path to the cottage is charming, but that's only the beginning – every inch of this house oozes charm and character, from the comfortable living area to the patio, ideal for starting off the day.
The various restaurants in the area will ensure you won't be going hungry, and you'd be doing yourself a disservice if you didn't check out the amazing hot springs nearby.
From superb wineries and cafes to well-supplied shopping malls, everything you could possibly need is only a short car ride away.
If you'd prefer not to drive, you can always grab a bicycle and check out Verano Avenue, Maxwell Park, and other attractions along the 3-mile biking path.
Past guests say:
"Best airbnb experience we have had to date. We will be trying to book Michelle's place for any future trips to sonoma. Highly recommend!"
"Michelle's cottage had everything we needed for our getaway. The bed was comfy and warm to go with a wide selection of streaming services while winding down. Michelle was extremely prompt when responding to questions and helped us out whenever we needed it."
Rustic Cottage in Sonoma Redwoods (Occidental, CA)
Have you ever wanted to embrace the elements and stay in a rustic, cozy, and leafy cottage in the woods?
If so, this place is what you're looking for! Relax in the 2-acre garden or on the deck of the cottage with a cold drink, and admire the primordial redwood forest of Sonoma that flanks you.
This cottage houses up to two guests and is equipped with an indoor fireplace should you feel a chill. There's also a sauna to warm up in!
Add to that the comfortable bedding and unique ambiance (I mean, this is a converted chicken coop, made of actual redwood!) – what more could you ask for from a nature retreat?
This is a veritable paradise for nature-loving folks, as guests can take a stroll on the property and the 900-square-foot labyrinth makes the prospect of getting lost sound exciting.
You can relax in the shade cast by the 2000-year-old redwood forest as you soak in your very own outdoor hot tub, and you'll even have access to a sauna and fire pit.
Finally, if you want to change things up, you can easily drive to a number of nearby restaurants or even Bodega Bay, which is 20-30 minutes away by car.
Past guests say:
"Just book it if you can. You will love the beautiful property- peaceful and fresh! Convenient location nearby cute towns to explore. Planning our return soon!"
"Like all the other reviews say, just book it. You won't regret it. Sit on the porch and just listen to the trees and wind. It's is the perfect getaway from daily noise and traffic. Great place to unplug in a sense."
Vintage Reserve – A Sweet Suite 3 Room Retreat (Sonoma, CA)
This gorgeous suite elegantly blends the charm of country living and modern sophistication.
Guests will have their own driveway in this compact and self-contained unit with countless amenities – the combined dining and living areas and immaculate cleanliness make this place an easy sell, and the suite's unique aesthetic is one you won't soon forget.
Outside, there is an attached deck where you can enjoy your mornings or evenings as you admire the gorgeous premises of the property.
The interior is also gorgeous, with a lovely quirky decor like barn sliding doors, colorful bedspreads, and unique dining chairs.
Needless to say, being close to a spa and the incredible Sonoma Plaza is also a huge plus!
Once you've found your favorite wineries and restaurants in the region, you'll be checking your calendar for your next weekend off so you can do this trip again.
When you're done trying out the food and wine Sonoma is known for, you can go shopping in one of the area's bountiful malls, or explore the wondrous hiking trails of Sonoma and Napa Valley – the options truly are endless!
Past guests say:
"We had such a wonderful time staying at this rental. It was exactly what we needed for the short amount of time we stayed in Sonoma. Lori Beth and her co-hosts were very communicative and kind. We would definitely stay here again!"
"This is my second time staying at this beautiful space. Like the first time, it was a lovely week long stay. Lori Beth is a gracious host, the place is sparkling clean, cozy, beautifully decorated and just minutes away from downtown Sonoma. I am sure there will be a third visit"
Riverfront Gem with Private Dock (Guerneville, CA)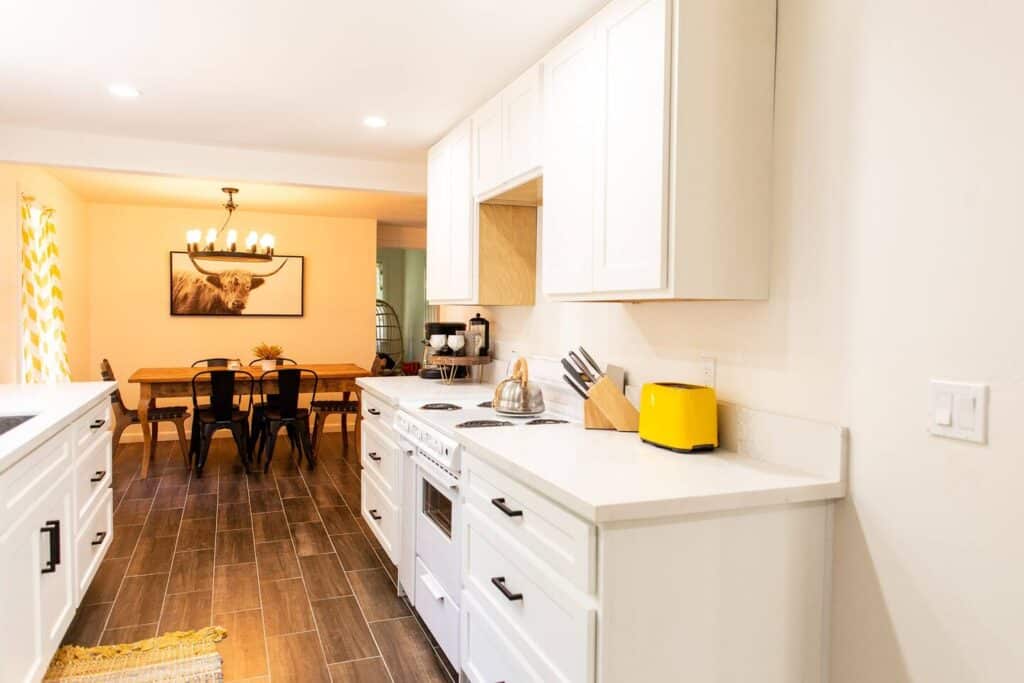 The Rivers Edge is will be your home away from home if you're looking for a tranquil getaway in the Sonoma area.
As you enter, the decorative flair and designer touches are sure to win you over in seconds flat!
You can sit on the small deck outside that overlooks the adorable orchard and the gorgeous river, and the 2.5-acre property is yours to explore – there are even plenty of picnic tables spread out for your convenience.
Finally, there's the shared dock, where even tossing pebbles into the Russian River feels serene.
This place is also very close to copious amounts of restaurants for all the food lovers looking to enjoy the local cuisine, after which they can taste fine wine at one of the countless nearby wineries.
It should go without saying that being this close to downtown puts you in the eye of the storm – hundreds of amazing attractions will be calling your name!
No reviews yet! Let us know how it is.
Sun Drenched Flat (Sebastopol, CA)
The abundance of windows that give this flat its name truly helps it stand out among other rentals in the region.
On top of the property being spotless, it comes equipped with plenty of amenities and modern appliances to make your stay as swanky as possible.
The serene neighborhood and beachy cream-painted paneling set an incredible ambiance for you as you lie in the impossibly comfortable bed.
The patio outdoors is perfect for basking in the sun, and the burnt-orange parasol will provide you with some much-needed shade as you enjoy a good book.
You'll also have access to a barbecue grill, which is always a welcome addition to properties where the exterior is every bit as great as the interior.
The downtown area is less than a mile away, and it makes for an amazing sightseeing spot where you can try some incredible local cuisine.
You can also drive out to nearby Bodega Bay and its beaches or to Healdsburg or Sonoma, all within about 30 minutes by car. Plus, in my opinion, Sebastopol has some of the best wineries in Sonoma!
Past guests say:
"Beautiful space. Clean & organized. Super thoughtful host! Lisa & Dana were super easy to reach if i had ANY questions. There was a lot of amenities for my stay. Space is well cared for and close to restaurants and the coast!"
"Lisa and Dana's place provided a perfect getaway to explore Sebastopol and the surrounding area. There were helpful notes with where to go for sight seeing and tips for places to eat. Everything was easy and place is artfully designed and accessible. WiFi and electronics/Netflix and other channels worked perfectly. A great sense of privacy. We will gladly return given the opportunity!"
Cozy Country Studio Cabin with Private River Access (Monte Rio, CA)
Seclude yourself in a meadow in the cozy, private studio cabin at the heart of the Russian River Valley!
The no-frills but charming cabin has all amenities you might need, including a comfy bed, outdoor seating, and a charcoal grill for those smoky, all-American cookouts.
You can take a relaxing stroll through the meadow bordering the Russian River, enjoy yourself on the private beach and gaze at the flowing river and swaying trees, or take a kayak ride and admire the stunning Russian River views.
Plenty of critters call the river and surrounding forest home, and you should really keep an eye out for the adorable otters!
The cabin is located near the coast, and just west of the cabin, you can find the Gold Coast coffee and pastry shop, as well as The Duncans Mills General store.
Also, film-loving guests should also keep an eye out for any movies they might be interested in at the nearby one-screen Monte Rio theater!
Pin this Guide to Airbnbs in Sonoma County!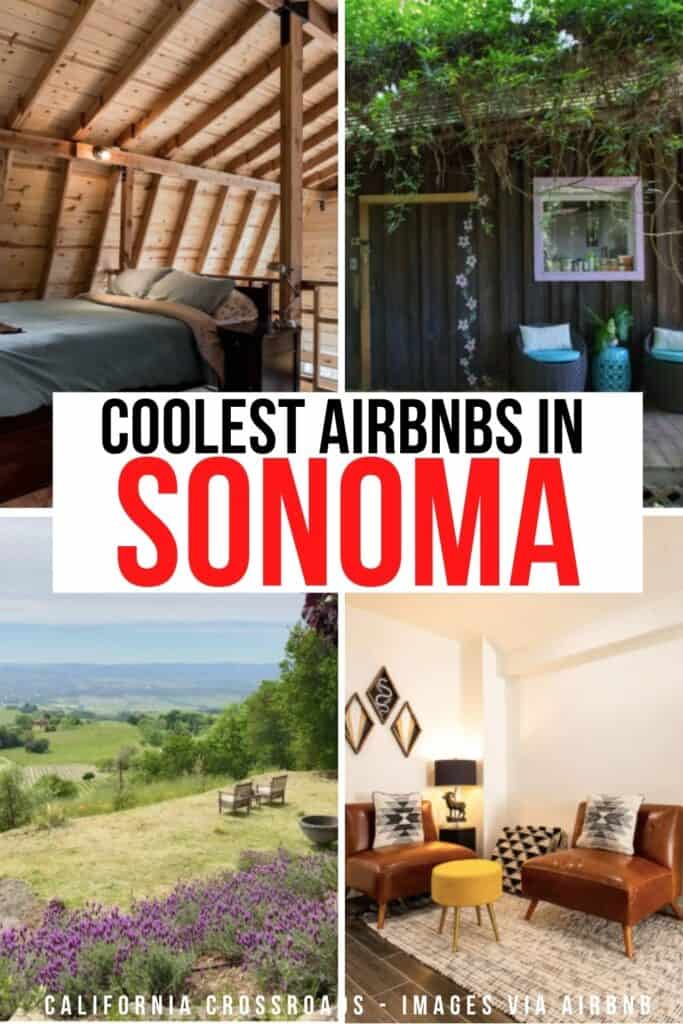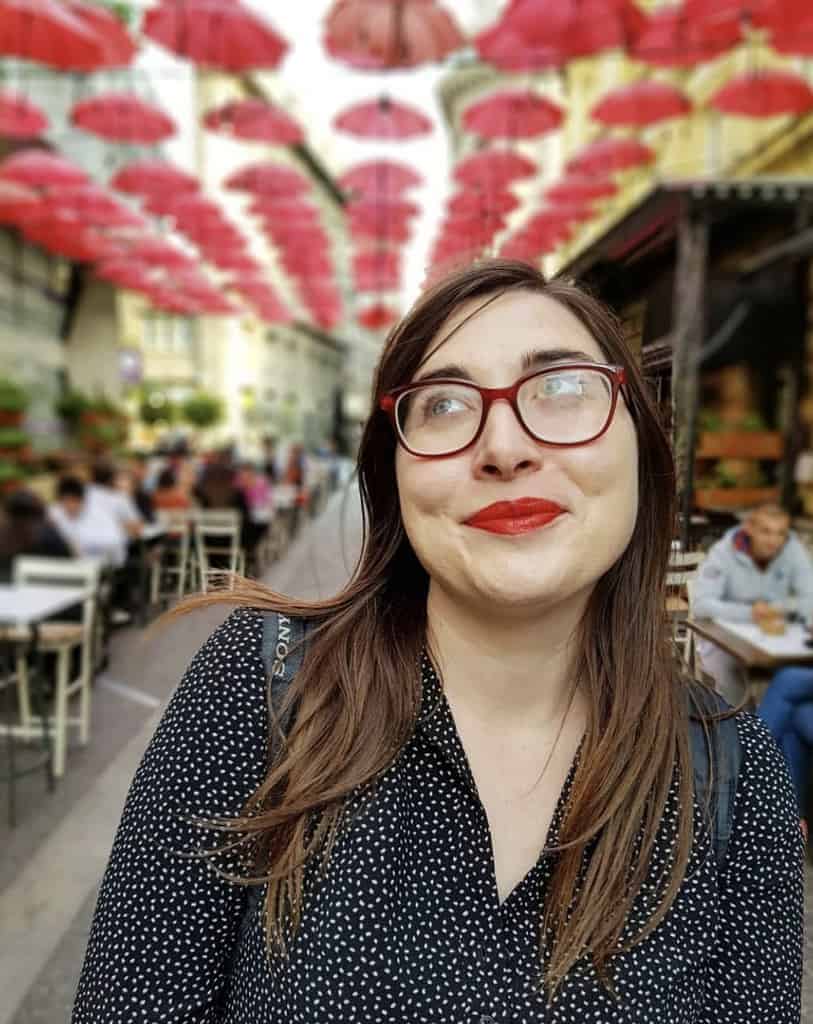 Allison Green is a travel blogger, writer, and podcaster who grew up in the Bay Area of California. She has spent time living in New York, Prague, and Sofia, where she currently calls home in between visits to California. She has traveled to 60 countries before the age of 30 while running several digital travel businesses. Her writing and podcast have been featured in Forbes, CBC Canada, National Geographic, the Huffington Post, and CNN Arabic, amongst others. She's obsessed with dogs, wine, and anywhere she can see the ocean.