Sea Ranch has a special place in my heart.
It's located right along my favorite highway in the world, the PCH, and I have many fond memories of going up to Sea Ranch with a group of friends from high school and staying at a friend's vacation rental there.
Time always seemed to slow down in Sea Ranch: it was all about relaxing with loved ones, playing board games, making large family dinners, and eating (and drinking) way too much, all interspersed with long walks along the coastal bluffs of Sea Ranch.
It's the perfect place for a weekend getaway from San Francisco or even a stop along a PCH road trip.
One of the coolest things about Sea Ranch is that is a planned community with a focus on back-to-nature architecture, the heart of an architectural movement in the 1960s which focused on integrating design into the natural landscape, and not the other way around.
However, the movement was still quite influenced by modernism, so as a result, you see a beautiful contrast of naturally-toned yet structurally beautiful exteriors with vibrant, nature-inspired interiors that aren't afraid to shy away from the color which the exteriors lack.
If you're planning to stay in Sea Ranch, renting an Airbnb is an obvious choice — the only choice, in fact, as the Sea Ranch Lodge is currently under renovation!
Here are my favorite Sea Ranch Airbnbs!
Best Airbnbs in Sea Ranch, California
Best Sea Ranch Airbnb for Two Couples: Sea Myst
Note: This post contains affiliate links, which earn me a small commission at no extra cost to you if you make a purchase using one of these links. Thank you for supporting this free content!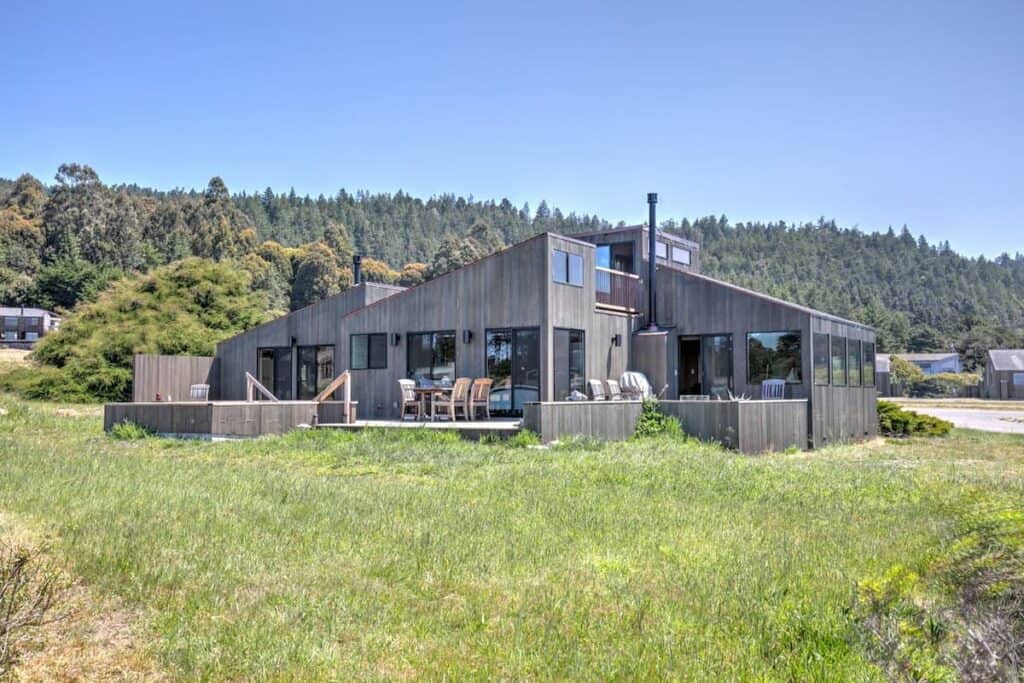 For the quintessential Sea Ranch Airbnb experience, stay in Sea Myst.
This lovely house perfectly exemplifies the Sea Ranch architectural style, which doesn't compete with the outdoor environment but rather blends into the gorgeous seascape surrounding it.
Meanwhile, the interior is warm and modern, with all the functional amenities you'd ever be able to dream up for a cozy beachside stay.
The interior of the house has a warm and airy feeling, due to the high ceilings, texturally-rich wood, beams, and open space created by the spiral staircase leading up to the loft area.
There are two roughly equally-sized, private bedrooms. The master bedroom has an en-suite bath, whereas the second bedroom has a lovely fireplace to enjoy on cooler nights. Both bathrooms have radiant floor heating as well — a great touch if you're visiting Sea Ranch outside of the summer season.
Meanwhile, virtually every window has gorgeous views of the Sea Ranch landscape that surrounds you. The outside deck area is a great place to enjoy just that, with a fire pit, gas grill, plenty of outdoor seating, and a hot tub perfect for watching the sun sink into the horizon with views of the Pacific Ocean completely unobstructed.
This is the perfect vacation home for two couples — it is not a suitable stay for families with small children due to the open staircase and loft area. However, a pet is welcome with the payment of a nominal pet fee.
The large kitchen and dining area, spacious living room, and private bedrooms make this the perfect getaway for two couples traveling together and looking for a place where they can relax together but also have private time with their significant other.
Best Sea Ranch Airbnb for a Family: Ocean View Home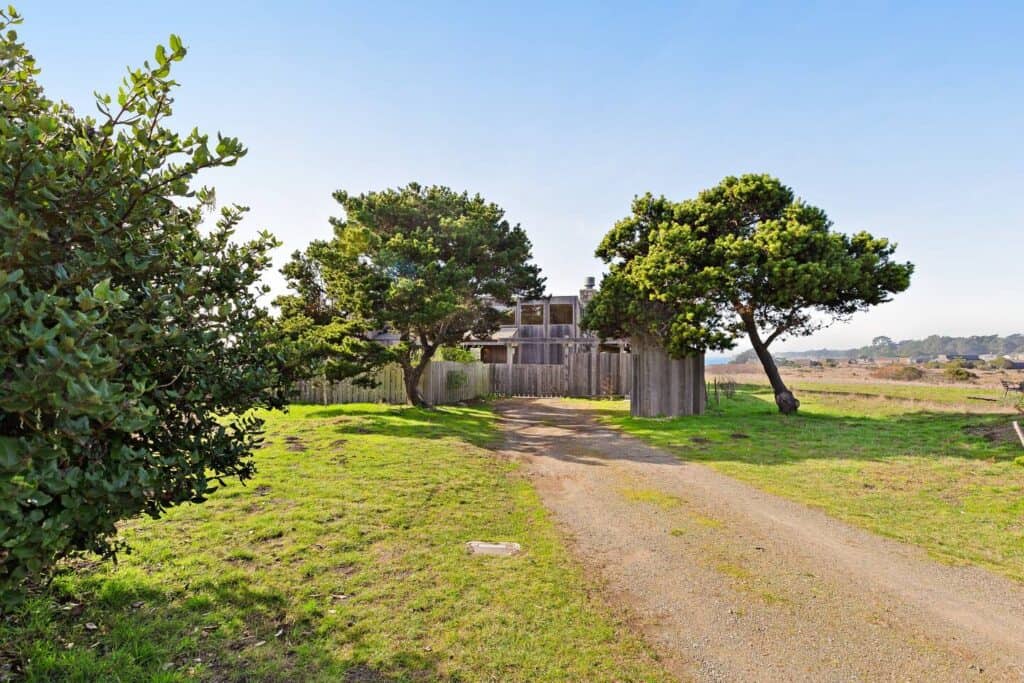 For the perfect Airbnb in Sea Ranch for the whole family (and I do mean whole family — this massive Sea Ranch rental can fit 8 people comfortably!), look to the Ocean View Home.
A lot of the magic of Sea Ranch is that seemingly nondescript houses on the outside, which blend in with their surroundings, are actually extremely indulgent and colorful on the inside.
Such is the case of the Ocean View Home, whose drab exterior reminiscent of the sheep barns which once made up Sea Ranch, but whose interior is joyous with pops of color and life.
Besides a spacious living room with lots of seating, high ceilings with beautiful exposed beams, floor-to-ceiling windows and a fireplace, there's also a nice kitchen for cooking a family meal in and a large table for gathering around.
As with many Sea Ranch rentals, the outdoor area is part of the experience. There's an enclosed garden where you'll have access to a charcoal grill, a firepit, and two patio tables, as well as a hot tub for relaxing in as an outdoor shower for rinsing off before and after the hot tub or from rinsing off the sand when you're coming back from the nearby beach.
Families will love all the entertainment offerings, such as WiFi, a flatscreen TV, a DVD player with a selection of movies, and plentiful board games. Plus, your pup can come along, making it both family-friendly and dog-friendly!
But perhaps the best factor for large families is the ample sleeping space you'll have. There is a master bedroom, a second bedroom with a queen bed, and two sets of bunk beds for kids in the third bedroom.
This makes it great for larger families with a mix of older and younger kids, as well as two families traveling together, so each group of parents can have their own bedroom while the kids all enjoy a bedroom together.
Book this charming family-friendly, pet-friendly Sea Ranch Airbnb
Best Airbnb for Architecture Geeks: Hedgegate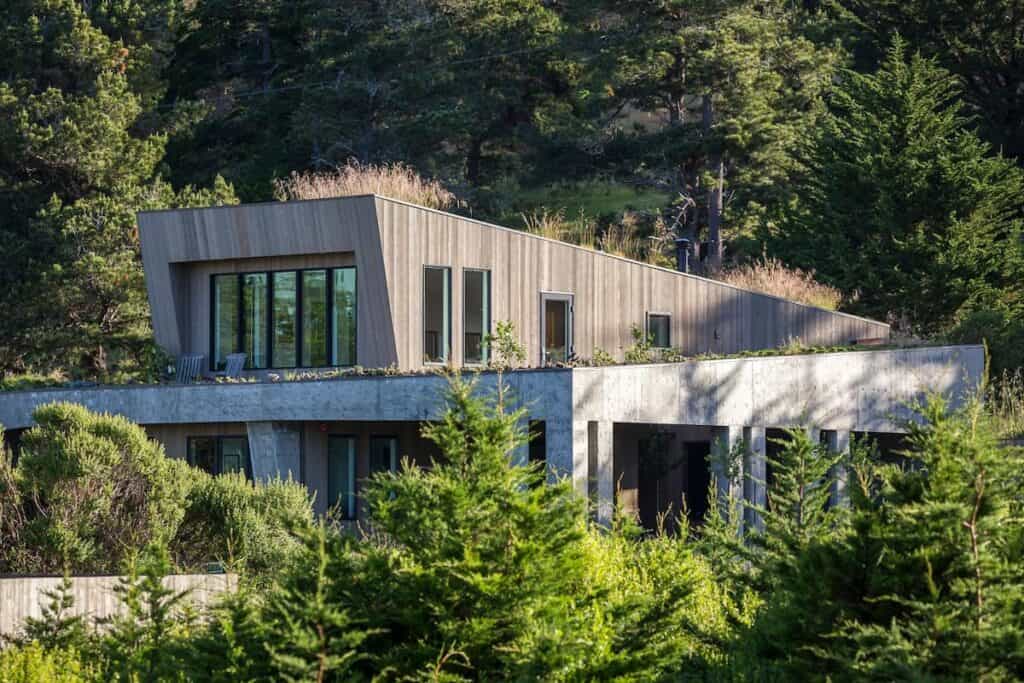 This Sea Ranch Airbnb is much more than your average oceanfront rental. This house was designed by the architect to actually live in, and it's won several awards for its unique design.
There are multiple levels of the home. The upper level is the main living area, complete with a fully-equipped kitchen, dining area, bedroom, bathroom, and spacious living room, as well as an upper deck area. The living room furniture can be converted into extra beds, which can sleep two children.
Note that while there is ample privacy at Hedgegate, the owners do live on the property in the guest suite on the lower level, which still has plenty of privacy such as privacy screens and the like. However, this also means they're on-site to welcome you, show you around, have a chat about the area, answer any questions you may have about the area, and give you a bottle of wine to welcome you.
You have access to the upper living area, upper deck, and the rain room — which is one of the cooler architectural features of the house.
So, what is it exactly? It's a room with the beautiful sound of flowing water and 15-feet walls with lush vegetation crawling up them. It's a great room to relax in and see the architect's vision for the house, which solidly represents the architectural ethos of Sea Ranch as a whole.
It's a must-stay for anyone with an interest in the more modernist approach to Sea Ranch's unique architecture.
Best Sea Ranch Airbnb for Ocean Views: Mid-Century Modern House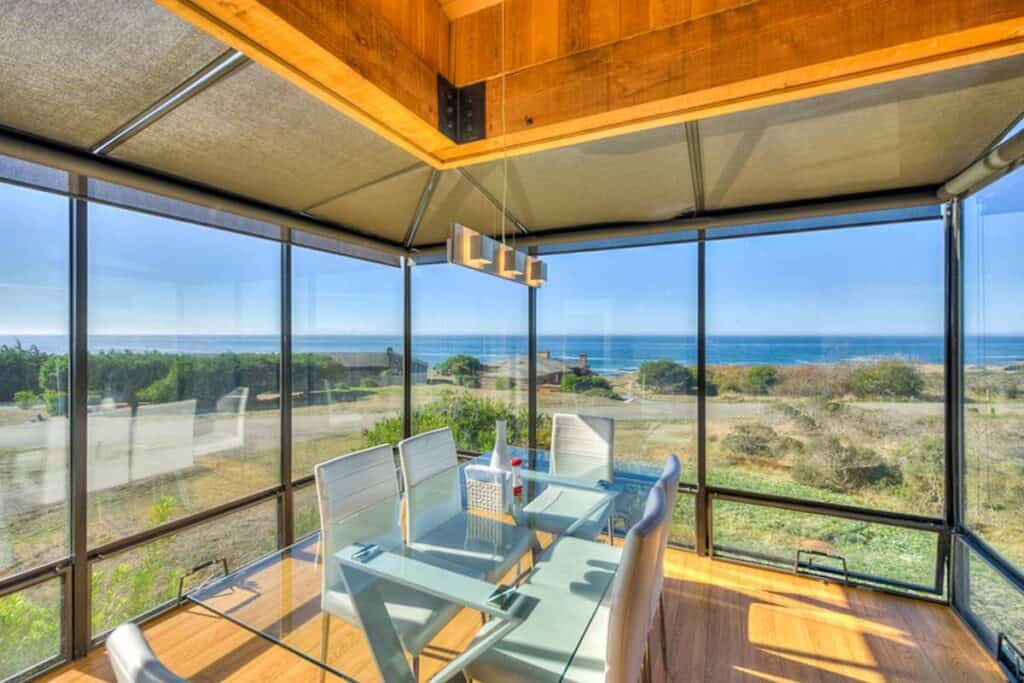 This Airbnb in Sea Ranch hands down has to have the best ocean views in the entire town!
While the backside of the house is a nondescript beige that blends into the landscape, the ocean-facing side of the house features floor-to-ceiling glass windows that give you 180-degree views of the Pacific Ocean: perfect for watching the sun sink into the sea with a glass of wine in hand.
There are three bedrooms and a loft in this large Sea Ranch vacation home, as well as a spacious gourmet kitchen with all the appliances you need to make a delicious meal for friends or family.
There's a kitchen counter dining nook as well as a dining table that seats six. Plus, non-cooks will appreciate that there's a dishwasher, simplifying dish duty.
The house's main selling point (besides its spaciousness, views, and mid-century modern vibes) is its location. It's just a short walk from the Bluff Trail to the beautiful Stengel Beach, and you're a mile walk away from Ohlson Recreation Center, which has an outdoor pool, saunas, and tennis courts (currently closed).
The outdoor area includes a patio, patio table, a gas grill, and a lovely hot tub for mid-afternoon or nighttime soaks. In case of a rainy day, you won't be at a loss in terms of entertainment. There's a smart TV with Netflix and DirecTV, as well as plenty of board games to choose from.
The house is great for all seasons. There is a fireplace with logs provided to build a fire for cool nights and foggy mornings, as well as central A/C if you need it during the afternoon.
Best Dog-Friendly Sea Ranch Airbnb for Large Families: Ocean View Cottage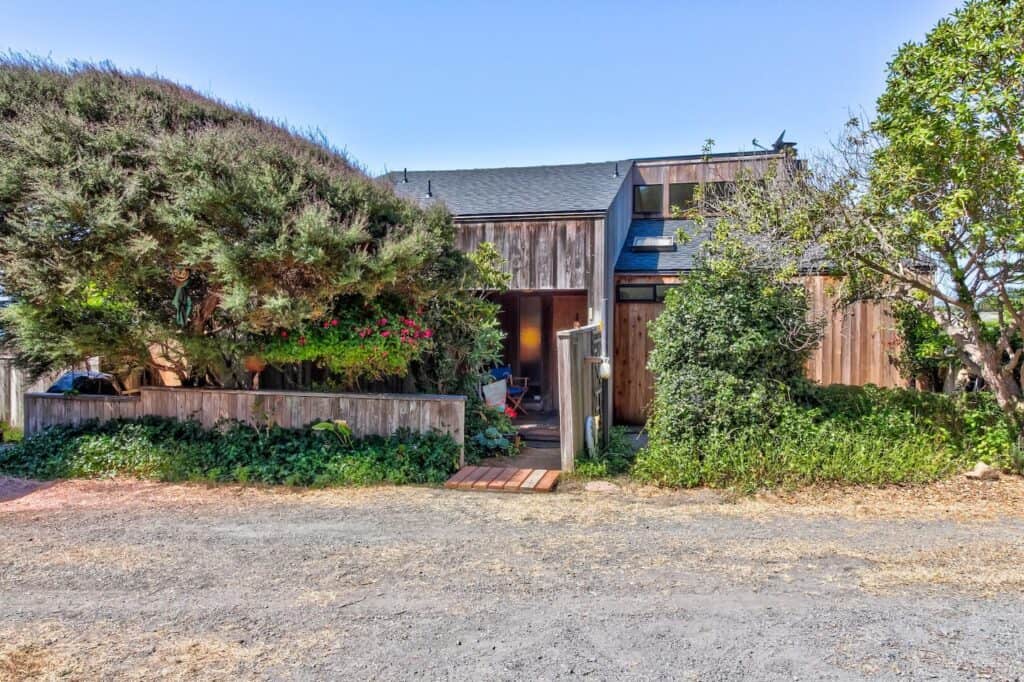 This lovely two-level, two-bedroom Sea Ranch Airbnb is a great choice for families who are looking for a great, dog-friendly rental that won't break the bank.
Adults can enjoy a glass of wine on the private deck which overlooks the beautiful Pacific Ocean, while kids can entertain themselves with exploring the nature around the property, whale watching, enjoying the WiFi, watching cable TV or picking a movie for the DVD player, or picking from one of several board games.
The living room is spacious and bright, and the kitchen is a great place to rustle up a quick meal — parents will surely appreciate the dishwasher as well. If you feel like taking the cooking outdoors on a lovely day, you can light up the gas grill for an al fresco BBQ.
In terms of sleeping space, there's room for everyone, although the kids room is a little jam-packed. Smaller kids will love the bunk beds — it feels a bit like sleepaway camp! Meanwhile, adults will appreciate the tasteful, spacious master bedroom.
The location is pretty hard to beat in Sea Ranch. Take a walk just a quarter mile to the Ohlson Recreation Center for shared outdoor pools, saunas, and tennis courts (currently closed), or walk to Stengel Beach (less than a mile) or Pebble Beach (one mile away). There are also the Sea Ranch Golf Links nearby, as well as downtown Gualala six miles away by car.
It's also a dog-friendly property, so you can bring up to two dogs!
Best Sea Ranch Airbnb for a Couple: Sea Pine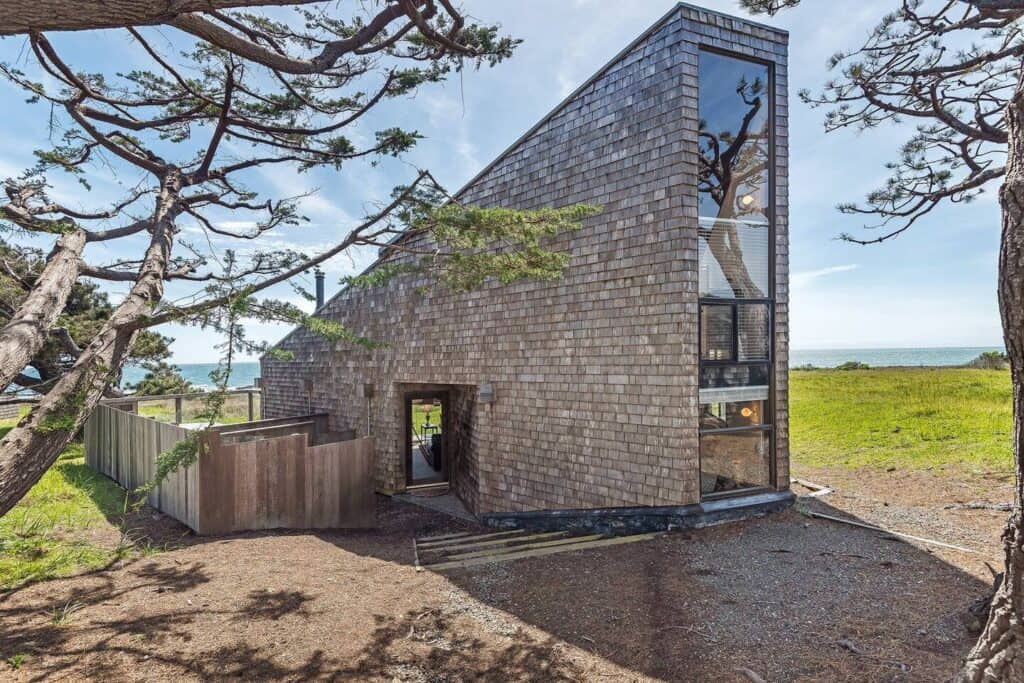 If you're looking for the perfect romantic getaway in Sea Ranch with your sweetie, this is it!
While this Sea Ranch Airbnb can fit four guests due to its loft, I think it's better suited for a romantic getaway for two, as you'll have more privacy that way. The loft is open to the sounds of the living space, so it's not ideal if you're seeking a private stay.
The living space is an absolute dream. We're talking floor-to-ceiling windows, with completely unobstructed views of the Pacific perfect for sunset. There is also a wood stove which is a great way to feel extra cozy and romantic at night when the chill sets in, and the decor of the living room is centered around that.
Meanwhile, there's also a kitchen space which you can easily use to cook up a romantic meal for two, a dining area, as well as a flatscreen TV with smart TV capability, and high-speed WiFi in case you need to log on during your time away.
Perhaps the best part of any Sea Ranch Airbnb is the outdoor spaces these vacation homes often have. The back deck has a great view, with patio chairs comfortably situated for epic views of the sunset.
There's also a private hot tub on the side deck, which is great for a nighttime soak under the stars with a glass of wine in hand.
Best Pet-Friendly Sea Ranch Airbnb for Four: Kabella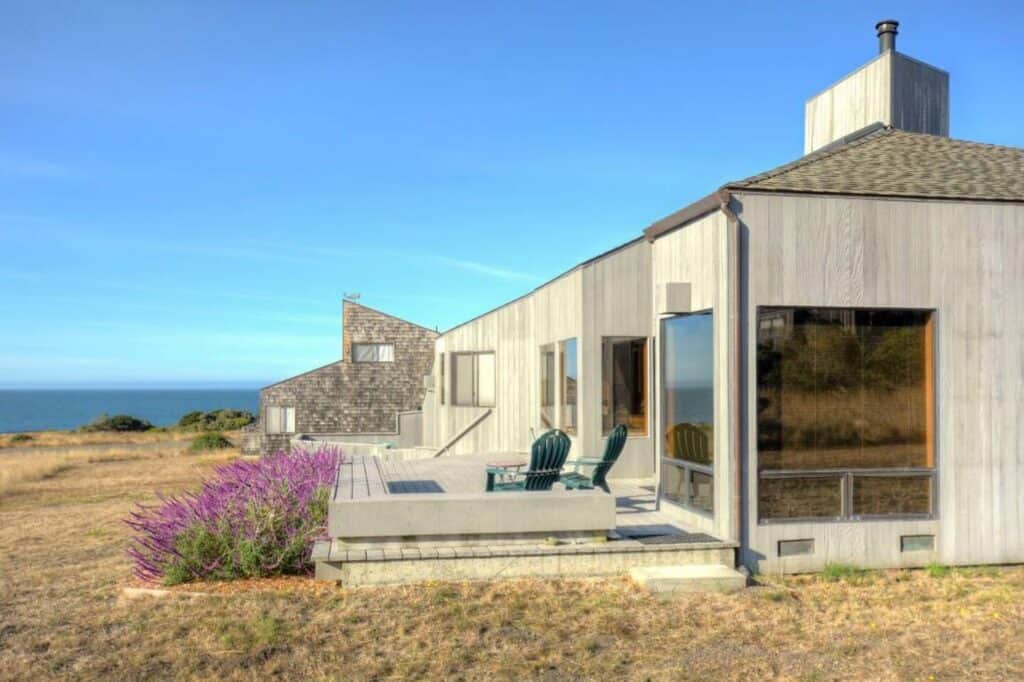 For a spacious place for a family of four — plus up to two pets for an additional pet fee — Kabella in Sea Ranch is a fantastic choice.
The open plan easily combines the kitchen, living room, and dining area, and all offer epic views of the surrounding Sea Ranch meadows which are a peaceful place to rest your eyes.
The rich reddish-brown wood details combined with the high ceilings and exposed beams bring the outside in in the most beautiful way.
There are also plenty of bedroom and bathroom space for a family who likes to spread out and have some privacy.
There are two bedrooms (one with a king bed and another with a queen bed) plus a sofa bed, as well as two full bathrooms — one with a bathtub! — so no one has to wait.
Of course, any part of being on the Sonoma Coast means spending time outdoors, and the outdoor spaces at Kabella encourage just that.
There are two deck areas, one with patio chairs and a small table for enjoying a glass of wine at sunset, and another with a private, fenced-in hot tub where you can still crane your neck and see beautiful Pacific Ocean views!
Pin This Guide to Sea Ranch Airbnbs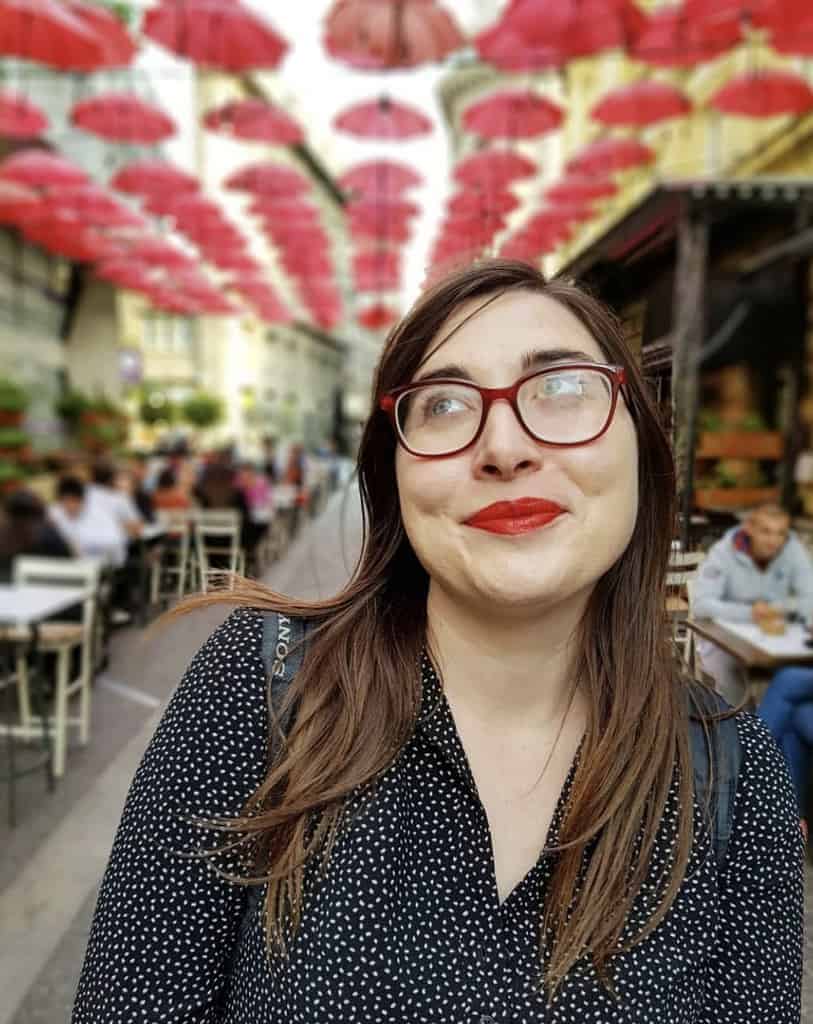 Allison Green is a travel blogger, writer, and podcaster who grew up in the Bay Area of California. She has spent time living in New York, Prague, and Sofia, but has returned to live in the East Bay. She has traveled to 60 countries before the age of 30 while running several digital travel publications. Her writing and podcast have been featured in Forbes, CBC Canada, National Geographic, the Huffington Post, and CNN Arabic, amongst others. She's obsessed with bouldering, houseplants, other people's pets, and anywhere she can see the ocean.