Napa Valley is one of the Bay Area's best-loved weekend getaways, and it's no wonder.
Napa has it all: a fantastic downtown with a delicious restaurant scene, incredible vineyards just minutes from town, the funky Oxbow Market, chic wine tasting bars, and lovely boutiques that entice would-be window-shoppers.
But there's a double-edged sword to Napa's popularity, and as a result, the city of Napa has cracked down on Airbnbs in Napa. That means that unlicensed Airbnbs are frequently getting shut down, leaving vacationers stranded without a backup plan at the last minute.
With this list of Napa Airbnbs, you don't need to worry because I've researched every single one to ensure they have and clearly identify their VR#, which is how you can be sure you are renting a licensed, permitted Napa Airbnb.
Note: All image credits belong to Airbnb
The 10 Best Napa Airbnbs
Charming Bungalow in Napa
Note: This post contains affiliate links, which earn me a small commission at no extra cost to you if you make a purchase using one of these links. Thank you for supporting this free content!
2 guests
1 bedroom (1 bed)
This charming bungalow is the perfect place for one or two travelers to call home during a trip to Napa/Oxbow.
Located in Alta Heights, the house (much like the neighborhood as a whole) is characterized by an old-school aesthetic.
Nearby landmarks include Oxbow and Silverado Trail, which is known for wineries like Frogs' Leap, Luna, Pine Ridge, Mumm, Contessa, and many others.
Notable restaurants in the area include Ad Hoc, Redd Wood, Botegga, and Boutton.
The cozy bedroom leads into a private patio and a small garden, a great place to start off your day with some coffee.
The living area is spacious, comfortable, and equipped with a large TV and washing machines, and guests will have access to their own private entrance.
The best part is, guests will be given two complimentary bicycles to quickly get them to the nearby stores and restaurants – this provides a great, healthier alternative to driving around town!
>>>
Book this charming Napa Airbnb!
<<<
Past guests say:
"This is a lovely home for any couple who wants to enjoy a wine tasting getaway weekend/week! Great space close to downtown Napa and the amazing vineyards. The host is extremely responsive to any issues you may face. Definitely recommend staying here!"
Cottage with Main Street Farmhouse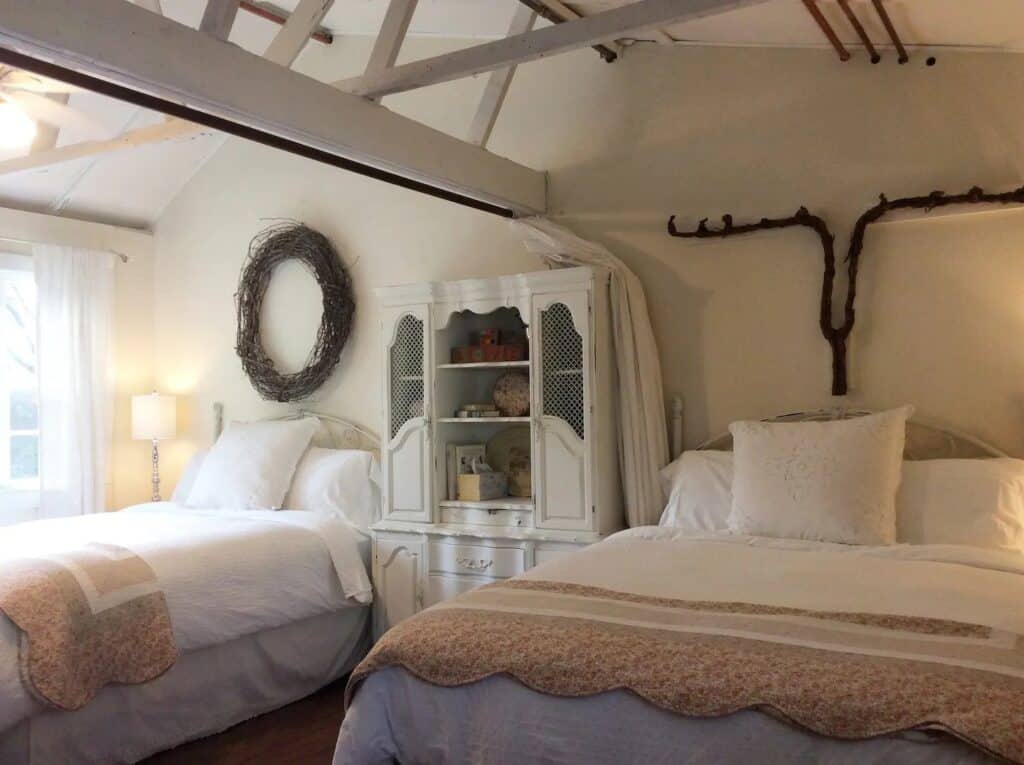 4 guests
1 bedroom (2 beds)
Check details of this Napa Airbnb
This spacious guesthouse is a great pick for a small family or a group of two couples who are in the market for a cozy vacation.
The interior of the house is compact, but packs everything you might need – the bedding is very comfortable, and there's more than enough space to get around.
The always-welcome combination of white and wooden textures is very eye-catching, and you can relax by exploring the farmhouse property or by enjoying a drink under the canopy or by the fire pit.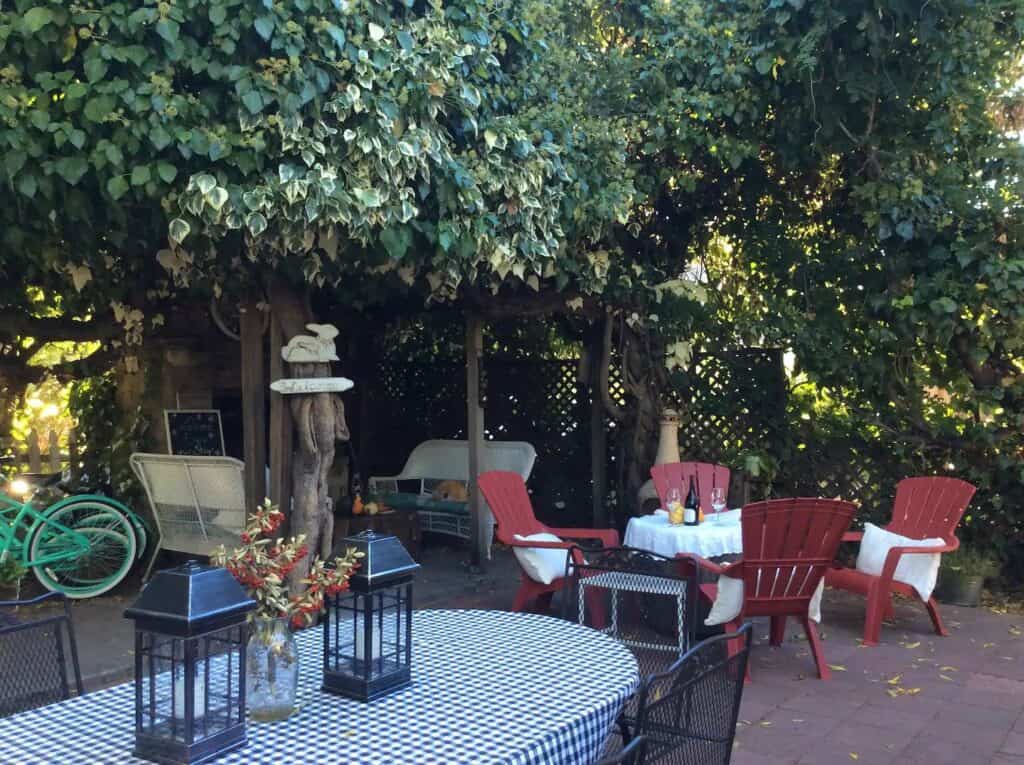 The cottage's location is great – because it's on Main Street, guests will be located only a mile from the downtown Napa area and will have quick access to buses that take them around the Bay Area.
The hosts are also very open to communicating with guests, so if you have any questions regarding wineries, locales, or any places of interest in the area, do not hesitate to ask.
>>>
Book this Napa Airbnb today!
<<<
Past guests say:
"We picked the cottage for a girls trip to Napa thinking it looked like a quaint cute place. The reality was way better than expected! Pictures don't do it justice. It's so cute and the outside is full of cute seating areas- we almost didn't want to leave to see wineries! We will definitely stay again, we can't wait to come back!"
Private Quaint Cottage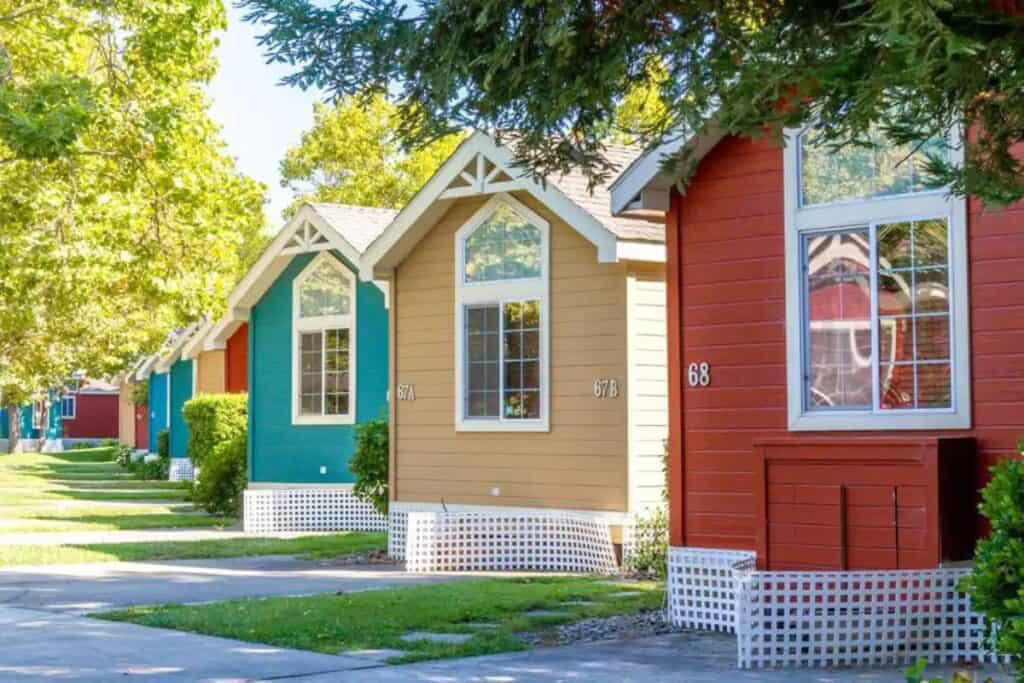 4 guests
1 bedroom (2 beds)
If you're looking to enjoy a quiet vacation while still having ample options for entertainment and relaxation, this is the Napa Airbnb for you.
These colorful condominiums are small yet comfortable – they boast warm, lively interiors equipped with every amenity you could possibly need.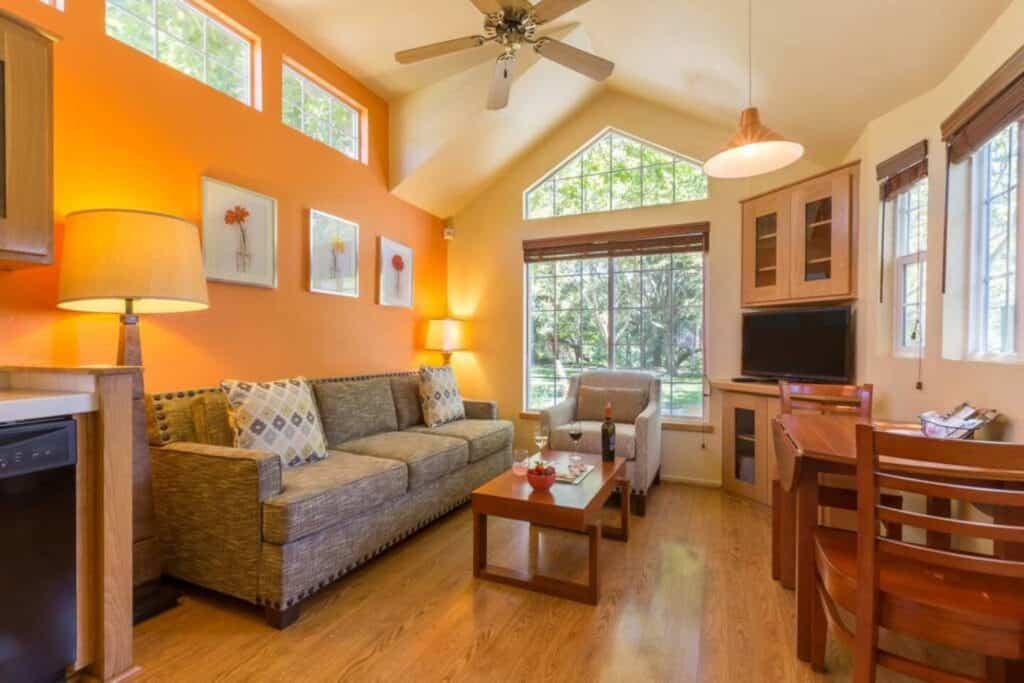 The number of activities to enjoy here is endless – you can take a dip in the outdoor swimming pool or hot tub, unwind in the sauna, or shoot a game of pool in the game room.
If you'd like to keep it simple, have a sip of wine on the deck or walk along the mesmerizing riverside. The property is close to Silverado Trail, so there will be no shortage of wines to try out during your stay.
On top of that, you can quickly get to plenty of great places downtown by bike. Highway 29 is also close by, if you'd like to jump in your car and take your adventure to the surrounding areas.
>>>
Book this Napa Airbnb
<<<
Past guests say:
"Great location and the cottage was the perfect stay! So quaint and cozy and right by the Napa river trail. Check in and check out was super easy. We will definitely stay here again next time we visit Napa!"
Silver Cloud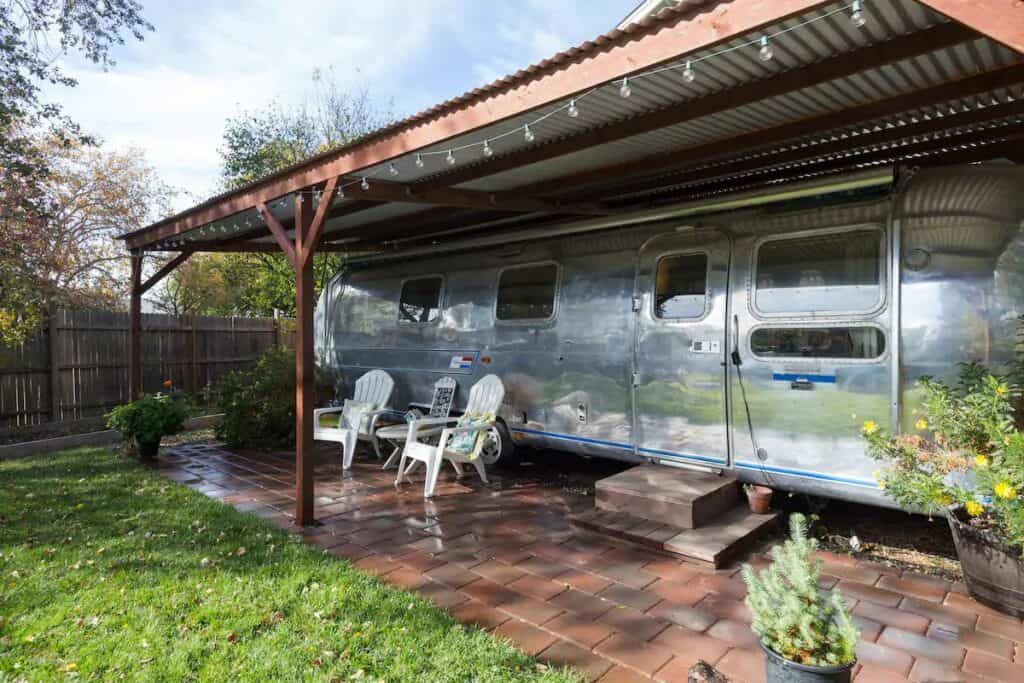 2 guests
1 bedroom (1 bed)
The unique thing about this rental is that it gives you the camping experience from the comfort and convenience of Main Street.
This adapted Airstream has charm and character that puts many full-blown houses to shame – the narrow space is very economically planned out, and the interior manages to comfortably combine a kitchenette, sleeping and seating areas, and a small bathroom.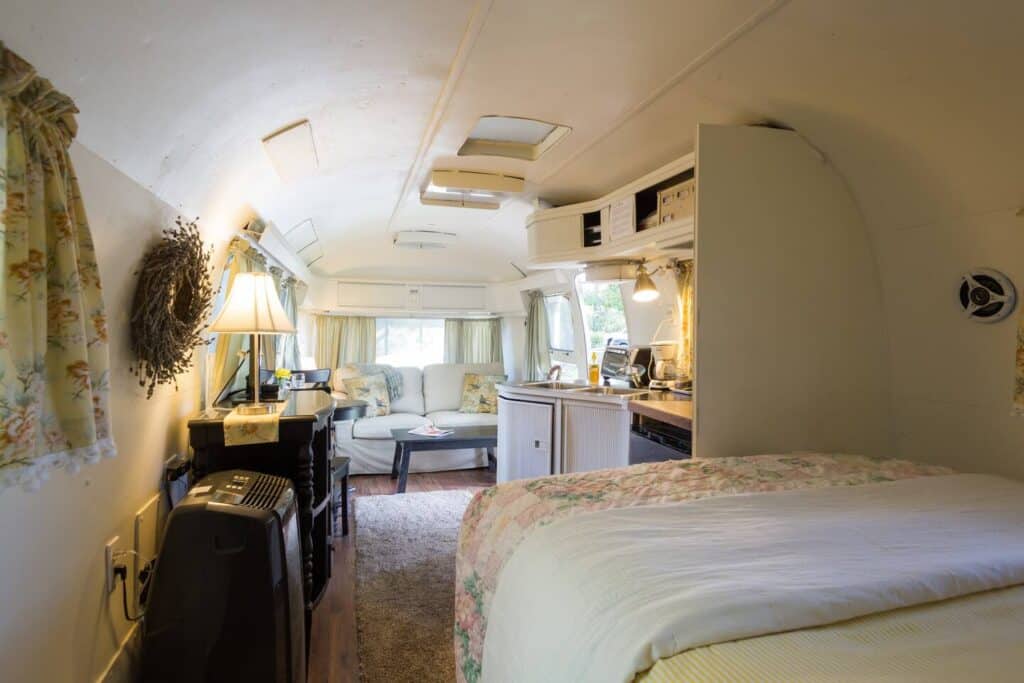 On top of that, you'll have your own private driveway and a beautiful yard where you'll see the occasional chicken running around. This is also a very safe rental, as there are security cameras right outside the property.
It takes about 20 minutes to walk to Main Street from here, and the Oxbow Market isn't far off either.
Using this place as a hub, you can get anywhere in Napa by foot or by car in a matter of minutes – just admiring the varied architecture in Napa makes for an entertaining way to pass the time.
>>>
Book this Napa Airbnb
<<<
Past guests say:
"11/10 would recommend! So happy with our experience and time spent in the Silver Cloud"
Casita Rosa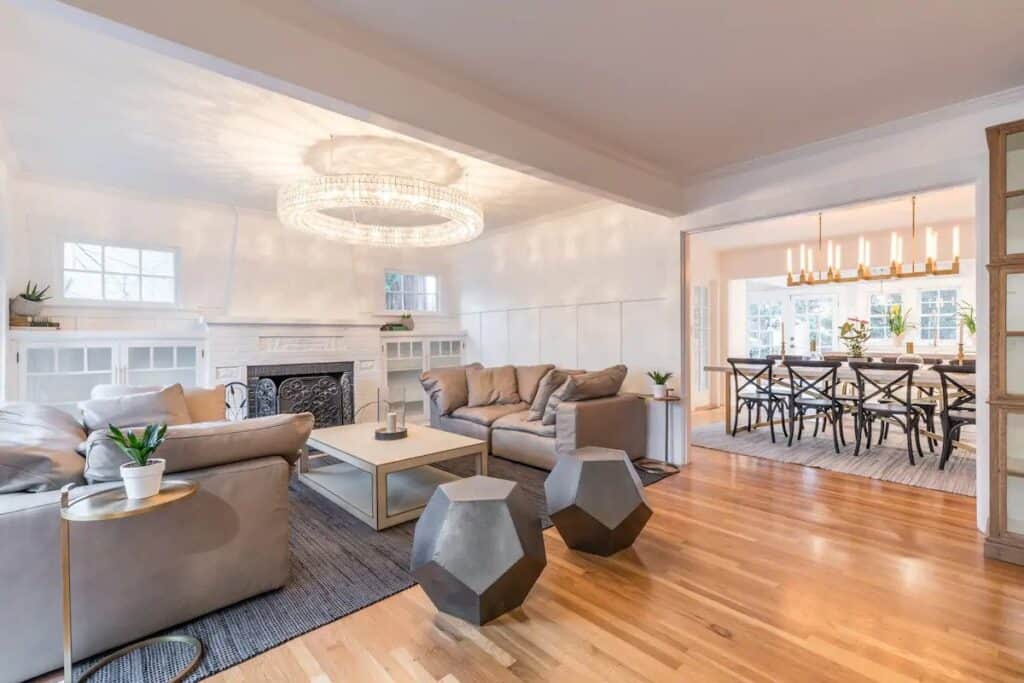 4 guests
2 bedrooms (2 beds)
Casita Rosa is a luxurious rental and is one of the most beautiful properties in all of Napa.
The name of the game here is light, and lots of it – with large windows on every wall and plenty of white and wooden reflective surfaces, this house remains bright and shiny all day long.
This goes a long way in helping you appreciate the interior, as the large living area, accommodating dining area, and serene bedrooms with canopy bedding, all command your full attention.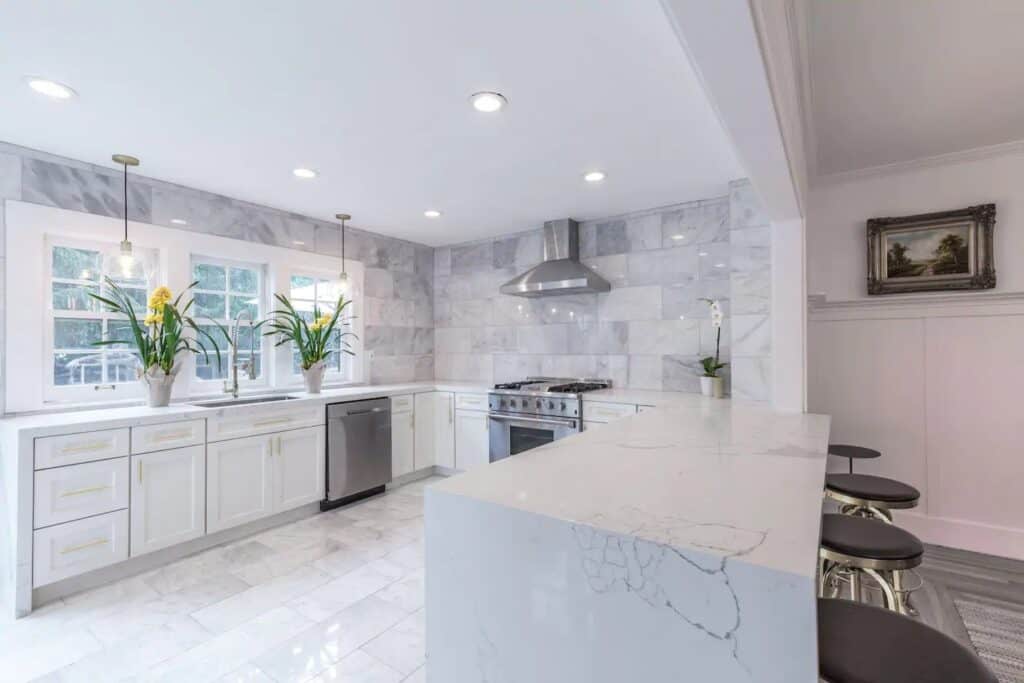 There's a hot tub in the beautiful front yard, which is a great place to send off the day.
On top of being luxurious, the house is also very close to everything you need in the area – you can quickly get to a number of stores and restaurants, or enjoy cultural events at the nearby Napa Valley Opera House.
Whether you're going by car or bus, this is a great base of operations if you plan on exploring San Francisco and the Bay area.
>>>
Check this Napa Airbnb
<<<
Past guests say:
"Very nice space! Very modern. The bed in the main bedroom is the most comfortable bed I've ever slept in!"
Writer's Retreat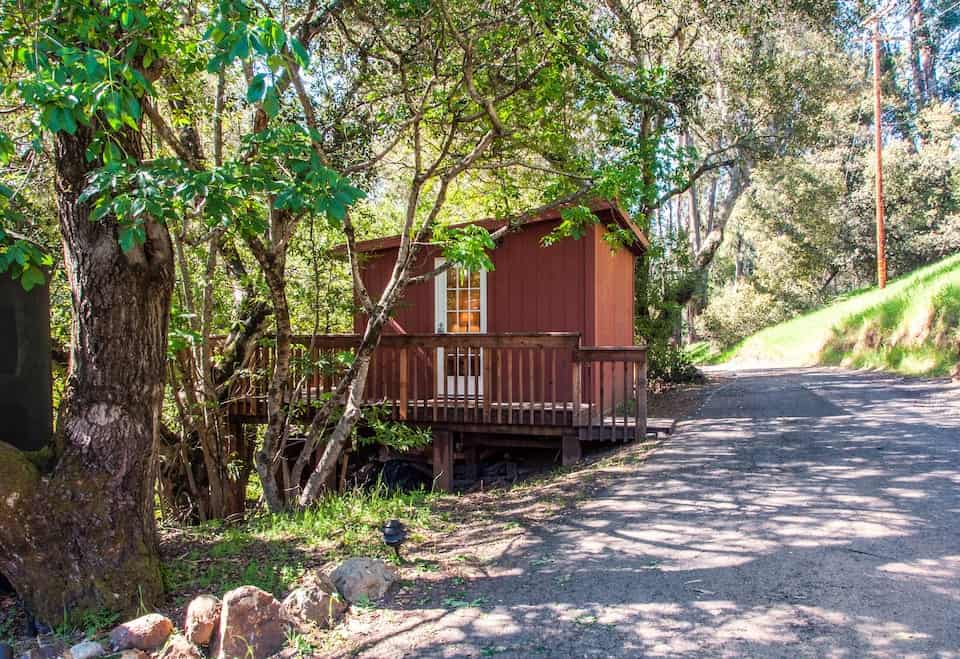 2 guests
1 bedroom (1 bed)
Anyone looking for inspiration for their creative endeavors or simply trying to get away from all the city noise will appreciate what the Writer's Retreat has to offer.
Located a couple of miles from the center of Napa, this house is both quiet and comfortable.
On top of the cozy bedding and well-stocked kitchenette, the dining table doubles as a great writing area. Alternatively, you can take your inspiration outdoors and sit on the deck bench, soaking in the beauty of your surroundings.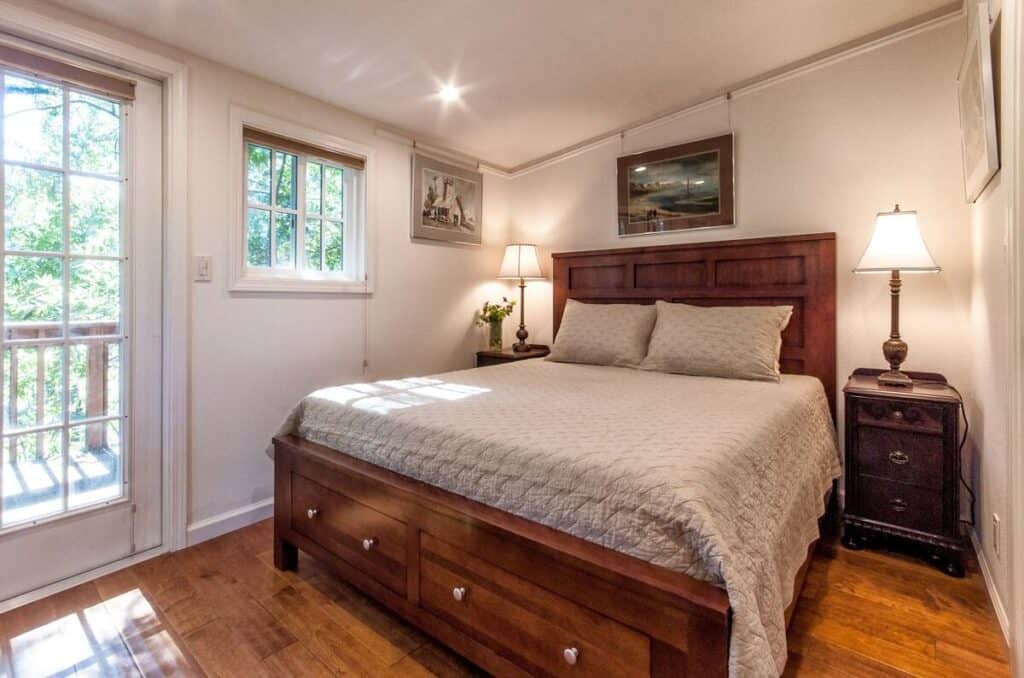 You can see some beautiful wildlife here by walking along the creek, and even though the house isn't in the very center of Napa, it's still very close to everything you need.
You can walk to the nearest store and restaurant without a problem (with plenty of others only a couple of miles away), and even visit the Carolyn Purr Nature Museum for some great hikes and sightseeing spots.
If the writer's life gets to be a bit too lonely, you can very quickly get on the freeway and continue your adventure elsewhere.
>>>
Book this Napa Airbnb
<<<
Past guests say:
"An enchanting little cottage surrounded by nature! Loved waking to the sound of the little stream running under the cottage. And, Monroe and Joan are the most gracious hosts!"
Napa Yellow House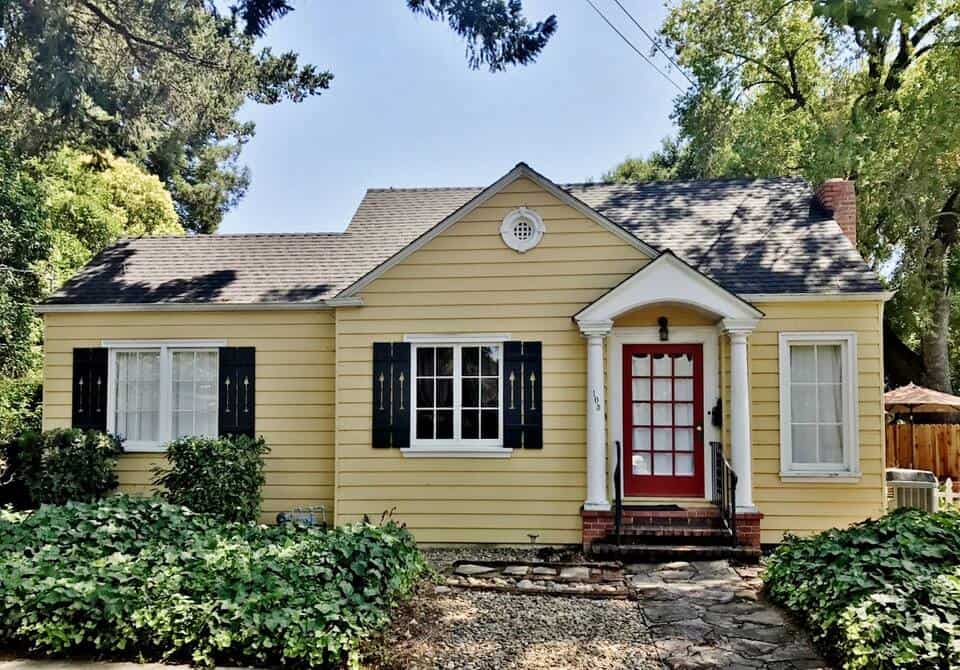 4 guests
2 bedrooms (3 beds)
This charming house is proof that simplicity is oftentimes key – Napa is a place of varied architecture, and if you're interested in more rustic-looking constructions that have retained their original design through the years, you'll definitely like the Yellow House.
The interior genuinely looks like somebody's home, with a few more-than-welcome additions.
The deceptively spacious living room area has a fireplace to keep you warm no matter the time of year, and on top of having a barbecue grill and a hot tub, the patio can easily sit half a dozen people for a relaxing afternoon meal.
The bedrooms are quite homely and well-illuminated, so you'll be waking up to natural sunlight in the mornings.
Location-wise, this house ticks all the boxes – it's very close to Silverado Trail, so Napa's best wines will be right at your fingertips. You'll also have quick access to the Oxbow Public Market for all your shopping needs, and the downtown area isn't far off either.
>>>
Book this Napa Airbnb
<<<
Past guests say:
"Beautiful home in a fantastic neighborhood that is walking distance to downtown Napa. We loved our stay and highly recommend."
Charming Napa Home
4 guests
2 bedrooms (3 beds)
Comfortably seated on the fancier side of Napa's architectural spectrum, those in the market for a luxurious stay and high-quality wine will want to consider this rental.
To call the house stylish would be underselling it – the extremely urban interior combines dark and light shades with sprinkles of everything in between, to great effect.
The living and dining room areas, as well as the backyard are all great places to crack open a drink and relax with family and friends. For the most idyllic view, start or end your day on the gorgeous flagstone patio.
The house is only a few blocks from downtown Napa, making it a great base of operations if you'd like to check out the night life.
The best part, however, is that you can request a tour of the local wineries, courtesy of the hosts, and you can even book a driver to take you all around Napa to ensure you don't miss out on anything.
>>>
Book this Napa Airbnb
<<<
Past guests say:
"Frank was a great host and the house was located close to the downtown and wineries. Frank gave us lots of suggestions for hiking and wineries. The house was very clean and the backyard was super. He was always there to answer our questions and the check in and check out process was very easy."
Beautiful Magnolia House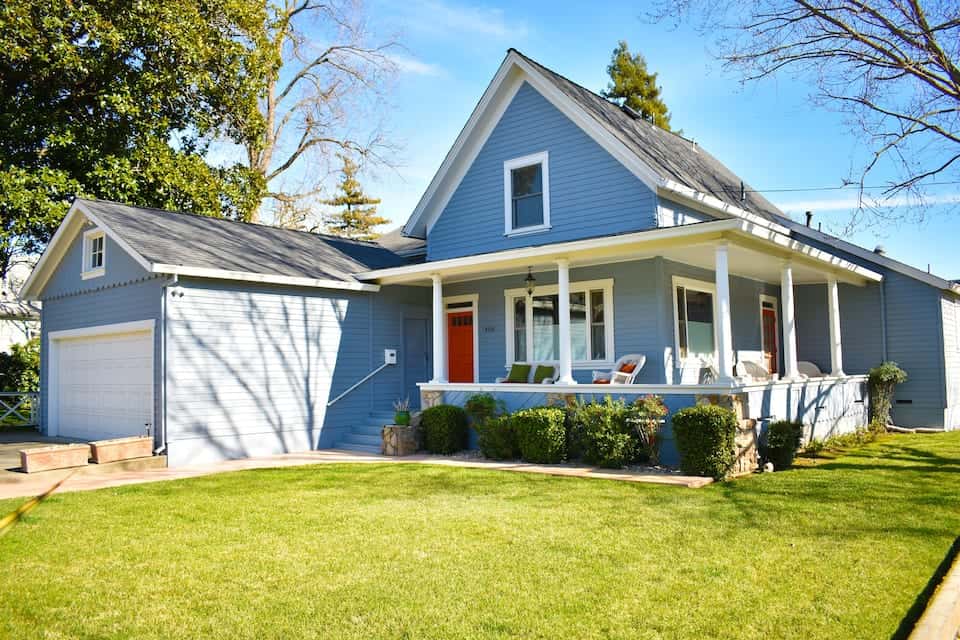 7 guests
3 bedrooms (4 beds)
This house makes vacationing in Napa with a large group incredibly easy. The Magnolia House is a two-story rental with heaps of open space and a beautifully decorated interior.
The open-floor living and dining area is showered by sunlight from several directions, and the same goes for the cozy, stylish bedrooms upstairs.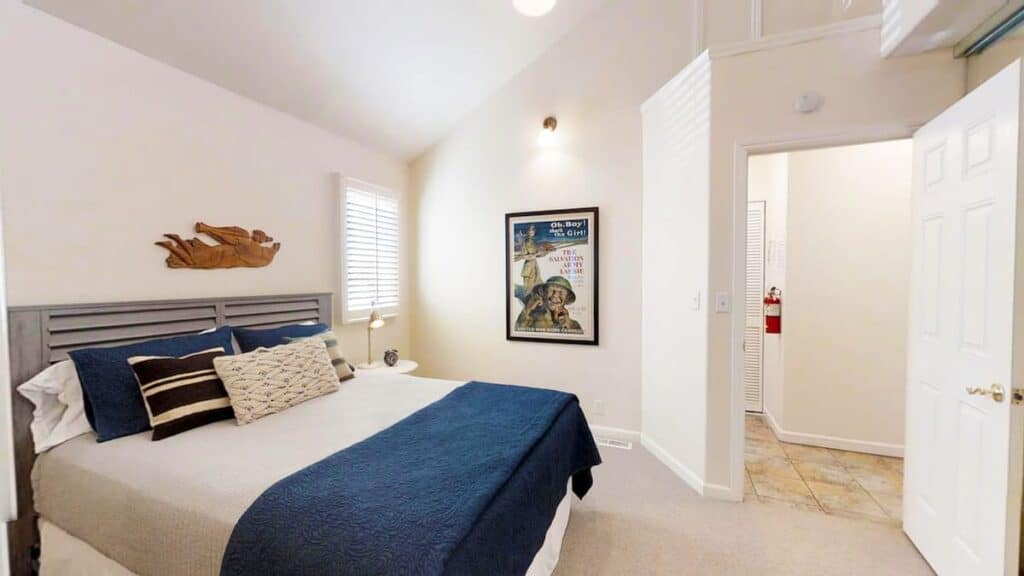 If you want to take the party outside, the large balcony has more than enough seating for everybody, on top of having a great view of the road and surrounding neighborhood.
If you want to get some peace and quiet, you can have a stroll around the yard or nestle yourself in the back patio.
Because it's so close to Silverado Trail and Highway 29, the Magnolia House is the perfect place to lay your head after a day of exploration.
You can get to some of Napa's finest wineries by taking a 5-minute drive, and landmarks to check out are Sonoma Square, Calistoga, and Fuller Park. Needless to say, this great location also means you can quickly access some of Napa's finest restaurants, such as Small World Restaurant.
>>>
Book this Napa Airbnb
<<<
Past guests say:
"We just finished a very enjoyable stay at this lovely home. It is charming and is even better than the pictures. The location is literally within walking distance of downtown Napa. Three couples enjoyed a very comfortable stay in wine country here and we really enjoyed having a well-stocked kitchen, comfortable beds with clean linens and towels, and just an overall very well appointed rental property. I highly recommend this property for anyone visiting the Napa area as a group."
Devita Bungalow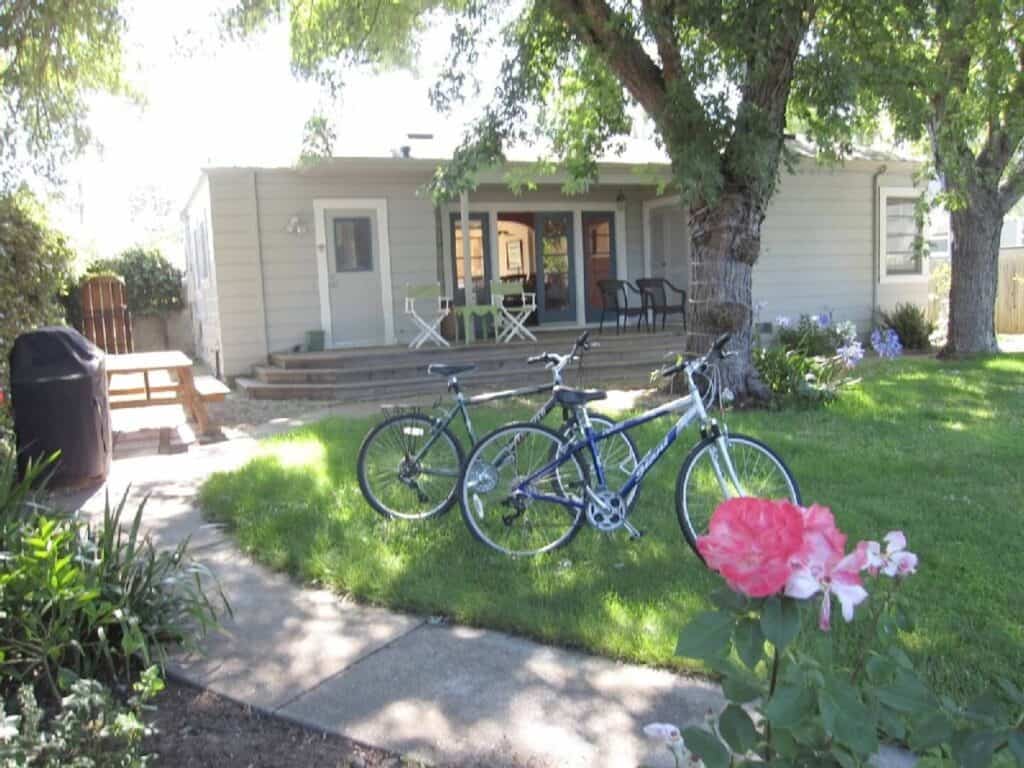 4 guests
2 bedrooms (2 beds)
Check details of this Napa Airbnb
Houses in the Napa area don't get much more private than this – encased in trees and located on a quiet street, this is the perfect place to unwind and forget about the hubbub and noise back home.
The house itself is very bright, and the windows and glass door in the dining area make the yard feel like an extension of the house. The living area has a fireplace and access to Apple TV, and the back yard has a great view of Napa's hills.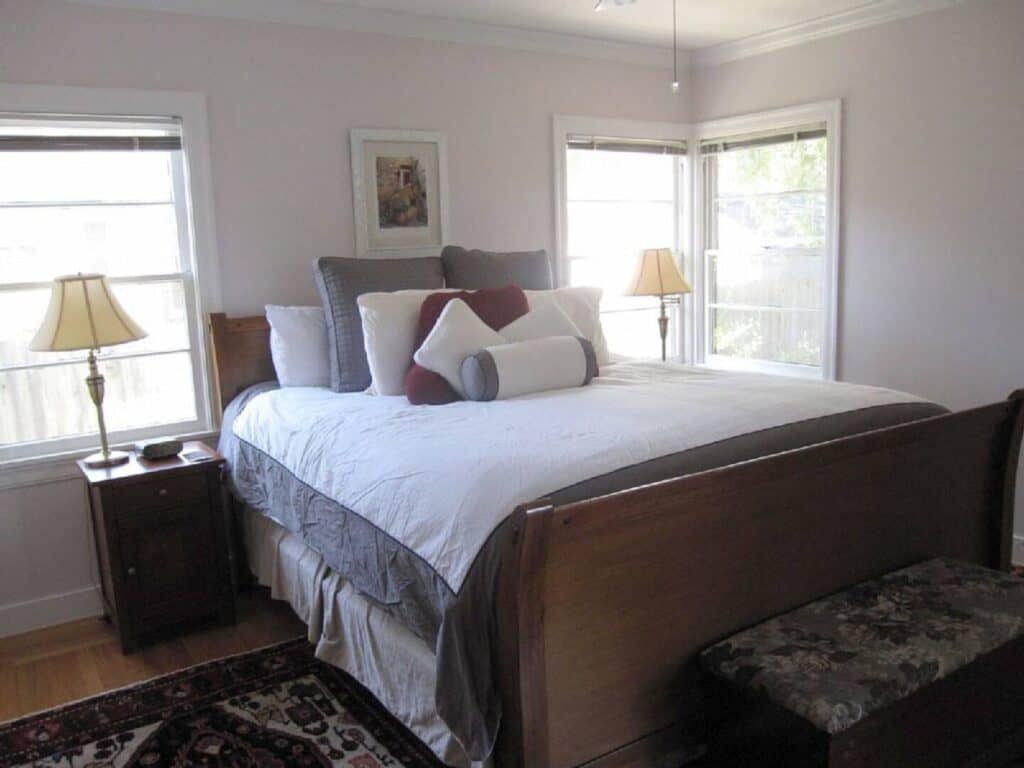 The house is located in one of Napa's safest and most peaceful neighborhoods, so a serene stay is guaranteed.
On top of the obligatory shops and restaurants, you'll easily be able to get to St Helena and Calistoga, as well as a nearby movie theater.
You can get around by car, or take advantage of the provided bikes to get anywhere you might need to go – downtown Napa is only a couple of miles away.
>>>
Book this Napa Airbnb
<<<
Past guests say:
"This space was incredible! It was clean and organized upon arrival with great amenities. It was also a just a short 5 minute drive to downtown that is loaded with things to do. They made it very easy to check in and check out and also had great communication. I would definitely recommend this space to anyone traveling to the Napa area!"
Pin This Napa Airbnb Guide!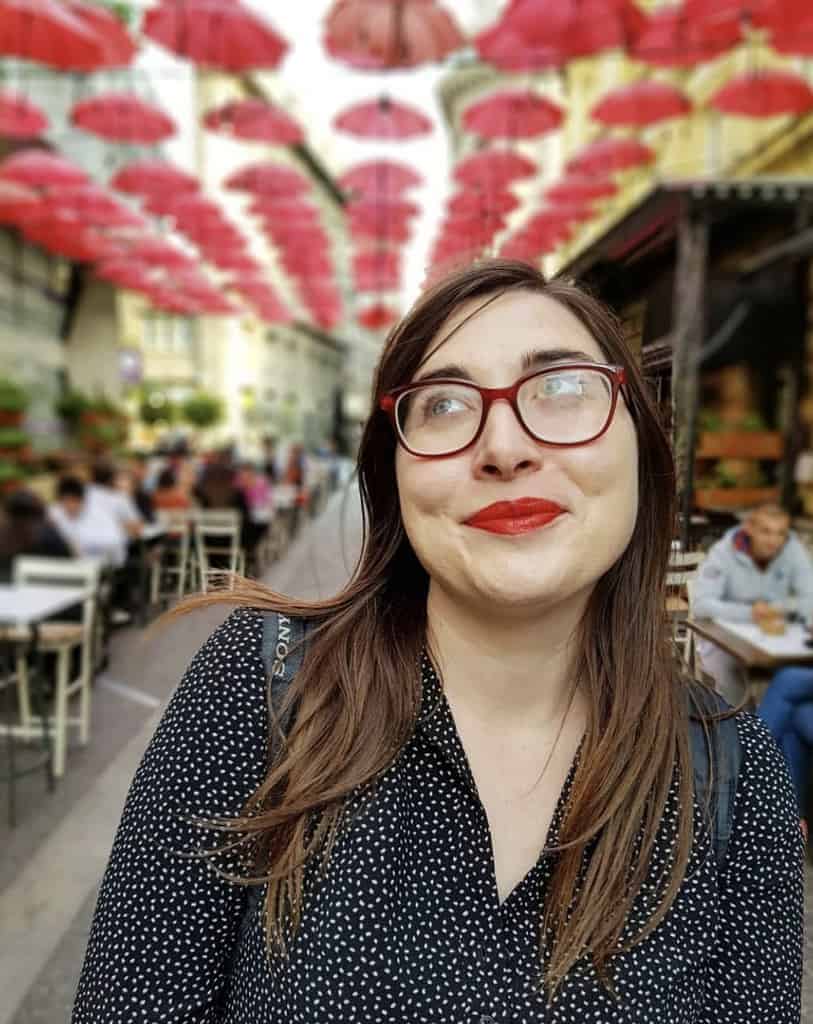 Allison Green is a travel blogger, writer, and podcaster who grew up in the Bay Area of California. She has spent time living in New York, Prague, and Sofia, where she currently calls home in between visits to California. She has traveled to 60 countries before the age of 30 while running several digital travel businesses. Her writing and podcast have been featured in Forbes, CBC Canada, National Geographic, the Huffington Post, and CNN Arabic, amongst others. She's obsessed with dogs, wine, and anywhere she can see the ocean.