California is a beautiful state full of so much to do and see! It's the most populous state in the US, and as a result, Californians often have a funny idea of what a small town in California really constitutes.
I grew up in a town of 10,000 people that I thought was tiny, and when my family moved to Walnut Creek with 60,000 people… I still thought it was a small town!
For the purposes of this post, we're going to loosely define a California small town as roughly 15,000 people or less, so long as it has that charming small-town vibe.
This is an evolving list of the best small towns in Northern California reflecting my personal travel experiences, which are clustered in the Bay Area, Sonoma, Napa, and Tahoe area!
As I explore more of the state, I'm looking forward to adding more Northern California small towns that steal my heart, so if you think I've missed anything, let me know in the comments so I can add it to my Northern California bucket list!
The Most Delightful Small Towns in Northern California
Guerneville
Note: This post contains affiliate links, which earn me a small commission at no extra cost to you if you make a purchase using one of these links. Thank you for supporting this free content!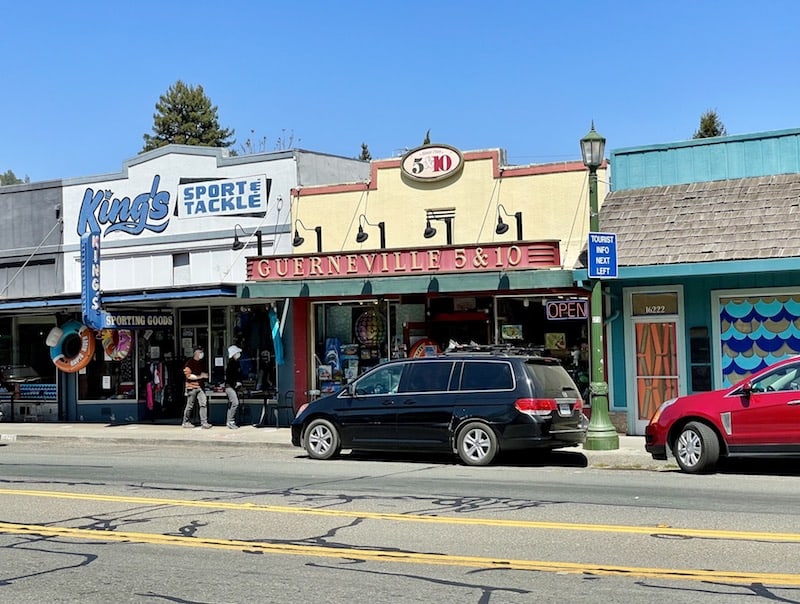 Population: 5,014
The delightful Russian River getaway town of Guerneville is one of the cutest small towns in Sonoma County, with a funky laid-back attitude and a LGBT-friendly reputation.
It's got a vibrant Main Street — a California small town hallmark — with a surprisingly wide variety of restaurants to tickle your fancy while you work up an appetite tubing on the river or walking amongst redwoods in Armstrong Woods.
For food, make sure to visit boon restaurant + bar for the most delicious mac 'n cheese you'll ever meet, and stop off at Nimble & Finn's for a tasty artisanal ice cream cone afterward.
If you just want a drink, the mezcal margaritas at El Barrio are deadly delicious, and Rainbow Cattle Company is a great gay bar that welcomes all.
Mill Valley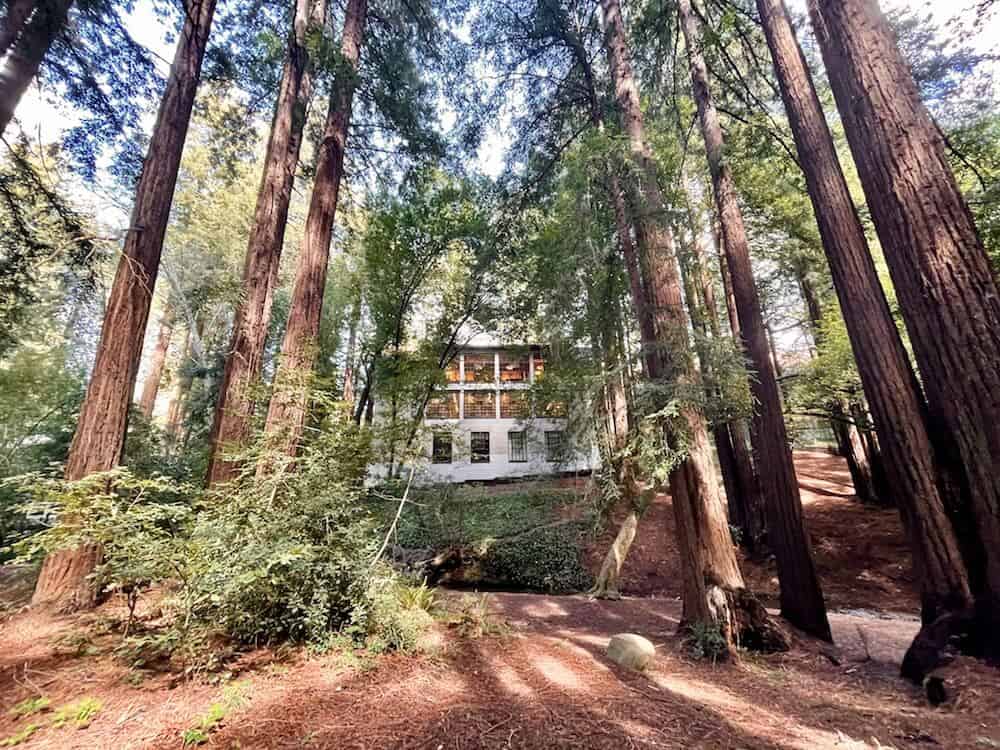 Population: 14,330
This low-key small town in Marin County is a delightful escape from San Francisco!
Located in the redwoods, Mill Valley is best known for being home to Muir Woods and Mount Tamalpais State Park, but it also has a thriving, bustling small-town energy that makes the downtown area a great place to spend a weekend morning.
Grab a delicious cup of coffee at Equator and browse the galleries and shops that make up Throckmorton Ave.
Bolinas
Population: 1,074
Beautiful Bolinas is a strange little place. It doesn't want to be in the spotlight: any signs that mark it along the PCH are often torn down by a few grumpy locals. So turn on your GPS when trying to make your way to Bolinas or you'll be SOL.
Why visit? For one, the Bolinas Lagoon is absolutely beautiful, named as an Audubon Important Bird Area. On the other side of the lagoon is the famed Stinson Beach. At the far end of Stinson Beach, you can look over to the reclusive little town of Bolinas.
There's not too much to do in the town of Bolinas besides admire the views, but if you're visiting and you're hungry for a bite, visit Coast Cafe for a charming fisherman-style seafood restaurant.
Jenner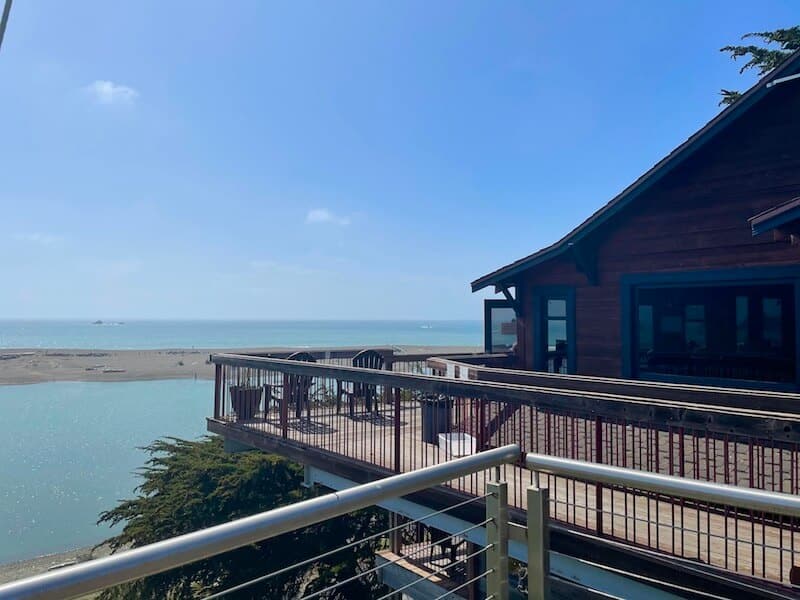 Population: 136
Jenner is perhaps my favorite small town on this list! For a town of just 136 people, there's a surprising amount of things to do in Jenner.
Jenner has a handful of delicious restaurants — the clam chowder at Café Aquatica is great for a quick meal, and the River's End is a fantastic fine dining choice (don't skip the Miyagi oysters!).
There are also three beautiful beaches — Jenner Beach, Goat Rock Beach, and Blind Beach — as well as beautiful hikes, such as the Kortum Trail, the Vista Trail, and hikes in the Jenner Highlands Preserve.
Bodega Bay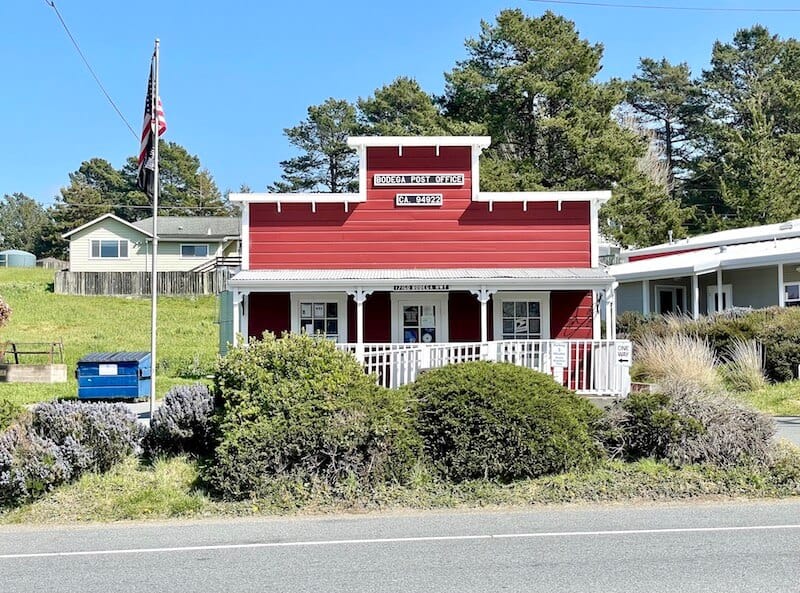 Population: 665
The cute little town of Bodega Bay is really a two-for-one small town! There's Bodega Bay on Highway 1, which is more well-known and a popular destination for whale watching in California.
But there's also the charming inland town of Bodega, known for its famous Saint Teresa of Avila Church and Potter School House, made famous by Ansel Adams and Alfred Hitchcock.
For a hike, make your way over to Bodega Head for a beautiful trail overlooking the ocean on a peninsula jutting out 4 miles into the Pacific, where you'll often see whales migrating not far from land.
A post-hike fuel-up at Spud Point Crab Company is a great treat — Bodega Bay is known for its Dungeness crab when it's in season!
Tiburon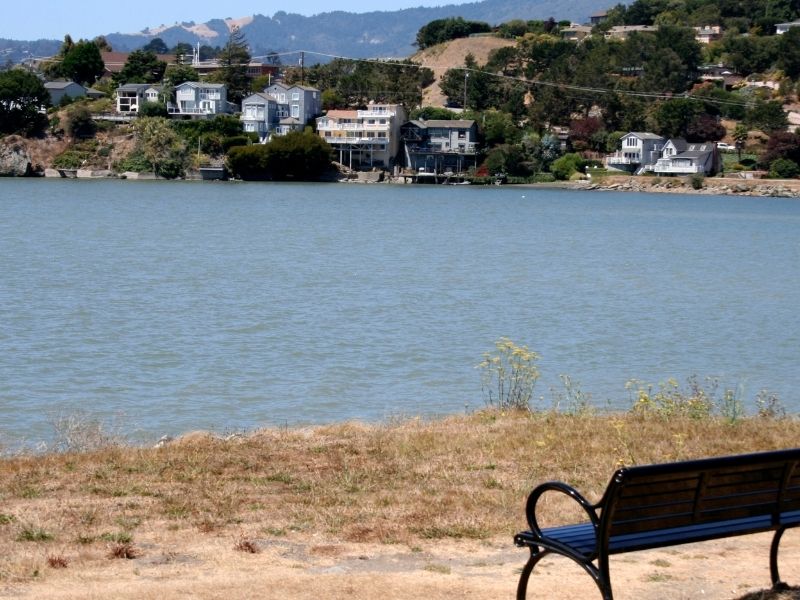 Population: 9,144
Tiburon is a gorgeous small town in the Bay Area perfect for a weekend escape. It offers stunning viewpoints everywhere you look, great hiking and biking trails, and world-class food.
Getting to Tiburon is a large part of its charm: if coming from San Francisco, you'll score beautiful views whether you take the Golden Gate Bridge or opt for the beautiful ferry from Pier 41!
For food, you're spoiled for choice. Opt for Via Piccola Trattoria if you feel like Italian or Sam's Anchor Café for fresh seafood with a view of Angel Island!
Sausalito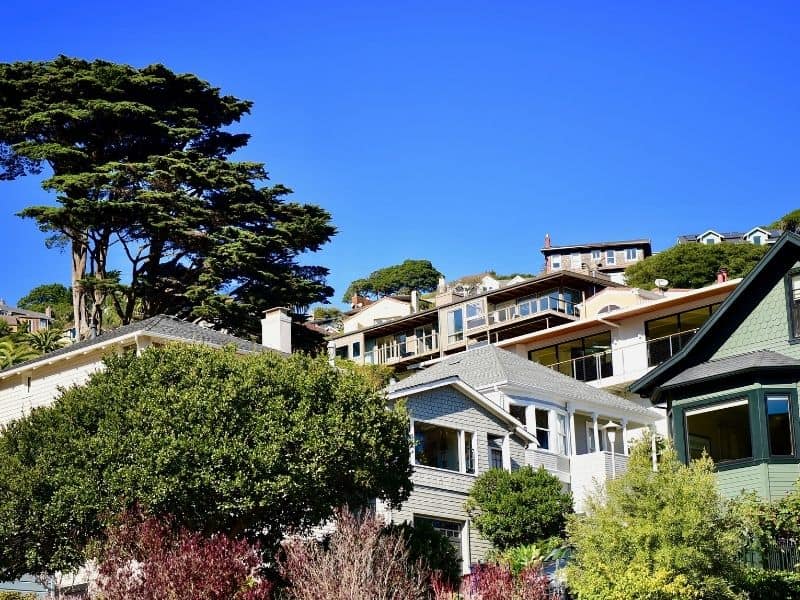 Population: 7,116
The charming small town of Sausalito sits right across the Bay from San Francisco, and while the views are beautiful, they come with a price — literally! This is one of the toniest small towns in California, with a medium housing price of $1.4 million…. yikes!
That said, even for us plebes, a day trip to Sausalito is a fantastic way to spend a day engaging in small town vibes with world-class food.
Save up for a phenomenal meal at Sushi Ran, the best sushi restaurant I've eaten at in California, and tied for best sushi I've eaten, period, with the inestimable Sushi Nakazawa in NYC. (I should note that when I went to Japan I was very, very broke and limited to the 100 yen menu, so I'm sure there's better sushi in Japan I can only dream of tasting!).
Their toro topped with caviar is one of the best bites of food you can ever hope to eat… for $17 a pop.
If you don't have the funds for a baller meal at Sushi Ran, there's still plenty to do in Sausalito, including checking out the funky houseboats along Waldo Point Harbor, snapping photos at the gorgeous Point Bonita Lighthouse, swinging on the beach at Kirby Cove (with stunning Golden Gate views!), and exploring scenic Fort Baker.
Inverness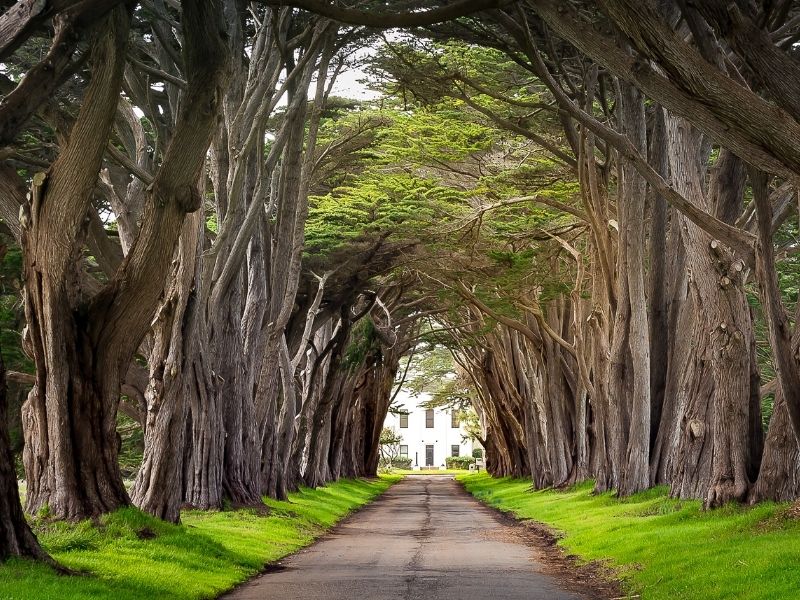 Population: 1,097
On the way to Point Reyes National Seashore, you'll absolutely want to stop by the charming small town of Inverness!
This small town in Northern California is best known for its alluring and mysterious Monterey cypress tree tunnel leading to the now-defunct radio station at the end of it.
Besides the tree tunnel, Inverness is a great spot to pick up supplies for a picnic at Inverness Park Market for a hike in Point Reyes. Alternately, treat yourself to oysters at Saltwater Oyster Depot for something light or Vladamir's Czech for a hearty meal that will truly fill up a hungry hiker's belly.
Tomales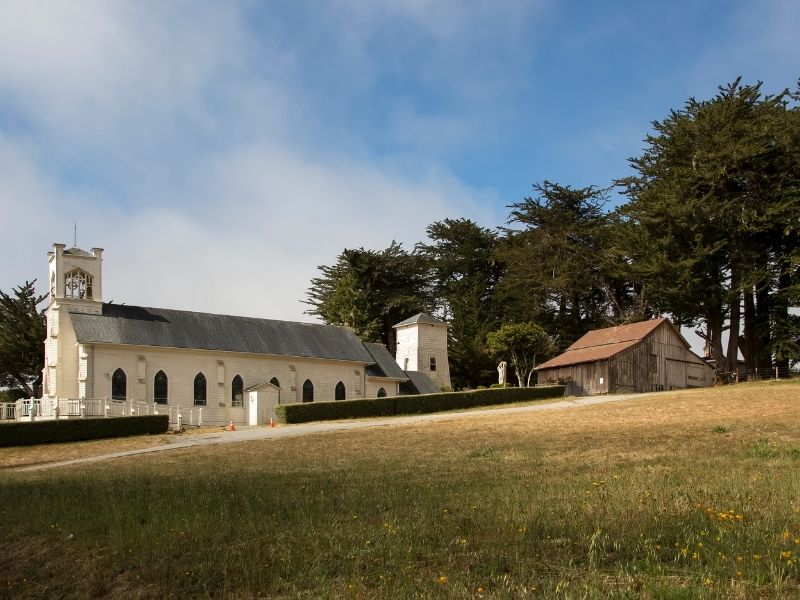 Population: 253
The delightful small town of Tomales is located along the Pacific Coast Highway between Inverness and Bodega Bay.
It's a tiny town with just a few streets, but it's absolutely worth a stop for the kougin aman at Tomales Bakery and to snap some photos of the Catholic Church of the Assumption.
If you're curious to know more about the town and Tomales Bay, visit the Tomales Regional History Center.
Pescadero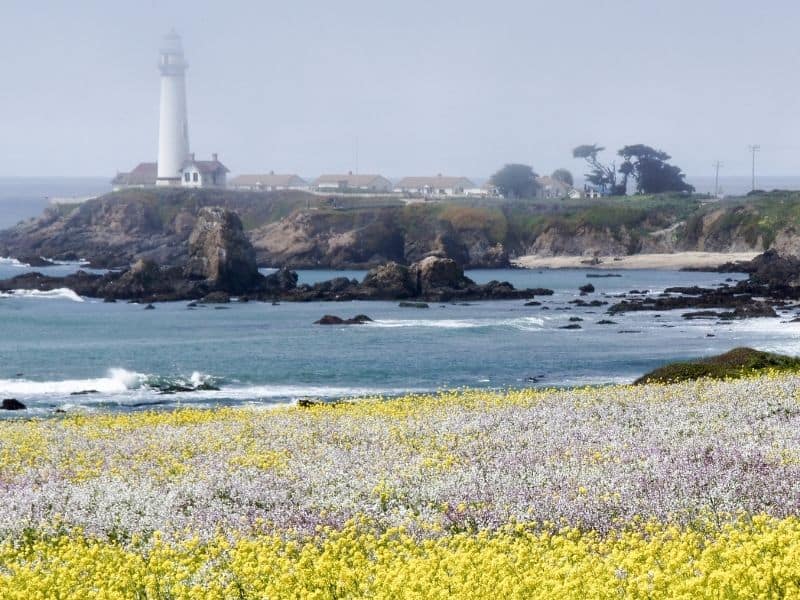 Population: 219
Pescadero is a San Francisco peninsula hidden gem. Overshadowed by Pacifica and Half Moon Bay, quaint little Pescadero is an under-the-radar stunner.
Love animals? Stop by Harley Farms Goat Dairy to coo over baby goats in spring and treat yourself to some delicious goat cheese — the honey and lavender goat cheese is out of this world.
Pescadero State Beach is beautiful, but the real draw is a few miles south: Pigeon Point Lighthouse is one of the most scenic lighthouses in California.
Duncans Mills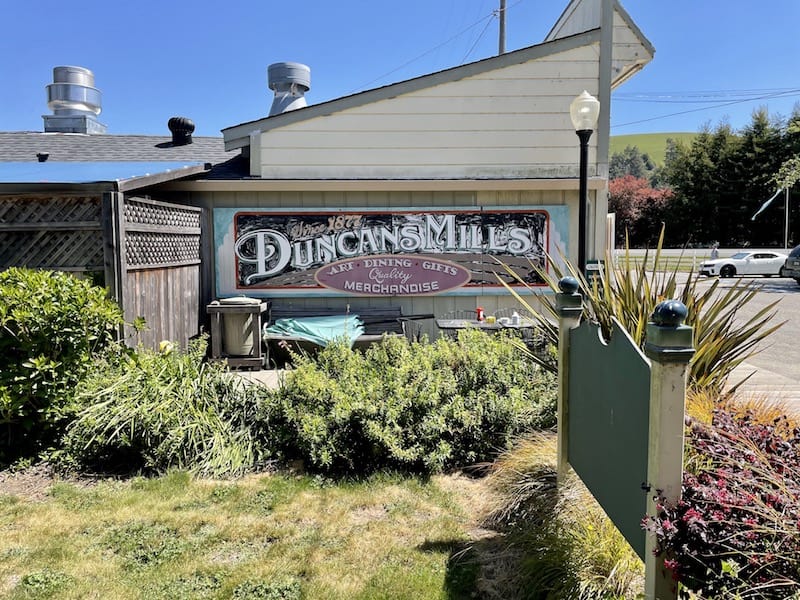 Population: 175
Funky Duncans Mills is a quaint little town that's been converted into a fun-sized shopping oasis in a little-visited part of Sonoma County.
Sift through antiques and vintage clothes at Twice As Nice or browse some of the finest 20th century California landscape paintings at Christopher Queen Galleries.
Hungry? Grab some Southern-style fare at Cape Fear Café or a quick pastry and a tasty cup of coffee at Gold Coast Coffee & Bakery.
From Duncans Mills, explore other nearby small towns like Jenner and Guerneville, or hike the scenic Islands in the Sky Trail in Sonoma Coast State Park.
Calistoga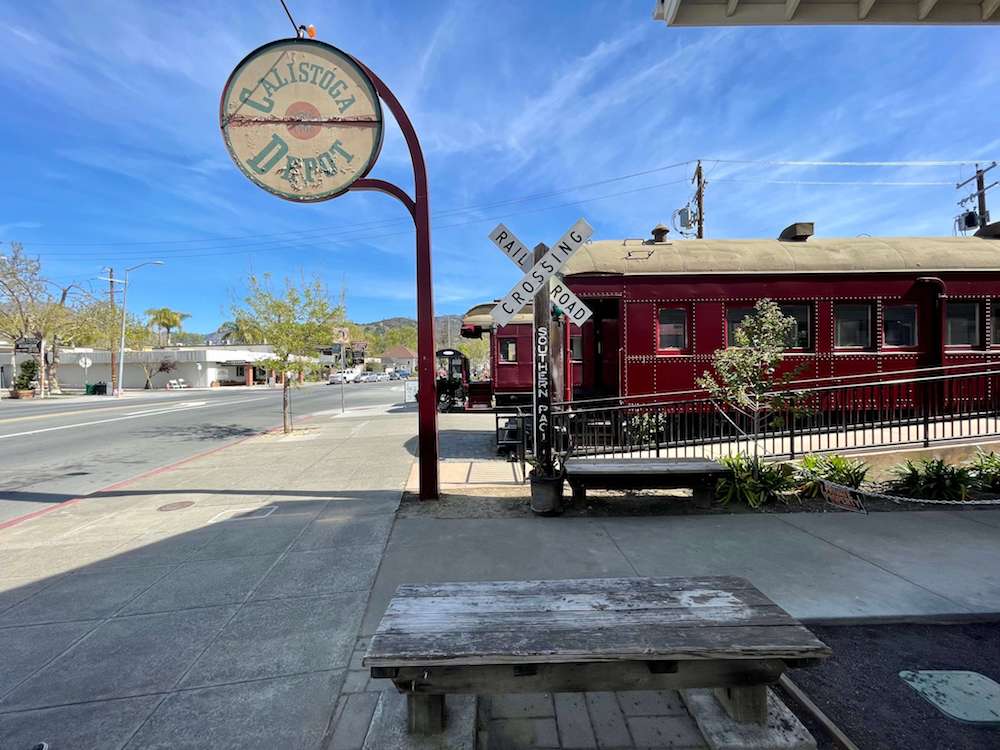 Population: 5,271
The northern end of Napa Valley wine country terminates in funky little Calistoga!
While many parts of Napa are quite tony and fancy, Calistoga has a down-to-earth vibe… literally! Calistoga is known for its mud baths, which can be low-key or down up upscale.
The Calistoga area has mineral-rich volcanic mud as well as naturally flowing hot springs, as well as an 'Old Faithful' geyser of its own which erupts like clockwork a few times an hour!
Visit the wineries like Vincent Arroyo and Castello di Amorosa (reservations required for both), go for a hike in Bothe-Napa Valley State Park, check out the charming Mill Grist Historic State Park, or simply shop and browse along the Main Street.
St. Helena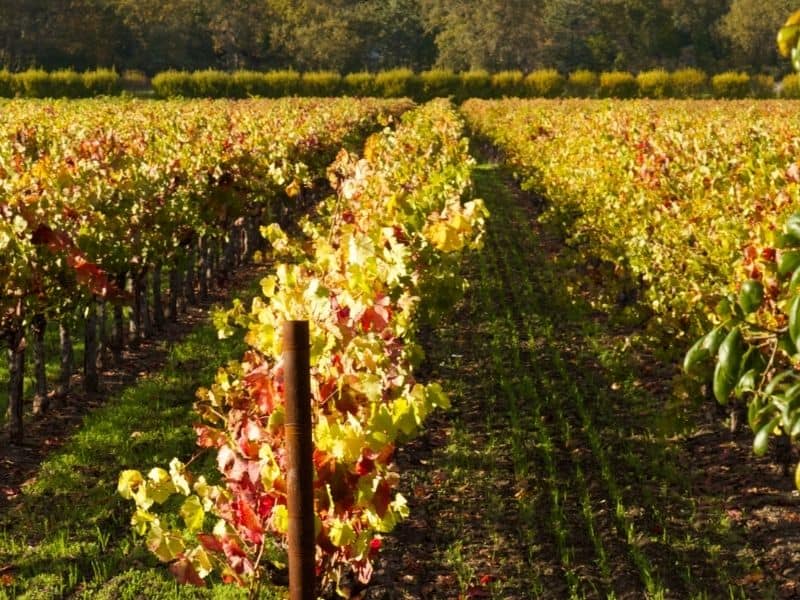 Population: 6,101
St. Helena is a charming little Napa Valley town. It's more funky and offbeat than Yountville, which is (frankly) downright chi-chi, while still having a cute elegance befitting a wine country town.
St. Helena is all about wine, wine, wine. Located between the main highway through Napa (Hwy 128) and the Silverado Trail, there are a handful of phenomenal wineries and vineyards just around St. Helena proper, as well as tons of tasting rooms in St. Helena so you don't have to drive between wineries if that's a concern.
In town, I recommend Trujillo Wines and Merryvale Vineyards, both on Main Street. Nearby, to visit actual vineyards, I suggest Anomaly Vineyards (great cabs at good prices) and Titus Vineyards on the Silverado Trail (try their Zins).
What goes with wine? Food, of course, and St. Helena is one of the foodie hearts of the Napa Valley. Snap some photos outside of the Culinary Institute of America, or go inside for a memorable meal at Gatehouse Restaurant inside — or even take a public tour!
Mendocino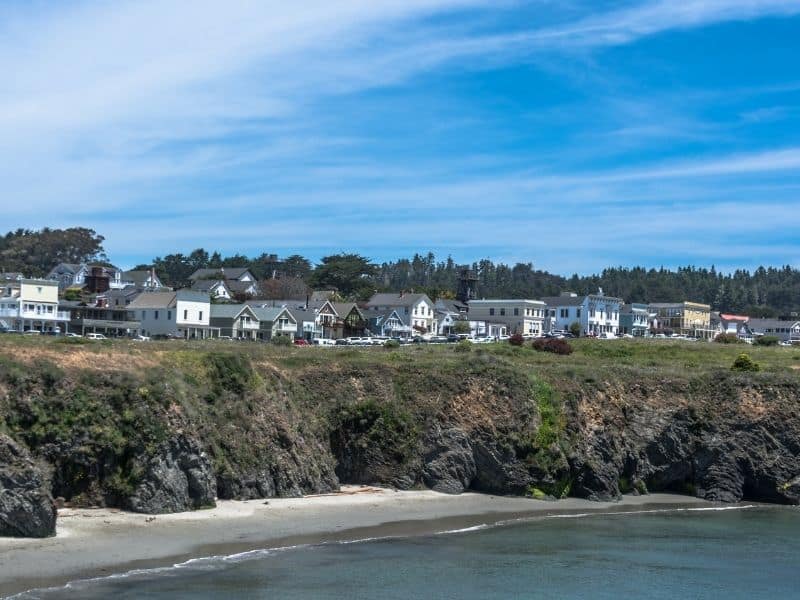 Population: 855
Mendocino, hands down, is one of the cutest small towns on the Northern California coast, and it's one of the northernmost towns on this list as well!
It's the heart of a fantastic and under-the-radar wine country, where you can sip tasty wines for a fraction of the price of either Napa and Sonoma. Mendocino excels at delicate, floral wines that enjoy the cool climate.
In terms of reds, we're talking Pinot Noir, whereas for whites, Alsatian-style Rieslings and Gewürtztraminers do phenomenally here, where the climate is cool enough (elsewhere in California, these flavors get totally blown out).
Stand-out wineries near Mendocino include Foursight Winery (known for Pinot Noir) and Pacific Star Winery (in nearby Fort Bragg) with stunning ocean views that would make any wine taste great, and their excellent wine taste even better!
In town, taste local wines at the punnily-named wine bar MendoVino and try all of the delicious restaurants in town. Alternately, visit the lighthouses (there are two nearby!), hike the Mendocino Headlands, or go on a whale watching tour if the season is right!
Healdsburg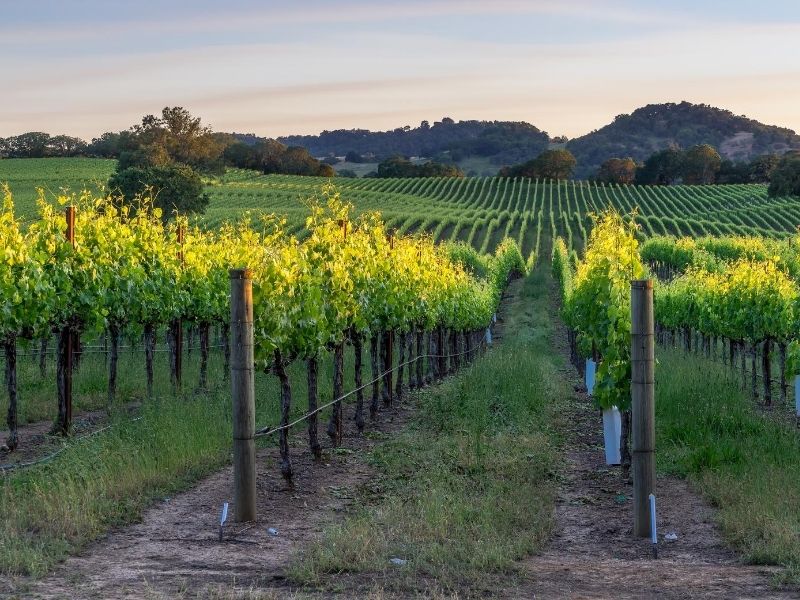 Population: 11,845
Healdsburg's motto is "A World Class Small Town" and they're not wrong — Healdsburg really turns up the charm despite its small size.
Like many of these small towns in Northern California, Healdsburg is a great hub for wine tasting — nearby Flowers is one of my top favorite California wineries, no qualifiers, period. Bottles are pricy but exquisitely crafted. Rochioli is also masterful.
Both vineyards are on Westside Road, a scenic byway that connects Healdsburg and Guerneville, another cute Sonoma small town on this list!
Other things to do in Healdsburg include walking around town and window-shopping at all the cute boutiques, checking out the Russian River (and perhaps launching a kayak from it!), and taking in the vibes around Healdsburg Plaza in the heart of town.
Half Moon Bay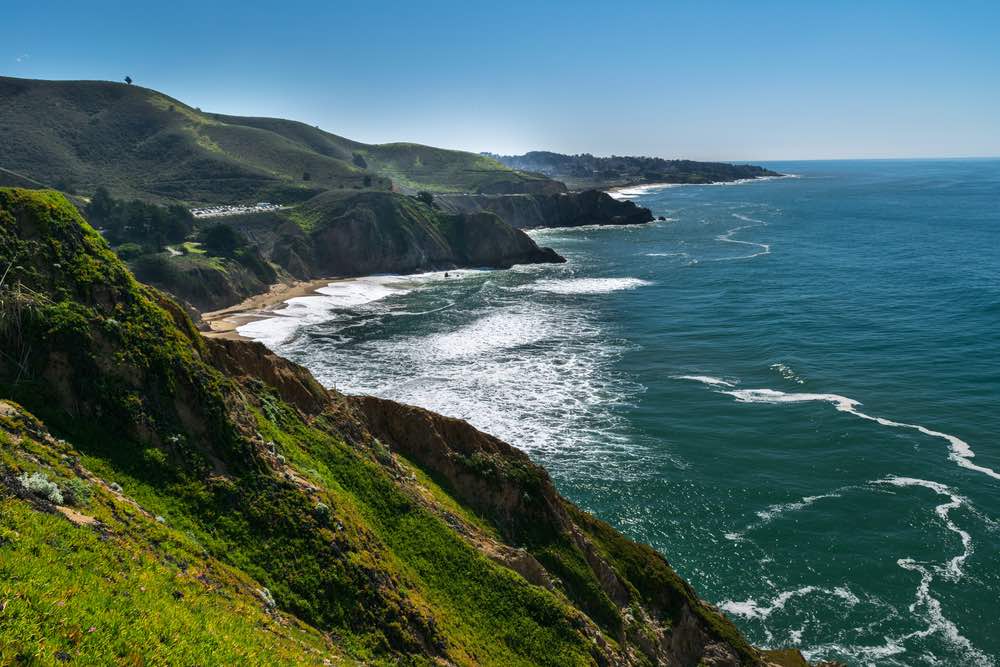 Population: 12,834
This population weekend getaway destination is a small town worth visiting on its own right! Half Moon Bay is one of the most upscale small town getaways from San Francisco (I mean, it does have its very own Ritz Carlton, a distinction many small towns on this list can't speak to!).
Glamor aside, Half Moon Bay has something for everyone. Watch the talented surfers on Maverick Beach, one of the toughest breaks of surf anywhere along the California Coast, or walk along the Coastside Trail to Pillar Point for beautiful views overlooking the beach.
Want some redwood action? Head to the Purisima Creek Redwoods Preserve for some of the most beautiful redwoods near San Francisco on the peninsula.
Carmel-by-the-Sea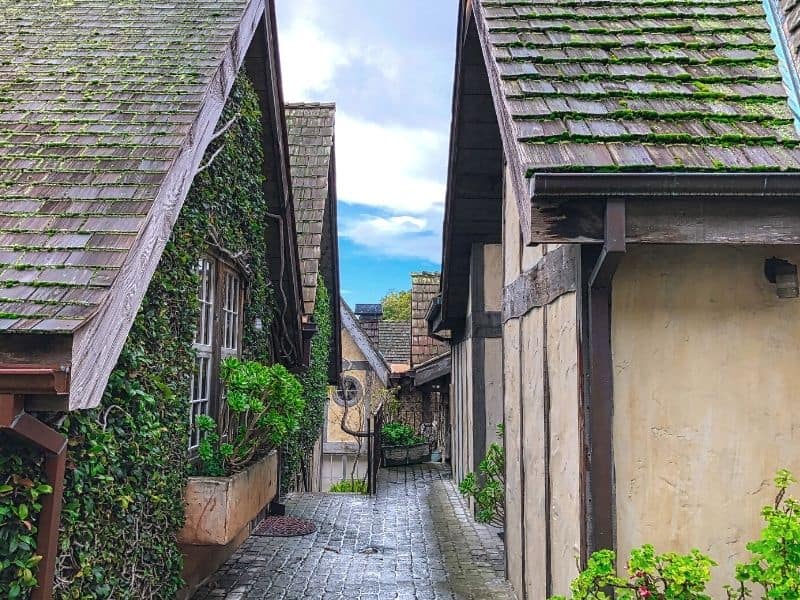 Population: 3,830
Carmel-by-the-Sea just may be the quintessential California small town!
While technically in Central California as opposed to Northern California, for the purposes of this post, we'll consider it NorCal as it's a really popular destination for Bay Area locals to escape to on weekends, just a 2-hour drive away.
Carmel has a European village-like feel which puts it at contrast with the very new vibes of most California towns and cities. It seems like something out of a fairytale, inspired by Dutch villages, Spanish colonial style, and a splash of Mediterranean low-key glamor.
Restaurants in Carmel are plentiful and well-renowned; the most celebrated is Aubergine, part of the L'Auberge Carmel, one of the glitziest hotels in town. Mission Ranch is also super tasty. Its Western vibes have true bona-fides as it is owned and was restored by Clint Eastwood himself!
Besides eating, there's tons of wine tasting (Central Coast wines are phenomenal!) as well as Carmel River State Beach being one of the best beaches around. Carmel is also a great launch point for a Big Sur road trip including stops at McWay Falls and Point Lobos.
Nevada City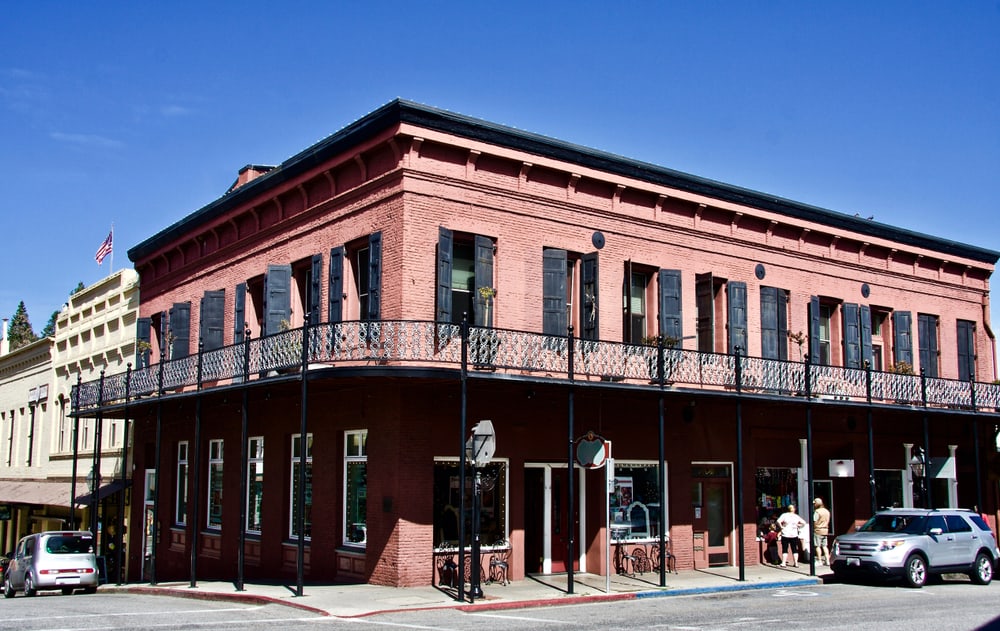 Population: 3,144
While Nevada City is yes, technically a city as the name would suggest, with a population just over 3,000 people you'll excuse me for considering it a Northern California small town!
Nevada City has beautiful Victorian architecture which speaks to its roots as an important city during California's Gold Rush.
Nevada City is a fun and funky little Western-feeling town, livened up by new additions like great breweries (check out Three Forks Bakery & Brewing Co and The Stone House) and plenty of parklands around it.
Auburn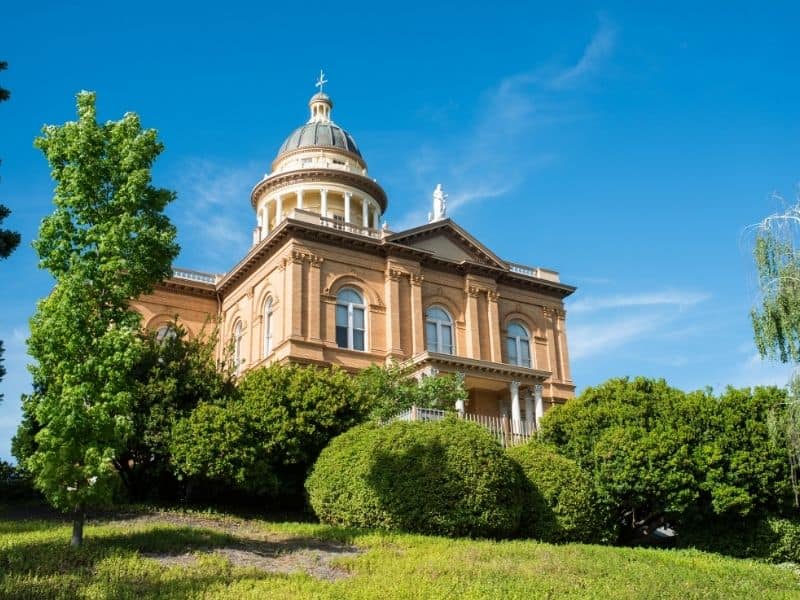 Population: 14,011
Auburn is such a cute Northern California small town! It has a ton of California Gold Rush history and a real funky old-timey vibe.
The Bernhard Museum is a fantastic place to learn about this history and bring it to life. Other great museums include the Gold Rush Museum and the Placer County Museum.
The Joss House Museum is a great place to visit focusing on the Chinese history of the Gold Rush, an often-erased part of the Gold Rush narrative.
Auburn is also a great place for hiking and getting out in nature, as its home to some of our favorite hikes near Sacramento, including the Lake Clementine Trail and the Auburn State Recreation Area.
There are great places to eat and drink in Auburn. I love the wonderfully named Pour Choice (I'm a sucker for puns, and even better when accompanied with craft beer) for a drink and the Auburn Bodega has amazing sandwiches!
Truckee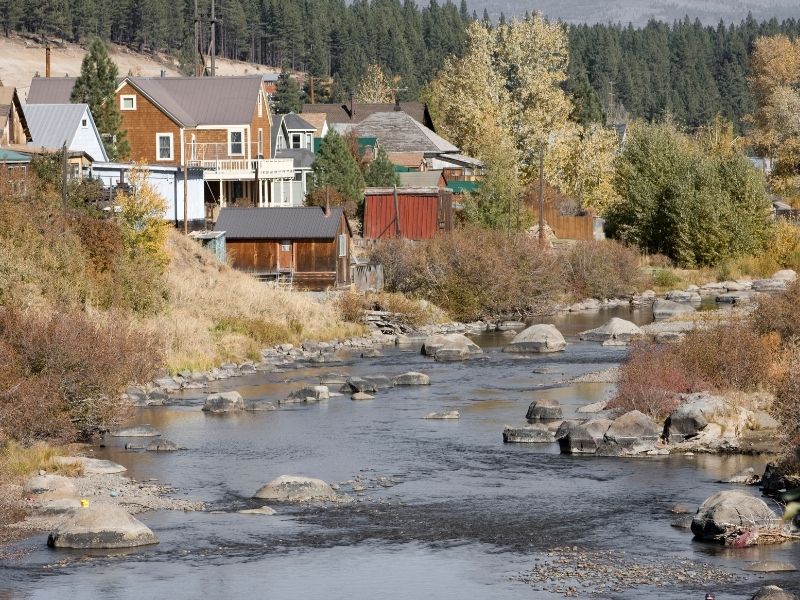 Population: 16,474
Truckee is another great small town in Northern California, located near the border with Nevada north of Lake Tahoe.
It's close to Donner Lake and Donner Summit Bridge, one of the most beautiful bridges in California — think Bixby Creek Bridge but overlooking Donner Lake and not the Pacific!
Truckee is fun and funky, a great place for winter cabin escapes. For upscale dining, try Trokay, or for more low-key but still delicious fare try the Truckee Tavern & Grill.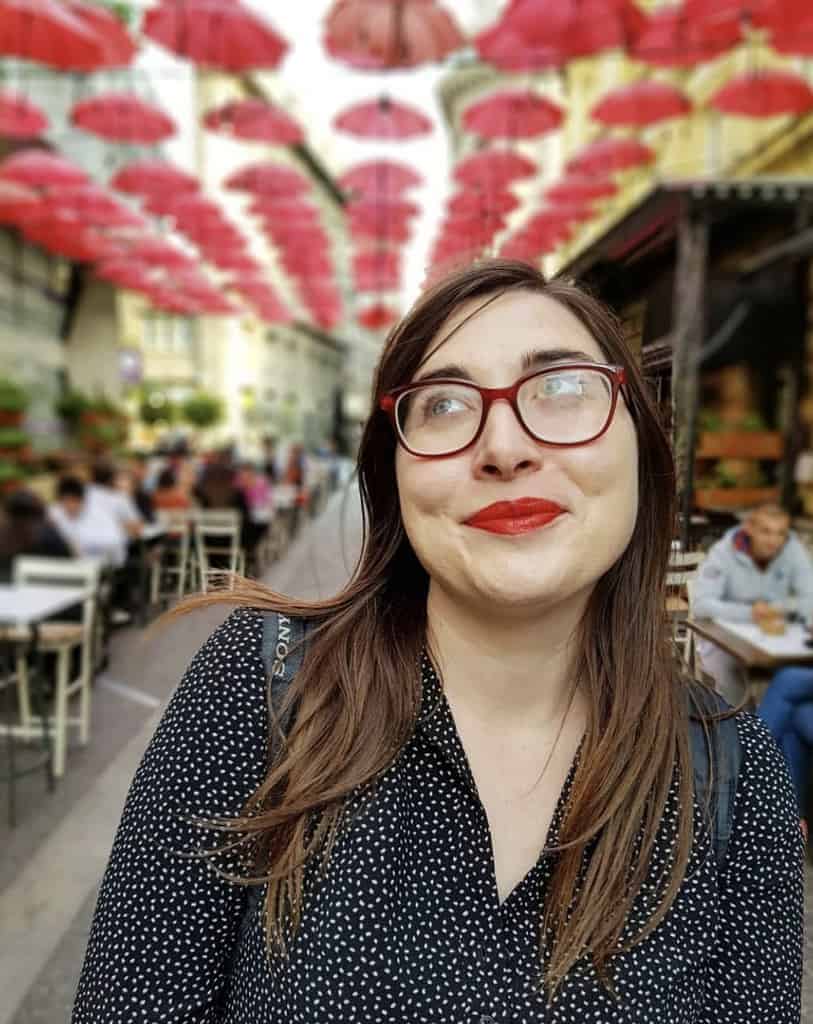 Allison Green is a travel blogger, writer, and podcaster who grew up in the Bay Area of California. She has spent time living in New York, Prague, and Sofia, but has returned to live in the East Bay. She has traveled to 60 countries before the age of 30 while running several digital travel publications. Her writing and podcast have been featured in Forbes, CBC Canada, National Geographic, the Huffington Post, and CNN Arabic, amongst others. She's obsessed with bouldering, houseplants, other people's pets, and anywhere she can see the ocean.