If you're looking for a day trip from San Francisco or a charming weekend getaway in the Bay Area, Half Moon Bay ticks all the boxes.
Gorgeous beaches? Check. Scenic coastal hikes? Check. Delicious seafood? Check. Perfect weather? Well… you can't have everything.
Half Moon Bay is a beautiful place, but it's often quite cold, even by Northern California coastal standards.
Fog often settles in on Half Moon Bay, and in the summertime, high temperatures of a paltry 65 F are the norm.
That said, dress for the foggy weather and you'll have a great time enjoying all the fun things that Half Moon Bay has to offer!
From coastal trails to the world's best clam chowder (sorry, New England), here's what to do in Half Moon Bay.
Things to Do in Half Moon Bay
Take a walk along the Coastside Trail.
The Half Moon Bay Coastside Trail is the perfect place to start a day trip to Half Moon Bay.
Walk a portion of its 9.5-mile length (I think the northern stretch is a little prettier, personally), or tackle the whole thing if you're feeling ambitious.
The trail is paved and easy to navigate, though be aware that one of the bridges up north by Miramar is out of commission. It's well-marked and the detour is obvious, but you'll have to walk along Highway 1 a bit.
Note: This post contains affiliate links, which earn me a small commission at no extra cost to you if you make a purchase using one of these links. Thank you for supporting this free content!
Visit a quiet stretch of beach.
There are many beautiful beaches all along Half Moon Bay, which boasts several miles of stunning coastline and lots of dog-friendly sandy beaches.
Poplar Beach is beautiful, though a little busy. Personally, I love the beach down by the Ritz-Carlton at the south end of Half Moon Bay, which is called Manhattan Beach.
The view of the Ritz perched at the edge of the bluff, as seen from down on the sand, is stunning.
While the Ritz was quite controversial when it was being approved, they did quite a good job with it and it looks absolutely beautiful up on the bluff from down below.
Not a lot of people know that you can actually park at the Ritz Carlton and get coastal access even if you're not staying at the Ritz. There are 25 spots reserved for the public, and it's totally free.
We didn't arrive particularly early, around 10:30 AM on a Saturday, and there was plenty of parking in the coastal spaces at that time!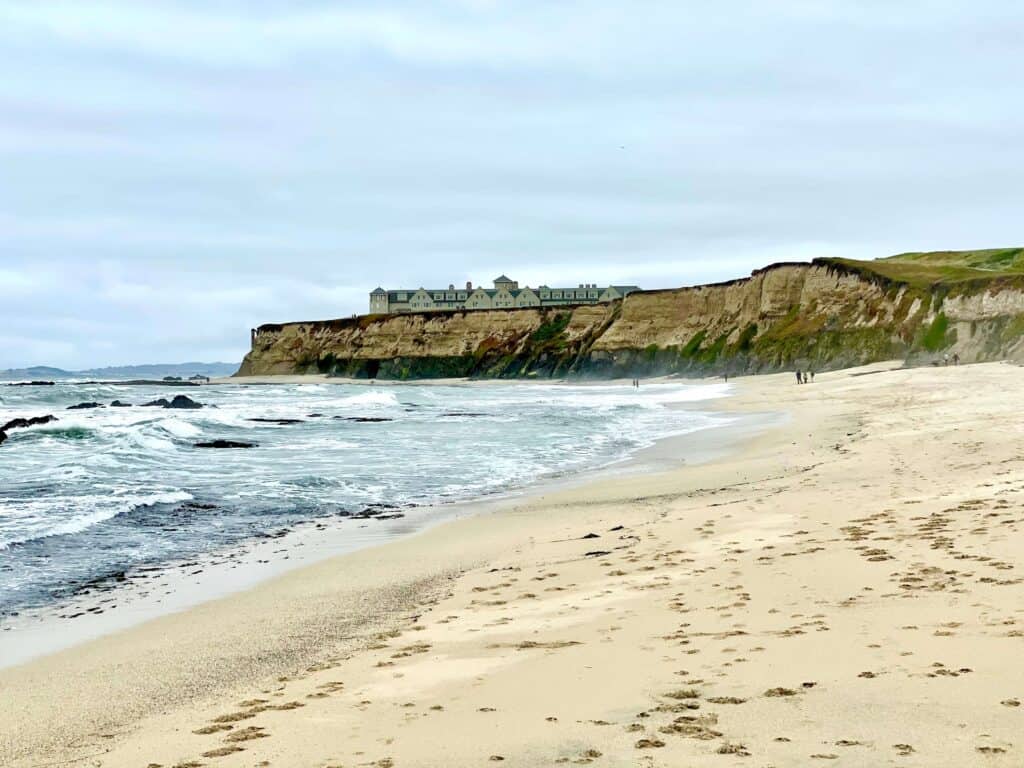 Admire the tidepools of the Fitzgerald Marine Reserve.
There are tons of tidepools around the Half Moon Bay area, including around Manhattan Beach if you walk south a bit.
Some of the best tidepools, though, can be found at the Fitzgerald Marine Reserve which is located around Moss Beach.
There's a coastal trail and a beach where you can see into the tide pools at low tide.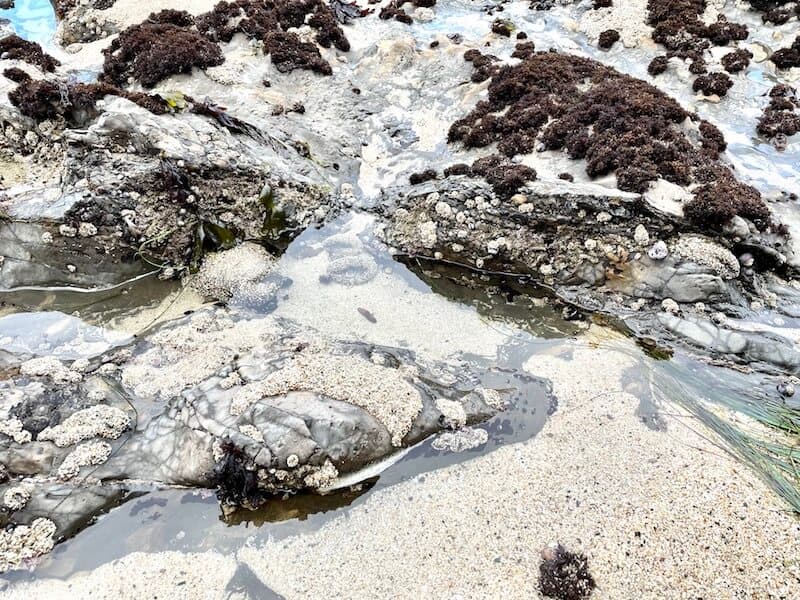 Get a seafood lunch at Sam's Chowder House.
One of the best places to eat in Half Moon Bay is Sam's Chowder House. Don't let the long lines and the traffic on this stretch of Hwy 1 scare you off — this is well worth it!
The parking lot is often full at Sam's, so feel free to park along the highway and walk to the restaurant from there.
Sam's Chowder House is best-known for its clam chowder. In a state as obsessed with clam chowder as California, it's saying something to say it's some of the best chowder you'll be able to find anywhere in the state!
It's also known for its lobster rolls, which you can order "Naked" (Connecticut-style, warmed with butter) or "Dressed" (Maine-style, cold with mayo). They are absolutely delicious!
The fish and chips is also perfectly done, and we had some fantastic oysters there as well.
Insider tip: They offer pick-up at a separate window if you don't want to wait, and you can also get some clam chowder prepared to go so you can have leftovers!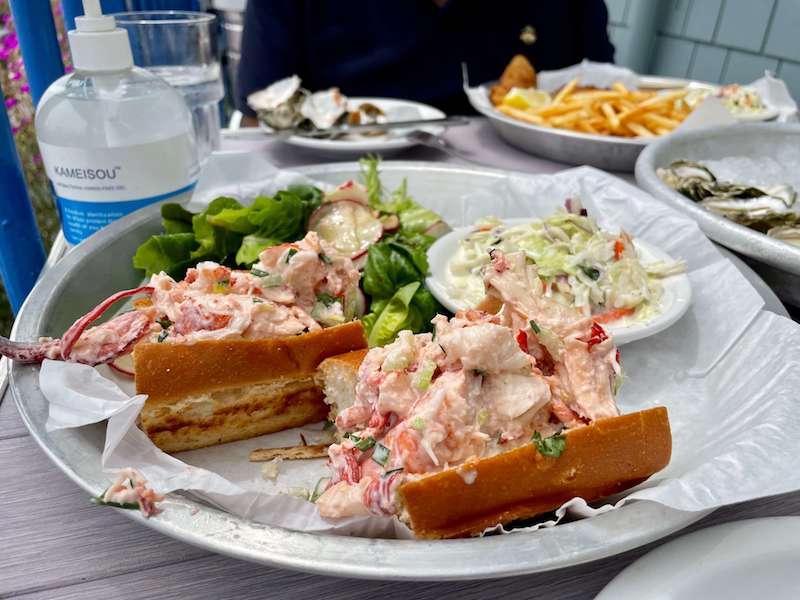 Watch for gray whales during their yearly migration.
All up and down California you'll find gray whales migrating during the winter – particularly, January through the end of March in the waters near Half Moon Bay.
You might be able to spot whales from the beach or from a point on the bluffs if you have a keen eye an da pair of binoculars, but the best way to see them is on a whale watching tour!
Huli Cat is the best-rated whale watching tour operator in HMB, and their prices are reasonable. Check their rates and seasonal information here.
Enjoy four miles of coastline on Half Moon Bay State Beach.
Half Moon Bay State Beach is the large stretch of sandy coastline that encompasses several other named beaches, including Francis Beach (which has campgrounds), Venice Beach, Dunes Beach, and many more.
All the spots along this 4-mile stretch are gorgeous; however, dogs are not permitted anywhere on the state beach. If you're looking for a dog-friendly beach in Half Moon Bay, the one by the Ritz allows dogs!
Grab some saltwater taffy.
Is it really a beach trip if there's no saltwater taffy?
Grab some nostalgic saltwater taffy at the Half Moon Bay Salt Water Taffy Co. — they also sell kites and pinwheels for kids, which can be fun to play with in the windy weather that HMB often has!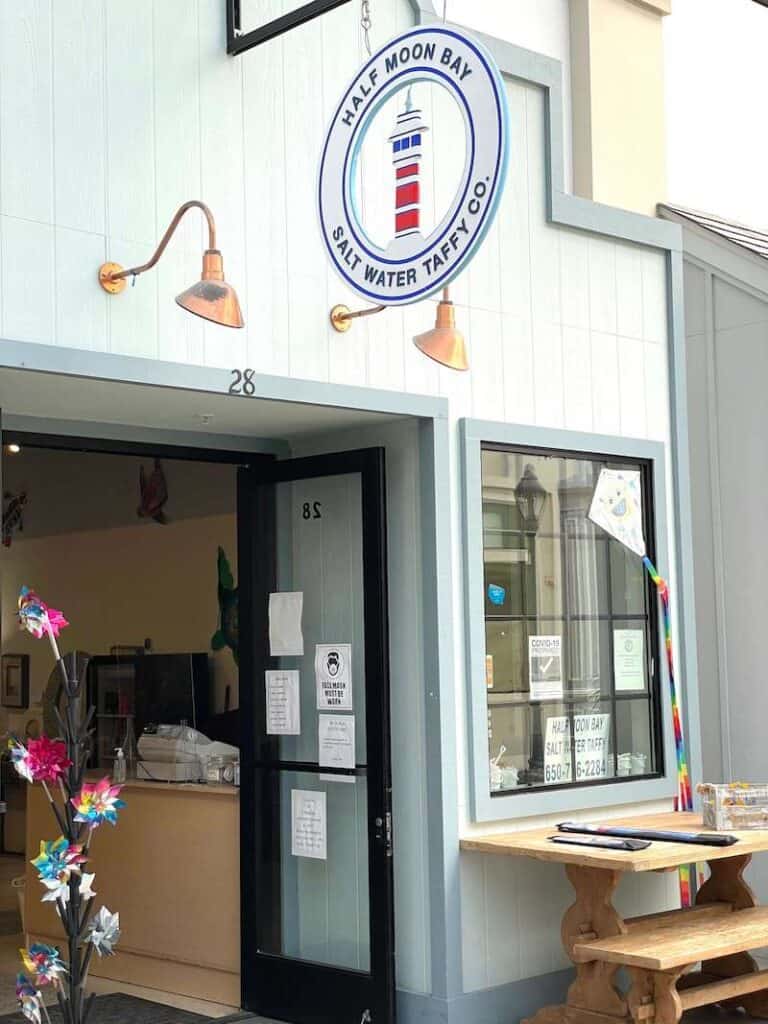 Marvel at a sunset over the Pacific Ocean.
There's no better way to end a day in Half Moon Bay than admiring the sunset!
Whether you enjoy it with a glass of bubbles at a restaurant overlooking the ocean or sitting on a beach towel along the beach with a picnic, the sunsets in Half Moon Bay are often exquisite, so long as there's not too much fog.
Hike the Pillar Point Bluff Trail.
One of the prettiest hikes in Half Moon Bay is the Pillar Point Bluff hike, an easy 1.7-mile loop hike that offers views of the Pacific and Pillar Point with its distinctive radome (aka the big white ball).
This is part of the Air Force Station and it's use to track aircrafts!
The hike itself is easy, partly with a boardwalk and partly unpaved, and you'll find gorgeous wildflowers on the way up and ocean views at the top!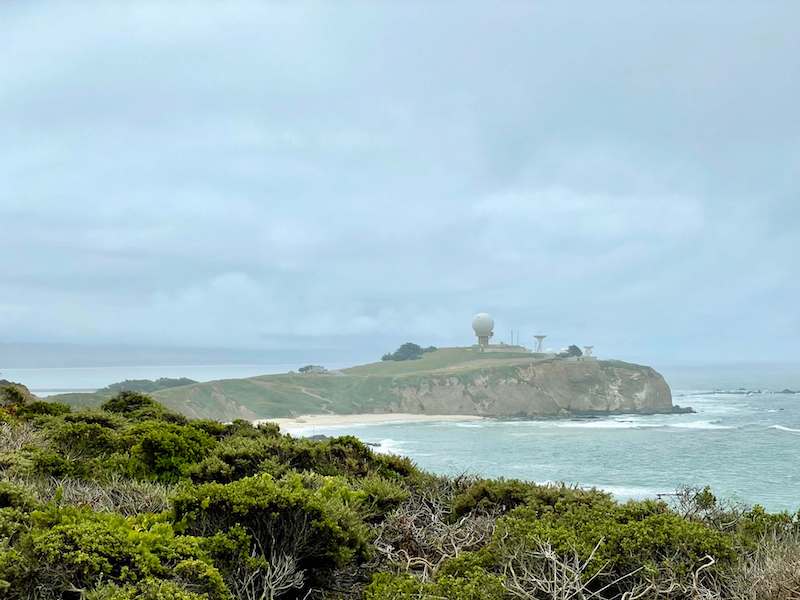 Check out the waves of Mavericks.
North of Half Moon Bay State Beach is the world-famous Mavericks Beach, known for its big wave surfing competition which it used to host annually.
Unfortunately, it's since been called off due to the unpredictability of big waves and the difficulty of organizing a contest around that.
However, you can still visit the beach and watch the massive waves crash onto the shore. They can be large any time of year but particularly in the winter months.
Stay away from the water as this beach is prone to dangerous sneaker waves! You might spot a few surfers here, but you'll find more over at Surfers Beach, which I cover below.
Check out the surfers at Surfers Beach.
If you're looking for a place to watch the surfers hit the waves, check out Surfer's Beach just down the highway from Sam's.
The waves here are definitely on the smaller side, but it doesn't mean it's not fun to watch the surfers do their thing!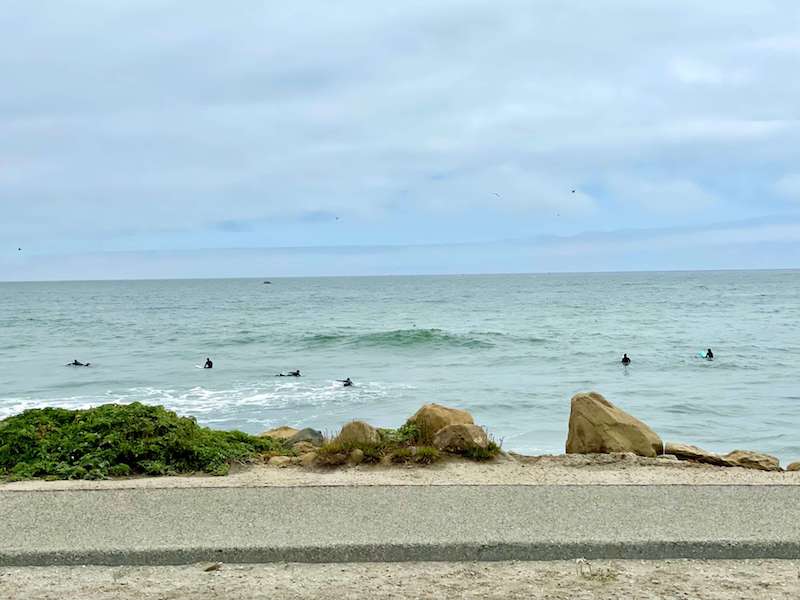 Grab a beer at Half Moon Bay Brewing Co. or Hop Dogma.
There are a few great places to grab a beer in Half Moon Bay, and two of them are conveniently located just a short walk from Sam's Chowder House, making it a great place to go while waiting for a table!
I grabbed a beer at Hop Dogma on my last trip to Half Moon Bay and it was delicious — highly recommended!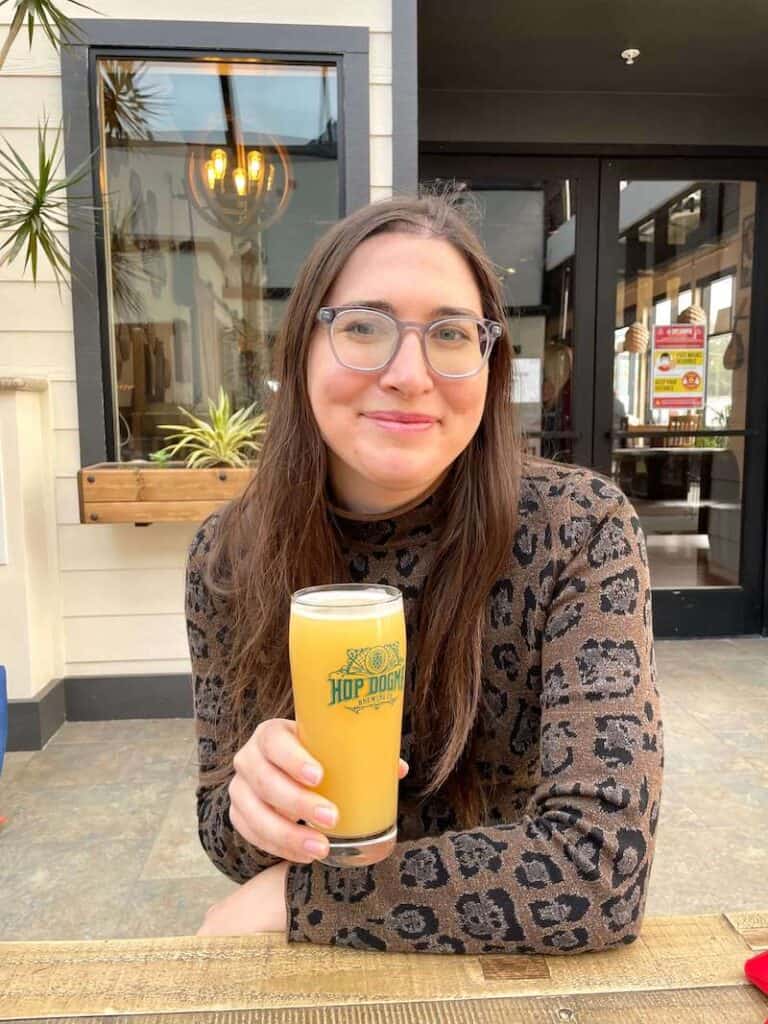 Go horseback riding on the beach with Sea Horse Ranch.
If horseback riding on the beach sounds like a dream come true to you, contact Sea Horse Ranch: they can make it happen!
This is one of the most romantic things to do in Half Moon Bay, so book it if you are trying to surprise your partner with a special day.
Rent a kayak or SUP.
For the most part, the waters of Half Moon Bay are fairly calm (with the obvious exception of Mavericks Beach).
The area around Pillar Point Harbor in particular is a great place to try kayaking or heading out on the waters on a stand-up paddle board!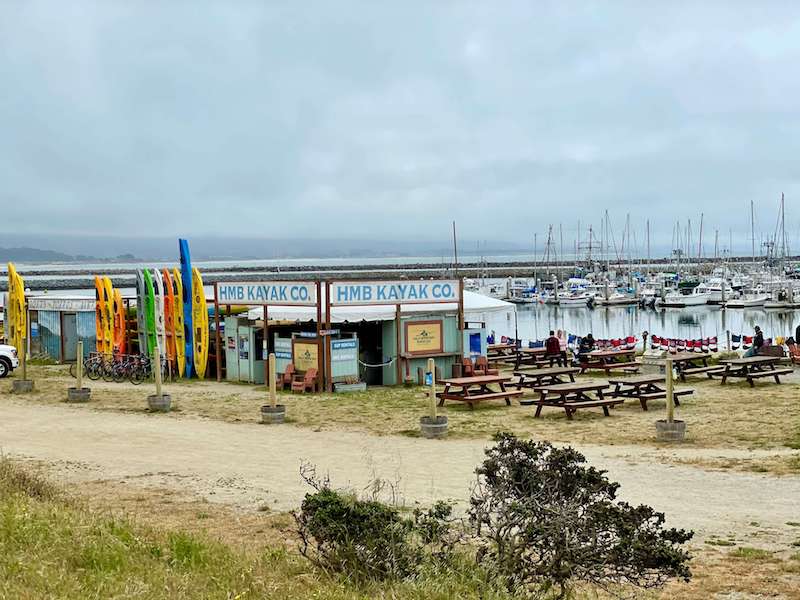 Walk around Pillar Point Harbor.
The area around Pillar Point Harbor is quaint and cute and fun to walk around, especially if you're waiting for a table to clear up at Sam's.
There are some old-fashioned shops, kayak and stand-up paddleboat rental companies, and loads of boats in the marina to gawk at!
Enjoy a walk down Main Street.
Half Moon Bay Main Street is a great little shopping district.
There are lots of great coffee shops, restaurants, and boutiques along Main Street which make it a great place for an afternoon stroll.
If you need a caffeinated pick-me-up, this is the place: I enjoyed a delicious cup of coffee at Café Society!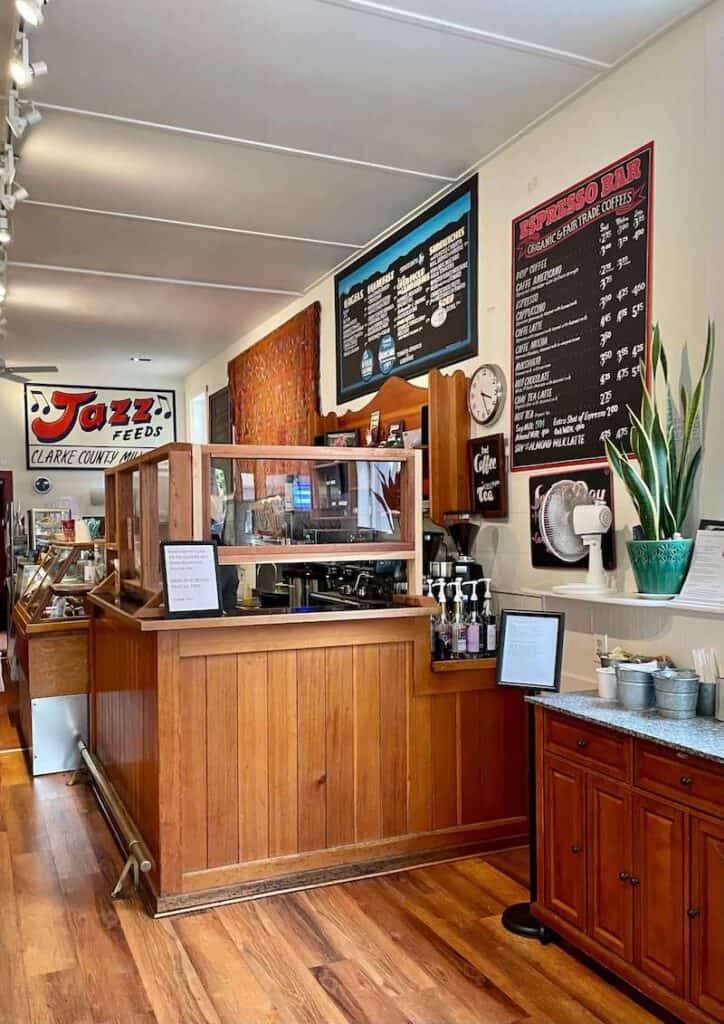 Get spirited at the Half Moon Bay Distillery.
Not so much into craft beer and you want to skip straight to the spirits? Check out the Half Moon Bay Distillery.
On weekends they do tours with vodka and gin tastings. It's not my cup of tea — I'm more of a beer or wine girl — but for someone who loves craft spirits, it'd be a perfect stop.
Play a round at Half Moon Bay Golf Links.
Located right against the Ritz-Carlton, the Half Moon Bay Golf Links is one of the most scenic golf courses in California – and that's saying something!
There are two courses: the Old Course (designed by famous golfer Arnold Palmer) and the Ocean Course.
The Old Course's final hole is one of the most scenic you can imagine, and it's known as one of the highest-ranked golf holes in the entire country!
Even if you don't play a round, you can see the famous final hole on a walk along the Coastal Trail towards Manhattan Beach via the Ritz Carlton.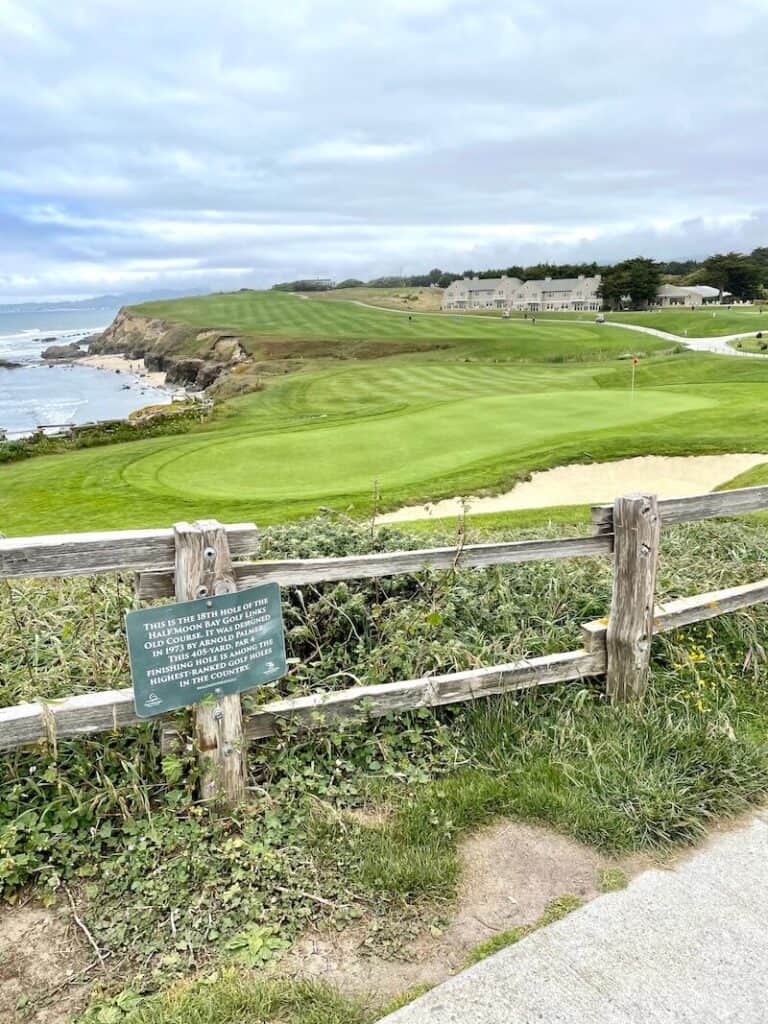 Check out the local farmer's market.
Every Saturday in Shoreline Station, there's a local farmer's market which starts at 9 AM and runs until around 1 PM.
This is a great place to sample the local produce that is grown at farms around Half Moon Bay — of which there are many!
Snap photos of the murals along downtown Half Moon Bay.
All along Main Street you'll find gorgeous murals tucked away along the sides of buildings.
Going on a little mural treasure hunt and snapping as many photos as you can find is one of the most fun things to do in Half Moon Bay.
My favorite was this mural of a giant wave that took up real estate on two building facades, which pays homage to the big wave surfers at Mavericks.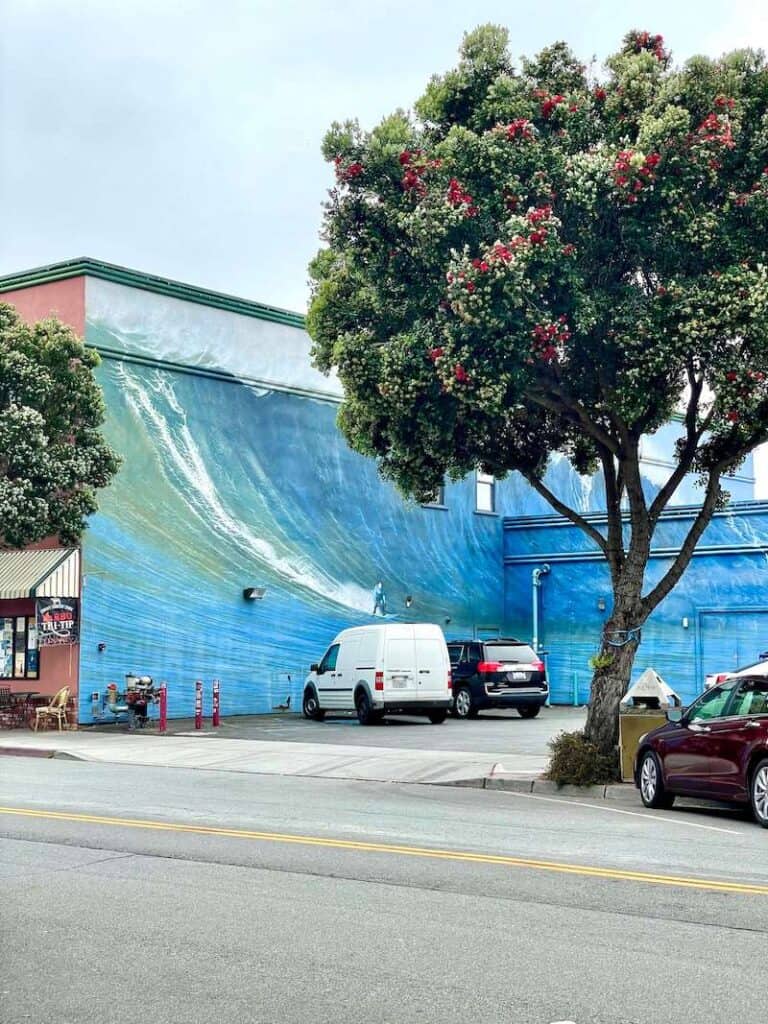 Come for the Pumpkin Festival.
As a kid, I loved coming to Half Moon Bay for its annual Pumpkin Festival and pick-your-own pumpkin patches!
The Pumpkin Festival takes place along Main Street and it's great fun for the whole family.
Good news: it looks like it's on for 2021! The projected dates are October 16-17, 2021.
Enjoy a luxury stay at the Ritz-Carlton.
Want to make your trip to Half Moon Bay insanely luxurious? It doesn't get any better than staying at the Ritz-Carlton, which is by far the best place to stay in Half Moon Bay.
I've never stayed here myself, but my dad and stepmom did a staycation at the Ritz in HMB last year and loved it.
They loved the fire pits available on the private patio of their room, the views from their room, the easy beach access, the dog-friendly staff and service, and the room service!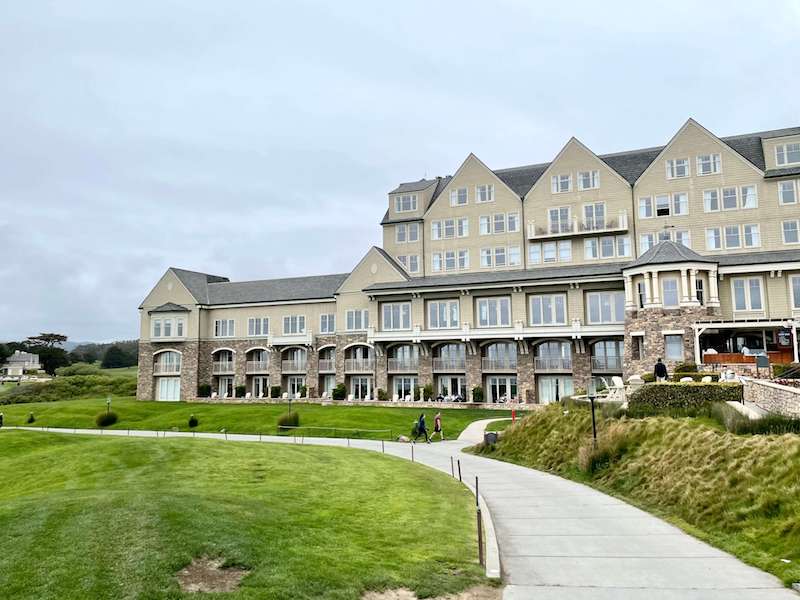 Things to Do Near Half Moon Bay
A quick note on semantics: the body of water that is Half Moon Bay encompasses the stretch between Pacifica and Pescadero, so we'll cover everything in between on this post.
The town itself of Half Moon Bay is smaller and is generally considered to include the northern part of HMB, El Granada, which is where you'll find Sam's Chowder House, as well as the unincorporated community of Princeton-by-the-Sea.
Continue down the coast to Pescadero.
All throughout San Mateo County you'll find charming small coastal towns. One of my favorite towns on the Peninsula is Pescadero, just a few miles off Hwy 1, inland a bit from the coast!
There's a lot to do in Pescadero, more than you'd think for a small town of its size… so much so that it warrants its own post (forthcoming!).
For now, I can tell you not to miss the artichoke cheddar bread at Arcangeli Grocery. It's absolutely life-changingly delicious, especially if you get it hot from the oven. It's hard not to devour it in a single sitting!
Another great place to visit is the goat dairy of Harley Farms.
Best of all? They now have a dedicated wine room in their barn, serving up incredible wines from Sante Arcangeli Family Wines which you can pair with their delicious fresh goat cheeses!
Walk-in tastings are available from Friday to Sunday, 11 AM to 4 PM.
Don't miss the Pescadero State Beach as well! It's located right along the Pacific Coast Highway and it's a real stunner.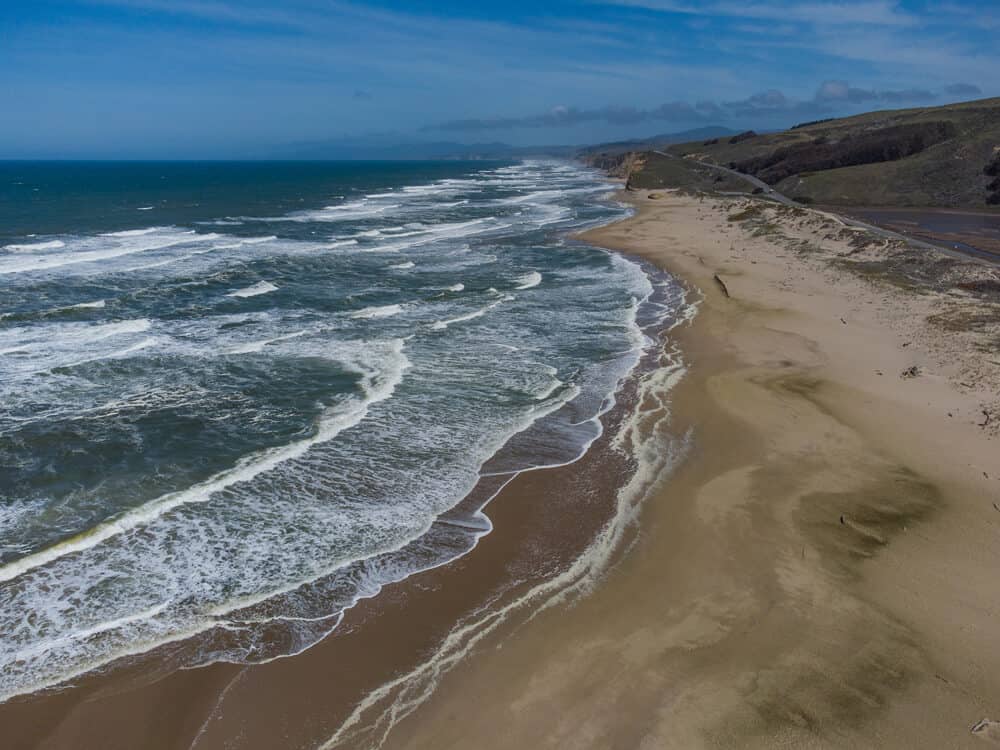 Check out Pigeon Point Lighthouse.
While down near Pescadero, be sure you make a little side trip to visit the gorgeous Pigeon Point lighthouse, built in 1871.
It's one of the most stunning lighthouses in California, the tallest lighthouse on the West Coast, and one of the tallest lighthouses in the entire country!
One of the coolest things about this lighthouse is that it actually doubles as a hostel, meaning that you can stay the night in it.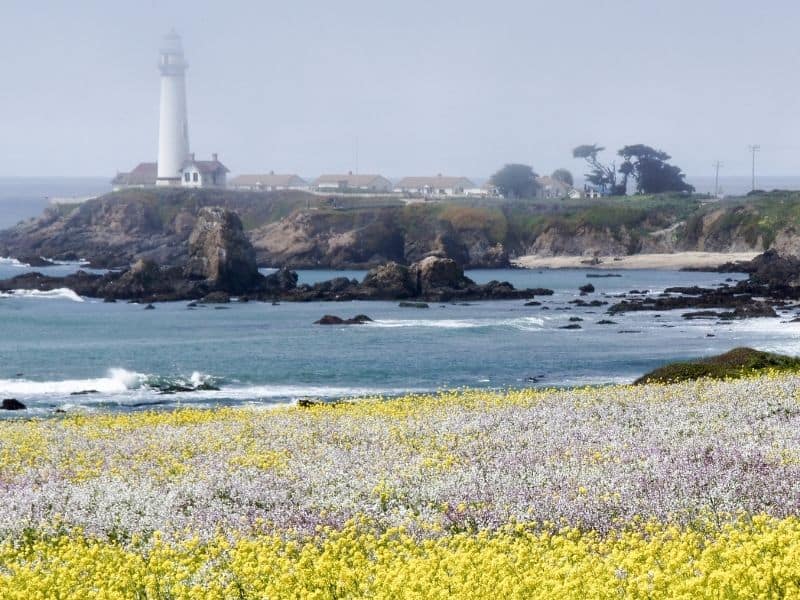 Head to Pacifica for epic hiking.
Pacifica is another place that is beloved by San Francisco Bay Area residents, and it's often paired with Half Moon Bay or even given a full day of its own!
Pacifica is perfect for people looking for an active day out of the city. There are several great hikes in Pacifica such as Devil's Slide and Mori Point.
Pacifica State Beach is also a beautiful place to spend the afternoon if the fog burns off later in the day along the California coast.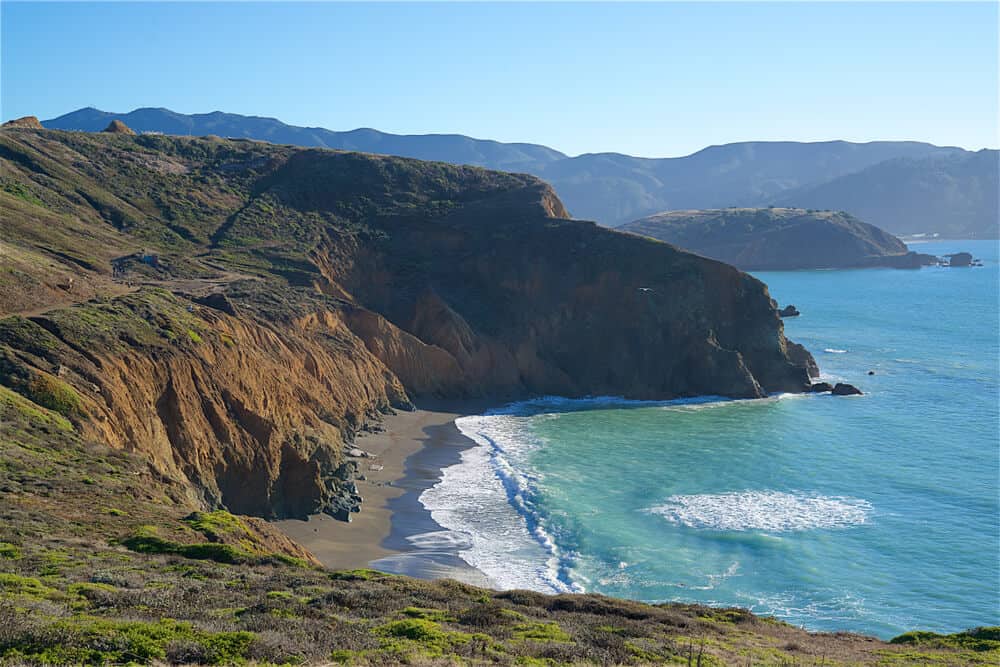 Admire the elephant seals at Año Nuevo State Park.
The California coast is home to lots of elephant seals who like to park on the beaches and run the show, and one of the best places to see them in their natural habitat is at Año Nuevo State Park!
Located 25 miles south of Half Moon Bay, this state park is home to staggering amounts of these 2-ton behemoth creatures.
During the high season, December 15 to March 31, you need to join a docent-led tour (call 800-444-4445 to reserve). These tours last about 2.5 hours and need to be reserved in advance.
In the off season, spring, summer, and fall, you can visit the park with a permit given at the Visitor Center (first-come, first-served). Start your day early here as permits do run out.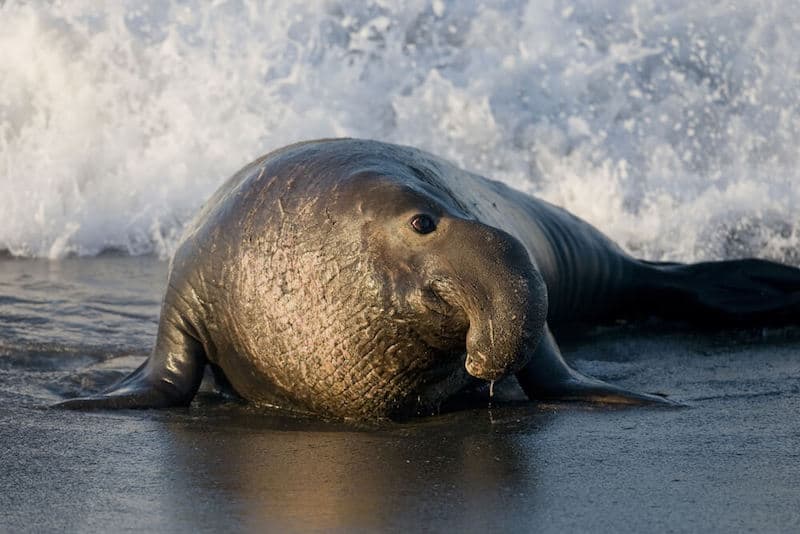 Hike in the Purisima Creek Redwoods Preserve.
Want to hike in some of the prettiest redwoods near San Francisco?
Forget Muir Woods: Purisima Creek Redwoods Preserve has just as beautiful of redwoods with a teeny fraction of the crowds.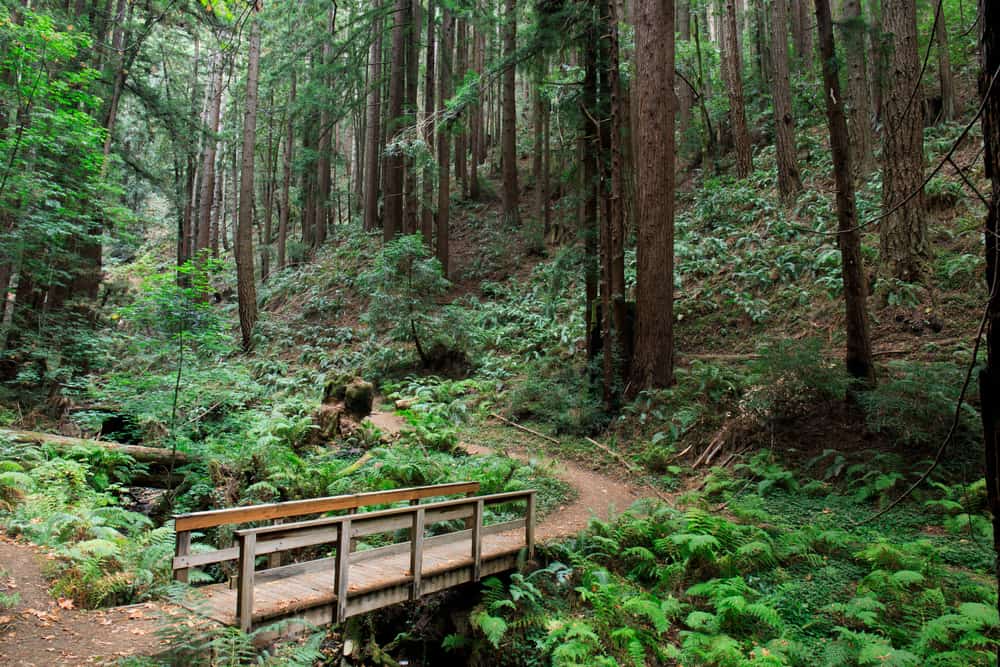 Drive up Highway 1 to charming Montara.
Another charming coastal town on the San Francisco Peninsula, Montara is a small town not far from Half Moon Bay that makes a sweet little side trip.
Montara State Beach is another beauty if you have the luck of a little sunshine on your trip to Half Moon Bay!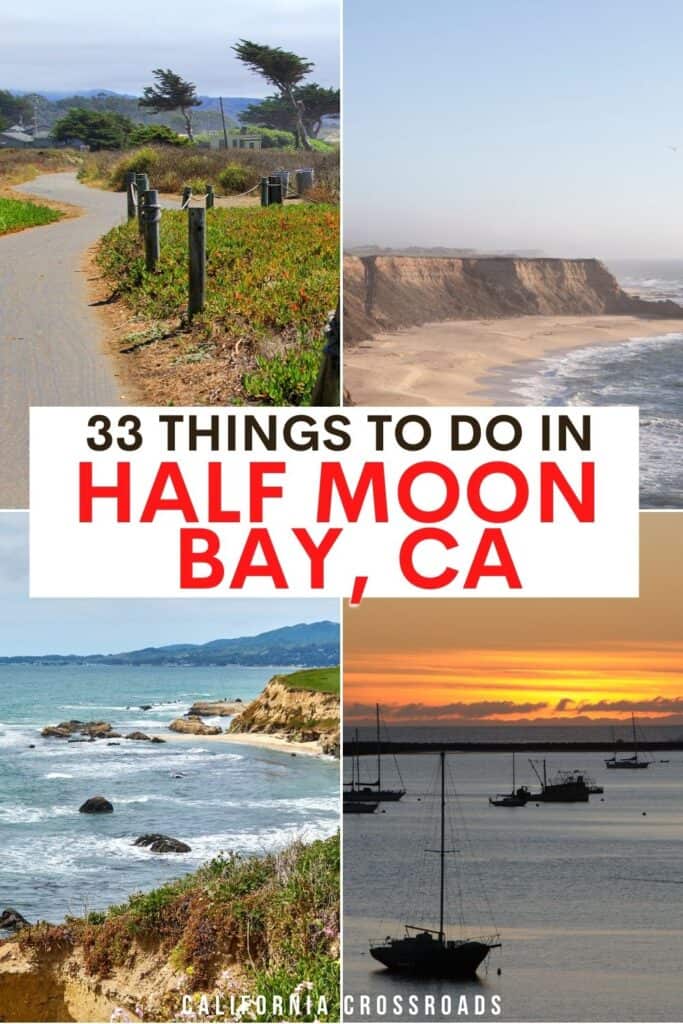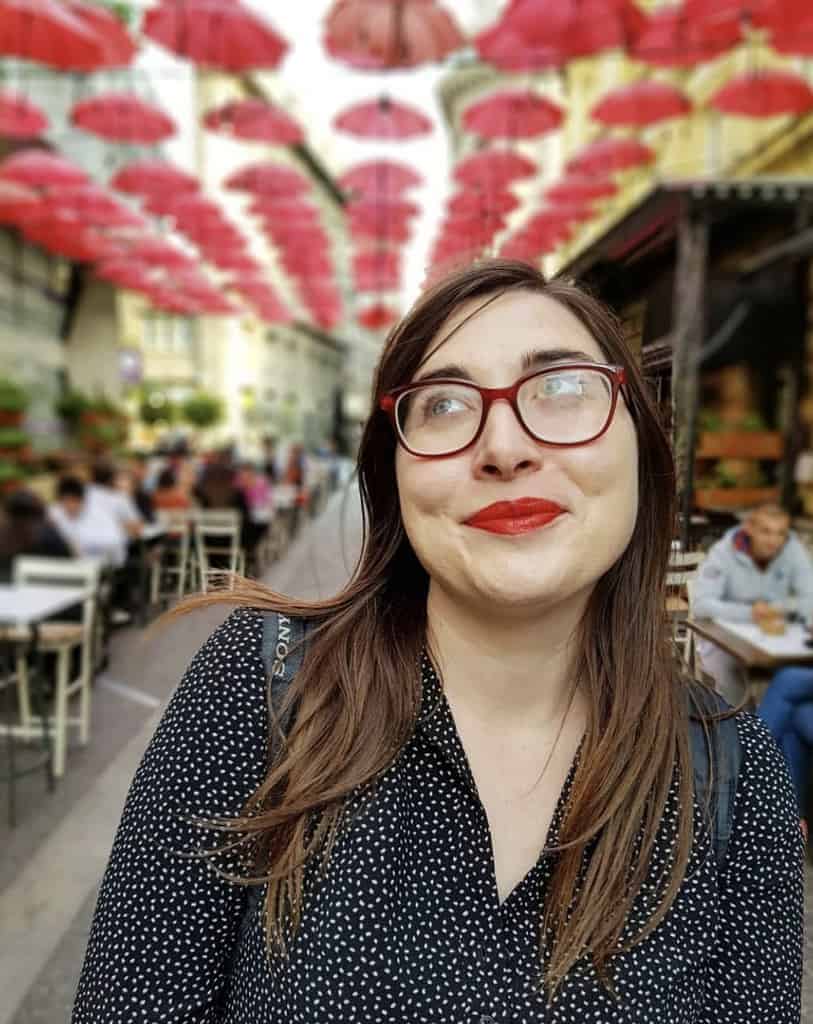 Allison Green is a travel blogger, writer, and podcaster who grew up in the Bay Area of California. She has spent time living in New York, Prague, and Sofia, but has returned to live in the East Bay. She has traveled to 60 countries before the age of 30 while running several digital travel publications. Her writing and podcast have been featured in Forbes, CBC Canada, National Geographic, the Huffington Post, and CNN Arabic, amongst others. She's obsessed with bouldering, houseplants, other people's pets, and anywhere she can see the ocean.