As the December holiday season approaches, make your schedule to get out and enjoy the holiday festivities around the Bay Area.
Yes, even in the bizarre year that is 2020. Luckily, there are lots of socially distant opportunities to see the Christmas lights in San Francisco and other places around the Bay Area.
From neighborhood streets, local hotels and stores, to socially distant light festivals, the San Francisco Bay Area will illuminate with colors and decorations to put you in the holiday spirit!
Bundle up and check out the biggest and brightest the Bay Area Christmas lights the region has to offer this holiday season using our guide to light your way!
Note: For any in-person San Francisco Christmas lights events, please wear a mask, keep a social distance, and do not go anywhere if you are feeling ill!

Also note that at the time of writing, these events were currently planned for 2020; however, unusual times call for unusual measures, and as a result, some of these events may change.
San Francisco Christmas Lights: Best Holiday Destinations and Celebrations
Shop, skate, and enjoy the festivities in Union Square
Note: This post contains affiliate links, which earn me a small commission at no extra cost to you if you make a purchase using one of these links. Thank you for supporting this free content!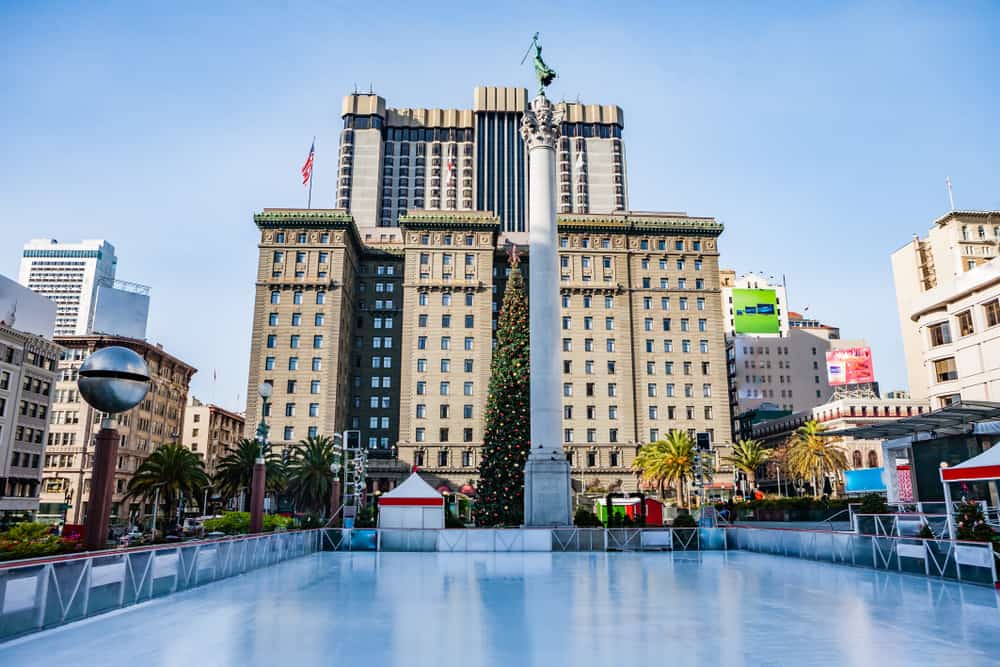 Address: Union Square, San Francisco, CA
Enjoy the sight of the towering Christmas tree and all the lights throughout Union Square by day… and then come back by night to skate on the beautiful ice rink with lights twinkling all around you.
If you want to attend the Macy's Annual tree lighting ceremony, it happens on Black Friday.
The tree is lit with 40,000 lights and decorated with over 1,000 ornaments.
Check out the Giant Menorah Lighting
Address: Union Square, San Francisco, CA
The Bay Area enjoys celebrating diversity, and this year, the Giant Menorah lighting for Hanukkah will still be taking place.
Take part in the nightly lighting of the Menorah Candle each evening from December 22 through 29 in Union Square. Wear a mask and keep a social distance.
Address: 950 Mason St, San Francisco, CA
Stop in the Fairmont in the Nob Hill neighborhood to check out their holiday spirit! Note that mask usage is required indoors in the lobby.
After viewing the striking tree in the lobby, walk around the 25-foot tall gingerbread house. You will be sure to inhale the scents of ginger and sugar as you take in this beautiful holiday display!
Watch the Ghirardelli Square Festivities
Address: 900 North Point St Ste F301, San Francisco, CA
Beginning November 27, 2020, from 4:00 PM to 9:00 PM, expect beautiful decorations all around Ghirardelli Square.
A visit to Ghirardelli Square always means a delicious ice cream sundae… or a hot chocolate, if it's too chilly for a sundae!
See the Westfield SF Centre Inverted Christmas Tree
Address: 865 Market St., San Francisco, CA 94103
If you're in need of a last-minute shopping trip, head to the Westfield SF Centre not far from Union Square.
While you're there, check out their crystal Christmas tree that hands inverted from the domed skylights.
See the San Francisco City Hall in festive colors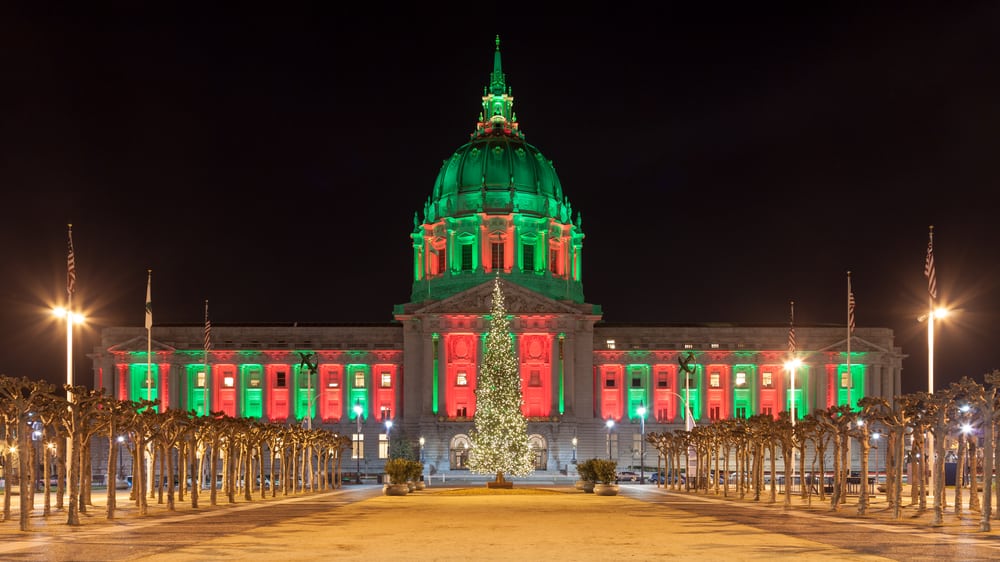 Address: 1 Dr Carlton B Goodlett Pl, San Francisco, CA
Every year, the San Francisco City Hall gets lit up in festive green and red in order to celebrate the holiday season. There's also a large Christmas tree in front.
This is a great place to take the family for a safe and socially distant walk enjoying the beautiful colors of the City Hall!
Check out the McLaren Lodge Holiday Tree
Address: 501 Stanyan St., San Francisco, CA 94117
For nearly 90 years, the cypress tree in front of the McLaren Lodge is light for the holiday season.
Check it out from in front of the hotel and feel free to snap some photos!
Check out the Chase Center
Address: 1 Warriors Way, San Francisco, CA 94158
While you can't take in a Warriors Game this year, at least you can visit the beautiful lights at the Chase Center.
Make your way over to Mission Bay and the Chase Center, where you will find the city's tallest Christmas tree.
You may be there a while counting all of the twinkling white lights on the 92-foot tree!
Address: 3650 21st St., San Francisco, CA 94114
In December from the first through Christmas Eve, be sure to head to the so-called "Tom and Jerry House" for some of the best San Francisco Christmas Lights.
In the Dolores Heights neighborhood, the Tom and Jerry house has brightened the holidays for many over the years.
The house features giant-sized toys, giant Christmas trees, lights, and stocking hung with care. It has been hard to miss during the holidays for over 20 years!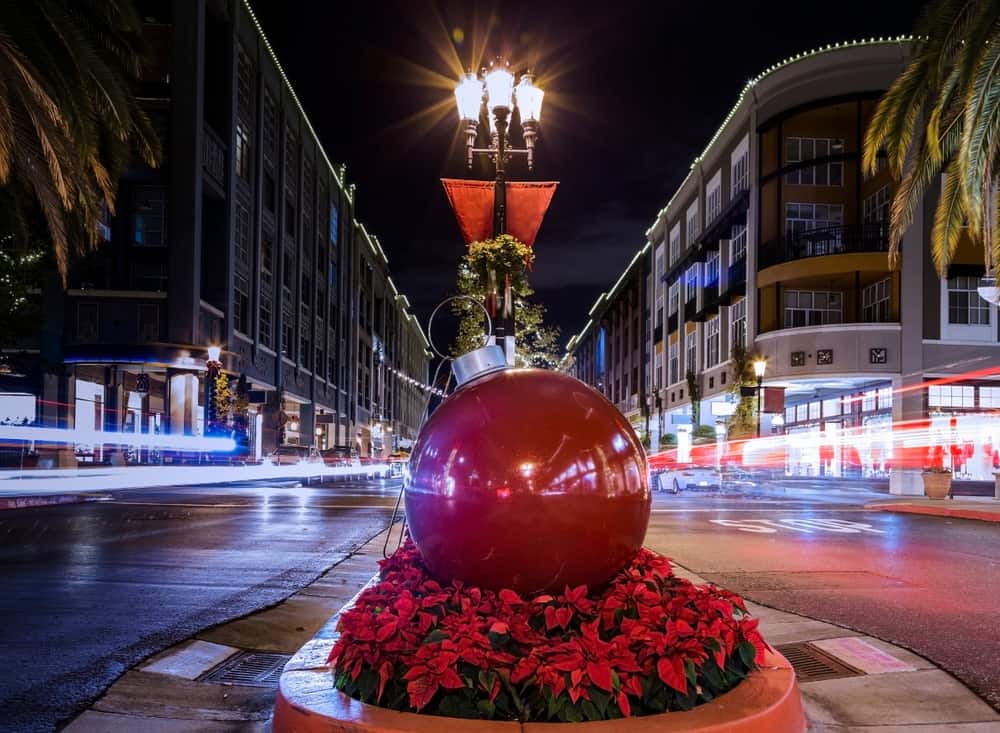 Starting on Thanksgiving and ending on New Years' Day, the Illuminate SF Light Festival is still on for this year!
It is a dispersed festival throughout the city, making it safer for keeping a social distance as there aren't crowds the same way a traditional tree-lighting ceremony would have.
Travel through 17 different neighborhoods where you will find 37 separate light installations!
Check the website for the location and description of each feature.
Get 2-for-1 at the Christmas and Hanukkah House
Address: 1779 Hayes St., San Francisco, CA 94117
Christmas? Hannukah? Why not both! Take note of both the Hanukkah and Christmas decorations that shine from this home.
Driving by this house and you would think there is a gigantic present sitting off to the side, but nope: it's just one of San Francisco's best Christmas light displays!
Bay Area Christmas Lights: Best Holiday Destinations and Celebrations Near San Francisco
Location: Elizabeth F. Gamble Garden, 1431 Waverley Street, Palo Alto, CA 94301
On December 5, 2020, between 9 AM and 5 PM, there is a wonderful free event taking place: the Festival of Trees!
This free event will both be onside for guests to visit along with being virtual.
Stroll the grounds of the Gable Garden to see the various trees that local businesses, organizations, and individuals have decorated.
If you find a tree that you love and must have, put your bid in the silent auction, and it could be in your home in time for the holidays!
Address: Mountain View Cemetery, 5000 Piedmont Ave., Oakland, CA 94611
NOTE: As of now, this event is not planned to take place.
Not everyone may want to go to a cemetery Christmas light display… However, the Mountain View Cemetery holiday light display is beautiful.
Stop by to see the lovely fountain with all the surrounding lights and decorations. You can also create a remembrance ornament for the remembrance tree to commemorate a lost loved one for the holiday season.
See the lit-up Oakland California Temple
Address: 4770 Lincoln Ave, Oakland, CA
The temple in East Bay features illuminated palms and a magnificent view of the San Francisco skyline.
Marvel at the Jack London Square Christmas Tree
Address: 245 2nd St, Oakland, CA 94607
Stroll along the waterfront at Jack London Square if you're looking for Oakland Christmas lights with a view of the gorgeous Bay.
It is the perfect place to enjoy dinner (socially distant and on a patio), along with the 55-foot tall fir tree decked out in 5,000 twinkling lights.
Take a colorful ride down Picardy Drive
Address: Picardy Dr. between Seminary and 55th Avenue, Oakland, CA 94605
For more than 90 years, the neighbors along Picardy Drive have been decorating their homes for everyone to enjoy!
In this East Oakland neighborhood, you will find twinkling lights and decorations galore covering roughly 100 homes.
This is a great socially-distant way to celebrate the holiday season in the Bay Area!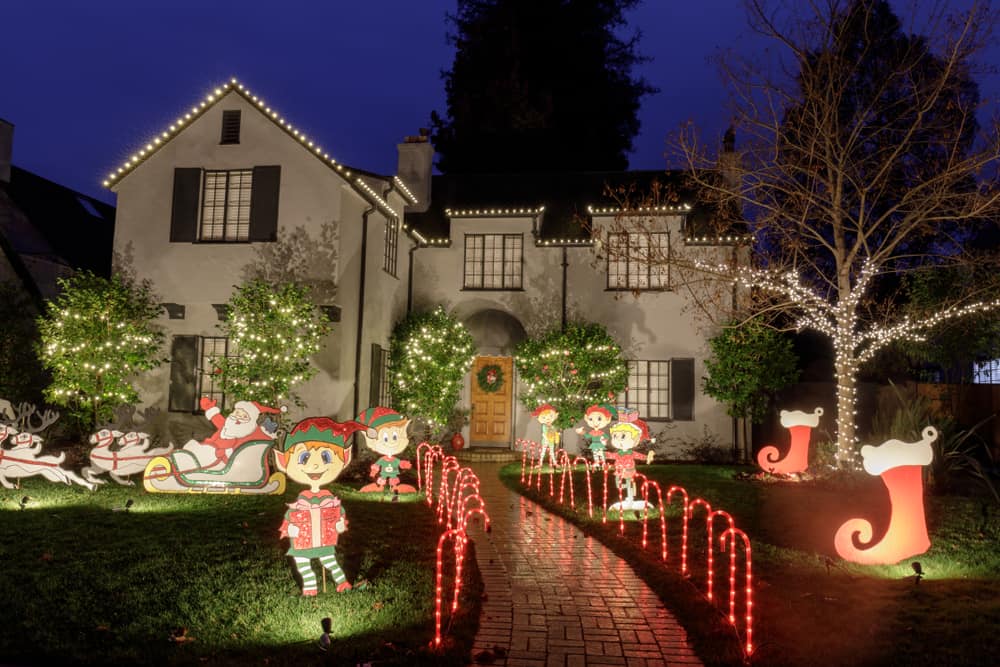 Address: 3200 Thompson Ave., Alameda, CA
Throughout December, between 5:30 PM and 10 PM, a drive down "Christmas Tree Lane" (technically Thompson Avenue) is something to see.
This is a street that really gets into the holiday spirit! Each house has a theme and is festively decorated, with lights and a truckload of holiday spirit.
Even though Santa will not be inviting good little boys and girls to sit on his lap this year, they can drop a letter to him off in the mailbox!
Address: Ruth Bancroft Garden, 1552 Bancroft Rd, Walnut Creek, CA 94598
From November 20th through December 20th on Friday and Sunday evenings, celebrate Christmas lights East Bay-style in Walnut Creek.
Experience the Garden of d'Lights as you meander through the 3.5 acres at the Ruth Bancroft garden.
The botanical sculptures covered in thousands of lights are transformed each evening during the show. Bring a blanket and have a picnic while enjoying the new laser light show.
Head to Sausalito for the 14th Annual Gingerbread House Tour
Address: Throughout Sausalito
All throughout December, journey through Sausalito in Marin County to the 21 locations participating in order to view the various gingerbread houses and their Christmas light displays!
Be sure to drop in your vote for your favorite house, and check back in January to see the People's Choice Awards and if you voted for a winner.
Chestnut Avenue Neighborhood Lights
Address: Woodside and Treeside Streets, South San Francisco, CA 94080
A short evening stroll is required to take in all the work involved in decorating the houses on the two cul-de-sacs off Chestnut Avenue.
Address: 340 Jean St, Mill Valley, CA
Between 5 PM and 10 PM on days in December, head to Mill Valley for some incredible San Francisco Bay Area Christmas lights!
Tune your radio to 96.1 FM as you pass this house with the 30-foot tree covered in over 4,000 lights!
You may want to pull to the side of the road so you can listen to holiday music and watch the synchronized lights for a safe and socially distant way to celebrate the holiday spirit.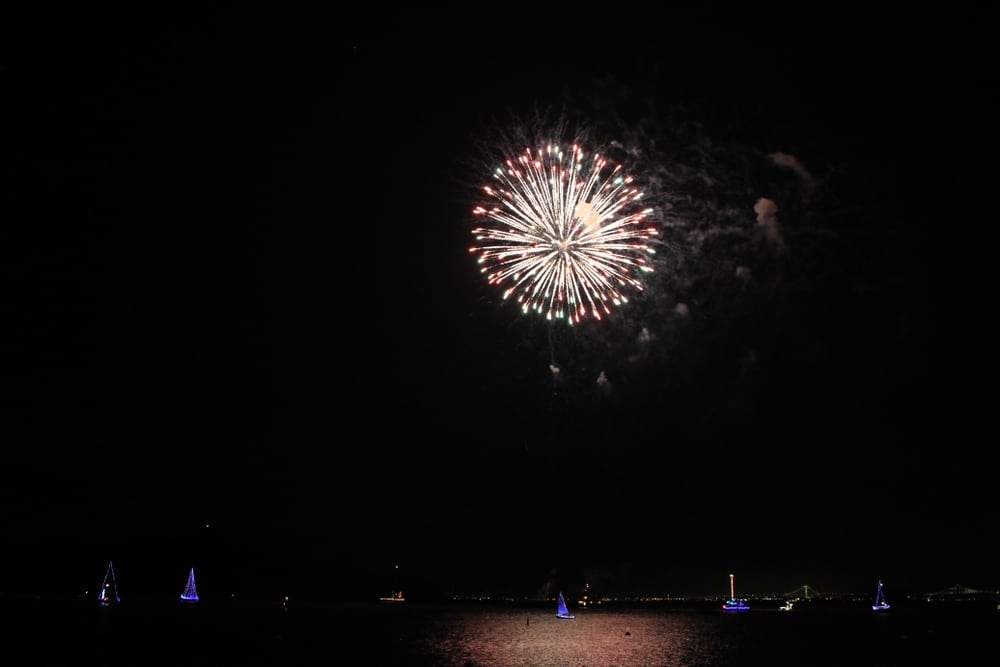 Location: Spinnaker Drive, Sausalito, CA
On Saturday, December 12 at 6 PM, the 33rd iteration of the Lighted Boat Parade is taking place in Sausalito! Spread out, wear a mask, and keep a social distance.
This is a California Christmas tradition and many coastal towns and cities have their own boat parades, such as Newport Beach, Santa Cruz, Monterey, and more.
Bring a chair or reserve your premium waterfront seat for the parade of colorfully decorated boats that will parade along the shoreline beginning at 6:00 PM. Check here for details as it's subject to change.
Following the boat parade, there will be fireworks for all to enjoy.
Groove and gawk at the lights at Pacifica House
Address: 1260 Rainier Ave., Pacifica, CA, 94044
Enjoy the holiday music on 90.1 FM as you watch over 40,000 lights dance to the songs at this house.
Drive through San Carlos to get the holiday spirit
Address: 1900 – 2100 Eucalyptus Ave., San Carlos, CA 94070
On December days up until Christmas, head to the town of San Carlos for some great Christmas lights near San Francisco!
To get the full effect of these lights, park your car and walk past each of these houses.
Get 'frozen' at the spectacular San Mateo House
Address: 3701 Kenwood Ave., San Mateo 94403
If you have a little one that loves Disney's Frozen, then you need to head to this house with the Olaf display for one of the most kid-friendly Christmas lights near San Francisco!
The beautiful cedar tree with nearly 50,000 lights almost makes the front yard glow.
Pin This San Francisco Christmas Lights Post!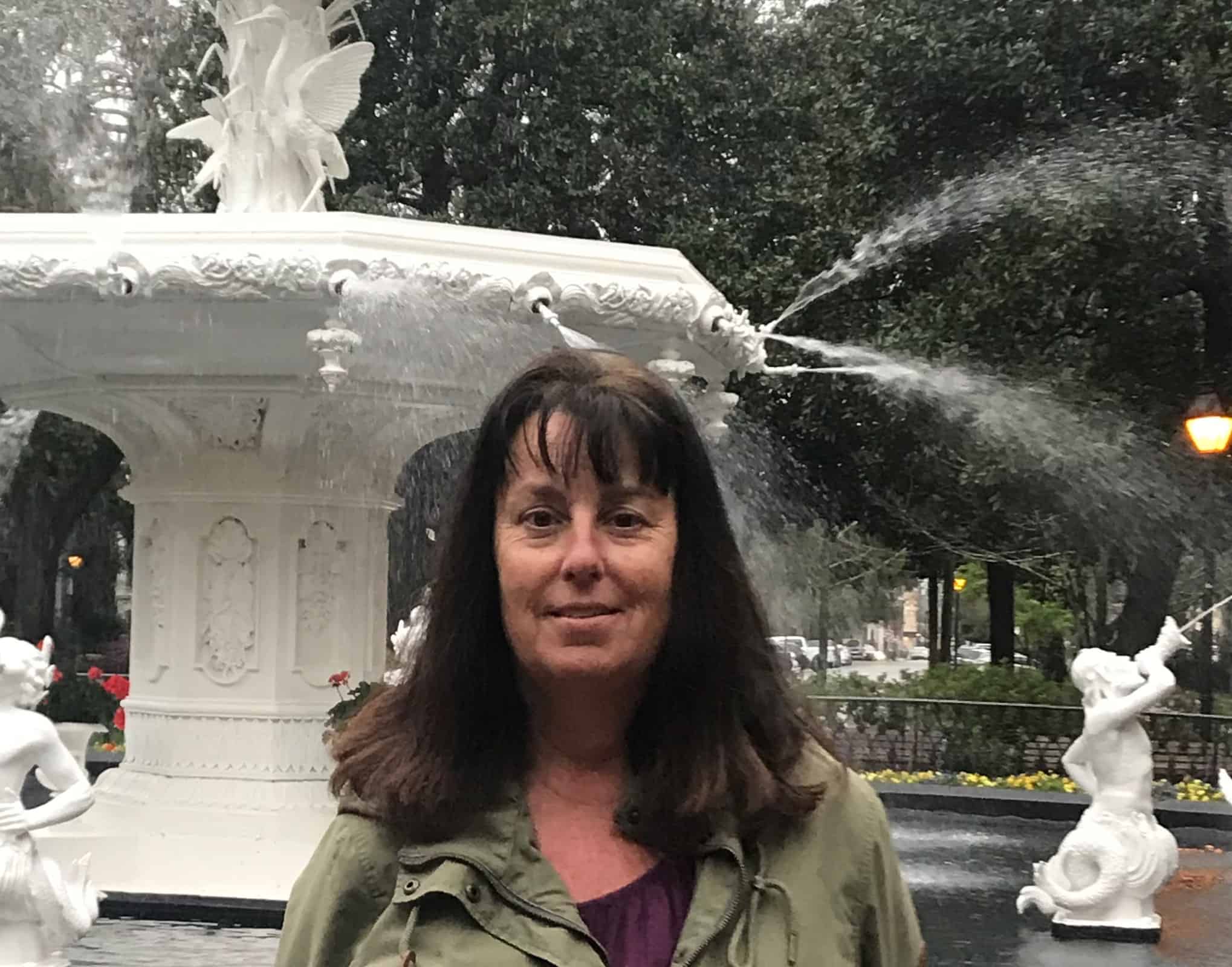 Laura Gray is a freelance writer and retired elementary teacher based in Norfolk, VA.  She spends her summers enjoying the shores of the Chesapeake Bay, traveling the world, and exploring the beautiful United States. Her favorite places to visit are National Parks, waterfalls, and lighthouses.