Just about an hour north of San Francisco, you'll find towering old-growth coast redwoods deep in a beautiful national forest, right in the heart of Marin County.
Muir Woods, named for the famous conservationist John Muir, is one of the gems of the San Francisco Bay Area, located in Mill Valley, California.
It's a popular day trip from San Francisco and a beloved North Bay hiking spot — but it's no secret, and it hasn't been for a long time!
Getting to Muir Woods from San Francisco is not something you can just do at a moment's notice. Like Yosemite, navigating the reservation system requires advance planning and forethought.
Due to its popularity and relatively small size, certain restrictions have been placed on Muir Woods in order to conserve its beauty and make it accessible to all.
We're here to mystify all that for you and teach you how to get from San Francisco to Muir Woods — with or without a car, by guided tour, by shuttle, all the ways!
Muir Woods FAQs
Note: This post contains affiliate links, which earn me a small commission at no extra cost to you if you make a purchase using one of these links. Thank you for supporting this free content!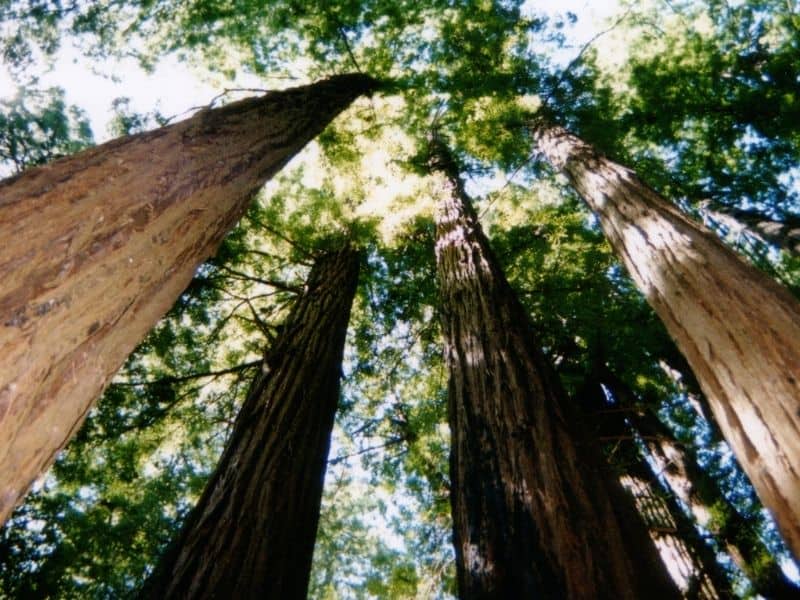 Is Muir Woods worth visiting?
If you like seeing some of the tallest trees on earth, pristine hiking paths, and stunning redwood forests with ferns and all sorts of unique flora… then absolutely!
… As long as you don't mind sharing it with some crowds.
Muir Woods is the most popular redwood forests near San Francisco, but it isn't the only one.
If you prefer a little more space to yourself while forest bathing amongst redwoods, there are plenty of other redwood forests in Northern California to choose from.
However, having been to nearly all the redwood forests in the greater San Francisco area, I can acknowledge Muir Woods is truly something special.
In my opinion, it's the best redwood forest currently open (since the two best, Big Basin near Santa Cruz and Armstrong Woods near Guerneville, are both closed due to fire damage).
Can you get to Muir Woods without a car?
Absolutely — especially on weekends, when public transportation opportunities are greater.
We'll go into detail on all the different ways to get to Muir Woods without a car below, but there are two primary ways: via the Muir Woods Shuttle (reservations needed) and via a guided tour of Muir Woods.
How long does it take to drive from San Francisco to Muir Woods?
Depending on traffic conditions, it usually takes about one hour to get from downtown San Francisco to Muir Woods.
It could be less if you are visiting on a weekday during a non-trafficky time, when it would take about 45 mintes.
It could also take more on the weekends, especially with crowding around the parking lots!
How long do you need at Muir Woods?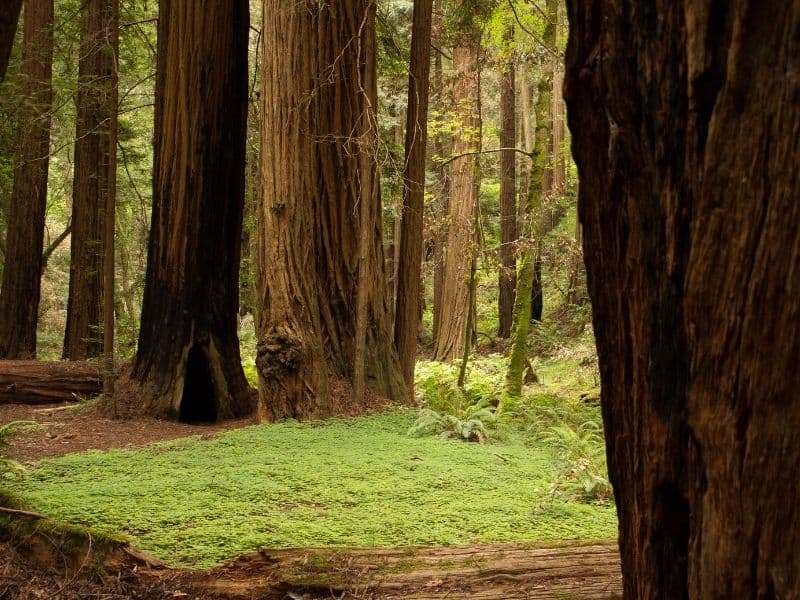 This entirely depends on what you plan on doing, and what else you have on your itinerary for the day!
In general, you could do a loop of the main hiking trail of Muir Woods and a few little side loops quite easily with an hour or two.
However, since getting to Muir Woods can be a bit of a pain due to parking and shuttle reservations, you probably want to make the most of it with a longer day.
If you do some other longer hikes, like the Bootjack Hike or the difficult but beautiful Dipsea Trail, you could easily spend all day in Muir Woods!
Alternately, you could spend a bit of time in Muir Woods and then explore many of the other awesome Marin & Mt. Tamalpais hikes!
What is the best way to get to Muir Woods?
This totally depends on what you have available to you and when you are trying to go!
If you have your own car, that is the easiest way to get to Muir Woods, especially if you can go on a weekday when there are more spots available in the park.
Parking on the weekends can be a hassle, as your reservation does not necessarily guarantee you a fixed parking spot — you must wait to find an open one and snag it.
If you do not have access to a car, then I would suggest a guided tour if you want to visit on a weekday, and the shuttle bus if you plan to visit on a weekend.
The shuttle bus only runs on weekends, so if you want to visit Muir Woods without a car on a weekday, a guided tour is your only option.
Does Muir Woods have a parking lot?
Indeed, it has several!
However, parking reservations are required, and they cost $8.50 to reserve for a normal-sized car. ($11.50 for an electric vehicle that needs charging, and $30-45 for an oversized car).
How much is the Muir Woods entrance fee?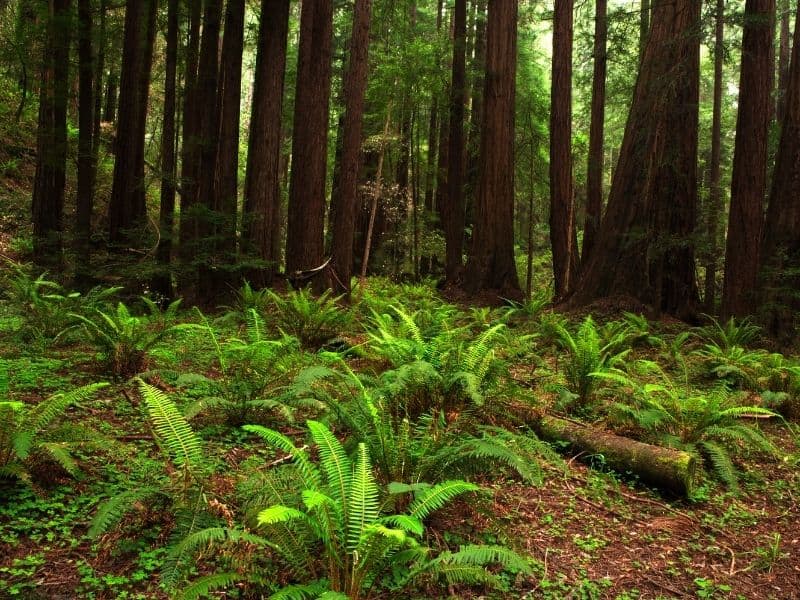 Muir Woods now charges an entrance fee at the park entrance (it used to be free, but no longer!). It is $15 per person for people over 16, and entrance is free for children 15 years or younger.
However, if you have an America the Beautiful Park Pass (which I strongly recommend if you visit one or more national parks per year!), entrance is freely included with that.
One America the Beautiful annual pass costs $80 for the year, includes access to every single National Park and federally-managed National Park Service site (note: state parks are a different system), and it is good for an entire vehicle.
Don't have an America the Beautiful Pass yet? Buy one online at REI for just $80 for an entire year for an entire car!
In the case of Muir Woods, since you do not drive into the park, an America the Beautiful pass grants entry to the one pass holder plus three others in their party.
What amenities are there at Muir Woods?
Amenities are limited to a visitor center with a gift shop, parking, and restrooms.
Note that there is no WiFi or cell service in Muir Woods. Download anything you'd need (shuttle reservations, parking permits, trail guides, directions) on your phone offline before arriving in Muir Woods.
What type of tree is in Muir Woods?
Muir Woods is all about the coastal redwoods (Sequoia sempervirens)! This is not to be confused with the giant sequoia, the Sequoiadendron giganteum.
You'll find coastal redwoods, well, along the California coast; meanwhile, the giant sequoia can only be found in the high-altitude forests in the Sierra Nevadas.
All the Ways to Get From San Francisco to Muir Woods National Monument
By Car (With Parking Reservations)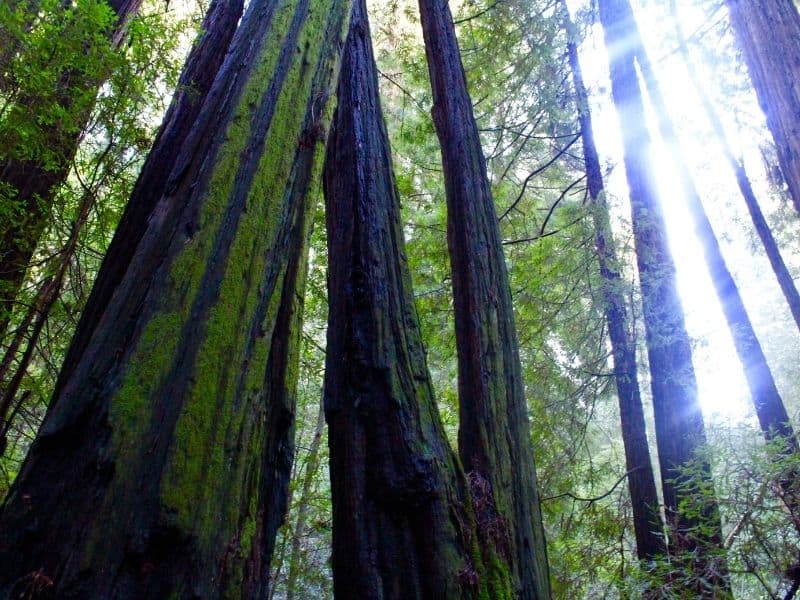 This is the most common way for locals to visit Muir Woods National Monument, but it's not the easiest… although it may sound like it is!
Parking at Muir Woods requires reservations which cost $8.50 and must be booked in advance, usually several weeks in advance for a weekend spot.
If you are traveling with an oversize vehicle like a campervan or RV, there are limited spots available for these types of cars. There are medium spots (for cars 17-22 feet) and large spots (22-35 feet). Cars longer than 35 feet are not able to park here.
A quick note about parking: your Muir Woods parking reservation does not actually mean that you have a dedicated spot waiting for you at your specific time.
It means that if there is a spot open, you can park there with a reservation. So you may still have to wait for a spot to open up!
The good thing about going by car is that it allows exploration of the greater Mill Valley area. You can combine a trip to Muir Woods with a visit to Mount Tamalpais State Park and Stinson Beach as well as other beautiful destinations in Marin County.
By Guided Muir Woods Tour
This is the most common way for tourists to visit Muir Woods National Monument, because most visitors to San Francisco (rightly!) do not rent a car.
There are a number of tour companies offering all sorts of combo tours of Muir Woods and other must-see sightseeing locations around the Bay Area.
Wineries + Muir Woods Tour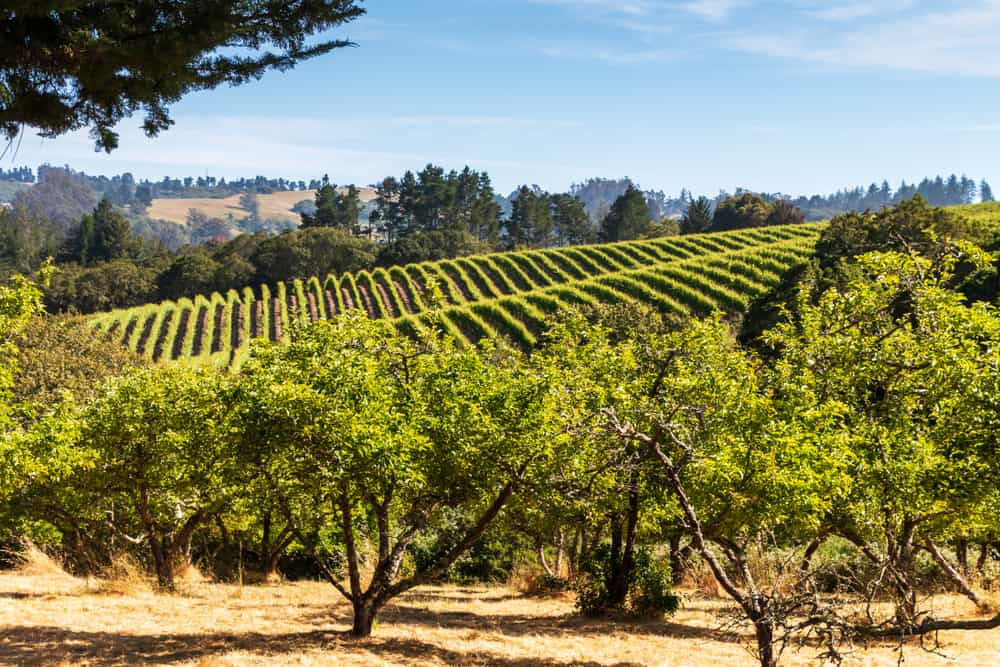 This wonderful tour includes both Napa Valley and Sonoma County Wine Country, as well as Muir Woods — it's Northern California in a nutshell.
If I was visiting San Francisco as a tourist and only had time for one full-day trip, this would be the one (that's why I included it as a must on my 3-day San Francisco itinerary!)
This Wine Country & Redwoods Tour includes pick-up and drop-off at your San Francisco hotel or apartment, then brings you to Muir Woods via the beautiful Golden Gate Bridge. It allows for an hour of hiking and exploring in Muir Woods before your next destination!
After visiting Muir Woods, head to Napa Valley and Sonoma for a wine tasting extravaganza! Both Napa and Sonoma offer incredible wines, and the crazy thing about it is how different the wines are in both regions, despite being so close. That's California microclimates at work for you!
Napa is hotter and drier than Sonoma, so bold, fruity wines do really well here. Napa is well-known for its Cabernet Sauvignon, Zinfandel, and Syrahs, as well as its Chardonnays.
Meanwhile, Sonoma is more coastal, with more fog and cooler overall temperatures. Light, acidic, and structured wines excel here, like Pinot Noir and Sauvignon Blanc.
Sonoma Pinots are world-class — especially those from the Russian River area!
This tour includes stops at three wineries (tasting fees included — not all tours do this, and the fees add up), transit between all destinations, and hotel pick-up and drop-off.
Note that lunch and entrance to Muir Woods are not included, so budget a little extra for that.
Sausalito + Muir Woods Tour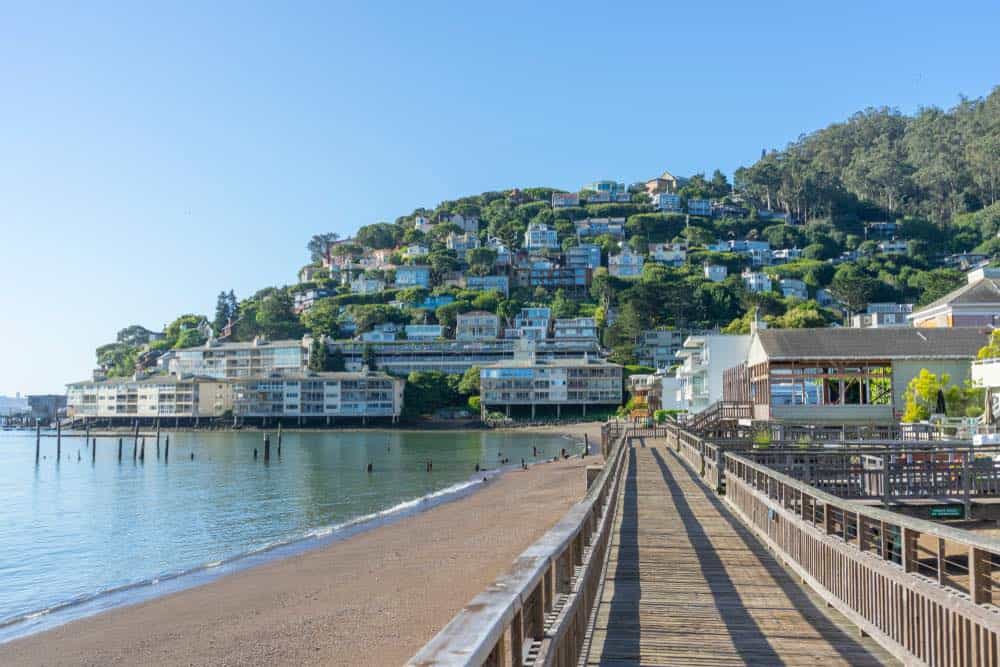 Combining a trip to the charming coastal town of Sausalito with Muir Woods is a no-brainer: the two are so close together that it's a match made in logistical heaven!
This Sausalito + Muir Woods tour includes a pick up from either the Hilton in Union Square or at their local office in Fisherman's Wharf, as well as transportation by bus to Muir Woods.
The tour allows for 1.5 hours of exploration within the park — just enough to tackle an easy hiking trail and take endless photos of redwoods.
Afterwards, you have the option to get off the bus in Sausalito to explore the town at your own pace, before taking the ferry back from Sausalito to San Francisco (ferry ticket not included).
Note: Transportation, tolls, and entry to Muir Woods are all included on the tour; food and a return ferry ticket from Sausalito are not included
Alcatraz + Muir Woods Tour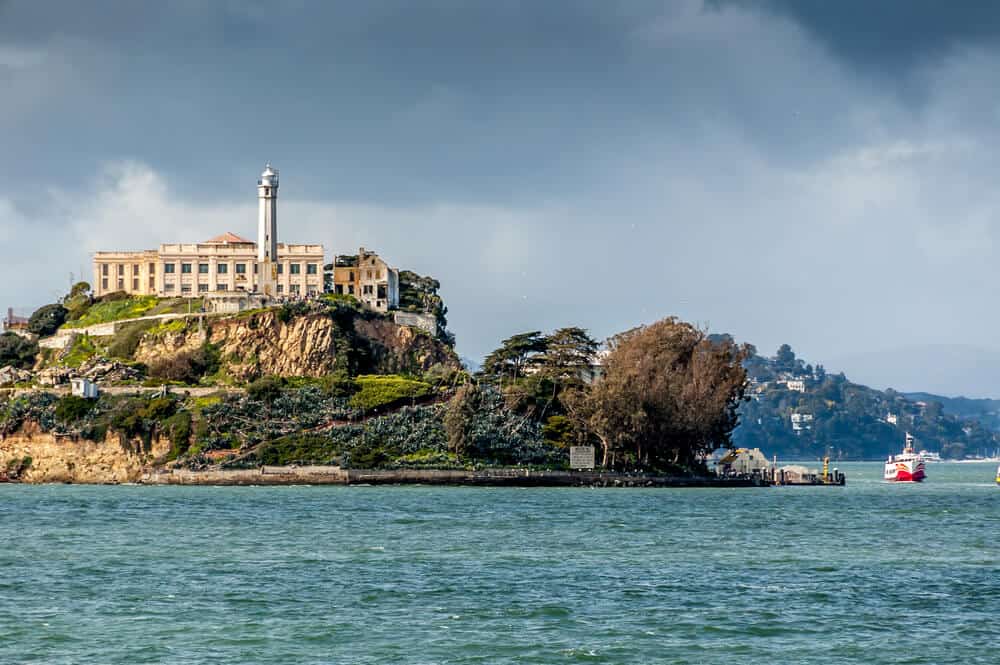 If you want to see Alcatraz Island AND Muir Woods, but you waited a little too long for each, this is a great tour for you… this is one rare instance in which two wrongs does make a right!
The reason for this is that Alcatraz does allow tickets to be sold by authorized resellers, but only when packaged with another activity…. in this case, Muir Woods and Sausalito!
You still need to book your Alcatraz + Muir Woods combination tour in advance — when I checked today, in mid-September, the next tickets were available about two weeks later — but this is definitely better than either individually, which may sometimes need several weeks or even a couple months advance booking!
This tour includes a hotel pick up and drop-off, as well as roundtrip transportation to Alcatraz Island (with an excellent audioguide!), a guided tour in Sausalito, and according to the tour company, the most time in Muir Woods of any other tour, led by an expert guide.
By Car + Shuttle at Pohono Park & Ride
If you're visiting Muir Woods on a weekend, simply park your car at the Pohono Park & Ride area (parking is free for 72 hours!), where there is a shuttle stop that takes you directly to the Muir Woods Entrance.
No parking reservation is necessary for the Pohono Park & Ride area. You do, however, need to reserve your Muir Woods shuttle ticket online (skip the parking reservation — that's if you're driving TO Muir Woods).
Once you've parked, just wait for the Muir Woods Shuttle to take you to the park! Departure times are roughly every 10-20 minutes on weekends, so you won't have to wait long.
However, be sure to be there early so that you can board your exact shuttle. The website warns that your shuttle is only for your exact departure time!
By Bike + Shuttle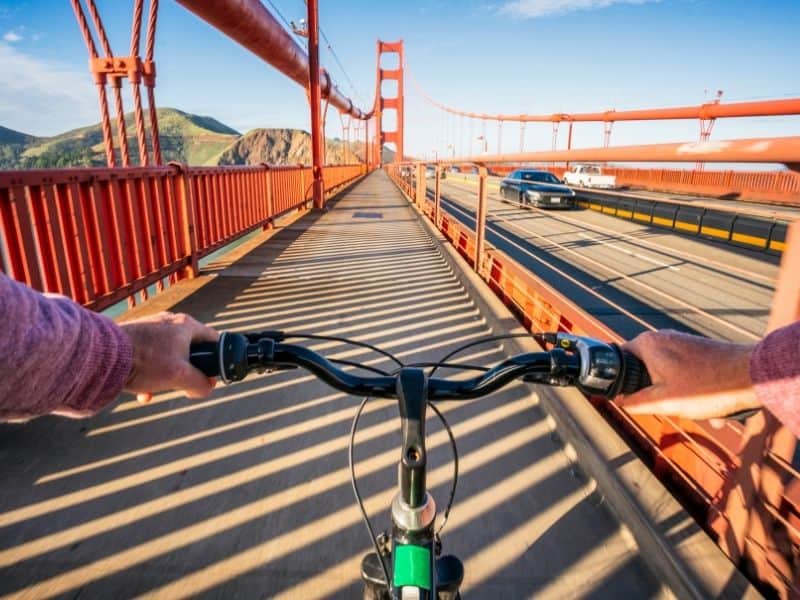 If you love to bike and want to combine an iconic bike ride across the Golden Gate Bridge with a visit to the gorgeous redwood trees of Muir Woods, it's quite easy!
To get to Muir Woods by biking, first bike across the Golden Gate Bridge to the Pohono Park & Ride area.
The bike ride from the Presidio part of San Francisco to Pohono Park & Ride will take about 45 minutes to an hour, though the trip will be longer if you are coming from further afield in San Francisco.
Once you arrive, there is free bike parking at the Park & Ride shuttle stop.
Then, board the Muir Woods Shuttle. You will need a reservation to board the shuttle, which costs $3.25 one-way.
By Uber or Lyft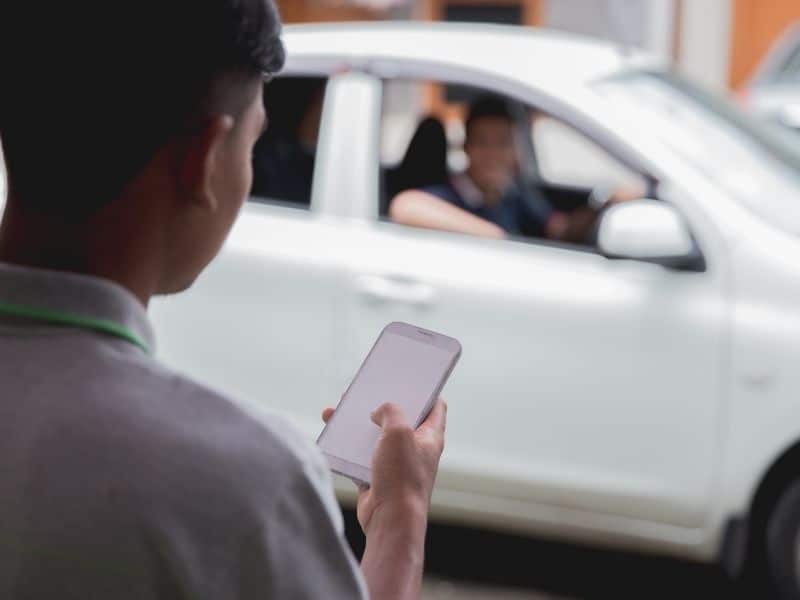 It's not the cheapest way to access Muir Woods, but if you don't want to go with a tour guide and you don't have a parking or shuttle bus reservation, this is one of the only ways you can go (besides begging a really good friend to drop you off).
An Uber costs around $55 from downtown San Francisco to Muir Woods. Tip well because your driver may not be able to get a fare shortly after.
However: remember that Muir Woods does not have any internet access or cell service! You will need to pre-book your Uber return on the app and make sure you don't miss it, or you can call a cab service on the park's payphone.
By Ferry Ride + Shuttle from Sausalito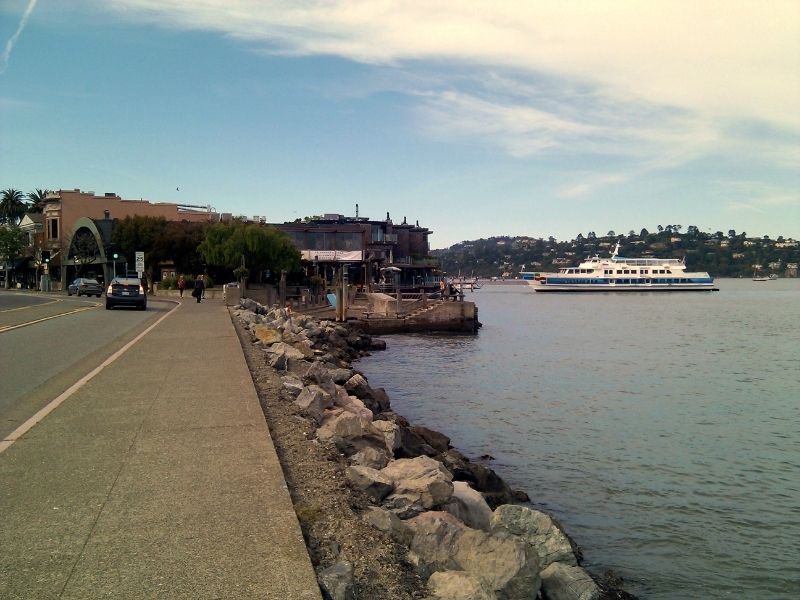 NOTE: This method is currently not operational due to reduced service as a result of the Covid-19 pandemic, as the shuttle is not stopping at the Sausalito Ferry Terminal.
If you are visiting Muir Woods on the weekend, there's a pretty easy way to get to Muir Woods from San Francisco using public transportation.
Simply take the ferry from San Francisco to Sausalito, and then take the Marin Transit bus ($5 round-trip). Remember that there is also a $15 entrance fee to Muir Woods.
By Public Transit + Hiking In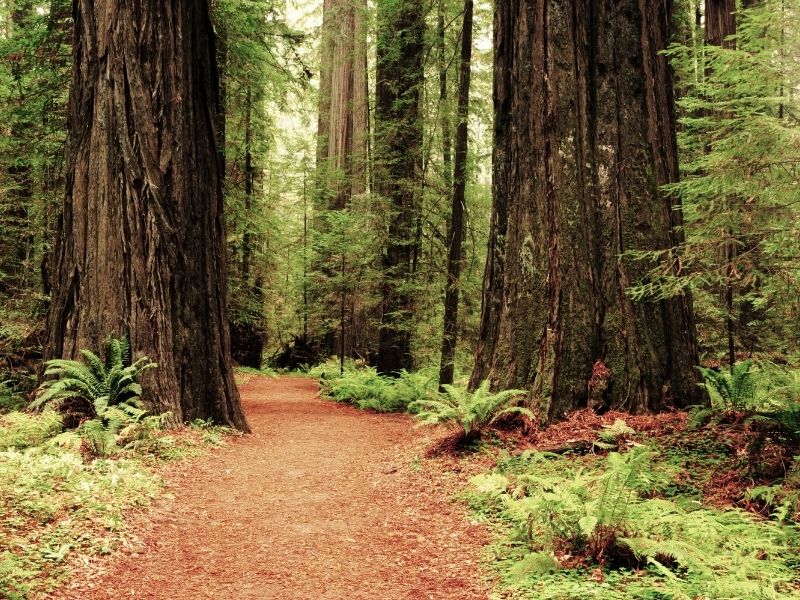 There is one way to get to Muir Woods without needing a pesky parking reservation or shuttle reservation or group tour — and that's by taking the Marin Transit Bus Route 61 and getting off at 895 Panoramic Hwy, the Bootjack Parking Lot (stop code 40788).
This will bring you to the Bootjack Trailhead, which will allow you to hike into Muir Woods. I believe if you go this way, you avoid the entrance fee, which is charged at the Main Entrance / Visitor Center area, but I'm not certain as I have not done it myself.
There are quite a few places you can catch the Route 61: Marin City Hub, Manzanita Park & Ride, etc. which are listed on the route map.
As you take the Bootjack Trail, remember that it's 2.5 miles each way to the main "heart" of Muir Woods, so this is better sutied for people who are comfortable hiking quite a bit in a beautiful national forest without needing a visitor center to guide them.
Best Hikes in Muir Woods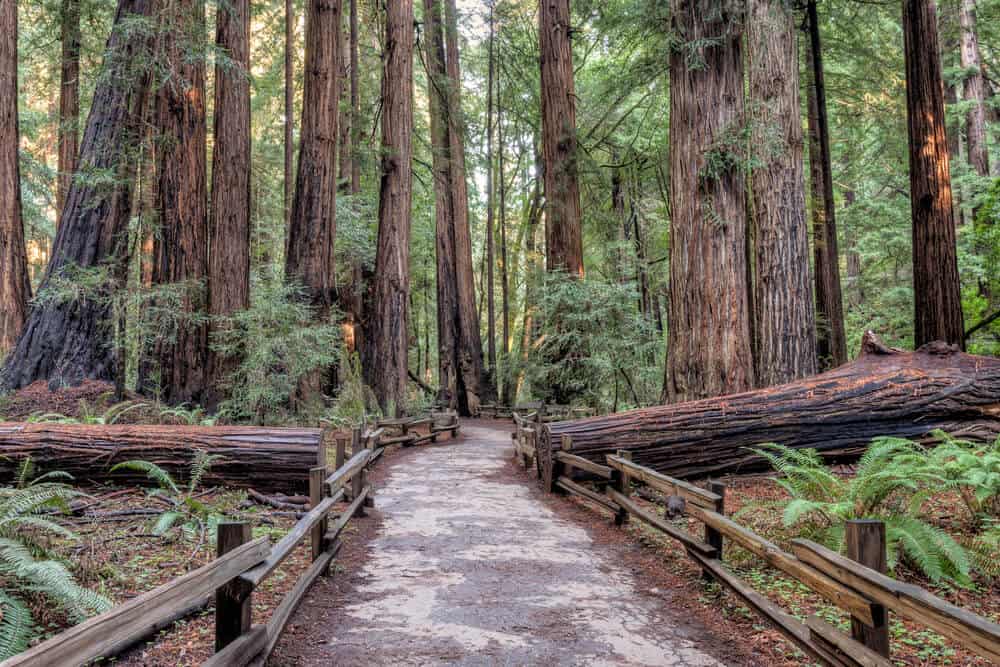 So, now we've finally got you from San Francisco to Muir Woods… so what next?
We've already established that there aren't really any amenities here, so you've probably ascertained that Muir Woods is all about the hiking.
We've hand-picked four awesome trails in Muir Woods for all sorts of difficulty levels.
– Easy: The Muir Woods Trail is a classic, simple 1.3-mile loop. It is ADA-accessible so it's perfect for people with mobility-related disabilities and families with strollers. However, it can be a bit crowded due to its ease and central location in the park.
– Moderate (Easier): The Bootjack Trail is a good alternative if you want to hike in Muir Woods without as many people around. It's a harder hike — 6.3 miles out-and-back with around 1,100 feet of elevation gain — but it's one of the best in the park. *Note: If you follow the 'public transit + hike in' way to get into the park, this is the trail I'm talking about!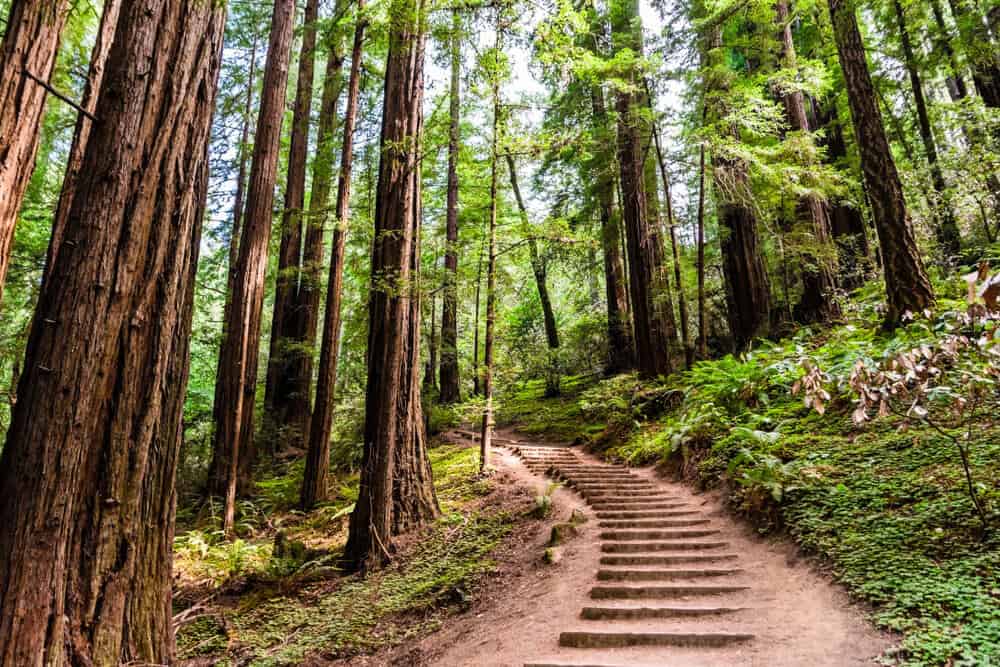 – Moderate (Harder): For a slightly harder moderate trail, try the Redwood Creek Trail which has you gaining 1,500 feet spread over a 10.5-mile loop. It's a bit longer than the next one, Dipsea, but with a lot less elevation gain and loss, making it good training for the next level up.
– Hard: The classic difficult hike in Muir Woods is the Dipsea Trail to Stinson Beach. It's a long hike, nearly 10 miles, with almost 3,000 feet of elevation gain (and loss) in this tough out-and-back slog. However, it's the prettiest hike in the park.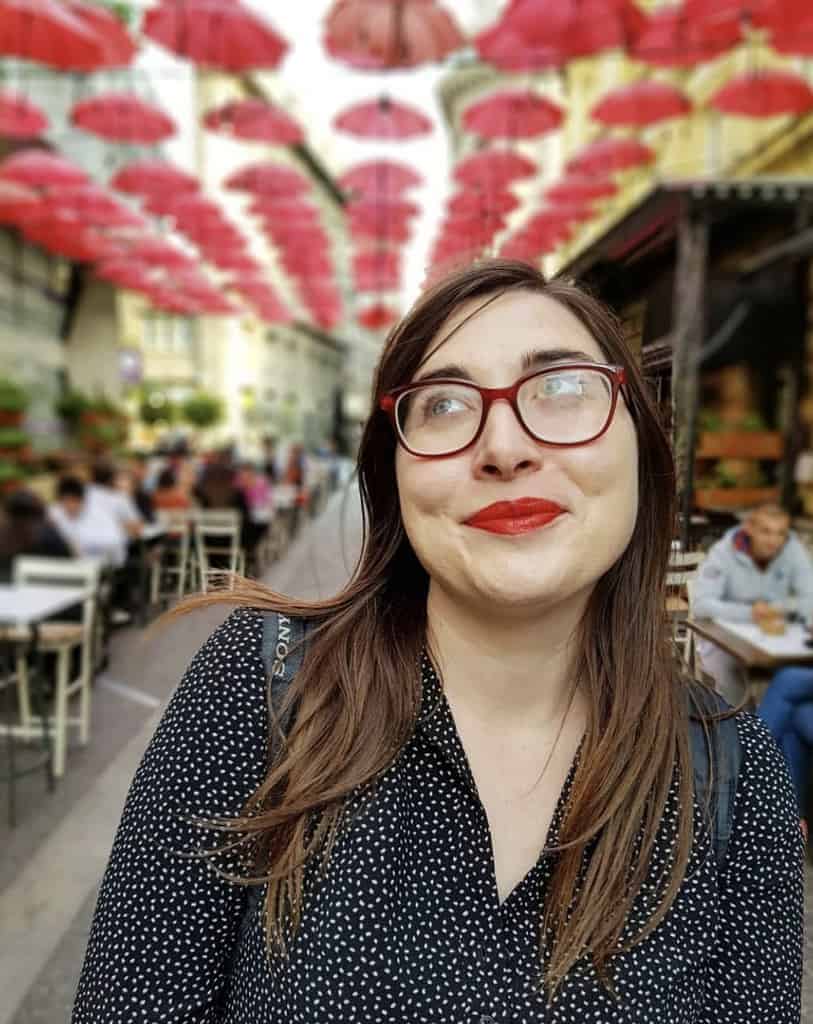 Allison Green is a travel blogger, writer, and podcaster who grew up in the Bay Area of California. She has spent time living in New York, Prague, and Sofia, but has returned to live in the East Bay. She has traveled to 60 countries before the age of 30 while running several digital travel publications. Her writing and podcast have been featured in Forbes, CBC Canada, National Geographic, the Huffington Post, and CNN Arabic, amongst others. She's obsessed with bouldering, houseplants, other people's pets, and anywhere she can see the ocean.