Guerneville, California is one of my favorite small towns in Northern California. Beautiful location right on the Russian River, delicious restaurants, and gorgeous redwoods: what's not to love?
I've been to Guerneville more times than I can count, as Guerneville is the closest main town to my aunt's rural Sonoma farmhouse.
It's where we go for restaurants, shopping, and hiking, and I'm here to share some of my family's favorite things to do in Guerneville, this quirky Sonoma river town, with you!
Where to Stay in Guerneville
Note: This post contains affiliate links, which earn me a small commission at no extra cost to you if you make a purchase using one of these links. Thank you for supporting this free content!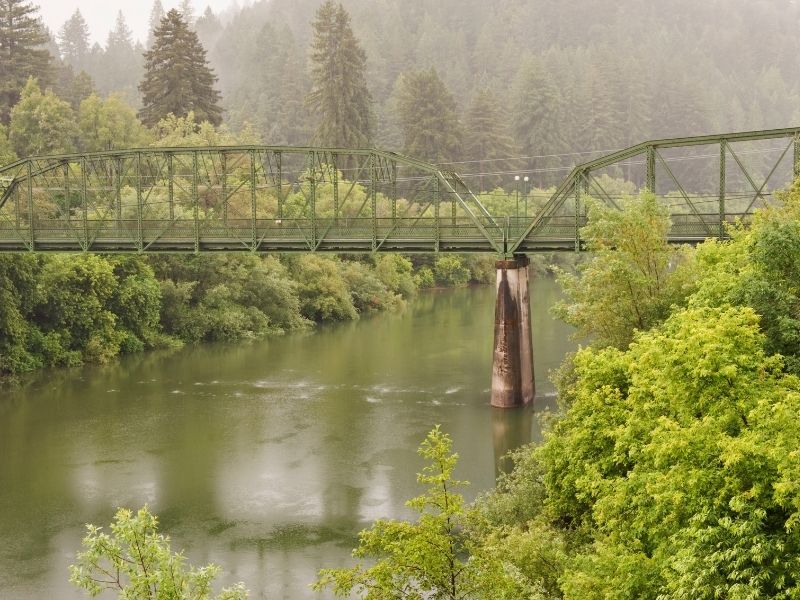 SPA GETAWAY | The charming boon hotel + spa is a great choice if you want to combine a river vacation with a spa trip. The spa facilities are great — hello, saline pool and poolside cocktails — and the rooms are small but charming. The location on the road to Armstrong Woods is phenomenal!
>> Check availability and more details here
CHARMING COTTAGE | For a cute little riverside cottage, book the Cottages on River Road. It's got all the amenities you'd want: private balconies or patios in every cottage, an outdoor pool (seasonal), and an evening campfire around the fire pit, complete with s'mores! Breakfast is included, and board games are available to borrow for fun game nights in the river cottage.
>> Check availability and details here
OLD-FASHIONED LODGE | If you want a traditional lodge accommodation in a log cabin style, fringed by redwoods and other forest fauna, look no further than Guerneville Lodge. It's charming as can be, with a large patio space, hot tub, and a little dock on the river.
>> Check availability and more details here
Getting to Guerneville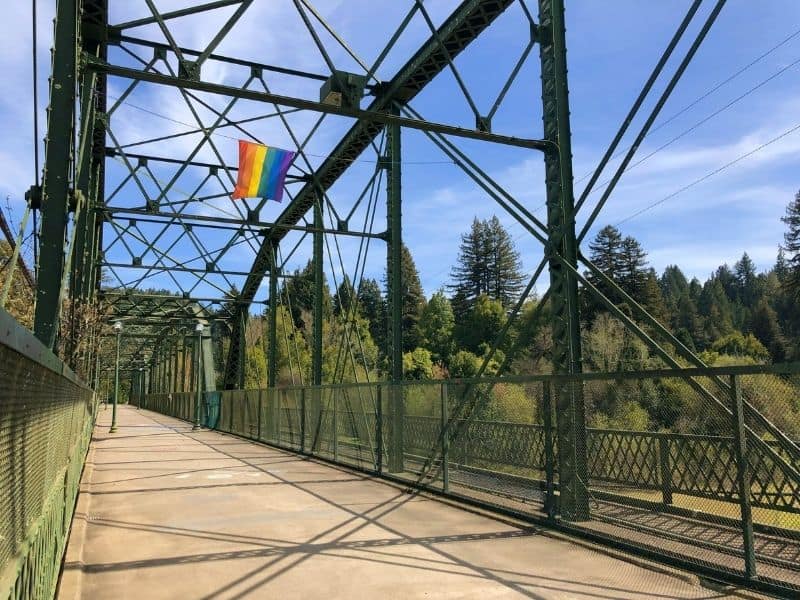 There are several routes for getting to Guerneville from San Francisco, all of them delightful!
My personal typical route is taking Highway 101 North up to Cotati, then taking Highway 116.
A longer but more scenic way is taking Highway 101 North then Highway 116, but then taking Bodega Highway through Freestone followed by the Bohemian Highway up to Monte Rio then going a few miles east to Guerneville.
A final option is driving all the way up to Santa Rosa on 101, then taking 12 to Sebastopol and 116 to Guerneville.
Need to rent a car to get to Guerneville? I've rented cars dozens of times through various search engines and have settled on Discover Cars as the best car rental search engine – it searches over 500 trusted rental companies to find the cheapest price for your rental! Compare prices for car rental from San Francisco here.
Best Things to Do in Guerneville
Float down the river.
One of the most classic things to do in Guerneville is go on a floating trip down the Russian River!
The Russian River ain't rushin', though: this slow-moving river moves only about half a mile per hour, way slower than you'd go on foot. So pick your route carefully and don't expect to go very far downstream.
The county suggests you park at Steelhead Beach and float to Sunset Beach, which takes about 4 to 4.5 hours floating. They suggest leaving a car at either end so you can easily drive between the two, as walking back can be tiring after a long day out in the sun on the river.
Get an early start so you can beat the worst of the summer heat and also have room to park your car.
Be sure to pack some floaties and a floating cooler — check the packing tips at the end of this post for details.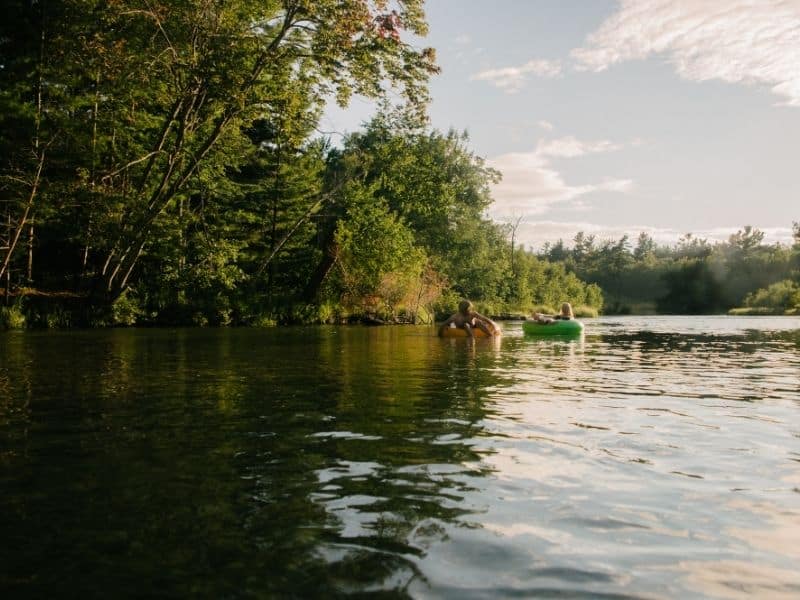 Walk amongst giants at Armstrong Woods.
The stunning Armstrong Woods State Nature Reserve is Guerneville's crown jewel, an uncrowded redwood oasis. I truly believe it's the best redwood forest near San Francisco.
There are tons of hikes you can do in Armstrong Woods: here are a few options for different skill levels.
Easy: For a short and flat 1.7-mile hike, do the Pioneer Nature Trail to Armstrong Tree, the picnic area, and back.
Moderate: For a medium-intensity hike with 400 feet of elevation gain, tackle the 2.2-mile East Ridge Trail, returning via the Pioneer Nature Trail once you reach the picnic area.
Hard: To amp up the intensity, extend along the East Ridge Trail. For a 5.6-mile hike with 1,100 feet of elevation gain, head on the East Ridge Trail to Gilliam Creek Trail, and return via the Pool Ridge Trail and Pioneer Natural Trail.
Note that Armstrong Woods was damaged in the Sonoma wildfires of 2020; I spoke with locals on my last trip to Guerneville and it is slated to reopen Memorial Day weekend of 2021!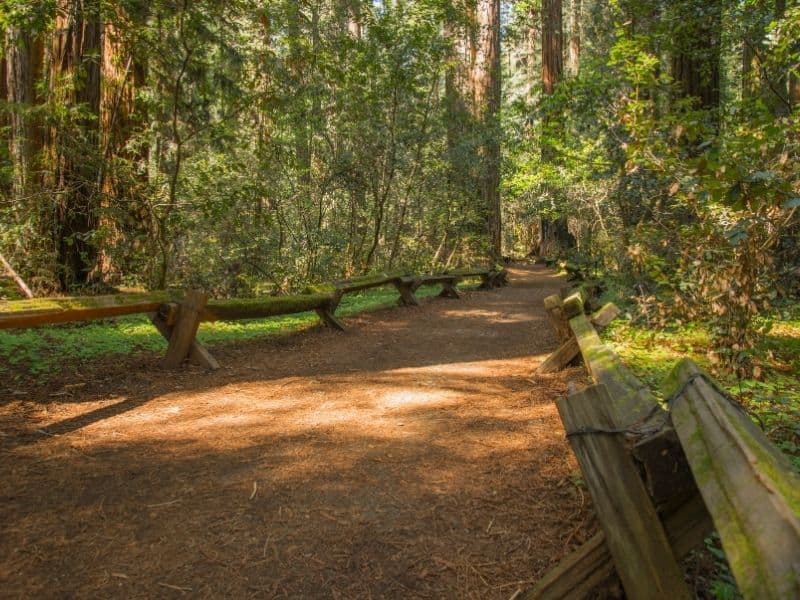 Eat tasty tacos from Guerneville Taco Truck.
After all that hiking you may have worked up an appetite! While there many delicious places to eat in Guerneville, tacos are the key to my heart, and the Guerneville Taco Truck always delivers (but not literally — it's always parked at the Safeway parking lot!).
Here, the Vazquez family has been churning out tons of tasty tacos and California burritos (a San Diego tradition with french fries inside the burrito — it's best not to question it, it's just delicious) for the last 30 years.
The taco truck started with Porfirio Vazquez, who came to the United States from Jalisco as a young farm worker, finding work at Korbel and Sterling, two local wineries.
He bought the taco truck in 1992 to bring the cuisine of his homeland to his new home of Guerneville, since there wasn't any quality Mexican food in the Russian River area.
The burritos are the big seller, but I'm a taco girl through and through. I've sampled nearly every taco and can vouch for the carnitas, al pastor, and chorizo tacos as being especially delicious.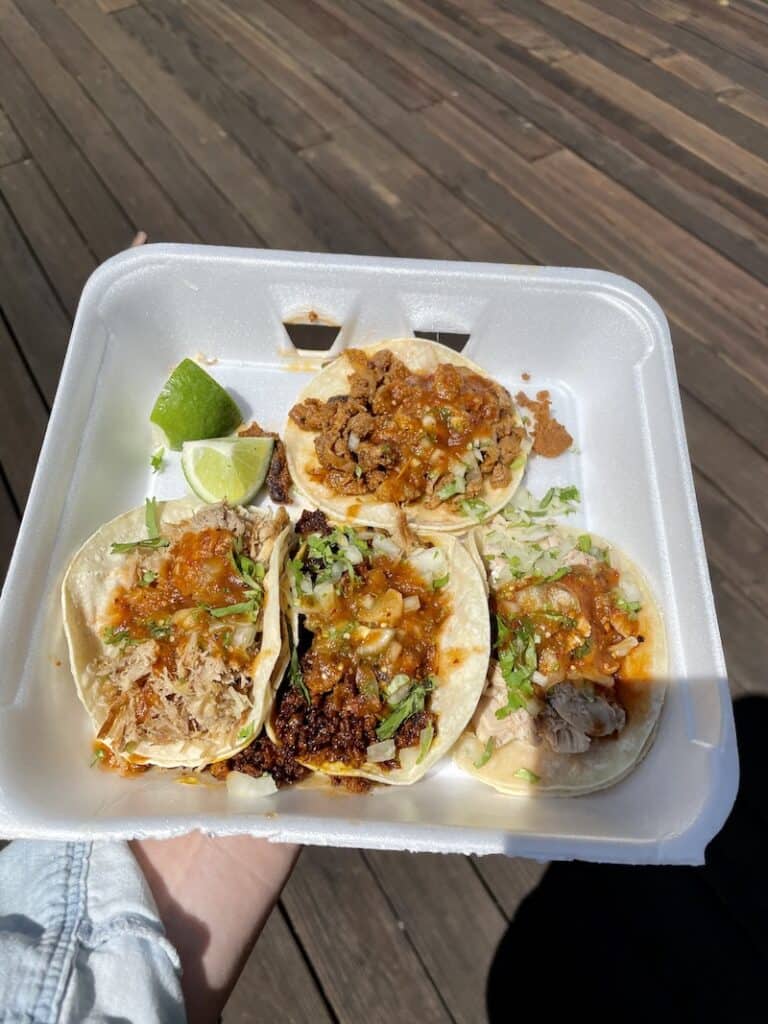 Wine taste through Guerneville.
There is no shortage of great places to taste wine near Guerneville! While nearby Healdsburg and Sebastopol have more options, there are also some great vineyards and tasting rooms around Guerneville.
For an in-town tasting room experience, head to Equality Vines Tasting Room on River Road. Rather than sell their own wines, they curate their favorite wines for a cause – each wine goes to a different charity.
Fun fact: this tasting room is owned by Jim Obergefell, the man who petitioned the Supreme Court and eventually was instrumental in making marriage equality the law of the land!
The top winery in the area is Korbel Winery, known for its sparkling wines made in the champagne method. Best of all? There's no fee for the basic 3-wine tasting! The attached deli is also a local favorite for picking up some sandwiches to sop up all the wines you taste.
Other wineries in Guerneville include Porter-Bass (absolutely delicious) and Rio Crest, which I've yet to visit but have on my list for my next trip to Guerneville!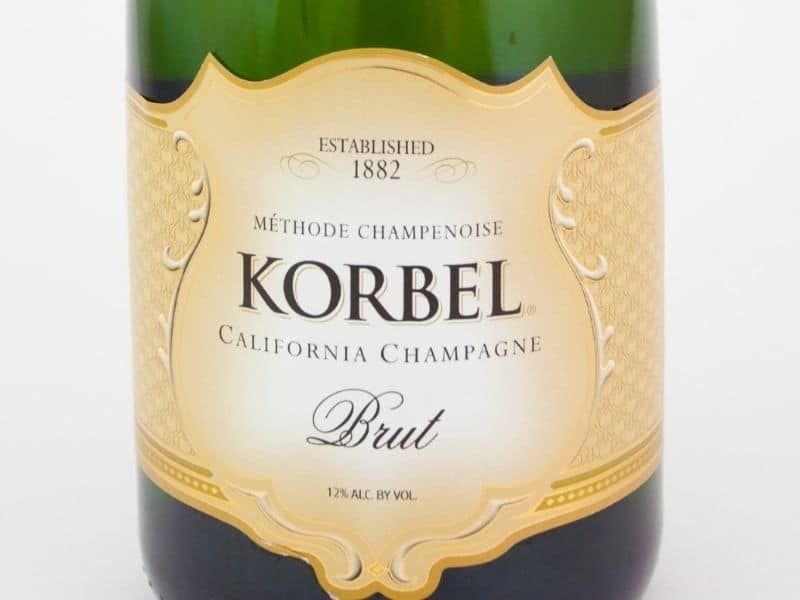 Hit up Guerneville's nostalgic soda fountain turned restaurant.
Pat's International in Guerneville used to be a soda fountain, but it's gotten updated and is now a fun, international-themed restaurant with all kinds of offerings.
Think Korean fried tofu sandwiches, tomatillo pozole, and tasty corned beef Reubens… and also some delicious homemade donuts. It doesn't make sense, I know, but it's delicious.
The interior is retro-cute with vintage furniture, an old-fashioned framed mural of the fishing holes of the Russian River area, and a rainbow-lit tile ceiling.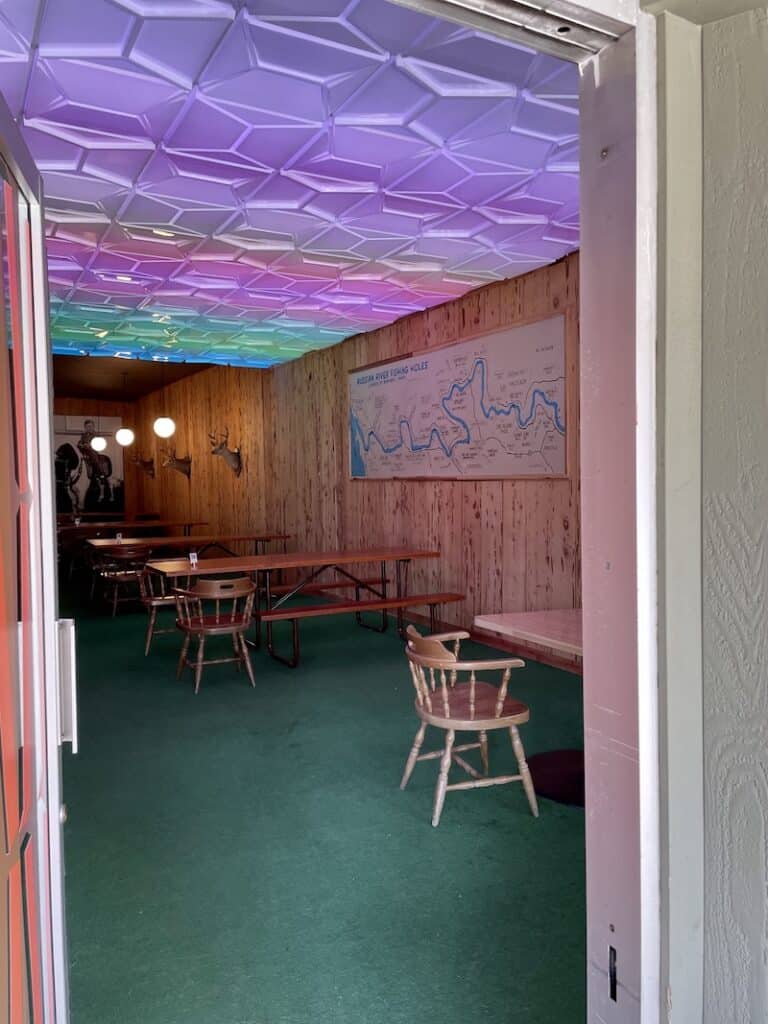 Admire the architecture of Guerneville's LGBT-friendly church.
Guerneville has a reputation for being a progressive and LGBT-friendly small town, with lots of rainbow flags and signs welcoming people of all orientations and gender identities as well as different races and nationalities placed all over the town.
The MCC Redwood Empire Church near Johnson's Beach is a LGBT-friendly church that serves the local community — and it's super cute looking to boot.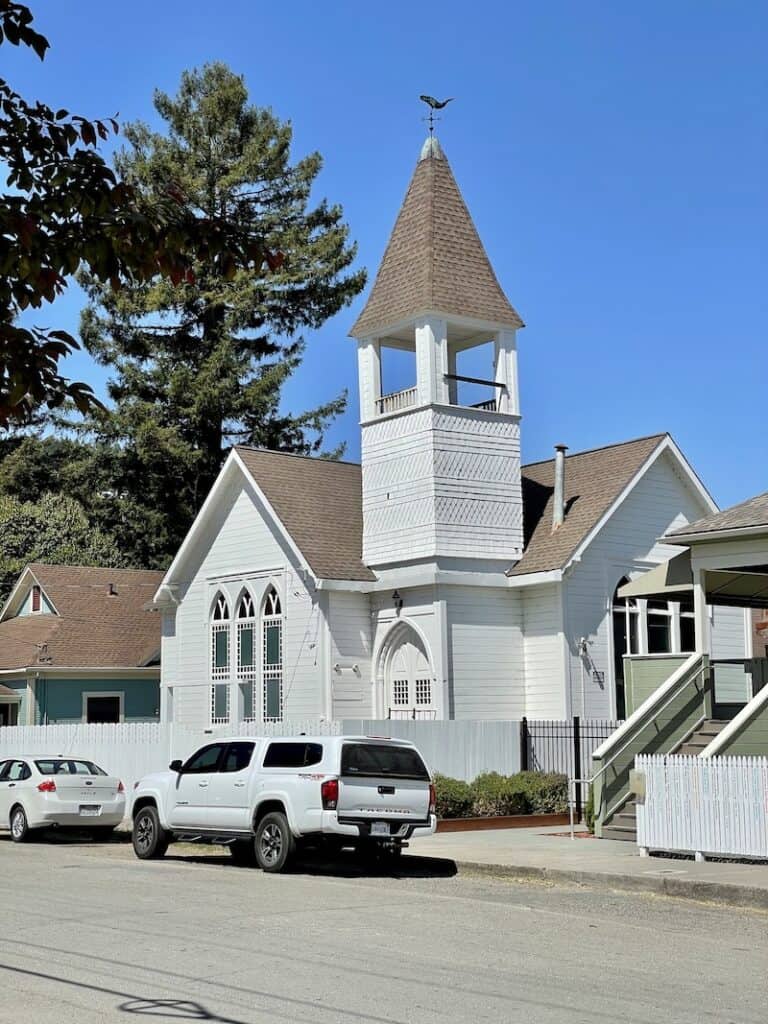 Pick up some river gear.
Before heading for a day out on the river at Johnson's Beach, it's time to indulge in the Guerneville tradition of grabbing your gear at King's Sport & Tackle or Guerneville 5 & 10, located right next to. eachother.
Whether you need some beach chairs, some inner tubes, a raft, or some board games to while away the nights in your cabin, you'll find what you're looking for at King's!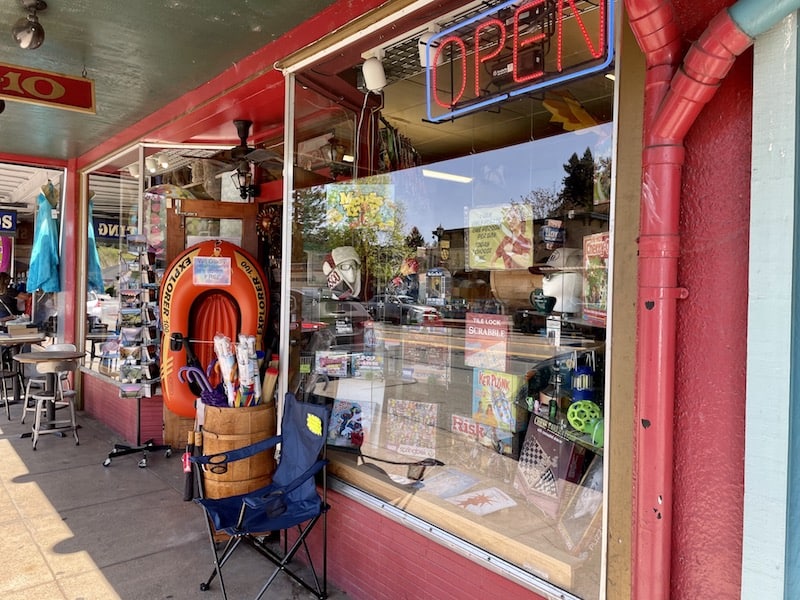 Spend the day at Johnson's Beach.
Of course, one of the top things to do in Guerneville has to be to spend a day on the Russian River!
The Guerneville stretch of river is primarily centered around Johnson's Beach, which is a lively place to spend a summer day.
The views are beautiful, the beach is huge so there's tons of space to spread out and claim your own patch of pebbles, and the vibe is fun and lively. It's a true Guerneville summer tradition!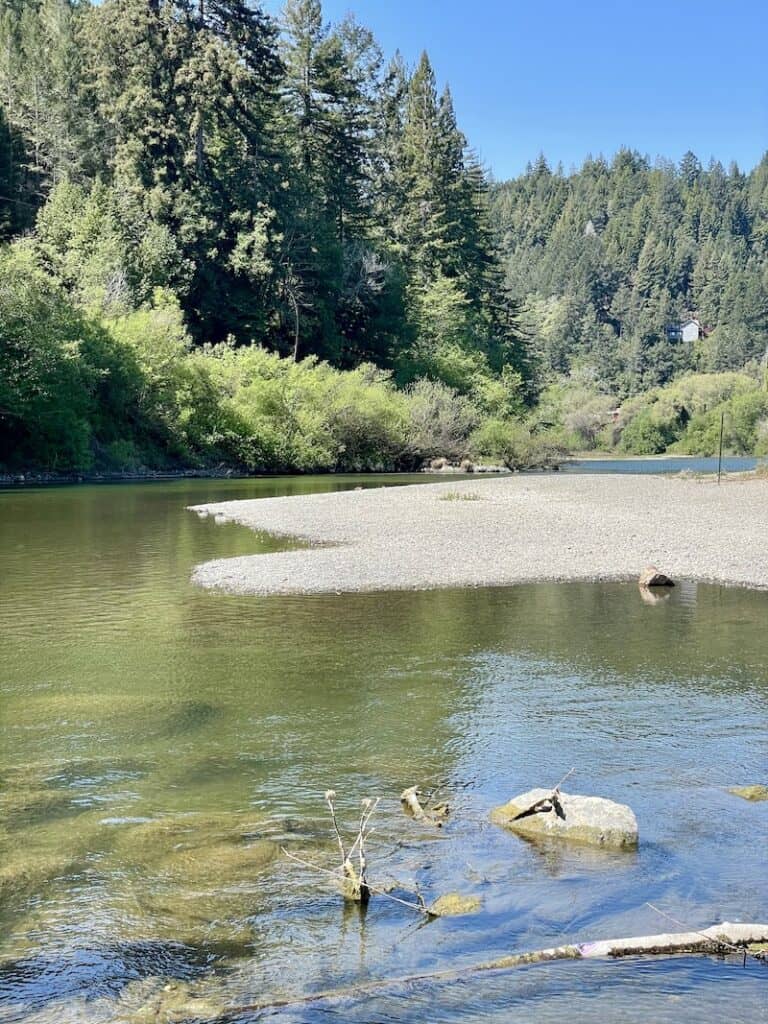 Eat Oprah's favorite biscuits.
The cute little Big Bottom Market on Guerneville's River Road has recently attracted some celebrity eyes — Oprah's eyes, in fact!
Their biscuit mix and their honey landed a spot on Oprah's Favorite Things of 2016, and taking a bite into one, you'll see why.
All the biscuits look delicious, but they are most famous for the tasty and hilariously-named Seabiscuit, which consists of smoked trout, pickled onions, chives, crème fraiche and lemon all served on a tasty cheddar-thyme biscuit. I'm drooling just thinking about it!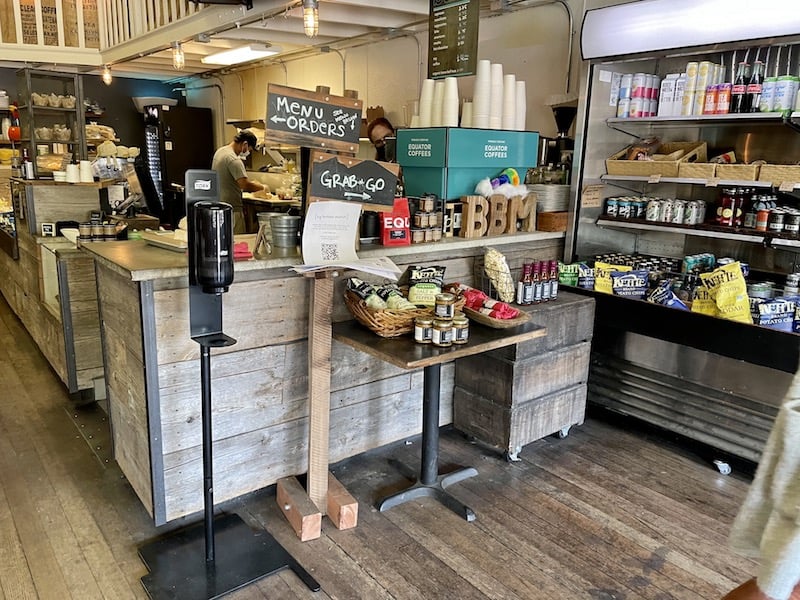 Admire local art.
Guerneville is an artsy community and you'll find tons of local art galleries and artist studios open to the public as you walk down River Road and the neighboring streets.
One of the older galleries in Guerneville is The Blue Door Gallery, which has art studios you can visit. A relative newcomer that is also quite fun to browse is Oli Gallery, also located on River Road.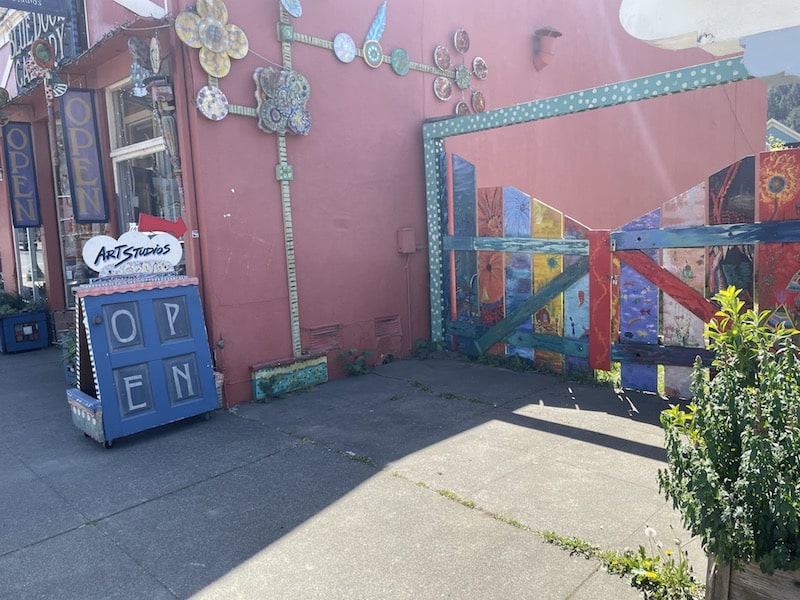 Grab a drink at the Rainbow Cattle Company.
As mentioned before, Guerneville is a small little LGBT-friendly oasis, and Rainbow Cattle Company is the main local gay bar.
While it caters primarily to its LGBT residents and tourists, it's welcoming to people of all orientations — so grab a drink and enjoy the music, but just remember to be respectful to the patrons who the bar was designed for.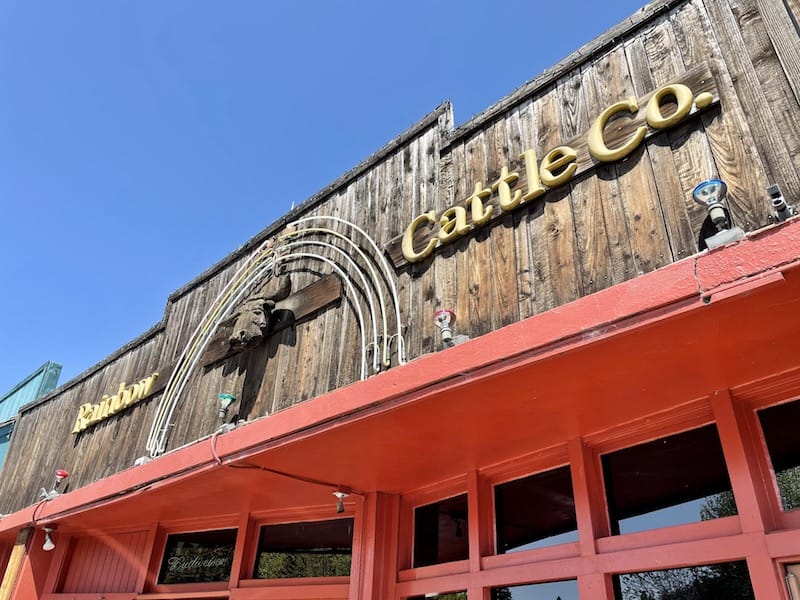 Dine deliciously at boon eat + drink.
On a street full of good restaurants, boon eat + drink is a step above, offering elevated farm-to-table fare in a fuss-free environment but with elegant plating.
Literally everything on their menu sounds amazing, and I've never ordered wrong here, but the best dish is their mac 'n cheese with mycopia mushrooms and truffled breadcrumbs.
No reservations are taken, so I suggest showing up for dinner on the early side, and being willing to take a stroll around River Road or a walk along Johnson's Beach if you have to wait.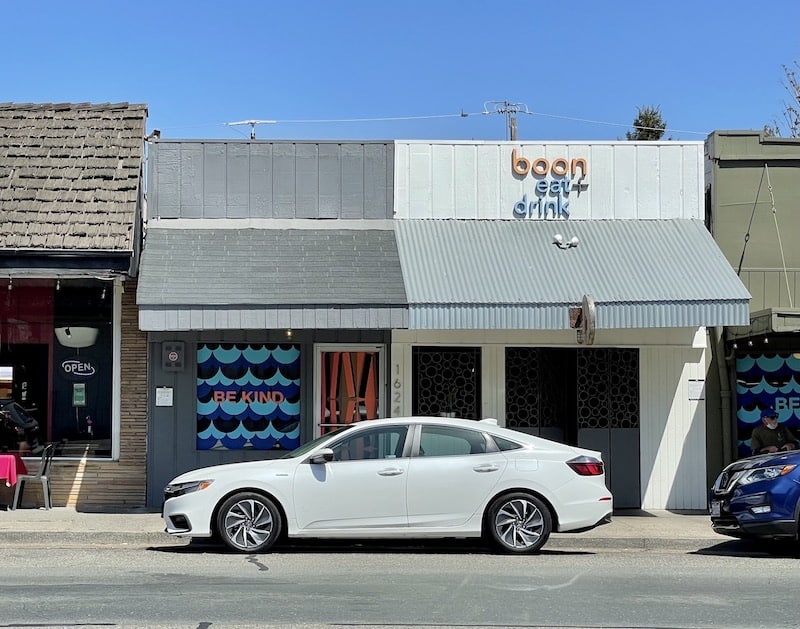 Photograph the Guerneville mural.
Located in a parking lot near Lark Drugs Pharmacy, this charming mural is a great place to snap a Guerneville photo or two.
Guerneville doesn't have a huge street art scene, but this large-scale mural is definitely worth a little visit while walking River Road.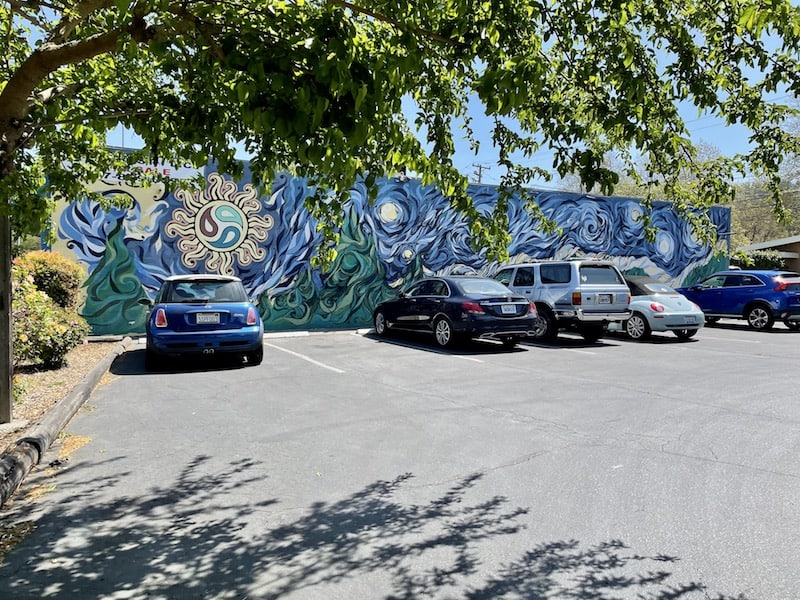 Have a spa day.
A vacation in Guerneville is all about relaxation, and while for some that may mean lazy days tubing on the Russian River, for others that means indulging in some spa days!
Head to June Bug for mani-pedis and waxing, boon hotel + spa for massages and their saline pool (best enjoyed with cocktail in hand!), or drive to Freestone for a spa day at Osmosis — their cedar enzyme baths are legendary!
Unwind with a yoga session.
Need to relax and unwind a bit, but want something more active than a massage? Head to Sol Rio Yoga to get your downward dog on!
Located on the road to Armstrong Woods just around the corner from River Road, it's a central place to drop in for a yoga class.
Note: This is in the location that used to be Riverbed Yoga; Sol Rio Yoga is opening at the end of May 2021 in the same location.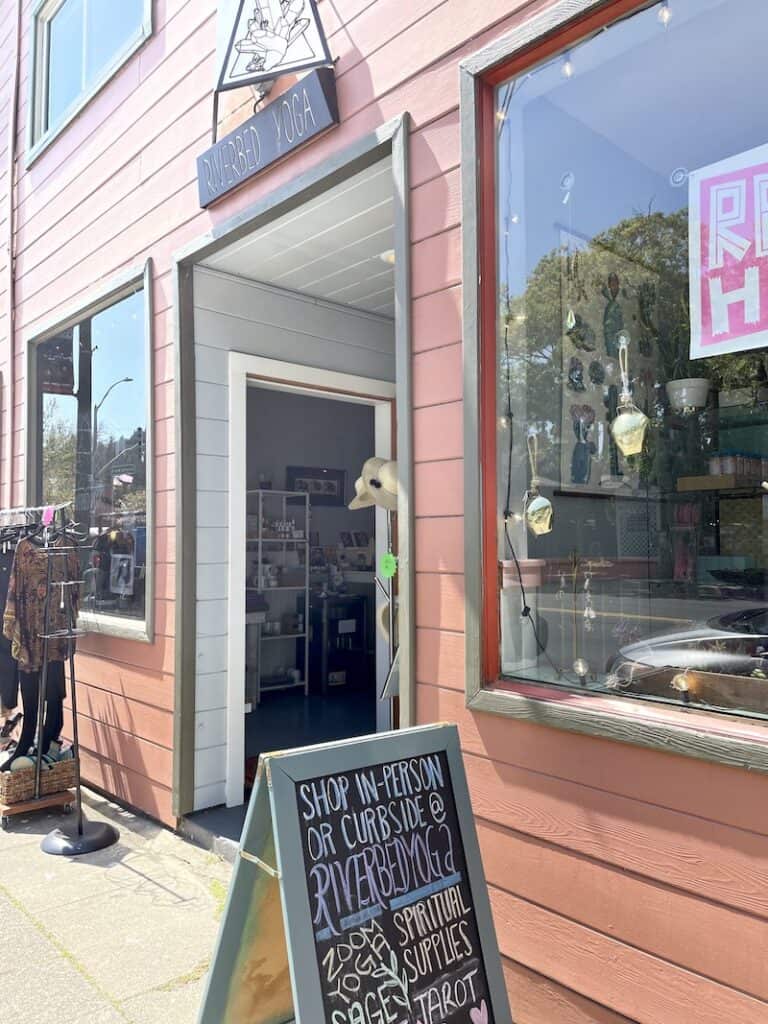 Grab a great cup of coffee.
Guerneville's best cup of coffee can be had at Coffee Bazaar, a three-decade-plus-long institution.
I'm a big fan of their breakfast burritos and their Mexican-spiced mocha when I want a step up from my normal drip coffee.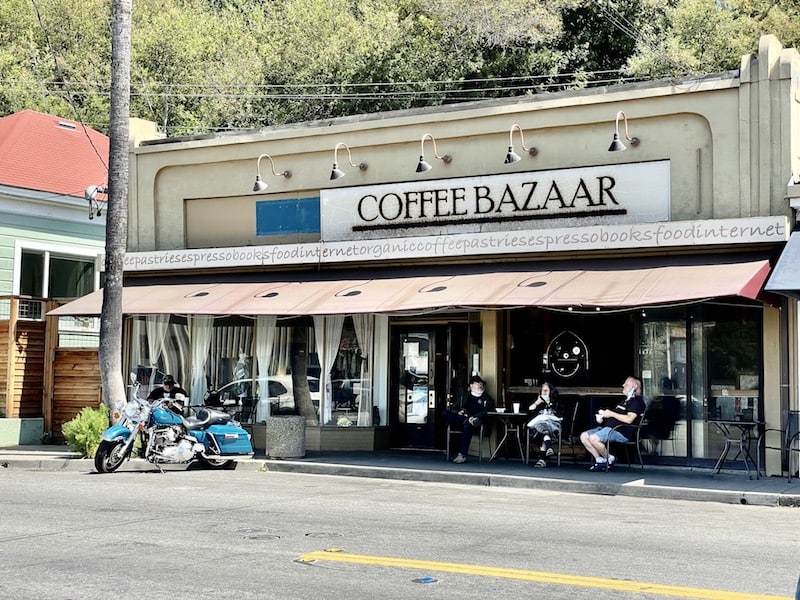 Shop on River Road.
River Road is Guerneville's Main Street, and it's chock-full of art galleries, boutiques, and funky shops that are worth stopping in on.
Be sure to walk up and down the street on both sides to stop into places like the Russian River Art Gallery, Guerneville 5 & 10, and rio rio.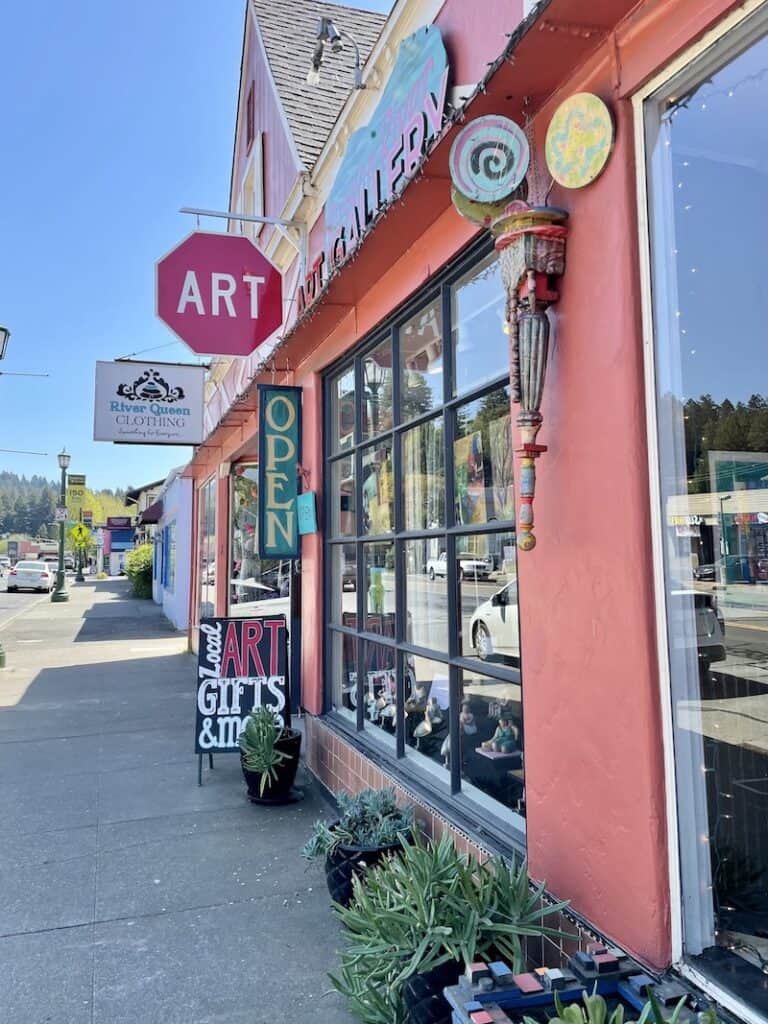 Score a bargain.
Guerneville is a great place to hunt for a deal! It's home to a bunch of great thrift and vintage stores, plus a large flea market takes place in the Safeway parking lot on Fridays and Saturdays between 10 AM and 5 PM.
Not visiting on a flea market day? Visit Seconds First, Out of the Past, or rio rio for more secondhand and vintage goodies.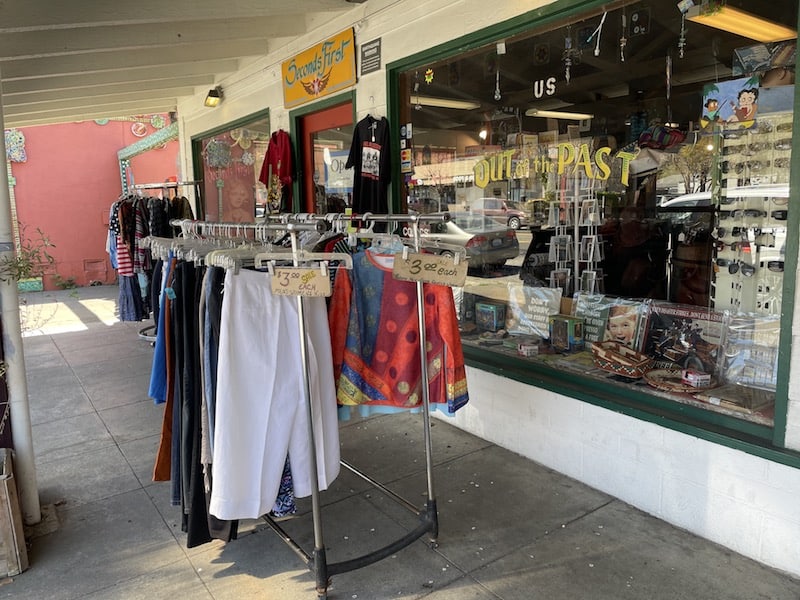 What to Pack for a Trip to Guerneville
All the floatie fun. If you have any fun inflatables or tubes, be sure to bring them with you to the river! You'll definitely get a good use out of them as you explore the Russian River. This unicorn pool float is fun for the river, or you can buy an overpriced floatie at King's or Guerneville 5 & 10.
Inflater. It can be a pain in the ass to blow up floaties — especially if you have a whole army of them! Bring an automatic inflater to quite literally save your breath!
Floating cooler. Fun in the sun is just a lot better with cold drinks in hand. Don't let your drinks get warm as you float downstream; bring a floating cooler and be the hero of your float trip.
Chemical-free sunscreen. Reef-safe sunscreen isn't just for tropical waters! Any time you get in the water, you're potentially disrupting a sensitive environment, and sunscreen chemicals can be hazardous to the Russian River ecosystem. I like this SunBum SPF 30 sunscreen that's free of the harshest chemicals.
Sunhat. Even with sunscreen, you'll want a sunhat to keep the sun off your face as you float or hike. Bring a sunhat with a strap so you don't lose it in the water!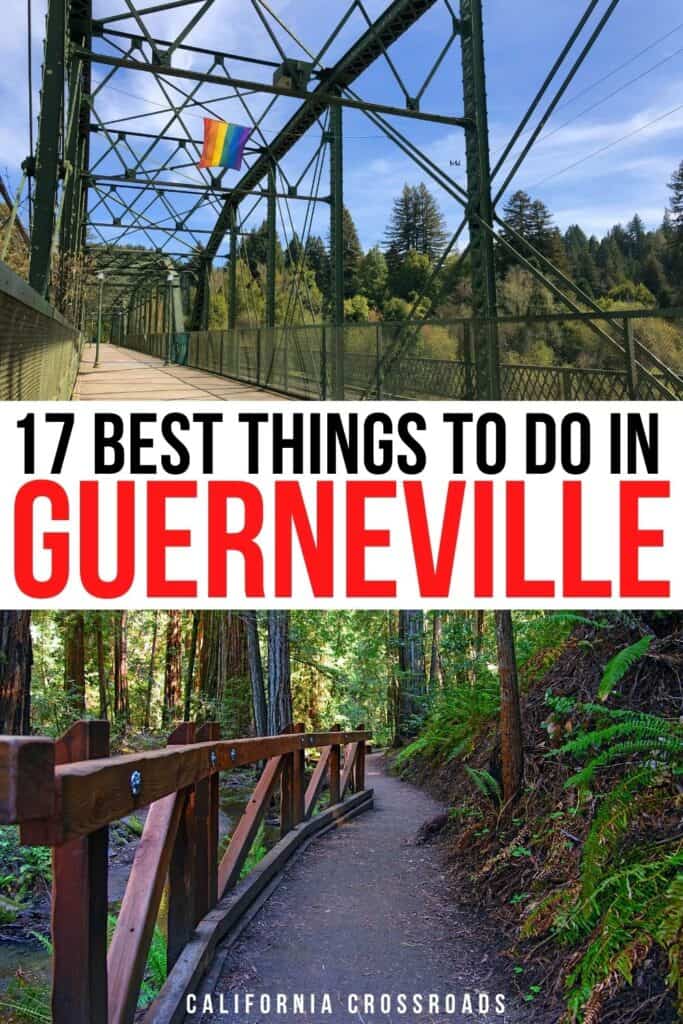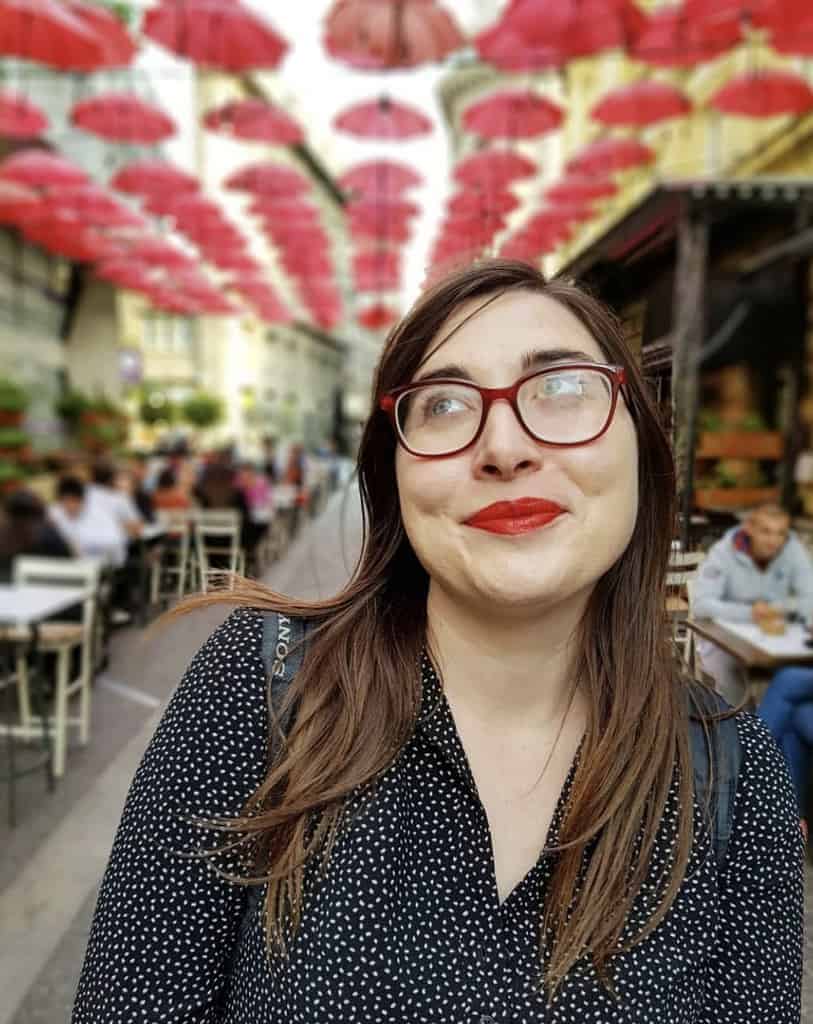 Allison Green is a travel blogger, writer, and podcaster who grew up in the Bay Area of California. She has spent time living in New York, Prague, and Sofia, but has returned to live in the East Bay. She has traveled to 60 countries before the age of 30 while running several digital travel publications. Her writing and podcast have been featured in Forbes, CBC Canada, National Geographic, the Huffington Post, and CNN Arabic, amongst others. She's obsessed with bouldering, houseplants, other people's pets, and anywhere she can see the ocean.