Bodega Bay, California is one of the most beautiful places along the Sonoma Coast.
Tucked away at the tail end of Sonoma Coast State Park, with the Pacific Coast Highway running right through the heart of town, it doesn't get any more scenic than Bodega Bay.
Its proximity to other beautiful Sonoma Coast destinations like Jenner and Sea Ranch make an already stunning place even better.
Bodega Bay is a breezy 2.5-hour drive up the PCH from San Francisco, making it a beloved weekend getaway from the city as well as a popular California coast road trip stop.
Whether you're in Bodega Bay for a few hours, an overnight, a weekend getaway, or even longer, here are the best things to do in Bodega Bay to maximize your trip!
Things to Do in Bodega Bay
Go for a hike in Bodega Head.
The beautiful area of Bodega Head is one of the premier areas for hiking along the Sonoma Coast.
Bodega Head juts out 4 miles into the Pacific Ocean, further out from the coast, making it a great spot for whale watching and beautiful hikes surrounded by views of the Pacific Ocean every which way you turn.
Note: This post contains affiliate links, which earn me a small commission at no extra cost to you if you make a purchase using one of these links. Thank you for supporting this free content!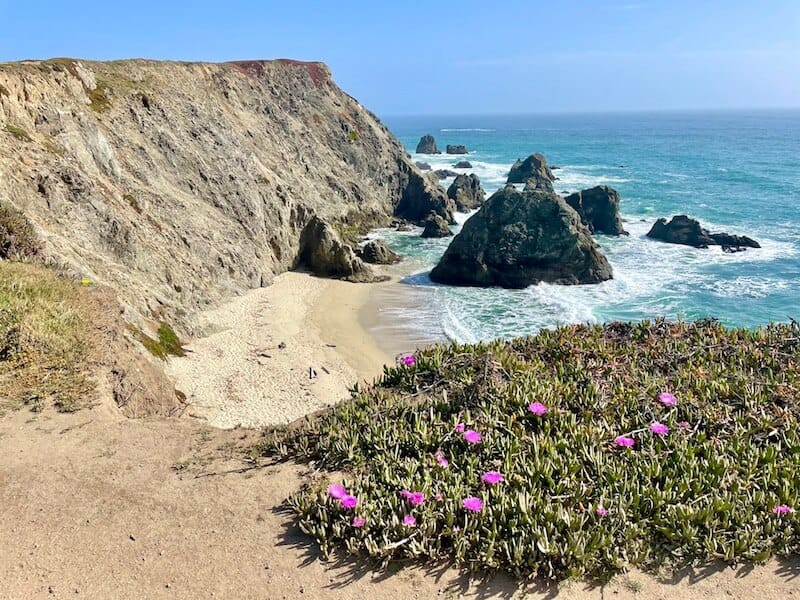 There is a great hike here, the Bodega Head Trail, a wheelchair-accessible 1.9-mile hike with 136 feet of elevation change.
The typical grade is about 4% and while it is not paved, it is made of compacted gravel which makes it accessible for people who use wheelchairs as well as parents with strollers. Note that dogs are not permitted on this trail, not even on a leash.
There are also picnic tables and a smaller hike starting by the picnic tables that you can do, on the north side of Bodega Head. In the spring, you'll be joining a beautiful wall of wildflowers!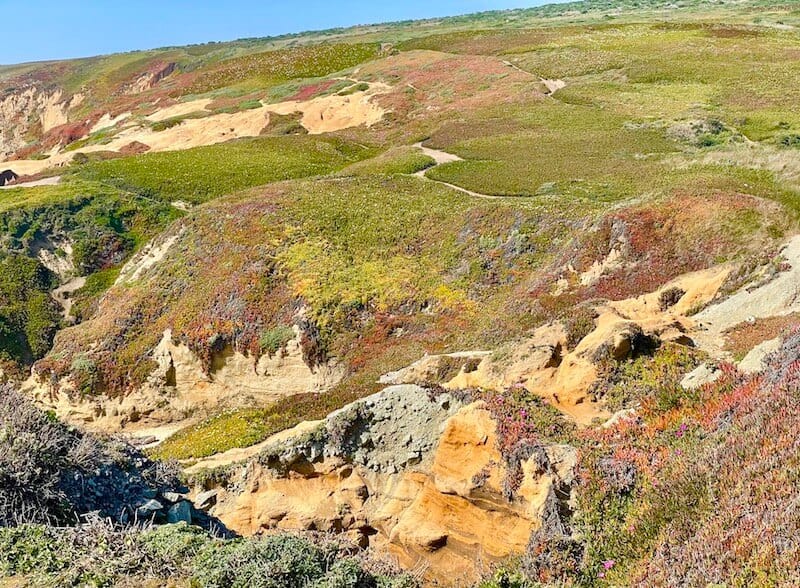 Check out the odd "Hole in the Head."
This little-known spot in Bodega Bay has a quirky history. What looks like a lovely lake belies a whole bunch of human stupidity!
This pit was dug by PG&E who planned to build a nuclear reactor right here… two miles away from the San Andreas fault line, a massive active fault line.
Luckily, a bunch of activists banded together and were able to put a stop to the project, and now the pit originally dug for the plant has been filled in with water and it's now a haven for migratory birds (and birdwatchers!).
Thomas Wellock, a nuclear historian, believes that the birth of the anti-nuclear movement started right here in Bodega Bay.
It's accessible by parking at Campbell Cove before you reach Bodega Head and walking a few minutes.
Do some whale-watching.
One thing Bodega Bay is best known for is its whales, as its one of the best places in California for whale watching!
There are a handful of companies offering charter boats out to see the whales, as Bodega Bay is a small community with only a few whale watching tours.
This is great for people interested in ethical whale watching, since these tours are always run using small boats usually used for fishing charters, which are less disruptive to the whale populations. I suggest North Bay Charters.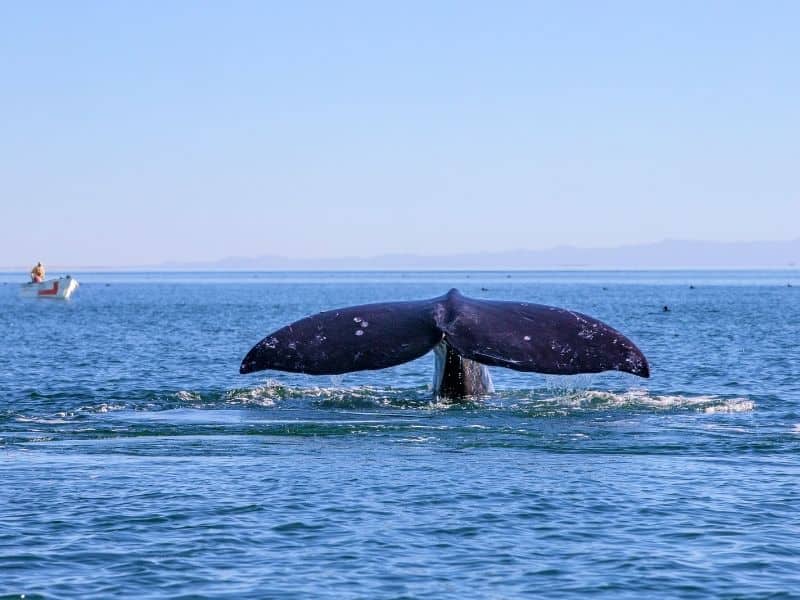 Head inland to the cute small adjoining town of Bodega.
The small town of Bodega is located on Bodega Highway just a mile inland and a bit down the road from Bodega Bay.
It's worth a stop while you're in Bodega Bay because it's home to some famous landmarks, such as the church and schoolhouse.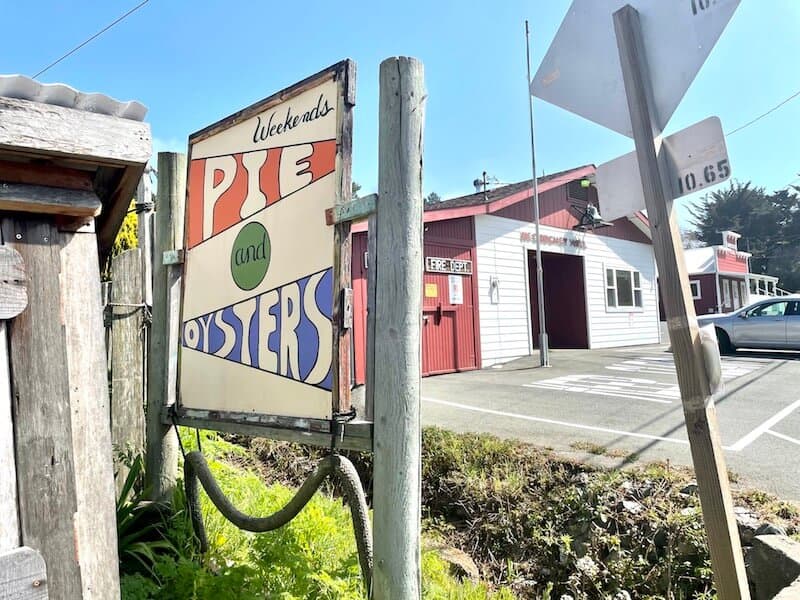 See the famous church in Bodega.
The Saint Teresa of Avila Church in Bodega (not Bodega Bay, but the smaller town of Bodega) is a beautiful stop.
If it looks familiar, it may be: you may have seen it photographed by Ansel Adams or in Alfred Hitchcock's The Birds!
Fun fact: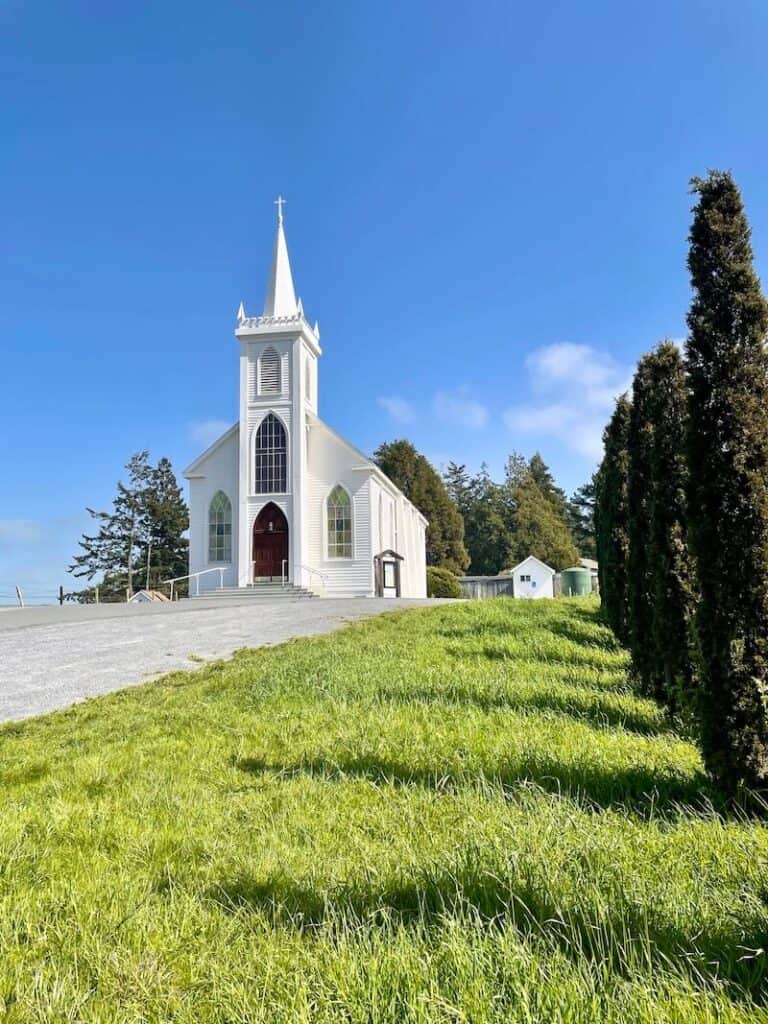 Check out the cutest little post office in Bodega.
Right on Bodega Highway, just a few steps from the Avila Church, you've got to snap a photo of the cute little red post office for the town of Bodega.
It's just precious!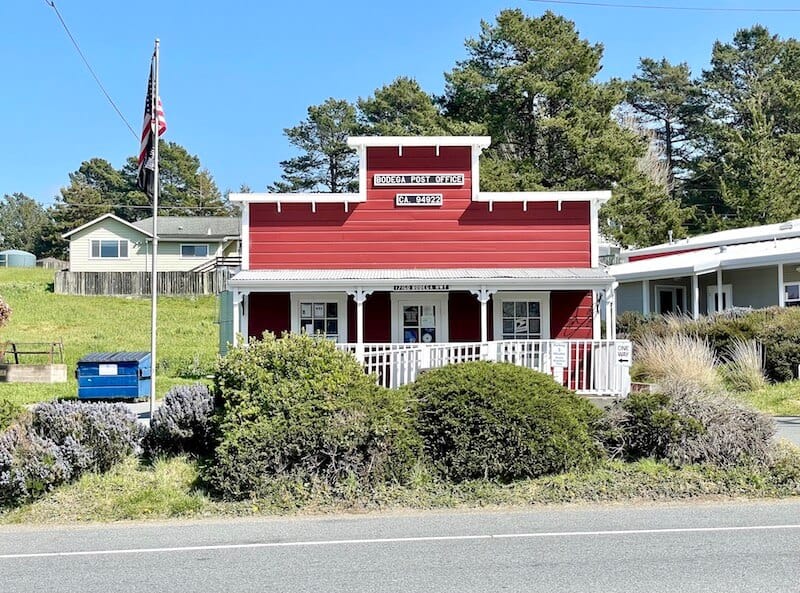 See the infamous Potter Schoolhouse.
Another well-known filming location from The Birds, Potter Schoolhouse is a beautiful and slightly haunted looking building that would look more at home in New England than along the California coast!
Originally built in 1873 as a schoolhouse, the building has had several lifetimes: a community center, a restaurant, an inn, a guesthouse, a filming location, and now, a private residence.
Please be mindful that it's private property. Do not trespass or infringe their privacy. It's fine to take photos outside from a distance, but don't go beyond the gate.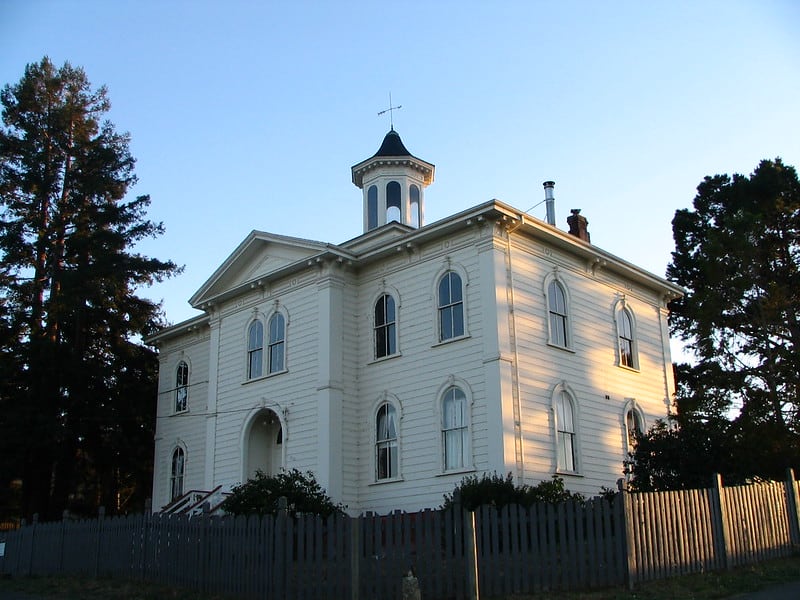 Eat some delicious Dungeness crab.
There are several great places to grab a seafood feast while you're in Bodega Bay!
One popular place is Fishetarian, a low-key outdoor fish restaurant that serves up crab cakes, fish and chips, and all sort of delicious fishy goodness.
Another popular place is The Tides, which was another filming location for The Birds!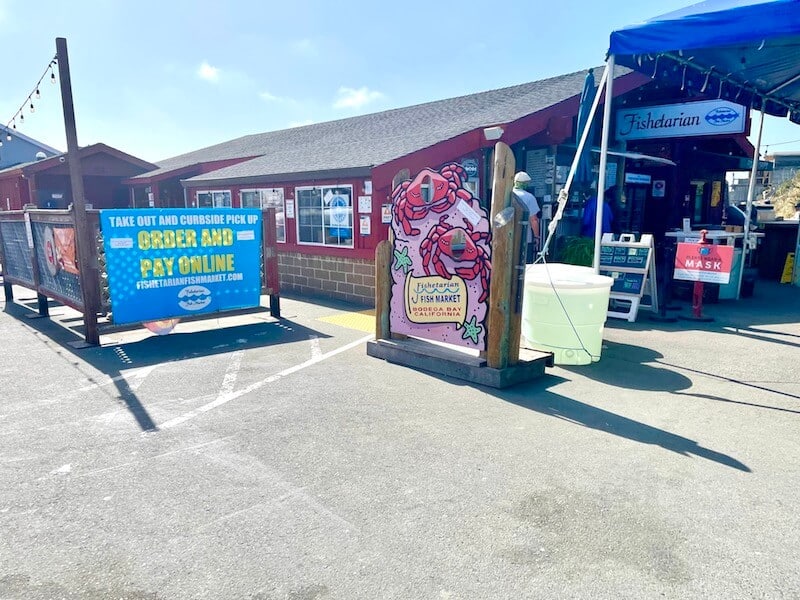 Order a round of oysters with a view of the marina.
If you want a tasty plate of oysters, there's no better place than Spud Point Crab Company on the way towards Bodega Head.
Their oysters are fresh and expertly shucked, and the mignonette is perfect with just the right amount of acidity and shallot-y goodness.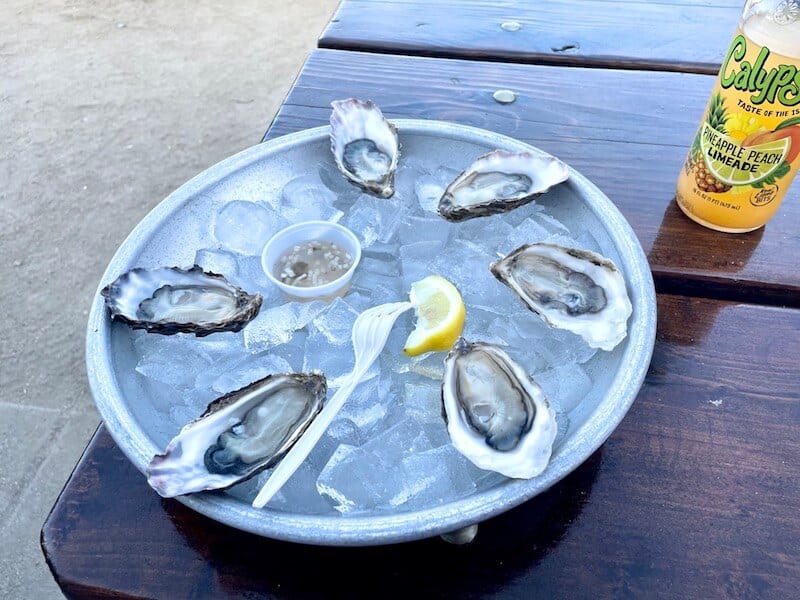 Have a Michelin-starred meal at Terrapin Creek.
I didn't get a chance to eat at Terrapin Creek while I was in Bodega Bay, since it's only open Thursday through Sunday and I went on a Wednesday. However, my aunt insisted it had to be on this list of things to do in Bodega Bay, so here it is!
If you want a delicious Michelin star meal that won't break the bank, head to Terrapin Creek. It's not cheap, but for a Michelin-starred restaurant, it's surprisingly affordable. We're talking appetizers around $15-20 and main course around $25-40. The atmosphere is convivial and unstuffy, and my aunt swears that the pasta she ate there was the best of her life.
Stop and smell the taffy.
It's not a seaside getaway without saltwater taffy, isn't it?
The lovely Patrick's Salt Water Taffy is as sweet on the inside as it looks on the outside, with nostalgic bubblegum-pink stripes on the exterior.
It's a must-stop if you have a sweet tooth!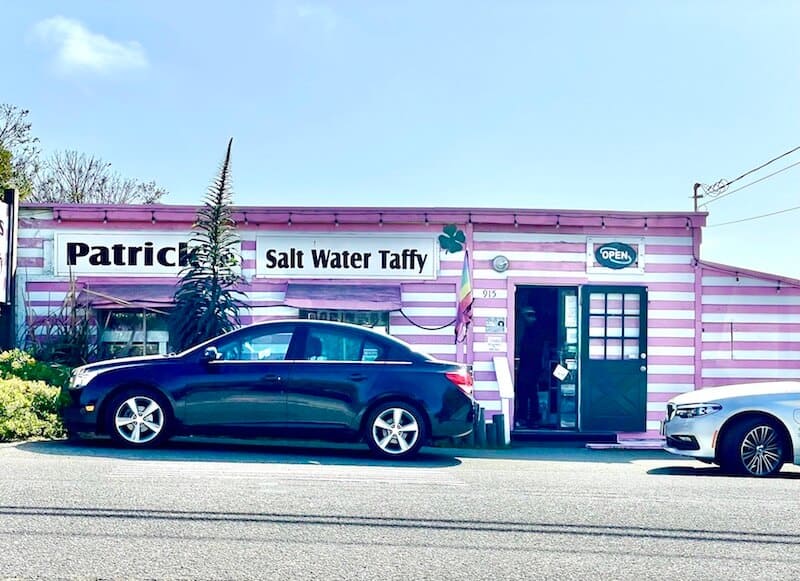 Visit the macabre but interesting Children's Bell Tower.
This seemingly innocent looking bell tower has a unique and slightly sad story behind it.
The Children's Bell Tower is a memorial dedicated to Nicholas Green, a 7-year-old boy who died in a shooting in Italy on vacation. His parents decided to donate his organs — an uncommon occurrence at the time in Italy — and it sparked a massive threefold rise in the rate of organ donation in Italy, which previously had very low rates of organ donation.
The bell tower in Bodega Bay is the work of sculptor Bruce Hasson, who used more than 140 bells sent to the family of the deceased child from people, schools, and churches all around Italy. The central bell, with the names of the 7 recipients of Nicholas' organ donations, was donated by a bellmaker who crafted bells for the Papacy for a millennia, and it was blessed by Pope John Paul II.
While the story of the child's death while on vacation is tragic, the fact that he was able to give life to so many others — and for his parents to spread the word of organ donation worldwide — makes the Children's Bell Tower a place of peace and hope, not just sadness.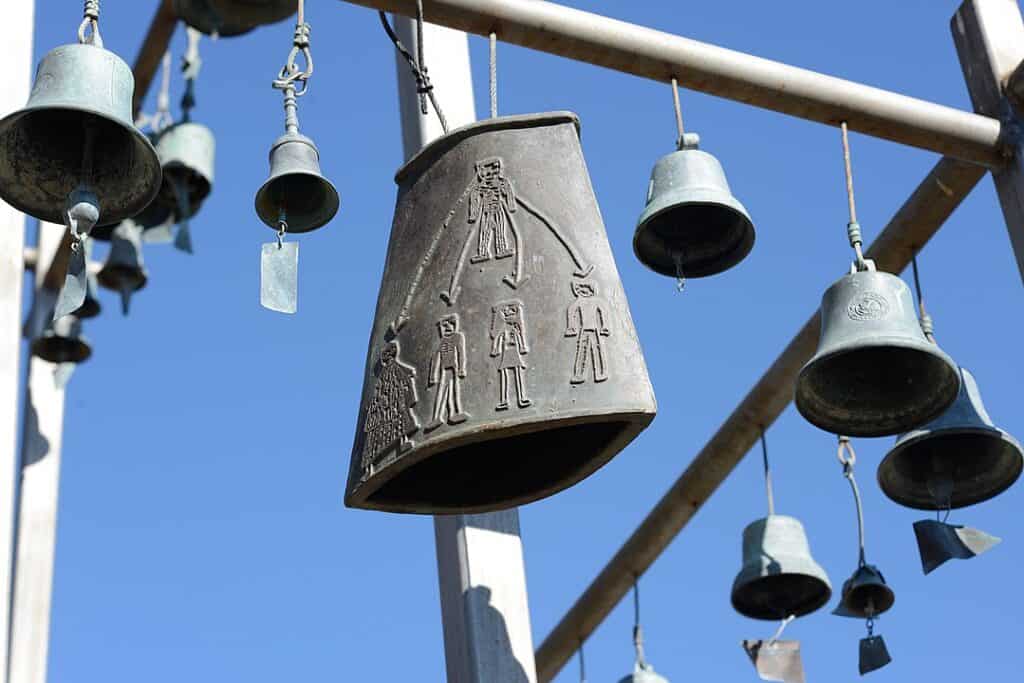 Take a walk in the Bodega Bay Wetlands.
If you're a fan of bird-watching (and no, not Alfred Hitchcock's birds, don't worry!) then head to the Birdwalk Coastal Access Trail for a scenic walk through the wetlands.
See all manners of birdlife like herons and egrets in these beautiful marshlands. You can walk all the way to Doran Beach this way (and evade the parking fee for Doran Beach).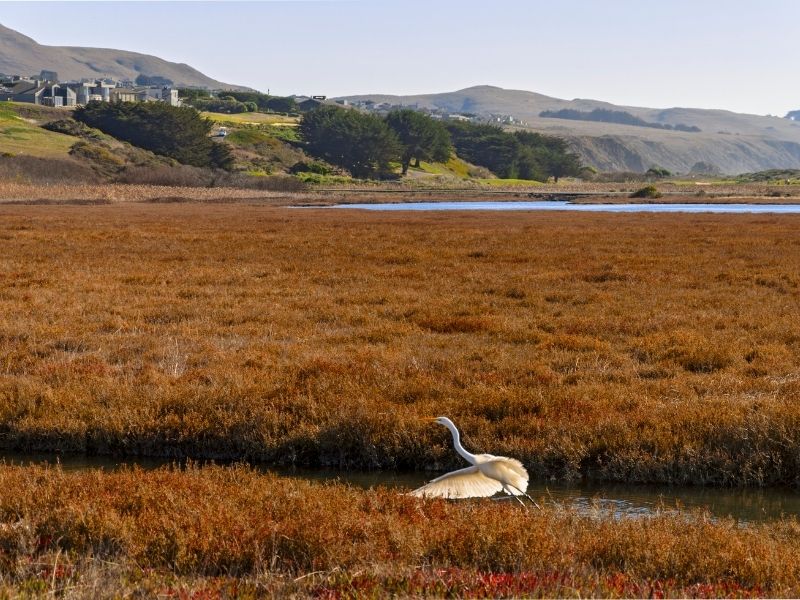 Spend the day on the beach.
There are a number of beautiful beaches just due north of Bodega Bay, all up through Sonoma Coast State Park and all the way past Jenner. The first beach you'll hit as you exit town is one of the most beautiful: North Salmon Creek Beach, which is wide, wild, and wonderful.
There's a lagoon at the creek which washes into the ocean, giving children a safe place to play away from the Pacific waves. There's all sorts of driftwood for making forts, and you might also see the snowy plover bird, a rare bird which nests there.
Note that because it's a nesting location for snowy plover, dogs are not allowed on the beach.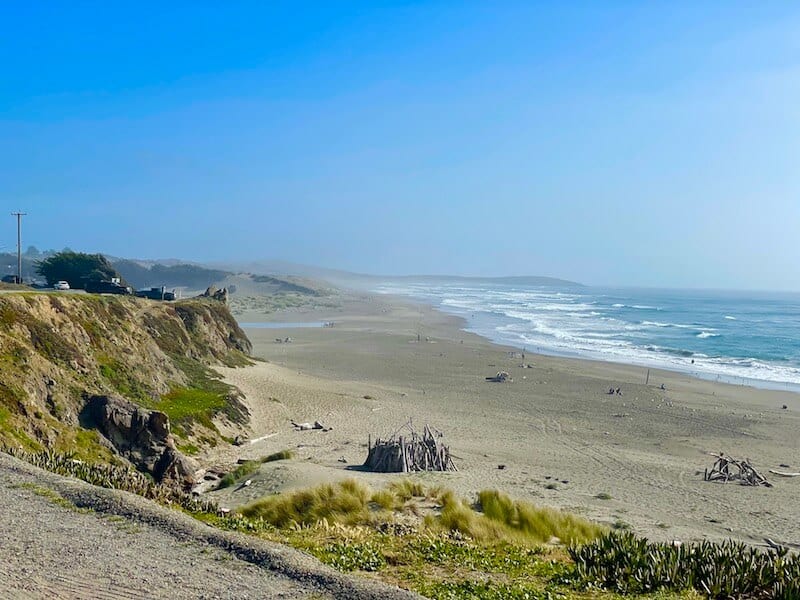 Where to Stay in Bodega Bay, California
There are a ton of choices when it comes to accommodation in Bodega Bay — this is a getaway town, after all!
HITCHCOCK STYLE | If you're staying in Bodega Bay as an homage to Alfred Hitchcock's movie, you have to stay at the place where many scenes were filmed: The Inn at the Tides! It's a charming bayside inn with a delicious restaurant attached and a beautiful heated outdoor pool with a great view of the water. There is also a hot tub, a sauna, a fitness center, and in-room massage services available to amp up the relaxation… plus a free bottle of wine to every guest on arrival!
>> Check availability, rates, and reviews here
LAIDBACK LUXURY | The Bodega Bay Lodge is all about understated luxury. It's not a flashy resort, but the rooms are relaxing and luxurious, with in-room fireplaces and large spacious suites with views of Doran Regional Park and the Pacific. There's a delicious on-site restaurant, Drakes Sonoma Coast Kitchen, as well as spa treatments (including in-room massages!) and an outdoor pool.
>> Check availability, rates, and reviews here
BODEGA ON A BUDGET | While Bodega Bay isn't the cheapest place to stay, the Bodega Bay Inn is the best budget option if you're looking to save. Rooms are spacious and clean and it's right in the heart of Bodega Bay. There isn't as much in the way of amenities — no pool, spa treatments or fitness center — but if you are looking for a sweet and simple place to lay your head down at night in a great location, this is it!
>> Check availability, rates, and reviews here
Pin This Guide to Things to Do in Bodega Bay, California!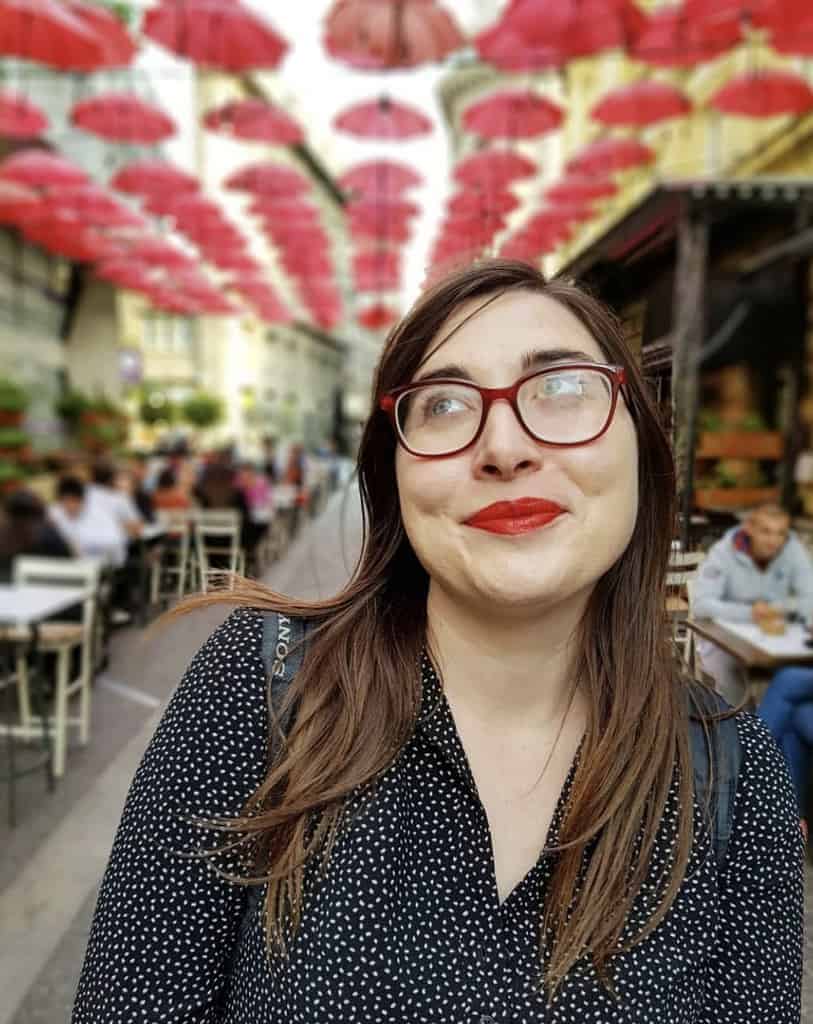 Allison Green is a travel blogger, writer, and podcaster who grew up in the Bay Area of California. She has spent time living in New York, Prague, and Sofia, but has returned to live in the East Bay. She has traveled to 60 countries before the age of 30 while running several digital travel publications. Her writing and podcast have been featured in Forbes, CBC Canada, National Geographic, the Huffington Post, and CNN Arabic, amongst others. She's obsessed with bouldering, houseplants, other people's pets, and anywhere she can see the ocean.