One of the most magical feelings in the world is getting to watch whales in their natural environment.
Whether it's the feeling of seeing them spout off in the ocean from your position on the shore or getting to see them up close and personal from a small boat tour, whale watching in California is pure magic.
Frankly, almost any place on the California coastline offers whale watching opportunities.
Many of the whales migrate between Baja California and Alaska, making the entire California coastline part of their journey: so you're hard-pressed not to spot whales along the California coast if you time your trip properly.
Keep reading because, in this article, we will show you what are the best places for whale watching in California!
FAQs about Whale Watching in California
Note: This post contains affiliate links, which earn me a small commission at no extra cost to you if you make a purchase using one of these links. Thank you for supporting this free content!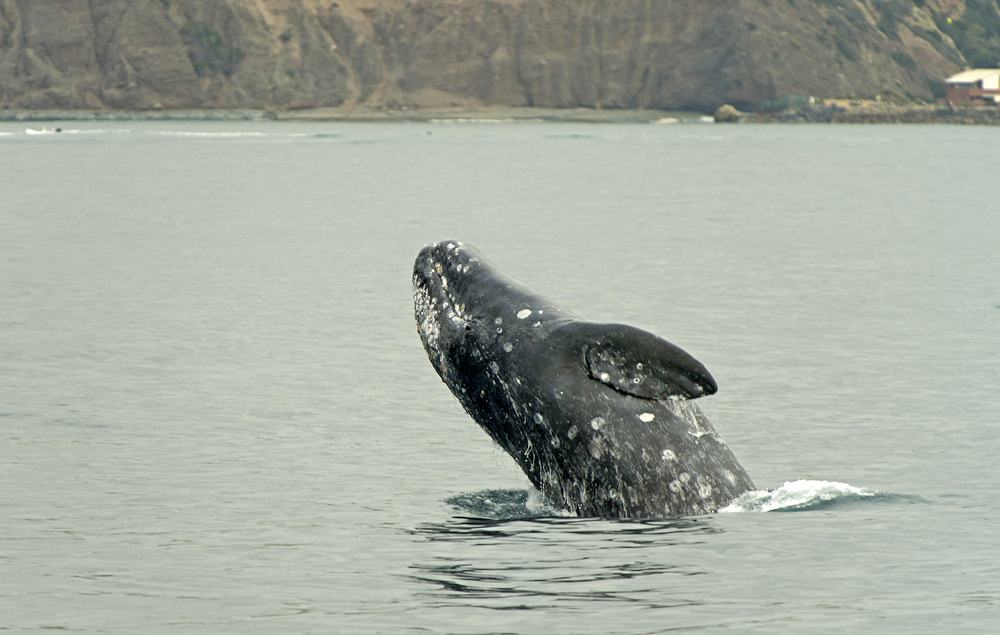 What is the best month for whale watching in California?
Well, frankly, it depends what type of whale you want to see, as well as what part of California you are in.
Generally, gray whale season is the biggest draw because that's when you have the highest chance of seeing whales, plus it's also the longest migration of any species in the animal kingdom, which is pretty cool!
Gray whales migrate from December through May, with Northern California seeing the first gray whales in December and last in May and the season starting in Southern California around January and ending around April.
Orcas are generally most plentiful between February and April.
In general, March and April will have the best combination of plenty of gray whales and orcas as well as better weather (less rain and storms), which make for a more pleasant whale watching experience in California.
What kind of whales migrate off of California?
All kinds! Gray whales, blue whales, and orcas are some of the most common whales you'll see off the coast of California when whale watching. But humpback whales, minke whales, and finback whales are all also frequent visitors to these waters!
Are there orcas in California?
Yes! Orcas tend to migrate between February and April and are most commonly found around Monterey Bay and the Central Coast.
Are there dolphins in California?
Yes! 11 different kinds of species call California waters home. The most famous species is probably the bottlenose dolphin which you'll see all along the coast between San Francisco and San Diego.
Are whale watching tours bad for whales?
Done properly, no, but this is why it's important to only support ethical whale watching tours. Here are the guidelines whale watching tours should follow to not disturb the whales or change their behavior. Only go with tours that promise to follow ethical guidelines and do not get too close to the whales. Whales are wild animals who should only be seen from a distance, and that is what makes them so beautiful and magical.
Can we see other marine life apart from whales?
Yes, there is a great deal of marine life in the Pacific Ocean besides whales that you might see on a whale watching trip! There are many species to see, from marine mammals to reptiles. 
Some of the animals that might be spotted on these trips include seals, turtles, great white sharks, sea otters, and jellyfish, just to name a few!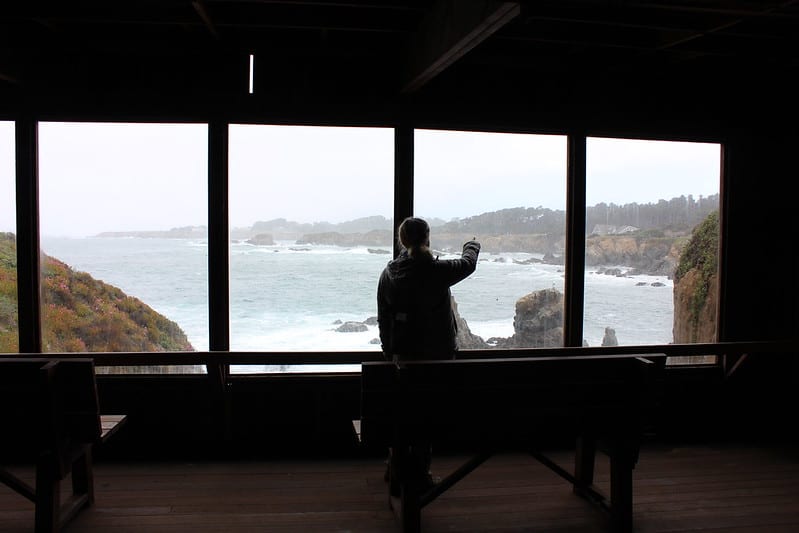 Best Whale Watching in Northern California
Bodega Bay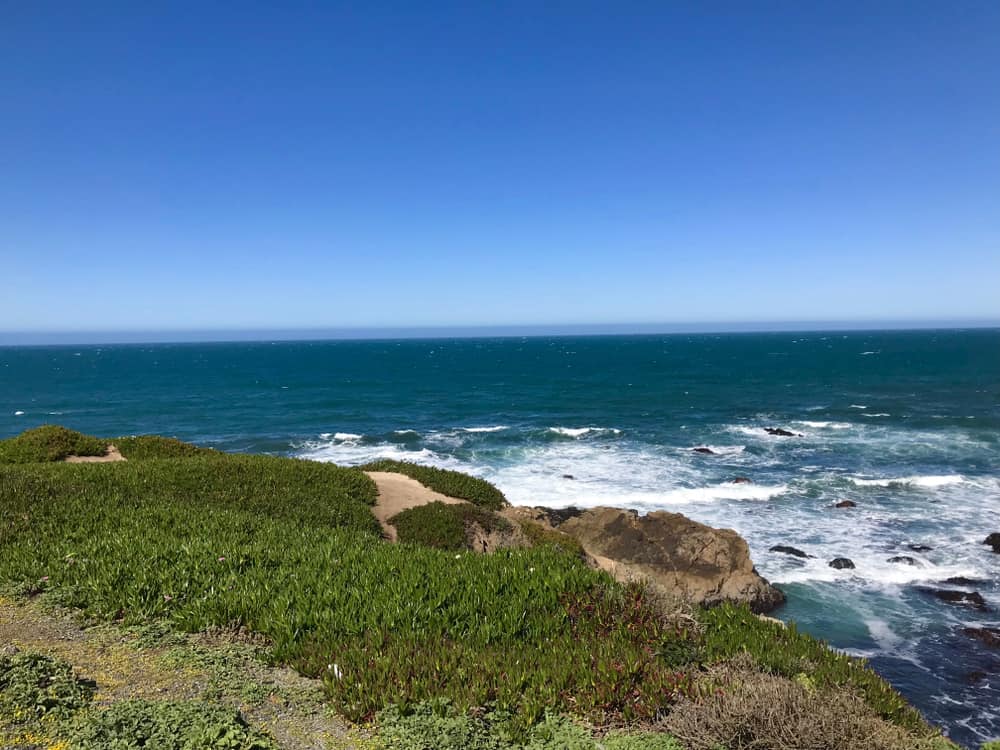 Bodega Bay is an interesting place to go whale watching in California because you can really do it from either land or sea!
The Sonoma Coast State Park has a really beautiful vantage point on a peninsula that is easily accessible by car and great for people who want to spot whales off in the distance using binoculars rather than getting up close and personal.
This is a good option for people who get seasick easily or prefer to watch wildlife from a distance for personal or ethical reasons.
During the migration season, there are docents available at Bodega Head to help you spot whales through spotting scopes and answer questions.
Unlike other places on this list, the gray whales actually tend to come closest to shore on their northbound migration, from March through June. So if you've missed whale watching season in California in other parts of the state, this is a great time to see gray whales past the typical "end of the season."
You may also see calves at this time, as the calves are born in warm waters near Mexico around January/February, and then by the time they're making their way up North, you might be able to see moms and babies!
Worried about being able to spot the babies? Considering they're 2,000 pounds at birth, they're pretty easy to spot, even from shore.
Best Whale Watching Tours in Bodega Bay: Bodega Bay is a small community with only a few whale watching tours (usually run on fishing charters), which are always run using small boats. I suggest North Bay Charters.
Mendocino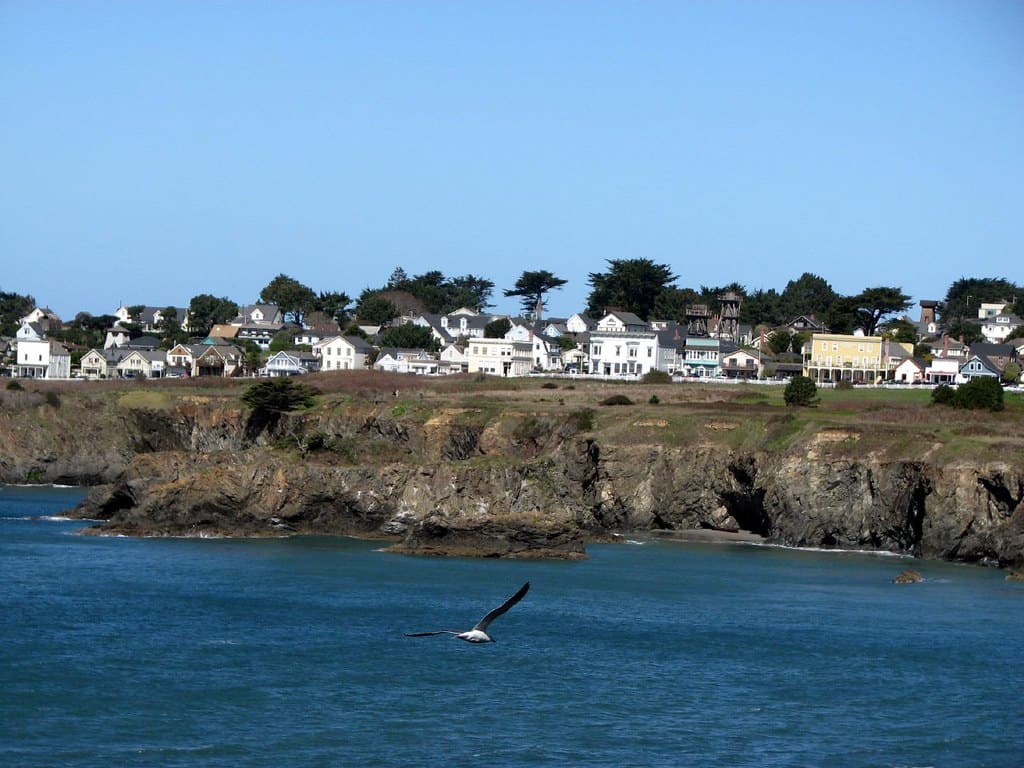 Mendocino is a small town in Northern California that has enjoyed great tourist success due to its whale watching potential!
The locals attribute this to the combination of luck and the work they put into maintaining this natural environment.
Whale watching is one of many activities available to tourists in Mendocino (others include hiking, wine tasting, and lighthouse spotting!) — but it's by far the most popular.
The best season is from November to April when California Gray whales migrate from their feeding grounds in Alaska southward to spend their winters in warmer waters in Mexico, where they feed and mate.
One of the things that make Mendocino one of the best whale watching destinations in the world is the epic views you'll have of the whales spouting, breaching, and diving as they head south, which makes this journey unforgettable experience for the spectators.
We recommend you visit Mendocino Headlands State Park and Point Arena Lighthouse. These are the best places to spot whales, especially in the morning hours.
It is also a great opportunity to rent kayaks if you're looking for a wonderful adventure and to see the whales from another perspective!
Best Whale Watching Tours in Mendocino: There are many whale watching tours to choose from; we recommend taking this one by All Aboard Adventures which is an eco-friendly and family-friendly tour with a certified boat!
Point Reyes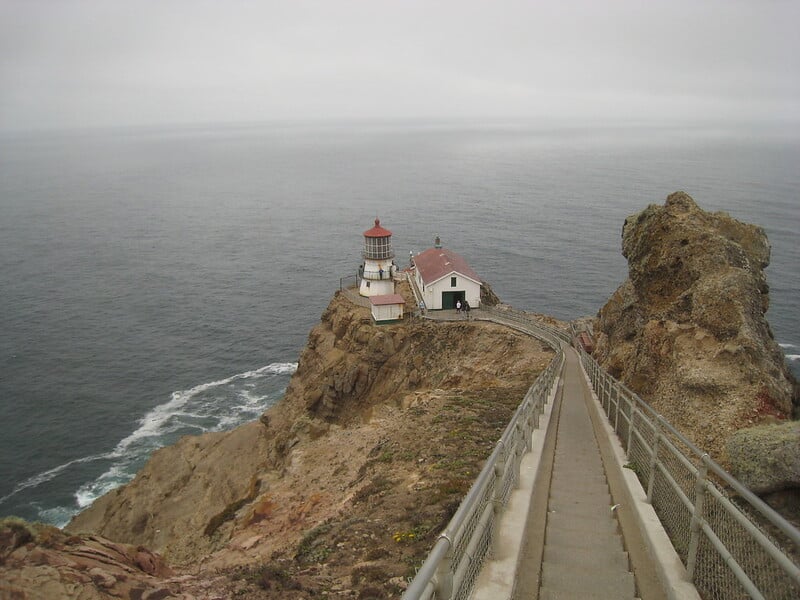 Whale watching is a popular activity in Point Reyes National Seashore, a few hours north of the Bay Area.
There are many places where you can see gray whales, such as the Gulf of the Farallones National Marine Sanctuary.
The experience of whale watching in Point Reyes is among the best in the world because of its abundance of coastline, offshore islands, open ocean, and surrounding waters.
Plus, Point Reyes is a unique peninsula that juts out very far west — the furthest most point west in California, to be exact.
This means you'll get to see the whales swimming close along Point Reyes even if you don't ever leave land!
In January through March, the gray whales migrate from the frigid waters of Alaska to California's coastal waters. In fact, Point Reyes is one of their favorite feeding areas, so this is the perfect time of the year to experience these wonderful creatures from up close!
Best Place for Whale Watching in Point Reyes: We highly suggest you head over to the Point Reyes Lighthouse if you're looking for a beautiful place to spot whales in the fall and spring!
Best Whale Watching in Central California
Monterey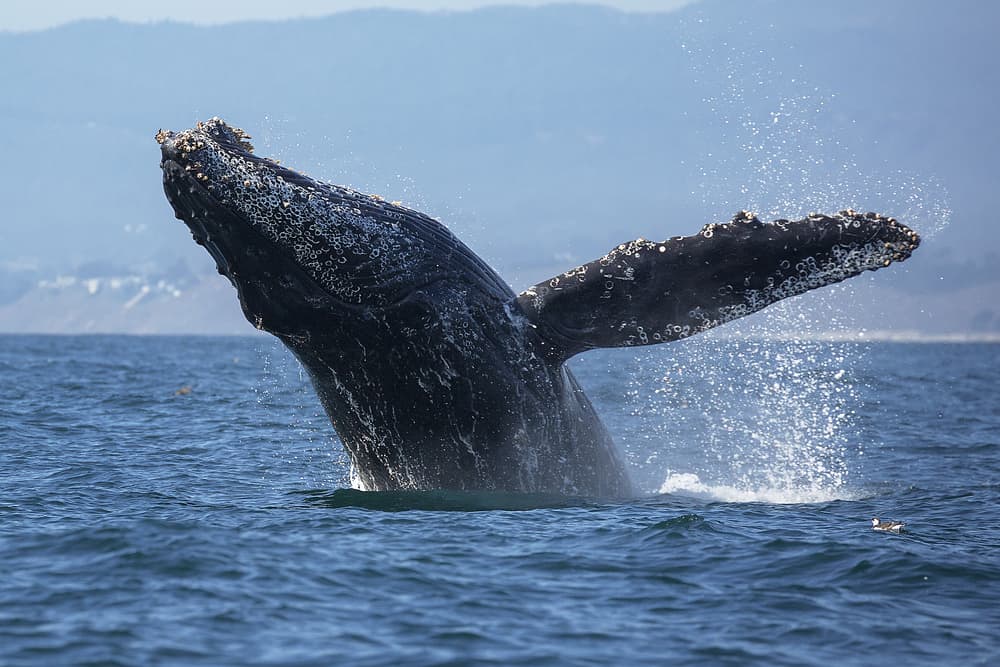 Monterey is a bucket-list must for any lover of the ocean, since it's home to both one of the world's best aquariums as well as some of the most plentiful whale watching in California's entire coastline.
This is because the Monterey Bay shelters from some of the rougher waters of the Pacific and makes for a smooth journey where it's easy for both visitors and whales alike to enjoy the journey.
If you want basically a guarantee of seeing whales, head to Monterey. Whales are sighted basically every day of the year and while of course they are wild animals, the tour companies here know what they are doing and can basically always spot some whales, though of course the species of whales do vary depending on season and migration period.
So, why is Monterey Bay so special for whale watching in California? It's the submarine canyon right by the shore, which makes the sea especially calm here and marine life (including krill, which whales love to snack on) is particularly abundant in these waters.
Best Whale Watching Tours in Monterey: Whale watching is big business in Monterey, so I suggest going with a smaller tour operator for a better experience and less disturbance to the whales. I like this whale-watching tour offered via GetYourGuide as they use smaller boats than most other companies in Monterey Bay.
Santa Cruz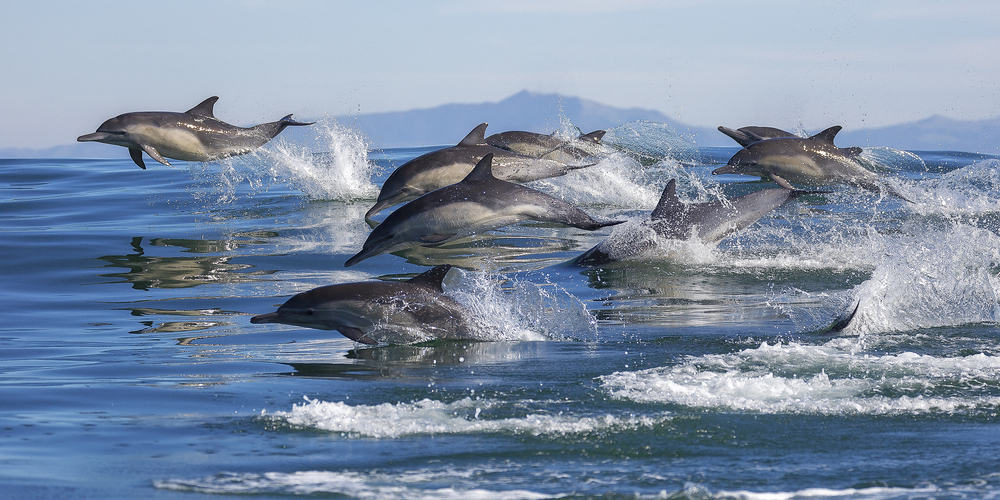 On the north end of Monterey Bay, Santa Cruz offers great whale watching opportunities year-round with a similar season to Monterey, as these destinations are only 42 miles apart by land and even less by sea!
Santa Cruz is not as famous for its whale watching tours as Monterey is, but that's just because Monterey is a more famous tourist destination due to its aquarium, Cannery Row, and Old Fisherman's Wharf.
Frankly, you'll have almost the same luck on a tour departing from Santa Cruz as you will with Monterey!
Best Whale Watching Tour in Santa Cruz: There are several companies offering excellent whale watching tours, but the Santa Cruz Whale Watching by Stagnaro Charters is the best-rated in town.
Best Whale Watching in Southern California
Newport Beach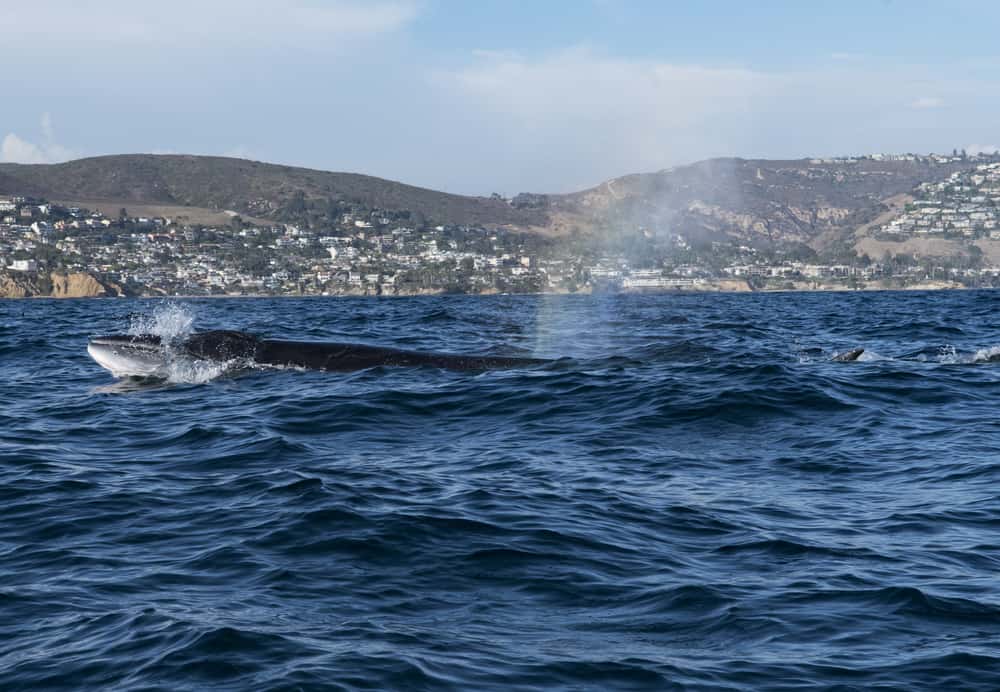 Whale watching in Southern California is a yearround affair — it just matters what type of whale you're most interested in seeing.
Gray whales and humpback whales are two of the biggest draws of California whale watching scene, and the period is best between January and April. Dolphins and sea lions also are plentiful during these times, as they seek out warmer waters.
Meanwhile, if you're keen to see the largest whales on the planet — blue whales — you'll want to come in May through September. Finback whales are also passing through Newport Beach area at this time.
October through December has less whale watching activity, but you can spot minke whales during this time.
Best Whale Watching Tours in Newport Beach: I suggest going out in a RIB boat while in Newport Beach to get the closest to whales and dolphins without disturbing them. This RIB boat tour offered by GetYourGuide is highly reviewed and offers the best chance of whale sightings.
This small-group boat tour is a bit larger and more crowded, but it's better for the budget-conscious as it's about half the price.
The cool thing about this company is that they track their sightings every day so you can follow along with what the migration patterns are and what your chances of seeing your favorite kind of whale is.
While you may not see a whale every day of the year, at least dolphins are seen almost every single day!
San Diego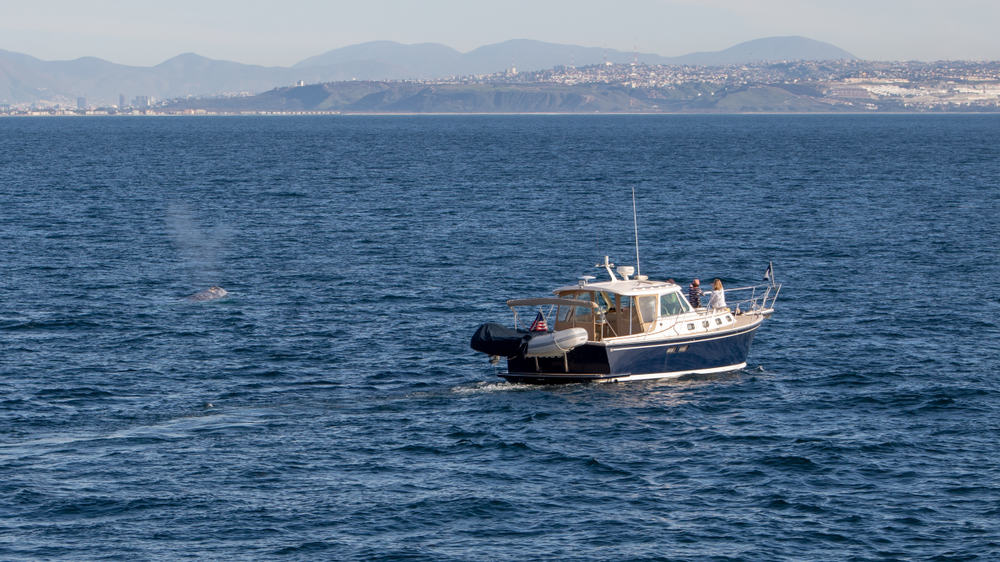 San Diego is the whales' last stop in California before reaching Mexico and so the whale watching season here tends to start the latest and end the earliest, but that doesn't mean there isn't plentiful whale life to be seen during this period!
The gray whale migration is around December/January and then again around March/April, as the whales make their way back north, passing along San Diego's many miles of coastline. Blue whales, on the other hand, tend to come around in the spring and summer.
Your best bet for whale watching in San Diego is in March and April, when you may be able to spot both northward-bound gray whales as well as blue whales.
Best Tours for Whale Watching in San Diego: As with Monterey, there are countless whale watching operations in San Diego, so opt for something smaller.
I recommend this highly reviewed and ethical operator, Hornblower, with free online booking via GetYourGuide, with an average 4.4/5 star rating!
Fun Fact: Cabrillo National Monument in San Diego is a beautiful location to spot Pacific gray whales on their annual winter journey from the Arctic to Baja California along the Pacific coast. Many people come to this place every winter to see this beautiful natural spectacle!
Channel Islands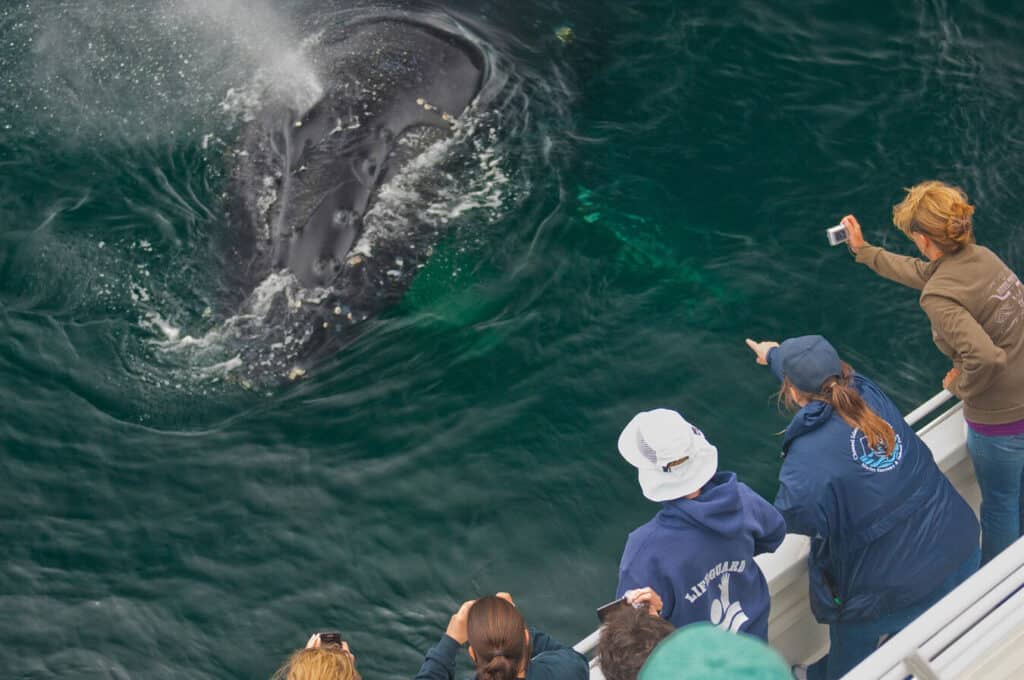 In the archipelago of the Channel Islands, there are incredible options to spot the majestic gray, blue, humpback, orcas, sperm, minke, and even pilot whales.
In fact, of the 78 species of marine life on the Pacific coast known by marine biologists — including whales, dolphins, sea lions, etc. — a whopping 29 species have been spotted in Channel Islands waters. This is more than any other single area in North America!
Every year, thousands of people visit the Channel Islands National Park and enjoy whale watching cruises to view the spectacular marine wildlife in the Santa Barbara Channel from a close distance.
The Channel Islands offer excellent opportunities for spotting whales, dolphins, sea lions, and other marine life all year round.
Visitors can enjoy these tours for whale watching in the Channel Islands starting late December through April.
Best Whale Watching Tour in the Channel Islands: You can book amazing and affordable public tours starting at $69.
If you prefer, you can book a private tour through Channel Islands Dolphin Adventures for 60 or 90 minutes. It's a great way to enjoy an exciting experience in one of the best places in the world to spot whales and other wonderful marine life!
Los Angeles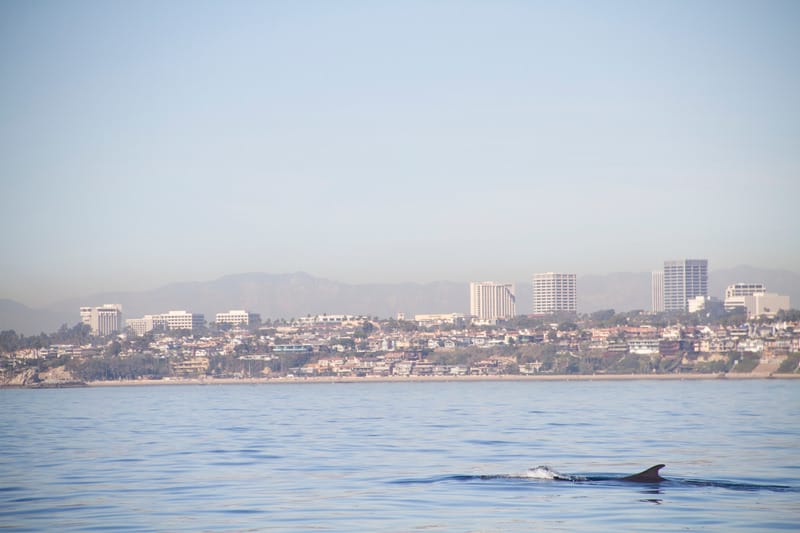 While you may not think of Los Angeles immediately when you think of whale watching, you'd be surprised!
The greater LA area is a popular destination for whale watchers because it is a center for gray whale migration.
Los Angeles whale watching trips can be a great experience for those who want to see these graceful and majestic creatures!
In addition to spotting the whales, they will also get to see other marine life such as sea lions and pelicans.
Whale watching in Los Angeles is a popular activity in the spring and summertime while the gray whales migrate seasonally. This means that the best time to spot gray whales is from December through mid-May.
The blue whale season lasts from June through October when they can be seen migrating off the shore.
The Best Whale Watching Tour in LA: When visiting Los Angeles, check out this great tour by L.A. Waterfront which offers year-round whale watching with a friendly and knowledgeable staff that will make your trip an amazing experience!
Dana Point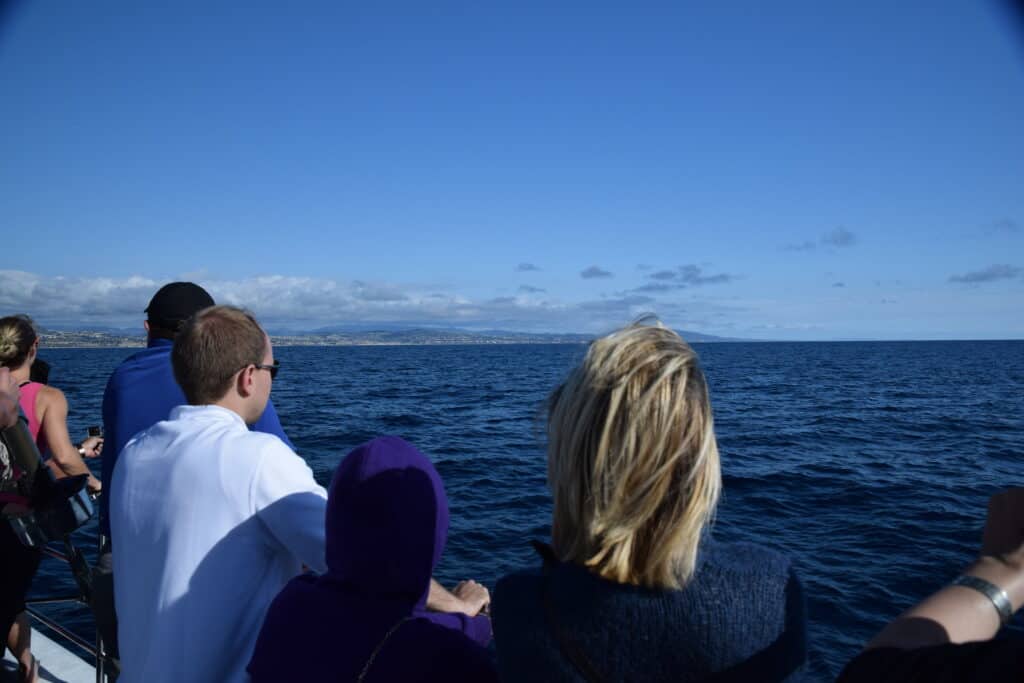 Dana Point is a coastal city in Orange County and is a popular spot for year-round whales including, blue whales, fin whales, Humpback whales, gray whales, to name just a few!
The annual whale watching season starts from the beginning of December and lasts until the end of April.
This city is well known for its mild weather and easy access, just an hour away from San Diego. The city has also been popular for its wild dolphin population.
With endless possibilities, the area offers something for everyone to enjoy whether you want to take a walk along the Dana Point Harbor or watch dolphins play in the water below you!
Tip: If you have the opportunity, don't miss out on the Dana Point Festival of Whales that is held every year to celebrate whales and other marine mammals. The aim of this festival is to contribute to all things related to marine mammals, including conservation, research, education, and ocean conservation issues that many organizations are working on addressing!
Best Tour in Dana Point: To experience the full whale watching adventure onboard a catamaran sailboat in a family-friendly environment we highly recommend this tour provided by Capt. Dave's, which is also the highest-rated tour in the area!
Tips for Your Whale Watching Trip
The California coast offers some of the most diverse marine life and picture-perfect views of whales.
Now that you know the most incredible California whale watching destinations, I'll share a few tips to make sure you have the best time spotting whales in California.
In order to have a safe and enjoyable whale watching experience, it is important that you do your research beforehand.
Here's a list of tips that will help you have the most unforgettable whale-watching experience!
Whales don't appear on command and this is why we go out there: to share their world with them for as long as possible before it slips away from us again. With wild animals, you never know what they will be doing and where they will be, so make sure your expectations are realistic when visiting.
No matter what time of the year you're visiting, it is advisable to wear warm clothes in layers, since the temperature on the water is usually colder than it is on the shore year-round. Also, consider wearing gloves or mittens if your whale watching excursion is in the wintertime.
It is important to wear sunscreen no matter what time of year it is or if there is cloud cover outside because you can get sunburned even during cloudy weather!
If you suffer from motion sickness while traveling on a boat or ship, the first thing that you can do to avoid seasickness is to stay off the deck if possible. Also, be sure to eat well before your trip, so your stomach is not empty when you get on board.
If you need to take medication for seasickness, take the non-drowsy kind. (Take this from someone who slept through nearly an entire Norwegian fjord cruise once on accident…) Chewable ginger candies or tablets also help a lot.
Always wear sunglasses, a hat, or a visor when whale watching to avoid getting sunburned or hurting your eyes, especially when the sun reflects off the water!
On a whale watching trip, kids can get bored after a while. This is why it is important to plan activities for them before, during, and after the trip, so they won't be disruptive.
Last but not least, there is no need for binoculars while on whale watching tours because they're visible from pretty far away just by looking in the right direction!
Whale watching is a great outdoor activity for people who love marine life or those who want to see these animals in their natural habitat.
The oceans are a huge part of our planet and we often forget about how massive and incredulous they are until we go experience them firsthand.
I hope that after reading this article, you will take the time to go on a whale watching trip and experience the beauty of these gentle giants for yourself!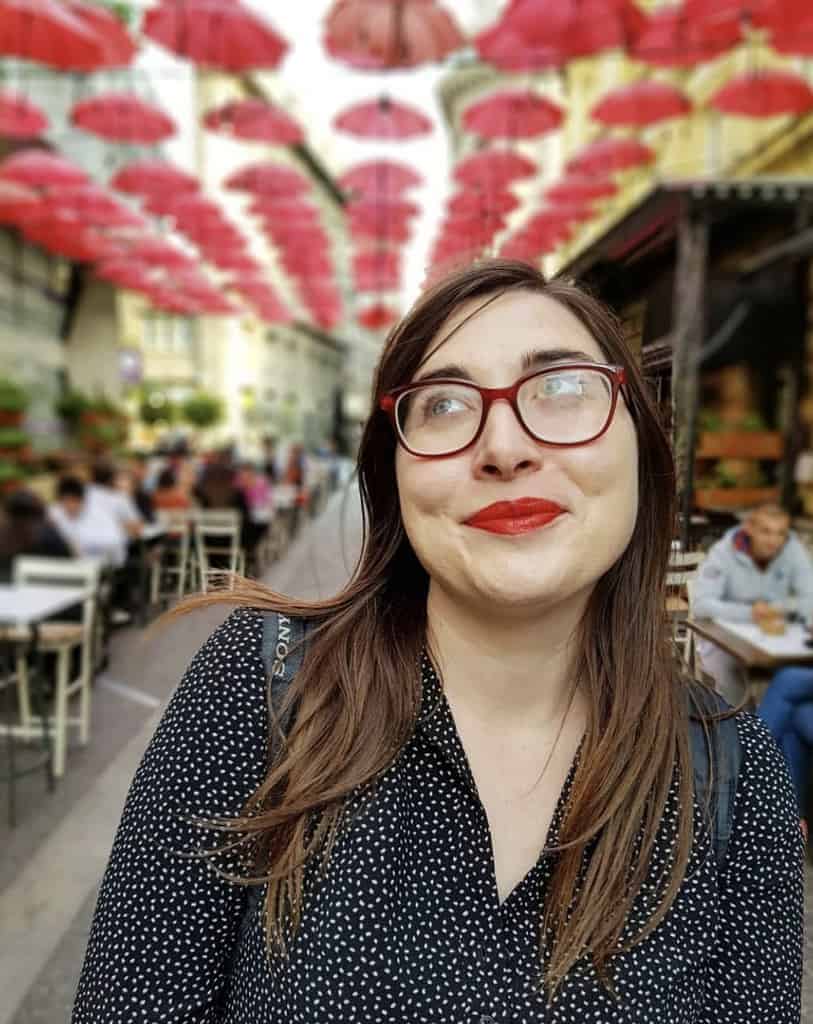 Allison Green is a travel blogger, writer, and podcaster who grew up in the Bay Area of California. She has spent time living in New York, Prague, and Sofia, but has returned to live in the East Bay. She has traveled to 60 countries before the age of 30 while running several digital travel publications. Her writing and podcast have been featured in Forbes, CBC Canada, National Geographic, the Huffington Post, and CNN Arabic, amongst others. She's obsessed with bouldering, houseplants, other people's pets, and anywhere she can see the ocean.