Do you have the winter blues? Are you daydreaming of a sunny getaway on a warm beach in Southern California?
Me too, that's why I've compiled the best beaches in San Diego, California! All of these beaches are within easy driving distance of San Diego — great for a San Diego day trip! — and none of them are more than two hours south of Los Angeles.
No matter where you are in Southern California, you are just a few hours away from a dream staycation.
Everyone who knows the city of San Diego has been to Pacific Beach, Ocean Beach, and Mission Beach hundreds of times, so I'll highlight the 10 top overlooked beaches in San Diego County starting in the north near Los Angeles and winding my way south toward Tijuana.
Best Beaches In San Diego County
San Onofre State Beach
Note: This post contains affiliate links, which earn me a small commission at no extra cost to you if you make a purchase using one of these links. Thank you for supporting this free content!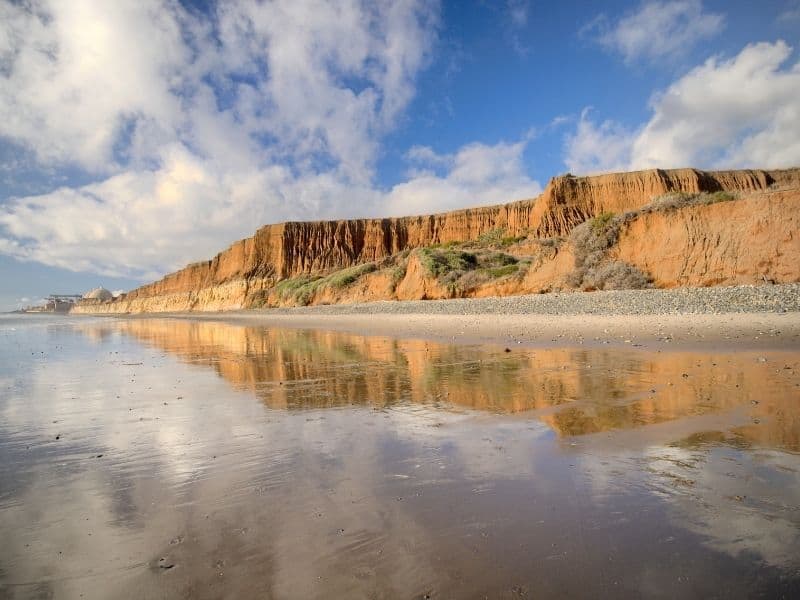 On the northernmost coast of San Diego lies the San Onofre State Beach, Bluffs, and San Mateo Campground.
San Onofre sits halfway between Los Angeles and San Diego a little more than an hour out from each, so it serves as a wonderful day trip if you're looking for a pleasant change of scenery.
While beautiful, San Onofre is best suited for surfers, beach hikers, and campers because the trek down to the beach can be difficult and the sand can be rocky.
It is rather secluded, and the closest food is about 15 minutes north in San Clemente. This is a lovely getaway for anyone who wants a reprieve from the noise of the city.
Oceanside Harbor Beach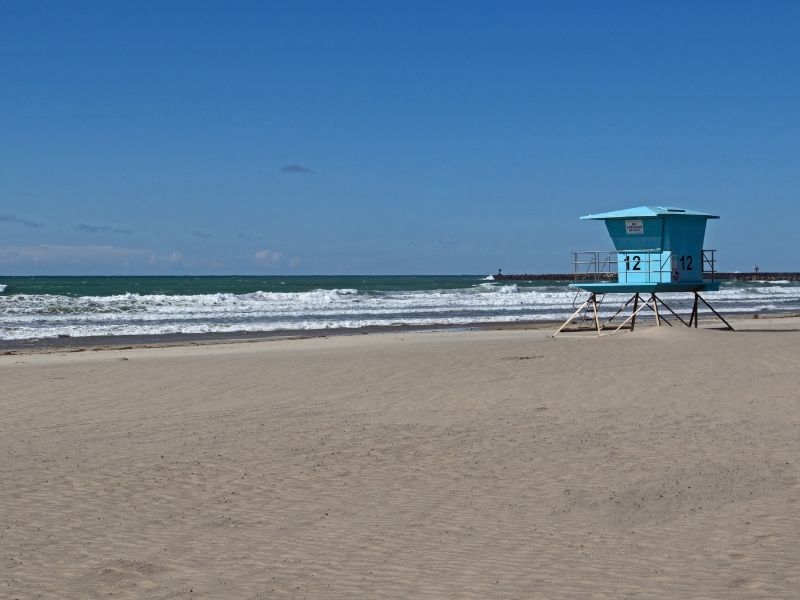 Oceanside is mid-county and lies 45 minutes outside San Diego.
Oceanside Harbor Beach resembles the beachy vibe of more popularly known beaches but with way fewer tourists packing the sand.
There are plenty of places to eat and drink as well as stay in the hotel nearby. You can get plenty of tanning and shopping done here without being bothered by crowds. There are deep-sea fishing tours as well as whale watching during the spring.
You get all the perks of a beach town without sacrificing the amenities of civilization. Win/win!
Tamarack Surf Beach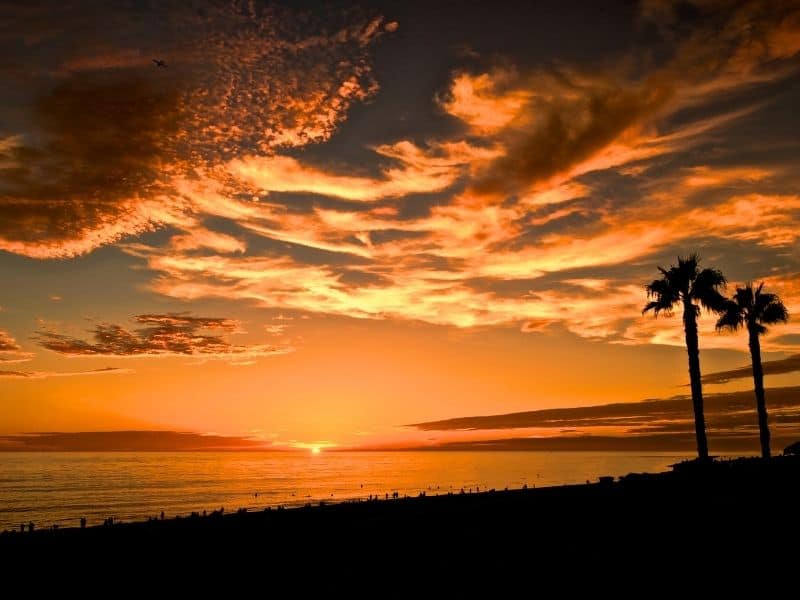 Tamarack is just a few minutes closer to San Diego compared to Oceanside Harbor.
White sand and blue water stretch out as far as the eye can see at Tamarack Surf Beach in Carlsbad.
This family-friendly San Diego beach is walking distance from delicious food and drink.
Beware with small children to keep them nearby as swimming at this beach can be difficult due to the nature of dropoff out in the water as well as riptides.
The Seawall makes an exceptional spot for exercise as you can walk, jog, or even roller blade for up to 4 miles.
Moonlight State Beach in Encinitas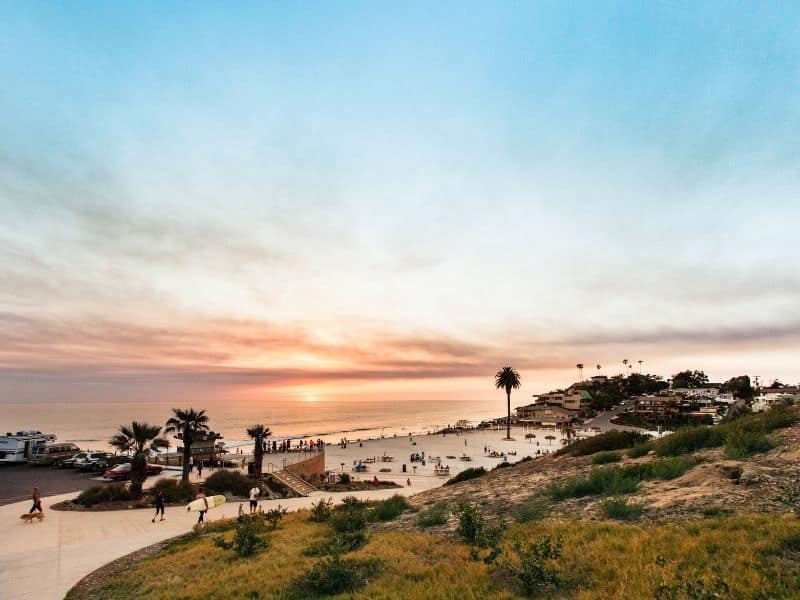 My next two suggestions require only a half hour drive north of San Diego proper.
Moonlight State Beach comes with all the amenities: volleyball, children's area, and concession stands.
This is a historic San Diego area beach and was named after the picnics that people would have in the middle of the night in the 1900s.
The City of Encinitas keeps the area well-maintained, and the rocky outcroppings and local flora give this spot a unique energy. There are fire pits and barbecues that make a great addition if you want to enjoy an evening bonfire.
San Elijo State Beach in Cardiff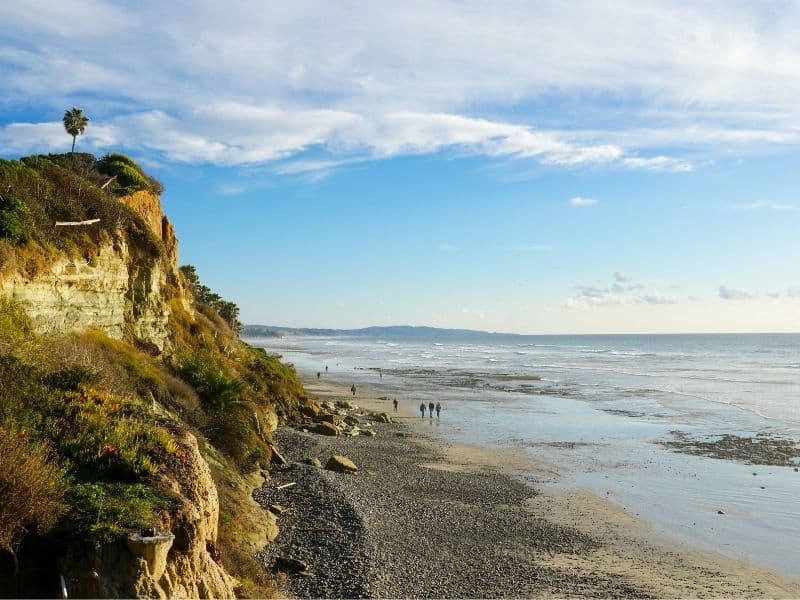 San Elijo State Beach is a popular spot for snorkeling and diving as well as hiking and camping.
If you come for the camping, make sure to book way ahead of time, as wait times are known to be months. Anything you forget at home, you can stock up at the camp store and snack bar.
If you're interested in a day trip, you can pack a picnic and spend the afternoon viewing the public art installed along the beach.
Another option is to visit the Lagoon and Conservation area nearby. San Elijo Lagoon Ecological Reserve provides nearly 10 miles of hiking to view hundreds of native protected animal species. You can learn more about all of the animals you see at the Nature Center.
The Center is fully accessible to both people with wheelchairs and parents using strollers, so this museum is sure to be an educational opportunity for everyone.
Fletcher Cove Park in Solana Beach
Fletcher Cove Beach Park is small but the epitome of what beaches in San Diego County have to offer. This beach is easily accessed by walking, car, and even train!
It features a playground and gorgeous viewing deck as well as a basketball court. If you're ready to start riding waves but you don't know how, you can get surf lessons from the tiny surf shop nearby.
The cove has a very relaxed environment, and everyone is respectful of each other's space because it is mainly visited by locals.
Black's Beach in Torrey Pines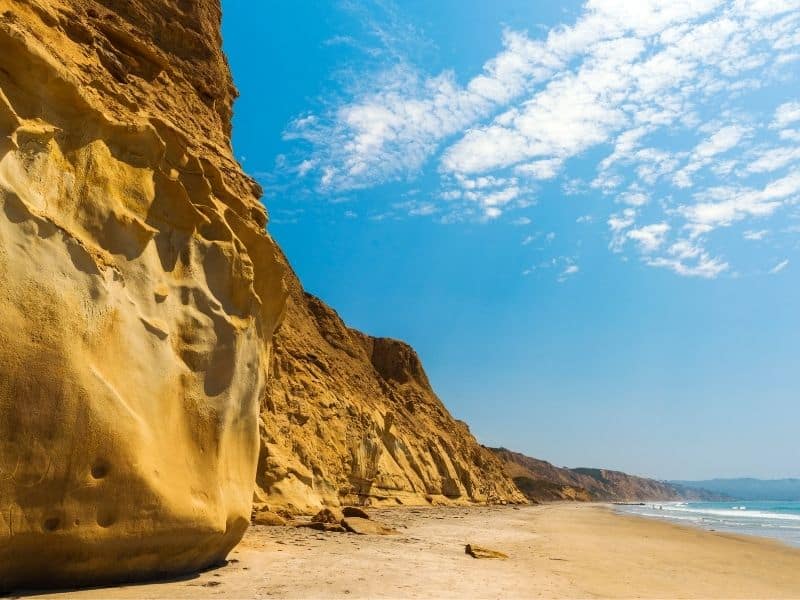 Black's Beach is located in Torrey Pines just north of San Diego and requires a difficult trek to get to its shores. Similarly to the trek down being for experienced hikers, the surf here is only suggested for advanced surfers.
It is one of the United States' only clothing-optional beaches, so this spot is not for the faint of heart. Don't worry though, there is clear signage warning where the nudity begins and ends, so you don't have to see or be seen if you don't want to.
Because of the difficulty making it down to the shore, there usually aren't huge crowds and this is a peaceful beach to meditate on while you sunbathe.
Best Beaches in San Diego City
Fiesta Island Park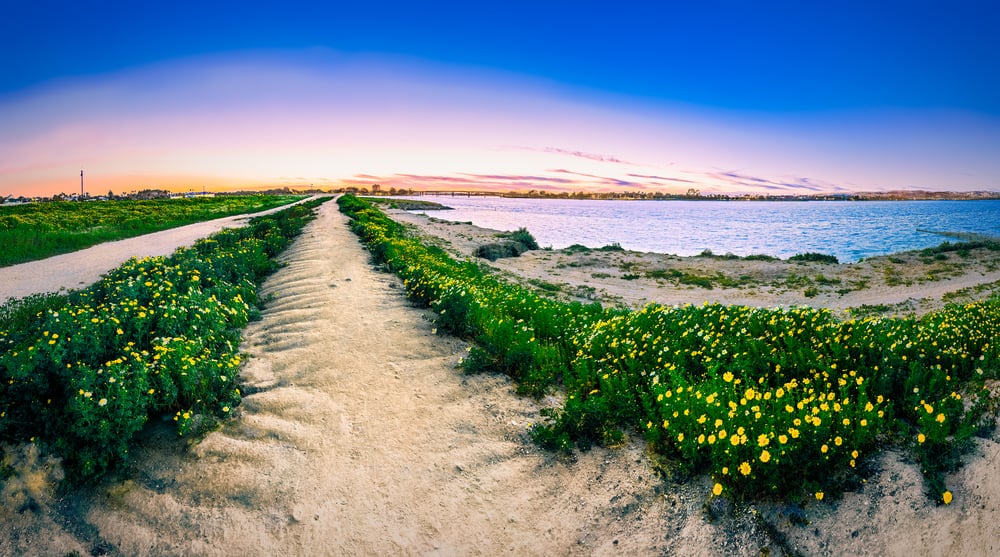 We would be remiss if we didn't mention Fiesta Island on this list. Fiesta Island rests in the heart of San Diego, and the shores curve and wind for 27 miles offering hours of exploration — it's a must on any San Diego itinerary.
I highly recommend coming here if you have fitness goals you're trying to complete as you have your choice of running, biking, or swimming. Be careful though as the paths are narrow and are shared by cars and pedestrians alike.
It is also perfect for recreation with fire pits, picnic areas, and plenty of room for dogs to roam, and Mission Bay is perfect for boating, skiing, and tubing.
There is plenty of space to spread out and relax. Bring a cooler of food, a towel, and a book, and you'll be set for an entire day of recreation.
Coronado Beach & Dog Park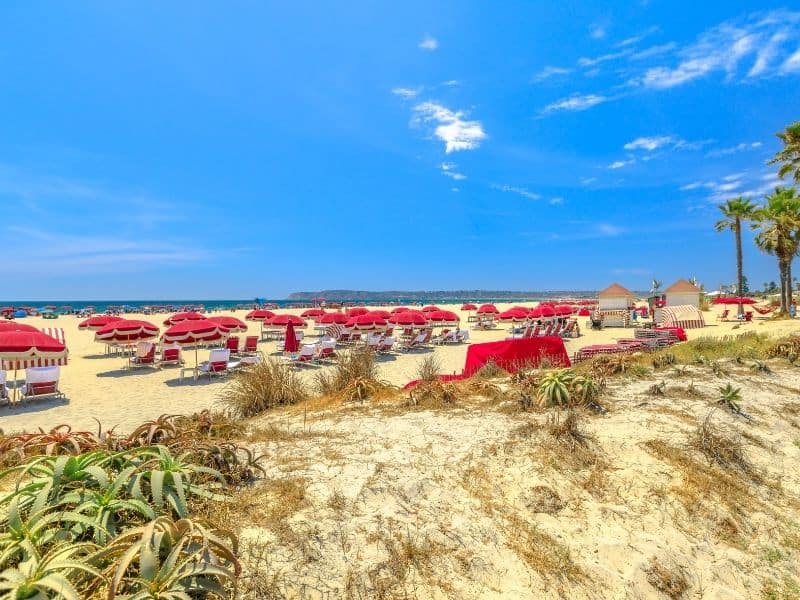 Overlooking the western edge of Coronado, you will find a small dog beach that is great for both people and animals alike, but especially wonderful for the puppy pal in your life!
Coronado Beach is a fantastic place to explore with your canine by your side. There are many pet-friendly shops, hotels, and restaurants, and you can walk the entire island in no time. Your pet will enjoy the many sights and sounds of the beach.
If you come here at low tide, you'll also find tide pools to explore. Be respectful, only look, don't touch, and make sure your pet keeps their nose away from the many creatures that call these little puddles their home.
Coronado is a picturesque town, and you'll be in perfect bliss enjoying the views. You can see the entire city from the park as well as enjoy the sunset.
Silver Strand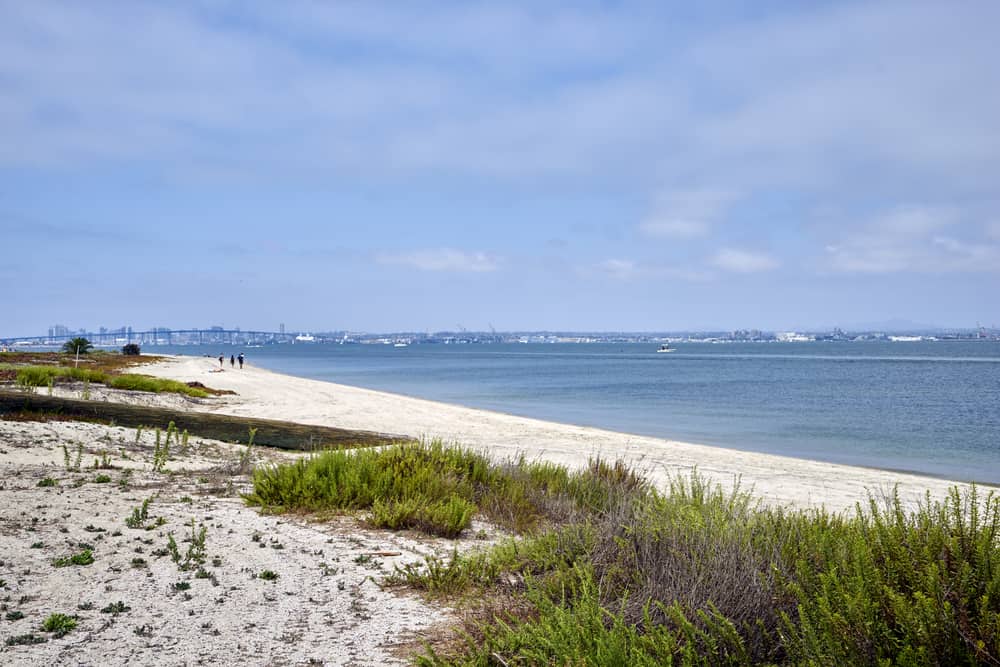 Silver Strand State Beach is a hidden gem and can easily be overlooked even if you have lived in Southern California for years. It is located on the stretch of land connecting Coronado to the mainland and Chula Vista.
There's almost 3 miles of beach along the Pacific Ocean and a little more than half a mile of access to the bay giving you the best of both worlds.
This beach does not allow dogs except for on a leash in the parking lot, so keep that in mind before you head here for the day.
However, it does work well for just about every activity including camping, boating, fishing, and volleyball. There's plenty of parking, so these shores absolutely zero stress.
***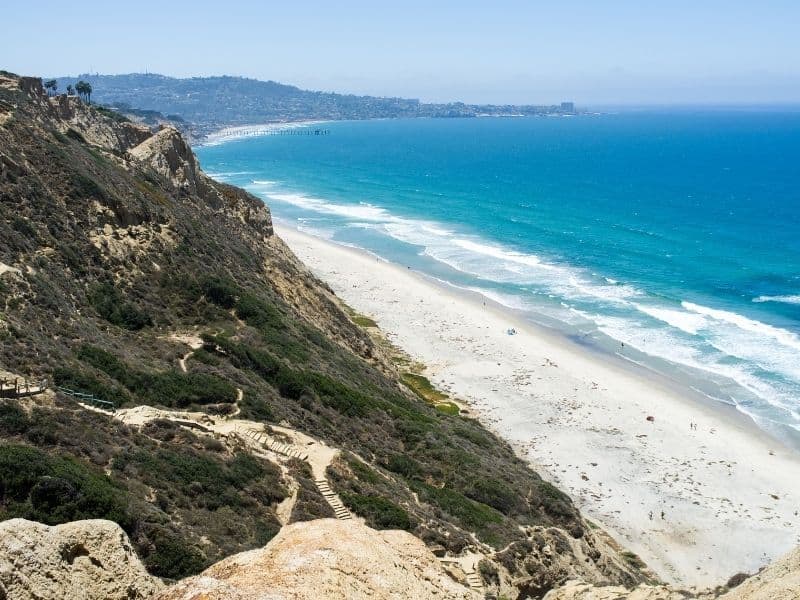 While you could drive San Diego County 70 miles from end to end and never find a single overrated beach, there are definitely shores that are overcrowded and overwhelming.
These 10 beaches in San Diego county are my choices for a chill day playing in the sand. Everyone deserves a day of fun in the sun leaving their worries at home!
Choose the beach that you feel fits your lifestyle, whether that be exploring with toddlers or surfing expert waves, and take a break from the stress!
We all need some time to breathe and take in everything nature has to offer, and a few hours by the ocean can relieve a lot of pressure of daily life.
Put on a swimsuit, let your hair down, and enjoy the salty breeze!
Pin This Guide to San Diego Beaches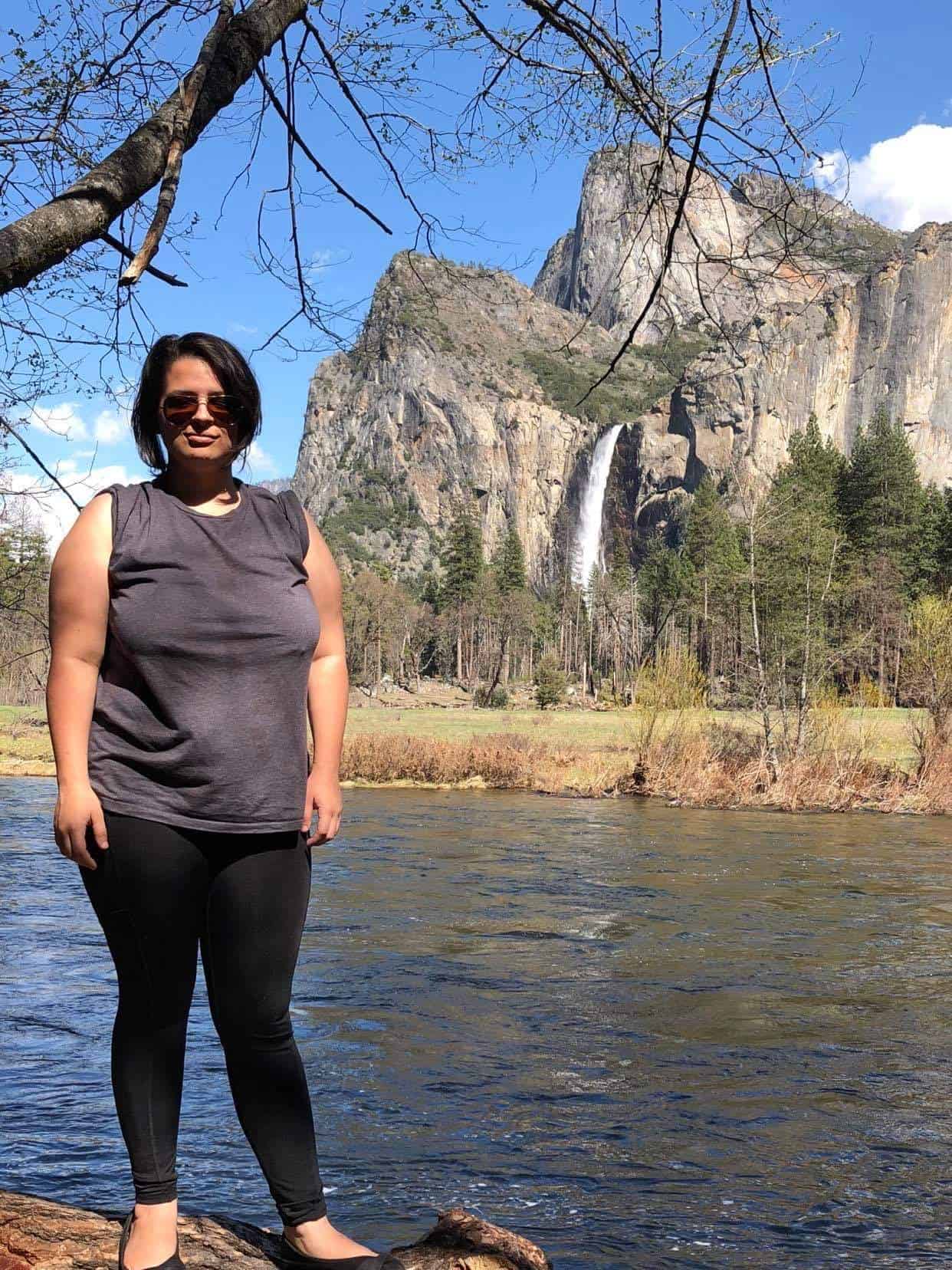 Kara Wimberly is an aspiring librarian, a property manager, and a freelance writer. They were born in Denver, Colorado; grew up in the South; and spent some years in Pittsburgh, Pennsylvania. They fell in love with San Diego, California almost 9 years ago and have called it home ever since! They have traveled through more than half of the United States and seeing the rest of the world is on their bucket list. Their favorite activities include driving through California eating the delicious food and admiring the beautiful views!