Looking for the best beaches in Southern California? While there are quite literally hundreds of SoCal beaches to choose from, I've selected 15 of the best.
These beaches are all located within an hour or two of Los Angeles or San Diego, making them easy day trips from virtually all major metropolitan areas in Southern California.
While it's nearly impossible to pick just a handful of Southern California beaches, I've narrowed it down to 15 can't-miss California beaches worth a dip on your next beach day!
Catalina Island Beaches, Channel Islands
Note: This post contains affiliate links, which earn me a small commission at no extra cost to you if you make a purchase using one of these links. Thank you for supporting this free content!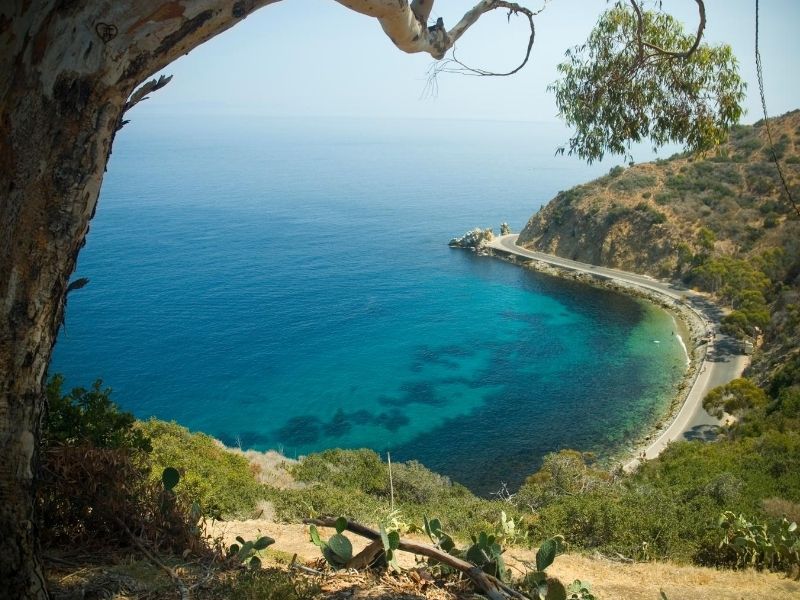 Southwest of Los Angeles, this group of 8 islands (the Channel Islands) off the California coast include Catalina, two others, and 5 islands which make up the Channel Islands National Park.
The most popular of the Channel Islands is Catalina, and it's incredibly beautiful with amazing beaches with nearly Caribbean-blue waters.
To get Catalina from mainland California, you'll have to depart from a terminal station either in Long Beach or Dana Point in order to get to Catalina.
From there, you'll embark on a beautiful 22-mile boat trip to the island, which takes about an hour.
Once on the island, there are great beaches! A few favorites are Moonstone Beach and Lover's Cove, two of the most beautiful Southern California beaches!
There are great dive sites for the SCUBA certified and snorkel spots for those who prefer to remain closer to the surface. For those who love heights, you can also enjoy the zipline eco-tour 600 feet above sea level.
Hikers will love the Trans-Catalina trail, a 38.5 miles trail that can be completed over multiple days (camping permit required), or ascending the island's tallest point, Mount Orizaba, some 2,100 feet high.
San Buenaventura State Beach, Ventura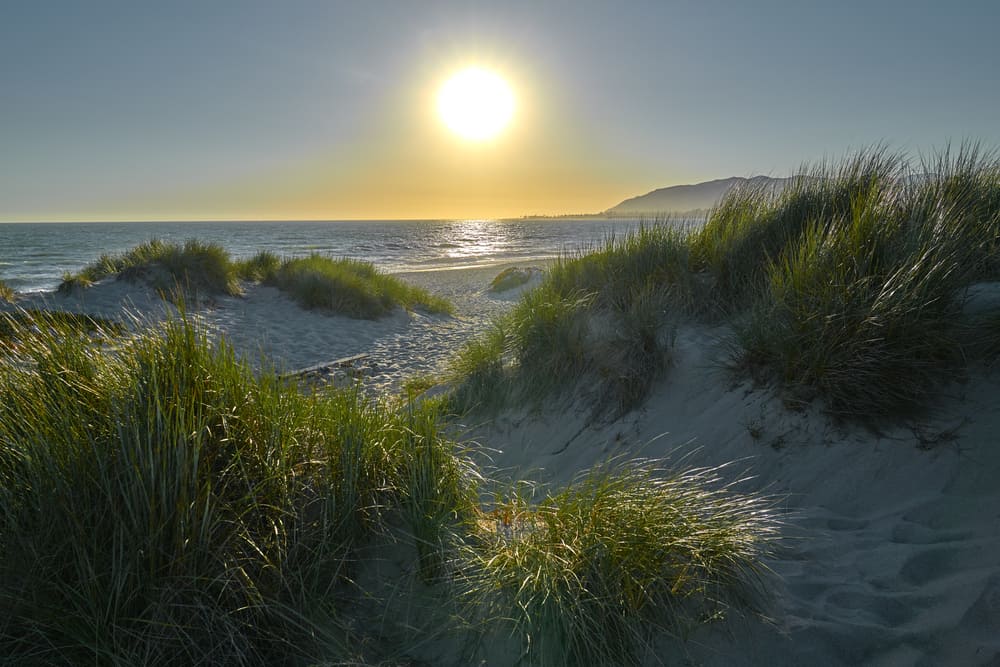 On this pristine Southern California Beach, visitors can soak up to two miles of beautiful water great for swimming and surfing. It's located right off the 101 Highway, so it's perfect for people taking a drive up the Pacific Coast Highway.
It's a state park, so there is a fee ($10 per person) to get in, but it's worth it as its pristine, wide, and so, so beautiful!
This beach is known for its sand dunes, and it's a great place for picnics and playing beach sports like Frisbee and volleyball. At low tide, you can also search for sea glass.
It's also known for the 1,700-foot-long Ventura Pier complete with a restaurant, a snack bar if you're only a bit peckish, and a bait shop in case you'd like to try your luck casting off the pier!
You can also grab tacos at Beach House Tacos or oysters and clams at The Jolly Oyster— highly recommended!
Where to Stay: For a unique stay, book a night in the retro-chic Waypoint Ventura, where converted Airstream trailers have been given a modern facelift with gorgeous furnishings and private outdoor patio spaces.

For a more traditional stay, the Crowne Plaza is beachfront, complete with an outdoor terrace with a firepit and Pacific sunset views!
Hermosa Beach, Los Angeles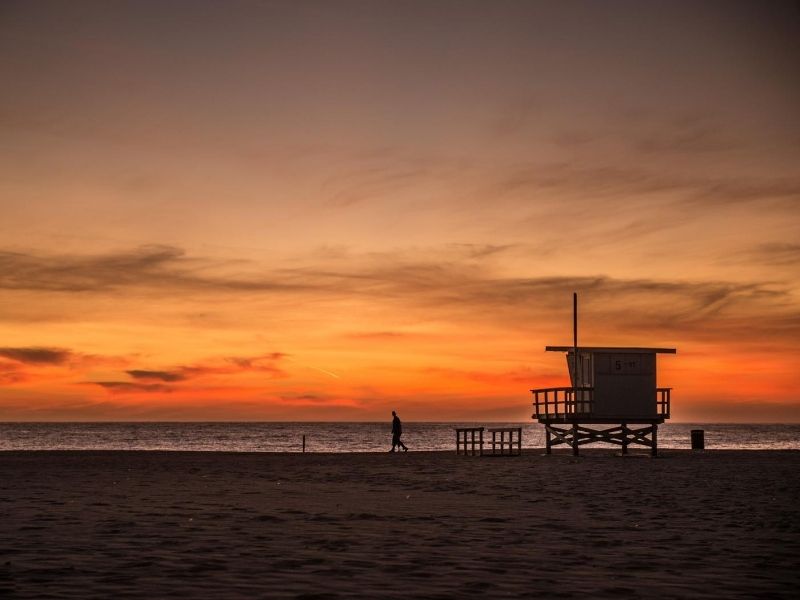 A 35-minute drive from downtown Los Angeles, a bit south of LAX, is beautiful Hermosa Beach.
There are volleyball courts you can enjoy with some friends, or you can rent a bike at Hermosa Cyclery to ride the boardwalk and explore the nearby South Bay beaches.
If you're in the mood to chill, grab some drinks and food to-go at the pier: top choices are Baja Sharkeez and Patrick Molloys Sports Pub.
Redondo Beach, Los Angeles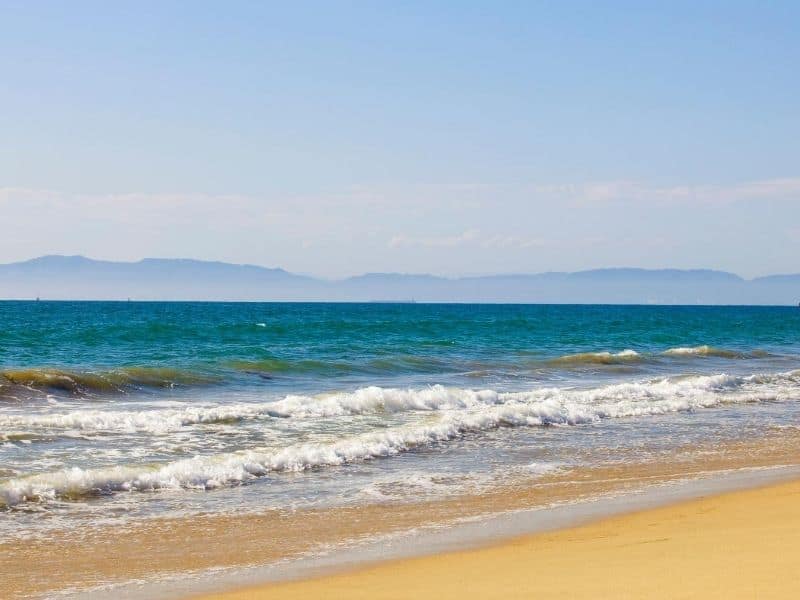 Located in the South Bay area of Los Angeles south of LAX and north of Torrance, Redondo Beach is a great beach in Southern California.
Despite its proximity to LAX, Redondo Beach is super chilled out. It's a great spot to watch the sunset, and you'll often see dolphins playing in the waves from the south end of the beach near Palos Verdes.
Don't miss strolling out on the Redondo Beach pier, where you can buy tickets for harbor cruises or whale watching cruises (in season) or rent kayaks or stand-up paddleboards.
For delicious seafood, try Tony's!
Paradise Cove, Malibu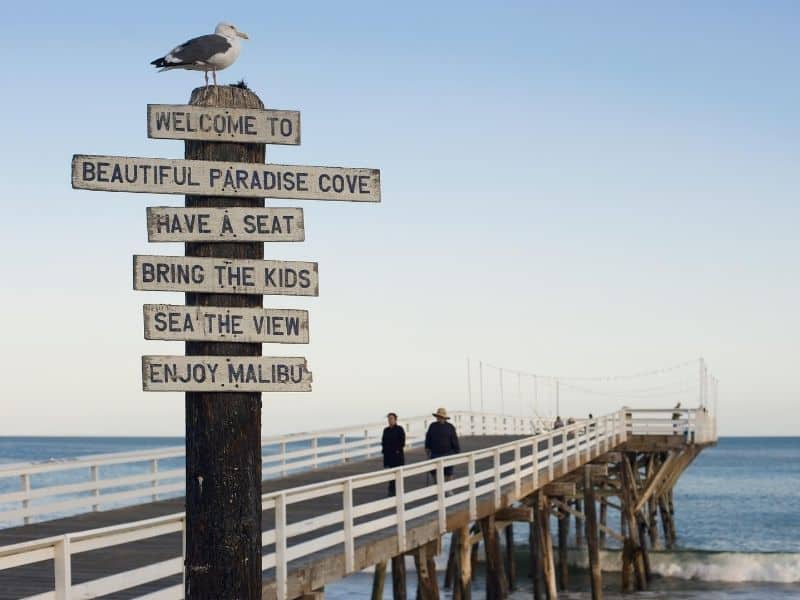 If you love restaurants/bars in the sand with the ocean view, this Malibu beach is for you.
It's a public beach, but it's located right in front of a privately owned restaurant with a surfing and Hawaiian theme called Paradise Cove.
It's a bit of a tourist trap, but it can also be a lot of fun if you don't mind paying a bit extra for your food.
Parking can be expensive, but if you spend at least $30 at the restaurant, you can validate your parking for $8… otherwise, it's $50.
However, you can also park on the PCH for free and walk on down to the beach if you don't want to pay Malibu prices!
Where to Stay: A stay in Malibu will not be cheap, but it will be amazing! One of the most luxurious places to stay is the Calamigos Guest Ranch & Beach Club. Located in the mountains on a 200-acre property, it also has its own private beach club for the best of both worlds. With several pools and a spa, it'll be hard to tear yourself away!

For a more affordable stay, the M Malibu is an option. Honestly, it's nothing special — and the price is still on the high side — but it's the best option for the price.
Carbon Beach, Malibu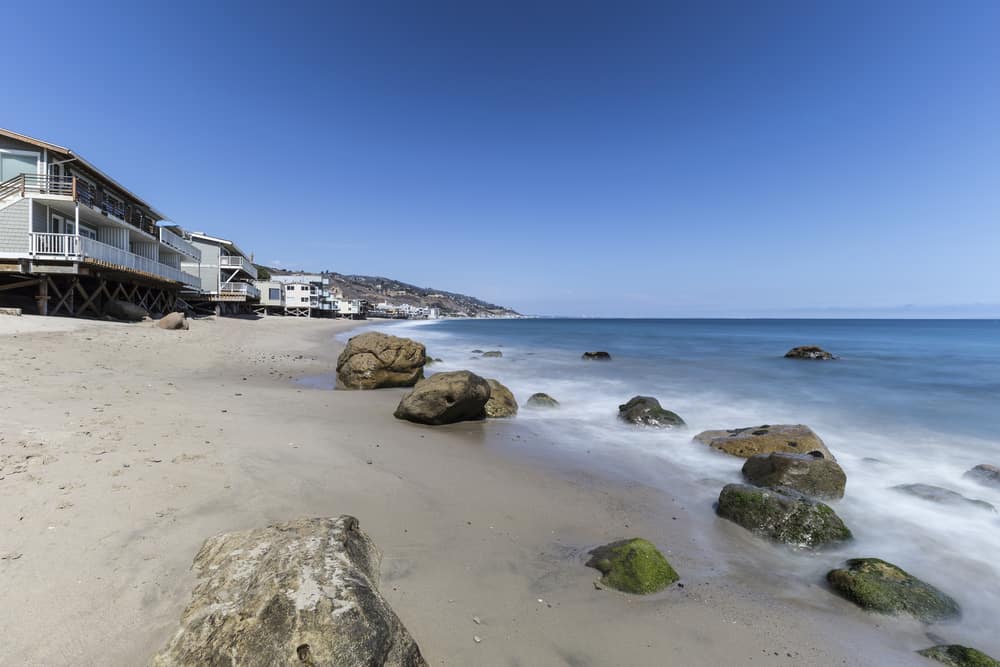 Carbon Beach is one of the best beaches in southern California, and it's nicknamed "Billionaire's Beach" for its many expensive homes along the coast.
For years, the rich homeowners on Carbon Beach fought to block public access… but the California Coastal Commission won the battle against the billionaires, and opened up three access points (Zonker Harris, East & West Access) to the general public. Take that, billionaires!
It's a narrow beach, so it's best visited at low tide, when there's enough sand to stretch out on. The only downside with this beach is that there are no shops or restaurants near walking distance, so pack a picnic!
Note that parking may be difficult to find because the only option is street parking on PCH, but that just lessens the crowds so you have more space to yourself to enjoy the clear blue waters and salty sea air!
El Matador State Beach, Malibu
El Matador State Beach located about 6 miles north of Malibu, and it's one of the most beautiful beaches in Southern California.
Parking is scarce with only 20 spots available, so arrive early when the beach opens at 8 AM. If you get a coveted spot, you're in for a treat at one of the most beautiful beaches in California!
It's also a great way to cool off after a day hiking in Malibu.
This beach is Instagram heaven, with loads of rocks to climb on and pose with that add beautiful foreground elements to all your photos! There are also tons of epic sea caves you can check out and get great photos of.
The beach can be a little crowded with photographers at the south end, so head to the north end for a little more peace and quiet.
Marina Beach, Los Angeles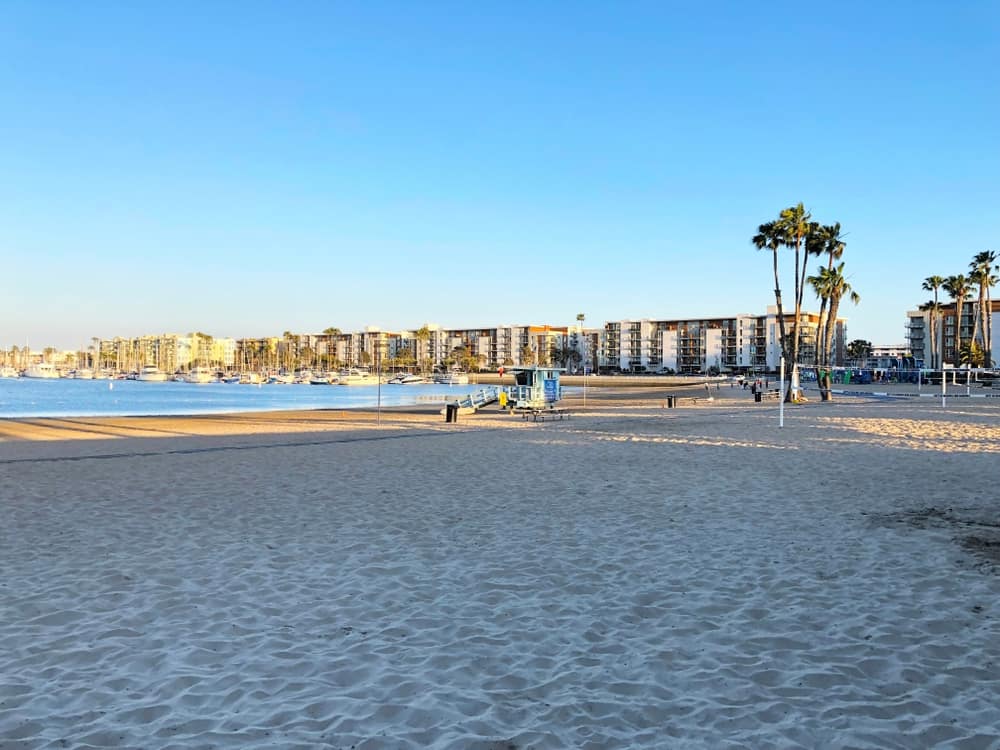 If you're looking for a beach that's great for stand-up paddleboarding, the calm waters of Marina Beach in the Marina del Ray area of Los Angeles is a great place to give it a shot!
It's not the cleanest or quietest beach, as it is rather developed and in the heart of LA.
But if you're looking for a central LA beach with basic amenities like bathrooms and showers plus water well-suited for SUP or kayaking, it's worth a visit.
Huntington Beach, Orange County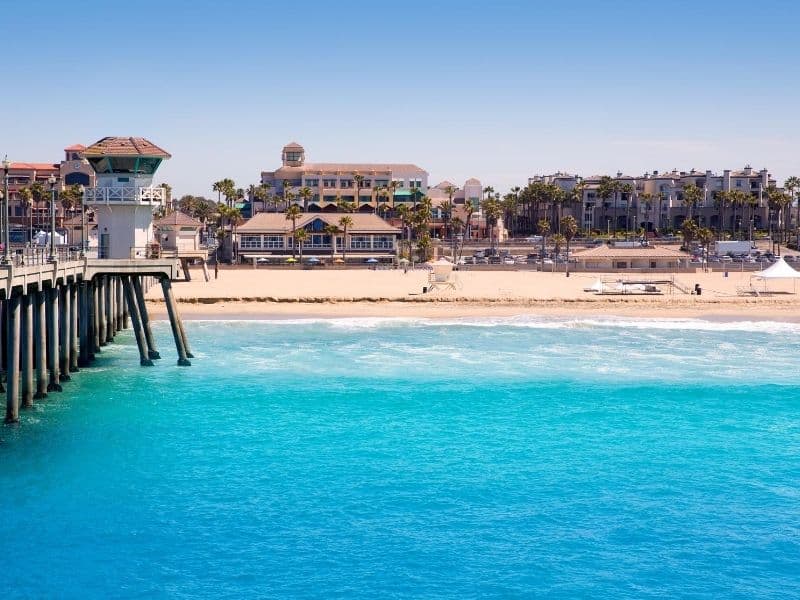 Nicknamed "Surf City", you won't be disappointed by its beautiful views and waves of this popular Southern California beach.
This beachside city is best known for the ginormous Huntington Beach pier: nearly half a mile at 1,850 feet long!
Don't miss Ruby's at the end of the pier, with its delicious Hickory Burgers and milkshakes! It's a Huntington Beach must.
Bonus tip: Want to get away from the Huntington Beach crowds? Relax on Bolsa Chica State Beach just a bit north of the city — it's a great sunset spot.
Laguna Beach, Orange County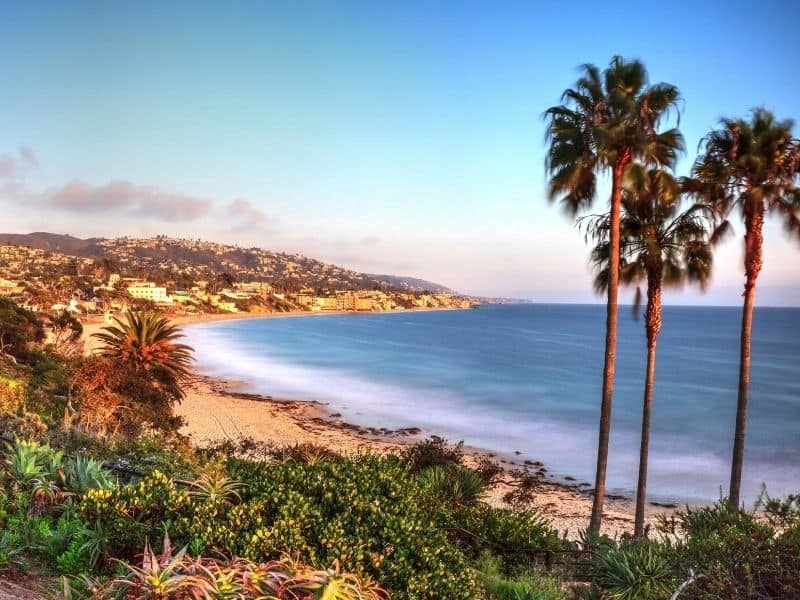 While to some, Laguna Beach is synonymous with trashy reality TV, it's a lot more than just that!
Laguna Beach is one of the prettiest beaches in Orange County. It's well worth a beach day, especially walking along beautiful Main Beach and its tidepools or wandering up the boardwalk to Heisler Park.
There are actually a handful of great beaches that make up Laguna Beach. Aliso Beach is popular for surfers, Crystal Cove State Park is great for snorkelers and divers, and Victoria Beach is wonderful for walking and sunbathing along the sandy stretch of shoreline.
Where to Stay: Hello, Instagram heaven — I mean, the Surf and Sand Resort. Their pool and cabanas are nothing short of a dream, especially with the views of the Pacific in the background. The rooms with an ocean view are spectacular, with simple but beachy clean lines that don't distract from the views, which really deserve to be center stage!

A more affordable option — that's still beachfront — is the Capri Laguna on the Beach. While not quite as glitzy or stylish, its location is pretty impossible to beat… especially if you snag a balcony room!
Carlsbad State Beach, Carlsbad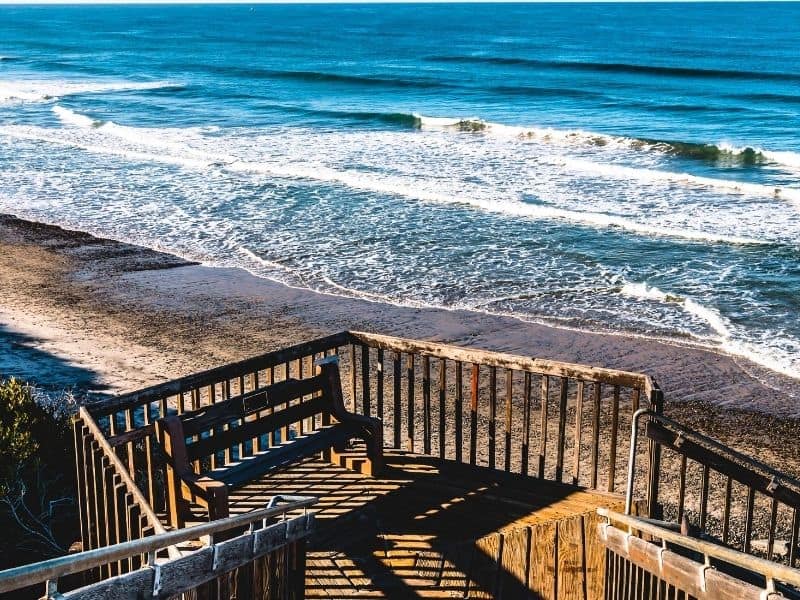 Located at the base of some beautiful coastal bluffs, this state beach in Carlsbad, just a bit north of San Diego, is a fantastic SoCal Beach.
This beach, also called Tamarack Beach, is just one of 8 beaches in Carlsbad, but it's probably the most beautiful.
It's wide and sandy, and there are cool breakwaters at the Agua Hedionda Lagoon, which is a fun spot for kids to wade.
South Carlsbad State Beach is also really beautiful and has a great stretch of beach as well.
Mission Beach, San Diego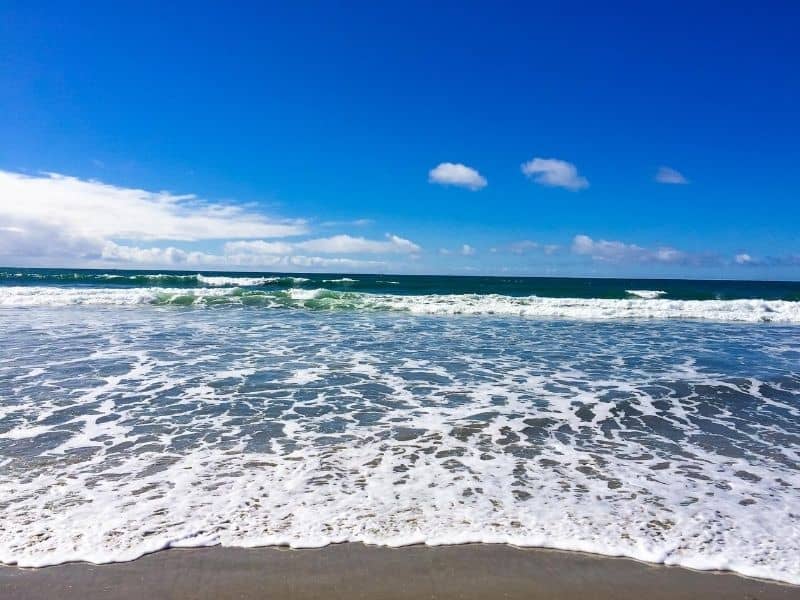 Mission Beach is a chilled-out beach area in San Diego, great for surfers, volleyball enthusiasts, and people who just want to lay out in the sunshine.
This beach has a combination of amenities for both surfers and visitors who want to walk and enjoy the world-famous Belmont Park amusement park.
Here you get to enjoy a wooden ride operating since 1925, the Giant Dipper Roller Coaster, which will surely have you feeling your age as it rocks and jolts you around.
At Belmont Park, you can enjoy arcade games, mini-golf, and sweet treats like cotton candy and delicious fudge.
Pacific Beach, San Diego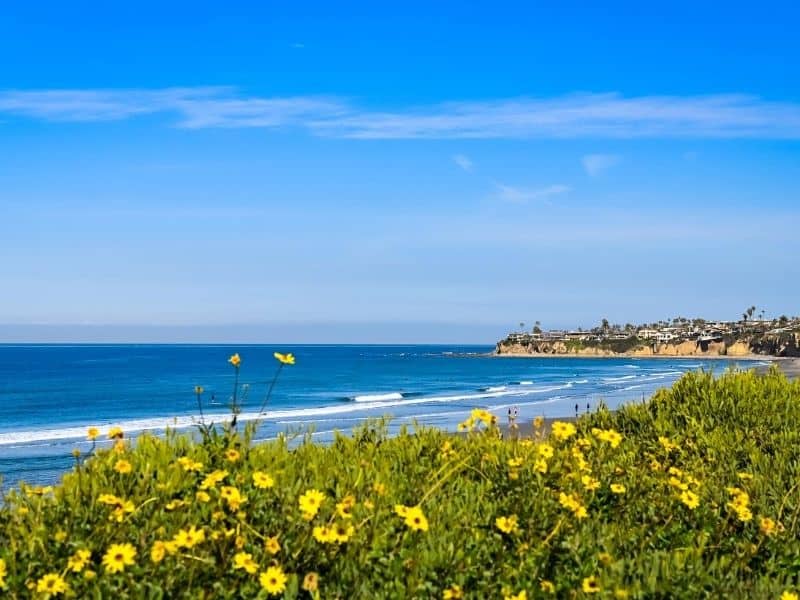 Nicknamed "PB" by the locals, this is San Diego's most popular beach, full of people sunbathing, playing beach sports, and grabbing drinks from the bars along the beachfront.
The North Pacific Beach area is more chill, and it's a great spot where you can swim or surf with lifeguards on duty.
Coronado Beach, San Diego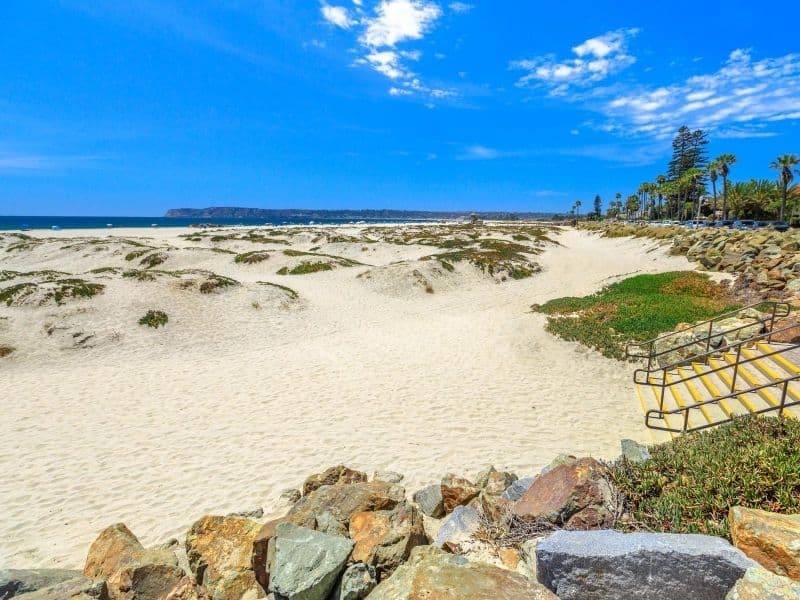 Warning: walking the Coronado Beach will have you desperately wondering how to move to San Diego.
Located on an island near downtown San Diego (but connected to the city by the Coronado Bridge), you will be left breathless by the beautiful ocean blue water and the epic sunsets of Coronado Island.
Get here early, as this Southern California beach is popular and there is limited parking. But it's a great place to spend the day, as there are lots of restaurants where you can grab lunch with a beautiful view.
It's a great sunset spot and you can often spot dolphins playing out from your vantage point on the shore.
Torrey Pines State Natural Reserve, San Diego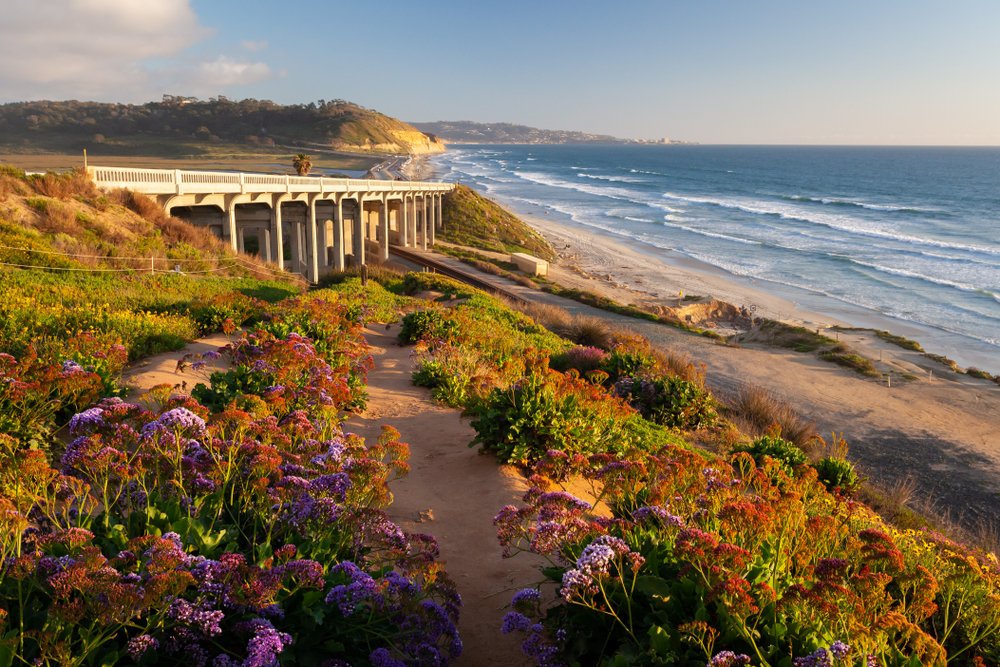 18 miles outside San Diego center, this nature reserve and wild beach area is located in La Jolla, a small town that's part of the San Diego metro area.
The reserve encompasses 2,000 acres of incredible coastal landscape where wildflowers abound.
While much of Southern California beaches are rather built up, this is one of the few wild beaches you'll be able to find in the stretch between San Diego and Los Angeles since it's protected state land.
Note that if you park within the gates there is a $20 fee to access the nature reserve, though parking down the street is free (and the lot is often full, especially on weekends).
Where to Stay: I recommend the Hilton La Jolla Torrey Pines, located right in the heart of one of the prettiest patches of San Diego coastline. It's got all the 4-star amenities you'd expect from the Hilton name, like an outdoor pool, hot tub, restaurant, etc.
La Jolla Cove, San Diego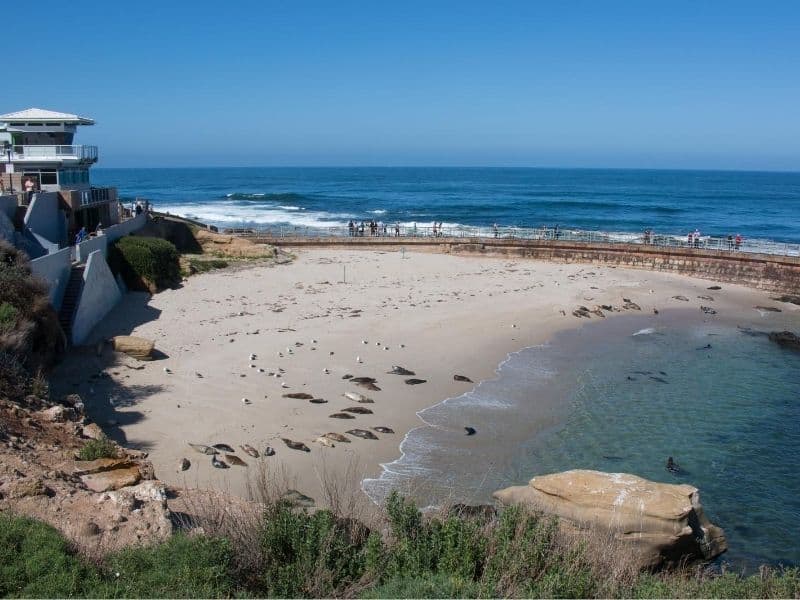 La Jolla Cove is known for its 6,000-acre underwater park which includes wildlife such as seals and fish.
You can also rent snorkeling or diving gear (if you're SCUBA certified) and make your way underwater for some marine exploration!
But even if you're staying above the surface, La Jolla Cove is amazing, with stunning sandstone cliff bluffs surrounding you, and you'll often find seals and sea lions chilling on the beach.
Do watch out, as this limits the amount of sand available to beachgoers, as these marine mammals do need their space (and will let you know about it!)
Where to Stay: The beautiful Pantai Inn in La Jolla offers unique, Balinese-inspired rooms with sweeping views of the Pacific Ocean. Each room comes equipped with a kitchenette and spacious seating area. Best of all, it's just a 5-minute walk to La Jolla Cove!
Pin This Post on Southern California Beaches!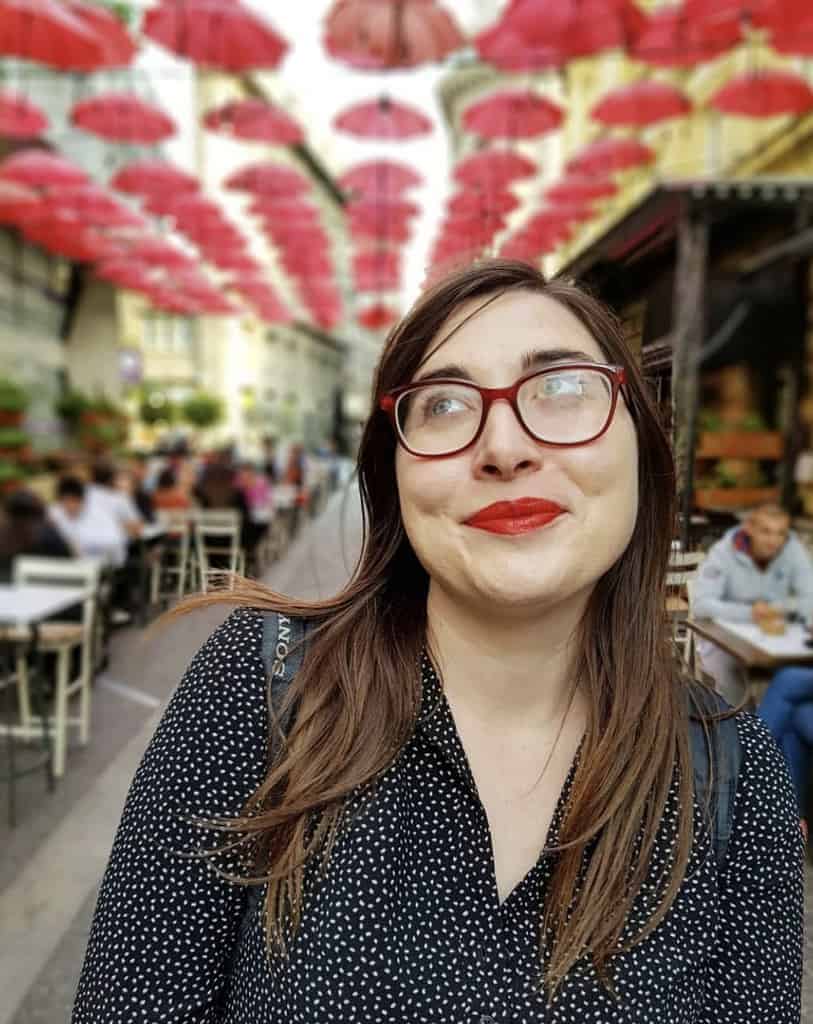 Allison Green is a travel blogger, writer, and podcaster who grew up in the Bay Area of California. She has spent time living in New York, Prague, and Sofia, but has returned to live in the East Bay. She has traveled to 60 countries before the age of 30 while running several digital travel publications. Her writing and podcast have been featured in Forbes, CBC Canada, National Geographic, the Huffington Post, and CNN Arabic, amongst others. She's obsessed with bouldering, houseplants, other people's pets, and anywhere she can see the ocean.