If you are looking for a true escape to get away from it all, then make your getaway plan to explore Channel Islands National Park.
It has been described as one of America's best secret National Parks. And the numbers bear it out. Only 350,000 or so people a year visit this national park: compare that to the 5 or so million annual visitors to Yosemite each year!
Where is Channel Islands National Park?
Note: This post contains affiliate links, which earn me a small commission at no extra cost to you if you make a purchase using one of these links. Thank you for supporting this free content!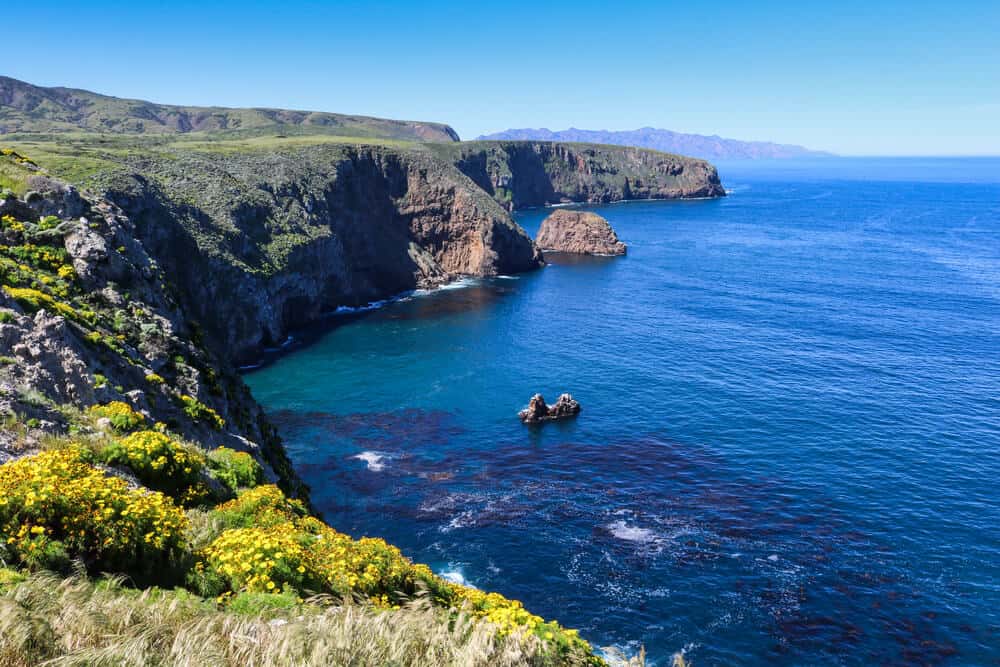 This remote location is located off the coast of California halfway between Point Conception and the Mexican border.
There are eight Channel Islands, including the famous Catalina Island, but the national park is comprised of five islands and their surrounding one mile of ocean.
What islands are part of Channel Islands National Park?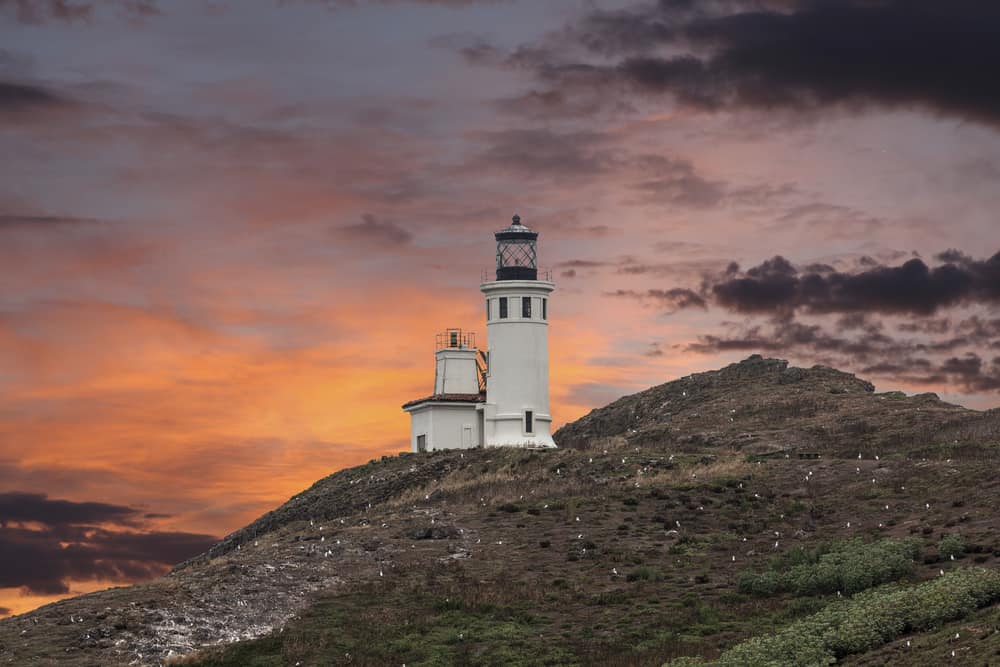 The 5 islands that make up the national park are: Anacapa (with its scenic lighthouse!), Santa Cruz, Santa Rosa, San Miguel, and Santa Barbara.
The largest island is Santa Cruz, at 96 square miles. The eastern quarter of the island is owned and managed through Channel Islands National Park, whereas the rest of the island is owned by the Nature Conservancy with limited access to the public.
If you are a boat owner, you will need a permit to land on the Nature Conservancy property: you cannot just land without organizing this, even if you've purchased a park pass.
What should you expect at Channel Islands National Park?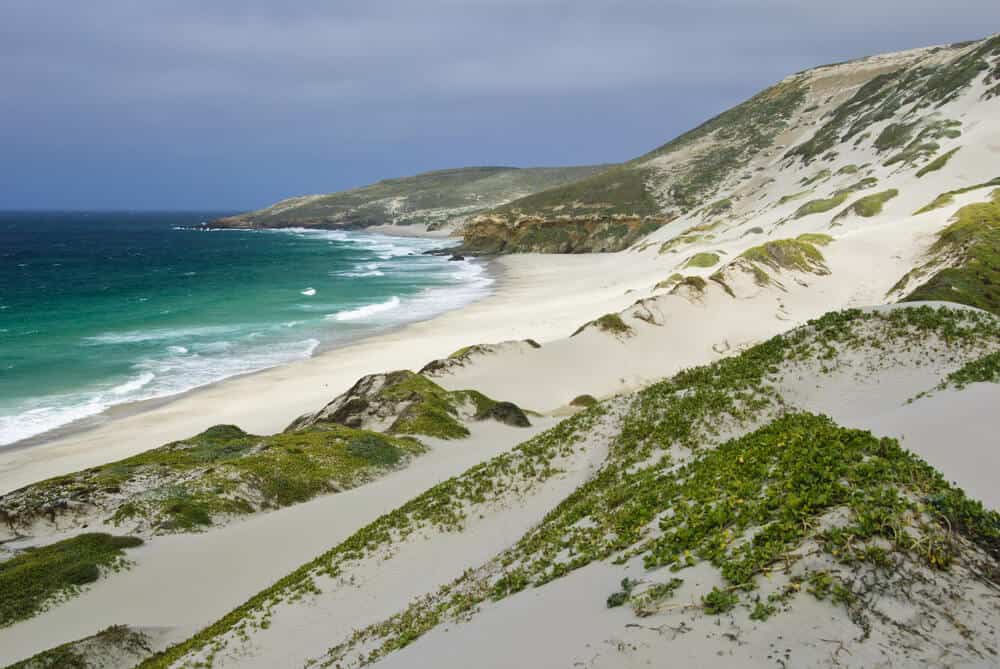 Channel Islands National Park is not for you if your idea of a great getaway involves staying in a nice hotel, shopping, and eating out at restaurants.
In that case, I'd suggest skipping the National Park part of the park and instead, visiting Catalina, the largest island in the Channel Islands, which is more of a typical Southern California getaway destination.
Inside the national park, there are no services on any of the islands — not even a convenience store or bait shop.
The park service warns that there are no remedies for poor planning once you have arrived — which is why this Channel Islands National Park guide's goal is to get you absolutely planned and prepped!
How do you get to Channel Islands National Park?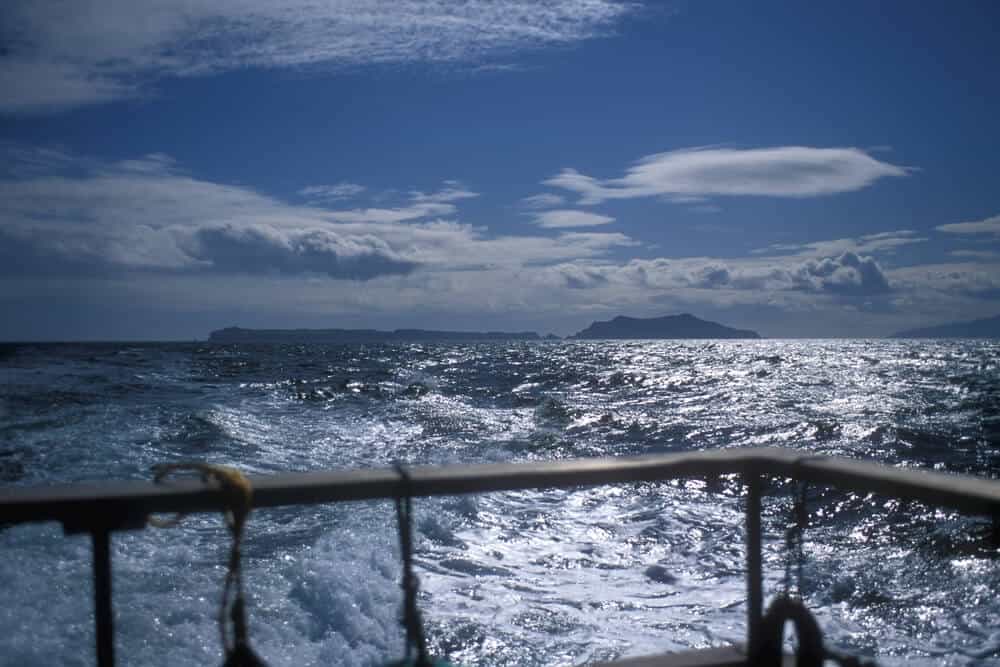 The first step to planning your Channel Islands getaway is knowing how to get there!
Unless you have a private boat, the islands are only accessible by park concessionaire boats called Island Packers, guided private cruise (more on this in a bit) or by chartered planes through Channel Islands Aviation.
Obviously, the latter will be more expensive!
Getting to Channel Islands National Park by Boat
Island Packers offers year-round transportation to Anacapa and Santa Cruz, which are referred to as the "local islands."
Trips to the "outer islands" of Santa Rosa, San Miguel and Santa Barbara are offered on a limited schedule March through November.
These cruises depart from two locations: the home office situated in the Ventura Harbor area and a secondary location in the Channel Islands Harbor in Oxnard.
Island Packers Cruises offers a multitude of options for exploring the area. They offer cruises to all five of the Islands in the National Park. You can take a straight transportation option, or enjoy specialty cruises such as whale watching, island wildlife cruises, and even birding excursions.
Getting to Channel Islands National Park by Plane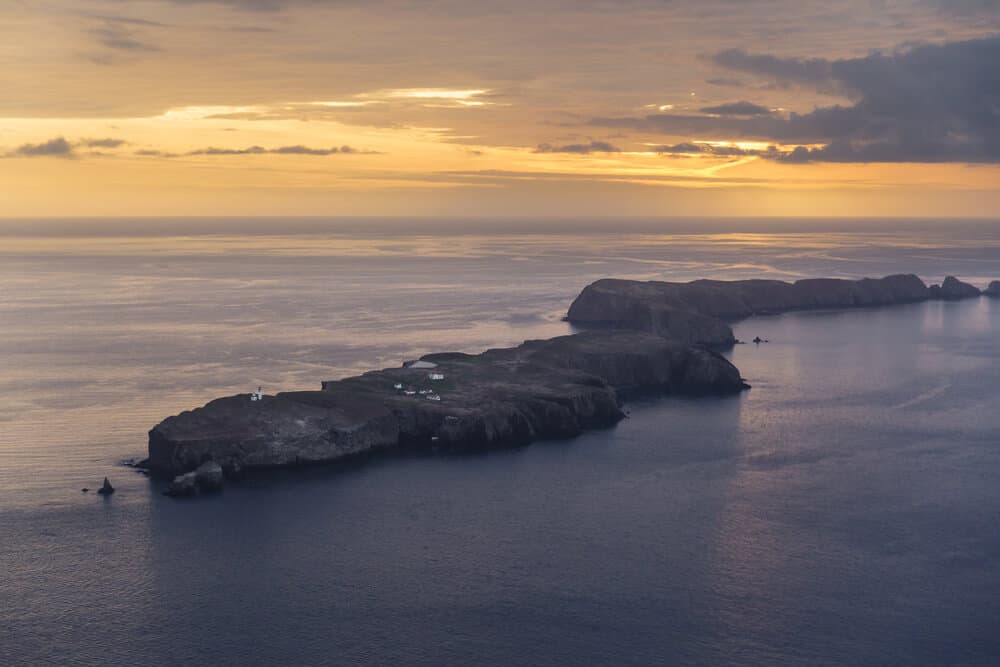 Another option to get to the islands is to fly! You can take a scenic 25-minute flight from Camarillo out to Santa Rosa to spend a half-day, full day, or enjoy an overnight camping trip.
The flight takes you over Ventura, the Pacific Ocean, and the neighboring islands, Anacapa and Santa Cruz before landing at Becher's Bay. Your pilot can take you on a guided hike or a driving tour of the island.
For a romantic escape, you can pack a picnic lunch and plan to spend the afternoon on a secluded beach or on a cliff overlooking the ocean. If you want to stay overnight, the campground on Santa Rosa Island is a mere five-minute walk from the airstrip.
Another option for air travel is a longer 40-minute sightseeing flight to San Miguel Island. No vehicles are allowed on this island, but you can take a hike led by a National Park Ranger.
There is an abundance of things to see and learn about on this island. You can explore the caliche forest (sand-castings of ancient vegetation) or see fossil bones of the Pleistocene pygmy mammoths that once roamed the land.
Just like flying to Santa Rosa island, trip options are half-day, full day, or overnight. Camping on San Miguel is primitive with no water or shade available. Camping permits are required and can be obtained by booking online. Campsite fees are $15 per night.
How much does it cost to go to the Channel Islands?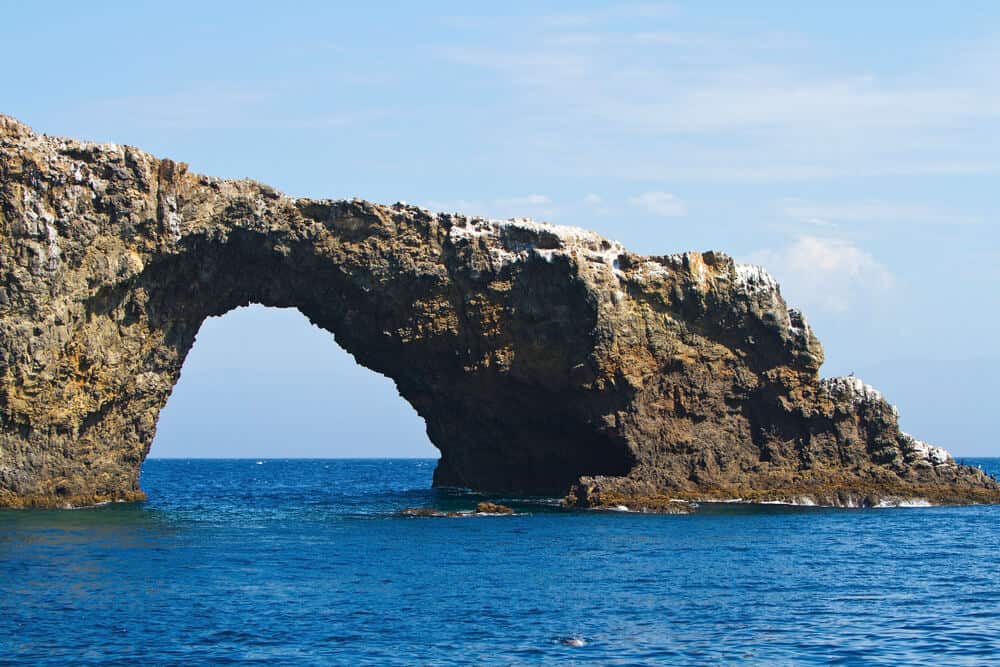 Probably the main deciding factor in choosing between water or air travel will likely be your budget and the size of your group.
The Island Packer cruises start as low as $40 per person and can accommodate up to 149 passengers. Meanwhile, round-trip airfare on Channel Island Aviation will run $1,200 per person — yikes! All flights carry up to eight people.
So the cost of visiting Channel Islands National Park depends almost entirely on how you're going to visit it!
Budget
A day trip can cost as little as $40-50 depending on the ticket price for an Island Packer cruise. There is no national park fees to visit Channel Islands National Park, so that'll save you money there!
You can camp overnight for $15 at one of the five campsites if you want to extend your stay.
Of course, you'll have to budget additionally for any activities, like kayak rental, etc.
Mid-Range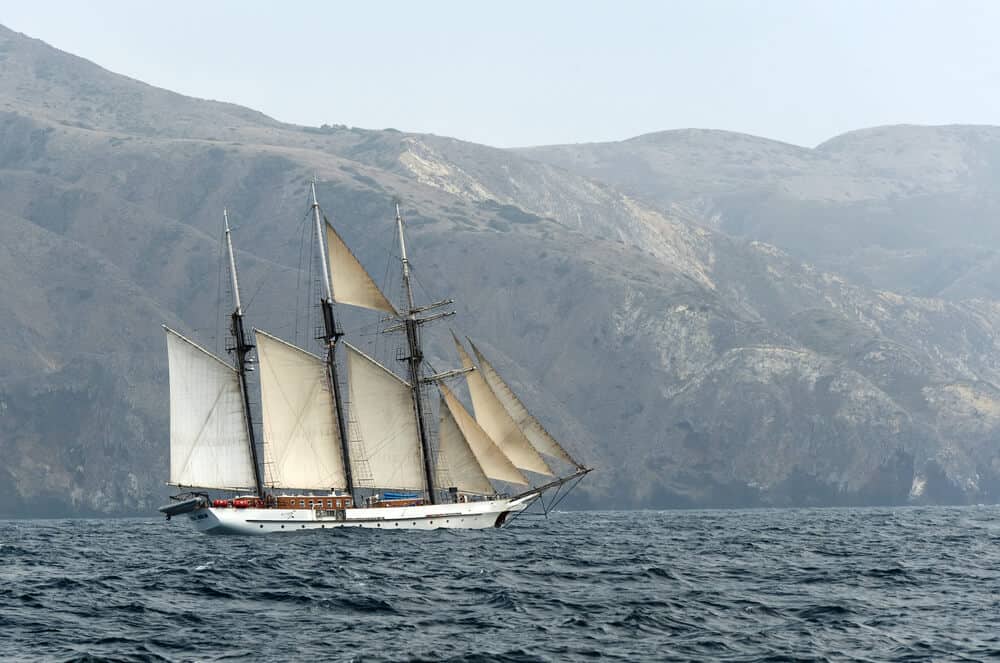 For a luxurious experience for a group of friends that won't break the budget dramatically, a luxury yacht cruise can be a great way to experience the park.
While the yacht charter isn't cheap, with a full group of six it brings the price down to about $380 per person, which isn't bad for a full-day of all-inclusive pampering aboard a luxury yacht.
Luxury
Of course, flying will easily up the cost dramatically, with roundtrip tickets costing up to $1,200 per person. This can be a bit wild for a day trip, but it might be appropriate if you really want to make the day special, such as for an anniversary or a proposal.
If you want to visit Channel Islands National Park in a bit of luxury and stay at least a few days, a guided multi-day private sailing cruise might be the best option.
These tours are quite pricy, but divided between a group of 4, it ends up breaking down to about $500 per person per day.
Can you stay on the Channel Islands?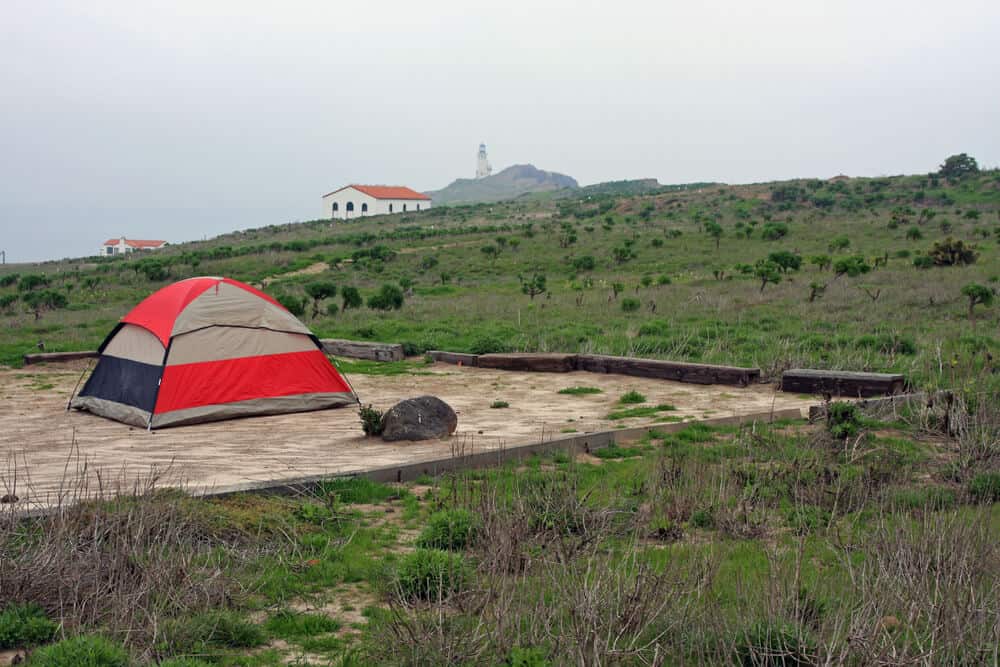 Absolutely! While there are no hotels on Channel Islands National Park, you can stay at one of the five campsites. There is one on each island; you can find out more on the NPS website here.
Note that you can make reservations up to 6 months in advance, but no further. You can reserve by calling (877) 444-6777 or by booking online via Recreation.gov.
If you are successful, you'll receive a confirmation notice in the mail. It is absolutely essential that you bring this to show to the island ranger when you arrive in order to be permitted to camp overnight in Channel Islands National Park.
Of course, if you want to stay in a hotel and be in the Channel Islands, you can simply visit Catalina, which is not part of the national park but is far more developed.
Where can I stay near Channel Islands National Park?
If you're not camping in the national park, I suggest booking a hotel in Ventura which is where the ferries to the national park depart from.
For a unique stay in Ventura — a step above camping in the parks, but not super luxurious — book a night in the retro-chic Waypoint Ventura!
Here, converted Airstream trailers have been given a modern facelift with gorgeous furnishings and private outdoor patio spaces!
For a more traditional and luxurious stay, the Crowne Plaza is your classic beachfront Ventura hotel, complete with an outdoor terrace with a firepit and Pacific sunset views!
Channel Islands National Park Visitor Centers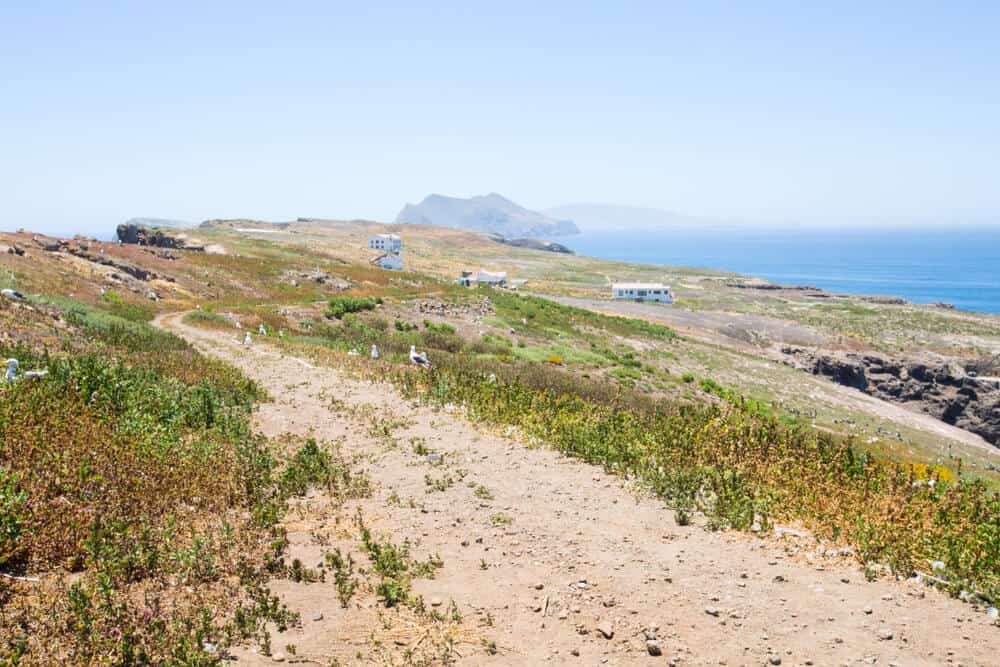 Plan to visit one of the two Channel Island Visitor Centers located on the mainland before you go! There is also one on Anacapa Island.
The Robert J. Lagomarsino Visitor Center in Ventura (70 miles north of Los Angeles) offers exhibits and displays of the unique characteristics of each island and lots of great information about the marine and aquatic life. A 25-minute film called, "A Treasure in the Sea," is offered daily at no charge.
The center also offers the "From Shore to Sea" lecture series six times per year. Topics have varied from such information as the protection of sea otter populations to the understanding of kelp forest health and ecosystems. The center located at 1901 Spinnaker Drive is open 363 days out of the year. They only close on Thanksgiving and Christmas.
The second Visitors Center can be found 30 miles north of Ventura in the Santa Barbara Harbor.
The "Outdoors Santa Barbara Visitors Center" offers lots of great information about the Channel Islands National Park, the Channel Islands National Marine Sanctuary, the Los Padres National Forest, the Santa Barbara Maritime Museum and the City of Santa Barbara.
This location also offers interpretive displays about the Chumash Indian tribe who originally inhabited the islands, as well as information about Spanish explorers, missionaries and American Ranchers.
The mosaic tiled floor of the center features a map of the Channel Islands and the Marine Sanctuary, along with the Rainbow Bridge legend and native flowers. The center is open every day except Wednesdays, Christmas, Thanksgiving, New Year's Day and the first Friday in August for Fiesta.
If you want to learn more from the comfort of your couch, the park service offers live webcams, so you can see and learn before you go. There is a webcam placed on Anacapa which provides views of Arch Rock, seabird rookeries and the historic lighthouse.
Other webcams feature views of bald eagles, peregrine falcons and an underwater kelp forest. There is also a webcam placed on Mount Diablo, which is the park's highest peak located on the northwest side of Santa Cruz island on the Nature Conservancy property.
You can view these live webcam broadcasts on the Channel Islands info page on the National Park website.
Wildlife in Channel Islands National Park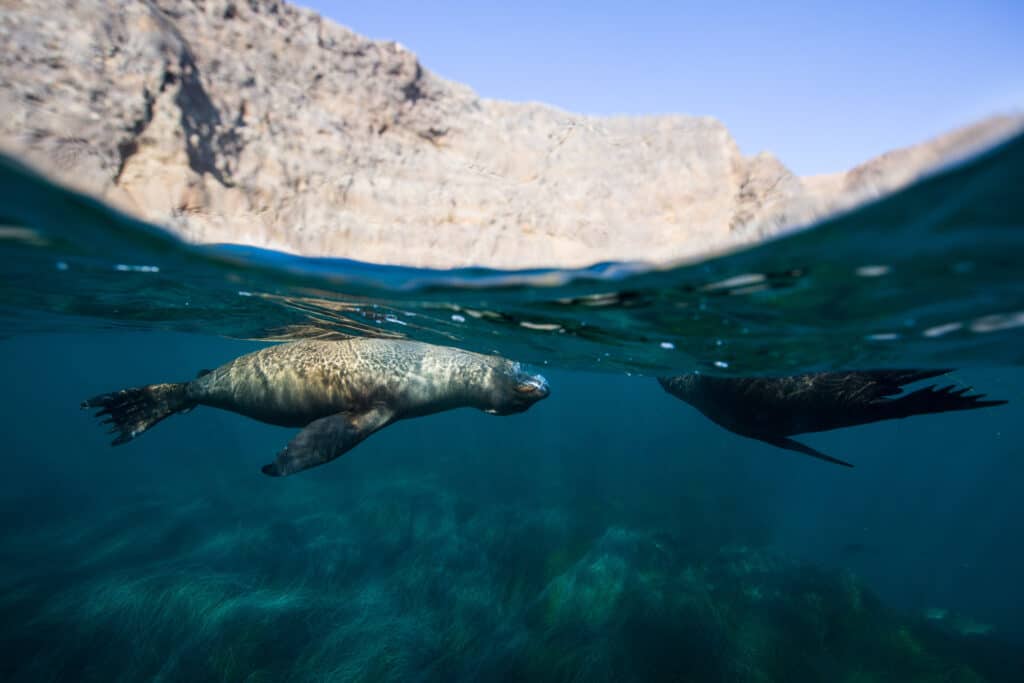 The Channel Islands National Park is known to have more marine mammals in its waters than anywhere else on the planet… hence its nickname, the Galapagos of North America!
Depending on the time of year that you visit, you will likely witness sea lions, seals, dolphins and whales.
Creatures on the land include the island fox, the island spotted skunk, mice, lizards and snakes. If you are camping, be sure to keep your tent zipped up at night, or you may have visitors. The mice especially will come in if you have food!
Birdwatching in the Channel Islands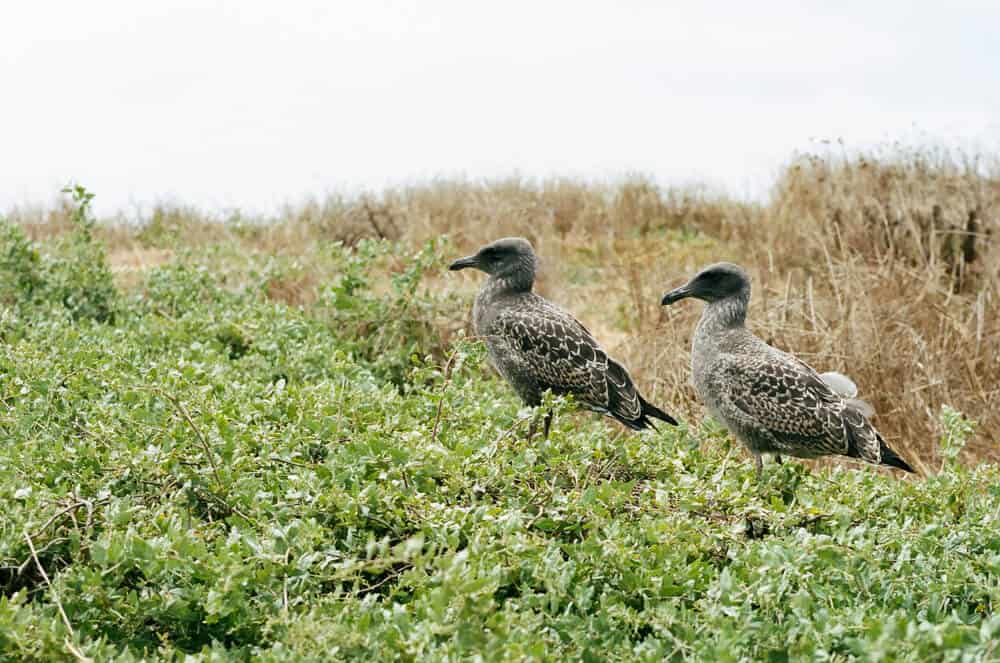 This area is also well known for bird watching. The Channel Islands National Park is recognized as an important breeding and resting area for various seabirds, shorebirds and land birds.
One of the largest breeding populations of brown pelicans on the West Coast is located on Anacapa. Anacapa is also the site of the largest breeding colony of western gulls in the world.
Over 385 species of birds have been reported to either live or migrate through this region!
It is not only birds that you will see in the air. Bats are common on Santa Cruz and Santa Rosa Islands. In fact, 11 species of bats have been found on Santa Cruz.
What to Pack for a Trip to the Channel Islands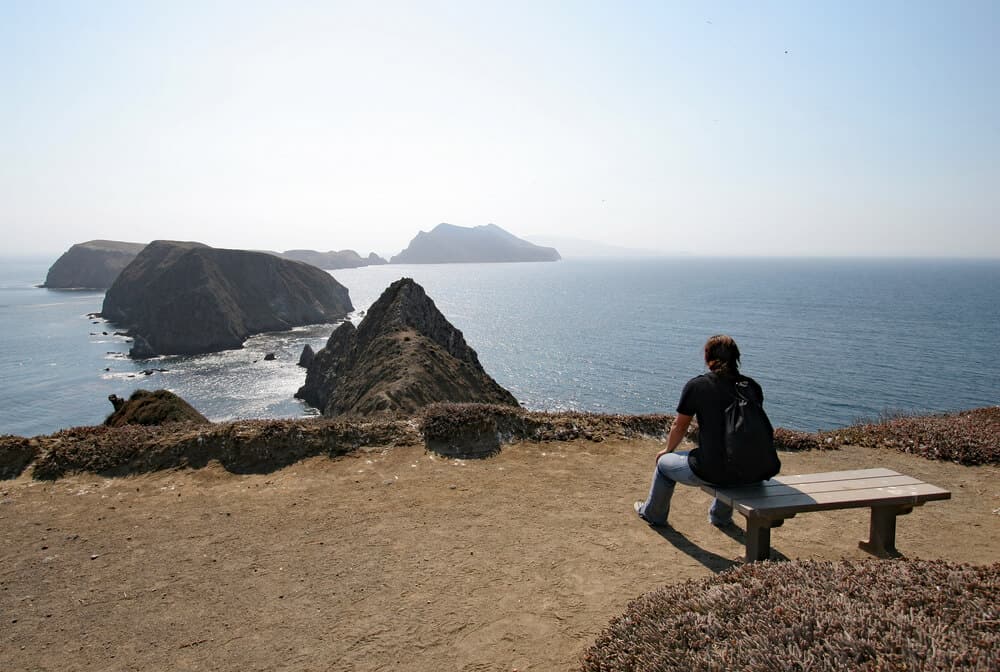 If you plan to visit, bring binoculars for the best view of the amazing birds and animals that roam free. A birding guidebook or other birdwatching equipment can also come in handy if that's your kind of thing!
If you choose to hike on the islands, you can get amazing views of land and sea. Be sure to dress properly for hikes, wearing multiple layers as the marine winds can get quite chilly yet the afternoon sun can be quite brutal.
Be sure to bring sunscreen, a sunhat with a strap (so it doesn't fly off in a gust of wind), and plenty of water for hikes. Remember, there are no convenience stores on the islands, so you'll want to bring everything you need for that
Kayaking is another popular activity to have fun and see marine life up close. You can rent them on Santa Cruz island by calling to reserve it at least one day in advance. The phone number is (805) 984-5995.
If you rent a kayak, you'll want to bring plenty of sun protection (make sure you bring chemical-free, reef-safe protection in case you get in the water), a sun hat, and a dry bag for keeping your important documents, electronics, etc. dry.
Fishing in the Channel Islands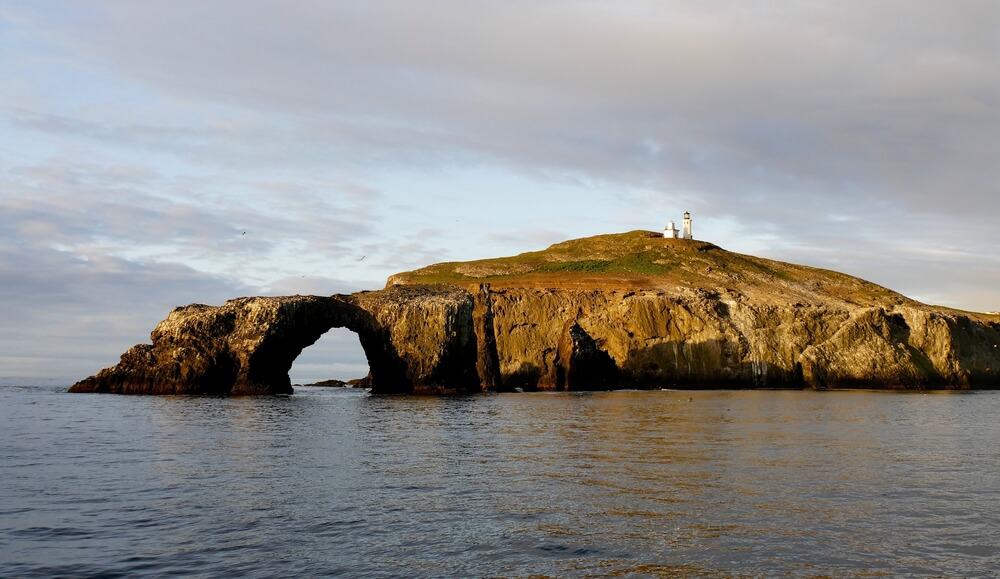 Thirteen marine protected areas surround the islands where fishing is not permitted. However, sportfishing is very popular in the nearby waters outside of these zones.
Some of the most productive fishing off the coast of California is near the Channel Islands, as well as the coastal waters from Santa Barbara down to Malibu. Deep-sea fishing in this area has produced a wide variety of fish including rockfish, sheephead, barracuda, salmon, and halibut.
According to the charter fishing company, Channel Islands Sportfishing, other exotic warm water fish such as yellowfin tuna, wahoo, and marlin have been caught due to recent warm water conditions from El Nino! But don't count on that.
Channel Islands Sportfishing has a fleet of 11 boats. They offer day trips, as well as overnight and multi-day excursions. For more information, check their website.
Another charter fishing company that serves the area is Hook's Sportfishing. They run boats out of the Channel Islands Harbor in Oxnard, California. This 4th generation family business runs regular fishing excursions out near the islands. For pricing and more information, check out their website.
A valid California state fishing license is required, and all California Department of Fish and Wildlife regulations apply.
Photography Spots in Channel Islands National Park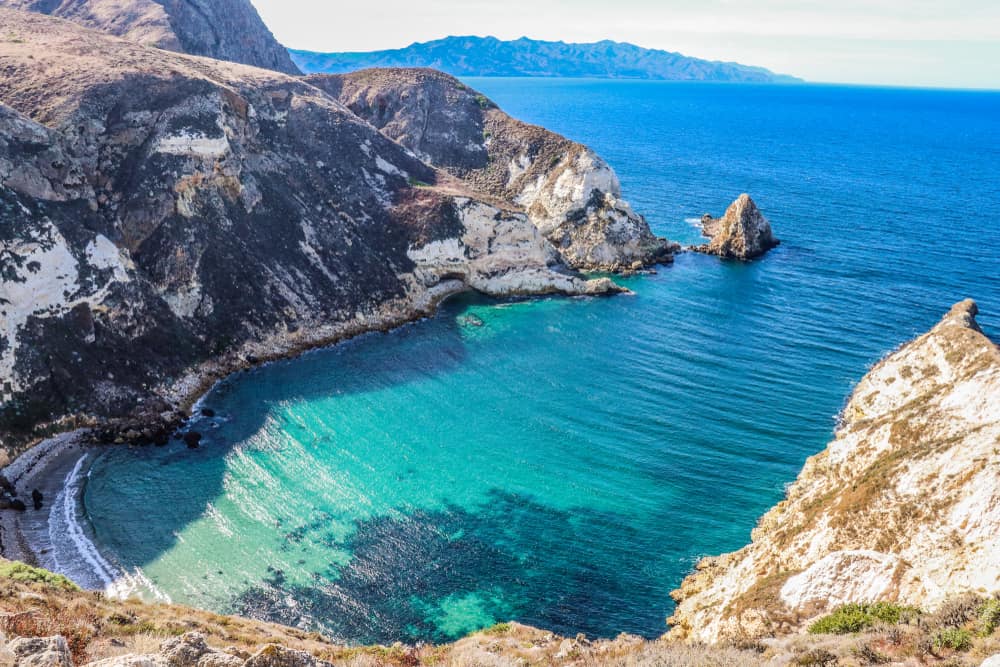 Some of the best memories of a trip are photographs! Whether you are a professional photographer, or just enjoy snapping pics with your cell phone, there is a no shortage of amazing photo ops in and around Channel Islands National Park.
Some must-see locations include the Anacapa Arch off Anacapa and Elephant Arch at Santa Barbara Island. Potato Harbor on Santa Cruz Island is known for its incredible sunset views. Whether it is landscapes, animals, or flowers, you are bound to go home with countless frameable photos!
Gift Shops in Channel Islands National Park
Keep in mind that there are no stores of any kind on the islands. However, there is a gift shop and bookstore at the Visitor's Center in Ventura!
So, if you really want a T-shirt or other souvenir to recall your trip to the Channel Islands, that's the place to go.
Leave No Trace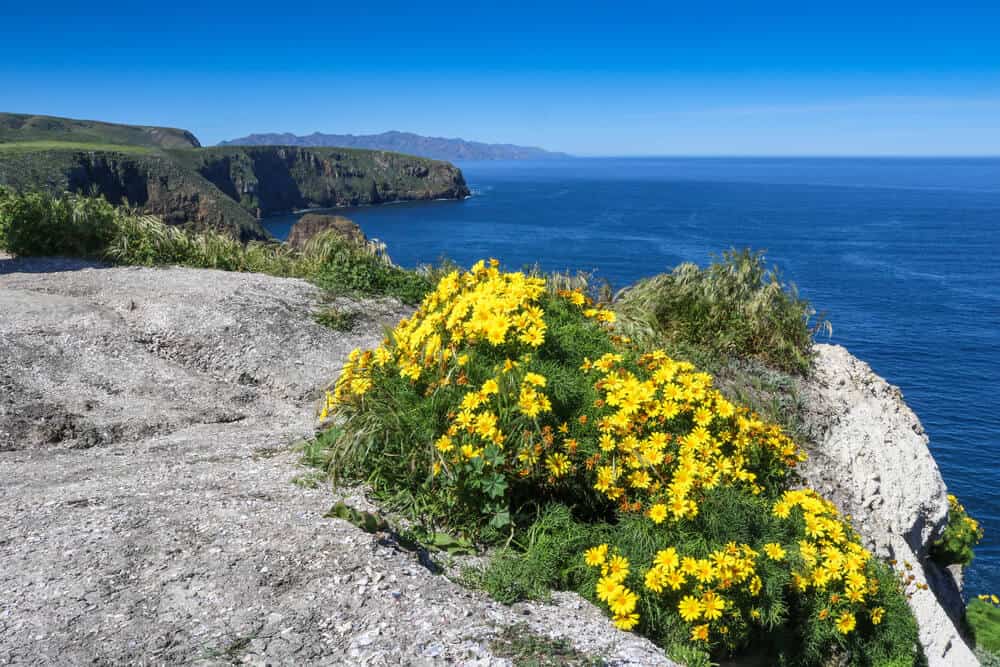 If you plan to camp on any of the islands, be mindful to pack in and out of all your gear and trash.
Be sure to use reef-safe sunscreen if you have any risk of entering the water — you don't want to contaminate these beautiful marine waters and the environment.
And finally, remember to "Leave No Trace" and follow the park rules and regulations for the best experience.
Pin This Guide to Visiting Channel Island National Park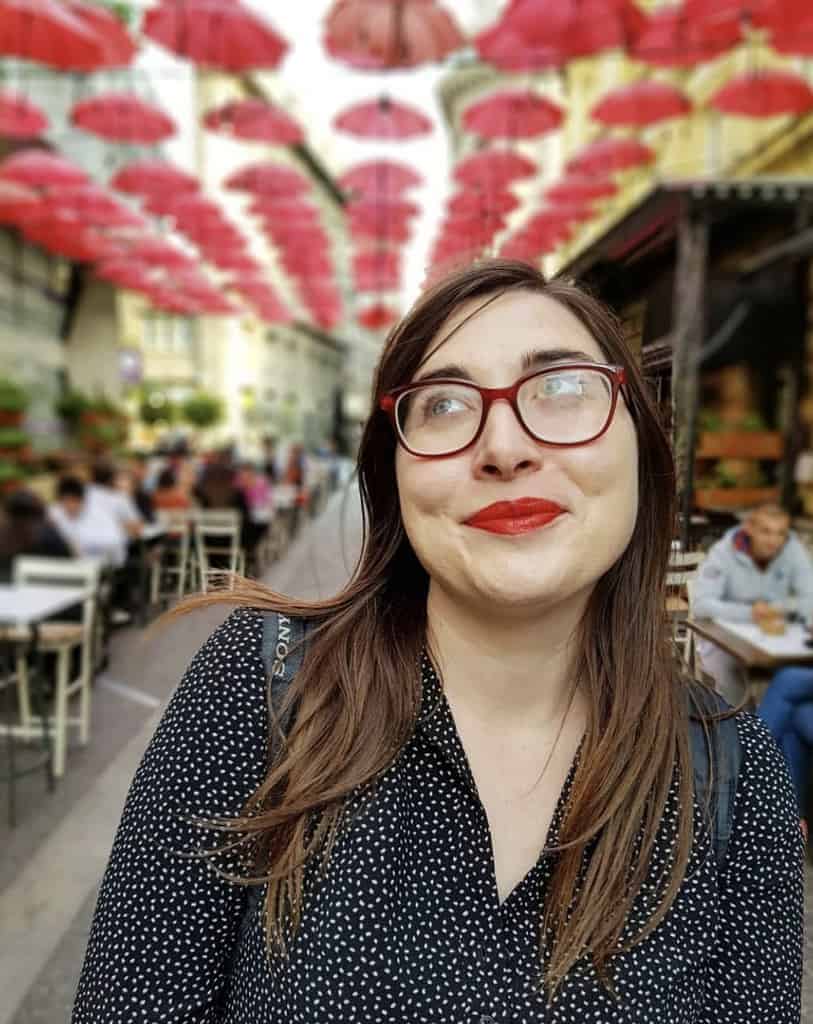 Allison Green is a travel blogger, writer, and podcaster who grew up in the Bay Area of California. She has spent time living in New York, Prague, and Sofia, but has returned to live in the East Bay. She has traveled to 60 countries before the age of 30 while running several digital travel publications. Her writing and podcast have been featured in Forbes, CBC Canada, National Geographic, the Huffington Post, and CNN Arabic, amongst others. She's obsessed with bouldering, houseplants, other people's pets, and anywhere she can see the ocean.