If you find yourself wanderlusting over the beauty of California's coast and dream of those postcard-picturesque views, Crystal Cove State Park is the answer to your California dreaming!
Located in gorgeous Orange County, Crystal Cove has it all: a natural seashore, tidepools, beaches, towering bluffs, and wide-open spaces for epic hiking and camping.
The gorgeous beaches stretch over 3.2 miles of coastline. Meanwhile, the entire park is huge and not limited to just the coastline: it stretches over 2,400 acres of backcountry and trails.
Crystal Cove State Park is located directly on the PCH (Pacific Coast Highway) between Corona del Mar and Laguna Beach, so it's easy to access and perfect for day trips and weekend getaways from Los Angeles!
How to Get to Crystal Cove State Park
Crystal Cove State Park is open between 6:00 AM and sunset, depending on when that is during the year. The Historic District stays open later, until 10:00 PM.
If you have a California State Park Pass ($195/year) you can drive right in, but if you don't want to make that investment and are looking for a day pass, it will cost $15 for the day.
When driving down the incredible PCH, there are 4 entrances to Crystal Cove Park. Here are the 4 and the reasons you might want to pick each one.
Pelican Point: This is the northernmost entrance — great if you want to access the northern part of the state park, or if you just want to get in the park ASAP while heading south down the PCH from LA!
Los Trancos: This is the entrance to access the inland portion of the park, where you'll find access to Beachcomber Café as well as the shuttle to the Historic District.
Reef Point: This is the oceanside entrance which offers easy access to paved trails and superb views
School-State Park/Moro Canyon Backcountry Entrance & Campground: This is another inland entrance and has access to the "Ranger Station" visitor center, as well as all of the backcountry hiking trails and campgrounds.
Each entrance offers a unique experience and a different section of the park, so don't be afraid to hop back in your car and drive down to the other entrances to explore each special area! You only have to pay the day pass fee once.
Things to Do in Crystal Cove State Park
Check out the beautiful cottages of the Historic District.
Note: This post contains affiliate links, which earn me a small commission at no extra cost to you if you make a purchase using one of these links. Thank you for supporting this free content!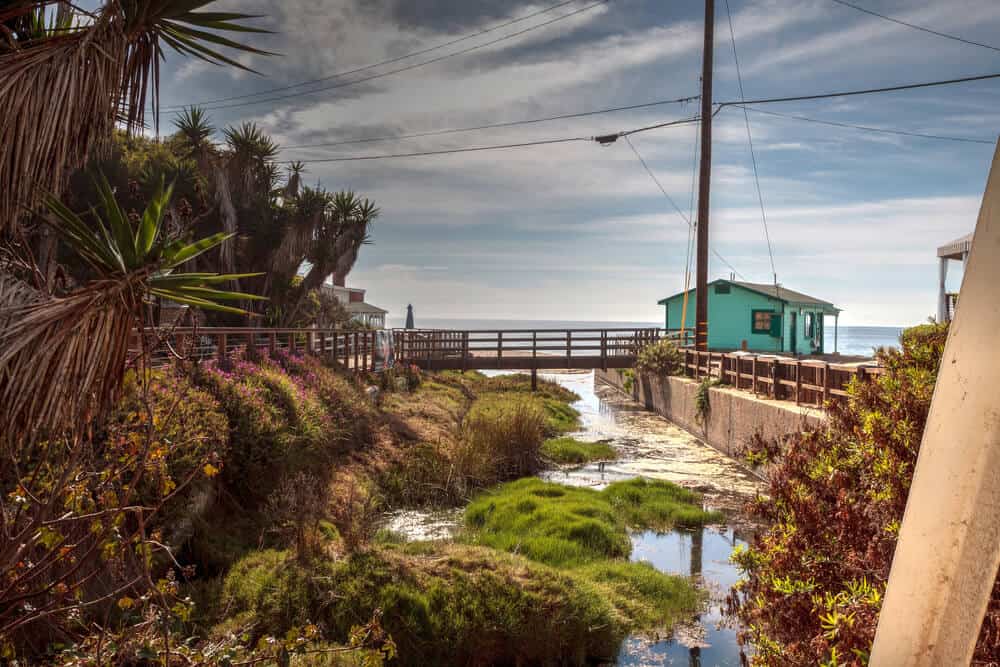 There is a hidden gem within this epic state park, known as the "Historic District". Stretching across more than 12 acres and hugging the coast, you can find 45 quaint but rustic coastal cottages that were originally built as a seaside colony in the '30s and '40s.
This area is listed on the National Register of Historic Places and has recently completed Phases I and II of restoration, meaning its beauty will be preserved for many, many years to come.
Parking for the Historic District is located at the Los Trancos entrance, which is on the inland side of PCH. You will find a shuttle from that parking lot to the Historic District, which runs 7 days a week from 7 AM to 10 PM, and will cost $1.50 per person each way.
You can also access the Historic District through a tunnel that passes under the PCH from the Los Trancos lot.
Rent a Crystal Cove cottage on the beach.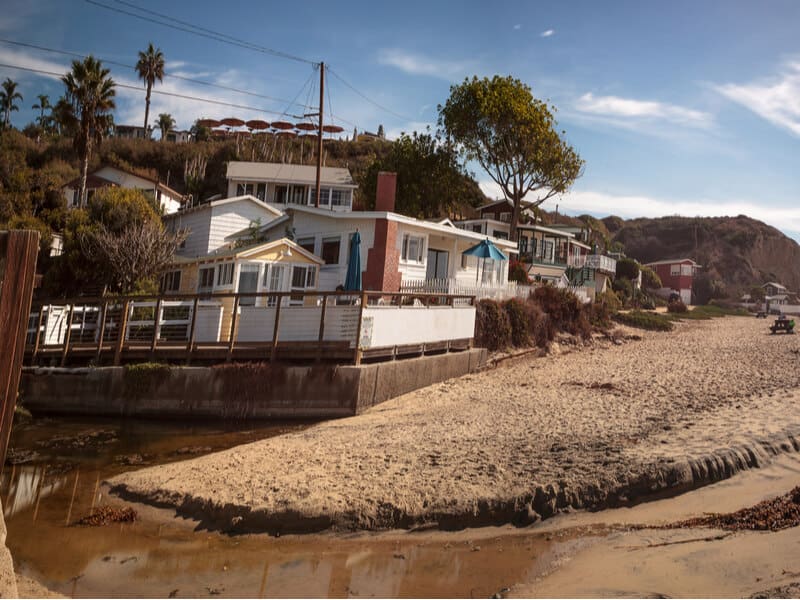 The cottages are so incredibly charming and a California bucket list item for many locals!
Some of the cottages are used for visitor services, educational programming, and community outreach. But 21 of the cottages are rented out to the public for once in a lifetime overnight stays right on the ocean!
These cottages are located right on the beach (!!!) and include everything from studios, one- and two-bedroom houses, and hostel-style dormitories, so there's something for every kind of traveler.
Do be aware that you'll need to book up well in advance!
These one-of-a-kind scenic accommodations book up VERY quickly. Staying in a cottage is one of the top things to do in Crystal Cove State Park, after all!
They release all cottage and camping inventory at 8 am sharp each morning, 6 months in advance through ReserveCalifornia. 
For example, on September 1st, a visitor would be able to reserve a cottage beginning on March 1st of the following year.
You will feel like you are on a mission to get Beyoncé concert tickets as you quickly refresh the page over and over again to see if you can snag a reservation for these special cottages!
You can also pray that the travel gods will be with you and sign up to be notified if someone cancels and a cottage becomes available last minute.
Stay vigilant: it is worth the work!
Explore the wilderness of Crystal Cove.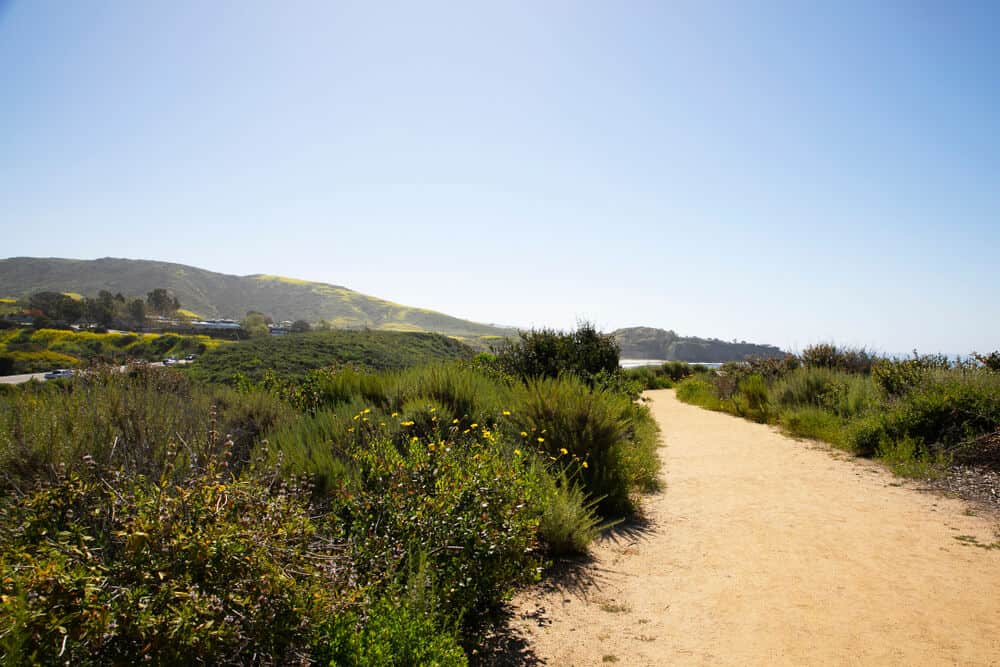 One of the best things to do at Crystal Cove is to explore some of the 18 miles of hiking trails in the 2400 acres of native wilderness.
One of the cool things about the backcountry and wilderness areas is that it will make you feel like you have "escaped from it all" and fully submerge yourself in Mother Nature, but you are really just a short drive from civilization… I mean, the PCH is right beside you!
All trails are open to biking (note: electric bikes are not permitted), hiking, and even horseback riding.
Tackle the hike to Moro Canyon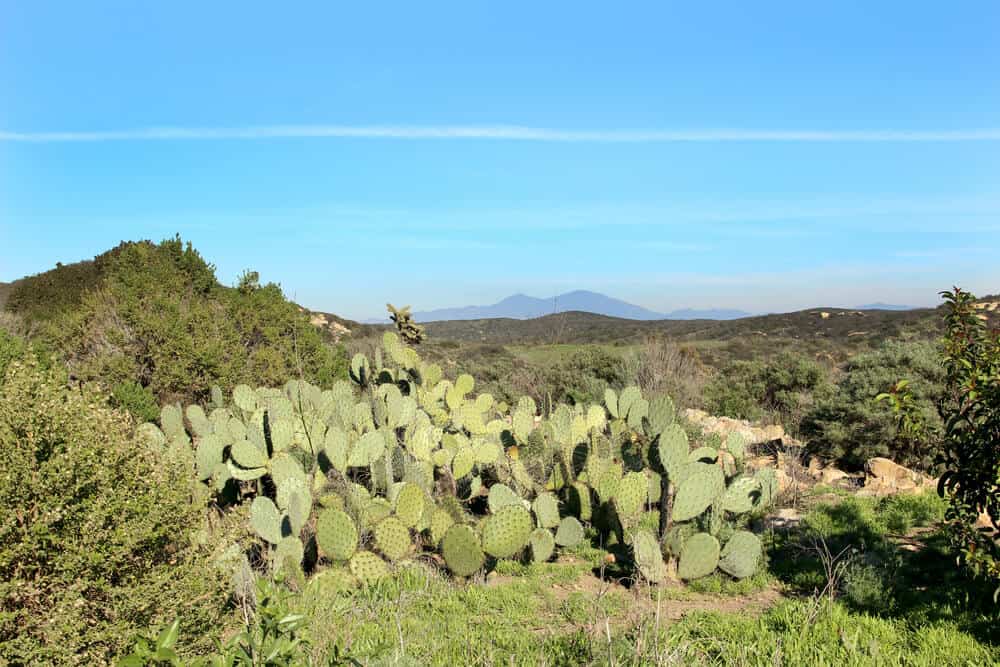 Want an easy option for hiking in Crystal Cove? I suggest the Moro Canyon Trail, an easy 3-mile hike.
You can start this hike at the Ranger Station and walk downhill to the dirt trail, where you will turn left. Follow that dirt trail to cross the long bridge to get you into the beautiful Moro Canyon.
This is the only area of the backcountry that your fur baby is allowed to walk with you, so it's a must if you're trying to figure out what parts of Crystal Cove are dog-friendly.
There is also a super scenic 2.5-mile coastal hike on a paved trail that runs along the bluff tops. This is also a dog-friendly trail and allows bike riding as well.
The views are incredible, and the ocean breeze will put a smile on your face! Some paths lead directly down to the beach from this area. It's one of the best active things to do in Crystal Cove State Park.
Take on the challenge of the Park Perimeter Loop.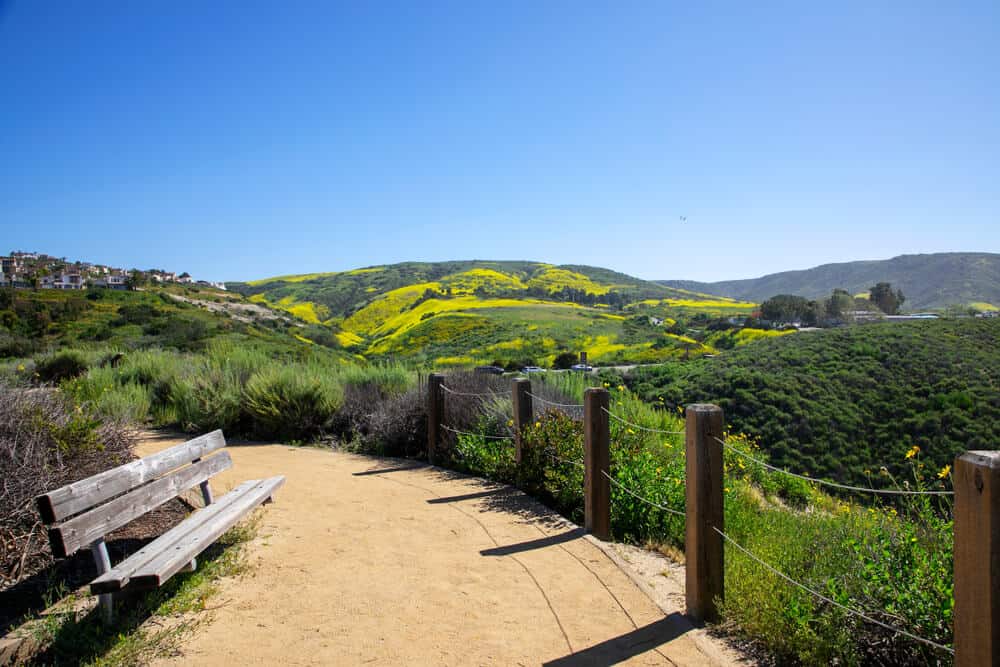 If you are looking for an epic challenge, take the "Park Perimeter" Trail Loop.
It will likely take you about 4.5 hours with elevation changes from 35 feet above sea level to 1000 feet above sea level, over a distance of about 9 miles. This is the best way to experience the entire backcountry!
This hike will also take you past the 3 primitive campsites: Deer Canyon, Upper Moro, and Lower Moro campgrounds. Each of those sites has portable toilets for use as well, great if you need to take a quick restroom break while you're hiking.
If you secure a campsite at one of these 3 campsites, you could also break the hike into a two-day affair.
Make sure to pack plenty of water and snacks: you will need them in the hot California sun! Be sure to download a trail map ahead of time so you can navigate safely.
Spend a night under the stars.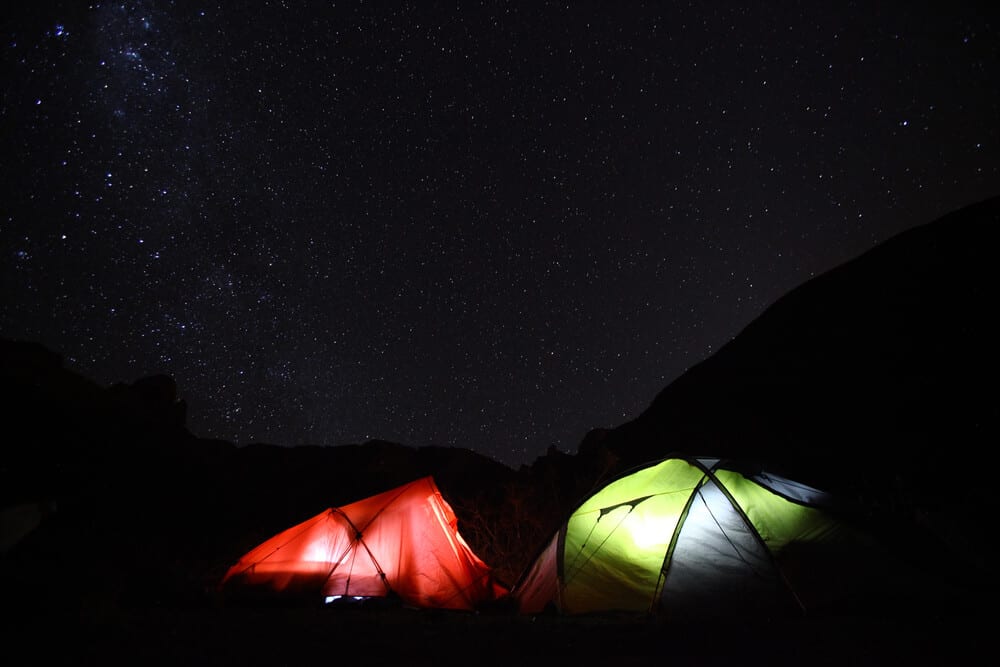 The backcountry area offers primitive camping which means there are only pit toilets and picnic tables, and everything must be packed in and out, including water!
These "primitive" sites (Lower Moro, Upper Moro, and Deer Canyon Campsites) are only accessible by foot and require a 3-mile hike inland with your supplies from the parking lot.
This experience is the opposite of glamping and is not for the faint of heart! If you're not up to it, better to wait for a cottage to open up or choose one of the other campsites.
Moro Campground is a fantastic choice for those who don't want to "rough it". This site allows tents and RVs and has bathrooms and token showers.
Moro Campground has 57 sites that are right on the coast with some epic views of the ocean: it's one of our favorite Southern California campgrounds!
Grab a pre- or post-hike burger at Shake Shack.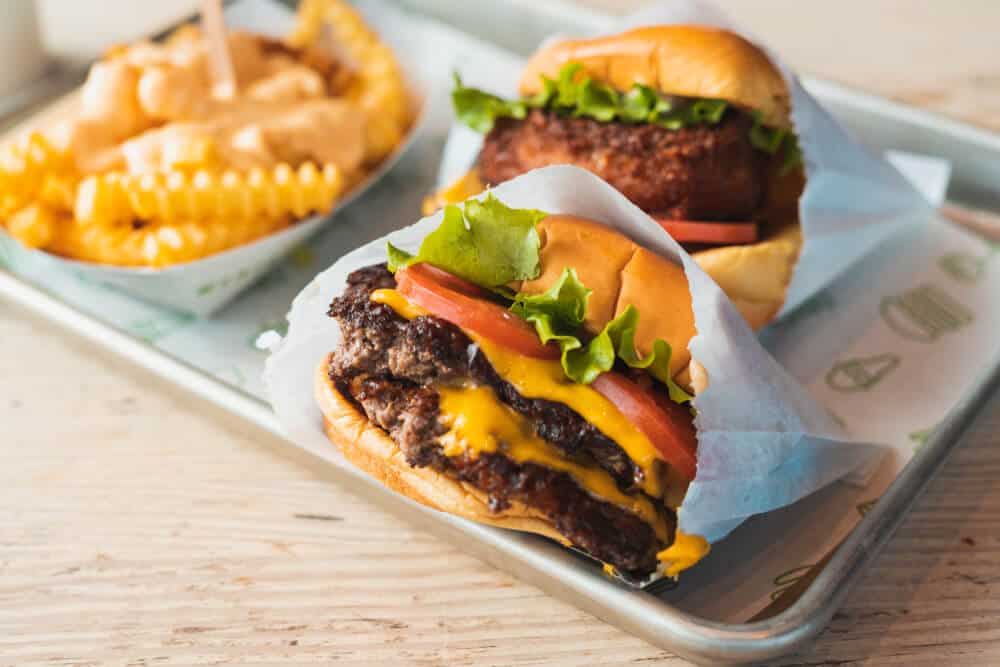 As you drive south down the PCH, you might stumble across a long line of cars stretching out from Route 1 and wonder what is going on.
This is the line to the Crystal Cove Shake Shack, which is one of two restaurants in Crystal Cove State Park!
Parking is extremely limited, so the line of cars can stretch out onto the PCH. Be patient, the line will move quickly, and the experience is worth the wait.
Be sure to order a Famous Chocolate Shake or Cove Burger while soaking in the spectacular views of the Pacific and the ocean bluffs.
Explore the wonderful worlds inside the tide pools.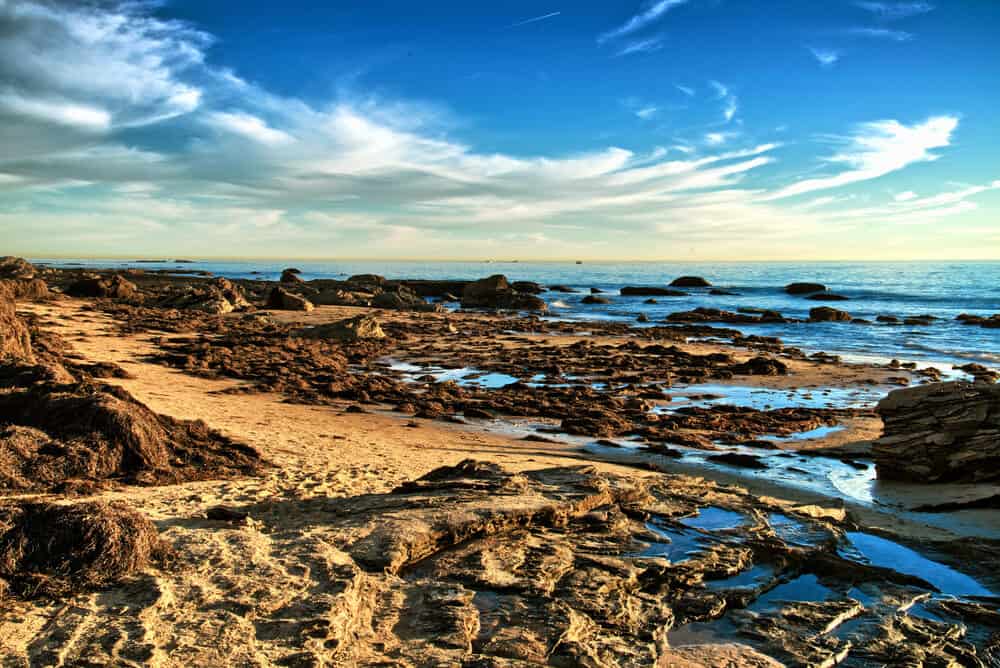 If you want to see ocean critters and unique marine organisms, explore the tide pools at low tide.
When the water recedes at low tide, it will reveal rocks and structures with many cracks and crevasses that house many tiny living creatures.
Timing is important, so make sure to check the tide charts online so you can visit at the perfect time. There are 2 high tides and 2 low tides every day in California.
The rocks will be very slippery, so be sure to wear some Chacos or tennis shoes with a good grip to avoid falling.
There are 4 awesome tidepool viewing areas: Reef Point, Rocky Bight, Pelican Point, and Treasure Cove.
Crystal Cove State Park is a designated Marine Protected Area and is protected by law. There are some strict rules that all visitors must abide by:
Be careful and do not step on any animals.
Do not collect shells, rocks, or organisms.
Do not pick up, touch, or remove any animals from their pools.
Do not turn over any rocks or pull animals from their home.
Tide pools are super exciting and ever-changing.
One day you might see starfish and mussels, and the next day barnacles, sea urchins, and hermit crabs. That's all part of the fun!
Catch the sunset at the Beachcomber Café.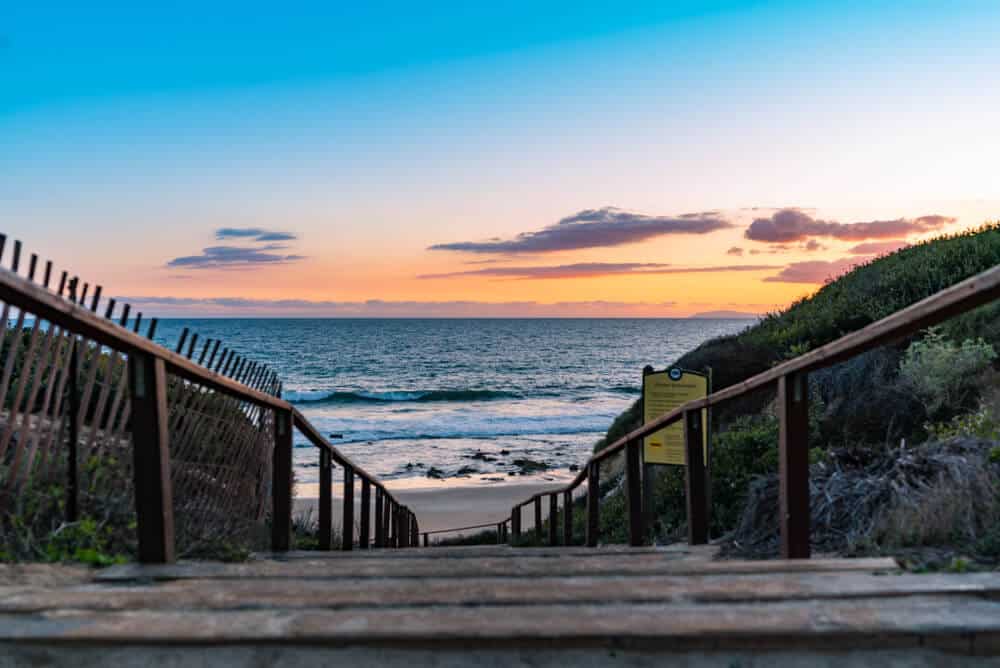 Crystal Cove state park closes at sunset, but the Beachcomber Café stays open until 9:30 PM.
It is one of the few places that you can watch the sunset in Crystal Cove Park without a camping reservation!
This beachfront café is located in the Historic District and has parking in the Los Trancos lot. If you eat here and spend more than $15, you will receive validation for your vehicle for about 3 hours… so order up!
Be sure to order the "Real Deal Margarita" and some delicious mahi mahi tacos and unwind from a wonderful day of hiking, swimming, and exploring the beauty of Crystal Cove!
***
There are so many wonderful things to do in Crystal Cove that it's impossible to exhaust it all.
Take some time out to spend the day exploring nature independently or learning about the beautiful environments through its educational programming and community outreach.
Pin This Guide to Things to Do in Crystal Cove State Park!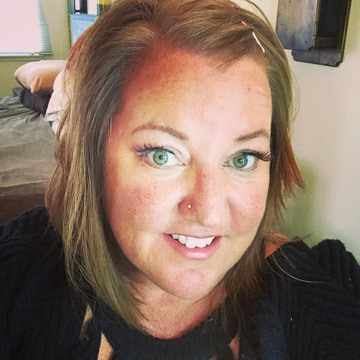 Rosie Queen is a travel blogger and creative writer who grew up on the South Side of Chicago. She has spent time living in Indianapolis, Dayton, New York City, London, Orlando, Boston, and most recently, Huntington Beach, CA. Rosie has been blessed to travel most of her life while being deeply involved in the performing/pageantry arts. She has enjoyed adventures in 48 U.S. states, Japan, Thailand, Mexico, Paris, London, Canada, and the Caribbean. Rosie is obsessed with her dogs, color guard/marching band, national parks, and traveling.