If you're feeling burnt out (and let's be honest, in this year, aren't we all?), then a weekend getaway is exactly what you need to reset your mindset and feel reenergized to take on life!
Many view travel as an escape from reality, which is true. But another underrated truth about travel is that it is an opportunity to discover new realities and learn more about yourself throughout your journey.
Whether you're an Angeleno or just a visitor, it's time to go off the beaten path and explore the numerous weekend getaways from Los Angeles that are just a short drive away.
So where should you go? And what should you do? We've done the legwork for you!
This LA weekend getaway guide will show you 18 of the best places you can road trip to from Los Angeles, including how much you can do in one weekend at each destination!
How This Los Angeles Weekend Getaways Guide Works
This guide will include the approximate driving times during off-peak hours from Central L.A. (the midway point between west L.A. and downtown).
If you know a thing or two about Los Angeles, you might already know that traffic can be pretty brutal here.
However, this does not mean you can't achieve these optimal driving times on the weekend. Just make sure to check the trusted Google Maps and plan ahead before heading out.
The driving time to each destination will range anywhere from 30 minutes to 4 hours, as a drive beyond 4 hours will take away from your time enjoying the actual location!
While some visits can be kept as a day trip, the majority of these spots should be extended to at least a one-night stay, better yet an entire weekend trip from LA.
Best Weekend Getaways from Los Angeles: Road Trips on the Coast
Long Beach
Note: This post contains affiliate links, which earn me a small commission at no extra cost to you if you make a purchase using one of these links. Thank you for supporting this free content!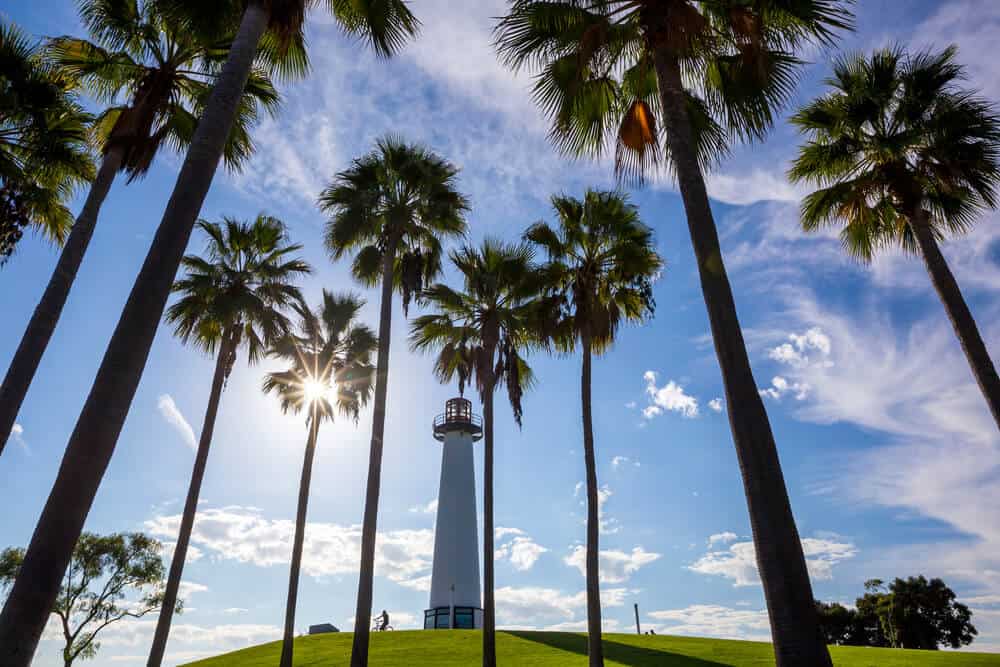 Driving Time from Los Angeles: 30 minutes
Located south of Los Angeles, Long Beach combines a big city feel with a small-town charm. Your weekend in Long Beach will draw you into the excitement of each neighborhood.
The best part? It's very walkable—in fact, it's rated among the top 10 most walkable cities in the U.S.!
Visit the East Village Arts District and become riveted by the unique modern art displays and sculpture garden at the Museum of Latin American Art (MOLAA). And no, you don't have to be an art enthusiast to enjoy the exhibits.
As you explore this district, make sure to keep an eye out (and have your camera ready) for the enormous and vibrant murals painted over the walls and alleyways of buildings.
Walk a few blocks from the art scene and grab yourself a pick-me-up from Long Beach's most popular joint, Portfolio Coffeehouse.
Afterward, shop for vintage clothing along the 4th Street Corridor. Continue your retail therapy from modern shops at The Pike Outlets in downtown.
Looking for some fun water activities? Take a gondola ride or kayak through the Italian-inspired canals of Naples Island.
You also can't miss a visit to the Aquarium of the Pacific, Southern California's largest aquarium, and Queen Mary, a large luxury passenger ship from 1936 that is now a hotel with restaurants, shops, tours, shows, and more.
Long Beach is bursting with entertainment and food but also includes 11 miles of sandy shores for when you want to kick off your shoes and soak up the sun.
Malibu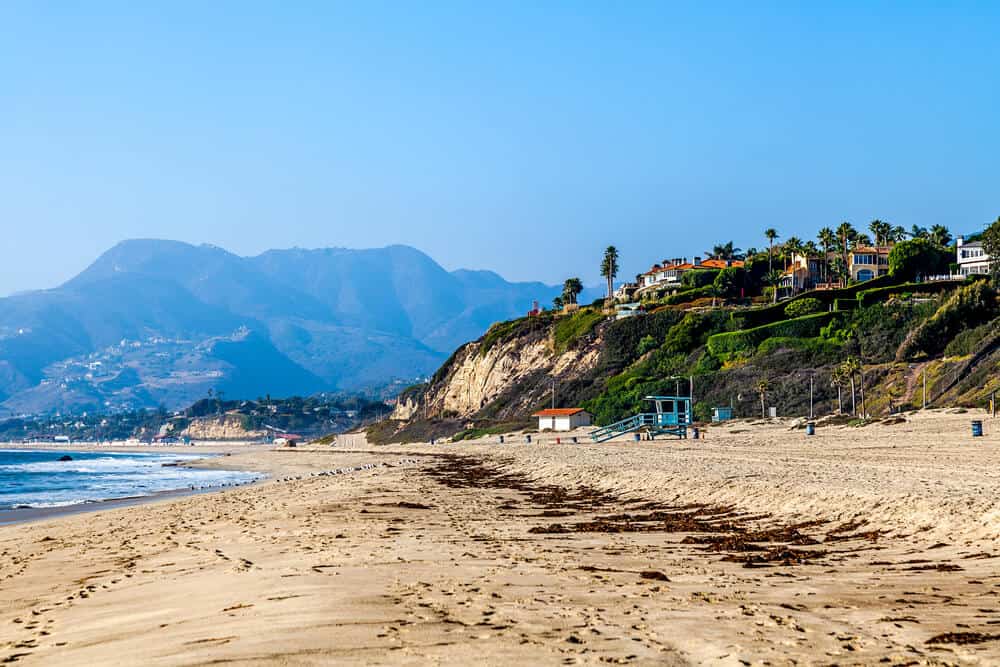 Driving Time from Los Angeles: 45 minutes
For those who seek to escape to a nearby paradise of beaches and jaw-dropping views of the coastline, Malibu is the go-to destination for everything from hiking to day tripping.
The excitement begins even before you arrive as the drive up the Pacific Coast Highway from Los Angeles will not shy away from showing off the glorious landscape and seascape during the entire route.
Explore the bluff trails of Point Dume and you'll find yourself perched atop cliffs and entranced by the shoreline sights.
Venture to El Matador Beach to discover the unique sea caverns and boulders. Tip: For the most extraordinary views at these locations, visit during sunrise or sunset.
Take your hiking adventure up a notch with wine and exotic animals by booking your afternoon with Malibu Wine Safaris or Malibu Wine Hikes.
End your night at Malibu Pier and dine at the oceanfront Malibu Farm restaurant.
Where to Stay: A stay in Malibu will not be cheap, but it will be amazing! One of the most luxurious places to stay is the Calamigos Guest Ranch & Beach Club. Located in the mountains on a 200-acre property, it also has its own private beach club for the best of both worlds. With several pools and a spa, it'll be hard to tear yourself away!

For a more affordable stay, the M Malibu is an option. Honestly, it's nothing special — and the price is still on the high side — but it's the best option for the price.
Rancho Palos Verdes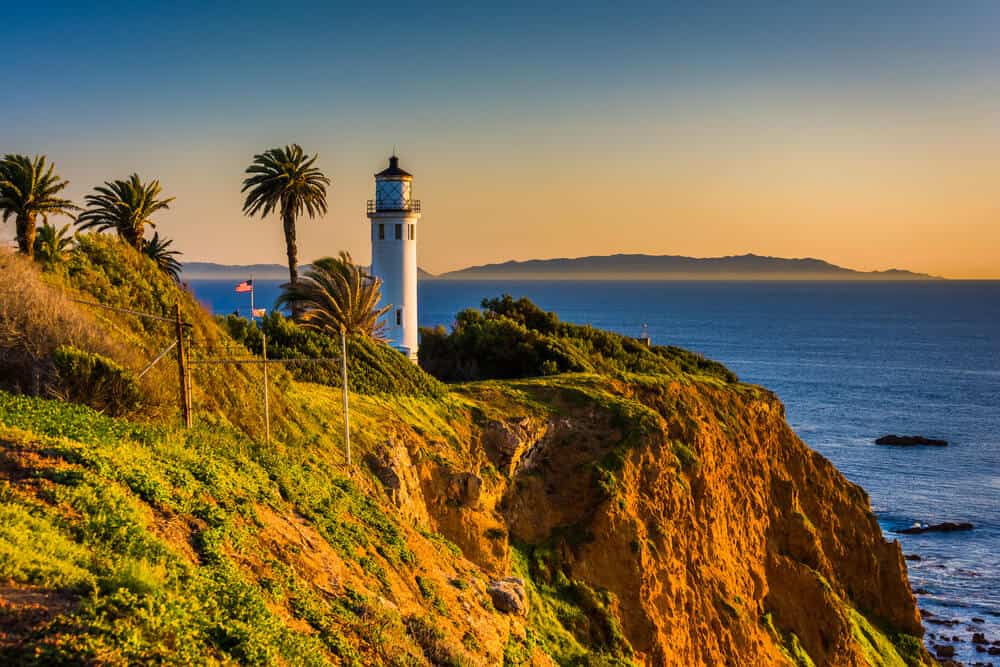 Driving Time from Los Angeles: 50 minutes
It's impossible to visit Rancho Palos Verdes without being enraptured by its beauty. Perched atop the bluffs of a peninsula, this coastal city offers endless ocean views that make for the perfect quiet escape from the bustle of Los Angeles.
Your trip is incomplete unless you visit Point Vicente and its lighthouse—the idyllic setting for a romantic stroll by the waters.
Spend the day hiking the trails of Abalone Cove Shoreline Park or wander along the beach to see the tide pools filled with sea urchins, starfish, and crabs.
The Ocean Trails Reserve and Portuguese Bend Reserve both offer trails for hiking, stunning views, and opportunities to see wildlife.
There aren't many hotels in this area, so book a stay at a neighboring city (in Torrance or San Pedro). Alternatively, you can splurge and elevate your weekend getaway by booking a stay at the 5-star luxury oceanfront hotel, Terranea Resort.
Balboa Island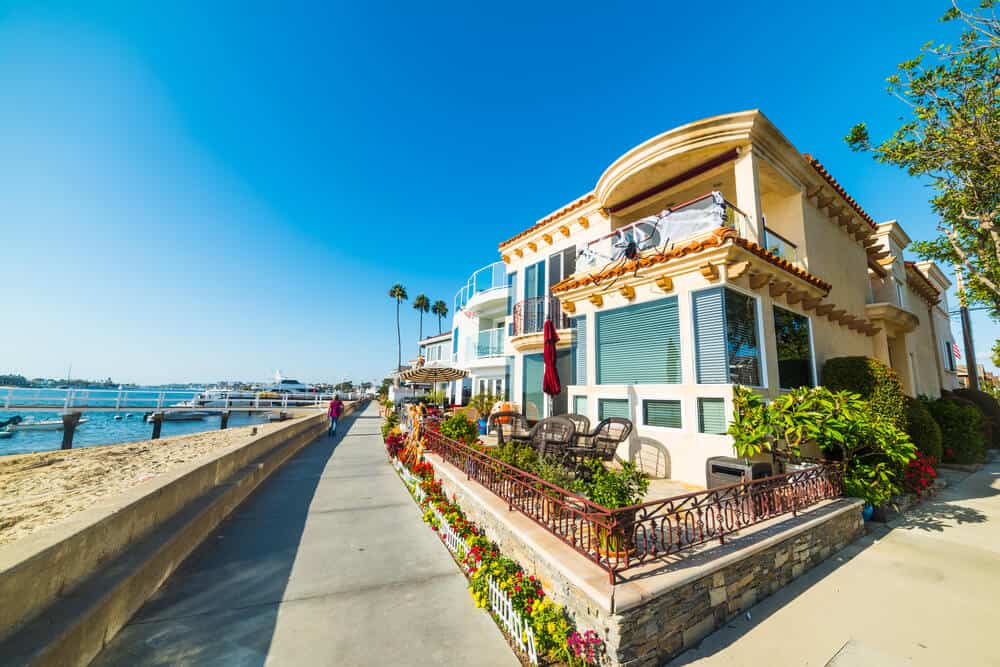 Driving Time from Los Angeles: 1 hour
Balboa Island is a seaside community in Newport Beach that offers a variety of activities from riding bikes along the harbor to whale watching.
Bring your kids for an exciting adventure at the Balboa Fun Zone for a Ferris wheel ride or spend a serene afternoon at the Sherman Library and Gardens to view their vibrant manicured gardens filled with unique palm species, succulents, and fountains.
Next to the Balboa Fun Zone is the popular Balboa Pier where you can watch fishermen reel in their catch or grab a classic diner meal at the end of the pier from Ruby's Diner.
Just make sure you grab a to-die-for savory croissant and cronut from the Seaside Donuts Bakery before you leave! It's open 24/7 and located by the Newport Beach Pier—only a 6-minute drive from the Balboa Pier.
While Newport Beach is the perfect spot to spend the afternoon lying out on the sand, if you're not from California, what's the Californian experience without seeing surfers take on 30-feet-high waves?
Stop by The Wedge east from Newport Beach at the edge of the island, and you'll be in complete awe at the colossal waves crashing ashore.
Where to Stay: Part of the exclusive Autograph Collection of hotels, the boutique Lido House is a beautiful historic place to stay in Newport Beach. Each room is decorated uniquely and full of individual character, with pops of color and tons of attention to detail. Amenities include an outdoor pool, hot tub, fitness center, restaurant, and sun terrace.

Another great choice is the Hyatt Regency Newport Beach, with spacious rooms (hello, king beds!), a great pool area, and lots of freebies like bikes, lounge chairs at the pool, beach umbrellas, and fire pits for public use.
Laguna Beach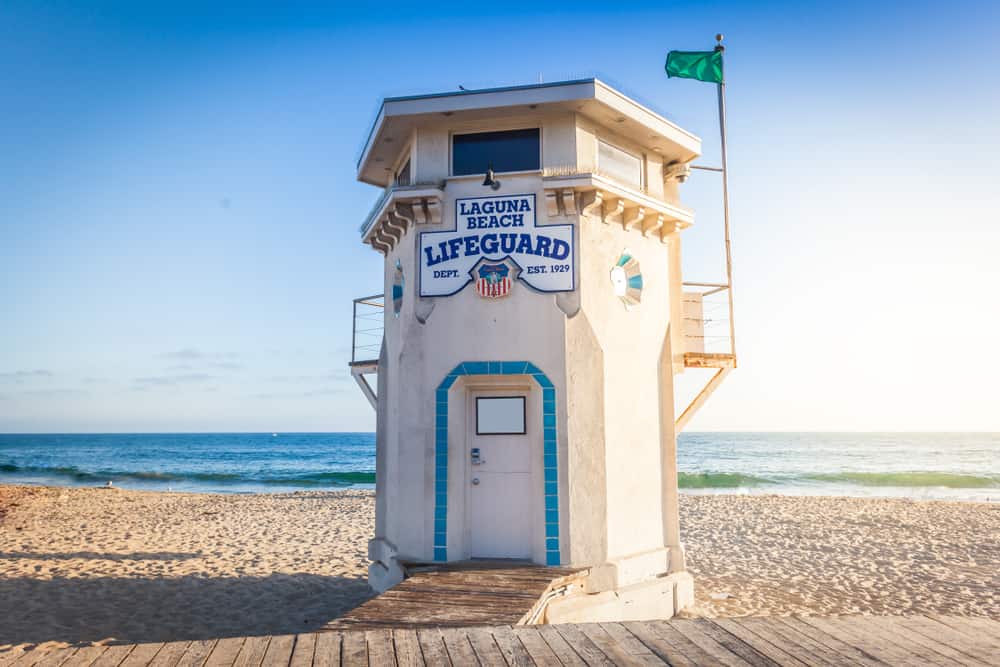 Driving Time from Los Angeles: 1 hour
Surrounded by hills, greenspace, and the oceanside, Laguna Beach is the ideal beach weekend getaway from LA! You will stay toasty beneath the sun but easily be refreshed with a dip in the sea.
Did you know that the city of Laguna Beach has several beaches? Go for a relaxing stroll along the boardwalk of Main Beach, then head north up the coast to Heisler Park to see more breathtaking ocean views.
You can also check out the tide pools teeming with marine life and the unique art installations along the pathway. Be sure to explore the caverns and dig your toes into the softest sands of Treasure Island Beach and Victoria Beach.
Immerse yourself in Laguna's beautiful scenery with a hike up to the Top of the World for spectacular panoramic views of the coastline and city, all embraced by the deep blue expanse of the ocean, or one of these other Laguna Beach hikes — or even a trip to Crystal Cove State Park.
And the views don't end with nature!—The city is home to over 100 art galleries and studios. One of the most popular is the Laguna Art Museum, but check out the complete list of galleries here.
Where to Stay: Hello, Instagram heaven — I mean, the Surf and Sand Resort. Their pool and cabanas are nothing short of a dream, especially with the views of the Pacific in the background. The rooms with an ocean view are spectacular, with simple but beachy clean lines that don't distract from the views, which really deserve to be center stage!

A more affordable option — that's still beachfront — is the Capri Laguna on the Beach. While not quite as glitzy or stylish, its location is pretty impossible to beat… especially if you snag a balcony room!
Catalina Island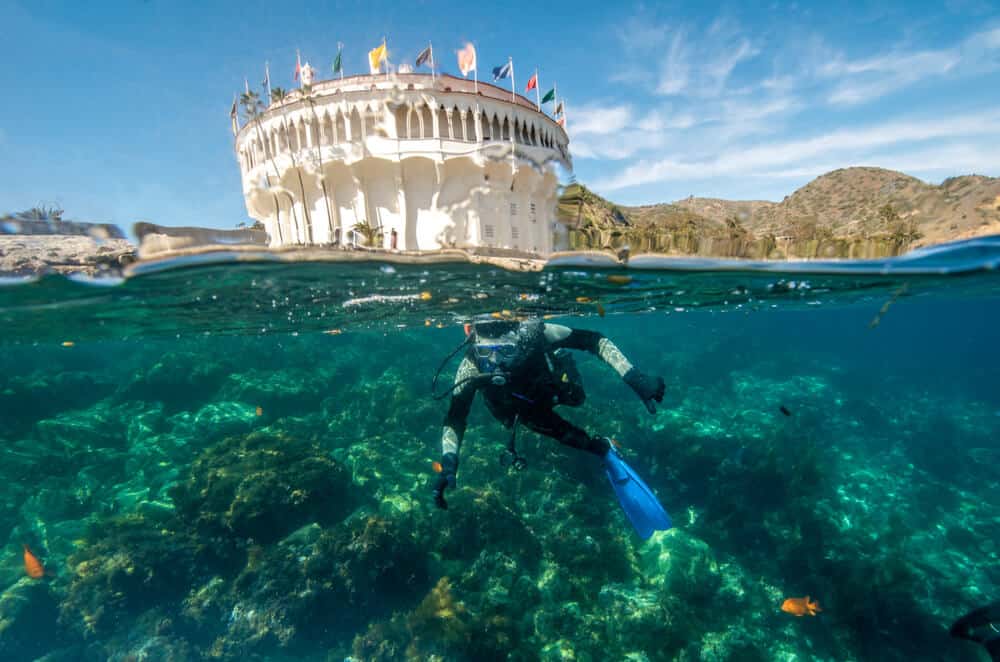 Driving Time from Los Angeles: 1 hour 30 minutes
A trip to Catalina Island for the weekend is like a vacation in a paradise island without the long hours of travel across the globe.
Relax at Step Beach and take in the gorgeous view of Avalon Bay or explore the rugged shores of Moonstone Beach where you might see whales and dolphins. Elevate your beach day experience by snorkeling in the clear waters by Starlight Beach.
For a thrilling and active adventure, head to Santa Catalina Island Aerial Adventure Park to the aerial obstacle course full of ziplines, balance beams, rope ladders, and more.
You will be challenged to climb and swing your way through the trees, and as an adult, you'll surely feel like a kid again on this adult playground!
With one of the healthiest marine life in the world, you must embark on the Catalina Island Undersea Expedition to view the extraordinary undersea creatures.
Want to get even closer to the magnificence of the underwater world? Take a deep dive into the ocean by scuba diving.
For more information on how to get to Catalina Island, see their website here.
Carlsbad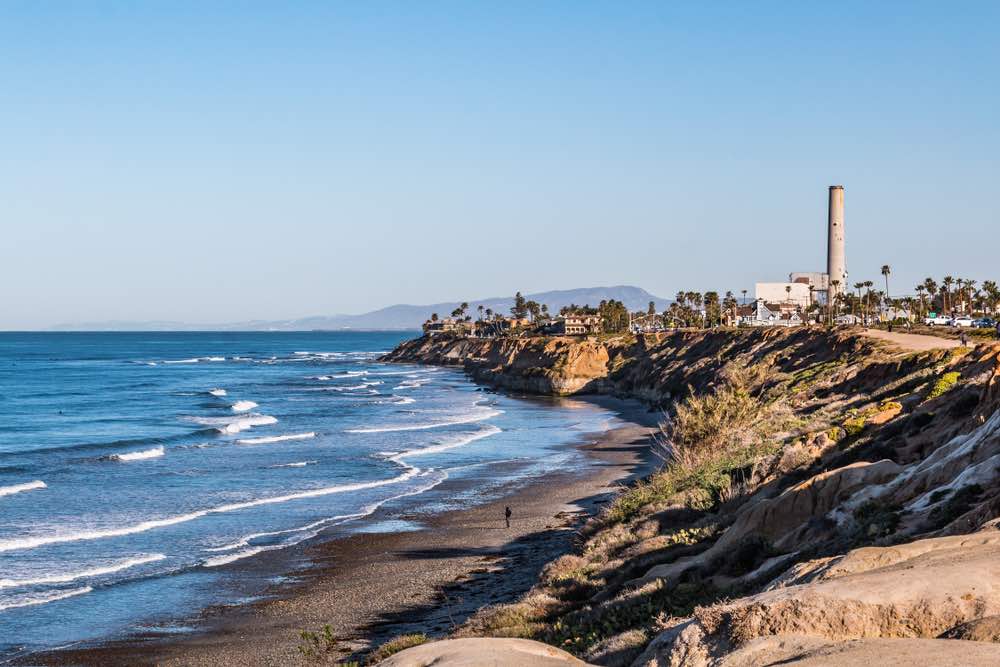 Driving Time from Los Angeles: 1 hour 45 minutes
There is no shortage of entertainment and fun activities in Carlsbad. Visit the Legoland California theme park for its amusement rides and the Museum of Making Music for its unique interactive exhibits.
Visit The Flower FIelds to see the most spectacular and colorful displays of flowers in full bloom during the spring season or wander down the Oceanside Fishing Pier to watch the blazing sunset over the ocean.
The Elfin Forest Recreational Reserve is a gorgeous, well-maintained trail perfect for a hike and picnic. To catch sight of some wildlife and stunning ocean views, hike the Double Peak Trail at Double Peak Park.
Weekend Road Trips from Los Angeles: Inland Escapes
Anaheim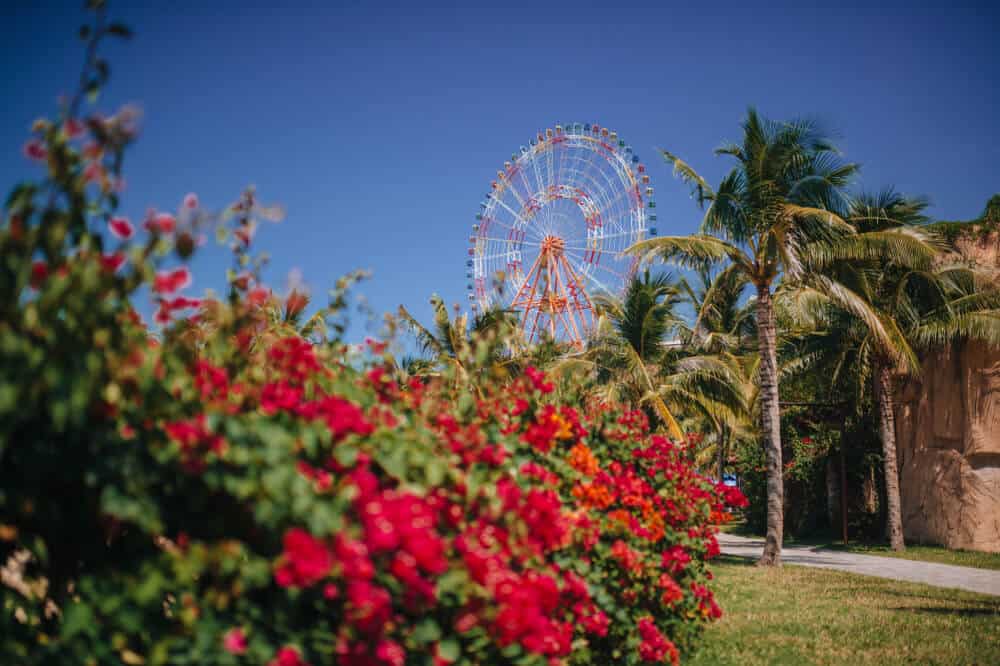 Driving Time from Los Angeles: 1 hour
Anaheim is renowned for Disneyland, but you will need to spend a total of 3 to 4 days to get the most out of what you pay for (and Disneyland tickets are not cheap).
So, what is there to do in Anaheim if you're not going to Disneyland? There's a lot, actually!
Start your weekend exploring Center Street Promenade for delicious bites from eateries and cafes or try local specialties from their Farmers' Market.
Just a short walking distance is the must-visit Anaheim Packing District, a buzzing food hall that is every foodie's and beer lover's dream (it has its own brewery, and it's just one among many other breweries in the area).
Although you won't have time for Disneyland, you can still experience some of the magic of Disney by visiting the Downtown Disney District for mouth-watering food, Splitsville Luxury Lanes Disney bowling, Disney-themed apparel and collectibles, as well as other unique boutiques—admission to the district is free.
With Anaheim being the home to professional sports teams like the Anaheim Ducks hockey team and the Los Angeles Angels baseball team, you can watch a game at either the Angel Stadium of Anaheim or the Honda Center (and you can watch music concerts here too).
Temecula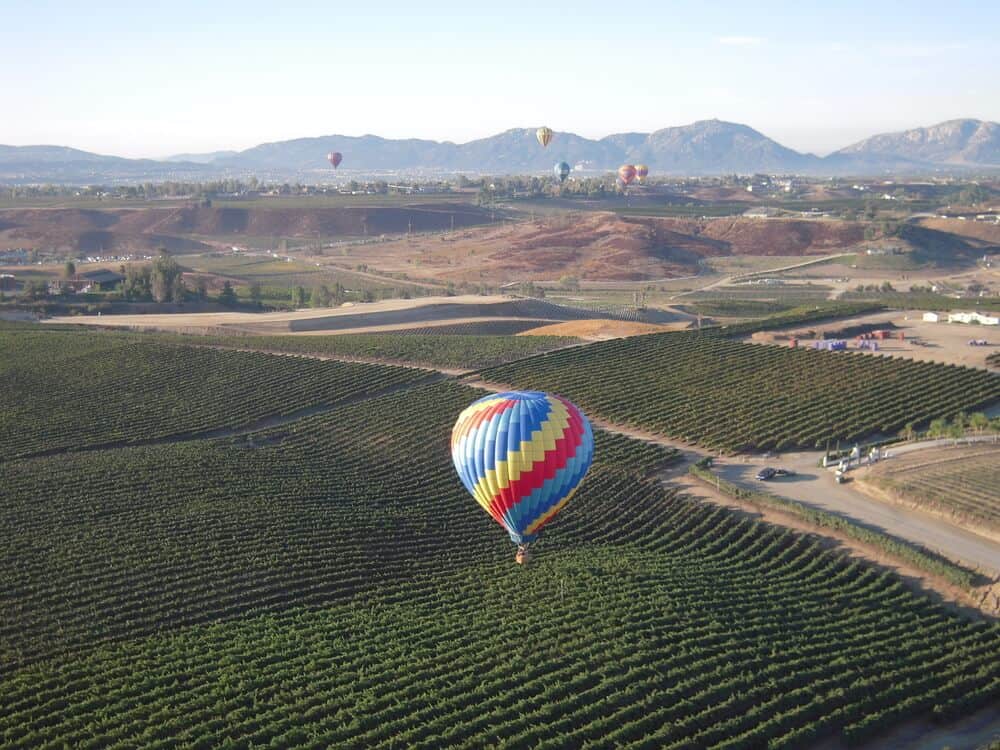 Driving Time from Los Angeles: 2 hours
Temecula is the perfect Los Angeles weekend getaway for a couples' trip: enjoy romantic activities like wine tasting and floating to breathtaking heights on a hot-air balloon.
Visit the highly rated Wilson Creek Winery or Leoness Cellars and sip on some of the finest wines.
Book your stay at the luxury Pechanga Resort Casino where you can do more than just spend the night to rest. Everything from restaurants, shops, live concerts, slot machines, the spa, and a golf course are available here.
Besides riding hot air balloons at Lake Skinner Park, you can also go fishing, camping, boating and horseback riding.
And with the year-round warm weather, Temecula is a great place for hiking! Hike to the beautiful waterfalls of Ortega Falls and Tenaja Falls.
Palm Springs
Driving Time from Los Angeles: 2 hours
Located in the Colorado Desert of Coachella Valley, a weekend in Palm Springs combines relaxation, glamour, and adventure.
Your weekend here includes endless sights to see. Take the Palm Springs Aerial Tramway—the world's largest rotating tram car—up to the peak of Mount San Jacinto.
The views are incredible, and on a clear day, you can see across state borders to Mount Charleston, which is north of Las Vegas.
Hike the Indian Canyons where you can see the largest grove of California palm trees in the world, or tackle one of the other great Palm Springs hikes.
Don't miss the fascinating, giant windmills located along the I-10 freeway (well, you actually can't miss them since they're visible en route to Palm Springs). If you want to get a close-up view of them, you can take a windmill tour too.
For a relaxing weekend of indulgence and being pampered, book your stay at the luxurious Ritz-Carlton, Rancho Mirage or the La Quinta Resort & Club.
Weekend Getaways from LA: Nature Road Trips
Angeles National Forest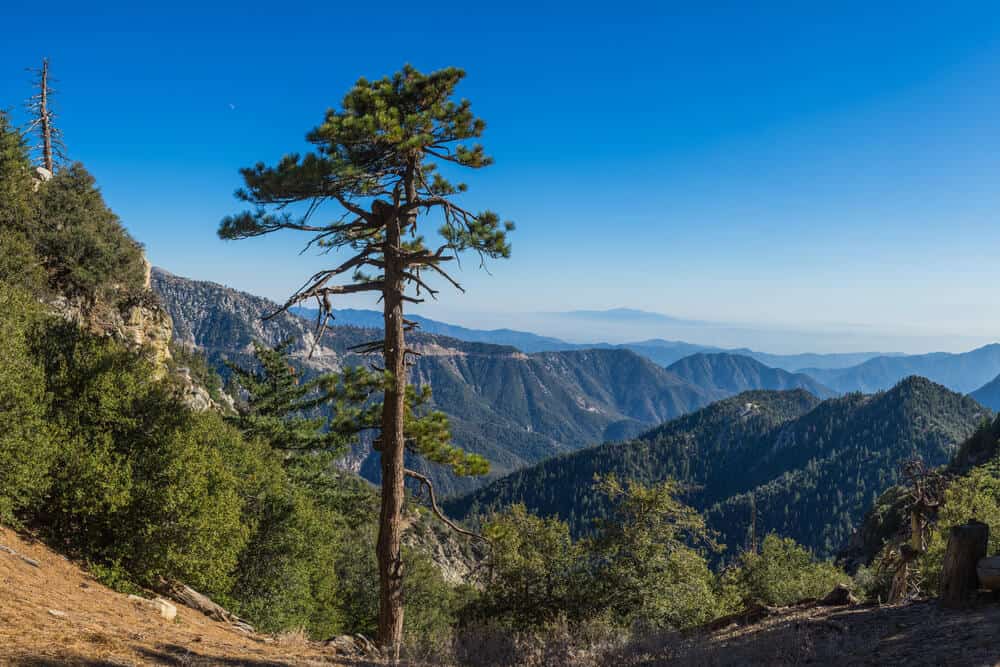 Driving Time from Los Angeles: 2 hours
The Angeles National Forest is every hiker's and camper's dream destination.
Take California State Route 2 up the Angeles Crest Highway through the mountains and you'll be astonished by the views. During certain points of the drive, you'll achieve altitudes of over 7,000 feet!
Hike the moderately difficult 3.6-mile forested path to the cascading waterfalls of the Switzer Falls Trail.
For advanced hikers, trek the 7.2-mile Strawberry Peak Trail where you'll encounter steeper stretches of scrambling near the last leg of the hike but be rewarded with over 6,000-feet summit views of the surrounding mountain peaks.
A must-visit is Mount Wilson where you'll reach an almost 6,000-foot altitude. The summit has an observatory where your mountaintop-viewing experience will be taken to the next level—you can look through a 100-inch telescope!
Big Bear Lake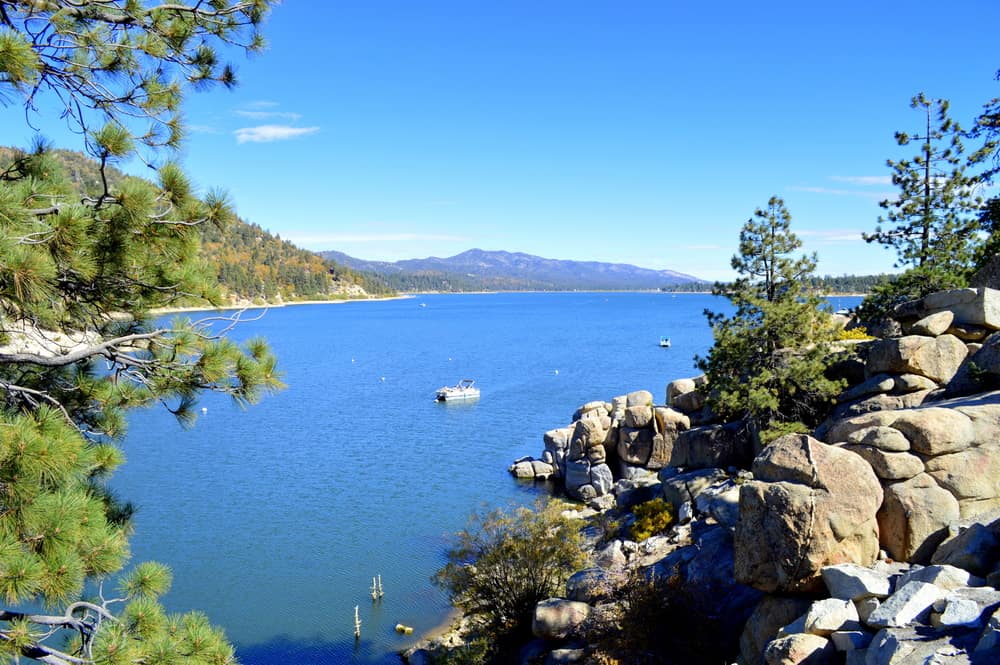 Driving Time from Los Angeles: 2 hours 30 minutes
Big Bear Lake is a magical winter wonderland for all Californians — it's one of the best places to find snow in California!
If you don't know how to ski or snowboard, Big Bear Mountain Resort is the perfect place to learn.
You can easily rent equipment and take lessons, or to make things easier, just go snow tubing instead — or find one of the other awesome things to do in Big Bear in winter!
Spend the afternoon at Big Bear Alpine Zoo to see unique winter animals like the arctic fox, snow leopard, black bears, and the snowy owl.
If you're visiting in the summer, you can still enjoy many exciting outdoor activities like jet skiing, horseback riding, and ziplining.
Whether you visit in the winter or summer, it's the go-to getaway destination for those looking to book a cozy cabin and get away from the noise of the city.
Joshua Tree National Park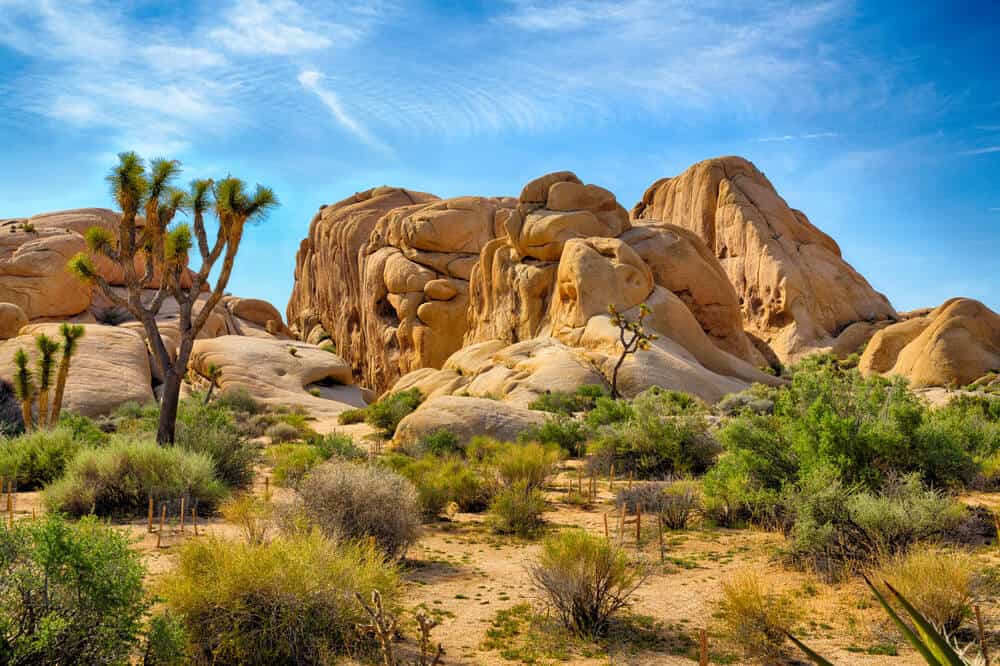 Driving Time from Los Angeles: 2 hours 30 minutes
East of Palm Springs sits the vast desert expanse, Joshua Tree National Park.
The park is named after the Joshua tree, which is actually a plant—specifically, a succulent that has a slight resemblance to a palm tree but with thicker and twisted tree-like branches.
Throughout the park, you'll encounter a number of these unique plants, and many more!
Walk the trail of Cholla Cactus Garden and you'll see unique cacti and shrubs that you will not see at your local park: it's one of the best hikes in Joshua Tree NP!
Hike the 1-mile Hidden Valley Nature Trail loop and marvel at the giant stacks of boulders everywhere, and you'll likely see rock climbers attempting to scale up these boulders too.
A must-do while you're here is stargazing. With little light pollution here, simply take a seat upon dusk and gaze up into the twinkling night sky. You'll be able to see the milky way too!
Once you're finished exploring the desert grounds for the day, head to Downtown Joshua Tree where you grab some tasty grub from Italian to pub-style dishes.
Downtown also has several boutiques where you can shop for vintage items, home goods, and quirky souvenirs!
Death Valley National Park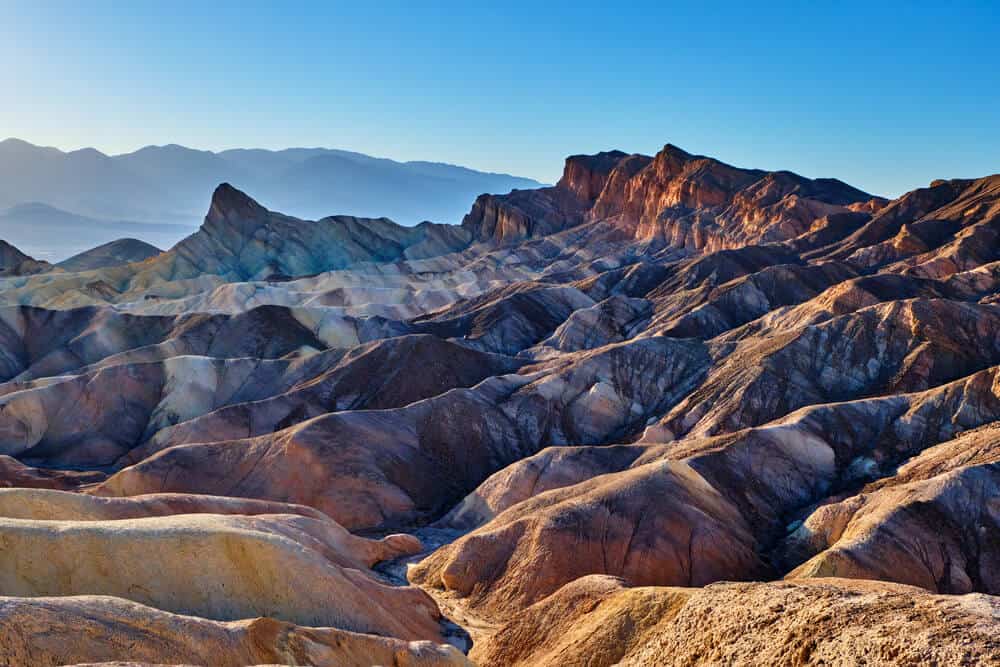 Driving Time from Los Angeles: 3 hours 30 minutes
At 282 feet below sea level, Death Valley National Park is the lowest point in North America.
With moving rocks that leave "racetrack" imprints at Racetrack Playa and salted-covered grounds at Badwater Basin (at first glance it looks like snow, but it's not), a weekend at this park will keep you in awe and wanting to explore all the beauty of this surreal landscape.
Hike to the highest point in Death Valley to Telescope Peak, then explore the eroded landscape of Zabriskie Point.
Just don't leave your weekend trip without a stop to the Ubehebe Crater where you can see an over 600-foot deep and half-mile wide crater that was from approximately 2,100 years ago!
Other must-visit spots are the 80-foot waterfall, Darwin Falls, and the Mesquite Flat Sand Dunes. If you're a Star Wars fan, you must hike Golden Canyon, where they filmed the movie series!
Weekend Getaways from Los Angeles: City Trips
Santa Barbara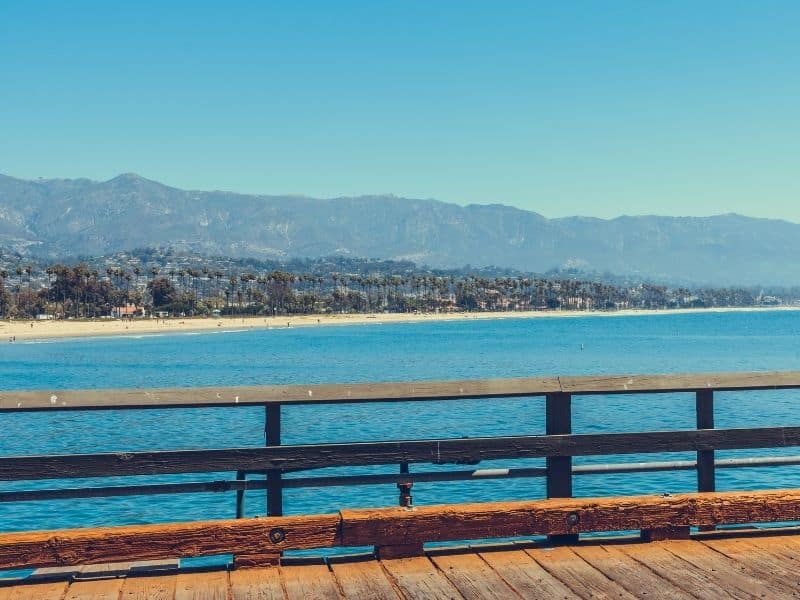 Driving Time from Los Angeles: 1 hour 30 minutes
With its Mediterranean-style architecture, beautiful mountainside, and picturesque shoreline, the city of Santa Barbara is an ideal romantic getaway for the weekend.
A stroll through downtown along State Street will take you to some of the best boutique shops, restaurants, wineries, breweries and more.
Don't miss the Santa Barbara Public Market for a variety of delectable cuisine all packed in this one food hall and the top-rated ice cream from McConnell's Fine Ice Cream!
After you've filled your stomach to your heart's content, go for a stroll down Stearns Wharf. Make sure to turn around at the end of the pier to take in the remarkable views of the palm-lined sandy shores and the enchanting city backdrop.
Other must-visit spots are The Funk Zone, Old Mission Santa Barbara, Lotusland, and the Santa Barbara Museum of Art.
If you want to explore the nature of Santa Barbara, hike Inspiration Point or Lizards Mouth Rock or one of these other awesome Santa Barbara hikes!
Where to Stay: Accommodations in Santa Barbara are not cheap, but the Eagle Inn in West Beach (a 10-minute walk from central Santa Barbara) offers some of the best value just a short walk from the ocean!

For a little more luxury, the Santa Barbara Inn is a beautiful, chic boutique hotel with beachfront access and its own pool, also located in West Beach.
San Diego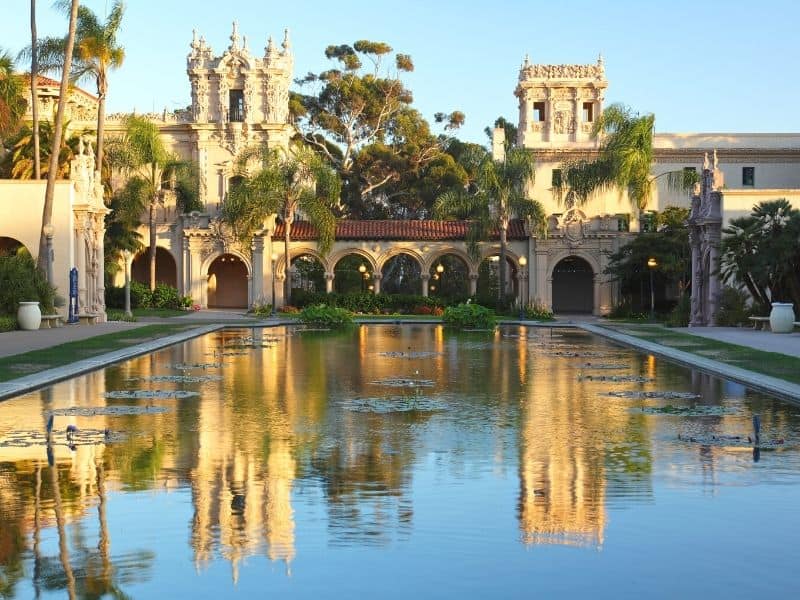 Driving Time from Los Angeles: 2 hours
San Diego has a little bit of everything: a charming beach town atmosphere, endless outdoor adventure, buzzing nightlife, and mouth-watering food.
Your oceanfront escapade begins at the unique cave store, Sunny Jim's Sea Cave, that descends down a tunnel to the gorgeous waters of La Jolla Cove.
Head south along the coastline to Children's Pool Beach where you'll see many adorable seals and their pups.
Further south is the La Jolla Tide Pools where you can observe a variety of sea life. Want more wildlife? Check out your favorite land mammals at the San Diego Zoo or their Safari Park!
Spend a fun and free afternoon at Fiesta Island Park. Its wide-open spaces are ideal for nearly every outdoor activity you can think of—biking, swimming, kayaking, paddle boarding, boating, and even grilling for a picnic!
Your weekend itinerary must include a visit to Little Italy, Seaport Village, Gaslamp Quarter. Eat and drink your way through these neighborhoods, and then veg out on the sands of Coronado Beach.
Where to Stay: The beautiful Pantai Inn in La Jolla offers unique, Balinese-inspired rooms with sweeping views of the Pacific Ocean. Each room comes equipped with a kitchenette and spacious seating area. Best of all, it's just a 5-minute walk to La Jolla Cove!

Another option is the Hilton La Jolla Torrey Pines, located right in the heart of one of the prettiest patches of San Diego coastline. It's got all the 4-star amenities you'd expect from the Hilton name, like an outdoor pool, hot tub, restaurant, etc.
San Luis Obispo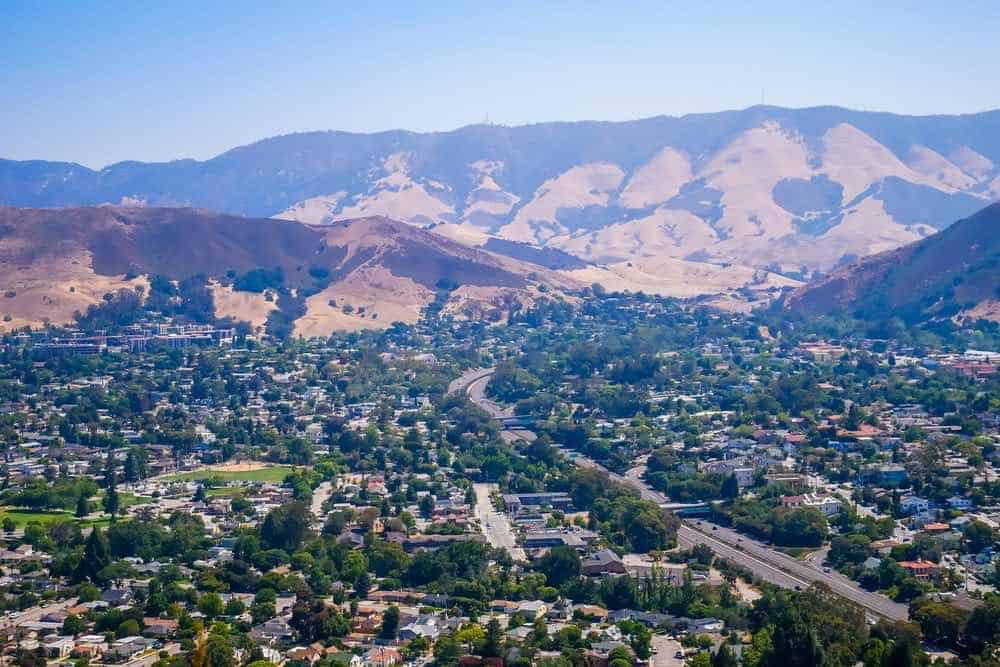 Driving Time from Los Angeles: 3 hours
San Luis Obispo (SLO) is the place to spend a relaxed and casual weekend away from the fast pace of Los Angeles.
Downtown SLO is famous for the beautifully built Spanish mission that was founded in 1772: Mission San Luis Obispo de Tolosa.
Today, the mission remains open for tours, attracting visitors to learn about the special history behind its ornate architecture.
The streets neighboring the mission are lined with both casual eateries to fine dining restaurants, many of which use locally sourced ingredients.
Every week, SLO's farmer's market fills the streets, selling some of the best fresh produce in California—it's a must-visit while you're here!
While you're in downtown, make a quick stop at Bubblegum Alley to see this strange but interesting alleyway with an estimated 2 million pieces of chewed gum covering its walls.
Looking to experience more of the outdoors? Head 20 minutes south of SLO to Pismo State Beach and rent an ATV or dune buggy to ride the hilly sand dunes—a true desert experience.
For fun water activities, drive just 15-minutes north from SLO to kayak along the calm waters of Morro Bay and you might also see some cute sea otters and seals.
Where to Stay: The forever-classic Madonna Inn offers an impossible variety of quirky rooms, each with their own personalized theme and decor. Don't miss visiting the hot pink steakhouse or walking around their gorgeous grounds! Each room has its own style, so be sure to check your room's photos before you book — that's all the fun!

I don't know why you'd want to stay anywhere else, but if you can't get a room at the Madonna Inn for some reason, I'd suggest the beautiful yet minimalist San Luis Creek Lodge for great design in a wonderful location.
Las Vegas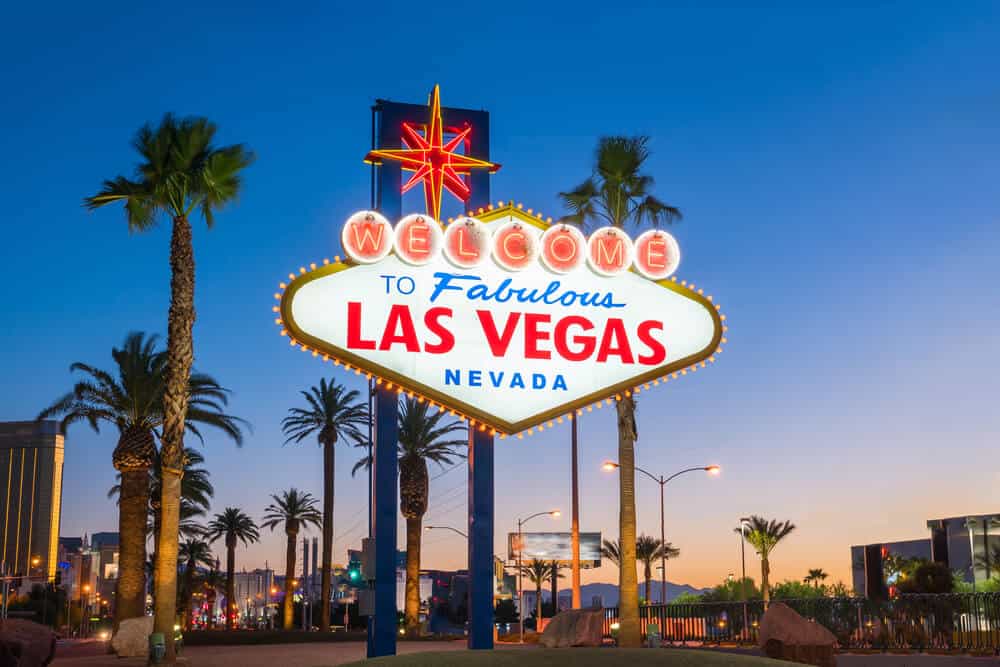 Driving Time from Los Angeles: 4 hours
Welcome to the entertainment capital of the world! Known as the city that never sleeps (besides N.Y.C.), Las Vegas, Nevada is the weekend trip for those who love the glitz and nightlife.
The 4-hour road trip from LA will feel like a breeze, as the drive up the desert lands of Interstate 15 has a number of exciting sights and pit stops that will keep you entertained along the way.
A few cool spots are Bottle Tree Ranch, the World's Tallest Thermometer, and the Seven Magic Mountains.
The Las Vegas Strip has unlimited entertainment. If it's your first time, take in the sights by walking down the strip (it can take roughly 45 minutes to an hour, or longer if you choose to make stops along the way).
Explore the attractions of each casino, from the fountain show at The Bellagio to the volcano fire show at The Mirage. You can even take a romantic ride on a gondola through the canals of The Venetian.
Besides the endless sights to see, the food scene is extraordinary (you must dine at the Wynn buffet!), the designer boutiques will satisfy your upscale shopping desires, and the dusk-till-dawn parties will keep you dancing all night long.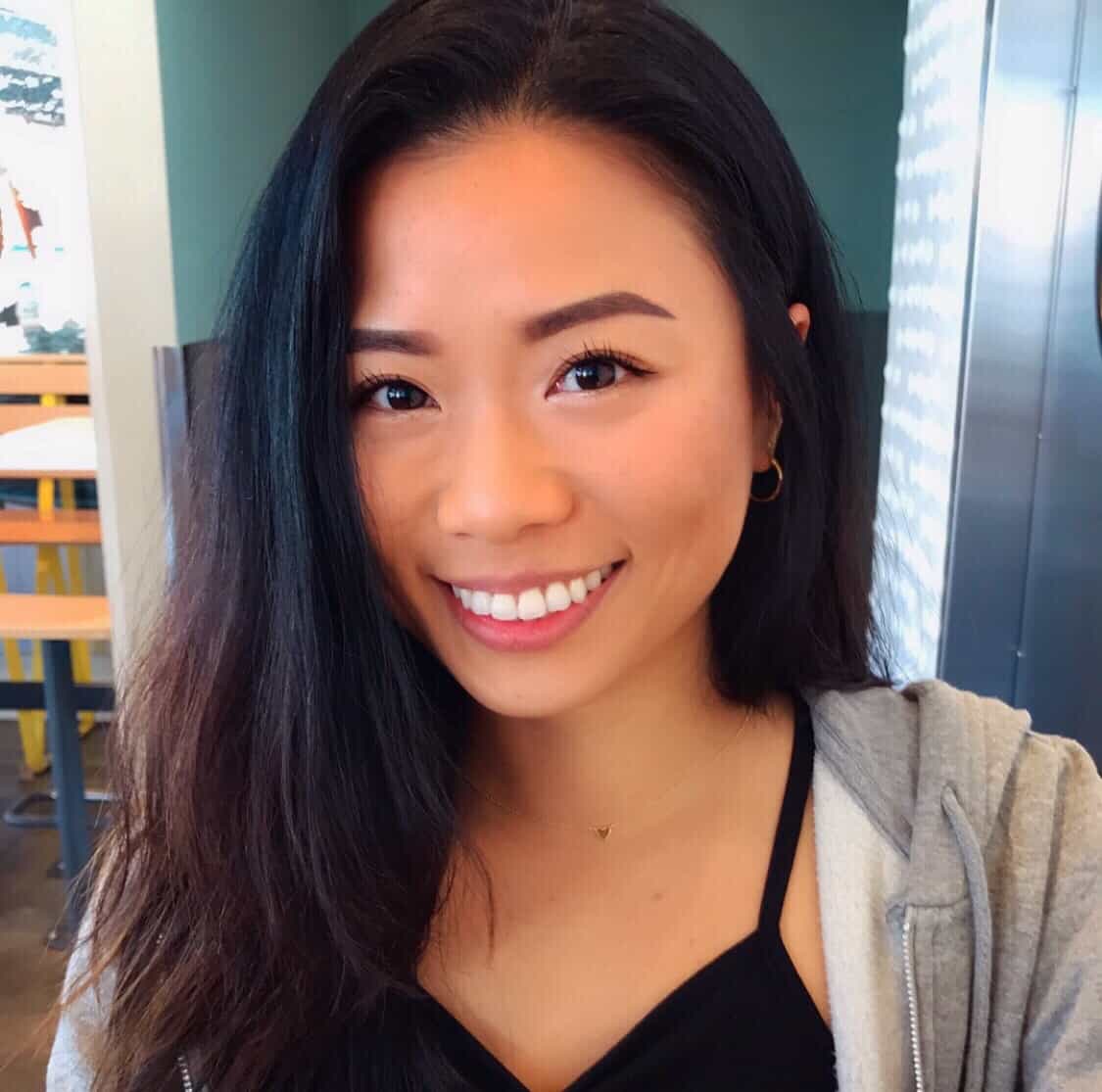 Lianne quit her 9-5 job in 2018 and moved to the bustling city of LA for a change of pace. Having lived in a quiet, secluded part of the East Coast most of her life, her life on the West Coast has since pushed her outside her comfort zone and inspired her to always take "the road less traveled." Travel has played a key role in her personal development, and she believes everyone can reap the extraordinary benefits of exploring life beyond borders.