Big Bear Lake, situated in the San Bernardino National Forest, is a popular winter destination for those who love the snow.
Bear Mountain is known to be particularly crowded after a fresh snowfall, especially since it's a popular winter weekend getaway destination from Los Angeles.
If you have only been to Big Bear in the frigid winter months, however, you will be pleasantly surprised by the sunshine, warmth, and abundance of activities to enjoy in Big Bear in summer!
Not sure what to do in Big Bear Lake in summer? Here are our favorite things to do — but first, here are a few things to note before you visit.
Note: This post contains affiliate links, which earn me a small commission at no extra cost to you if you make a purchase using one of these links. Thank you for supporting this free content!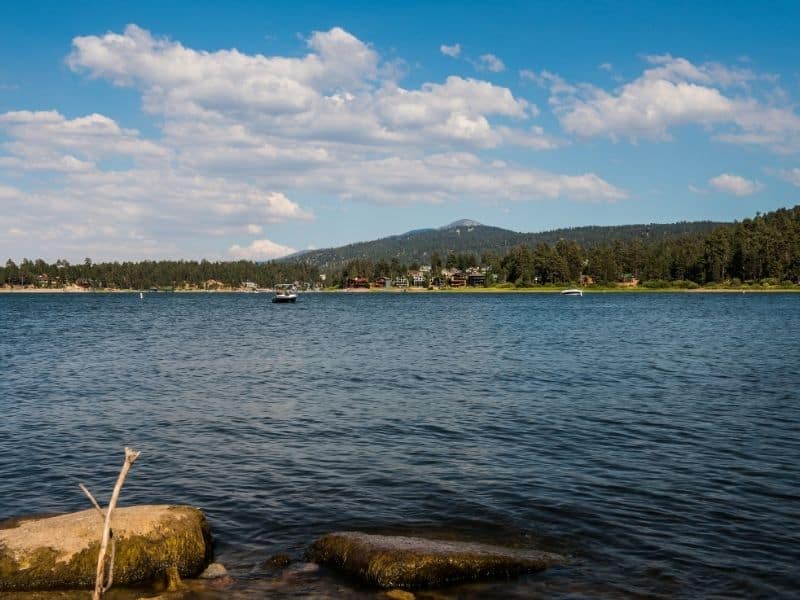 Getting to Big Bear Lake in Summer
Big Bear Lake is nestled into the mountains about 100 miles northeast of Los Angeles. There are three common routes into the area, depending on your location. You will want to do some research to choose the best course for your needs.
Remember that It is a mountain town, so expect narrow roads with many bends and curves that can be especially dangerous in the dark if you do not know the way.
What to Know Before Visiting Big Bear Lake in Summer
Adjust your altitude.
With an altitude ranging from 6,750 to 9,000 feet, you will want to take it slowly until your body is acclimated.
Altitude sickness is no fun and can ruin your trip really fast with side effects like nausea and headaches.
Be sure to drink water, hydration always helps, and listen to your body if you need to slow down.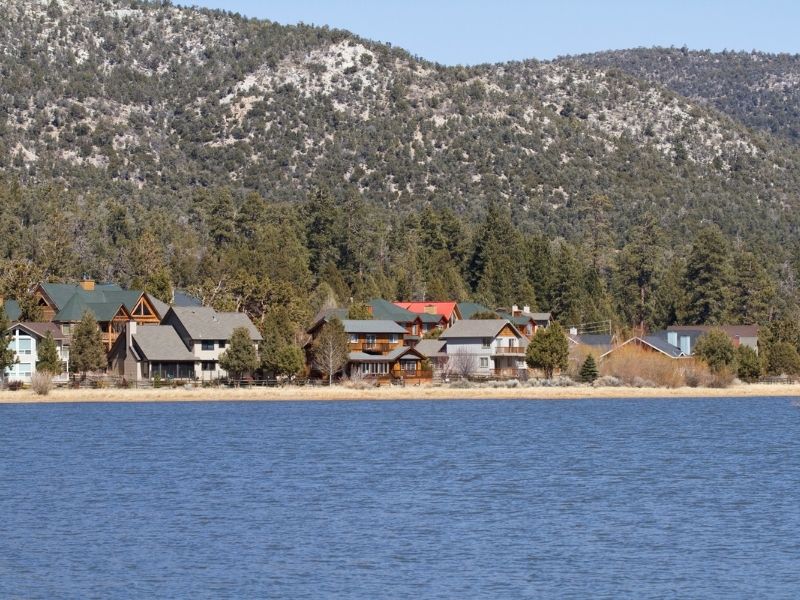 Weather the sun.
Southern California boasts more than 300 days of sunshine, so sunscreen is a staple for those staying in the area — especially since altitude compounds the effect of the sun's rays.
Big Bear Lake reaches highs in the 80s throughout the summer months. You will most likely experience a lot of warm sunshine but be prepared for cooler temperatures at night that may require a sweatshirt.
Rain is infrequent and a blessing to this drought-prone part of the country, but it typically does not last very long. You likely won't need any rain gear unless the weather report specifically forecasts it.
Things to Do in Big Bear Lake in Summer
Get reel.
Big Bear Lake is full of fish, most commonly rainbow trout, largemouth bass, black crappie, channel catfish, bluegill sunfish, and common carp.
You will need a fishing license, attainable online through the California Department of Fish and Game's website. Remember there are limits to what you can catch that you must abide by!
There are many places around the lake to catch specific species, so do your research depending on what you are looking to catch, and whether you will be casting off from the shore or a boat.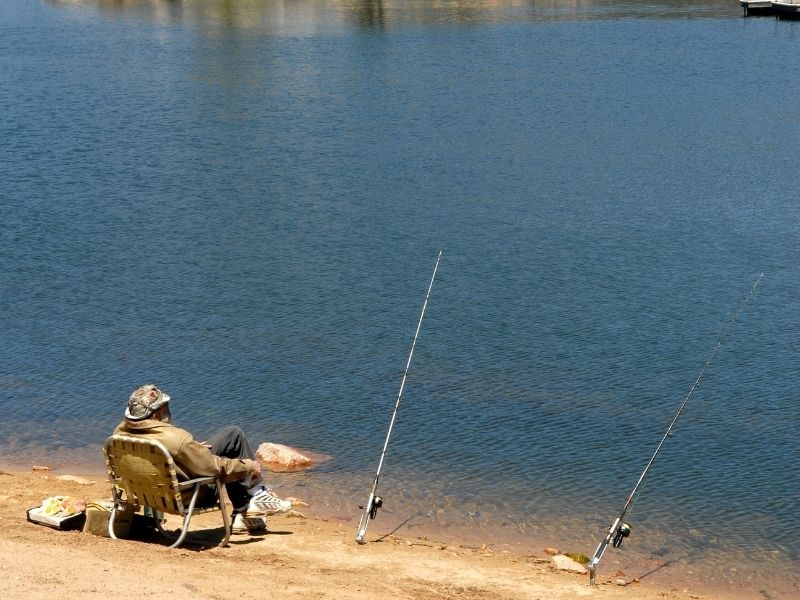 Get on the water.
There are multiple marinas around the lake from which you can rent all kinds of boats, jet skis, and wave runners.
If you are into wakeboarding, water skiing, or tubing, you can rent everything you need for a day on the lake.
If you are bringing your own equipment, there are public boat launches to use. Please be responsible on the lake for everyone's safety!
Be your own power.
If you prefer to use your own muscle power to get you around on the lake, you can rent a paddleboard or kayak for a workout on the water.
Boulder Bay is just one of the lake's beautiful places to relax and take in the views. You can launch your paddleboard right from the beach and make your way around the historic house on China Island.
Whatever your chosen method, there is a certain satisfaction from using your own strength to get you there!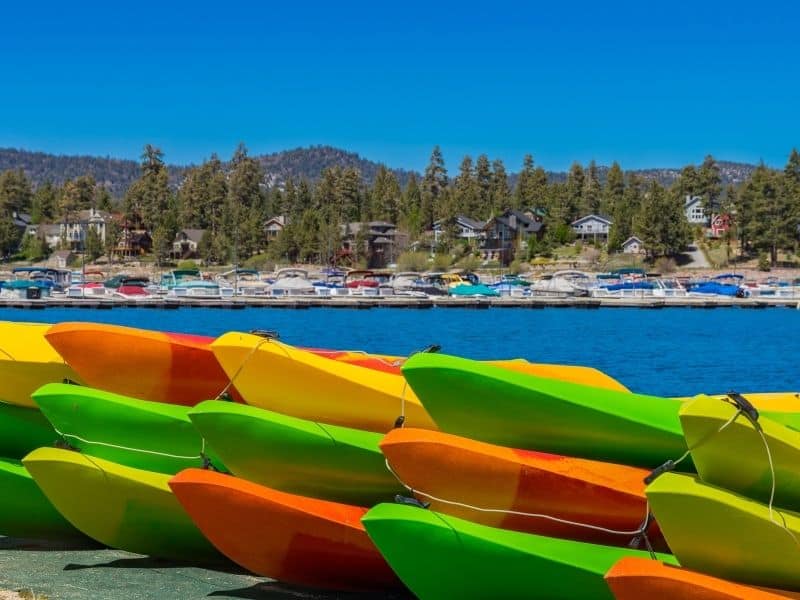 Circle the lake.
The Alpine Pedal Path is an easy trail for everyone, including wheelchair users and people with strollers. It goes along a length of shoreline that is undeveloped and relatively untouched.
The views from this quiet spot are breathtaking and you develop a greater appreciation for the protected parts of our planet.
Many of the native plants that you will see along this route are unique to the San Bernardino Mountains and cannot be found anywhere else on Earth!
Shop for something local.
Whether you are looking for a souvenir, gift, home decor, or tasty treat, Big Bear Village has a good selection for all.
Shop for sports equipment, taste balsamic vinegars and olive oils, or purchase some handcrafted jewelry. There is a little something for everyone!
Go up (and down!) on a mountain bike.
Mountain biking in Big Bear has long been a popular outdoor activity. Snow Summit Ski Lift will take you and your bike to the top of the mountain in ease.
From there you can ride on the many paths around the summit or down the mountain for a little more adrenaline.
If catching a lift isn't your style, there are many easy-to-challenging bike trails from which to choose. It's just a matter of picking your path.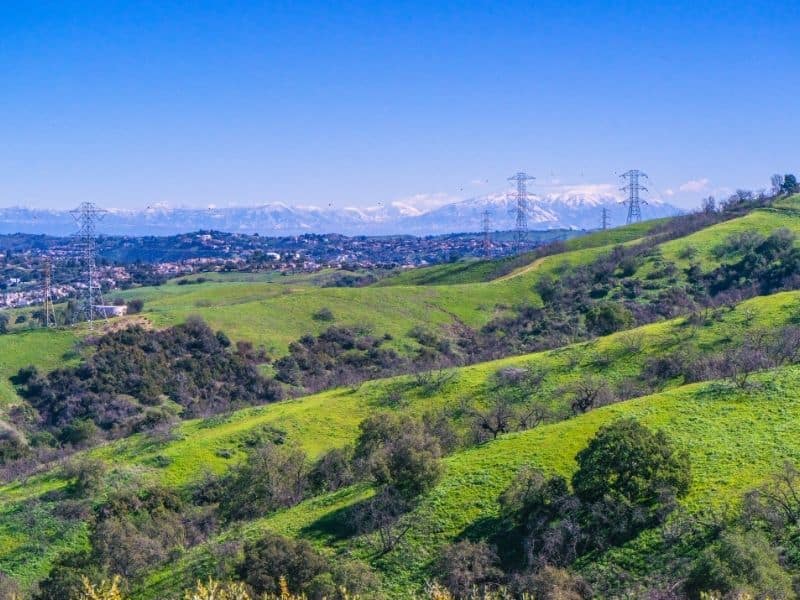 Visit one of two alpine zoos in the country.
Residents of the Big Bear Alpine Zoo are grateful for the accommodations!
One of only two alpine zoos in the country, this facility rehabilitates injured animals and cares for those that cannot be released back into the wild.
It is a small zoo and a wonderful way to learn about local wildlife up close. You will not want to miss seeing Valentine, the beautiful bald eagle with severe visual impairments, who calls this zoo home.
Take a hike.
Big Bear is home to dozens of trailheads for all abilities of hikers.
From the ADA accessible Happy Hills Trail to the Skyline Trail's 15 mile loop, you will find yourself on one of these Big Bear hiking paths, connecting with nature.
There are a great many wildflowers that inhabit the area, bursting with color and making a perfect backdrop for a quick selfie. Remember to bring water — dehydration is serious business, especially with altitude and Big Bear summer sun!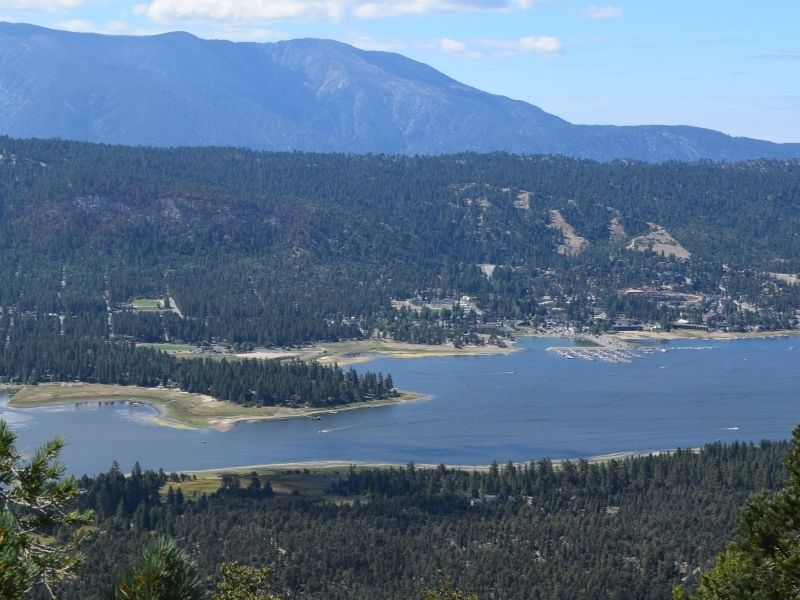 Take a blast from the past.
If a museum is on your must see list for this vacation, please visit the Big Bear Valley Historical Museum. They are committed to preserving the past for the future to see.
The museum is home to over 1 million artifacts on its two acres, chronicling Big Bear Valley's growth.
Learn about the Serrano Native Americans (who called this area 'Yuhaviat' in their native tongue) as well as the ranchers, blacksmiths, and gold miners who settled this area, through live demonstrations and special events.
Mine for gold.
Pan for gold and go home with a pocketful of pyrite! The Gold Rush Mining Co. is a trusted source for first-hand experience digging, mining, and panning for gold and other precious things.
This is a great activity for families with children and you get to keep all the riches you find.
Wander through the gift shop for a large selection of stones that have already been mined and polished for you… or pick up a geode and crack it open on your way out, the surprises are endless!
Slide down a magic mountain.
The Magic Mountain Recreation Area offers activities year round. During the summer months, the Alpine Slide is a popular attraction.
Sitting on an individual sled, you can control your speed as you wheel down the long cement track with twists and turns!
There is also a water slide, go-carts, miniature golf course, and the Mineshaft Coaster. It is a full day of family fun, so you can pack a picnic lunch or bring money for the snack bar.
Study the center of our solar system.
The Big Bear Solar Observatory, built in 1969, is one of the world's largest operating solar telescopes!
If you would like a free tour of the facility, call for the most updated information. You will not be disappointed learning about this prominent landmark that can be seen from vistas all around the lake.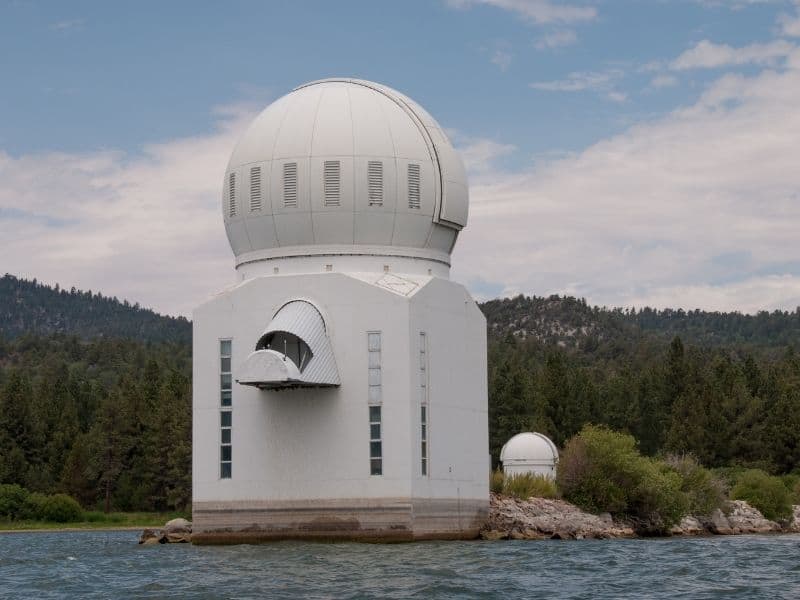 Go golfing.
Bear Mountain Golf Course is a 9-hole course where you can try for a hole in one under the sun.
You can rent all equipment, practice at the 300-yard driving range, and stop for lunch at the Clubhouse Grill.
Enjoy a day on this course surrounded by the San Bernadino Mountains and breathing that crisp mountain air!
Pick between strikes or skates.
The Bowling Barn is hard to miss if you are looking for an indoor activity on the rare occasion that it rains in Big Bear in summer!
The large red building houses 16 lanes for bowling, as well as a sports bar, a video game arcade, and a laser maze.
If the heat is getting to you, try ice skating at Big Bear Ice Arena. Check for public skate times before you go.
Zipline through the sky.
If you are not afraid of heights, zip lining is a thrilling way to see the beauty of Big Bear Lake! Action Tours offers zip line and Segway tours among other fun options.
Strap on a harness and zip through nine high-speed runs, cross a suspension bridge, and experience the unobstructed views from high in the air. This is a 3-hour tour for ages 8 and older.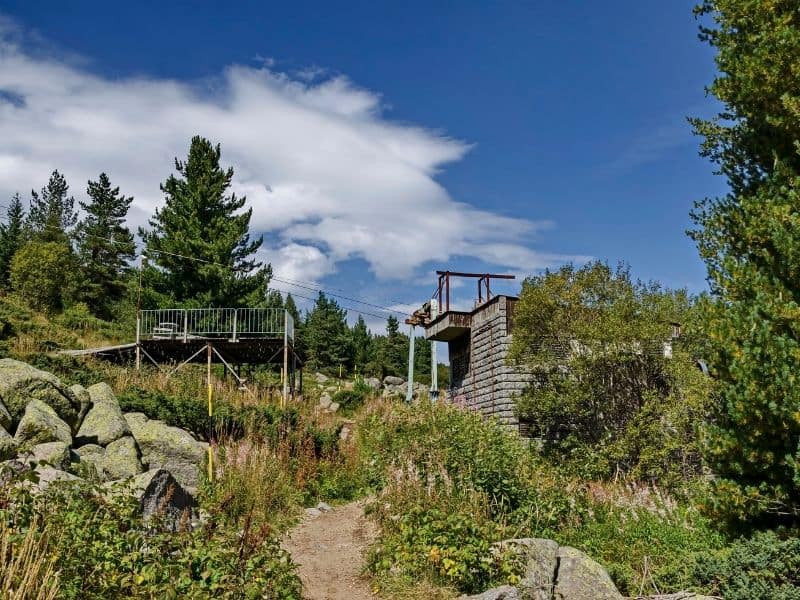 Discover horsepower… literally!
A beautiful and relaxing way to see the area surrounding Big Bear Lake is by riding a horse.
There are stables open year-round that will take groups horseback riding through peaceful meadows and trails to explore.
Riding atop a magnificent creature as you take in the surroundings of Big Bear Lake in its summer glory is an experience you will enjoy and not easily forget.
Listen to your captain.
Big Bear Lake is home to many boat tours that will take you and yours around the lake for a unique experience of your choosing. Do you prefer a pirate ship or a paddlewheel?
Whatever you pick and whenever you go, you will enjoy a leisurely trip on the water with stunning views to relax the mind and settle your spirit.
Contributing Writer: C.Tavassoli