I've hiked a lot in California, but rarely have I found a trail as richly rewarding as the Kortum Trail in Jenner-by-the-Sea, California.
Traversing four beautiful beaches, uncountable sea stacks, so many wildflowers and kinds of plant life, and mystical boulders and washed up redwoods, there's nothing else quite like it on the coast.
Best of all? It's an easy and infinitely adaptable hike. At it's hardest, it's about 6.5 miles roundtrip and on the moderate side of easy, with a little bit of uphill at the beginning or end of your hike. At it's easiest, it's a 2 or 3 mile stroll anywhere along the coast you choose and basically entirely flat.
Getting to the Kortum Trail
Note: This post contains affiliate links, which earn me a small commission at no extra cost to you if you make a purchase using one of these links. Thank you for supporting this free content!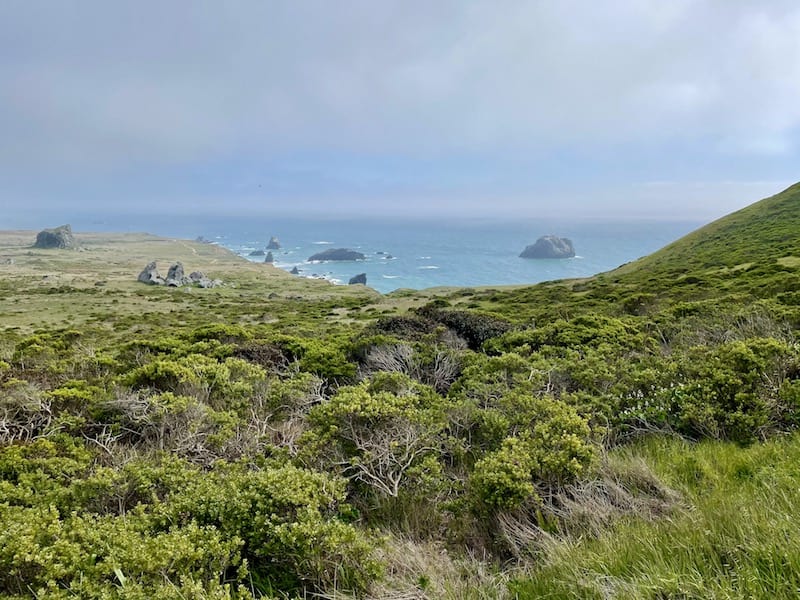 There are several ways you could do the Kortum Trail hike. The most popular way is to start at Goat Rock Beach and work your way down to Wright's Beach and back. This can also be done in reverse.
You could also use Shell Beach as a turn-around point if you are looking for a shorter hike, starting at either Goat Rock or Wright's Beach parking lots.
Alternately, you can park at Shell Beach, find the Kortum Trailhead, and do a short hike to either Goat Rock or Wright's Beach or do some doubling up and going north-south-north or south-north-south to extend the hike with a bit of backtracking.
Personally, when I did the Kortum Trail, we started at Goat Rock Beach. However, the parking lot down at Blind Beach was full, so we parked near the top of the trail, which cut off a bit of hiking.
The Kortum Trail Sections
The Kortum Trail is divided into six sections as follows below, with lengths and approximate grades given.
Arch View Parking Area to Blind Beach Parking Area: 1/2 mile, 6% average grade, 14% maximum grade.
Blind Beach Parking Area to Shell Beach Parking Area: 2 miles, 5% average grade, 29% maximum grade.
Shell Beach Bluff Trail: 1,000 feet, 2% average grade, 5% max grade (note: this section is wheelchair accessible)
Shell Beach Parking Area to Grill Way Parking Area: 1 mile, 7% average grade, 37% maximum grade
Grill Way to Carlevaro Way: 1/2 mile, 4% average grade, 23% maximum grade
Carlevaro Way to Wright's Beach: 1 mile, 4% average grade, 25% maximum grade
How We Hiked the Kortum Trail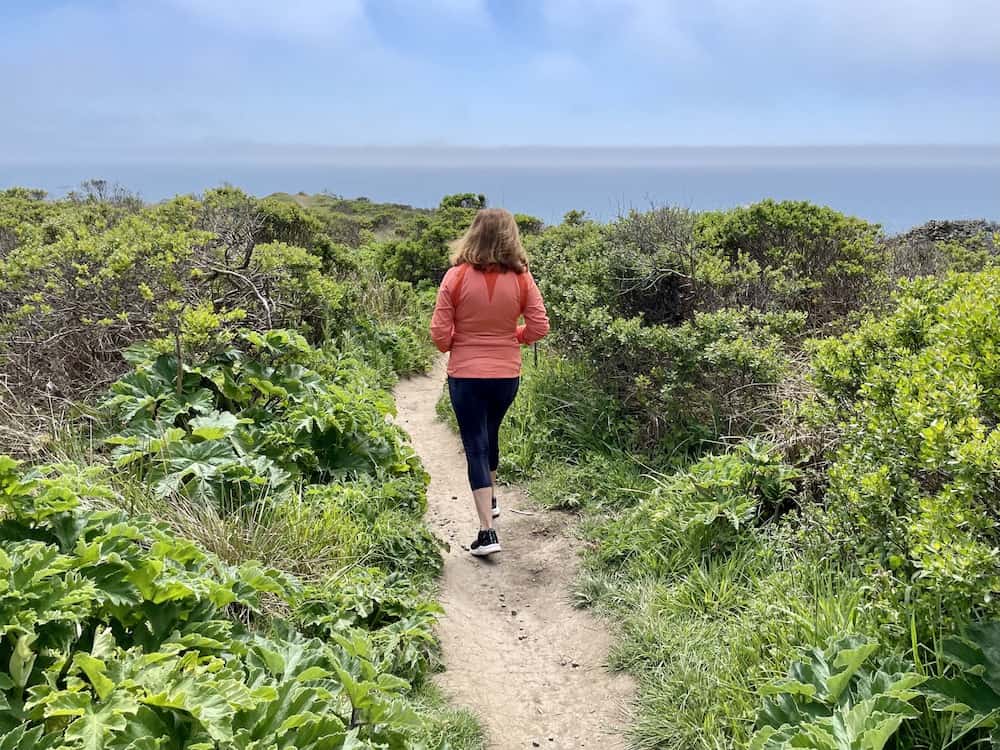 We hiked the Kortum Trail on a beautiful sunny afternoon in April. There were a few patches of fog in the sky but other than that it was a dreamy day along the Sonoma Coast, with tons of wildflowers blooming, including an incredible number of violet Douglas irises.
We didn't get an early start so the Blind Beach lot, where we would have liked to start, was all filled up. Instead, we parked near the beginning of Goat Rock Road at the top of the hill, where you'll see a few cars parked along the side of the road where the trail starts. You can see where the trail starts easily on Google Maps.
Starting there shaved about a half mile and a good stretch of uphill off the hike, so if you're looking to cut off some of the uphill portion, this is a decent way to go. Just make sure you drive down to Blind Beach later for these views!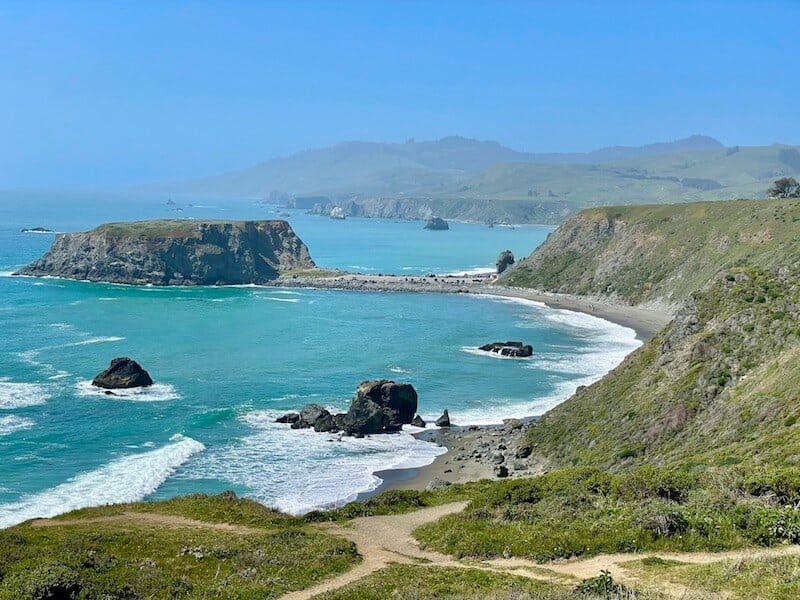 From our truncated starting point, we made our way downhill towards the distinctive rock formations of the Sunset Boulders. This was the busiest part of our hike and there were quite a few people along this stretch of the trail.
After we passed the Sunset Boulders, the crowds thinned out quite a bit; a good feeling in these pandemic times!
I loved the Sunset Boulders — they actually remind me a bit of Craigh na Dun in Outlander, not because of the shape per se but just because of how out of place they look plopped down into the middle of the grassy expanse of coastline. I'm not sure why they are there, but they sure are beautiful.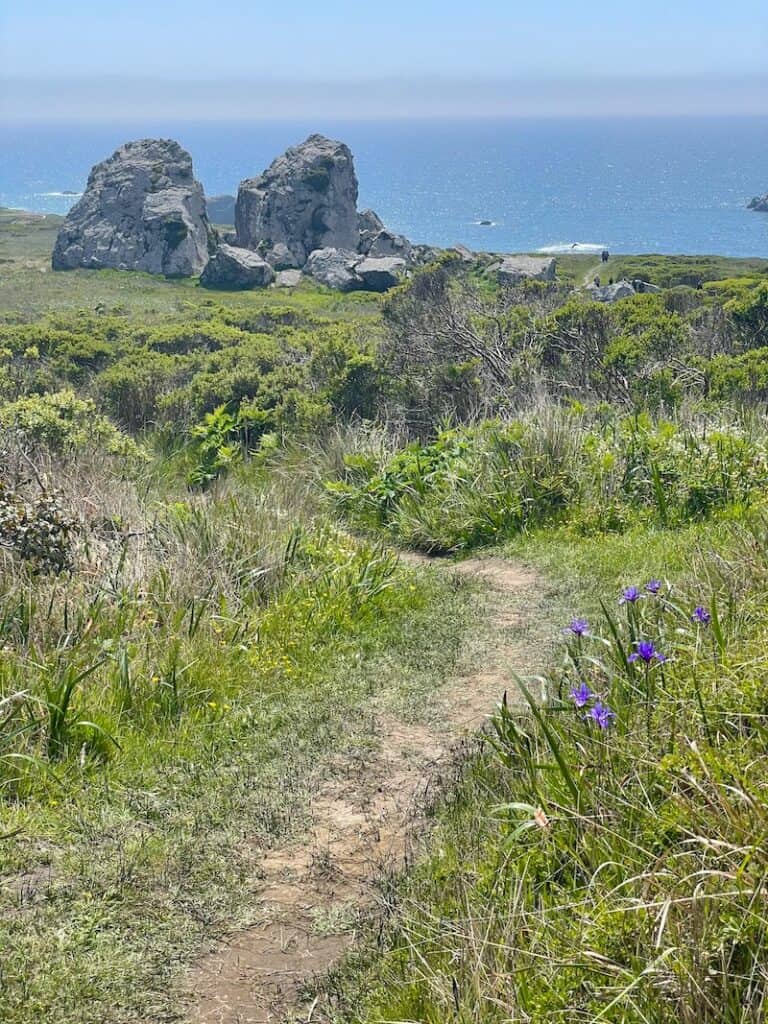 After the Sunset Boulders, there are two parallel stretches of trail — one a little more inland, one closer to the cliff edge.
We took the cliff edge path because it wasn't a windy day and there was very little breeze, so it felt safe to walk along the edge. On a very windy day, we would have taken the interior path.
Be sure to turn around periodically while walking along the trail — you might miss views like these if you don't! While you'll see them on the way back as well, a view this nice is absolutely worth seeing twice.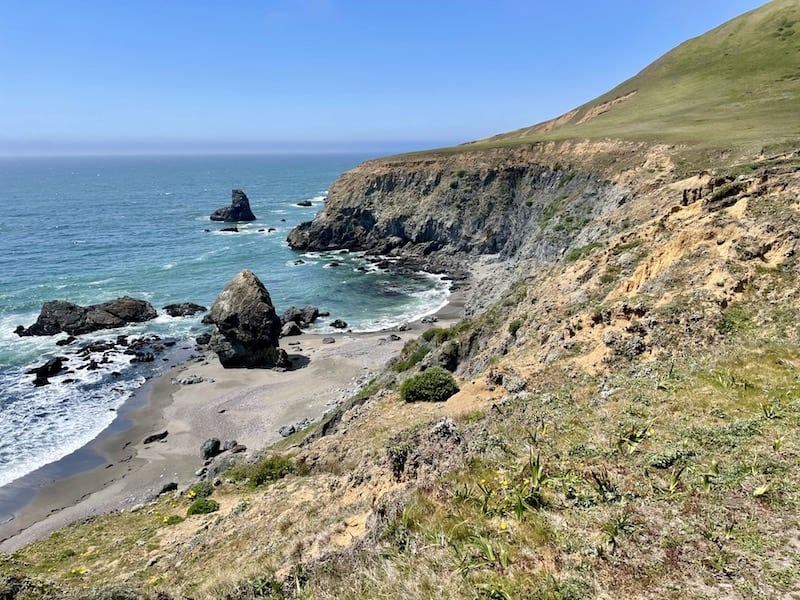 After passing the Sunset Boulders and the other large unnamed rock just after it, we continued along the path towards Shell Beach.
It's a pretty even, flat trail along the way, though there is a long section of boardwalk that elevates you above the grass.
Do note that the boardwalk is rather on the narrow side so it can be hard to social distance in this part. Luckily nearly every person we encountered while hiking brought along a mask, so these sections felt safe enough.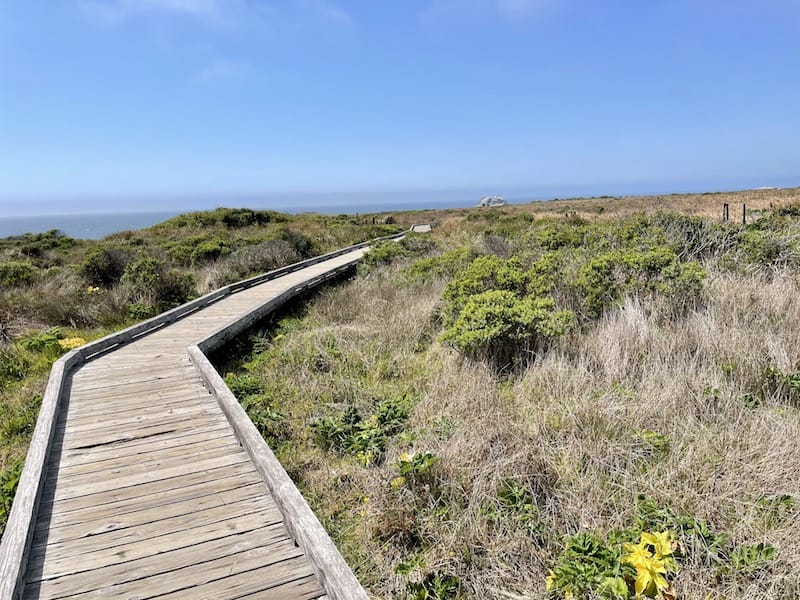 After a quick and easy 1.5 miles (2 miles if starting from Blind Beach), we reached the Shell Beach parking lot.
There are bathrooms here and there is a staircase down to the beach. At low tide there are tidepools here that you can explore.
However, when we went, it was high tide and the beach was rather packed, and given the Covid of it all, we just admired the views and continued on with our hike.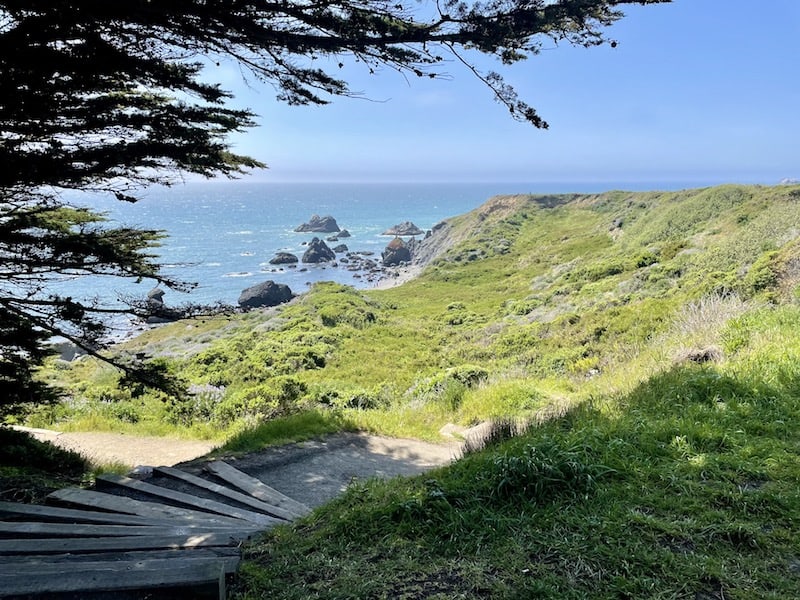 From here towards the next leg of our hike was rather easy. There were some boardwalk bits — I believe this is the Shell Beach Bluff section of the trail which is wheelchair accessible.
We went inland a bit, away from the coast, for a large chunk of the hike and then we emerged back along the coast right before Wright's Beach. Despite being away from the coast, there were lots of beautiful wildflowers and other things to catch our eye!
Finally, the hike led us right down to Wright's Beach, where we enjoyed some celebratory snaps on the beach in front of the beautiful sea stacks.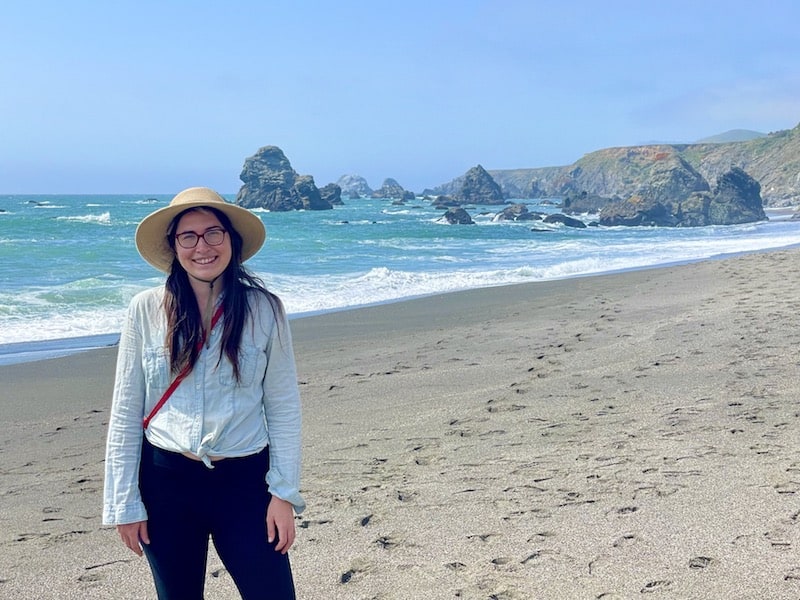 From here, you can go up just a bit further to the final overlook of the hike (shown below, where the people are walking towards.)
Alternately, you can start heading back the way you came!
The hike in total is about 6-6.5 miles return, depending on where you parked.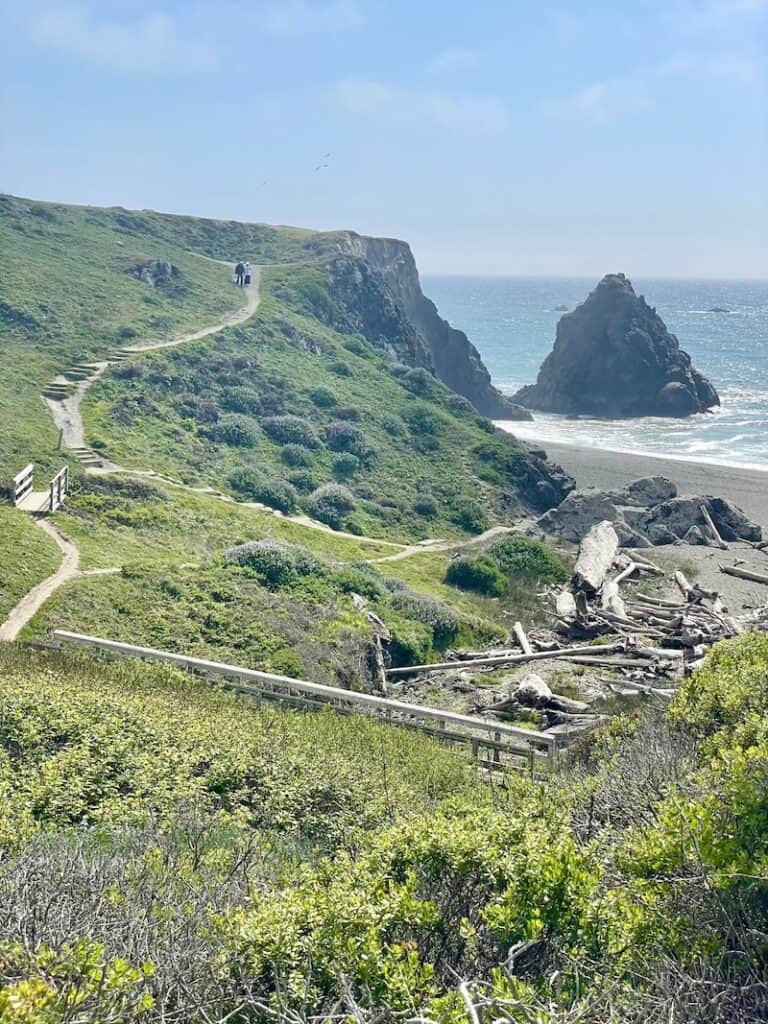 Safety Notes
While there are elevated boardwalks over the grassy expanses, this is still tick country — especially in the spring! Do a tick check on exposed skin periodically and a thorough check of your whole body when you get home from your hike.
This is along the coast and the wind can be quite strong! Make sure you feel steady on your feet while hiking especially near the overlooks. Do not approach the cliff edge for a photo or for any reason. This is the end of the continent and the edges are constantly eroding. Stay on the trail where it is safe.
Dogs are not permitted anywhere along the trail.
There are four beaches you can access along the hike. From north to south, those are Goat Rock Beach, Blind Beach, Shell Beach, and Wright's Beach. Many of these beaches, especially Goat Rock and Blind Beach, have dangerous rip currents.
Be observant of wave and surf conditions. Observe all posted signs and do not swim if it is not safe or if you are not a confident swimmer. The water is very cold and if you are swept out in a current, it can be extremely dangerous due to the cold shock response combined with the current.
Pin This Guide to the Kortum Trail!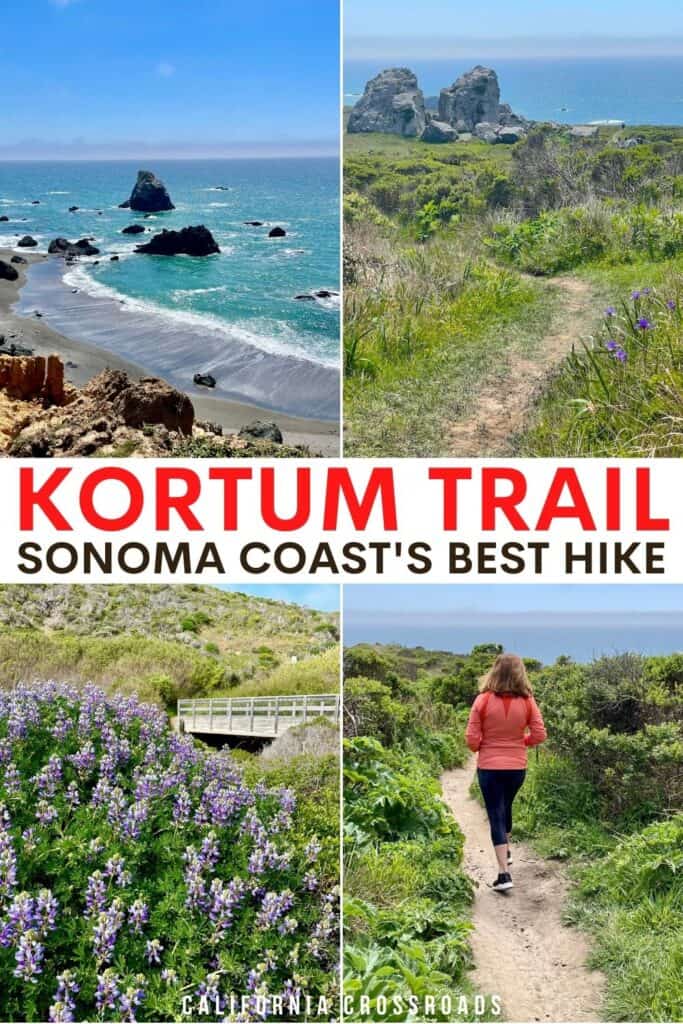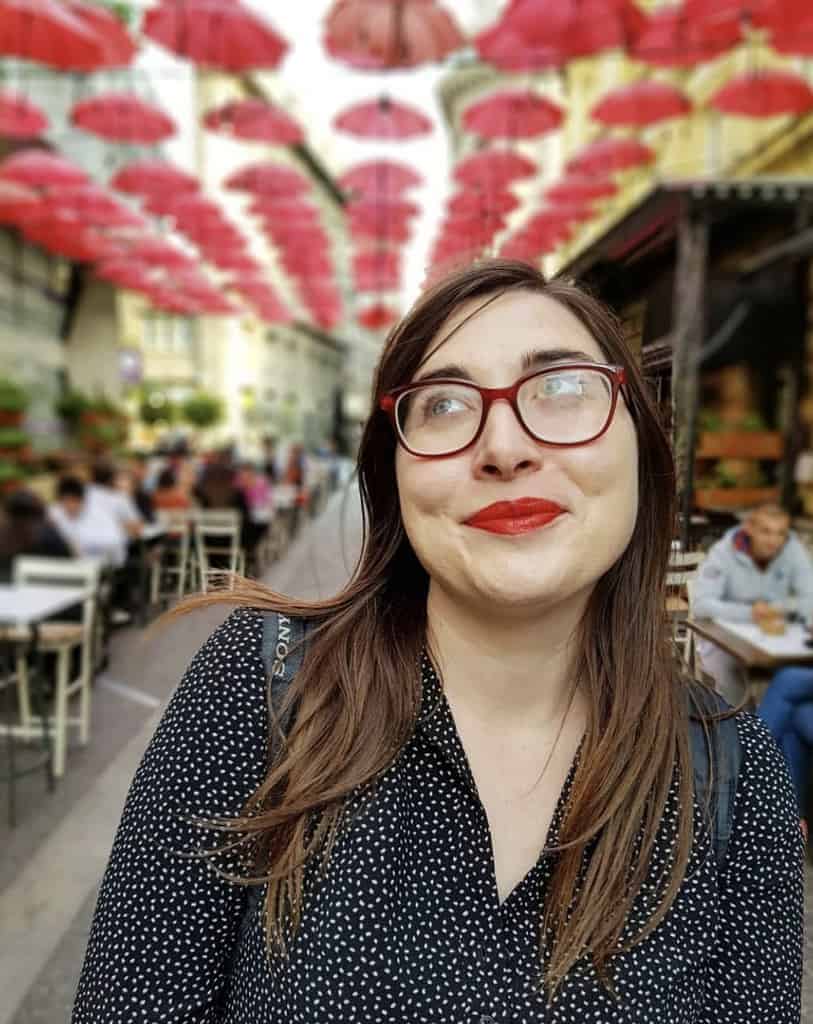 Allison Green is a travel blogger, writer, and podcaster who grew up in the Bay Area of California. She has spent time living in New York, Prague, and Sofia, but has returned to live in the East Bay. She has traveled to 60 countries before the age of 30 while running several digital travel publications. Her writing and podcast have been featured in Forbes, CBC Canada, National Geographic, the Huffington Post, and CNN Arabic, amongst others. She's obsessed with bouldering, houseplants, other people's pets, and anywhere she can see the ocean.