Death Valley's extreme temperatures and ethereal landscape make it one of the most alluring National Parks in the country.
From waterfalls to desert dunes, Death Valley National Park has many places to visit and explore, even if you only have one day in Death Valley.
Pre-planning and doing your best to stay on schedule is essential if you want to be able to take in most of the sights.
The great thing about Death Valley National Park is that the drive alone to each of the stops is a panorama of exquisite landscapes not to be underestimated, so even with just a day in the park, you can see quite a lot.
When to Visit Death Valley
Note: This post contains affiliate links, which earn me a small commission at no extra cost to you if you make a purchase using one of these links. Thank you for supporting this free content!
Death Valley is best visited during the fall, winter, and spring. The spring can be a particularly nice time to go and see wildflowers, especially if there's a superbloom that year.
On years when Death Valley has received a substantial amount of rain, it's not unusual to see people bringing their kayaks to the Badwater Basin when the lake reappears every so often!
It's not recommended that you visit Death Valley National Park during the summer due to the extreme heat.
Traveling in Death Valley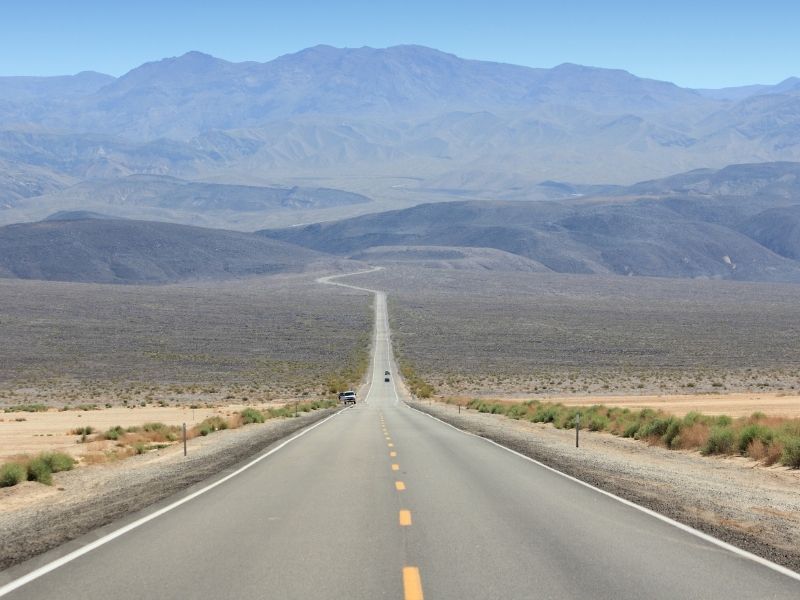 Always stay on the main roads while traveling through Death Valley, stop at the visitors center and grab a map. It's not a good idea to use your phone's GPS app to guide you through the park. 
Firstly, many areas of the park will have no cell or WiFi service so that's a consideration, and secondly, your GPS app may try to take you the shortest route from point A to point B which may be on a poorly maintained dirt road, increasing your chances of getting lost or stuck.
With Death Valley National Park being the biggest National Park in the lower 48 states, it's important to explore the 3,000-square mile park with careful planning to avoid wasting time driving. 
This National Park is so expansive, you'll need to pick and choose the best route if planning on only spending one day in Death Valley.
Camping in the park the night before is an easy way to maximize your time by getting an early start from within the park boundary.
Getting to Death Valley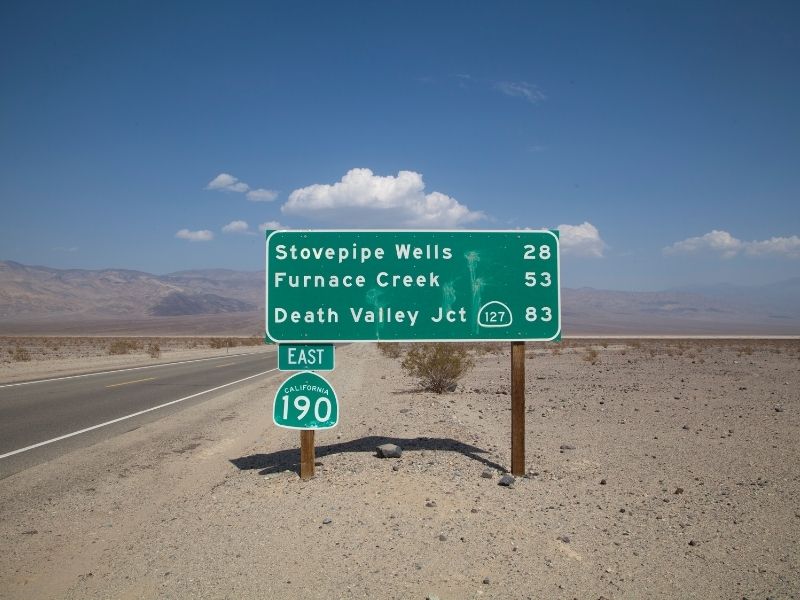 Death Valley National Park is roughly 3 hours and 30 minutes from Los Angeles, depending on traffic, of course!
You will want to take I-5 North to CA-14 North toward Palmdale.  When you get to Mojave, you will need to make a right-hand turn to remain on CA-14 North, continue on another 48 miles until CA-14 North becomes US-395 North.
After about 14 miles or so, you'll turn right onto Death Valley Scenic Byway/CA-190. This takes you into the park to start your day in Death Valley!
One Day in Death Valley Itinerary
Spend the night camping at Panamint Springs Resort.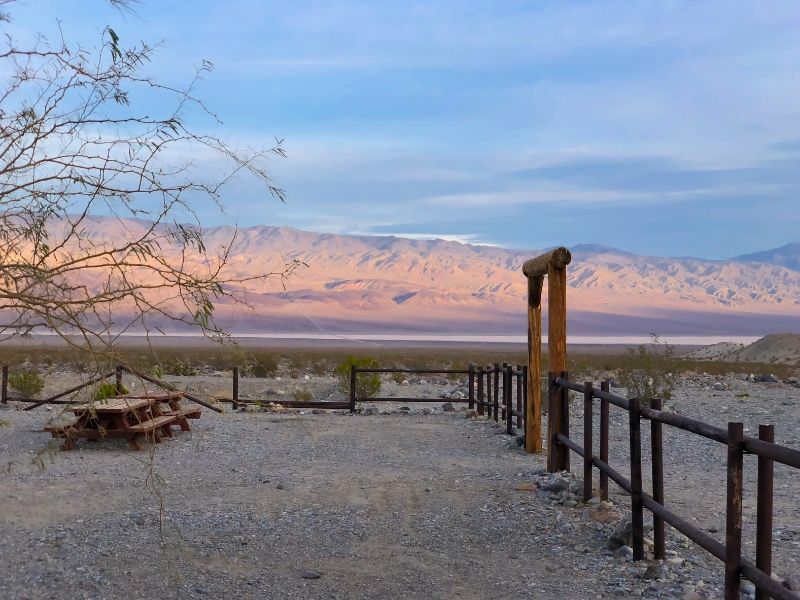 Death Valley has many campgrounds with Panamint Springs being one of the closest to the park entrance. This is a great place to start your Death Valley in a day tour because you can camp the night before, wake up early, eat breakfast at the restaurant, and tank up on gas before heading out.
Panamint Springs is 30 miles from the turnoff on CA-190.  Panamint Springs offers everything from a cabin-style motel to tent camping along with full hook-up RV sites.
There is also a restaurant, bar, gas station, and general store at Panamint Springs Resort. This is a popular place to camp so make reservations ahead of time online here.
Start the day at the Star Wars Canyon and Father Crowley Lookout.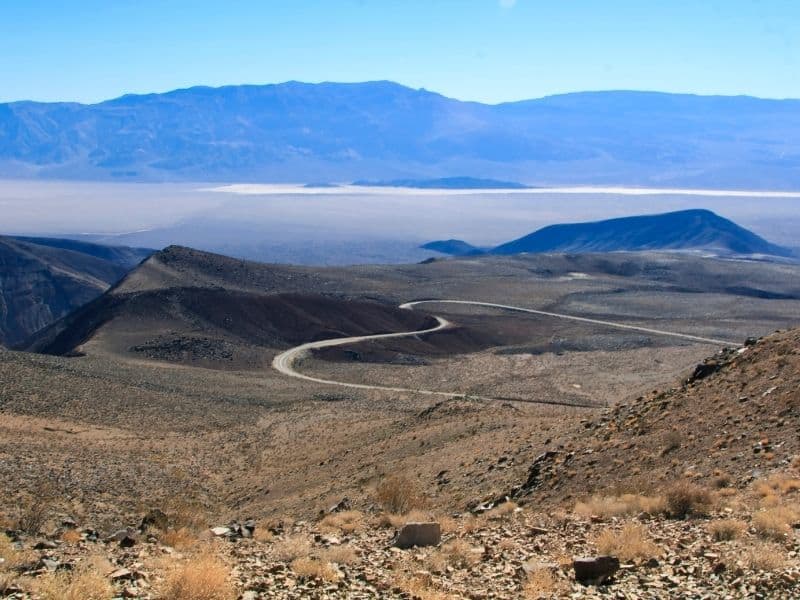 Father Crowley Lookout is located 23 miles east of Hwy 395 on CA-190. The turnout is about 7 miles before you reach Panamint Springs Resort. Look for signs indicating Father Crowley Lookout.
Whether you swing by here on the way in from Los Angeles or catch it on the way out, Star Wars Canyon is a fun place to take a quick stop.
This roadside pullout has fantastic views of Rainbow Canyon which provided a stunning backdrop for many films including Star Wars, Return of The Jedi, Tarzan, and The Greatest Story Ever Told.
What's more, this particular lookout is a known area for jet flyunders — that's right, the jets fly through the canyon so you will see them whizzing by below you or sometimes even at eye-level.
You are likely to see more aircraft during the weekdays as opposed to the weekend. You can expect to see F-118 Hornets, F-116's, F-35's, the occasional low flying C-17 cargo plane, and countless other jets!
There are restrooms at this lookout, so it's a good place to stop before hitting the long road to Mosaic Canyon.
Hike Mosaic Canyon.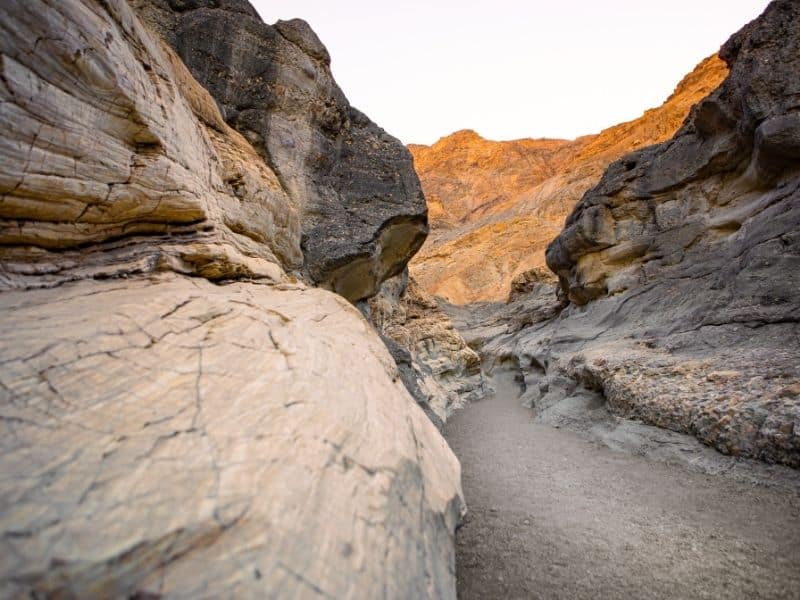 From Panamint Springs Resort, head east to CA-190.  It's a stunning 30-mile drive to Mosaic Canyon Road where you will make a right-hand turn. 
Drive 2.3 miles to the trailhead.  On the drive, you'll have beautiful views of the Panamint Dunes and Inyo Mountains. 
The Mosaic Canyon Trail is one of the more popular trails in the park. The colorful palette and obscure geological features make this moderate walk feel like you're in another world.
Bring water and a map even though this 3.5-mile out-and-back trail is very easy to follow. You are likely to have company on this trail since it's easy to access and the scenery is spectacular!
Drive to the stunning Mesquite Flat Dunes.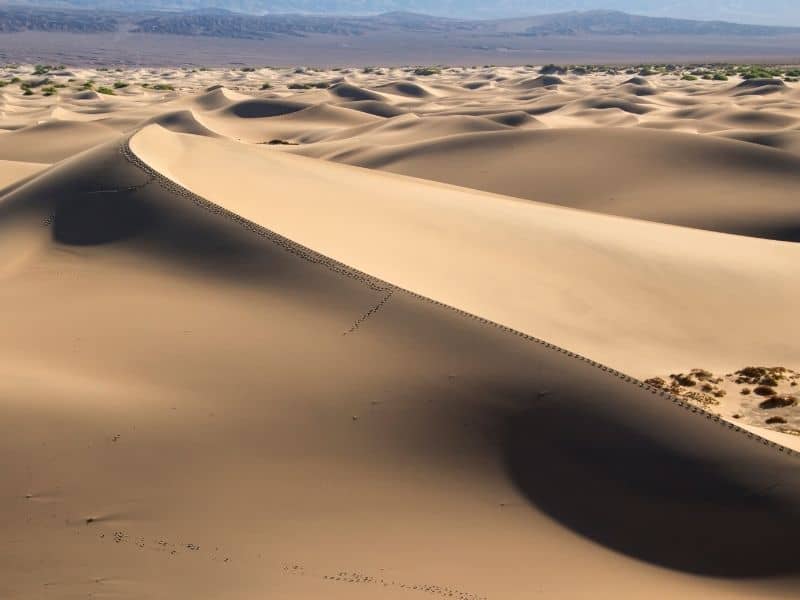 Mesquite Flat Dunes are located less than 5 miles from Mosaic Canyon trailhead.
Once back on Mosaic Canyon Road, make a right-hand turn onto CA-190. Continue on 2 miles, passing through Stovepipe Wells, to make a left into the parking area which is marked with a sign.
You can't check Death Valley off your bucket list until you've explored at least one of its enchanting sand dunes. Mesquite Flats Dunes are a good choice when you only have one day to explore, as Eureka Dunes are further away and impossible to access without a 4×4.
The Dunes' proximity to other park attractions and accessibility make it the ideal place to stop and take some photos or do a little exploration. 
Stop by the Furnace Creek Visitor Center.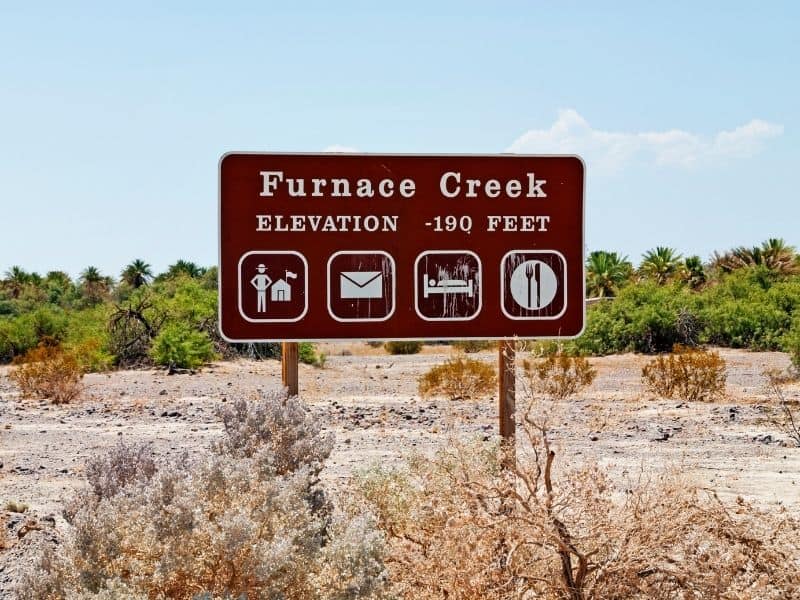 Continuing east on CA-190, Furnace Creek is 22 breathtakingly scenic miles away. As you roll into Furnace Creek you will see Airport Road, turn right here and then right into the visitor center parking area.
 This visitor center has so much information about the geology and history of the park it's definitely worth a visit. 
This visitor center even has exhibits on the parts of the park you have not been able to visit so you can still get a feel for what's out there. 
Like most visitor centers, the Furnace Creek Visitors Center has a store and restrooms along with exhibits and information about the park.
Stop and explore Furnace Creek.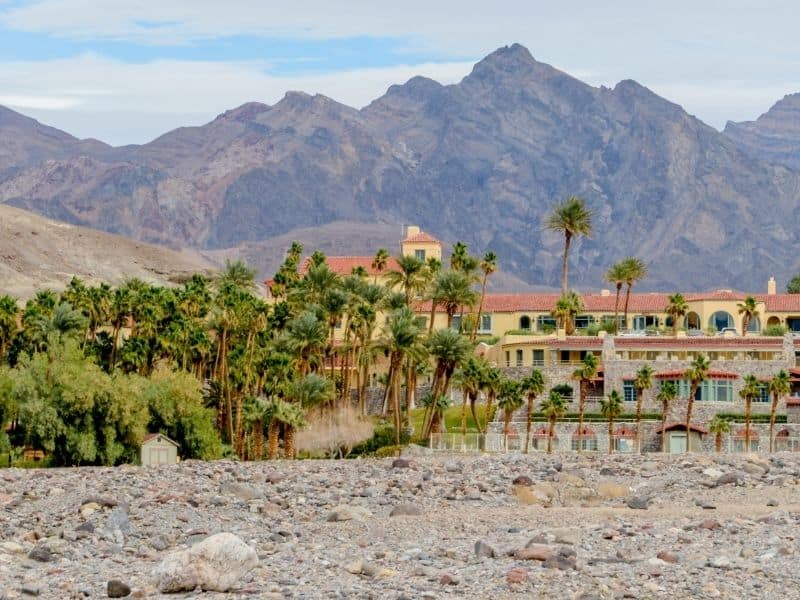 You will likely get into Furnace Creek around lunch time with a grumbling in your tummy, indicating it's time to refuel your body from the morning's hike and dunes exploration. There are plenty of shaded tables at the visitors center to sit and have a picnic while enjoying the scenery.
You could also visit one of the restaurants in Furnace Creek if that's more your thing. 
There is a steakhouse saloon and buffet-style restaurant off of Echo Canyon Drive and also a restaurant in the Inn at Death Valley. 
Another fun option is to eat at the golf course restaurant. The Furnace Creek Golf Course is the lowest golf course in the world, sitting at 214 feet below sea level!
Furnace Creek also has a gas station, general store and a few campgrounds. It's always a good idea to call ahead and make sure things are open for business before starting your journey, always bring extra supplies just in case.
Make your way down Artists Drive.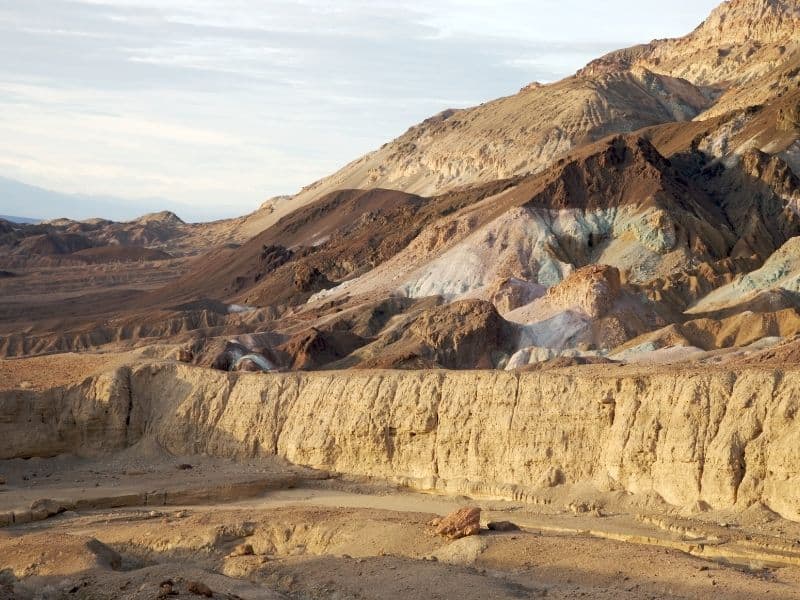 From Furnace Creek, you will continue east on CA-190 for 1.3 miles before turning right onto Badwater Drive. Proceed for 8.6 miles until you get to Artists Drive, and turn left here.
Artists Drive is a one-way loop that will take you through this scenic drive and bring you back to Badwater Road. You will pass the exit on your way to the entrance.
Artists Drive is one of Death Valley's most picturesque landscapes. With a striking backdrop of colors, you will drive this scenic route for 10 miles along the one-way loop. The views are nothing short of spectacular.
Around the 7.2 mile marker, there will be a parking area where you can get out and walk around this unique region of the park.
At this point in your journey, you will need to take action based on your accommodations for the evening. Either way, you will need to get back to Furnace Creek by backtracking along Badwater Road as you come out of the one-way loop.
Head back or keep going.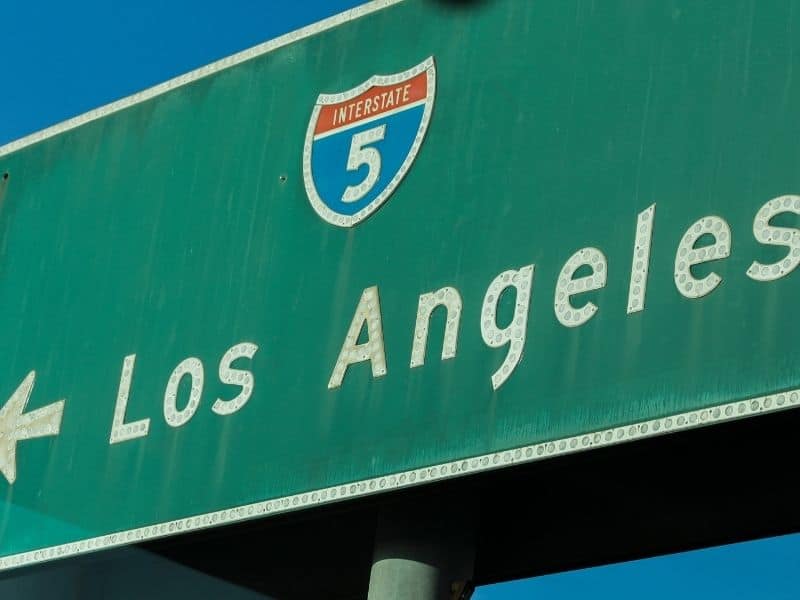 If you are planning on going back to Los Angeles that same day, it may be time to think of starting the arduous 4 hours and 30 minute drive back. 
You will need to head back the way you came in. If you skipped some stops or made great time, read below for two more amazing stops in Death Valley.
Many travelers will continue on to Las Vegas from this end of Death Valley National Park. If that's the case, you can squeeze in one or two more amazing places in Death Valley before connecting to Hwy 95.
See the landscapes of Zabriskie Point.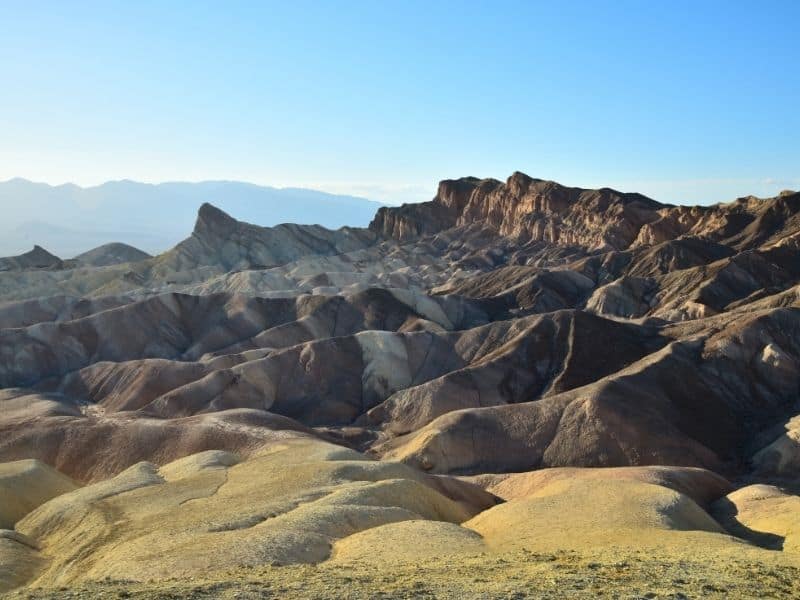 Zabriskie Point is 5 miles east of Furnace Creek on CA-190. As you proceed, you will see signs indicating a right-hand turn toward Zabriskie Point, turn here and continue to the parking area.
If you're looking for that iconic Death Valley panoramic view you see in photos or on Instagram, you've likely been dreaming of Zabriskie Point. To get the best views, take a short walk up the paved road that starts in the parking lot.
Zabriskie Point will grace you with panoramic views of Badwater and the surrounding mountains.  There is also a 2.5-mile hike starting here if you're feeling adventurous. 
Zabriskie Point is one of the most photographed places in Death Valley, so make sure your camera batteries or phone is charged!
Corkscrew Canyon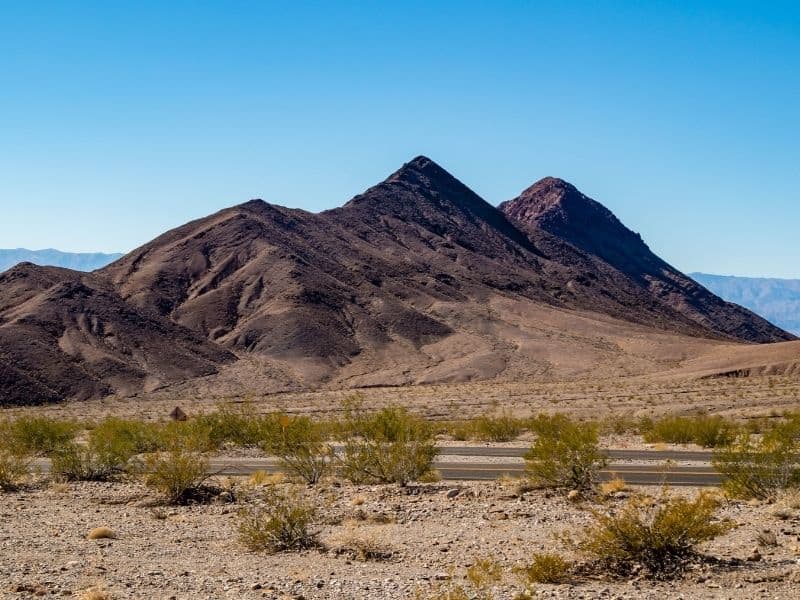 Corkscrew Canyon is a mere 5 miles from Zabriskie Point and is well worth checking out. 
From Zabriskie Point, head east on CA-190.  Drive for 3.8 miles until you reach the parking area.  It is an easy 1.5 miles hike to the site.
Corkscrew Canyon provides a snapshot into the mining days of Death Valley. There is a mine shaft, old rail line, a cabin and other old mining ruins along with a trail that takes you through some narrow but scenic slot canyons.
From the parking lot it's about a 30-45 minute hike to the mine and slot canyon. Exploring the mines and slot canyon takes about 2 hours so you may only have time to enjoy one or the other.
***
A lot can be accomplished in one day in Death Valley National Park if you plan strategically and stay as close to schedule as possible. 
With so many options of places to visit in the park, exploring some sand dunes and visiting Zabriskie Point are two of the absolute must-dos.
Each area in the park is so unique offering a diversity of landscapes unlike any other park in the country!
Pin This Guide to Visiting Death Valley in One Day!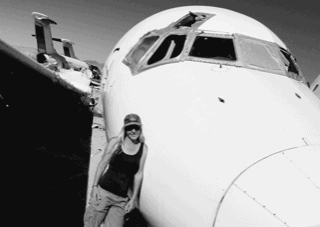 Kristina Ritchie is a writer and who was born in Australia and grew up in Africa. She was educated at Western Connecticut State University before finding her home in Southern California. She writes creatively on a variety of topics, mostly on travel and adventure writing. Having visited over 15 counties and 48 states, along with thousands of miles on the trail with a backpack, Kristina continues to explore and write as often as possible.