Conveniently situated halfway between San Diego and Los Angeles, Temecula is an excellent weekend getaway from either city.
Be ready to explore the historic Old Town, make a bet at the Pechanga Resort Casino, tour and taste wine from one or more of the almost 50 small wineries, or explore the panoramic view from a hiking trail or from high above from a hot air balloon.
With so many choices, you may have to extend your Temecula getaway or come back again and again!
Here are all the best things to do in Temecula in a weekend, and it's laid out easily in a format so you can basically follow this as an itinerary if you're just doing a quick Temecula weekend trip.
Know Before You Go
Note: This post contains affiliate links, which earn me a small commission at no extra cost to you if you make a purchase using one of these links. Thank you for supporting this free content!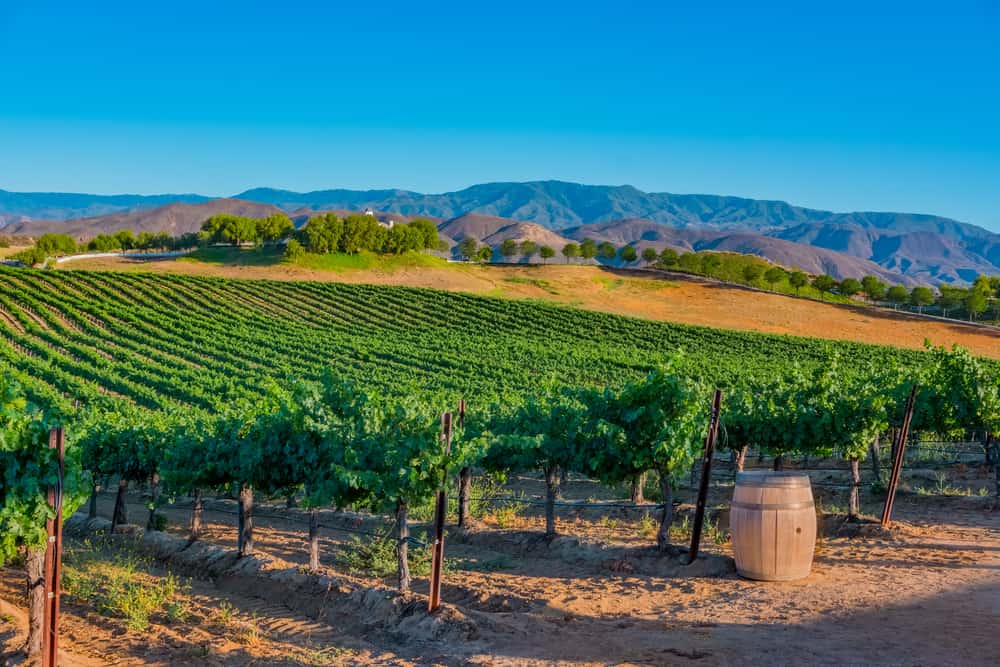 With great temperatures year-round, any season is a great season to visit.
Summer temperatures are in the 80s and 90s, while the winter temperatures are in the 60s and 70s.
Traffic to and from Temecula can be high on the weekends, so plan that into your travel time, especially on holiday weekends.
Where to Stay in Temecula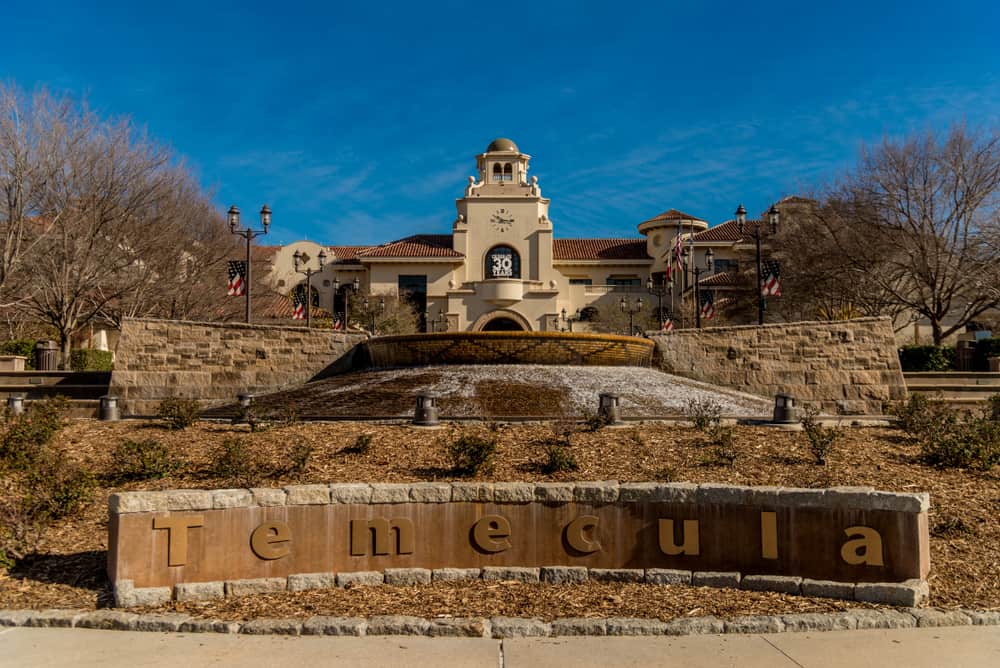 The Temecula area offers a variety of lodging, from campgrounds to luxury hotels and estates.
While Temecula offers a wide variety of places to stay, from budget-friendly to high-end, these Temecula Wine Country locations are sure to amaze you!
For a Spa Stay: South Coast Winery Resort & Spa
34843 Rancho California Road, Temecula, CA 92591
Want to stay at a lovely resort with spa amenities to really relax and unwind? This is the place to stay in Temecula for you! Just a 15-minute drive away from Old Town, enjoy 38 acres of winery grounds with an on-site bar and restaurant, pool, spa, and wellness center.
Each room has their own spa bath to enjoy so you can sip some local wines while you enjoy the tub. In the winter, light the fireplace in your room for a cozy feel, and in summer, relax on the private patio.
For extra indulgence, hit the GrapeSeed Spa, which offers luxury spa treatments with a free glass of wine — all with gorgeous views of Mount Palomar in the distance.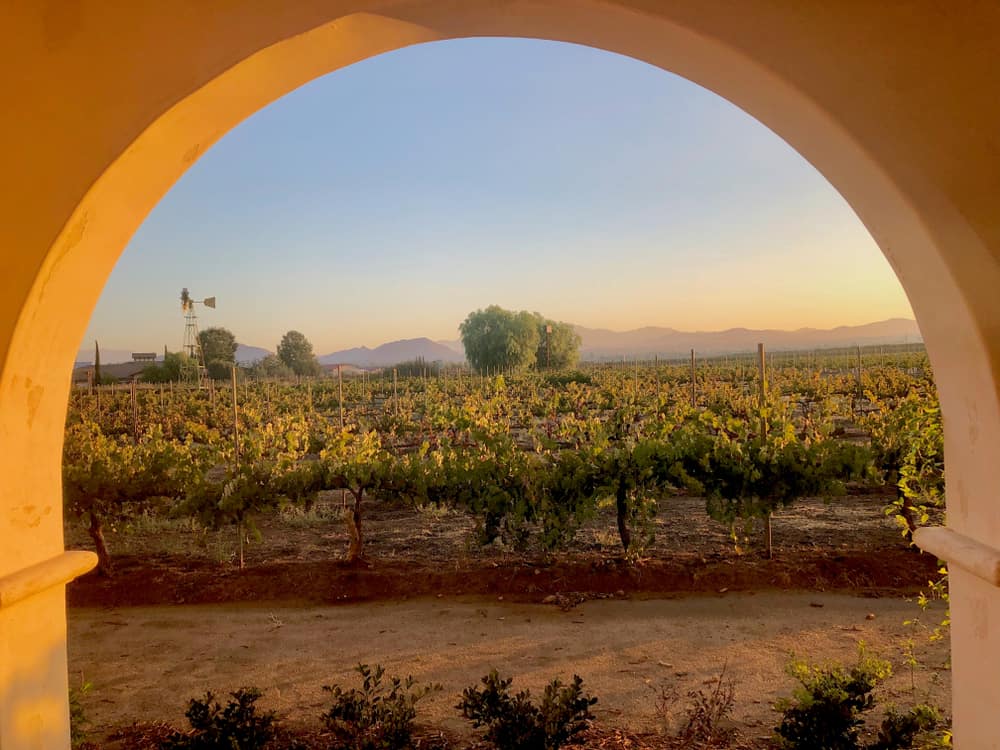 For a Luxe Vineyard Stay: Ponte Vineyard Inn
35001 Rancho California Road, Temecula, CA 92591
Located on a 300-acre ranch with a working winery, this boutique hotel offers sweeping views of the on-site vineyards and the Temecula landscape.
Along with a handful of guest rooms, there's a lot on the grounds of the ranch itself for visitors enjoy.
pend your time off exploring Temecula on the ranch chilling on your patio or balcony with a view of the mountains, enjoying an in-room massage, or walking around the winery grounds.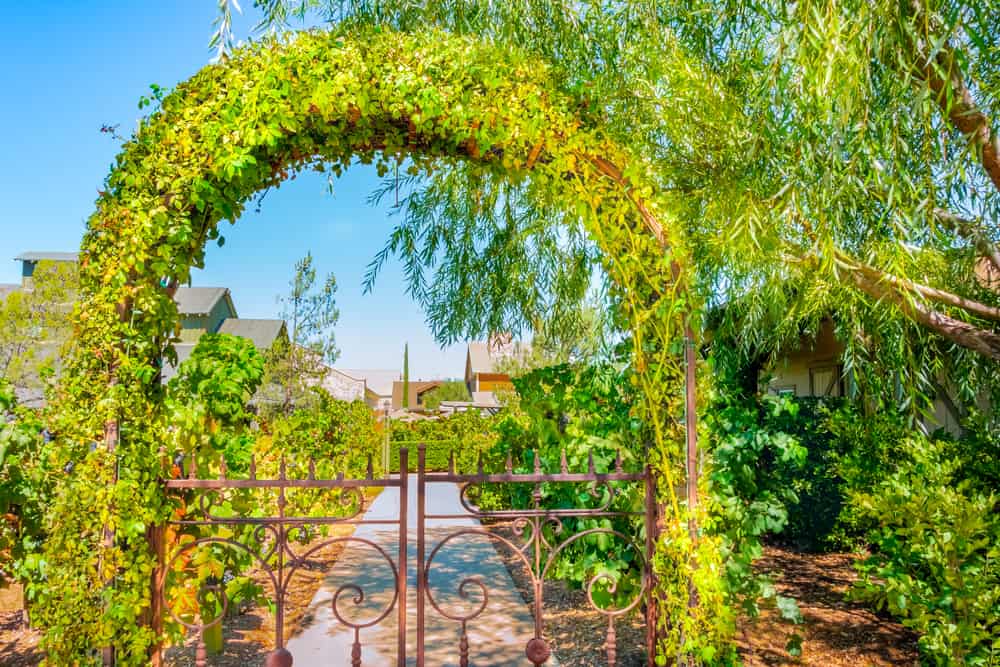 For Families: Embassy Suites by Hilton in Temecula
Embassy Suites is a mid-range hotel chain owned by Hilton that's perfect for family stays! With large two-room suites and a pool on-site, this is great for families who want a little more space than the average hotel provides.
It's also great for larger families and families traveling together, as some of the larger rooms (the double suites) can accommodate up to six adults and four children.
Kids will also love the made-to-order breakfast bar (it was always my favorite part of staying at Embassy Suites as a kid, at least!).
For Camping and Glamping: Lake Skinner Campgrounds
37701 Warren Road, Winchester
With 257 campsites on the grounds all ranging under $50 a night, this is a terrific option for those who want a more rustic experience.
If traveling with family, the kids will love hitting the Splash Pad before or after your day's adventures. Leashed pets are welcome to stay here, making it a great choice for your four-legged friends!
Weekend in Temecula Itinerary: Day One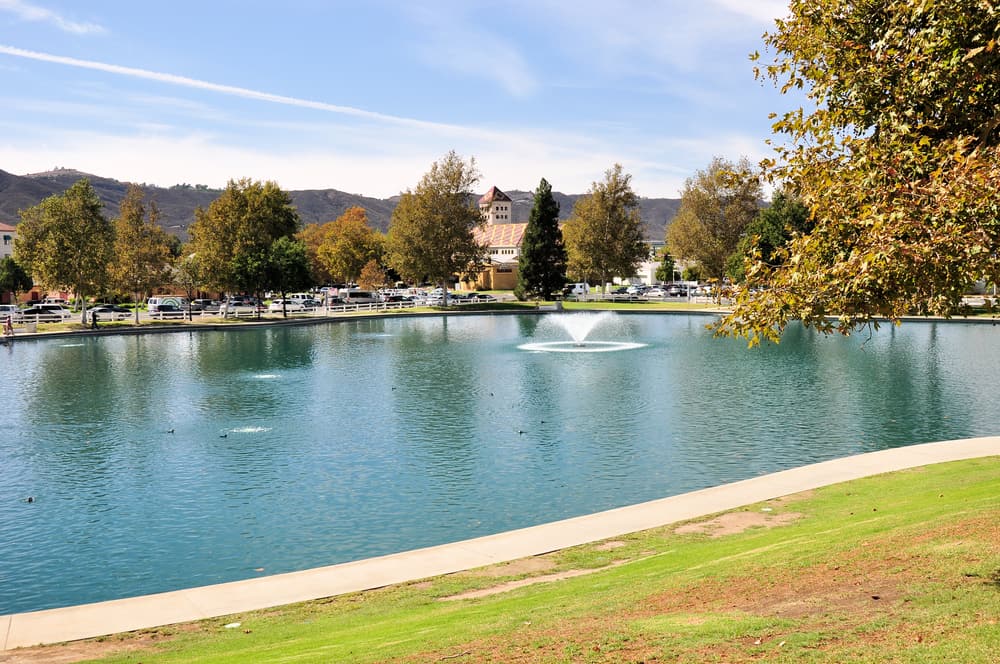 Have Breakfast at Penfold's Café and Bakery
28250 Old Town Front Street
Start your day off with a delicious cinnamon roll, chicken fried steak and eggs, or an Ortega omelet with ham and avocado in this steadfast café or on their outdoor patio.
If you are in a hurry, stop in and grab a morning treat in their bakery.
The best start to a day in Temecula is a walk-through nature before the summer temperature gets too warm. Luckily, there are a handful of trails that lead to beautiful waterfalls and scenic views just outside of town, and you really can't go wrong with any of them. As long as you've got a leash, many are pet friendly.
Start the day with a quick hike to Ortega Falls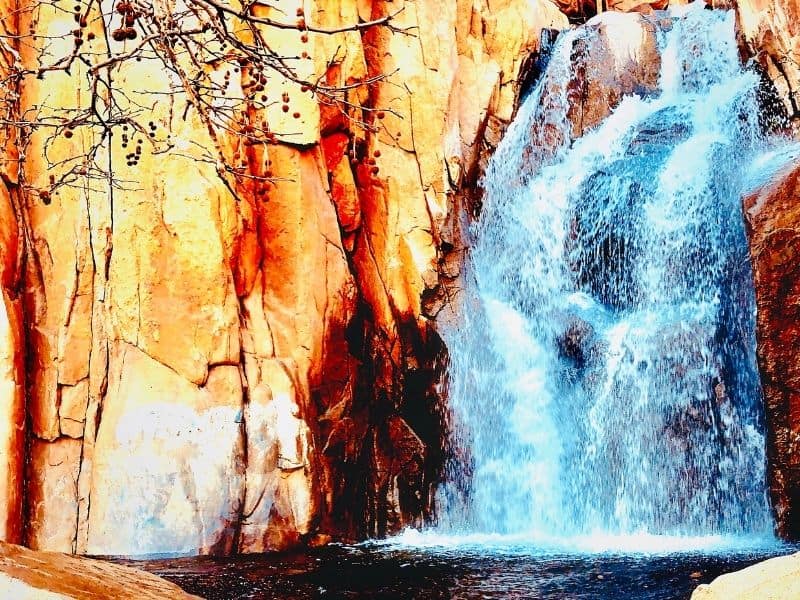 This beautiful 35-foot seasonal waterfall is a great short hike. In the spring, it is a great place to get your feet wet and take that required selfie in front of the falls.
It's located about 35 minutes from Temecula town, and you can head here on your way then have breakfast afterwards if you are heading into Temecula on Saturday morning.
In the fall, the falls are often dry, and you can test your rock-climbing abilities. Dogs are welcome on the 1/3-mile round trip hike.
Chase more waterfalls at Tenaja Falls
At the Tenaja Falls, you continue enjoy a morning of solitude and light exercise after an enjoyable 1-mile walk to the stunning falls.
In the spring, when the falls are at its most dramatic, you may see wildlife at the water and beautiful wildflowers along the way. While there, relax and enjoy the beauty that surrounds you!
Alternately: Take a longer hike on the Dripping Springs Trail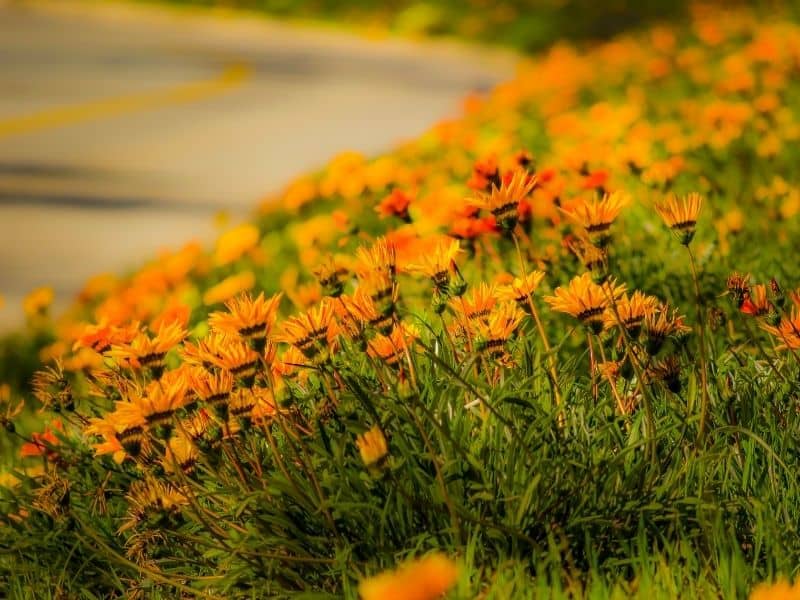 This moderate uphill hike is a great morning hike since it provides some morning shade. The narrow trail 12.4-mile out and back trail features beautiful wildflowers and beautiful scenic views throughout your journey, though you can stop at any point on the trail for a shorter hike.
 If leashed, dogs are permitted along the trail. An Adventure Pass is required, which can be bought online.
If traveling with friends or a partner: Visit the charming Old Town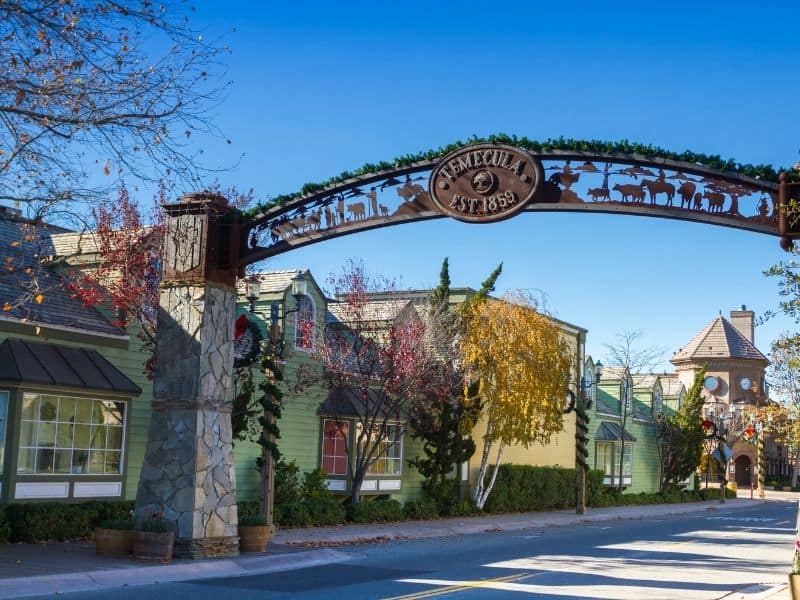 Head to the heart of the city for an array of restaurants, antique shops, and craft breweries amongst the 19th-century historical buildings.
The wooden boardwalks make this area easy to meander as you explore a variety of unique Temecula-made artisan shops including, Old Town Spice & Tea Merchants, Temecula Lavender Co., and Temecula Olive Oil Company.
If traveling with kids: Head to Pennypickle's Workshop
42081 Main Street, Temecula
This fun children's science museum offers kids the chance to explore the world of science around them. Filled with experiments, inventions, and gadgets, kids will be learning while playing in the workshop!
Pennypickle's Workshop was awarded Best Museum by Nickelodeon Networks' Parents' Pick Award and the THEA award by Themed Entertainment Association, so it's a great day out for kids, guaranteed.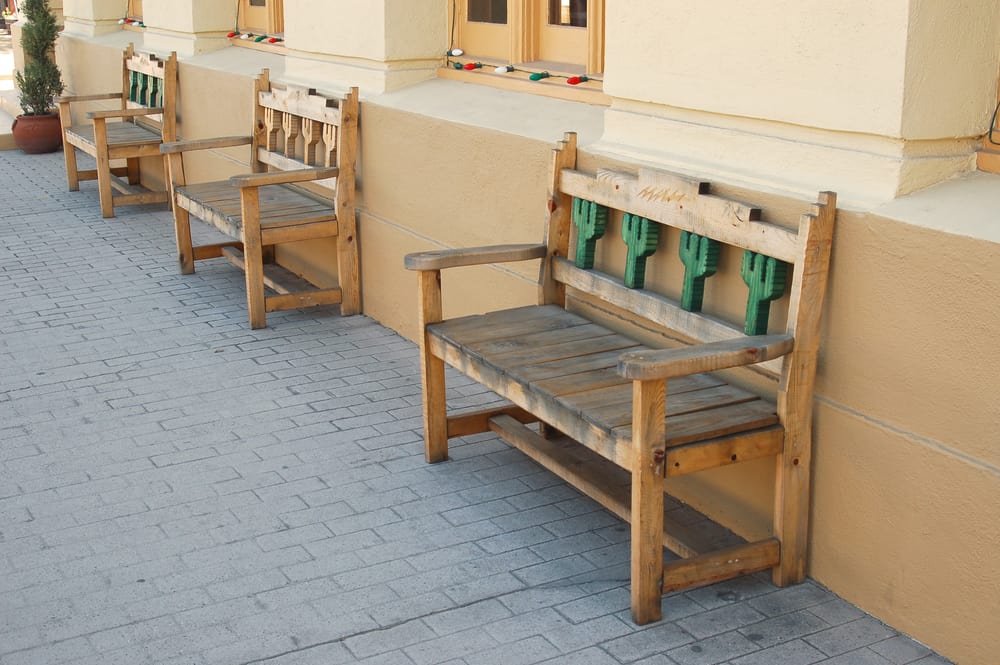 Grab a drink and dinner at Devilicious Eatery & Tap Room
28693 Old Town Front St Ste 104, Temecula
End your busy day with some of your favorite comfort foods that have a new twist and may be paired with more than 40 craft brews or a glass of local wine.
Sample one of their specialties like a lobster grilled cheese, crab cake on English muffin, or a delicious pork BBQ sandwich with BBQ pulled pork fries.
Devilicious won the Best Sandwich Place in 2016 by the Best of the Inland Empire, so you can trust it'll be good!
For an evening with friends or a partner: Hit the Pechanga Casino
45000 Pechanga Parkway, Temecula
Pechanga Casino showcases California's largest casino floor full of slot machines, table games, poker room, and bingo hall for your 24-hours-a-day gambling pleasure!
The center also showcases a variety of nightly entertainment including Broadway productions and touring musical acts at their four venues.
For an evening with family: Peltzer Pumpkin Farm
39925 Calle Contento, Temecula
Come for a quick pumpkin selection or enjoy all that this 5th generation family farm has to offer.
Try your hand at 'gold mining,' enjoy the pig races, wander through the petting zoo and tractor garden, and the kids can enjoy a pony or train ride.
Weekend in Temecula Itinerary: Day Two
Greet the day with a sunrise hot air balloon ride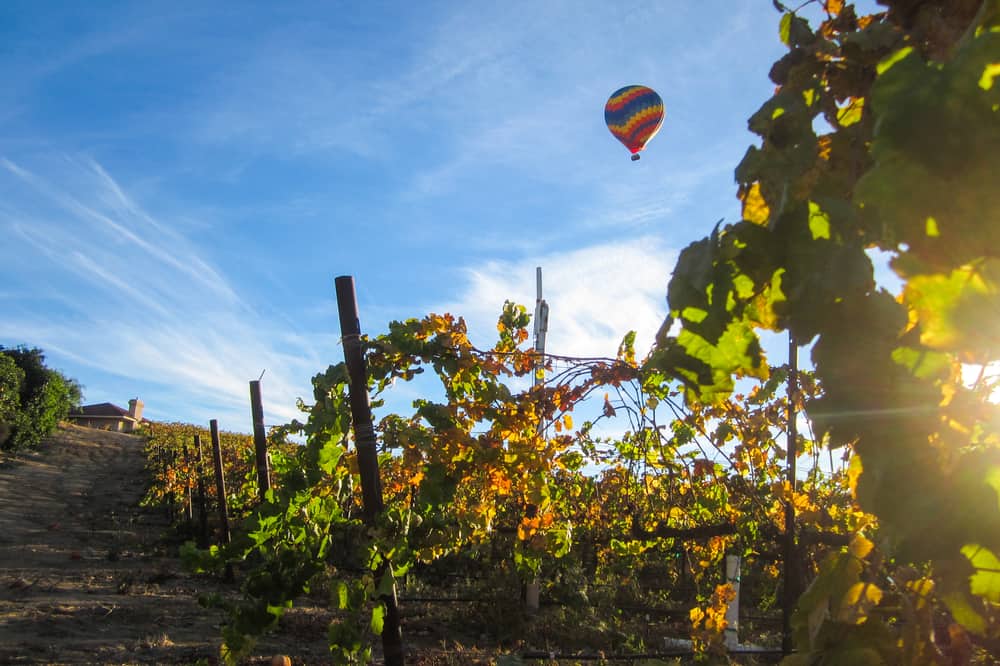 What could be more scenic a start to the last day of your weekend in Temecula than taking to the skies at dawn?
Watch from the sky as the sun rises over the San Jacinto Mountains, piloted in a hot air balloon flown by an FAA-licensed pilot, on this scenic hot air balloon sunrise ride.
This peaceful journey will take you over wineries, estates, citrus groves, and lakes before setting down in Vindemia Winery. Finish your adventure with breakfast in a private wine garden — with a mimosa toast if you want, naturally — this is wine country, after all!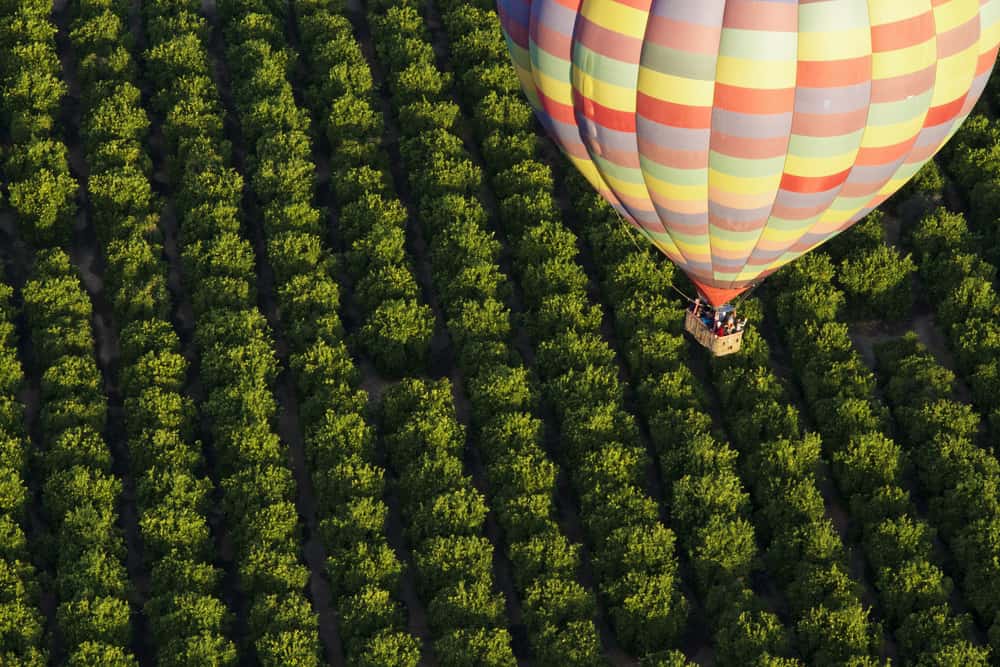 Alternately, opt for breakfast at the Swing Inn Café
28676 Old Town Front Street
Afraid of heights or traveling on a budget, and a hot air balloon ride isn't for you? No worries — have a lie-in and then wake up just in time for breakfast at the Swing Inn Café.
This quaint little place offers delicious French toast, chili omelets, biscuits and gravy, and a terrific breakfast pork chop plate. There is no better way to start your day than to pair one of their breakfast specials with a mimosa while dining on the beautiful patio.
Taste at Temecula's best wineries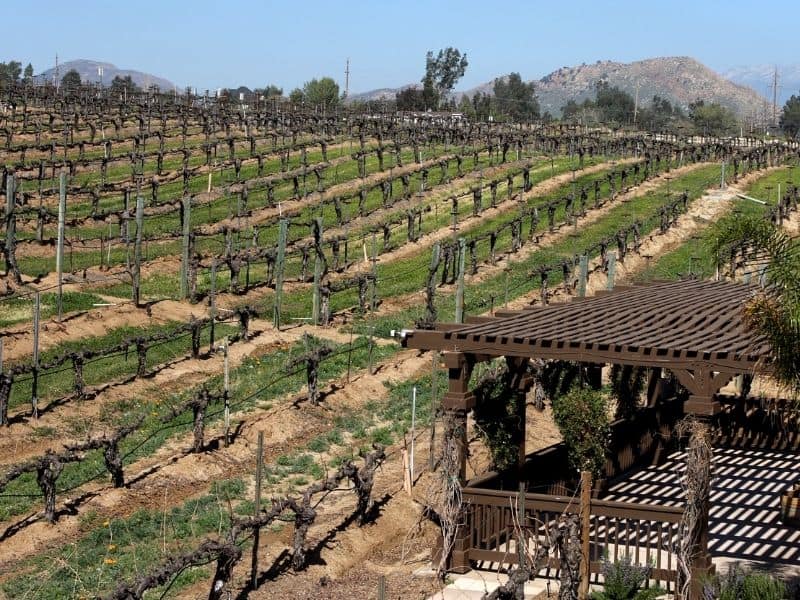 With wineries being a big part of the Temecula Valley, you will want to spend part of an afternoon or evening exploring the diverse wines that the area has to offer. With 40+ wineries that annually produce 500,00 cases of wine, there will be one sure to tickle your palate!
Here are a few of our top picks if you want to DIY your own wine tour. You can also book the top-rated wine tour in Temecula for a good price if you don't want to worry about a designated driver!
33133 Vista Del Monte Road, Temecula
The family-owned and operated Vindemia Winery features a glorious outdoor tasting room in the rose garden. Partake in an alfresco tasting of their More Cowbell or Baby Doll Head Red wine paired with their estate olive oil and bread.
Note: If you opt for a hot air balloon flight, this is where you end up, so it's a great way to start off your wine tasting day out in Temecula!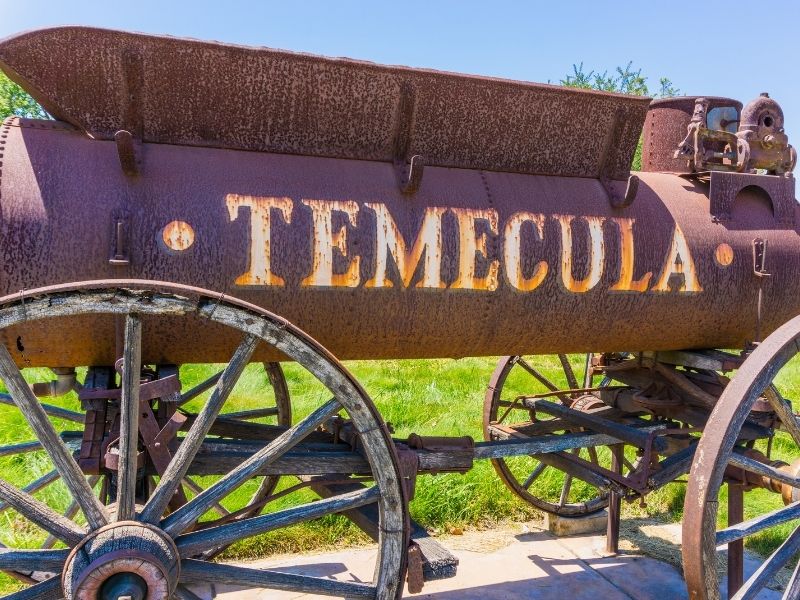 33440 La Serena, Temecula
Baily specializes in Cabernet Sauvignon and traditional Bordeaux wines.
Feel free to stop by the Baily Visitor Center for samples of their current releases. You may want to enjoy lunch at the medieval-themed Carol's Restaurant or enjoy live weekend music.
36083 Summitville Street, Temecula
This family-owned and operated boutique winery produce hand-crafted Malbec, Syrah, and Zinfandel wine. Be sure to schedule a Cork 'N Torque Tour to explore the vineyards and enjoy a private tasting.
Before you leave, head to the barrel room to see the MotoDoof Vintage Motorcycle Collection that features more than 100 motorbikes and scooters! This is a great option if you're dragging along a less-enthuastic wine-taster with you.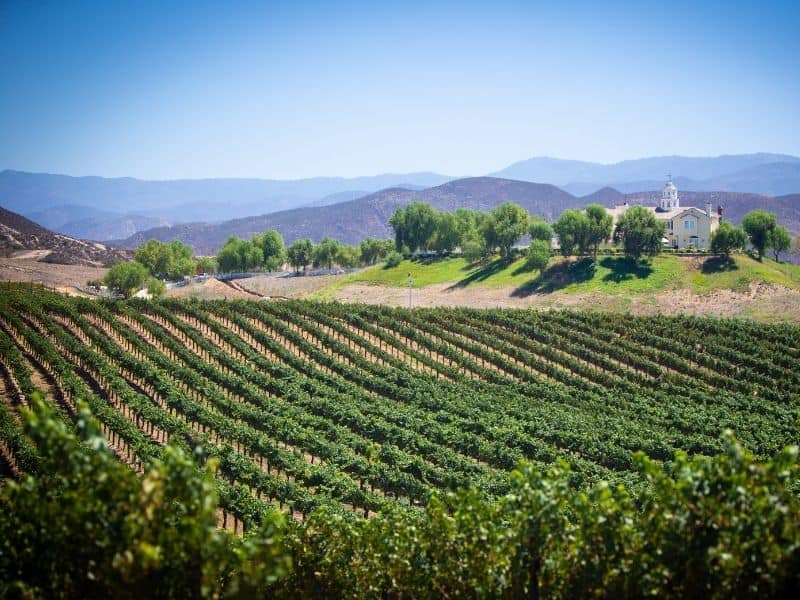 34450 Rancho California Road, Temecula
The luxurious Carter Estate offers 109 acres of vineyard along with an upscale resort.
Stop by for a quick tasting seven days a week or schedule an intimate Wine and Food Pairing that includes five Carter Estate wines paired with gastronomic delights.
Spend the rest of the afternoon at the Lake Skinner Recreation Area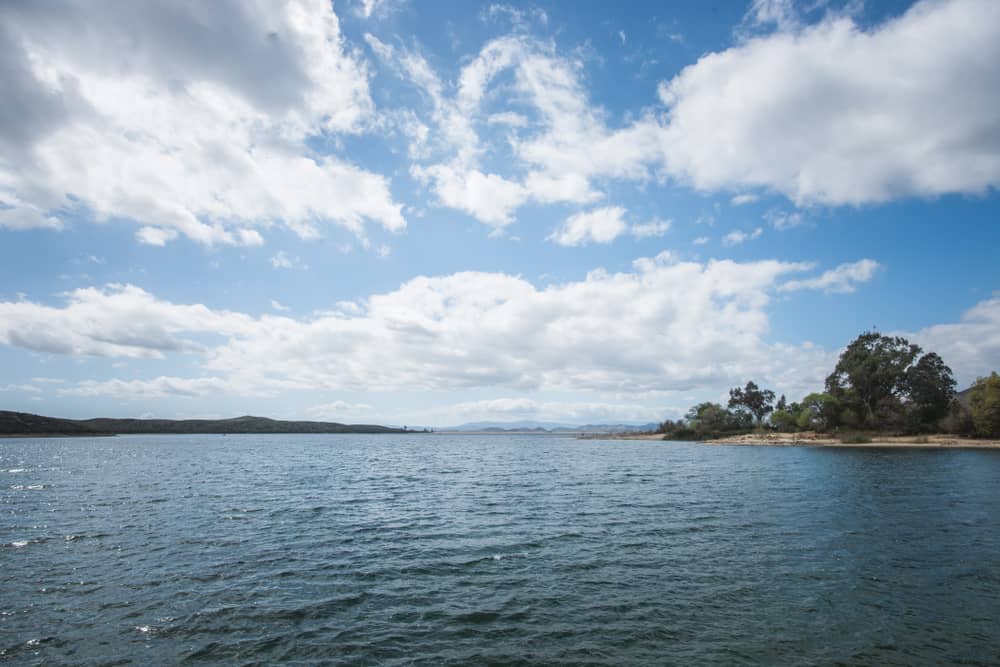 With so much to do, you could spend your entire time within the Recreation Area, but with just a weekend in Temecula, save this for some relaxing after your wine tasting day out.
Just 10 miles from Temecula, not only can you set up your tent or camper, but also enjoy a day boating on the lake or fishing.
There are a variety of popular hiking trails along with horseback riding available. You can also return in the evening to spend your evenings star-gazing or enjoying a concert or a movie, depending on the scheduled events.
If you can, plan your stay to coincide with the Temecula Valley Balloon & Wine Festival.
Have dinner at Pangaea Restaurant and Wine Bar
27326 Jefferson Ave #17, Temecula
This hidden gem is a family-owned restaurant that offers a delightful atmosphere and scrumptious home-cooked meals with Mediterranean flavors.
Enjoy the fresh pita bread with authentic eggplant parmesan, lamb chops, or a variety of other Greek and Italian entrees.
Pin This Temecula Weekend Getaway Guide!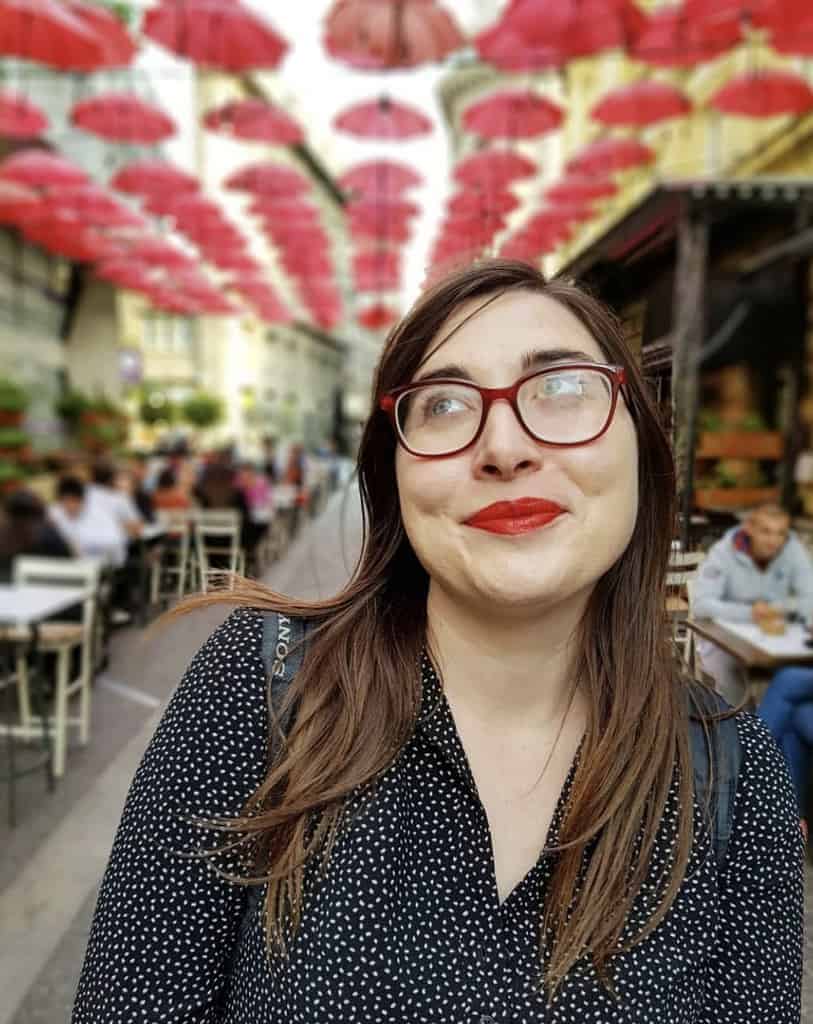 Allison Green is a travel blogger, writer, and podcaster who grew up in the Bay Area of California. She has spent time living in New York, Prague, and Sofia, but has returned to live in the East Bay. She has traveled to 60 countries before the age of 30 while running several digital travel publications. Her writing and podcast have been featured in Forbes, CBC Canada, National Geographic, the Huffington Post, and CNN Arabic, amongst others. She's obsessed with bouldering, houseplants, other people's pets, and anywhere she can see the ocean.