Want a lakeside escape in California? Coming right up!
Beaches aren't all the waterside fun California has to offer. You've got tons of gorgeous lakes in California to choose from, from beautiful alpine gems to glacier-carved lakes, from salt lakes to scenic reservoirs.
While Lake Tahoe is known worldwide and is perhaps the best-known lake in the United States west of the Great Lakes, there are countless other California lakes to choose from which offer an escape from Tahoe crowds (and prices).
From lakes in wine country to the Eastern Sierras, both Northern and Southern California, here are my picks for the most beautiful lakes in California
Map of California Lakes
Lake Tahoe
Note: This post contains affiliate links, which earn me a small commission at no extra cost to you if you make a purchase using one of these links. Thank you for supporting this free content!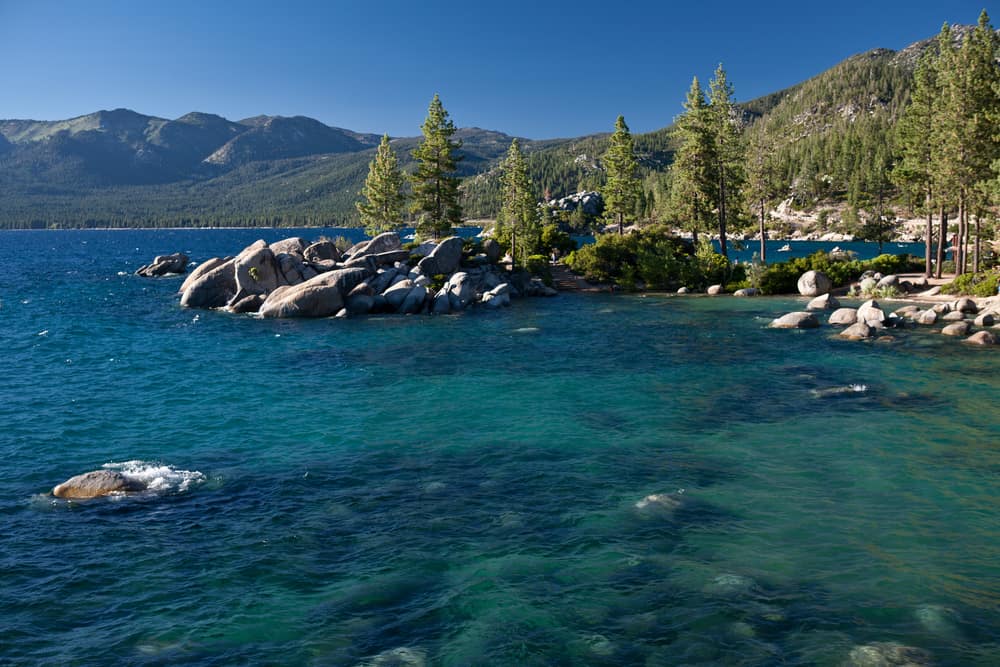 No California lake is more well known than Lake Tahoe. A truly year-round location, Lake Tahoe is known for both its beaches and summer activities and its ski resorts and all the wonderful winter things there are to do in Tahoe. The Lake Tahoe region even hosted the Winter Olympics in 1960!
The most popular hiking trail near the lake is the Tahoe Rim Trail, which is a great place for summer and fall hiking. This trail circumnavigates the lake for its complete 165 miles of the circumference. This trail allows you an up-close and personal look at Tahoe, even if you only tackle a tiny portion of the trail and don't do the complete trail.
Two wilderness regions are located near Tahoe, Granite Chief Wilderness and Desolation Wilderness both provide great hiking opportunities as well as primitive camping options to fulfill your adventurous side!
Donner Lake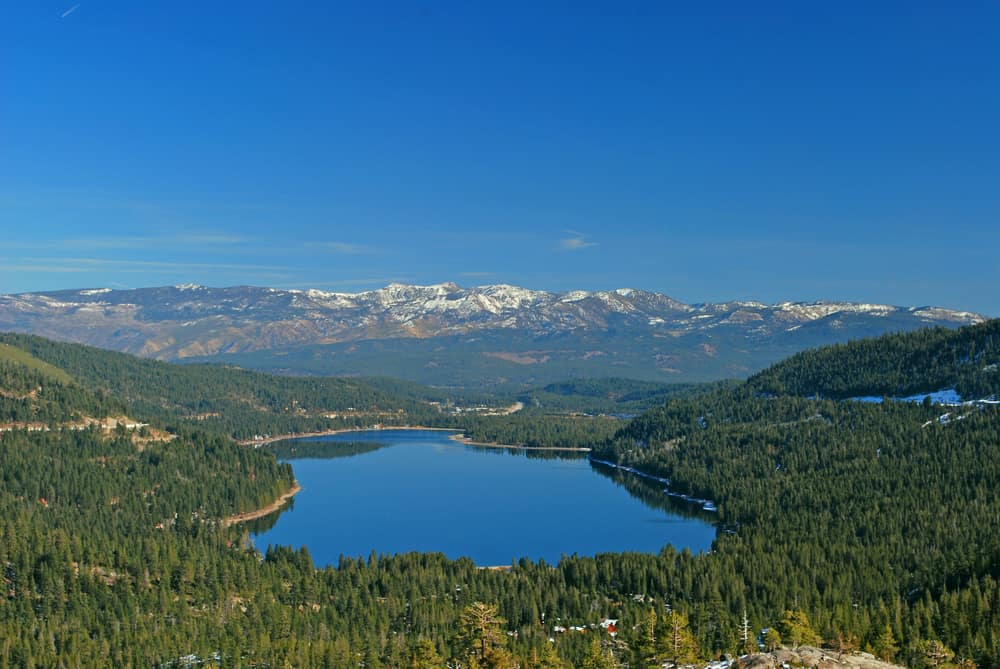 20 miles northwest of Tahoe lies Donner Lake. Of course, the lake is named after the infamous Donner Party that wintered near the lake in 1846.
If you don't know the story, the Donners were a group of pioneers trying to head to California from the Midwest; their timing was off, however, and they ended up trapped in the Sierra Nevadas for months fighting off the elements — and ended up having to resort to cannibalism in order for the remaining members of the party to survive.
Grim story besides, Donner Lake is absolutely stunning and well worth a visit, especially if you're already up north in Tahoe.
This spectacular California lake is located near the tourist town of Truckee that will provide all of your essential needs for any adventure that you plan! Donner Lake is a great spot to fish and holds some of the largest lake trout in California. Other trout and salmon species also call this lake home, making it one of the best places for aspiring fishermen in California.
Donner Memorial Park contains about 2.5 miles of trails to fulfill your every hiking desire! Donner Lake has a circumference of eight miles and also makes for a scenic hike around the rim — and it's a much more doable rim hike than Tahoe!
Lake Shasta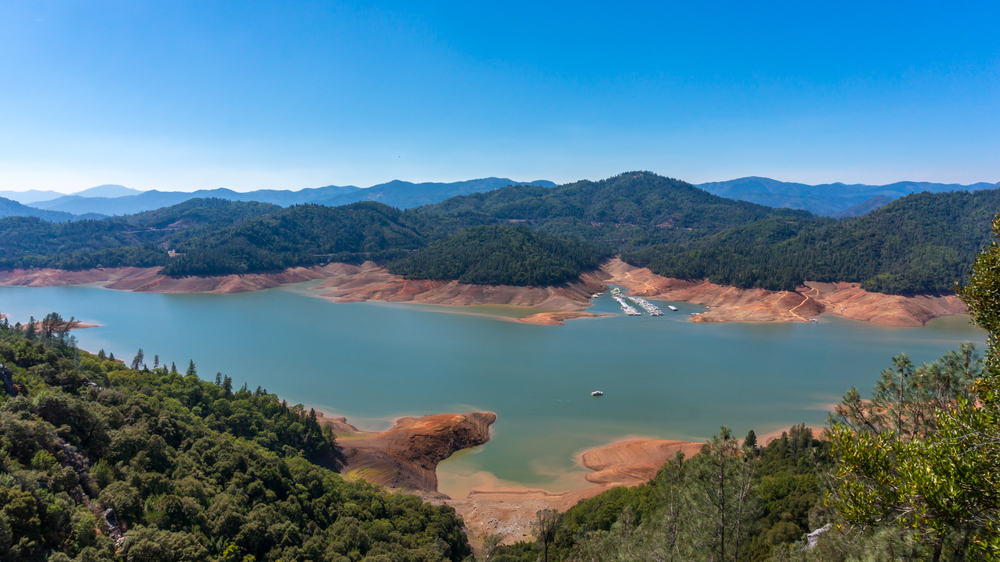 Lake Shasta is located near the city of Redding, which allows for a good spot to spend the night, grab a bite to eat or stock up on essentials before heading to the lake.
One of the favorite activities on the massive Lake Shasta is boating, and those that who don't have a boat or don't want to tow theirs can rent a houseboat to make their own during their time on Lake Shasta!
Shasta is actually a reservoir and is held back by the ninth-tallest dam in the United States. You can even tour Shasta Dam for free! Fun fact: one of the famous builders of the dam was Woody Guthrie, the acclaimed songwriter of the famous tune "This Land is Your Land."
Another site that you can visit and spend time are the Lake Shasta Caverns, which offers a great underground tour of the caves which you have to access by boat!
Mono Lake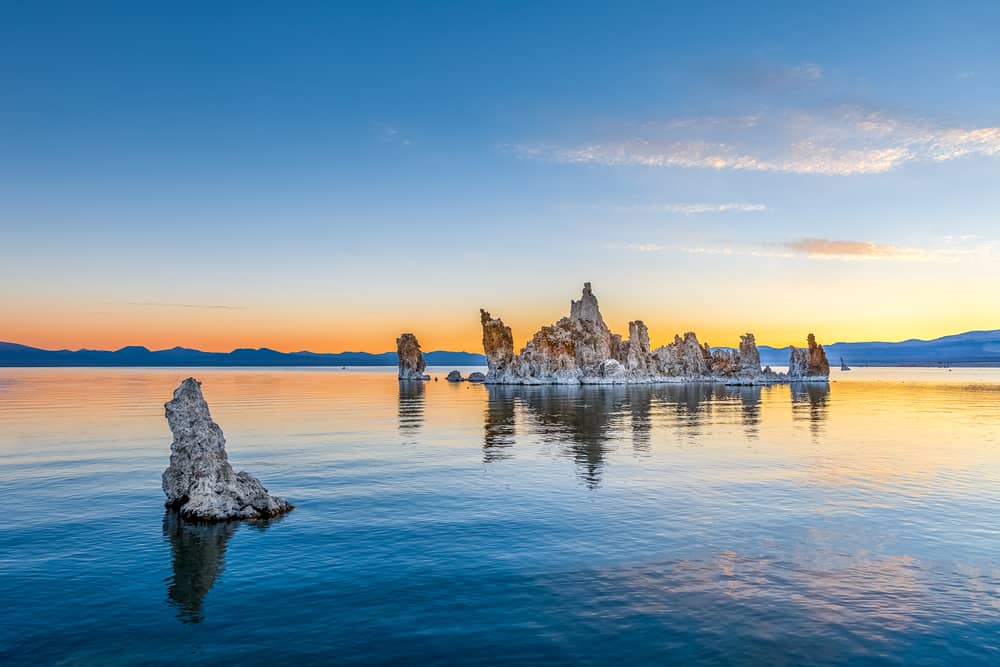 An alien landscape awaits when you visit the Eastern Californian lake of Mono Lake!
The lack of an outlet for the lake has created a very salty lake that attracts brine shrimp and migratory birds that one might see during their visit, which creates a unique ecosystem as well as particular landforms in the lake.
The most famous features at Mono Lake are the Tufa Towers. These columns of limestone rise from the bottom of Mono Lake to create an otherworldly landscape with these towers sticking out of the calm lake.
Located in the Sierra Range, Mono Lake has the cities of Mono City and Lee Vining nearby to facilitate any needs that you may have prior to exploring the area!
June Lake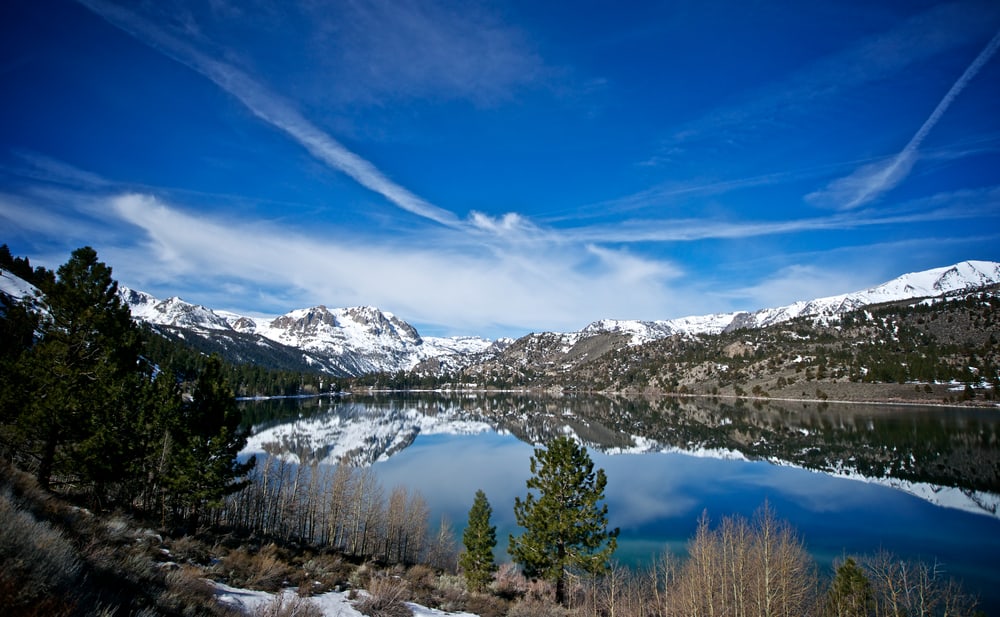 Located near the town of June Lake, this region was the original resort community in the Eastern Sierras and the community of the same name is a great place to spend some time.
Those who enjoy winter sports will most enjoy June Lake when the snow starts coming down in the area as June Mountain's 1,500 acres of runs are a skier's and snowboarder's paradise! The mountain includes an event center for functions as well as a rental center for those who didn't pack their own winter gear.
Another snowy adventure that is popular in the region is snowmobiling and one can rent a snowmobile to explore the region on the fresh powder.
But June Lake is a popular summer getaway as well, and you can rent boats, kayaks, stand-up paddleboards, and other summer lake equipment easily if you visit June Lake in the summertime.
From the town of June Lake, you can also hike out to other lakes: Gem Lake and Waugh Lake. Silver Lake and Gull lake are also easily accessible by car.
Mammoth Lakes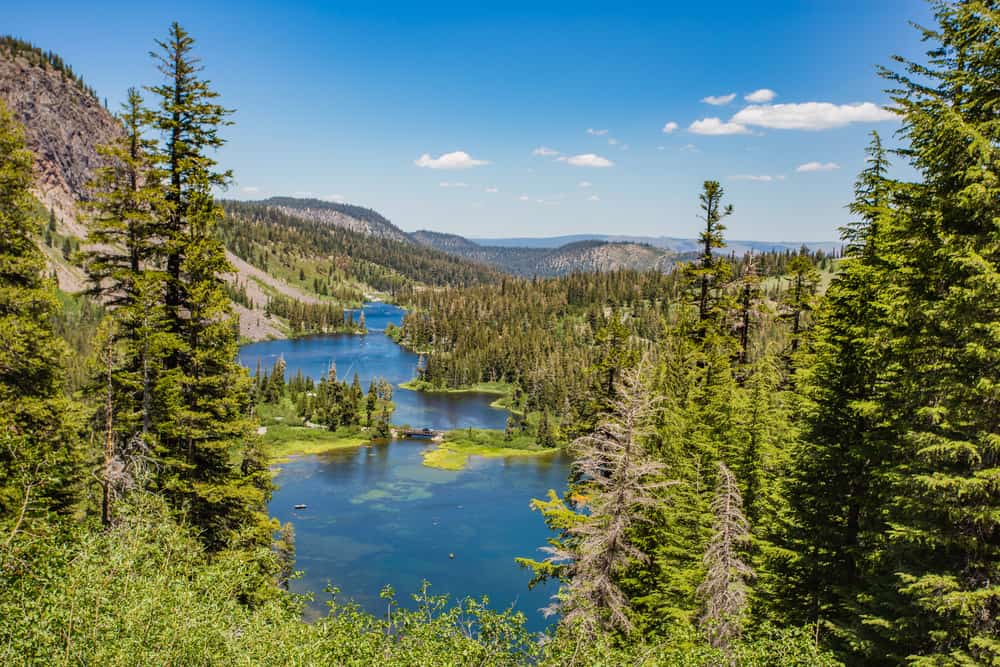 Located in the heart of the Sierra Nevada region, Mammoth Lakes is a town with several lakes located close to both Mono Lake and Yosemite National Park.
Four lakes are located in the region and all of them make for a cool swim on a warm summer day! Twin Lakes, Lake Mary, Lake Mamie, Lake George, and Horseshoe Lake are all easy to drive to and to allow for a relaxing swim. You can also hike around these lakes for a longer stay at these aquatic wonderlands.
Mammoth Lakes gets its "mammoth" name from the mountains that surround the region, which are awe-inspiring to say the least. These mountains allow for the incredible crystal clear water of each of these lakes, as they're fed by snow run-off from the pristine mountains.
Manzanita Lake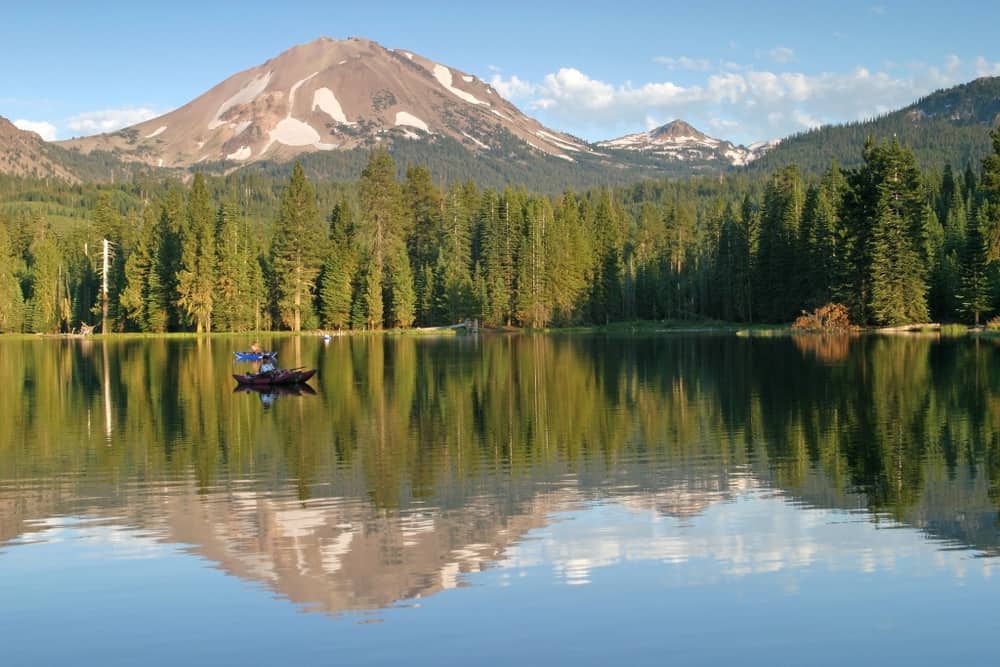 Stunning, breathtaking, awe-inspiring. Manzanita Lake is all of these and more in a hidden corner of California! Located in Lassen Volcanic National Park located in the northern part of the Golden State, the lake is one of the many centerpieces of the beautiful yet not-often-visited California national park.
A 1.5-mile hiking trail circles the lake and is great for hikers of all skill levels. The north side of the lake has great vantage points of Lassen Peak, the eponymous volcano of the park that last erupted in 1914.
This vantage point is worth the stop and is a view that belongs on canvas. No trip to Lassen is complete without spending time at Manzanita Lake!
Lake Sonoma
Located along U.S. Highway 101 north of Santa Rosa, Lake Sonoma is a great reservoir to stop at and enjoy some time on the open water, especially if you're already planning a trip to Sonoma County for its wine!
Boat rentals are located along the lake for those who want to spend time exploring this long lake. Other fun, adrenaline-pumping activities include renting jet skis and speedboats. Kayaks and canoes offer a more relaxed view of the lake and its surroundings.
Camping is also a popular activity here and those interested will find a great setting to enjoy a relaxing night under the stars — preferably with a bottle of Sonoma wine!
Trinity Lake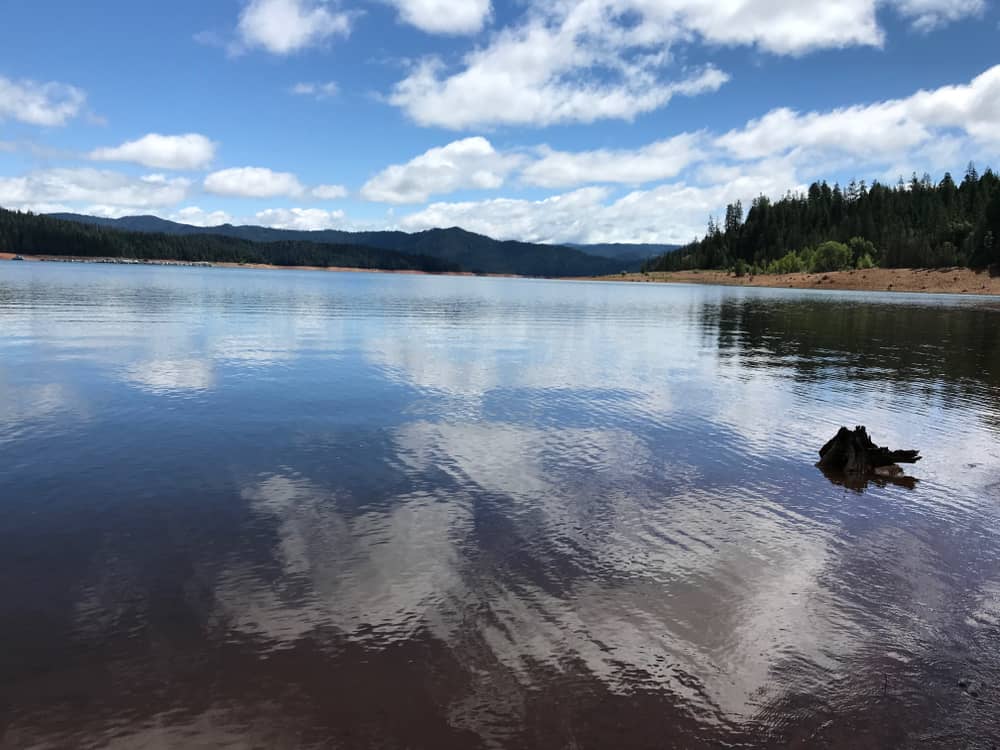 Fishing enthusiasts name this lake as one of their favorite spots in Northern California. As proof, both the state records for smallmouth bass and brown bullhead were caught in the waters of Trinity Lake located in the Shasta Forest! If you cast into the lake, you also might find trout, salmon, and catfish at the other end of your line.
Trinity Lake is an artificial lake on the Trinity River that was formed by the Trinity Dam and has become an outdoorsman's paradise. Due to its winding entrance road, Trinity Lake has fewer visitors than nearby Lake Shasta, which could provide for a more relaxed visit. House boating, speed boating, and jet skiing are also popular activities on this lake.
Big Bear Lake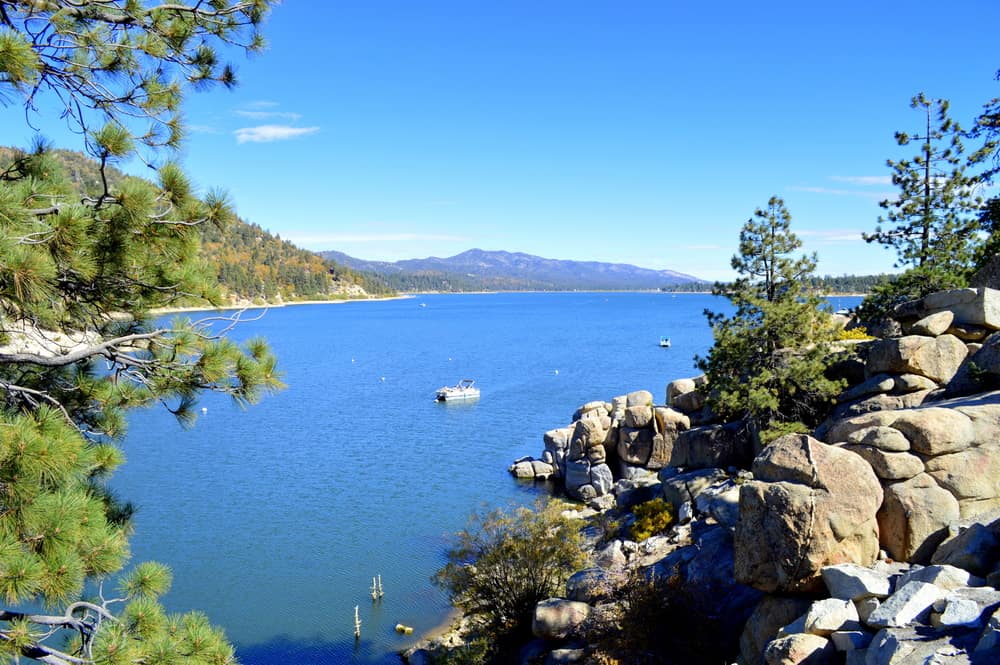 Escape. No word better describes Big Bear Lake than that word! It is truly an escape from the busy world around us and allows you to relax and enjoy the refreshing waters of this popular lake.
This reservoir located in Southern California is a great escape from the hustle and bustle of the urban centers, particularly Los Angeles, where many people visit from, as it's only a two-hour drive away (not accounting for traffic).
Big Bear Lake provides for great opportunities to fish, boat, and hike. Water skiing is also a popular activity on the lake. Swimming is discouraged at the lake, but there are many other opportunities to enjoy the region.
But Big Bear Lake is also a wonderful winter wonderland, and it's a common getaway for Angelenos who are desperate for a spot of snow and winter magic. Big Bear is home to award-winning ski resorts where you can ski and snowboard to your heart's content, or simply enjoy watching the snow settle on the lake while contemplating if this is the most beautiful place to spend winter in California!
Lake Berryessa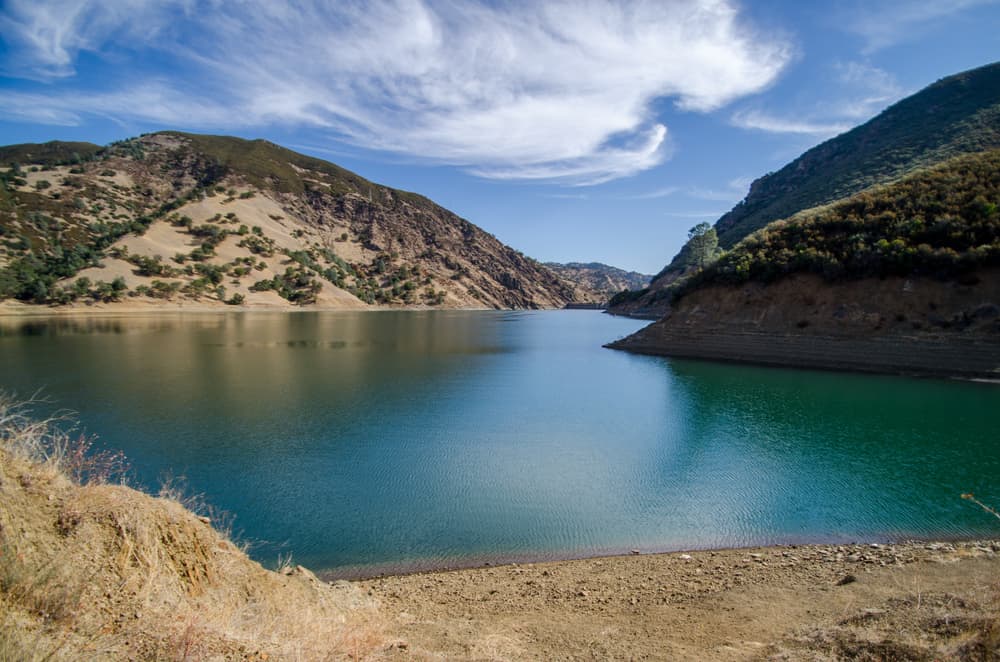 Located near the rolling hills and picturesque vines of Napa Valley, Lake Berryessa is a great reservoir to explore.
 Fishing, waterskiing, jet-skiing, pleasure boating, kayaking and canoeing, hiking, biking, motorcycle riding, birding, picnicking, and swimming: there's no shortage of activities that one can enjoy in this Northern California lake located in the heart of the Napa region.
The part of the lake nearest to the dam is called "The Narrows" and on busy weekends this area is jam-packed with boaters and water enthusiasts! The lake is a water skier and swimmer haven, and it is a great place to refresh in the waters of Wine Country, especially on a hot summer day. Lake Berryessa also offers a wide variety of fish and provides a great opportunity to find the "big catch!"
Another cool feature of Lake Berryessa is its spillway, which is (grossly) also called the Glory Hole:
This is the 'The Glory Hole' at Lake Berryessa. Officially, its name is the 'Morning Glory Spillway,' as the hole is actually a unique spillway for the lake and Monticello Dam. When water levels rise above 440 feet, water starts spilling down the hole and into Putah Creek, hundreds of feet below

Source
While this is a cool sight to see, it is unusual, and it only occurs when the water levels rise dangerously high. Under no circumstances should you ever swim close to the spillway — a woman died here in 1997 after doing so.
Tenaya Lake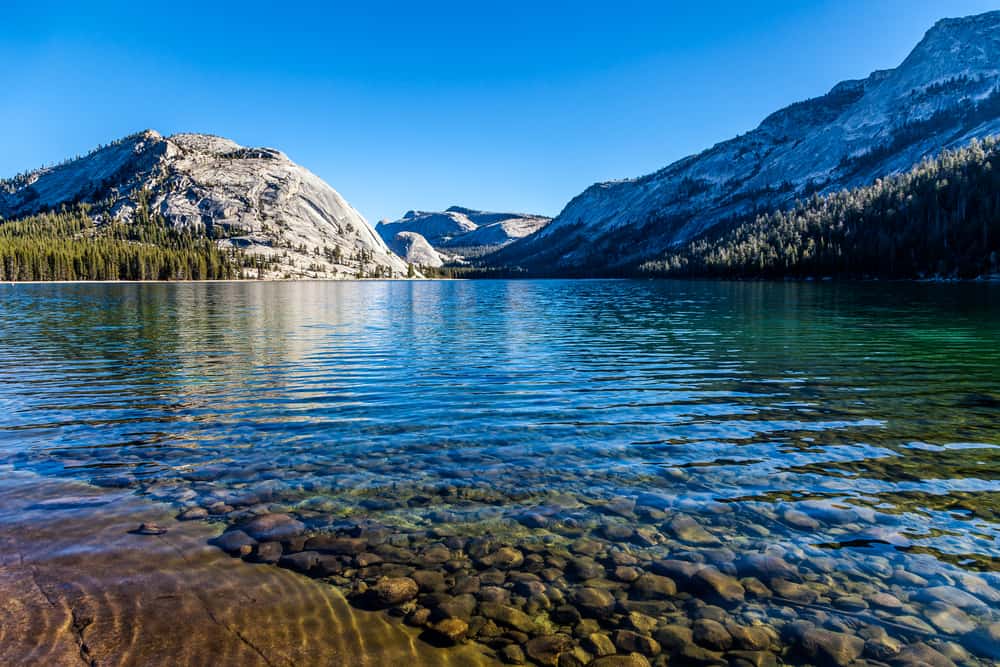 Located within Yosemite National Park, Tenaya is best accessed along Tioga Road in the northern extent of the park and located near Tuolumne Meadows.
The lake is great for hiking and is referred to as the "Jewel of the North Country." Truly, it's one of the most beautiful lakes in California.
Located at over 8,000 feet above sea level, this lake also provides a great setting for kayaking or canoeing. Motorized boats are not permitted on the lake so as to preserve the serene atmosphere.
The lake also serves as a trailhead for lengthy trails leading to Yosemite Valley, Clouds Rest, and Half Dome. Fishing is permitted year-round at Tenaya, so bring your California fishing license and your rods!
Convict Lake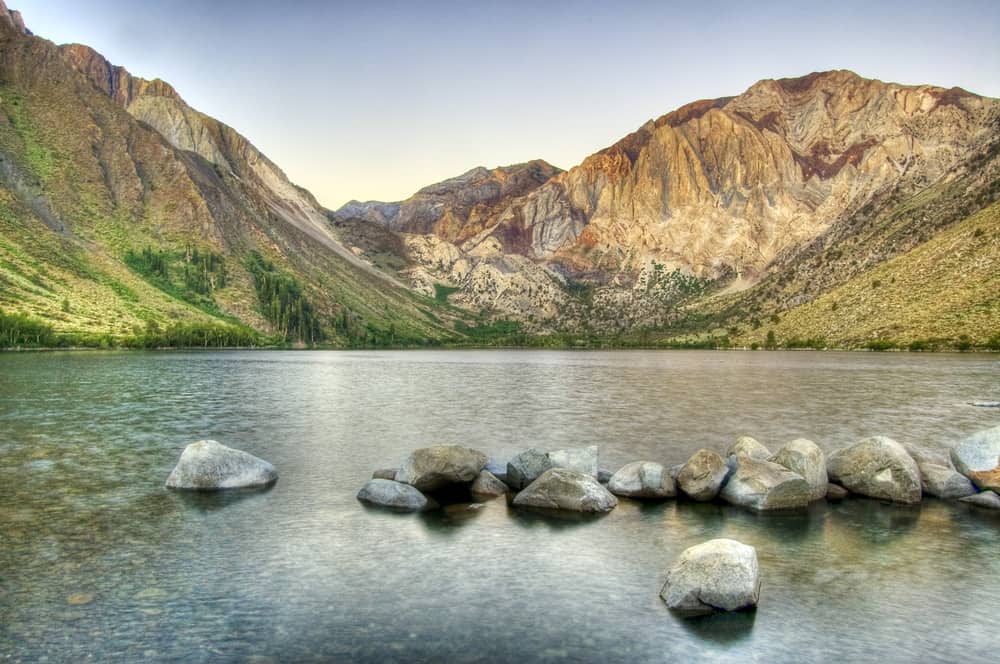 Carved out by glaciers, Convict Lake is located in the Mono Lake region and is easily accessible from Highway 395.
Hiking, fishing, and the scenic views are what bring visitors to this Sierra lake. The backdrop of Mount Morrison and its 12,241-foot peak is breathtaking and creates a great vantage point.
The lake is great for fishermen and hikers looking to explore more of the high country. The picturesque lake has been featured on TV and in other advertisements and when you visit, you will see why.
Curious about the story behind the name? This beautiful lake has a bit of a sinister history!
In the fall of 1871, a posse trapped a group of escaped convicts from Carson City, Nevada, at the lake, then known as Monte Diablo. A shootout ensued and two locals, Robert Morrison and Mono Jim, were killed. Most of the inmates were eventually caught and put to frontier justice. The large peaks above the lake were renamed after the fallen posse members and the lake itself became known as Convict.

Source
Convict Lake Resort is a great place to stay and the resort also offers fishing derbies for those interested in some competition!
Pin This Guide to Beautiful Lakes in California!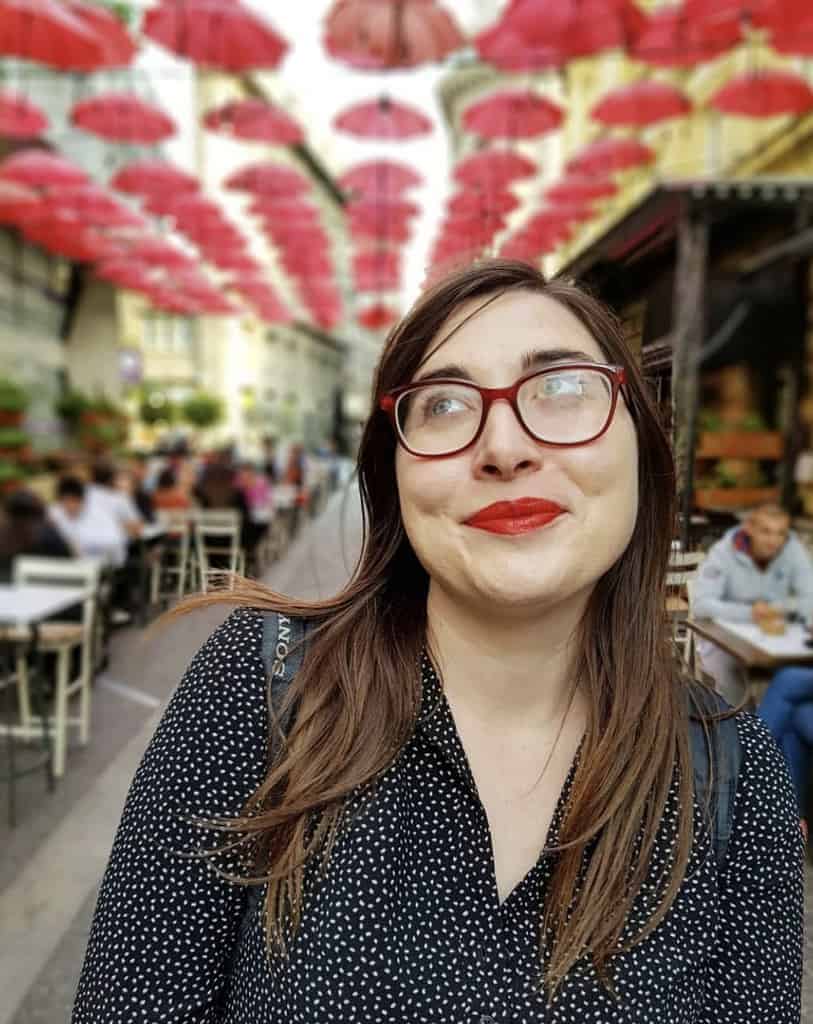 Allison Green is a travel blogger, writer, and podcaster who grew up in the Bay Area of California. She has spent time living in New York, Prague, and Sofia, but has returned to live in the East Bay. She has traveled to 60 countries before the age of 30 while running several digital travel publications. Her writing and podcast have been featured in Forbes, CBC Canada, National Geographic, the Huffington Post, and CNN Arabic, amongst others. She's obsessed with bouldering, houseplants, other people's pets, and anywhere she can see the ocean.