At current writing (August 2020), the United States has 62 National Parks.
And here's an idea of how beautiful California is: while spending time in California, you can visit over 10% of the entire U.S.' national parks!
The nine National Parks within the California borders offer very diverse ecological settings. Take time to explore the Pacific islands, desert and mountain landscape, active volcanoes, and towering redwoods. Indulge in the beautiful scenery as you explore these inspiring California National Parks — some of which you've likely never heard of!
Yosemite National Park
Note: This post contains affiliate links, which earn me a small commission at no extra cost to you if you make a purchase using one of these links. Thank you for supporting this free content!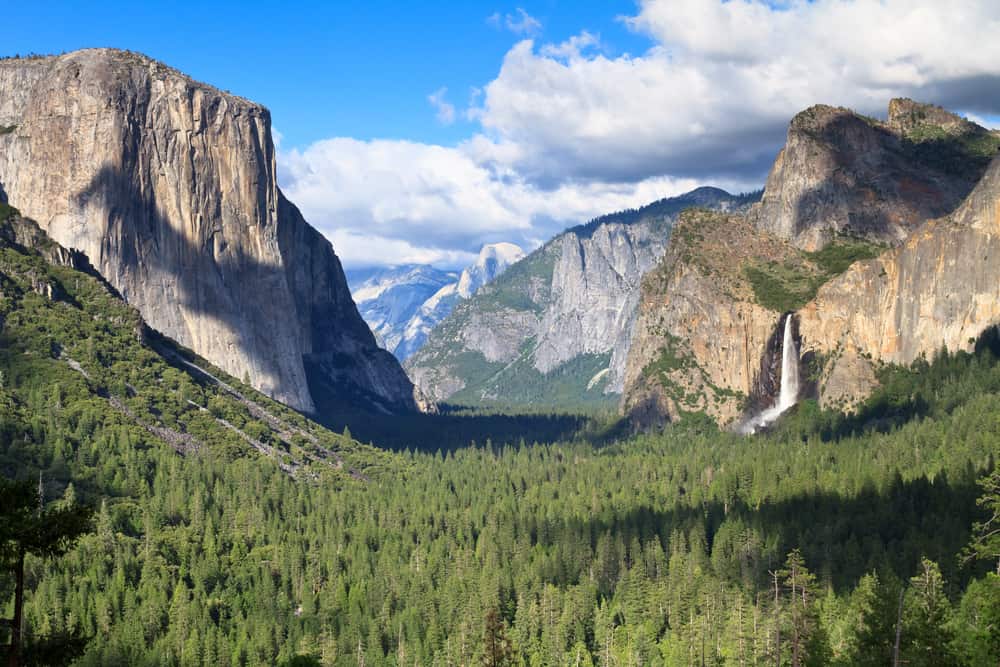 A visit to Yosemite will be full of natural marvels as you explore the massive granite monoliths, view picturesque waterfalls, and walk some of the most beautiful trails through flowering meadows.
Just a three-hour drive from San Francisco, and about the same from LA, Yosemite National Park is a terrific option for a weekend getaway from either of California's two largest metropolises.
Whether you have one day in Yosemite or one week, you're sure to be impressed and left wanting more.
What Not to Miss in Yosemite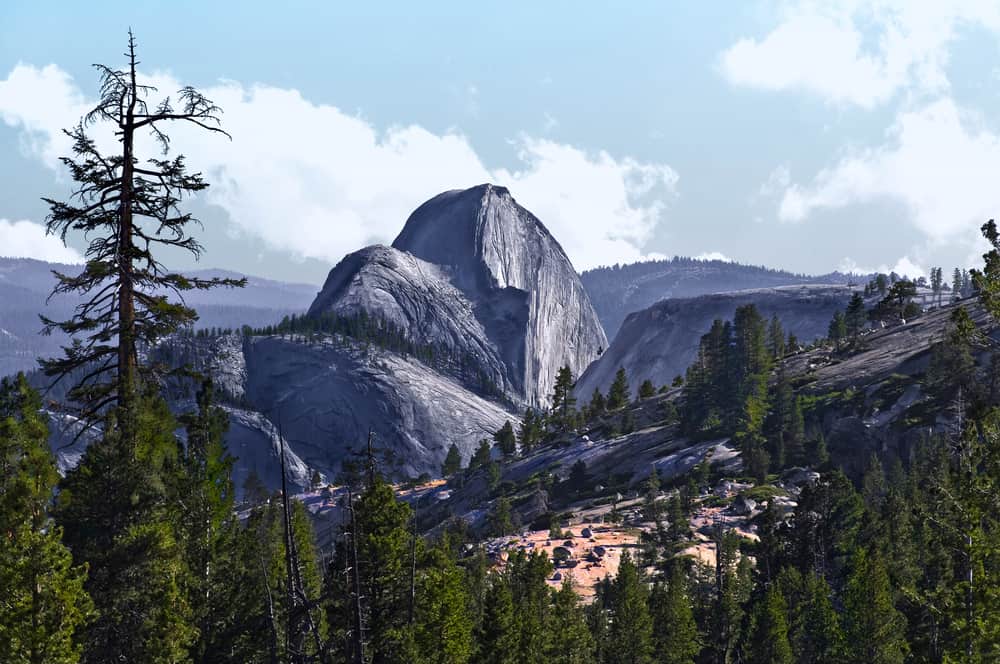 Glacier Point – This vantage point overlooking the Yosemite Valley offers visitors one of the top outlooks in the park. From the Glacier Point, you can view El Capitan, Bridalveil Falls, and Half Dome.
Tuolumne Meadows – This high-elevation meadow is located in the eastern part of the park at an elevation of 8,600 feet. The scenery is beautiful and includes lovely grasslands, green forests, winding rivers, and stunning mountain scenery. Stop at the Tenaya Lake and Olmsted Point vista points along Tioga Road or hike one of the many trails.

The short 1 ½ mile level hike to Soda Springs takes your right through the meadow.

The moderate 2-mile Gaylor Lake hike takes you 500' above the Tioga Pass and past several alpine lakes.

Mariposa Grove – Explore this southern area and be in awe of the spacious Sequoia grove. Mariposa is the largest of the three groves within Yosemite and boasts about its roughly 500 trees that are tower above you. 

Grizzly Giant that has a circumference of about 90'.

California Tunnel Tree offers visitors a chance to stand in the man-made arch cut from the tree.

Big Trees Loop Trail is an easy 45-minute walk on a paved interpretive trail where you can learn about the life of sequoias.

Half Dome – This well-known granite mountain is a sight to be seen or climbed.

The 14-mile cable route trail is breathtaking and unforgettable, but extremely challenging as it gains 4,800' along the route that begins on the steep Mist Trail. Once you pass the Nevada Falls, you will be faced with a vertical cable climb up the face of Half Dome.

If rock climbing isn't in your future, head to Glacier Point, where you will have an unobstructed view of Half Dome. Here you can watch the sunset or stargaze and see Half Dome under the stars. 

Yosemite Valley features the park' most popular stops:

Tunnel View Outlook is a popular overlook with a majestic view of Yosemite Valley, Bridalveil Falls, and Half Dome.

To reach Vernal Falls means a challenging, but worthwhile 3-hour, 2½-mile roundtrip hike along the Mist Trail.

Bridalveil Falls can be seen from the tunnels on Wawona Road or take the short, steep trail ¼-mile to reach the fall.

El Capitan's famous granite is a tremendous sight to see. Try your hand at rock climbing with some of the best in the world, or sit back and watch them scale this mammoth granite rock.

Yosemite Falls is the tallest waterfall in North America, so don't skip it! You can easily reach the lower falls on the 1-mile wheelchair-accessible loop trail.
Sequoia National Park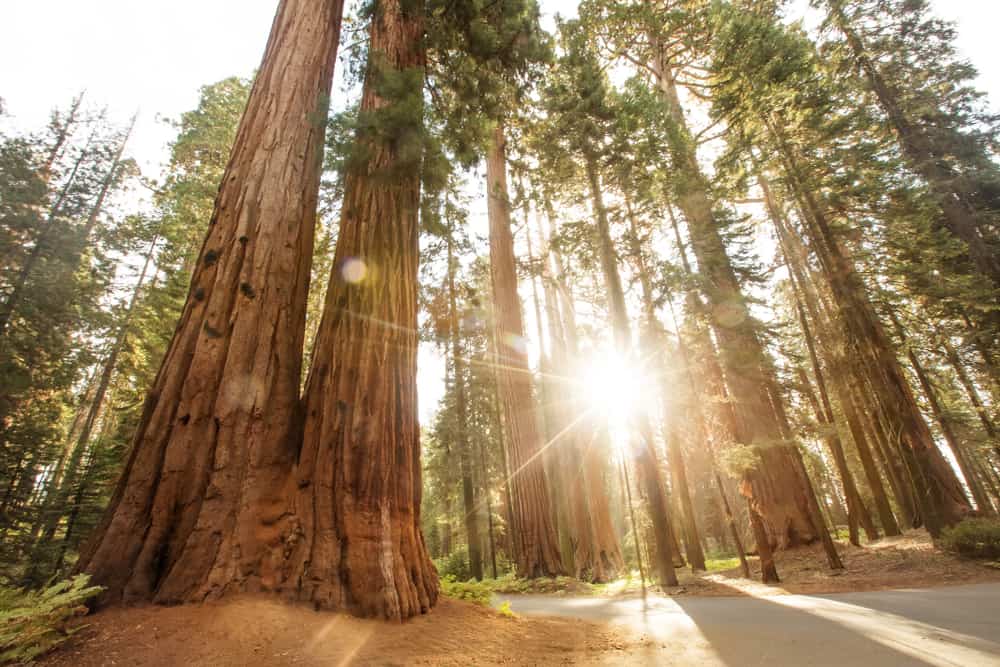 The giant sequoias amongst the Sequoia National Park are just a 200-mile drive from Los Angeles. Her,e a million visitors explore the magnificent trees as they drive along the park roads each year.
Take the time while you are here to get out of your car and explore the majestic trees and underground cave or take in the views from scenic overlooks.
Things Not to Miss in Sequoia National Park
Giant Forest – Visitors will find over 8,000 sequoias growing, including the famous General Sherman Tree.
Take a hike.

Congress Trail – This 2-mile paved loop is a way to explore the sequoias.  

Big Trees Trail is a short 1-mile interpretive loop.

Mist Falls takes hikers 8-miles through forests, rapids, and finally to large falls.

Moro Rock – After climbing the 400 steps to the top of the dome, you will be rewarded with an awesome view.
Crystal Cave – This marble, subterranean cavern is full of stalagmites and stalactites, and is a surprise to many park visitors. Explore the ½-mile trail on a guided tour of the many formations.
Tunnel Log – After falling across the road in 1937, a 17-foot wide tunnel was created so cars could pass. It is a terrific photo opportunity as you can pose on top, below, or in front of the tree.
King Canyon National Park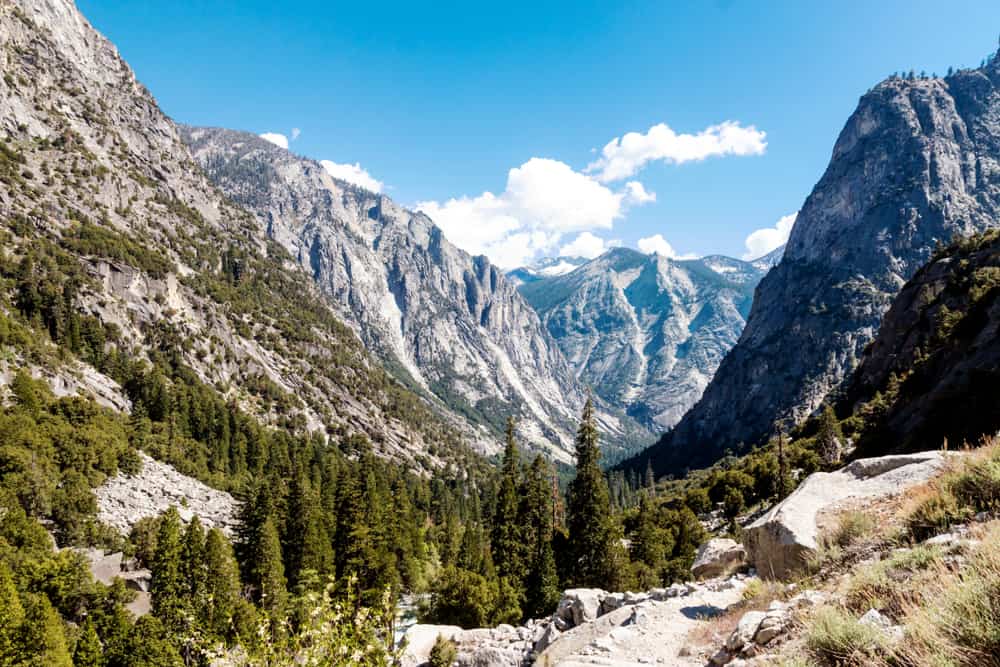 This park is located beside Sequoia National Park and offers some of the best waterfalls, hikes, and trees across its vast changing landscapes.
It's also less crowded than other California National Parks as it doesn't have the name recognition of others.
Things Not to Miss in Sequoia National Park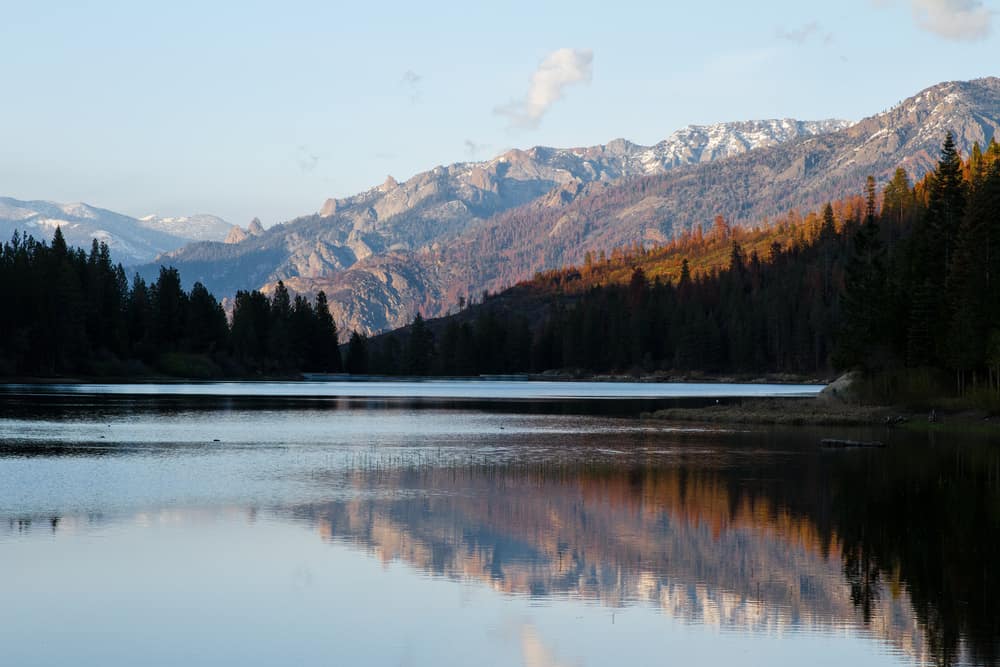 Mark Twain Tree – Along the Big Stump Trail, you will explore the logging impact on the sequoia groves, walk across a stump, and see what remains of the Mark Twain Tree.
Grizzly Falls – This fall is easy for anyone to see, even from your car. I would suggest though, to get out and enjoy the scenery and have a picnic lunch at the falls.
Roaring River Falls – This peaceful 3/10-mile round trip hike offers natural beauty as the roaring waters allow you to meander to the falls.
Zumwalt Meadow – This popular day hike takes you past rock formations, scenic wildflower meadows, and flowing rivers. If your timing is right, enjoy a marvelous sunset in an unbeatable setting.
Burnt Monarch – This partially burnt tree offers an experience that is hard to imagine. Step inside this tree and wiggle your way through the narrow pathway.
Pinnacles National Park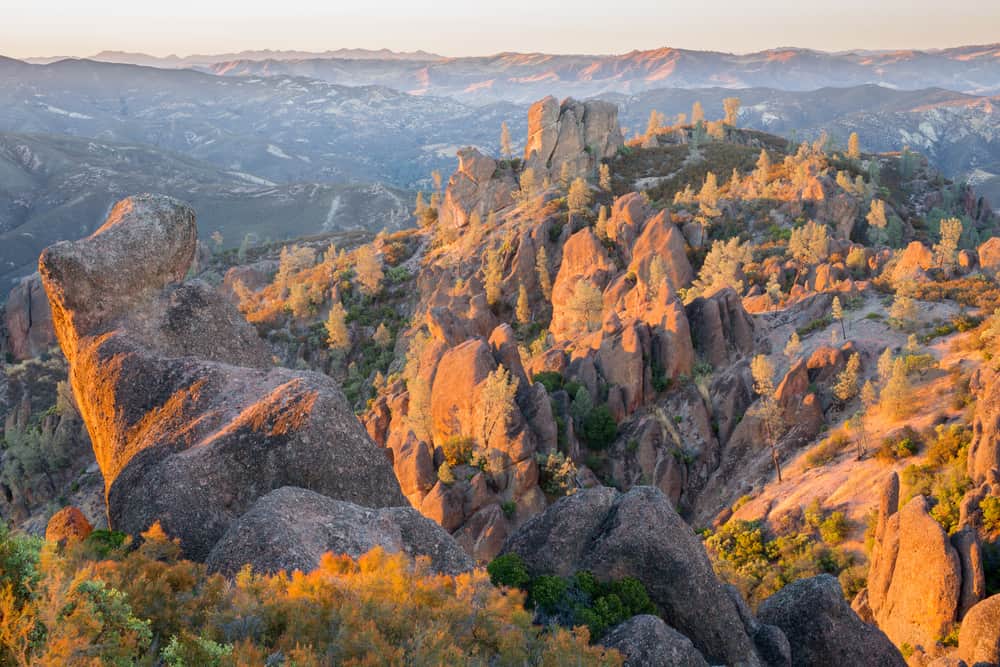 For those visiting or living in the San Jose or San Francisco area, this tiny park is just an hour and a half (75 miles) south of San Jose.
Here you will want to experience rock climbing, explore the caves, and see the California condors. This park is great to visit in the spring and fall due to the mild temperatures. However, their busy season is March-May.
Things Not to Miss in Pinnacles National Park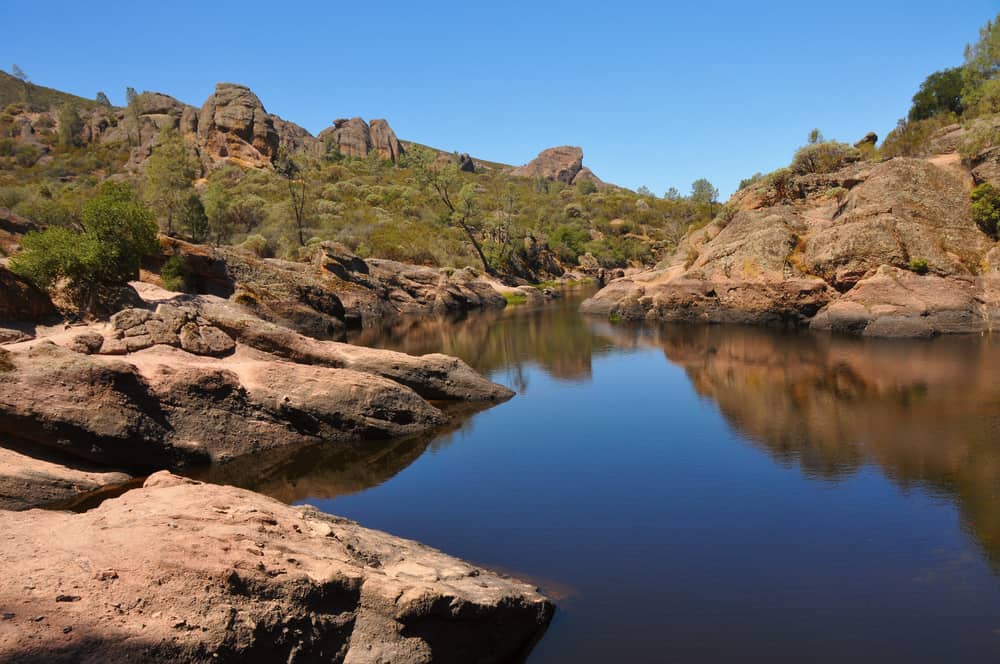 Balconies Cave – This cave was created when huge boulders fell and wedges themselves between the canyon walls. Make sure you bring a headlamp or flashlight. From the park's west side, take the Balconies Cliffs Trail from the Chaparral Trailhead Parking area for a 2.4-mile hike that should take about 90 minutes.
Bear Gulch Cave: Take the 1.35-mile trek to this cool cave via the High Peaks Trail. While here, you may see one of the big-eared bats that call this cave home.
High Peaks – Hike through the pinnacle formations on this moderate to strenuous loop hike that is nearly 5 miles long and takes 3-4 hours to accomplish.
Rock Climbing – The park's spires are a wonderland for climbers of every skill level. The Castle Rock Climbing School and Adventure Out both offer weekend climbing classes for those who want to try it out or become more advanced.
Wildlife – Keep your eyes open as you stroll the trails and travel the roads for deer, turkey, bobcat, coyote, and the famous California Condor. For a great chance to see this massive bird head to the High Peaks area and you may get a chance to watch one of the two dozen that live in the area.
Redwood National Park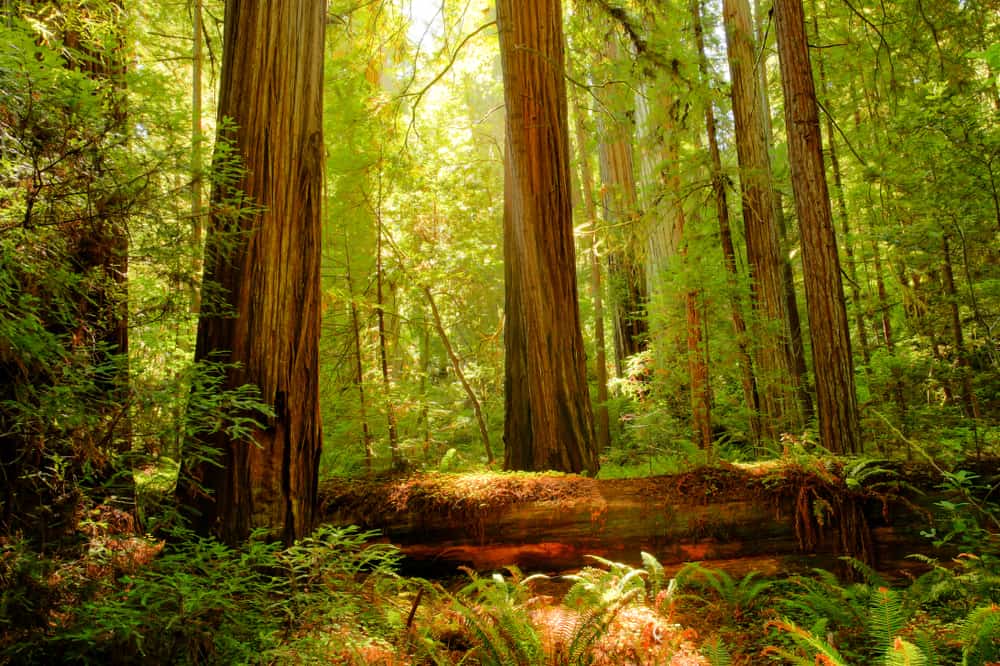 Along the north coast of California, you will find the Redwood National Park that consists of four parks, including the Redwood National Park and a collection of state parks that all showcase the towering coastal redwoods.
Take time to explore not only the mammoth redwoods, but also the rugged coastline and scenic prairie lands.
Things Not to Miss in Redwood National Park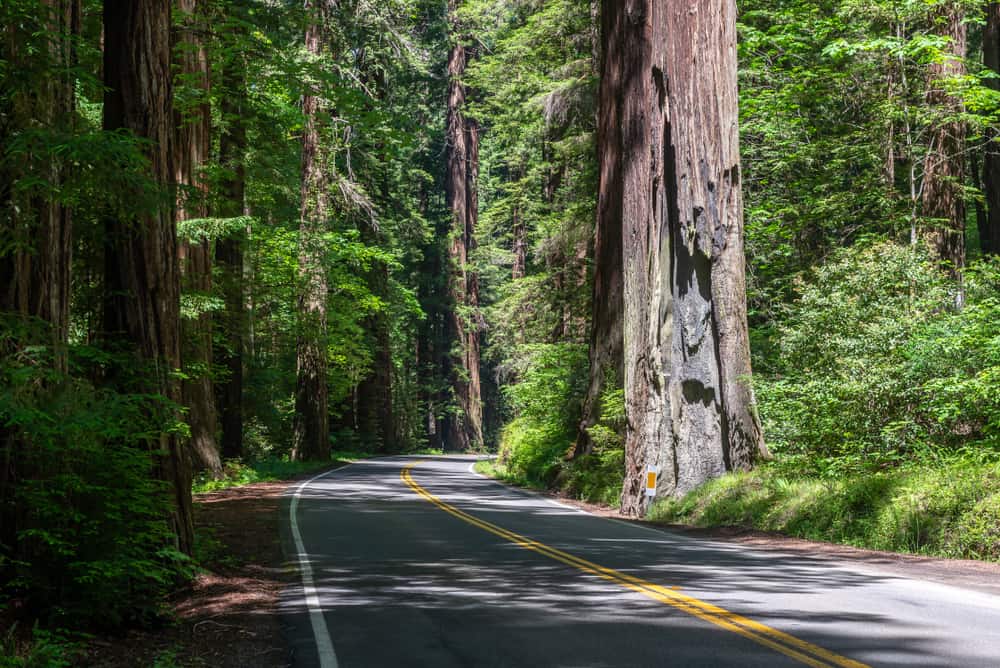 Founders Grove in Humboldt Redwood State Park – Take time to walk around the grove, exploring the massiveness of the trees, both standing and fallen.
Howland Hill Road in the Jedidiah Smith State Park – This 6-mile long dirt road squeezes between towering redwoods. Enjoy the hour drive as you ooh and awe.

Take a break from driving and take a stroll along the ½-mile Stout Grove Trail.

Fern Canyon Trail in the Prairie Creek Redwoods State Park – Along this trail, you may recognize the scenery from the Jurassic Park movie as you traverse the bumpy road and canyon trail that leads you to fern-covered canyons and waterfalls. Keep your eyes out for the Roosevelt Elk.
Enderts Beach – This rocky beach is covered with driftwood and tide-pools at low tide full of anemones and seastars. Watch for migrating gray whales on a clear November, December, March, or April day. You may even spot elk in the area.
Lady Bird Johnson Grove – Explore the 1 ½- mile self-guided loop trail through the old-growth redwoods that Lady Bird Johnson dedicated in 1968 to the National Park service. If you happen to be there in the spring, enjoy the rhododendrons and azaleas in bloom.
Joshua Tree National Park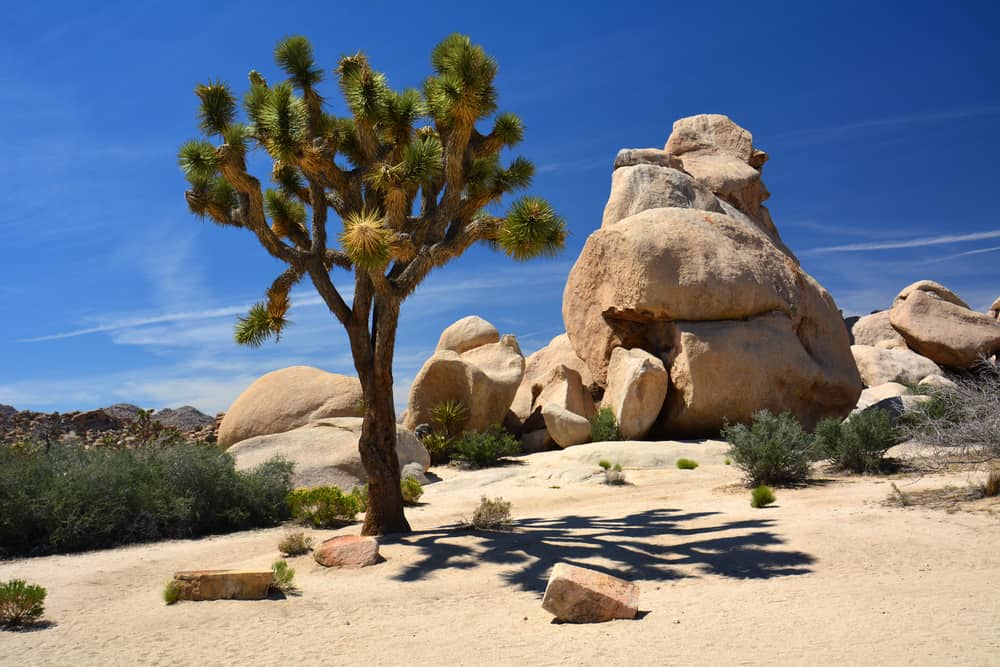 A visit to Joshua Tree National Park may feel like a visit to another planet with the crazy looking trees and giant boulders scattered around this park that is just a two-hour drive from Los Angeles.
Take time to explore the trees, climb the gigantic rocks, and enjoy the peacefulness in the desert.
Things Not to Miss in Joshua Tree National Park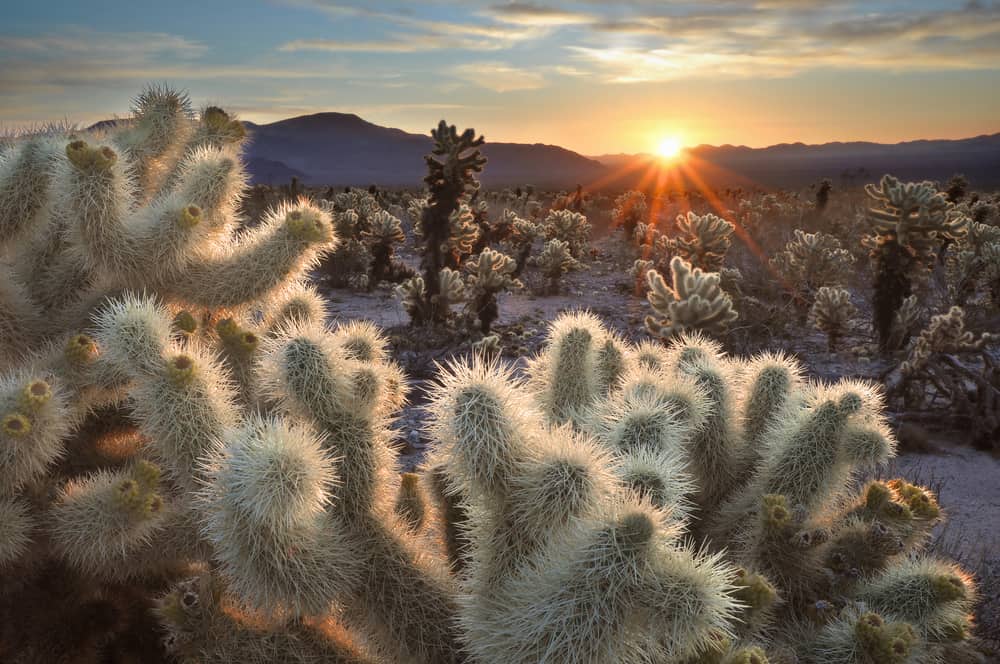 Hidden Valley Nature Trail – Take this 1-mile scenic loop trail to explore the rock formations and giant rock walls that will surround you.
Key View – This lookout point offers sweeping views from an elevation of over 5,000 feet.
Cholla Cactus Gardens – This easy trail will guide you through thousands of cholla cactus packed into this natural garden. Visit in the early morning or late afternoon for a great photo opportunity when you can catch the needles backlit with sunlight.
Skull Rock – After checking out the faces in the rock formation, wander through the rock piles and scramble up rocks for terrific lookouts.
Guided Tour of Keys Ranch – William F. Keys homestead is a National Historic Register Site. The park offers informative 90-minute tours about the Keys' life in the desert.
Lassen Volcanic National Park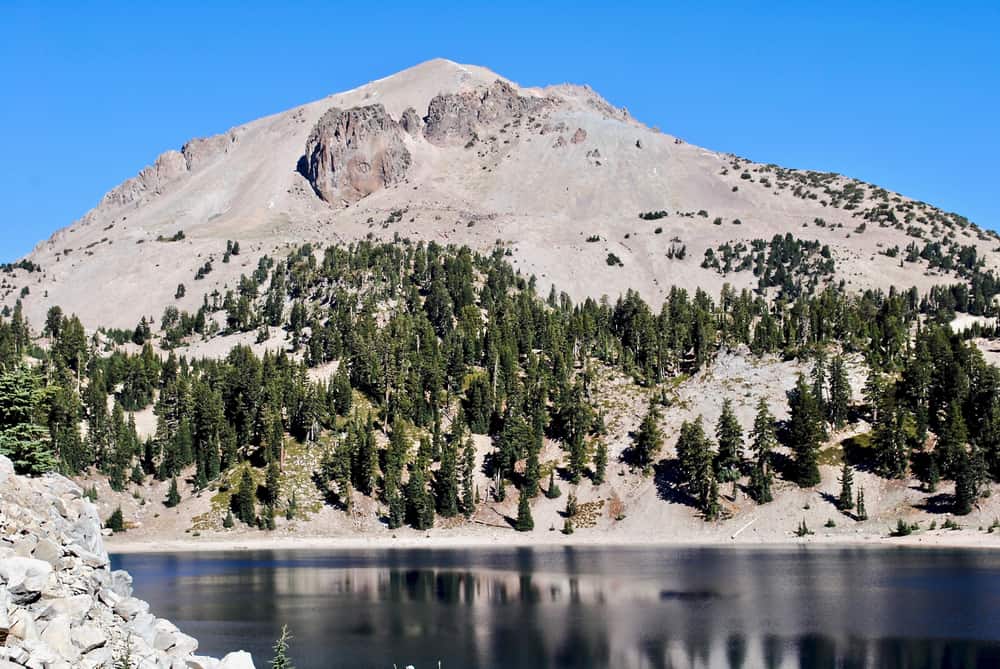 A 4-hour drive northeast of San Francisco will lead you to explore the hydrothermal areas, waterfalls, California's volcanic history, and the landscape covered in wildflowers.
It's like a little slice of Iceland in California — you'll be amazed.
Things Not to Miss in Lassen Volcanic National Park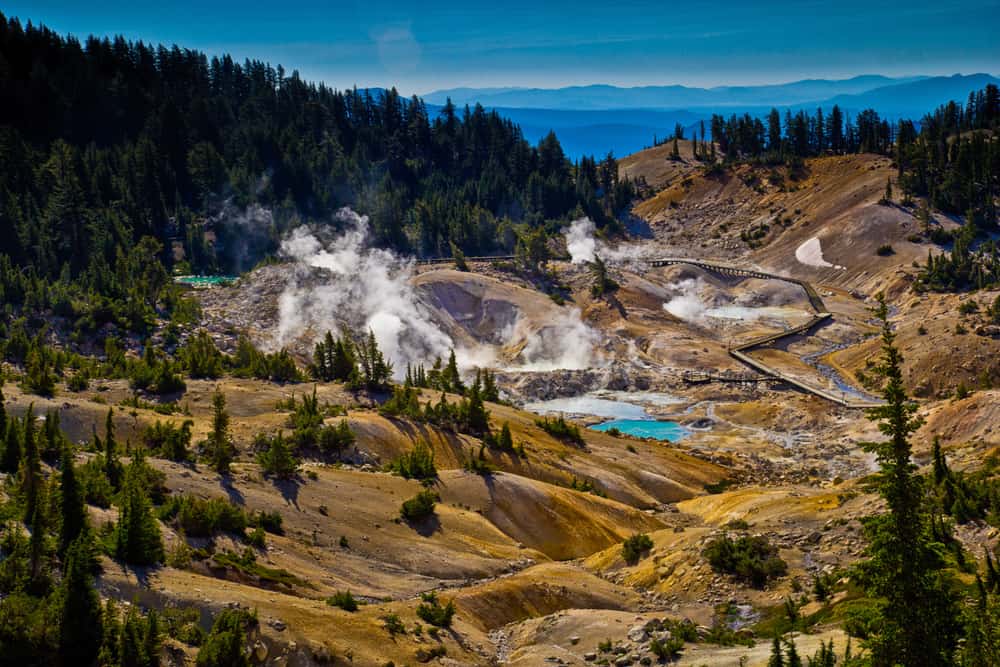 Bumpass Hell Trail – Explore the 3-mile roundtrip boardwalk trail through the hydrothermal features that hiss, bubble, and thump. While here, keep your eyes open for the pika. And hold your nose for the smell!
Manzanita Lake – Enjoy a 1 1/2-mile stroll around the lake or spend the day fishing or kayaking.
Sulfur Works – This roadside mud pot smells like rotten eggs as it bubbles and spews.
Kings Creek Falls – Take the 2.3-mile roundtrip hike to the stunning 70' waterfall. Take the Upper Cascades Trail to the falls, then admire the falls from the overlook on the cliff before returning by way of the Cascades Foot Section, where you walk up the rock steps beside the cascades.
Devastated Area Interpretive Trail – This easy, handicap accessible, ½-mile loop lets visitors explore the destruction from the 1915 eruption.
Death Valley National Park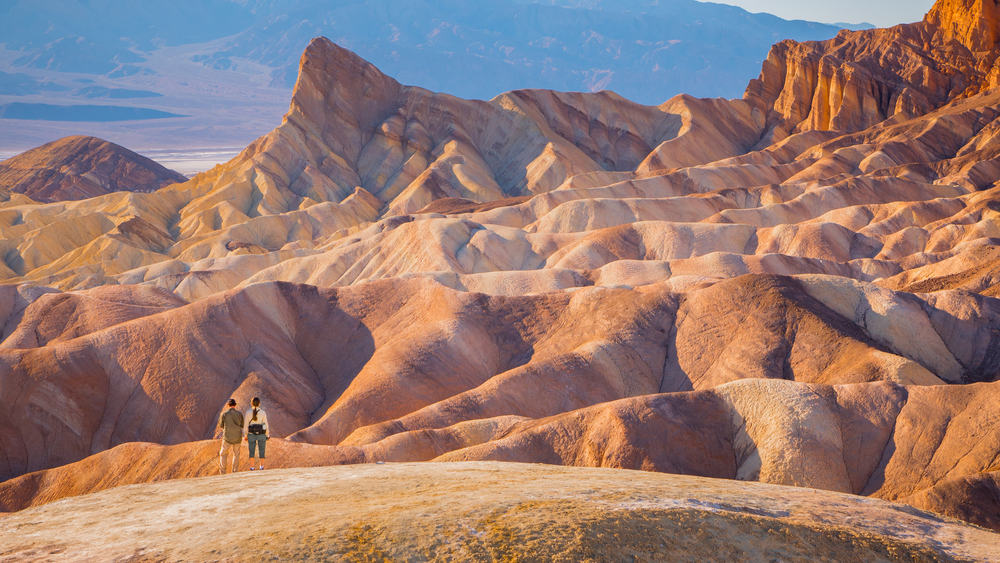 A visit to Death Valley means hot temperatures, amazing wildflowers, unique scenery, and vastness.
This is a perfect spring or fall weekend destination from LA since it is only about a 3 ½ hour drive. Skip it in the summer as it's way too hot to enjoy and may even be deadly if you don't pack properly.
Things Not to Miss in Death Valley National Park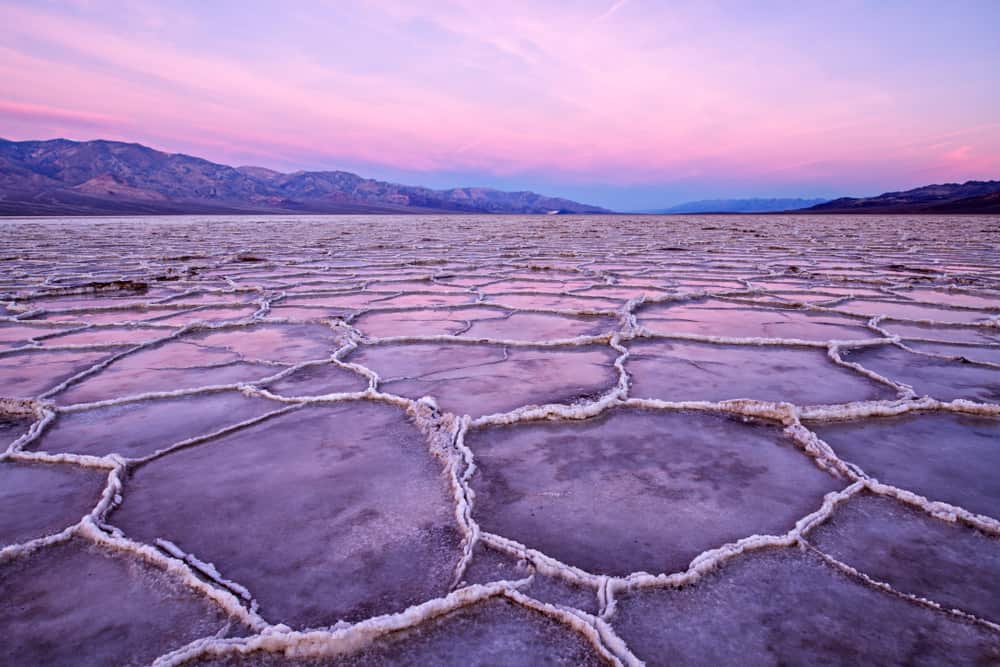 Devil's Golf Course – Take time to explore the rock salt crystals on the desert floor that the wind and rain have turned into jagged spikes.
Artist's Drive – Take the nine-mile scenic drive through twists and turns full of colorful rock formations.
Stargazing – Spend a night in this dark sky park and count the stars.
Ubehebe Crater – This volcanic crater is a 1/2-mile across and 600' deep. View it from your car, walk around the rim, or journey down to the bottom.
Badwater Basin – Standing here, you will be 282 feet below sea level and surrounded by salt flats.
Channel Islands National Park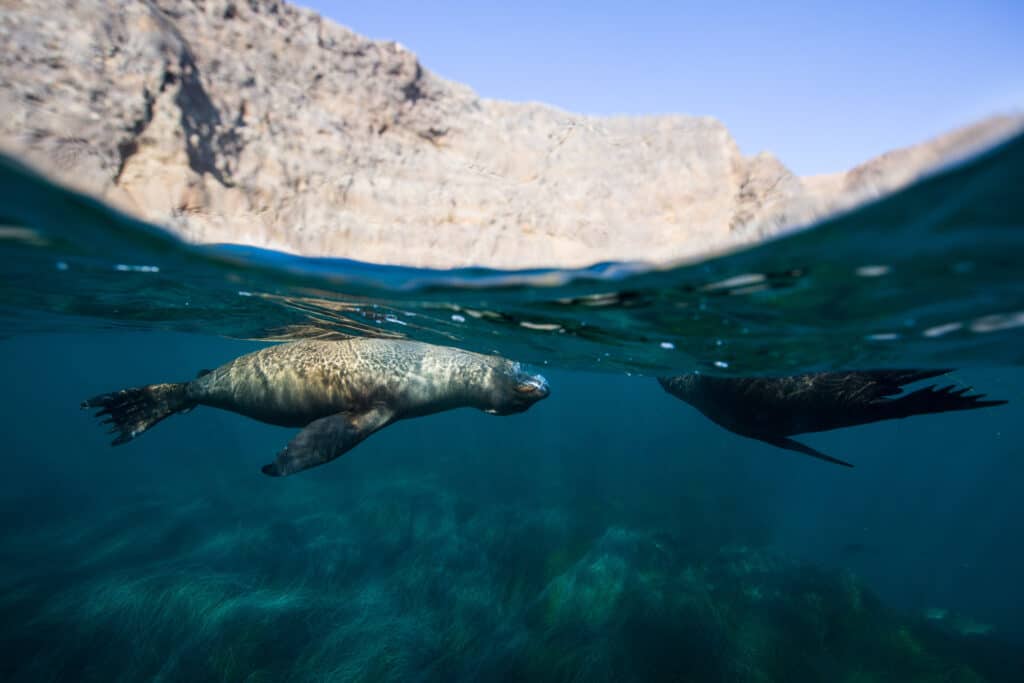 Just north of Los Angeles lies the eight beautiful islands that make up the Channel Islands National Park, nicknamed "California's Galapagos".
To reach the islands, you either have to have a boat or take the ferry from Oxnard or Ventura Harbor. You can also take a charter plane from Oxnard to several of the islands. While there, enjoy hiking, birding, and kayaking around these tranquil islands surrounded by the great Pacific Ocean.
Things Not to Miss in Channel Islands National Park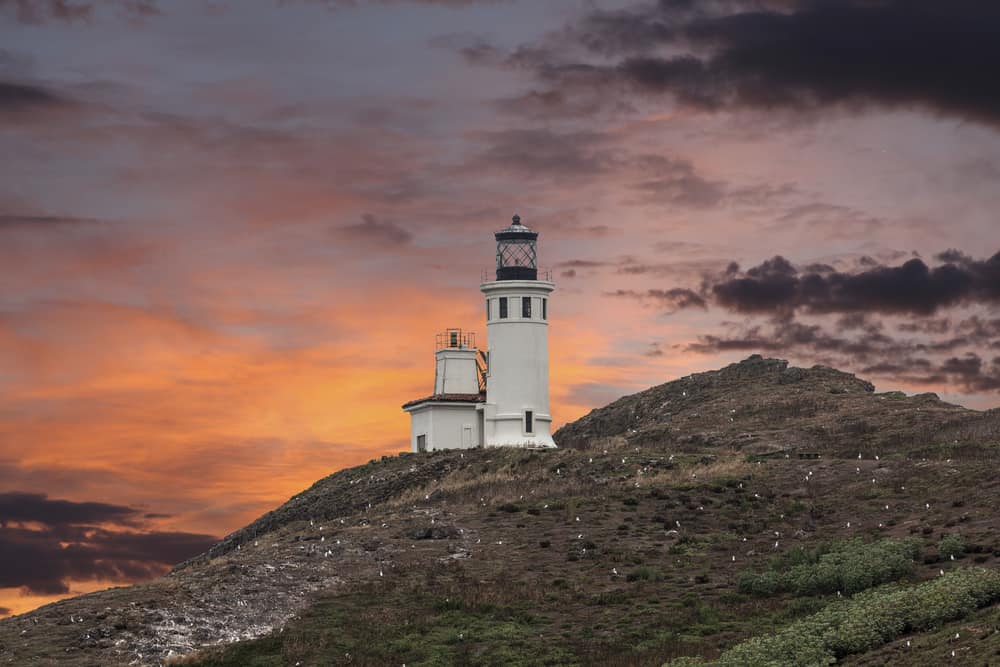 Potato Harbor Trail on Santa Cruz Island – Take in the jaw-dropping Pacific Ocean vistas along with the May wildflowers that will surround your walk.
Arch Rock on Anacapa Island – This is the perfect place to watch the whales and dolphins migrate past.
Sea Cave Exploration – Whether you have a kayak or you go on a kayak tour, take time to explore the bluffs and Scorpion Anchorage.
Anacapa Lighthouse – from the Visitor Center, it is only a ½-mile hike to this automated lighthouse — one of the most beautiful lighthouses in California.
Inspiration Point on Anacapa Island – Take the ¾-mile hike from the Visitor Center to this amazing view. Here you can spend hours just enjoying the scenery and views of Santa Cruz.
Pin This Guide to California National Park Must-Sees!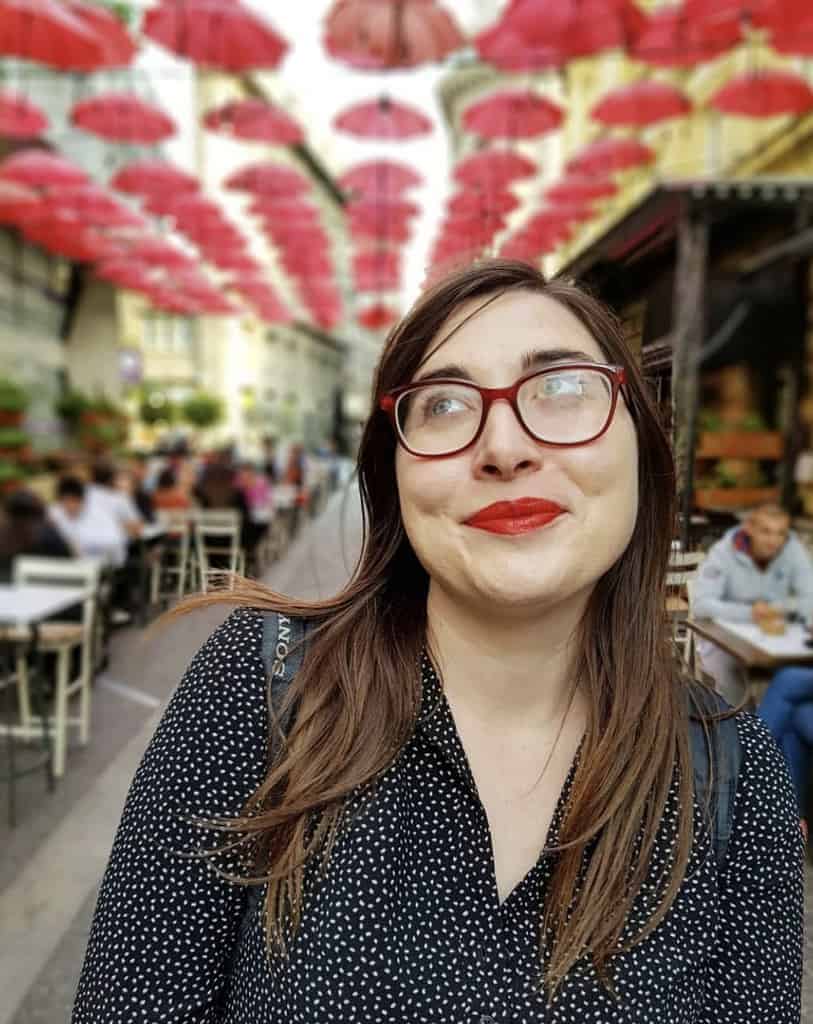 Allison Green is a travel blogger, writer, and podcaster who grew up in the Bay Area of California. She has spent time living in New York, Prague, and Sofia, but has returned to live in the East Bay. She has traveled to 60 countries before the age of 30 while running several digital travel publications. Her writing and podcast have been featured in Forbes, CBC Canada, National Geographic, the Huffington Post, and CNN Arabic, amongst others. She's obsessed with bouldering, houseplants, other people's pets, and anywhere she can see the ocean.