Whether you visit for the thundering waterfalls in spring, the seemingly endless sunny days of summer, the crisp golden colors of fall, or the snow-glittered winter, one day in Yosemite will make an everlasting impression.
Yosemite National Park is home to giant sequoia forests, stunning granite rock formations that make every rock climber's bucket list, and towering powerful waterfalls — including a record-breaker!
Yosemite Falls is the tallest waterfall in the North America at 2,425 feet and one of the top 20 tallest waterfalls in the world!
Fun fact: it's not actually the tallest waterfall in the USA, which is Pu'uka'oku Falls on the island of Molokai in Hawaii.
So naturally, if you only have one day in Yosemite (and you're visiting during the season when waterfalls are roaring), you need to make visiting its namesake waterfall a key part of it.
Note: This post contains affiliate links, which earn me a small commission at no extra cost to you if you make a purchase using one of these links. Thank you for supporting this free content!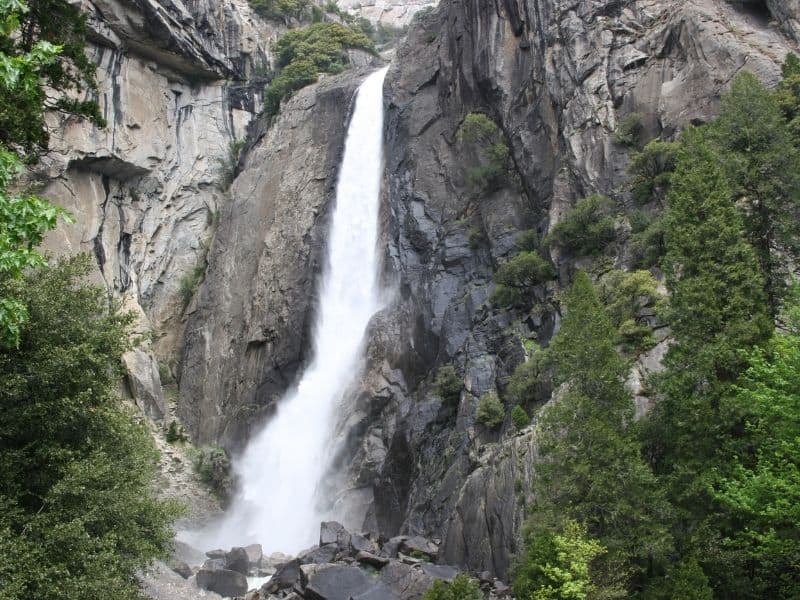 Yosemite Falls is broken into three parts: the tallest is Upper Yosemite Fall at 1,430 feet, the middle Cascades are 675 feet, and Lower Yosemite Fall is 320 feet.
Visiting any one of these would be insanely impressive in its own right, but seeing the whole Yosemite Falls as one giant totality is even more spectacular!
Keep in mind, though, that Yosemite Falls is seasonal, only present during the late spring and summer after the snowpack in the Sierra Nevadas has melted.
However, that doesn't mean that there aren't other wonderful sites to see on the Yosemite Valley floor!
If you visit during a different part of the year, you won't see this waterfall, though there are a few year-round waterfalls such as Vernal Falls and Nevada Falls, which flows year-round as it is fed by the Merced River.
Even if you visit during a time of year where the waterfalls aren't flowing, there are plenty of other wonderful things to do in Yosemite National Park in one day.
Be mindful with with your time and planning, as Yosemite is a large park with many distinct areas. It can take some time to get between places in Yosemite; for example, from the Valley floor to Tuolumne Meadows is about an hour and a half of driving. 
I'll outline exactly how to spend one day in Yosemite below.
Planning a Yosemite Day Trip in 2022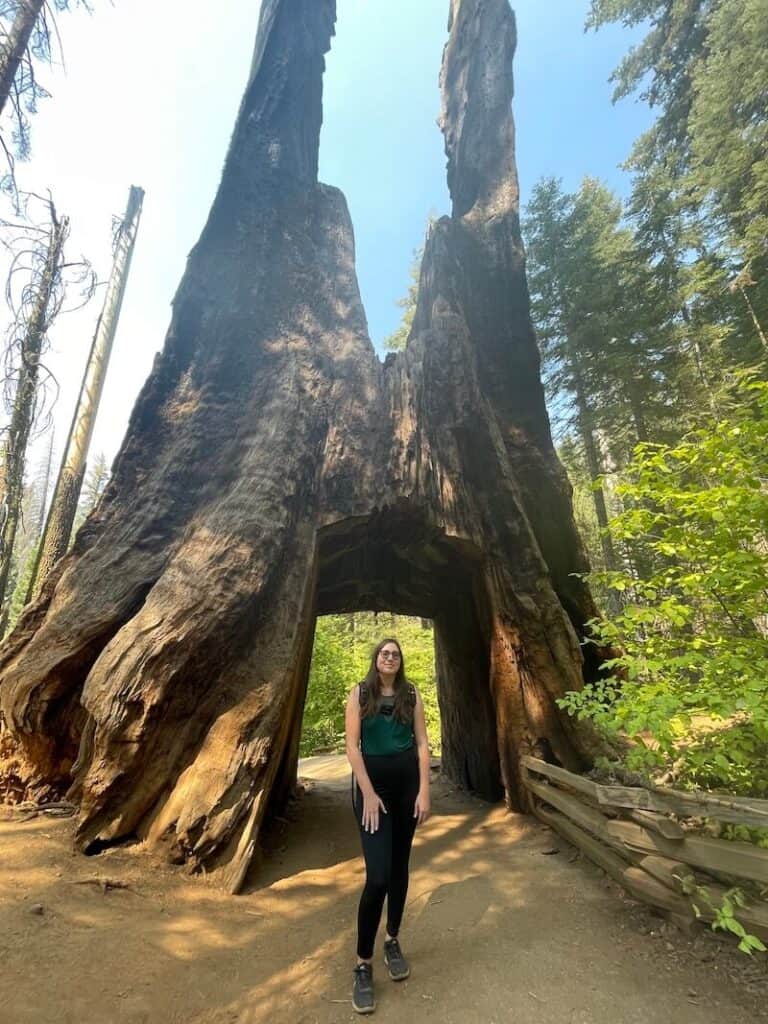 Note that in the context of the Covid-19 pandemic, as well as planned maintenance within the park, there are a lot of changes and closures in Yosemite in 2022 and years to come.
I went to the park in June 2021 to update this post that was originally written in 2020, but some things have changed since and will continue to change.
For the minimal amount of trip disruption, I do suggest doing a final check on the NPS website to learn of any closures prior to planning your visit.
I've sourced information from AllTrails and the Yosemite NPS website to do my best to let you know what closures and changes may be in effect, and all information was accurate at time of last post update (January 2022).
If planning a trip for 2022, keep in mind that a lot of this is subject to change, and the Yosemite website will have the latest news.
Note: Reservations not currently required to visit Yosemite National Park, but this may resume in the busy spring and summer season. Learn more on their website.
Yosemite Day Trip FAQs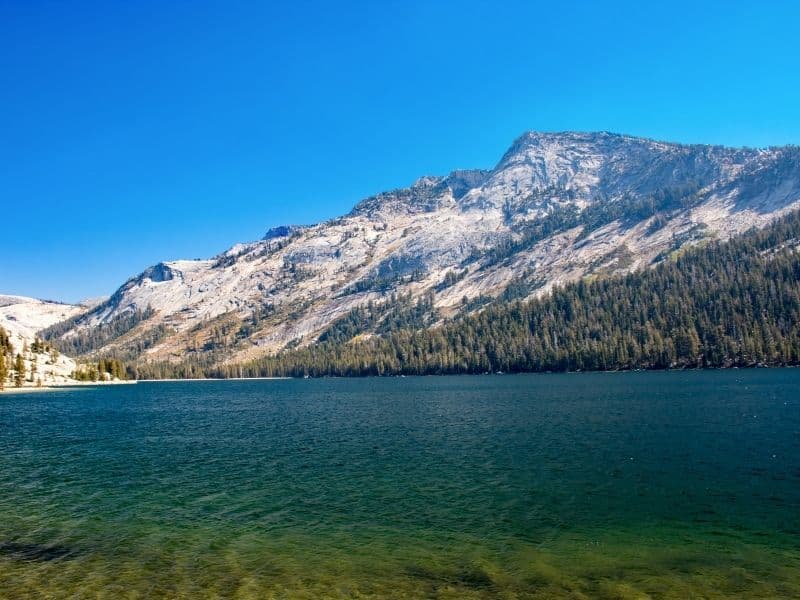 How do I spend one day in Yosemite?
By reading this post, I'll give you three ideas. The self-guided itinerary takes up the bulk of this post, so if you are planning an independent visit, you'll want to read the whole post.
You can also do a guided day trip from San Francisco that will cover the sequoia groves and Yosemite Valley, or take the shuttle in from San Francisco and have about 5-6 hours to explore Yosemite Valley independently.
Do I need a reservation to visit Yosemite for the day?
As of January 2022, there is no need to have reservations to visit Yosemite and you can visit it just by paying the entrance fee or by showing your annual pass.
Depending on the pandemic context and park demand, the NPS may re-institute their reservation policy which is in place roughly during the May to September peak time period. However, there is no word on this quite yet.
If reservations are required, and you are unable to obtain a reservation, you can circumvent this in a few different ways.
These ways are: A) booking campgrounds within the park [what I did during my September 2021 visit, when I stayed at Tuolumne Meadows] B) booking accommodation within the park, or C) booking a guided day tour.
What should I not miss in Yosemite in a day?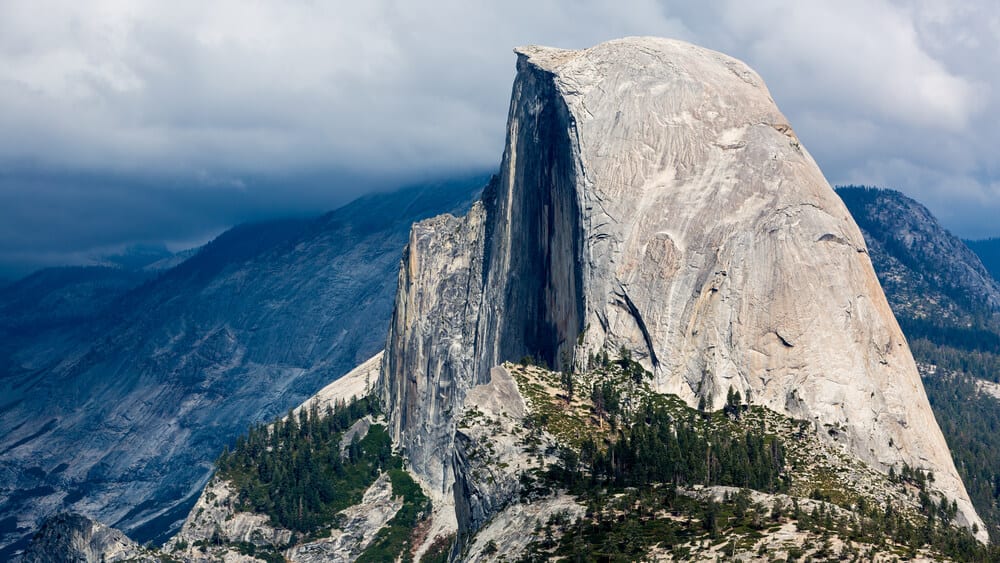 Absolutely the #1 thing you should see is Yosemite Valley, which is where you'll find El Capitan, Half Dome, Yosemite Falls, and several of the most important Yosemite viewpoints.
After prioritizing Yosemite Valley, next up I would say would be the giant sequoias (either in Mariposa or Tuolumne Grove) and finally the Tuolumne Meadows and Tioga Pass area, if you have time.
How long does it take to drive to Yosemite?
From the San Francisco Bay Area, you'll need about 3 hours to reach the nearest park entrance (without traffic) and 4 hours to reach Yosemite Valley.
Of course, traffic, entrance lines, weather conditions, etc. could all impact that drive time, but 3 hours is the minimum one-way.
When is the best time for visiting Yosemite?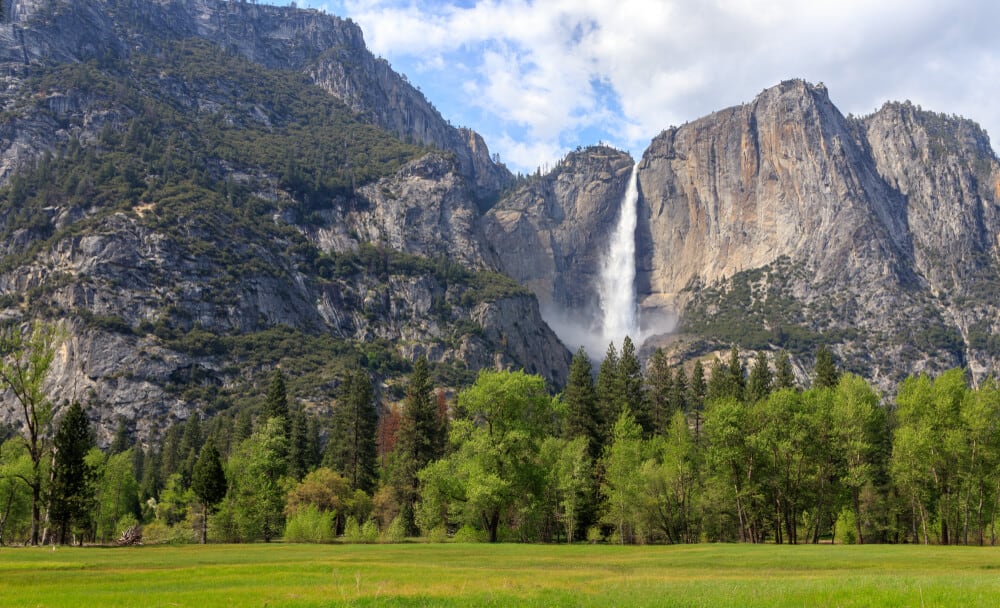 Late spring and early summer is widely considered to be the best time to visit Yosemite because the waterfalls are at their peak flow.
When I visited in September 2021, there was no water in Yosemite Falls — and that's pretty typical of that time of year.
If I had to pick a month, I would say late May or early June, before school is out. Visit during the weekdays if you can as weekends in Yosemite can be crazy crowded with Bay Area weekend trippers!
What to Pack for a Day in Yosemite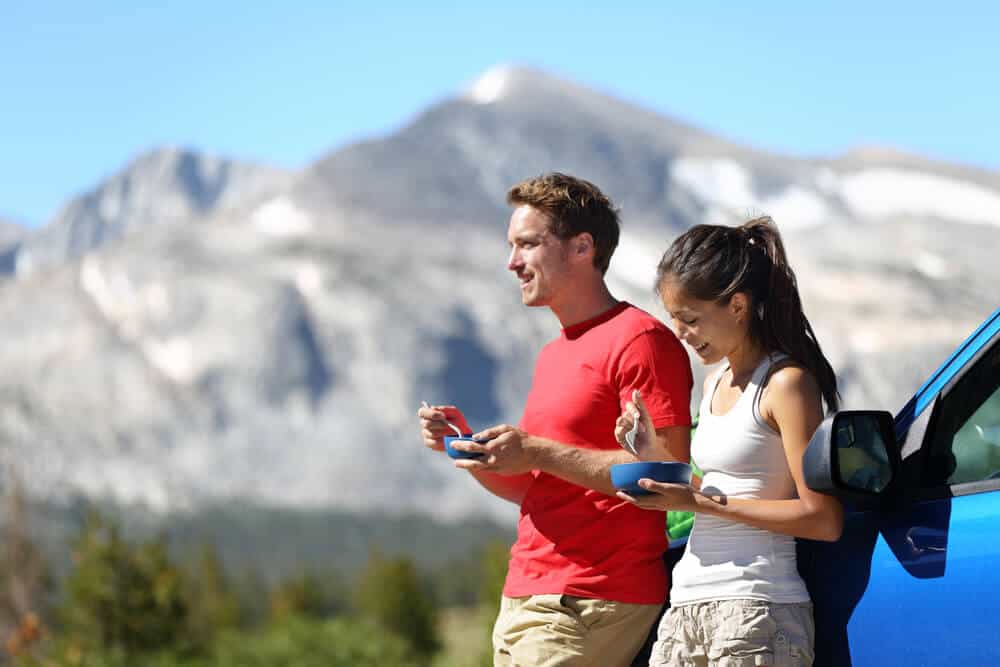 Comfortable shoes: At the very least, you'll want comfortable sneakers with good traction. None of the hikes on this list are particularly intense, since I focused on easy Yosemite hikes due to time constrains, and also to making this Yosemite day trip guide as accessible as possible to a wide group of travelers. However, if you have hiking boots, bring them!
Comfortable hiking clothes: For me, this means athletic leggings, a sports bra, a T-shirt, and multiple layers in case of unexpectedly cold weather.
Daypack with water: I like having a daypack that has a refillable water bladder inside it because it makes me more likely to actually drink sufficient water, since I hate always stopping and grabbing my water bottle from my backpack.
Picnic lunch and snacks: If you only have one day in Yosemite, don't spend any of it hangry or searching for food! Grab a lunch along the way — I suggest grabbing a burrito or a sandwich from a deli, or packing a similar lunch– and bring plenty of calorie-dense snacks with it such as nuts, trail mix, protein bars, etc.
Sunscreen: You'll absolutely need sunscreen in Yosemite, even on a cloudy day! Especially when you visit higher-elevation parts of the park, it's quite easy to get a bad sunburn.
Planning a Yosemite Day Trip (From the San Francisco Bay Area + Elsewhere)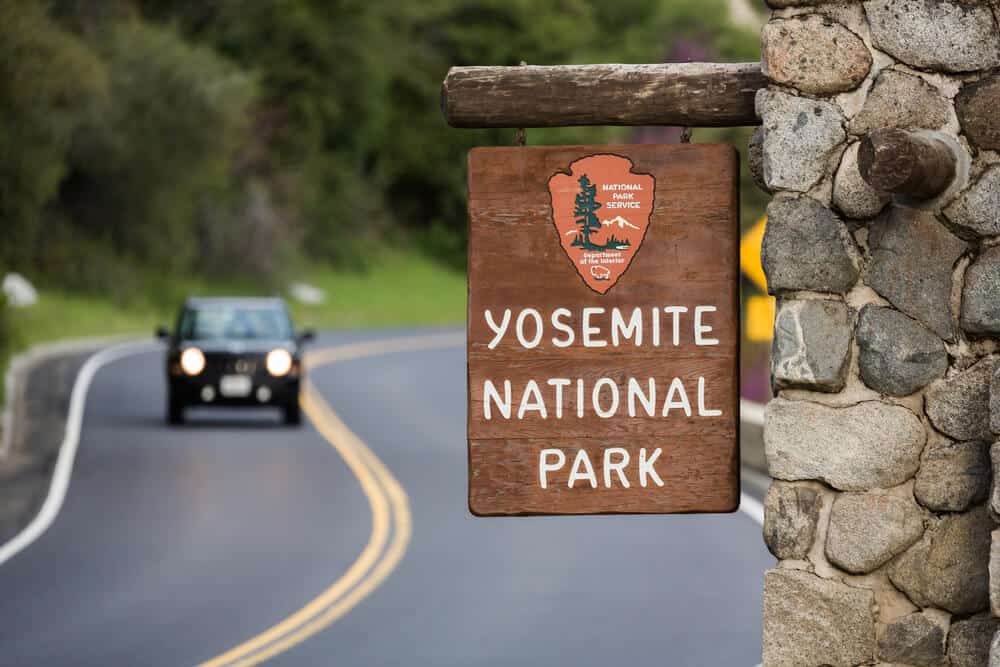 If you're coming to Yosemite on a day trip from San Francisco, keep in mind that you'll need about 3-3.5 hours to reach the nearest park entrance (Big Oak Flat Entrance).
If you're coming on a weekend for your Yosemite day trip, lines to enter the park may exceed wait times of an hour (and this is not included in my time estimations!).
But that's just the park entrance: you'll need closer to 4 hours of drive time to reach Yosemite Valley, not including any wait at the park entrance.
If you want to do a Yosemite day trip from Bay Area, I have a few different tips. 
Driving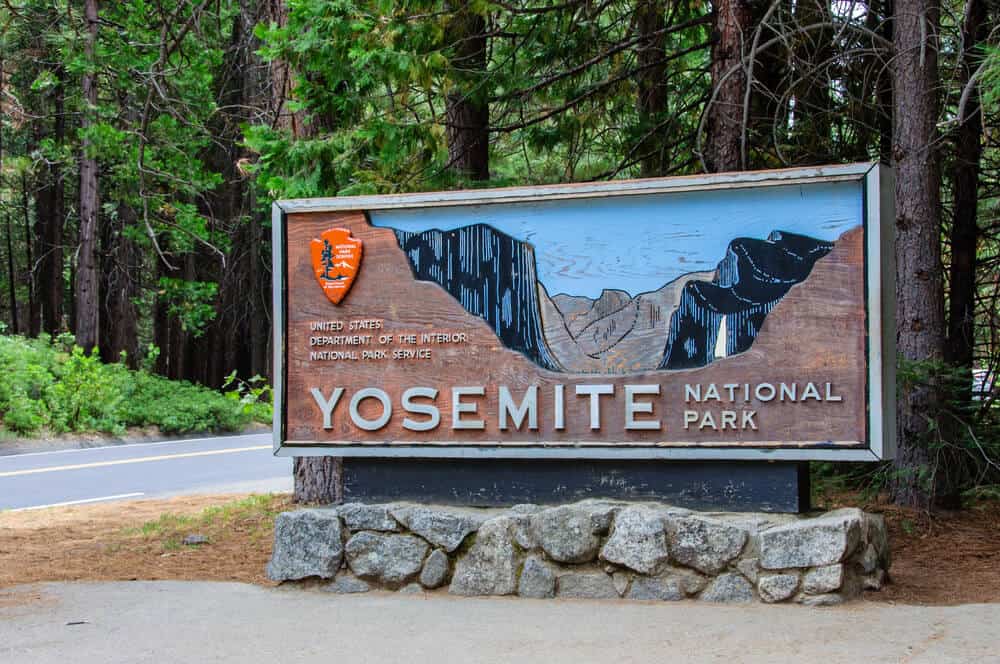 One caveat: if you are planning a day trip to Yosemite from the Bay Area, this means leaving early. As in, the leaving your house at 4 or 5 AM kind of early…
This will have you arriving at Yosemite Valley around 7 or 8 AM, and will allow you to miss most of the traffic, whether that's morning commutes during the weekdays or entrance gate build-ups at Big Oak Flat on the weekends.
While driving yourself to Yosemite will definitely be tiring, it also has the benefit of you having your own personal car for transit within the park, making this Yosemite itinerary doable.
You also are able to leave whenever you want so you are able to maximize your day.
Guided Tour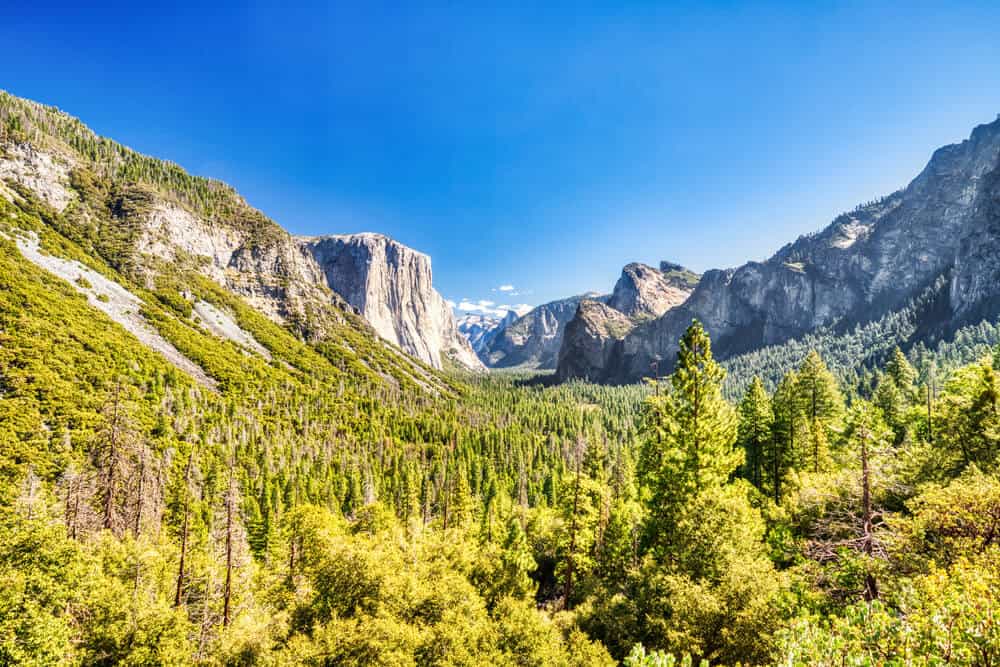 If you can't imagine driving 3+ hours starting at 4 AM (same), a guided day trip to Yosemite may be the better option. 
It won't be the cheapest, but it will definitely be the lowest stress.
This small group guided day tour of Yosemite includes pickup and drop-off (from either San Francisco or the Dublin BART station if you're located elsewhere in the Bay Area).
The itinerary of this Yosemite day trip is fairly similar to the itinerary I detail below for a self-guided tour.
It includes stops at Tuolumne Grove to see the giant sequoias with your own eyes, El Capitan, Half Dome, Bridalveil Fall, Tunnel View, and some time in Yosemite Valley, including a lunch break.
Shuttle Bus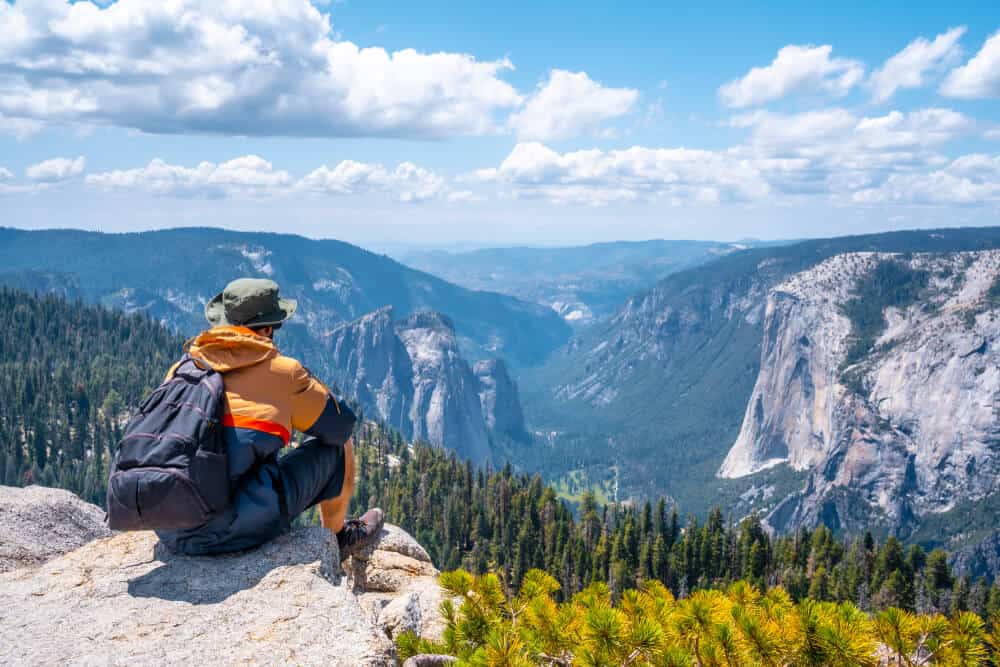 If you don't want to (or can't) drive yourself to Yosemite for a day trip, but you also want the freedom to explore Yosemite Valley at your own pace, I recommend taking a private shuttle bus. 
The San Francisco-Yosemite shuttle bus departs daily at 5:40 AM from San Francisco and returns at 3 PM from Yosemite Valley.
Accounting for travel times, that gives you about 6 hours independently to enjoy the park: enough time to see many of the sights in Yosemite Valley such as El Capitan, Half Dome, Yosemite Falls and Bridalveil Fall.
However, that gives you very little time for hiking and no time for seeing the giant sequoias, which are located outside of Yosemite Valley in Tuolumne Grove, Mariposa Grove, and Merced Grove.
If it is possible for you to find accommodations in Yosemite Valley and make it an overnight, I would recommend that if possible as six hours is a pretty short amount of time for a park as majestic as Yosemite. But if it's the only way to make a Yosemite day trip work, then go for it!
YARTS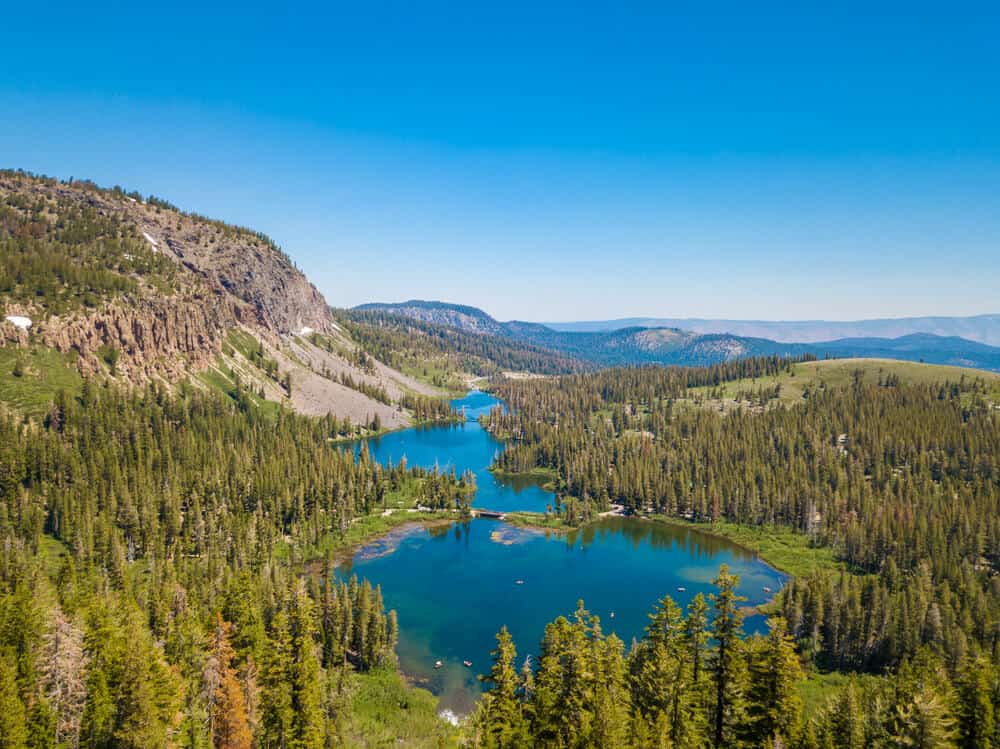 YARTS is a regional transit system that connects a few major destinations in Central California and the Eastern Sierras to Yosemite.
If you're coming from the Bay Area, you would first need to find transit to the starting points of either Sonora, Merced, Fresno, or Mammoth Lakes.
This isn't the most useful option if you're coming from San Francisco to Yosemite without a car, but I'll list it below just in case.
There are a few branches:
Red connects Sonora, Jamestown, Groveland, and Buck Meadows with the Yosemite Valley Visitor Center.
Blue connects Merced to Mariposa, Midpines, and El Portal before reaching the Valley Visitor Center.
Yellow connects Fresno with Coarsegold, Oakhrust, Fish Camp, Mariposa Grove, and the Visitor Center.
Green connects Mammoth Lakes, June Lake, Lee Vining, Tuolumne Meadows and White Wolf before meeting at the Visitor Center.
One Day in Yosemite Itinerary
Take in the valley views at Tunnel View.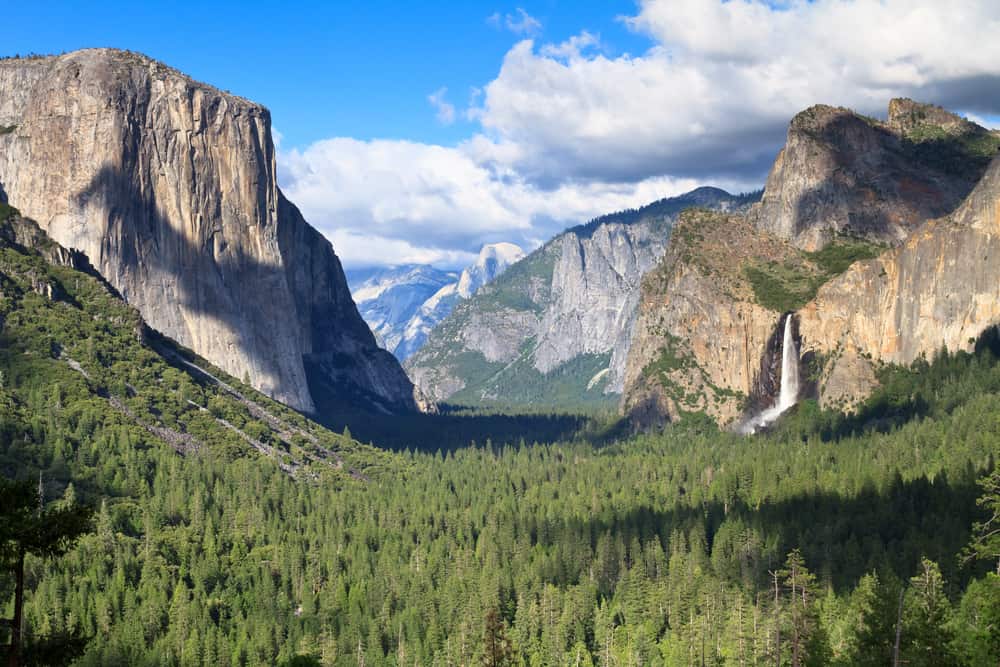 Depending on where you are visiting Yosemite from, you may enter from different entrances within the park.
Since this post focuses on a Yosemite day trip, we'll assume you likely are visiting from San Francisco and are entering via the Big Oak Flat entrance.
However, if you're allocated one day in Yosemite as part of a larger California road trip, you may be entering from one of the other Yosemite entrances.
The closest entrance to Yosemite Valley is El Portal, but other entrances will be just fine if that's where your GPS routes you.
Your first destination is Yosemite Valley is the famous Yosemite Falls, but to get there, you have to drive through a tunnel which opens up to Tunnel View.
This is an extremely impressive first glimpse of the majestic Yosemite Valley and the picturesque landscape that makes this park so memorable.
This is your first must-stop for photos. It may be a little crowded at this viewpoint, but people tend to pull in and leave rather quickly after grabbing their photos, so be patient.
Hike the Lower Yosemite Fall Trail Loop.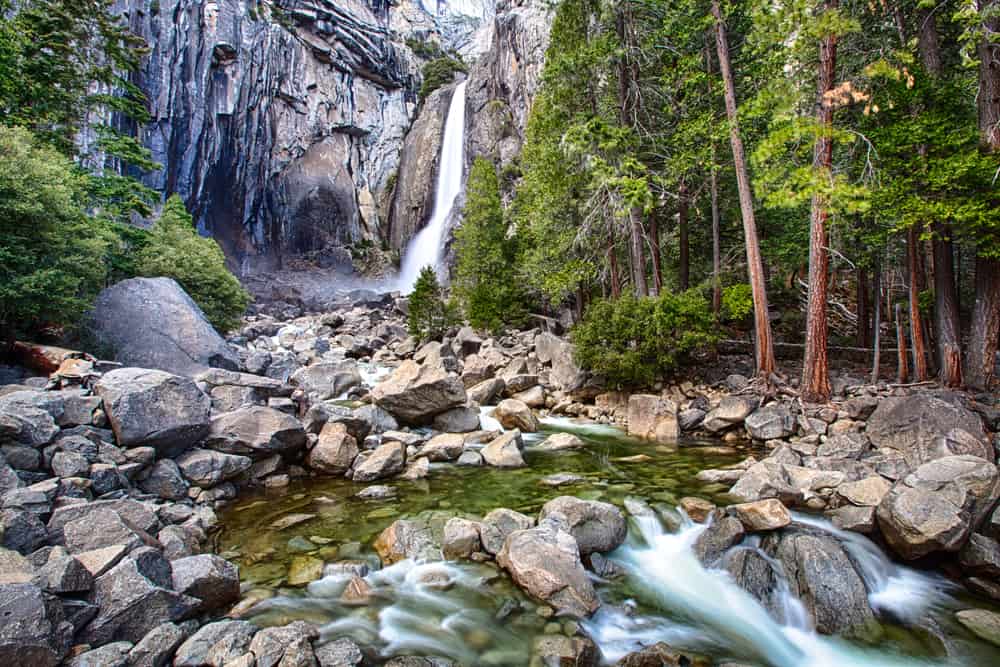 Drive to the Yosemite Falls parking area (there is no parking at the trailhead itself) or optionally, take the free Yosemite shuttle, stopping at stop #6 to arrive at the Lower Yosemite Fall Trail Loop. 
You can also park at the Yosemite Valley Visitor Center and walk to the trailhead via the bicycle path, which only adds a half-mile walk to your hike.
The Lower Yosemite Fall Loop is an easy hike, paved and wheelchair and stoller-accesssible on the eastern portion of the trail.
The hike in total takes about 30 minutes with very minimal elevation change; however many people spend an hour or more soaking in the sound of the rushing water and the epic views.
The one-mile loop trail also offers visitors the opportunity to see many different vantage points of the falls as well as exhibits to learn about the history of the region and of the falls.
Due to its easy grade, paved path for accessibility, and widely available signage, this hike is a good introduction for hikers with children, the elderly, or people who use wheelchairs or other mobility aids.
But it's also great as an introduction to the park even for more seasoned hikers, or those just visiting and wanting to see one of the many sights that Yosemite National Park has to offer in their quick one day Yosemite trip.
The one issue that more experienced hikers will find with this trail is the crowds due to the ease of the paved trail. I would recommend walking clockwise as to go with the flow of the crowds rather than against them (you also get the best views of the falls this way!)
The loop trail is open year-round, but the peak season is in the spring and early summer, as this is when the falls are at peak volume.
Note that if you visit during the late summer or fall, the waterfall will likely be entirely dried up. It's still a scenic and beautiful hike, but you may want to skip it if you're short on time and there is no waterfall to admire!
Icier conditions are expected during winter months, especially on the footbridge at the viewpoint, making strollers and wheelchairs inadvisable depending on weather conditions.
Drinking fountain stations and restrooms are accessible at the trailhead, but not on the trail, so fill up (or empty out!) before you go.
Meander through Cook's Meadow Loop.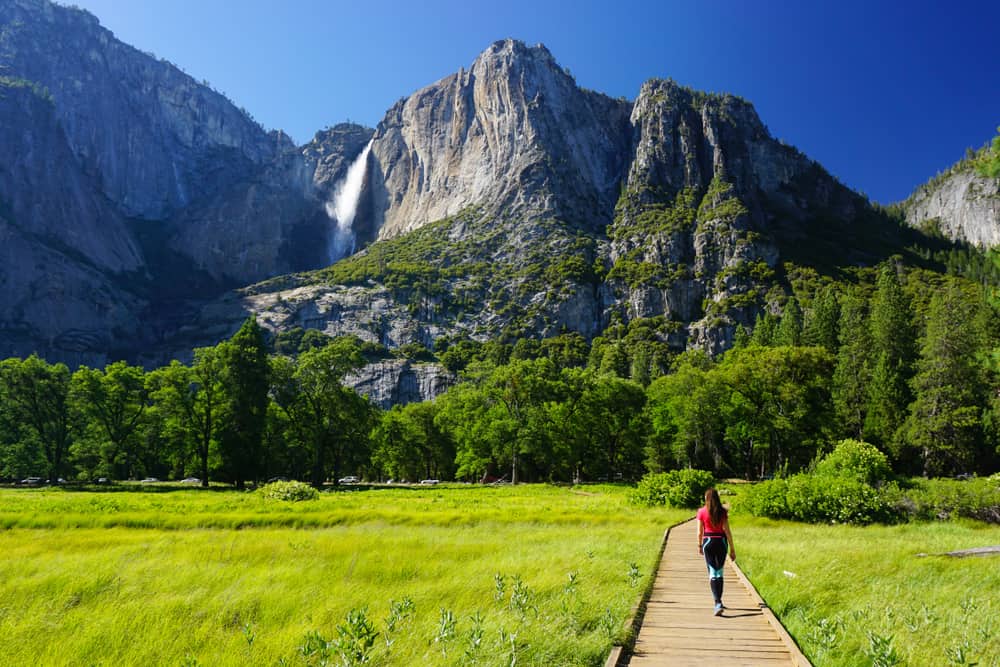 For another Yosemite hike that won't have you breaking too much of a sweat (or taking too much time of your Yosemite day trip), add on Cook's Meadow Loop after you finish up the Lower Yosemite Fall hike.
This hike is just 1 mile in distance and forms a loop so there's no backtracking. There's very little elevation gain — it's pretty much flat throughout — and should take about 30 minutes to walk and is rated as easy.
It's also wheelchair and stroller accessible, so again, this is a good hike for those with mobility limitations. Read more about the trail here.
Even though it's an easy hike, it's still insanely beautiful, and you can easily enjoy views of 4 of Yosemite National Park's most beautiful attractions: Yosemite Falls, Half Dome, Glacier Point, and Sentinel Rock.
If you're starting at the shuttle stop 6 from the Lower Yosemite Fall loop, you can just follow the bike path and bear left when the path forks.
There'll be a boardwalk through the meadow and you can enjoy great views of Half Dome and the Yosemite Valley here!
Check out the Yosemite Valley View lookout point.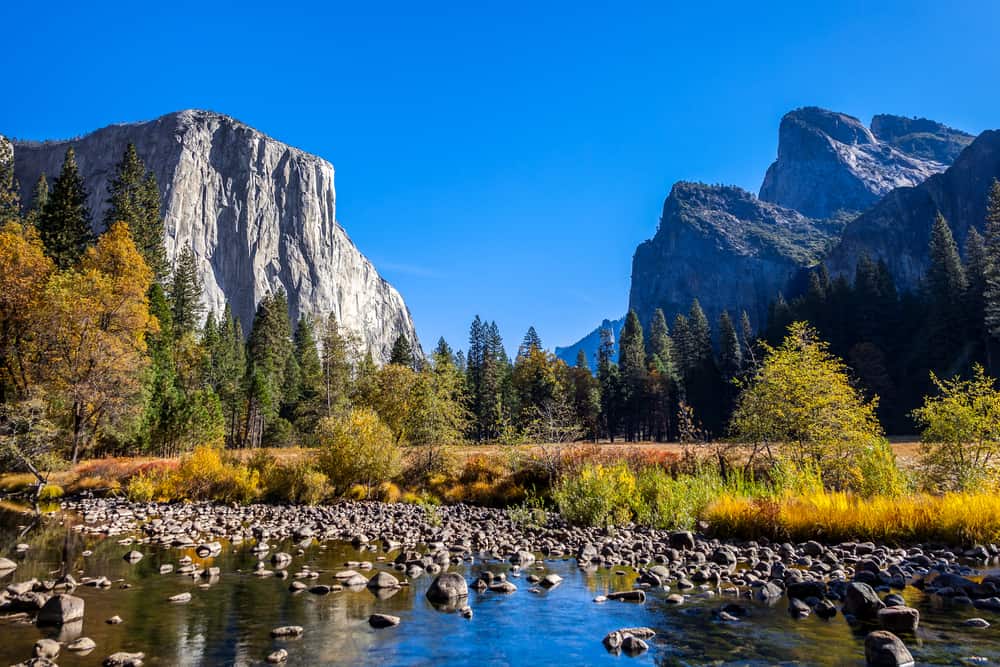 From the Lower Falls and Cook's Meadow area, continue on Northside Drive to Yosemite Valley View.
This is a must-stop photo spot to take a glimpse of the full extent of the valley, from El Capitan to Half Dome.
This stop is one of the ones that you will always have that mental photograph of when you think back to Yosemite!
Head up to Glacier Point Road (closed for 2022).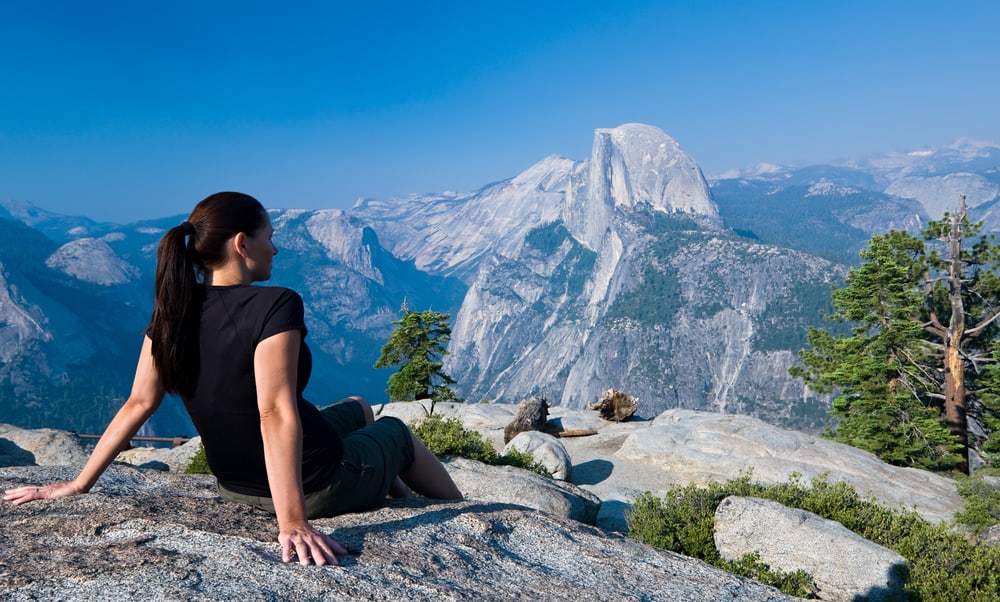 NOTE: Glacier Point Road will be undergoing roadwork for all of 2022. Skip this section if you're planning a trip in 2022 as you will not be able to visit it.
Leaving the Valley, the next stop would be a drive to the south to Glacier Point Road. The road will take you to Glacier Point, which has one of the best views in Yosemite National Park.
At 7,214 feet above sea level, close to Sentinel Dome, this glimpse of the valley is unique and looking from this vantage point will show the true depth of Yosemite Valley, with gorgeous views of Half Dome!
Glacier Point Road is closed from November to May, so plan accordingly if you are visiting in the off season — you will have to skip this part.
Hikes are available from this point, but since your time is limited, I would recommend returning back on Glacier Point Road and completing the southern portion of the park.
See Yosemite's giant sequoias.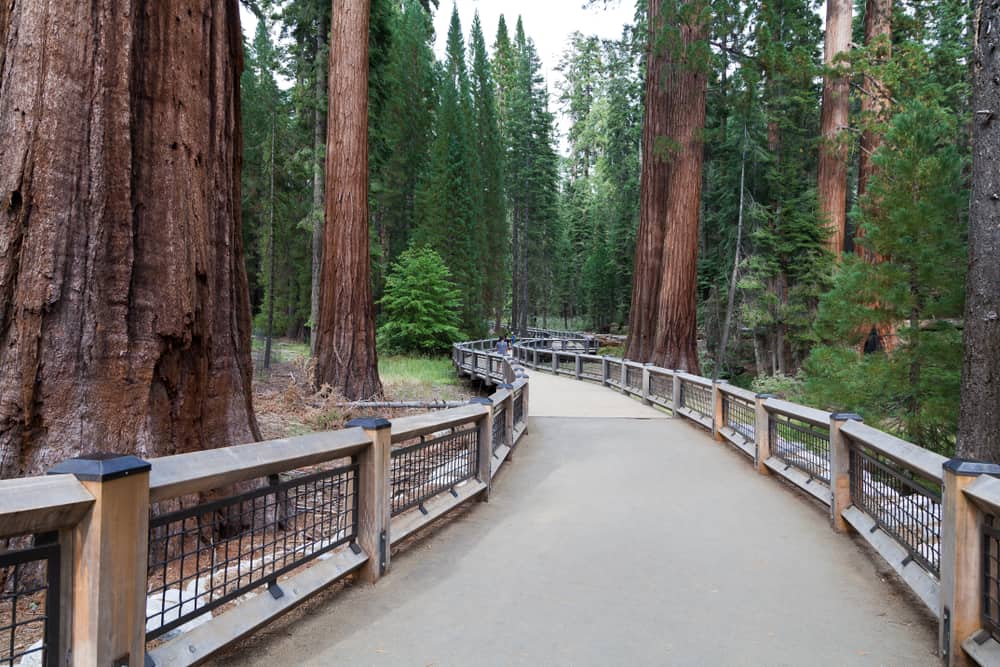 There are three giant sequoia groves in Yosemite.
Typically, I would recommend driving to Mariposa Grove to see the giant sequoia grove there. This sequoia grove is the largest in Yosemite with over 500 giant sequoias calling the area home. 
Mariposa Grove is truly awe-inspiring, and it is a Yosemite must-do to take a picture at the base of one of these arboreal giants!
HOWEVER: Mariposa Grove is not currently the best option for a day trip to Yosemite. There are two parking lots for Mariposa Grove, an upper and lower lot, but they are 2 miles apart.
Because the shuttle is not running that would normally take you to the upper lot, with Mariposa Grove and its trailheads, you need to hike not-scenic 2 miles along the road each way — just to get to the trailhead.
If this doesn't dissuade you, great! Read on to see what I recommend at Mariposa Grove. Otherwise, skip below to my section on Tuolumne Grove.
Mariposa Grove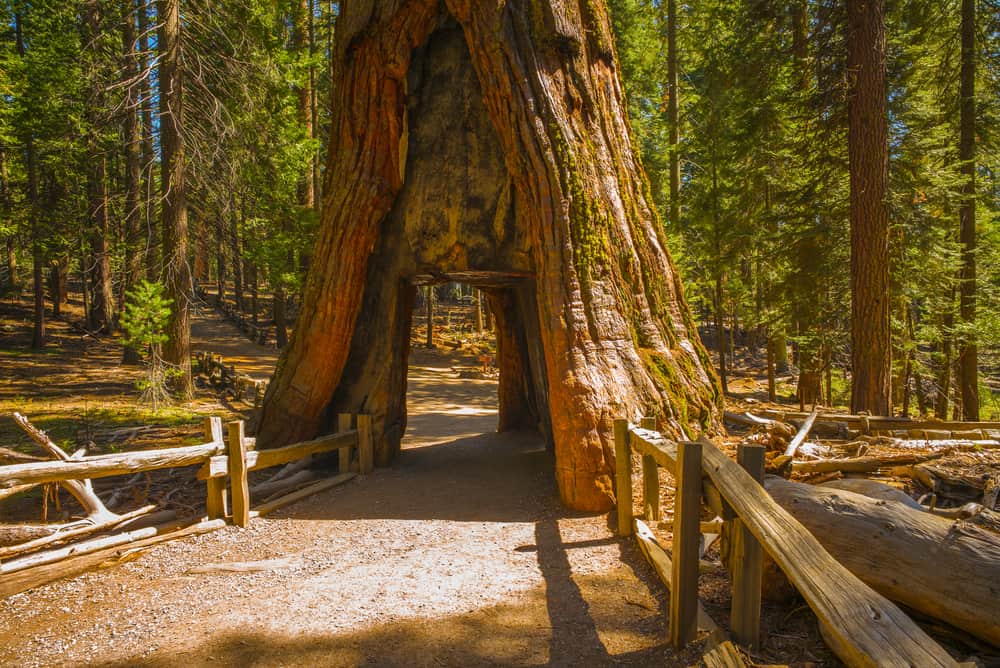 There are two hikes that you can choose from here. The easier of the hikes is the Big Trees Loop Trail.
This 0.3 mile loop trail takes just 30 minutes to complete and will take you in between the giant sequoias while you keep your head tilted up, staring in wonder at the tall trees.
The loop is fairly flat and is wheelchair accessible, so it's good for people with mobility limitations.
The other hike I recommend at Mariposa Grove is the Grizzly Giant Loop Trail.
If you have time, this 2-mile loop trail takes a little under two hours and will lead hikers past a few notable trees including the three-thousand-year-old Grizzly Giant and the California Tunnel Tree. There is not much elevation gain, totaling about 300 feet.
Tuolumne Grove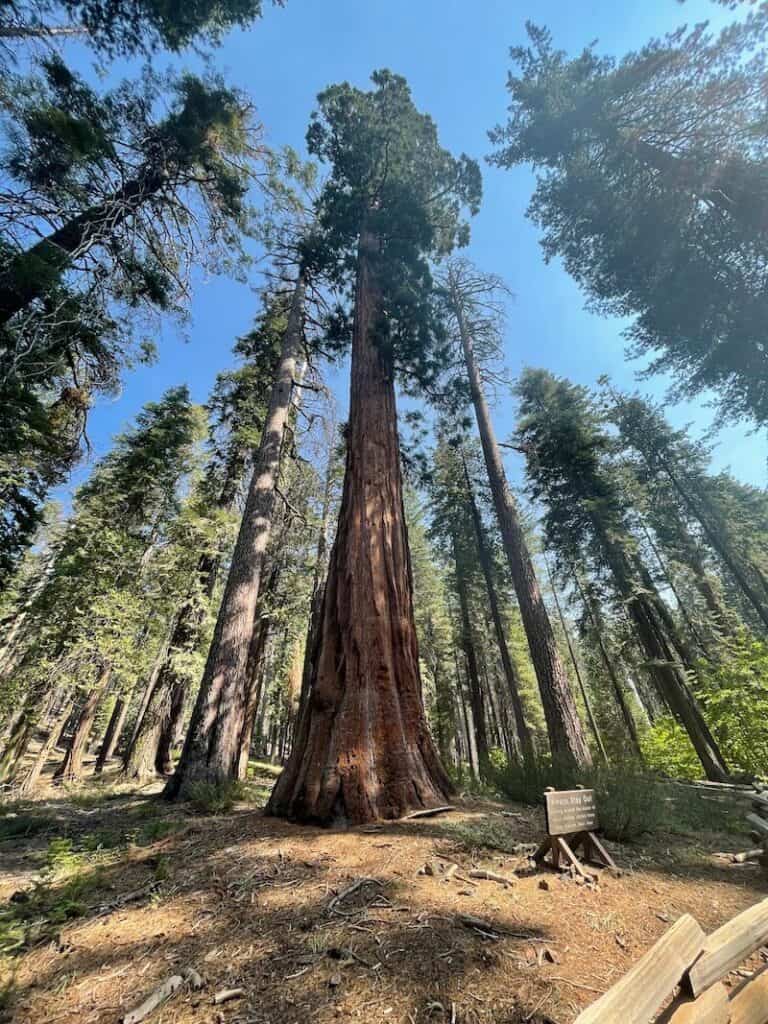 While Mariposa Grove is the more impressive of the sequoia groves, if you're operating with just one day in Yosemite, I suggest the Tuolumne Grove for two reasons.
For one, it's located close to our next point: Tioga Road and all the sights in Tuolumne Meadows.
For another, the parking area is located right next to the trailhead, which makes for a shorter and more pleasant hike.
Don't get me wrong — it's still about a 3-mile hike with 700 feet of elevation gain, so it's no walk in the park. But it's a better option than Mariposa Grove if you're short on time.
Tuolumne Grove has only a small fraction of the giant sequoias of Mariposa, a mere 25 or so compared to Mariposa's 500. But the ones you do get to see are so impressive that you'll hardly mind!
Drive along Tioga Road to Olmsted Point.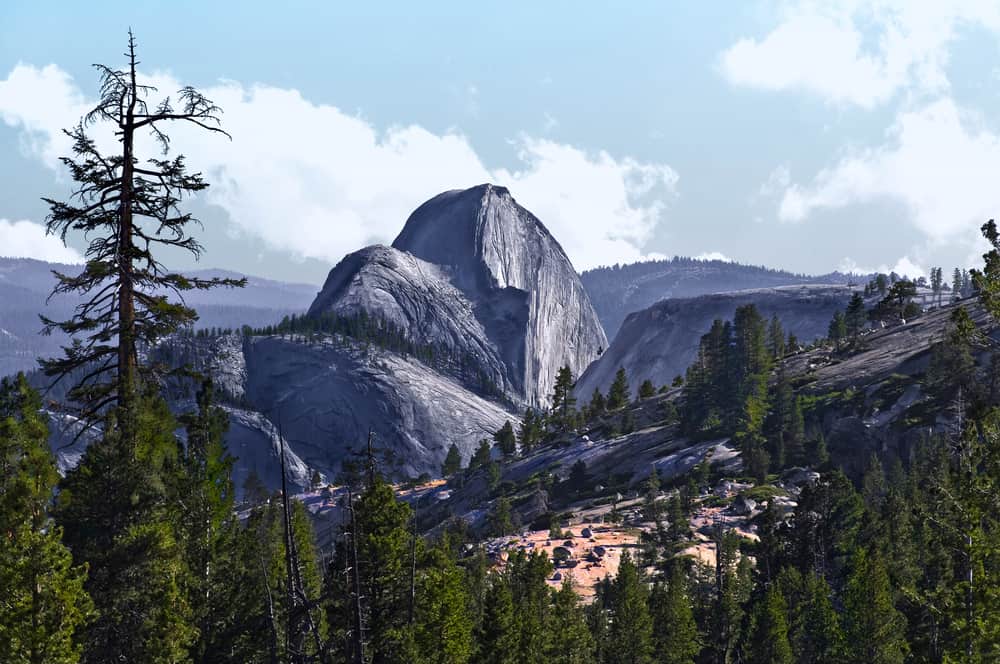 Big Oak Flat Road will lead you to Tioga Road, which takes you to the Tuolumne Meadows — one of my favorite areas of the park!
However, along the way, I would recommend a stop at Olmsted Point which has some of the best views of Yosemite from a unique vantage point that not everyone gets to see.
Named after famed landscape architect and Yosemite preservationist Frederic Law Olmsted, Jr. this point includes a 0.25 roundtrip "hike" at an elevation of 8,300 feet, with a minor elevation gain of 100 feet.
This is really more of a "park and walk" situation than a true hike, so it's great if you're short on time. Plus, it offers a unique view of the Yosemite Valley from a totally different vantage point.
Olmsted Point is at a high elevation and will allow for a great view of Clouds Rest and Half Dome beyond. You are also able to see Tenaya Lake in the east — our next destination!
Check out the marvelous Tenaya Lake.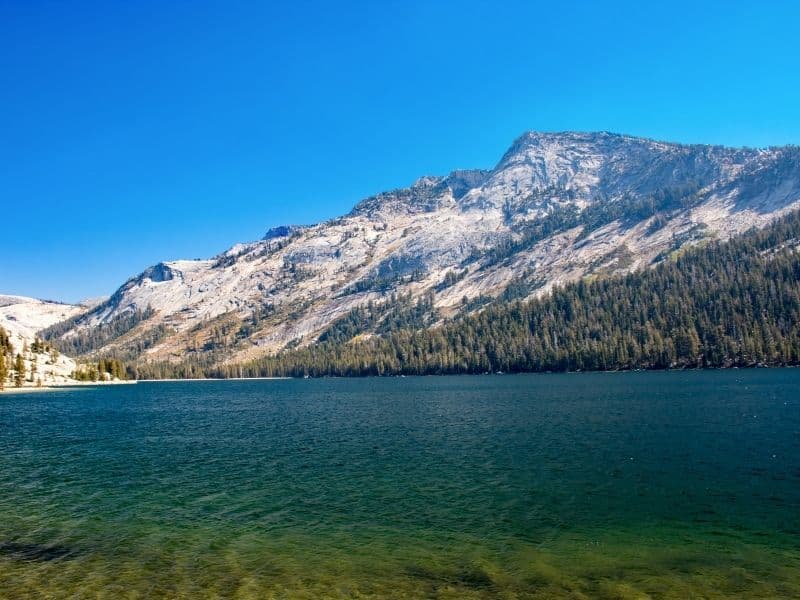 The beautiful, scenic Tenaya Lake is a high alpine lake that will blow you away with its crystalline waters and tranquil vibe.
Located at 8,150 feet above sea level, Tenaya Lake is easily accessible without a hike as it's located just off of Tioga Road. You can also take a hike around Tenaya Lake's perimeter, which is an easy and scenic hike.
To circumnavigate the lake, it's a 3.4-mile hike with about 200 feet of elevation gain, a nice and breezy walk.
However, it will be slightly tougher than your average 3-miler, since it is at a high altitude, so do keep that in mind when planning.
Make a final stop in Tuolumne Meadows.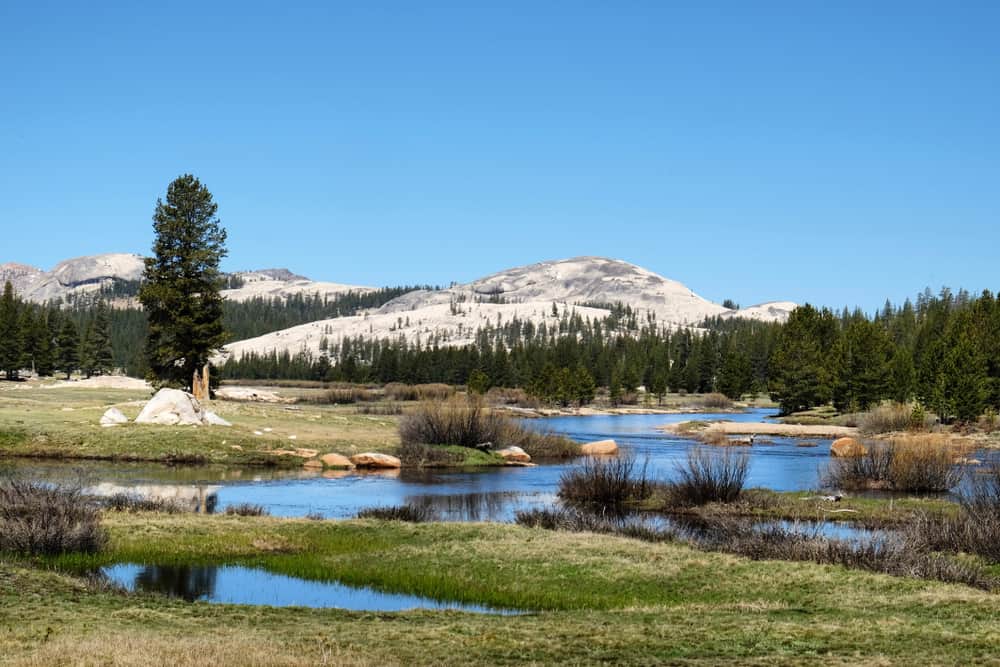 There's one last stop in Yosemite before we turn around and make our way back on this self-guided tour of Yosemite National Park: the high alpine Tuolumne Meadows, located at 8,600 feet above sea level.
This is a mecca for backpackers, for whom many Yosemite backcountry adventures begin (and many scenic day hikes!).
Many High Sierra camps are located in the area as well as popular backcountry trails such as the Grand Canyon of the Tuolumne.
However, even if you're just popping by for a quick visit, there are some short hikes and views you can enjoy.
Check out the Tuolumne River, named a "Wild and Scenic" river by Congress in 1984, which streaks through the Meadows close to the beautiful Lembert Dome rock formation.
Where to Stay Overnight in or Near Yosemite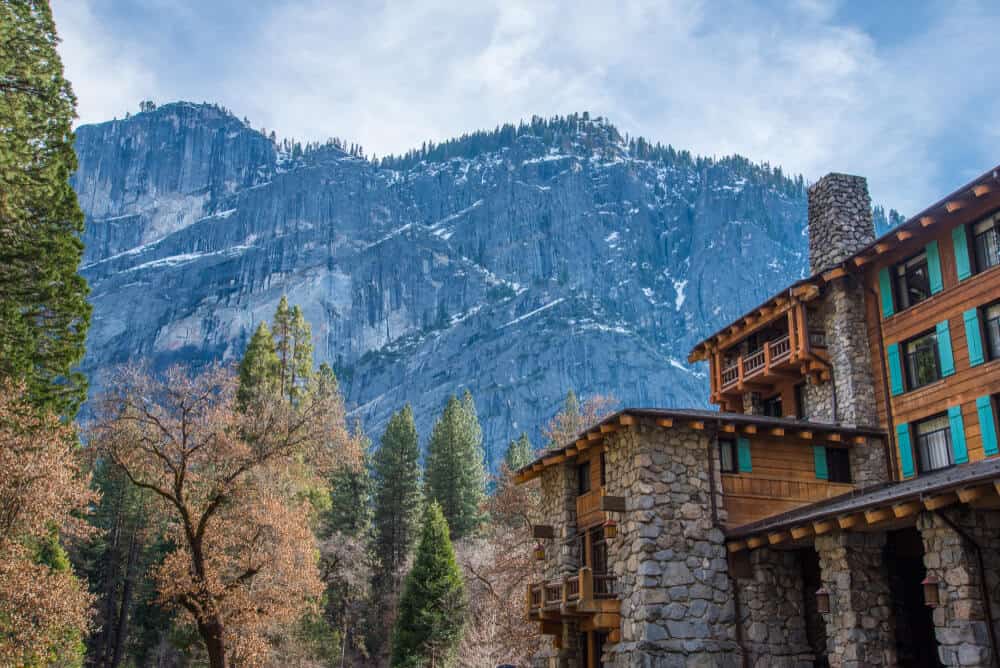 While this is a one-day Yosemite itinerary that assumes you will be heading home at the end of your day trip, some people turn a day in Yosemite into a short overnight getaway.
Here are a few suggestions of where to stay in the park, and where you can stay near the park.
Hotels and Cabins in Yosemite Valley
Ahwahnee Hotel: While you'll need to book this hotel far, far in advance, this is by far the most coveted and luxurious place to stay in Yosemite Valley. It's quite pricy, but it's the most iconic Yosemite hotel and staying here is a bucket list must.
Yosemite Valley Lodge: Also located on the valley floor not far from the Yosemite Valley Chapel, this is a great option if the Ahwahnee Hotel is booked up or out your price range and you really want to stay inside the park in a hotel-type accommodation.
Curry Village: This unfussy accommodation in the Valley has both small but comfortable cabins and canvas tents where you can camp in a little more comfort. It isn't luxurious per-se, but it is more comfortable than pitching your own tent.
Vacation Rentals in Yosemite (Outside the Valley)
Royal Retreat: This large and spacious vacation rental near Mariposa Grove is great for a family or two couples looking for a large yet affordable place to stay inside Yosemite yet outside the Valley Floor area.
Craftsman Cottage: If staying with a larger group, this is an excellent find: it can sleep up to 8 in a gorgeous craftsman-style cottage near the Wawona area of Yosemite National Park.
Alpenglow: This charming 6-person, 2-bedroom, 2-bathroom cabin is a great place to stay inside the park near all the Yosemite amenities. It has a cozy open floor plan and great interior decor.
Final Travel Tips for Seeing Yosemite in One Day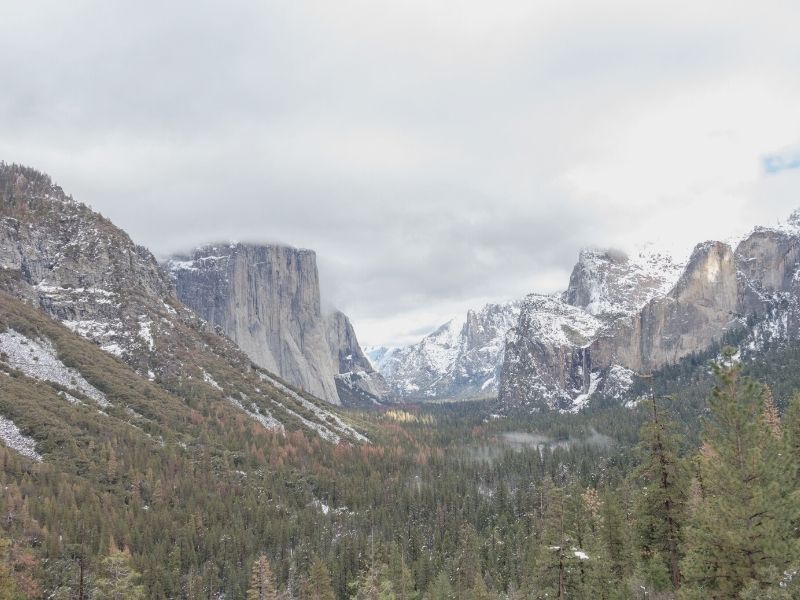 Prioritize the Valley floor.
If this is your first time in Yosemite, you'll want to spend most of your time in Yosemite Valley and along the valley floor.
This has the highest concentration of Yosemite's natural wonders, including El Capitan, Half Dome, Mirror Lake, the Merced River.
It also has some of the manmade favorites of a Yosemite tour: the Swinging Bridge, the Yosemite Valley Chapel, the Ansel Adams Gallery, etc.
It also is home to several iconic Yosemite Valley hiking trails such as the Mist Trail and 4 Mile Trail, though honestly, those may be too intense for a day trip unless you arrive really early and plan to spend a full day hiking.
Don't forget about the giant sequoia trees.
That said, don't forget to visit a giant sequoia grove! There are three in Yosemite, and if you've never seen a giant sequoia, you'll want to go out of your way to.
Don't think that just because you've seen a coastal redwood, a giant sequoia isn't that special. These trees are massive on a scale that's hard to comprehend!
I suggest Tuolumne Grove if you are coming in from the Bay Area, as it's in a convenient location off of the Big Oak Flat entrance and is a mid-point between Yosemite Valley and Tioga Pass.
If you're doing a one day itinerary of Yosemite as part of a larger national parks road trip, you may be entering from another point.
For example, if you're entering near Wawona or Mariposa, the Mariposa Grove may be the closer and more convenient sequoia grove for a day trip.
Plan for your transit.
Depending on how you plan to get to Yosemite — whether it be through a shuttle service, a guided tour, public transportation like YARTS, or driving yourself — you'll want to think it over carefully.
Each has benefits and drawbacks. Depending on the time of year and how much parking is available, you may want to use the free shuttle around Yosemite Valley (which you can catch from Yosemite Village), even if you brought your own car. This will help you avoid parking backups.
***
Stunning and breathtaking will be words that you will use to describe your day in Yosemite National Park. Having just a taste of what this park has to offer will make you want to return for a longer stay where you can explore the park in more depth with longer hikes and more breathtaking vistas.
Yosemite National Park is a dream destination and one that has many different opportunities for visitors to partake in. Stopping at Yosemite Valley and the sequoia groves are two musts on your next trip!
Tuolumne Meadows is definitely a location worth a visit if time allows, or if you are passing through the point, but it's not a must-do if time doesn't allow — with only one day in Yosemite, you may have to make some sacrifices.
There are other stops along the way and other vistas to view the valley and other spots, and I would recommend stopping briefly at these overlooks.
However, make sure that you allow time to see the key locations that were mentioned above, as these are points that are must-dos and must-sees for any Yosemite trip — even just one day in Yosemite!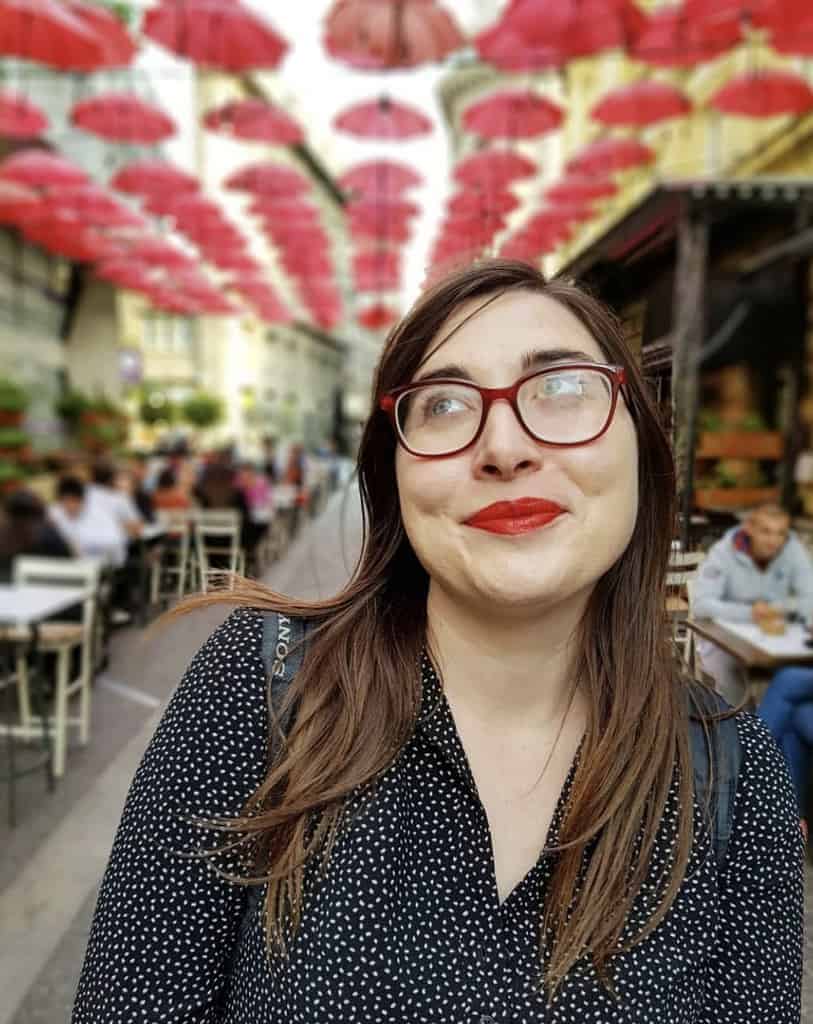 Allison Green is a travel blogger, writer, and podcaster who grew up in the Bay Area of California. She has spent time living in New York, Prague, and Sofia, but has returned to live in the East Bay. She has traveled to 60 countries before the age of 30 while running several digital travel publications. Her writing and podcast have been featured in Forbes, CBC Canada, National Geographic, the Huffington Post, and CNN Arabic, amongst others. She's obsessed with bouldering, houseplants, other people's pets, and anywhere she can see the ocean.