Beautiful. Awe-inspiring. Impressive. There are no better words to describe a traveler's feelings when they first approach Yosemite Valley and its majestic waterfalls.
Yosemite National Park is home to giant sequoia forests, stunning granite landscapes, and towering beautiful waterfalls — including a record-breaker! Yosemite Falls is the tallest waterfall in North America at 2,425 feet and one of the top 20 tallest waterfalls in the world, and if you only have one day in Yosemite, you need to make visiting its namesake waterfall a key part of it.
Yosemite Falls is broken into three parts: the tallest is Upper Yosemite Fall at 1,430 feet, the middle Cascades are 675 feet, and Lower Yosemite Fall is 320 feet. Visiting any one of these would be insanely impressive in its own right, but seeing the whole Yosemite Falls as one giant totality is even more spectacular.
Doing one of the Yosemite Falls hikes is a must on a one-day visit to Yosemite, as you'll not only take in the impressive sight of the waterfall, but it also affords you a glimpse of the Yosemite Valley, a beautiful highlght of the park.
However, there are plenty of other wonderful things to do in Yosemite National Park in one day if you're careful with your time and planning, and I'll outline exactly how to spend one day in Yosemite below.
This itinerary bifurcates a bit at the point where you can decide to add on a hike to the Upper Yosemite Falls. I only recommend highly experienced hikers to tackle this trail. If you're not an experienced hiker, skip this section and move along to the Mariposa Grove sequoia hikes and Tuolumne Valley portion of the Yosemite itinerary — there's still plenty to do on this Yosemite itinerary and you'll enjoy moving at a more leisurely pace.
Note that in the context of the Covid-19 pandemic, there are a lot of changes and closures in Yosemite. I haven't been to the park during the pandemic, but I've sourced information from AllTrails and the Yosemite website to do my best to let you know what closures and changes may be in effect. If planning a trip for 2021, keep in mind that a lot of this is subject to change, and the Yosemite website will have the latest news.
Reservations are required to visit Yosemite National Park until further notice. Learn more on their website.
Take in the Valley Views at Tunnel View
Note: This post contains affiliate links, which earn me a small commission at no extra cost to you if you make a purchase using one of these links. Thank you for supporting this free content!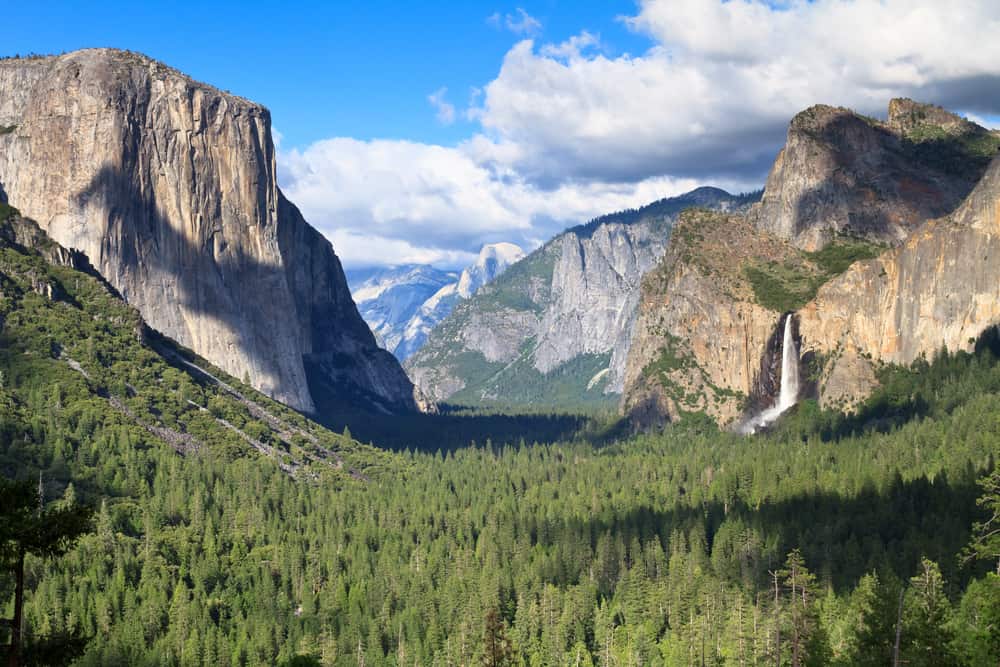 Begin your one day in Yosemite National Park at El Portal, entering via the Valley Visitor Center.
Your destination is Yosemite Falls, but to get there, you have to drive through a tunnel which opens up to Tunnel View.
This is an extremely impressive first glimpse of the majestic Yosemite Valley and the picturesque landscape that makes this park so memorable.
Hike the Lower Yosemite Fall Trail Loop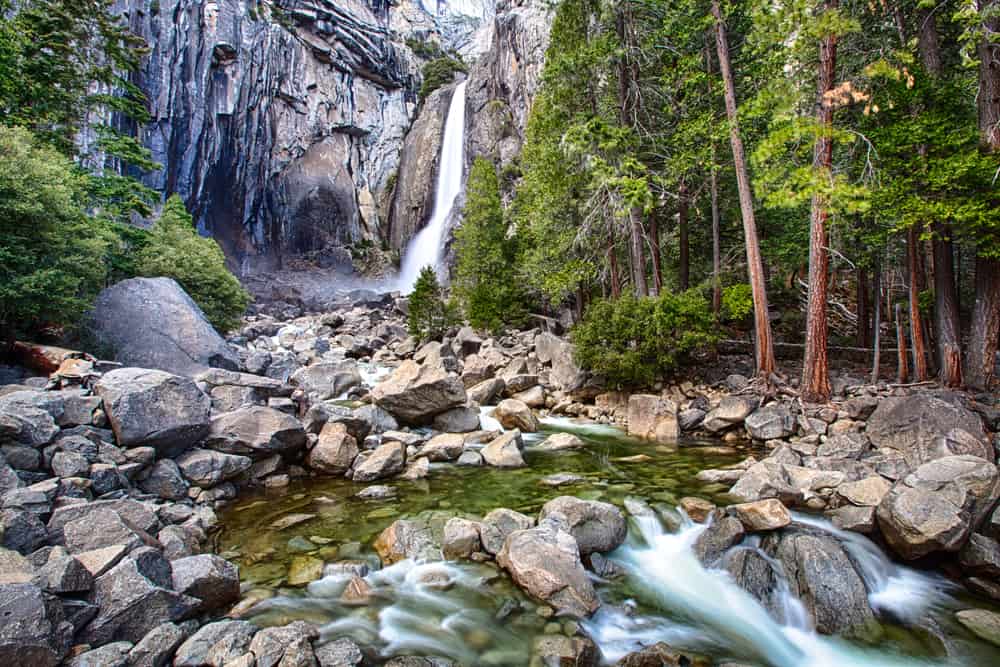 Drive to the Yosemite Falls parking area (there is no parking at the trailhead itself) or optionally, take the free Yosemite shuttle, stopping at stop #6 to arrive at the Lower Yosemite Fall Trail Loop. You can also park at the Yosemite Valley Visitor Center and walk to the trailhead via the bicycle path, which only adds a half-mile to your hike.
Note: The Yosemite shuttle is not operational in 2020, so plan to use your own personal vehicle or walk everywhere within the park. If planning a trip for 2021, visit the official Yosemite website to confirm if the shuttle will be running.
The Lower Yosemite Fall Loop is an easy hike, paved and wheelchair and stoller-accesssible on the eastern portion of the trail. The hike in total takes about 30 minutes with very minimal elevation change; however many people spend an hour or more soaking in the sound of the rushing water and the epic views.
The one-mile loop trail also offers visitors the opportunity to see many different vantage points of the falls as well as exhibits to learn about the history of the region and of the falls.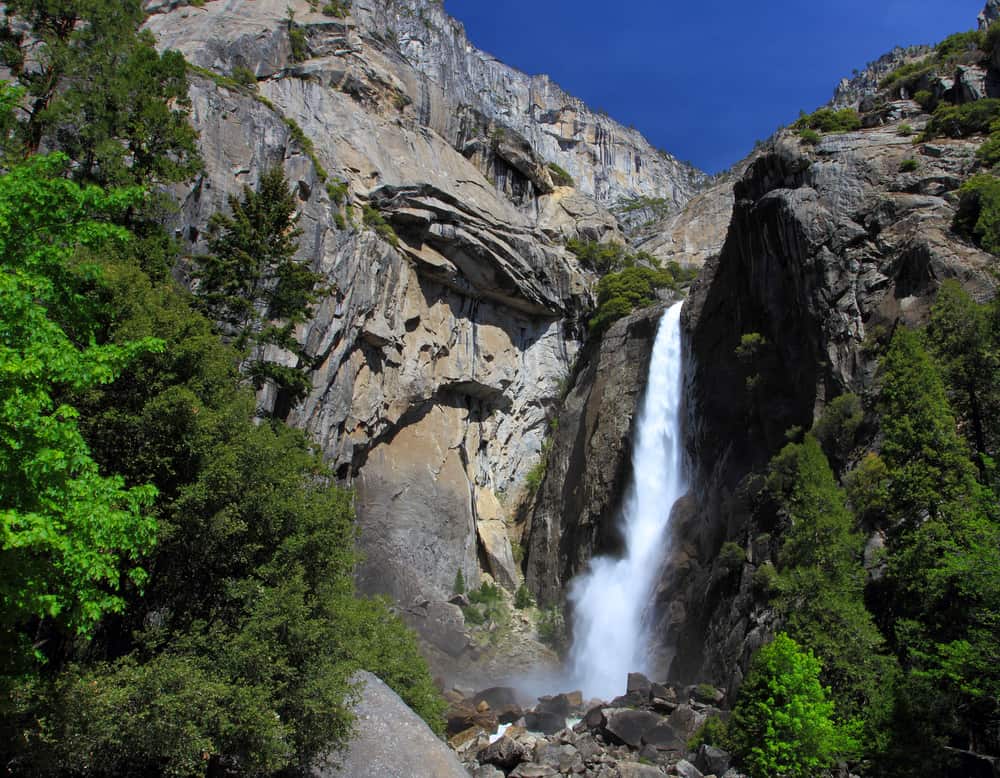 Due to its easy grade, paved path for accessibility, and widely available signage, this hike is a good introduction for hikers with children, the elderly, or people who use wheelchairs or other mobility aids. But it's also great as an introduction to the park even for more seasoned hikers, or those just visiting and wanting to see one of the many sights that Yosemite National Park has to offer in their quick one day Yosemite trip.
The one issue that more experienced hikers will find with this trail is the crowds due to the ease of the paved trail. I would recommend walking clockwise as to go with the flow of the crowds rather than against them (you also get the best views of the falls this way!)
The loop trail is open year-round, but the peak season is in the spring and early summer, as this is when the falls are at peak volume. Icier conditions are expected during winter months, especially on the footbridge at the viewpoint, making strollers and wheelchairs inadvisable depending on weather conditions. Drinking fountain stations and restrooms are accessible at the trailhead, but not on the trail, so fill up (or empty out!) before you go.
Tackle the Difficult Hike to the Upper Falls OR Do Cook's Meadow Loop
If you're able to take on a strenuous hike, take the opportunity to hike the Yosemite Falls Trail, which will take you to the Upper Falls where you can get an up-close look at the mighty power of the waterfall, at its most powerful in late spring and early summer as the mountain snowpack begins to melt.
However, note that if you do choose to do this, you may not be able to do anything else on this one day in Yosemite itinerary, because it's quite strenuous and will take up most of the day and most of your energy!
Otherwise, opt for Cook's Meadow Loop instead, which I'll detail after the Upper Falls portion of this itinerary.
Upper Falls Hike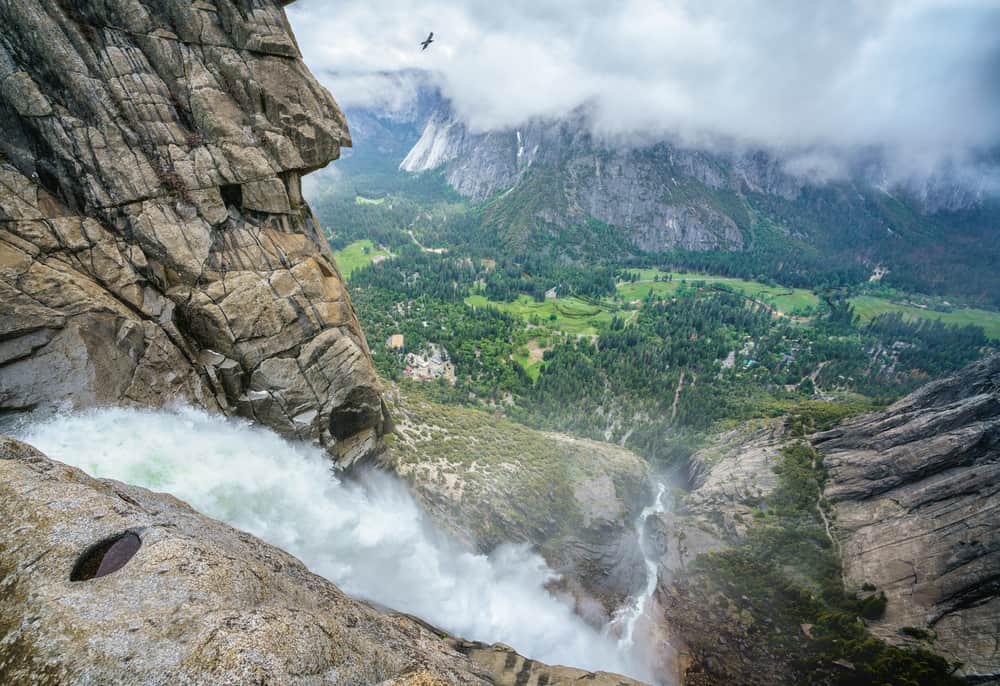 The trail will allow hikers to see two great sites, Columbia Rock and Yosemite Falls, while also having the chance to escape the crowds of the Lower Falls with an enjoyable and breathtaking hike.
However, it's not without its challenges: This is a 6 to 10 hour round trip hike, totaling 7.6 miles from the Lower Yosemite Falls trailhead, gaining 2,600 feet of altitude.
The trail is one of the oldest in Yosemite, and it was built between 1873 and 1877. The trail begins at camp 4 along the Valley Loop Trail and will take hikers on a trail full of switchbacks as it climbs through oak woodland to the height of the waterfall at 2,425 feet above the valley floor.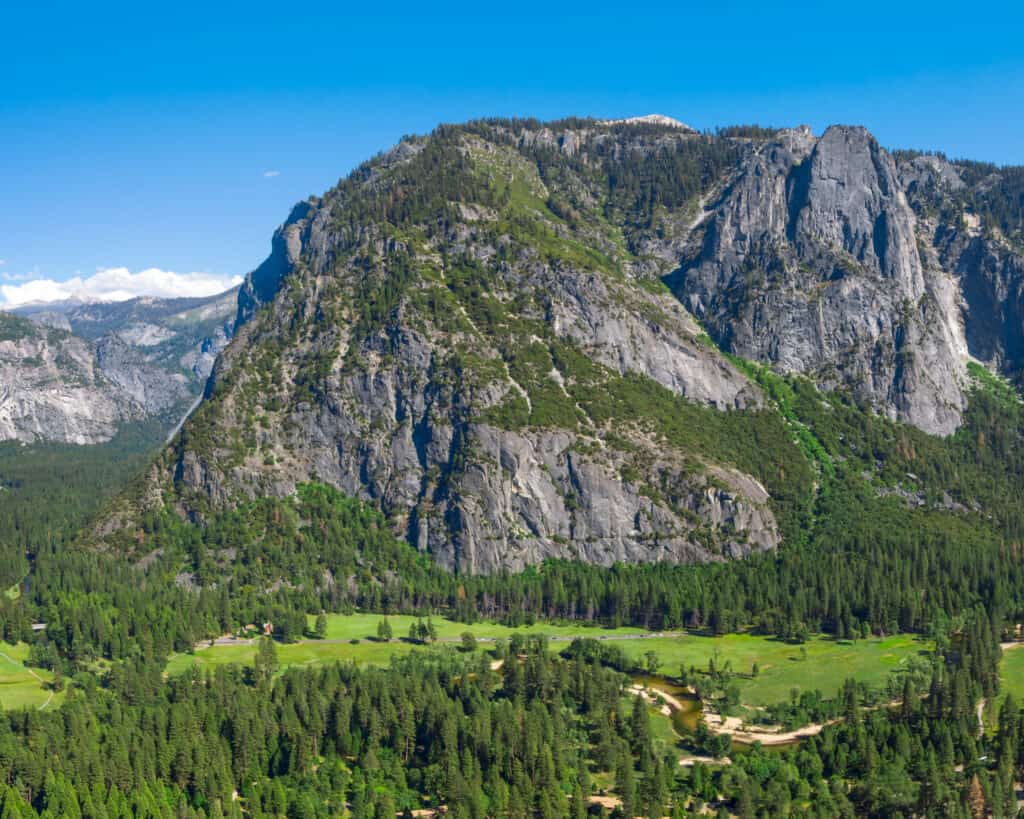 The hike will take you to plateaus that offer fantastic views of the beautiful Yosemite Valley and the landforms that make it a dream destination for so many. One of the detours on the path is to Columbia Rock which is a one-mile, 1,000-foot climb where the hiker is able to see views of Half Dome and Sentinel Rock.
The next part of the hike another half-mile to see a great view of Upper Yosemite Falls, where if the season is right, you may be able to feel the cool mist from the falls, much needed after the strenuous switchbacks and the uphill climb.
Take a break here as the steep climb to the top of Yosemite Falls continues. The steep and rocky terrain is strenuous even for advanced hikers, but the view from the top is well worth it. The hike can be extended to Yosemite Point (another 1.8 miles), but if you're only spending one day in Yosemite, you should probably hike back down the trail and to return to your vehicle.
Cook's Meadow Loop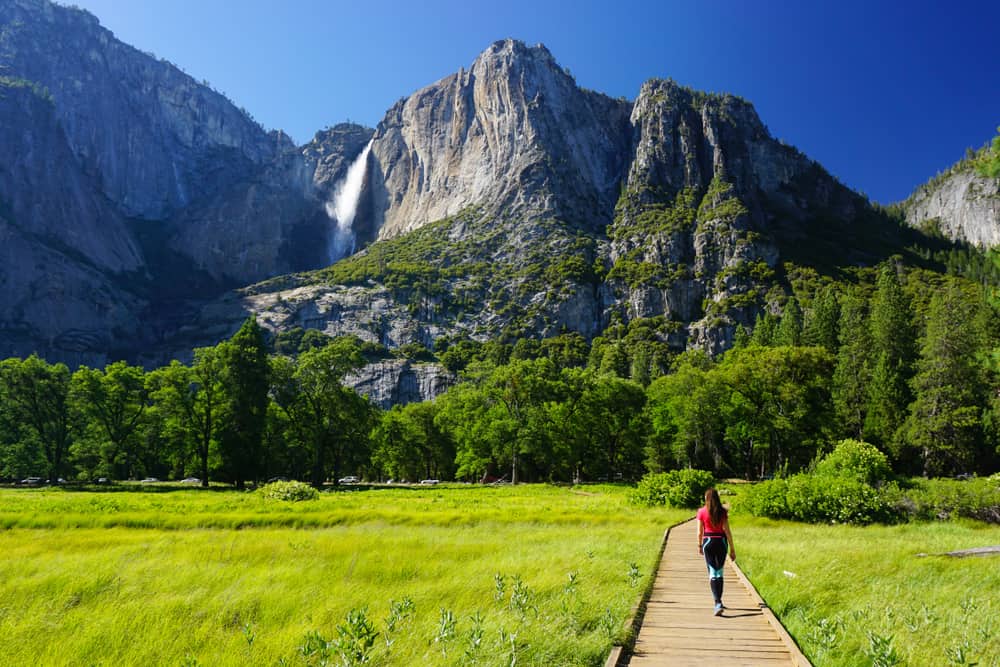 For another Yosemite hike that won't have you breaking too much of a sweat, add on Cook's Meadow Loop after you finish up the Lower Yosemite Fall hike.
This hike is just 1 mile in distance and forms a loop so there's no backtracking. There's very little elevation gain — it's pretty much flat throughout — and should take about 30 minutes to walk and is rated as easy. It's also wheelchair and stroller accessible, so again, this is a good hike for those with mobility limitations. Read more about the trail here.
But even though it's an easy hike, it's still insanely beautiful, and you can easily enjoy views of 4 of Yosemite National Park's most beautiful attractions: Yosemite Falls, Half Dome, Glacier Point, and Sentinel Rock.
If you're starting at the shuttle stop 6 from the Lower Yosemite Fall loop, you can just follow the bike path and bear left when the path forks. There'll be a boardwalk through the meadow and you can enjoy great views of Half Dome and the Yosemite Valley here.
Enjoy Some Alternate Hikes & Viewpoints in Yosemite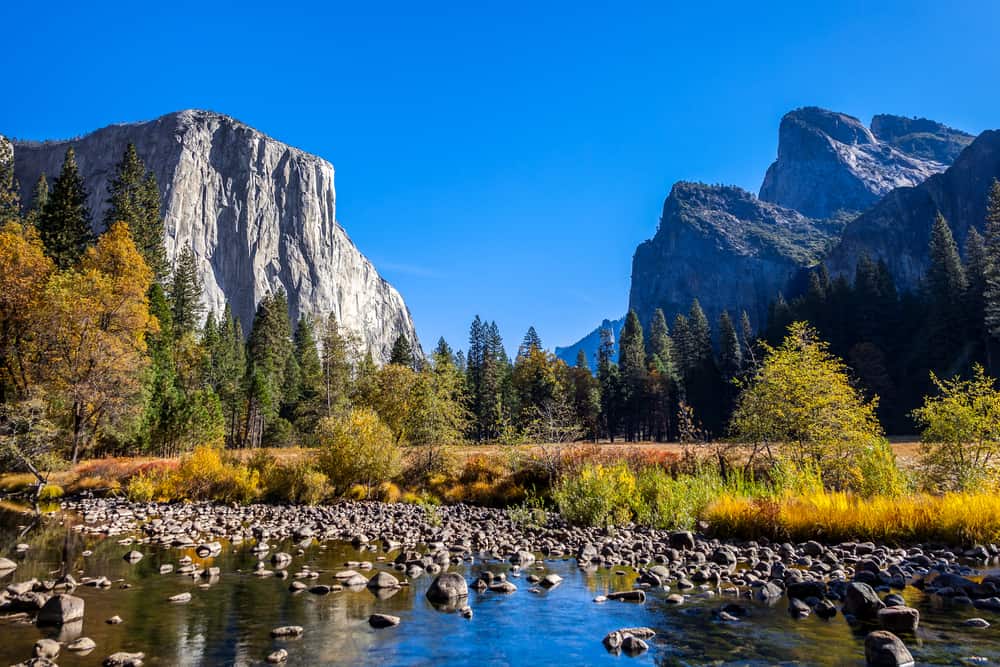 If the Upper Falls Hike is a bit too strenuous, don't worry — there are plenty of other easier hikes to spend your one day in Yosemite enjoying!
If you're a quick hiker, you may be able to do Upper Falls and some of these other hikes, but more realistically, you'll have to pick between Upper Falls and the rest of this itinerary if you only have one day in Yosemite.
From the Lower Falls, continue on Northside Drive to Yosemite Valley View. This is a must-stop photo spot to take a glimpse of the full extent of the valley, from El Capitan to Half Dome. This stop is one of the ones that you will always have that mental photograph of when you think back to Yosemite!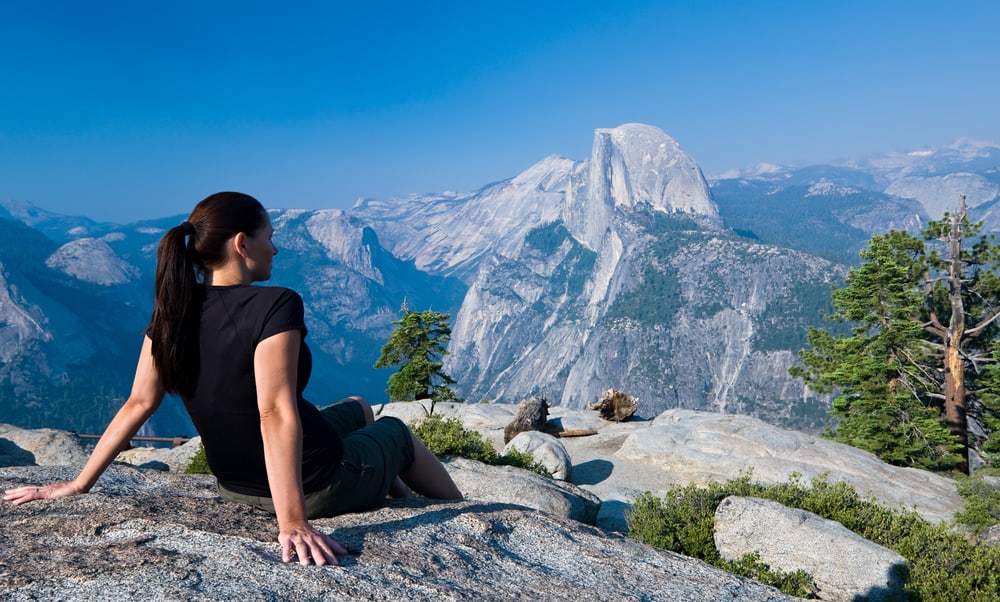 Leaving the Valley, the next stop would be a drive to the south to Glacier Point Road. The road will take you to Glacier Point. At 7,214 feet above sea level and close to Moran Point but just below Sentinel Dome, this glimpse of the valley is unique and looking from this vantage point will show the true depth of Yosemite Valley, with gorgeous views of Half Dome!
Glacier Point Road is closed from November to May, so plan accordingly.
Hikes are available from this point, but if you did the Upper Yosemite Falls hike and your time is limited, I would recommend returning back on Glacier Point Road and completing the southern portion of the park.
See Yosemite's Giant Sequoias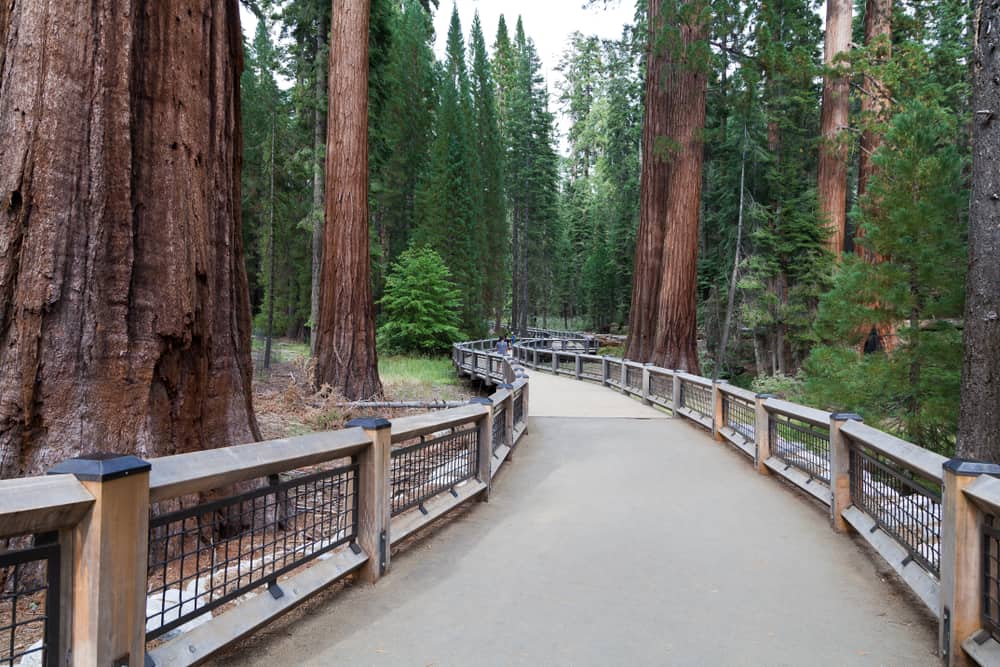 Note: There are two parking lots for Mariposa Grove, an upper and lower lot, 2 miles apart. Because the shuttle is not running that would normally take you to the upper lot, with Mariposa Grove and its trailheads, you need to hike 2 miles each way to get to the trailhead. However, trail reports have said that going before 7 AM or after 7 PM lets you park in the Upper lot (cutting off a lot of hiking time!) so check recent trip reports and contact a ranger to find the status of this hike.
Near the southern entrance of the park is the Mariposa Grove of Giant Sequoias. The grove is the largest in Yosemite with over 500 giant sequoias calling the area home.
The grove is awe-inspiring and it is a Yosemite must-do to take a picture at the base of one of these arboreal giants!
There are no restaurants or takeaway options at this spot, but if you pack a picnic lunch or dinner, this would be a nice place to enjoy it, as the welcome plaza is a great place to stop and view these magnificent specimens.
There are two hikes that you can choose from here. The easier of the hikes is the Big Trees Loop Trail. This 0.3 mile loop trail takes just 30 minutes to complete and will take you in between the giant sequoias while you keep your head tilted up, staring in wonder at the tall trees. The loop is fairly flat and is wheelchair accessible, so it's good for people with mobility limitations.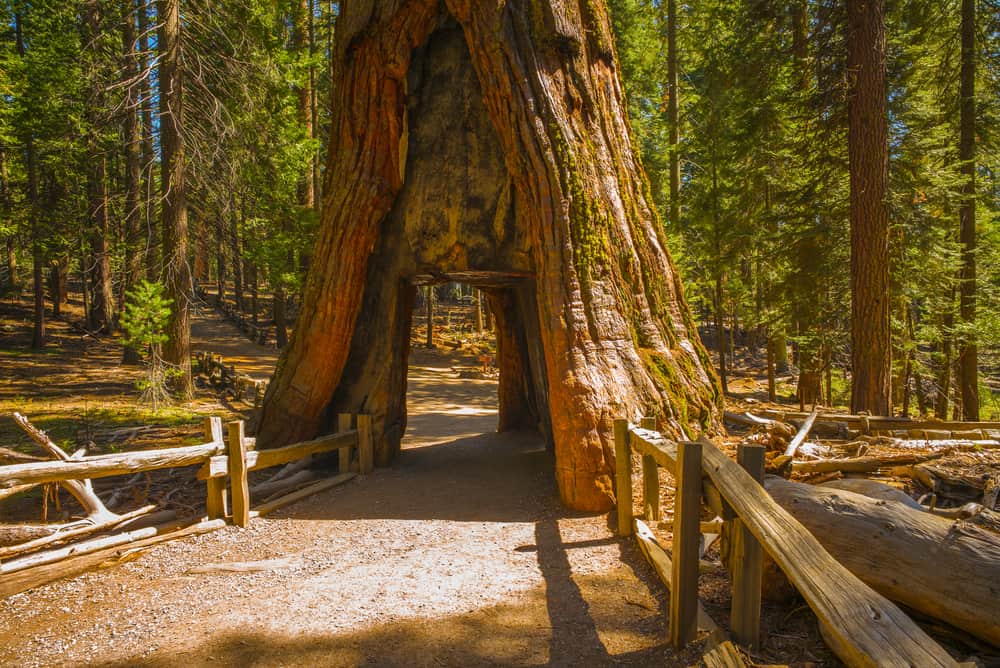 The other hike at Mariposa Grove is the Grizzly Giant Loop Trail.
If you have time, this 2-mile loop trail takes a little under two hours and will lead the hiker past a few notable trees including the three-thousand-year-old Grizzly Giant and the California Tunnel Tree. There is not much elevation gain, totaling about 300 feet.
Take in the views at the Tuolumne Valley and Olmsted Point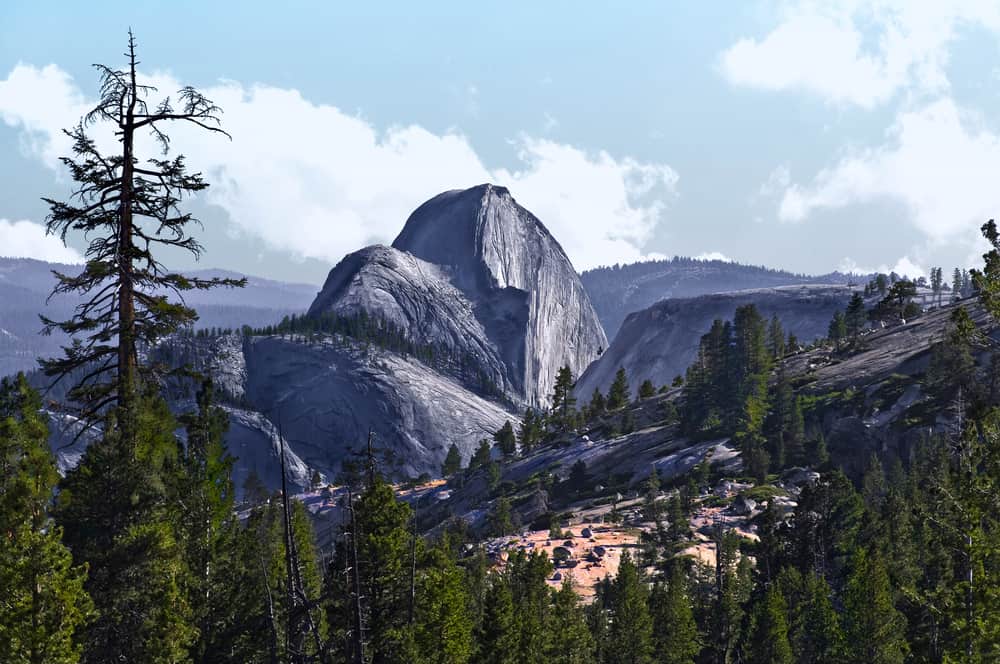 Going north on Big Oak Flat Road will lead you to Tioga Road, which takes you to the Tuolumne Valley. However, along the way, I would recommend a stop at Olmsted Point.
Named after famed landscape architect and Yosemite preservationist Frederic Law Olmsted, Jr. this point includes a quarter-mile roundtrip hike at an elevation of 8,300 feet, with a minor elevation gain of 100 feet.
The hiking time takes about 15 to 30 minutes. The point is at a high elevation and will allow for a great view of Clouds Rest and Half Dome beyond. You are also able to see Tenaya Lake in the east.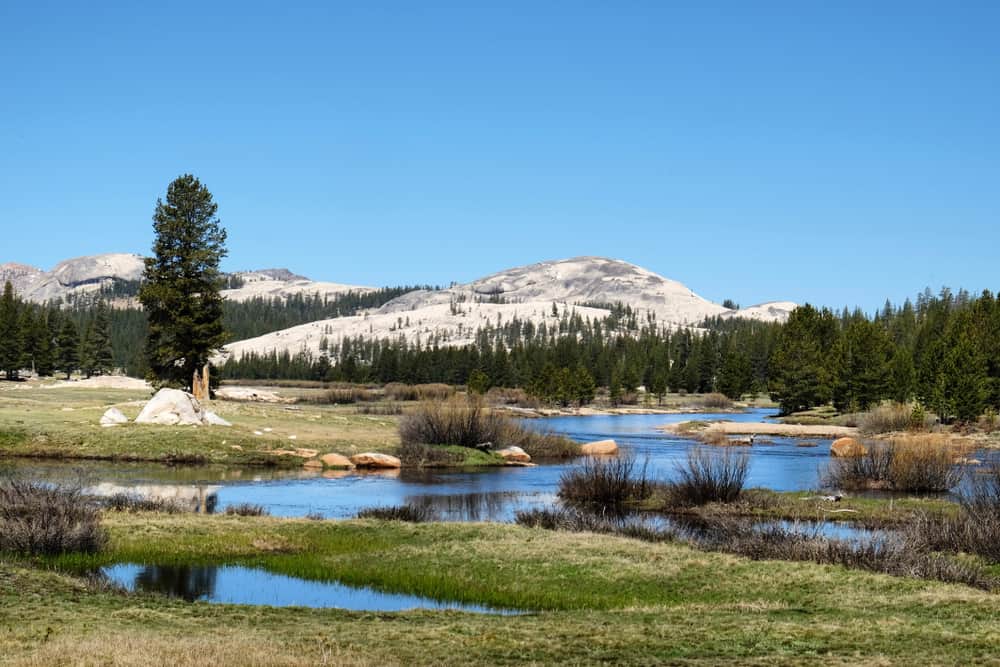 If you are exiting to the east, continue on Tioga Road to the eastern entrance where you can visit Tuolumne Meadows. Located at 8,600 feet, these meadows are some of the largest in the Sierra Nevada mountain range. This picturesque meadows area includes the Tuolumne River, which was named a "Wild and Scenic" river by Congress in 1984.
If you're not exiting to the east and exiting via one of the three other entrances, I would recommend turning around at Olmsted Point and returning to your accommodations for the evening.
***
Stunning and breathtaking will be words that you will use to describe your day in Yosemite National Park. Having just a taste of what this park has to offer will make you want to return for a longer stay where you can explore the park in more depth with longer hikes and more breathtaking vistas.
Yosemite National Park is a dream destination and one that has many different opportunities for visitors to partake in. Stopping at Yosemite Falls, Mariposa Grove, and Glacier Point are three musts on your trip, and if time allows, Olmsted Point is another must-see.
Tuolumne Meadows is definitely a location worth a visit if time allows, or if you are passing through the point, but it's not a must-do if time doesn't allow — with only one day in Yosemite, you'll have to make some sacrifices.
There are other stops along the way and other vistas to view the valley and other spots, and I would recommend stopping briefly at these overlooks, but make sure that you allow time to see the key locations that were mentioned above, as these are points that are must-dos and must-sees for any Yosemite trip — even a one-day one!
Pin This One Day in Yosemite Itinerary!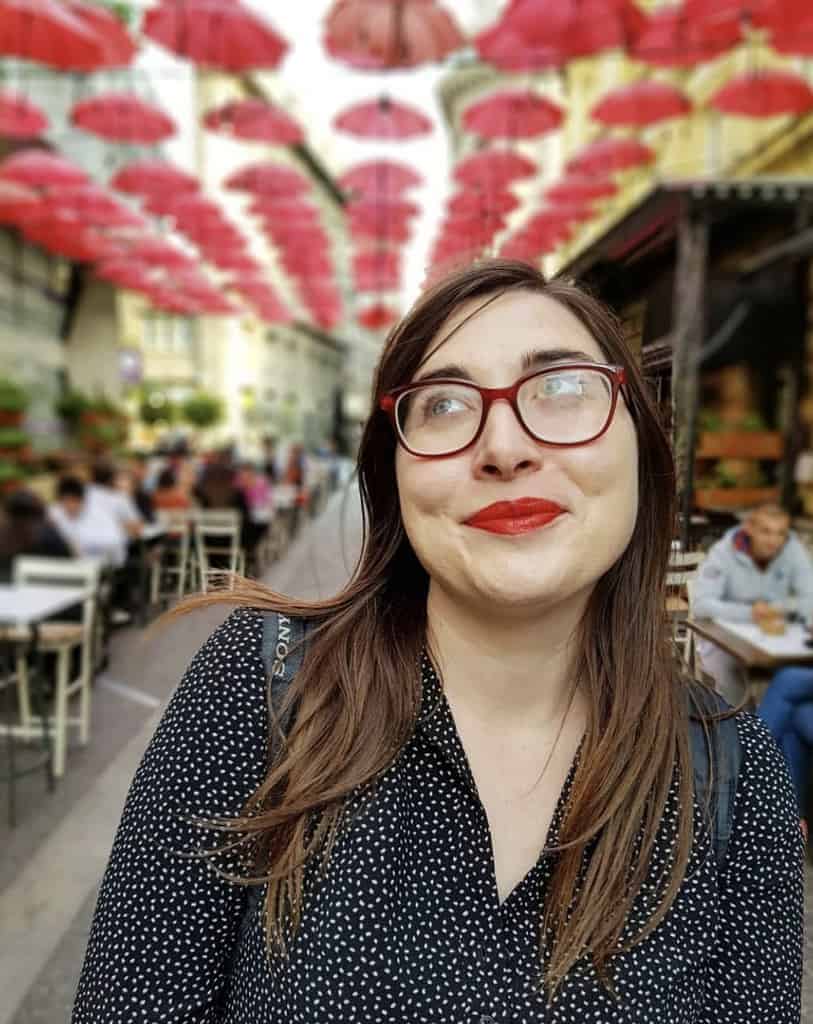 Allison Green is a travel blogger, writer, and podcaster who grew up in the Bay Area of California. She has spent time living in New York, Prague, and Sofia, but has returned to live in the East Bay. She has traveled to 60 countries before the age of 30 while running several digital travel businesses. Her writing and podcast have been featured in Forbes, CBC Canada, National Geographic, the Huffington Post, and CNN Arabic, amongst others. She's obsessed with dogs, wine, and anywhere she can see the ocean.