A weekend in Yosemite National Park is hardly enough time to cover everything to see. A lifetime is hardly enough time. I used to work in Yosemite, and there's still more for me to discover.
Yosemite spans over 1,100 square miles and offers endless vistas, lakes, creeks and waterfalls.
It is built of granite slabs of rock, Ponderosa pines, and giant sequoia trees. It will take your breath away.
The following is a Yosemite weekend itinerary for your adventure pleasure.
Before You Go: Know Yosemite's History
Note: This post contains affiliate links, which earn me a small commission at no extra cost to you if you make a purchase using one of these links. Thank you for supporting this free content!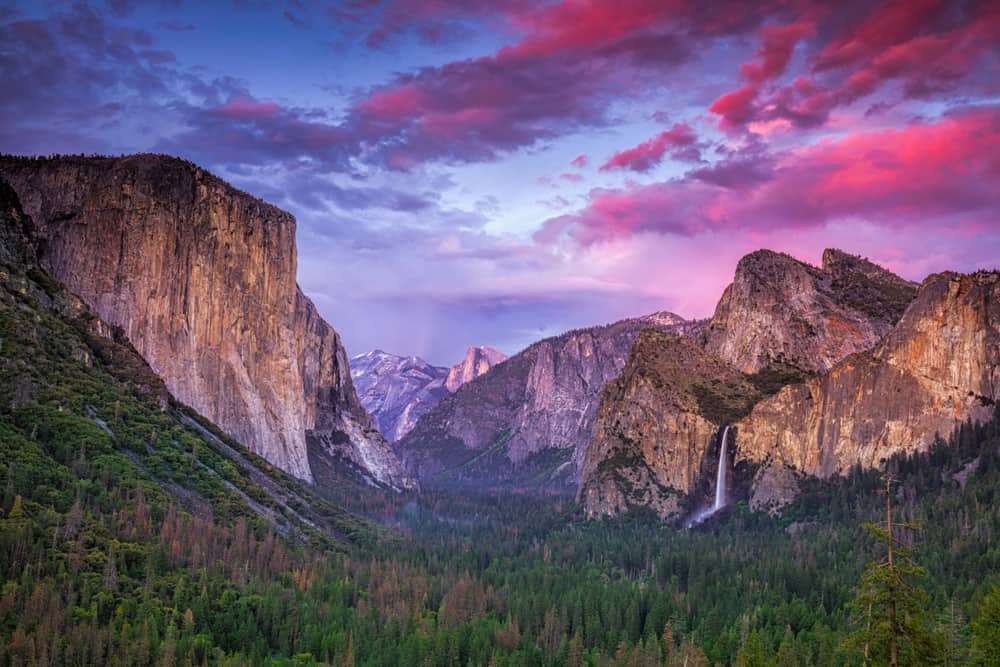 Yosemite was originally home to the Miwok Native Americans of the Ahwahneechee tribe.
They called Yosemite "Ahwahnee", which means large mouth. They lived in the valley where the granite walls appear like a gaping mouth. Their tribe, Ahwahneechee, literally means, "dwellers of ahwahnee".
Tribes surrounding the area, like the southern Miwok, referred to the Ahwaneechee tribe as "yohhe'meti", which means, "those who kill". There were rivalries between the tribes, you see, and this name, "yohhe'meti" is where we get the name, Yosemite.
The original name of Yosemite Valley, Ahwahnee, was lost because of colonialism. They were driven from their land, their home.
The only traces of Native American life in Yosemite comes from the many trails we still use, arrowheads, petroglyphs and shallow mortar holes. These holes were formed by tribesmen and women grinding acorns to make "ule", a mashed acorn loaf. They can be seen throughout the park.
With that in mind, remember, Yosemite is beautiful, but this is stolen land with a rich history. Be respectful to the memory of the ones who have gone before. Do not take anything out of the park. Leave the animals alone. Do not leave trash anywhere. Be respectful and mindful. Yosemite is a treasure that we are lucky to be able to visit.
Day One of Your Weekend in Yosemite Itinerary
Start the day in Yosemite Valley and a hike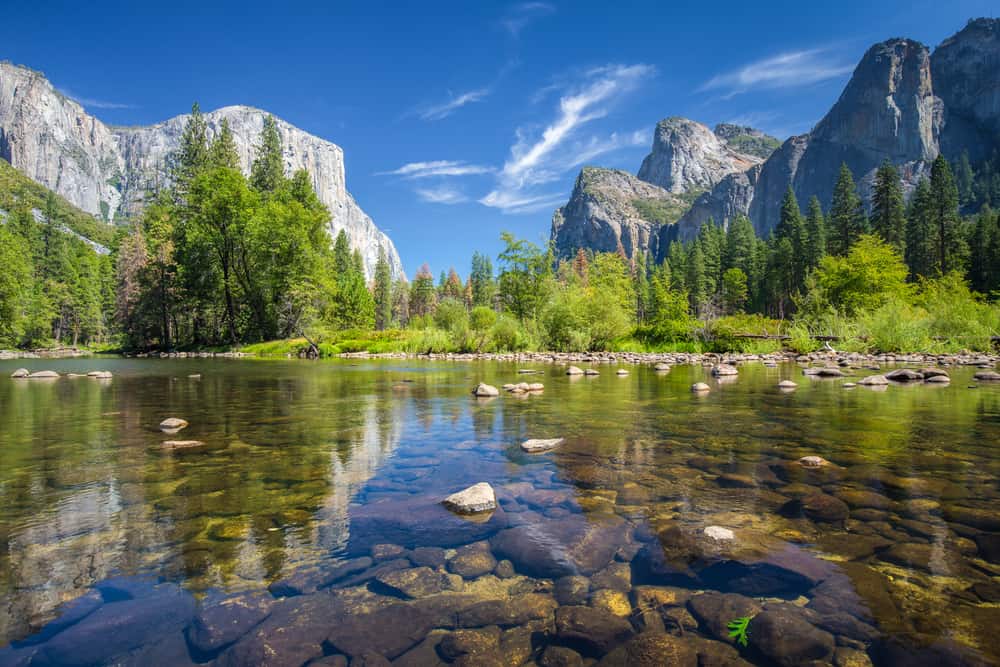 The first day, go to the valley. Yosemite Valley can be quite crowded during peak season as Yosemite attracts more than 3 million people every year: so it's got to figure somewhere on your Yosemite weekend trip.
There are many look-out points when heading into the valley. This is where you can view some of Yosemite's most famous land structures like Half Dome and El Capitan.
There are many hikes to enjoy once in the valley. Many choose to hike to Yosemite Falls, since it's the tallest waterfall in North America and a real stunner.
There are two options for hiking the falls. For a shorter trip, take the 2 miles out and back hike to Columbia Rock and lower Yosemite Falls.
The hike to the top of the falls, or Upper Yosemite Falls is 7.2 miles round trip and rewards one with views of Sentinel Rock, Half Dome and El Capitan.
The trailhead is located at Camp 4, which is a known rock climbers camp. You will certainly see rock climbers ascending the many climbing routes in the park. They will appear teeny tiny against the massive mountains of Yosemite. Whichever hike you use, it's a must-do on your 2 days in Yosemite.
Have lunch in the park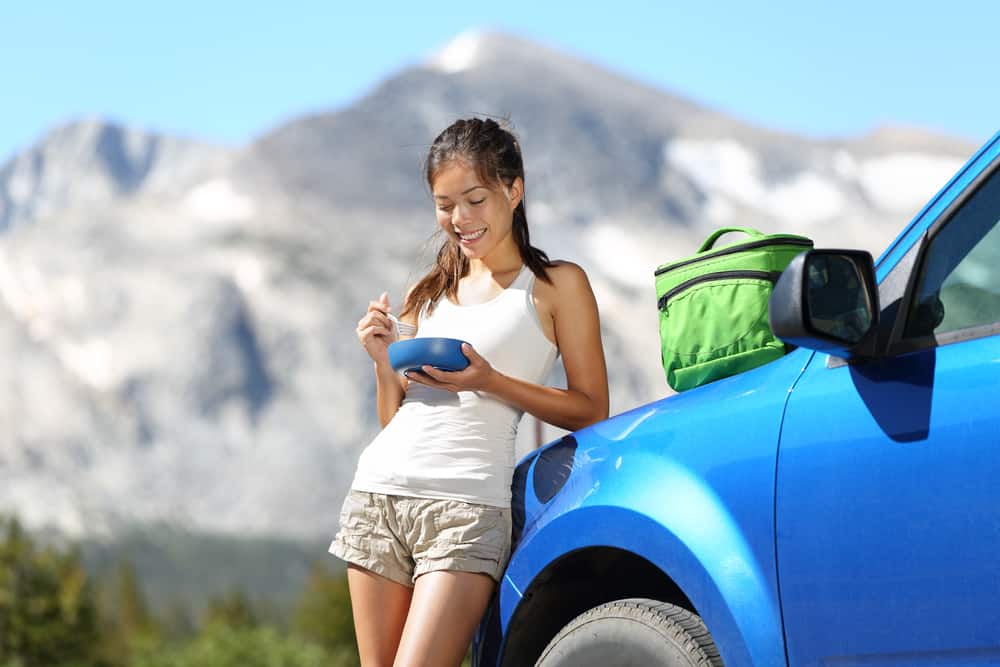 Perhaps you may want to have lunch at this point before adventuring more. There are many places to picnic in Yosemite if you want to pack a lunch.
Or you can try one of the many restaurants in the valley such as Ahwahnee Bar, Curry Village Pavillion, or Village Grill.
You can also find snacks, drinks, pre-made food, and camping supplies like firewood at Village Store.
Explore the Valley Loop Trail
From Camp 4, hike the Valley Loop Trail. It is a mostly flat trail with two options. Do the full loop of 11.2 miles or a half loop of 7.2 miles.
Either option will allow for a well-rounded experience of seeing the rock structures like the Three Brothers Rock Formation.
Bridalveil Falls is an easy hike right along the valley loop trail. It is a very short walk to the falls, so definitely worth a stop. It is only 0.5 miles round trip, so there's no excuse, even if you only have 2 days in Yosemite.
Choose your own adventure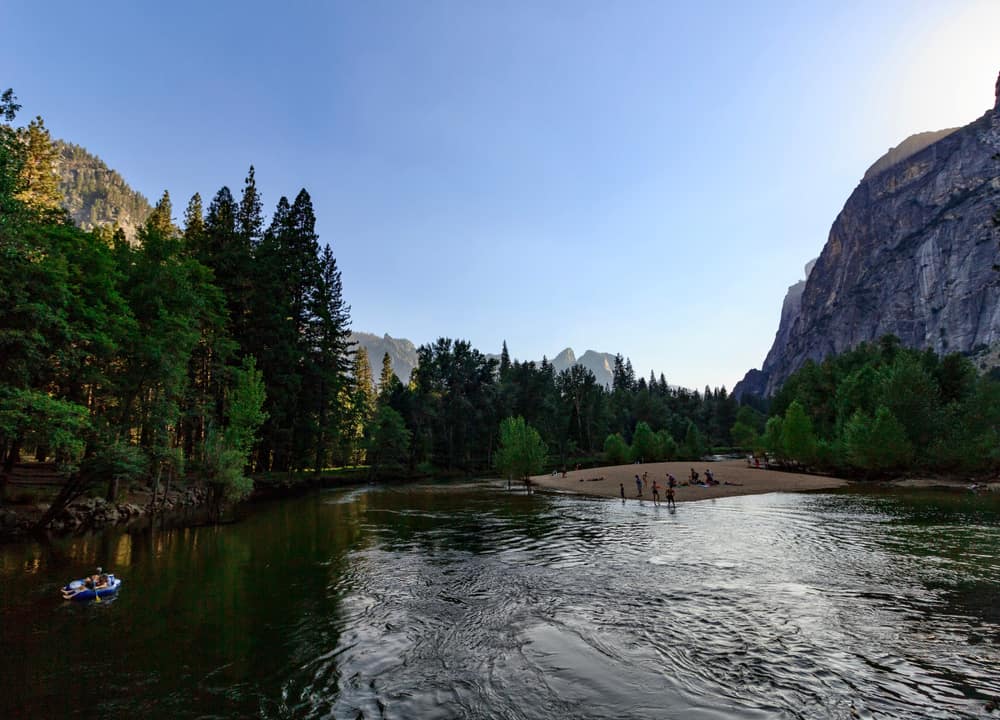 If you want another option for your day in the valley, there is rafting in the Merced River available. It is a short 3 mile float; note that there is no white water here in summer.
It is calm and relaxing to float this part of the Merced River. There are outfitters available, and you should make a reservation for this popular activity because it can get booked up.
It is also nice to simply walk alongside the riverbank and view the river. Maybe even go for a dip!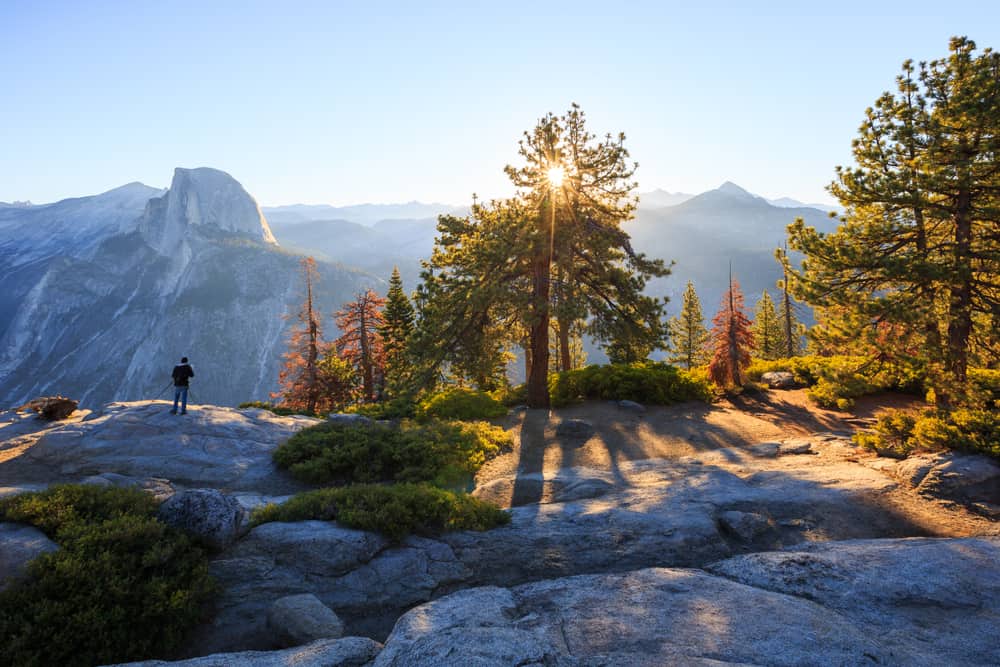 Another option would be to drive to Glacier Point (or use the Yosemite shuttle — though this is not currently operational due to Covid-19) and climb up Sentinel Dome.
It is only 1.1 miles of a hike and gives spacious views of the park!
Continue to Taft Point if time allows on this 2.8-mile loop. Taft Point has jaw-dropping views of Yosemite.
Visit some of the Yosemite museums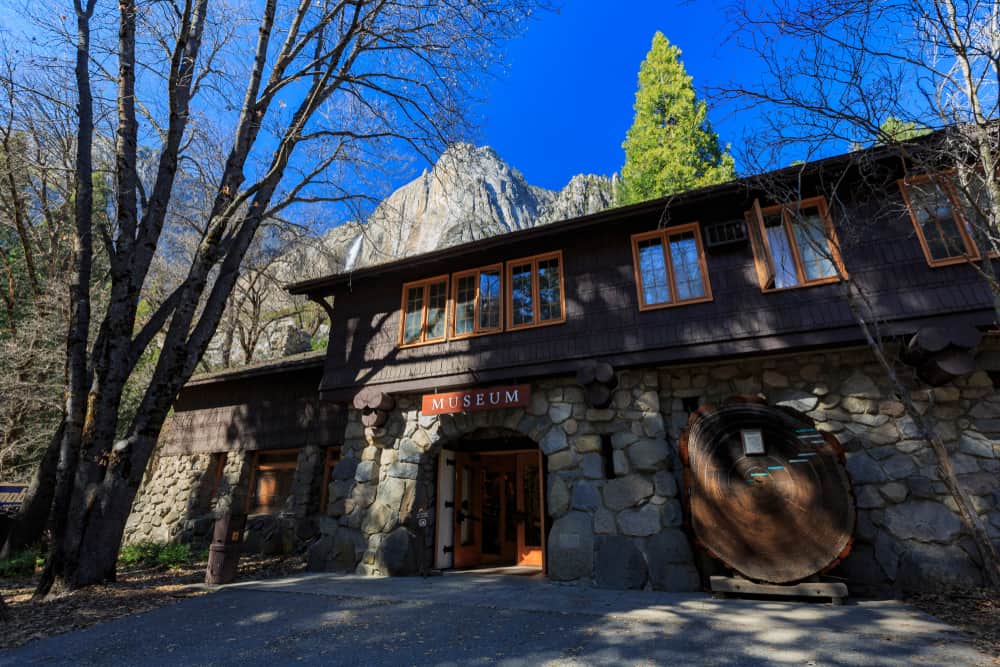 Finally, there are multiple museums to visit. Check out Yosemite Museum for information on the Ahwahneechee Indigenous people and Yosemite's history.
Tthe visitor center also has a few exhibits. Happy Isles Art and Nature Center is another option best-suited for kids and families, among others.
We highly recommend checking out the Ansel Adams Gallery. Ansel Adams was a spectacular landscape photographer. His black and white photos of Yosemite are examples of the reverence this man had for the amazing mountains of Yosemite National Park.
Where to Stay During Your Weekend in Yosemite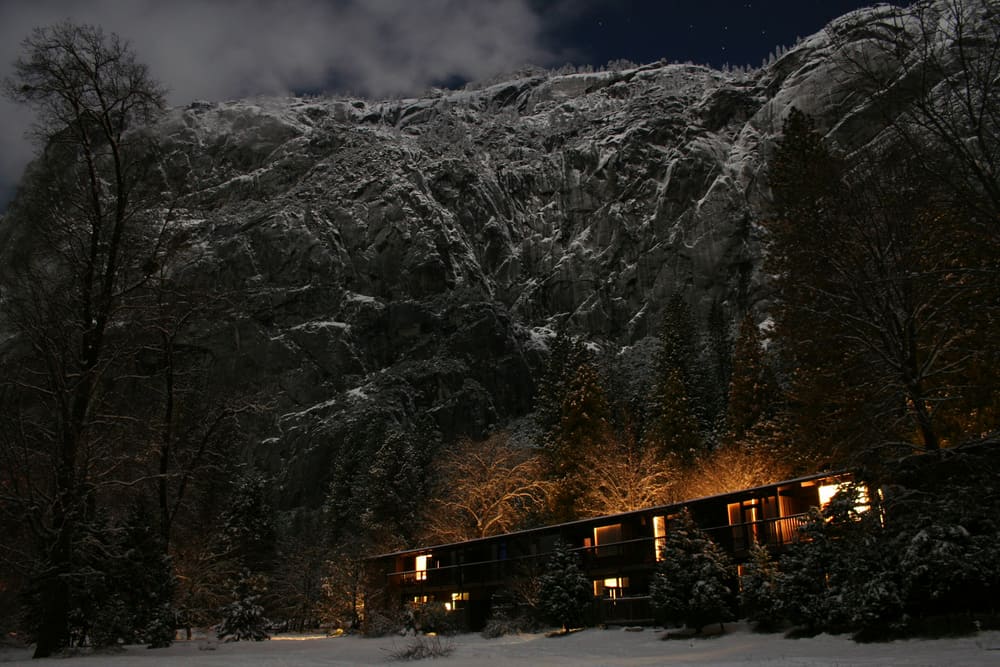 There are many places to spend the night in the park. Reservations are limited, so plan ahead.
Or go with luxury at The Ahwahnee or Yosemite Valley Lodge, among other options!
Yosemite Valley Lodge is a wonderful choice for where to stay on a Yosemite weekend getaway — if you can book it. Rooms book up quickly, so book it in advance. Every single room has a balcony with sweeping Yosemite views, perfect for enjoying a cup of coffee with epic scenery before starting your day. A restaurant, bar, lounge area, 24/7 reception, ATM, and free WiFi are all located on-site.
>> Check details and book your stay at the Yosemite Valley Lodge early, before it sells out!
The Ahwahnee is a great choice if you're looking for a little more luxury during your stay — this is a 4-star hotel right in Yosemite National Park! It also sells out early, so book it well in advance. On-site, there is an incredible restaurant, gorgeous views of Half Dome right out front of the door, an outdoor pool (seasonal), a trail behind the hotel that brings you right to Mirror Lake, and a giant fireplace to lounge in front of at night when the temperatures drop.
>> Check details and book your stay at the Ahwahnee before it's too late!
If you're traveling on a budget, there are camping areas, 10 of which can accommodate RVs. There are also some first-come, first-serve campsites, that often fill up before noon. Get there early if you want to take the chance in one of these campgrounds!
There are also lodges, cabins, and canvas-wall tents to stay in, if camping is not your thing. Stay in the cabins or canvas wall tents at Curry Village (book those in advance as these sell out quite quickly too — frankly, everywhere in Yosemite does, with 3 million visitors a year and limited accommodations!
>> Book a canvas glamping tent online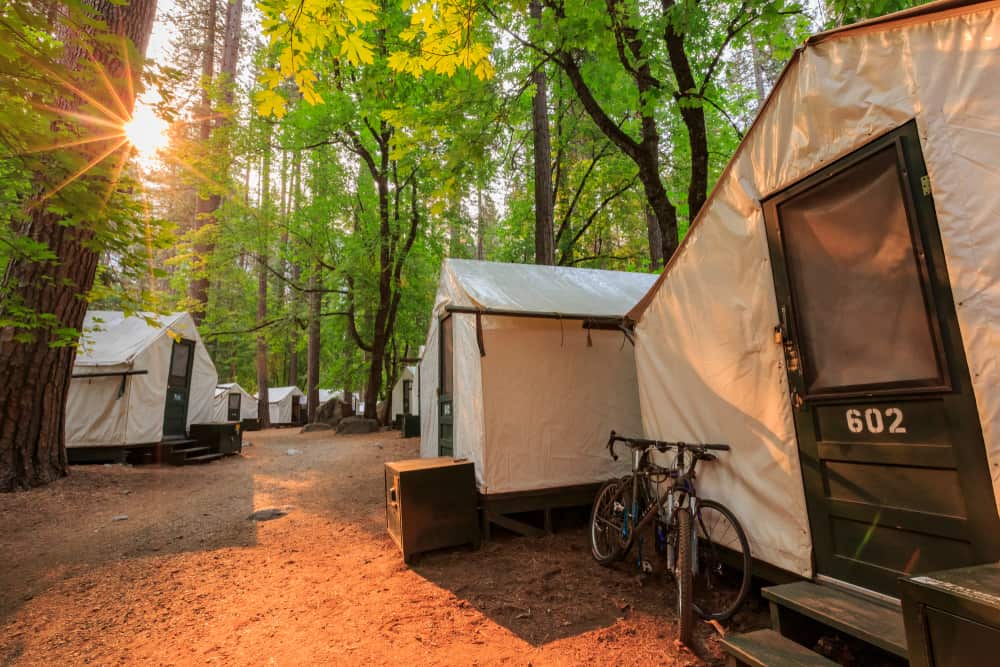 There are also many places to stay outside the park, including Lumsden Campground in Stanislaus National Forest, for free!
It is near Rainbow Pools, an excellent waterfall-fed swimming hole. There are many free campsites in the national forest if you're traveling on a budget and don't mind sleeping outside of the national park.
After a night of stargazing and restful sleep, you are ready for day 2 of your weekend in Yosemite National Park.
Day Two of Your Weekend in Yosemite Itinerary
The next day, you have two options. Travel to the Mariposa Grove of Giant Sequoias or head to Tuolumne Meadows.
Both require an hour's worth of driving from the valley. There is also a free shuttle service provided by the park, though again, in 2020, this shuttle is not currently in operation due to Covid-19.
Option 1: Wawona/Mariposa Grove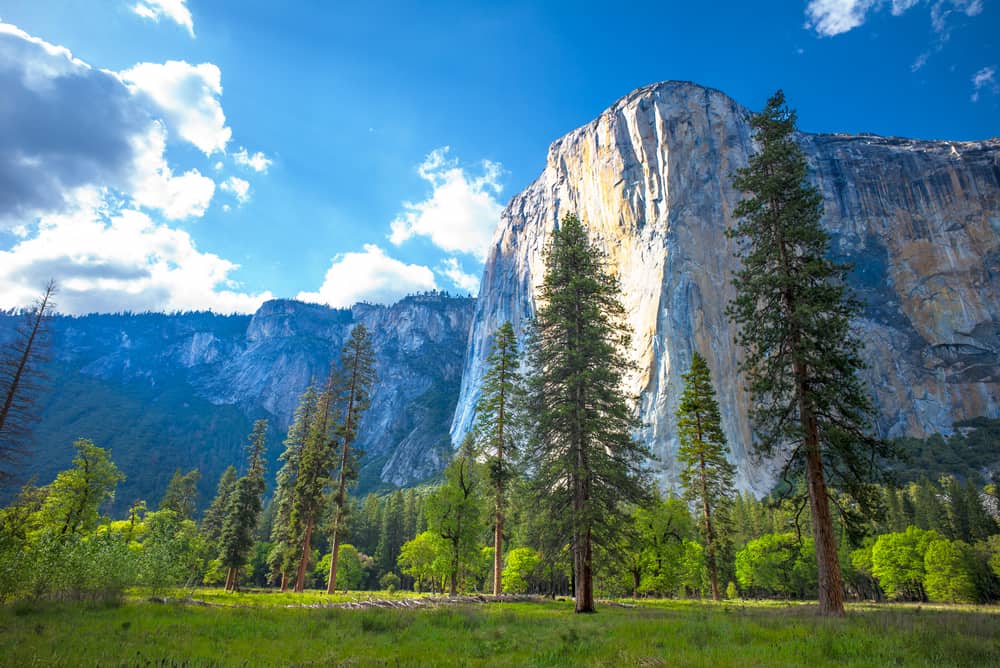 Start the day with breakfast in the valley. Take a stroll through El Capitan Meadow, a great place for a picnic.
Or head to the Mist Trail for more waterfall action. It is only 1.6 miles to the Vernal Fall footbridge or 2.4 miles to the top of the falls.
Get lunch in the valley or bring food with you as there are lots of opportunities to picnic in Wawona or at the Mariposa Grove.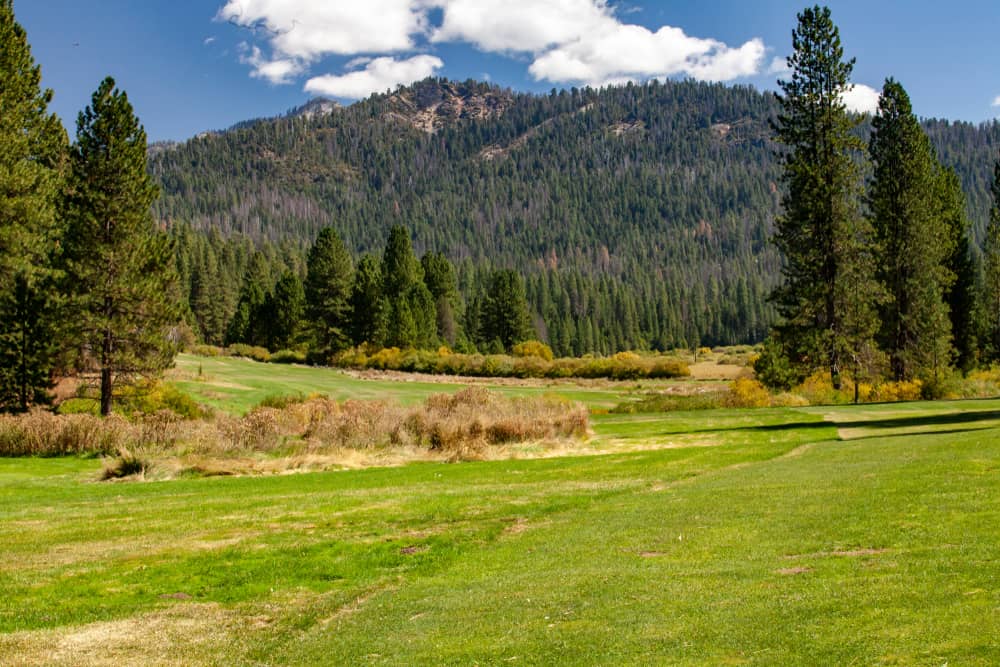 Stop in Wawona on your way to the grove for the Wawona Meadow hike. The trail begins at Wawona Hotel. You will have ample opportunities to see wildflowers. There is a restaurant here as well, in case you didn't bring a picnic lunch.
Another activity here would be swimming and hiking at the Wawona Swinging Bridge. This is an easy 1.5-mile hike that offers an escape from the crowds of the valley and lots of chances to swim and picnic.
Then, head to the Mariposa Grove.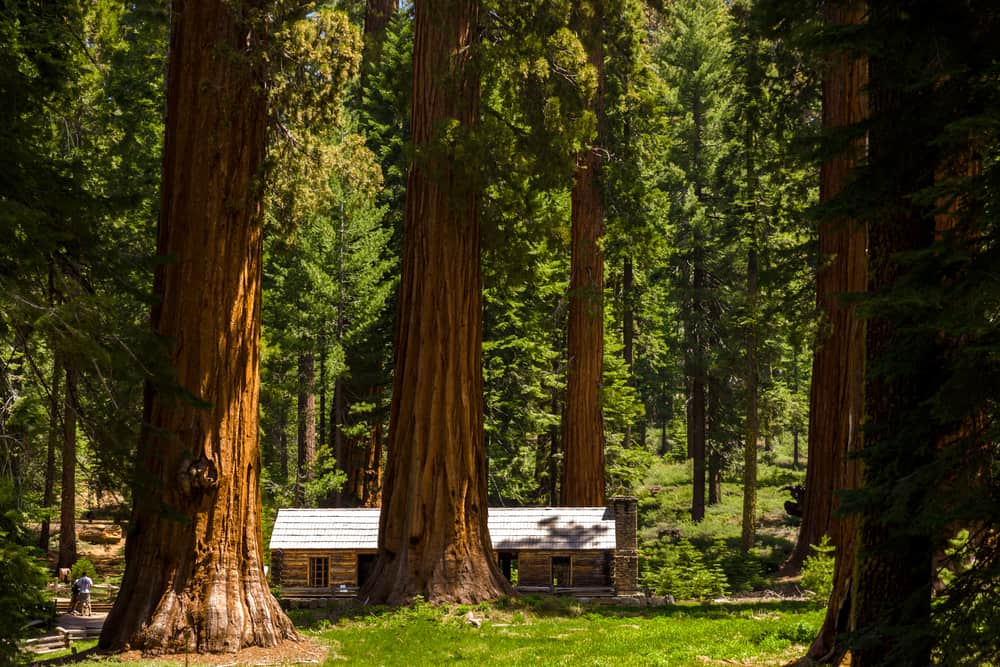 The Mariposa Grove has the famed California Tunnel Tree, as well as, Fallen Monarch, and the 3000-year-old Grizzly Giant. They used to allow cars to drive through the California Tunnel Tree, though this is no longer true (the one you're thinking of is actually in Sequoia National Park).
At present, the Mariposa Grove is closed due to the Creek Fire. Check the NPS website to see if it's reopened.

Also, note that currently shuttles to Mariposa Grove are not operational due to Covid-19, and there is very little parking available in the upper lot. This means that even if you have your own car, you may have to park in the lower lot, which adds on a 2-mile walk each way to the starting point of any of these Mariposa Grove hikes.
There are a few options for hikes in the Mariposa Grove.
Do the Big Trees Loop (0.3 mi.), Grizzly Giant Loop (2 mi.), Guardians Loop (6.5 mi.) or the Mariposa Grove Loop (7 mi). The options here allow for choices depending on your energy level.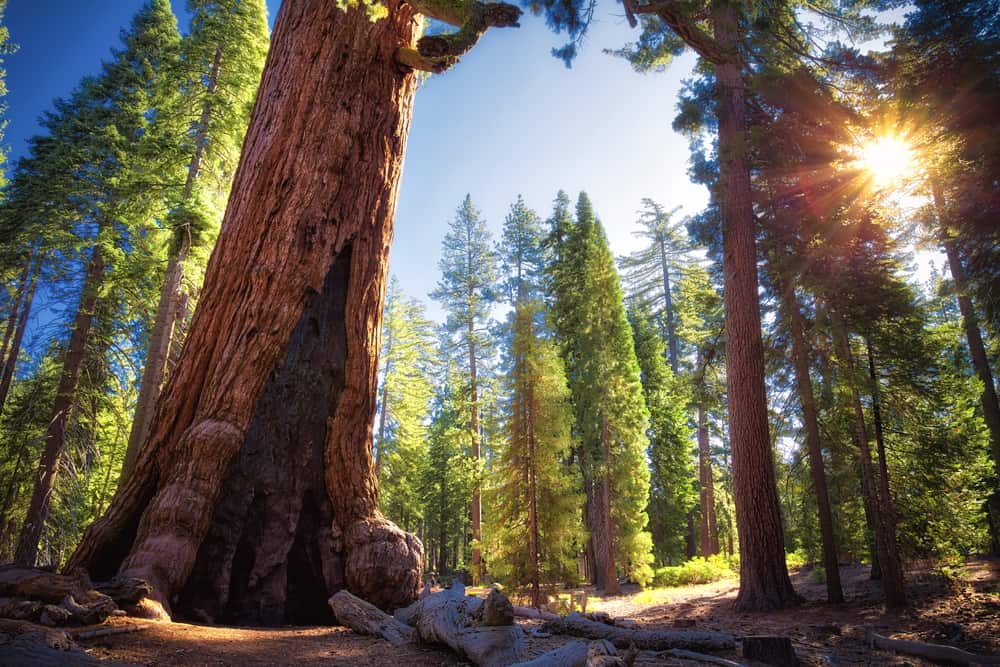 There is also a bike-friendly trail and ADA accessible trails. All will give you access to check out the behemoth giant sequoias!
We suggest getting a ranger tour, if available, at the Mariposa Grove. There are a lot of interesting facts to learn about Yosemite and the ecology of the park.
Next head to the many restaurants of Fish Camp for dinner. By then you will have completed your final day of your lovely Yosemite weekend!
Option 2: Tuolumne Meadows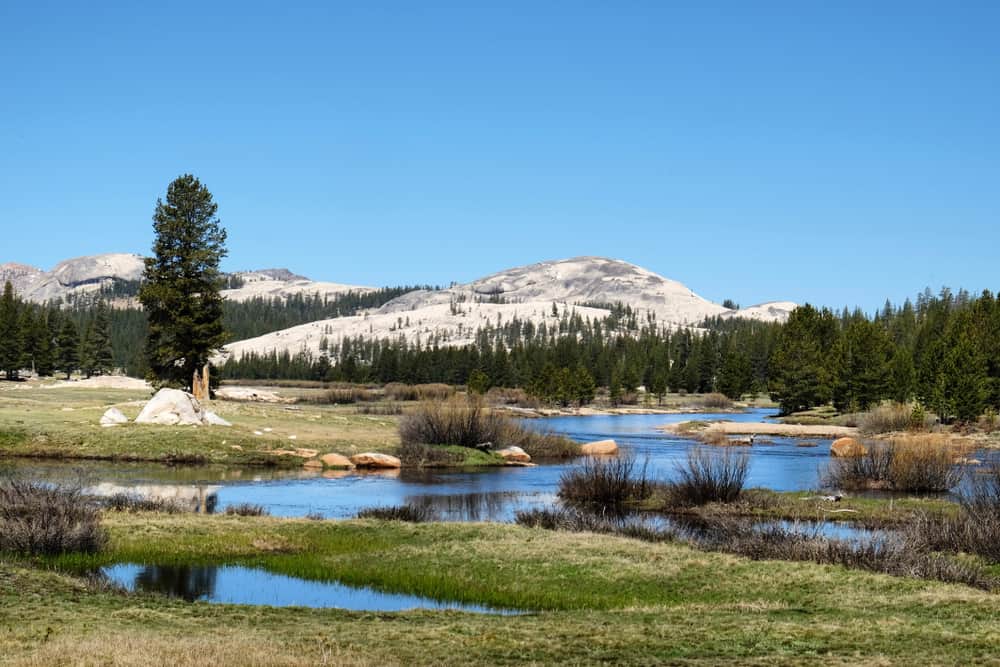 Get an early start. Instead of heading South to Wawona, head North to Tuolumne Meadows.
There is a nice spot to get burgers at Tuolumne Meadows Grill and Store on Tioga Road, or you can pack a lunch. Again, there are ample picnic opportunities available.
Note: Tioga Road is only open May through December due to snow and dangerous conditions, so if planning a winter trip to Yosemite, this part of the Yosemite itinerary will not be possible
First, stop at Lembert Dome and Dog Lake. The hike to the top of the dome is only 2.8 miles roundtrip and rewards one with excellent vistas. Continue past the dome to Dog Lake for a 4-mile round trip hike.
After Lembert Dome, you may want to take a swim. Head on over to Tenaya Lake. It is easily accessible, as it is directly off Tioga Road.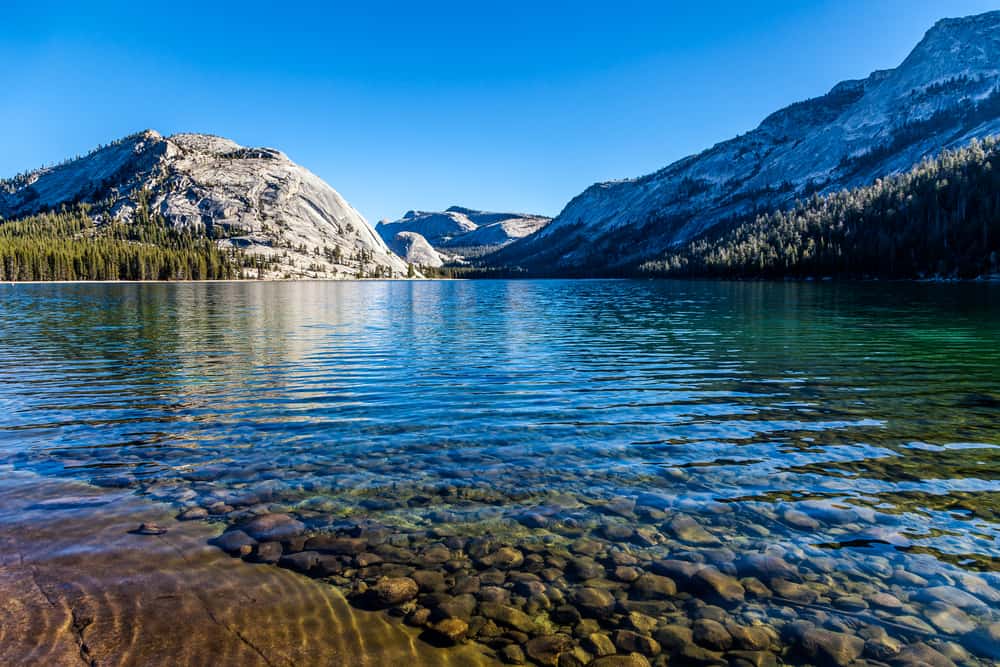 You will see it when driving to Lembert Dome. This is a great spot to swim and take photos, as well as have that picnic lunch!
From Tenaya Lake, climb to the top of Cloud's Rest. It is 13 miles roundtrip, so this is how you will spend the rest of your day: it's a doozy of a hike!
Bring lots of water and snacks. It is a moderate to strenuous hike. Because it is 7 miles to the top, the crowds will be much fewer here. However, it's well worth the climb as the views are spectacular.
You will see North Dome, Half Dome, Tenaya Lake and other famous Yosemite landmarks from the top of the world at Cloud's Rest.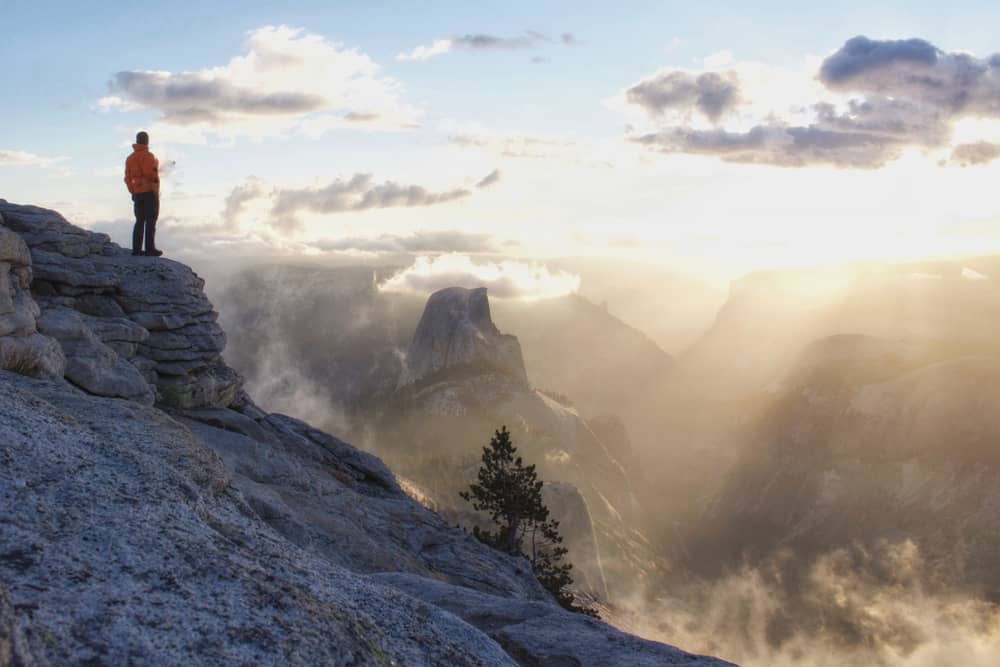 After a long day of hiking, it is time for more food — it's well deserved!
Go to Tuolumne Meadows Store and Grill for some great options. Or head east on Tioga Road and over Mono Pass and find yourself enjoying some of the best food you will ever find at a gas station. Yes, it is true!
The Mobil in Lee Vining (30 minutes from Tenaya Lake) has without a doubt the best food at a gas station you will ever find. Plus they have snacks, souvenirs, and any supplies you may need for your drive out of Yosemite.
***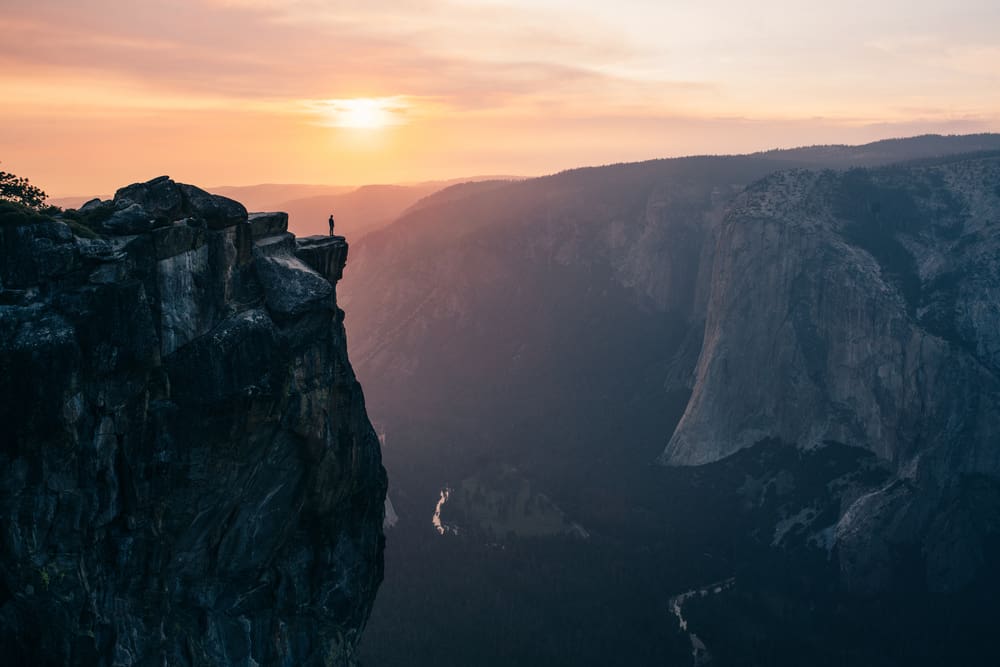 I hope this list of suggestions and favorite stops in Yosemite National Park will guide you through one of the most amazing places on earth, even if you just have a weekend in Yosemite to enjoy it. These are just but a few of the awe-inspiring experiences Yosemite has to offer.
Leave no trace. Leave it better than you found it. Don't feed the animals! You will never be disappointed in Yosemite, so, don't disappoint her. Treat the land with respect, and you'll have a remarkable time.
Enjoy and be well!
What to Pack for Yosemite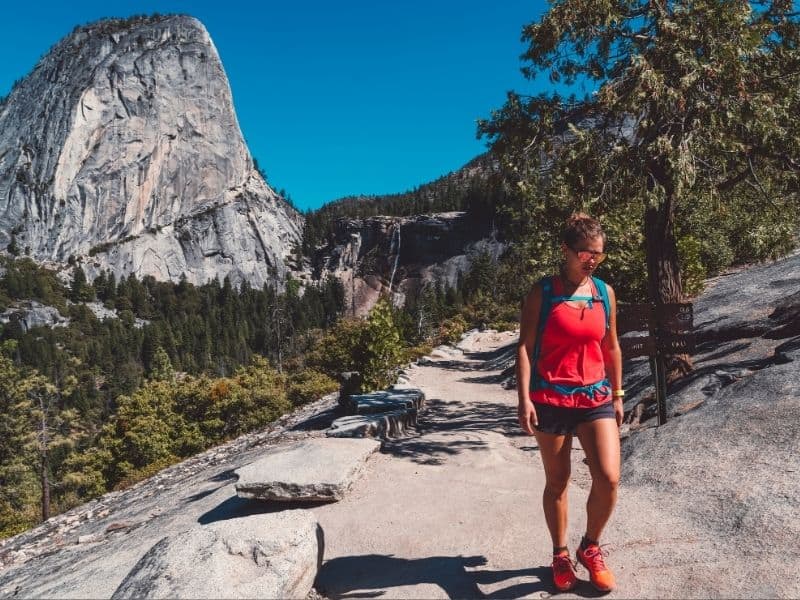 First aid kit: You'll want to pack a small kit with the things you need — but in my opinion, it's better to buy a pre-made first aid kit as it'll likely cover things you might forget.
I recommend this HART Weekend First Aid kit, which has extras in case you use something, so you won't have to replace it as often.
Headlamp (and extra batteries): In case you're planning any sunset hikes where you may come back after dark, you'll want a headlamp to keep your hands free as you hike in the dark.
Trust me, you don't want to have to rely on the flashlight funciton of your phone – I've learned this the hard way before!. This Petzl headlamp is highly-rated and affordable.
Water Filter Bottle: There are a wide variety of water filtration systems and treatments, but for a day hike, I recommend a water bottle with a filtration system set up inside of it. I recommend the GRAYL Geopress.
It's compact and easy to use, and you can refill from anywhere: streams, waterfalls, lakes, you name it, without getting sick. Otherwise, you can only refill at designated drinking water stations in the park.
Rain gear: A rain jacket is great to have as a just-in-case: nothing ruins a hike quite like a sudden shower without a rain jacket.
I recommend Marmot brand — this men's jacket is great and stylish, and I have the women's Marmot Precip (and have had it for years) and love it.
Day pack: No need for a giant backpack for these Yosemite hikes! Just bring a comfortable day pack.
Look for something with a mesh back panel, so it's less hot and sweaty against your back, and perhaps something with waist straps and a shoulder strap to help distribute weight if you're someone who gets back pain easily *raises 80-year-old hand*.
I love the Osprey day pack – it's cheap but durable, so comfortable, and has all the features you need for a day hike.
Sunscreen: Wear this every day of your trip — even on a cloudy day!
Sunglasses: Great for unshaded trails and sunny days!
Hiking boots: You'll want good, possibly waterproof hiking shoes for these Yosemite hikes! I own and love my pair of Ahnu Sugarpine hiking boots and recommend it for other women – especially if you have wide feet like I do! For men, I've heard good things about the KEEN Durand boot, but haven't used them personally (for obvious reasons).
If you're only doing the really easy no elevation hikes, you can maybe get away with doing these Yosemite hikes in tennis shoes, but I have really bad ankles and am always grateful for the extra ankle support. Even a pair of work boots like Timberlands are a lot better than sneakers.
Camera: I use and love my Sony A600! It's mirrorless, so it's lightweight and perfect for a high-quality camera that won't weigh your pack down. Bring some lenses that allow for wide angles as well as a zoom lens for beautiful compression shots.
I have this incredible 10-18mm lens that captures perfect wide-angle landscapes as well as this affordable 55-210 zoom lens. I also have this 35 mm f/1.8 prime lens, but frankly, I prefer zoom lenses when shooting anything except food and portraits.
Sunhat: To keep the sun off your face – I recommend a packable hat like this one which has a strap so it won't blow off in gusts of wind and you can easily wear it on your back when you don't feel like wearing it on your head.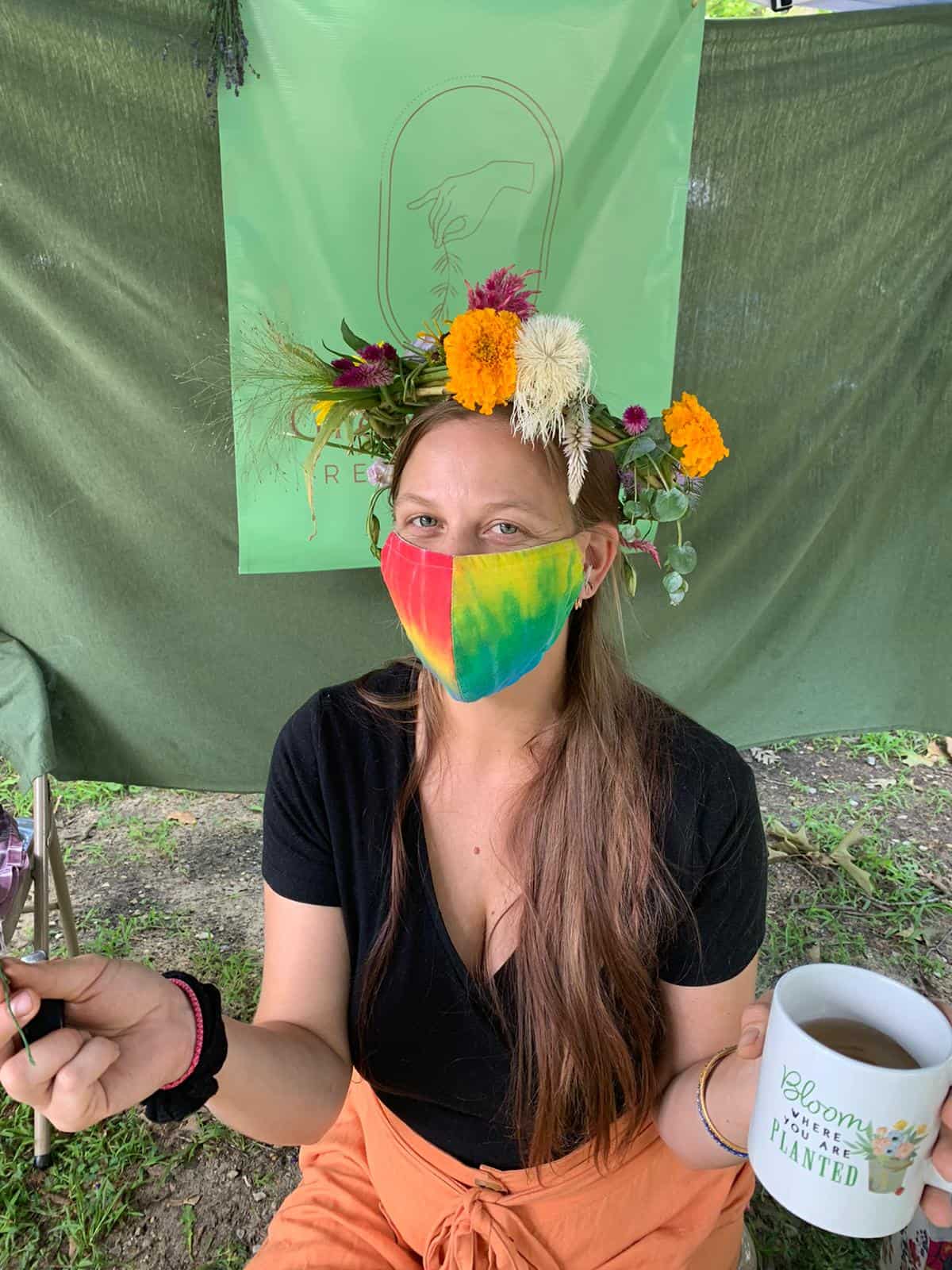 Allison is a writer, herbalist, musician, and lover of nature. She is an avid traveler and backpacker, having traveled throughout most of the United States and through parts of Asia and Europe. She has lived in Hawaii, Philadelphia, New Jersey, Boston, and of course, California. Allison has lived in California for 5 years, working on farms and in Yosemite National Park. She has been all over the state, enjoying many cities and of course, the many amazing outdoor wonders California offers. She currently resides in Aptos, Santa Cruz County, CA.