When most people plan a trip to a beach in California, they're usually looking at a handful of well-known but very crowded beaches like Malibu, Santa Monica, Laguna, or Coronado.
While there aren't any songs about it, I'd argue that Carmel-by-the-Sea, California is the most beautiful by far.
Fall is the perfect time to visit if you're craving a beachy paradise without all the noise and the tourists, but this place looks like a storybook all year round.
While Carmel isn't well known outside aside from California locals, it is nearby some destinations you may have on your bucket list already.
The town is located within Monterey County, and it isn't far from Santa Cruz. San Francisco is also just a short drive away. All of these places are worth a visit, and Carmel's laidback atmosphere and beautiful scenery shouldn't be missed if you are in the area!
Here are all the best things to do in Carmel-by-the-Sea, and it's laid out easily in a format so you can basically follow this as a Carmel itinerary if you're just doing a quick Carmel weekend trip, as most Northern Californians do!
Where to Stay in Carmel for a Weekend Trip
BOUTIQUE EUROPEAN STYLE | Hofsas House Hotel
Note: This post contains affiliate links, which earn me a small commission at no extra cost to you if you make a purchase using one of these links. Thank you for supporting this free content!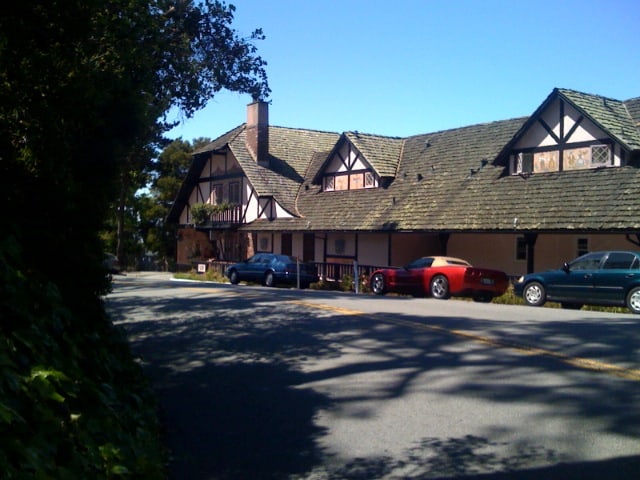 Part of the fun of a trip to Carmel is seeing the quaint European village-style architecture — so why not up the ante by staying in a place that oozes with fairytale charm?
That would be Hofsas House Hotel, a darling little hotel in the middle of Carmel's city center that feels like it could exist happily in Denmark or Germany, with its pretty half-timbered architecture and old world charm.
To amp up the European factor, there's also a dry sauna for guest use!
It's just a short walk from the beach — some rooms even have an ocean view! — and there's also a heated outdoor pool for mid-afternoon dips that you can enjoy all year round (and even on Carmel's famed foggy days).
Want to amp up the romance on your stay? Some rooms even have their own fireplaces and decks!
ROMANTIC LUXURY | L'Auberge Carmel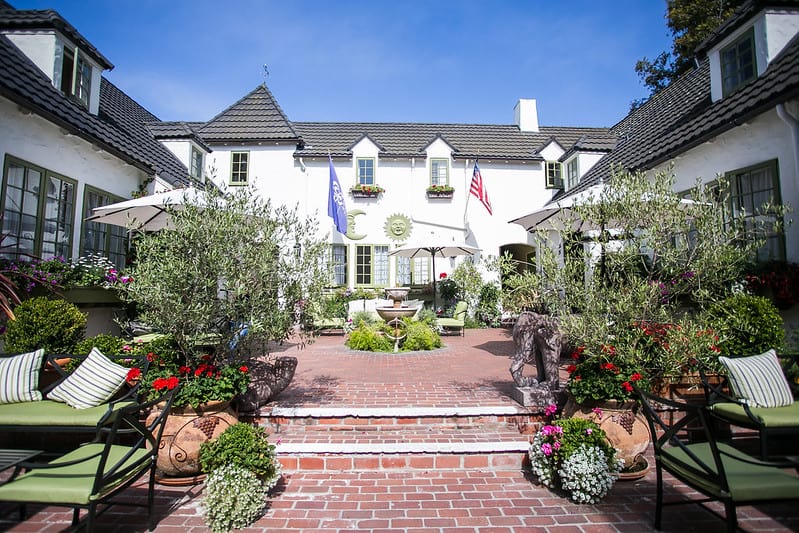 True to the Relais & Chateaux brand, L'Auberge Carmel looks like a literal French chateau (castle)!
This historic hotel has been around since 1929, but it's been kept up beautifully throughout the years, with its Provencal detailing and beautiful outdoor patio, as well as its over-the-top gorgeous rooms.
There are all sorts of perks if you want to stay here for a romantic Carmel weekend getaway!
We're talking massages either in their spa center or in-room, a gourmet restaurant worthy of an anniversary splurge, and the hotel is within walking distance of Carmel Beach for a romantic sunset stroll.
BEACHSIDE CARMEL | La Playa Camel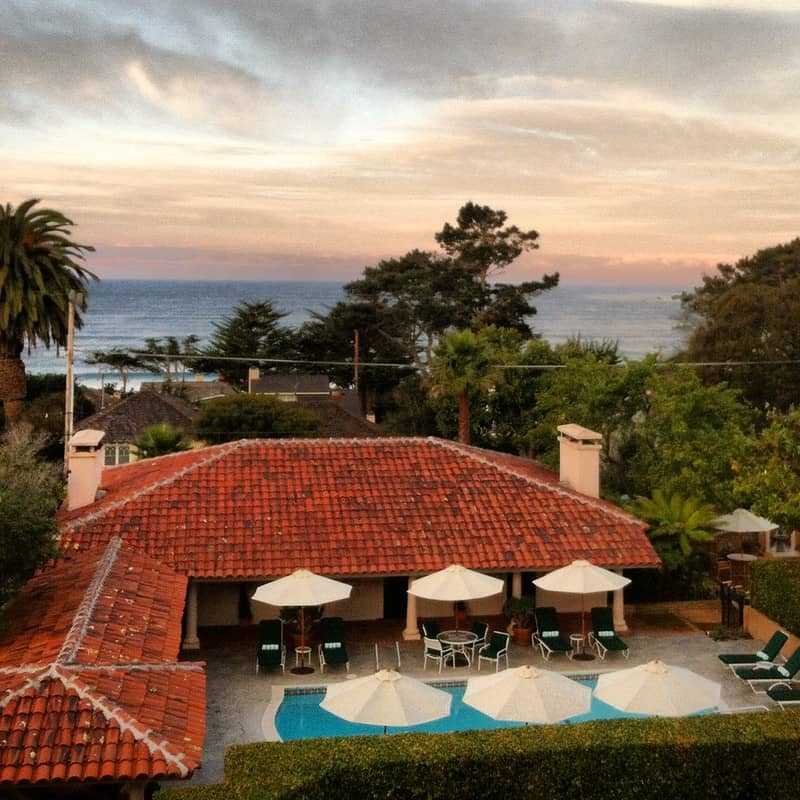 For a beautiful and classic option that puts the "by-the-sea" in Carmel-by-the-Sea, La Playa Carmel is a fantastic option.
It's located just 750 feet from the beach, so you can easily roll out of bed, enjoy a complimentary champagne brunch (!!!) and grab a great spot on the beach all without having to think about the hassle of parking.
There's a beautiful outdoor pool with sun loungers and umbrellas for if you want a more relaxing and private option, and there's a restaurant on-site as well as a library lounge where you can grab a bite to eat.
Rooms are spacious, modern, and beautiful, and some even have ocean views!
Day 1 of your Weekend in Carmel
Take a walk at Carmel River State Beach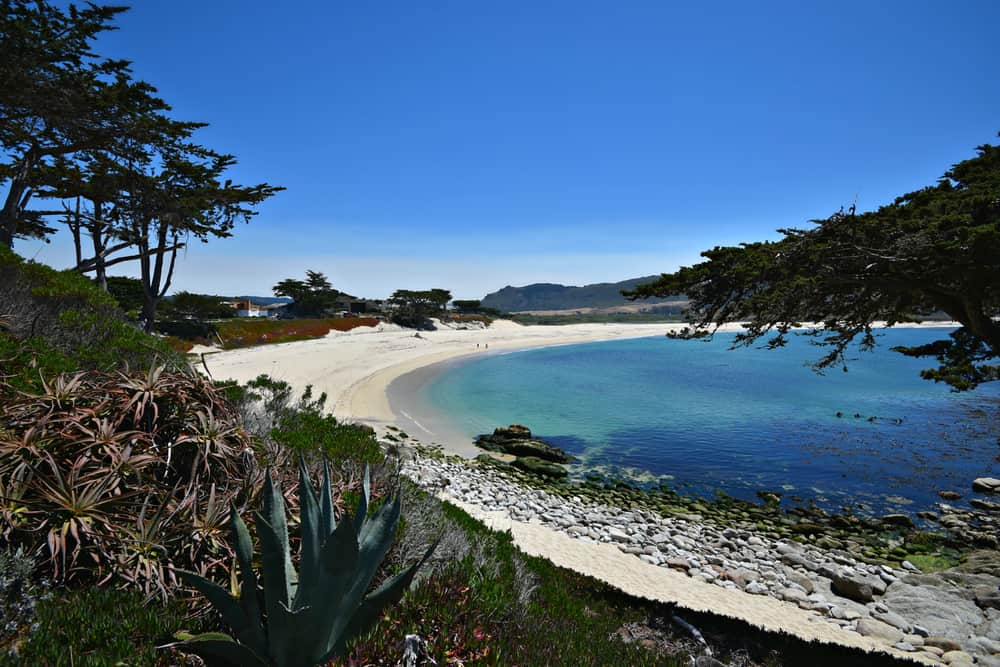 The best start to a day in Carmel is a walk along the ocean. Luckily, there are a handful of trails just outside of town and you really can't go wrong with any of them. Many are pet-friendly as long as you've got a leash, and all are fine for a brisk workout or a leisurely stroll.
One of my personal favorites is Carmel Meadows Trail. It isn't long, and if you park across the street, it's free. It's perfect for kids or even adults who want the view without the effort of a strenuous hike. You can take it at a jog if you want a high-energy activity though!
Grab a light breakfast and a coffee at Carmel Valley Roasting Company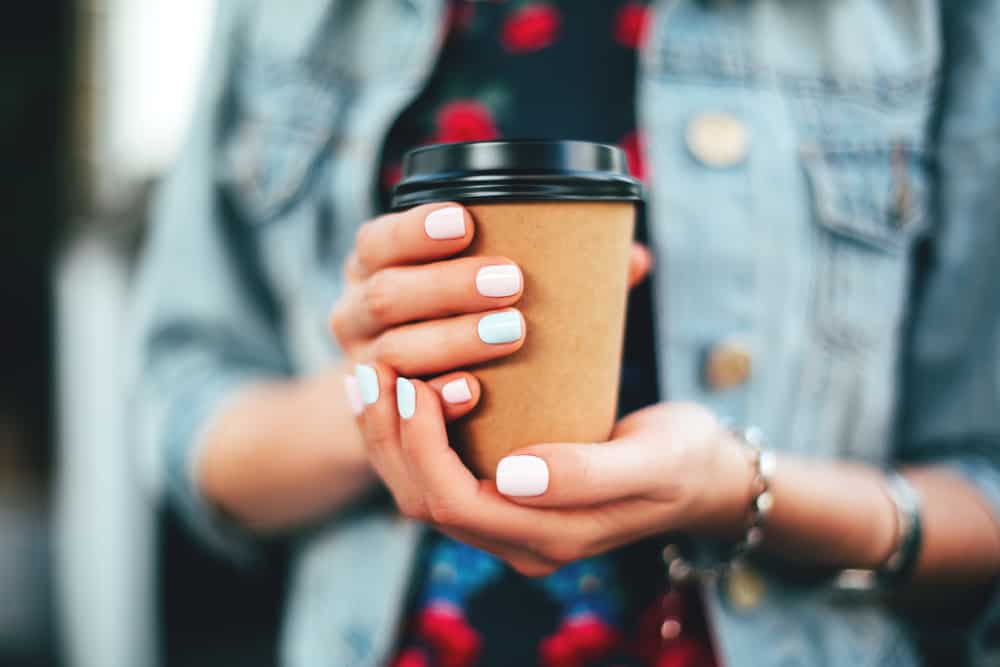 These guys roast their own beans, and you can really tell that they are good at what they do. All of their coffee beans are certified organic if that matters to you!
Regardless, the coffee is deserving of its loyal local following. I love the iced coffee, but on a foggy Carmel morning, a hot latte might be the better choice.
Don't forget to grab a bag of the Carmel Foglifter (one of their house blends) beans to-go before you leave town. A pound or two of coffee makes a great gift for anyone who couldn't come to Carmel with you – or, if you're like me, you can stock up for your home supply when you visit!
Search for sea otters at Point Lobos State Reserve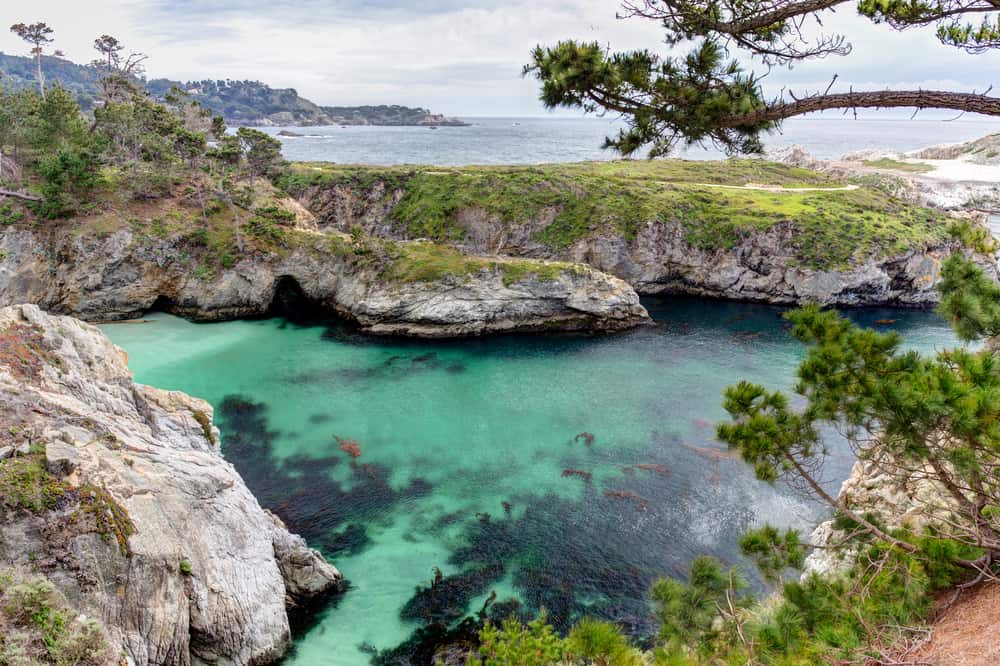 Just south of Carmel, you'll find pleasant hiking as well as some pretty striking scenery.
You can park along the Pacific Coast Highway for free, but there is a parking lot as well. Keep in mind that paying for parking is one of the best ways to support the park's upkeep, so I recommend you park in the lot if you're able to!
If you want to stay dry, you can hike around and catch glimpses of wildlife from afar. If you're willing to dive in, though, this would be the place!
You can arrange some pretty incredible adventures here, including snorkeling and scuba diving. Read here for diving regulations. This is one of the best ways to experience wildlife up close and personal if you're PADI certified!
You still have to keep a good distance away from the otters, though – they're a protected species.
For a meal on the go, try a local favorite for pizza
I mostly know this place for their cute and surprisingly popular T-shirts, but Pizza My Heart makes great pizza, too. Santa Cruz has a handful of locations, but there's just one near Carmel.
It's a bit closer to Monterey, but you could easily swing through if you're headed into Carmel from the north on Highway 1. It also makes sense to check it out before heading into Pebble Beach, if you're starting in Carmel.
I can't guarantee that everything here is good, but I'd put money on it anyway! And, if you or someone you are traveling with has a special diet, this is also a great place to find a vegan or vegetarian pizza option.
Take a slow drive down 17 Mile Drive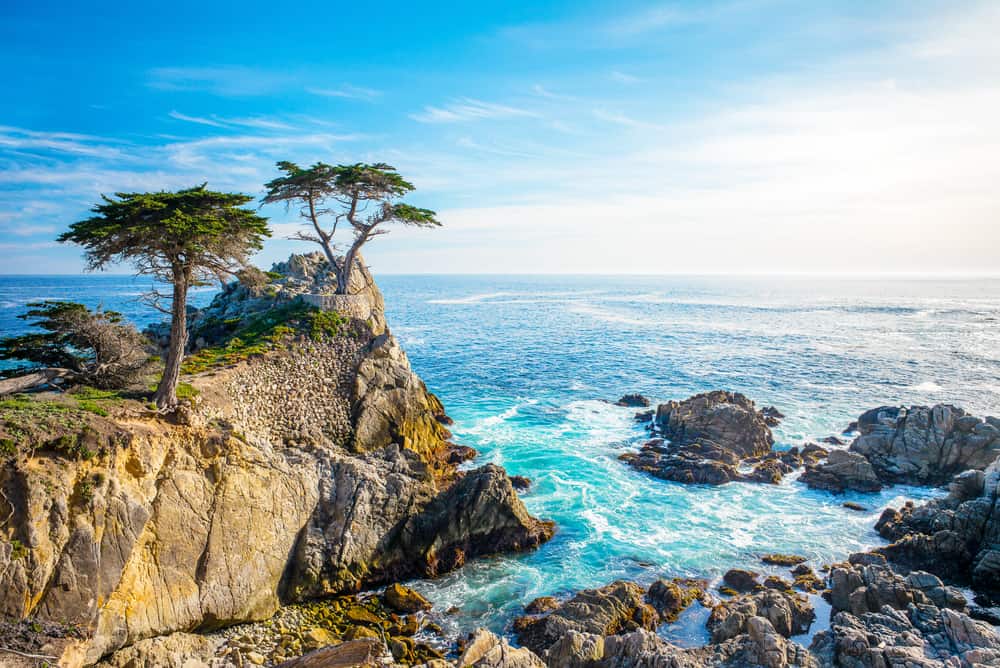 Once you've had enough walking around, jump in your car and roll the windows down for a scenic drive, starting just north of Carmel.
You pay $11 per car to enter, but the views are so worth the price. Be sure to grab a map at the gate before you set off on your seventeen mile adventure.
You can speed right through, of course, but there are 17 marked locations where you should consider getting out and admiring the view. Several of the stops boast great access to otters, birds, and sea lions.
If you're more into plants, be sure to check out the Lone Cypress and the Del Monte Forest – the cypress trees along the coast are actually unique to the area.
There are some other options here, as well – if you're spending more than a day in the area, you can stay the night at the Lodge, take some time to golf (if you have nearly 500 bucks to blow on green fees, that is!), or visit the spa.
If you're on a budget, stopping at the hotel restaurant for lunch is a good option, too, and if you spend more than $35 at one of the Pebble Beach Resort Restaurants (make a reservation), they'll waive the gate fee.
Spend an afternoon in Pebble Beach
If you want to make your 17 Mile Drive a day trip, the beaches deserve at least a few hours of your time. There are plenty to choose from, so even on busy days you're likely to find a great beach or cove to get lost on for a while.
Spanish Bay Beach, Fanshell Beach, and Stillwater Cove are just a few of the big names in and around Pebble Beach.
While the water is typically too cold and rough for swimming, you can lay out a picnic blanket or walk along the edge of the water. Some more adventurous visitors might want to jump in and body surf, though!
Enjoy one of Carmel's best restaurants
Carmel has dozens of brilliant restaurants to choose from. Whether you want something quick or something upscale, you won't have much trouble finding good food here.
For a light, Mediterranean style meal, try Yafa. Carmel can be pretty busy during the summer seasons, so I'd recommend walking around and looking for somewhere without a huge crowd.
Mission Ranch is perfect if you're in time for brunch – their Sunday brunch has a great reputation.
Day 2 of Your Weekend in Carmel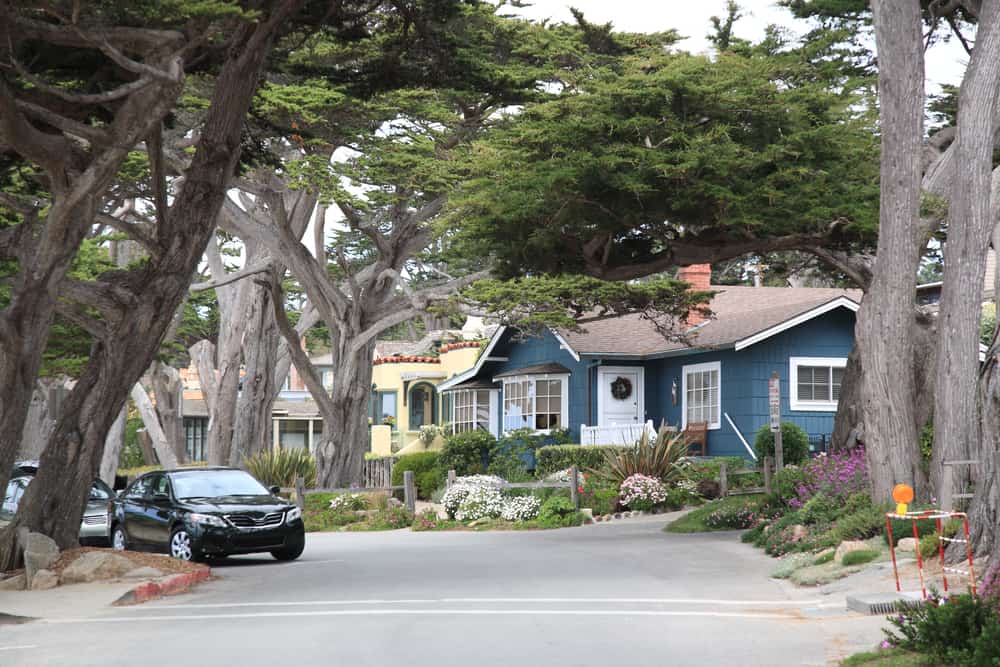 Do some window shopping along Ocean Avenue
There are tons of cute boutiques in town, and they're all worth a browse.
If your budget allows, you're likely to find lots of beautiful home décor and unique clothes. There's something for everyone, if you're willing to look.
Even if you aren't planning on spending anything, you could easily spend a couple of hours just looking around and admiring the artisan goods. There are also some art galleries to browse if that's more your style.
Visit Carmel Mission Basilica to learn about the state's history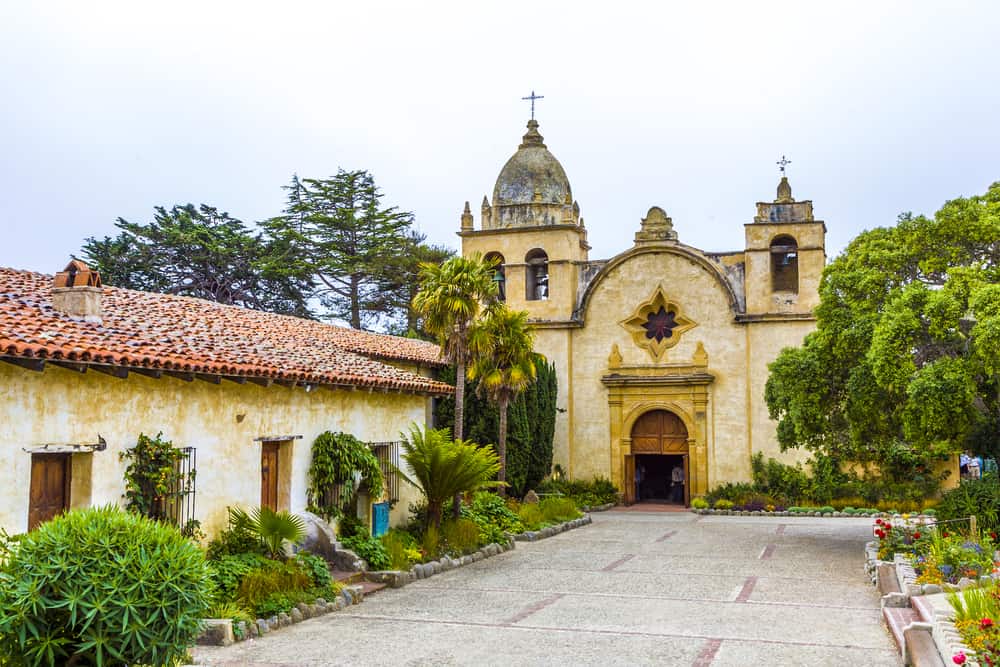 The history of Carmel is long, dating back to the 1700s, and it's most obvious in the town's unique architecture.
If you are interested in the beginnings of Carmel-by-the-Sea, you can stop by the Mission for mass or a visit to the museum. Religious artifacts, statues, and California's first library are all worth a visit!
You could hire a guide to give you all of the details, or wander around on your own taking photos. Both are great options, it just depends on your level of interest and how long you want to spend there.
Have the best fish around for dinner
One of my favorite things about Carmel is that the town is full of locally owned shops and restaurants. Since you're right by the ocean, you should at least consider grabbing seafood while you are in Carmel.
Most restaurants will likely have a good clam chowder or lobster bisque worth trying. Pangaea Grill has a stellar reputation; you can check its Yelp reviews if you need convincing. I've never actually gotten a table here, though – if you're interested, go early and plan to wait a while.
There are other options, though, if you want somewhere a bit quieter. Portabella is a cozy Italian place, great for a date and a shared dessert. There are a handful of bistros and smaller places to grab something to-go, too. If you walk around Ocean Avenue again, you're sure to run into something you are interested in.
Grab a craft beer at a local pub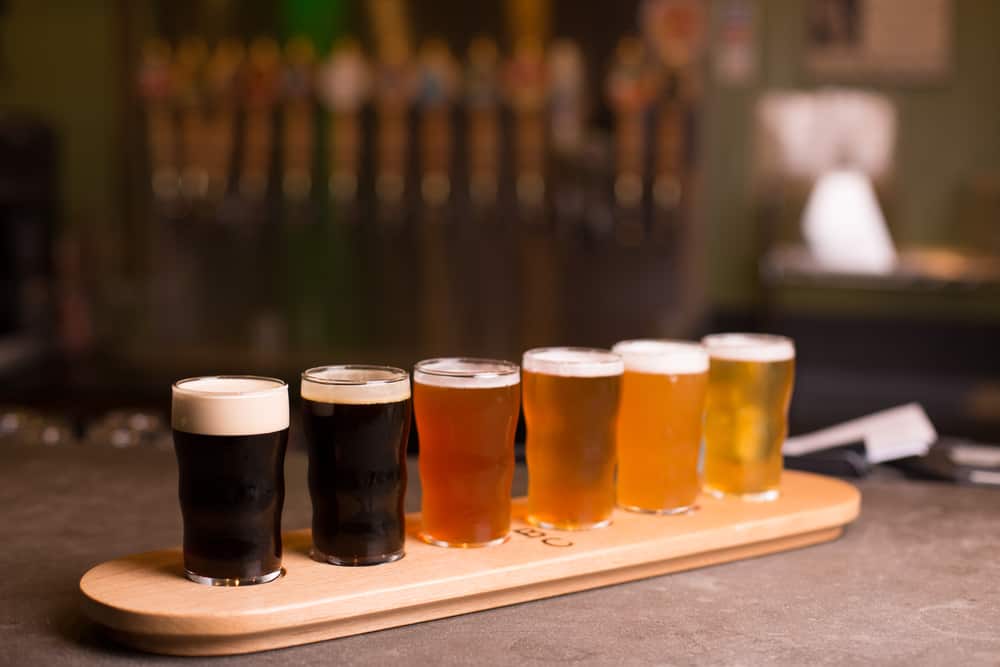 End your day in Carmel-by-the-Sea on a good note with a good beer and conversation. There are a handful of options, starting with Brophy's Tavern, a cozy Irish pub.
For a livelier experience, you should try Mulligan Public House. Each is a different experience, but you can't lose if you choose one of these two.
If you don't want to eat downtown, give Carmel Craft Brewing Company a try. This is another local favorite, so much so that their beer is actually available in a lot of the local restaurants.
You could save yourself the trip if you find a pint at dinner – check the website ahead of time for a list of places that serve their beer!
Pin This Guide to Things to Do in Carmel!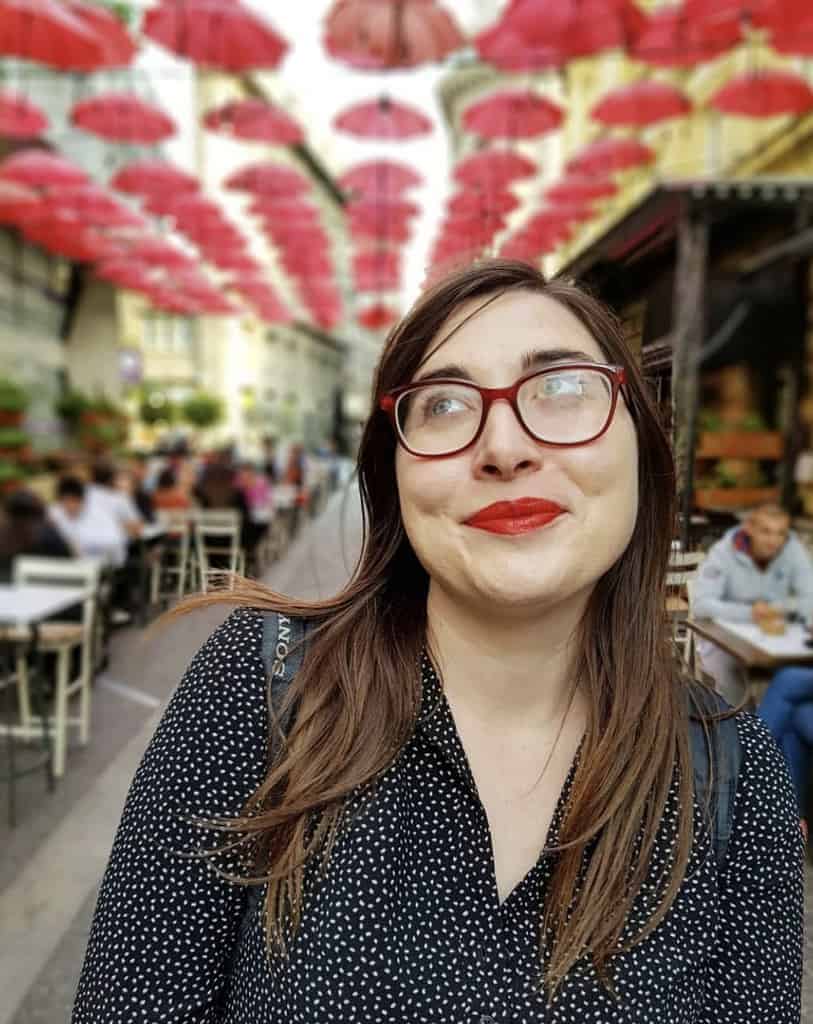 Allison Green is a travel blogger, writer, and podcaster who grew up in the Bay Area of California. She has spent time living in New York, Prague, and Sofia, but has returned to live in the East Bay. She has traveled to 60 countries before the age of 30 while running several digital travel publications. Her writing and podcast have been featured in Forbes, CBC Canada, National Geographic, the Huffington Post, and CNN Arabic, amongst others. She's obsessed with bouldering, houseplants, other people's pets, and anywhere she can see the ocean.