Death Valley National Park is one of extremes.
Home to two of the world's hottest temperatures ever recorded, its lowest point sits at 282 feet below sea level — just a mere 150 miles from the highest point in the Lower 48, Mt. Whitney.
These are just a few incredible California facts that show the crazy diversity of landscape the state is known for!
Death Valley is so named for being inhospitable yet beautiful, located in a desolate area of Eastern California in the Northern Mojave Desert, near the border with Nevada.
Death Valley is similar in look and feel to desert areas in the Middle East and the Sahara Desert in Northern Africa, with temperatures regularly hotter than either.
Yet, bizarrely, it is about halfway between two major US metropolises, Los Angeles and Las Vegas.
It's a pretty unique place.
With over 1,000 miles of roads and 5,270 square miles to explore, Death Valley National Park offers visitors dunes, craters, canyons, scenic vistas, and so much more.
That makes Death Valley the largest national park in the Lower 48 states of the USA… and that's why planning a Death Valley itinerary, particularly one for a short amount of time like 2 days in Death Valley, is quite a challenge.
Armed with our Death Valley expertise, we hope we can help you plan the perfect quick trip to Death Valley: whether its a Death Valley weekend trip or spending two days in Death Valley on your way to travel around the American Southwest, Route 66, or other parts of these beautiful states.
Make sure to have your park map and camera ready for a great exploration in the United States' driest, hottest, and lowest location!
Keep in mind that GPS and phone signal are unreliable here, so the park map is absolutely key. If you rely on your phone, keep it charged and make sure you have an offline map downloaded.
Get the most out of your hours in the park by following this Death Valley Itinerary that will walk you through the park's must stop at attractions and a handful of hidden gems.
We provide a designated driving route as if you are coming in from Los Angeles, which is the most common access point for Californians coming to Death Valley!
FAQ about Death Valley National Park
1. What kind of attractions can be seen in Death Valley?
Death Valley is one of the most famous national parks in the United States. It has a vast, rugged landscape that is home to many different kinds of attractions. 
Some of the attractions include:
Badwater Basin, which is the lowest elevation in North America at 282 feet below sea level.
Telescope Peak, which is 11,043 feet high (the highest point in the park) and has an elevation gain of 3,000 feet.
Zabriskie Point, which offers views of Death Valley and its surroundings.
Stunning Hotels: Death Valley National Park has many hotels that are worth visiting, such as Stovepipe Wells Village, Panamint Springs Resort, and The Inn which are among the most popular ones. 
Star Wars filming locations: if you're a Star Wars fan you will be amazed to find out that the first Star Wars movies were filmed in this national park! You'll have the opportunity to tour the iconic locations where these movies were filmed and feel like you're in an actual movie!
2. What activities are available in Death Valley?
Some popular activities you can enjoy in this otherworldly national park include exploring the salt flats, hiking to the top of Telescope Peak, Scotty's Castle or in the Gower Gulch Loop.
You can also see some California history by visiting fascinating ghost towns like Rhyolite (next to Beatty in Nevada)! 
If visiting in the cooler months, you can enjoy staying in campsites like Furnace Creek, seeing the beautiful Darwin Falls (one of the permanent waterfalls in Death Valley), exploring incredible rock formations like the Copper Canyon Formation.
And if you visit in spring, you can look forward to seeing the most incredible variety of wildflowers like sunflowers and desert sage, to name a few!
3. What cities are near Death Valley?
The closest cities to Death Valley in California state are Ridgecrest, Porterville, California City, Lindsay, Lone Pine, Exeter, Barstow, Farmersville, and Orange Cove. 
Major cities like Los Angeles, Anaheim, and San Bernardino are located are around 200 miles away from Death Valley. 
If you're coming from or heading to Nevada the closest cities are Pahrump, Spring Valley, Las Vegas, Paradise, Winchester, and Sunrise Manor.
4. What to bring to Death Valley?
Death Valley is, well, a desert. It is hot, dry, and has no water. To survive in this environment, you need to bring the following things:
A sunhat
A sweat-wicking shirt/comfortable clothes
A pair of sunglasses
A camera and tripod (if possible)
Sunscreen
Food
And plenty of water! (As in, gallons of water, just in case something happens).
These are the most common questions to plan a perfect itinerary for Death Valley.
Whether you're visiting for a few hours or you're planning a weekend getaway, we're sure you'll be surprised by all the wonders this place has to offer!
How to Get to Death Valley from Los Angeles
From Southern California, take I-15 North to Baker, then head north on State Route 127 to Shoshone and Death Valley Junction.
If you have time on your way into the Death Valley National Park, stop at the following locations:
Lee Flats: Enjoy the beautiful Joshua Trees right along Highway 190. Also, take time to drive down Saline Valley Road towards Hunter Mountain and Hidden Valley to enjoy more Joshua Trees.
Father Crowley Vista: This scenic viewpoint is located just inside the park's west boundary. You can walk the easy 1-mile round trip track east of the parking lot for a grand vista of the salt valley and northern Panamint Valley.
The vista is a great place for sunset pictures as the setting sun highlights the colors in the rocks.
Where to Stay in Death Valley
For a convenient starting point to explore Death Valley, I recommend camping or lodging at the Furnace Creek area for all or part of your stay.
Luxury: For those who would like to stay in luxury, the Inn at Death Valley is a 5-star hotel with both hotel rooms and casitas: it's the ultimate luxury place in Death Valley, no ifs, ands, or buts about it!
We're talking about an outdoor pool, luxe on-site bar, rooms with flat-screen TVs, A/C in every room, wellness facilities including a sauna, and more. It's the ultimate desert luxury experience.
>> Read more details and book your stay here.
Mid-Range: Those traveling with families (or couples/friends traveling on a budget) can spend the night at one of Ranch at Death Valley's 224 rooms.
This 4-star hotel is a little less fancy and chic than the Inn, but it's clean, well-priced, and has beautiful and expansive grounds for you to enjoy.
>> Read more details and book your stay here.
Budget: Truly on a tight budget? Furnace Creek Campgrounds offers campers 136 sites & 18 RV hook-ups for a laid-back stay.
Note, though, that if you bring your RV, it will likely be too wide for many of the Death Valley roads, including beautiful ones like the Artist's Palette in the Artist's Drive scenic loop… just something to keep in mind.
***
Wherever you stay, get a good night's sleep before beginning, and be ready for day one of this Death Valley itinerary!
Day One of Your Death Valley Itinerary
Today is all about the Southern part of the Park.
As I mentioned before, this park is huge, huge, huge: so prioritizing where you go and making a smart travel plan is essential, or you'll end up wasting most of your weekend in Death Valley.
I've laid out this first day's Death Valley National Park itinerary carefully to minimize backtracking and long drives without anything to see in between.
I hope it helps you maximize your time in Death Valley! Get an early start as you have a full day ahead!
Wake up early for sunrise at Zabriskie Point
Note: This post contains affiliate links, which earn me a small commission at no extra cost to you if you make a purchase using one of these links. Thank you for supporting this free content!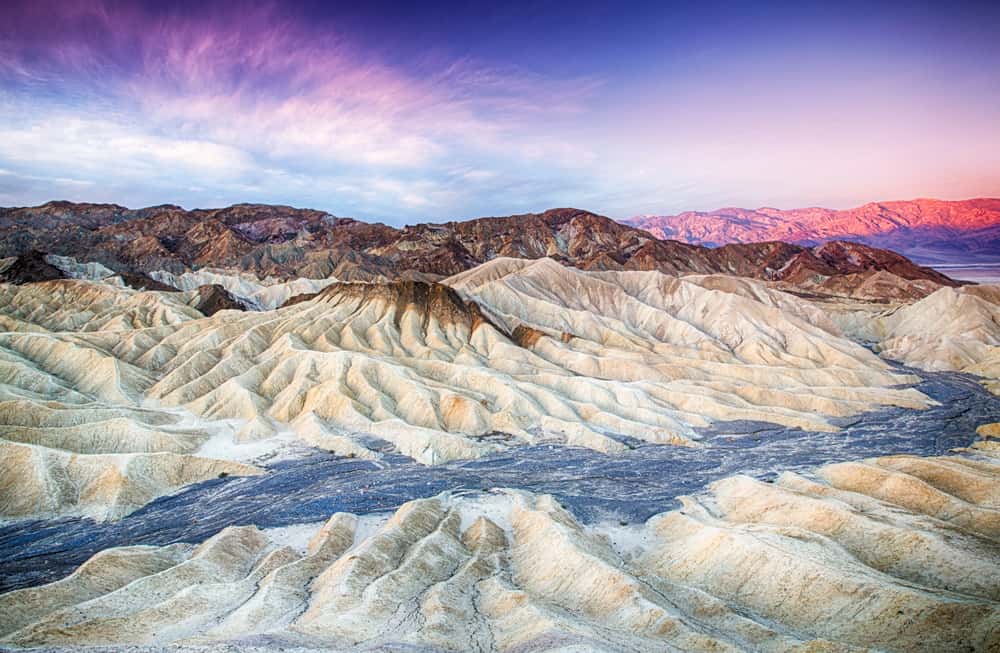 The great thing about staying in Furnace Creek is how central it is to some of Death Valley's greatest landmarks.
For example, it's only a 7-minute drive to Zabriskie Point, making trying to catch sunrise there a little less painful than it could otherwise be!
Zabriskie Point is a photographer's favorite, especially at sunrise and sunset.
During these times, the red rocks become ablaze with a wild kaleidoscope of colors — it's truly unbelievable to check it off your bucket list!
Bring your camera and your tripod (to help with steadying your low-light exposures) and get ready to gape in awe.
Head to The 1849 Buffet at The Ranch at Death Valley for their breakfast buffet
After your sunrise photoshoot, you're probably a bit peckish. So backtrack back to Furnace Creek and grab some breakfast!
Even if you're not staying at The Ranch, if you want a hearty breakfast and your accommodation doesn't offer breakfast, head on over to the Ranch and grab breakfast to your heart's content. Breakfast is served from 6 AM to 10 AM and is an affordable $19 per adult and $9.50 per child.
For something quick or just coffee, stop in at Coffee & Cream. You can also pick up some grab-and-go picnic items for a quick lunch with beautiful Death Valley views later in the day!
Go for a hike in the Golden Canyon
After a hearty breakfast, it's time to hit the trails before the desert heat gets a bit too intense! I recommend doubling back to Zabriskie Point to start the trail to Golden Canyon Trail.
Of course, you could also just do the hike immediately after sunrise, and then get breakfast afterwards, but I hate hiking on an empty stomach — so it's up to you!
Since it's less than a 10-minute drive between Zabriskie Point and Furnace Creek hotels and restaurants, I don't mind the backtracking, but you can adjust this Death Valley itinerary to suit you best.
Once at Zabriskie Point, look for signage indicating the Golden Canyon Trail. This 2.7-mile loop begins at Zabriskie Point and provides you access to the colorful canyons through golden badlands.
If your timing is right, you can take the 45-minute interpretive ranger hike that meets at the Golden Canyon parking area. Check the ranger station for times, but often it is around 9:00 A.M.
Drive Twenty Mule Team Canyon Road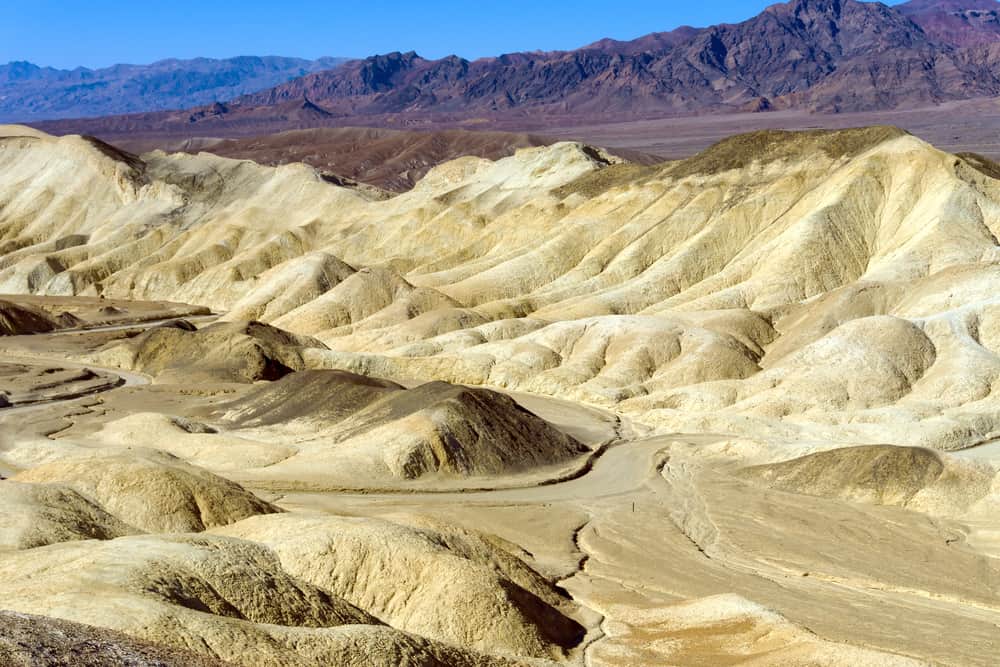 The canyon can be seen from Zabriskie Point, but drive the unpaved, one-way 2.7-mile road through the dry wash and undulating hills for a close up look at the eroded badlands.
This is an important road in the history of Death Valley's interesting role in the borax mining operations which have become really essential in many products we deem indispensable today!
Take in the sights from Dante's View Overlook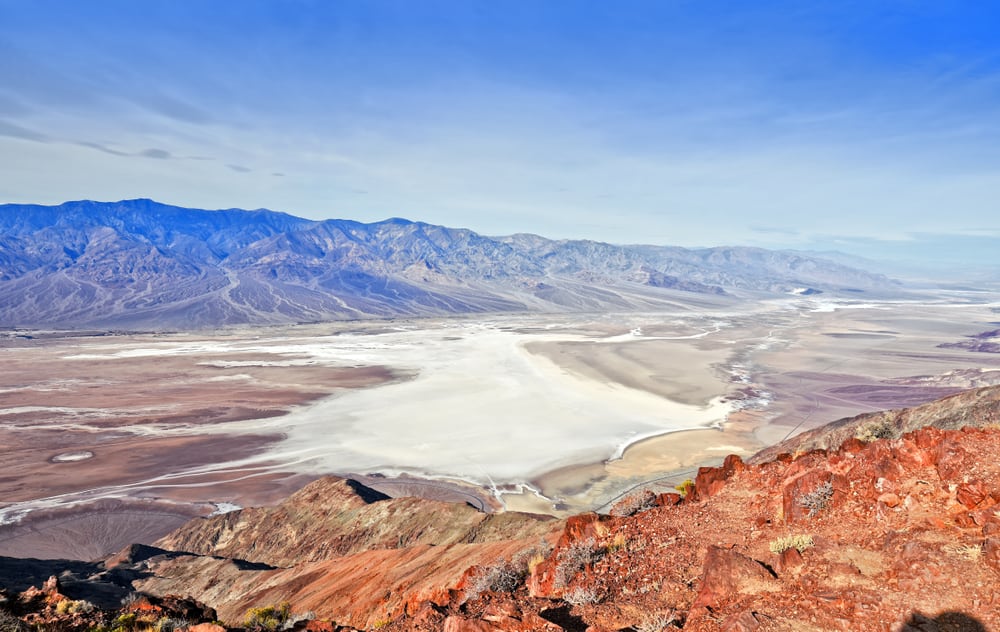 As Death Valley National Park's primary overlook at 5,476 feet, you will be sure to enjoy one of the most breathtaking views in the park!
Not only can you see the low salt flats of Badwater Basin (which of course, we'll visit later in this Death Valley itinerary), but you can also see the high peaks of the Black Mountains.
This convenient overlook can be driven to, so no need to hike here — great if the Death Valley sun has already started to bake in and you're feeling a bit tired!
Check out the Furnace Creek Visitor Center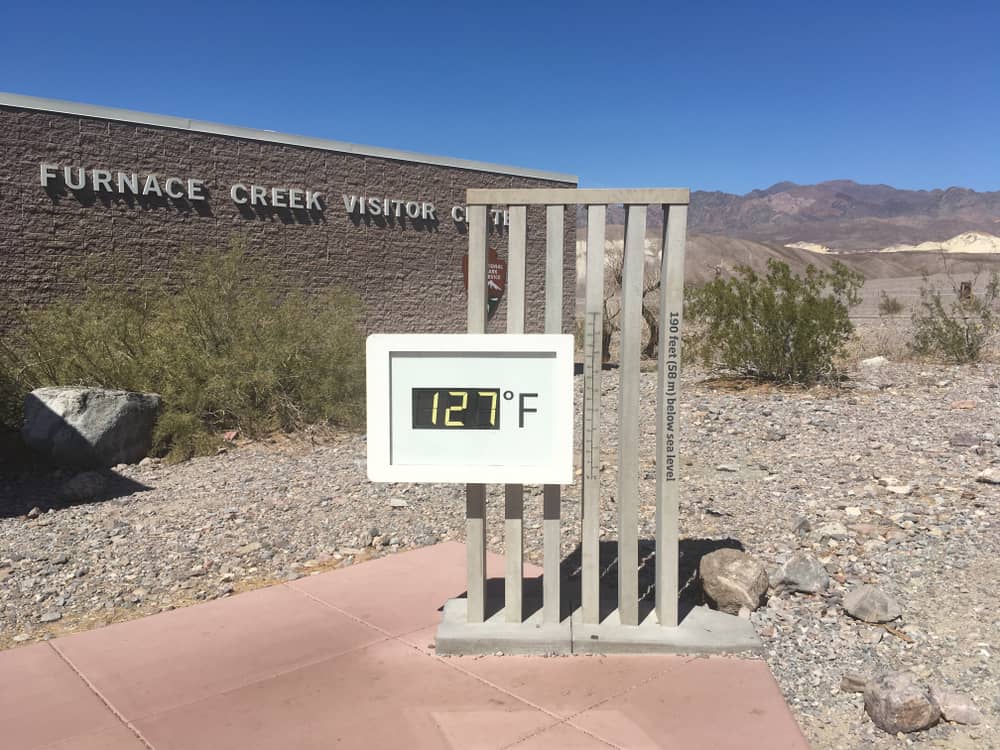 After visiting Dante's View Overlook, take the scenic 45-minute drive to back to the Furnace Creek area to enjoy some A/C and get a little Death Valley history.
This is the central hub of the park, and you will want to explore the displays throughout the museum, enjoy the 20-minute park film, talk with the rangers, and browse the bookstore.
It's a great chance to get inside and cool off a bit and get the sun off your face!
Learn history at Harmony Borax Works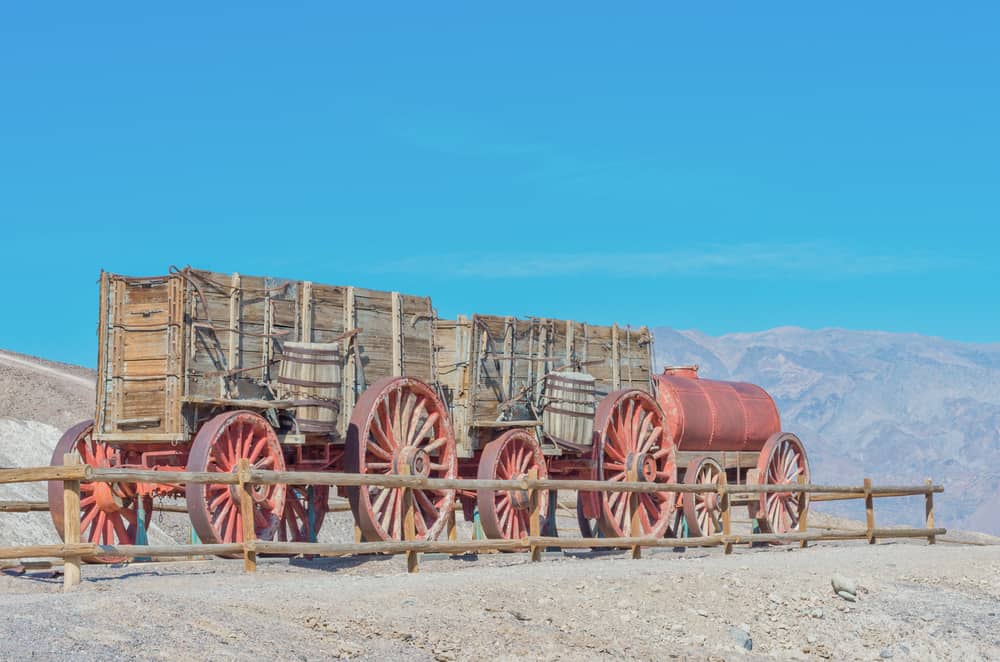 This small museum features the 1800s mining artifacts and equipment from the Pacific Coast Borax Company.
It is an interesting site where you can learn a little bit about the valley's history, particularly how borax mining really impacted the region's development.
There is also a short ADA-accessible loop trail (0.4 miles) around the area to explore the mining site.
See the strange Devils Golf Course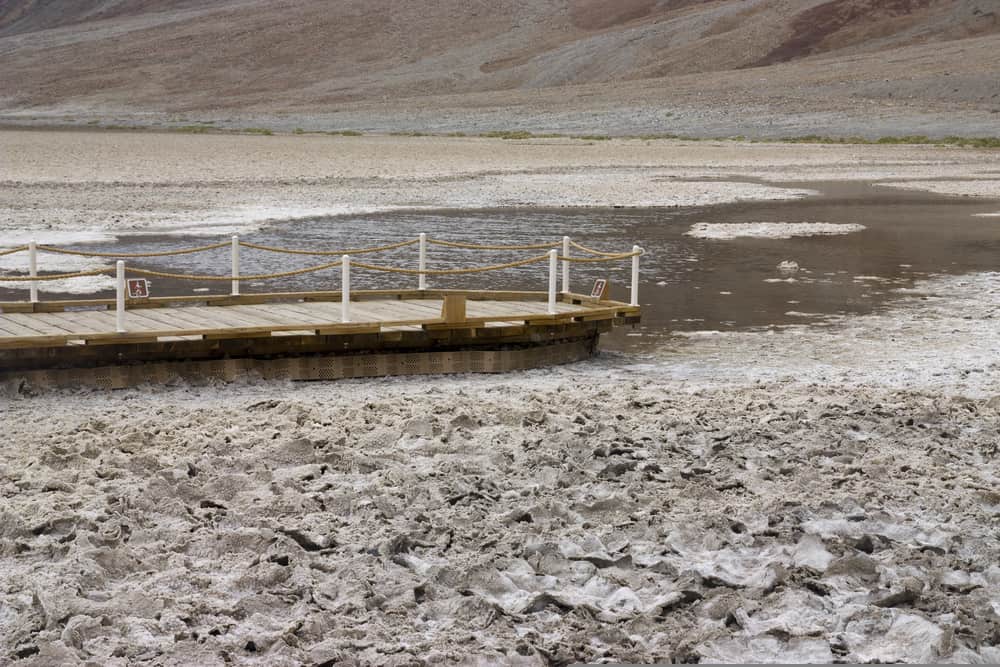 Take time to explore this area's wind-gnarled salt deposits and barren landscape by walking along the platform and carefully across some of the jagged salt slabs.
Put your ear to the ground and listen carefully for the bursting salt crystals — it's quite an incredible phenomenon!
Hike out to the Natural Bridge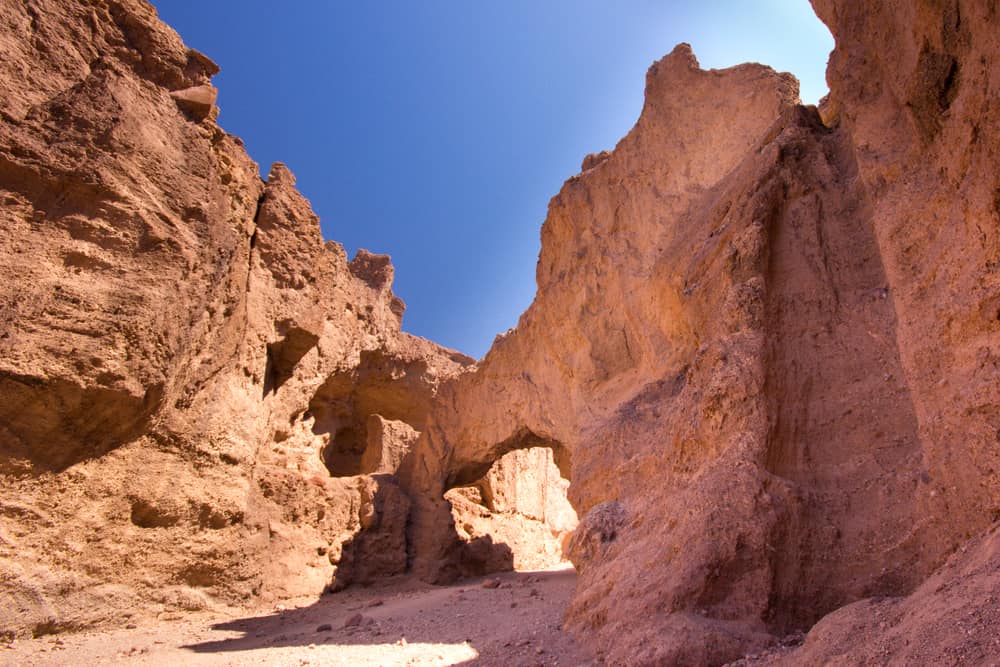 By now, the worst of the desert heat should have burned off a bit, so it's time for another hike (just be sure you have a lot of water!).
The trail to the Natural Bridge is one of Death Valley's only official trailheads — most is unmarked.
After driving about a mile along a dirt road, you will come to the trailhead that leads hikers on a 1-mile slightly uphill climb.
About 10 minutes into the walk, you will go around a corner and see the bridge in the distance.
After taking lots of pictures at the bridge, continue to enjoy the great views of the salt flats as you return to your car.
Marvel at Badwater Basin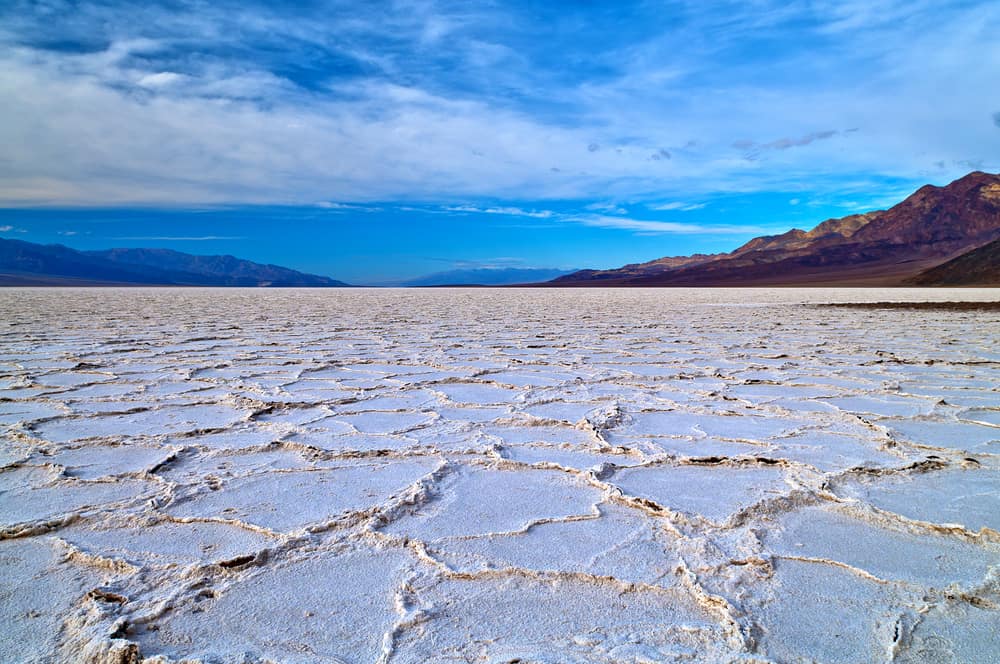 Remember when we saw the salt flats from way above at Dante's View? Now it's time to go low, low, low to see these magical salt flats up close and personal.
This unique stop is the park's most popular attraction: as the lowest point in America, it makes sense why!
Badwater Basin got its name from a traveler whose mules would not drink the water since it was so full of salt. While the basin is mostly dried up now, it's still a marvelous sight.
This strange landscape is five miles worth of thick salt crystals that look like snow is covering the valley.
As you leave your car and the parking lot, be sure to note the sea level sign 282 feet above you on the adjacent mountain!
Take time to walk across the boardwalk and then onto the valley floor.
Walk out on the valley floor until you can no longer read the sea level sign and can barely see the parked cars off in the distance.
Then turn slowly around, breathe in slowly, and take in your surroundings. You're in one of the most unique places on earth!
If you can come back multiple times, try to arrange that you visit during the middle of the day and also during either sunrise or sunset when the otherwise white salt reflects the colors in the sky.
I promise you, it'll be well worth the backtracking!
Drive through Artist Palette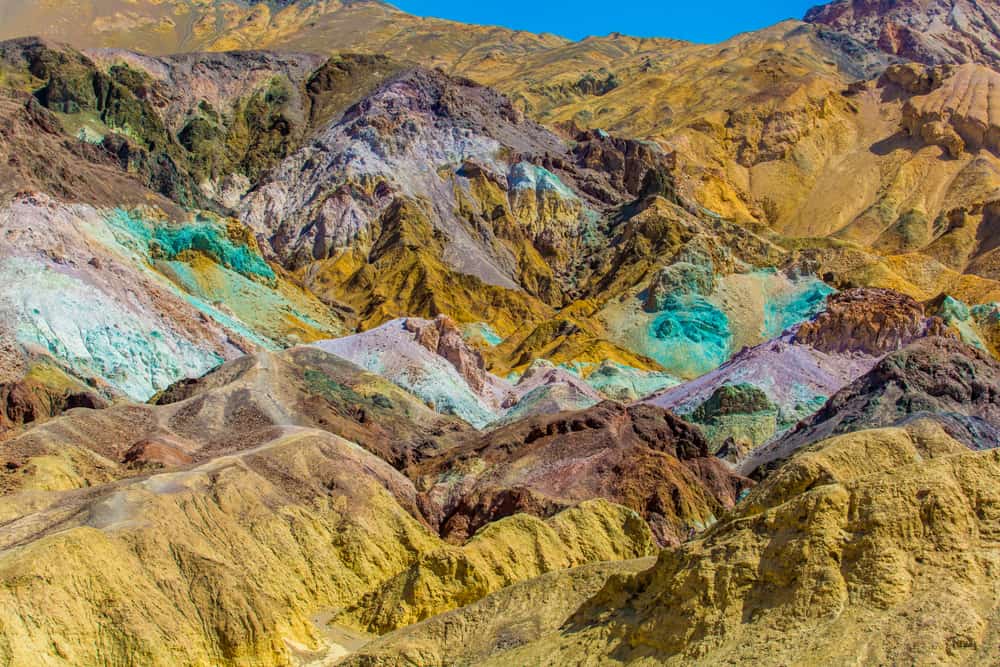 Along this curvy, one-way drive, enjoy the colorful desert landscape that looks like an artist just finished painting.
Iron oxide and chlorite deposits in the rocks create the colors, which look whimsical even from a faraway vantage point.
Take time to stop at the pull-offs. Explore on foot as well as to take in the amazing scenery.
Even though this area is beautiful at any point of the day, the sun's angle at sunrise and sunset highlights the colors in the rocks. Try to aim for sunset.
Insider Tip: A great spot to explore on foot is to park at the second dip and walk a mile or so up the canyon. The canyon will narrow until it is only 15 feet wide!
Important Note: There is a 25 feet vehicle restriction on the road, which means that most RVs cannot access this road.
Refuel with a tasty dinner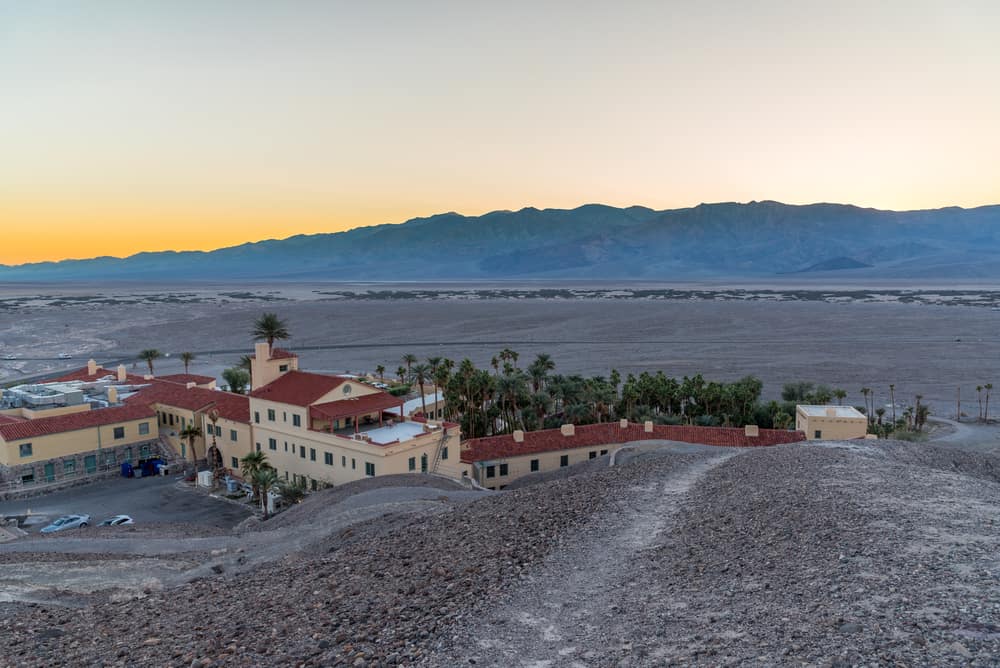 There aren't a ton of options for where to eat in Death Valley — it is remote as it gets, remember — but there are two good choices.
First is the Last Kind Words Saloon, located in the Oasis at Death Valley.
Here, you can dine amongst the Wanted posters as you enjoy a delicious steak, salmon, or featured game meat of the day.
Another great choice is The Inn Dining Room, also at the Oasis, which offers diners a fine dining experience within the 1930s inn.
Day Two of Your Death Valley Itinerary
This second half of this Death Valley National Park two-day itinerary is all about the northern part of the park.
We'll see sand dunes, craters, and all sorts of otherworldly landscapes on this jam-packed yet fulfilling day in Death Valley. Let's go!
See the incredible Mesquite Flat Sand Dunes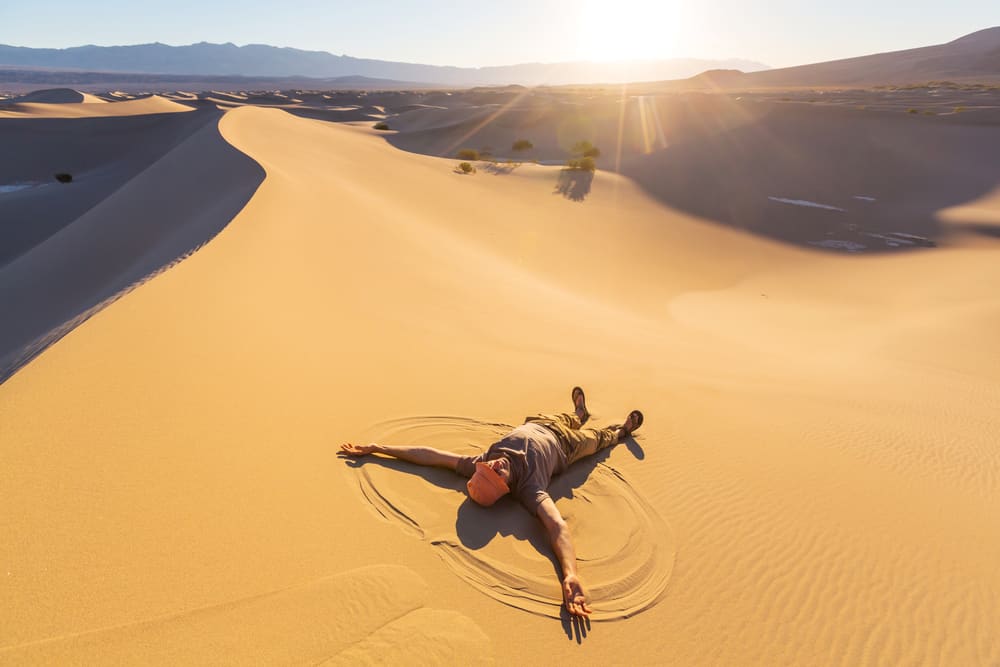 Have breakfast in your hotel to load up for the day ahead of you.
Then hop in your car and make the 30-minute drive to the first stop of today's itinerary: Mesquite Flat Sand Dunes.
Here, you can explore the stunning rolling pinkish-orange dunes that are over 100 feet high — it truly feels like a little slice of the Sahara desert.
Here you can be a kid again by making sand angels or just rolling down the sand!
Check the ranger schedule to see if there is going to be a morning ranger hike. Often it is around 10:00 AM, which would be great if you can swing it!
The best times to visit are in the early morning, when the sand is cooler and you can see the pretty morning colors in the sky. You can also spot animal tracks during these times!
I put this first on the itinerary because I don't recommend going in the afternoon. The sand can get very hot and burn your feet!
Hike the Salt Creek Interpretive Trail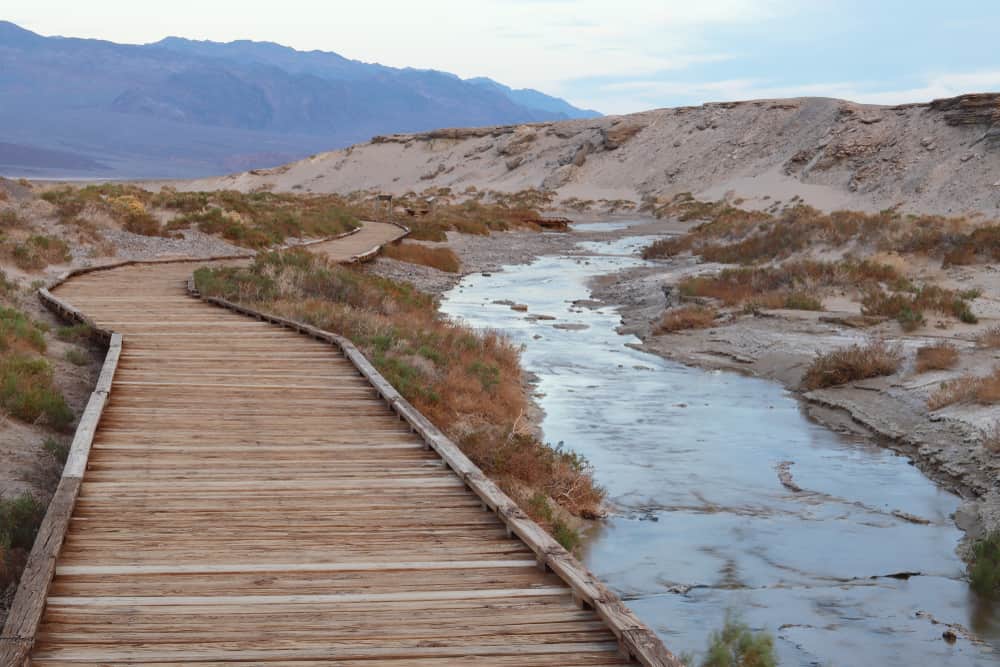 Still early in the morning before the sun gets too high in the sky, it's time to take a brief hike!
Take the short half-mile boardwalk loop through the watery salt flats.
This is a lush area compared to much of the rest of the park, which is mostly dry and barren… as you'd expect from a desert!
This is like a little mini-oasis in the heart of Death Valley, which is quite cool.
From the end of the trail, take the short off-trail walk into the Salk Creek Hills through the dry mud mounds and canyons.
If you visit between February and April, you will be able to see the Salt Creek Pupfish spawning!
Take a peek at Scotty's Castle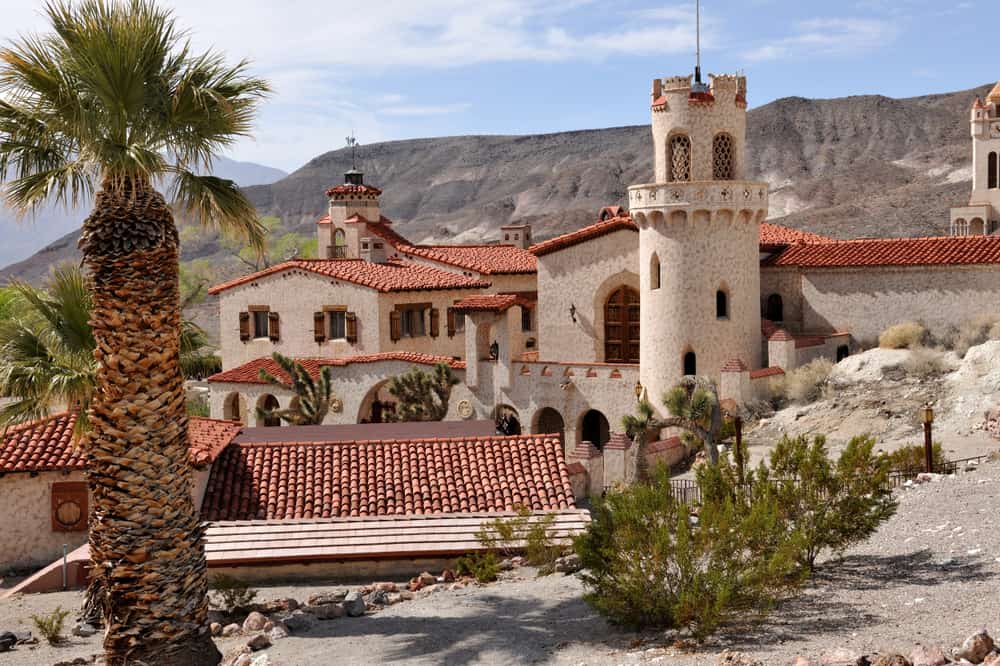 Note: The castle is closed due to flood damage and is scheduled for reopening in 2021.
In amongst the desert and salt flats, you will find a 90-year old Spanish style mansion and swimming pool — talk about desert luxury!
The grounds are free to walk and explore, but you must take a tour to see the inside. They offer three types of tours:
Underground Tour – This 50-minute tour takes you into the basements and provides insights into the technology used to build and maintain the house.
House Tour – This 1-hour tour is the main tour people take and gives you an up-close look inside the house and of the lifestyle that was led.
Lower Vine Ranch Hike – Explore the ranch Scotty lived in on this 2-mile hiking tour.
While in the area, be sure to check out the clock tower above the guest area or take a walk up the hill to Scotty's burial site. This area offers wonderful views of the castle.
Walk the rim of the Ubehebe Crater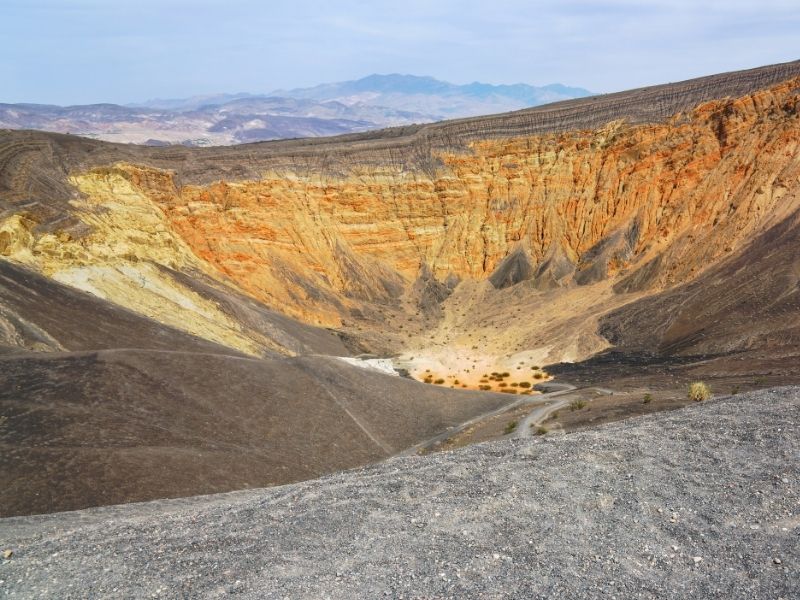 This volcanic depression is a popular stopping point in Death Valley's northern section.
The half-mile wide and 600 feet deep crater has a rim circumference of about 1.5 miles — great for a hike around the rim if you choose.
Choose between taking a hike on of the three trails or just pulling into the parking lot and taking a look.
Option One: Hike from the parking area to the bottom of the crater.
Option Two: Hike around the crater rim.
Option Three: Hike to Little Hebe, a small maar. This extremely hot but highly recommended one-mile uphill hike offers an amazing up-close view of the smaller crater.
Insider Tip: Hold on to your hat! The rim gets very windy with gusts up to 50 mph.
Have a spa afternoon at your hotel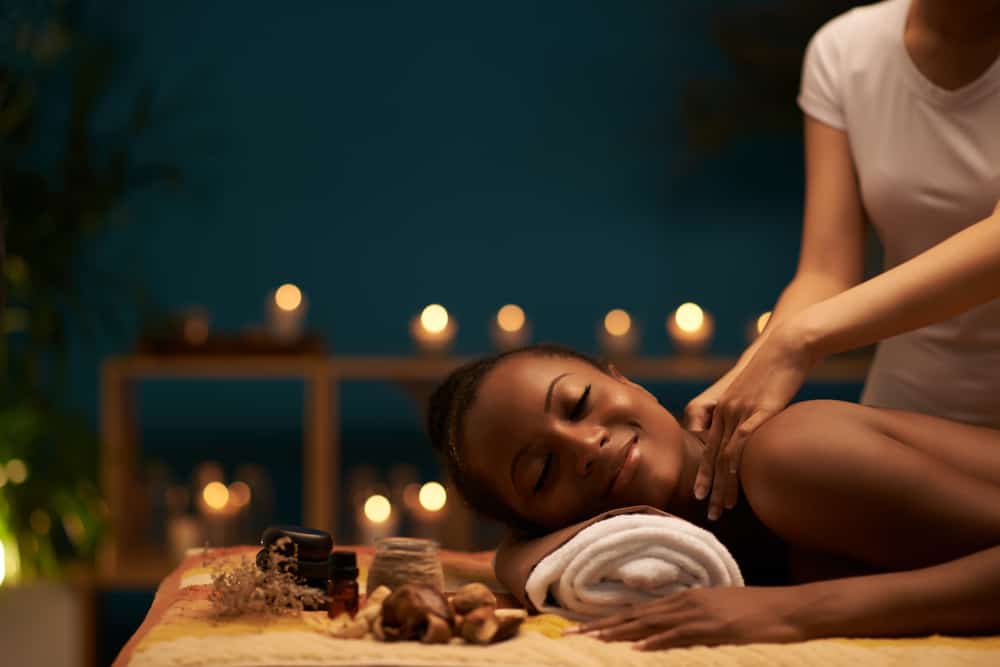 No better way to end two days of Death Valley relaxation like getting a massage at the spa of your desert hotel!
Watch the sunset from your hotel, and then go for dinner at wherever you didn't the night before.
Extending your Death Valley Itinerary: Day 3 (Optional)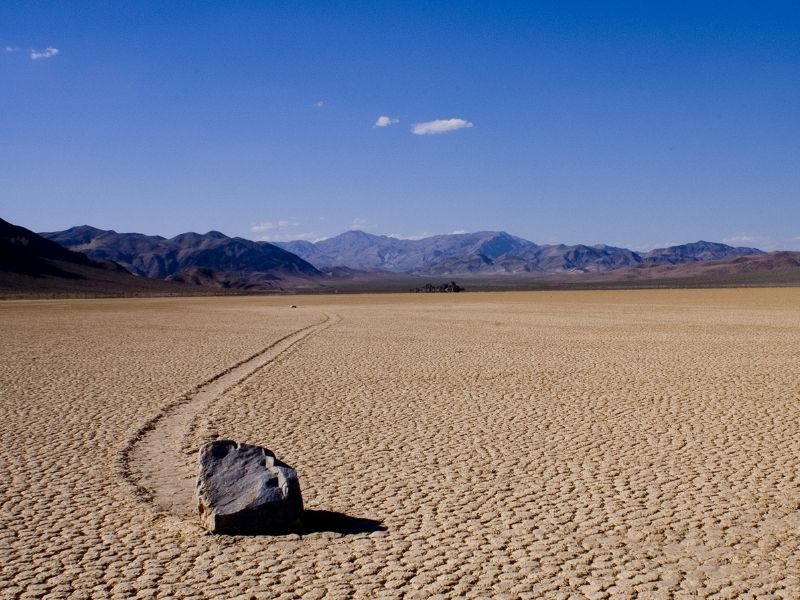 If you have more than 2 days in Death Valley National Park, enjoy the Racetrack Playa. It is only accessible by four-wheel-drive vehicles and with all-day adventure tours.
Personally, I only recommend going with a tour unless you are highly experience with 4-wheel drive cars, rough roads, and changing a tire if necessary… towing out here costs $2,000! So in my book, paying a little extra for an adventure tour is a safe bet.
This highly recommended section of the park is 27 miles down a dirt road, and one where you can seemingly watch rocks move across the dry lake bed.
Take the ½-mile walk to the rocks and spend at least an hour looking around and admiring the cool tracks these floating rocks leave behind, like little racecar tracks!
We hope that these ideas for your 2 (or 3!) day Death Valley itinerary will allow you to admire this vast and diverse desert landscape.
A visit to Death Valley is a unique adventure that will take you on a journey through time with Native American petroglyphs, pioneer homesteads, ghost towns, and natural wonders all around you!
We hope this Death Valley National Park itinerary has helped you plan the perfect desert escape!
Pin This Death Valley Itinerary!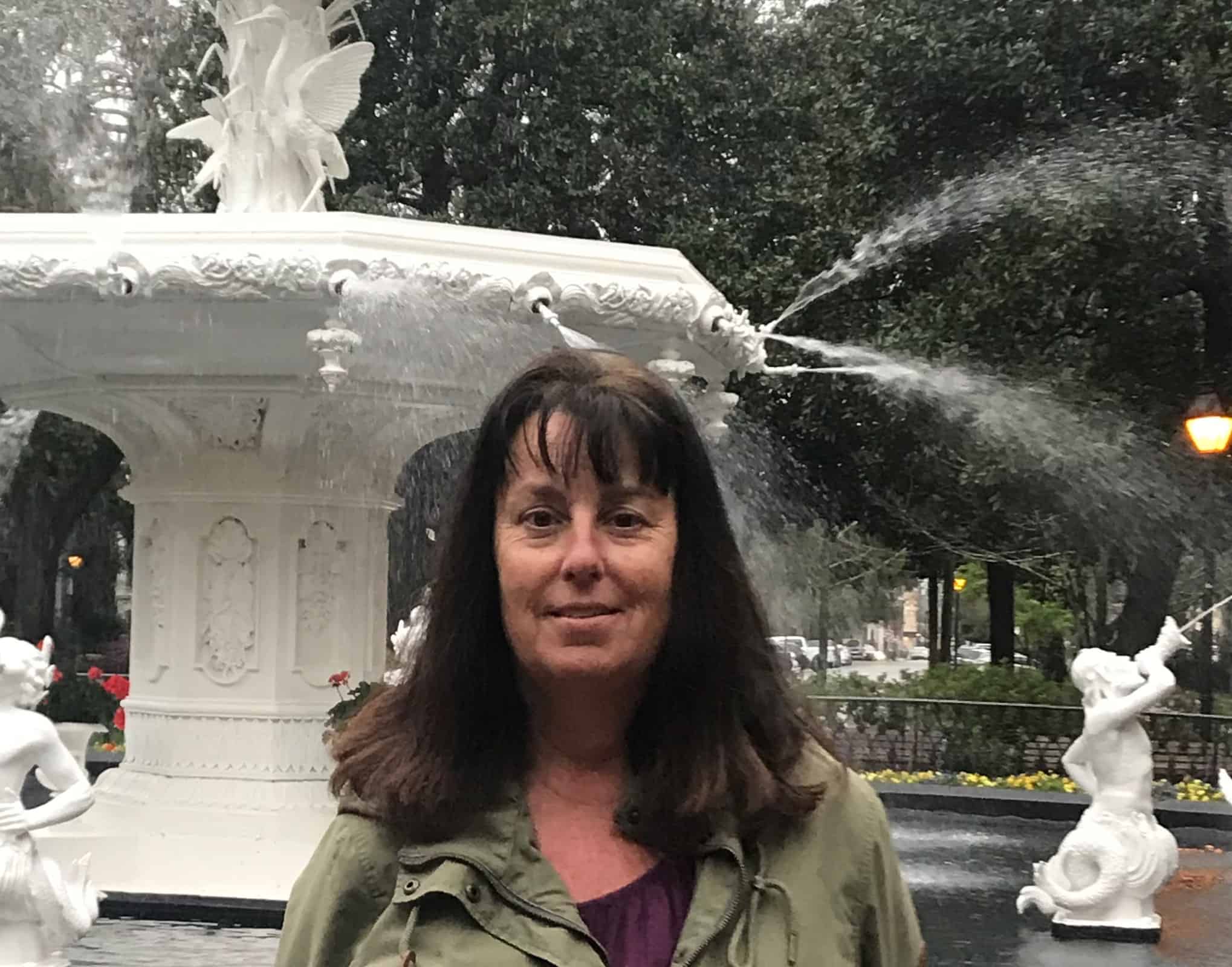 Laura Gray is a freelance writer and retired elementary teacher based in Norfolk, VA.  She spends her summers enjoying the shores of the Chesapeake Bay, traveling the world, and exploring the beautiful United States. Her favorite places to visit are National Parks, waterfalls, and lighthouses.