When most people think of Long Beach, they usually picture a lazy beach town outside of LA.
While that is partially right, you should probably know that this city has a lot more to offer! I mean you have to give this place props for maintaining a laid-back atmosphere, but it is the furthest thing from small.
For starters, the population here exceeds half a million people… and once you throw in the hundreds of thousands of visitors that make their way to this coastal gem each year, you are looking at one busy city.
But there is nothing a morning at the beach or an evening of cocktails can't fix — and the good news is that Long Beach is overflowing with options!
The even better news is that I already have your two-day itinerary for a weekend in Long Beach planned from start to finish, so you can sit back, relax, and start daydreaming about the wonderful trip that awaits you!
Where to Stay in Long Beach
The Queen Mary
Note: This post contains affiliate links, which earn me a small commission at no extra cost to you if you make a purchase using one of these links. Thank you for supporting this free content!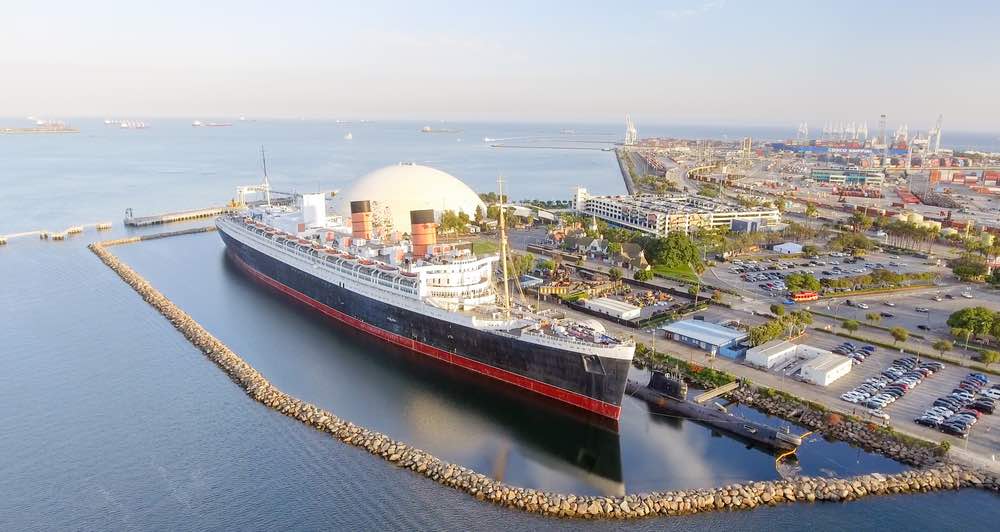 Calling all history buffs and lovers of unique accommodations — and the paranormal — this one is for you!
If you know a thing or two about Long Beach, then you probably know that The Queen Mary is a staple attraction of this vibrant city and it is easy to figure out why!
This majestic boat stretches out over 1,000 feet (larger than the Titanic I might add) and its bold exterior pretty much screams "Look at me!"
Not to mention the fact that it has been plopped down (okay maybe not plopped… it does weigh more than 80,000 tons) right on Queensway Bay, in the center of all the excitement — perfect for a weekend in Long Beach.
But what many people do not realize is that this historic ocean liner isn't just something to gawk at. No, there are a wide variety of activities held here, and the most notable way to experience it all is by spending the night!
That's right: the Queen Mary is one of the best lodging options in Long Beach and it's not just because you are spending the night on a boat larger and more impressive than the Titanic… which is pretty awesome all on its own if you think about it.
Throw in all of the historic tours, a plentiful amount of dining options, oceanfront views (duh), and the affordable (!!!) price- You really can't go wrong with spending a night here!
Just picture it. You wake up and grab a drink at Starbucks (Yes, there is a Starbucks on the boat) before heading to the Glory Days tour to learn about the ship's extensive history.
Then, you then go out to spend a fun-filled day in the city, and come back to a romantic dinner at Sir Winston's overlooking the water. It really doesn't get much better than that!
Here's the catch: it may or may not be haunted. More on this later. This may be a perk for some and a turn off for others!
The Varden Hotel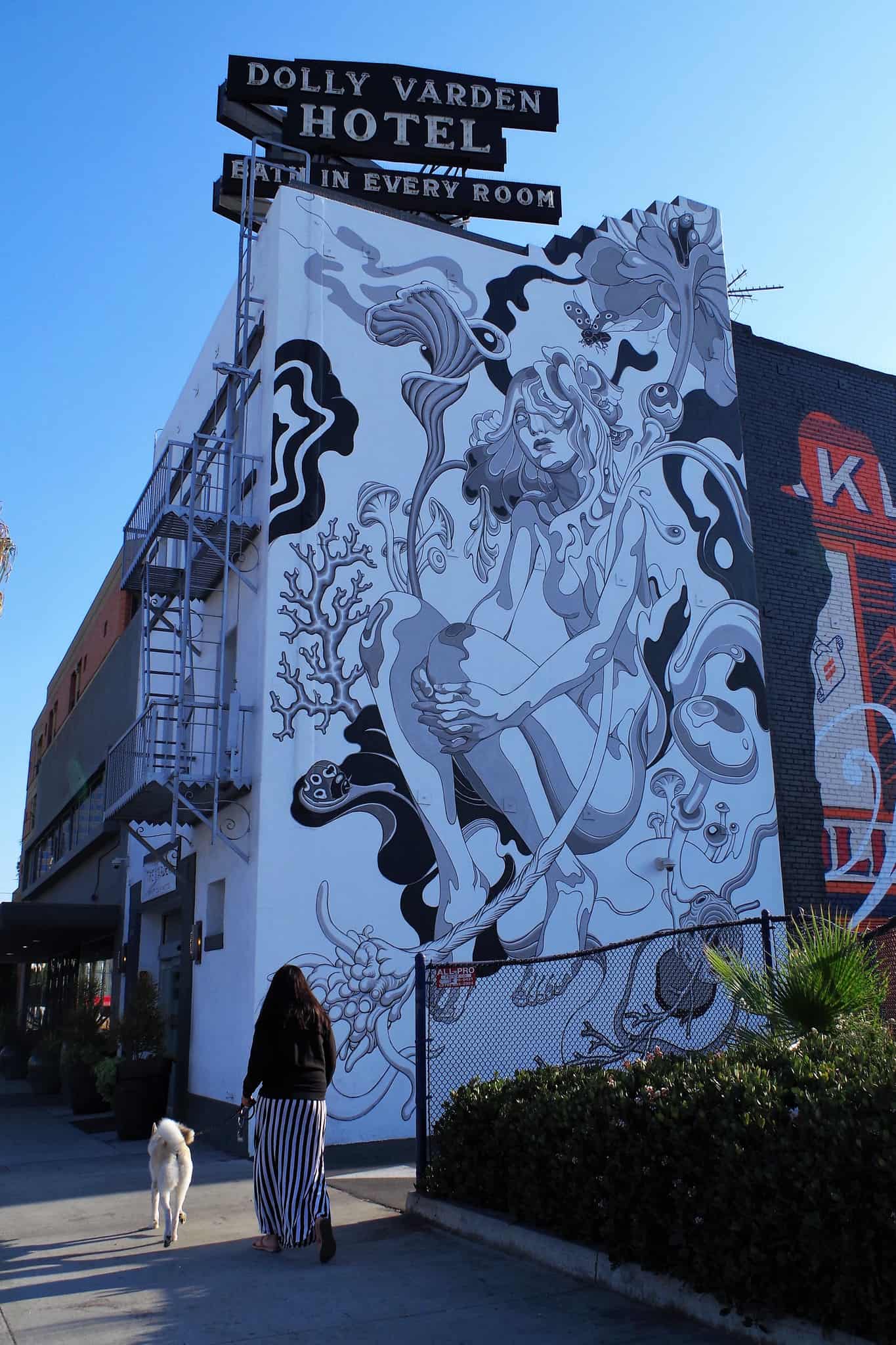 If the idea of spending the night on a (potentially haunted) boat doesn't tickle your fancy, don't worry: there are plenty of other places to spend your weekend in Long Beach.
If you want to spend the night on land rather than sea, it doesn't get more convenient than The Varden Hotel — it's right within walking distance of all things fun and exciting in Downtown Long Beach!
And thanks to recent renovations, you would never know that this hotel has been around for over one hundred years… well, aside from what they kept specifically in place to provide a sense of historic yet modern charm.
When you first enter, you will feel like you are walking through a bit of history with its high wooden beam ceiling and grand wraparound staircase!
While the lobby maintains its sense of history, the rooms have been remodeled completely to resemble a chic boutique hotel — and I must say, it succeeds immensely!
Chances are you won't be spending much time in your room since there is so much to do during your weekend in Long Beach, but just know that every room is designed with comfort in mind so you will be coming back to one of the most comfortable beds money can buy.
Warning: Spending a night at this hotel will have you resenting your mattress back at home.
And even though this hotel doesn't have a restaurant of its own, it does go above and beyond to make guests feel right at home.
You will wake up each morning to the smell of freshly brewed coffee awaiting you in the lobby with a full continental breakfast to go along with it and once the evening rolls around you will be treated to a complimentary wine tasting with snacks.
Yes, you read that right. This hotel gives away free alcohol. Just go ahead and book your reservations now!
Hotel Maya
For the ultimate Long Beach experience, Hotel Maya is the place to go and considering the stellar amenities that come with staying at this trendy joint, the price is an absolute steal!
For starters, the design of this place couldn't be any more glamorous with a Latin American style that goes above and beyond to make you feel like you are off on a tropical island somewhere.
Park your car in the lot and stay for a while with complimentary shuttles, both on the road and by water, to all of the hottest places in Long Beach.
But I have a feeling you will want to spend a lot of time at this little resort because it is jam-packed with everything you could need for a good time. I mean, it even has its own beach!
Rent a kayak or paddleboard to explore the bay. Sit at the pool bar or go for a swim as you take in the views of the water. Enjoy a quick bite at the lounge or indulge in a Latin-inspired sit-down dinner at Fuego. Sit by the fire or under an umbrella at the largest man-made beach in the city.
The choice is yours! Just do yourself a favor and opt for a room with an oceanfront view because wow!
Day One of Your Weekend in Long Beach Itinerary
Sip on one of the best cups of coffee you will ever have at Ground Hideout Coffee.
I am going to let you in on a little secret… Long Beach is home to some of the best coffee shops I have ever been to! As as a coffee fanatic, I found myself stuck trying to decide which amazing place to send you.
In all honesty, I could make this two-day Long Beach itinerary based solely on drinking coffee. But I don't want to send you bouncing off the walls, so I will try my best to limit your caffeine intake (no promises though).
As much as it pains me to pick between coffee shops, there is no denying that Ground Hideout Coffee is a crowd-pleaser every time.
With a ridiculous amount of coffee options to choose from ranging from a classic pour-over to a Chagaccino (made with adaptogen-boosting mushrooms), a fine selection of hot and iced teas, and a breakfast menu that will be sure to get your mouth watering — this place has something for everyone.
So sit back, sip on a Nitro Flash Brew or a Matcha Rose Latte, indulge in a freshly made pastry or breakfast burrito, and enjoy a bit of people watching before you set on a day-filled with adventure!
Hang out with aquatic life at the Aquarium of the Pacific.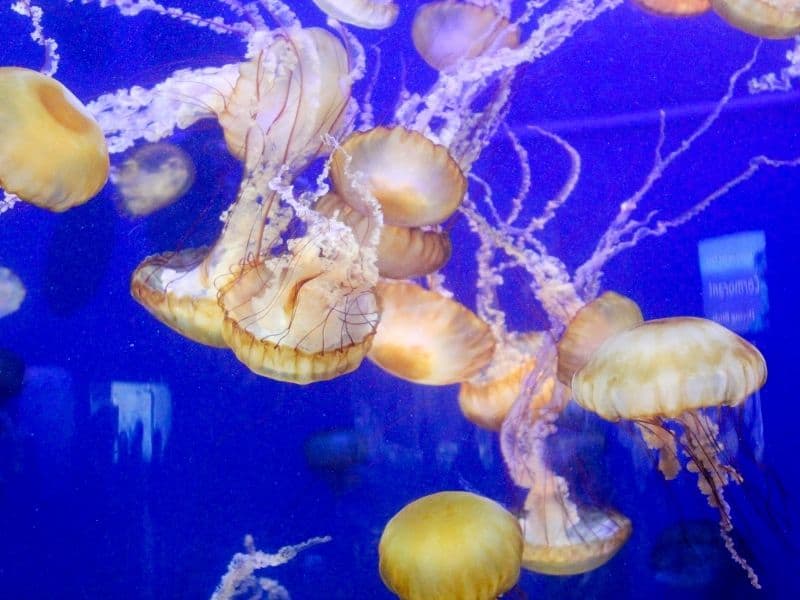 You don't have to be a child to enjoy your time in the Aquarium of the Pacific, but I assure you that one visit here will have you giddy like one!
Now you may be wondering what makes this aquarium better than all of the other aquariums in the country? And to put it plainly, the answer is… well, everything!
But I would never leave you with such a vague answer so let's get right down to it!
The number one thing that makes this aquarium the alpha of all aquariums is the ridiculous amount of hands-on encounters.
Sure, a lot of places let you pet the stingrays, maybe even throw some food into their tank, but what aquarium do you know that actually lets you get right up in there with them?! This one!
And I mean that in the most literal sense, so make sure you have shorts on or pants that are easily rolled up because you are about to go wading around in some stingray-infested waters.
Oh! There also happens to be some bamboo sharks in these waters so you will have the option to hand feed them as well.
Stingrays not your style?
How about an afternoon hangout sesh with a colony of penguins?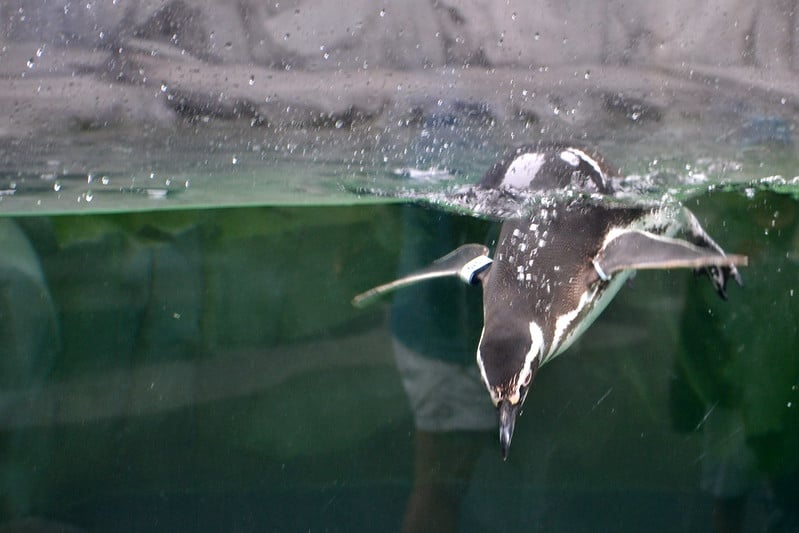 Or a meet and greet with the aquarium's fellow sea lions? If you are lucky, you may even get to help out with feeding time!
But before you get too crazy, you should also know that this aquarium has over one hundred different exhibits to explore so grab a map and plan accordingly.
If you're short on time, book your tickets online and skip the line — you can simply show the ticket on your phone!
Enjoy some waterfront shopping at the iconic Shoreline Village.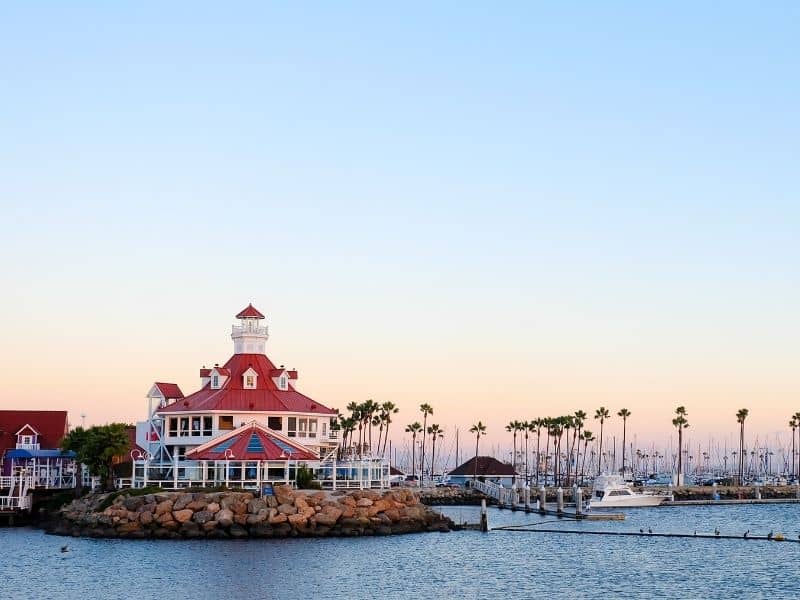 No trip to Long Beach would be complete without going for a stroll through Shoreline Village, and it also just so happens to be the best place to do some souvenir shopping.
But make sure you wear something cute because I guarantee that you are going to want to take a photo for Instagram!
The little shops that line the boardwalk pop with colors like pink, yellow, and light blue.
The Rainbow Harbor that sits across from said shops is beautifully still (hello, beautiful reflections!). Lines of sailboats wait patiently for their next adventure. It's just about as picturesque as it gets.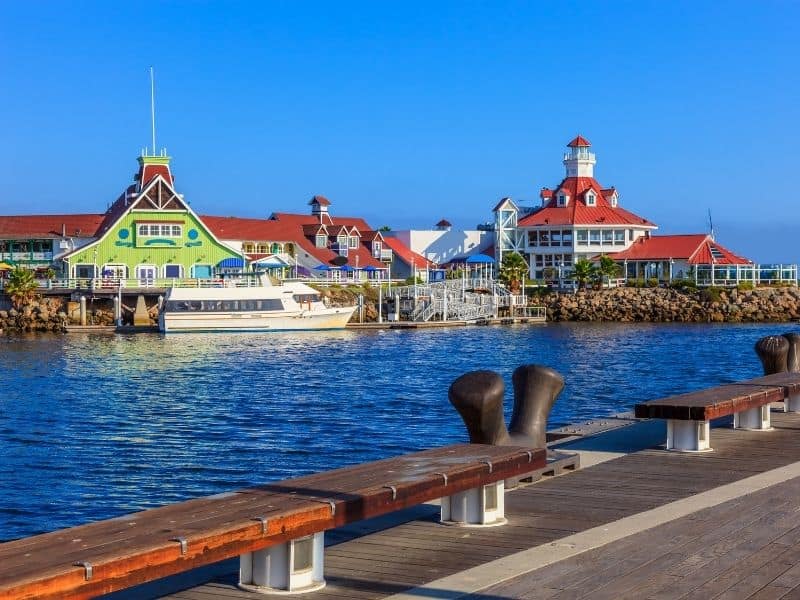 Not to mention the section of the boardwalk dedicated to love locks that will make you feel like you are in Paris' Pont des Arts.
(And unlike the Parisian version, the city is actually totally cool with you leaving love locks here).
So if you are traveling with a significant other, do yourself a favor and surprise them by bringing a lock of your own to add to this mushy trend. It will be sure to earn you some brownie points!
Grab lunch at Parker's Lighthouse.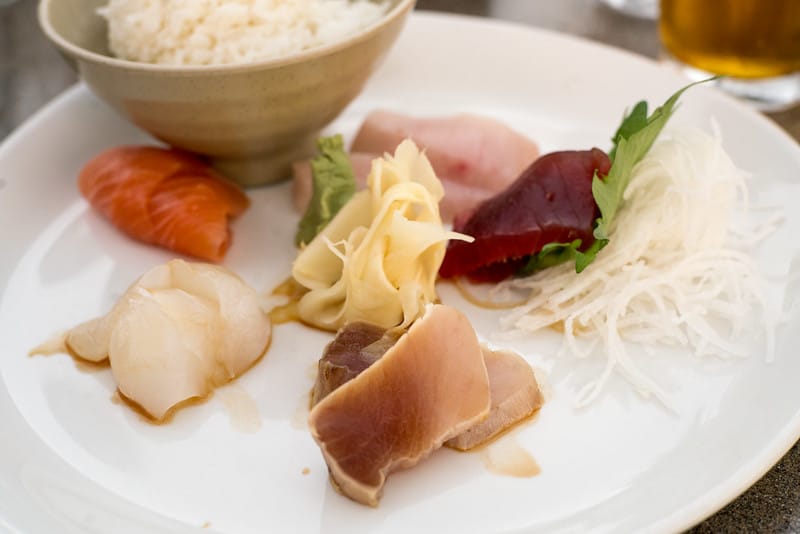 The Shoreline Village is not all touristy shops and lock-lined gates. No, quite the contrary!
The Shoreline Village has it all: from fine dining restaurants to quick bites, cozy cafes to ice cream shops, you can easily spend an entire day here.
Actually, you could spend an entire night here too, especially if they happen to be hosting one of their free concerts!
But anyways, with a plethora of food options to choose from, deciding which tasty place to grab lunch can be a daunting task.
Lucky for you, I am calling the shots around here so you will be calling to Parker's Lighthouse and that's final!
Kidding of course, but you should really go to Parker's Lighthouse… Just saying.
Now that we have agreed upon that, let's get down to business. With a name like Parker's Lighthouse and a location right on the water, it would only make sense that this place is known for its seafood — and man is it good!
The menu is constantly changing, depending on the latest catch and freshly gathered ingredients, but I can honestly say that I have never had a bad meal here!
Start your meal off right with the Lobster & Shrimp Taquitos or one of their signature sushi rolls and then lost your mind deciding between dishes like the Day Boat Catch, Seafood Linguine, and Mesquite-Grilled Shrimp.
Ride a bike on the bay.
Yes, you read that right!
There is riding a bike around the bay and then there is riding a bike on the bay. What is the difference? I am glad you asked because I have been dying to tell someone about this.
Long Beach is home to one of the most unique recreational activities in California and I have no idea how it has stayed under wraps for this long.
So when I say you can ride a bike around the bay, I mean you can literally ride your bike on the bay.
No funny business here, it's true. Long Beach Waterbikes offers water bike rentals that make it easy to go explore the water at your leisure.
So when you do a double-take as you are cruising down Ocean Boulevard because it looks like someone is riding their bike on water, know that your eyes are not deceiving you and that is actually happening!
Plus, considering how cool of an experience this is, hour-long rentals are surprisingly affordable — just $25 a person.
And since it is still under the radar, it isn't too hard to grab a reservation… even at the last minute!
Stop for a quick drink at SteelCraft.
A local favorite, SteelCraft is the place to go if you are looking to have a good time and make new friends. I mean that is literally why this place was created!
SteelCraft is pretty much the middle man for great food, drinks, and entertainment in Long Beach.
It does all the work to find the very best places and then brings them all together for your enjoyment in one laid-back space. In other words, it's an adult's playground.
There are currently three SteelCraft locations scattered throughout the L.A. area, and one is in Long Beach.
I am sure that they will only continue to grow with time, but for today let's talk about the Long Beach location specifically. (Each SteelCraft boasts its own set of vendors and attractions.)
SteelCraft Long Beach currently has six exciting vendors to choose from… but hold up!
As tempting as it might be to treat yourself to a juicy burger from Hangry Belly or a pile of tacos from La Taqueria Brand, I need you to show some restraint because I promise that you will be having a phenomenal dinner not too long from now.
Depending on what you are into that day, you can always order a local beer from Smog City Brewing or sip on a specialty latte from Steelhead Coffee.
In fact, it would be wrong not to have a drink in your hand as you sit outside at a picnic table under the twinkle of lights!
Listen to jazz while you eat fried chicken at Roscoe's Chicken and Waffles.
And now the moment we have all been waiting for… dinner!
At first glance, Roscoe's Chicken and Waffles does look like a hole in the wall but if you just let the sweet sound of jazz float you to its doors, then you will be in for a real treat.
If you couldn't tell by the name, Roscoe's is known for its chicken and waffles but what makes this place even better is the many different ways they can serve it to you.
From a chicken and waffle omelet to a fried chicken and waffle sandwich, prepare to be rolling out the door!
The good news is that if you find yourself overstuffed and lethargic after your hearty meal, you can always just sit back, relax, and digest while you listen to the sounds of the jazz band doing their thing.
You might even feel the urge to get up and dance!
Enjoy a late-night snack from Sweet Jill's Bakery.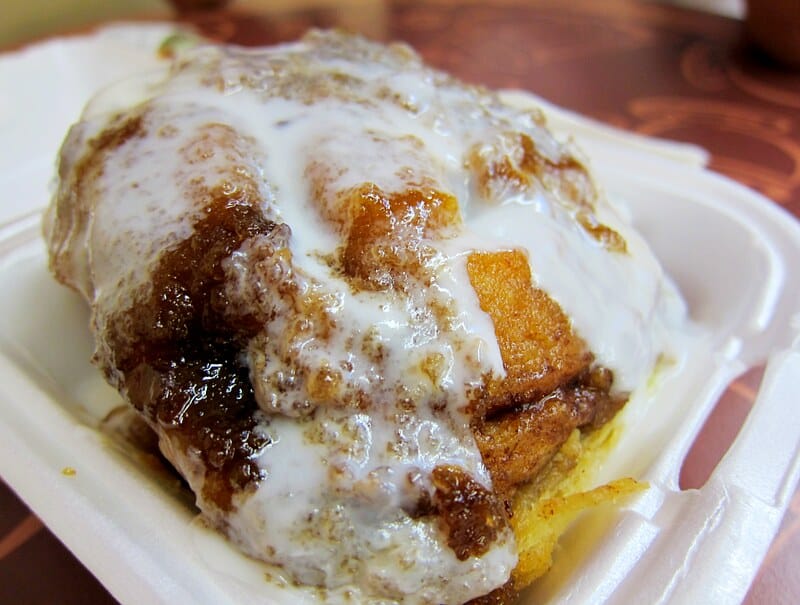 It's not every day that you find a bakery open past lunchtime, but the people of Long Beach are serious about their sweets.
Luckily, Sweet Jill's Bakery is here to deliver. Just don't let the locals know that I let you in on their little secret.
Now you may think I am crazy for saying that dessert after a big meal like that is a good idea, but those thoughts will disappear the moment you step through the bakery doors and get slapped in the face with the sweet smell of cake.
And speaking of cake, Sweet Jill's offers more than ten different types! Each is served up by the slice, so you can try a little bit of everything.
But that isn't really going to make your life any easier since there are also a large variety of cookies, crumb cakes, breads, cupcakes, and pies that make decision-making nearly impossible.
Just prepare to be overwhelmed and expect a little bit of a line. I mean, it is the only bakery in the city that is open until 10 PM! They also have a location in nearby Seal Beach.
Day Two of Your Weekend in Long Beach Itinerary
Pick from an amazingly diverse menu at Blackbird Cafe.
Opened up by a local who has spent her entire life in Long Beach, the Blackbird Cafe is everything you can't find anywhere else — and that's a guarantee.
Debbie had a vision of creating a place that she only ever dreamed existed with a menu unlike anything she could find at the breakfast spots around town.
She also wanted to create an atmosphere that even makes the tourists feel like they have found their way home. That dream came to life in 2011, and Blackbird Cafe has been a class hit ever since.
So when you are not struggling to decide between seven different types of benedicts, seven interesting breakfast burritos (I am seeing a trend here) and unique dishes like the Chilaquiles Breakfast Torta, you can be sitting back on the outdoor patio taking it all in.
Not to mention the fact that you can bring your best friend (aka your dog) along for the adventure!!
Okay, I may also have forgotten to tell you about the brownie pancakes… But I am telling you now, so don't beat me up over it. And the cinnamon swirl french toast… The list goes on.
Spend the morning hopping from one breathtaking beach to another.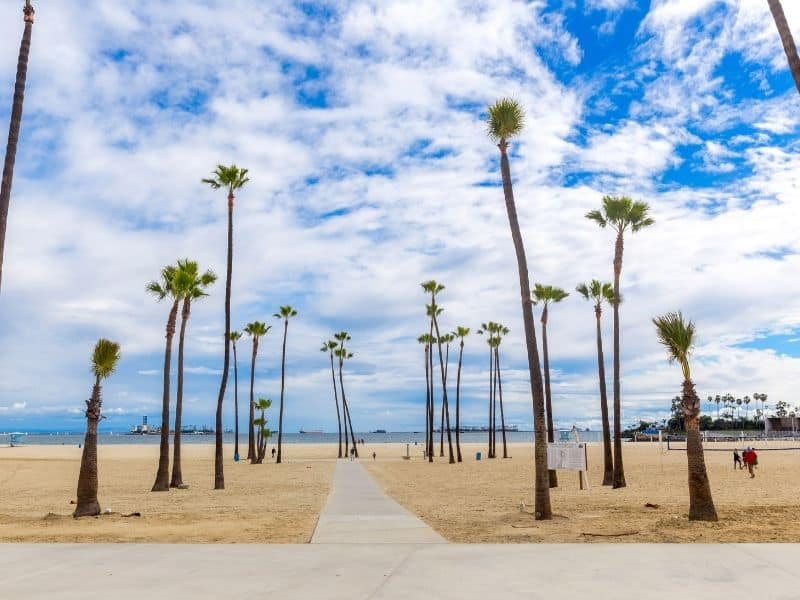 Although one may think that Long Beach is, well, just one long beach, that is simply not the case. I get it, the name is misleading!
But nevertheless, there are actually more than ten beaches to lay out your towel and I am here to tell you which ones are the best.
An obvious choice is Long Beach City Beach but that doesn't make it any less appealing.
And even though it is named after the city itself, most people actually refer to it as Junipero Beach… Which does have a nice ring to it and isn't as much of a mouthful.
Either way you will have a wonderful time swimming in the calm waters, taking in the views of the southern coast, and maybe even partaking in a yoga class at the neighboring Bixby Park.
A close second is Alamitos Beach, which offers the same great amenities with a fraction of the crowd. But don't expect to have this beach to yourself.
Since it is located right next to Long Beach City Beach, this is where the overflow of beachgoers ends up when the main beach gets packed.
Why leave your pup at home when you can let them join in on the fun at Rosie's Beach? While the views are amazing, it's really the canine presence that will be sure to put a smile on your face.
And if you are really feeling adventurous, you can take the ferry to Catalina Island for a peaceful morning at Descanso Beach.
Non-beach club members will need to pay a two dollar entry fee, but it is a small price to pay for a private beach experience!
Take a stroll down Retro Row.
Located right outside of Long Beach City Beach is where you will find what the locals call "Retro Row".
This charming neighborhood it makes for a great way to pass the time before heading out to lunch! Plus, with trendy restaurants, boutique shops, and vintage stores, it is pretty much the city of Long Beach in a nutshell.
But don't go looking for "Retro Row" signs around town because you will definitely come up short. This iconic strip is technically known as 4th Street… just don't let a local hear you call it that!
As the name suggests, you will find all things vintage and retro along this street and you could easily spend all day venturing through nearly fifty storefronts filled with furniture, jewelry, clothing, skateboards, you name it!
But for the sake of your time (and your pocket), you will need to fight the temptation to shop like no one is watching.
Eat a little bit of everything at The Hangar in the LBX.
For all of the foodies reading this, this one is for you! Why force yourself to decide on just one place to eat when you can get a taste of everything at a food hall?
Places like the Hangar are the latest in food scene trends and I couldn't be more here for it!
This place boasts fourteen different food vendors all under one (very interesting) roof. That's right.
You can get Mexi Fries from Amorcito, a pork puff from Bite Mi, a grilled cheese from Plaid Sheep… I mean the list goes on.
Oh, you want me to continue?
A frozen treat from Popbar, an Orange Creamsi-Cold Brew from Portola, an oatmeal stout from Bottlecraft… You get the point.
And pssst — The Hangar is located within the Long Beach Exchange (aka the mall), so you can always do a bit of shopping in between snacking sessions!
Go on a whale and dolphin watching tour.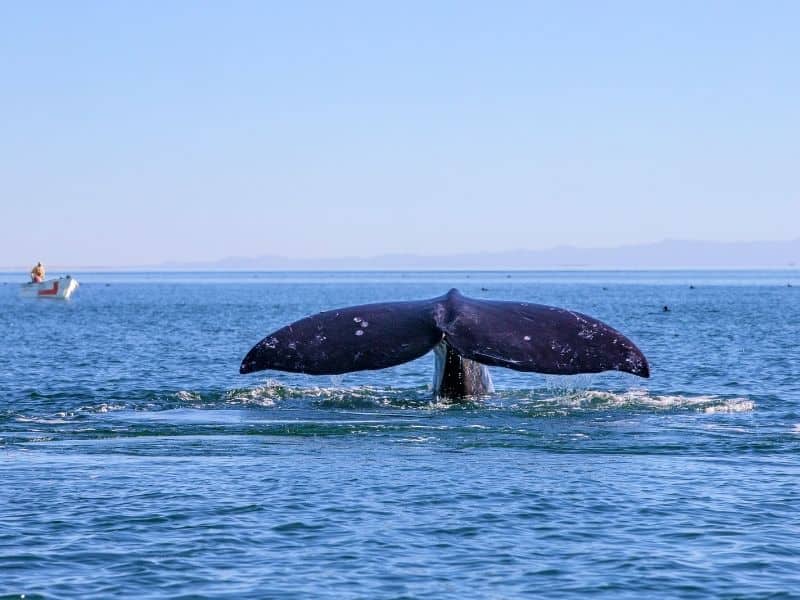 Can you really even say that you visited southern California if you didn't go on a whale watching tour?
The good news is that I managed to squeeze it into your schedule and now you can confidently tell all your friends about your amazing California experience. You're welcome!
But seriously, Harbor Breeze Cruises has been around for a while and they know how to keep their crowd engaged.
Marine life can vary depending on the season, but there is always something exciting to see and your educated guide knows how to make the most out of every encounter.
Don't believe me? Just check out their whale watching sightings log!
There you can see all of the whales that have been spotted throughout the year and while you are on their site, look to see which whales you are most likely to see during the season you visit!
Whichever way you slice it, you will want to make sure you are ready to board by 3 PM and are able to dedicate at least two hours to this extraordinary voyage.
Oh, and don't forget to say hello to the dolphins for me!
Feel transported to Italy on Naples Island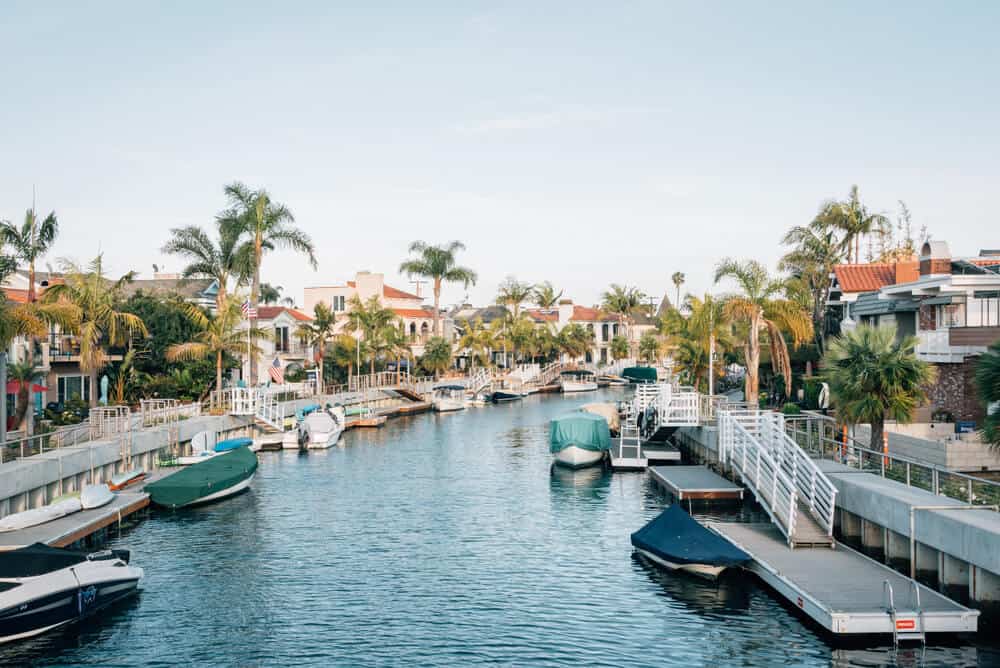 It is true that a visit to Naples Island will make you feel like you have landed yourself in Venice, Italy, and it wasn't done by accident!
This picturesque island was designed to be just that with Italian-themed street names and gondoliers paddling through the canals.
The best part is that it really doesn't take much effort to get to this gem of an island. Just hop onto Bayshore Drive and cross over the bridge. You'll know when you have gotten there.
You can always go for a scenic stroll along the canal and over its many walkways but just do yourself a favor and book that gondola cruise ride.
If you don't, you will just be spending the whole time wishing you had and besides, it's not something you can experience just any day.
But if I really can't convince you to hop on a gondola, you should probably know that the canal is also accessible to kayakers and paddle boarders for the solo adventurer at heart.
And while you are at it, don't forget to visit the La Bella Fontana Di Napoli located at the center of Naples Plaza to complete your California-Italian adventure.
Maybe even indulge yourself in a cup of gelato to really bring things all together. When in Rome, amirite?
Dine in style at Queensview Steakhouse.
Overlooking the famous Queen Mary and the waterfront that follows, there is no better way to end your stay in Long Beach than with a gourmet dinner at Queensview Steakhouse.
Whether you are looking for a romantic date night or simply want to end your trip with a bang, this restaurant is sure to deliver.
The service is amazing, the food even better, and don't even get me started on the panoramic views of the bay!
The place is made almost entirely of wall-to-ceiling windows that would warrant a visit even if the food was subpar.
You know what I mean. We all know those places that have the view but lack the flavor. It is an unfortunate familiarity when it comes to waterfront dining.
But not here! The Queensview Steakhouse excels in every department and for that, they deserve the highest praise.
I would also just like to point out that you have the option to build your own surf and turf!
Given the name, it only makes sense that this restaurant has a stellar steak selection but throw in the waterfront location and you have also found yourself looking at a mouth-watering collection of freshly caught seafood.
In other words, prepare to taste one of the best surf and turf dishes that you have ever had!
I can honestly just go on and on about this menu, but you really have to see it to believe it.
Just do yourself a favor and order a bottle of wine from the extensive wine list to really get the mood flowing because you will definitely be looking over the menu for a while.
Channel your inner Ghostbuster on the Queen Mary.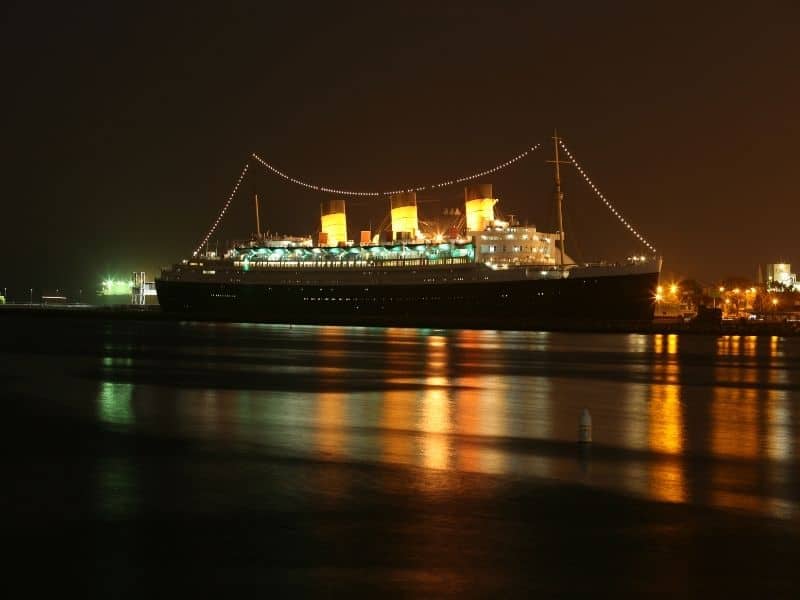 Did you know that the Queen Mary is considered to be one of the most haunted hotels in all of America? It's true.
And better yet, it is one of the few haunted places that offer night tours throughout its most paranormal areas.
You won't find any jump scares on this tour, but that doesn't mean it won't spook you!
The tour takes you to all of the places where people have died throughout the years and a guide provides you with all of the gruesome details about what originally happened and the paranormal activity that took place afterward.
There are a few different haunted tours to choose from but for the most chilling experience, you will want to opt for the Paranormal Ship Walk which takes place in the evening from 8 PM to 10 PM.
Just keep in mind that this tour is only recommended for those 16 and older. (Yes, it can get that scary.)
You will get to see parts of the Queen Mary never seen by its day-to-day visitors like Room B340. Yes, the Room B350.
This room is known for being the most haunted spot on the entire ship, which is saying something considering the Queen's fear-filled past, and is usually completely off-limits.
So although thrill-seekers will be disappointed to know that you can't spend the night here, you will be happy to know that there are plenty of other spooky rooms to explore.
And if you are lucky, you may even spot some of the many ghosts that are said to reside here like the White Lady, Little Jackie, or John Henry. Happy hunting!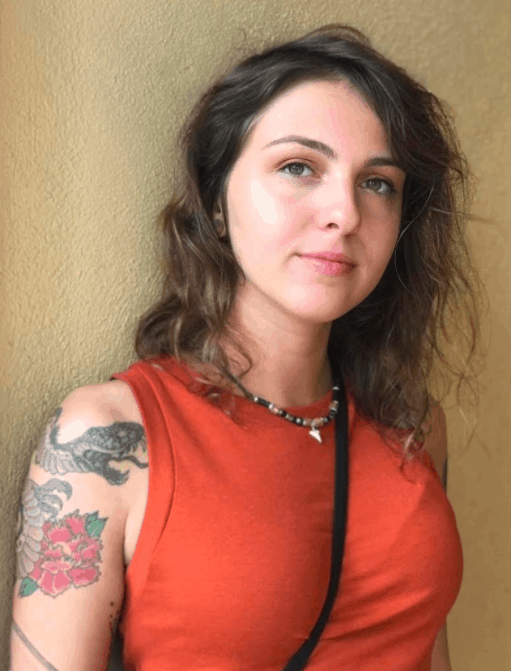 Nicole is a freelance travel writer who lives in Upstate NY, but her heart lies in the beautiful state of California. She loves to travel to new destinations, eat at all the best local restaurants and explore all the world has to offer. Her favorite place is just about anywhere where snow-peaked mountains can be seen in the distance.