San Francisco is a magical place, one I feel lucky to have grown up near.
From the Golden Gate Bridge to its hilly landscape folded with fog to its candy-colored Victorian architecture, San Francisco is entrancing and charming.
I've been making day trips to the City by the Bay since I was a little kid. While I don't consider myself a "local" of San Francisco per se, I've been literally hundreds upon hundreds of times and showed dozens of visitors around San Francisco.
If you are visiting San Francisco for the first time, here is my ultimate San Francisco itinerary for your California trip.
Where to Stay in San Francisco
For this specific itinerary, the area around Fisherman's Wharf and the Embarcadero is a good choice. It is touristic, yes, but it is safe and beautiful — hello, waterfront views. North Beach is also delightful, but has more limited options.
Union Square certainly has the most accommodation offerings, but frankly, it's not my favorite part of the city. Plus, if you're not savvy about the exact neighborhoods, it can get kind of dicey really quickly.
The area around Civic Center should be avoided, and the Tenderloin is on the rough side of things as well.
These are areas where you will see a lot of homelessness and open substance use, which can be uncomfortable if you're not used to it (and frankly, even I as someone who grew up in the Bay find it a bit stressful and depressing to be around).
Both of these neighborhoods are very close to Union Square so a hotel that bills itself as being 'Union Square' may not be as desirable as it seems.
Here are a few hotel recommendations for the Fisherman's Wharf and Embarcadero area:
BOUTIQUE | The Noble House group's Argonaut Hotel in the Fisherman's Wharf neighborhood is an affordable boutique hotel option with a fun maritime theme that doesn't take it too over-the-top. It stays chic but not stuffy, and it's location is perfect for a quick San Francisco trip.
Some rooms have Bay views (some of Alcatraz, others of the Golden Gate Bridge!) and they are fairly reasonably priced for the sweeping views you get. Other rooms are more affordable. Prices vary but generally range from $250-600 per night depending on the size of the room and the view.
>> Check availability on Booking.com | Hotels.com | Expedia
LUXURY | The Four Seasons never, ever disappoints! TheFour Seasons Embarcadero location near the Ferry Building is great for this itinerary, and the amenities are world-class. Breathtakingly beautiful modern rooms, gourmet dining, in-room massages, a spa center, a 24-hour fitness center, yoga classes: you'll never want to leave.
Plus, it takes up the top 11 floors of a 48-story building, so basically every single room will have an impeccable view of the skyline and the Bay.
>> Check availability on Booking.com | Hotels.com | Expedia
BUDGET | Look, San Francisco is never going to be cheap — at least not in anywhere you really want to stay. Washington Square Inn is the cheapest option in the North Beach area and is absolutely beautiful.
It looks and feels more like a B&B than a typical hotel. Plus — free wine and cheese and crackers each evening. Sold. Prices vary but generally range from $150-250 per night.
>> Check availability on Booking.com | Hotels.com | Expedia
What to Pack for San Francisco
San Francisco's weather is notoriously mercurial. Unpredictable fog, dozens of microclimates, frigid summers and surprisingly pleasant winters: it's hard to know how to dress for San Francisco, even for me as a near-local who grew up on the other side of the Bay Bridge.
LAYERS | You'll absolutely want layers. That's just a statement of fact. Unless you're visiting in winter, it rarely rains in San Francisco, so a rain jacket usually isn't necessary unless you visit between December and March. If it is necessary and rain is in the forecast, I love this Marmot jacket.
You will want a warm outer layer (think: vegan leather jacket, faux shearling coat, trench coat), a sweater-like mid-layer or long-sleeve shirt, and a thin undershirt you wouldn't mind wearing as your main layer if it suddenly gets weirdly hot (as can sometimes happen!).
A giant wool scarf also helps make up for a lot of layer indecision and bridge between layers if it's not quite right.
A SAFE DAYPACK | Opportunity theft is rampant in San Francisco, unfortunately. I love the PacSafe CitySafe backpackand have brought it with me to 30+ countries all over the world!
It has a lot of great anti-pickpocket features, such as double-locking zippers, slash-proof mesh inside the bag, and RFID blockers.
PHONE CLIP | If you're worried about smartphone theft (which is another thing you need to watch out for in SF), this nifty little phone clip with a retractable cord will buy you peace of mind for just a few bucks.
Avoiding opportunity theft is often just about being the least desirable target, so being prepared with things like a daypack with zippers thieves struggle to figure out or a secured phone will make you a far less appealing target than the thousands of clueless tourists taking 0 precautions.
COMFORTABLE WALKING SHOES | You will walk more and walk harder in San Francisco than basically any other city! With all those hills, you'll absolutely want comfortable walking shoes. If I know I'm going to be walking a ton in the city, I almost always wear my Nikes. Unfortunately SF is too cold most of the time for my beloved Birks!
How This San Francisco 3 Day Itinerary Works
This San Francisco itinerary is designed to primarily be a walking itinerary. San Francisco is small and compact, a 7-mile by 7-mile grid: "49 square miles surrounded by reality", per Paul Kantner of Jefferson Airplane fame.
However, San Francisco is also not the most walkable city unless you're in great shape and hike regularly. Our hills are killer. As in, I have hobbled myself walking the hills on several occasions. (I'm also very clumsy and out of shape, to be fair.)
Like most Californians who live outside of the city in the larger Bay Area, I tend to travel around the city by car simply because I have one available to me.
However, if you're only visiting San Francisco and aren't planning to road trip around California and the West Coast by car, I don't think it's necessary to rent a car to visit San Francisco.
Parking is difficult (have you ever tried to parallel park on a 20-degree incline? It's a special circle of hell) on the streets and pricy in the garages. Unfortunately, car break-ins are pretty rampant as well.
For this SF itinerary, I suggest planning to walk but having a rideshare app like Uber or Lyft downloaded on your phone and ready to go whenever you get too tired, OR having a hop-on, hop-off bus ticket that will cover all the major sites on this itinerary.
This is the hop-on, hop-off bus I recommend, which also conveniently includes a ticket to Alcatraz! It is good for 48 hours, Thursday through Monday, running from 9-5 PM. Note that there are no buses Tuesday or Wednesday so it may not be worthwhile if your trip is on those dates.
The stops include the following: Golden Gate Bridge, Golden Gate Park, the Haight-Ashbury, Downtown & the Financial District, Chinatown, the Civic Center, the Embarcadero, Fisherman's Wharf & the Ferry Building.
Book your hop-on, hop-off bus ticket + Alcatraz ticket here!
There is public transit (MUNI), but in all my years of living in the Bay Area, I've literally never taken it or figured it out, since I typically drive or take BART into the city and walk.
If you have just 3 days in San Francisco, you probably don't want to waste your time figuring out our transit system to save a few bucks. Plus, frankly, if you have a group of 2-3 people, Uber will work out cheaper per person than public transit.
San Francisco Itinerary: Day One
Start your day with breakfast from the Ferry Building.
Note: This post contains affiliate links, which earn me a small commission at no extra cost to you if you make a purchase using one of these links. Thank you for supporting this free content!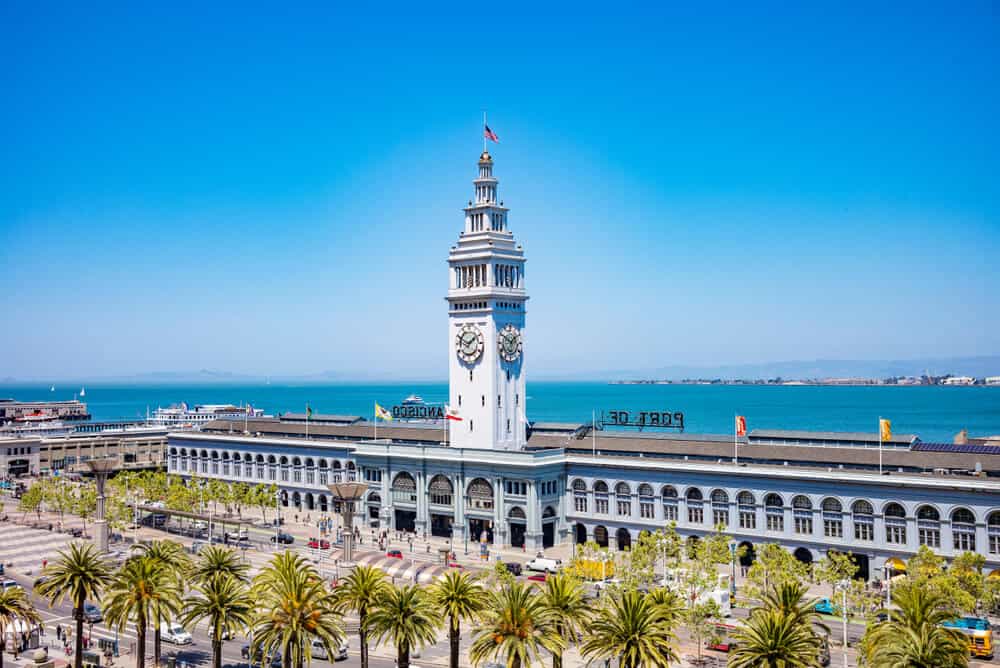 It's time to start off the first day of this San Francisco itinerary the best way I know how: eating!
The Ferry Building Marketplace in San Francisco is a foodie favorite, with a dizzying number of awesome local merchants and a bustling farmers market on Saturdays.
Here are a few options for where to grab a great breakfast to-go in the Ferry Building!
– Acme Bread, run by a Chez Panisse-trained chef and baking up some of SF's best pastries and sourdough bread
– Blue Bottle Coffee, SF's most successful third-wave coffee shop that now has outposts in LA, NYC, and Japan
– Daily Driver which has some of the best bagels in the city — wood-fired and certified organic!
– Donut Farm for donuts made with local, sustainable, and organic ingredients
– Mariposa Baking Company for gluten-free pastries and goodies that are safe for celiacs and gluten-intolerant folks
Take a tour of Alcatraz Island.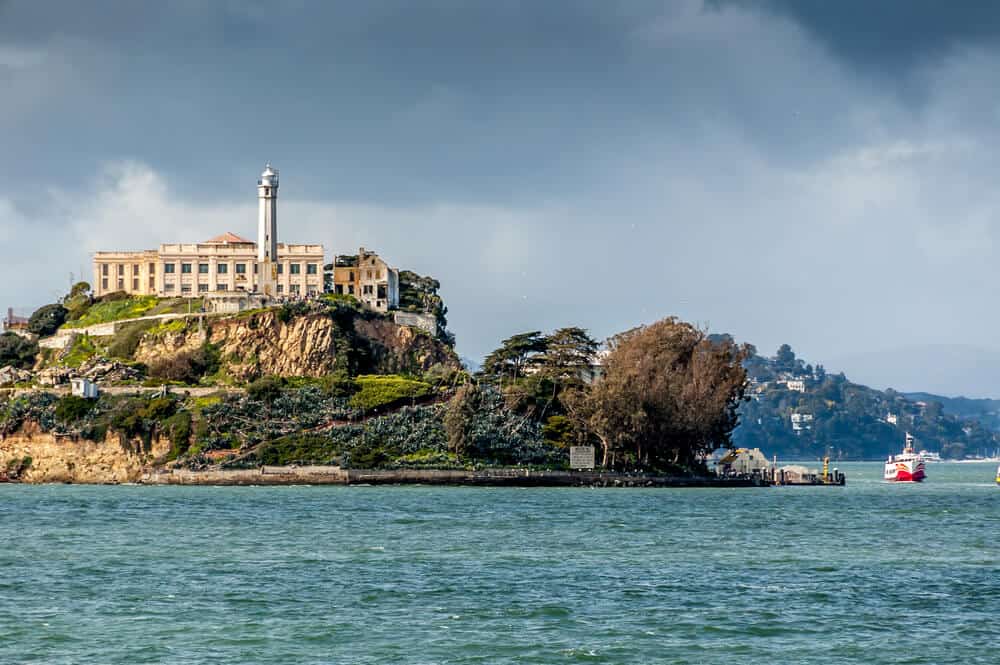 Next up on the itinerary is a trip to Alcatraz, one of the most famous historical San Francisco landmarks!
Alcatraz was once the most infamous federal prison in the country, housing some of the most hardened criminals, including gangsters like Al Capone. It was notorious for its many escape attempts — some 36 men tried to escape in 14 separate attempts. 
Over the three decades of Alcatraz's operation, 23 prisoners were caught escaping, 6 were killed by guards as they tried to escape, 2 drowned in the San Francisco Bay, and 5 disappeared — either drowned or successfully escaped, it remains unknown to this day.
Alcatraz has been out of operation since 1963, citing that it was too expensive to operate. It reopened as a national park site in 1973 and now welcomes more than a million visitors a year.
You can buy a ticket to Alcatraz online here or bundle it with a hop-on, hop-off ticket or catamaran cruise to get more for your money!
Note: Tours to Alcatraz depart from Pier 33 (Alcatraz Landing), a 20-minute walk along the waterfront from the previous stop at the Ferry Building. Allow about 3 hours for the Alcatraz excursion.
Walk the Embarcadero to Pier 39 for some sea lion spying.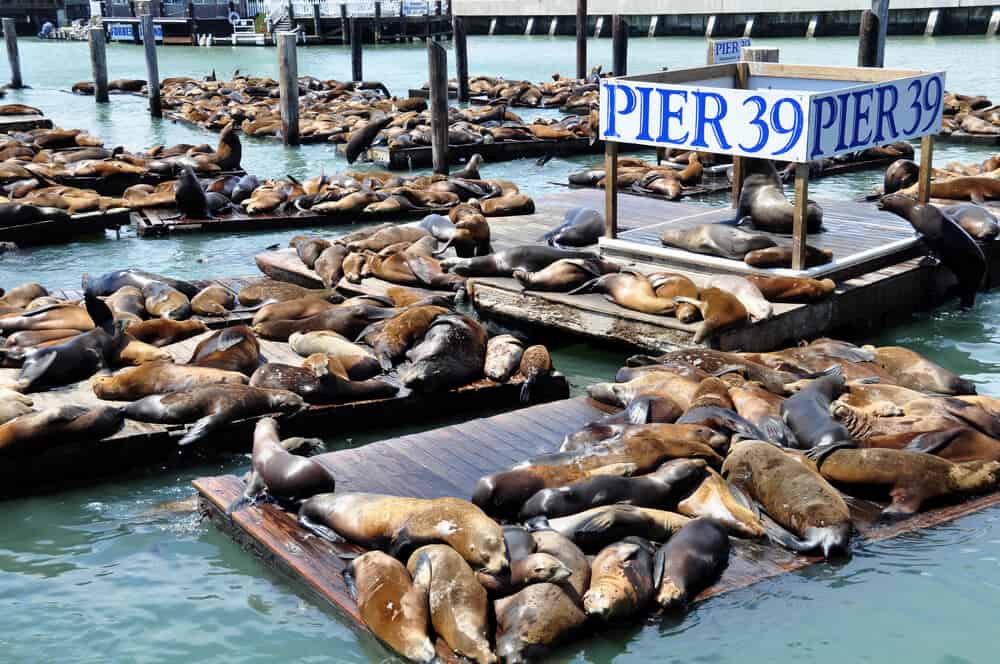 Once you return to Pier 33 after your Alcatraz trip, it's time to walk to the famous sea lions at Pier 39, just a short 5-minute walk.
Pier 39 is home to hundreds upon hundreds of sea lions! How many depends on the time of year, but there are anywhere from a hundred to a thousand sea lions chilling at Pier 39 at any given day. So you are literally guaranteed to see them!
They started hanging out at Pier 39 in 1989, after the Loma Prieta earthquake tore through the city, and haven't left since!
Besides the sea lions, Pier 39 is also home to a lot of touristy stores selling SF souvenirs and a few so-so restaurants.
Most aren't worth going to, but if you're hungry, be sure to stop by Boudin Bakery & Cafe for their famous soup in a bread bowl! The crab and corn chowder and the clam chowder are both favorites.
Check out Fisherman's Wharf and Ghirardelli Square.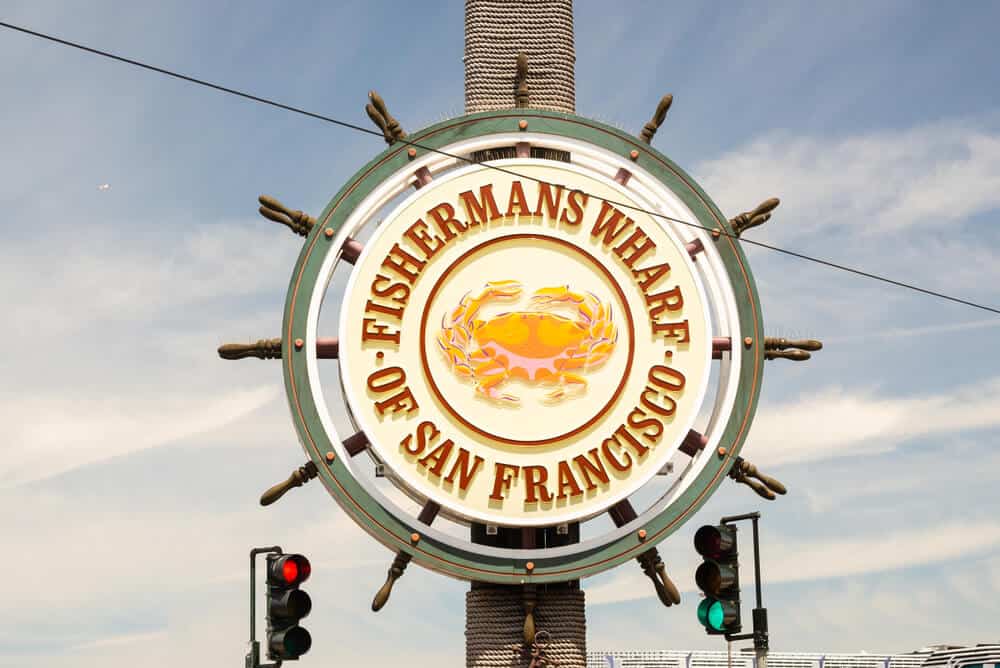 Pier 39 is considered part of the Fisherman's Wharf neighborhood, but if you walk 10 minutes from Pier 39 to Ghirardelli Square, you'll see the whole span of it.
Frankly, the whole area is a bit of a tourist trap, but it's a must on a first-time San Francisco itinerary.
It's the kind of place that locals don't visit unless bringing out-of-town visitors there, but it's still beautiful and charming in its own right, if you don't mind being amongst the crowds. (If you do, just head to the next section of the itinerary!).
However, if you are looking for the "classic" San Francisco experience, here are some things you could do in Fisherman's Wharf — mix and match to suit you and your tastes!
– Get an ice cream sundae at Ghirardelli Chocolate Company.
– Check out the funky old-school arcade games at Musée Mécanique.
– Take a spin on the nostalgic two-story Carousel.
– Visit the Aquarium of the Bay to learn more about local sea life.
– Take a cable car up the hill! Catch the Powell-Mason line at Taylor and Bay Streets or the Powell-Hyde line at Hyde and Beach Streets. Walk back down before you get too far away if you are planning to stick to this itinerary.
Admire the views from the Municipal Pier.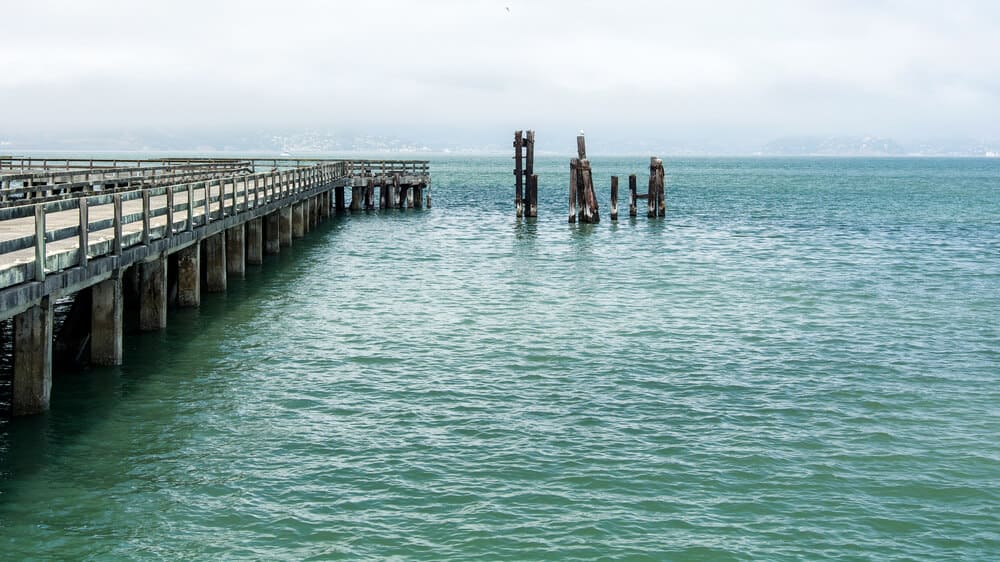 After exploring the Fisherman's Wharf area, it's time to get away from the crowds a bit at the Municipal Pier. From Ghirardelli Square, it's a 10 minute walk to the end of the pier.
This semi-circular pier is a great place to walk out on the Bay (granted that it's not too foggy and cold!) and get a view of the city from the water.
This also happens to have great views of Ghirardelli Square, Fisherman's Wharf and Coit Tower, so it's a great photo stop!
Walk through Fort Mason and Great Meadow Park.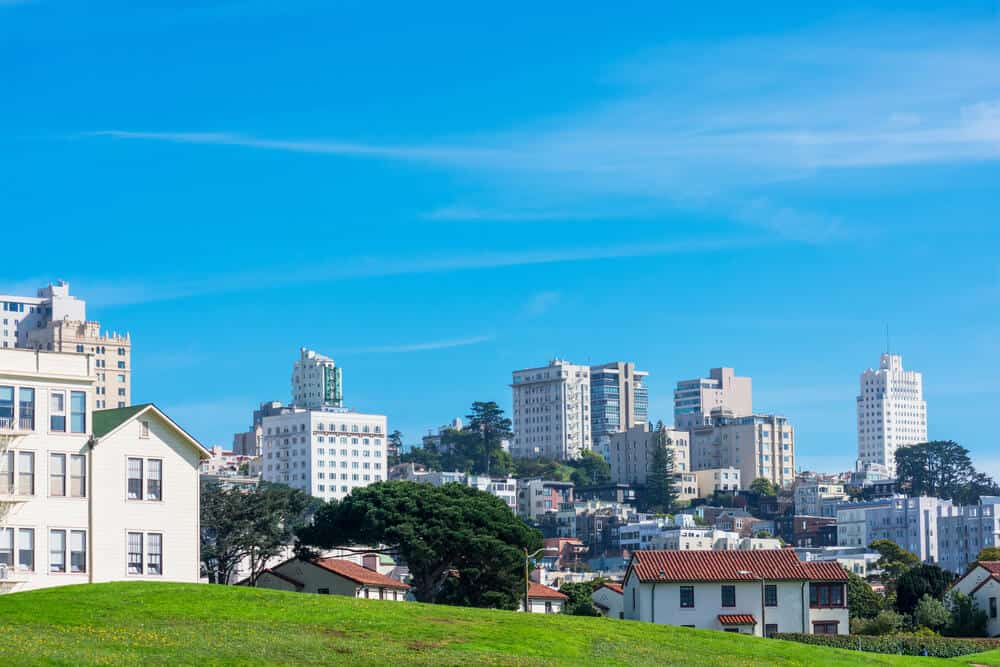 Continue onwards through Fort Mason, a historic fort that is now part of the Golden Gate National Recreation Area and a designated National Park Service site.
This fort used to be an army post, but it's now a public space with indoor and outdoor events venues and pavilions, as well as a huge park (one of my favorites in the city!), Great Meadow Park.
Rest your legs in Great Meadow Park, especially if there's a spot of sunshine! This is about 10-15 minute's walk from the previous stop, the Municipal Pier.
If you need to refuel with some caffeine, the excellent Equator Coffee is located at Marina Boulevard and Laguna Street.
Check out the Wave Organ.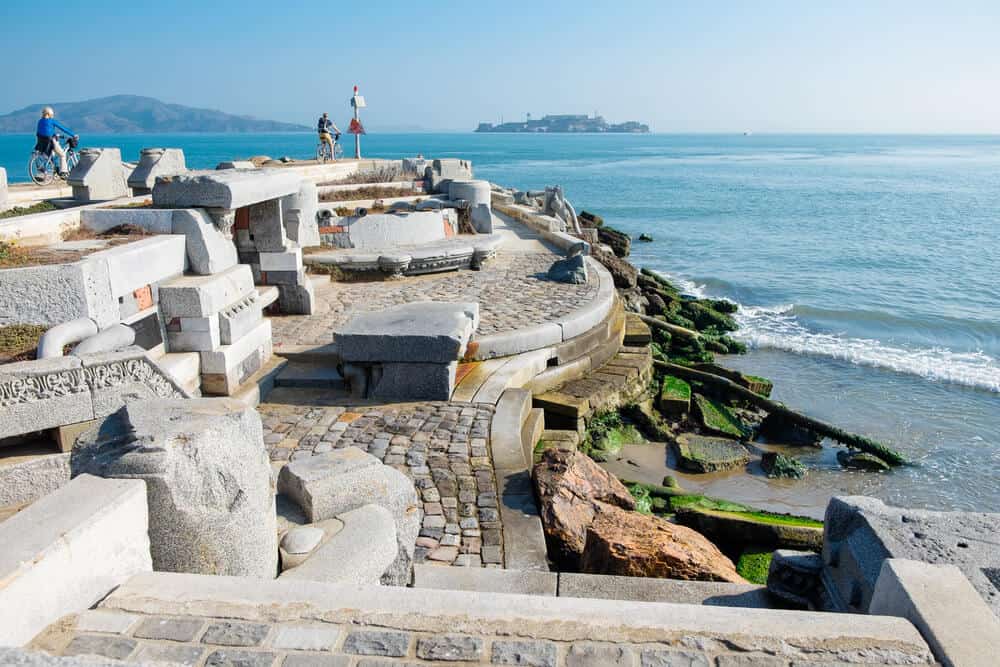 Next up, let's visit one the more offbeat, quirky places in San Francisco: the Wave Organ, a cool public art piece where the waves of the bay literally play music!
The walk here is about 25 minutes along the Marina Green and Yacht Harbor, and then up past the Marina Lighthouse. It's a beautiful walk, and the Wave Organ is definitely worth putting some more steps on your step count!
According to the Exploratorium, which manages the piece, this is how the organ works:
"The installation includes 25 organ pipes made of PVC and concrete located at various elevations within the site, allowing for the rise and fall of the tides. Sound is created by the impact of waves against the pipe ends and the subsequent movement of the water in and out of the pipes. The sound heard at the site is subtle, requiring visitors to become sensitized to its music, and at the same time to the music of the environment."
Walk around the Palace of Fine Arts.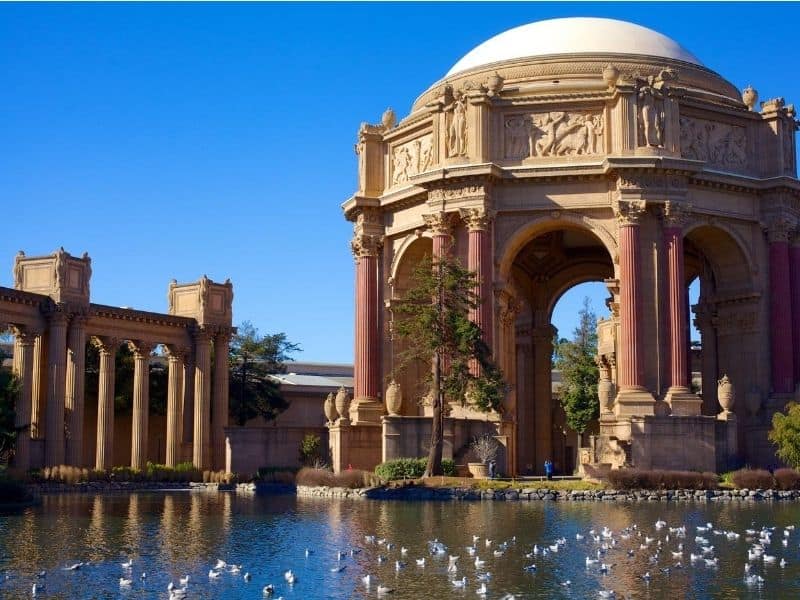 Walk back to the Marina waterfront and head towards the Palace of Fine Arts, located on Baker Street.
Not really a palace in anything but name only, this beautiful piece was created for the Panama-Pacific Exposition in 1915.
It was intended to be a temporary exhibit, evoking a Roman ruin — perhaps as a statement about the rebuilding of San Francisco after the 1906 earthquake, not even a decade prior.
However, residents of San Francisco found it too beautiful to destroy, and so it's been kept, maintained, and renovated, a permanent fixture of the Marina neighborhood and an icon of San Francisco (and one of its most Instagrammable spots!).
Wander through Lover's Lane and the Wood Line in the Presidio.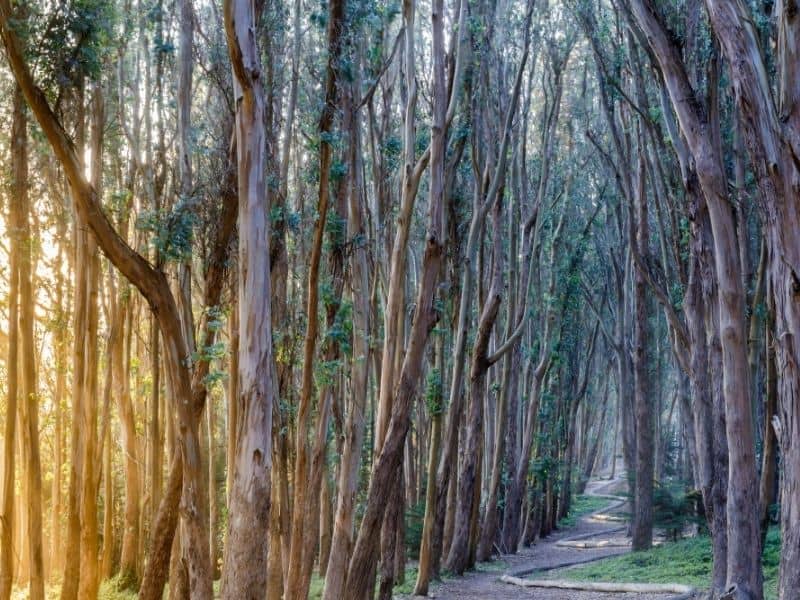 The Presidio is massive, and there would be no way to fit it all into this SF itinerary… in fact, you could pretty easily spend 3 days in San Francisco just exploring every nook and cranny of the Presidio!
One spot definitely worth a wander is Lover's Lane. It's about a 15-minute walk from the Palace of Fine Arts, so it's not too much of schlep in the wrong direction. It's really beautiful and scenic, with a path between the Presidio Gate and the Main Post.
Be sure to also see the sculpture by Andy Goldsworthy, the Wood Line, a zigzag line consisting of more than 1,200 feet of recycled eucalyptus trees, set along a path through a eucalyptus forest.
It's located just parallel to Lover's Lane, near the south end of the trail. You can find it on Google Maps easily.
Afterward, go back the way you came, making your way towards Crissy Beach and the Golden Gate Bridge. The most direct path is from Presidio Boulevard to Funston Avenue to Halleck Street to Mason Street.
It can be easy to get a bit lost here, so you may want to use your Maps app for navigating!
If you're tired of walking, you can exit the park at Presidio Boulevard and Pacific Boulevard and call an Uber to take you to Crissy Field (if you'd like to see Crissy Beach and the views of the Golden Gate Bridge from here) or to Battery East parking lot if you'd just like to skip the beach area and walk the bridge next!
Head to Crissy Beach for epic views.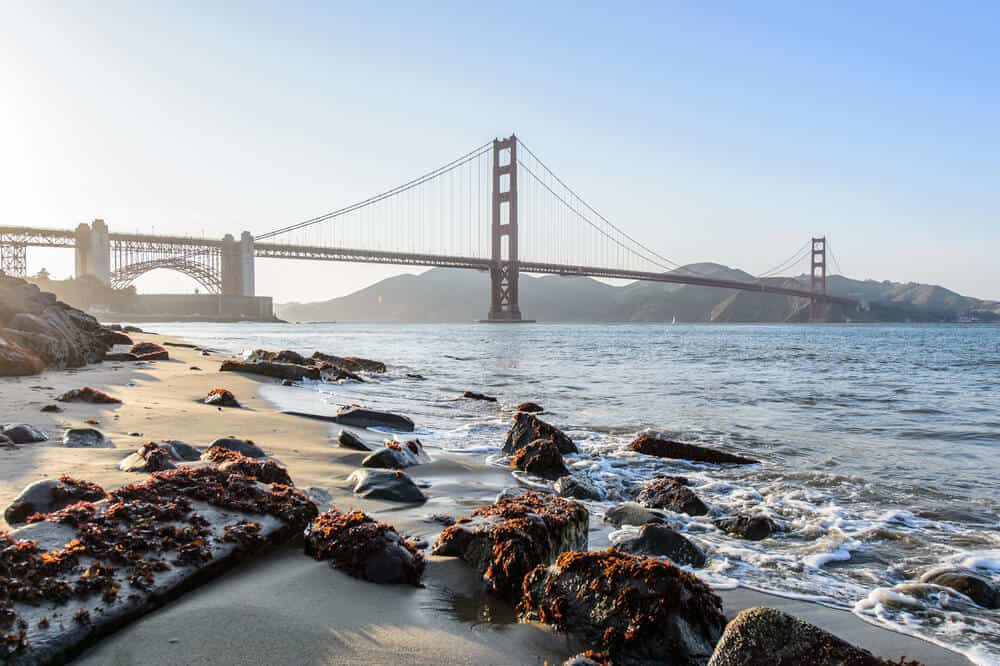 From Lover's Lane to Crissy Beach is a bit of a walk — luckily it's literally a walk in the park! It's about a 25-minute walk to Crissy Beach, or alternately, you can call a rideshare service to get you there.
Crissy Beach is one of the beaches in San Francisco with a gorgeous view of the red towering structures of the Golden Gate Bridge. Crissy Field is also there which is a great grassy expanse, also with great views of the bridge!
Walk or bike across the Golden Gate Bridge.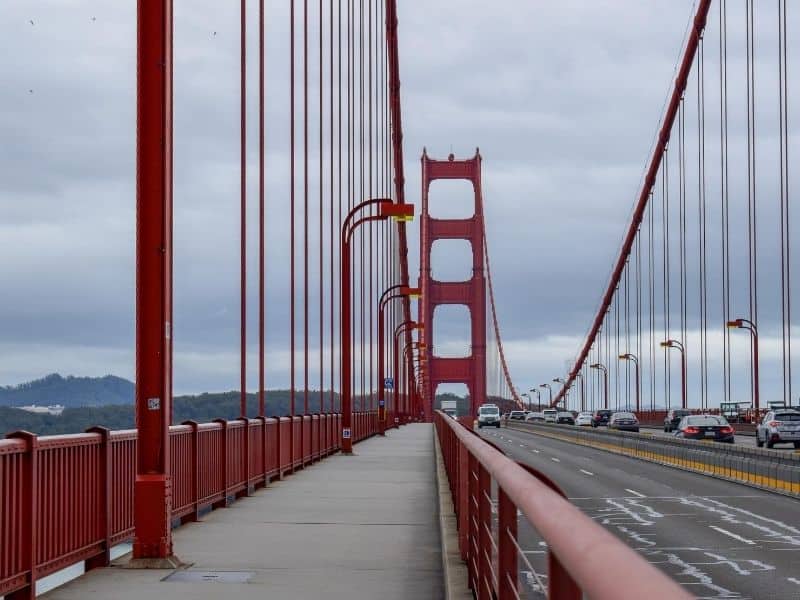 From Crissy Beach, you'll take the Battery East Trail (which starts near the Warming Hut Bookstore & Café) up to the bridge — another 15 minute walk, approximately.
From there, you can walk the entire span of the Golden Gate Bridge — it's 1.7 miles one way to get to the viewpoint at the north end of the bridge (Golden Gate Bridge View Vista Point). Depending on the time of day, you may have to share the bridge with cyclists, so be on alert even as you're taking photos!
Allow about 45 minutes to an hour to walk the bridge one-way, accounting for pictures!
Take in the views from Battery Spencer.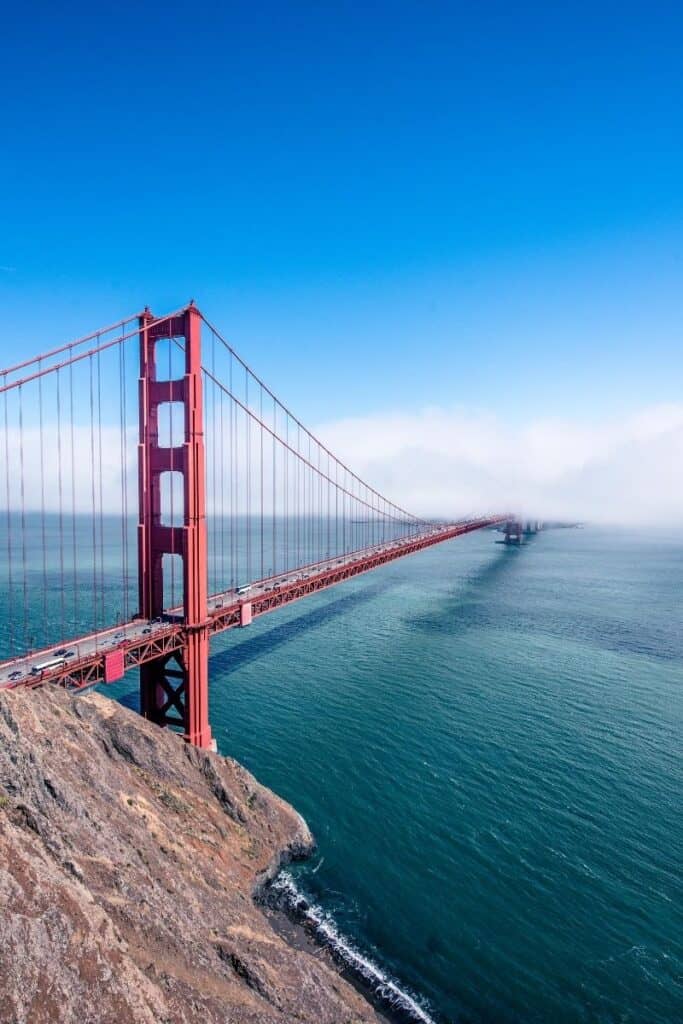 Want an even better view? Add an additional 0.7 miles to your trip and make your way to Battery Spencer, another one of the many fortifications from San Francisco's army outpost days.
The views here are especially spectacular in the hours before sunset, if you are able to time it just so! 
Take a sunset cruise.
Finally, finish your day with a sunset cruise on the Bay! You'll want to take an Uber from the north end of the Golden Gate Bridge or from Battery Spencer back to the Fisherman's Wharf area. By car, this takes about 20-30 minutes depending on traffic.
This sunset cruise is affordable, lasts 1.5 hours, and departs at 7 PM from Pier 43 1/2 (arrive at least 15 minutes early to check in!). Food and drinks are available on the boat if you get peckish!
Find a late night dinner spot.
As someone who left the Bay Area for 15 years and then moved back, one of my biggest gripes about San Francisco is that most restaurants close at 8 PM or 9 PM…. which is usually right about when I want to eat when I am traveling, since I like to jam-pack my daytime full of sightseeing.
Luckily, this guide has found all the best late night eats in San Francisco, so pick your spot from there and make sure you have a reservation, particularly in these pandemic days when things book up easily and early!
San Francisco Itinerary: Day Two
Start the day with a pastry from Tartine.
Tartine Bakery in the Mission District is an absolute classic, so why not start your day in the most San Francisco way possible — waiting in line for a perfect pastry?
I hate waiting in lines — I am not the kind of person who would wait in line for anything "Instagrammable" — but I will wait for amazing food, and Tartine is worth the wait. It's not hype, it's classic.
The croissants and the scones are world-class, but I bet it's hard to go wrong with just about anything here.
Check out the views from Dolores Park.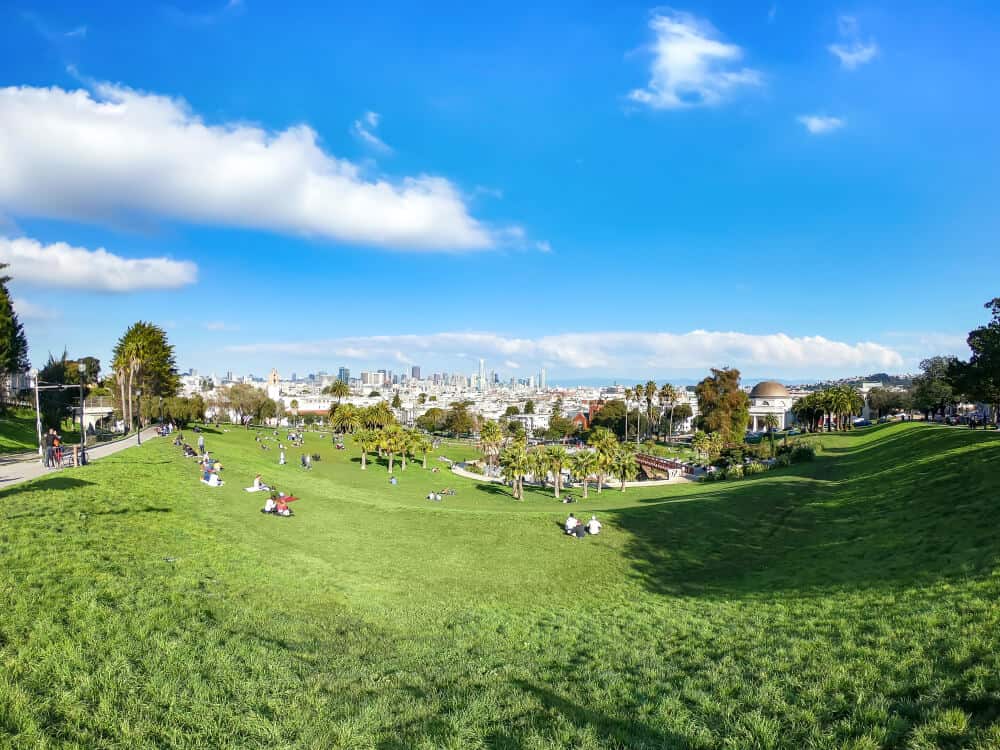 Once you've secured your pastry, it's time to wander around the Mission District before making your way to Mission Dolores Park, one of the best parks in the city.
A few places worth seeing in the Mission District include:
– Mission Dolores, which was established by Franciscan missionaries from Spain in the same year that the United States declared independence, in 1776. It's the oldest surviving building in San Francisco by a significant margin.
– The neighboring Mission Dolores Basilica, a much larger and more grandiose building, built in 1918 after the 1906 San Francisco earthquake.
-The well-known Clarion Alley with its beautiful and powerful street art murals
– The lesser-known Balmy Alley, also with incredible mural work but with fewer visitors
– If you prefer a heartier breakfast than pastry and coffee, get a breakfast burrito from one of the many famous Mission taquerias (my favorite is El Farolito). The Mission is famous for its great Mexican food!
After you've finished sightseeing your way through the Mission, rest your feet at Dolores Park for a bit before we continue on with our walk through the city — there are plenty of hills to come, so make sure your feet are ready!
Walk though the Castro and see the iconic Castro Theater.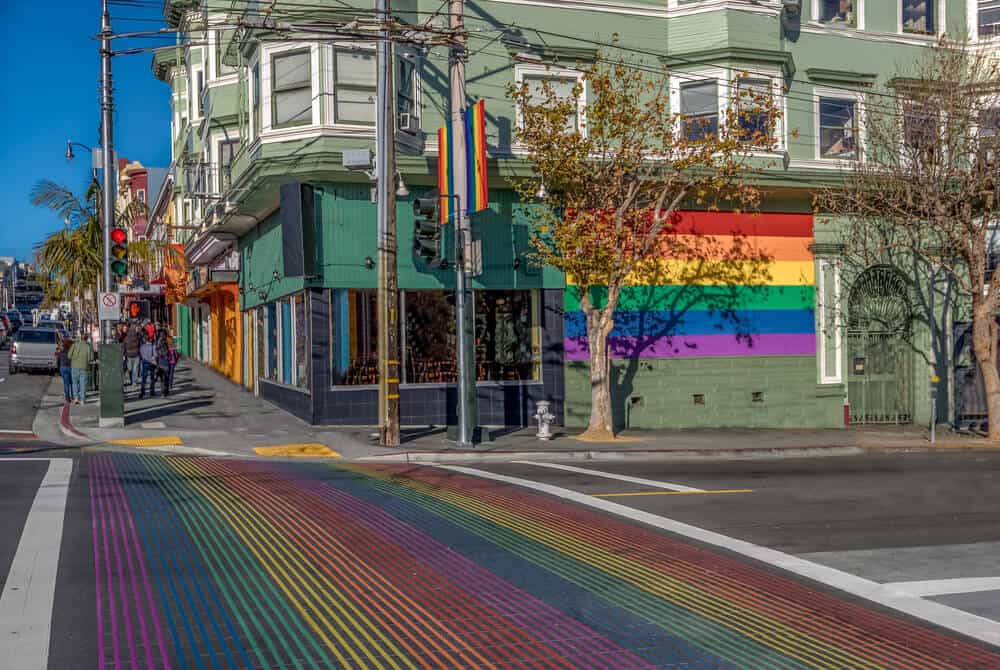 From Dolores Park to the heart of the Castro is just about a 10-minute walk, so it's an obvious next stop on this San Francisco itinerary.
The Castro District is basically synonymous with LGBTQ+ culture and has long been a pioneer for queer visibility and pride.
Be sure to see the famous Castro T heater, with its gorgeous baroque facade and nostalgic lettering, and of course — the rainbow-painted crosswalks. 
Take your classic photo with the Painted Ladies.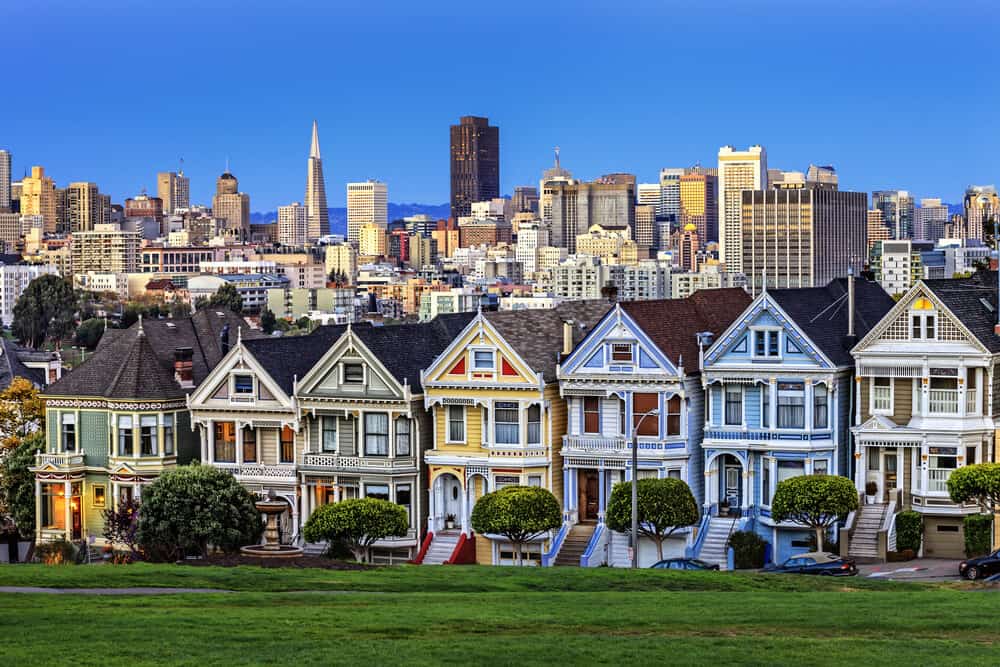 Note: From the Castro District to the Painted Ladies is a 20-25 minute walk, but it is very hilly — as in, I have literally hurt myself walking between the Castro & the Haight. This may be a good place to hop in an Uber if you are looking to cut off some hills and some walking distance.
Up next, it's time to visit the famous Alamo Square and its "Painted Ladies", a row of beautifully pastel-painted Victorians all lined up with a view of the San Francisco skyline behind it.
It's one of the best views in the city, hands down. You'll definitely want to snap a few photos here!
Check out Haight-Ashbury's lesser-known Victorians.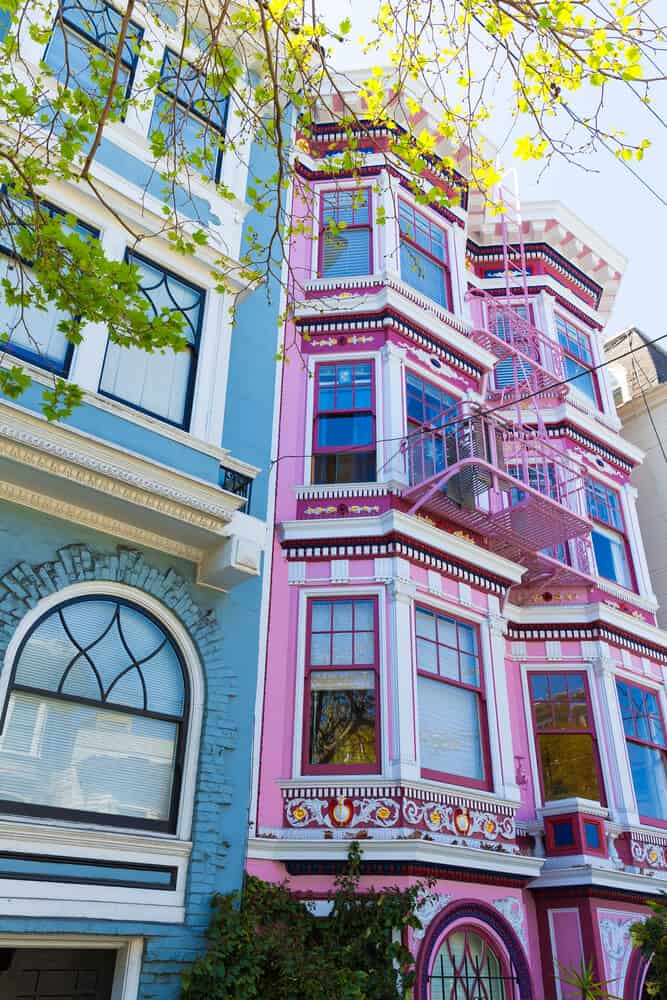 Afterward, backtrack a few blocks to Haight Street and start walking west towards Golden Gate Park.
There are all sorts of beautiful Victorian buildings painted in brilliant colors down side streets in this area, so feel free to wander at your leisure.
A few of the prettiest stretches are Central Street between Haight and Page and Waller Street between Ashbury and Masonic — but wander wherever color meets your eye and you're sure not to be disappointed!
The Haight-Ashbury was known for being the heart of the hippie and counterculture movement during the 1960s, and it was the heart of the famous 'Summer of Love' in 1967, when nearly 100,000 hippies and bohemians all congregated here.
While the Haight's changed now to a more bourgeois neighborhood — think Whole Foods — there are certainly parts of the Haight that haven't changed much since its heyday.
The full stretch between Alamo Square and Golden Gate Park down Haight Street takes about 30 minutes to walk. I do suggest walking it since it's quite beautiful and historic, but you could also Uber here or utilize your hop-on, hop-off bus pass.
If you need a break, grab a coffee at Ritual Coffee Roasters or Flywheel on Stanyan Street once you arrive at the edge of Golden Gate Park.
Walk in Golden Gate Park to the Conservatory of Flowers.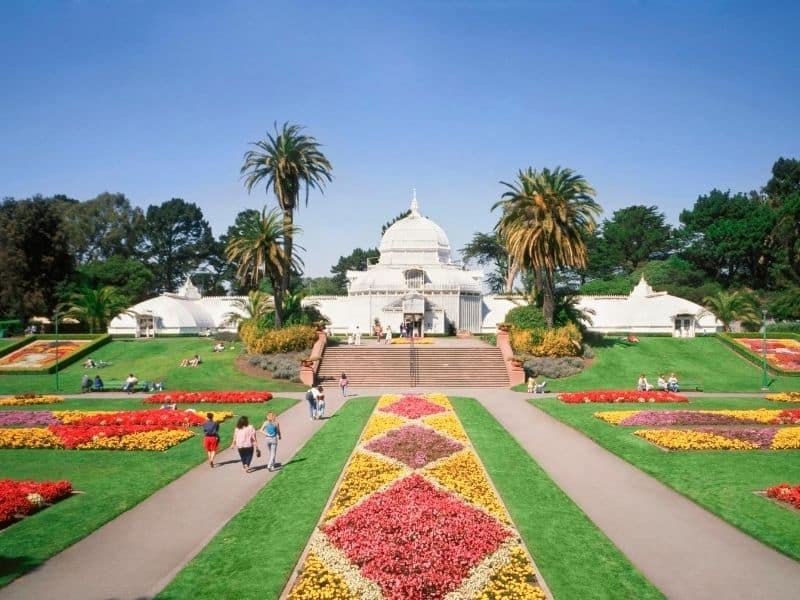 Next up is the Conservatory of Flowers in Golden Gate Park, a beautiful building worthy of a trip on your San Francisco itinerary. It's about 10 minutes from the entrance to the park.
You can admire the building from outside (it was built in 1879, making it the oldest building in the park, and one that survived the catastrophic earthquake) or you can go inside and check out all the rare and exotic flora!
Tickets are $10 and can be bought online in advance here.
Marvel at the Japanese Tea Garden.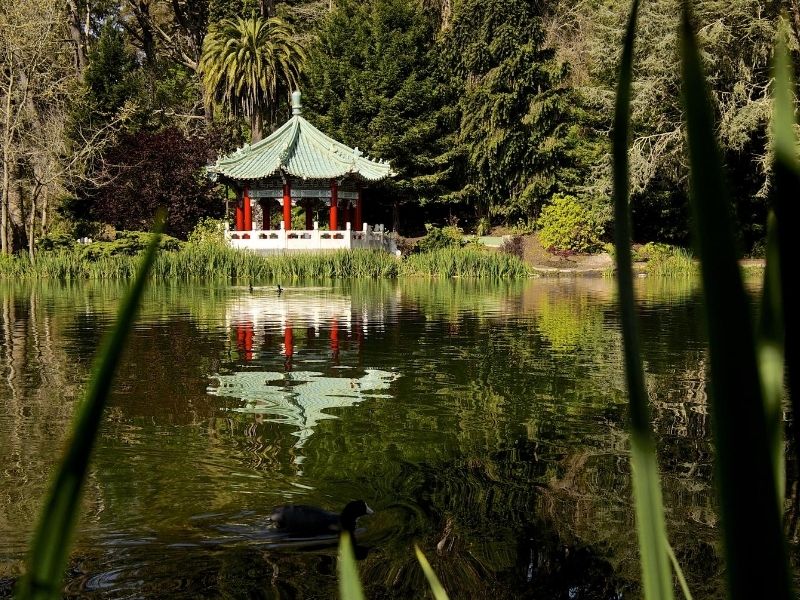 Another 10 minutes into the park, you'll find the Japanese Tea Garden next to the deYoung Museum.
The Japanese Tea Garden is real oasis in the middle of Golden Gate Park: you will feel transported to Kyoto in a matter of minutes. Admission is $11 and it's worth every penny!
It's the oldest Japanese garden outside of Japan, open since 1894 — yup, it too survived the '06 quake!
You can get authentic Japanese tea at the Tea House, but I suggest waiting for the next stop on our list: Chinatown!
Insider Tip: Before entering the Tea Garden, make a little detour to the observation deck at the deYoung, the Hamon Observation Tower, if it's open! It is closed at the time of writing due to the pandemic, but hopefully this will change soon.
Take an Uber back to downtown SF for dim sum.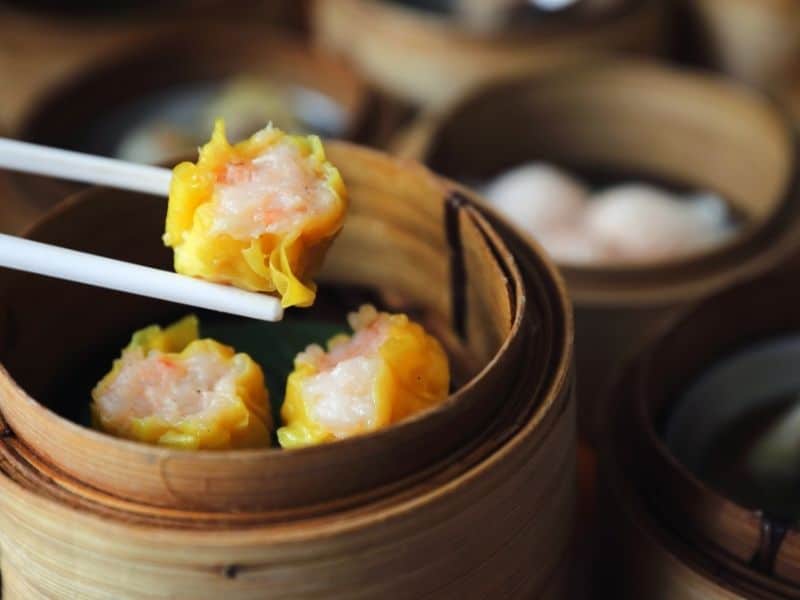 You've probably worked up an appetite after all that walking! Treat yourself to a ride back to downtown San Francisco for some dim sum, which are Chinese small plates such as dumplings, buns, and savory cakes (turnip cake for life) enjoyed with tea.
My personal favorite spot in San Francisco for dim sum is Yank Sing on Stevenston Street, but I'll admit, it's expensive and it's also a little outside of Chinatown. If you're a dim sum enthusiast and connoisseur who truly wants the best, it's where you should go.
If you're on a budget or just want a more conveniently located dim sum restaurant, I also like Good Mong Kok Bakery which offers take-out dim sum at an affordable price. If you're trying to continue your momentum without taking a long lunch break, this is a great option!
Explore SF's Chinatown.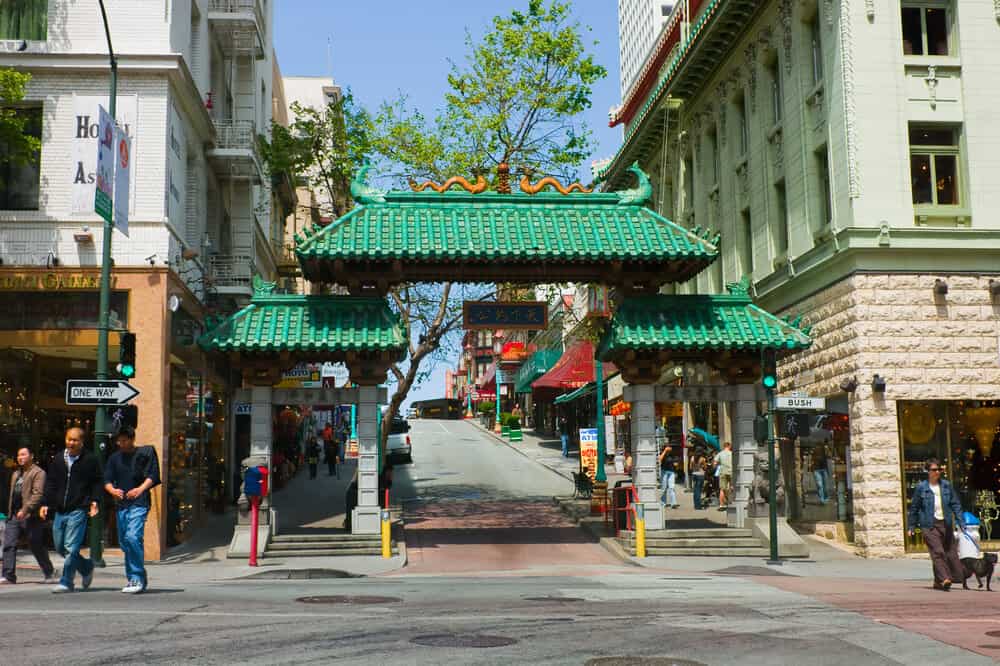 San Francisco's Chinatown is small but mighty: it's the densest population center west of Manhattan! It's also one of the largest Chinatowns in America (and the world outside of Asia).
Here are a few things worth seeing on a visit to Chinatown:
– Golden Gate Fortune Cookie Factory for its hand-folded fortune cookies baked fresh right in front of your eyes in their open kitchen. It also offers free tours.
– The Dragon Gate at the south entrance to Chinatown at Bush and Grant, marking one of the gateways to Chinatown.
– Tin How Temple, the oldest Taoist temple in Chinatown and one of the oldest Chinese temples in the entire country
Walk North Beach and Visit City Lights Bookstore.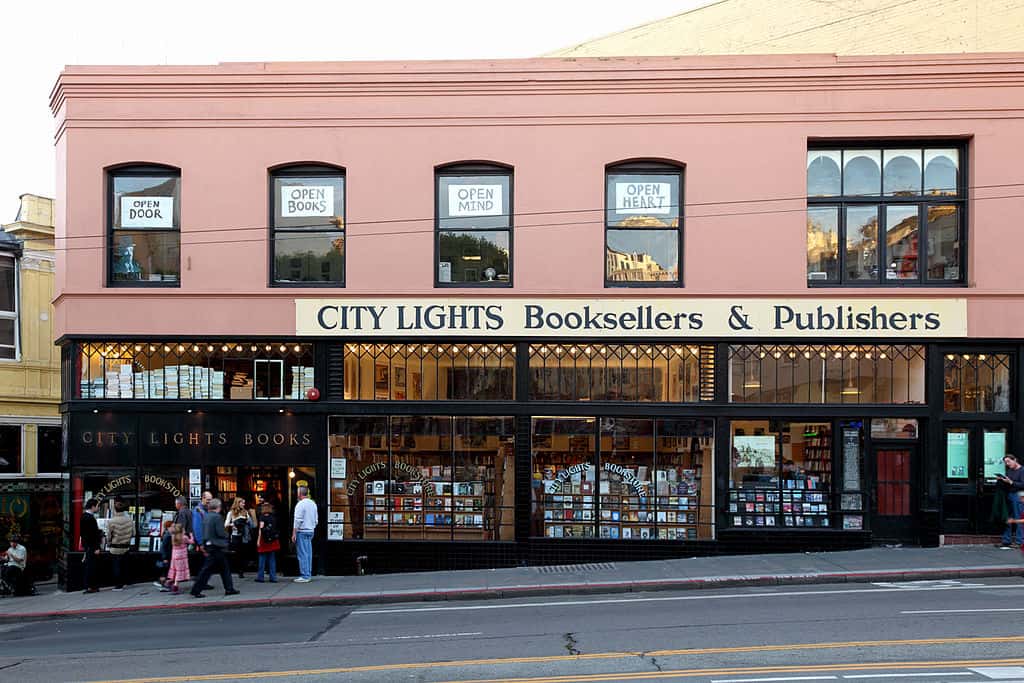 North Beach historically was an Italian neighborhood in San Francisco, and you'll still see vestiges of that heritage in the handful of Italian restaurants throughout the neighborhood.
The Italian population of the neighborhood has waned over the years, but there are still a number of good Italian restaurants, including Tony's Pizza Napoletanawhich has some of the best pizza in the city.
North Beach is also famous for being the heart of the Beat movement in the 1960s. If you want to pay homage to the Beat Generation, you have to visit City Lights Bookstore & Publisher, which was at the heart of the Howl obscenity trial in 1957, one of the most important anti-censorship decisions of the last hundred years.
The Beat Museum on Broadway a block away from City Lights is also worth a visit for lovers of Jack Kerouac, Allen Ginsburg, and the rest of the Beats.
Head to Coit Tower for gorgeous views (and parrots?)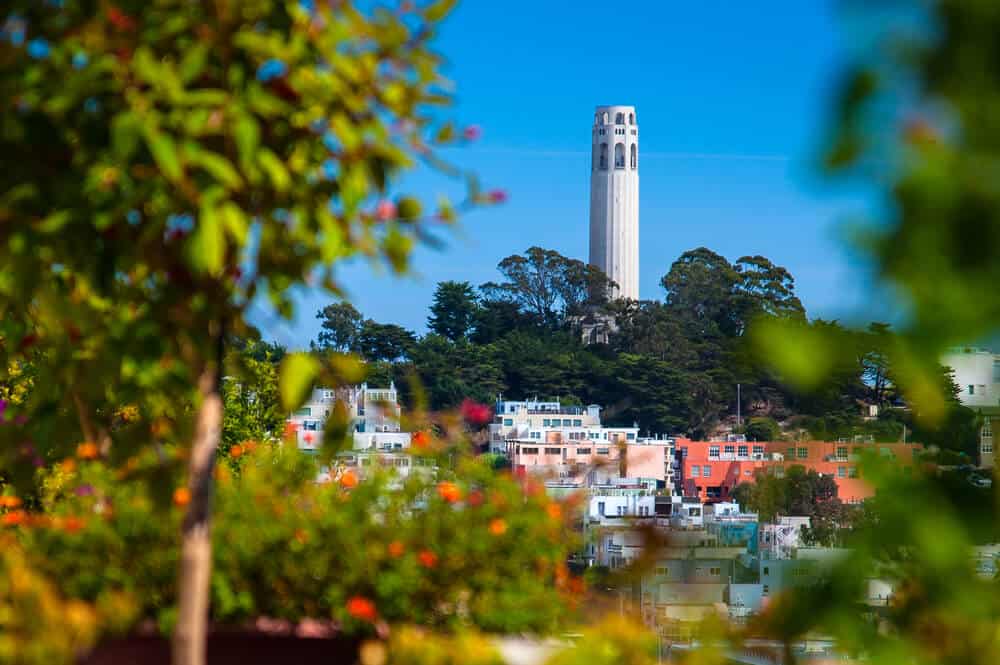 Next up, head up Telegraph Hill to Coit Tower for some impressive city views!
Yes, the hill is a slog — you gain 200 feet (about 20 stories) in four short blocks — but it's worth the huffing and puffing because the views are gorgeous.
Look up as you walk up Telegraph Hill — you might see the parrots this neighborhood is known for! I've seen the parrots in places all over the city, including the Embarcadero and the area near the Bay Bridge on-ramp.
Coit Tower is named for Lillie Hitchcock Coit, who left a hefty sum in her will upon her death with the rest that the money be used "for the purpose of adding beauty to the city which I have always loved." The 210-foot tower was built in 1933 and named in her memory.
Inside the lobby, there are murals from over two dozen artists, which were funded by the arts project arm of FDR's New Deal. It would then set a precedence for other art projects in public buildings.
See the beautiful, crooked Lombard Street.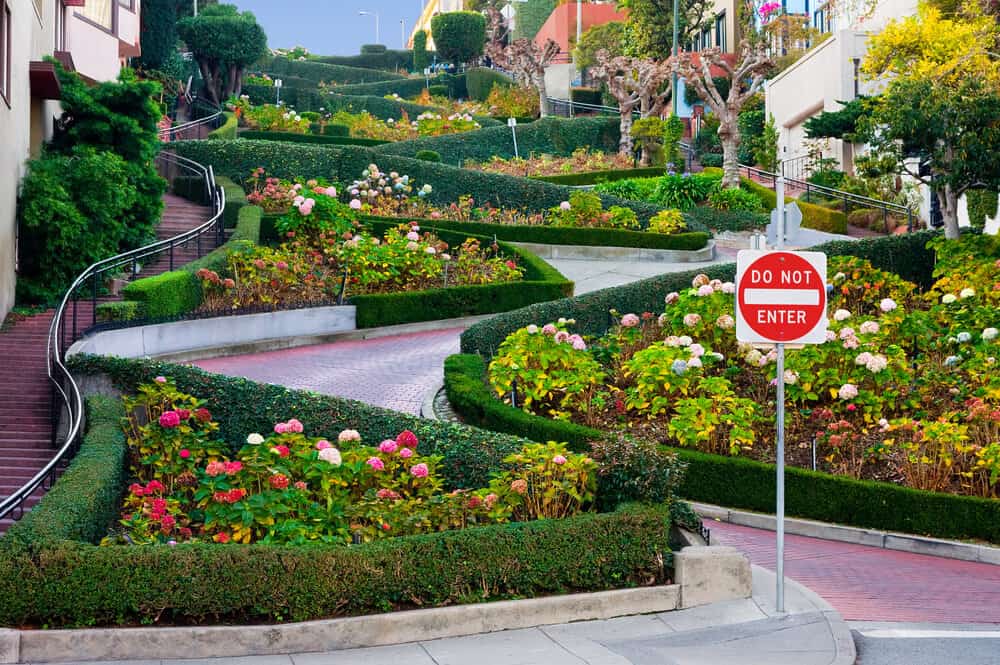 From Coit Tower, you'll go down a hill and walk about 20 minutes until you reach the base of Lombard Street.
According to popular tourist lore, it's the most crooked street in the city, famous for its series of eight hairpin turns that zig-zag up one city block!
Locals argue that Vermont Street is technically crookeder, but there's no denying the beauty of Lombard Street… though the crowds that often flock to it can be quite large.
Driving down it is not for the faint of heart — but nor is walking up it!
You can walk up it if you want to add to your step count and get an awesome view, but the prettiest view of the street itself is from the bottom, so if your legs want to give out here, there's no need to walk up all of it.
Take in the views in Ina Coolbrith Park.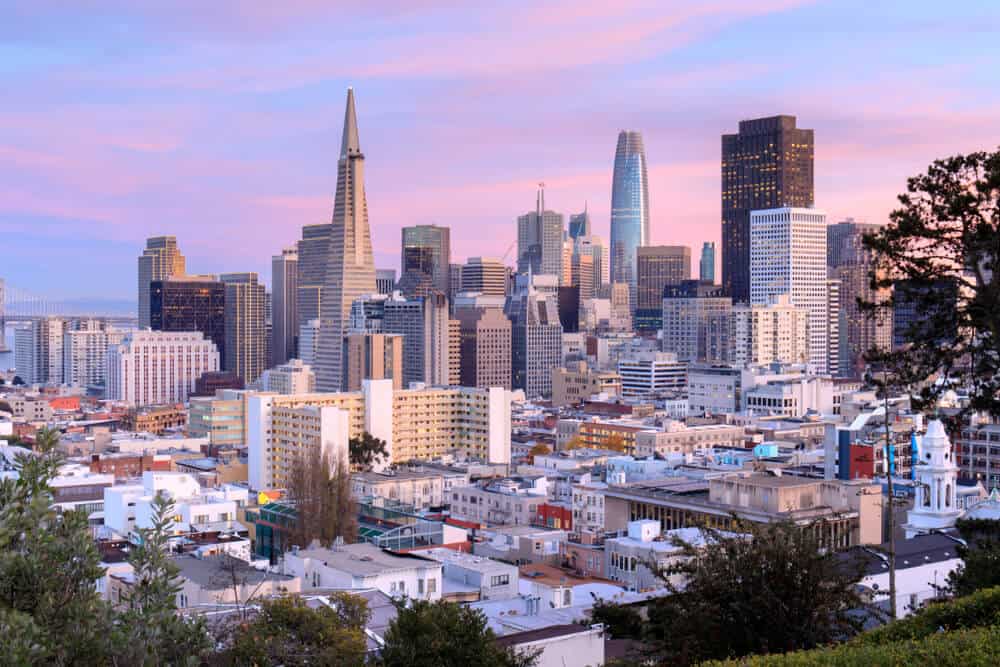 If you'll allow me to bring you to one last spot on this San Francisco itinerary without cursing me for making you walk more (including up yet another hill, if you didn't make it to the top of Lombard Street) — Ina Coolbrith Park is a lovely hidden gem in the city with gorgeous views, especially near sunset.
You'll enjoy beautiful views of downtown San Francisco, the Transamerica Pyramid, and the Bay Bridge — it's a real stunner.
Grab dinner in Russian Hill.
There are a number of fantastic restaurants in Russian Hill. A few standouts are:
– Serafina for some of the best Italian food in the city. The pinsa romana is stellar and unique, a type of Roman-style focaccia with delicious toppings. Their spaghettini alla bottarga is worth dreaming about.
– Sumac for tasty and affordable Turkish food with a California flair. Currently not open for dine-in, so perhaps bring it as a picnic to Ina Coolbrith Park — it's on the way!
– Aux Delices for upscale French-Vietnamese food.
Day 3 of Your San Francisco Itinerary
Take a day trip to Muir Woods and Wine Country
One of the best things about San Francisco is how close it is to some of California's most unique offerings: redwoods and wine country!
There are many places to see redwoods near San Francisco, but the closest and most impressive is in Muir Woods, located in Mill Valley in Marin County.
Wander through these beautiful redwoods — your head will be tilted up the whole time as you marvel at these enormous soaring trees!
After visiting Muir Woods, head to Napa Valley and Sonoma for a wine tasting extravaganza! Both Napa and Sonoma offer incredible wines, and the crazy thing about it is how different the wines are in both regions, despite being so close. That's California microclimates at work for you!
Napa is hotter and drier than Sonoma, so bold, fruity wines do really well here. Napa is well-known for its Cabernet Sauvignon, Zinfandel, and Syrahs, as well as its Chardonnays.
Meanwhile, Sonoma is more coastal, with more fog and cooler overall temperatures. Light, acidic, and structured wines excel here, like Pinot Noir and Sauvignon Blanc. Sonoma Pinots are world-class — especially those from the Russian River area!
I don't recommend renting a car to drive this route — parking is a nightmare at Muir Woods, and then driving after drinking at several wineries is a terrible idea (plus, Napa traffic is often hellacious).
This day trip to Muir Woods, Napa, and Sonoma is the best-planned day trip, covering all the stops you'd want to make in a well-thought-out day.
It includes stops at three wineries (tasting fees included — not all tours do this, and the fees add up), transit between all destinations, and hotel pick-up and drop-off. Note that lunch and entrance to Muir Woods are not included, so budget a little extra for that.
Check out this redwoods + wine country day trip!
Other Options for Day 3
If you don't drink or just aren't interested in wine tasting, there is plenty you could do instead with your third day in San Francisco.
Hang around Union Square and do some shopping, visit some of San Francisco's excellent museums (the SF MoMA, the California Academy of Sciences, the Exploratorium, the Asian Art Museum), or do some urban hikes such as Lands End and the Sutro Baths or Twin Peaks.
Take some streetcars around the city and walk to your heart's content, or take a guided walking tour of a specific neighborhood.
You could spend some time doing a day trip to Sausalito, the city on the other side of the Golden Gate, or just ticking off more of San Francisco's tourist attractions.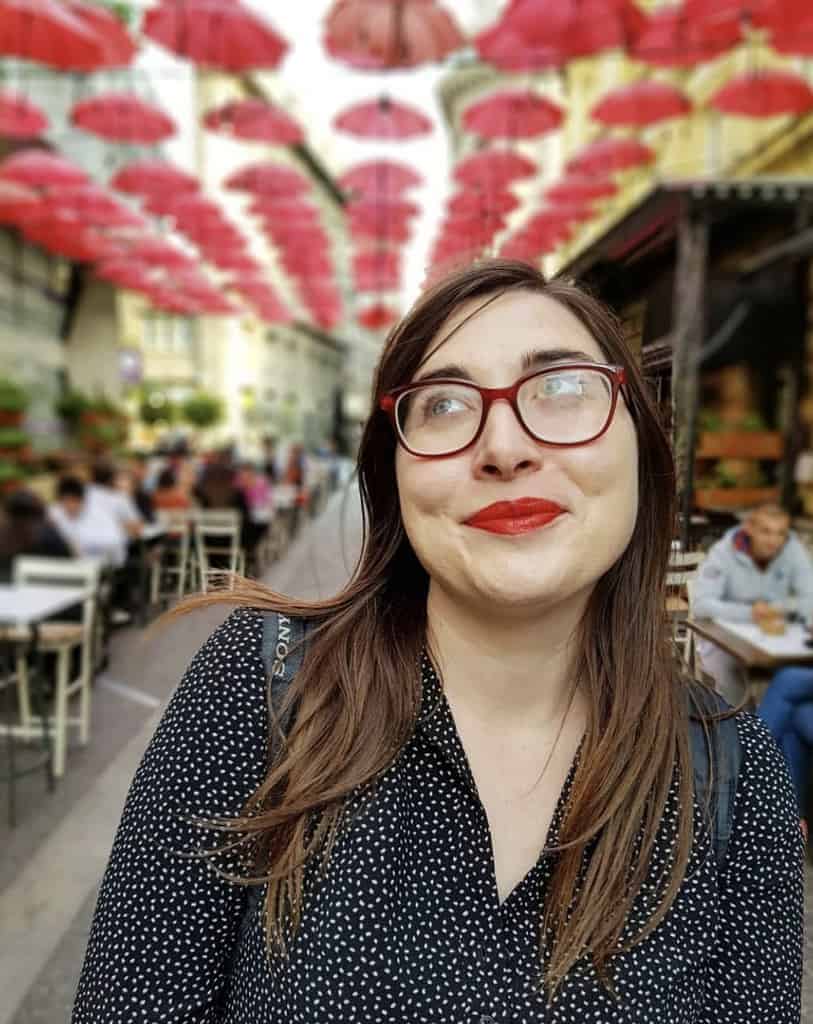 Allison Green is a travel blogger, writer, and podcaster who grew up in the Bay Area of California. She has spent time living in New York, Prague, and Sofia, but has returned to live in the East Bay. She has traveled to 60 countries before the age of 30 while running several digital travel publications. Her writing and podcast have been featured in Forbes, CBC Canada, National Geographic, the Huffington Post, and CNN Arabic, amongst others. She's obsessed with bouldering, houseplants, other people's pets, and anywhere she can see the ocean.