Santa Barbara is a wonderful beach town for a weekend getaway from Los Angeles or elsewhere in Southern or Central California! 
We're talking about beautiful beaches, nice sunny California weather without the crowds of LA, and a slower pace than the larger cities.
With its beautiful Mediterranean climate and gorgeous European-inspired architecture, it's no wonder Santa Barbara has earned its nickname "the American Riviera"!
Although a small city numbering less than 100,000 residents, there are plenty of activities to easily fill up a 3 day Santa Barbara activity, allowing two days for city exploration and one day for a wine-themed road trip!
Here's how to spend an ideal long weekend in Santa Barbara — but first, let's talk accommodations, because that'll have a big impact on your Santa Barbara weekend trip!
Where to Stay in Santa Barbara
Note: This post contains affiliate links, which earn me a small commission at no extra cost to you if you make a purchase using one of these links. Thank you for supporting this free content!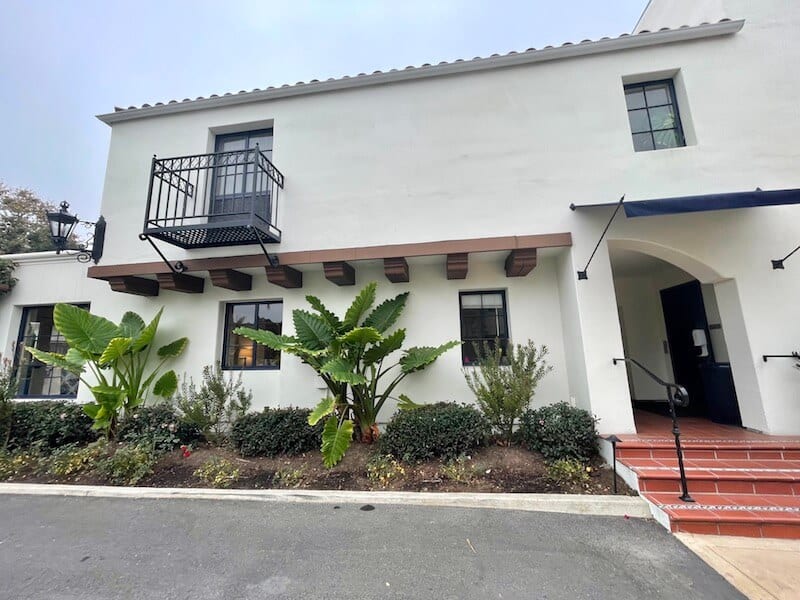 First, the bad news. Accommodations in downtown Santa Barbara are not cheap (trust me, I tried to find them!), especially if you are doing a Santa Barbara weekend getaway.
Expect to spend roughly $300-400 per weekend night for a mid-level hotel, and $200-250 for a mid-level hotel on a weekday night.
Unfortunately, these kinds of prices are pretty ubiquitous — I went during the off-season in cool and foggy October, and these were still the prices! And don't even think of Airbnb — prices are even worse there!
The truth is that when it comes to accommodations, you're likely going to have to suck it up as this is the most expensive part of your Santa Barbara trip.
If you're spending the weekend in Santa Barbara, you might want to arrive on Friday night if you can so you can hit the ground running with this Santa Barbara itinerary!
Here are a few suggestions for where to stay in Santa Barbara. All of them are focused on the West Beach neighborhood, which is my personal favorite neighborhood in Santa Barbara. 
Why West Beach? It's quiet and safe, full of beautiful architecture to swoon over, and best of all, its location is unbeatable.
Within a 5 to 10 minute walk, you are able to reach the beach and Stearns Wharf, State Street, and my favorite neighborhood to eat and drink in, the Funk Zone!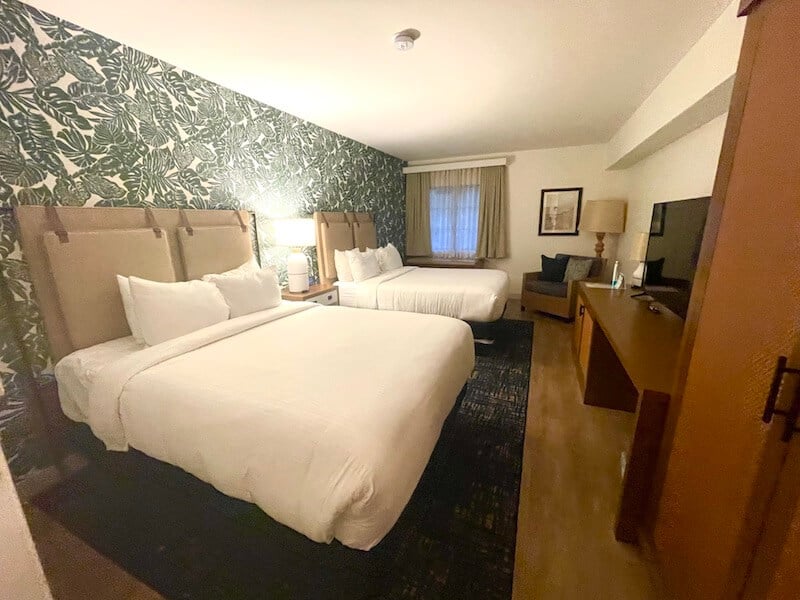 MID-RANGE | On my recent trip to Santa Barbara, we stayed at the Mason Beach Inn in West Beach, two blocks from the beach and with amazing rooms to match! We loved the location, spaciousness of the room, and cute interior decor (I mean, that monstera wallpaper? Swoon).
BUDGET-ISH | The lovely and quiet neighborhood of West Beach is a 10-minute walk from central Santa Barbara with its main street, State Street, and it's full of some excellent but affordable hotels. The Eagle Inn offers some of the best value just a short walk from the ocean and the tasting rooms and restaurants of State Street!
BOUTIQUE | For a little more luxury (without an insane price tag), the Santa Barbara Inn is a beautiful, chic boutique hotel with beachfront access and its own pool, also located in the charming West Beach area.
Weekend in Santa Barbara Itinerary: Day One
Start your day right at Jeannine's Restaurant and Bakery.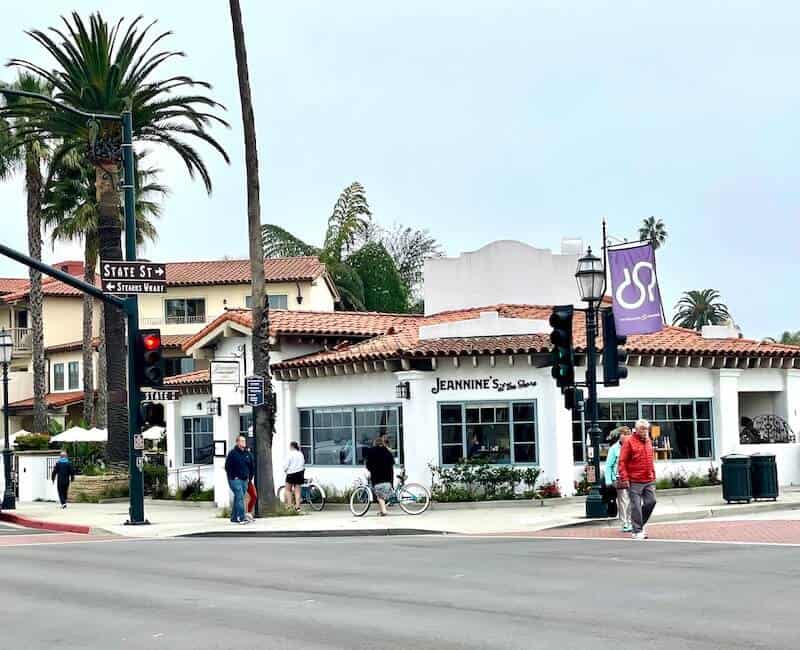 Ready to begin your weekend in Santa Barbara? You have a full itinerary, so let's get started with a full stomach.
Jeannine's is a bit of a Santa Barbara institution, with four locations scattered around town.
Since this Santa Barbara itinerary has you staying in West Beach, it would make the most sense to eat at the location on State Street and Cabrillo Avenue, right by Stearn's Wharf.
Here, you stand in line to order at the counter, then find a spot at a table and wait for your food to be served.
Everything on the menu is delightfully presented and delicious and you can't go wrong!
Wander up State Street.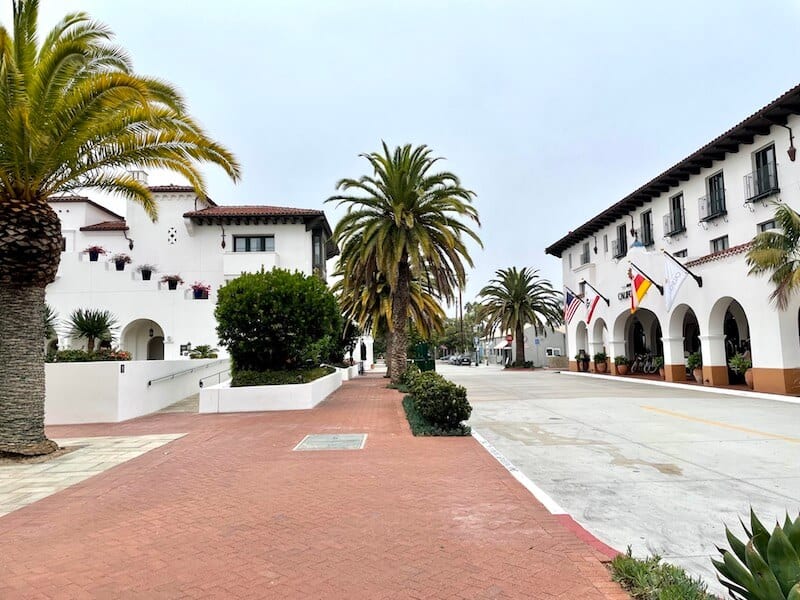 From Jeannine's, you'll be right on State Street, the main thoroughfare for walking in downtown Santa Barbara!
There are tons of tasting rooms, restaurants, and alleyways filled with great cafes and bars so you'll never get bored of walking around State Street.
The way that Highway 101 and the Amtrak cuts through downtown, you'll often find yourself routing your downtown walking tours via State Street, so you'll get quite familiar with this area over time.
That said, definitely make a point of taking a purposeful stroll down State Street, stopping at whatever boutiques, cafés, bakeries, or ice cream shops catch your eye — and making note of any delicious-looking restaurants for later!
Stop at the Saturday Farmer's Market.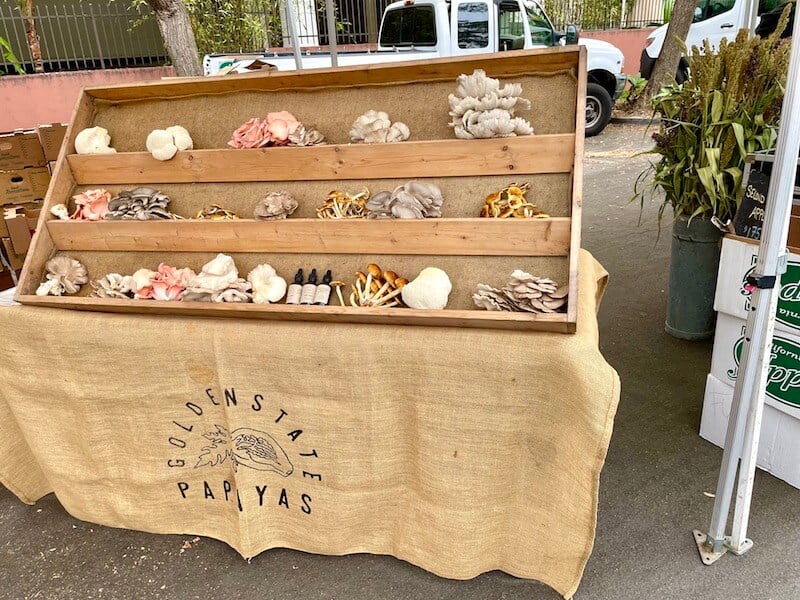 Assuming that you are following this weekend in Santa Barbara itinerary starting on a Saturday, your first day in Santa Barbara will coincide with the Santa Barbara Certified Farmer's Market, which is a great thing!
I've been to many a farmer's market over the year (yes, I'm a millennial) and the one in Santa Barbara is one of the largest and most impressive I've seen in recent memory!
They had all sorts of flavors of incredible-looking hummus (including a cilantro and jalapeño one I wanted to devour), deliciously fresh produce even through the end of October, and shockingly well-priced plants that my friend literally had to drag me away.
Walk past the pretty Casa Covarrubias.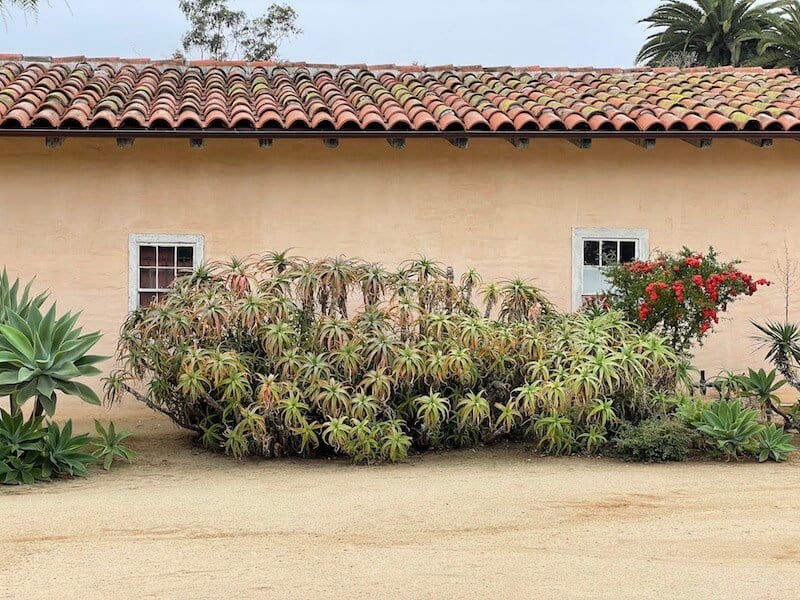 Not far from where the Farmer's Market takes place on Saturdays, you'll pass by Casa Covarrubias, an adobe historic house that was built in the 1920s.
It is now on the list of California historic landmarks for its architectural beauty and value, so that its beauty can be preserved for future generations to appreciate.
Visit the Santa Barbara Historic Museum.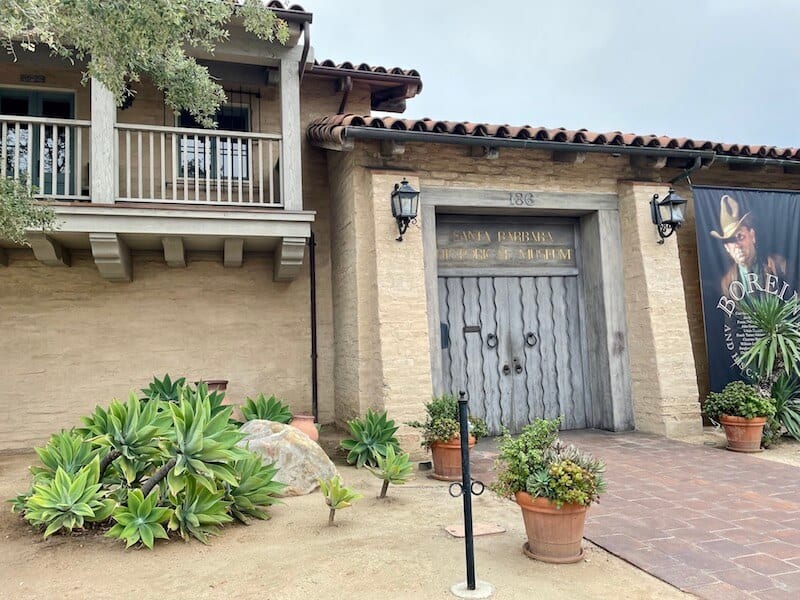 Right across from our next stop, you can visit the Santa Barbara Historical Museum before heading to the Presidio.
Unfortunately, we stopped by before it was open (its hours are between noon and 5 PM on Saturdays, and it's closed on Sundays), but if you're able to visit, I'd recommend it — especially if you're a fan of museums!
Check out the El Presidio de Santa Barbara.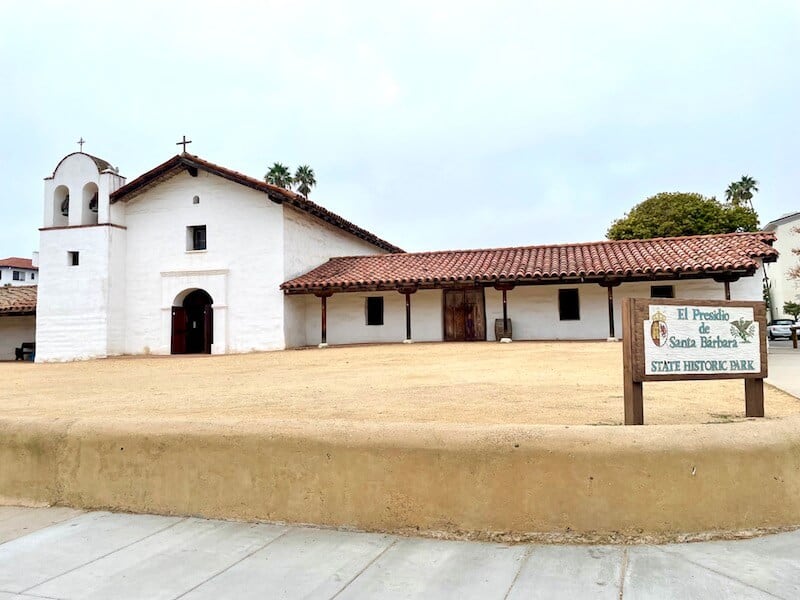 Just across the street from the Santa Barbara Historical Museum, you can find El Presidio de Santa Barbara.
Built in 1782, the Presidio was once a military barracks protecting Spanish land interests in California. Inside, there is a small adobe building called "El Cuartel" which used to be a guard's house.
Fun fact: this is the oldest building in all of Santa Barbara, and in fact, it is the second-oldest building from the Mission period in California.
El Presidio de Santa Barbara is now a state historic park that has preserved the original architecture impeccably, recreating it even after an earthquake destroyed much of the original architecture.
Visit the stunning Santa Barbara County Courthouse.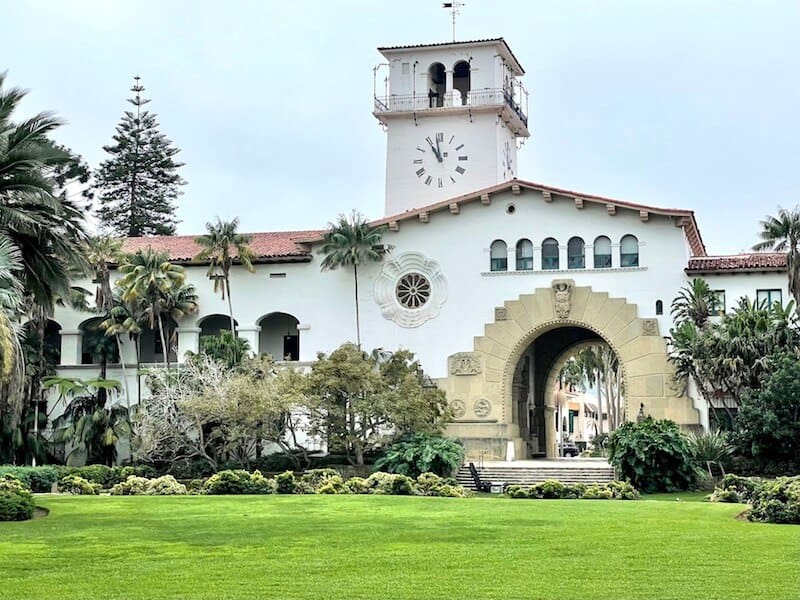 It may not seem like a normal item on a list of things to do in a city, but trust me on this one.
The Santa Barbara Courthouse is a point of pride for the city, and when you visit, you'll see why.
Done in the Spanish Colonial Revival style and dating back to 1929, this courthouse is considered one of the best examples of the architectural style ever built.
The grounds are really beautiful and a plant-lovers dream (my friend and I, both plant geeks, were enraptured by all the beautiful greenery here).
Take a wander through the grass and gardens and marvel at the courthouse from every angle!
Have lunch at the Blue Owl.
A short walk from the Santa Barbara Courthouse is The Blue Owl, a great spot for an affordable lunch.
This counter-service restaurant serves a variety of sandwiches, salads, and fried rice topped with various delicious toppings like poached eggs and kimchi.
There are lots of vegetarian and vegan options here as well.
Check out the Santa Barbara Mission.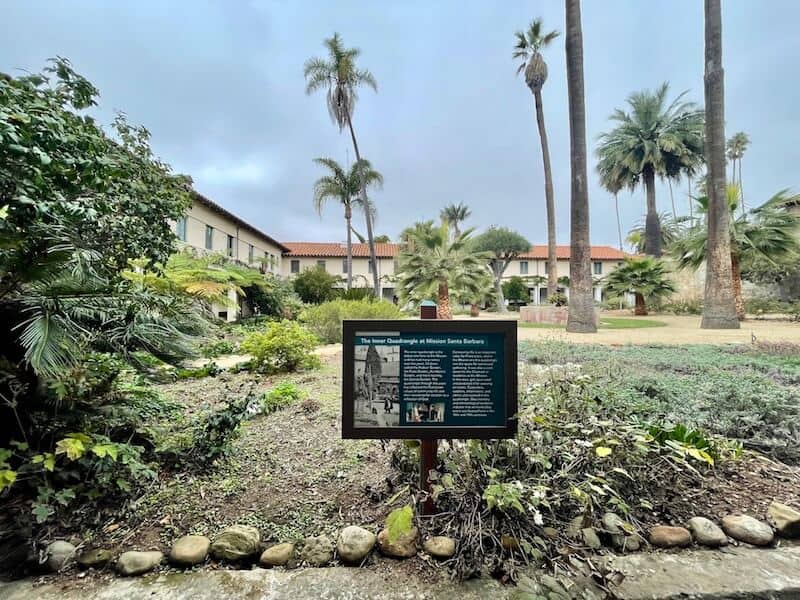 After you have finished lunch, stop at the Santa Barbara Mission. The Old Mission was established on the Feast of St. Barbara in 1786 by the Spanish Franciscans.
The Franciscans built a series of missions up and down California, from San Diego to Sonoma, attempting to convert the native populations and inculcate Christianity in them.
In Santa Barbara, Franciscan missionaries were putting pressure on the native Chumash people to give up their traditional ways and lands, which led to revolts and rebellions against these colonization attempts.
Despite the complicated history of the California missions, they are an important part of our state's history, and the Santa Barbara Mission does a better job than others at tackling the complicated historical legacy of the California missions and the people who were harmed by them.
While you are in town, it is worthwhile to pay for the tour, either the self-guided tour or the docent-led tour, and learn about the history of the Mission.
The tour includes the interior courtyard, the museum, the church, and the graveyard, and in my opinion, it's definitely worth the $15 admission cost. 
Check out the Mission Rose Garden.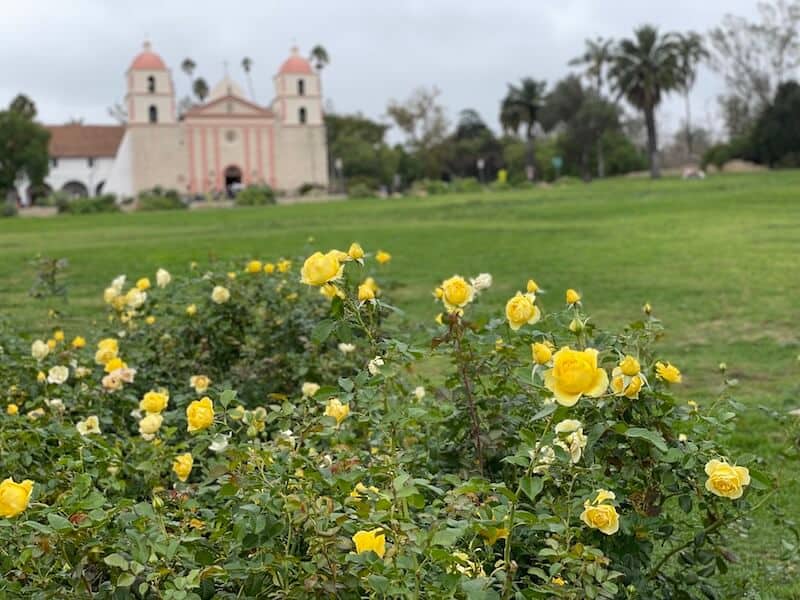 Afterward, be sure to check out the Rose Garden as well — it's pretty spectacular and a great photo spot for pictures with the mission in the background!
Even in late October when we visited, the roses were still in full bloom! It's really a beautiful place for a walk or even a picnic.
Wander through the Santa Barbara Botanic Garden.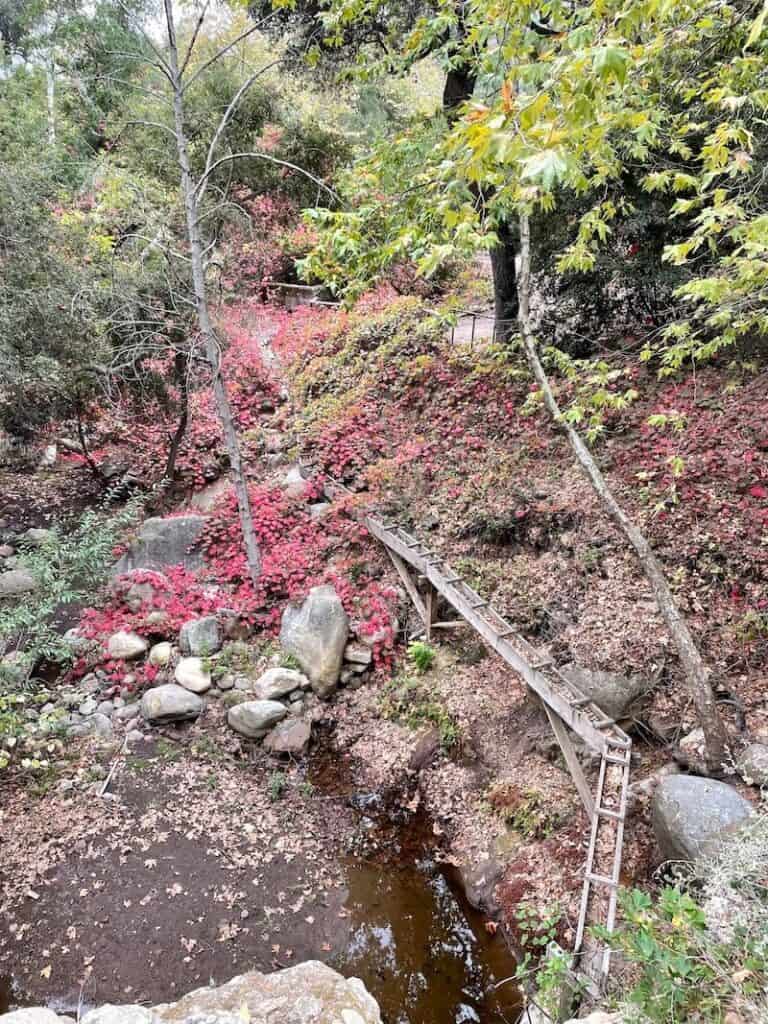 After checking out the mission, head to the Santa Barbara Botanic Gardens, about a 5-minute drive from the Mission.
Here, you'll find several different sections of the botanic garden dedicated to different biomes that thrive in California, including desert and coastal climates.
You'll also find a beautiful redwood grove here, a rarity in Southern California, so if you've never seen these beautiful giants before, be sure to visit!
The Botanic Garden is open until 5 PM on weekends and costs $15 to enter.
Have a gorgeous dinner on State Street.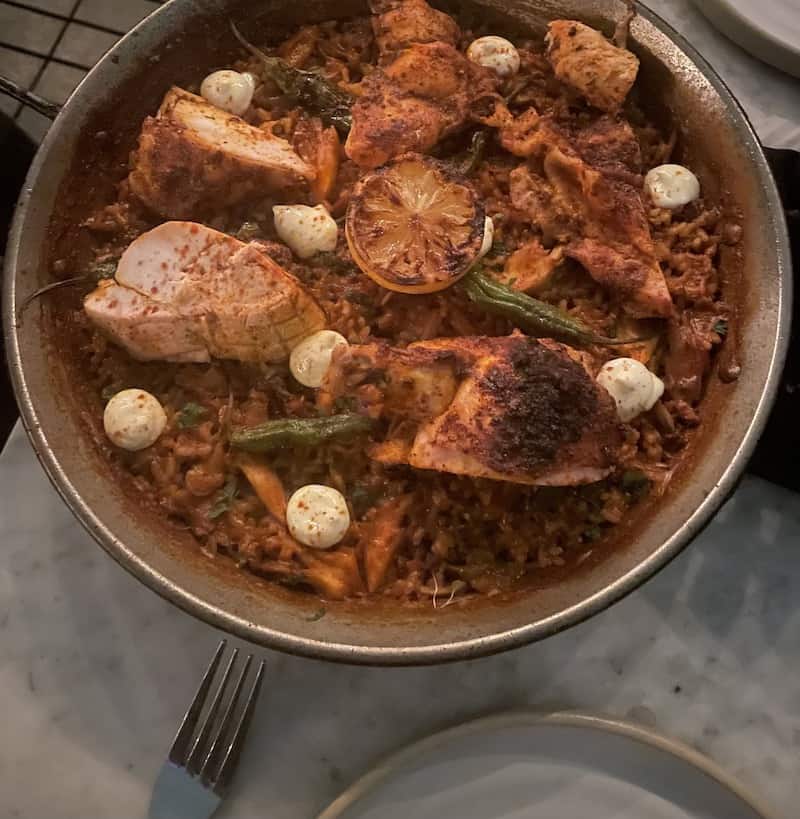 Once you've tired yourself out from all that walking, it's time to have a delicious dinner, and it's back to State Street with its endless options!
I have two strong recommendations for where to eat on State Street: Bibi Ji for modern Indian food and natural wines, and Loquita for delicious Spanish tapas and paella.
The halibut moilee (a Keralan style curry) was phenomenal at Bibi Ji, but we didn't love the papri chaat appetizer, which was off-balance with far too much yogurt.
At Loquita, we loved the chicken and chorizo paella and our cocktails, but thought the pintxos were a little too skimpy!
Weekend in Santa Barbara Itinerary: Day Two
Have a delicious breakfast at Helena Avenue Bakery.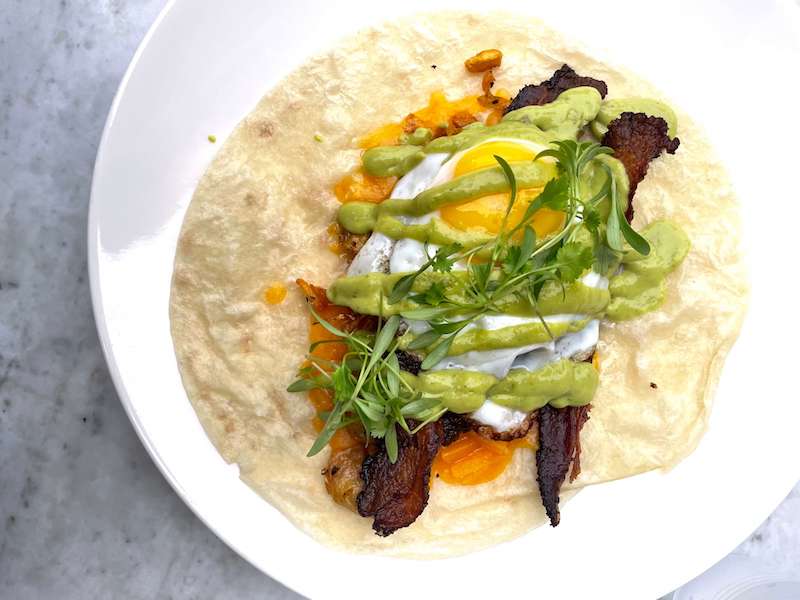 Start off day two of your Santa Barbara weekend trip the right way: with breakfast at the Helena Avenue Bakery!
Located in the Funk Zone, Helena Avenue Bakery is a delightful café-bakery with a selection of breakfast dishes, pastries, and delicious coffee drinks.
I had the spicy fried chicken biscuit and my friend had the breakfast taco: both were incredible, and my cappuccino was perfect to boot as well!
Relax on the beach.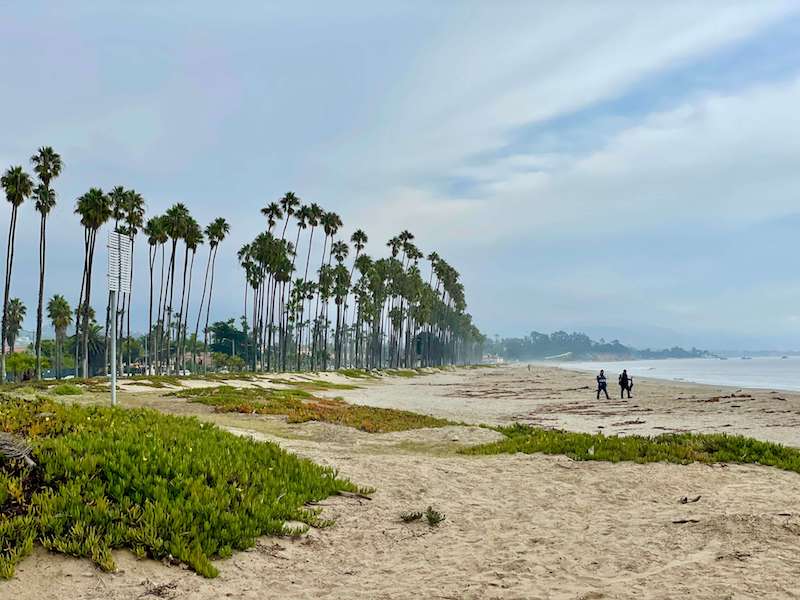 After a delicious breakfast, it's time to enjoy what Santa Barbara is best known for: its beaches!
Closest to the Funk Zone is East Beach, but there are plenty of other beaches in Santa Barbara worth visiting, including West Beach and Butterfly Beach.
Here, you can go for a swim (but just know the water isn't so warm!), sit and watch the waves, or befriend volleyball players and see if you can join a game.
Walk Stearns Pier.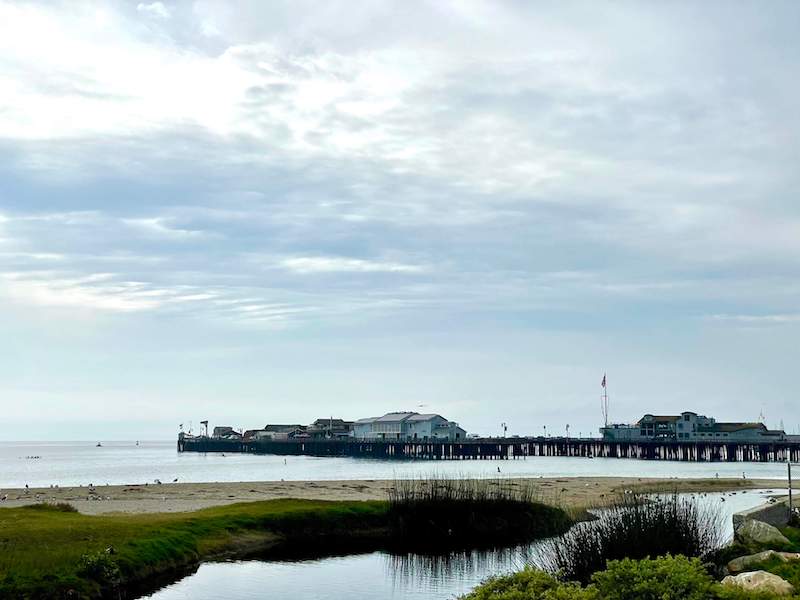 Are you really visiting a coastal California city if you don't make time to visit its boardwalk?
Stearns Pier is located right between East Beach and West Beach and it's a great place to go for a stroll after spending some time on the beach.
There are a number of shops and restaurants, including a little wine tasting room and the Sea Center, an aquarium that is part of the Santa Barbara Museum of Natural History.
Grab a delicious seafood lunch on the pier.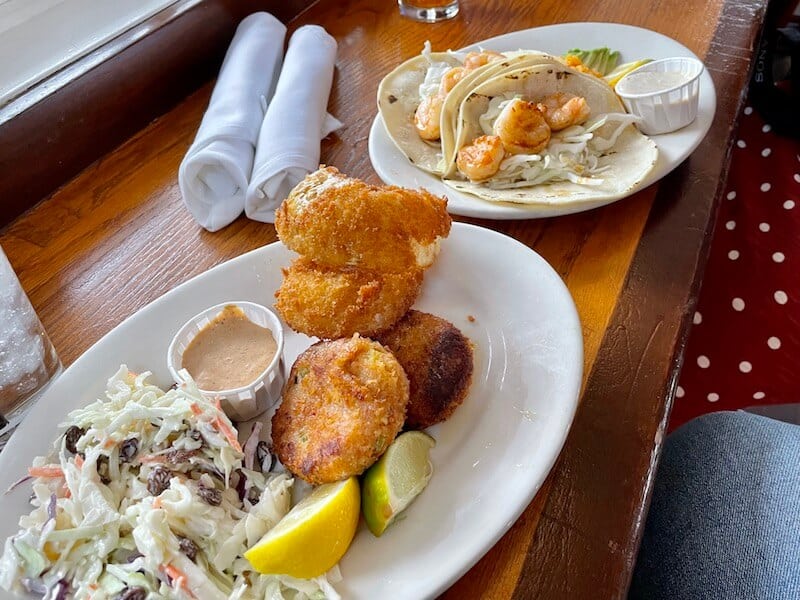 If you're getting hungry, there are lots of great seafood options on the pier, but the best is probably the Santa Barbara Seafood Company!
They offer all sorts of daily specials based on what's fresh, but be warned, the lobster and crab do not come cheap — we're talking $30 to 60 a pound… and a dish will likely involve more than a pound of seafood!
There are also quite a nice variety of other seafood options, though, under $20 so your meal doesn't have to cost an arm and a leg!
I had the crabcakes with onion rings, coleslaw, and chipotle mayo and my friend got the shrimp tacos — both were under $20 per plate, and were quite tasty!
Stroll the coastal trail.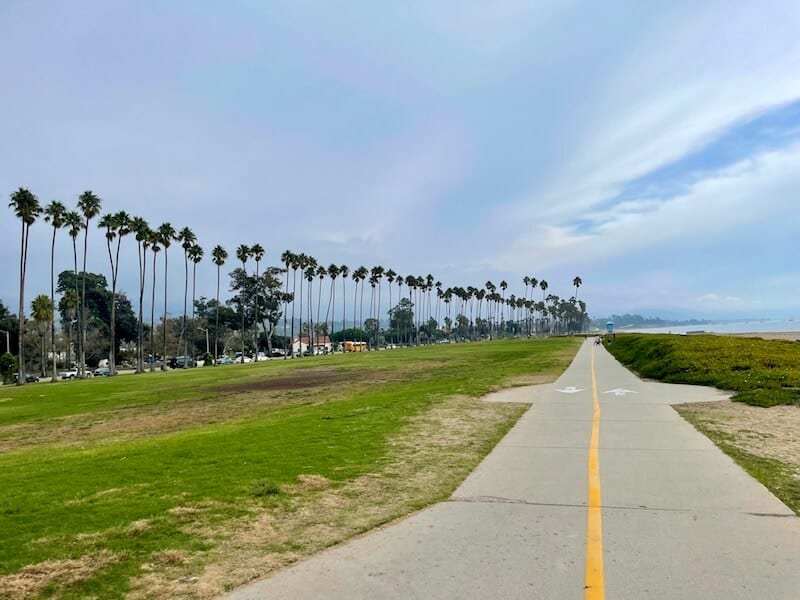 After all that food, you'll likely want to take a walk to digest and take in some more scenery!
Walk towards East Beach from Stearns Pier and admire the palm-tree-lined streets and mix of park lands and gorgeous sandy beach.
This is also a great place to rent a bicycle and go for a pedal if you want to see more of Santa Barbara at a quicker pace.
Grab a drink in the Funk Zone.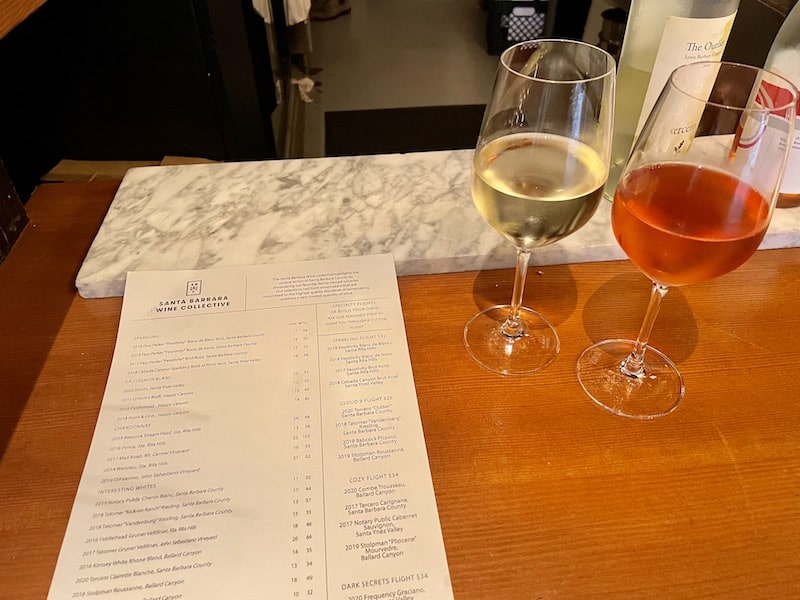 The Funk Zone is a great place to spend the afternoon in Santa Barbara!
Fan of beer? Grab a drink at one of the Santa Barbara breweries located in the Funk Zone: Topa Topa, Lamadog, or Figueroa Mountain are all within a few blocks of each other.
There's also the excellent Santa Barbara Wine Collective or other tasting rooms (the alien-themed Area 5.1, the tasty Pali Wine Co., the chic Riverbench Tasting Room, for starters) located in the Funk Zone on the Urban Wine Trail.
Have a delicious dinner.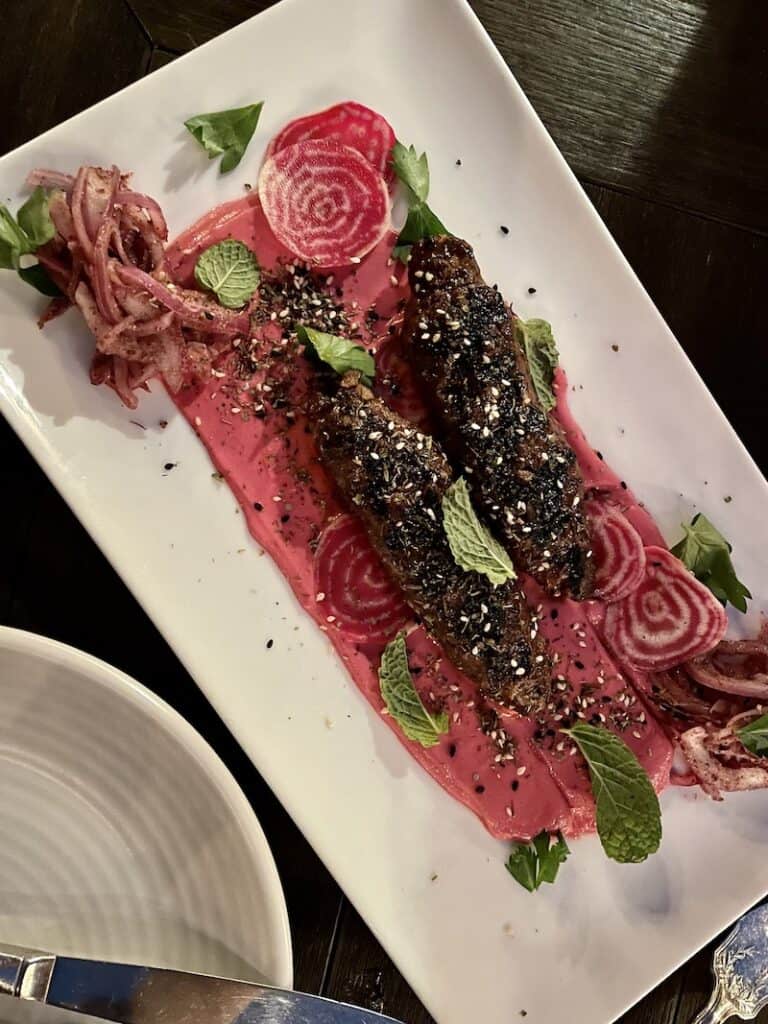 For dinner, make sure you make reservations at The Lark in the Funk Zone, one of the best restaurants in Santa Barbara.
Everything we ordered was fantastic! The menu changes seasonally, so you may not be able to get exactly what we ordered.
When we visited in October, we loved the fall-focused dishes they were serving, especially the appetizer of halloumi with butternut squash and our main dish of lamb kebab adana on a bed of beet hummus and watermelon radishes.
Weekend in Santa Barbara Itinerary: Day Three
Enjoy a wine tour one of two ways.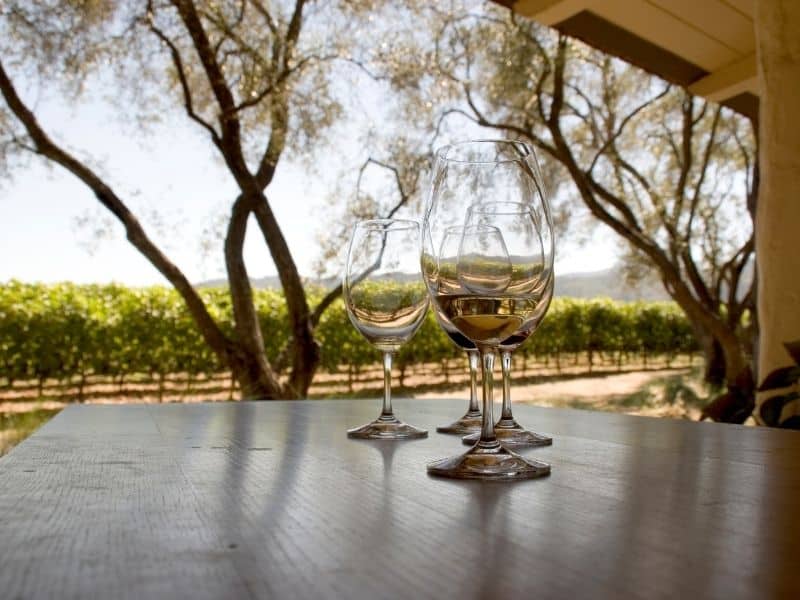 Santa Barbara is known for its incredible wineries located within a short road trip's distance from the city.
But you don't even need to get in a car to taste the best of wine country — there are dozens of tasting rooms and wine bars in downtown Santa Barbara as well.
Depending on whether you'd rather explore a little of the area outside of Santa Barbara or stick to downtown, here are two options for wine tasting in Santa Barbara.
Personally, I suggest taking the wine tasting tour of all the incredible vineyards in the Santa Ynez Valley, but the tasting rooms in Santa Barbara are a great alternative if you want to stay in the city.
Whether you opt for a wine tasting tour or a self-guided tasting room crawl, be sure to eat a hearty breakfast or brunch beforehand!
Go on a wine tasting tour of the Santa Ynez Valley.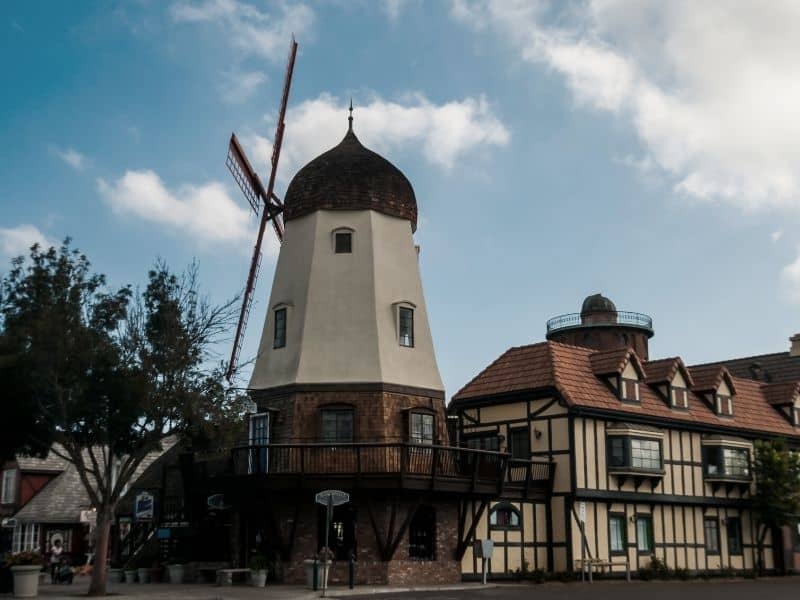 One of the main reasons to plan a trip to Santa Barbara is to take advantage of the marvelous wineries just at your fingertips!
Just about 45 minutes outside of Santa Barbara, you'll find Southern California's best wine country in the Santa Ynez Valley.
This wine tour includes pick-up and drop-off from your Santa Barbara hotel, tastings at three unique wineries in the region, as well as time to sightsee in both Los Olivos and Solvang, two charming mountain towns in Santa Barbara wine country.
Solvang is particularly adorable, with its Danish architecture and landmarks including its trademark windmill!
Do a walking tasting room tour of the Funk Zone and downtown.
Another way to experience the tasting room scene of Santa Barbara is by taking the Urban Wine Trail through the city.
There are over 30 tasting rooms in Santa Barbara to choose from so you can really create your own adventure!
Here are a few that come highly recommended:
Fox Wine Co.
Santa Barbara Winery
Pali Wine Co.
Melville Winery
Pick your poison(s) and make a day of it!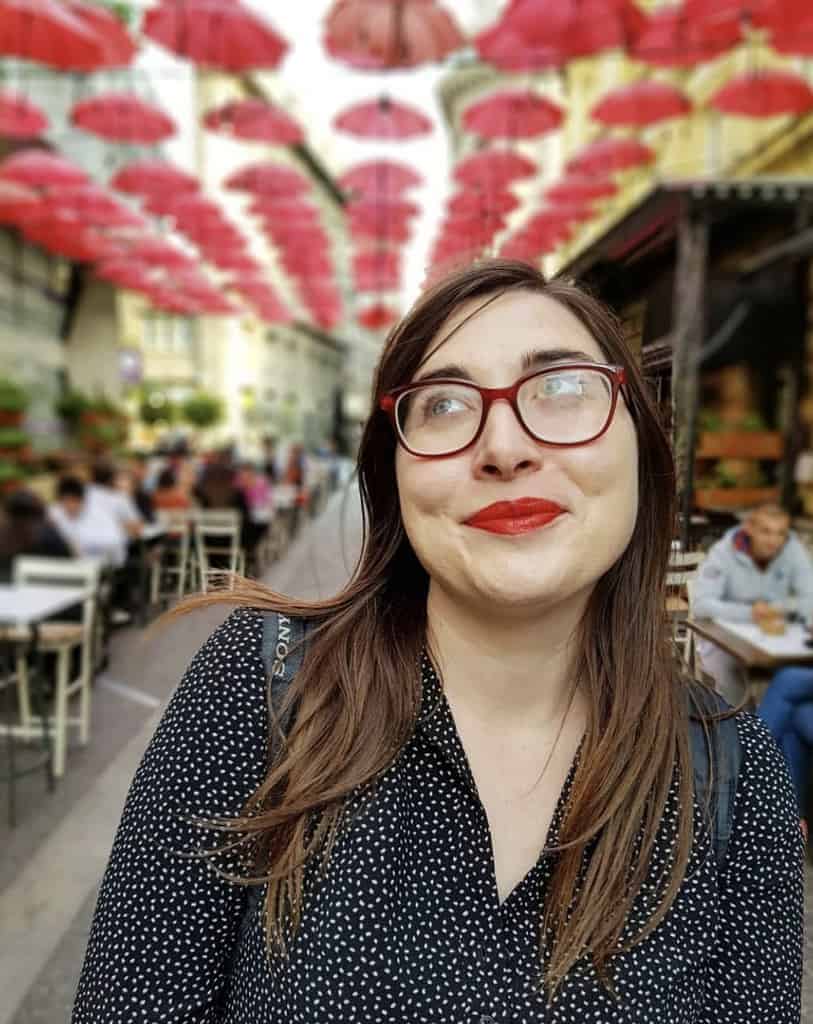 Allison Green is a travel blogger, writer, and podcaster who grew up in the Bay Area of California. She has spent time living in New York, Prague, and Sofia, but has returned to live in the East Bay. She has traveled to 60 countries before the age of 30 while running several digital travel publications. Her writing and podcast have been featured in Forbes, CBC Canada, National Geographic, the Huffington Post, and CNN Arabic, amongst others. She's obsessed with bouldering, houseplants, other people's pets, and anywhere she can see the ocean.