A weekend in Tahoe is a great opportunity for adventure and relaxation. What a wonderful opportunity for magnificent landscapes and happy memory-making!
Nestled in the Sierra Nevada Mountains, Lake Tahoe spans across 2 states, California and Nevada. It is 22 miles long, 12 miles wide, and has 72 miles of shoreline. It is the deepest lake in California and the 2nd deepest in the country, after Crater Lake in Oregon.
It was the site of the 1960 Winter Olympics and is home to some of the richest Pioneer history in America.
Nearby you will find Donner Pass, named for the infamous Donner Party, as well as remnants of early estates of the area as well as numerous historical sites and museums to visit.
When planning a two day weekend in Tahoe, choosing your adventure is not an easy feat. This Lake Tahoe itinerary for a two-day trip will hopefully point you in the right direction, no matter what season it is when you decide to visit the region!
Day One of Your Weekend in Lake Tahoe Itinerary
Start the morning at a Tahoe cafe
Start your day off right and head to one of many cozy coffee shops in Tahoe.
We suggest Clyde's Coffee Roasting Company in Stateline, Nevada. It is hard to beat delicious fresh-roasted coffee! Plus they serve pastries from Schat's Bakery in nearby Carson City!
This shop is on the Nevada side of the lake but definitely worth a visit!
Note: This post contains affiliate links, which earn me a small commission at no extra cost to you if you make a purchase using one of these links. Thank you for supporting this free content!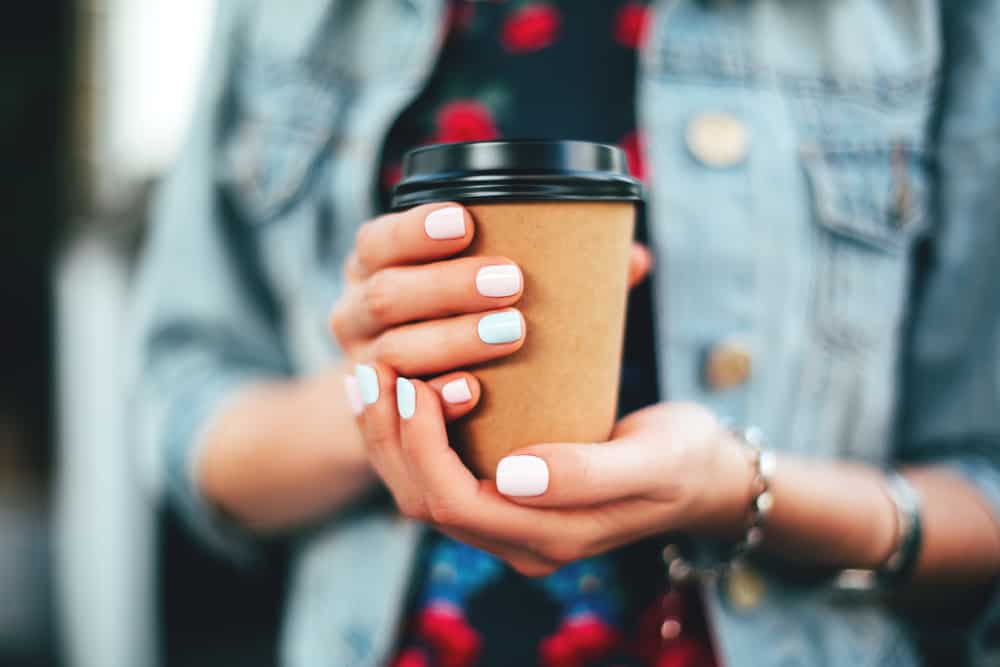 Drive towards Squaw Valley
Note: Squaw Valley is, finally, moving towards the 21st century and removing the offensive term 'Squaw' from its name. Work towards finding a new name for the resort is currently being done and a new name is expected to be unveiled in 2021.

Until it is changed, I will be using the current name as it is an important place in Tahoe's landscape and history, and I still think it's worth a visit.
After energizing with coffee or indulging in hot cocoa, head to Squaw Valley for a tram ride. It takes about an hour from Stateline, NV to reach Squaw Valley.
It is a great opportunity to sight-see while driving out to Squaw. You will pass Emerald Bay State Park on the way, don't skip it!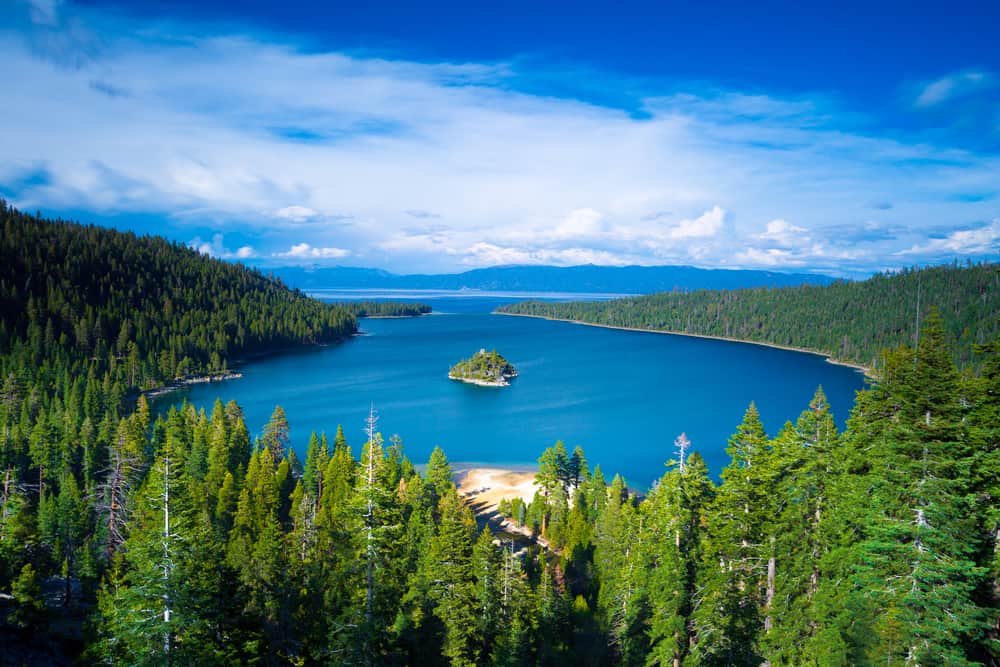 Stop in Emerald Bay State Park
We suggest making a quick stop in Emerald Bay on the way to Squaw for a little hike — it's absolutely deserving of a spot on your Lake Tahoe itinerary!
Vikingsholm Castle is a great short hike in the park. You can easily spend only an hour here. They give tours in the warmer months as well.
If you are wanting a little more hiking on the way, check out the 4.4 mile Emerald Point Trail.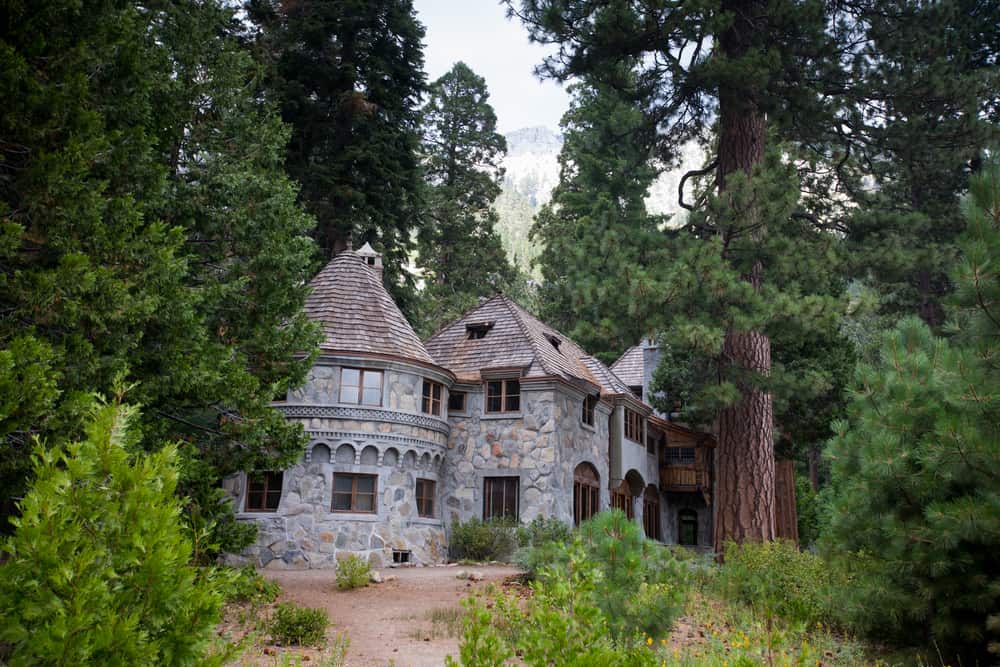 Soar above the resort via the Aerial Tram
No matter the detour length, you will find your way to Squaw Valley for an excellent experience when you ride the tram above the ski resort.
Heading 2000 feet up the mountain to High Camp at 8200 feet above sea level, you'll enjoy scenic views over all of Tahoe.
Granite Bistro is at the top of the mountain, which makes for a great lunchtime treat.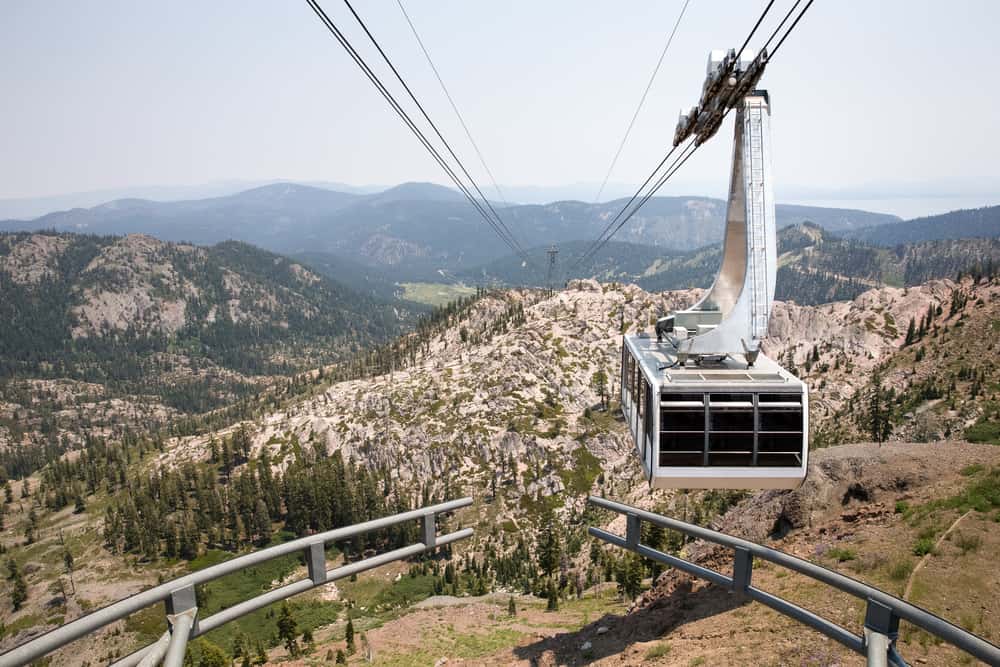 Head out for a hike
From High Camp, there are numerous hiking trails to check out, varying in length and difficulty.
For a taste of history, check out the hike to the top of the Emigrant Chair Lift. Here you will find the Watson Monument, which sits along the old Emigrant Road that was used by pioneers for travel and supplies. Robert Montgomery Watson built the monument you will see here during the summer of 1931.
Those that frequented this road built trail markers, many of which still standing. Plus there are 360-degree panoramic views of Lake Tahoe and the surrounding mountains here!
You can choose this hike or any others at High Camp depending on your interest and energy level.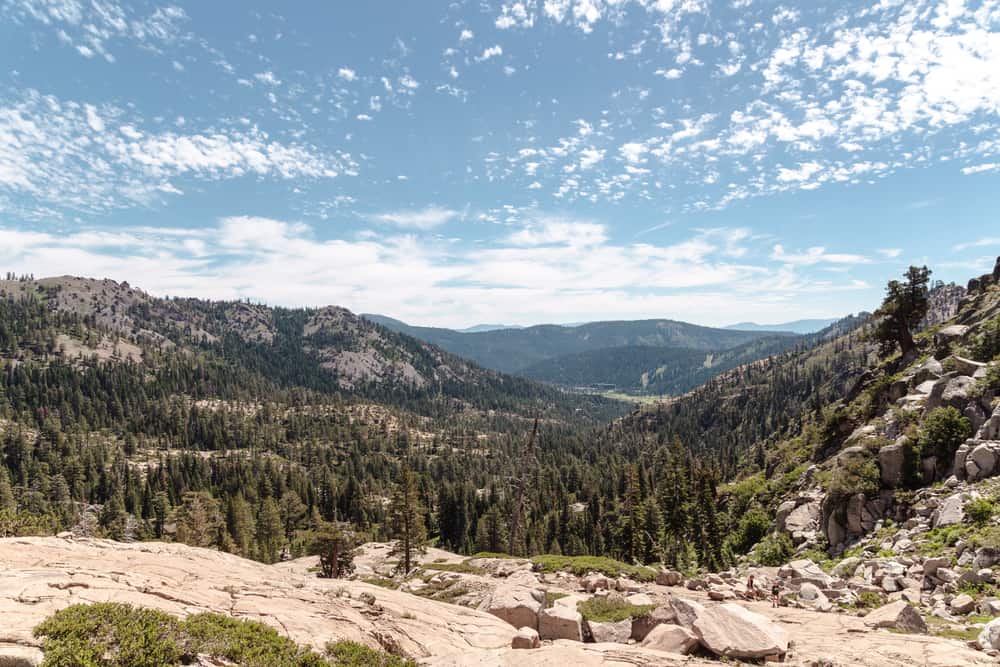 Have a drink or snack at Tram Car Bar
In addition to hiking or skiing, there are lots of places to shop and eat.
One of our favorites is the Tram Car Bar, a great little happy hour or snack spot in an old tram from the 1970s which has been renovated to be a cute little bar.
Or if you're in the mood for something more hearty, try Fireside Pizza Company.
Plus there is some nice shopping at the Village. Duck into Patagonia for eco-friendly outdoor gear or Mindplay for brain-enhancing games perfect to bring back to your cabin!
Art lovers should check out Gallery Keoki for spectacular photography from mountain adventures around the world by Keoki Flagg.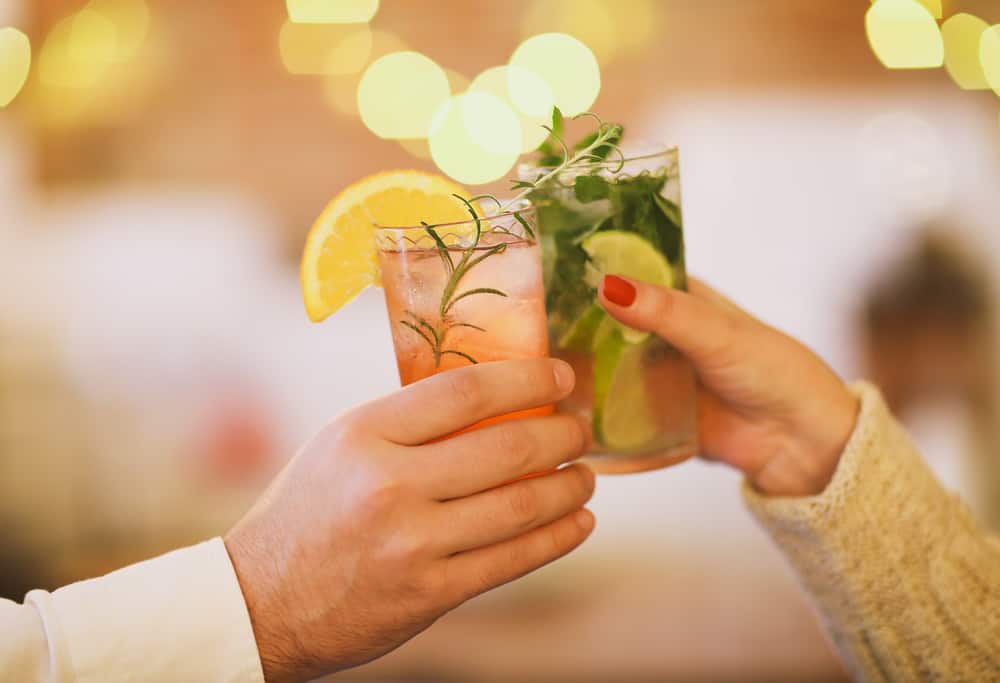 Return to South Lake Tahoe with a stop in Camp Richardson
From here, head back down to South Lake Tahoe for an early evening beer tour and dinner options.
On your way back to South Lake Tahoe, you have the option to stop at Camp Richardson for another stroll (and cross country skiing if you like). It is right near Lake Tahoe for all-season fun!
Follow the South Lake Tahoe Beer Trail
Try the South Lake Tahoe Beer Trail for a pub crawl and dinner options. It features 9 of Tahoe's best eateries, taprooms, and breweries.
Enjoy Cold Water Brewery and Grill for their handmade brews and seasonal menu.
Head to The Hangar, a taproom complete with bocce, corn hole, a patio and even a dog park!
South of North Brewing Co. has fire pits to cozy up around while enjoying their brats and sausages.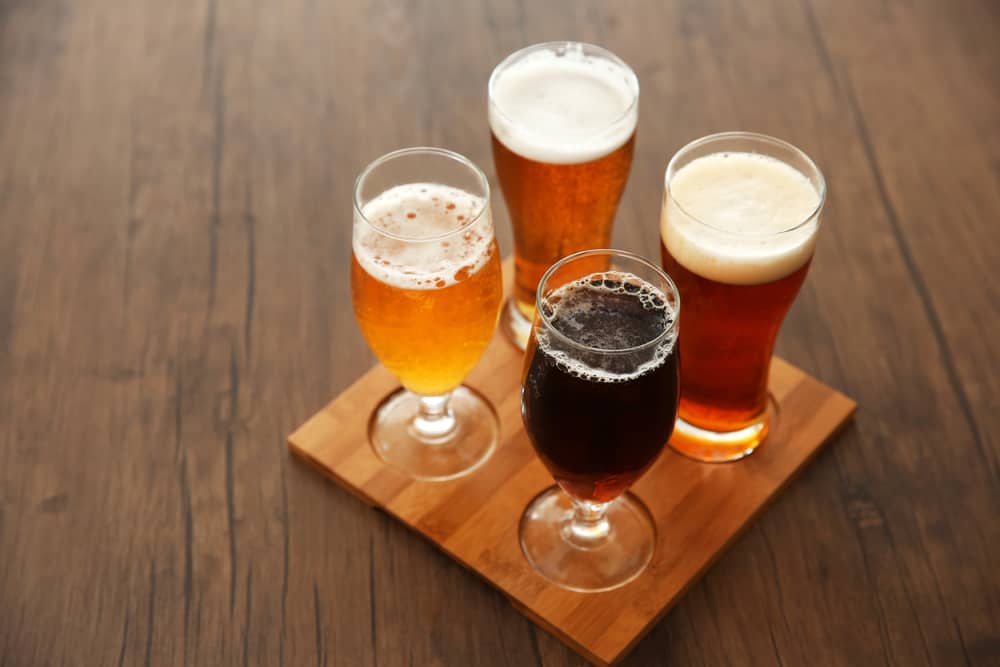 For a less casual dinner experience, try Riva Grill or The Idle Hour Lake Tahoe.
The Idle Hour Lake Tahoe features a wine bar, fireside outdoor dining, and beautiful views of Lake Tahoe.
Heavenly Resort is also a nice option. The Loft at Heavenly Village has cozy ski resort charm and table-side make-your-own s'mores!
Enjoy rest at your place of stay and prepare for day 2 of your Lake Tahoe weekend adventure!
Day Two of Your Weekend in Lake Tahoe Itinerary
Start the day with a delicious breakfast
You've got a busy day on this Lake Tahoe itinerary — after all, we've got only two days in Tahoe to fit everything in!
Begin the day in South Lake Tahoe. The Gateway Cafe or Heidi's Pancake House are two great breakfast options.
For quick food and coffee, instead of a sit-down place, check out Free Bird Cafe. They have some delicious organic food and smoothies plus great coffee.
For a less healthy, but still scrumptious quick option, try out Heavenly Donuts in Heavenly Village.
Head out to the lake — winter or summer!
From here, spend the rest of your morning kayaking or paddleboarding on the water or ice skating, depending on the season.
In summer, there are many places to rent a kayak or paddleboard. Kayak Tahoe is a great option with multiple put-in locations available.
In the winter, Heavenly Village Ice Skating Rink is a nice option for outdoor skating. Either option brings hours of fun.
Don't forget to drink water no matter the season — all that activity will wear you out!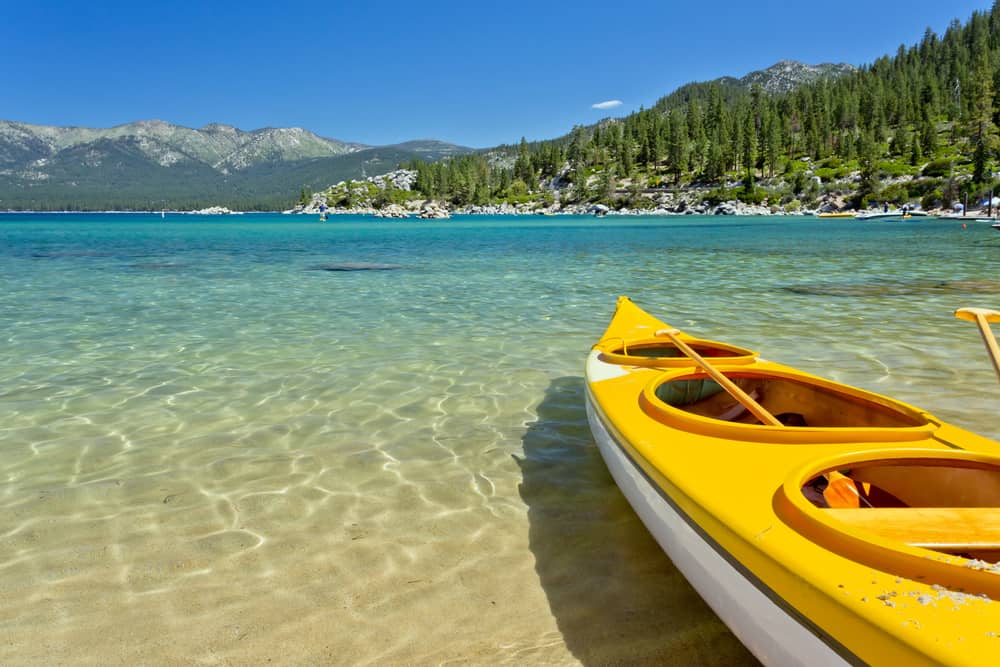 Have a delicious lunch one of three ways
Lunch is your next consideration. Empanash is a great option with a selection of sweet and savory Argentine empanadas.
Tamarack Lodge is also a nice option to warm up in and have a drink. They have a sky deck too, perfect for enjoying food and drinks outside.
For lunch with a view, try Artemis Lakefront Cafe for Mediterranean food on Lake Tahoe.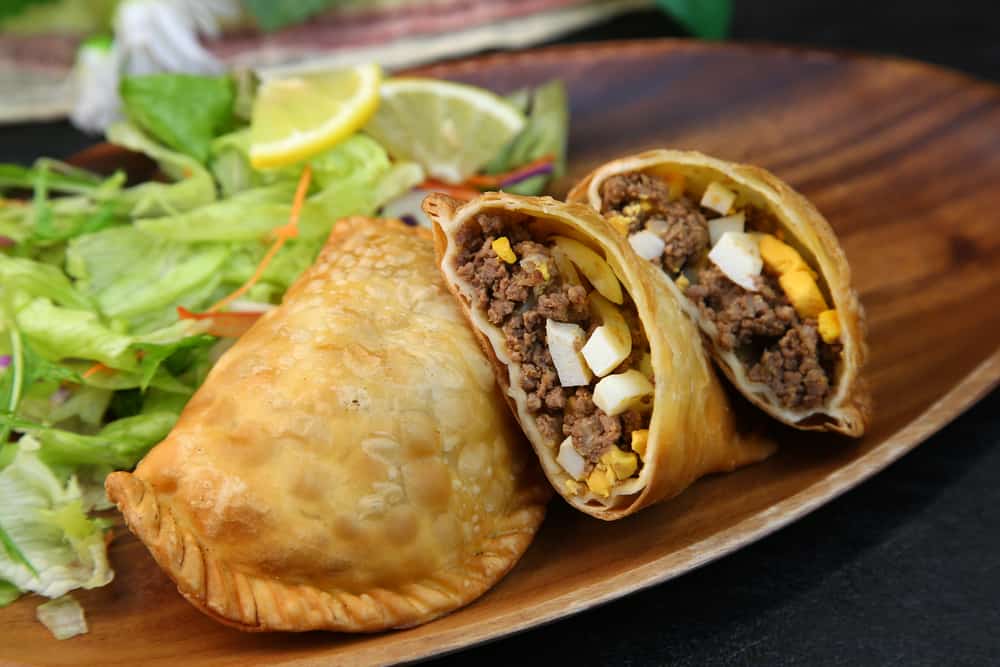 Take an afternoon hike or X-country ski
For the afternoon, we suggest taking in all the sights of Lake Tahoe with an afternoon hike or cross country skiing.
This will give you the opportunity to connect with the land and enjoy the awe-inspiring beauty of Tahoe.
Or enjoy other afternoon activities in Tahoe
For those not super keen on hiking there are other great options to finish off your weekend in Tahoe on the right foot. Choose your own adventure to tailor this Lake Tahoe itinerary to your specific preferences.
For relaxation lovers, hit the spa at Walley's Resort for mineral hot tubs and eucalyptus steam rooms.
For history fans, check out Tallac Historic Site to see the estates built between 1894 and 1930. There are tours available in summer.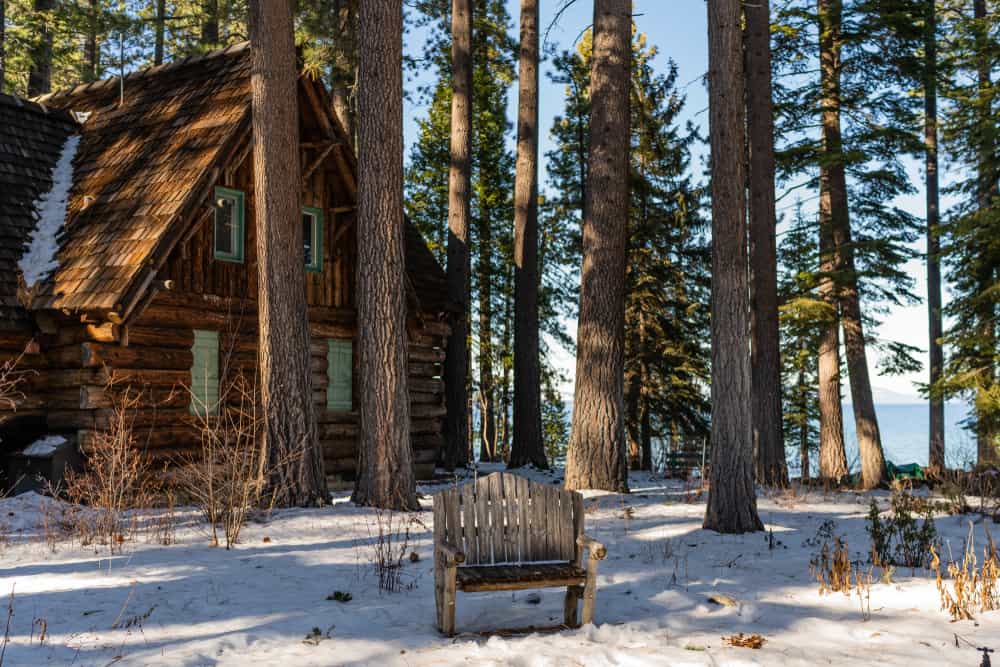 You can also visit Donner Memorial State Park to learn about the Donner Party and check out the Native American History exhibits at the Emigrant Trail Museum.
For people who love to shop, The Shops at Heavenly Village are also a nice option for shopping, live music and more.
Heavenly also has a gondola ride for more fun suspended in the sky, with views and a snack bar at the top!
Finish off your day with an epic sunset
Enjoy the evening with a view of the sunset.
Some suggestions for easy access sunset viewing in Tahoe would be Cave Rock. It requires a short hike to the vantage point, which has wonderful views.
Alternately, you can try Trout Creek Meadow and Lily Beach for a less crowded option.
You can also head to Zephyr Cove on the east side of the lake for another spectacular sunset viewing option.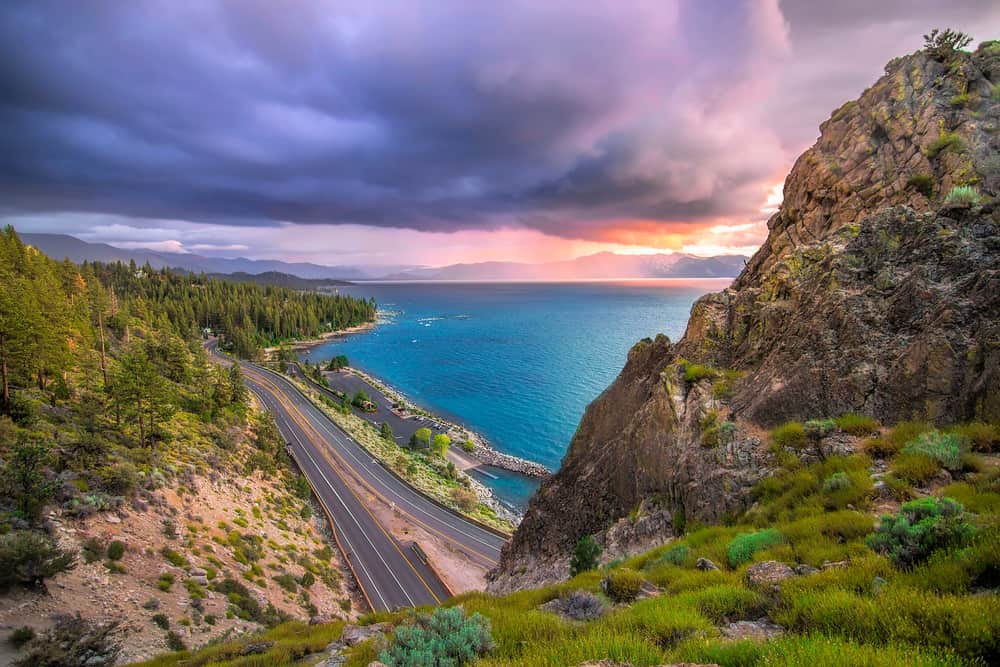 End your weekend in Tahoe with a tasty meal
Finally, finish the day with one last meal. Any of the previous recommendations would do. Here are some final suggestions, too!
Beacon Bar and Grill is a popular option with beachside dining, open year-round. Plus, they have live music!
Jimmy's at the landing also has great views and the option to sit next to your own private fire while enjoying brews and great food.
Moody's Bistro and Bar and Beats, both located in Truckee, have outdoor dining and live jazz on some evenings!
Most of these options assume you are sticking to the popular South Lake Tahoe area. These options will be convenient and give you a well-rounded experience of Lake Tahoe.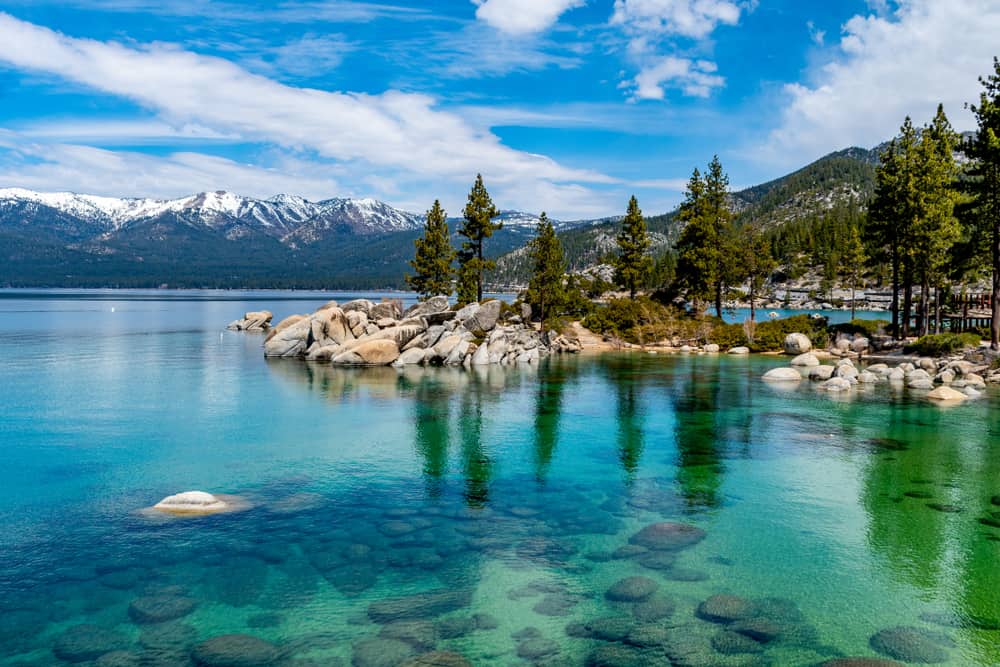 Last Words on Visiting Tahoe for the Weekend
When visiting such a wonderful place, remember to be responsible and socially conscious. It is imperative that you practice "Leave No Trace" principles.
This means, clean up after yourself, stay on trails, and respect the land. Always be reverent to the beauty and privilege you have to visit such amazing locations.
In addition, bring a day pack when going on hikes and bring water and snacks. Plus, check the weather and make sure you are well-prepared for the seasonal conditions you may experience.
You will find yourself energized by the clear blue and green waters of Lake Tahoe. Find yourself on a dock taking in the sights or suspended in air on the Aerial Tram. Indulge in a mouth-watering meal or in one of many brewery options for a high alpine buzz. Anything you choose will not fail to disappoint.
It is a blessing to travel. When it comes to Tahoe, you are traveling to one of the best destinations in the world. It is the largest high alpine lake in North America, after all.
What an amazing mountain adventure awaits! The Sierra Nevada Mountains will take you in and bring you inspiration in a renewed respect for the earth. Lake Tahoe will excite and delight you!
Where to Stay in Tahoe
This Tahoe weekend itinerary has you based in South Lake Tahoe for convenience, but there are several incredible places in Tahoe you could also opt to stay in.
Here are two great choices in South Lake Tahoe, both available on Airbnb (my preferred way to travel in Tahoe!), and then I'll give you a few other options in the Tahoe area.
And if you're on a budget, you can also opt to stay in a Lake Tahoe campsite if visiting in the summer!
South Lake Tahoe Airbnbs
Lake Tahoe House with Hot Tub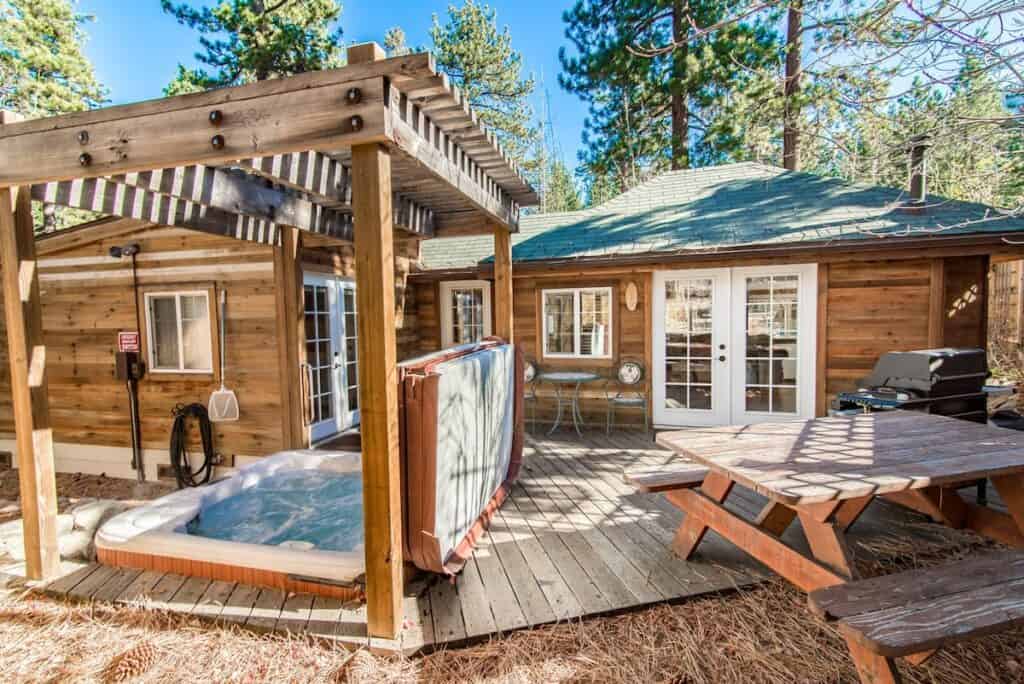 The main living area is open-floor, spacious, and homely, and it comes equipped with a fireplace for added winter comfort. The windows extend from one end of the living area wall to the other, giving you a beautiful panoramic view of your surroundings. You can step out on the patio and enjoy yourself in the hot tub, or gather around the grill for a delicious barbecue.
Dog-Friendly Cabin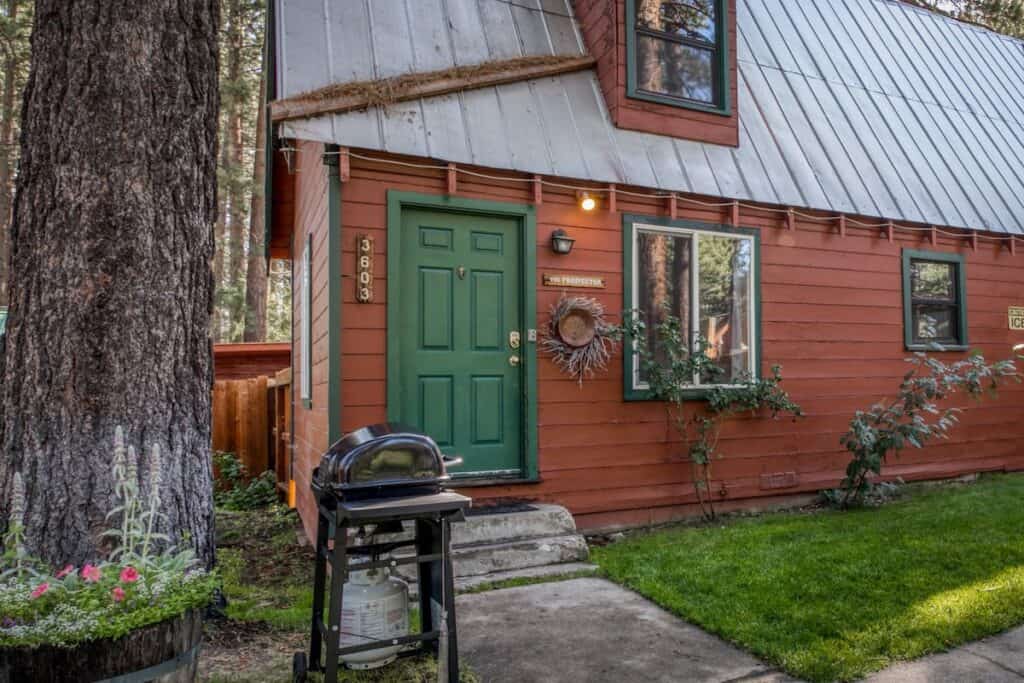 The Prospector Cabin is a great resort surrounded by nature, where man's best friend is welcomed with open arms. The two-floor cabin has a beautiful wooden design and a lot of character, largely thanks to its vintage furniture.
The bedroom on the second floor soaks in a lot of sunlight and has a nice view of the garden area, and positioned in the living area is the always-welcome fireplace for guaranteed warmth no matter the season.
If you'd rather be on the north side of Lake Tahoe, close to Donner Lake and Truckee, here are two choices, one in Carnelian Bay and one in Crystal Bay, Nevada.
However, do note that it will add about an hour of drive time to your day to and from your accommodations, so consider that before booking.
Charming A-Frame (Carnelian Bay, CA)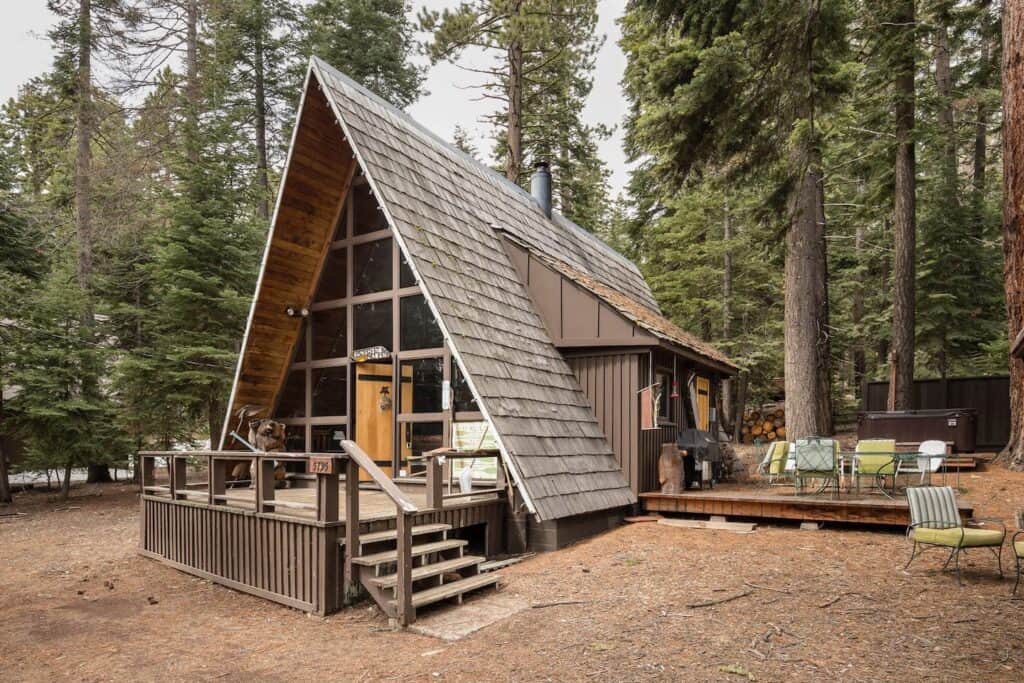 With its old-school wood design and homey interior, this beautiful A-frame epitomizes coziness. The entire house oozes with personality – just about everything apart from the kitchenware, fireplace, and bathroom tiles is made of wood.
The front wall of the house is essentially just glass, giving you a full view of the local greenery, as well as a lot of natural light to offset the darker colors of the interior. The house has two decks, and one of them comes equipped with a gas grill, making it the perfect cookout spot for a larger group of people. In addition, the outdoor hot tub is available throughout the year.
Stargazer (Crystal Bay, NV)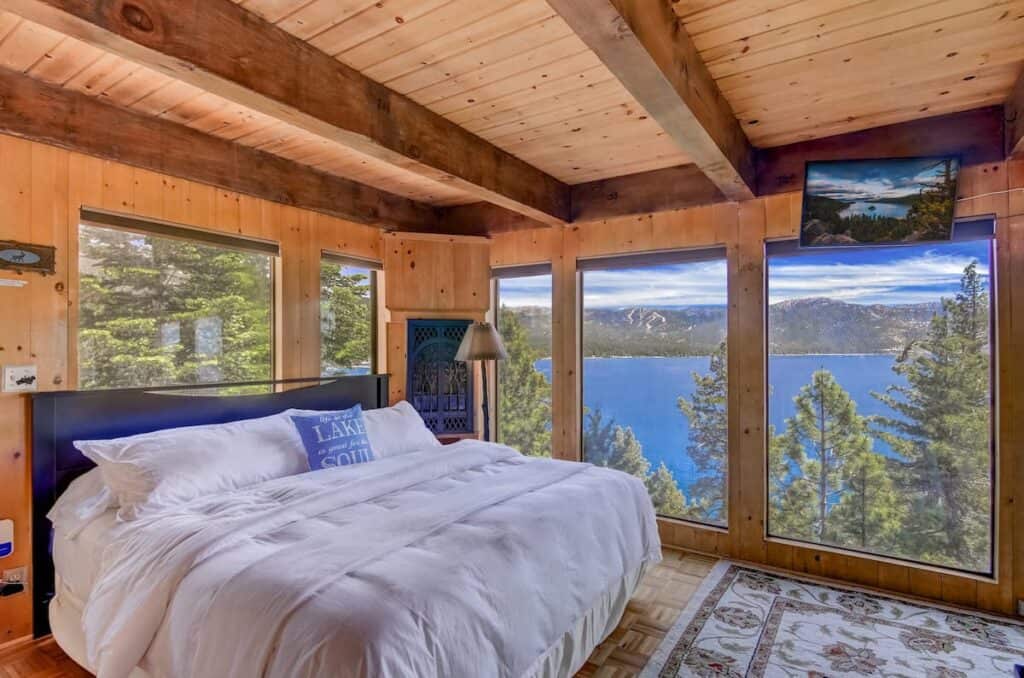 The Stargazer is a lakeside retreat for two by Lake Tahoe that truly lives up to its name – the view of the night sky from the balcony is breathtaking, as is the daytime view of the crystal-clear lake water, the surrounding forest, and the mountains off in the distance.
The balcony is also a perfect spot to catch some sun rays and fire up the grill for a nice barbecue. In addition, you'll have access to a fireplace and heater if you're visiting in the winter. Thanks to the window-covered walls, you also get a great view of the outside from virtually anywhere in the studio, and all the natural light makes the wooden interior that much more lively.
Pin This Lake Tahoe Weekend Itinerary!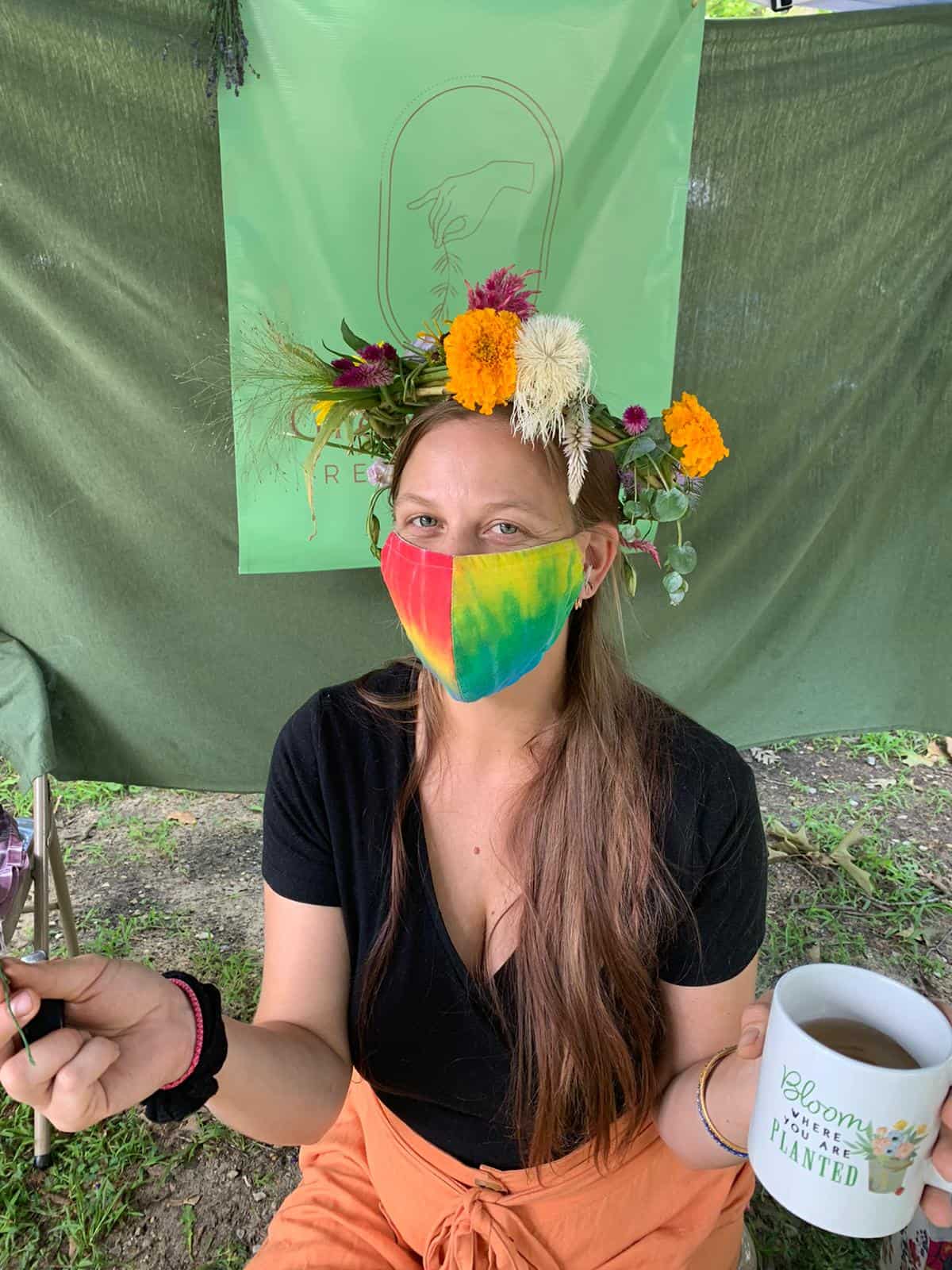 Allison is a writer, herbalist, musician, and lover of nature. She is an avid traveler and backpacker, having traveled throughout most of the United States and through parts of Asia and Europe. She has lived in Hawaii, Philadelphia, New Jersey, Boston, and of course, California. Allison has lived in California for 5 years, working on farms and in Yosemite National Park. She has been all over the state, enjoying many cities and of course, the many amazing outdoor wonders California offers. She currently resides in Aptos, Santa Cruz County, CA.