While Tahoe is a world-renowned ski area in the winter, there are also some amazing and interesting Tahoe hikes to keep you busy all summer long.
The fact that Lake Tahoe is nestled in the Sierra Nevada Mountains means you will find yourself immersed in some of the best, most scenic high alpine hiking in the world.
Waterfalls, lakes, wildflowers, and quaking aspen trees will inspire you. Hiking in Tahoe is always a delight!
Notes on Hiking in Tahoe
Note: This post contains affiliate links, which earn me a small commission at no extra cost to you if you make a purchase using one of these links. Thank you for supporting this free content!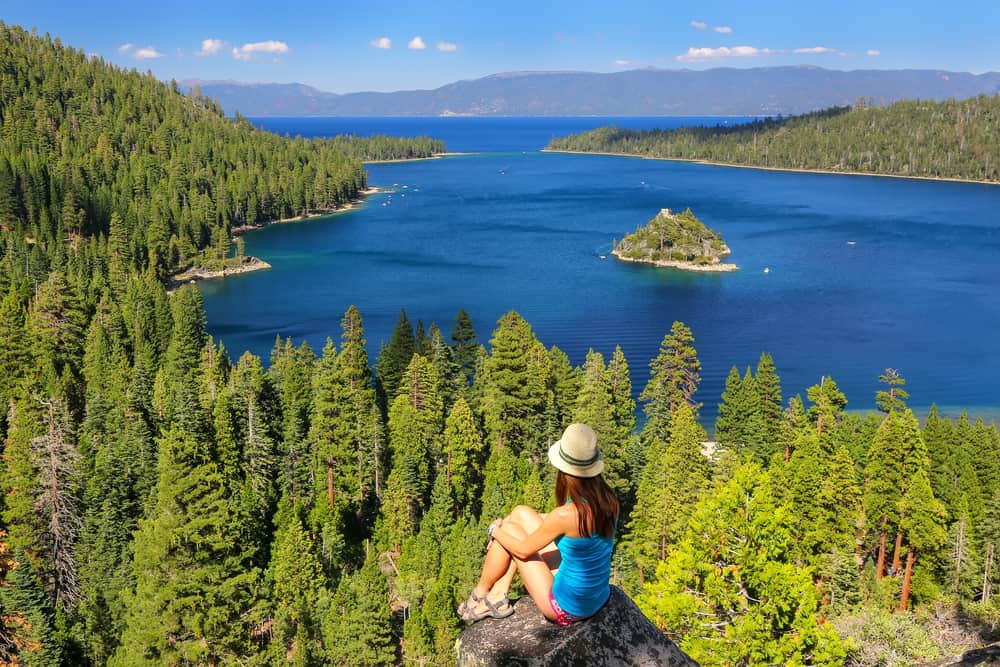 Note that some Tahoe hikes mentioned here aren't the safest in winter, and this guide to the best hikes in Tahoe was written with summer hiking in mind.
If you want to hike in Tahoe in winter, be sure you have experience with winter hiking in non-alpine conditions first. When it comes time to do your Tahoe hikes, be sure to plan ahead and check conditions. Be ready to abort your hiking plans if the weather looks bad.
Regardless of the season, it is always good practice to carry a day pack equipped with sufficient layers, water, and a first-aid kit. I'll mention more on this in the end section, which lists what you should have in your day pack and how you should dress for Tahoe hiking.
Always, without fail, carry out what you carry in. Leave no trace and respect the wild lands you visit!
Also, there is a presence of black bears in the area so be mindful and use a bear canister if you are backpacking in Tahoe overnight.
Also, fire permits are required for anyone making a fire in California.
The Pacific Crest Trail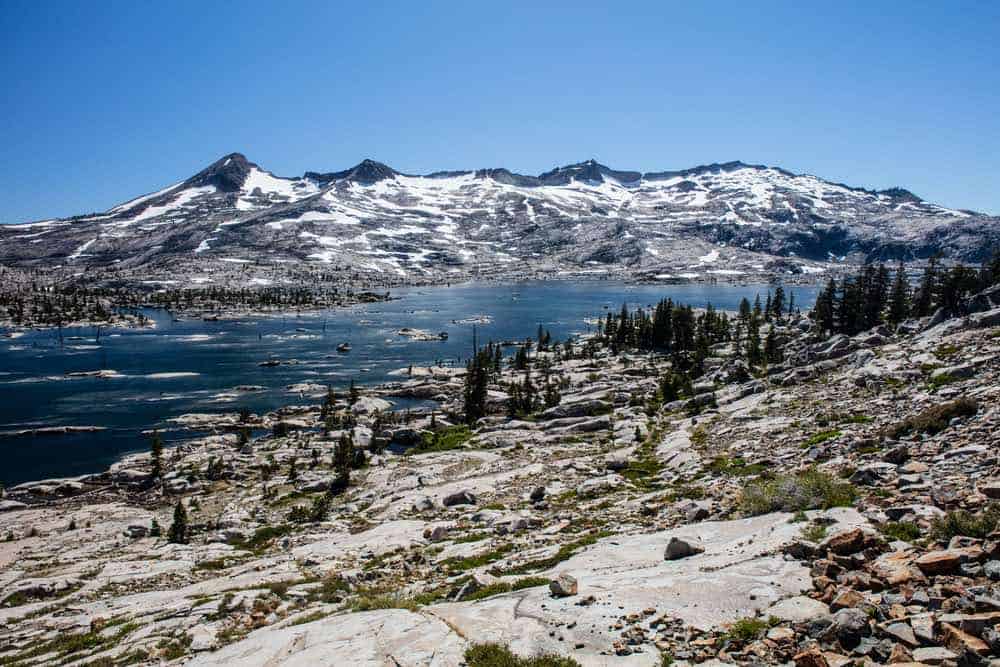 One extra cool factor to consider when picking your Tahoe hikes for your trip is the fact that the Pacific Crest Trail (PCT) runs nearby!
The PCT lies east of Tahoe and is easily accessible from Highwayy 88, which itself is very beautiful and one of the top scenic drives in Northern California.
The PCT is a north to south thru-hike of the Sierra Nevada Mountains. Thru-hikers attempt the 2,650 miles from Mexico to Canada every year, but only a small percentage completes the 6-month journey. (Psst: This is the trail shown in the movie and book, Wild!)
The Best East Tahoe Hikes
The first selection of Tahoe hikes will be those to the east of Tahoe, just a short drive away and offering some of the best hiking in the Tahoe region.
Highway 88 & Mokelumne Wilderness
Area info: Great for hiking, biking, camping, backpacking, boating, fishing, bird watching, wildflower viewing, and mushroom hunting. Fires allowed below 8000 feet, dogs allowed, restrooms available, cabins and picnic area available, overnight permits are required.
Winnemucca Lake via the PCT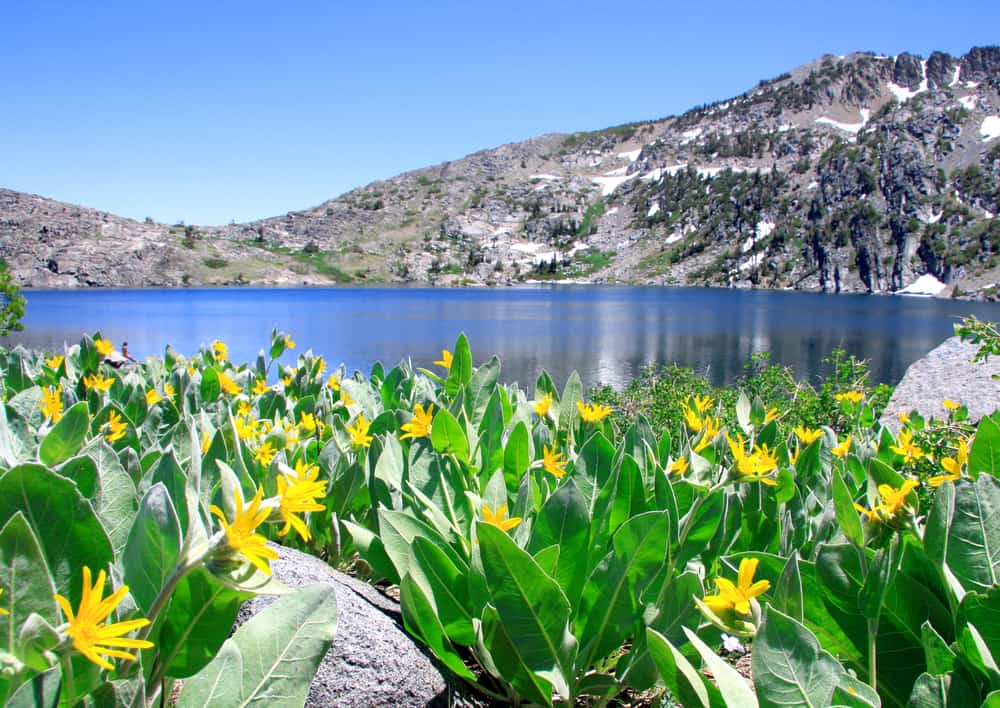 Length: 5.1 miles
Difficulty: Moderate
Route type: Out and back
Begin at Carson Pass and follow the PCT until you reach the junction to head to Winnemucca Lake. Hike in July to meet thru-hikers!
he high elevation of this trail rewards one with views of Caples Lake. Breathtaking wildflowers like columbine, Mariposa lily, and Indian paintbrush await you in the late spring and summer months.
The lake sits below notable landmarks of Elephant's Back and Round Top.
Continue on for a few miles once at the lake to summit Round Top Peak at 10,381 feet! Enjoy expansive views of the Sierras.
Note: This peak is jagged and not for beginners.
Red Lake Peak
Length: 5.3 miles
Difficulty: Moderate
Route type: Out and back
Red Lake Peak is 10,040 feet tall. It offers beautiful views of Red Lake and the Sierras themselves.
There is amazing evidence of volcanic activity at the top as well, and you'll get to hike past a small pond and wildflowers on your way up.
As a side note, Red Lake itself is easily accessible and right off Hwy 88 if you'd rather visit the lake and skip the hike. It is easy to get to and is a nice lake. The peak is north of Hwy 88, whereas the lake is south.
Ebbetts Pass to Carson Pass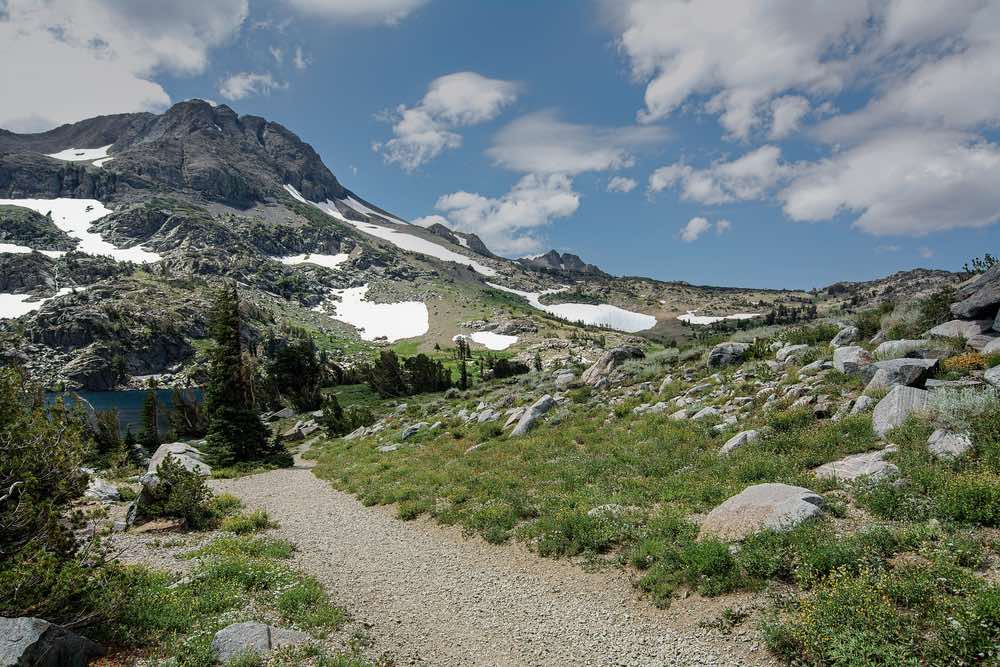 Length: 27.1 miles
Difficulty: Hard
Route type: Point-to-point
This Tahoe trail will take you back out on the same path as Winnemucca Lake, but instead of turning at the junction, keep on following the PCT.
There are ample opportunities for wildflowers, lakes, and peak bagging. Water is plentiful for our backpackers.
Caples Lake to Emigrant Lake
Length: 9.6 miles
Difficulty: Moderate
Route type: Out and back
Both of these lakes are very popular in this area, which is near a Tahoe favorite, Kirkwood Resort.
Caples Lake is also right off Hwy 88, making it easy to access. Start at Caples Lake, and enjoy aspens and lots of shade along the way.
There is a waterfall near Emigrant Lake, which is absolutely breathtaking.
Kirkwood Meadows Loop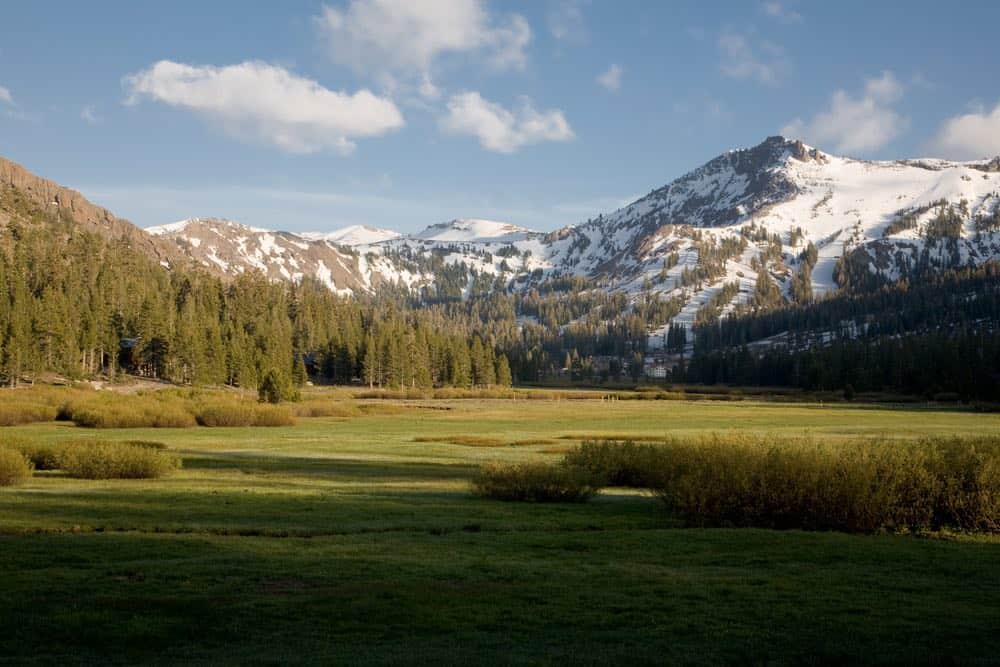 Length: 2.6 miles
Difficulty: Easy
Route type: Loop
This is a very popular Tahoe trail used to watch the sunset. It is quite easy, and it goes right behind Kirkwood Resort.
It's perfect for an evening stroll on a meadow trail with great mountain views.
Now that Hwy 88 hikes have been covered, let's jump to hikes closer to Lake Tahoe.
The Best Hikes in Lake Tahoe
There are multiple parks in the Tahoe Area, including Emerald Bay State Park, D.L. Bliss State Park, and Lake Tahoe Basin Management Unit.
Many of these are popular spots for Tahoe camping if you are visiting in the summer!
Emerald Bay SP
Park info: Hiking, camping (including boat-in campsites), swimming, beaches, fishing, picnic areas, dogs allowed (in camping areas only), wildlife, scuba diving, boating, water sports, restrooms, showers (including outdoor showers), drinking water, parking fees.
Vikingsholm Castle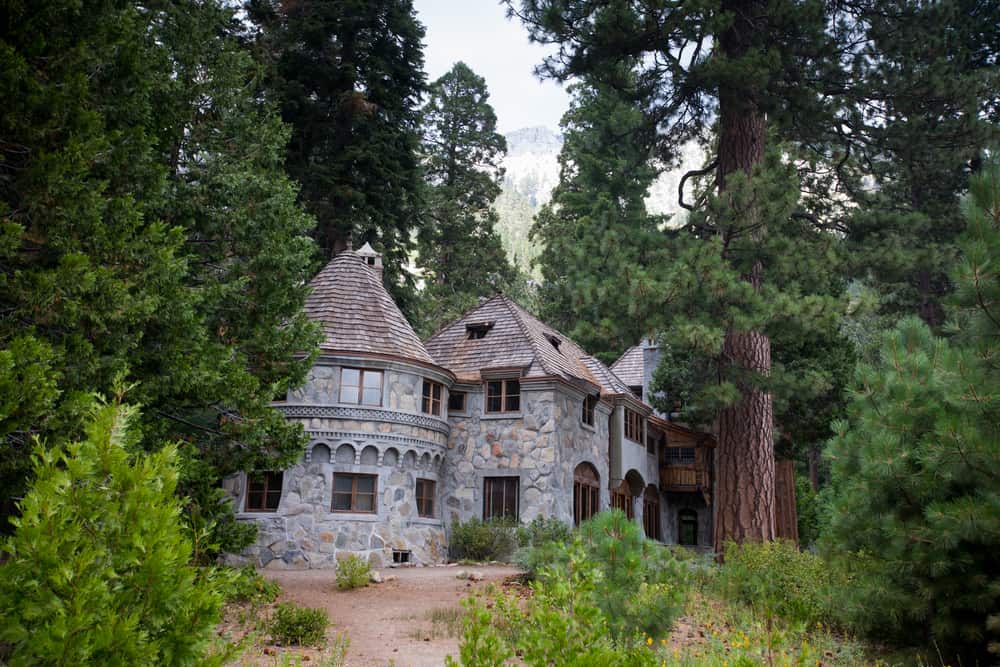 Length: 1.7 miles
Difficulty: Easy
Route type: Out and back
Vikingsholm Castle is a popular place to visit in Tahoe and is on many people's Tahoe itinerary. It was built in 1860 and is a beautiful example of Scandinavian architecture.
Not only will you have the opportunity to check out the unique architecture, you can tour the inside from May to September., plus enjoy wonderful views of Emerald Bay.
Emerald Point Trail
Length: 4.4 mi
Difficulty: Moderate
Route type: Out and back
Enjoy this moderate Tahoe hike in Emerald Bay State Park — there is beautiful scenery the entire way!
It leads to the Rubicon Trail (more details on this trail can be found in the section on D.L. Bliss State Park) if you want to extend the hike further.
Eagles Lake to Fontanillis Lake Loop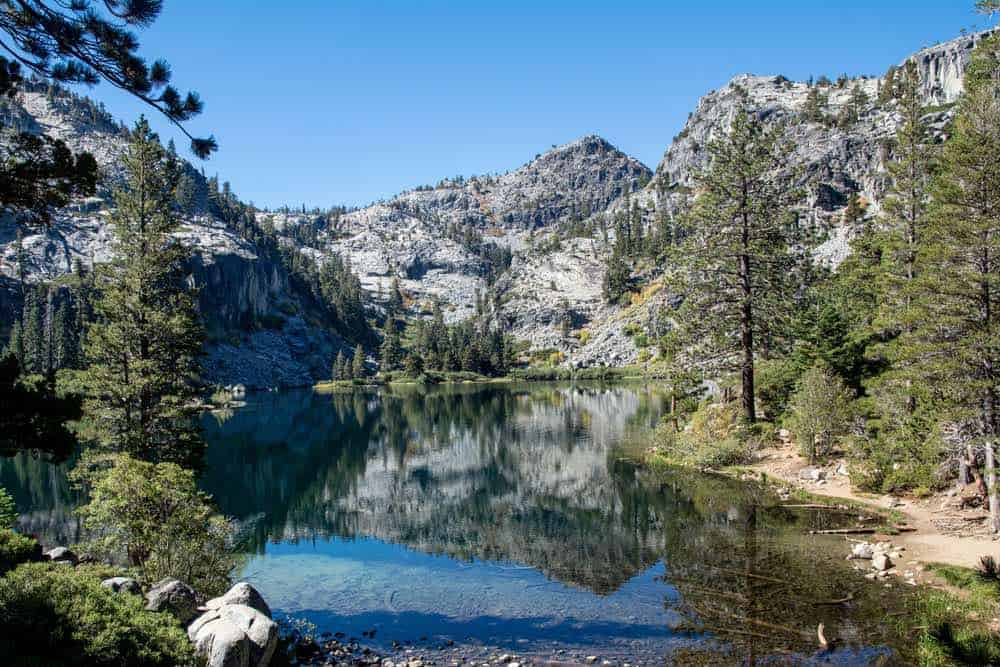 Length: 10 miles
Difficulty: Hard
Route type: Loop
This challenging Lake Tahoe hike will definitely give you a workout, with over 2,000 feet of elevation gain and some steep spots.
Nevertheless, you will pass three alpine lakes and enjoy expansive views of Lake Tahoe and the surrounding mountains. You will not regret making this journey, despite the difficulty of this hike!
Lake Tahoe Basin Management Unit
Park info: Hiking, camping, cabins, equestrian camping, beaches, dunes, wildlife, OHV riding, boating, water sports, hunting, bicycling, restrooms, showers, fees.
Moraine Trail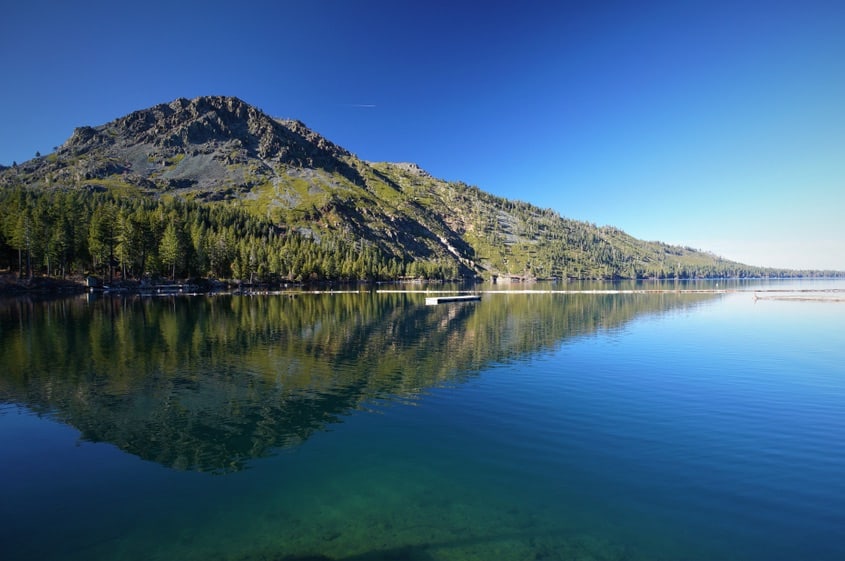 Length: 2.6 miles
Difficulty: Easy
Route type: Out and back
Take this trail to end at beautiful Fallen Leaf Lake. Immerse yourself in history and travel past the Fallen Leaf Dam, built in 1934.
There is a lovely aspen forest to enjoy and a nice bridge to walk on. Boating and fishing are popular activities on this lake once you finish hiking if you want to take it easy for a bit!
Star Lake via High Meadows Trail
Length: 13.6 miles
Difficulty: Hard
Route type: Out and back
Where there are Meadows, there are wildflowers!
This hike to Star Lake offers high alpine hiking which offers some great views and pristine wilderness.
The lake is at over 9,000 feet altitude, and it's a great place to enjoy a picnic with a view of Freel Peak.
Cascade Falls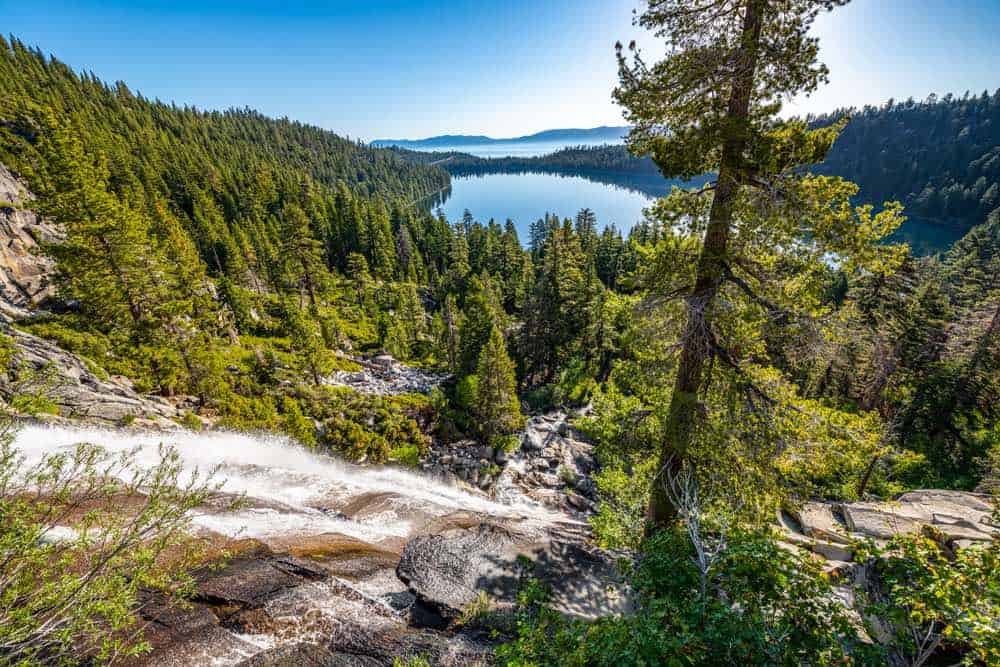 Length: 1.4 miles
Difficulty: Moderate
Route type: Out and back
Everyone loves a waterfall! This is a great short hike in Tahoe with epic views. It's also probably the most famous hike in Lake Tahoe.
Feast your eyes on views of Cascade Lake, Emerald Bay, and Lake Tahoe itself.
Once you reach the falls, there are lots of small pools to dip your feet in while enjoying the sound of the falls. It's best seen in late spring and early summer, when the falls are at their strongest.
Mt. Tallac
Length: 10.9 miles
Difficulty: Hard
Route type: Out and back
This will bring you up into the sky on top of Mt. Tallac at 9,735 feet. It is considered the "crown jewel of the Tahoe mountains"!
Trek along a ridgeline and past small lakes, wildflowers, and gorgeous high alpine meadows.
There is a permit required for this hike. You can get one ahead of time for overnight use, or get one at the self-service station at the trailhead.
Tamarack Lake (possible extension to Echo Summit)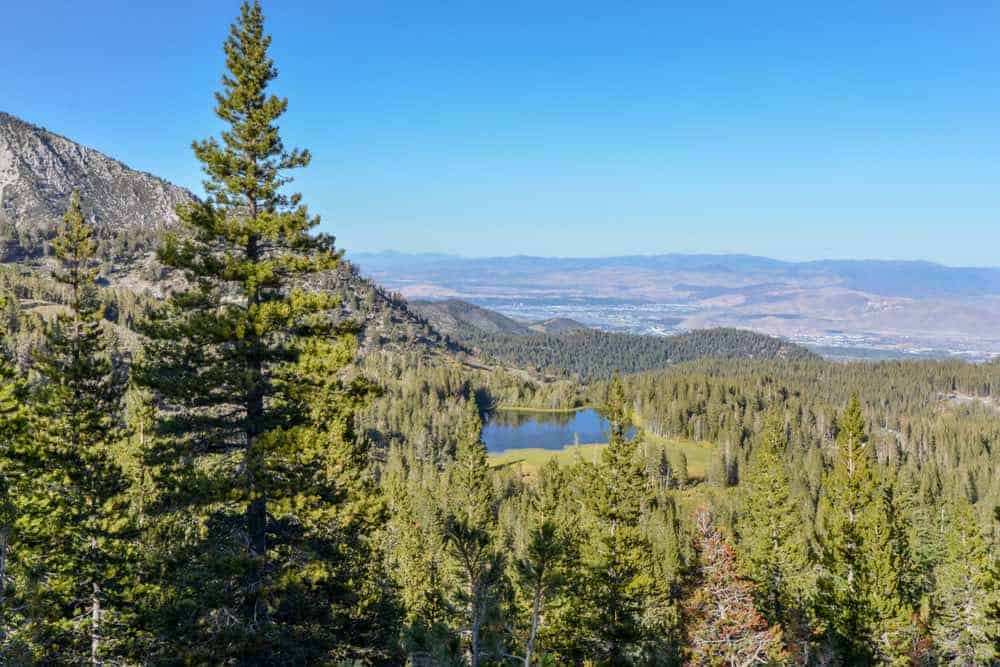 Length: 7.4 miles, 13.2 miles to Echo Summit
Difficulty: Moderate for Tamarack Lake; hard for Echo Summit
Route Type: Out and back
Hike this amazing Sierra trek for a wonderful day of climbing among the trees and wonderful lakes.
Watch out for rocky spots and skree, so watch those knees and ankles! Hike past the notable landmark, "the Nipple"!
If you feel like bagging a peak and making the hike a bit harder, continue on to Echo Summit at 7,377 feet.
D.L. Bliss State Park
Park info: Hiking, camping (including bike-in campsites), backpacking, swimming, beaches, fishing, picnic areas, dogs allowed (in camping areas and fire roads only), wildlife, scuba diving, boating, water sports, restrooms, showers (including outdoor showers), drinking water, parking fees.
Rubicon Trail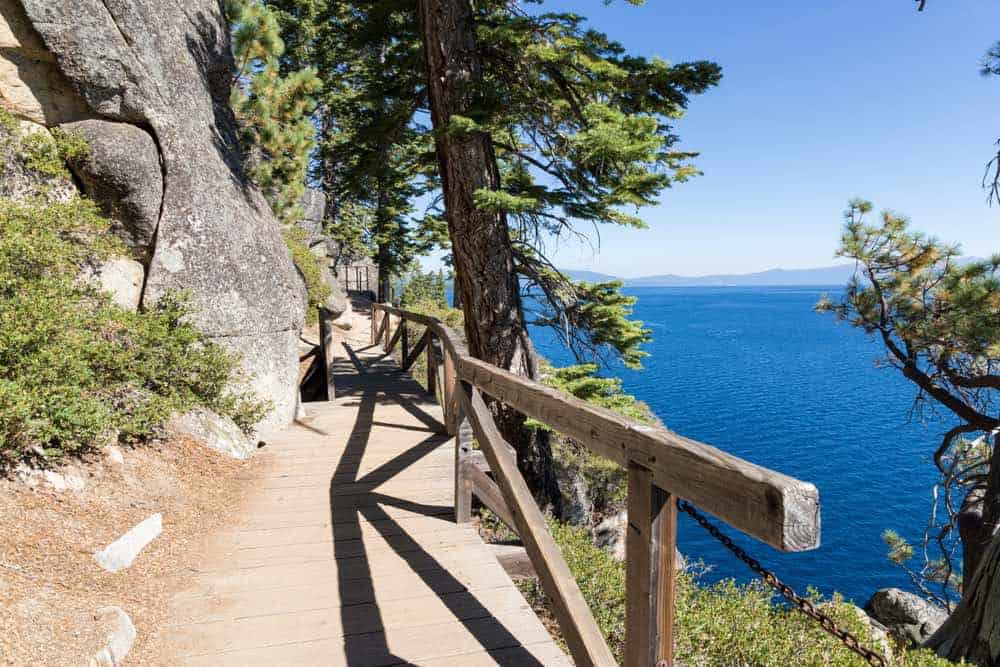 Length: 16.4 miles
Difficulty: Moderate
Route type: Out and back
This is one of the most popular hiking trails in Tahoe for a reason!
You get to bask in wonderful views of Lake Tahoe ascending up and down along the rocky shoreline. There are plenty of flat spots as well so it's not a totally punishing hike.
Forest bathe beneath Aspen, Sierra juniper, and incense cedar as you walk alongside wildflowers like columbine and Mariposa lily. Keep an eye out for bald eagles! They nest on this trail.
You also have the chance to hit two state parks on this trail as you will hit Emerald Bay State Park as you take this trail.
Balancing Rock Nature Trail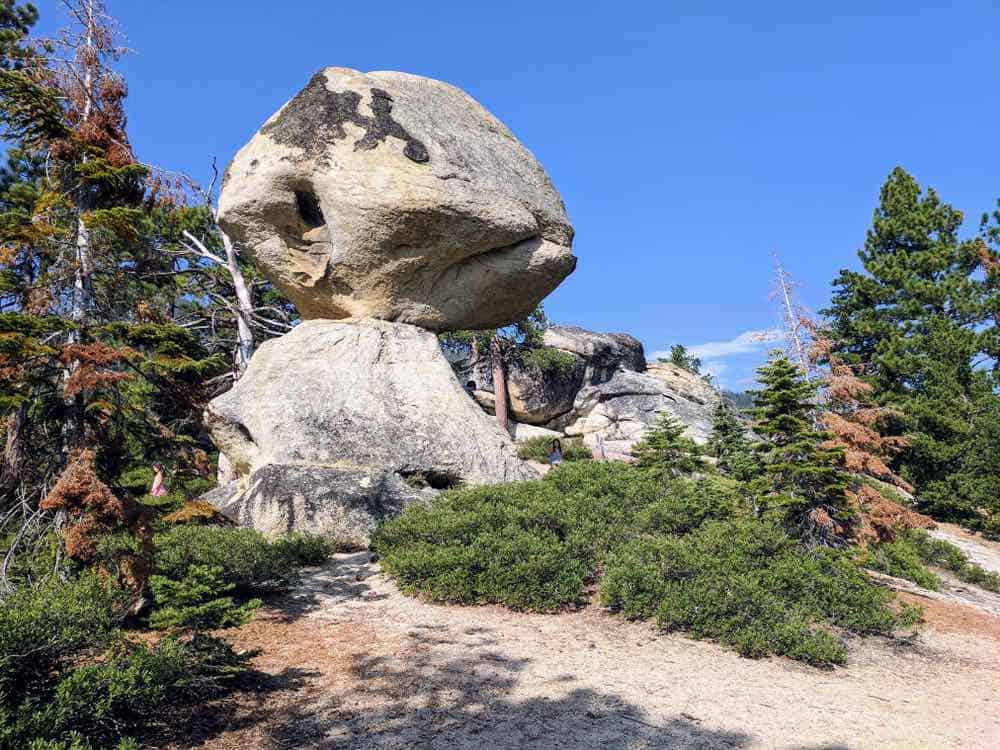 Length: 0.5 miles
Difficulty: Easy
Route type: Loop
This is a nice easy stroll with an awesome reward. See a granite rock that weighs around 130 tons balanced on a granite rock below!
It will eventually fall, but for now it is balanced giving you the chance to view it in wonder.
Other Awesome Lake Tahoe Hikes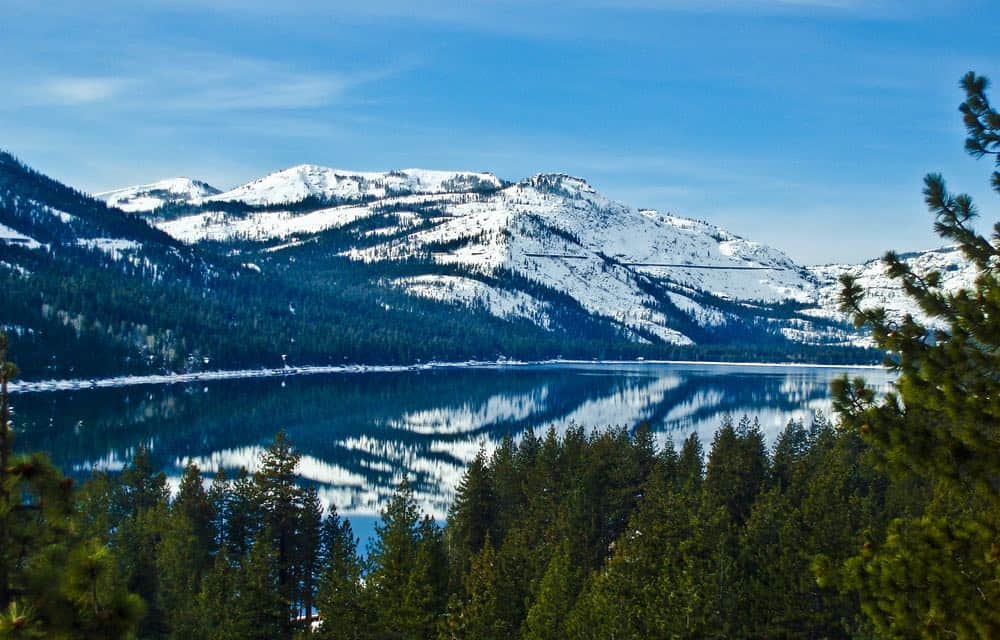 In addition to these listed Tahoe hikes, you can also head to Sugar Pine Point State Park.
They have 9.1 miles of easy hiking trails available for a fee, as typical with California State Parks. Hike these trails to the lovely lily pond. It is also popular for mountain biking.
There is also Donner Memorial State Park, which has 16 fantastic hiking trails ranging from easy to difficult.
***
This is just a short outline, if you can believe it, of the endless recreation opportunities and hikes in Tahoe. It is just stunning. The mountains, creeks, lakes and wildflowers, will leave you inspired and yearning for more.
The Sierras are truly a magnificent place on the planet. Treat the land with respect. Don't feed the bears! Or any animals, come to think of it. Bask in the beauty, but be mindful. Leave no trace. It is your privilege to walk among the majesty of Tahoe.
What to Pack for a Hike in Tahoe: Day Pack Gear List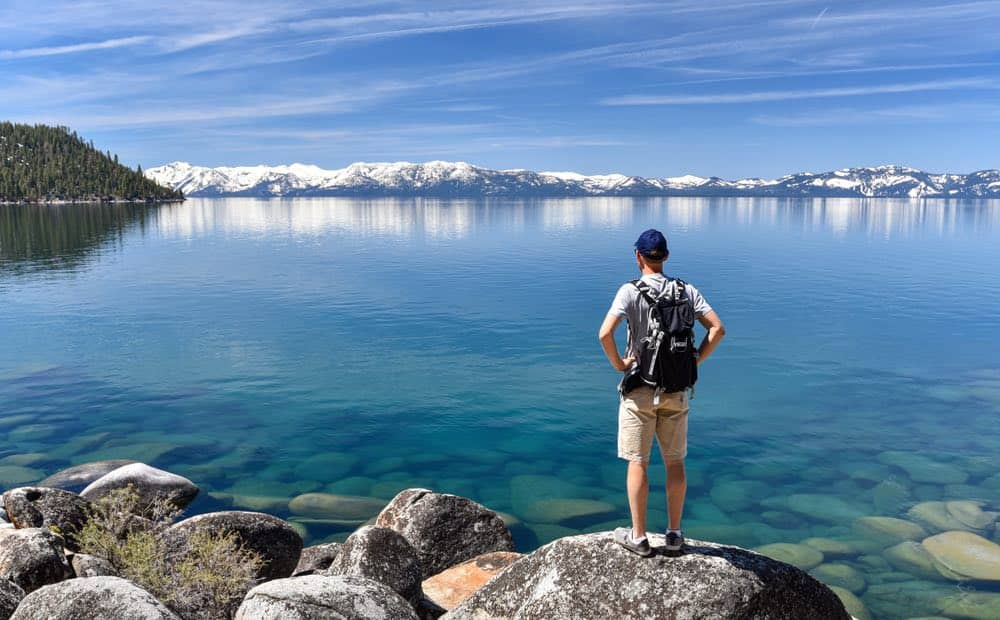 Day pack: A compact day pack is helpful to have when hiking so you can easily put everything you need accessible and handy.
Water: Bring plenty of water in a reusable bottle for any shorter hikes. If you plan to fill up from any creeks or streams along the way, you'll definitely want a water filter/water bottle set-up, I recommend the GRAYL Geopress which filters out viruses, bacteria, particles, and microplastics.
Food: All of these Tahoe hikes are day hikes with the exception of those hiking the section of the PCT listed and doing an overnight stop. For the most part, you'll just need some snacks. I recommend protein bars, nuts, or other high-density snacks that give you a lot of energy for their weight.
First aid kit: You'll want to pack a small kit with the things you need — but in my opinion, it's better to buy a pre-made first aid kit as it'll likely cover things you might forget. I recommend this HART Weekend First Aid kit.
Map: Pick up a paper map from the visitor center or ranger station, or download the trails in advance on maps.me so you can access them offline if you get service. If you do the latter, make sure your phone is fully charged or you bring an external battery pack.
Compass: In an absolute worst case scenario, it's essential to have, and it weighs next to nothing.
GPS: This offline GPS tracker with the ability to emit an SOS call is essential packing if you plan on hiking solo on any of the longer hikes.
Knife: A classic Swiss army knife is a must-have while hiking.
Extra socks: A spare pair is useful in case yours get wet while wading through streams/creeks or in case it rains.
Weather appropriate gear: Pack in thin, breathable layers. For winter hiking, it's easier to modulate temperature if you have one thin thermal, one sweater, and one outer layer, rather than having one thick jacket. For summer hiking, even if it seems like it'll be hot, bring a thin outer layer to cover you in case you get surprised.
Rain gear: It's great to have a thin, lightweight rain poncho like this one in your hiking bag just in case the weather turns sour while you're out
Headlamp (and extra batteries): Just in case you end up taking a longer-than-expected hike, you'll definitely want to pack a headlamp and some spare batteries to go with them. This Petzl headlamp is highly-rated and affordable.
Sunscreen: Wear this no matter what — even on a cloudy day — and especially if you'll be around any snow, as it tends to reflect off and burn you extra badly (I've learned this the hard way many-a-time).
Sunglasses: Always necessary on trails with lots of exposed path, as you'll find in the mountains. There's also often snow left on some of these higher-elevation Tahoe trails, even in summer, and it can get really bright and bothersome if you don't have a pair of sunglasses.
Hiking boots: You'll absolutely need good waterproof hiking shoes if you do anything more than an easy hike! I own and love my pair of Ahnu Sugarpine hiking boots and recommend it for other women – especially if you have wide feet, like I do! For men, I've heard good things about the KEEN Durand boot.
Sunhat: To keep sun off your face – I recommend a packable hat like this one which has a strap so it won't blow off in guests of wind and you can easily wear it on your back when you don't feel like wearing it on your head.
Hiking poles (optional): These lightweight trekking poles from Black Diamond will help you keep your footing on muddy or rocky stretches of trail.
Pin This Guide to the Best Hikes in Lake Tahoe!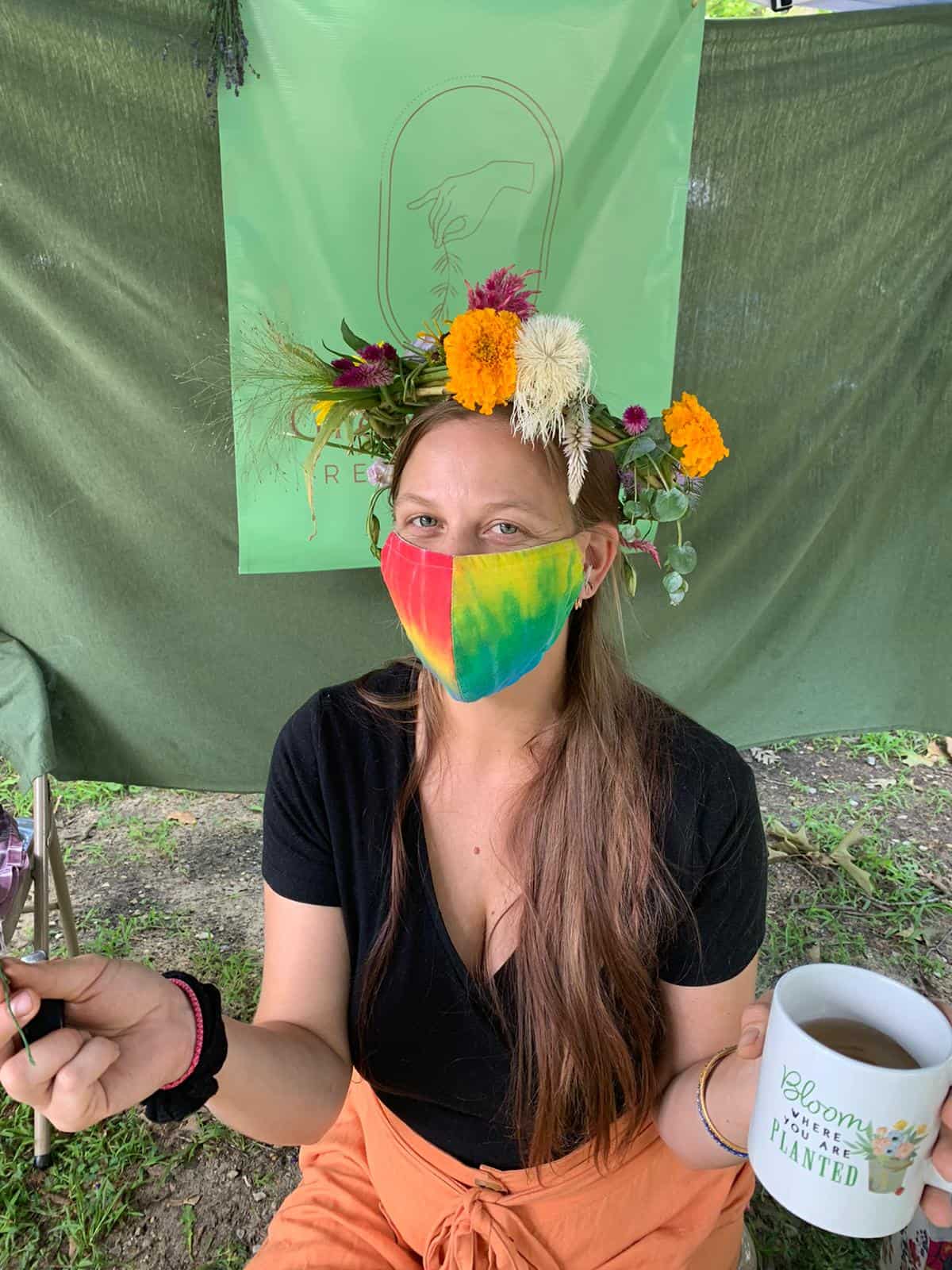 Allison is a writer, herbalist, musician, and lover of nature. She is an avid traveler and backpacker, having traveled throughout most of the United States and through parts of Asia and Europe. She has lived in Hawaii, Philadelphia, New Jersey, Boston, and of course, California. Allison has lived in California for 5 years, working on farms and in Yosemite National Park. She has been all over the state, enjoying many cities and of course, the many amazing outdoor wonders California offers. She currently resides in Aptos, Santa Cruz County, CA.