The Redwood National and State Parks attract countless visitors to Northern California each year, and it's a must on any NorCal road trip.
This stunning region of California graces visitors with scenic coastal drives, old-growth temperate rainforests, and of course, the tallest trees in the world! 
It's not surprising that Redwood National Park makes it onto so many bucket lists; there's nowhere else quite like this fairytale landscape.
This expansive park system boasts 200 miles of trails for hiking and biking and a myriad of other activities and points of interest.
The Park system not only includes Redwood National Park but also Jedediah Smith Redwoods, Prairie Creek Redwood, and Del Norte Coast Redwoods State Parks.
These 4 parks are treated together as a unit, despite covering a large amount of space and different kinds of landscapes, from coastal bluffs to lush, ferny forest and of course, redwoods everywhere in between!
The Redwoods National and State Park System cover a lot of ground, so you'll need a couple of days if you want to take it all in.
From Orick in the south to Crescent City in the north, the possibilities for exploration are limitless.
10 Things to Do in the Redwood State and National Park System
See some Roosevelt Elk at Elk Prairie.
Not only is California home to the biggest trees, but it also accommodates some of the largest elk species!
The magnificent Roosevelt Elk are the third largest land mammal in North America and have taken up residence in many areas of the park system.
The herds range from the coast to inland areas, but if you swing by Elk Prairie, there's a pretty good chance you'll see a herd out grazing.
Elk Prairie is located roughly 9 miles north of Orick, CA. From Hwy-101 North take exit 753 for Newton B Drury Scenic Parkway and turn left.
Continue on for a mile to Prairie Creek Road where you'll make another left-hand turn, which takes you to Elk Meadow.
There is also a campground, cabins, hiking trails, and a picnic area at Elk Prairie.
This road can be slow-going due to the winding turns and visitor traffic, but the drive alone through the towering Redwoods is reason enough to make this delightful detour.
Note: This post contains affiliate links, which earn me a small commission at no extra cost to you if you make a purchase using one of these links. Thank you for supporting this free content!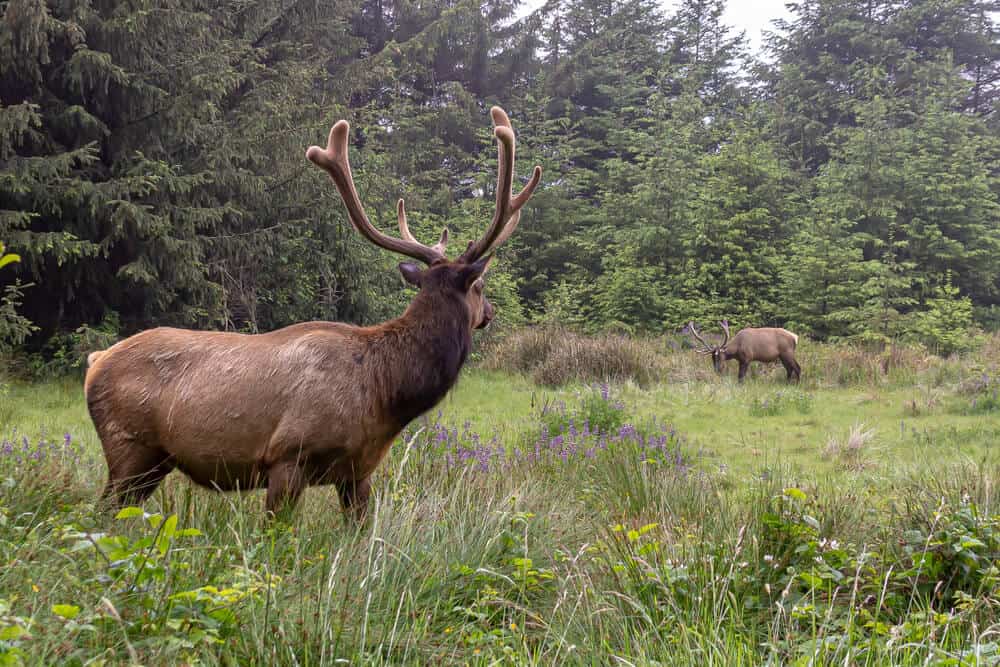 Take the Coastal Drive Loop to High Bluff Overlook.
For those who prefer to experience the Redwoods from the cockpit of their vehicle, the Coastal Drive Loop may be right up your alley! 
This breathtakingly scenic 9-mile loop will leave you wanting to do a second run. The loop takes about 45 minutes to complete and you can expect some unmatched scenery.
With panoramic views of the Pacific Ocean and the Klamath River, this route is an absolute must on your list of things to do in Redwood National Park! 
Many visitors take this scenic loop drive with the hopes of seeing grey whales that can be spotted without binoculars.
Another attraction along this drive is the High Bluff Overlook which offers picnic tables and a view worth stopping for.
The loop itself is 9-miles long on a primarily unpaved road. From Highway 101 North, take exit 768 toward Klamath Beach Road and turn left. There will be signs indicating the coastal Loop Drive. 
Next, turn left on Alder Camp Road, which becomes Coastal Drive. The road is now a one-way loop and goes back to West Klamath Beach Road completing the loop.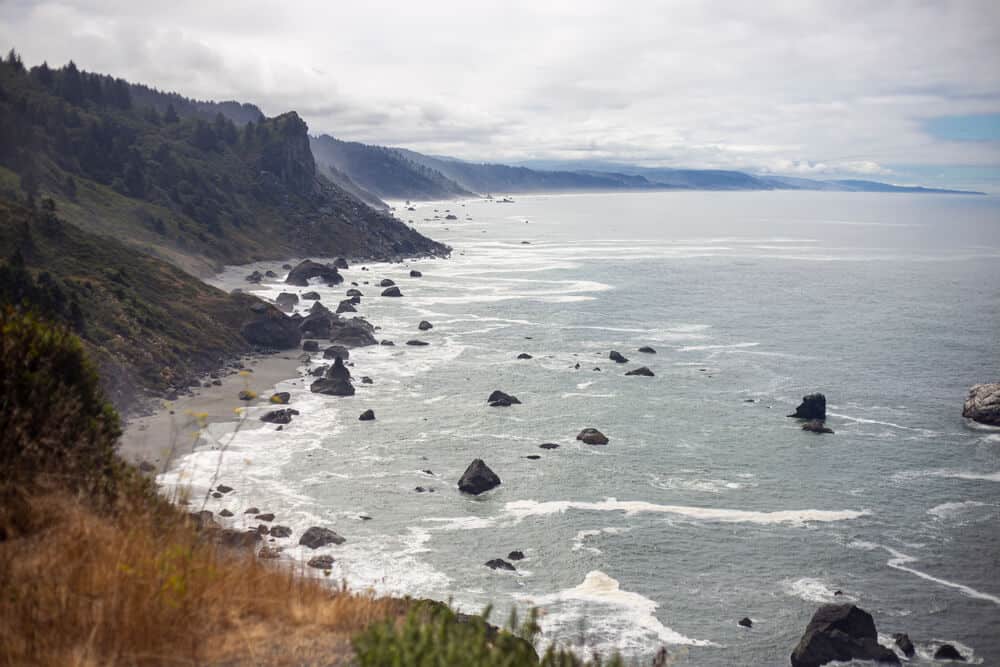 Spend a night camping under the stars at Gold Bluffs Beach.
It's great to camp amongst the Redwood trees, but if you have the opportunity, spend a night or two camping in the grassy dunes of Gold Bluffs Beach. 
This campground is ideal for coastal walks and is also in close proximity to inland trails. A campsite must be reserved ahead of time online here.
It's not uncommon to see Roosevelt Elk at this enchanting beachfront accommodation. Many of the campsites have ocean views to boot!
Gold Bluffs Beach Campground is located in Prairie Creek Redwoods State Park. This is an ideal location due to its proximity to other activities in the park, such as the Fern Canyon Loop below.
From Hwy-101 North, turn left onto Davison Road. Continue for 5.6 miles to the campground.
Hike the Fern Canyon Loop.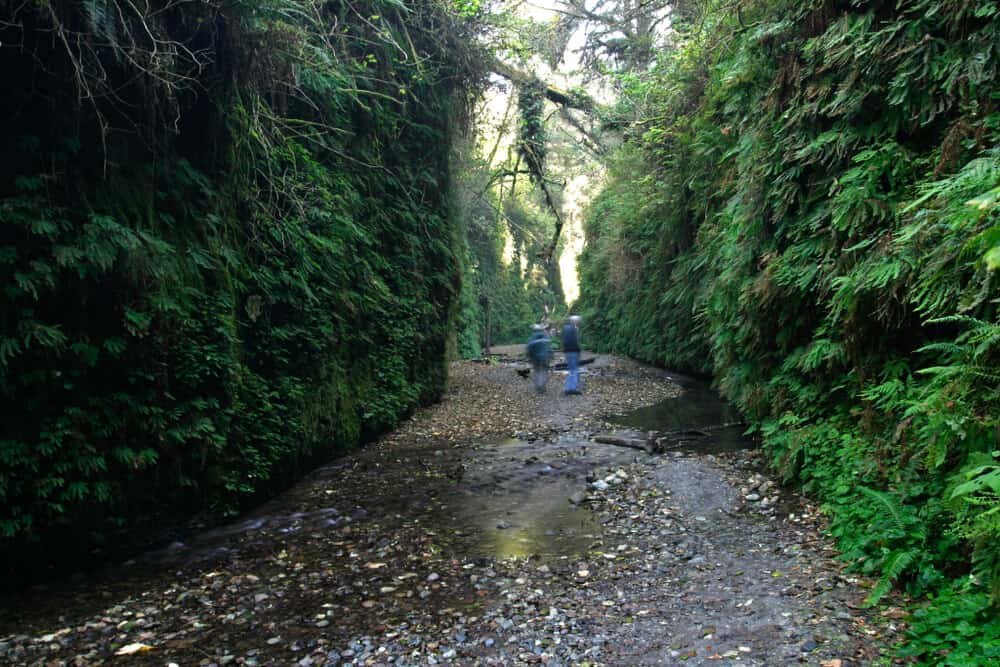 Used as the backdrop for Jurassic Park 2: The Lost World, Fern Canyon is probably one of the most gorgeous places you could visit in the area! 
Although you won't find any big Redwood trees on this hike, you will find moss and fern-covered canyon walls, as well as Spruce and Conifer trees.
This easy 1-mile lollipop loop requires walking through the streambed, so wear appropriate water-resistant shoes.
The trail for the Fern Canyon Loop begins at the far end of Gold Bluffs Beach located in Prairie Creek Redwoods State Park.
From Hwy-101 North and turn left onto Davison Road. Continue for 6 miles to a kiosk where you will pay an $8 day-use fee. Continue along the beach for 3 miles to the parking lot and trailhead.
Walk through the Lady Bird Johnson Grove.
Named after the former First Lady, this redwood grove is one of the more popular things to see in Redwood National Park! 
If you're coming from the south, it's the first opportunity to see some giant Redwood trees up close. 
This easy 1.5-mile lollipop loop trail takes you over a bridge and on a beautiful fern-lined trail to the grove. 
This area is at a higher elevation than other Redwood groves so you can expect some fog to roll in, adding more mystery to this ethereal landscape!
The Lady Bird Johnson Grove Trail is located in Redwood National Park near about Orick, CA. 
To get to the trailhead, From Hwy-101 North in Orick, turn right onto Bald Hills Road. Follow Bald Hills Road for 1.3 miles to the signed parking area.  The Lady Bird Johnson Trailhead is near the Kuchel Visitors center.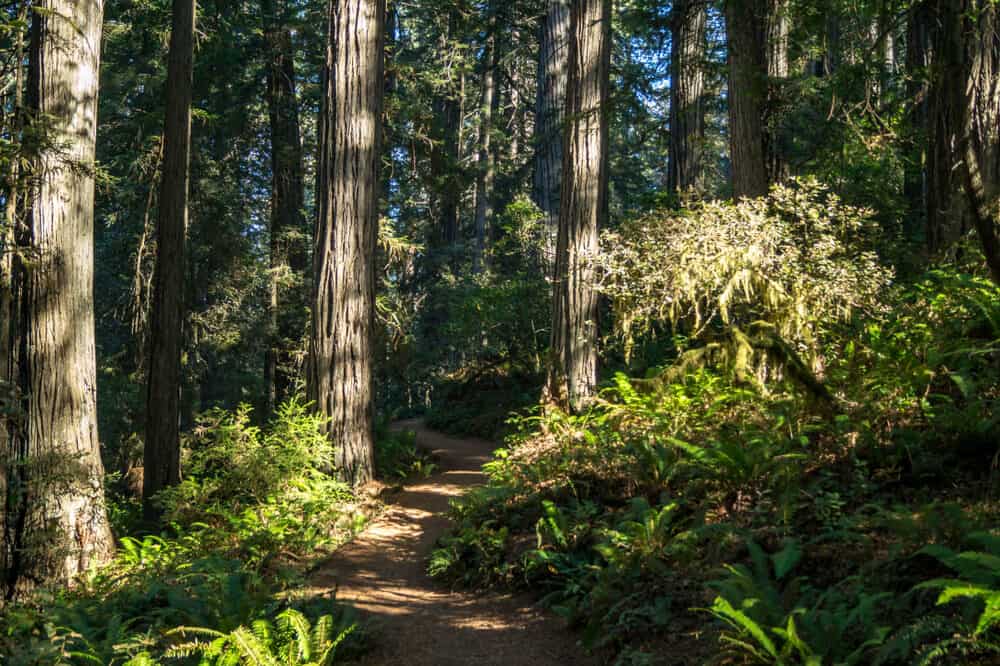 Take in the sunset at Klamath River Overlook.
This spectacular lookout offers a view of the Ocean and the estuary where the Klamath River greets the Pacific Ocean! 
This lookout is one of the best places to spot Grey Whales, sea lions and seals so bring a pair of binoculars. 
The Klamath River Overlook has some nice viewpoints from the picnic tables near the parking area; sunset is a great time to visit and take photos.
If you're feeling adventurous, there's a steep trail that leads down to a viewing platform down below.
The Klamath River Overlook is about 30 minutes north of Orick, CA.  From Orick, drive 23 miles up the scenic Hwy-101 and turn left onto Requa Road. 
Continue on and stay to the right for Patrick J Murphy Memorial Drive, the lookout and picnic area is less than a mile up ahead.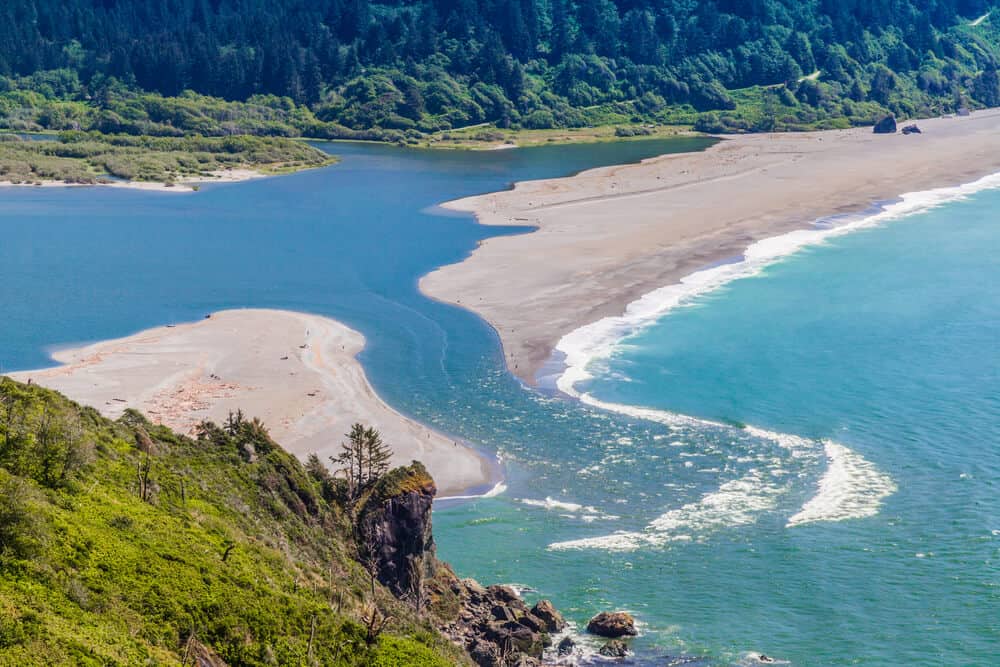 Explore the tide pools at Enderts Beach.
Enderts Beach is a great example of the variety this park system has to offer!
This isolated beach is so inviting that it would be easy to spend an entire day there. The catch is t hat you have to hike ¾ mile from the parking area to get there!
The hike in, though really easy, keeps a lot of visitors away giving you the feel of welcomed solitude.
The key to getting the most out of this destination is timing it right. There is a magnificent display of sea creatures like starfish, urchins, and green anemones that can be seen in the tide pools during low and minus tide. 
Seriously, these tide pools are incredible, and they alone are a reason to visit this beach!
Aside from playing marine biologist amongst the sea life, this is a great beach for walking, collecting driftwood, and flying kites. 
Like most beaches in Del Norte County, coastal fog is likely almost any time of day so don't expect too much sun.
Enderts Beach is located in Redwood National Park about 40 miles north of Orick and 8 miles south of Crescent City. From Hwy-101 head east on Enderts Beach Road, drive for a little over a mile where you'll see a small parking area.
There is also a few pullouts for parking along the road.. you will see the trail that leads down to the beach.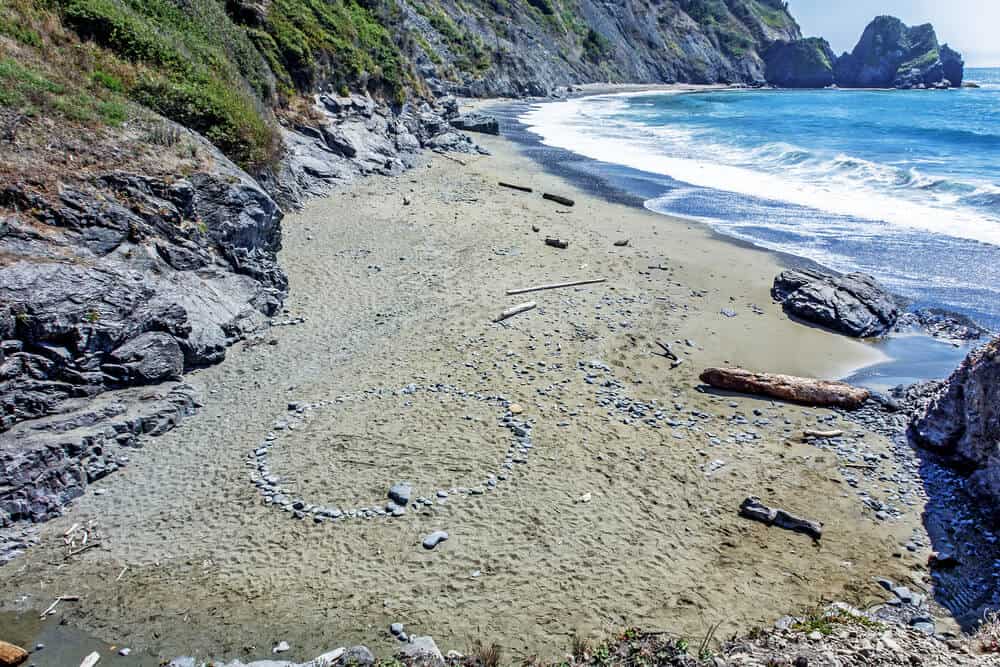 Hike the Trillium Falls loop.
Trillium Falls is located in Prairie Creek Redwoods State park near the Elk Meadow Picnic Area.  
This is one of the most popular hikes in the area because the scenery is unmatched! 
This trail promises Redwood trees, dense understory and of course a waterfall. This 2.6-mile loop trail is rated moderate due to some switchbacks, but there's no climbing over tree limbs like other trails. 
The waterfall itself comes into view rather early in the hike and there's a wooden viewing platform to take photos from. 
The trail begins near the Elk Meadow Picnic area in Prairie Creek Redwoods State Park.  From Orick, CA, head north on Hwy-101 for a few miles then turn left on Davison Road. 
Drive for one-half mile and turn left onto Elk Meadow staying left at the fork. The trail starts near the picnic area, there will be signs pointing you in the right direction.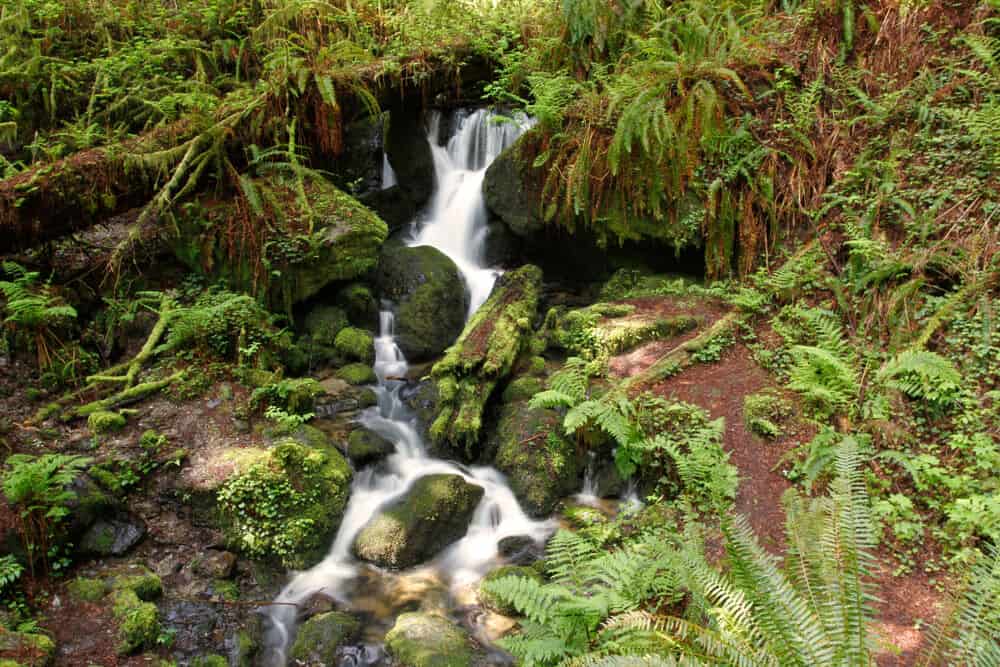 Drive the scenic Howland Hill Road.
Howland Hill Road is a scenic 10-mile unpaved road that takes you through a beautiful section of Jedediah Smith Redwoods State Park.
This winding road offers up some of the tallest Redwood trees in the area as well as hiking trails and pull-outs to stop and take photos!
The Boy Scout Grove trailhead has a hike that takes you to Fern Falls, and the Stout Grove has a loop touting some very impressive Redwoods.
Howland Hill Road is easiest to reach from the Crescent City area in the northernmost part of the state. From Hwy 101 south, make a left hand turn onto Elk Valley Road. 
Continue for a mile then make a right-hand turn onto Howland Hill Road. After another mile and a half, the road enters the park and the road becomes unpaved. 
Howland Hill Road becomes Douglas Park Road. To make the loop, turn left onto South Fork Road to connect to US-199. Turning left here will take you back to Crescent City and Hwy-101.
The scenic stretch of this road is roughly 10 miles long but takes 45 minutes or more to drive since the road is narrow and winding.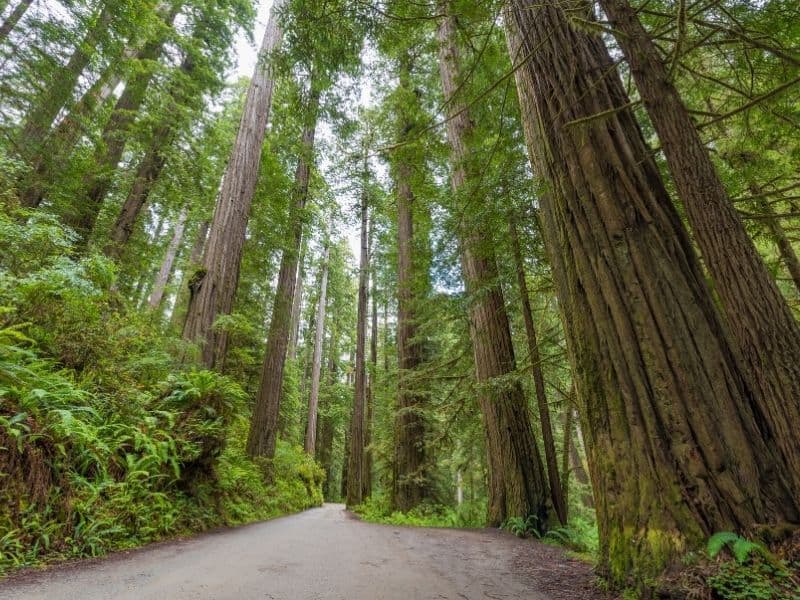 Admire the Big Tree.
Big Tree is a must-see when visiting the Redwood National and State Parks System. 
Many of the sizable Redwood trees are either very difficult to reach or in areas that are inaccessible to visitors. This doesn't stand true for Big Tree!
With a circumference of 68 feet, this 1,500-year-old specimen is ranked as the 13th largest Coast Redwood. 
The walk to the tree from the start of the trail is literally 100 yards, and what's more, this trail is paved and accessible to wheelchairs. 
Big Tree is located in Prairie Creek Redwoods State Park. To get to Big Tree from Hwy-101 in Orick, head north and take exit 753 for the Newton B Drury Scenic Parkway, turn left upon exiting. 
Drive 2 miles to the Big Tree Wayside parking area. Big Tree is a short walk from the parking area, you can't miss it.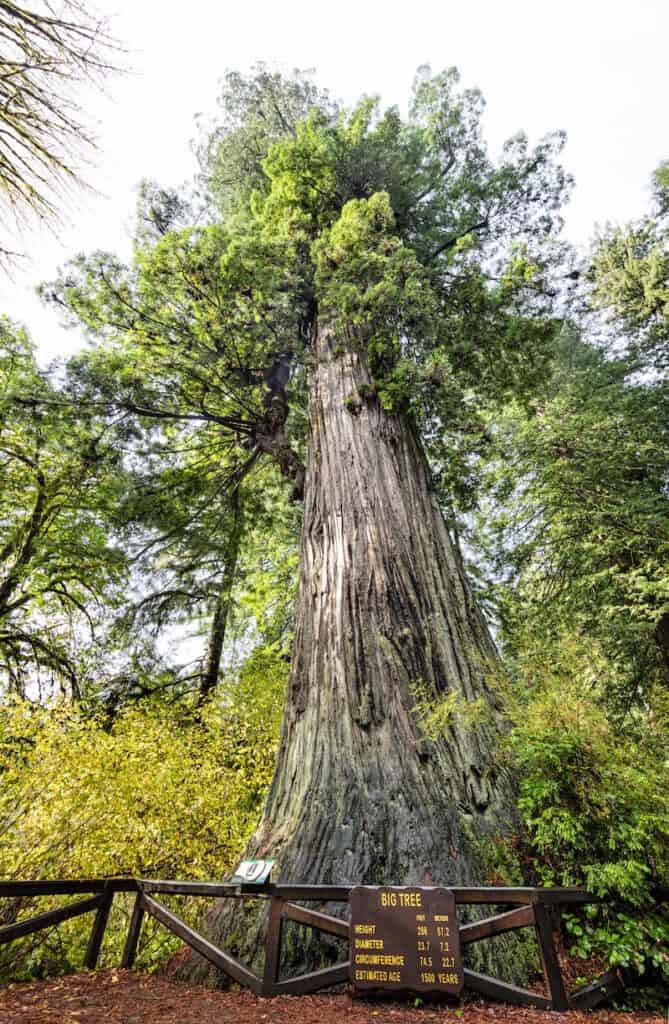 Bonus: Things to Do in Humboldt Redwoods State Park
Humboldt Redwoods State Park is technically not in the Redwoods National and State Park system but it's definitely worth a visit if you're in the area. 
This State park in the southern end of Humboldt County is home to some of the biggest Redwoods out there. This is also one of the best places to see the Redwoods from your vehicle, as it includes the Avenue of the Giants!             
Some things to check out in Humboldt Redwoods State Park:
Take a drive through the 32-mile Avenue of the Giants Auto tour.
Visit the Rockefeller Forest, where some of the world's tallest trees can be seen.   
Visit the rare Albino Redwood right off Avenue of the Giants.
Swing by the Shrine Drive-Thru Tree.
Geek out at the Star Wars tree and Moon of Endor scenery from Return of the Jedi at the Cheatham Grove.
***
There's nothing more enchanting than walking down a misty trail amongst trees that are thousands of years old. 
This area of California is truly one of the most coveted places to visit in the world. The rugged coastline, old-growth temperate rainforests, towering trees, and variety of wildlife make it the perfect destination for any level of adventurer.
These things to do in the Redwood National and State Parks offer an opportunity to see nature at its finest!
Whether it be a scenic drive, hike to a grove of ancient trees, or exploring the coastline, you will leave this area humbled and with more love and respect for nature.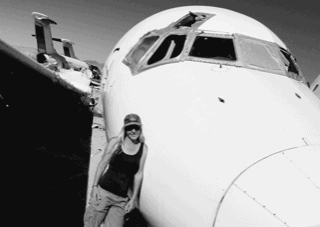 Kristina Ritchie is a writer and who was born in Australia and grew up in Africa. She was educated at Western Connecticut State University before finding her home in Southern California. She writes creatively on a variety of topics, mostly on travel and adventure writing. Having visited over 15 counties and 48 states, along with thousands of miles on the trail with a backpack, Kristina continues to explore and write as often as possible.