I may be — OK, correction, I definitely am biased — but Northern California has it all.
Towering coastal redwoods hugged in fog, bubbling sulfurous geothermal pits in a volcanic landscape, pristine turquoise alpine lakes hemmed by pines: these are just a few of the diverse things you'll see on a Northern California road trip.
From incredible waterfalls to vibrant cities, from wine country to mountains, here is the ultimate 2 week Northern California road trip itinerary. Of course, you can amend this itinerary to fit however much time you have, cutting out stops or adding new ones. But here is what I think is the baseline!
Map of this Northern California Road Trip Itinerary
Northern California Road Trip
San Francisco
Note: This post contains affiliate links, which earn me a small commission at no extra cost to you if you make a purchase using one of these links. Thank you for supporting this free content!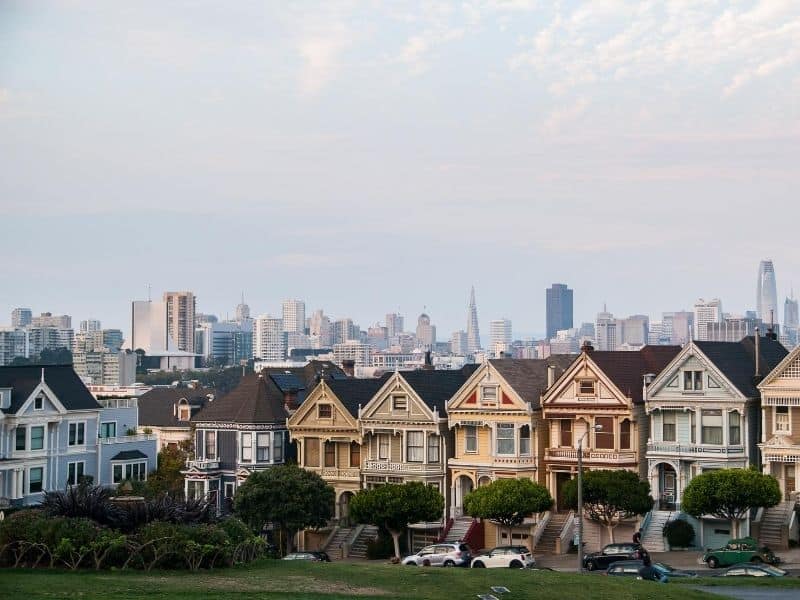 Start off this road trip in San Francisco! If you're a San Francisco or Bay Area local, feel free to skip this section: you already know all the best of the City by the Bay, so I won't waste your time!
If you're not familiar with San Francisco, now is the time to get acquainted with the best of the city. Pick up your rental car at SFO and tick off your San Francisco bucket list.
Must-see spots include the Painted Ladies, Golden Gate Park, the Embarcadero (including the Ferry Terminal Building, Pier 39, and Fisherman's Wharf), the Golden Gate Bridge, Chinatown, and so much more.
Sonoma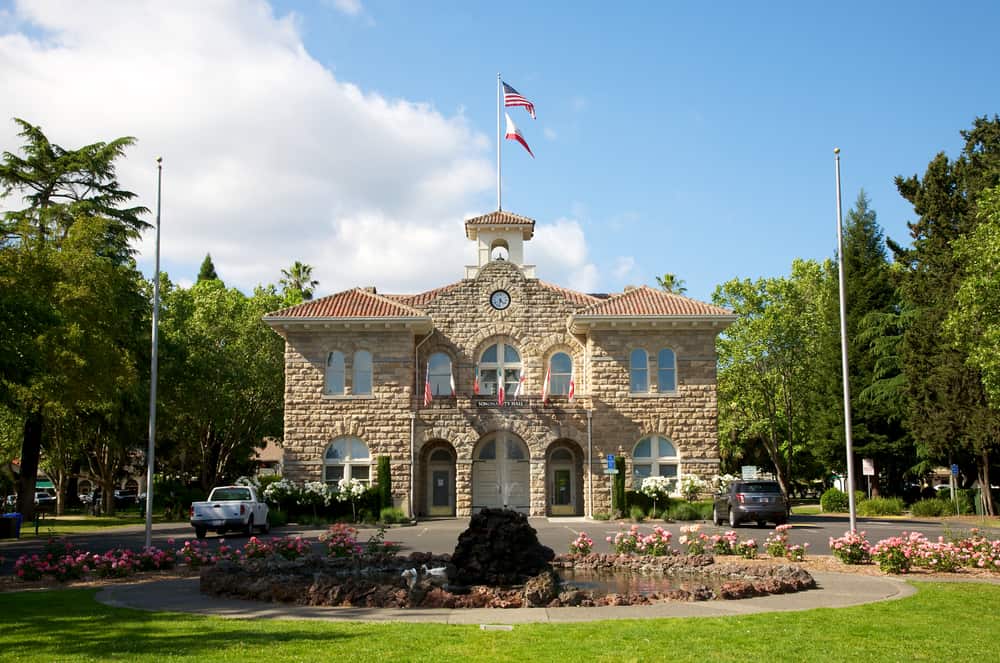 Driving Distance: 45 miles
Driving Time: 1 hour
The quaint town of Sonoma is the perfect first stop after San Francisco on any Northern California road trip.
This is the place to get acquainted with one of California's best wine regions. Personally, I prefer it to Napa because it's more low-key, less crowded, and you get more bang for your buck.
While you can certainly spend a lot of time in Sonoma proper, exploring the mission, the cute downtown shopping scene, and the local Sonoma wineries, Sonoma is also a fantastic home base for exploring Sonoma County writ large.
Side Trips: If you have more time, I'd suggest staying in Sonoma for a few days and making side trips to Guerneville and Healdsburg along the Russian River: two absolute gems with incredible water activities, forests, and wineries nearby.
Another great place is Sebastopol, with delicious wineries and cideries as well as a funky dining scene centered around a cool urban space called The Barlow.
Napa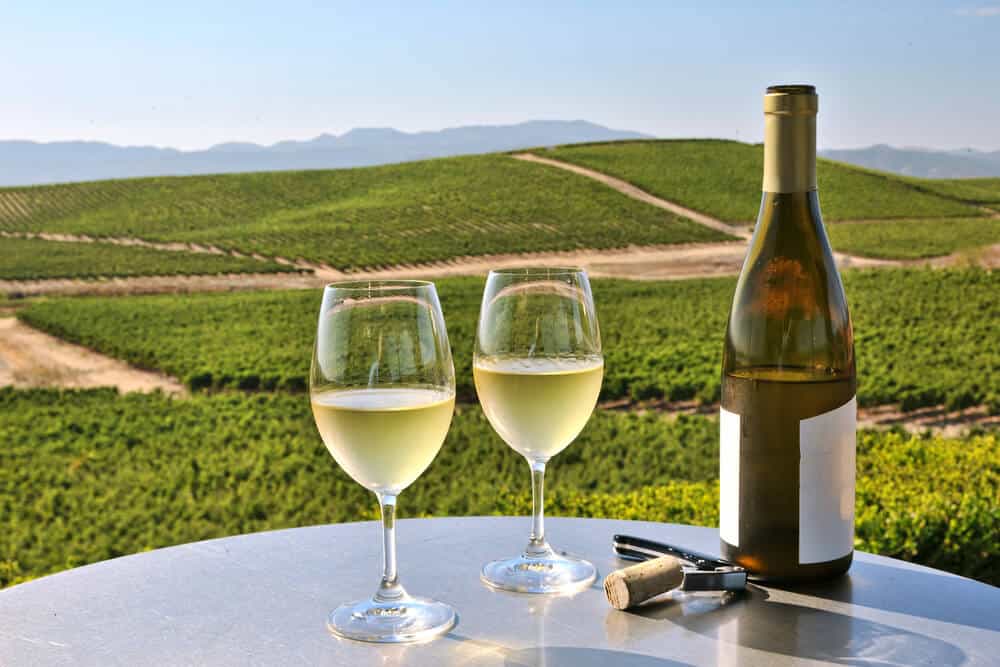 Driving Distance: 15 miles
Driving Time: 20 minutes
It's pretty incredible how much can change in just 15 miles, but that's the perfect way to juxtapose Napa and Sonoma!
Napa is a wonderful stop on your trip through Northern California, though it is a little more ritzy and pricy than Sonoma. Wine tastings are pricy but delicious, and there are quite a few crowds so you should probably time for you visit for the weekdays — Napa is one of the top weekend getaways from the Bay Area, after all.
While in Napa, there are lots of cute historic Airbnbs to stay in, as well as enjoying the delicious dining scene. Whether you splurge at the French Laundry (assuming you can get a table) or dine at the fun, low-key Oxbow Market, you'll absolutely find some delicious food and wine to go alongside it, of course!
Side Trips: More time? There is plenty to do around Napa to suit a longer stay. Check out the cute town of St. Helena and its accompanying wineries, head to Calistoga for mud baths and relaxation, drink wine along the Silverado Trail, take the Napa Wine Train, or chill with a picnic at Lake Berryessa.
Sacramento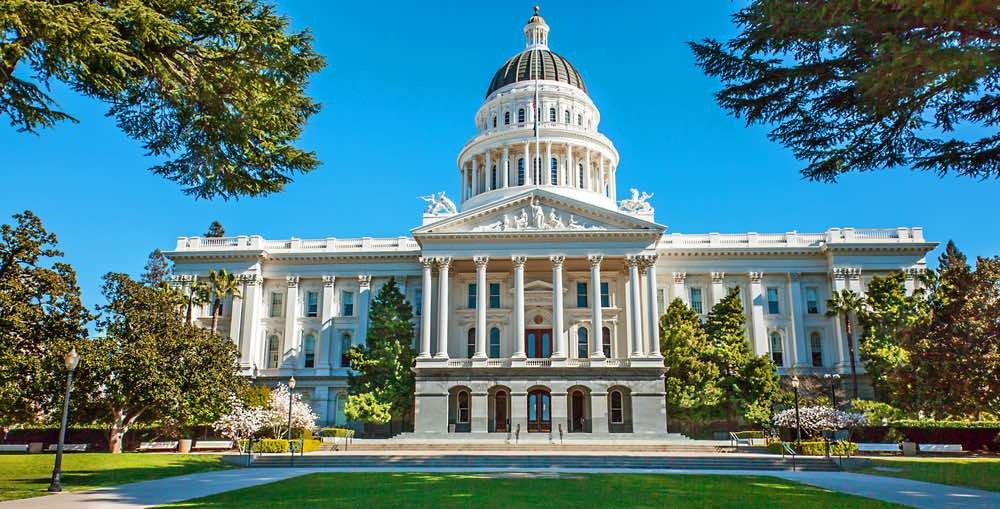 Driving Distance: 60 miles
Driving Time: 1 hour, 5 minutes
Next up on this Northern California road trip after Napa is Sacramento, our state's capital!
Sacramento — locally known as Sactown — has more going on that first meets the eye. Of course, you should take a visit to the beautiful State Capitol building, but you should also save time for some of the best Sacramento hikes and spending some time walking up and down the paths by the two rivers which border Sacramento.
There are also tons of great places to eat in Sacramento (the nutburger at Sunflower Drive-In is a must!) which makes it a great pit stop between Napa and your next destination, South Lake Tahoe!
Side Trips: The road between Sacramento and South Lake Tahoe gives you the opportunity to explore California's historic Gold Country. A few stops you might want to make include Placerville (which you'll drive through) and Coloma. Auburn is not on the way, but makes a worthy side trip.
South Lake Tahoe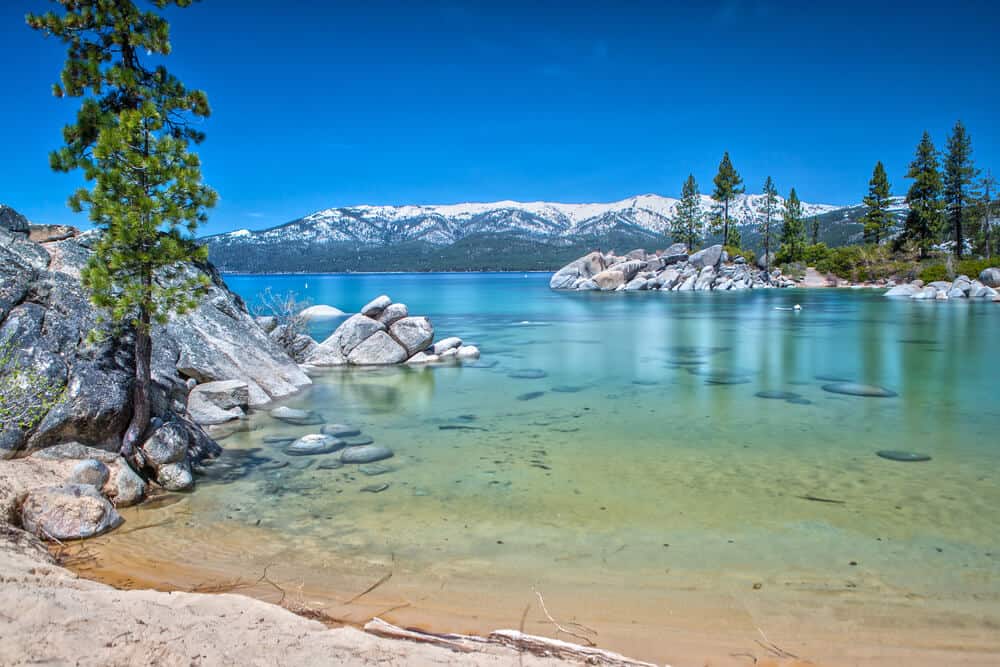 Driving Distance: 103 miles
Driving Time: 2 hours, 5 minutes
There is no shortage of things to do in Lake Tahoe in summer or winter, and South Lake Tahoe is perhaps the best place to be for all of it!
South Lake Tahoe is a great base for some of the best state parks in the region, such as D.L. Bliss State Park and Emerald Bay State Park.
There are tons of hikes near South Lake Tahoe such as up to Eagle Falls and to Vikingsholm. Camping opportunities abound all along the lakeshore and inland, and the ski resorts are a fun place to walk around, dine, or get some TLC in the form of luxury stays or massages.
There's also a great drinking and dining scene in town. In particular, the South Lake Tahoe Beer Trail is a really fun way to spend an evening!
Allocate at least two days in Lake Tahoe in order to ensure you see the best of it. You can even dip over into Nevada too for a bit — checking out Zephyr Cove in Stateline is absolutely worth the trip across the state line!
Side Trips: There are many towns up and down the banks of Lake Tahoe worth your time, such as Tahoe City and Carnelian Bay. Visiting the Olympic Village at Squaw Valley (soon to be renamed, luckily) is also a great trip: it's so cool to see the site of the 1960 Winter Olympics!
Truckee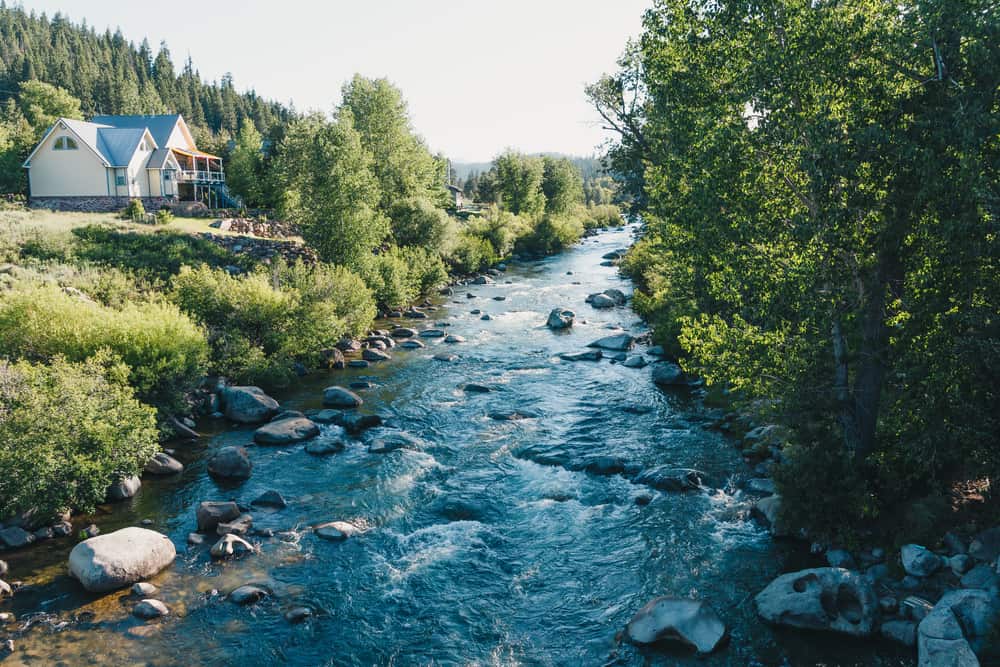 Driving Distance: 44 miles
Driving Time: 1 hour, 5 minutes
Next up on this NorCal road trip is Truckee! I suggest making your way from South Lake Tahoe making stops at Tahoe City, Carnelian Bay, and the Olympic Village (the side trips mentioned above) before arriving in Truckee.
Truckee is a cute town just due north of Lake Tahoe. It's actually where I'd often stay when doing Tahoe winter cabin getaways with my friends as it's cheaper yet so so close to all that Tahoe has to offer!
From Truckee, it's really easy to visit Donner Lake and Donner Memorial State Park as well as the beautiful Donner Summit Bridge — think Bixby Creek Bridge in Big Sur, but with a lake view instead of the Pacific.
These will be on your way to your next way point, Lassen Volcanic National Park, so you have no excuse!
Truckee itself is super cute and would be worthy of a stop, but on a fast-paced Northern California itinerary like this one, I wouldn't spend too long here — just a quick afternoon stop on your way to other points like Donner Lake and Lassen Volcanic NP.
Lassen Volcanic National Park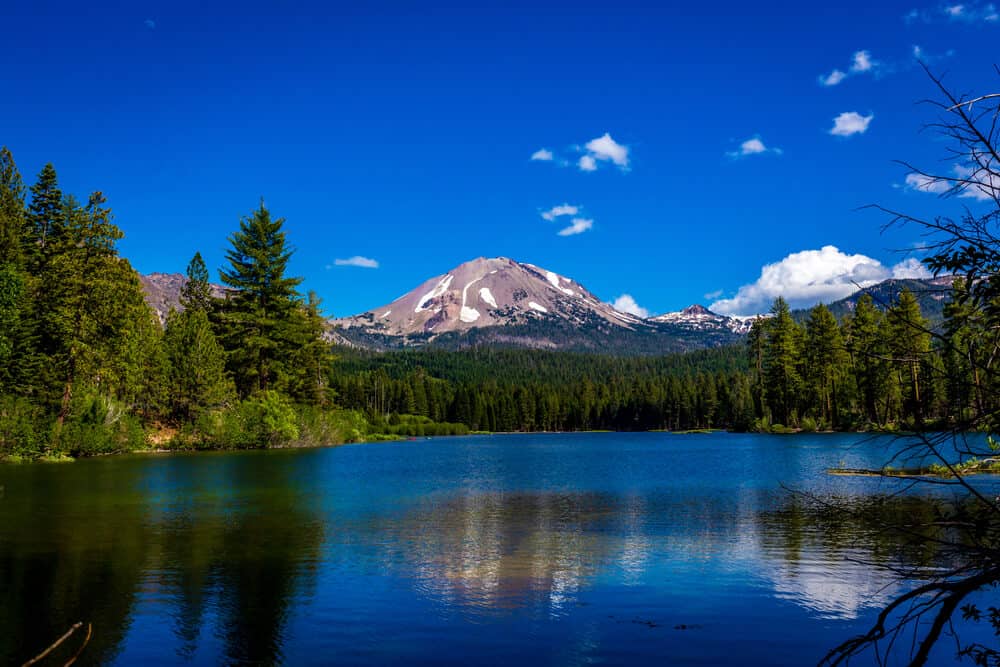 Driving Distance: 183 miles
Driving Time: 3 hours, 10 minutes
This is one of the longer straight-through drives on this NorCal itinerary, so definitely rest up the night before.
You have two options: taking the longer route and going inland via Grass Valley and Route 99, or going via Nevada and saving some time (and seeing better views in my opinion!).
I've routed this via Nevada, where you can pass through Reno (and make an optional stop in the "Biggest Little City in the World" and hell, even gamble if you're up to it!).
Inside Lassen Volcanic National Park there are several incredible hikes and things to do. Make sure you visit Manzanita Lake and Bumpass Hell, two of the parks best-known features.
The Sulphur Works area is also a really cool place to spot fumaroles (volcanic gas vents which emit steam from the ground) and get the feeling like you're in Iceland!
There are tons of great hikes in Lassen Volcanic National Park as well, such as the Ridge Lakes Trail and the Devil's Kitchen Trail, both of which offer a punishing workout with an incredible reward of a view at the end of it!
Burney Falls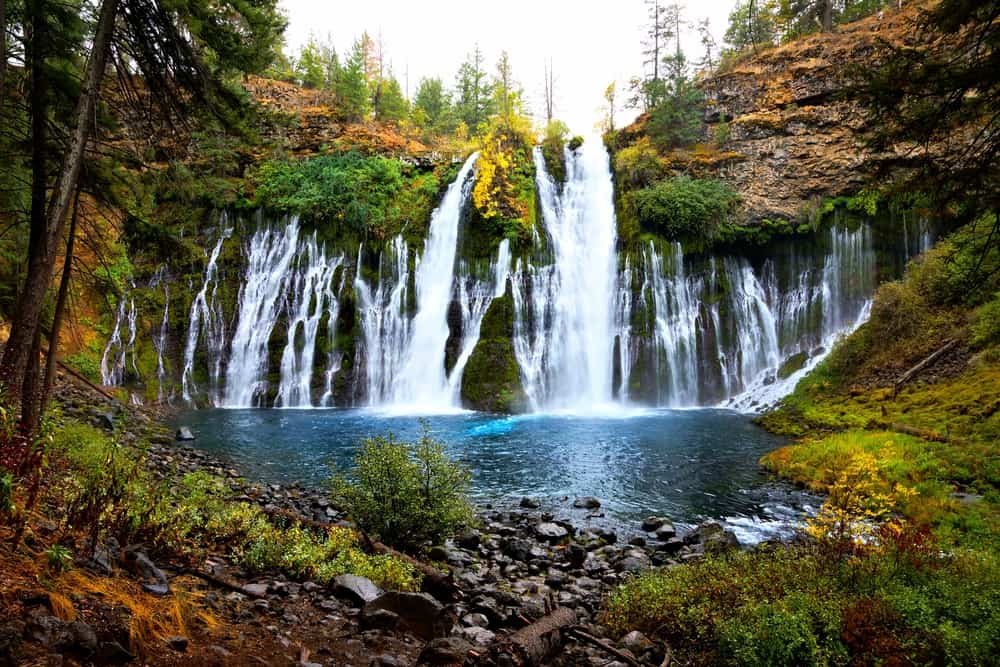 Driving Distance: 41 miles
Driving Time: 46 minutes
Next up, it's time for what I believe to be the most beautiful waterfalls in California: Burney Falls!
This gorgeous waterfall spreads in a horseshoe-like cascade so beautiful that it's led some to call it "California's Niagara Falls". Teddy Roosevelt himself called it the "eighth wonder of the world!"
Burney Falls and the surrounding McArther-Burney State Park have been revered long before Teddy Roosevelt and road trip travelers, though.
The area's indigenous inhabitants, the Ilmawi tribe, believed that places of beauty had great power, and thus Burney Falls was used frequently by Ilmawis in search of a place where they could meditate and have visions.
Whether you go for the waterfalls or for the history, Burney Falls is an absolute must-visit on any Northern California road trip, especially given its proximity to other must-stops on this list!
Side Trips: From Burney Falls, heading towards Mt. Shasta, you'll have the opportunity to stop at another easy-to-access waterfall just off the roadside, McCloud Falls.
Mt. Shasta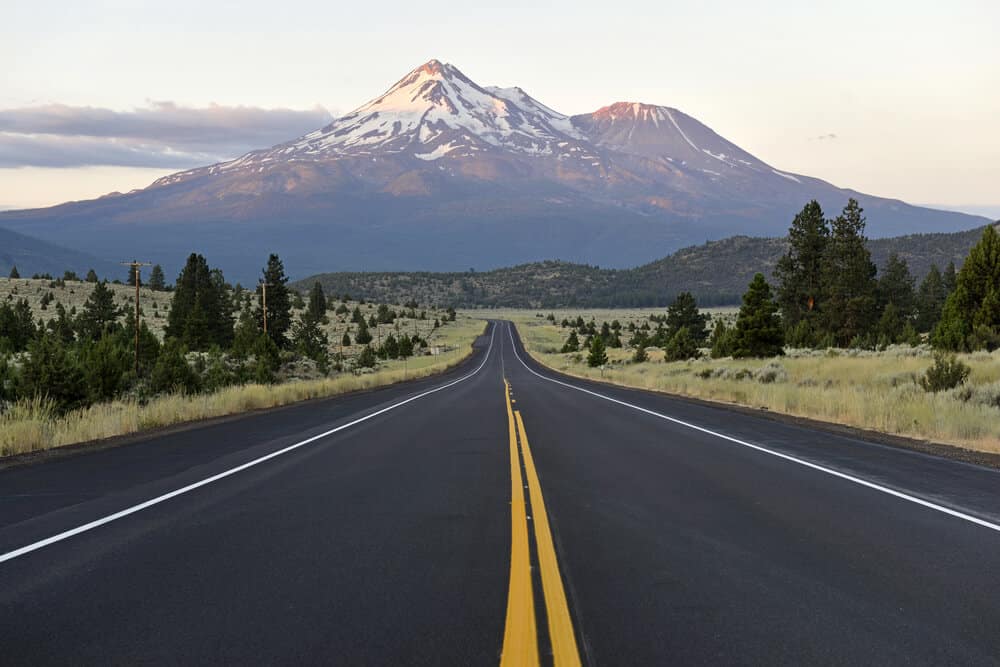 Driving Distance: 52 miles
Driving Time: 1 hour
Next up head to lovely Mt. Shasta! Mt. Shasta is of course the name of a mountain, but it's also the name of the beautiful town at its base.
There many incredible Shasta area hikes to embark on if you want to stop for a bit and stretch your legs for a few days rather than continue on in the car.
You can also stop for some time at Lake Siskiyou, head down to Dunsmuir for Hedge Creek Falls, or spend some time hiking and enjoying the beautiful scenery at Castle Crags State Park.
Crescent City
Driving Distance: 198 miles
Driving Time: 3 hours, 35 minutes
While Mt. Shasta and Crescent City may look close on the map, in reality this is one of the longer driving days of this Northern California itinerary because there are a lot of mountains in the way.
You'll actually have to cut up north to Oregon for a bit in order to have the most direct route! You can take the longer route which goes via Route 96 through the Pacific Crest Range which adds about an hour but keeps you (mostly) in California.
Giggle to yourself as you pass the town of Weed and enjoy the views on the drive between Shasta and Crescent City!
If you want to break up the journey, you can stop in Ashland, Oregon where you can visit Emigrant Lake and Siskiyou Mountain Park.
You can also take Redwood Highway (Route 99) instead of I-5 for even better views (it's sort of like Oregon's version of Avenue of the Giants!).
Once you reach Crescent City, walk along the beautiful beach and check out Battery Point lighthouse, one of the best reasons to go out of your way to visit Crescent City, the furthest-north city in California.
Side Trips: Besides the beaches and lighthouse, you can head to the beautiful sand dunes of Tolowa Dunes State Park, hike or bike part of the California Coastal Trail to Damnation Beach, or head to Jedediah Smith State Park for towering, staggeringly beautiful redwood hikes.
Redwood National Park & State Parks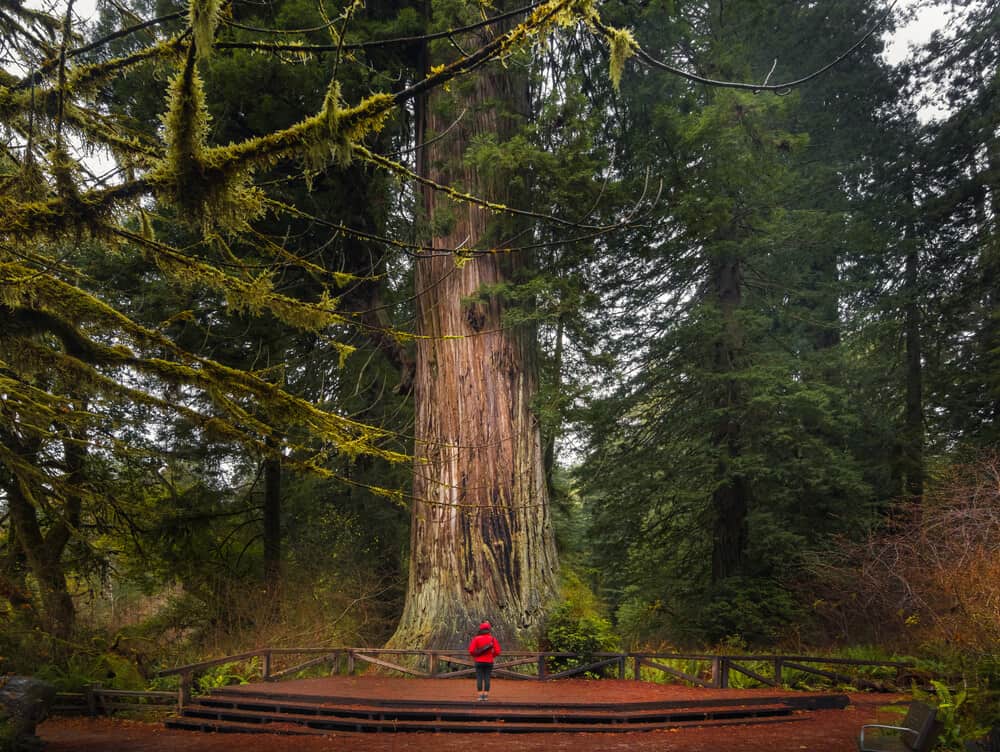 Driving Distance: Depends on which part of the complex of parks.
Driving Time: Again, depends. Jedediah Smith is close to Crescent City whereas other parks are further south.
The area of Redwood National & State Parks is hard to define as the area encompasses several state parks as well as a national park.
Redwood National Park isn't your average bounded-limit national park: it includes the national park area, but it also includes Del Norte State Park, Jedediah Smith State Park, and Prairie Creek Redwoods State Park.
There are other state parks featuring redwoods slightly to the south of Redwood National and State Parks, but we'll focus on these four parks here.
It doesn't technically include Humboldt Redwoods State Park, but that park is often included in visits to Redwood National Park, and you could easily add it to your Northern California road trip after your road trip down the Avenue of the Giants.
In Redwood National Park, you'll want to see Lady Bird Johnson Grove, the Klamath River Overlook, Tall Trees Grove (permit required!), and Trillium Falls.
In Del Norte State Park, you can hike the Damnation Creek Trail and stretches of the California Coastal Trail.
In Jedediah Smith Redwoods State Park, you'll want to see the hikes originating from Hiouchi Visitor Center area, such as the Stout Grove Loop, as well as the Boy Scout Tree Trail.
In Prairie Creek Redwoods, you'll want to see Fern Canyon (more on that below — I've included it as a separate stop, it's that awesome!) as well as Big Tree.
Fern Canyon
Driving Distance: 46 miles [from Crescent City]
Driving Time: 1 hour 15 minutes [from Crescent City]
Part of Prairie Creek Redwoods State Park, Fern Canyon is an absolute must-visit place in Northern California.
Looks familiar? You may have seen it in Jurassic Park, part of which was filmed here!
It's an easy and popular 1.1-mile loop hike, so I'd be prepared to visit it early in the morning to avoid the crowds.
Eureka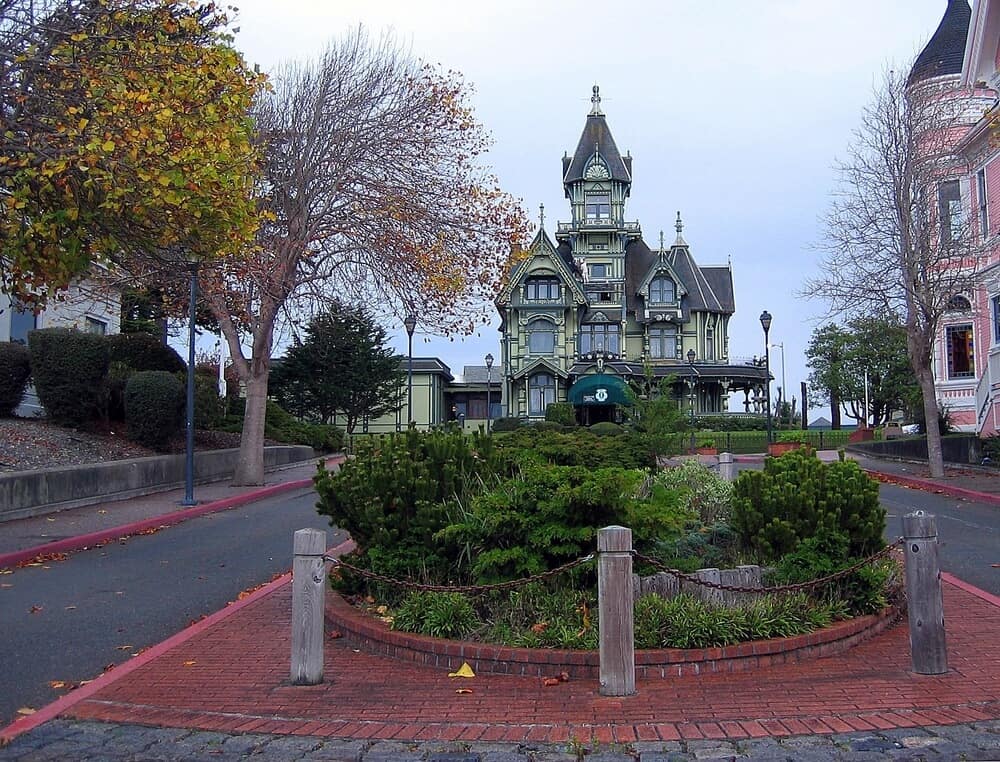 Driving Distance: 52 miles
Driving Time: 1 hour, 15 minutes
After all that exploring of redwoods, it's time for a quick mini city break in Eureka!
Eureka is a small city but it has a lot of beautiful Victorian-inspired architecture, such as Carson Mansion, considered one of the best examples of American Queen Anne architecture.
Other things to do in Eureka include visiting the Clark Historical Museum, taking a side trip to cute Arcata, and visiting the Morris Graves Museum of Art. Sequoia Park is also close by if you haven't quite gotten your redwood fix yet… but don't get ahead of yourself, because Avenue of the Giants is next up on this Northern California itinerary!
Avenue of the Giants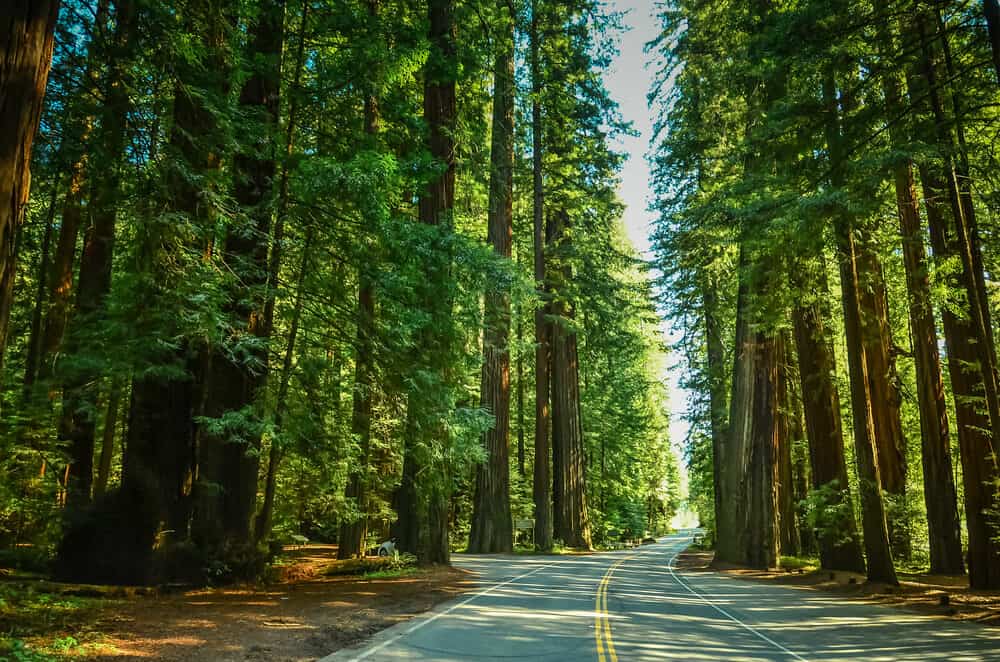 Driving Distance: 59 miles [from Eureka to south end / Phillipsville]
Driving Time: 1 hour, 5 minutes [from Eureka to Phillipsville]
The Avenue of the Giants runs between the towns of Pepperwood (north end) and Phillipsville (south end), covering 31 miles of Old Highway 101.
You'll feel teeny-tiny as you're surrounded by beautiful redwoods towering over you and your car as you zip through one of the most scenic drives in Northern California!
There are quite a few places to stop along the way, including several places within Humboldt Redwoods State Park, which makes up much of the protected area along the Avenue of the Giants (between Redcrest and Myers Flat).
Check out the 0.5-mile Founders Grove Loop Trail, where you'll see the fallen tree, the Dyerville Giant.
Other quirky stops (that admittedly are rather touristy, but still fun) are the Shrine Drive-Thru Tree and the Eternal Tree House.
Side Trips: From Phillipsville, you can extend your trip out in several ways. One way is to head to the rugged landscape of Shelter Cove, where after a tumultuous road you'll reach the beautiful Black Sand Beach (the endpoint of most Lost Coast Trail hikes!). Or you can continue south to reconnect with Highway 1 for the last stretch of this Northern California road trip itinerary along the Pacific Coast!
Fort Bragg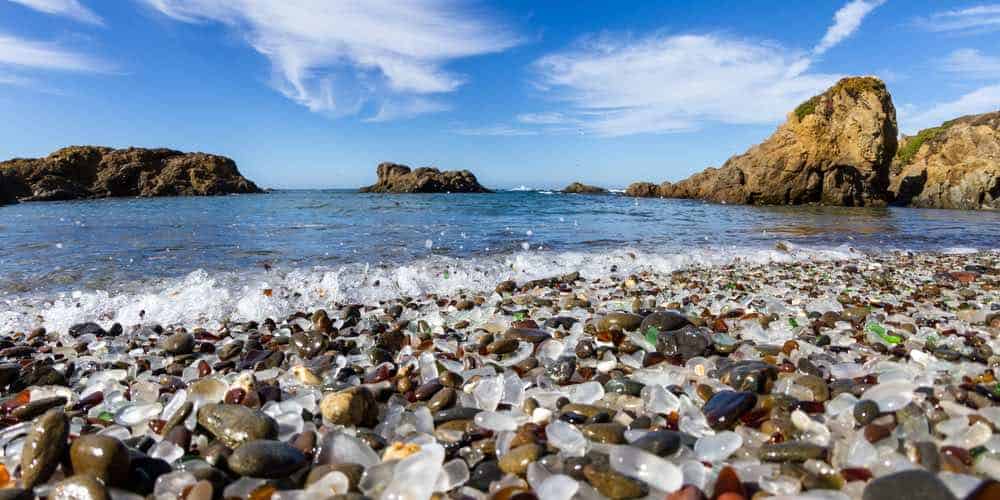 Driving Distance: 75 miles
Driving Time: 1 hour, 50 minutes
Back on the Pacific coast, let's explore some of the beautiful beachside destinations as we make our way back to San Francisco.
Fort Bragg is a must-stop along the way for its famous Glass Beach. Unfortunately, theft of sea glass from the beach has robbed it of most of its more brilliant turquoise and green sea glass, but it's still absolutely worth a visit as it's quite unique.
Other things to do include exploring more of MacKarricher State Park (you may even see harbor seals if you're lucky), taking the funky Skunk Train steam train through the redwoods, or visiting the Mendocino Coast Botanical Gardens for some more natural beauty.
Mendocino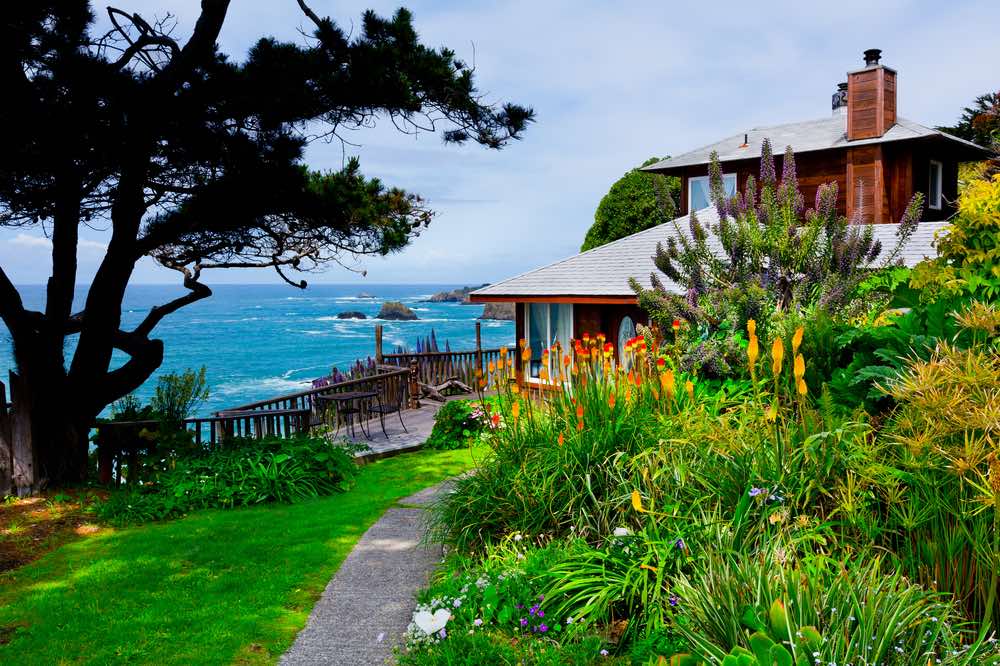 Driving Distance: 10 miles
Driving Time: 17 minutes
The next stop is a short one: Mendocino! This is where I suggest you stay for at least a day or two to catch your breath and prepare for the last bit of this Northern California road trip blitz.
There's so much to see and do in Mendocino that it's absolutely worthy of at least two days. Check out Russian Gulch State Park for hiking with a chance of swimming, or the Mendocino Headlands State Park for some higher-up hikes.
You also can't miss the Point Cabrillo Light Station while in Mendocino (you can even stay here if you like!).
Gualala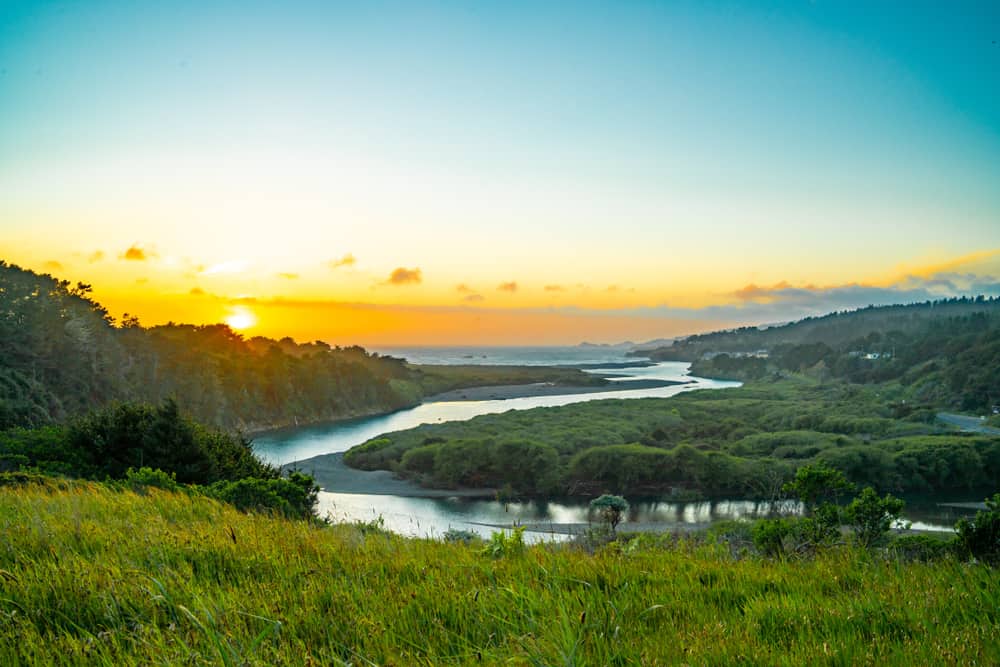 Driving Distance: 50 miles
Driving Time: 1 hour, 10 minutes
On your way down to Gualala, be sure to make a quick stop at the Point Arena lighthouse: it's breathtaking!
Once in Gualala, make sure to drive up the winding roads to the Gualala River Redwood Park and the South Fork of the River, so you have a beautiful view over the Gualala River meeting the Pacific Ocean.
You can also rent a kayak and paddle down the river for a way to break up the road trip and get some activity into your day.
Sea Ranch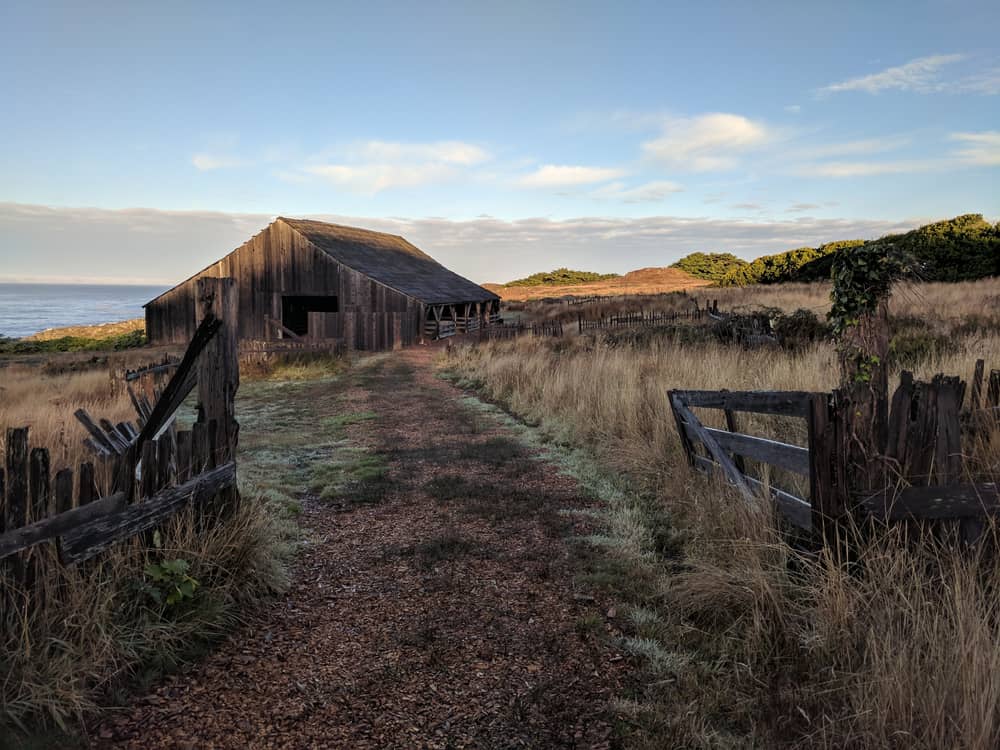 Driving Distance: 6 miles
Driving Time: 10 minutes
Only a short drive between Gualala and the next point on this Northern California coast road trip: Sea Ranch!
Sea Ranch was the epicenter of an architectural movement in the 1960s which sought to combine modern design with the natural landscape, creating architecture which blended into the scenery and amplified it rather than stood out like a sore thumb.
As a result, the architecture around Sea Ranch is really unique and fun to see, and you could spent hours wandering the grassy, little-developed coastline checking out the small houses and historic barns (as this used to be a sheep ranch!) along the coast.
Be sure to also check out the Sea Ranch Chapel and Stengel Beach while in Sea Ranch! The Sea Ranch Lodge is also well worth a stop, but it is currently closed for renovations.
Jenner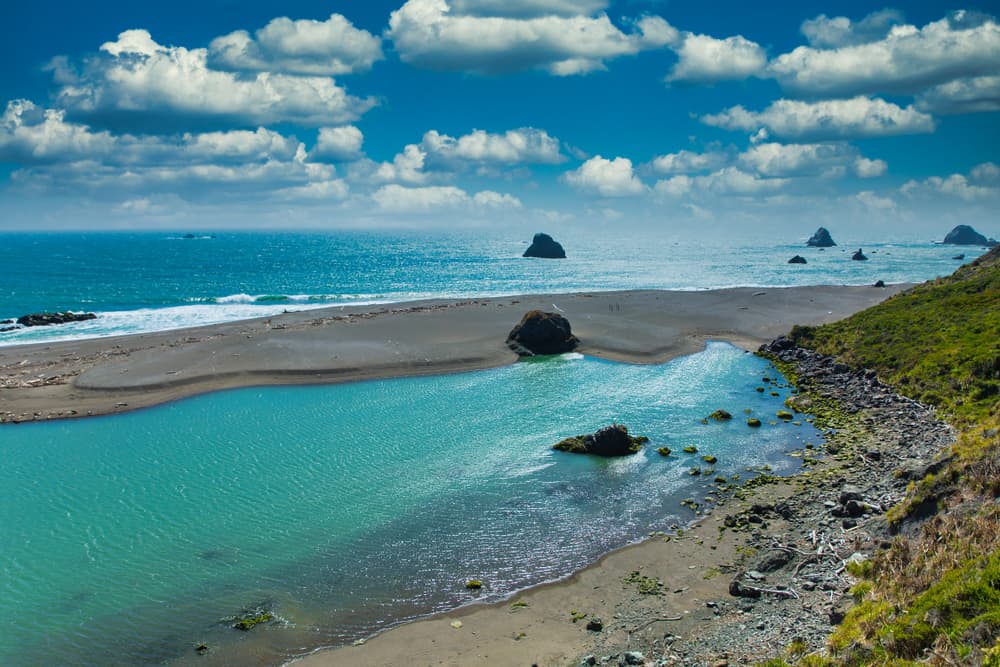 Driving Distance: 32 miles
Driving Time: 55 minutes
Next up is my personal favorite place on the Northern California Coast: Jenner, the place where the majestic Russian River empties out into the Pacific Ocean.
Walk along the driftwood-laden beaches of Jenner Beach admiring the sea stacks, then head to the southern edge of the beach, Goat Rock Beach, for even more incredible rock formations.
Stop at the River's End Inn for an overnight stay or just a delicious meal overlooking the ocean, best enjoyed with a glass of Sonoma County wine.
Point Reyes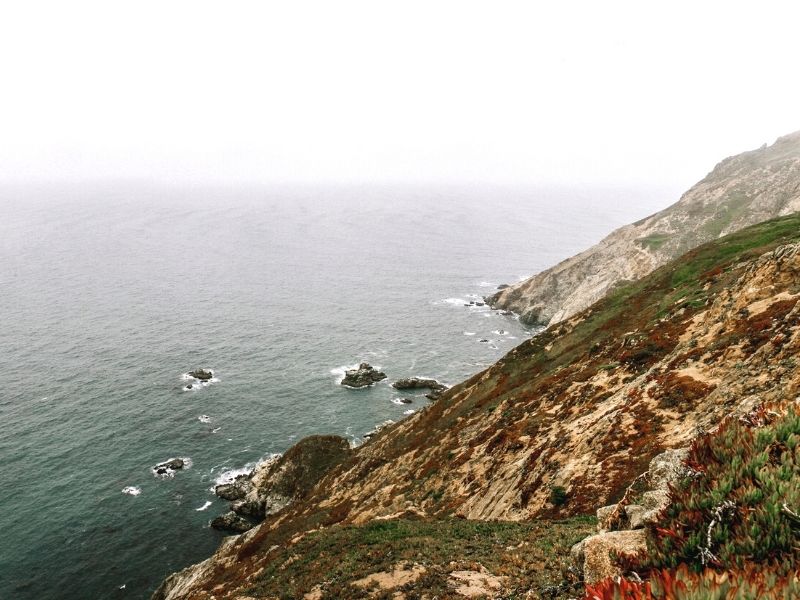 Driving Distance: 63 miles
Driving Time: 1 hour, 50 minutes
On the way down to Point Reyes, I suggest a stop in Bodega Bay to spot The Birds filming locations and some whales from Bodega Head!
On the way to the lighthouse at Point Reyes and the main parts of the Point Reyes National Seashore, be sure to the stop in the incredible Cypress Tree Tunnel in Inverness.
You can't miss it along Sir Francis Drake Boulevard (just type in Cypress Tree Tunnel to navigate to it). Also, stop at the Point Reyes Shipwreck on your way to the tree tunnel!
After that, head to the Point Reyes Lighthouse, absolutely beautiful and worthy of a stop. From there, you can enjoy many of the other things to do in Point Reyes, including hiking trails and sightseeing and whale watching.
Muir Woods & Mt. Tamalpais State Park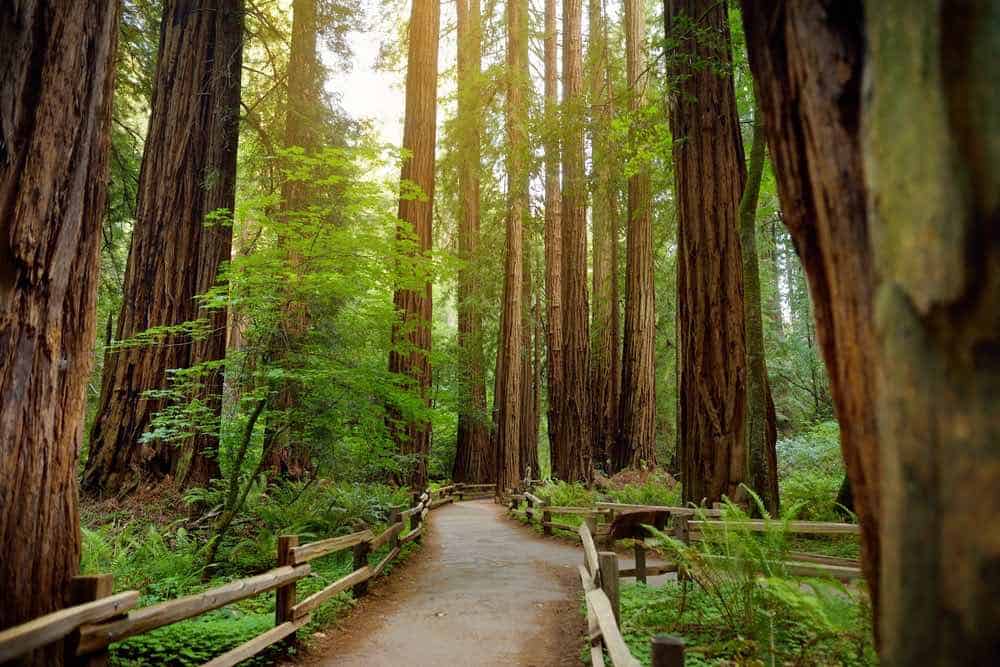 Driving Distance: 44 miles
Driving Time: 1 hour, 30 minutes
These are the last two stops on this epic Northern California itinerary, and they'll definitely end your trip with a punch!
Head up to Mt. Tam for incredible views over the SF Bay as well as tons of great hiking trails and places for a scenic picnic.
In Muir Woods, there are tons of shorter hikes you can take as well as the more challenging hike along the Dipsea Trail which ends at Stinson Beach. You can also drive to Stinson Beach if you don't feel up for a grueling hike!
Remember: you need to pay for and reserve your parking for Muir Woods (read more on my guide here).
Finally, you'll be winding your way back to San Francisco. I suggest stopping at a few viewpoints of the Golden Gate Bridge along the way back, as well as possibly Kirby Cove, Black Sand Beach, and the Point Bonita lighthouse.
***
I hope you enjoyed this epic road trip through Northern California itinerary! Please feel free to customize it however makes sense for your road trip journey, and travel safe.
Pin This Northern California Road Trip Itinerary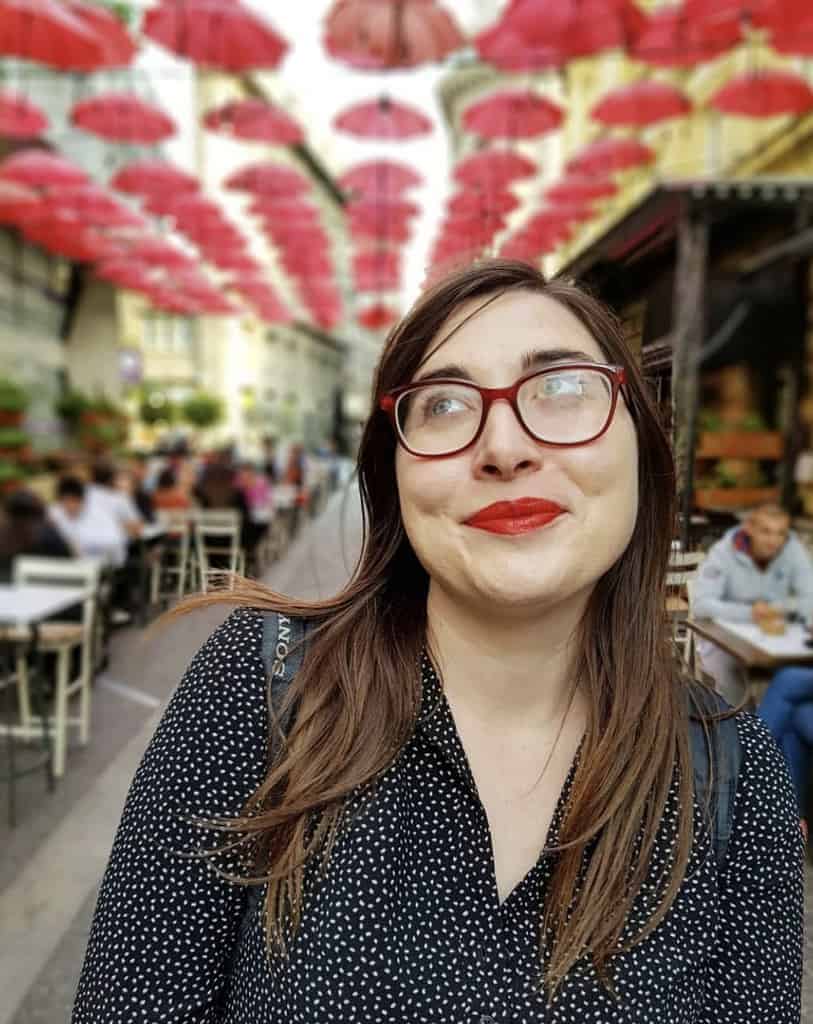 Allison Green is a travel blogger, writer, and podcaster who grew up in the Bay Area of California. She has spent time living in New York, Prague, and Sofia, but has returned to live in the East Bay. She has traveled to 60 countries before the age of 30 while running several digital travel publications. Her writing and podcast have been featured in Forbes, CBC Canada, National Geographic, the Huffington Post, and CNN Arabic, amongst others. She's obsessed with bouldering, houseplants, other people's pets, and anywhere she can see the ocean.