Sacramento is the state capital of California and known as "the city of trees".
For being the capital of the most populous state in the US and one of the largest economies in the world, Sacramento is a fairly small city.
However, it has some great restaurants, family-friendly activities, and some interesting nightlife, with a wonderful live music scene. There are some great spots to hike in Sacramento too!
There some really excellent spots within an hour from the city for a more wild experience out hiking near San Francisco, as well.
The American and Sacramento Rivers run through the city, and the foothills of the Sierra Nevada Mountains are just a short drive away.
The combination of a city experience with ample opportunities to enjoy scenic places makes Sacramento a great destination. This creates the circumstances for some great Sacramento hikes!
These hikes in Sacramento and the nearby area will be rated as easy, moderate or difficult. They will be accompanied by trail length and type, plus amenities available in the parks.
Remember: any time you go on a hike, even a short day hike, it is good practice to bring a day pack. Carry with you, rain gear, food, water, first aid, etc (see the daypack gear list at the bottom of the article). Be prepared. Always, always, carry out what you carry in. Leave these natural lands better than you found them!
Hikes In & Near Sacramento
Folsom Lake State Recreation Area
Note: This post contains affiliate links, which earn me a small commission at no extra cost to you if you make a purchase using one of these links. Thank you for supporting this free content!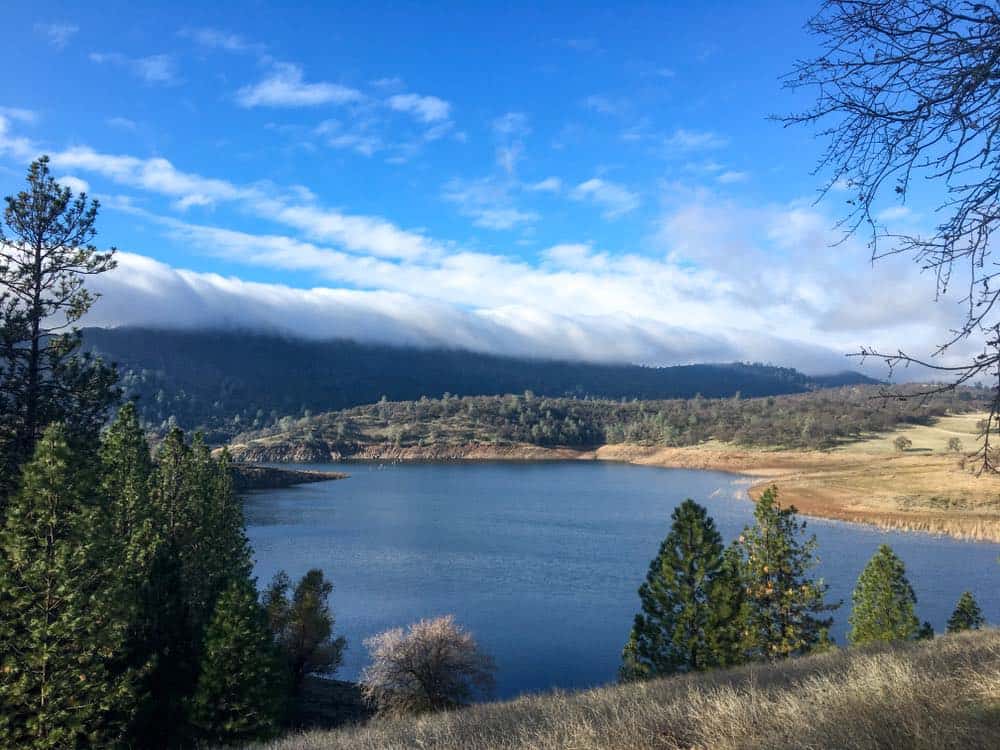 Quick Park Info: Hiking, biking, equestrian friendly, camping, RV camping. Beach with fishing, swimming, and windsurfing permitted. Dogs allowed on leash (though not all areas). Picnic areas, restrooms, and showers are available. There are ADA accessible areas. Use fee of $5 – $10.
The Oak Nature Trail
Length: 1.6 miles
Rating: Easy
Route Type: Out-and-back
The Oak Nature trail will provide information about the plants and wildlife while you take in the scenic views of Folsom Lake.
It is not often crowded which makes this easy hike the right choice. There is a picnic area at the trailhead too, making this a great lunchtime hike.
Granite Bay to Beals Trail
Length 3.3 miles
Rating: Easy
Route Type: Out-and-back
This easy hike in Folsom Lake State Recreation Area will feed your adventure spirit without intense effort.
It is an all-around great chance to hang out at Folsom Lake. There will be many bikers on this trail, and it is a nice, easy hike.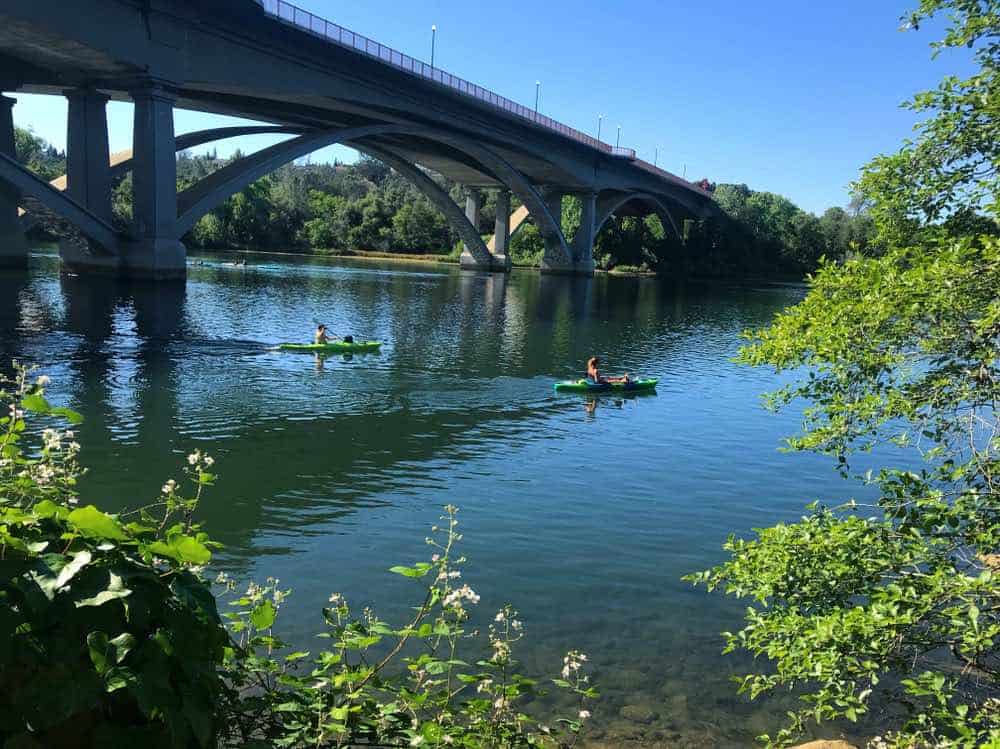 Johnny Cash Trail
Length: 6.3 miles
Rating: Easy
Route Type: Loop
Johnny Cash Trail pays homage to the man who once sang about Folsom Prison in his iconic song "Folsom Prison Blues".
There are 8 huge art pieces along the trail to tell his story. You can use your phone to amplify your connection to the art along the trail.
Receive music, history, and interactive experiences via your smartphone to bring the trail to life.
Folsom Challenge
Length: 26.1 miles
Rating: Moderate
Route Type: Point-to-point
Bring plenty of water and plan your transportation for this point-to-point trek.
It is full of beautiful views and opportunities for wildflower viewing in the right season (April – June).
At the end of the hike, find yourself climbing up a steep elevation gain from Cardiac Hill to Maidu.
Cronan Ranch to Folsom Point Recreation Area
Length: 30.5 miles
Rating: Hard
Route Type: Point-to-point
Like the Folsom Challenge trail, bring lots of water, as this is a difficult hike, plus you will want to consider transportation since it starts and ends in different locations.
The trail will lead you to Folsom Lake to take in the beauty of the water. It is challenging, but this Sacramento hike is five stars if you can handle it!
Auburn State Recreation Area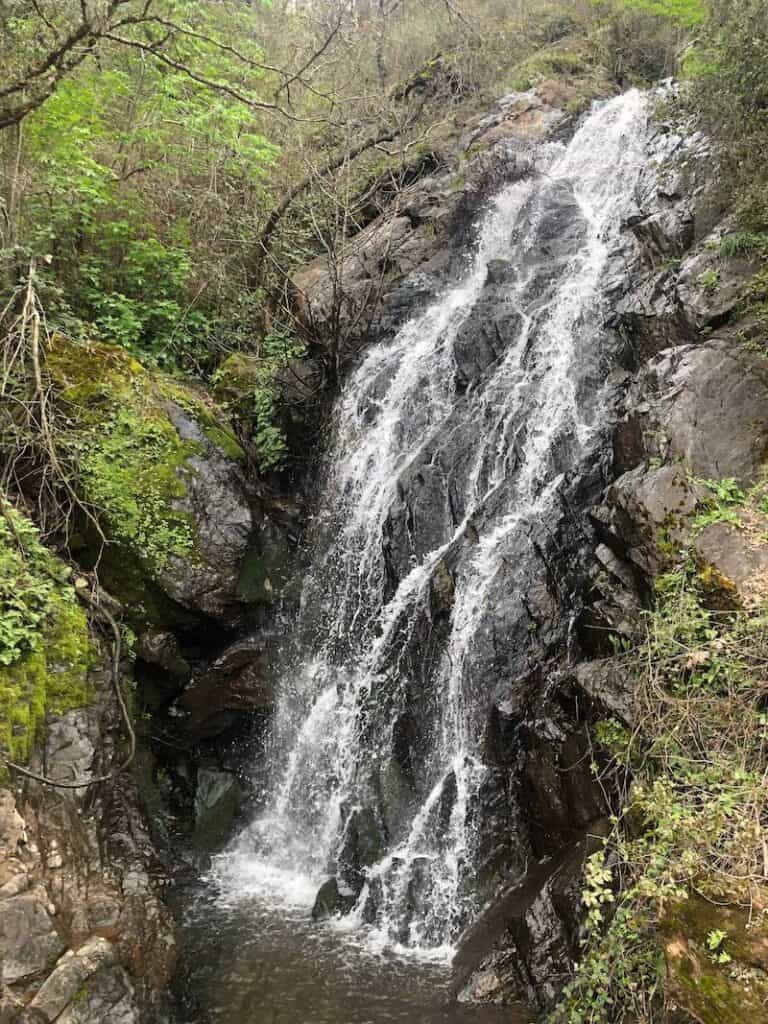 Quick Park Info: Hiking, equestrian, boating, birdwatching, wildflower viewing, beautiful views. There is a beach area with swimming possible. Dogs are allowed on leash (though not all areas). There are camping and picnic areas available. Fee for day use ($10).
Calcutta Falls
Length: 2.2 miles
Rating: Easy
Route Type: Out-and-back
It is best to hike this trail from April to September, as this is the best time to see rushing water from the falls instead of a trickle.
This is an easy hike near Sacramento with a lovely view of Calcutta Falls, which makes this kid-friendly.
Enjoy time on the wooden bridge at the falls, or take a side trail down to the water to extend your trip. There are a bunch of little side trails, as well as small waterfalls along the way.
Clark's Pool
Length 4.4 miles
Rating: Moderate
Route Type: Out-and-back
This hike near Sacramento runs along the American River. There are plenty of swimming holes. Take the Clementine Trail to Clark's pool.
It is not a very difficult hike and it has some awesome views. This includes a view of the Forest Hill Bridge which is the tallest bridge in California and one of the tallest in the country. It ends at Clementine Dam which is an interesting place to check out as well.
Be advised: Swimming in these waters requires caution. The dam is opened periodically, usually once or twice per day. This means there is an influx of water which causes the water to rise and can create dangerous swimming conditions. Use caution if you decide to swim, and better to avoid it if you feel unsafe.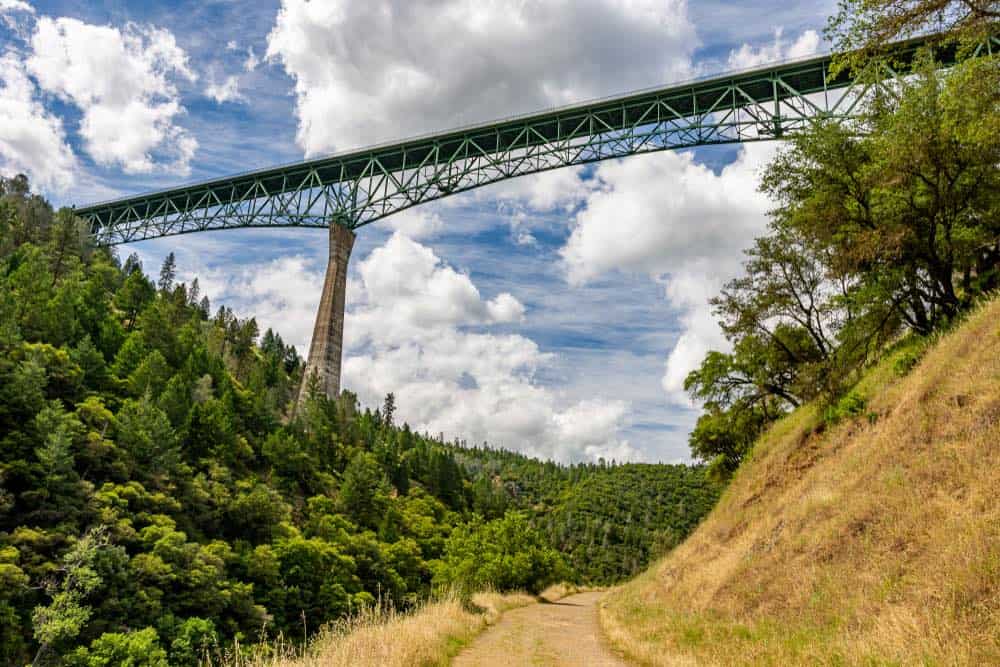 Middle Fork American River Quarry Trail
Length: 10.8 miles
Rating: Moderate
Route Type: Out-and-back
This hike will provide a great opportunity to experience history while hiking near Sacramento!
The trail was formerly a railroad used to haul limestone. It was then taken apart during World War II so the steel from the railroad could be used for the war effort.
It is a fabulous trek. Enjoy wildflowers (April – June) and views of the American River. There are lots of picnic tables, too.
Plus, it ends at a limestone amphitheater! See a limestone cave and the beautiful canyon as you hike.
American Canyon Loop Trail
Length: 6.4 miles
Rating: Difficult
Route Type: Loop
This Auburn hiking trail features a waterfall, with ample opportunities to veer off the trail and go swim in the water below.
Take the clockwise route for less scrambling on very steep parts. Poison oak is prevalent on this trail, so wearing pants are recommended, even in the summer.
***
In addition to the recreation options at Folsom Lake and Auburn, there are a bunch of great hiking spots in Sacramento.
Below you will find some easily accessible parks in Sac City!
River Bend Park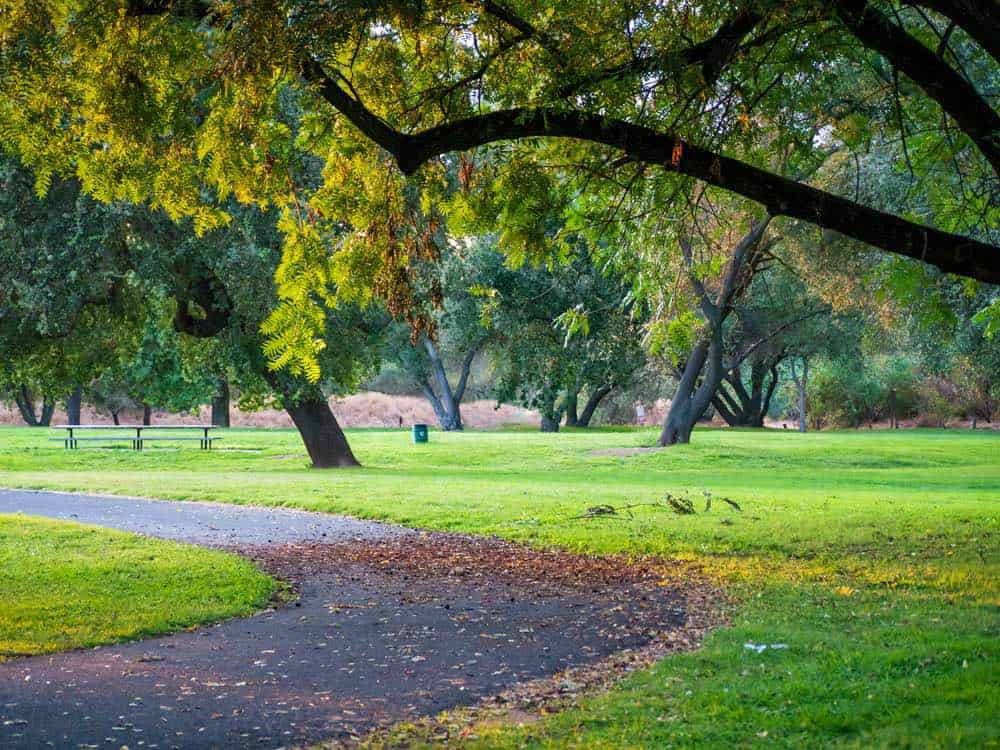 Park info: Hiking, swimming, kayaking, canoeing, equestrian-friendly, picnic areas, restrooms, parking fee ($5 per vehicle).
This park offers 444 acres of beauty on the American River. It is a popular spot for rafting outfitters. It is a nice spot to take a dip in the American River.
There are hiking trails available as well as BBQ stations for a cookout after your hike. There are plenty of hikes to take, none being very challenging or lengthy. Be sure to check out the Harold Richey Bicycle Bridge for a wonderful view of the American River.
William Land Park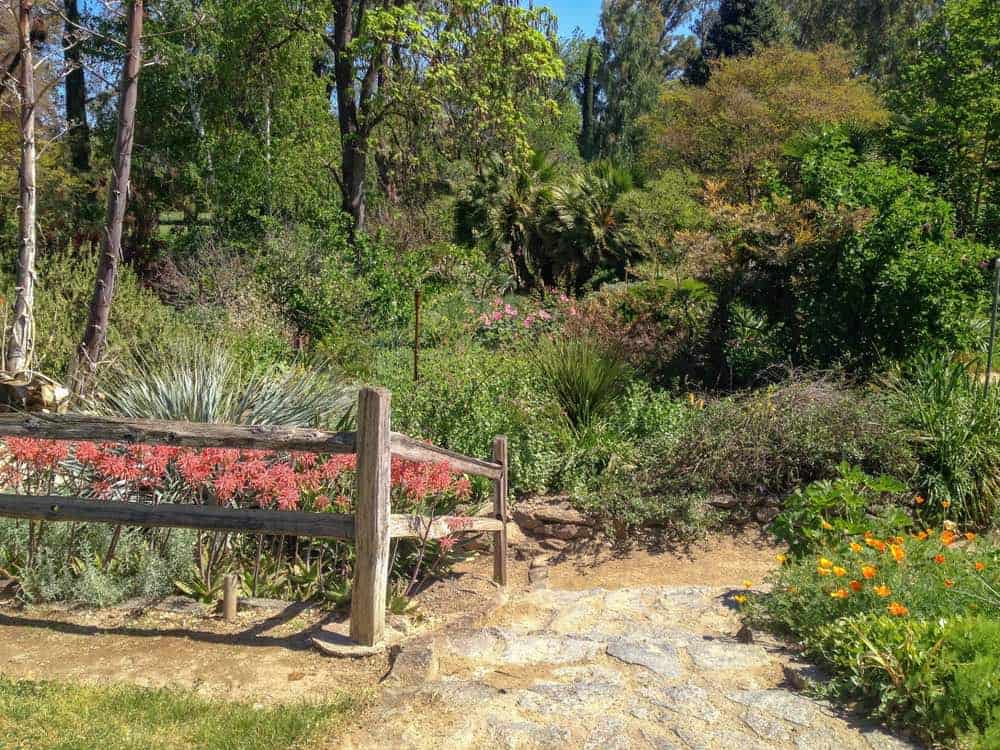 Park Info: Hiking, biking, swimming, restrooms, picnic areas, wading pool, basketball, golf course, ADA accessible, no fee.
William Land Park is within the city limits and is definitely a city park. It has some really great recreation options, which is why it is included in this list. The park trail is 2 miles long. You can also golf, play tennis or play basketball. Enjoy this city oasis.
Taking a hike from Sacramento River Trail to Yolo County Park is a great option. It is a 4.2-mile loop, and it is frequented by bikers and runners. Continue an extra half mile to see the two bridges that connect Sacramento to West Sacramento, plus a view of the interesting Ziggurat Building!
American River Bike Trail
For bikers, we cannot share a list of Sacramento adventure activities without sharing the American River Bike Trail.
It is 28 miles of biking along the river. Hike, bike, run or even take a stroller or wheelchair along this path.
There are restrooms along the way and it makes for a scenic, wonderfully active trek.
Amador County Hikes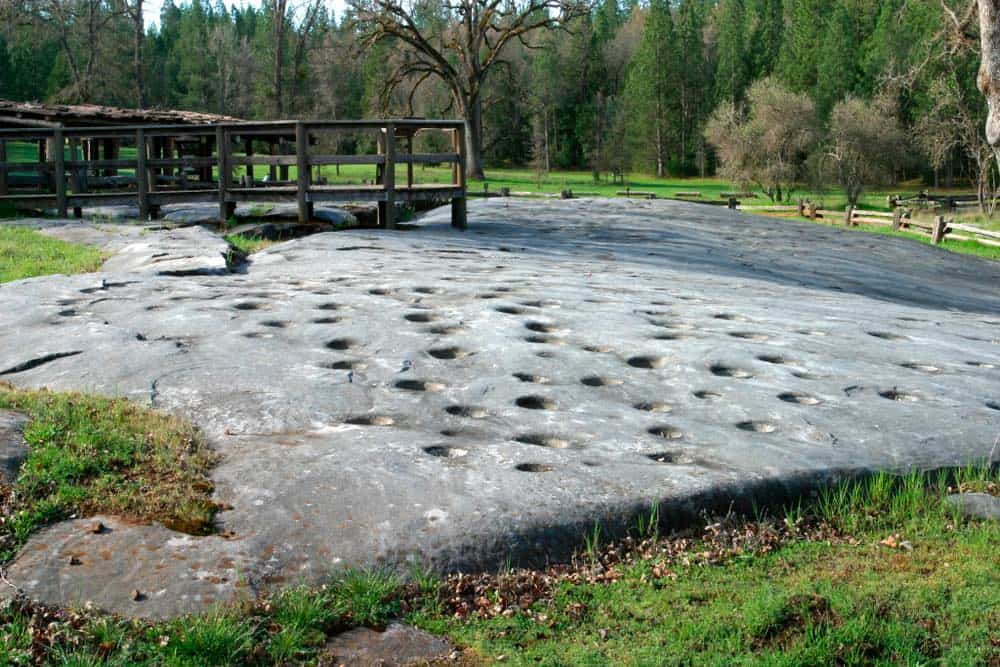 And finally, venture out into Gold Country via Amador County (east of Sacramento, about 1 hour) for more hiking. You will find yourself in the foothills of the Sierra Nevada Mountains.
Try Lake Tabeaud Loop in Jackson for a nice 2.5-mile loop amongst Ponderosa Pines and a beautiful lake.
Or head to Indian Grinding Rocks State Park for a hike. Venture a little deeper into foothills and check out the North Fork of the Mokelumne River. Turn left onto Electra Road from Hwy 49 South.
Here you will find many picnic areas along the dirt road. Hike along the rocks of the river. Head up past the dam for calm water wading. See wildflowers and crawfish!
Stop in Jackson when you're in Amador County to experience old-timey Gold Rush California. There are lovely little shops and great places to eat here, and it's a great little getaway from Sacramento!
***
Sacramento is a small city with much diversity and a plethora of things to do. You'll be remiss to underestimate the many cultural activities and nature viewing possible in (or near) Sacramento. It is the capital city, after all.
Take a hike in the foothills or enjoy the American River. Travel within Sacramento, the city of trees, and see how easily you can find beauty all around. Either way, you will find yourself enjoying the many trails and fun to be found in Sac.
Enjoy the city and always be respectful towards the protected areas you visit, especially when they are in a city. Pick up some trash along the way, even, and improve the lands for those who come after you. Care about the planet and your impact. Treat the land and the city well!
Pin These Sacramento Hikes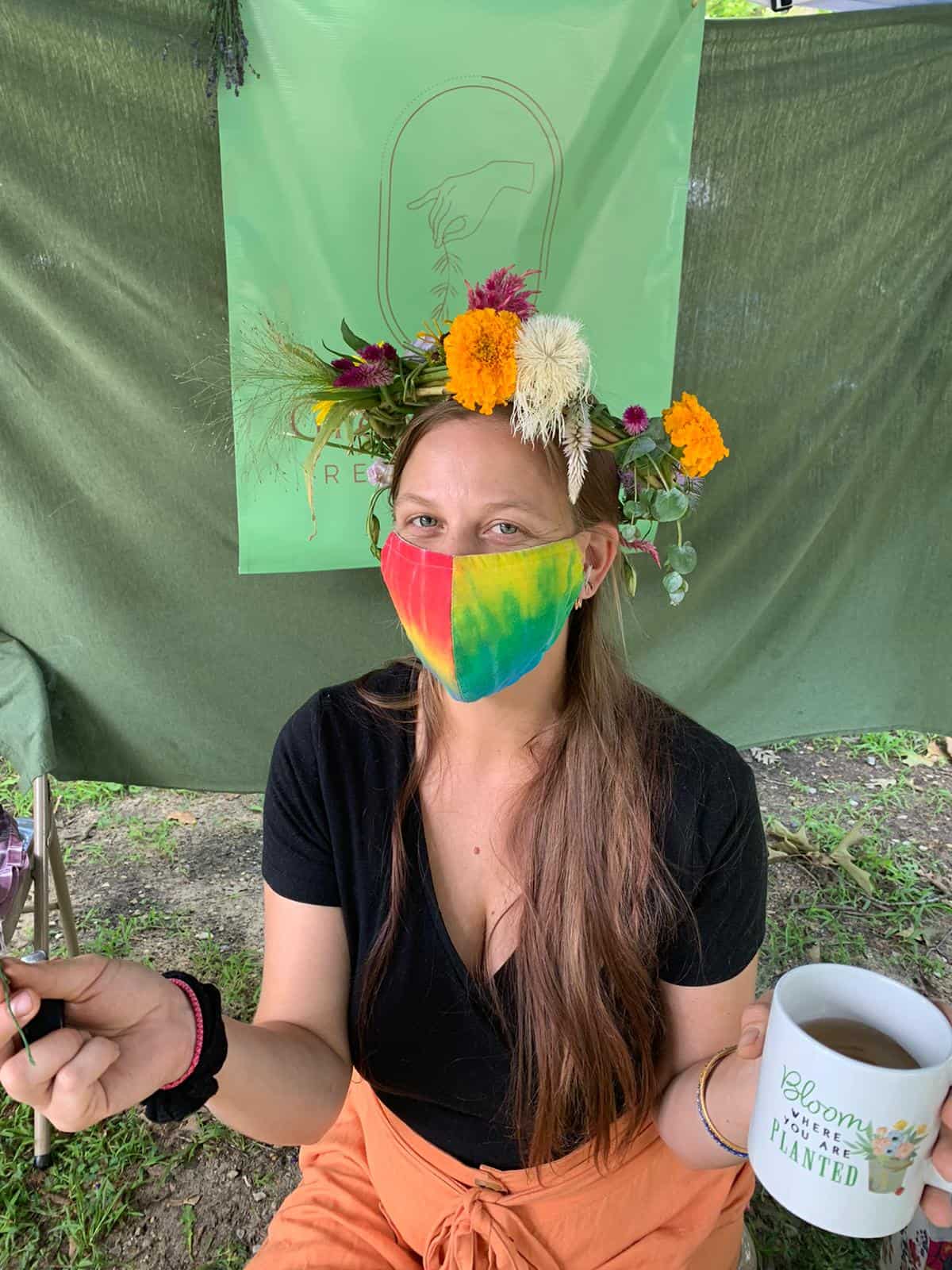 Allison is a writer, herbalist, musician, and lover of nature. She is an avid traveler and backpacker, having traveled throughout most of the United States and through parts of Asia and Europe. She has lived in Hawaii, Philadelphia, New Jersey, Boston, and of course, California. Allison has lived in California for 5 years, working on farms and in Yosemite National Park. She has been all over the state, enjoying many cities and of course, the many amazing outdoor wonders California offers. She currently resides in Aptos, Santa Cruz County, CA.