The summit of Mt Whitney is on every adventurer's bucket list of epic hikes in California — and the world.
Sitting proudly at 14,505 ft, Mt Whitney is the tallest peak in the lower 48 states. There is a decent amount of planning involved when committing to this 22-mile hike, which has a total elevation gain of 6,100 ft.
Three main routes take you up to this infamous summit: the Mountaineers Route, via the John Muir Trail, and the Mt Whitney trail, also known as the Main Trail.
The Mountaineers route is a steep and technical approach for experienced climbers only. You can also join the Whitney trail from the John Muir trail at Trail Crest with Mt Whitney Summit being the endpoint of this historic 213-mile trail.
However, if you're just hiking Mt Whitney in a day, the Mt Whitney Trail is the most popular way to bag this nefarious peak.
The Details of Climbing Mt Whitney
Note: This post contains affiliate links, which earn me a small commission at no extra cost to you if you make a purchase using one of these links. Thank you for supporting this free content!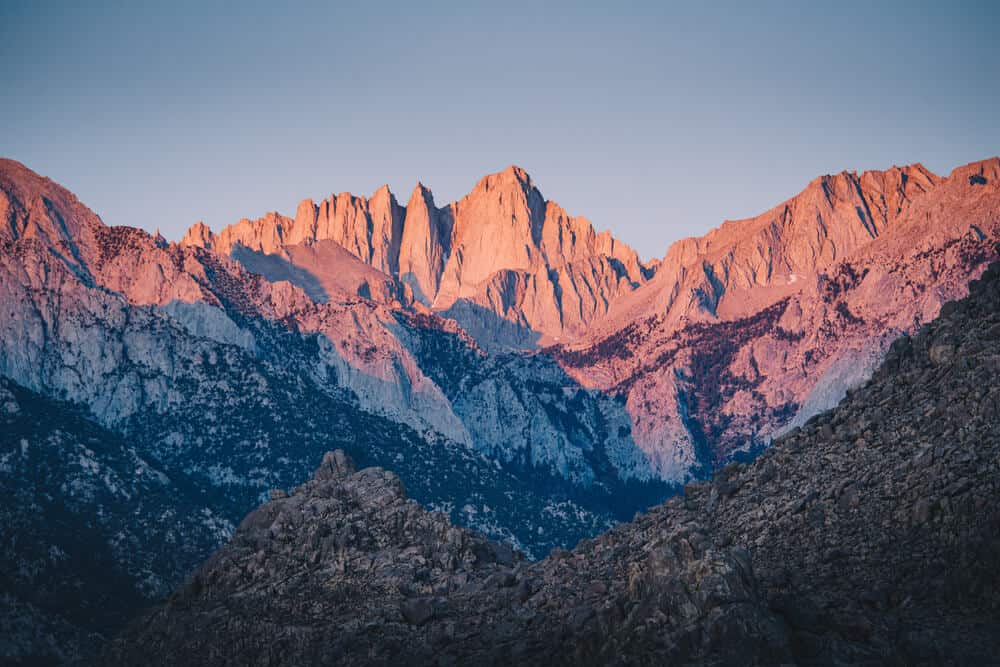 Trail Type: Out and back
Mileage: 22 miles
Time: 1-2 days
Elevation gain: 6,100 ft
Difficulty: Strenuous
Planning to Climb Mt Whitney
Be Prepared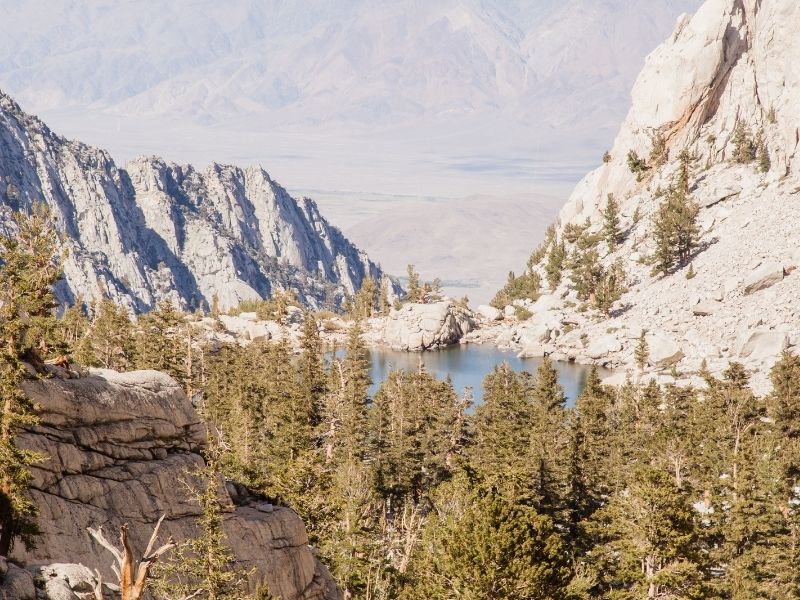 Summiting Mt Whitney requires a high level of physical endurance. It is advised that you do some high altitude hikes in preparation for this trek.
If you are in the Southern California area, you should consider a few trips up to Mt Baldy as well as San Gorgonio and San Jacinto to get acclimated to high-elevation hikes.
However, although Mt Whitney is a difficult and strenuous hike, no technical skills are required when hiking the Mt Whitney Trail.
As with any hike, it's important to know the Park rules and regulations associated with your permit and follow them to the letter. They are there to keep you safe and to keep the trail in pristine condition for hikers that come after you.
Mt Whitney is known for afternoon thunderstorms so check the weather forecast and plan appropriately! Be sure to pack rainproof gear.
Even though The Mt Whitney Trail is pretty straightforward, it's always a good idea to bring a topographical map of the area and be sure to let someone know where you will be and when you plan on returning.
When to Go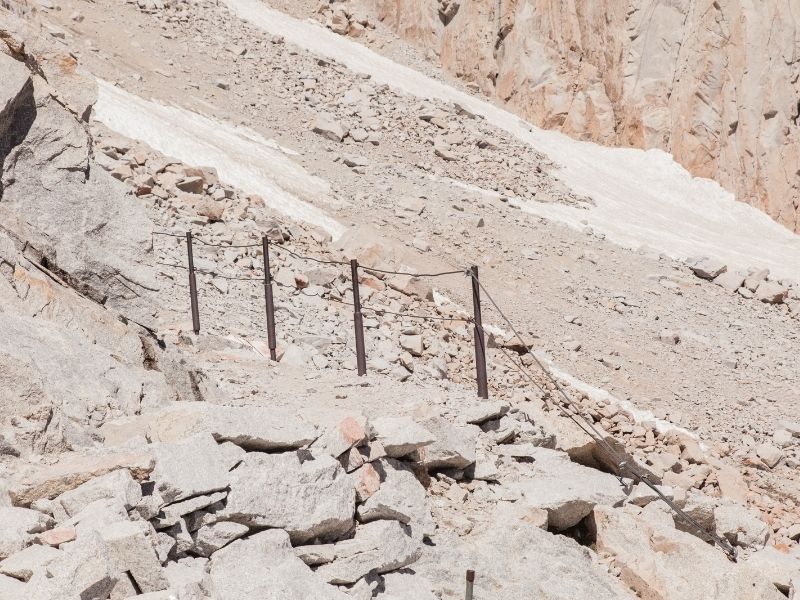 The best time to hike Mt Whitney is July through early October.
Chances are there will always be a little snow any time you go, but later in the season will mean less ice up the cables.
Being at such a high elevation, the temperatures will be dramatically cooler, so take this into consideration if you plan on spending the night.
Getting There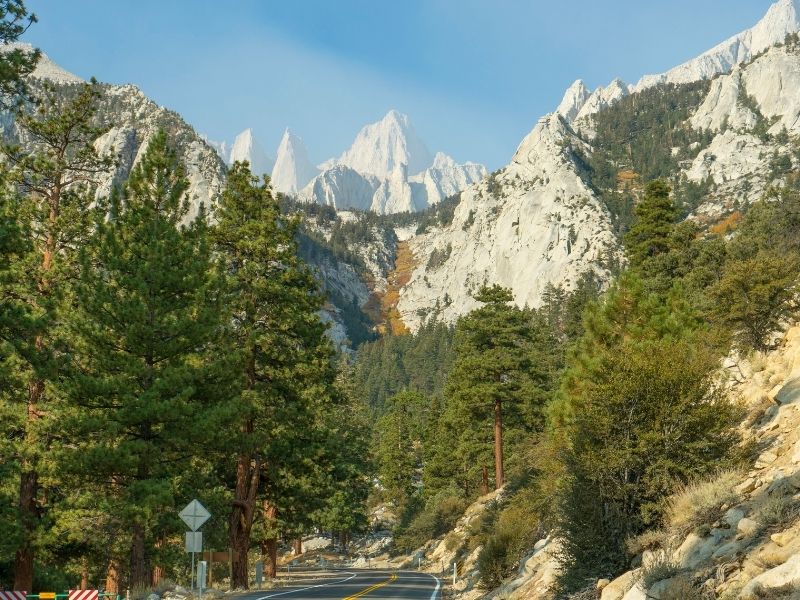 The Main trail starts at Whitney Portal just outside of Lone Pine.
From Hwy 395, you will head west on Whitney Portal Road. You'll drive through The Alabama Hills before ascending up the mountain.
The steep, narrow and winding road to the Portal is not for the faint of heart — and it's a good preview for the hike ahead!
About Whitney Portal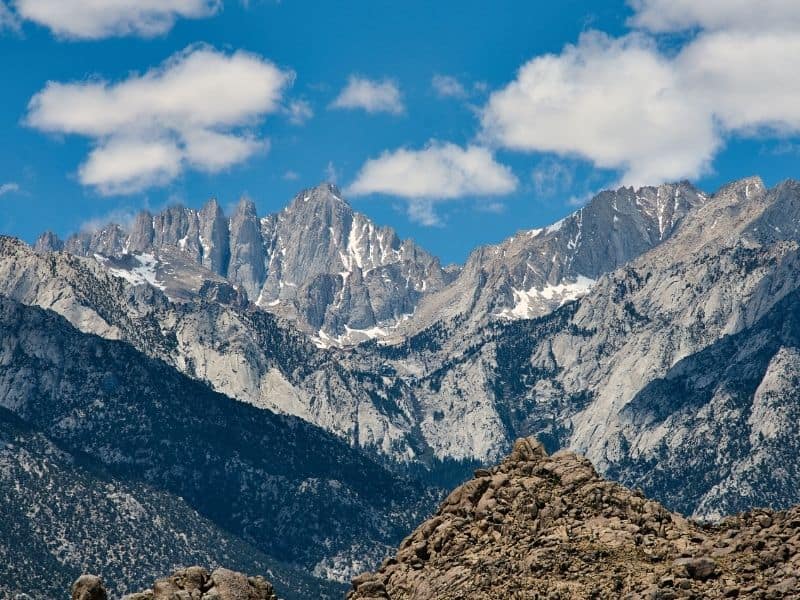 Whitney Portal is where your adventure begins!
It's strongly recommended that you head up there the day before your hike; you will need to reserve one of the campsites to do so. There may also be first come-first served campsites available.
By getting there a day early, you can take a high-altitude hike and camp at elevation to help you acclimate for your hike.
Whitney Portal has restrooms and a restaurant/store which serves burgers and beer to hikers rejoicing in their accomplishments!
They also have a shower you can pay a couple of bucks to use if you want to clean up after your long hike.
Whitney Portal is an active bear area! All food and scented items must not be left in your vehicle. There are bear resistant storage lockers provided.
Also, if you are doing Mt Whitney as an overnight hike, you will need a park-approved bear canister to store your food and scented items.
Permits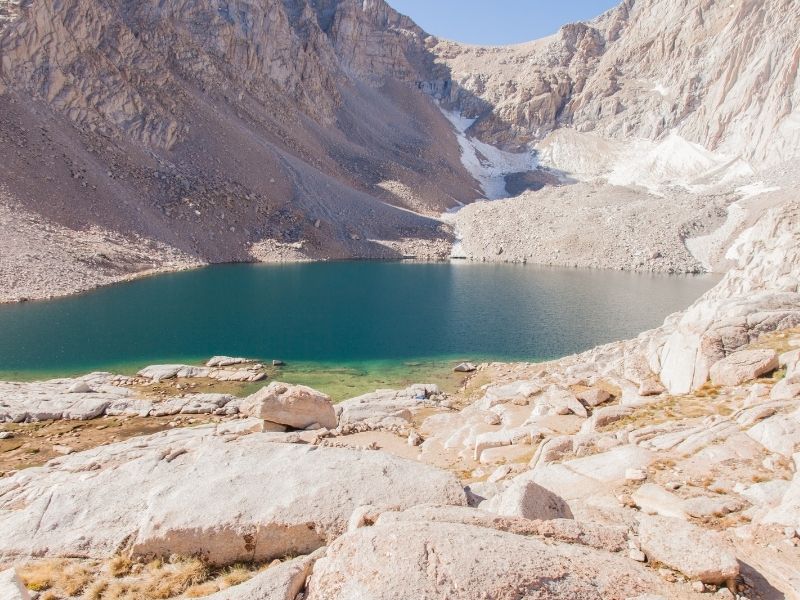 Since this is such a popular destination, the permitting process requires you sign up for the lottery.
The Mount Whitney permit lottery begins on February 1st and ends on March 15th and you can apply at any time during this window.
You should expect to find out the results of your lottery application on March 24th when they are posted to your account on recreation.gov.
There is also the permit mini sale on April 1st for unclaimed/unpaid hiking permits from the initial lottery that then opens up to the public.
Permits can be obtained here. You will need a different permit depending on whether you plan on hiking Mt Whitney in one day or overnight. The permit website has an easy questionnaire to help you get the correct permit for your hike.
When you pick up your permit in Lone Pine they will also provide you with these bags which feel like they have a gel-like substance in it.
This is for your poop — they are called wag-bags. So what's the deal with this?
Over the years, this area became so contaminated that the park put the bag order in place to help preserve the environment… just like you would have to pick up after your pet when on a walk! Instructions on how to use them are provided on the bag.
Regulations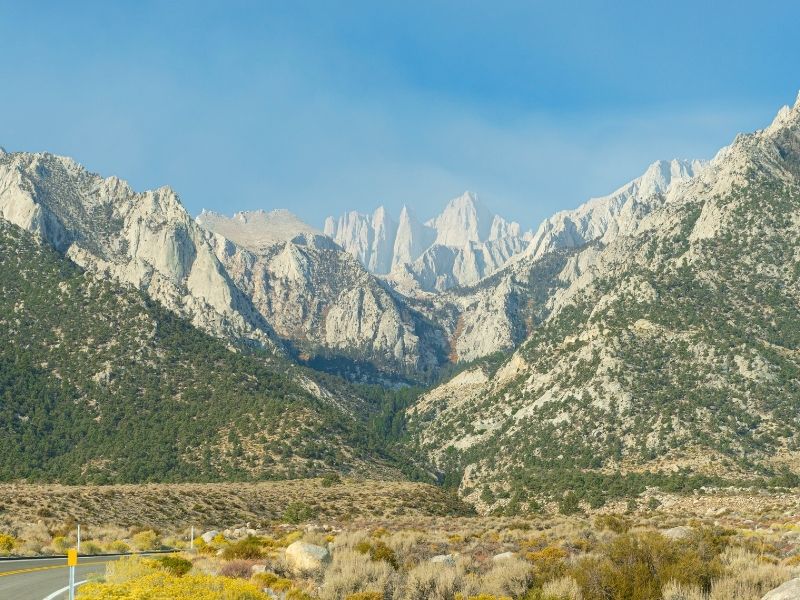 When you acquire your wilderness permits, they may have some or all of the following regulations in place, as well as others not mentioned in the article:
No fires above 10,000 ft
California Fire Permits required
Approved bear-resistant canister required for food storage
Pack out all your trash
No firearms
No dogs allowed
Hiking Mt Whitney: One Day or Two?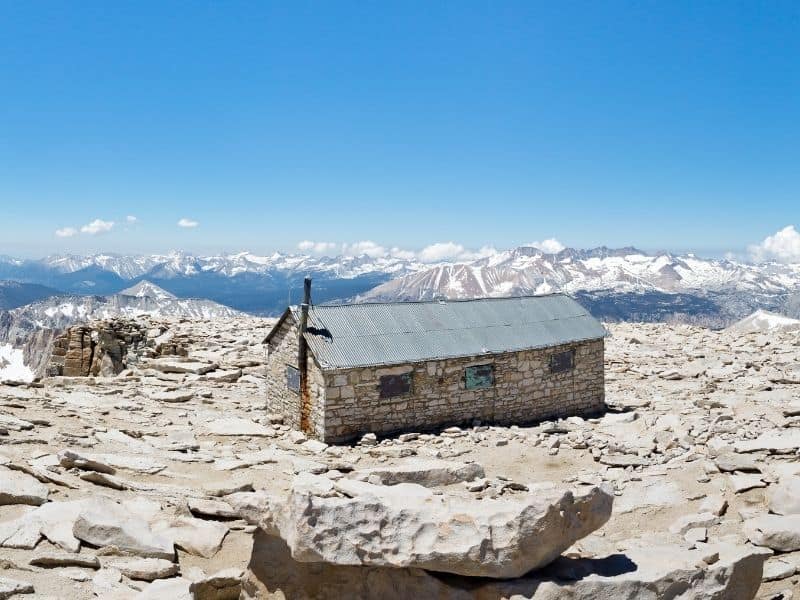 The Mt Whitney trail can be done as a day hike or overnighter — you can also spend an additional day on the trail if you want to take it really slow.
The advantage to doing it in a day rather than overnight is that you don't have to lug your pack all the way up to Trail Camp. A simple daypack with provisions and clothing to layer is all you need for a day hike up Mt Whitney and back!
The disadvantage to hiking Mt Whitney in a day is that you will have to wake up and start hiking in the predawn hours to make it up and back — and then you still may require a headlamp on the way out if you're a slow hiker.
Spending the night at Trail Camp gives you the opportunity to get some rest and summit early the next day, potentially avoiding a thunderstorm. It also allows for a more relaxed hike, but you'll need to carry all your gear.
Climbing Mt Whitney: The Route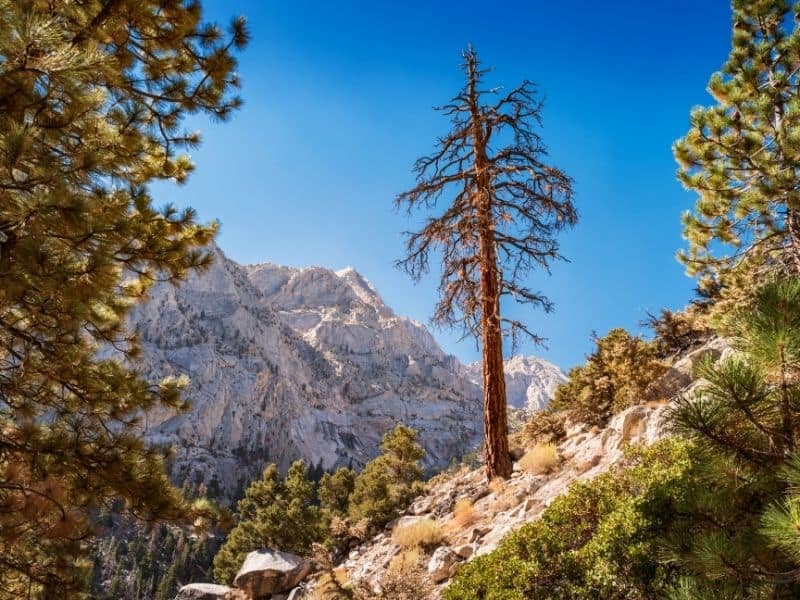 The trail starts at Whitney Portal and there's plenty of signage marking your starting point. The trail is very easy to follow, as the Mount Whitney Trail is marked with cut-out notches in the trees.
The first part of the hike takes you through a wooded area with some stream crossings. The trees will fade as you begin to see more and more granite.
Continuing on, the trail descends a little and you'll reach a lovely meadow followed by Outpost Camp at 3.8 miles from the trailhead. Outpost Camp is not very popular, since it's so close to the trailhead and far from the summit.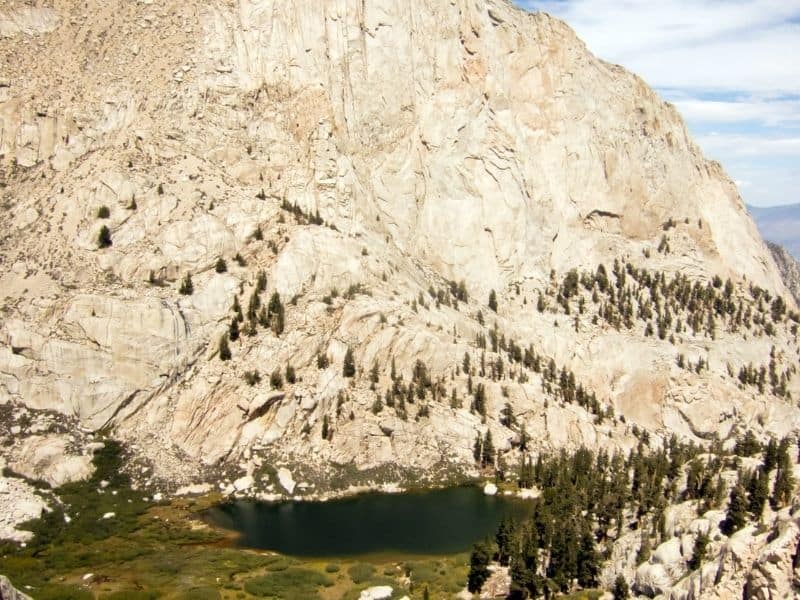 Sometimes John Muir Trail hikers will camp here on their way out, since their hike started way on the other side at Guitar Lake. It's a good place for a short break or snack.
From Outpost Camp, the trail really begins to climb — this is the part where you will be wondering what you've gotten yourself into!
This next section of the trail is nice, as it follows Lone Pine Creek with views of Mirror Lake. As you continue on, the trail will take you over some rocky parts, eventually bringing you to Trailside Meadow at about the 5-mile marker.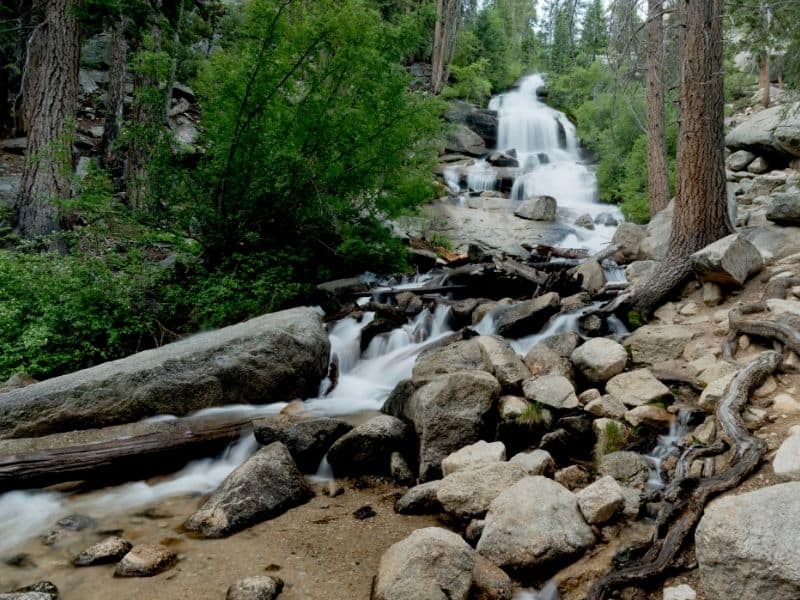 The trail steadily climbs as the scenery becomes stark with granite and jagged peaks. You'll reach Consultation Lake and then it's a half-mile more of climbing to Trail Camp.
If you are doing this hike as an overnighter, Trail Camp is your home for the night.
When you arrive at Trail Camp, the only thing you will see at first are the 99 switchbacks carved into the mountain that take you up to Trail Crest!
It looks daunting, especially if you're doing the hike up Mt Whitney in a day. Once you've come to terms with what lies ahead, you'll notice all the tents, gear and hikers splayed about the area. This is the basecamp for Whitney Summit.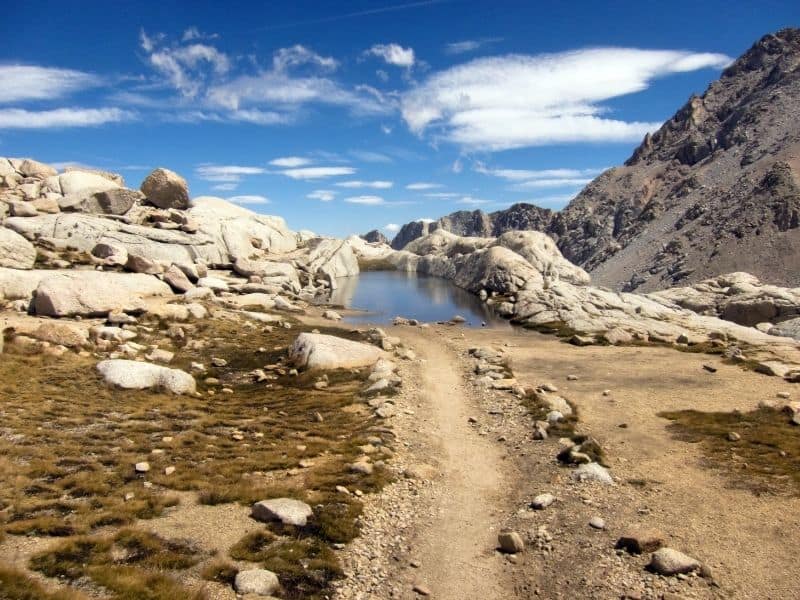 If you are spending the night at Trail Camp, you will head up the switchbacks in the morning. Leave all your gear at Trail Camp and take a daypack up to the summit. You will return the same way, pack up your gear and head down — no need to lug your entire pack up there.
This is also a good place to check the skies; never hike to the summit if a storm is approaching. It's always best to wait it out at Trail Camp.
The 99 switchbacks offer no mercy! If you decided to count them, you will find there are indeed 99 of them.
About halfway up the switchbacks, you will come to an area fondly known as "the cables." This cable handrail has been installed to help hikers through this section that is often covered in ice due to lack of sunlight.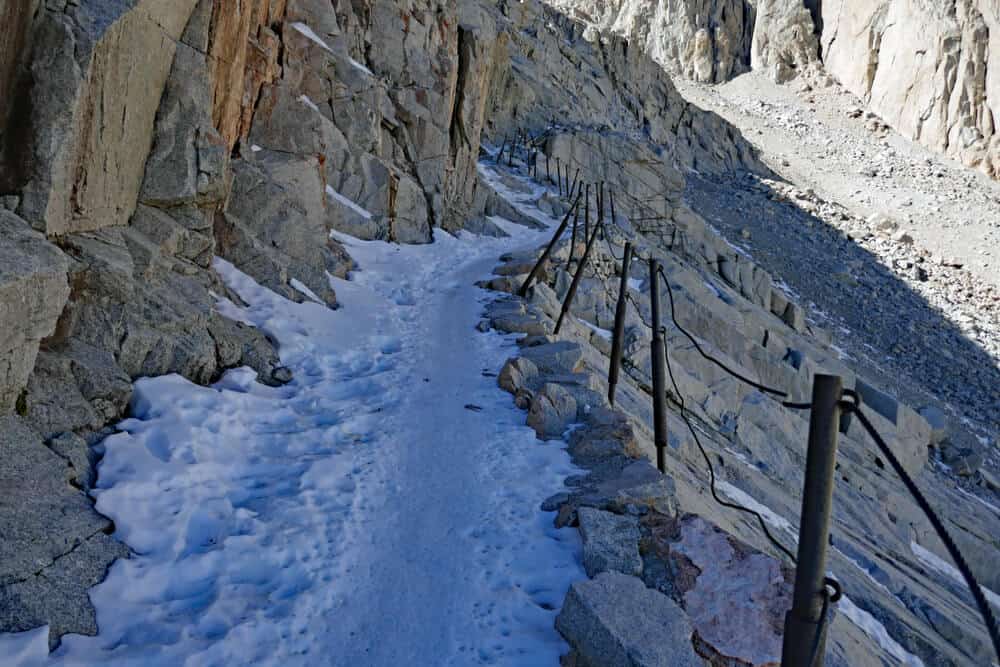 As the switchbacks become longer, you will eventually come to Trail Crest and JMT Junction. You'll know you've arrived because the switchbacks have ended and the trail is lined with dusty backpacks.
Hikers on the High Sierra and John Muir Trails who have come up from the other side leave their packs here and bag the peak before collecting their gear and heading down.
You will also get an amazing view of Guitar Lake and Sequoia National Park from this point!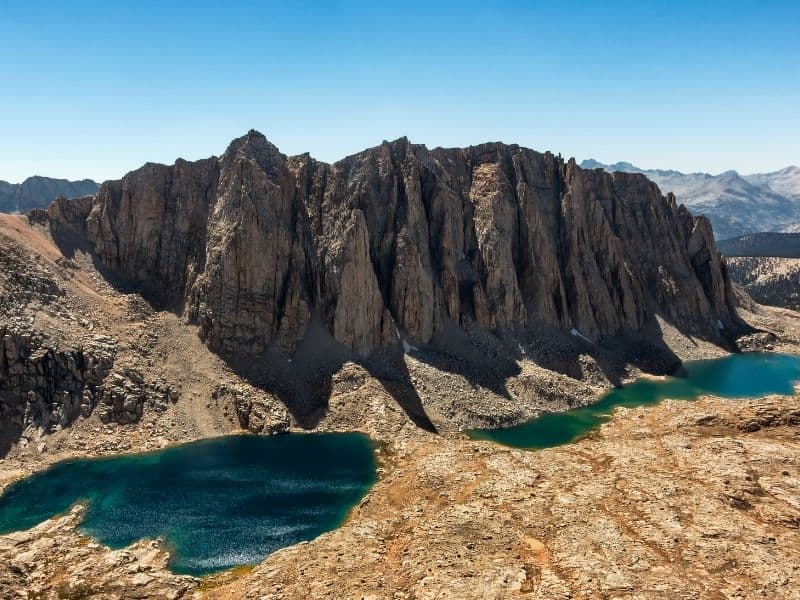 At this point, you are about 2 miles from the summit. The route is rocky and sometimes the trail has been carved through high ridges framing the trail with stunning views.
This part of the trail is not as steep as the switchbacks, but steep enough to keep you going at a snail's pace as you feel the effects of less oxygen.
Continue on slowly over a few false summits and you will finally arrive at your destination.
Mt Whitney Summit is a wondrous place! Happy hikers reveling in their accomplishments are sprawled out on the rocks or taking photos. Depending on your carrier, you can also make a call to grandma telling her you've made it (yes, some carriers have service up here!)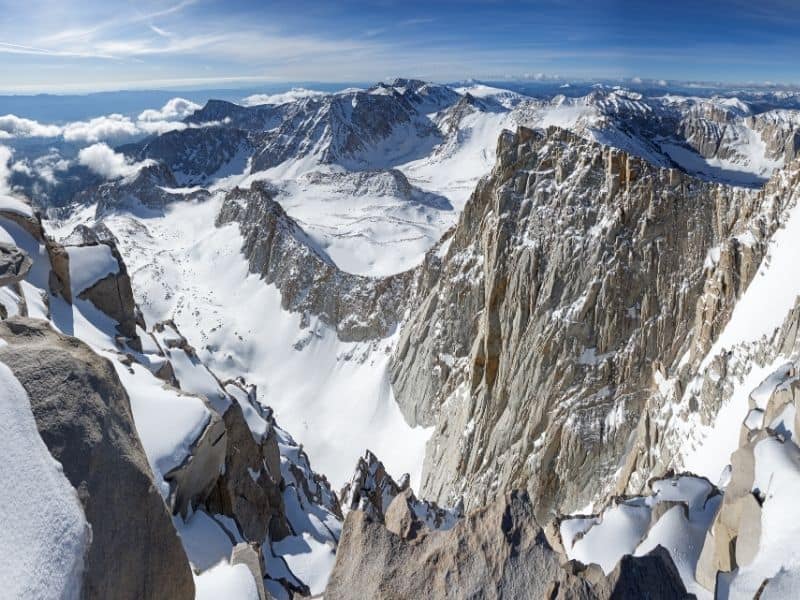 There is a hut at the top and a register to record your victory. Note: it's not recommended to take shelter in the hut during a storm in case of lightning — people have died doing this!
The views are spectacular and the camaraderie makes you feel like you are part of a special club.
It's not a good idea to linger too long at the top. Whether you still have to pack up your gear at Trail Camp or hoof it all the way back to the Portal all in one day, hiking at night is only fun for a limited amount of thrill-seekers out there.
The trail is out-and-back, so you'll retrace your steps all the way back to Whitney Portal. As difficult as the ascent is, the downhill can also be pretty torturous. Trekking poles are almost essential if you want to get down in one piece.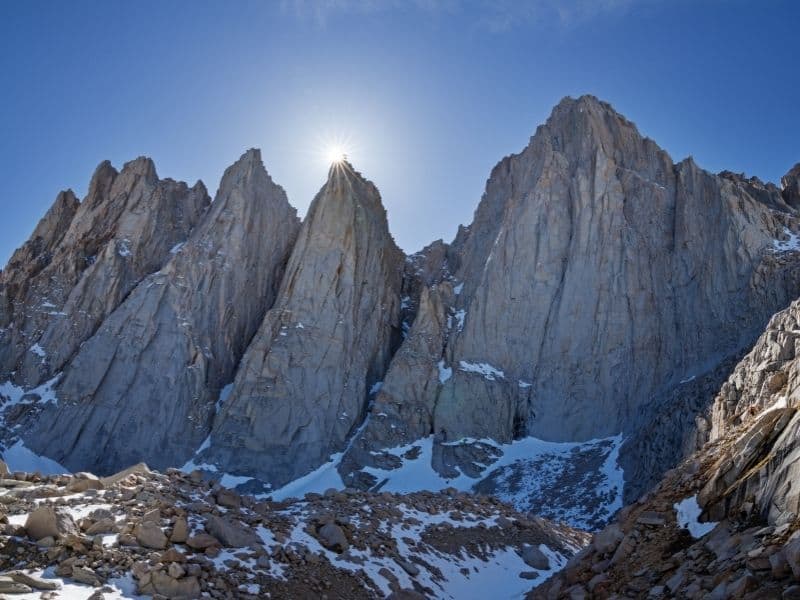 You will feel pretty beat up once you get back to your vehicle, so many hikers stop at the restaurant/store for a burger and a drink to celebrate bagging the tallest peak in the Lower 48!
Safety Note: Altitude sickness (AMS) can be dangerous and life-threatening. If at any time during your hike you start feeling symptoms, take a break or descend until you feel better. An airlift out of Whitney is pretty pricey and on most occasions can be avoided if you keep your sensibilities about you. 
Pin This Guide to Hiking Mt Whitney!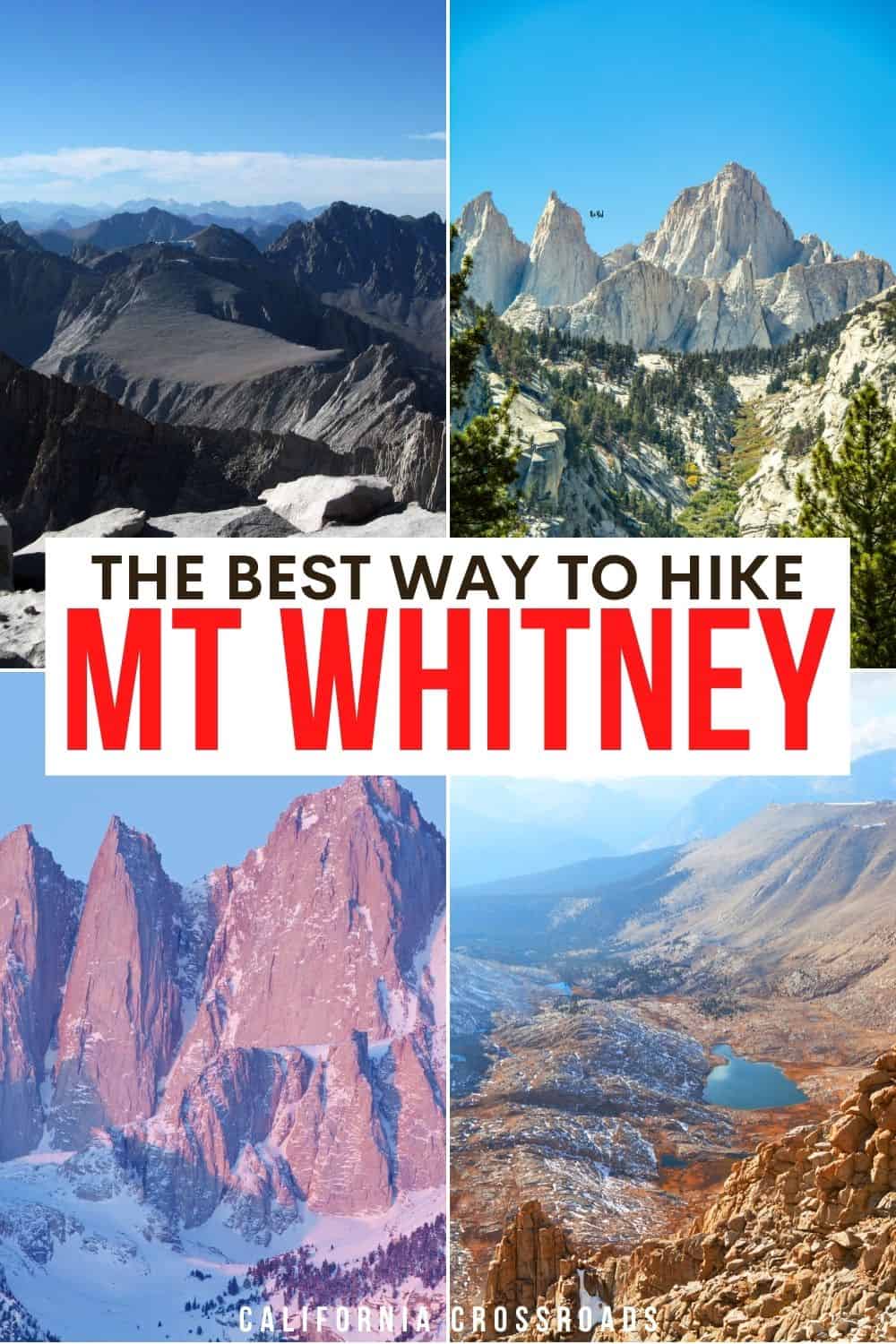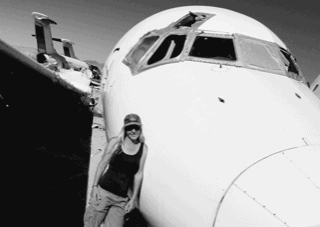 Kristina Ritchie is a writer and who was born in Australia and grew up in Africa. She was educated at Western Connecticut State University before finding her home in Southern California. She writes creatively on a variety of topics, mostly on travel and adventure writing. Having visited over 15 counties and 48 states, along with thousands of miles on the trail with a backpack, Kristina continues to explore and write as often as possible.