Hiking in California offers a little bit of everything, promising something for for everyone.
The landscape is wild and rugged and changes in the blink of an eye: you'll find both the lowest point in North America and the highest point in the Lower 48 less than a hundred miles apart.
In the North, bewitching coastlines give way to impossibly tall redwood forests where it's easy to forget you're just miles from the sea. Ferns cover the forest floor and make you feel like you've stepped back in time.
Even in the cities, California hikes deliver bang for their buck, with hikes offering stunning views over bays and oceans, cities and valleys.
There's no shortage of brilliant hikes in California for every type of hiker. We've covered everything from the easiest of day hikes to the most challenging multi-day adventures traversing tens of thousands of feet of altitude over the course of weeks.
Where is your next California hiking adventure going to take you?
Best Desert Hikes in California
Mastodon Peak (Joshua Tree National Park)
Note: This post contains affiliate links, which earn me a small commission at no extra cost to you if you make a purchase using one of these links. Thank you for supporting this free content!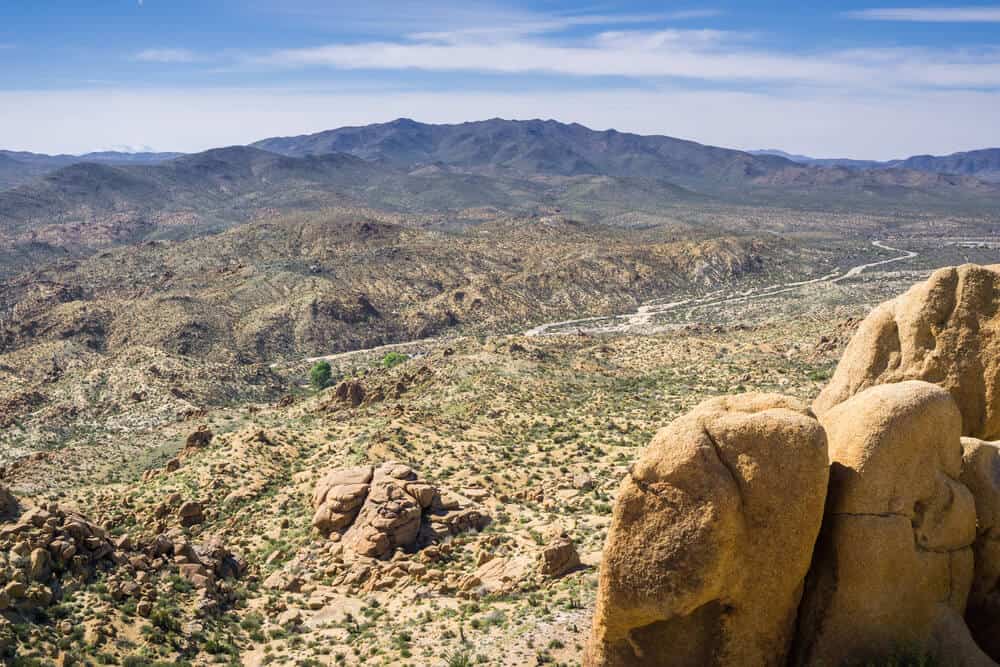 Distance: 2.6 mile loop
Difficulty: Easy
Consider this hike the Joshua Tree sampler pack: you'll get to see a little of everything the beautiful national park has to offer, from the oasis at Cottonwood Spring with its fan palms to rounded boulder rock formations to abandoned mines to spring wildflowers.
This part of the park doesn't have the famous Joshua trees, which are located on the north side of the park, so to hike among the Joshua trees, read up on the next hike.
At the top, sweeping views over the national park with views of the San Bernardino and San Jacinto Mountains off in the distance are the perfect reward, and you might even spot the Salton Sea off in the distance on a particularly clear day.
Boy Scout Trail (Joshua Tree National Park)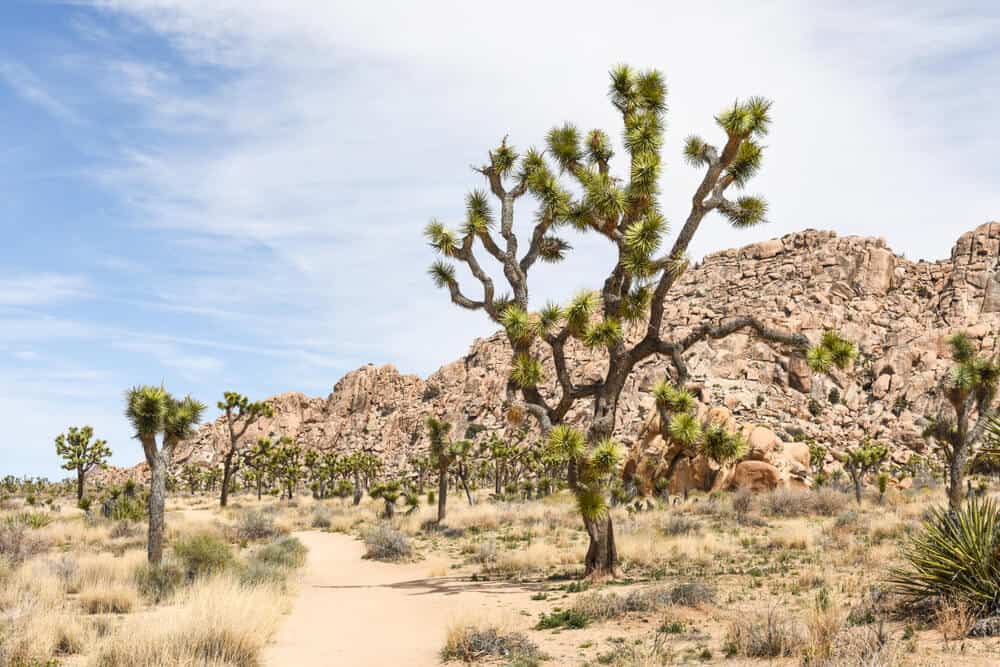 Distance: 15.6 miles out and back
Difficulty: Moderate
This Joshua Tree hike is a bit of a long one, but the elevation gain is minimal (about 1,300 feet over the entire hike), so it's rather doable in the right weather. It's better as a winter or early spring hike due to the distance, heat, and lack of water sources along the hike.
You can also break this hike into two days by camping along the route (though you must register beforehand to do backcountry camping) if you want to make the hike a little less intense in one day.
You'll see a wonderful variety of landscapes along the way and so many Joshua trees you'll stop counting.
Cactus Trail (Anza Borrego Desert State Park)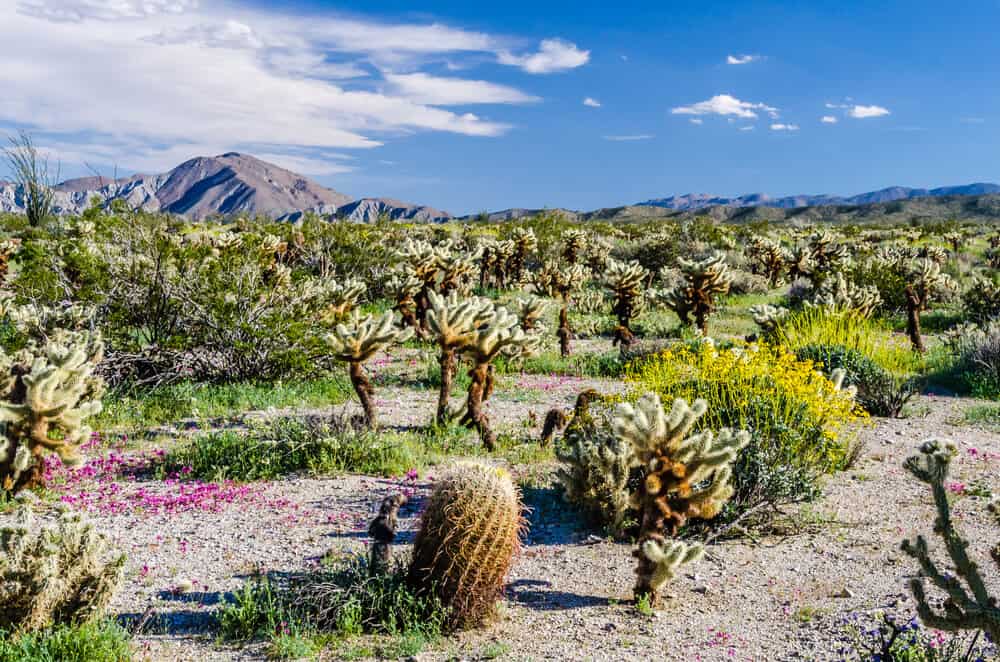 Length: 0.75 miles loop
Difficulty: Very Easy
This short and sweet loop trail is the perfect introduction to beautiful desert fauna!
You'll see all manner of prickly plants and, with any luck, a brilliant dusting of wildflowers in the late winter, spring, and perhaps up until the early summer, depending on the weather!
Palm Canyon Trail (Anza Borrego Desert State Park)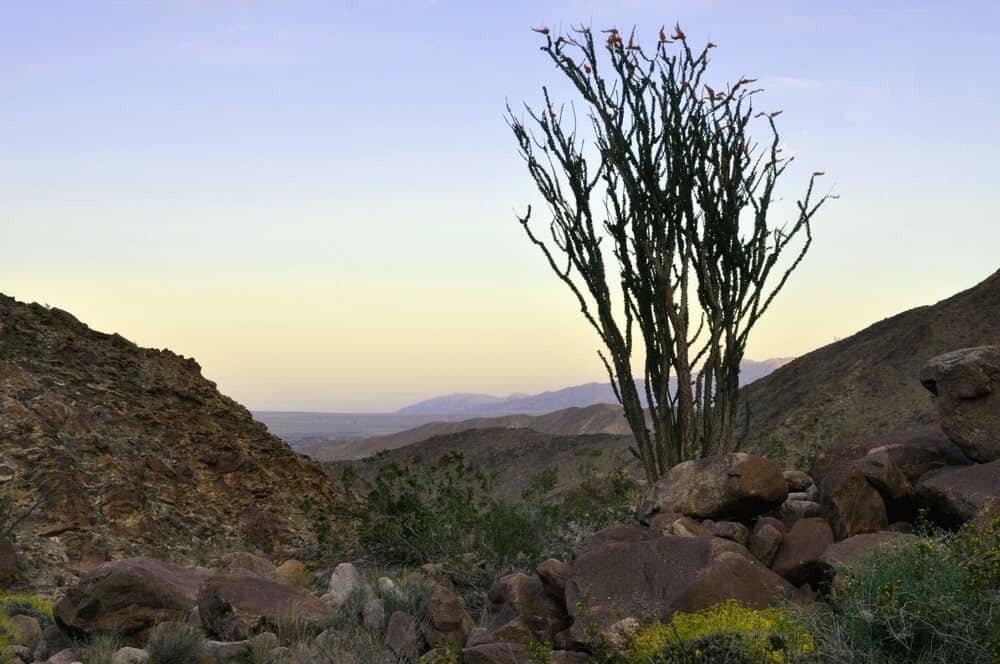 Length: 3 miles
Difficulty: Easy
This beautiful Anza Borrego Desert hike covers a wide amount of terrain in just 3 miles of hiking: desert palms, valley, and an oasis in the middle of the desert landscape, and plenty of wildflowers in the spring.
This is a great introduction to desert hiking as the inclines are minimal and because of the water source you'll see a lot more desert flora and fauna than usual while hiking in California's deserts.
The Slot (Anza Borrego Desert State Park)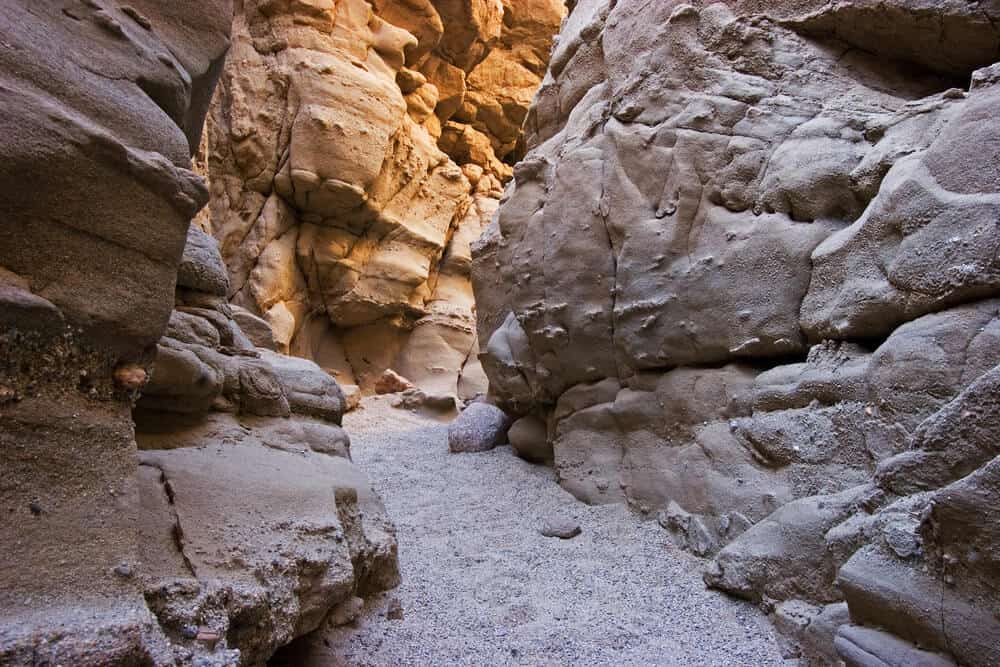 Length: 2.5 miles loop
Rating: Moderate
Want to feel like you've been plucked out of a hike in California and thrown straight into Utah? The Slot Loop in Anza Borrego is just what you're seeking.
There's a long, narrow section of the hike inside of the slot canyon followed by wind caves and a viewpoint with sweeping 360-degree views of the entire desert landscape.
Note that there is a $10 cash fee for parking for this hike, and parking and entry is limited by rangers.
Best Coastal Hikes in California
Coast Trail to Alamere Falls via Palomarin Trailhead (Point Reyes National Seashore)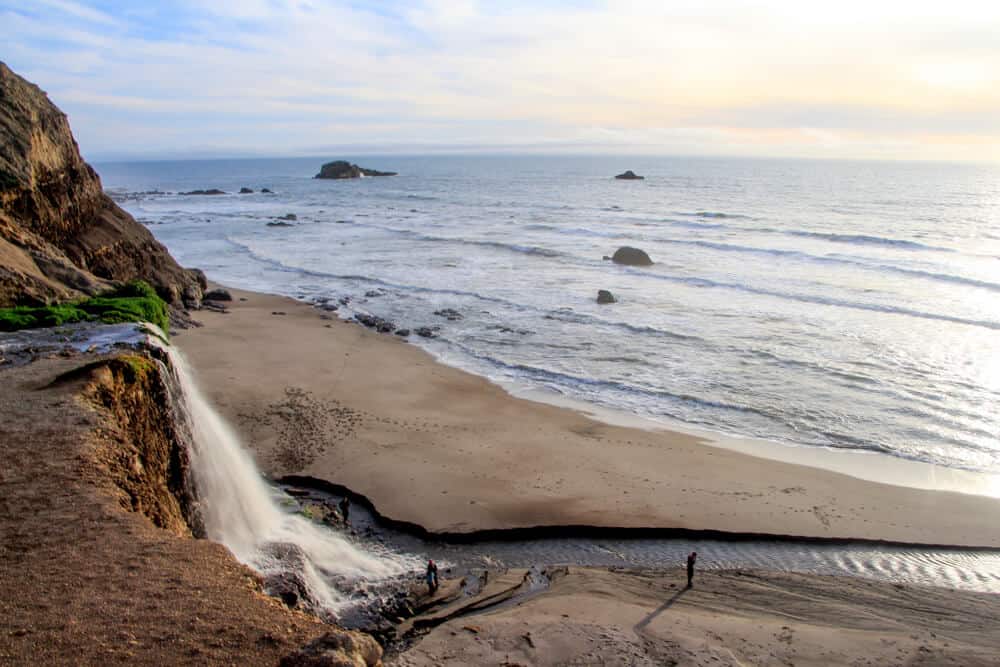 Distance: 12.2 miles out and back
Difficulty: Moderate
Have you ever seen a waterfall cascade onto the beach? It's called a tidefall, and there are two in California.
However, Alamere Falls is the only one you can hike to the base of (the other, McWay Falls, is only visible from a viewpoint far away and the beach is not accessible).
These 40 foot falls cascade over a cliff on the seaside, tumbling onto the sand below. The falls make a great endpoint for a long hike, and taking a photo with it is a welcome reward!
NOTE: It is not advised to take any 'shortcuts' as these are not maintained and can be dangerous.
Coastal Trail to Flint Ridge (Redwood National Park)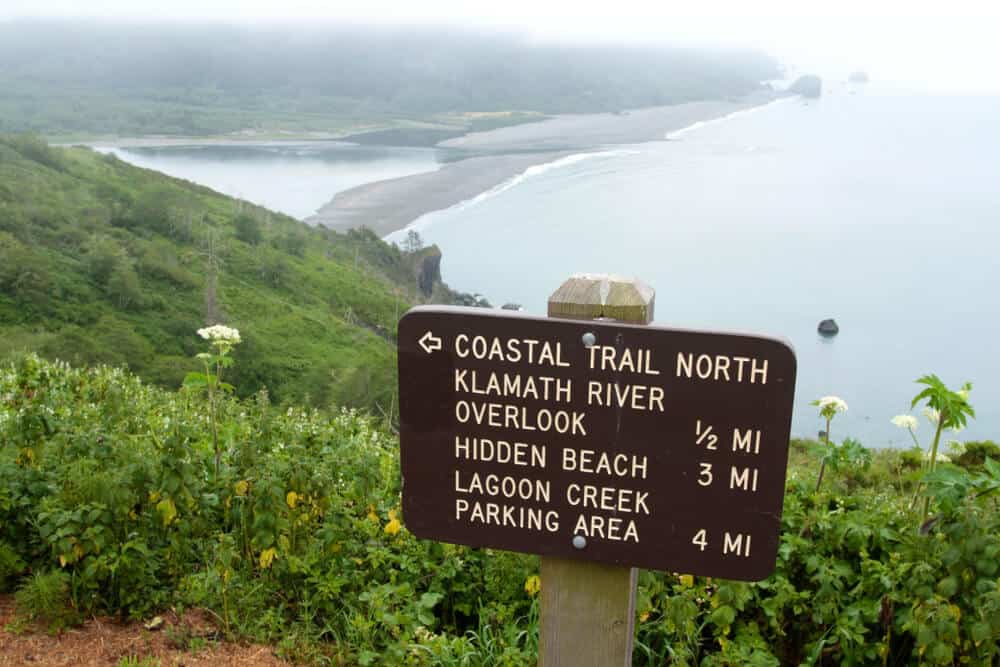 Distance: 8.6 miles out and back
Difficulty: Moderate
This hike is serene and peaceful, an oasis among the more crowded trails of Redwood National Park, as many people forget that the national park covers a brilliant stretch of the Northern California coastline and not just the towering redwoods for which its named!
Expect a steep climb of nearly 2,000 feet over the course of the hike, but you'll see everything from rivers to ponds to redwoods to coastal landscapes along the way.
Because the hike is so secluded, you'll see more birdlife and animals along the trail than on many other California hikes on this list.
Best Urban Hikes in California
Land's End Trail (San Francisco)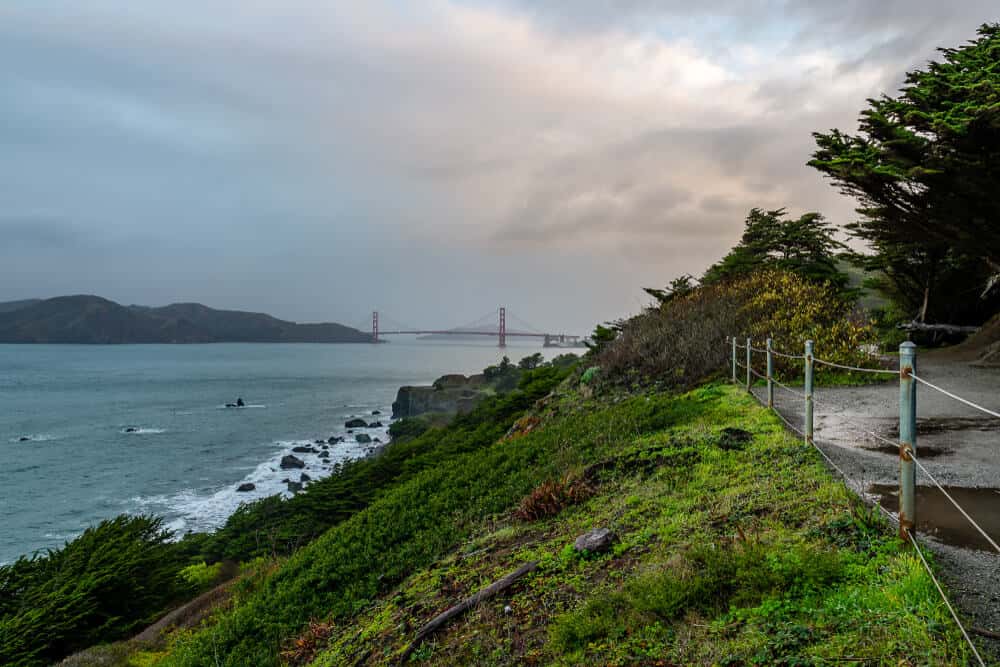 Distance: 3.4 miles loop
Difficulty: Moderate
Sometimes, you don't even need to leave the city to get a good hike in! That's exactly the case with the Land's End Trail in San Francisco, part of the beautiful Golden Gate National Recreation Area but located within the city limits.
This is a beautiful trail that is popular on weekends but if you go during the week you'll often find it nearly all to yourself. Enjoy views of the Golden Gate Bridge and the San Francisco Bay.
Unfortunately, it seems the labyrinth once located at Land's End has been removed and replaced with a question mark. Is something new coming? We'll have to wait and see.
Runyon Canyon (Los Angeles)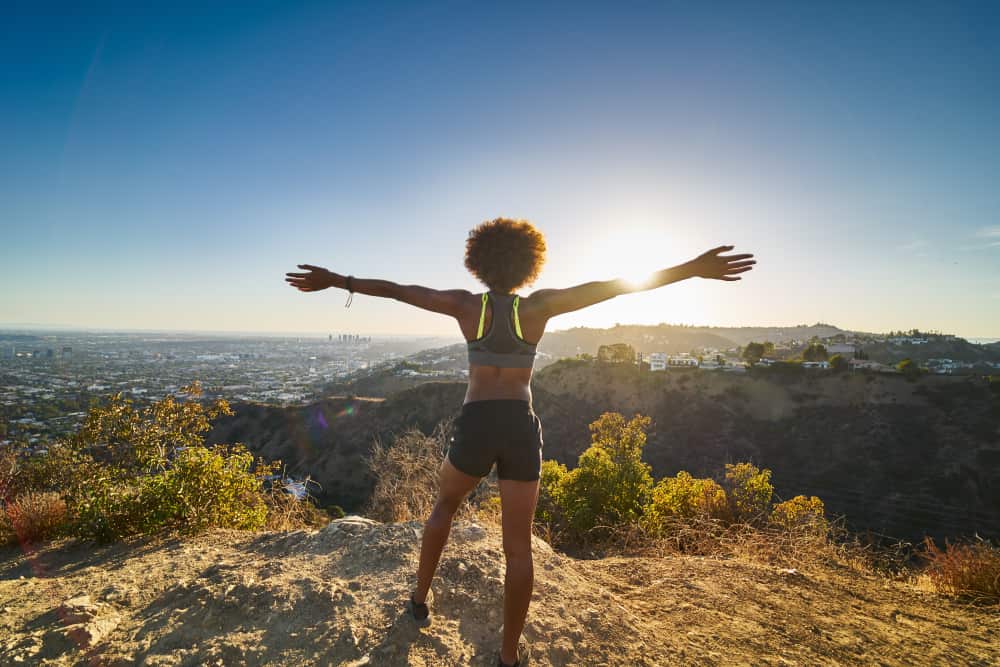 Distance: 3.5 mile loop
Difficulty: Moderate
One of the most beloved hikes in Los Angeles is the Runyon Canyon Loop, which offers stunning views over downtown LA.
It's popular amongst tourists, locals, and yes, even celebrities! It's a rather strenuous hike for its short length, with lots of inclines and descents, and you'll enjoy views over the Hollywood Hills, including the Hollywood Sign as well as Griffith Observatory.
Hollywood Sign via Canyon Drive (Los Angeles)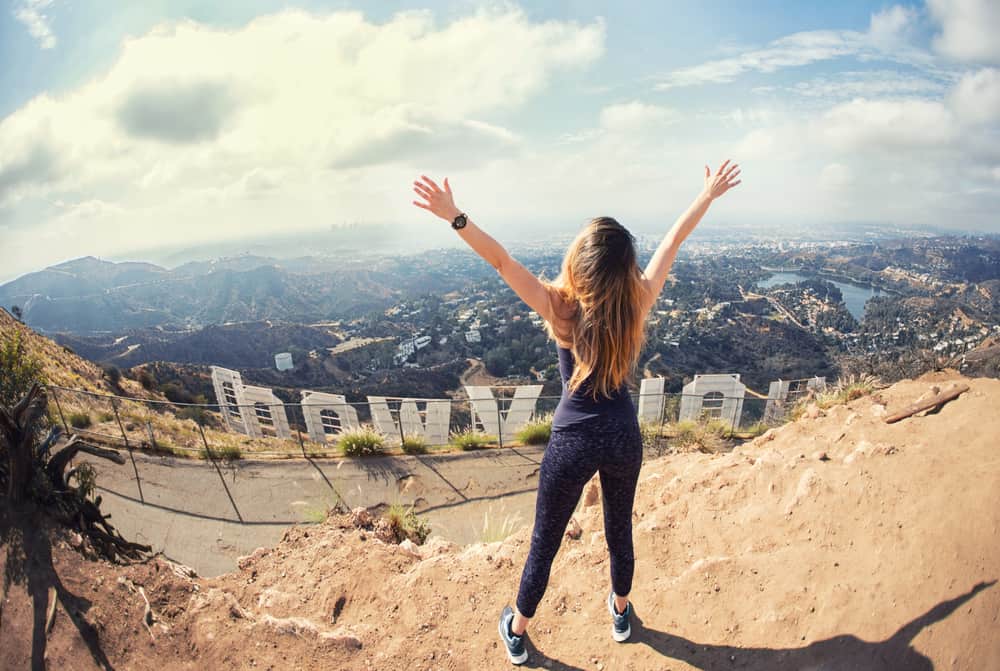 Distance: 6 miles
Difficulty: Moderate
Gaining some 1,000+ feet over the course of the hike, this hike in LA will definitely get your glutes moving and feeling the burn!
It's rather steep in sections, but the end point can't be beat: looking over Los Angeles with the Hollywood sign literally at your feet!
This can be a rather crowded and popular hike, and there are a few different trails you can take to the top of the Hollywood Sign, but this one is one of the easier and lovelier options.
Best Redwood Hikes in California
Boy Scout Tree Trail (Jedediah Smith Redwood State Park)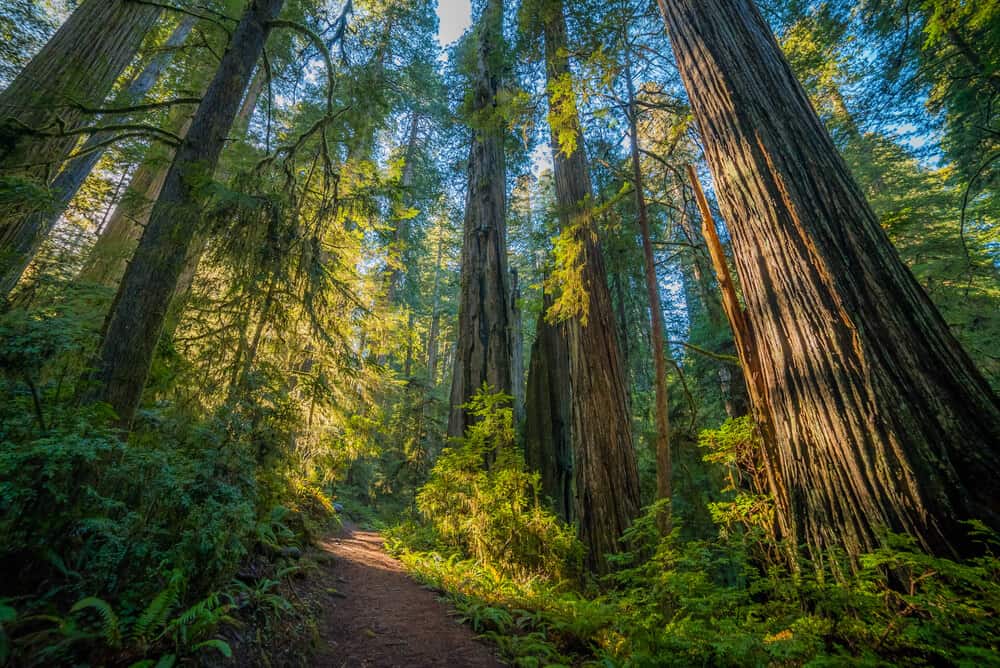 Distance: 5.6 miles out and back
Difficulty: Moderate
While having a similar name to the Boy Scout Trail in Joshua Tree, it's hard to imagine two more vastly different landscapes!
Gone are the Dr. Seussian Joshua trees reaching towards the sky as if in prayer: in their place are coastal redwoods reaching impossibly high towards the sky, some of the tallest trees in the world.
This gorgeous hike leads to Fern Falls, a beautiful waterfall at the end of a stunning redwood hiking trail. But the hike itself is arguably more beautiful than the destination, with one of the most pristine trails in all of Redwood National & State Parks.
James Irvine Trail (Prairie Creek Redwoods State Park)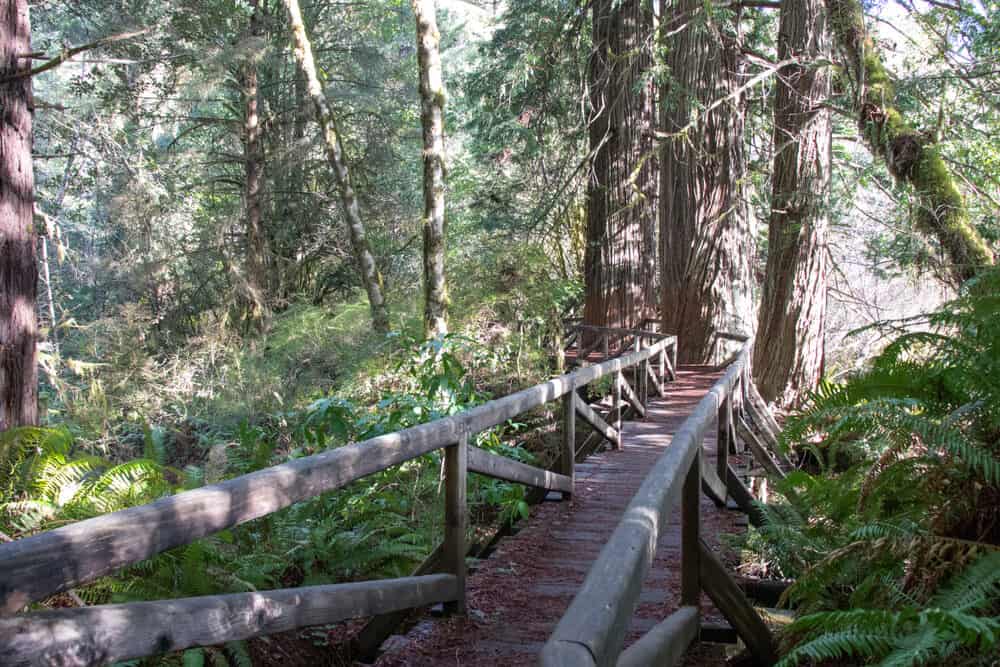 Distance: 10.7 miles out and back
Difficulty: Moderate
This classic California hike through the redwoods takes an exciting turn at the end of the trail, where it meets the Fern Canyon Trail and things suddenly turn Jurassic Park (literally — this was used as a set for Jurassic Park!).
On the way there, about 4 miles into the hike, you'll traverse an old-growth redwood forest listening to the murmur of Prairie Creek, until you meet up with the more popular Fern Canyon Trail where many people gather for the photo opps that this spectacular fern-covered creekbed offers.
Trillium Falls Trail (Redwood National Park)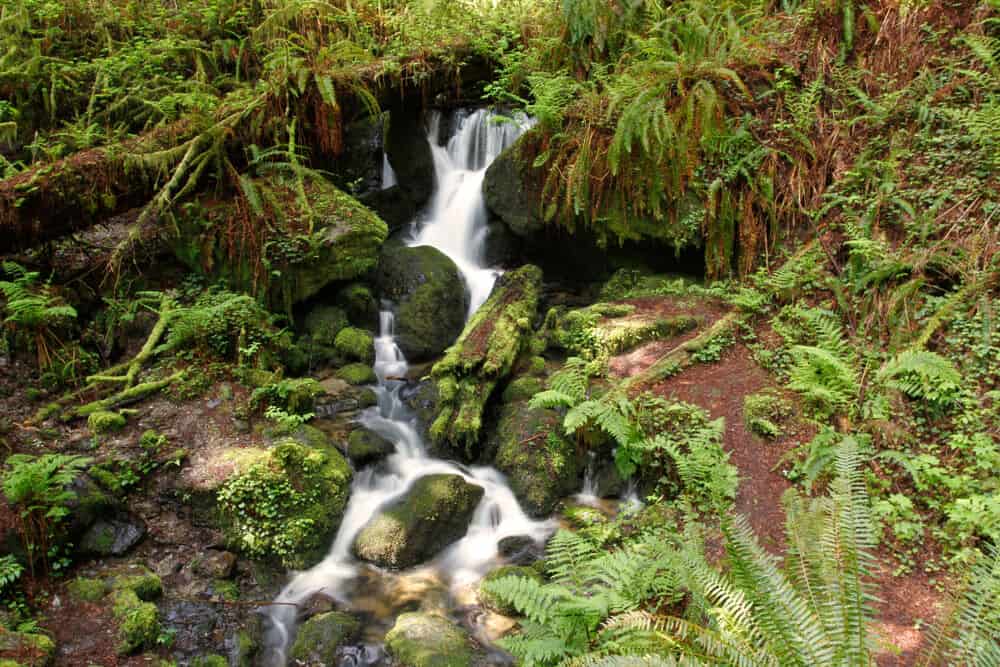 Distance: 2.6 mile loop
Difficulty: Moderate
The Trillium Falls hike is a short but sweet trek through redwoods, the white trillium wildflowers in the spring (for which the trail is named), and the beautiful fairytale-esque waterfall at the end of it.
This is a popular hike within Redwood National Park, so it's best visited in the off-season or on a weekday morning. Besides redwoods and possible wildflowers, you'll see rich red soil against striking green ferns and deep jade moss, truly a feast for the eyes!
Best Multi-Day Treks in California
Lost Coast Trail (King Range Wilderness)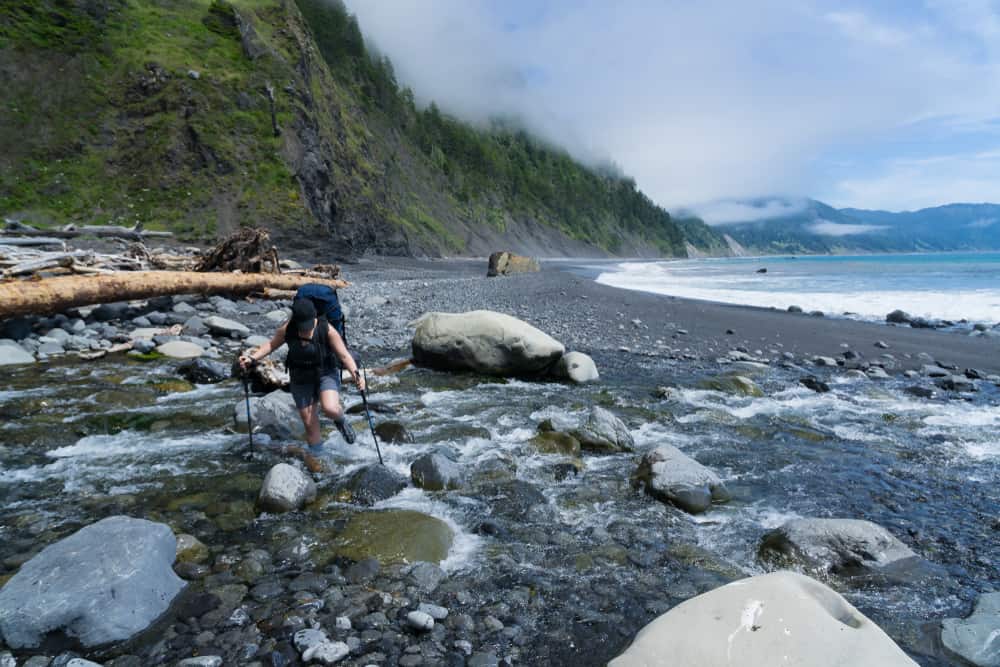 Distance: 25.3 miles point-to-point (arrange shuttle/transport)
Difficulty: Moderate
The Lost Coast trail is an absolute stunner of a California hike that embodies all the best of Northern California. With rugged coastlines and mercurial foggy weather, this hike feels a lot less like the sun-soaked California you've come to expect and more like hiking along a gorgeous Irish bluff that ends on an Iceland-esque black sand beach.
This is one of the most remote stretches of the California coastline. Permits are hard to come by, meaning you're guaranteed plenty of peace and quiet, but it also means this is a hike to plan for.
However, it is a great starter hike if you're looking to get your feet wet (sometimes literally — bring a tide chart!) on multi-day backpacking trips, as this is only a 2-3 day hike.
While this is a moderate hike with only 1,500 or so feet of elevation gain, there are some unique challenges — hiking on sand and large pebbles, hiking through low tides and water (bring gaiters!), etc. — that make it a little bit tougher than your average hike.
READ MORE: Complete Guide to Hiking the Lost Coast Trail
Rae Lakes Loop (Kings Canyon National Park)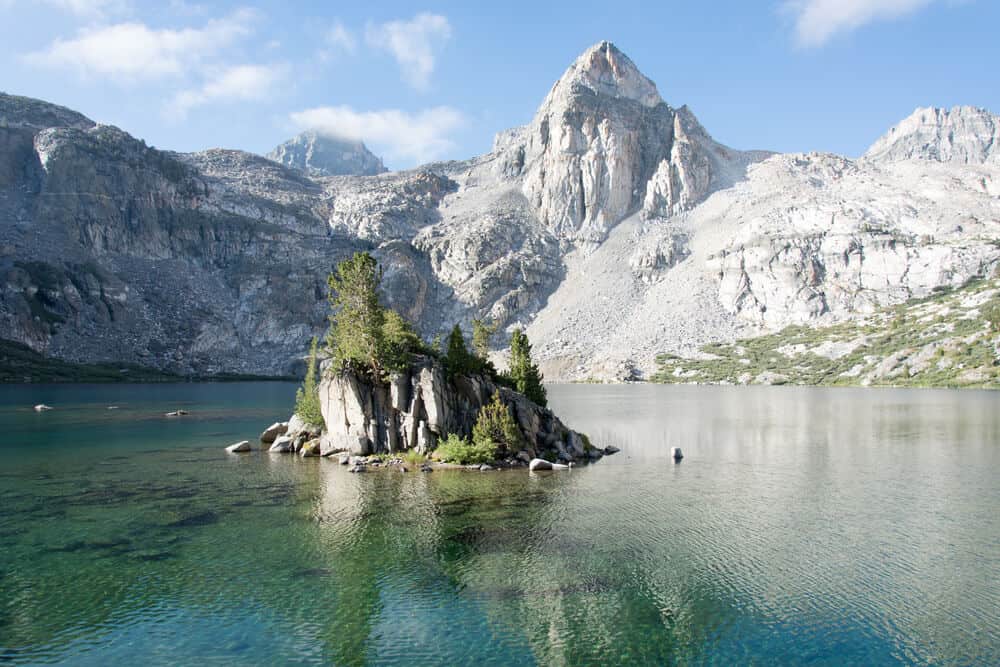 Distance: 54.2 miles
Difficulty: Very Hard
This epic multi-day hiking trail is typically completed in 5-7 days, departing from beautiful Kings Canyon National Park, the lesser-known sister park of Sequoia National Park.
This beautiful hike amongst countless pristine alpine lakes in the High Sierras is the perfect high-altitude introduction to other tougher hikes in California like the PCT and JMT.
You'll see the beautiful Rae Lakes as well as several other gorgeous lakes and passes along the way, offering ample photography opportunities over the course of a week or so's trek.
READ MORE: Complete Guide to the Rae Lakes Loop
Tahoe to Yosemite (Multiple)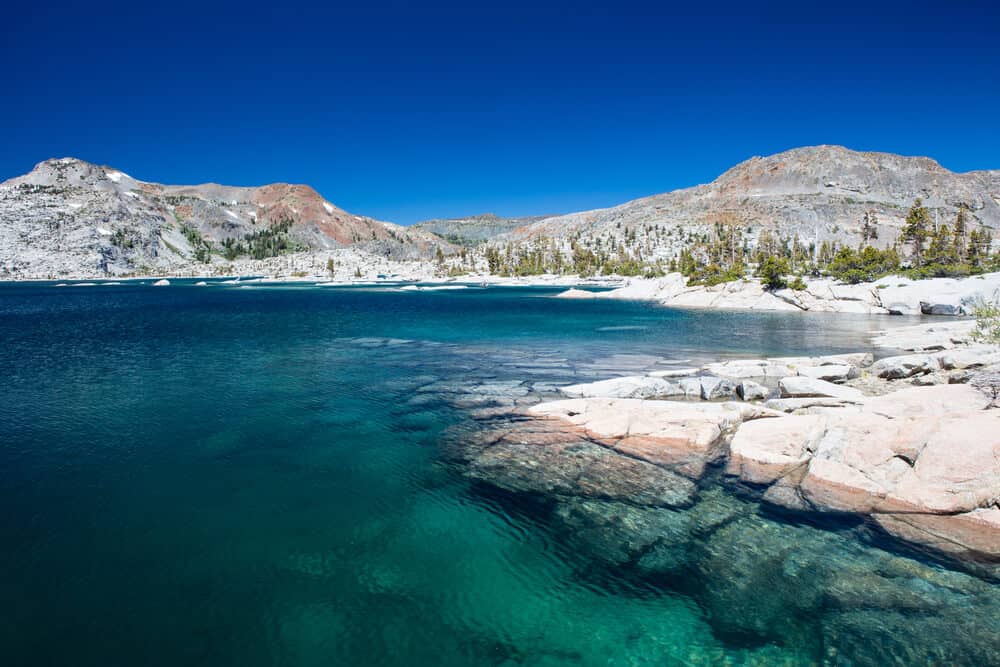 Distance: 173.5 miles
Difficulty: Very Hard
The Tahoe to Yosemite stretch of the Pacific Crest Trail is one of the most scenic parts of this famous thru-hike which stretches from the Mexican to Canadian border all the way through the West Coast.
This most epic of California hikes is certainly no slouch. While it's easier than some other similar hikes such as the John Muir Trail, it's still a massive undertaking, requiring an average of of 17 days to pass through 6 different wilderness areas, gaining and losing nearly 40,000 feet in elevation along the route.
The views along the way are rewarding as can be, though: it's hard to think of any more rewarding arrival point than Tuolumne Meadows in Yosemite!
READ MORE: The Complete Guide to Hiking from Tahoe to Yosemite via the PCT
John Muir Trail (Multiple)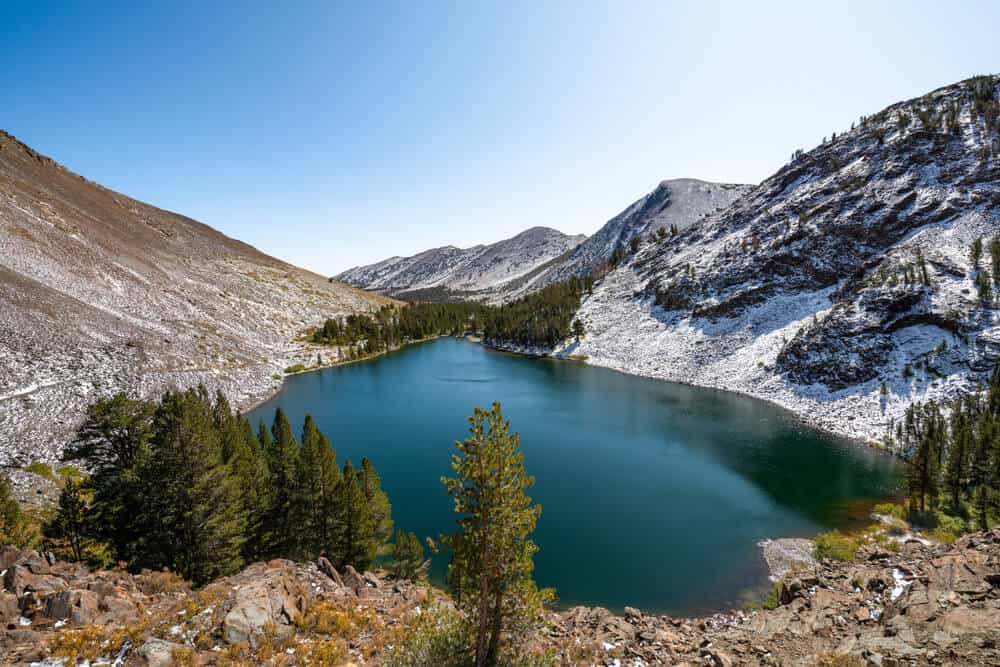 Distance: 212 miles
Difficulty: Extremely Hard
Considering this hike either begins or ends with summiting the highest mountain in the lower 48 (Mt Whitney, at 14,505 feet) with either 200 miles ahead of you or behind you, is it any question why this is one of the most difficult hikes in California?
While the John Muir Trail is extremely difficult, it's exceedingly rewarding. The hike takes an average of 3 weeks to complete, and you'll have to ascend 47,000 feet and descend 38,000 feet over that time, crossing 6 mountain passes over 11,000 feet!
But the sights along the way are absolutely breathtaking: from the waterfalls of Yosemite to the unique basalt columns of Devil's Postpile to Lake Virginia and countless other alpine lakes, this is truly a hike for the bucket list.
READ MORE: The Complete Guide to Hiking the John Muir Trail
Pin This Guide to California Hikes!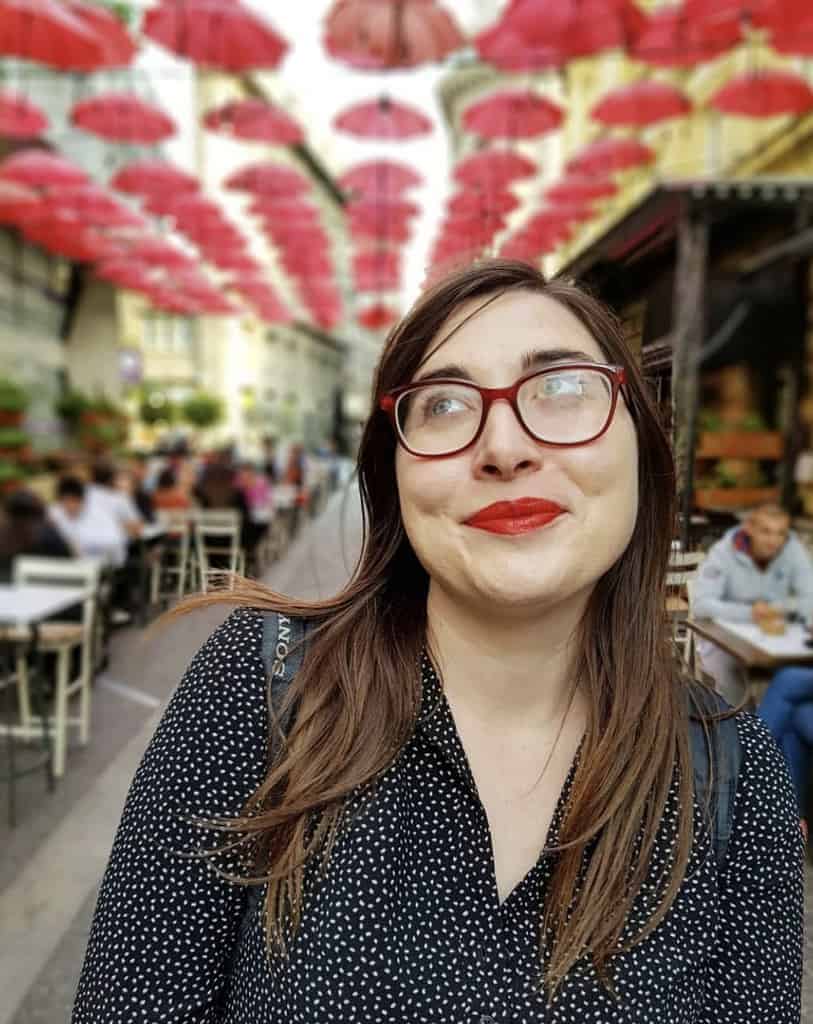 Allison Green is a travel blogger, writer, and podcaster who grew up in the Bay Area of California. She has spent time living in New York, Prague, and Sofia, but has returned to live in the East Bay. She has traveled to 60 countries before the age of 30 while running several digital travel publications. Her writing and podcast have been featured in Forbes, CBC Canada, National Geographic, the Huffington Post, and CNN Arabic, amongst others. She's obsessed with bouldering, houseplants, other people's pets, and anywhere she can see the ocean.