The John Muir Trail is considered by many to be one of the best backpacking trails in the country.
This beautiful trail crosses 211 miles through the heart of California's Sierra Nevada Mountains, carving steps into steep granite and winding around pristine alpine lakes and meadows.
The trail is also known as the Nüümü Poyo in Paiute, the language of the land's original inhabitants (now known as the Bishop Paiute tribe), but is most commonly referred to as the JMT.
While hiking the JMT, you'll have the pleasure (and pain!) of hiking some of the country's tallest passes and mountains, including Mt. Whitney, the tallest mountain in the Lower 48.
It should come as no surprise that the hike is quite strenuous and requires a considerable amount of time and effort.
While some super-speedy backpackers complete the JMT in less than two weeks, many who have completed the trail recommend a full three weeks hiking the JMT to allow yourself time to acclimate, rest, and take your time enjoying the wilderness.
The John Muir Trail at a Glance
Note: This post contains affiliate links, which earn me a small commission at no extra cost to you if you make a purchase using one of these links. Thank you for supporting this free content!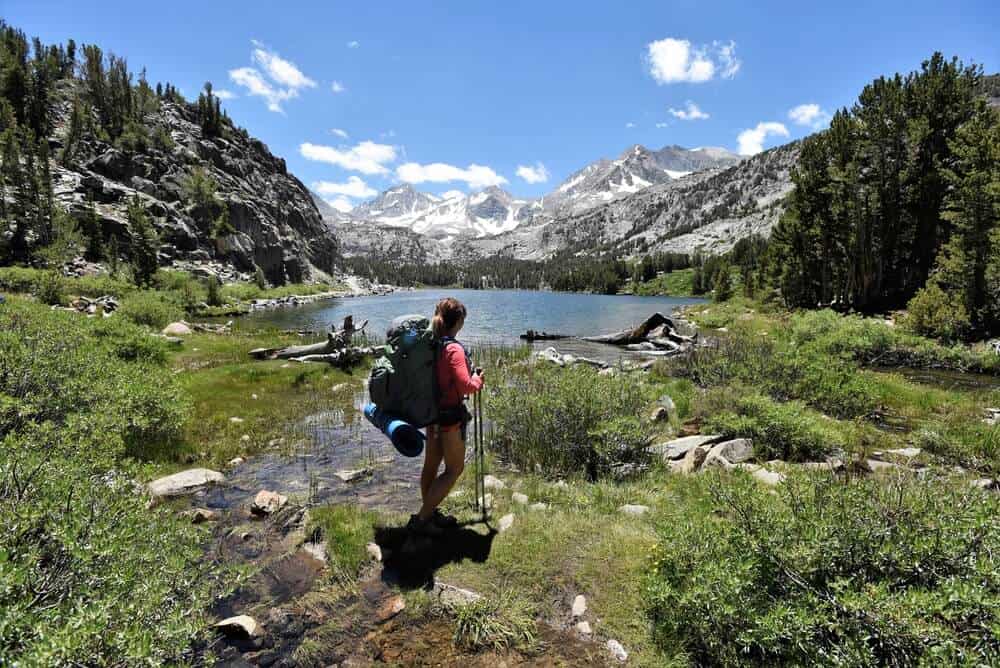 Distance: 211 miles
Difficulty: Strenuous
Total Elevation Gain: 47,000 feet
Total Elevation Loss: 38,000 feet
Highest Elevation: 14,505 feet
Number of Passes Above 11,000 Feet: 6
Time: Average of 3 weeks
Direction of Your JMT Hike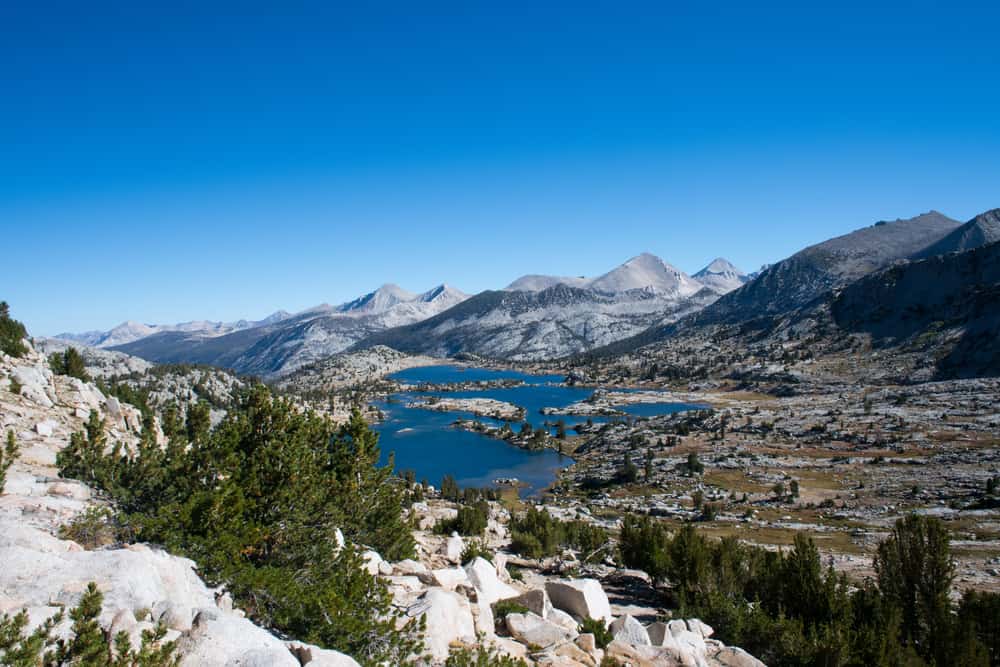 The John Muir Trail runs 211 miles between Happy Isles Trailhead in Yosemite and the summit of Mt. Whitney. The trail can be hiked in either direction, and each direction has pros and cons.
Whitney to Yosemite: Starting at Mt. Whitney and going north (a "NOBO", or northbound, hike) means that you get the hardest, and possibly most exciting, part done first!
You get to experience the highest parts of the trail before you're worn out by weeks of hiking, and you'll get through the high passes before you face the possibility of burnout.
However, this also means you won't have time to acclimate to these high altitudes and your body won't have strength built up from a few weeks of hiking beforehand.
To go NOBO, leave your car at your endpoint in Yosemite Valley (Curry Village offers long term parking). Then, take the Yosemite Area Regional Transit (YARTs) bus to Mammoth Lakes, then transfer on to the town of Lone Pine.
From Lone Pine, hire a shuttle or hitchhike to the start of your hike at Whitney Portal. Reservations are recommended for the YARTs bus or for any shuttle service.
Yosemite to Whitney: Starting at Happy Isles Trailhead in Yosemite Valley for a southbound ("SOBO") hike offers a gentler start to the trail, as you won't go above 11,000 feet for a few days.
This direction gives your body time to adjust to the strenuous nature of putting in long, hard miles each day, and allows you to acclimate to high elevations more slowly.
However, this means you won't hit the hardest passes for a week or two, so you won't be as fresh when the going gets tougher.
To go SOBO, leave your car at your endpoint at Whitney Portal. Then hire a shuttle (call ahead, since you won't have cell signal) or hitchhike to Lone Pine, where you can take YARTs to your trailhead in Yosemite Valley.
Seasonal Weather on the John Muir Trail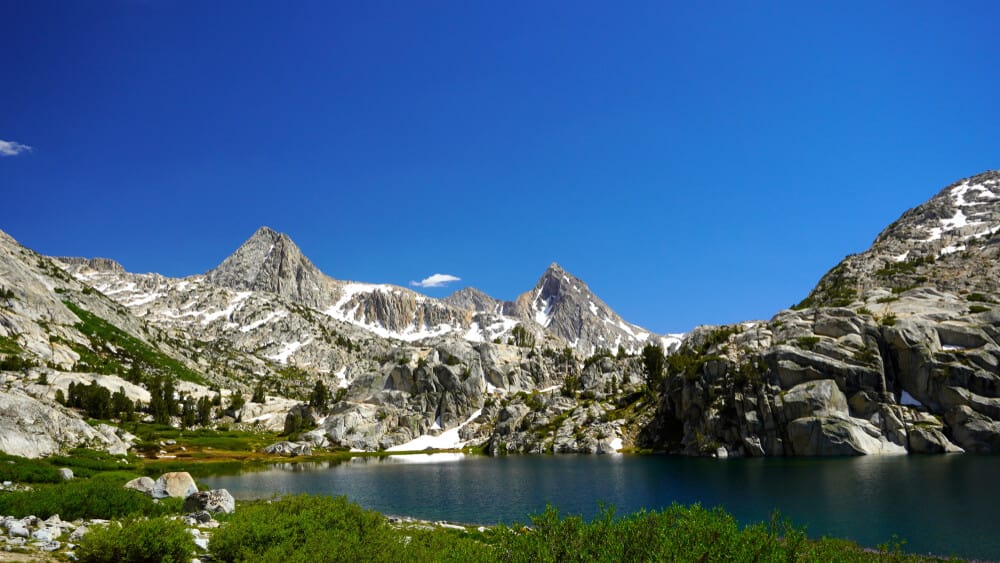 Most people hike the JMT between July and September. This is due to the region's high snowpack in the winter, which often doesn't melt on high passes until late June.
While weather varies year to year, if you plan on going earlier, you should be experienced in winter mountaineering skills, as you'll likely hit snowpack that can make the passes dangerous.
As the snow melts in June, mosquitos will come and river fords will be high. While in some years water starts to become less abundant by late July, there may still be high water levels and even some snowpack into late August. Always take caution when attempting a river crossing.
By late September, it may begin to snow again in the Sierras, making July through September the perfect time to hit the trail. October is generally too late.
You'll likely experience daytime highs in the 60s-80s (August and early September are the hottest months) and nighttime lows in the 30s and 40s, although it can get colder at night at the very highest elevations.
While rain is not common, you will likely experience at least one thunderstorm while hiking. Stay at lower elevations until the storm passes.
How to Get a JMT Permit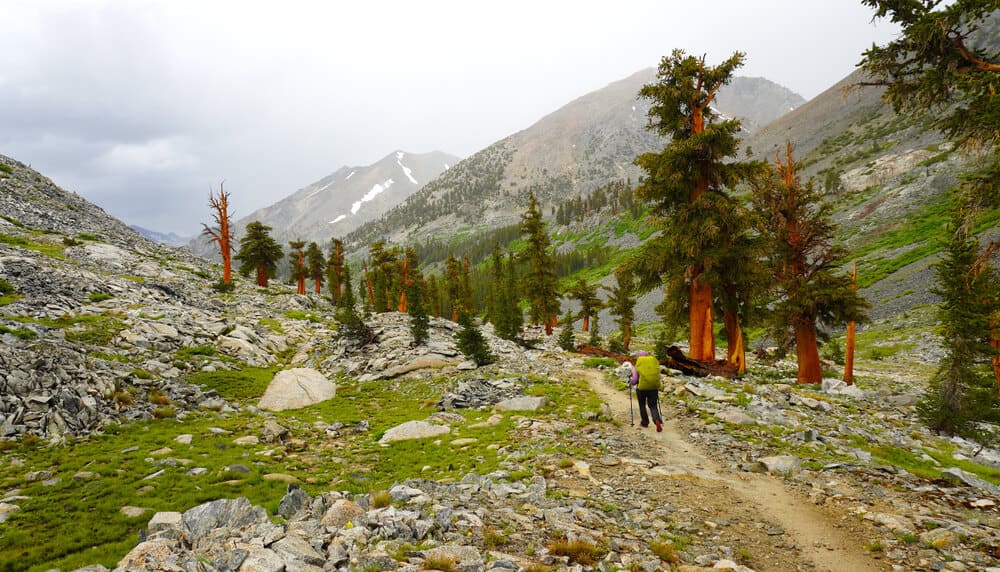 From 2011 to 2015, there was a 100% increase in requests for John Muir Trail permits, and the trail is getting more popular each year.
To combat crowds and to protect the natural area, permits are limited. The agency in charge of your starting trailhead provides permits.
Yosemite to Whitney SOBO: You should apply to get your permit from Yosemite National Park exactly 168 days before your requested start date.
When you apply, you will be asked to rank your trailhead preference, as there are four possible trailheads in Yosemite: Happy Isles, Sunrise Lakes, Glacier Point, or Lyell Canyon (in order of closest to Yosemite Valley itself to farthest). You cannot do the JMT southbound if you do not start at one of these trailheads.
If you don't get lucky in the lottery, there are a few walkup permits set aside at the Lyell Canyon trailhead and ranger station. These walkup permits are available at 10 AM on the day before your start date, but get there early to secure your permit. This isn't a guarantee necessarily, so do have a backup plan.
Whitney to Yosemite NOBO: You can get your permit from Inyo National Forest, the forest that contains Mt. Whitney. NOBO permits are done through a lottery; applications for your requested start date can be submitted to the lottery between February 1 and March 15.
Most start dates in July, August, and September will fill up, but after the lottery is closed, remaining spaces are available on April 1st and you can make reservations online.
You must also get a (non-competitive) California Campfire Permit. Despite the name, this does not allow for campfires, which are prohibited on most of the trail, but is required to use a cooking stove on the trail.
Check the Pacific Crest Trail Association website for more permit information.
Physical Fitness and Preparation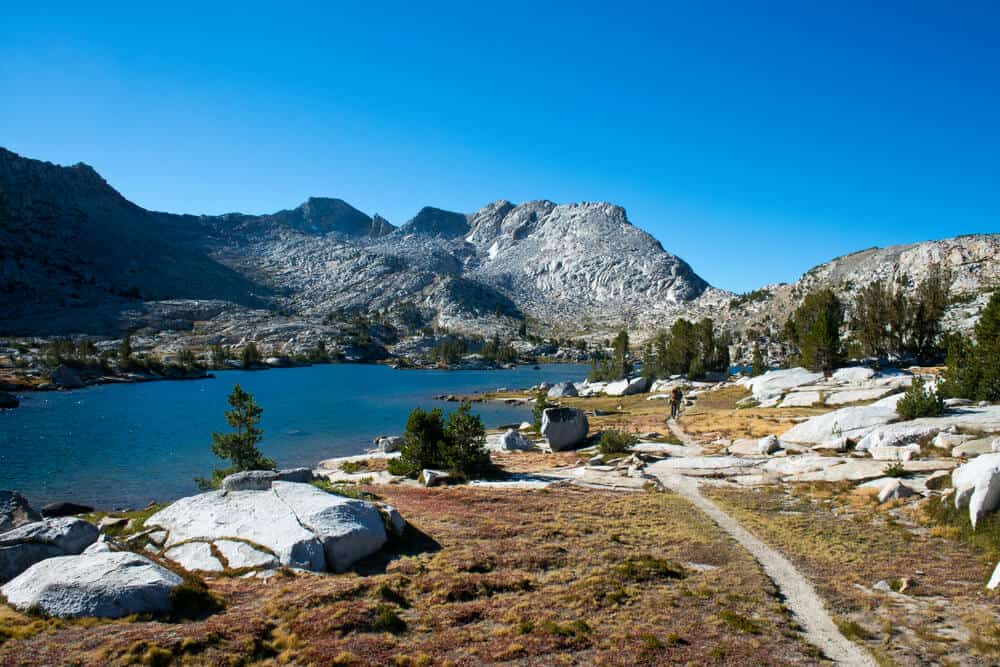 The best way to train for a JMT thru-hike is… to hike! On training hikes, try to carry a similar amount of weight as you will be carrying on trail.
This is also a great opportunity to test out your gear and break in your hiking shoes, as well as make any adjustments you may want to make to your load or your gear.
Try to do at least one overnight so you can troubleshoot any tent, camping stove, etc. issues ahead of time. You don't want the first time you do anything to be out on the trail!
If you can't get out hiking, make sure you are in good physical health before setting out. Running and other forms of cardio are a great start, as is building strength in your legs – you'll need it! Hit those stairs.
Most of the trail is above 10,000 feet, so training at altitude is also ideal. High elevations can make physical exertion difficult, and can cause altitude sickness if you ascend too quickly or higher than your body can handle.
If possible, plan to spend a little time acclimating to higher elevations before you begin your hike. Once you're hiking, pay attention to signs of altitude sickness; if you start feeling the signs, immediately get to a lower elevation.
Editor's Note: Altitude sickness is no joke and should be taken seriously — I was struck with a bad case of altitude sickness while trying to summit Mt. Fuji, 12,388 feet, and had to turn around. I had migraines and nausea for days afterward. Altitude sickness rarely gets better as you ascend, generally worse, so listen to your body and be aware of the warning signs of more concerning forms of altitude sickness, HAPE and HACE.
If you're new to backpacking, first try a few shorter trips in order to learn the skills you'll need.
You will be out of cell signal for the entire John Muir Trail, so learning first aid and carrying a satellite phone are also great ideas to stay safe.
Food Resupplies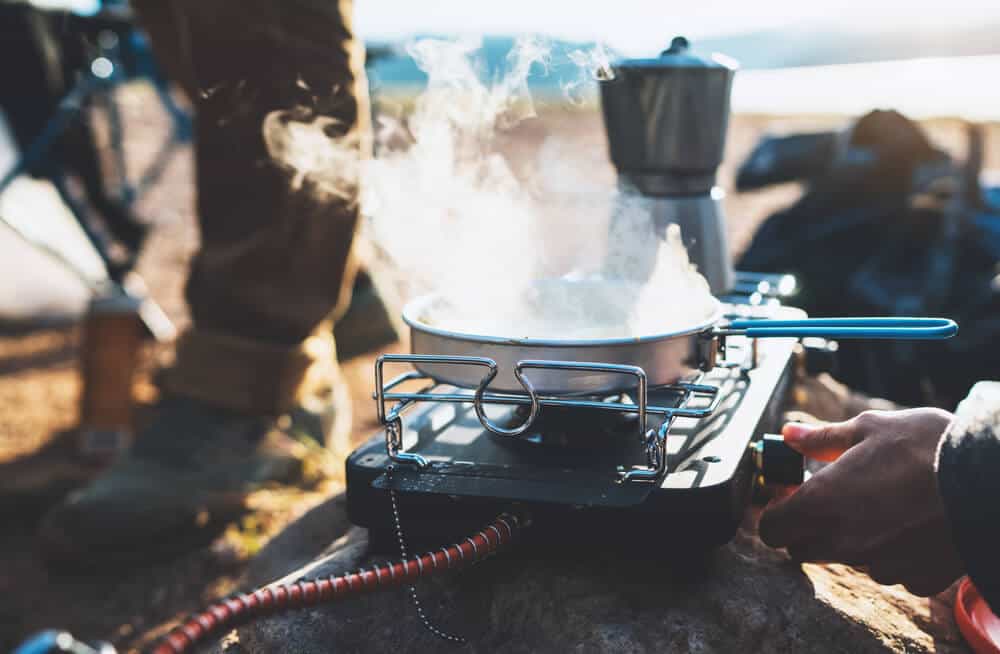 You might be thinking, "211 miles? 21 days? How can I possibly carry that much food?" Not to worry! There are several spots along the trail where you can pick up more food, or resupply.
Ideally, you'll want to carry a maximum of about 7 days of food, so most hikers mail boxes of food to 2 or 3 resupply locations on the trail. Your options, from Yosemite to Whitney, include:
Tuolumne Meadows Store: Tuolumne Meadows has a small store and restaurant near the backpacker's campground. You can mail packages to the post office here.
Red's Meadow Resort and Mammoth Lakes: Red's Meadow Resort is right off-trail and has a restaurant, small store, lodging, and showers. They will hold packages for you. If you want to go to a supermarket, there is a bus into the town of Mammoth Lakes.
Vermillion Valley Resort (VVR): VVR is a small resort with a restaurant and store, as well as showers and laundry. They'll hold packages for you. The best part is that thru-hikers' first drink is free! VVR is located slightly off trail at Lake Edison. They offer a boat shuttle across the lake, or you can skip the boat fee and hike the 4.5 miles.
Muir Trail Ranch (MTR): Muir Trail Ranch is right off-trail, but is the most basic option for resupply with only a hiker box and mailing address. They will hold packages for you.
Kearsarge Pass, Bishop Pass, and Hired Resupplies: You can hike out over Kearsarge Pass to Onion Valley Trailhead, and from there, head to towns along Highway 395. This will include hiring a shuttle or hitchhiking into town. Another option is to have a horse packing service bring resupplies to you over Kearsarge or Bishop Passes. This is your last resupply option before Whitney.
Trail Etiquette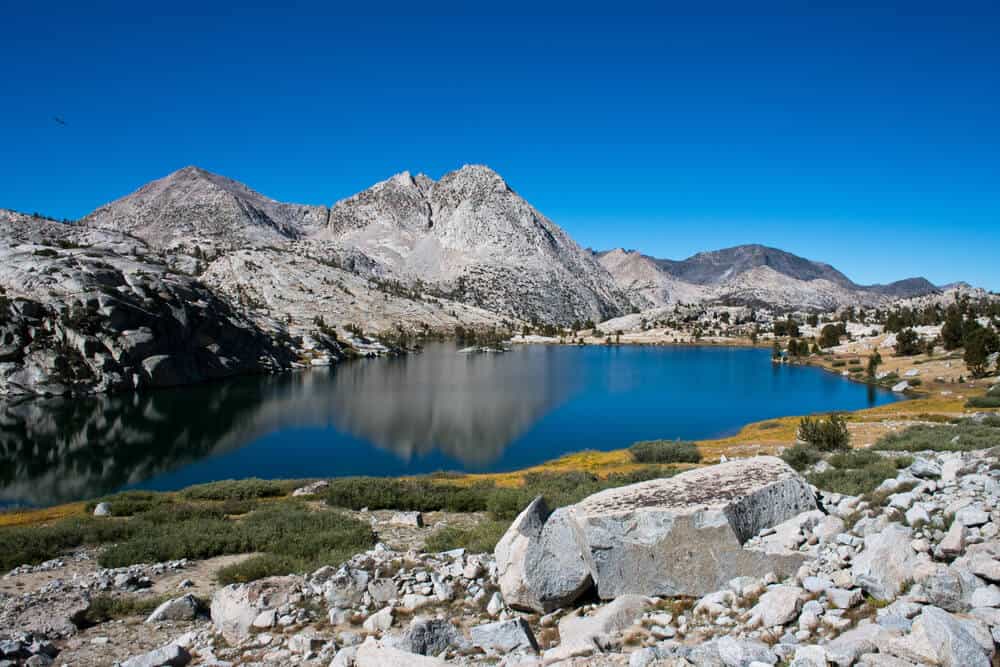 Part of what makes hiking the JMT so magical is the feeling of true wilderness, despite the trail's popularity. It is important to follow some guidelines in order to preserve the natural landscape.
Camp at least 200 feet away from water in an already established campsite. You can usually see where others camped before you, so you should camp there as well to minimize your impact.
Camping is not allowed in some areas, so please follow these restrictions. Solitude is easy to find, but common camping areas also mean that you'll have the opportunity to make some trail friends if you'd like!
You must carry your food in a bear canister on the entire trail. Bear canisters are plastic containers that bears and other wildlife can't open, which helps protect them from human interference, and protects your food from becoming a bear's lunch! All scented items, including toiletries (even scented lip balms or tampons!), should be stored in a bear can.
Lastly, when using the bathroom outdoors, do so in a six-inch deep hole away from your campsite and water sources. Pack out, don't bury, your toilet paper. In the Mt. Whitney zone, you'll be required to use a provided "wag bag" to do your business so as not to overrun the already-crowded area with bathroom holes.
Follow all principles of Leave No Trace to keep the area natural and let others enjoy the beautiful wilderness.
The John Muir Trail Route
Finally, what you've all been waiting for: the trail itself! Most backpackers on the JMT hike about 11-14 miles per day. Camping and water is plentiful, so you shouldn't have trouble finding a spot to stay the night within these larger sections of trail.
The total mileage markers shown below are for a southbound hike starting in Yosemite and ending at Mt. Whitney. The elevation for all passes above 10,000 feet are included.
Happy Isles Trailhead: 0 miles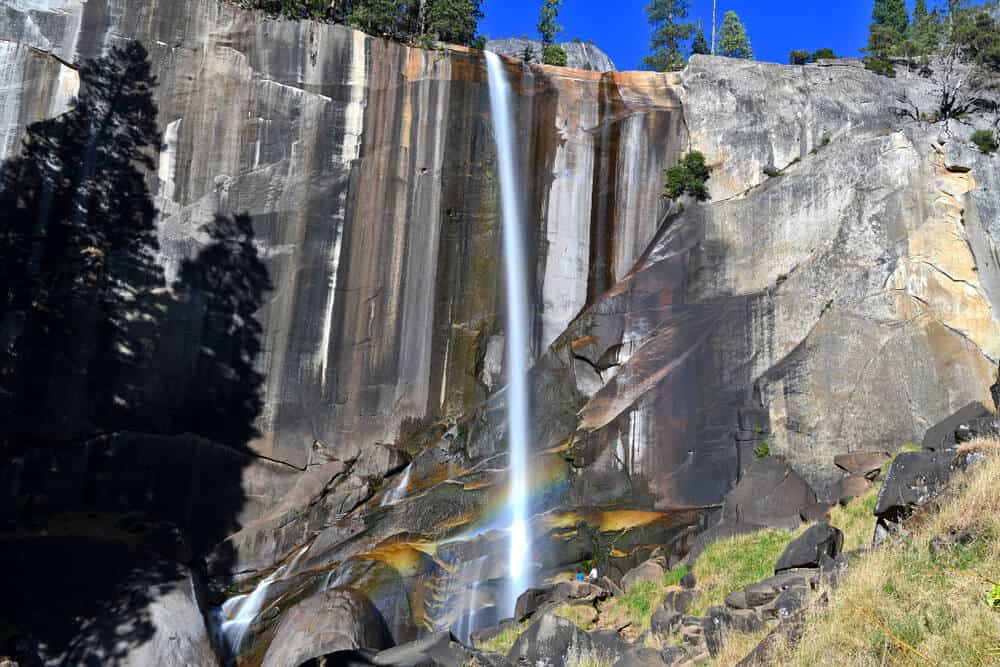 Start your thru-hike full of excitement at the Happy Isles Trailhead, after parking your car at Curry Village or taking public transit (parking is not available at Happy Isles).
Take a picture with the John Muir Trail sign before heaving your pack on and setting off!
You can also snap some photos of two of Yosemite's most famous waterfalls along this starting stretch of the trail: Vernal Falls and Nevada Falls.
Tuolumne Meadows: 23.9 miles total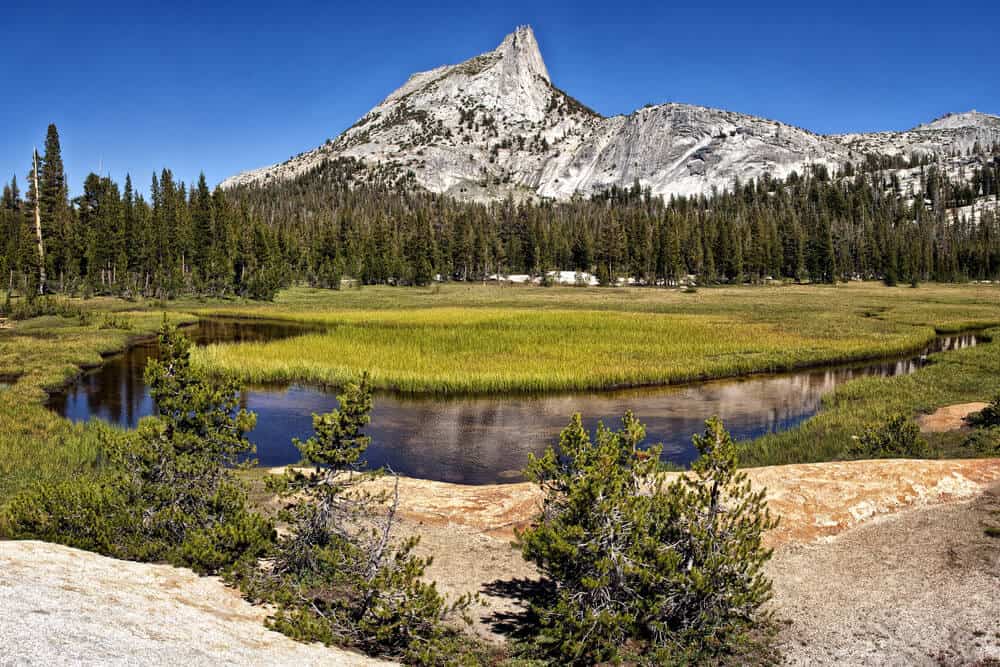 The trail is stunning even from the very start, as you'll get to pass by Nevada Falls before the Half Dome junction.
There you'll have the option to do a side trip up Yosemite's famous Half Dome, although you will need a separate permit.
Hike further to camp near Sunrise Lakes, or continue uphill over Cathedral Pass before descending into Tuolumne Meadows.
Donahue Pass (11,050 feet): 37 miles
From Tuolumne Meadows, hike through the lush Lyell Canyon, winding your way through flat forest and grassland along the Tuolumne River before starting your climb up Donahue Pass.
There's camping shortly before the pass, or after going over and descending.
Island Pass (10,225 feet) and Thousand Island Lake: 41.5 miles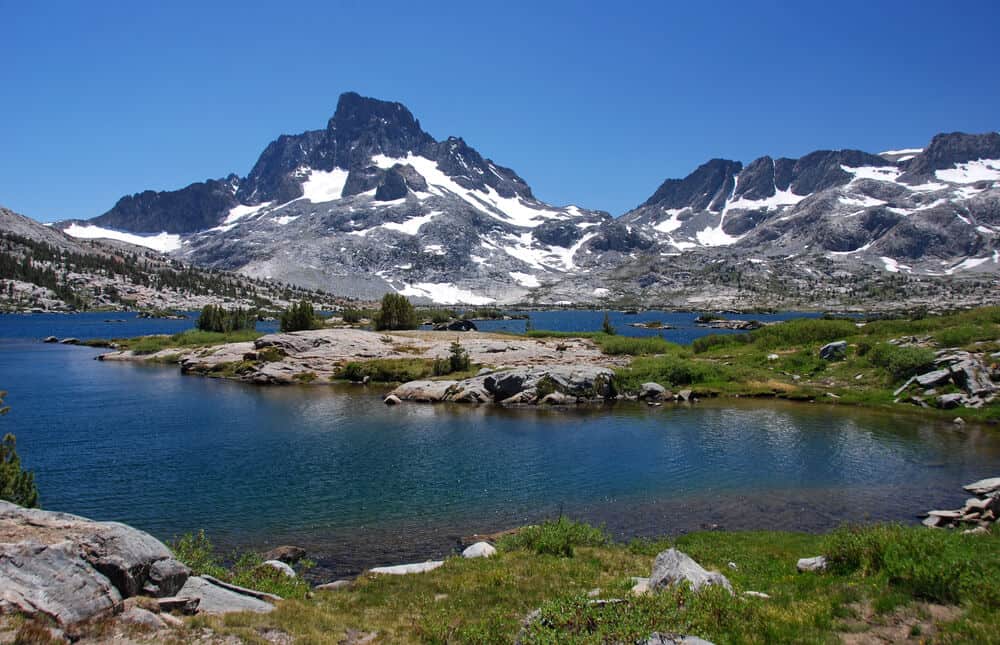 After hitting a valley below Donahue Pass, you'll climb up an easier ascent to Island Pass.
You'll be able to see breathtaking Thousand Island Lake below, and Banner Peak and Mt. Ritter rising sharply above.
Many consider this one of the most amazing views on the trail, but considering the entire trail's beauty, it's hard to say.
Red's Meadow: 57 miles
Immediately after tearing yourself away from Thousand Island Lake, you'll hit Emerald and Ruby Lakes. After a quick descent, you'll hit the larger Garnet Lake.
On the way to Red's Meadow, you'll keep going up and down, passing numerous lakes along the way.
Make sure to stop by Devil's Postpile National Monument, a bizarre geologic formation, on the way to your milkshakes and burgers at Red's Meadow.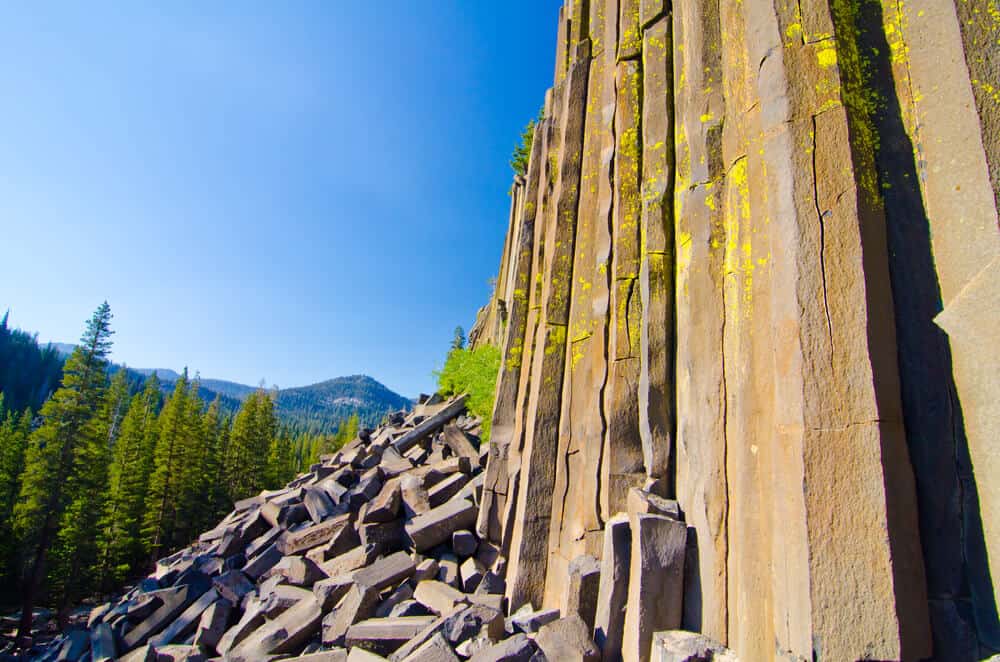 Lake Virginia: 72.5 miles
The section after Red's Meadow is quite exposed, as much of the area burned in a fire. After switch-backing up a hot and dry trail, you'll begin to see more trees.
Crater Meadow (mile 61) is the closest camping to Red's Meadow. This section includes a 5-mile chunk with no water, so plan accordingly.
After passing small lakes and climbing up into more alpine territory, you'll hit Lake Virginia.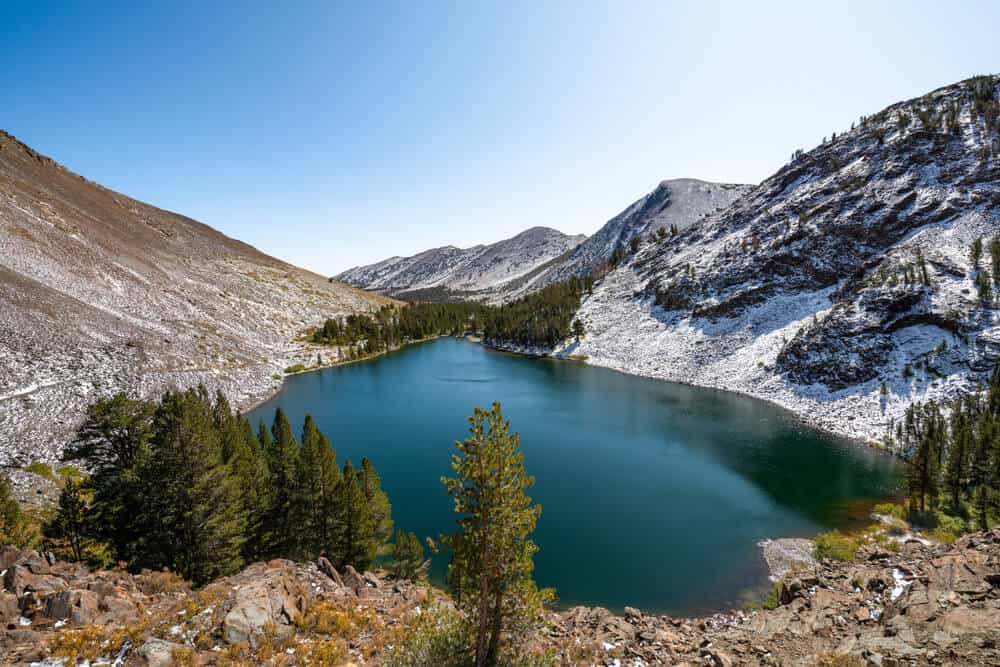 Silver Pass (10,950 feet): 80 miles
After the lake, you'll continue through shady forest and across the bridge near Fish Creek.
This area is meadowy, but you'll soon be climbing into granite, towards Squaw Lake and Silver Pass. Soak in the views on top of the pass!
Vermillion Valley Resort: 87 miles
The trail continues about 6 miles down from Silver Pass to the junction for Lake Edison.
Here you can either take the boat shuttle across the lake, or hike into VVR for some much-deserved relaxation.
After hitting VVR, either hike out or take the boat back.
Seldon Pass (10,900 feet): 100.5 miles
On the way to Seldon Pass, your first landmark will be Marie Lake, a great spot for camping and swimming surrounded by granite.
Soon after, you'll hit Seldon Pass. The pass is one of the easier passes you'll face.
Muir Trail Ranch: 108 miles
Descend from Seldon Pass towards Sallie Keyes Lake, a nice camping spot. After a meadow, you'll hit some switchbacks that will take you to the cut off for Muir Trail Ranch.
Take the short descent to MTR to pickup a resupply, or skip it and continue on towards Kings Canyon.
Muir Pass (11,955 feet): 127.5 miles
Soon after leaving MTR, you'll reach two bridges, the first going across Piute Creek and the second across the San Joaquin River. Welcome to Kings Canyon National Park!
You'll have a big climb ending in switchbacks to an upper meadow area, and then another set of switchbacks up a large hill to Evolution Lake. Here you'll find granite galore.
Follow the trail up through rocky peaks to Sapphire and Wanda Lakes. Your final ascent will be a rocky one up to the stone hut on Muir Pass.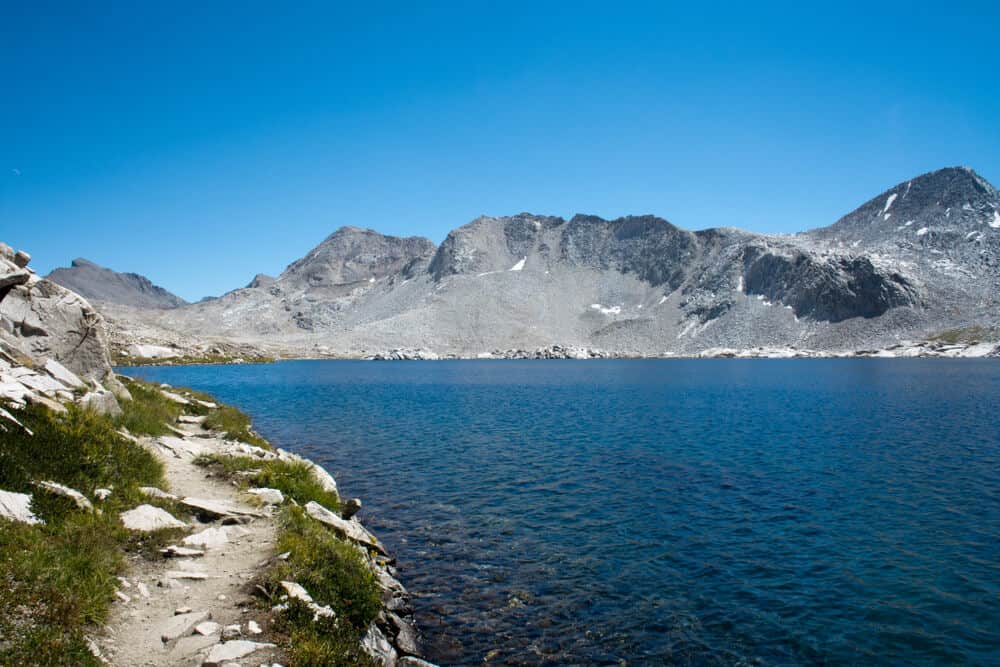 Bishop Pass Trail Junction: 135 miles
Continue down from Muir Pass along rivers and lakes.
You'll pass through Big Pete Meadow before hitting the Bishop Pass trail junction. Camping in nearby Grouse Meadow is plentiful.
Mather Pass (12,080 feet): 149.5 miles
This is where the trail really starts to get to (and stay at) high elevations.
The climb up Mather Pass begins in a sandy pine forest, and then goes up the "Golden Staircase," a set of switchbacks that are cut into rock. Mather Pass lies above the Palisade Lakes.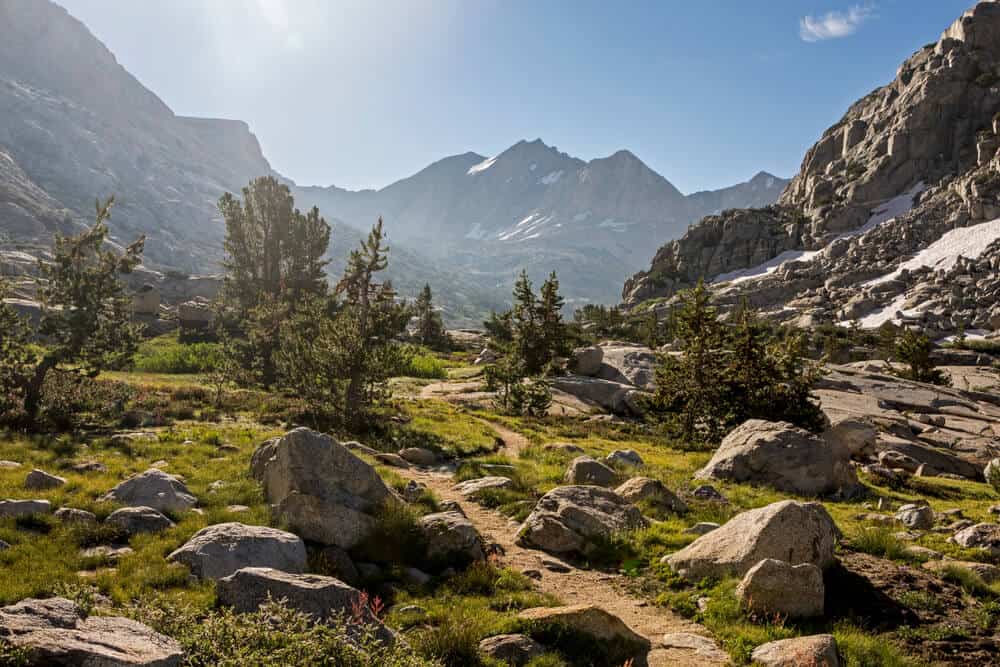 Pinchot Pass (12,100 feet): 159 miles
Mather Pass descends gently into a flat sandy valley with lots of little lakes.
After most of a day's downhill and then a short uphill to Lake Marjorie, you'll continue up about 1,100 feet to summit Pinchot Pass.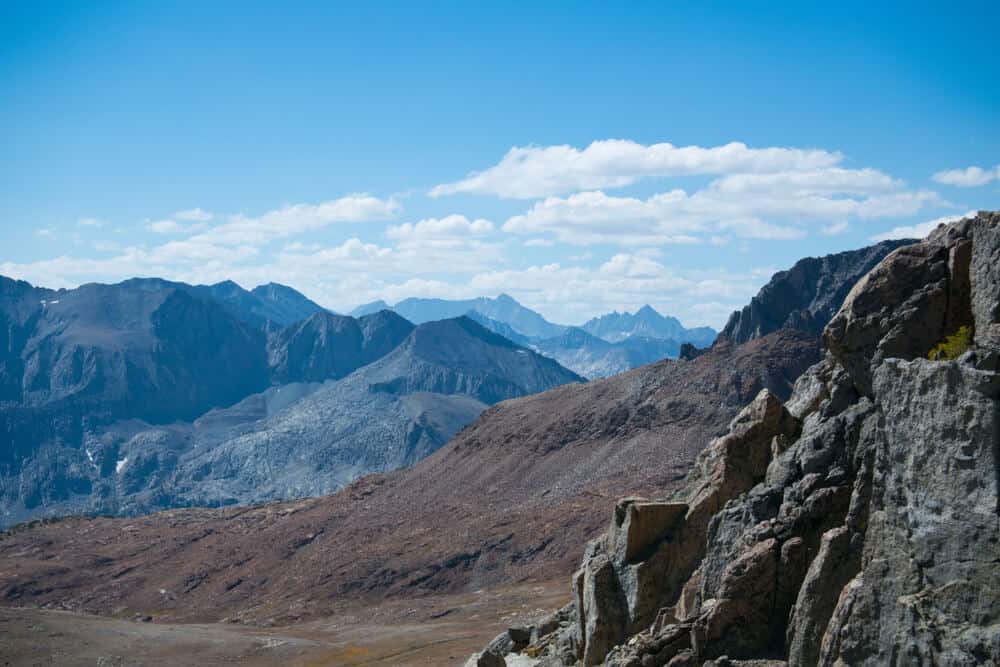 Glen Pass (11,980 feet): 175.5 miles
Hike down a long, exposed section of trail until you hit the Woods Creek suspension bridge.
Hold on to the swinging bridge while you cross, and then make your way back uphill through meadows until you hit sparkling Rae Lakes.
Above Rae Lakes rises Glen Pass, which is a steep climb with lots of slabby rock on the trail. Step carefully!
Forester Pass (13,200 feet): 179.5 miles
Soon after Glen Pass, you'll hit the Kearsarge Pass junction. Use the trail to resupply, or continue to Vidette Meadow, where you'll have stunning views of peaks above while in a low grassy valley.
Then you'll have a long climb to Upper Vidette Meadow and beyond to Forester Pass, the tallest pass on the JMT. It's worth the climb for the views of distant mountains!
Guitar Lake: 206 miles
After entering Sequoia National Park, you'll hike down into the martian-like landscape of the Bighorn Plateau. Follow the trail through lakes and sand into the meadows before Guitar Lake.
You'll have a final climb up to Guitar Lake, with Mt. Whitney rising tall ahead of you. Rest up for your big climb!
Mt. Whitney Summit, official Southern Terminus: 211 miles
This is it – the end of the trail! Switchback up about 3 miles from Guitar Lake until you hit Trail Crest. That's the hardest part!
Drop your pack at Trail Crest, and hike the gentle 2 miles uphill to the summit. Woohoo! You made it!
Take in the fantastic 360-degree-view from the highest point in the contiguous U.S.!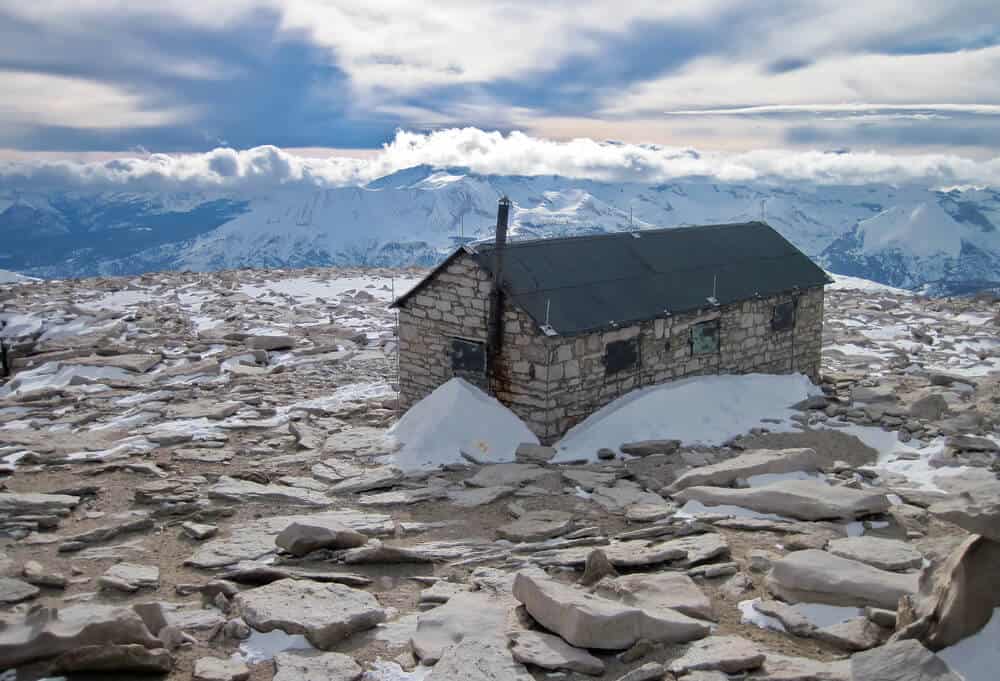 Whitney Portal: 10.6 miles (not on official JMT, but required to exit)
From Trail Crest, you'll still have around 11 miles to Whitney Portal, your exit point.
The first part is steep switchbacks, but the trail eventually mellows into a nice downhill past lakes and meadows.
Take in your last breaths of the mountains before your triumphant finish!
What to Pack for the John Muir Trail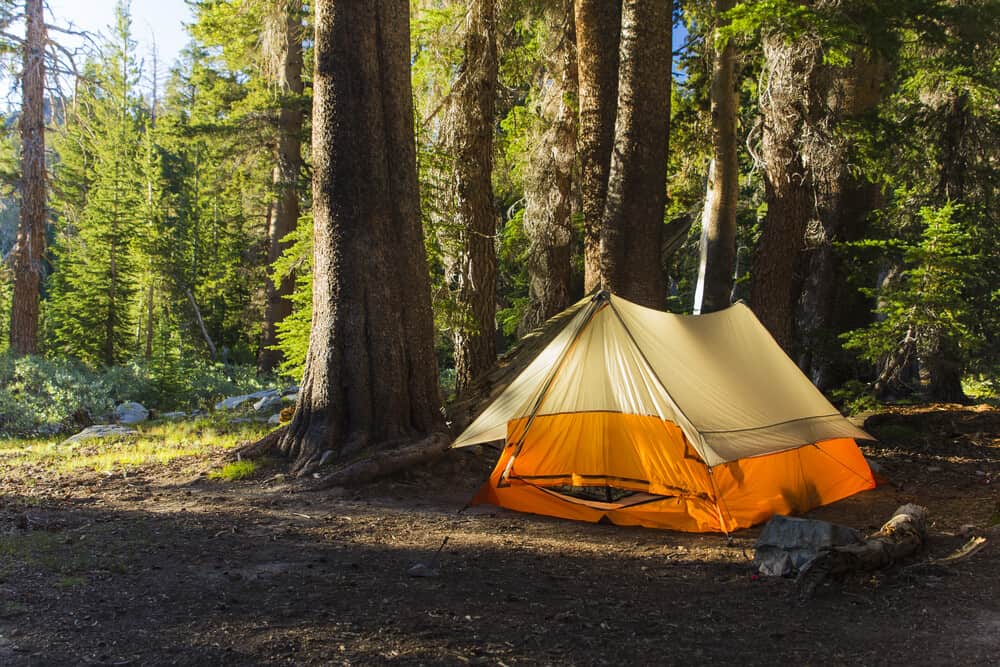 There is always debate about what gear is best for a backpacking trip, but there are some things you will definitely need for a hike in the Sierras. Be prepared for all kinds of weather, as the Sierras see it all. Here is a rough guide to what you should bring:
Permit, printed at home before arriving
Maps and navigation tools
The Big Five
Tent: This lightweight North Face Stormbreak 2-person tent weighs only 5 pounds 5 ounces, which is a nice low weight given the cost. You can get lighter, but it'll cost you a good deal more: worth it if you can afford it. It's a good 3-season tent with loads of headroom, easy-pitching design for fuss-free set-up, and there's plenty of room for two hikers to share.
Backpack: For a hike this length, it's best to get a proper fitting in a store. In case you can't do that for whatever reason, I suggest starting with the Osprey Aether 65L (men's version) and Osprey Aura 65L (women's version).
Waterproof Cover: Be sure to pack a waterproof rain cover like this Duck's Back — the last thing you want on the trail is a compromised backpack!
Sleeping bag: For a comfortable sleeping bag that won't break the budget, I recommend the REI Trailbreak 30 (men's version) and (women's version). You can go more high-tech, but then you're looking around the $300 range.
Sleeping pad: You can buy a cheaper version like the REI Trailbreak Self-Inflating Pad, but I'd recommend going with the Flash Thermal — it provides extra warmth (as well as cushion and comfort from the rocky ground) when the nights can get really cold!
Clothing
Warm clothes & extra layers: Think thermal layers as well as a fleece jacket which you can layer under a rain jacket for extra warmth. A beanie and gloves are also good protection in case of an unexpectedly cold day and won't add much weight or volume to your pack.
T-shirt and shorts: You'll want at least 3 shirts (synthetic or wool, long and/or short sleeve), 1 pair of hiking shorts, and 1 pair of hiking pants.
Rain Jacket: I recommend Marmot brand — this men's jacket is great and stylish, and I have the women's Marmot Precip (and have had it for years) and love it.
Sun hat: I recommend a packable hat like this one which has a strap so it won't blow off in guests of wind and you can easily wear it on your back when you don't feel like wearing it on your head.
Hiking shoes: Bring a comfortable pair as well as 3 pairs of socks to rotate out in case some get wet. Break them in first! Like a backpack, this is something you should fit in person when possible, but if it's not, I own and love my pair of Ahnu Sugarpine hiking boots and recommend it for other women – especially if you have wide feet like I do! For men, I've heard good things about the KEEN Durand boot.
Safety / Protection
Microspikes: These are essential if hiking in snow! Even if you think you won't be, there's a chance you'll come across a patch where the snowpack hasn't melted fully. Bring some just to be safe.
Sunglasses & sunscreen: Essential every day, even if there's cloud cover! It's a lot easier to get sunburned at altitude, so reapply frequently. Use a mineral-based sunscreen Sunglasses are especially key if you come across a snowy patch of trail — the sun hitting the snow can be really blinding.
Headlamp: For hiking after sunset or middle-of-the-night bathroom needs, this Petzl headlamp is highly-rated and affordable. Don't forget spare batteries!
Hiking poles: A pair of sturdy but lightweight trekking poles will help you keep your footing on muddy or rocky stretches of the trail and distribute your weight more ergonomically and give you better balance. Trekking poles can be a bit on the pricy side of the spectrum (I've picked the value-for-price pair I could find), but don't skimp. Investing in a quality pair will make all the difference for your hike: think of them as essential to your kit as your backpack, tent, and boots!
Bug spray: Mosquitos can come with a vengeance in the summer so be sure to bring some along!
First aid kit: Start with a pre-made kit like this HART First Aid kit, which has all you need for 2 people for 2-3 days, and supplement it with extra bandages (especially blister bandages!), painkillers, and other first aid essentials.
Trowel: For burying… well, you know!
Cooking
Pin This Guide to the John Muir Trail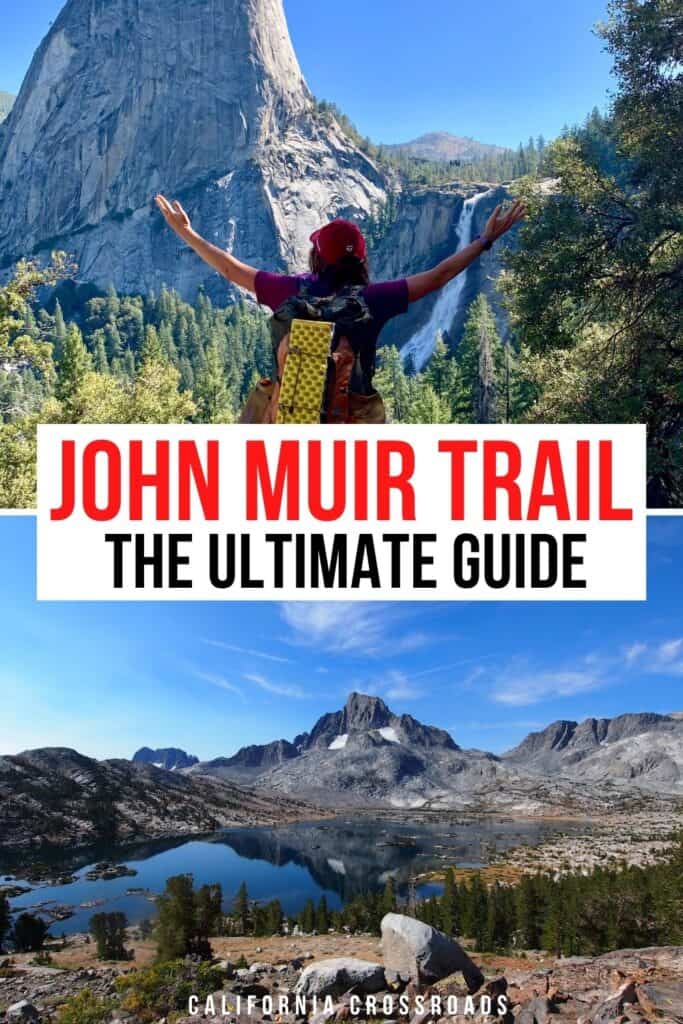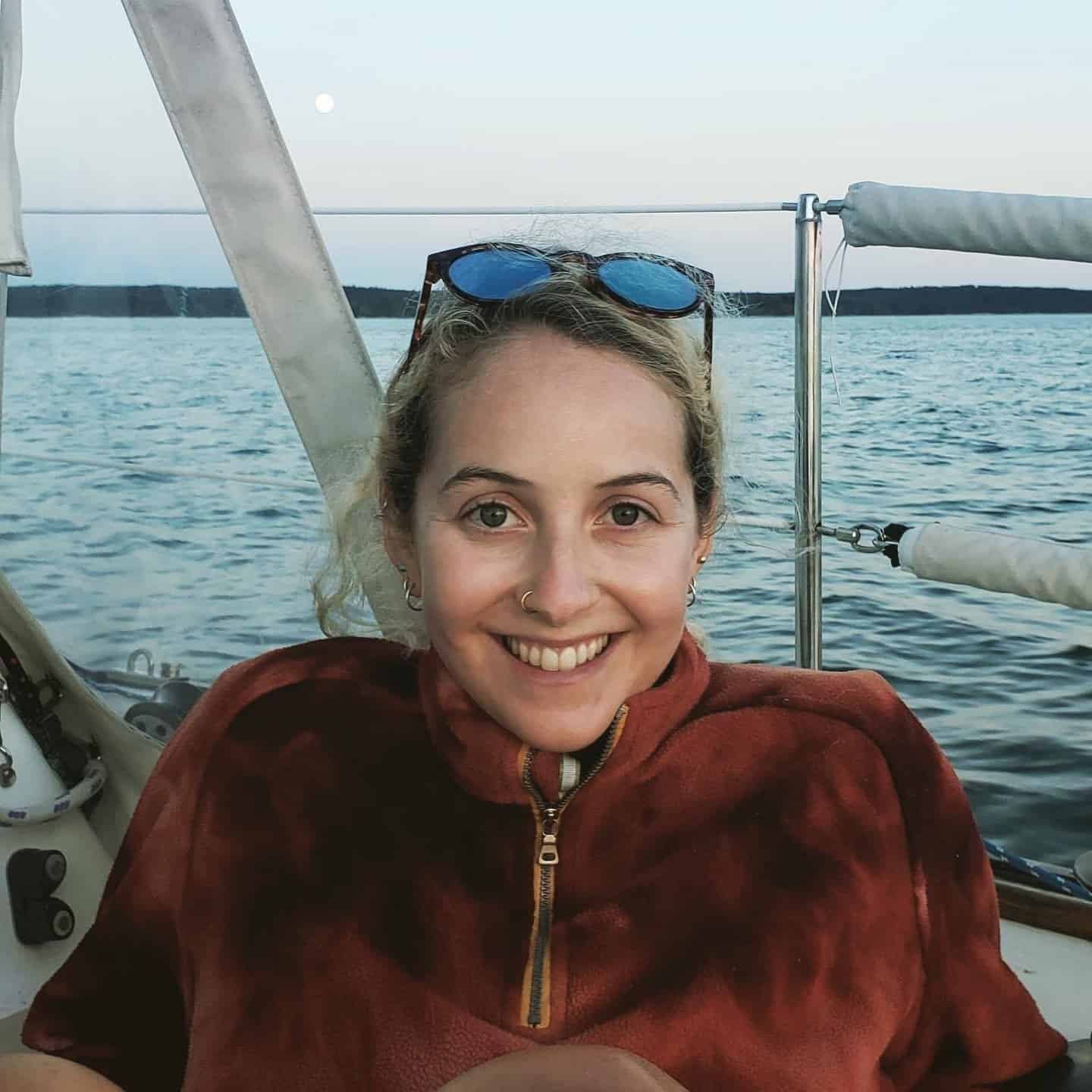 Lena is an outdoor recreation enthusiast born and raised in the San Francisco Bay Area. After going on her first camping trip at 3 months old, she hasn't stopped since. While her backpacking adventures have taken her to wilderness destination across the country, California's mountains and deserts will always be her favorite.